Leasing News Advisor
Steve Crane, CLFP
Steve Crane, CLFP, is an original member of the Leasing News Advisory Board from July 2000. He is the Sales Manager for BSB Leasing, which is in Colorado, however, resides and works remotely in the San Francisco Bay Area.
Prior to joining BSB in September of 2014, Steve was Vice President and Marketing Manager for the Indirect Equipment Financing Group at Bank of the West where he worked for nearly 20 years. He graduated from California State University, Sacramento with a Bachelor's of Science degree in Finance and has held positions with numerous companies in his career, including Westinghouse Credit, Ingersoll-Rand Financial, CIT and Taylor Financial. Steve has been an active volunteer in the Leasing and Financing community over the years, holding various positions with the Certified Leasing and Finance Professional Foundation, former Eastern Association of Equipment Leasing, National Association of Equipment Leasing Brokers and National Equipment Finance Association.
Steve Crane, CLFP
Vice President & Commercial Division Manager
BSB Leasing, Inc.
7921 Southpark Plaza, Suite 208
Littleton, CO 80120
scrane@bsbleasing.com
303-376-4668
Fax: 303-329-0240
www.bsbleasing.com
Steve has been married to his wife Cheryl for 35 years and they have two sons, Ryan and Alex. Ryan is a firefighter in Northern California and Alex is in Southern California studying to be a physician. Steve and Cheryl were excited to add a new member to their family in 2015, when Alex was married to his wife Jess, who is a Doctor of Physical Therapy in the Los Angeles Area.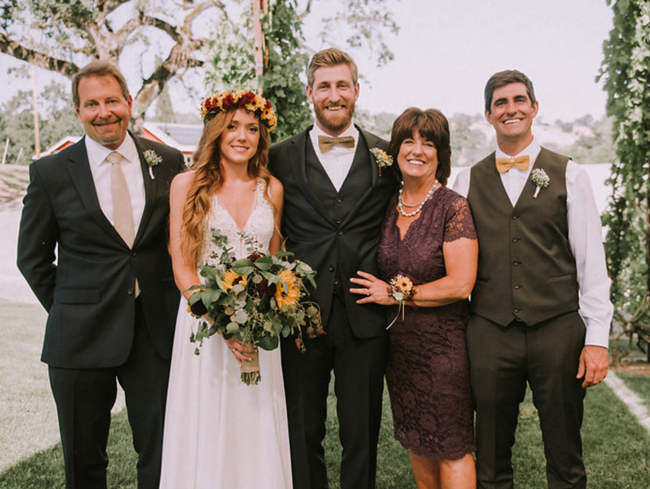 Steve with daughter-in-law Jess, son Alex, wife Cheryl and son Ryan