Equipment Leasing Books

---

Equipment Leasing in Canada

Hugh Swandel, Senior Managing Director-Canada, The Alta Group, recommends, noting, "It was great to be asked to contribute to this new book on equipment financing in Canada. It is now the most current source of information you can get on all aspects of the Canadian industry. Jon Fleisher has coordinated contributions from an all star team of authors."

Available for $195 as Preorder:
https://store.lexisnexis.ca/en/categories/shop-by-jurisdiction/federal-13/equipment-financing-in-canada-skusku-cad-6692/details


---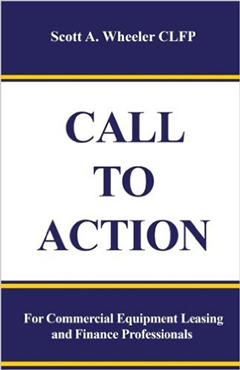 Scott A. Wheeler, CLFP, a thirty-four year veteran in the commercial equipment leasing and finance industry, has compiled his favorite sales tips into an easy-to-read format for veteran and novice commercial equipment leasing and finance professionals.
"'Call to Action,' 134 pages, is designed to assist individuals to think outside of their current comfort zone, to increase their productivity, and to enhance their personal value proposition," Scott Wheeler explains. "Each chapter in this book touches upon a significant area in the finance and leasing industry. The sales tips are followed by call to action exercises to stimulate group discussions and individual reflection.
"Professionals throughout the equipment finance and leasing industry will benefit greatly from using this book as a reference guide and workbook for self-improvement."
$19.95 at Amazon

A portion of each sale will be donated to the Chris Walker Educational Fund – dedicated to the education of professionals in the commercial equipment leasing and finance industry.
Scott is a well-known author for several leasing publications, including Leasing News, plus issues a weekly newsletter as well as conducts a school for training entrepreneurs to become independent leasing brokers.
Scott A. Wheeler, CLFP
Wheeler Business Consulting
1314 Marquis Ct.
Fallston, Maryland 21047
Phone: 410 877 0428
Fax: 410 877 8161
Email: scott@wheelerbusinessconsulting.com
Web: www.wheelerbusinessconsulting.com


---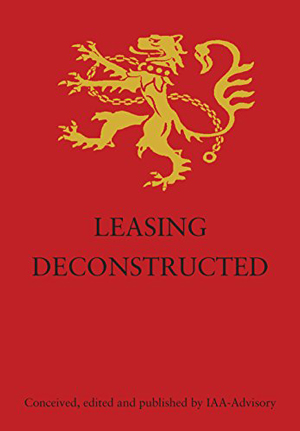 Written by a team from the IAA-Advisory Group in the United Kingdom. Chairman is Derek Soper.
"The book is handsome with 142 very readable pages. This book, mainly targeted at new entrants whether countries, sectors or individuals, examines the features of all the component parts of this business and explains each without the complication of local environments. This gives the reader the basic knowledge to grow the various financial products within their own jurisdiction and shape them to suit their customer's requirements."
Table of Contents
Preface
chapter one: The value of leasing and its impact on markets
chapter two: What is this thing called leasing?
chapter three: The commercial framework for leasing
chapter four: financial terms
chapter five: risk & Pricing
chapter six: Lease funding
chapter seven: Lease accounting
chapter eight: marketing financing
chapter nine: using services to add value & differentiate
chapter ten: What next?
It is easily available at $36.50 at Amazon:
https://www.amazon.com/Leasing-Deconstructed-IAA-Advisory-Limited-ebook
---
The Successful Equipment Lease Broker
by Joshua Fant (December, 2010)
He is a real estate broker in the Greater Seattle area.
He was a leasing broker from January, 1999 to August, 2005.
Book may be dated. 14 day return policy (also to their book store).

$39.95 Barnes & Noble
https://www.barnesandnoble.com/w/the-successful-equipment-lease-broker-inc-the-leasing-expert/1029662145
---
Start Your Own Leasing Company!
By Paul Sutton (2014) 111 pages-Fourth edition.
Company appears to have a collection of "how to" books. They have return policy for printed books only.
Book: $44.95 Download $19.46

https://www.businessbooksource.com//books/274/start-leasing-company.cfm
---
The CLFP Foundation Releases Sixth Edition
Professional Handbook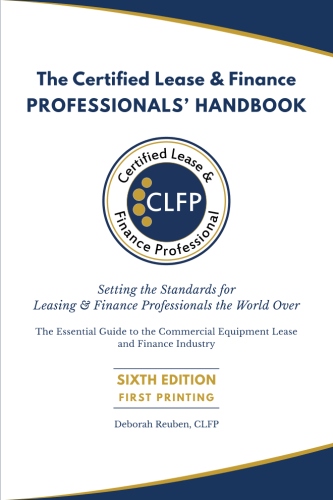 The Certified Leasing and Finance Professional designation is the only certification for the Equipment Finance Industry. There are currently 571 active Certified Lease & Finance Professionals and Associates in the United States, Canada and Australia.
The book is now available for purchase through the Foundation's website and Amazon. *
The 2018 CLFP Exam will continue to be based on the Fifth Edition of the Handbook, and in 2019, the Exam will be updated to reflect the new content. A primer is being prepared for members who do not wish to purchase the latest edition.
The goal of the CLFP Foundation was to produce an improved narrative that incorporated perspectives reflective of the larger bank, captive and independent companies that are utilizing the Designation as a tool for professional development.

* https://www.amazon.com/Certified-Lease-Finance-Professionals-Handbook/dp/171743388X/ref=sr_1_2?ie=UTF8&qid=1527969262&sr=8-2&keywords=CLFP+Handbook $70.00

https://www.amazon.com/dp/171743388X/ref=cm_sw_su_dp $70.00

The History of the CLP Handbook
By Robert Teichman, CLP
http://leasingnews.org/archives/Oct2012/10_10.htm#handbook
---

Equipment Leasing
Publisher: Matthew Bender

Three Volume Set; loose leaf; updated with revisions
Updated Yearly
$1,747 Print
$1,544 eBook
(with yearly up-date savings plan)
http://www.lexisnexis.com/store/catalog/booktemplate
/productdetail.jsp?pageName=relatedProducts&catId=167&prodId=10538