Chris Walker Passes Away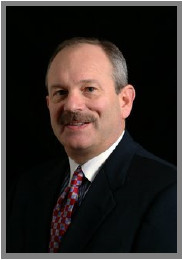 Chris Walker, CLP
(Photo: GreatAmerica Corporate Directory)
from Tony Golobic, GreatAmerica Leasing
It is with a heavy heart that I share the sad news of the loss of one of our long-tenured team members, Chris Walker. We were informed today that Chris lost his valiant fight with pancreatic cancer last evening.
Most of you had the privilege of knowing Chris. He has served in various sales and business development positions in a number of units within GreatAmerica since he joined us in June of 1997. Many of us worked with Chris even before the days of GreatAmerica, at GE Capital (1990 – 1997), and at LeaseAmerica before that (1979-1990).
Chris was truly an exceptional person – warm and caring, always upbeat and smiling. Chris had an incredible passion for so many things in his life, including his customers, his team members, GreatAmerica, the leasing industry, his family, his community, his faith and church, and for good food and coffee, great music, and a healthy lifestyle. Chris had an a network of friends who cared deeply about him, as evidenced by the outpouring of support at the Chris Walker Lovefest event in August.
One of the things I admire about Chris is the strength and determination with which he faced his terminal illness. Chris continued to live his life as fully as he could, despite incredible pain and other symptoms many would have found simply intolerable. Chris made it to our GreatAmerica Awards Event in early September, despite significant pain. It was important to him to be there! He even attended an industry event in mid-September in Minneapolis – the NEFA (National Equipment Finance Association) Funding Symposium. During this event, he was honored with a special "NEFA Member of the Year" award. NEFA President, Chris Enbom, said, "We chose Chris Walker for this honor not just because of his many years of dedicated service to the industry, our association, and virtually everyone who ever met him, but also because the quiet dignity and incredible courage with which Chris has faced a life threatening illness serves as a shining example and inspiration to all of us." I could not have said it better myself!
The way Chris lived his life, and the way he faced his death, is truly inspirational.
If you are not actively on a customer call at 4:45 today, please join together for a moment of silence to remember and honor Chris. If you would like to participate in a memorial contribution from Chris' GreatAmerica Family, Kristi Chambers (on 6th floor) and Terri Norman (on 8th floor) will be collecting those donations, and will have cards for you to sign. When we have information related to services, we will scroll that information on GAIN. Those wishing to attend services which may be held during the work day are asked to coordinate coverage within your teams to ensure that we maintain "The GreatAmerica Experience" that Chris was so proud to deliver and sell to our customers during his many years with us.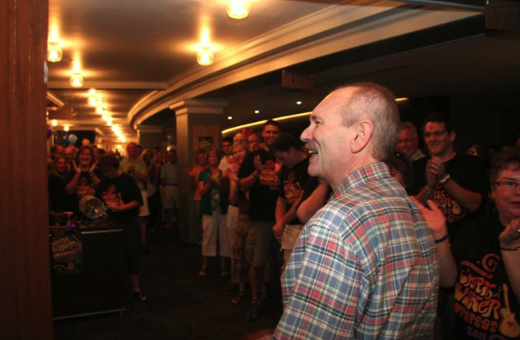 Chris at the August 20, 2011 "Lovefest"
acknowledging the over 400 who attended
http://leasingnews.org/archives/Aug2011/8_24.htm#walker