RETAIL MERCHANT VENDOR SALES
Outstanding opportunity for established vendor sales professional to introduce a cash advance product that vendors can utilize to facilitate the sale of their products. To apply, please send resume to applicant@1rstfunds.com.

Wednesday, August 2, 2006
Headlines---
Archives-- August 02, 2000
Classified Ads---Senior Management
Lease Attorney Veterans Go on their Own
Alliance Funding, Jacksonville, Florida Sold
Classified Ads---Help Wanted
Contact Management Survey
Sales Makes it Happen—"Terms of Use"
by Mr. Terry Winders, CLP
Cartoon—Annuals of Chess
The Brig Pilgrim--Dana Point, CA
Nassau Relocates Collections Division
Dale Named COO of FirstLease
News Briefs---
You May have Missed---
Sports Briefs---
California Nuts Briefs---
"Gimme that Wine"
Calendar Events
Today's Top Event in History
This Day in American History
Baseball Poem
SuDoku Puzzle
######## surrounding the article denotes it is a "press release"
-----------------------------------------------------------------

Archives-- August 02, 2000
Orix Closes Lease Division in Portland, Oregon
Capital Stream Signs 30 New Customers
NAELB Starts "List Serve" For Members Only!!!
Finantra Buys Back $3.8 Million in Stock
Wall Street Journal Reports Internet Investment Down
The List is Up-dated
Bulletin Board
Go to:
http://two.leasingnews.org/archives/August/8-02-00.htm
----------------------------------------------------------------

Classified Ads---Senior Management
Hermann Hill Vineyard & Inn, Hermann, Missouri
Atlanta, GA
Experienced leasing exec looking for next challenge. Various asset types, deal sizes and channels. Turn-around or expansion opportunity.
Email: akimicata@mindspring.com
Baltimore, MD
25 year veteran of commercial and equipment leasing seeking a senior management position with leasing or asset based financing company in the southeast (Florida preferred)
Email: kellogg_md@yahoo.com
Chicago, IL
25 + yrs. exp. 18 w/ two captives. Currently SVP captive started for Japanese multi-national distributor. Looking to do same w/another mfg. or distributor.
Email: pilot13@sbcglobal.net
Denver, CO
Fortune 500 GM/SVP wants to team up with aggressive lender looking for Western expansion mid-market equip. finance/leasing. 20+ years experience within Rocky Mountain/Southwest and Ca markets.
Email: legal@csotn.com
Hope, NJ
25 years in optimizing call center operations, collections, billing, and back end revenue generation. Experienced in $7 + billion dollar portfolios. Verifiable achievements.
E-mail: cmate@nac.net
Irvine, CA
Credit executive, portfolio manager and syndication facilitator. Extensive business building experience in small and mid-ticket operations. Highly innovative. Fortune 100 audit and technology skills. Bottom-line manager.
Email: lenhubbard@bigfoot.com
Jacksonville, FL
15+yrs Collections/Customer Service Expert. InfoLease, CARMS,managed staffs excess 100 VERY successfully - will relocate WITHIN Florida for right position ~ SIMPLY THE BEST
Email: rafftink@aol.com
Lawton, OK.
Twenty years, I have been the President of Cash Financial Services. I sold my loan portfolio. Resume.
http://www.geocities.com/bobbybenmoore/
email: bobmooreok@email.com
Long Island, NY
Degree Banking/Finance. 13 years leasing exp. Now prez young leasing company where promises were not met. Interested in joining established firm with future.
Email: bob33483@yahoo.com
New York, NY, NJ, Ct Tri-State
Top Exec. middle and big ticket, top skills treasury, funding, ops,transaction detail, syndication, ready to max profit, help build quality operation. right now!
E-Mail: leasefinance@optonline.net
Orange County, CA
25+ years experience large ticket equipment finance companies and commercial banking. Operations, documentation, legal, credit, workouts, portfolio management. $2+Billion portfolio. Seeking CFO, COO or similar.
Email: finance1000@cox.net
Philadelphia, PA
27 yrs. exp. sales, ops., credit, strategy, P&L mngmet. Most recently created & executed the biz plans for 2 highly successful Bank-owned small ticket leasing subsidiaries.
email: mccarthy2020@comcast.net
Portfolio Management Consultant ;
25+years experience in Collections, Customer Satisfaction, Asset Management, Recoveries, Continuous Process Improvement, Back end Revenue Generation, Cost per Collection Analysis. $5+Billion Portfolio expertise.
Email: efgefg@rogers.com
Salt Lake City, UT
GM in Sales, Marketing & Operations for Several technology captives. Seeking new adventure in Western States. Consultant of full time.
Email: stevegbdh@hotmail.com
San Francisco, CA
25 years experience w/global leasing company, sales,marketing,business dev., P&L responsibility, asset mgmt, brokering and re-marketing. Interested in joining an est. firm with a future.
Email: rcsteyer@yahoo.com
Sausalito, CA
Sr. Corp. officer, presently serving as consultant, fin. service background, M&A, fund raising, great workout expertise, references
Email: nywb@aol.com
Syracuse, NY
Int. equip. leasing exec. 25 yrs global P&L sr. mngt., including corporate turnarounds, strategic planning, new biz dev., structure finance, contract neg., vendor leasing specialist.
Email: jimh356094@aol.com
Tampa, FL
20+ yrs small/middle ticket finance, operations/ sales management exper. Outstanding record of revenue enhancement, operational improvement and team development.
Email: rlindcpa@earthlink.net
Wilmington, DE
Over 15 years experience managing Credit, Risk Management and Fraud operations for large Financial Institution. Proven Results. Anywhere between NYC and DC for right opportunity.
Email: cklous@comcast.net
For a full listing of all "job wanted" ads, please go to:
http://64.125.68.91/AL/LeasingNews/JobPostings.htm
To place a free "job wanted" ad, please go to:
http://64.125.68.91/AL/LeasingNews/PostingForm.asp
----------------------------------------------------------------

Lease Attorney Veterans Go on their Own
Barry S. Marks, CLP, announces he and Kenneth P. Weinberg, will be forming their own law firm on September 1, 2006, in Birmingham, Alabama, to specialize in finance and leasing.
"I am excited (and no little bit scared) to tell you that Ken Weinberg and I will form Marks & Weinberg, P.C. effective 9/1, "he said." Our new firm will focus specifically on equipment finance. Ellen Dover will be of counsel, giving us litigation and bankruptcy capability.
"We expect to be reachable through leaselawyer.com and my new e-mail address will be:
Barry@leaselawyer.com
"I am looking forward to a leasing-only shop."
Barry S. Marks, Esq.,CLP
Marks was the first attorney to become a Certified Leasing Professional. He is on the Editorial Boards of the Journal of Equipment Lease Financing and Leaders Equipment Leasing Newsletter and authored Power Tools for Successful Leasing and chapters in two major legal treatises.
He is perhaps best remembers as past counsel to the National Association of Equipment Leasing Brokers. He is also active in other leasing associations, including ELA Legal Talk. In 1999, he became the first lawyer certified as a Certified Lease Professional. He currently serves on the Board of Trustees of the CLP Foundation.
He is leaving the law firm of Berkowitz, Lefkovits, Isom and Kusher, a Professional Corporation, where he counseled clients nationwide regarding leasing, lending, tax and other business matters and is admitted to practice in Alabama, Georgia and Florida. He is an attorney with Berkowitz, Lefkovits, Isom and Kusher, a Professional Corporation
Kenneth P. Weinberg, Esq.
Kenneth P. Weinberg was an associate in the Birmingham office, where he concentrated his practice in the areas of corporate law, with an emphasis on equipment leasing, commercial lending and finance, and IT procurement transactions. He has significant experience in the negotiation and drafting of a large variety of finance transactions as well as technology and outsourcing deals.
According to the Berkowitz, Lefkovits, Isom and Kusher web site, Weinberg "(most recently) prepared original documentation for one of the ten largest U.S. leasing companies to allow for a unique type of financing never before offered by the company (involving a construction loan facility that transitioned into a lease upon final completion of the construction project) and documented, negotiated and closed the first transaction of this sort for the company, which was a sixteen million dollar transaction with a Fortune 500 borrower.
Created a complex system of automated documents allowing for a top forty U.S. leasing company to finance its customers' acquisitions of extremely diverse equipment types by way of a large variety of lease structures.
Publications & Speaking Engagements
Created and continues to publish a monthly column entitled "Dispatches from the Trenches" for the nation's largest equipment leasing publication, Monitor Leasing and Financial Services (2002 to present)
Editor, Commercial Law Bulletin, available on-line at www.leaselawyer.com
Barry S. Marks:
Publications & Speaking Engagements
Author - Chapters in Matthew Bender's Equipment Leasing and the Practicing Law Institute's Equipment Leasing - Leveraged Leasing treatises
Co-Author - Power Tools for Successful Leasing, Technology Leasing: A Lessee Toolkit and Power Tools for Small Ticket Leasing.
Professional Honors & Activities
Listed in the Best Lawyers in America® since 2005; Corporate, M&A and Securities Law
Director Emeritus - National Association of Equipment Leasing Brokers
Boards of Editors - Journal of Equipment Lease and Financing and Leader's Equipment Leasing Newsletter
Certified Lease Professional
Member - American Bar Association
Past Member - Legal Committee of the Equipment Leasing Association
Co-Editor - www.leaselawyer.com
Recipient - Bill Granieri Award for Education in Equipment Leasing, National Association of Equipment Lessors (1999)
Frequent lecturer on business and commercial law issues
Admissions
Alabama, 1988
Florida, 1977
Georgia, 1977
Education
University of Florida, J.D., 1976, with high honors
Emory University, LLM. in Taxation, 1985
Emory University, B.A., 1974, magna cum laude
Kenneth P. Weinberg:
Co-Author, "Taking Assignment of Equipment Leases, An Analysis of an Acceptable Documentation Package," LJN's Equipment Leasing, Vol. 22, Number 11 (December 2003).
Author, "Post-Filing Actions by Lessees that May Affect Your Security Interest," 21 Journal of Equipment Lease Financing No. 1, 44 (2003)
Co-Author - "E-Sign: An Important Federal Statute that Paves the Way for Enforcement of Electronic Leases," 15 Commercial Leasing Law and Strategy 3 (2002)
Co-Author - "Gramm Leach Bliley Act and Privacy Notices," Monitor Leasing and Financial Services (2002)
Co-Author - "Insurance and Proof of Coverage: Are Your Certificates of Insurance Worth Anything?", LJN's Equipment Leasing (2001)
Author, "Cryptography: "Key Recovery" Shaping Cyberspace (Pragmatism and Theory)," 5 Journal of Intellectual Property Law (1998)
Professional Honors & Activities
Regularly lecture at CLE accredited seminars for both the National Business Institute and for Lorman on Article Nine of the Uniform Commercial Code and on equipment leasing generally.
Member - Equipment Leasing Association
Member - National Association of Equipment Leasing Brokers
Member - UCC Subcommittees on Leasing and Secured Transactions
Member - American and Birmingham Bar Associations
Member - Alabama State Bar
Admissions
Alabama, 1999
Education
University of Georgia School of Law, J.D., 1999, cum laude, Executive Articles Editor of Journal of Intellectual Property Law Vanderbilt University, B.A., 1996, magna cum laude, Phi Beta Kappa, Special Honors in the College of Arts and Science (for completion of enriched curriculum for honors students.)
----------------------------------------------------------------

Alliance Funding, Jacksonville, Florida Sold
--- also joins the "Broker/Lessor" list
"Alliance Funding, Inc., Jacksonville, Florida, the oldest leasing company in northeast, Florida, has been sold. The new president is Jason Centrella and Vice President, Joanne Centrella. Renee Fox, CLP, who started the company in 1989 will remain with the company as a consultant.
"Alliance Funding Inc. is a Charter member of the National Association of Equipment Leasing Brokers. The company also offers working capital, accounts receivable financing, factoring and purchase order credit lines. Their customer base includes clients, small to medium sized businesses, Fortune 500 companies, municipalities, and charitable and religious organizations in Florida and throughout the United States. www.alfund.com "
from Renee Fox, CLP
"Broker/Lessor" List
Third Column: YES - Year Company Started | YELB - Years in equipment Leasing Business
A - City Business License | B- State License | C - Certified Leasing Professional |
D - State(s) sales/use tax license |
E - Named as "lessor" on 50% or more of lease contract signed. |
Name
City, State
Contact
Website
Leasing Association

YCS
YELB
(see above for meaning)

Business Report

D

2006
(started in 1989 by Renee Fox, CLP, who remains ae a consultant.)
17
To view the "Broker/Lessor" lists:
"Broker/Lessor" List "A"
http://leasingnews.org/Brokers/broker_Lessor.htm
"Broker/Lessor" List "B":
http://leasingnews.org/Brokers/broker_Lessor_B.htm
----------------------------------------------------------------

Classified Ads---Help Wanted
Account Managers
"Specializing in Equipment Financing"
Charlotte * Los Angeles * New York * Phoenix

National Account Managers
60% com./30% res. APP only to $150,000. No industry/geo restrictions. Tremendous flexibility/freedom: your home office or our regional offices. bjohnson@alliancecap.com

Sales

Highest Commission in Industry
Seeking self-motivated, energetic individuals for California, Florida, Georgia, Illinois,Texas
equipment transportation leasing/financing. Moderate travel & extensive phone work.
Email resume : ekaye@advantagefunding.us or fax to 718-392-5427.
About the Company: Advantage Funding was recently acquired by Marubeni Motor Holdings, a major Japanese trading company and is a leading commercial and consumer vehicle and equipment financing and leasing company based in Long Island City, NY.


RETAIL MERCHANT VENDOR SALES
Outstanding opportunity for established vendor sales professional to introduce a cash advance product that vendors can utilize to facilitate the sale of their products. To apply, please send resume to applicant@1rstfunds.com.

Sales Manager

Inside Sales Manager
Troy, MI
Proven in sales, prospecting and closing
skills. Must know how to lead and
grow our sales team. Send resumes to htischer@leasecorp.com

--------------------------------------------------------------

Contact Management Survey
"Have you ever considered doing an informal survey of which CRM most of the growing Brokers are currently using? We have been using ACT (and all their annual upgrades, etc.) for almost 15 years and have got to the point where we have outgrown their system.
"So much of the technology is turning to "hosted" software platforms where you essentially rent the software. I have been researching most of the largest CRM solutions for the last 2 months but I am curious what others are doing or if they have made the move to these hosted products. Hope all is well! "
Bob Skibinski
Taycor Financial
-An Inc 500 Company-
6065 Bristol Parkway
Culver City, CA 90230
(310) 895-7701 Direct Line, Fax (310) 568-9922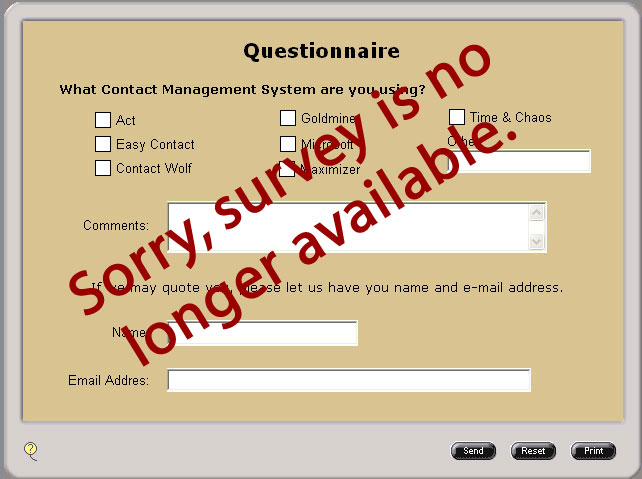 --------------------------------------------------------------

Sales Make it Happen
"Term of Use"
by Terry Winders, CLP
Selling an equipment lease requires a good knowledge of the leasing product and its implications for, or effect on, the lessee. This includes all the income tax, legal, and accounting requirements, not to mention the differences from State to State on assessed taxes and legal differences.
For many reasons a lease is not a loan, however, the ignorance of the customer base, and the eagerness of leasing companies to offer what the customer asks for, has created a leasing market that covers many types of non-leases as well as true leases. So on many occasions the lessee is not offered a lease that fits the circumstances better but, just what the Lessee is familiar with, and has requested. Selling the correct type of lease takes a professional salesperson and not just an order taker.
Many of our leases are truly disguised conditional sales contracts (installment loans). Due to the complexity of leasing and the lack of knowledge by the average agent for the Internal Revenue Service, and the average bankruptcy Judge, so many unqualified leases slip through that we are lulled into a thought process that these type leases are acceptable. The time is drawing to a close when leasing firms can rely on these type leases and they will find themselves out in the cold. The rule makers and the qualifications for leasing are under siege and we need to view how leasing is different from loans and begin presenting the differences and the effect of a real lease instead of just comparing the similarities such as: rate, term, and purchase options.
A correct lease is one that accomplishes placing the equipments "use" and the expense for that use into the proper period of "time." One of the benefits of the computer age and the type of software offered today is that business can analyze their needs much sharper than before. Studies of equipment use, and expenses such as insurance, labor for maintenance, spare parts, and down time have suggested shorter terms of equipment use. The old thought process of using it until it drops has given way to using it until it becomes a heavy maintenance problem or is technically outdated and then moving on to new equipment. Leasing became popular for many reasons but lost in the list was the most important reason, to match the "expense" to the term of "use".
Installment commercial loans and sales contracts are done on a 36, 48, or 60-month basis. Straight line depreciation of the equipment cost for accounting purposes depends on the equipment's average useful life, possibly five years, six years, or longer and Federal Income Tax depreciation is according to The Modified Accelerated Recovery System. None of these terms are in tandem. If equipment is traded early, the tax and accounting effects are not good, and, in addition, the cash required to make the loan payments usually exceeds the expense for interest and depreciation. Most financial managers and business owners want to coordinate these expense terms to improve business management. Leasing on the other hand does bring all of these expenses and terms into tandem "if" the term of lease matches the anticipated term of equipment " use ".
We also need to explain how a lease can protect profits by placing the expense next to revenue in months of high revenue and avoiding payments in periods of low revenue. Irregular payments are acceptable for all of the rules if they match the use and revenue generation of the equipment.
If you discuss the lessee's needs and present more than one option and sell the one that matches the use and explain the differences between leasing and lending then you may be on the path of becoming a professional lease salesperson.
Mr. Terry Winders has been a a teacher, consultant, expert witness for the leasing industry for thirty years and can be reached at leaseconsulting@msn.com or 502-327-8666
--------------------------------------------------------------

--------------------------------------------------------------

The Brig Pilgrim is a full size replica of the hide brig immortalized by Richard Henry Dana, Jr. in his American classic seafaring novel," Two Years before the Mast."
You can view the tall ships at the "Toshiba Tall Ship" Festival in Dana Point , September 9th & 10 th --- the largest annual gathering of tall ships on the west coast. The festival offers living history demonstrations, live music, art shows, tours of the tall ships, interactive displays and so much more! Come experience the wonders of the majestic tall ships and our unique maritime past in this exciting family event.
http://www.tallshipsfestival.com/
---------------------------------------------------------------
### Press Release ###########################

Nassau Relocates Collections Division to Mass.,
Corporate Headquarters Remains in New York

WESTBURY, NY, —Nassau Asset Management is relocating its collections division office from Woonsocket, RI, to Wrentham, MA, effective Aug. 1, Nassau President Ed Castagna announced today. The new office, located closer to Boston, will offer distinct benefits to Nassau and its customers.
"Our growing customer base spans the United States and parts of Canada," Castagna says. "The Wrentham location will give us the facilities necessary to manage our nationwide collections business and accommodate future growth. It is also near Boston, a major hub for finance companies operating in the Northeast."
Nassau's collections division is headed by Dan Potts, vice president of receivables management. The new address is: Nassau Asset Management, Collections Division, 844 Franklin St., Suite 5A, Wrentham, MA 02093. The new phone number is 508-384-1500, and fax number is 508-384-1515. Potts' email address remains dpotts@nasset.com.
Collections represent just one facet of Nassau's business. Headquartered in Westbury on New York's Long Island, the company has served the equipment leasing and finance industry for more than 25 years. Nassau streamlines the entire continuum of remarketing, collections, deficiency balance and legal activities necessary for resolving delinquent accounts--delivering faster results, higher returns and reduced workloads for leasing and finance companies. Specific services include:
·collections prior to charge-off;
·appraisal of leased assets before or after charge-off;
·voluntary and involuntary repossessions;
·full condition reports and appraisals on-site;
·asset location and skip tracing;
·equipment remarketing;
·Nassau's global remarketing Web site, www.nasset.com;
·plant liquidations;
·post charge-off and deficiency balance collections; and
·legal activities through Nassau's nationwide attorney network.
For more information, please visit www.nasset.com or
call 1-800-4NASSAU (1-800-462-7728).
### Press Release ###########################

Dale Named COO of FirstLease, Inc.

FORT WASHINGTON, PA — John L. Dale has been named Chief Operating Officer of FirstLease, Inc., a small ticket leasing company and wholly owned subsidiary of Firstrust Bank.
In his new position, Dale will oversee the retail and wholesale operations of FirstLease. He will not only manage the retail vendor program but also spearhead the company's fast-growing portfolio purchase activities and the new warehouse participation division.
"We're very pleased to have someone of John's caliber joining FirstLease," said Ted Kapnek, president of FirstLease. "Not only has John been a banker and a senior officer in the financial industry, but he also exhibits an admirable entrepreneurial spirit. He started his own successful firm, which was subsequently acquired by another equipment leasing company."
Prior to joining FirstLease, Dale served as Executive Vice President and Chief Financial Officer for Partners Equity Capital Company, LLC in Horsham, Pa. A veteran in his field, Dale has more than 15 years of experience working with companies that provide asset securitization, portfolio purchasing and warehouse lines.
Dale earned his master's degree in management from the University of Maryland, and his bachelor's degree in finance and economics from The Pennsylvania State University. He was awarded the Chartered Financial Analyst (CFA) designation in 2005.
First Lease, Inc., based in Fort Washington, Pa., is committed to providing small business owners with an alternative means of acquiring critical equipment for their businesses by offering competitive, niche-specific leasing to creditworthy entrepreneurs. For further information, please visit www.firstleaseonline.com
### Press Release ###########################
--------------------------------------------------------------

News Briefs----
A New Page in the Script for Paulson
http://www.nytimes.com/2006/08/02/business/02treasury.html?_r=1&ref=
business&oref=slogin
Consumer Spending Up 0.2 Percent in June
http://www.chicagotribune.com/business/sns-ap-economy,1,163359.story?
coll=chi-business-hed
Toyota, Honda report sales jump in July
http://hosted.ap.org/dynamic/stories/A/AUTO_SALES?SITE=MIDTN&SECTION=
HOME&TEMPLATE=DEFAULT
Plan to start Net bank for blacks stalls
http://www.boston.com/business/globe/articles/2006/08/01/
plan_to_start_net_bank_for_blacks_stalls/
Fastest-growing retailers tend to be smaller ones
http://www.usatoday.com/money/industries/retail/2006-07-31-retail-lists-usat_x.htm
Electricity demand records continue to fall in face of heat
http://www.snl.com/interactivex/article.aspx?CdId=A-4532600-12905
Publisher of two Philadelphia newspapers resigns
http://www.signonsandiego.com/news/business/20060801-1309-p
hiladelphianewspapers.html
STANFORD
Record pledge from Nike's founder to help build business grad school
http://www.sfgate.com/cgi-bin/article.cgi?f=/c/a/2006/08/02/STANFORD.TMP
U.S. Senate Races
http://www.nytimes.com/ref/washington/2006ELECTIONGUIDE.html?
currentDataSet=senANALYSIS
---------------------------------------------------------------


You May have Missed---
Scams fool the money-wise
http://seattletimes.nwsource.com/html/businesstechnology/
2003162588_fraudvictims30m.html
---------------------------------------------------------------

Sports Briefs----
Raiders owner Al Davis, 77, talks about his hopes for 2006 and hints at his succession plan
http://www.sfgate.com/cgi-bin/article.cgi?f=/c/a/2006/08/02/RAIDERS.TMP
Davis says Raiders will trade Porter, if conditions are met
http://www.contracostatimes.com/mld/cctimes/15174771.htm
----------------------------------------------------------------


California News Briefs---
Higher temperatures, rising ocean, loss of snowpack forecast for state
http://sfgate.com/cgi-bin/article.cgi?file=/c/a/2006/08/01/MNGDAK90EK1.DTL
Governor, Blair sign climate deal
---They pledge 'urgent action' to fight global warming.
http://www.sacbee.com/content/politics/story/14284146p-15091720c.html
----------------------------------------------------------------


"Gimme that Wine"
Bonny Doon sells Big House and Cardinal Zin brands to The Wine Group
http://www.winebusiness.com/news/DailyNewsArticle.cfm?dataid=43991
NZ says wine production to rise 20%
http://www.theage.com.au/news/Business/NZ-says-wine-production-to-rise-20/
2006/08/01/1154198118670.html
THOMCORD: New Grape Variety Draws Ready Fans
http://www.huntingtonnews.net/national/060731-shns-grape.html
Wine Prices by vintage
http://www.winezap.com
http://www.wine-searcher.com/
US/International Wine Events
http://www.localwineevents.com/
Winery Atlas
http://www.carterhouse.com/atlas/\
Leasing News Wine & Spirits Page
http://two.leasingnews.org/Recommendations/wnensprts.htm
----------------------------------------------------------------

Calendar Events This Day
Costa Rica: Feast of Our Lady of Angels
National Holiday
Macedonia: National Day. Anniversary
Commemorates the nationalist uprising against the Ottoman Empire in 1903. Called Prophet Elias Day or Illinden. Most sacred, honored and celebrated day of the Macedonian people. Turkish reprisals against the insurgents were ruthless, including the destruction of 105 villages and the execution of more than 1,700 noncombatants.
----------------------------------------------------------------

Today's Top Event in History
1775-The Declaration of Independent is signed. Contrary to widespread misconceptions, and as reported July 3, the 56 signers did not sign as a group and did not do so on July 4, 1777. John Hancock and Charles Thompson signed only draft copies that day, the official day the Declaration was adopted by Congress. There also were questions about identifying the signers as the war was not going well, and as a matter of fact, the British did occupy Philadelphia for a short time. This day fifty signed, and later in the year, five more signed separately. One added his name in a subsequent year.
http://w3.trib.com/FACT/1st.declaration.html
http://www.thedeclarationofindependence.org/
----------------------------------------------------------------

This Day in American History
1769 - Gaspar de Portola, Spanish army captain, and Juan Crespi, a Franciscan priest, after landing in what we now call San Diego, arrived in L.A. He named the area Nuestra Senora la Reina de Los Angeles de Porciuncula. " Juan Crespi named the area after a chapel in Italy ("Our Lady the Queen of the Angels of Porciuncula."
http://www.sandiegohistory.org/bio/portola/portola.htm
http://www.encyclopedia.com/html/section/LosAngel_History.asp
1775-The Declaration of Independent is signed. Contrary to widespread misconceptions, and as reported July 3, the 56 signers did not sign as a group and did not do so on July 4, 1777. John Hancock and Charles Thompson signed only draft copies that day, the official day the Declaration was adopted by Congress. There also were questions about identifying the signers as the war was not going well, and as a matter of fact, the British did occupy Philadelphia for a short time. This day fifty signed, and later in the year, five more signed separately. One added his name in a subsequent year.
http://w3.trib.com/FACT/1st.declaration.html
http://www.thedeclarationofindependence.org/
1832-Sauk followers of Black Hawk were massacred at the mouth of the Bad Axe River in Wisconsin by Illinois militia led by General Henry Atkinson. Old men, women, and children were all killed without regard for pleas of mercy or white flags. The Black Hawk war began on April 6 after the Sauk Indians, led by Black Hawk, faring poorly in Iowa where the government had moved them, re-crossed the Mississippi River and moved back to their former corn fields to plant a new crop. As tensions mounted, panicky settlers killed two Indians seeking a parley and bearing a white flag. Black Hawk, enraged, began killing white settlers. August 27, Black Hawk, deserted by his Winnebago allies, surrendered, thus ending the Black Hawk War.
http://www.riverroads.com/cgi-bin/masterframereunion.cgi?http%3A//
www.riverroads.com/grr/blackhawk.html
http://www.riverroads.com/cgi-bin/masterframereunion.cgi?http%3A//
www.riverroads.com/grr/blackhawk.html
1846-General Vallejo was released from Fort Sutter, after being arrested and most of his property stolen from many of the settlers who he had helped. A tragic story.
http://www.sfmuseum.org/bio/vallejo.html
1848-African-American William Leidesdorff founds the first public education school in Portsmith Square, San Francisco. He also built the city's first hotel.
http://www.blackmoney.com/exhibit/pages/panel2.htm
http://www.co.broward.fl.us/lii13005.html
1858 - The first mailboxes were installed along the streets of Boston and New York City. The idea of mailboxes began in Belgium in 1848. Mail was delivered twice a day, except in rural areas, phased out in certain areas starting in the 1960's.
1865- August 2, Wild Bill Hickok, a skilled gunman with a formidable reputation, was eking out a living as a professional gambler in Springfield, Illinois. He quarreled with Dave Tutt, a former Union soldier, but it is unclear what caused the dispute. Whatever the cause, rather than fight it out immediately, as typically occurred, the two men agreed to a duel the following day. The showdown took place at 6:00 the next evening. A crowd of onlookers watched as Hickok and Tutt confronted each other from opposite sides of the town square. When Tutt was about 75 yards away, Hickok shouted, "Don't come any closer, Dave." Tutt nervously drew his revolver and fired a shot that went wild. Hickok, by contrast, remained cool. He steadied his own revolver in his left hand and shot Tutt dead with a bullet through the chest. Having adhered to the code of the West, Hickok was acquitted of manslaughter charges. Eleven years later, however, Hickok died in a fashion far more typical of the violence of the day: a young gunslinger shot him in the back of the head while he played cards. Hickok was holding a pair of black aces and a pair of black eights, now well known as a "Dead Man's Hand."
http://www.beauproductions.com/wildbillhickok/
http://njnj.essortment.com/whowildbillhi_rgvu.htm
http://www.historybuff.com/library/refhickok.html
1873-First trial run of the San Francisco cable car, Clay Street between Kearny & Jones .
http://www.americahurrah.com/images/CCdummy.jpg
http://www.americahurrah.com/images/CCcalifornia.jpg
http://www.americahurrah.com/Postcards/SFCC1.html
http://www.americahurrah.com/images/CCcalterminus.jpg
http://web.presby.edu/~jtbell/transit/SanFrancisco/CableCar/1893Map.gif
http://web.presby.edu/~jtbell/transit/SanFrancisco/CableCar/1906Map.gif
Castro Line abandoned 1939:
http://www.sfmuseum.org/hist8/castrocar.html
Mayor Lapham in 1949 closed down more lines, for a full history:
http://www.geocities.com/CapeCanaveral/Launchpad/3518/html/ccsffch.html
Today: http://cable-car.visit-san-francisco.com/
1876 - Wild Bill (James Butler) Hickok was gunned down by Jack McCall, a desperado from Texas, in Saloon #10 at Deadwood, in the Dakota Territory. Hickok was playing poker (with his back to the door) at the time of the shooting. McCall shot Wild Bill in the back, and was hanged for the shooting, never revealing his motive. The poker hand Hickok was holding when he died consisted of a pair of black aces and a pair of black eights. This combination became known as the dead man's hand.
http://members.aol.com/J0KERtm/Doomtown/Deadman.html
http://www.sodbuster.com/Politics/POL080597JM.htm
http://www.mountaintraditions.com/Wild_Bill_Hickok.html
1896—Trumpet player Anatie " Natty" Dominique Birthday
http://atj.8k.com/noartist/atjdominique.html
1900-birthday of Helen Morgan - U.S. vocalist. HM was the sensational American "torch" singer of the speakeasies and of Broadway and the movies. She introduced such song- standards as "Bill," "Can't Help Loving that Man," and "Why Was I Born?" "The Helen Morgan Story" was made about her life starring Ann Blyth and Paul Newman.
http://us.imdb.com/title/tt0050494/
1905-Birthday of 905, Myrna Loy - U.S. actor and activist. Best known in the movies for her portrayal of the unflappable Nora Charles in the Thin Man series. She stopped making movies during World War II to work for the Red Cross.
1909- First Lincoln head penny
http://www.geocities.com/Vienna/Strasse/2453/hpenny.html
1914-Birthday of Felix Leclerc, perhaps one of the greatest French language singers and songwriters that Quebec has produced, born in La Tuque. Several of his songs - "Le P'tit Bonheur," "Le Train du Nord" and "Bozo" - became popular in Quebec in the late 1940's. In 1950, Leclerc went to Paris where he soon became a superstar. He subsequently divided his time between Europe and Canada. Leclerc was awarded France's Grand Prix du disque in 1951 for his song, "Moi, mes souliers." Leclerc won the award twice more - in 1958 and in 1973. He is credited with revitalizing the popular song in France. Felix Leclerc died on August 8, 1988 at the age of 74.
1920- Marcus Garvey presented his "Back To Africa" program in New York City.
http://www.triadntr.net/~rdavis/garvey.htm
http://www.mountaintraditions.com/Wild_Bill_Hickok.html
http://www.isop.ucla.edu/mgpp/photo01.htm
1921-- With the jurors lifting the men onto their shoulders, the eight White Sox players accused of throwing the 1919 World Series are acquitted by the jury. The next day, Commissioner Kennesaw Mountain Landis will say the overwhelming evidence clearly shows the Black Sox fixed the games with gamblers and all involved will be banned from playing professional baseball again.
1922-Birthday of saxophonist Big Nick Nicolas, Lansing, MI
1923-Birthday of vocalist Bixie Crawford, Oklahoma City, OK.
http://www.geocities.co.jp/MusicHall/2651/BASIE/DISCOGRAPHY/
americans_in_sweden2.html
1923-President Warren G. Harding died in office. For the first time since Zachary Taylor's death in 1850, a president of the United States died in office of natural causes. Pres. Warren G. Harding was in poor health. His reputation was in decline because friends he had appointed to federal office had proven corrupt or incompetent. Scandals were about to break all around him. To get away from the unpleasantness, Harding began a tour June 20 of the West and Alaska. He took ill on the return journey. Accompanied by his wife, he didn't trust him, but who also wanted to cure him, she had obtained a "electrical box"( later to be proven a hoax, but very popular in its day as the inventor was a well-known Physician, to help cure him.) He evidently had early heart disease, not known in its day, and was an over-eater, drinker, and well-known womanizer. Here in San Francisco at the Sheraton Palace Hotel, he died at 58 of an embolism while recovering form an attack of ptomaine poisoning and pneumonia. There were rumors of foul play at the time. At 2:43am on August 3, Vice-President Calvin Coolidge was sworn in as president by his father, a notary public, in the family home in Plymouth Vermont. Harding was buried at Marion, Ohio on August 10. In a further bit of trivia, if you will, his wife Florence Kling De Wolfe Harding died on November 21, 1924, in Marion, Ohio, thereby creating the historical event to be the first president and first Lady to die during the term for which he had been elected ( March 4,1921-March 3,1925).
1924- birthday of James Arthur Baldwin, African- American author noted for descriptions of black life in the US. Born at New York, NY. His best-known work, "Go Tell It on the Mountain, "was published in 1953. He wrote many social commentary articles and was a leader of the movement in his day. Died at Saint PauI-de-Vence, France, Nov 30,1987.
http://memory.loc.gov/ammem/today/aug02.html
http://www.founders.howard.edu/Commencement2000/Baldwin_JamesA.htm
http://www.uic.edu/depts/quic/history/james_baldwin.html
http://www.americanwriters.org/writers/baldwin.asp
1924-Birthday of Carroll O'Connor, television, stage and screen actor born in New York, NY. He was best-known for his portrayal of the bigoted, blue-collar Archie Bunker on "All in the Family." He played the role of Bunker from 1971 to 1979, and was nominated for eight Emmy Awards, winning four. He won a fifth Emmy in 1989 for " In the Heat of the Night." He was also inducted into the Television Hall of Fame in 1989. He died in Culver City, CA on June 21, 2001.
1924-Birthday of pianist Joe Harnell, whose "Fly Me to the Moon" was a top-20 hit in 1963.
http://www.joeharnell.com/bio.html
1926 - The first demonstration of the Vitaphone system, that combined picture and sound for movies, was held at the Warner Theatre in New York City. John Barrymore and Mary Astor starred in the demonstration film for the new moving picture projector.
1929-Fats Waller records " Ain't Misbehavin'" ( Victor 22092)
1937 - Benny Goodman and his quartet (Lionel Hampton, Teddy Wilson, and Gene Krupa recorded "Smiles" for Victor Records. Goodman was the first "white" bandleader to feature black musicians.
1937- Birthday of Garth Hudson, organist with "The Band", born in London, Ontario. The Band began as The Hawks, the group that backed rockabilly singer Ronnie Hawkins from about 1959 until 1963. The Hawks then split from Hawkins, moved to the US and in 1965 became the back-up band for Bob Dylan. The Band also pursued a recording career of their own, beginning with the album "Music From the Big Pink" in 1968. The Band remained together until November 1976, when they played a final concert at the Winterland Ballroom in San Francisco. The event was filmed by director Martin Scorsese, and released as "The Last Waltz."
http://www.rhino.com/Hotpress/78278pr.html
1938-The Brooklyn Dodgers and the St. Louis Cardinals played a doubleheader in which they experimented with a yellow baseball in the first game. They went back to the traditional white ball for the second game, and the Dodgers won both contests, 6-2 and 9-3.
1939- Albert Einstein, world-famous scientist, a refugee from Nazi Germany, wrote a letter to US President Franklin D. Roosevelt, first mentioning a possible "new phenomenon ... chain reactions . . vast amounts of power." "A single bomb of this type," he wrote, "carried by boat and exploded in a port, might very well destroy the whole port together with some of the surrounding territory." Six years and four days later, Aug 6,1945, the Japanese port of Hiroshima was destroyed by the first atomic bombing of a populated place.
1943 - Lieutenant (j.g.) John F. Kennedy "PT 109" was rammed and sunk by the Japanese destroyer "Amigiri". Kennedy suffered a back injury that plagued him for the rest of his life. The story of the "PT 109" was told in Hollywood style in the 1963 movie, "PT 109", starring Cliff Robertson as JFK. There is another version that the crew was asleep and rammed by the destroyer. Recently discovered, it is not considered a "landmark" and the PT 109 will not be brought to the surface.
1944-birthday of bassist Albert Stinson.
http://charlotte.acns.nwu.edu/larryt/miles/sessionography/1967/67Apr07.html
1945---Top Hits
The More I See You - Dick Haymes
Dream - The Pied Pipers
Sentimental Journey - The Les Brown Orchestra (vocal: Doris Day)
Oklahoma Hills - Jack Guthrie
1945-Birthday of percussionist Nana Vasconcelos, Brazil
http://www.ejn.it/mus/vasconce.htm
1952-Five American boxers won gold medals at the summer Olympics in He3lsinki,Finland, giving the US the unofficial team championships for the first time. The gold medalists were flyweight Nate Brooks, light welterweight Charley Adkins, middleweight Floyd Patterson, light heavyweight Norvell Lee and heavyweight Eddie Sanders.
1953---Top Hits
I'm Walking Behind You - Eddie Fisher
No Other Love - Perry Como
Ruby - Richard Hayman
Rub-A-Dub-Dub - Hank Thompson
1956-The US Virgin Island, including areas on St. John and St. Thomas, were established as a national park and preserve. On October 5, 1962, he enlarged to include offshore areas, including coral reefs, shorelines and sea grass beds.
1960 - No. 1 Billboard Pop Hit: "Itsy Bitsy Teenie Weenie Yellow Polka Dot Bikini," Brian Hyland. The song is a true story inspired by songwriter Paul Vance's two-year-old daughter.
1961---Top Hits
Tossin' and Turnin' - Bobby Lewis
I Like It Like That - Chris Kenner
Dum Dum - Brenda Lee
Heartbreak U.S.A. - Kitty Wells
1961-The Beatles begin their engagement as regular headliners at Liverpool's Cavern Club, where they'll perform about 300 times in the next two years.
1965-CBS Morley Safer's sends first Vietnam report indicating we are losing.
1969---Top Hits
In the Year 2525 - Zager & Evans
Crystal Blue Persuasion - Tommy James & The Shondells
What Does It Take (To Win Your Love) - Jr. Walker & The All Stars
Johnny B. Goode - Buck Owens
1969-Bob Dylan shows up unexpectedly to his 10-year high school reunion in Hibbing, Minnesota. He and his wife leave early when a drunk tried to pick a fight with him.
1971 - No. 1 Billboard Pop Hit: "How Can You Mend a Broken Heart," The Bee Gees. The song is the first of nine No. 1 singles for the Gibb brothers.
1973 - Rick DeMont captured the 400-meter freestyle event in 4 minutes, 2.9 seconds at the Los Angeles Invitational Swim Meet.
1975- "One Of These Nights" by the Eagles hits #1 on the pop chart, while Lynyrd Skynyrd's "Saturday Night Special" peaks at #27
1975- Billy Martin named manager of NY Yankees (1st time.)
1975- "One Of These Nights" by the Eagles hits #1 on the pop chart, while Lynyrd Skynyrd's "Saturday Night Special" peaks at #27.
1975 - Record heat gripped New England. Highs of 104 degrees at Providence, RI, and 107 degrees at Chester and New Bedford, MA, established state records. The heat along the coast of Maine was unprecedented, with afternoon highs of 101 degrees at Bar Harbor and 104 degrees at Jonesboro.Hot weather continued in the central U.S. Fifteen cities reported record high temperatures for the date, including Concordia KS with a reading of 106 degrees, and Downtown Kansas City, MO, with a high of 105 degrees. Evening thunderstorms produced severe weather in the Ohio Valley and the north central U.S. Thunder- storms in South Dakota produced wind gusts to 70 mph at Philip, and hail two inches in diameter at Faulkton.
1979 -Gilda Radner Live From New York opens on Broadway.
http://www.angelfire.com/ny3/gildaradner/GildaRadnersPlace.html
http://www.allsands.com/Entertainment/People/gildaradnerbi_zvu_gn.htm
http://www.gildasclub.org/
1977---Top Hits
I Just Want to Be Your Everything - Andy Gibb
I'm in You - Peter Frampton
My Heart Belongs to Me - Barbra Streisand
It was Almost like a Song - Ronnie Milsap
1981 - No. 1 Billboard Pop Hit: "Jessie's Girl," Rick Springfield. The song wins Springfield a Grammy for Best Male Rock Vocal Performance.
1984 - Charles Schulz' award-winning comic strip was picked up by the "Daily Times" in Portsmouth, OH. With the addition of that paper, "Peanuts", featuring Charlie Brown, Snoopy, Lucy, Pigpen, Linus, Peppermint Pattie, Woodstock and the gang, became the first comic strip to appear in 2,000 newspapers.
1985---Top Hits
Everytime You Go Away - Paul Young
Shout - Tears For Fears
You Give Good Love - Whitney Houston
Love Don't Care (Whose Heart It Breaks) - Earl Thomas Conley
1986 -Jackie Joyner-Kersee (US) sets record for heptathlon (7161 pts).
http://www.galegroup.com/free_resources/bhm/bio/joyner_j.htm
http://www.davison.k12.mi.us/dms/projects/women/ajoyner.htm
http://www.sportsstarsusa.com/olympians/joyner-kersee_jackie.html
1987 -Michael Andretti runs fastest Indy car race in history (171.49 MPH)
1987 - The 50-year-old Walt Disney movie classic, "Snow White and the Seven Dwarfs", was re-released. The film was the most popular animated film in motion picture history. It grossed almost $20 million in its first two weeks of re-release.
1987- Fans at a Billy Joel concert in Leningrad jumped up and down on their seats, breaking about 200 chairs. Members of the audience carried Joel out on their shoulders at the conclusion of his performance. Joel's manager said the singer would either pay for the damage or leave behind 500 folding chairs he brought with him to help accommodate overflow audiences on his Soviet tour. Audience members carry Joel out on their shoulders at the end.
1987-Hot weather continued in the central U.S. Fifteen cities reported record high temperatures for the date, including Concordia KS with a reading of 106 degrees, and Downtown Kansas City, MO, with a high of 105 degrees. Evening thunderstorms produced severe weather in the Ohio Valley and the north central U.S. Thunder- storms in South Dakota produced wind gusts to 70 mph at Philip, and hail two inches in diameter at Faulkton.
1988 - Searing heat continued from the Middle and Upper Mississippi Valley to the Middle and Northern Atlantic Coast States. Twenty- six cities reported record high temperatures for the date. Chicago IL reported a record seven days of 100 degree heat for the year
1989- Reds' outfielder Eric Davis becomes the seventh player to join the 30-30 club as he homers in the 5-4 victory over the Giants. No one had ever accomplished the feat with still nearly two months left to play in the season.
1990-On President Saddam Hussein's orders, the Iraqi army invaded Kuwait. Hussein claimed that Kuwait presented a serious threat to Iraq's economic existence by overproducing oil and driving prices down on the world market. After conquering the capital, Kuwait City, Hussein installed a military government in Kuwait, prior to annexing it to Iraq on the claim that Kuwait was historically part of Iraq. The US and most other nations immediately condemned the aggression and the UN passed measures calling for broad economic sanctions against Iraq. As Iraqi forces began to mass along the border with Saudi Arabia, the US and other nations sent troops to Saudi Arabia to protect that country from invasion with an operation named Desert Shield. The multinational force included troops from other Arab countries such as Egypt, Syria and Morocco in addition to forces from Western governments with large economic interests in the region. Approximately 21,000 foreign nationals from several countries were detained by Iraq and were transported to various strategic locations to deter possible retaliatory attacks. The US military action was the largest mobilization of forces since the Vietnam War. The following January Desert Shield became Operation Desert Storm as the Allied forces went to war against Iraq.
1995-- Long time coach Jimmie Reese, whose 23 years in an Angels uniform equals longest in club history is inducted into the Angels' Hall of Fame. The former roommate of Babe Ruth began his career as a batboy for the Pacific Coast League's Los Angeles Angels in 1917.
--------------------------------------------------------------


Baseball Poem
Dodger Blue
by Richard Aberdeen©(August 20, 2003)
Sung to the tune Deportee by Woodie Guthrie & Marting Hoffman
The chalk lines are faded, the bleachers are empty
The parking lot's vacant at the ravine stadium
The fans have all taken up bad-mitten and checkers
On a hot summer evening there's nothin' else left for fun
The owners' and players' greed knows no boundaries
They've taken the fans on a phony hype ride
Though they both earn enough money to buy a jet airplane
'Till they have more than God, they won't be satisfied
Now, is this the best way to run America's pastime?
Is this fair to the fans who are loyal and true?
Like the late Billy Martin and Tommy Lasorda
There's no more real Yankees, no one bleeds Dodger Blue
Goodbye to Ty Cobb, Joe DiMaggio and Babe Ruth
Adios Lou Gehrig and true heroes for our youth
You won't see the great Clemente up on the big sports screen
The owners and players all want. . . more money
Now, us fans in the bleachers all want a solution
To stop all your whining and complaining on earth
Let's forget about salaries and pay by statistics
For hits, runs and outs, you'll be paid what you're worth
If you hit sixty homers, you'll get you're few million
But if you pitch more balls than strikes you'd better run
Down to apply at the nearest Del Taco
We're tired of big babies who ruin baseball's fun
Let's return our national pastime back to the fans
Give big bucks to the players only when they come through
And like the late Billy Martin and Tommy Lasorda
We'll cheer for real Yankees and bleed Dodger Blue
Goodbye to Ted Williams, Stan Musial and Cy Young
Adios Mickey Mantle, Willie Mays and Hank Aaron
You won't see Charlie Hustle up on the big sports screen
The owners and players all want. . . more money
The chalk lines are redrawn, the bleachers repainted
The big screen scoreboard is re-hooked to the juice
The parking lot's filled with limos and Mercedes
The owners and players have a temporary truce
Now, we want real heroes our children can look up to
We want fair owners who treat loyal fans right
People who love baseball and the values we stand for
With all of their heart and their soul and their might
If you don't care what happens to our time-honored pastime
Then get the hell out of the way of those of us who do
Like the late Billy Martin and Tommy Lasorda
We want to cheer for real Yankees and bleed Dodger Blue
Goodbye to Vin Scully, Branch Rickey and Bill Veeck
Adios Harry Caray and real baseball, but what the heck?
We won't see Jackie Robinson slide on the big sports screen
The owners and players all want. . . more money
Yeah, the owners and players all want. . . more money. . .
Are there any more real Yankees?
Does anyone bleed Dodger Blue?
--------------------------------------------------------------

SuDoku
SuDoku
The object is to insert the numbers in the boxes to satisfy only one condition: each row, column and 3x3 box must contain the digits 1 through 9 exactly once. What could be simpler?
http://leasingnews.org/Soduku/soduko-main.htm