Highest Commission in Industry
Seeking self-motivated, energetic individuals for California, Florida, Georgia, Illinois,Texas
equipment transportation leasing/financing. Moderate travel & extensive phone work.
Email resume : ekaye@advantagefunding.us or fax to 718-392-5427.
About the Company: Advantage Funding was recently acquired by Marubeni Motor Holdings, a major Japanese trading company and is a leading commercial and consumer vehicle and equipment financing and leasing company based in Long Island City, NY.

Wednesday, August 16, 2006
Headlines---
Classified Ads---Sales
Sales Makes it Happen---by Kit Menkin
"Sales Rep' Compensation Survey"
Broker Commission Survey
Leasing Library Closed---Parker Retires
1991---WAEL Past Presidents
UAEL October 5-8th, Albuquerque up-date
Cartoon---
FICOs dip, 40-year mortgages
Classified Ads-Help Wanted
China's Leasing Industry to Develop
Atty. Ed Gross/Equipment Finance Group
Greystone Equip. Fin. Hires Mike Karman
Huntington Launches New Thrust
News Briefs---
You May have Missed---
"Gimme that Wine"
Calendar Events
Snapple Real Facts
Today's Top Event in History
This Day in American History
Baseball Poem
SuDoku Puzzle
######## surrounding the article denotes it is a "press release"
---------------------------------------------------------------

Classified Ads---Sales
Girardet Wine Cellars, Roseburg, Oregon
Sales: Bakersfield, CA
I have an extensive sales and management background in equipment leasing. My work history exhibits my major strength in small ticket equipment leasing.
Email: pangress@msn.com
Sales: Boston, MA
Middle market originator, construction/Trucks /
Trailers w/ 8 years in territory, looking for company / bank with competitive products
Email: mrichlease@comcast.net

Sales: Cedar Rapids, IA
Formally trained in Credit, Collections, & Sales with regional bank. Seeking sales or sales management.
Over ten years

in SM, vendor and end user.
Email: mjrprime@yahoo.com
Sales: Dallas, TX
17 years of experience in vendor sales. Solid book of business. Can hit the sales ground running in Dallas/Ft. Worth. Can Start ASAP
E-mail: whomadewho12@yahoo.com
Sales: Denver CO
Experienced Equipment Leasing Broker looking for a in house leasing company. Can bring a book of business with me or develop new territory where needed.
Email: Steven@eagle2.net
Sales: Detroit MI
Motivated self-starter w/5 yrs sales exp. IT leasing. Excellent communicator w/strong negotiation/biz dev. skills. Six-sigma certified w/ Fortune 50 company/book of business.
Email: playmakers1@sbcglobal.net
Sales: East Central F L
20+ years experience in all areas of leasing; sales, credit, operations, syndication. Currently independent seeking position with direct middle market lender in regional capacity
email: southernleasing@bellsouth.net
Sales: Fresno CA
Account Exec/Manager. 7+ years Leasing Sales: underwriting/contract, complex transactions, hi-tech, government, direct & vendor leasing. Captive & syndicator environments. Expert deal closer. Will send resume.
Email: dsp559@pacbell.net
Resume
Sales: Greensboro, NC
Seeking direct & broker sales w/major finance companies in NC or southeast market. Small to mid-ticket range. Stable &family oriented. Will have series 6,63,65 license shortly.
Email: kc1492@aol.com
Sales: Kansas City, MO
20 years Senior Sales/Management experience in small ticket/government leasing. Program Management experience, managing 12
Reps. Credit Auth to $50K. Success in soliciting and maintaining accounts.
Email: dhundley1@kc.rr.com
Sales: Los Angeles CA
5 years experience structuring off-balance sheet finance solutions on computer and medical equipment. Perform detailed competitive analysis and market research. I uncover leads and sell.
email: barretthawk@hotmail.com
Sales: Midsouth, TX
Lease Veteran-25+ years, heavy Vendor experience looking for new
opportunity in MidSouth/SE. Experience in leasing to major accounts in
high- tech/computers/Golf/transportation.
Email: LeaseVeteran@sbcglobal.net
Sales: Mission Viejo, CA
Account Sales Executive with 10 years of leasing experience looking for company to bring existing customer base.
Email: makelly21@hotmail.com
Sales: Montgomery, AL
Individual with 10 years advertising sales exp. & 7 years insurance sales exp. Wants independent contractor situation in Alabama.
Work with leasing company or broker.
334-281-5200
E-mail: billmcneal2003@yahoo.com
Sales: Nashua, NH
10+ years sales experience small & mid-ticket hi-tech & telecom in a captive and vendor environment. Seeking new sales opportunity in New England.
E-mail: RPepa@aol.com
Sales: Newport Beach, CA
Direct sales rep. in the middle market w/22 years experience various types of equipment. Leasing/ financing from medical equip. to
mfg. equip.. Strong closer.
E-mail: pauldriscoll1@lycos.com
Sales: North Carolina, Central
7 yrs.equip leasing &finance; specialist in heavy construction equip for 2-top-5-specialty finance/lease companies, NC &VA territories. $10-15MM annual funding. Downsized in 2002, now independent broker with varied customer base.
Email: sunriseleasing@aol.com
Sales: Philadelphia, PA
Seeking an open opportunity to advance in the automotive, commercial leasing & finance industry.........
Email: alexe362002@yahoo.com
Sales: Philadelphia, PA
25 years in Healthcare and seeking an opportunity to represent a lender for dental/medical funding in the Northeast to
Mid-Atlantic states.
email: mitutz@msn.com
Sales: Portland, OR.
"Exp. In direct sales and sales mgmt.
I love Portland, but decent here jobs are few. Willing to be re-located, would like to work for you.
Email: pthygeson@netscape.net "

Sales :

Prairie Village, KS
Have substantial deal flow and database of broker referral sources. Generated and closed over $22M LY. Seeking exclusive relationship w/direct founder.
Email: fiergl@aol.com
Sales: Saint Louis, MO
25+ years in sales + sale management. Top producer. Will relocate for right opportunity.
email: wwa2@htc.net

Sales:

San Francisco Bay Area, CA
10+ yrs in middle market leasing. Seek direct lessor only. Transaction size from $500M to $10.0MM. Client base: printing, food, retail, manufacturing.
Email: edm173@sbcglobal.net
Sales: San Francisco Bay Area, CA
Currently employed Vendor Program "Hunter", with complex program development experience. Also skilled at program management. Technology to yellow iron assets.
Extensive national rolodex.
Email: VdrPgmBizDev@aol.com

Sales:

San Francisco Bay Area, CA
15+ yrs--mid mkt. $500M to $10.0MM. Seeking role w/ captive or global leasing firm. large book to bring with me! Debt, tax, 1st amendment, etc.
Email: lac4002@yahoo.com
Sales: San Francisco Bay Area, CA
20 plus years experience in small ticket and middle market, mostly vendor driven business; specialist in manufacturing, hi-tech & medical. Excellent analytical and marketing skills.
Email: deals_2_do@yahoo.com
Sales: Southern California
Equipment Financing Professional with strong background in Sales, Management, Marketing & Operations. Will consider relocation for Senior Sales or Management position offering dynamic growth opportunity.
Email: natsif@hotmail.com
Sales: South Central US
TX, OK, KS & AR Territory.
Equipment finance and leasing professional, 20 years experience. Top producer in middle to upper middle markets. Extensive customer base.
Email: usleasingrep@yahoo.com
For a full listing of all "job wanted" ads, please go to:
http://216.66.242.252/AL/LeasingNews/JobPostings.htm
To place a free "job wanted" ad, please go to:
http://216.66.242.252/AL/LeasingNews/PostingForm.asp
* http://www.girardetwine.com/visiting.htm
http://www.girardetwin e.com/
--------------------------------------------------------------

Sales Make it Happen
by Kit Menkin
"Sales Rep' Compensation Survey"
This survey was made by the United Association of Equipment Leasing (UAEL) for their May 4-7 Spring Conference in Dana Point, California. Paul Knowlton, CLP, secured permission for Leasing News to utilize it. Mr. Knowlton is chairing the October 5th through the 8th in Albuquerque, New Mexico. Leasing News will reciprocate by helping to promote the fall conference.
The UAEL survey was originally a "power point presentation" with discussion, not designed as "printed" information.
This UAEL survey seems to have responses primarily from smaller companies, 60.5% have from "1 to 5" and 28% from "6 to 15" salesmen. It did not appear to broach if they did business with "outside" salesmen such as brokers or vendors. It did not presume to be "scientific," and again, it was aimed for the purpose of "discussion" at its presentation at the Dana Point Conference.
304 Sent, 86 Received - 28% Response
Southern California Response Rate:
76 Sent, 24 Received- 32% Response
The value is the response from 86 leasing companies. The bent to compare Southern California to the total response appears to give the survey a prejudice, but does emphasize the differences from the rest of the country (the conference was held in Southern California.) For instance, the response to: Residuals were shared by 46.9% of the total with Southern California 78.3%. In the "no" category, it was 53.1% for the total and 21.7% for Southern California.
Q. Can your sales representatives share in future residuals?
In addition, you can see the geographic distance and the competitiveness from this question:
"What is the MINIMUM annual Gross Margin expected of a seasoned sales representative? (>2yrs)"
Here is the breakdown of the responses by geography:
Another value from the UAEL survey are these responses:
Q. If you have a Credit Manager, what are they paid?
Q. If you have a Funding Manager, what are they paid?
Q. Do you share company profits with your operational staff?
Q. Is your operational staff eligible for bonuses?
Here is a short version of the survey:
How would you consider your sales organization model?
How many sales people to you have?
How are salesmen paid?
How much is the base, if paid this way?
Q. What percentage of gross profit do you pay in commission?
Q. How long is it before a new sales person is productive generating a consistent stream of gross margin?
Q. How long before they become profitable?
Here are the full versions of the UAEL Survey with all the questions and responses. One in word format, and the second in the original power point presentation.
Word:
http://www.leasingnews.org/Pages/UAEL_Compensation_Survey_2006_files/frame.htm
Power Point:
http://www.leasingnews.org/Pages/UAEL_Compensation_Survey_2006.ppt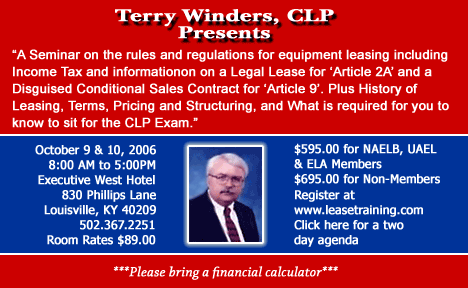 --------------------------------------------------------------

Broker Commission Survey
The UAEL remuneration survey did not include broker commissions.
It appears each year brokers are offered a higher percentage of the gross profit than "inside" sales in order to attract their business. 60% and 30% splits are not uncommon of the discounted value of the transaction. One Southern California firm advertises 75%-50% split.
Many funders advertise in printed ads "up to 20%" on the cost of the invoice.
Linda Kester wrote about these changes in "Sales makes it Happen."
She is asking readers to contact her with information "on" or "off the record."
If your company works with equipment leasing brokers, please contact her.
If you are an equipment leasing broker, please let us know what "funders" are offering you to send business their way.
linda@lindakester.com
Please send this newsletter to a colleague. We are trying to build up our readership.
----------------------------------------------------------------

Leasing Library Closed---Parker Retires
"Where did it go and why?
"Many years ago I was trying to find out more about leasing and came to the conclusion that there was very little available information. Much of the information was so technical that it wasn't of much help to someone looking for 'Leasing 101'
After a lot of research I came up with the concept of "Marketing The Equipment Lease". This became our first product and has remained a best seller over the years. As additional publications became available we added them to our product line. A lot of the "Library" products were things we developed and we also became a re seller for numerous other publications and leasing related products.
Recently I looked in the mirror and said to myself "why aren't you out fishing?" So, I decided to close up shop, move to Montana and chase trout whenever the weather permits.
A special thanks to all of our customers. It has been great meeting and talking with so many of you over the years.
Ted Parker, CLP
ted@cclease.com
Ted may have some books still available, at 40% off:
http://www.theleasinglibrary.com/products.html
His legal name is Ted G. Parker. He received a BAA in Finance from the University of Cincinnati and a with law studies at Salmon P.Chase College of Law.
Ted started out over 44 years ago working his way up to Assistant Vice-president/Regional Manager of McGraw Edison Credit Corporation, where he was a member of a three man management team, converting this captive company into a diversified commercial and industrial financial company. In 1970 he became VP/Secretary of Chanco Leasing Corporation, where he was responsible for developing, negotiating and maintaining credit lines with over 15 various lenders.
1971 he became vice-president of Capital Reserve Leasing Corporation, establishing their lease discount/brokerage department and developing new sources and techniques for funding the company's lease portfolio.
In 1974 who joined First Interstate Leasing, a division of First Interstate Bank of California where he rose senior-vice president, supervising a staff of 7 and portfolio of $160 outstanding.
When the bank was sold, he was vice-president of Guarantee Financial Services, Inc. Lease Division, in Pasadena, California, in 1985. In 1986 he was elected president of WAEL. He had served as vice-president in 1975 and member of the executive committee for two years, in addition to chairing the Long Range Planning Committee in 1984. He had served of the WAEL Board of Directors since 1983, and served as 1982 Spring Conference Program Chairman. He was Board Liaison to the Public Relations Committee in 1983 and the Coordinator of the Regional Chairperson in 1985.
In 1986 this experience brought him to Charter Equipment Leasing in Los Angeles, where he was vice-president, started the lease brokerage department soliciting business from lease brokers in the Western United States.
1989 he became part of LCA Capital Corporation, serving as senior vice president, where he started the lease brokerage and discount department for this French bank subsidiary generating business from banks and lease brokers.
In 1993 he went on his own with California Capital Leasing Corporation out of Pasadena, California. He had a relatively small company, acting primarily as a broker for audio-visual equipment and several other niche industries. He established three special marketing alliances which generated the great majority of the lease transactions.
He is most proud as being the author and publisher of "Marketing the Equipment Lease," the first publication available to the industry on selling equipment leasing. "GuideBook of Leasing Documents and Forms," a collection of 130 lease documents and forms available for use with most word processing software, a first in its time. His most recent was "Winning Leases with TValue5", a manual that takes the reader through the computer key strokes necessary to structure and price all types of equipment leases.
----------------------------------------------------------------

1991---WAEL Past Presidents
(now named the United Association of Equipment Leasing)
"Pictured here are some of the Western Association of Equipment Leasing Past President who were honored during special recognition ceremonies in commemoration of WAEL's Fifteenth Anniversary---the Crystal Celebration.
"Conference Chairman Peter Eaton, CLP, First National Leasing Corporation(center) joins Past Presidents (l to r) Jim Possehl, CLP, President Republic Financial Corporation(1989), President Steve Dunham, Leasing Associates (WAEL's first President-1974); Bob Jacobson, III, CLP, Consultant (1984 president); Eaton (1994 president); Ted Parker, CLP, LSA West Capital Corporation (1986 President): and Steve Head, Interbank Leasing Corporation (1977 President)."
----------------------------------------------------------------

UAEL Annual Conference & Exhibition
Brochure on Line:
http://www.uael.org/events/conferences/ace/brochure1.htm
Embassy Suites Hotel
Albuquerque, NM
October 5-8th, 2006

There are still rooms available for the conference but they are filling up rapidly!

Please call 760-564-2227 to reserve a room today!!

Early Bird Registration:
Expires September 1, 2006

Important International Balloon Festival Information!

Gondola Club Membership
is included with paid
Conference Registration

Please check the box on the
registration form for attending
the International Balloon
Festival's Saturday morning
Mass Ascension.

Sign up Now!
One of the most popular UAEL events as it is the Grand Opening of the International Balloon Festival, titled: "Out of the Blue." UAEL will provide early morning transportation between the Embassy Suites Hotel and the mass ascension of hundreds of hot air baloons from 7am to 10am.
Important Flight Information!

Flights into Albuquerque
are selling out fast.

Prices go up every day you wait, so
please book your flight ASAP!

General Session & Keynote Speaker
Larry Mersereau, CTC

" Stand out "
How to Position and Grow your business with
POWERFUL Brand Identity

If you're not one of the first two or three names that come to mind when your prospect is ready to make a buying decision, you're not even in the game. And if you want the best shot at their business, you'd better be first on the list. Get up early Friday morning for this session (based on Larry's new book by the same title), and you'll take home brand-building and positioning tactics that you can use immediately to establish top-of-mind awareness in any market.

You'll learn how to write your own unique positioning statement, a key step in establishing your brand recognition and market superiority.
(If you don't have one now, you've got to come to Albuquerque!) You'll identify which of the four possible market positions you're in now, which one you might prefer to occupy, and what you have to do to get there. You'll analyze your key competitors' positions, and identify what it takes to compete effectively with each one. You'll come away primed to etch your brand indelibly in the hearts and minds of your buying public, and to build a solid foundation for long-term growth and profitability.
Review the Larry Mersereau, CTC website
www.promopower.com
for more information
The Funding Source and Service Provider Expositon will be held Friday, October 6, after the event. Educational sessions and the Annual Business Meeting will be held on Saturday, October 7.
You will become a Balloon Fiesta "VIP" and enjoy the International Balloon Festival from a private reserved area, away form the crowds and with comfortable seating indoors and out.
Enjoy this exclusive setting that includes delicious food and a private tent during the Mass Ascension, which is famous for being a top draw of the Festival.
UAEL is also providing transportation and admission to the event with paid registration so sign up ASAP to reserve your place at this exciting event .
Annual Conference & Exhibiton
Kim at 760-564-2227
or email at kim@uael.org
More information at: www.uael.org
Schedule of the International Balloon Festival:
http://www.aibf.org/scripts/index/list_events_total.php
You can see the balloons from the Embassy Hotel, where UAEL
has booked rooms. Register early as this is a popular event.
Click here for the hotel:
http://embassysuites.hilton.com/en/es/hotels/index.jhtml;jsessionid=YRSAQP3J
RBD14CSGBIVMVCQKIYFC3UUC?ctyhocn=ABQEMES
Exhibitor Layout (The choice of booth location is based in the order of conference registration, so register ASAP to secure your desired spot:)
http://www.uael.org/events/conferences/ace/exhibit.asp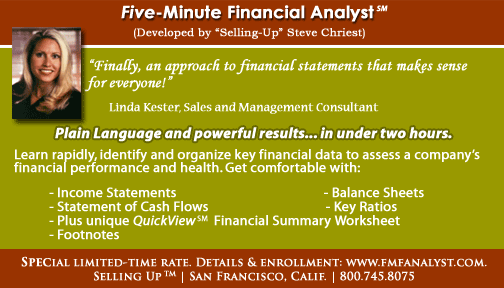 ----------------------------------------------------------------

----------------------------------------------------------------

FICOs dip, 40-year mortgages rise
ABSnet.net
Despite the predominant prediction of slowing sub prime mortgage volume this year, the sector reached near-record issuance levels in the second quarter. Sub prime issuance to the secondary market amounted to $127 billion, up from $114.3 in the first quarter and almost matching the record $128.6 billion reached in the fourth quarter, of 2005, according to UBS. Year-to-date issuance in the sub prime sector is actually exceeding 2005 levels, at $246 billion compared to $217 billion a year earlier. And even though a handful of sub prime lenders - such as Ameriquest Capital Corp. - have drastically trimmed operations - more than a few lenders, including NovaStar Financial, IndyMac Bancorp and American Home Mortgage Investment Corp., recently reported record origination volume in the three months ending June 31.
"Like any factory, you have to have enough widgets flowing through the factory to be efficient," noted Scott Hartman, chairman and chief executive of subprime lender NovaStar Financial during the company's second quarter earnings conference call.
While massive growth within the sub prime mortgage sector in recent years has indeed resulted in an expanse of mouths to feed, some secondary market participants are beginning to question what kind of "widgets" are being originated. By and large, it appears as though certain lenders have swooped in on behalf of others that either can't afford to stay in the game anymore or are choosing to back out. That was the word from NovaStar, which originated a record $2.8 billion worth of nonconforming loans in the quarter, up 19% from year earlier levels. But there were changes in sub prime loan composition in the second quarter. Those included a substantial up tick in 40-year loan issuance, coinciding with the largest volume to-date of loans with balloon payment clauses and a drop in FICO scores.
Standard & Poor's in the second quarter rated $123 billion in sub prime securities - the second-highest volume of loans it has ever rated next to about $140 billion in the fourth quarter of 2005. The quarter was the first period since the third quarter of 2003 that showed an increase in rate/term refinancing as a percent of total volume and second-lien loan volume was up. The total portion of refinanced loans that S&P rated rose to 5.1% from 4.48% in the first quarter and the portion of second-lien loans rose to 4.24% from 3.50% in the first quarter. Perhaps as a result of the rating agency's own changes to its LEVELs model, the portion of deals that came to market in the second quarter with simultaneous seconds attached declined to 32.64% from 34.50% in the first quarter. The average FICO score dropped to 623, the lowest since the final quarter of 2004. S&P attributed the drop in part to a shift from IO loan issuance to 40-year loan issuance, where the average FICO score during the quarter was 624, compared to 653 for IO loans.
As for notable shifts in issuance volume among individual lenders, UBS last week provided some preliminary figures. Among them: Washington Mutual stepped into the market this year, issuing some $18.7 billion year-to-date, compared with only $6.5 billion last year; Option One forked $23 billion over to the secondary market in the first half, compared with only $10.6 billion in the first half of last year; IndyMac Bank issued $22 billion, compared with $16.4 billion in the first half of last year. Meanwhile, Ameriquest Mortgage issuance was down to $14.5 billion from $28.6 billion last year, UBS analysts said. They are anticipating volume to slow in the second half of this year, as slowing home price appreciation, reduced cash out refinancings and fewer home purchases meet an overall slowing of the economy
----------------------------------------------------------------

Classified Ads---Help Wanted
Marketing Specialist


ELD Marketing Specialist
Walnut Creek, CA
Serve as a liaison between the leasing department and several hundred brokers . Requires a BA/BS; 3+ years of leasing and contract experience; Click here for detailed description & resume submission info.


Sales

Highest Commission in Industry
Seeking self-motivated, energetic individuals for California, Florida, Georgia, Illinois,Texas
equipment transportation leasing/financing. Moderate travel & extensive phone work.
Email resume : ekaye@advantagefunding.us or fax to 718-392-5427.
About the Company: Advantage Funding was recently acquired by Marubeni Motor Holdings, a major Japanese trading company and is a leading commercial and consumer vehicle and equipment financing and leasing company based in Long Island City, NY.


RETAIL MERCHANT VENDOR SALES
Outstanding opportunity for established vendor sales professional to introduce a cash advance product that vendors can utilize to facilitate the sale of their products. To apply, please send resume to applicant@1rstfunds.com.

--------------------------------------------------------------

China's Leasing Industry to Develop
ELTnews
RapidlyXinhua News Agency
With the approval of 12 new leasing companies in China this year and the entry of several foreign-funded leasing companies to the leasing market, China's leasing industry is poised for rapid growth.
In the last 20 years, China has established 42 Sino-foreign lease joint ventures. Right now China's leasing industry has over 40 Sino-foreign joint ventures, some financial leasing companies wholly financed by foreign underwriters, and about 10,000 domestic leasing companies.
All of these are regulated by the Ministry of Commerce, while more than 10 financial leasing companies and several enterprise group financial companies and trust leasing companies are supervised by the China Banking Regulatory Commission.
Industry watchers expect the penetration rate of China's leasing market to eventually rise from the current 2 percent to 20 percent.
--------------------------------------------------------------

Vedder Price to Open DC Office with Leading Equipment Finance
Attorney Edward K. Gross to Join Equipment Finance Group
ELTnews
The law firm of Vedder Price will open a Washington, D. C. office effective August 15. Edward K. Gross, formerly a principal at Ober Kaler and a former Chair of that firm's Lending and Leasing Group, will join Vedder Price's world-class Equipment Finance Group. Mr. Gross represents bank-affiliated and large independent equipment financing companies in all aspects of equipment finance, especially business aircraft financings. This representation includes documenting, structuring, negotiating, syndicating, and enforcing equipment finance transactions for more than 20 years. Many clients rely on Mr. Gross in syndication transactions, including large portfolio purchases, "one-off" sale and assignments, discounting, back-leveraging and participation transactions. He has prepared middle and capital markets lease, loan and syndication forms for some of the largest equipment finance companies in the industry. Mr. Gross has been involved in hundreds of such transactions totaling billions of dollars.
He counsels clients regarding the financing of all types of business aircraft, including large and small jets, turbo prop and smaller aircraft and helicopters. These transactions vary in structure, including managed and/or chartered aircraft, fractional and "pay card" arrangements, tax-motivated or synthetic structures and foreign registered aircraft, used by businesses, governmental entities or high net-worth individual users. Mr. Gross has worked on financings, syndications and portfolio sales involving aircraft having an aggregate value of billions of dollars.
Dean N. Gerber, who chairs Vedder Price's Equipment and Aviation Finance Practice. said: "we are indeed fortunate to be able to open in Washington with someone like Ed Gross. He is a leading light in the business aviation market and his skills and experience add significant depth and dimension to our existing equipment finance and aircraft and finance practices."
"This represents an important expansion for Vedder Price," commented Michael A. Nemeroff, firm President. "A Washington presence is important for our clients and the addition of Ed Gross provides additional expertise that can be made available to all of the firm's equipment finance, leasing and lending clients."
Mr. Gross is a graduate of the University of Maryland (B.A., 1978) and the University of Baltimore School of Law (J.D., 1981). He is a long-term and active member of the Equipment Leasing Association, having served on the Board of Directors (2000-2003) and the Legal Committee, and he presently serves on the Government Affairs Committee and as chair of the newly formed Cape Town Convention Subcommittee. He is a member of the District of Columbia and American Bar Associations and is admitted to practice in Maryland and the District of Columbia.
Mr. Gross is a prolific writer and commentator, having contributed numerous articles in the Journal of Equipment Lease Financing, Leader's Equipment Leasing Newsletter and other related journals. He has also contributed to treatises, including Chapter 28, "Middle-Market Leasing and Syndication," Equipment Leasing-Leveraged Leasing, Volume 2, Practicing Law Institute, 1999, Updated 2005 and co-authored Chapter 3A, "Equipment Finance Leasing Documents and Article 9 of the Uniform Commercial Code" Equipment Leasing-Leveraged Leasing, Volume 1, Practicing Law Institute, 2004; and Lecturer at numerous seminars, including, ALI-ABA Conference: "the New Uniform Commercial Code," 2004 and 2005; WebCredenza Article 2A Update Seminar 2005; Lessors Network Funding Conference, 2005 and 2006; the Strategic Research Institute: FAA Aircraft Registration, Lien & Security Interests Seminars in 2003 and 2004, and Cape Town Convention & Aircraft Protocol, 2006, ABA Aircraft Financing Subcommittee, Business Aircraft Financing, 2005, and the Equipment Leasing Association Legal Forum, 1990-1997, 1999, 2000, 2002, 2004 and 2005.
Vedder Price is one of the premier aircraft finance law firms in the world. Members of the Vedder Price Equipment Finance Group represent lessees, lessors, financiers and related parties, both domestic and international, in a broad range of aircraft finance transactions. Vedder Price attorneys have extensive experience in structuring and negotiating:
. leveraged leases (both on- and off-balance sheet) . conditional sales
. operating leases . sale/leasebacks
. mortgage financings . securitizations (including equipment trust and pass-through certificates)
. cross-border and municipal leases . multiple-layered debt financings
. export finance leases . manufacturer-supported financings
. subleases . government-supported financings
Vedder Price attorneys are recognized leaders in the aircraft finance field, regularly speaking at industry seminars and authoring treatise chapters and trade journal articles. Our prominence in the area has enabled us to develop valuable relationships with a wide variety of industry participants. In 2004, Euromoney Publications ranked Vedder Price as one of the top aviation law firms in the world, with eight of our aircraft finance attorneys included in its Guide to World's Leading Aviation Lawyers. In 2003, Aircraft Economics ranked Vedder Price the second best aviation finance law firm worldwide (tied with three other firms).
In 2004, the firm's work on behalf of Jet Blue's $431 million EETC financing was recognized by the AirFinance Journal as the "Most Innovative Deal of the Year."
In 2005 and again in 2006, Chambers & Partners (America's Leading Lawyers for Business) ranked Vedder Price as the leading aviation
### Press Release ###########################

Greystone Equipment Finance Hires Karman as National Sales Manager
- Greystone Equipment Finance Corp., an affiliate of Greystone & Co., Inc., today announced that Michael P. Karman has joined the company as EVP/National Sales Manager.
Mr. Karman was most recently COO of Solution Financial Network, Inc., based in Burlington, Mass and previously was senior vice president at BankVest Capital Corporation. Mr. Karman has two decades of experience in commercial equipment lease financing and extensive knowledge in all facets of the sales, credit and operational process. He was instrumental in building the sales force, as well as, aligning the credit and operations functions at BankVest in the late 1990s and most recently with Solution Financial.
Don Synborski, president of Greystone Equipment Finance Corp., said: "Mike's wealth of experience, knowledge and integrity, complement our existing team of professionals, and his guidance and leadership will be instrumental in achieving our growth plans. We are excited to have him join us as a member of our executive management team."
Mr. Karman is a resident of Concord, Mass.
About Greystone & Co., Inc.
Greystone & Co., Inc. together with its affiliates is a private investment and real estate organization with expertise in a range of loan products, servicing, trading, securitization and transaction structuring.
### Press Release ###########################

Huntington Launches Business To Finance Tools for
Small- and Medium-Sized Businesses
COLUMBUS, Ohio, -- Huntington Bank has launched a new business unit focused on financing equipment and tools for closely held, small- and medium-sized manufacturing businesses, it announced today. The launching of the Machine Tool Finance Group reflects Huntington's ongoing efforts to meet all the financial needs of business owners in order to help their companies grow.
"At Huntington we understand the need of small- and medium-sized manufacturers to have access to financing so that they can buy equipment, replace equipment and remain competitive," said Robert Allanson, President, Huntington Equipment Finance. "Huntington's new unit has brought together tool financing specialists from throughout the industry who have the expertise and knowledge to advise business owners on the type of financing that is the best fit for their business strategy."
Machine tool sales have continued to grow over the past two years. The most active customer markets for machine tool builders are likely to be in aerospace, appliance, automotive, heavy equipment and job shop industries. Many of these businesses are retooling with investments in high technology equipment.
Huntington's new business is part of its Equipment Finance group, which continues to be ranked on the Monitor 100, a ranking of the 100 largest and fastest growing equipment equipment/leasing financing companies in the United States.
About Huntington
Huntington Bancshares Incorporated is a $36 billion regional bank holding company headquartered in Columbus, Ohio. Through its affiliated companies, Huntington has more than 140 years of serving the financial needs of its customers. Huntington provides innovative retail and commercial financial products and services through more than 380 regional banking offices in Indiana, Kentucky, Michigan, Ohio and West Virginia. Huntington also offers retail and commercial financial services online at www.huntington.com; through its technologically advanced, 24-hour telephone bank; and through its network of almost 1,000 ATMs. Selected financial service activities are also conducted in other states including: Dealer Sales offices in Arizona, Florida, Georgia, North Carolina, Pennsylvania, South Carolina, and Tennessee; Private Financial and Capital Markets Group offices in Florida; and Mortgage Banking offices in Maryland and New Jersey. International banking services are made available through the headquarters office in Columbus and an office located in the Cayman Islands and an office located in Hong Kong.
### Press Release ###########################
--------------------------------------------------------------

News Briefs---
Sale of German Unit Cuts Wal-Mart Profit/Dips 26%
http://www.washingtonpost.com/wp-dyn/content/article/2006/08/15/
AR2006081500283.html
Home Sales Decline in 28 States, D.C.
http://www.washingtonpost.com/wp-dyn/content/article/2006/08/15/
AR2006081500373.html
Wholesale inflation edged up by smallest amount in five months
http://www.signonsandiego.com/news/business/20060815-1340-economy.html
Google gives city free Wi-Fi
Internet company's hometown of Mountain View gets network
http://www.sfgate.com/cgi-bin/article.cgi?f=/c/a/2006/08/16/GOOGLE.TMP&type=tech
PepsiCo names CFO as new chief
http://www.usatoday.com/money/companies/management/
2006-08-14-pepsi-ceo_x.htm
Dell to recall 4.1 million laptop batteries
http://www.usatoday.com/money/industries/technology/
2006-08-14-dell-battery-recall_x.htm
---------------------------------------------------------------


You May have Missed---
What will it take to become a millionaire?
http://financenter.usatoday.com/tools/money/savings01/tool.fcs
----------------------------------------------------------------


"Gimme that Wine"
It's waiting time for first harvest in Napa County
http://www1.pressdemocrat.com/apps/pbcs.dll/article?AID=
/20060815/NEWS/608150333/1033/NEWS01
A Zin Oasis in Mexico's Dusty Hills-Eric Asimov, NY Times
http://www.nytimes.com/2006/08/16/dining/16pour.html?_r=1&ref=dining&oref=slogin
Willamette Valley Vineyards Posts Profit for the Quarter Ended June 30, 2006
http://www.prnewswire.com/cgi-bin/stories.pl?ACCT=ind_focus.story&STORY=
/www/story/08-14-2006/0004415966&EDATE=MON+Aug+14+2006,+05:08+PM
Red wine with a DNA chaser? Eliminates headaches?
http://www.sacbee.com/content/news/science/story/14297373p-15153391c.html
Wine Prices by vintage
http://www.winezap.com
http://www.wine-searcher.com/
US/International Wine Events
http://www.localwineevents.com/
Winery Atlas
http://www.carterhouse.com/atlas/\
Leasing News Wine & Spirits Page
http://two.leasingnews.org/Recommendations/wnensprts.htm
----------------------------------------------------------------

Calendar Events This Day
Babe Ruth Day
While many celebrate his birthday, there are still fans who mourn this day as baseball fans of all ages and all walks of life mourn the great Bambino, who died of cancer at New York City at the age of 53. "Sultan of Swat" hit 714 home runs in 22 major league seasons of play without steroids and often with much beer in him. He played in ten world series. His body lay in state at the main entrance of Yankee Stadium, where people waited in line for hours to march past the coffin. On August 19, countless people surrounded St. Patrick's Cathedral for the funeral mass and lined the streets along the route to the cemetery as America bade farewell to one of baseball's greatest legends.
Elvis Presley Lives
One of America's most popular singers, Elvis Presley was pronounced dead at the Memphis Baptist Hospital at 3:30 pm, August 16, 1977, at age 42. Many pilgrimage to Graceland, his home and gravesite at Memphis, Texas.
Joe Miller's Joke Day
A day to tell a joke in honor of the English comic actor Joseph (or Josias) Miller, who was born in 1684 (exact date unknown). Miller acted at the Drury Lane Theatre at London and was a popular favorite. He died at London, August 16,1738. A book with which Miller had no direct connection, Joe Miller's Jest, was complied by John Motley and first published in 1739. It contained 247 jokes. Revised and expanded hundreds of times, it contained more than 1,500 jokes in the ensuing two centuries. From Joe Miller's Jest, London,1739: A melting Sermon being preached in a country Church, all fell a weeping but one Man, who being asked, why he did not weep with the rest? O! said he, I belong to another Parish."
True Love Forever Day
----------------------------------------------------------------

---- Frogs don't drink water
http://allaboutfrogs.org/weird/general/skin.html
----------------------------------------------------------------

Today's Top Event in History
1977- TCB (Taking Care of Business ), Elvis Presley leaves Earth, as he was pronounced dead at the Memphis Baptist Hospital at 3:30pm, Eastern time, at the age of 42. In the first "Men in Black," we see him leave our planet. Here it is the anniversary of his death is an occasion for pilgrimages by admirers to Graceland, his home and gravesite at Memphis, Tennessee. ( official site for "live" coverage and movies. In reality, he died while on the toilet in his bathroom.
http://www.elvis-presley.com ).
----------------------------------------------------------------

This Day in American History
1777-Bennington Battle, a major victor for the colonial army, primarily because the battle was delayed by rain. The rain delayed British reinforcements, and allowed the Vermont Militia to arrive in time, enabling the Americans to win a victory by defeating two enemy forces, one at a time
http://darter.ocps.net/classroom/revolution/benn.htm
http://www.matmice.com/home/hockey
http://www.virtualvermont.com/history/benbattle.html
http://www.revolutionaryday.com/usroute7/bennington/
1780-In the Battle of Camden, S.C., American forces under Gen. Horatio Gates were defeated by the British under Gen. Charles Cornwallis. Baron Johann de Kalb, a Prussian officer who was commissioned a general in the Continental Army, was mortally wounded in the battle. Gates suffered disastrous losses. Nearly 1,000 Americans killed and another 1,000 captured by the British. British losses about 325. One of America's worst defeats in the war. General Washington replaced gates with Nathaniel Greene, who is credited with "brilliance" in turning the war situation around as outlined on his birthday, August 7.
http://www.multied.com/Bio/RevoltBIOS/KalbJohann.html
http://home.sprintmail.com/~robtmarj/thecollinsfamily.html
http://www.co.dekalb.ga.us/history.htm
1812 -- A mass meeting in NYC denounces the War of 1812.
1812-Brigadier General William Hull surrendered Detroit to British forces under General Isaac Brock, making no attempt to defend the city though the attacking force was smaller than his own. Hull was court-martialed two years later for yielding without resistance.
http://www.factmonster.com/ce6/people/A0824487.html
http://www.cr.nps.gov/museum/exhibits/revwar/image_gal/indeimg/hullgen.html
1813- -1813, Sarah Porter - U.S. educator. SP created Miss Porter's school in Farmington, CN, one of the outstanding school for girls in the nation. Raised in an exceptional family that produced a president of Yale College allowed her to study the classics to an extended degree, this brilliant woman started her successful school in 1843.Initially she kept the school small teaching Latin, French, German, chemistry, natural science, mathematics, history, geography, and music in addition to the basic subjects. She gradually added staff and accommodations but took pains to maintain the schools standards which were unique in the nation for their excellence. , She also demanded strong characters. She was also way ahead of her times by insisting on daily exercise for the girls.
1829- Taking the country by storm, Robert Hung of Boston, MA, brought the Siamese twins Chang and Eng into the United States. They were born on April 15, 1811, in Bangesau, Siam, of a Chinese father and a -Siamese mother. They were joined at the waist by a cartilaginous band about four inches long and eight inches in circumference. They grew to be about 5 feet 2 inches in height, and, since they faced in the same direction, could walk, run, and swim. They were exhibited throughout the United States and later in Europe. They were married in April, 1843 to two sisters, Sarah and Adelaide Yates. Chang had 10 children and Eng nine children. They died within three hours of each other on January 17,1874. The name "Siamese twins," meaning twins whose bodies are connected in any of a variety of ways, is derived from them.
http://engandchang.twinstuff.com/
http://bullseyedesigns.com/sideshow/people/twins/chang_eng.htm
1861- Several newspapers in the Union states were brought to court for alleged pro-Confederate sympathies, including the Brooklyn Eagle, the New York Journal of Commerce, and the New York Daily News. On August 19, an editor for the Esses County Democrat in Haverhill, Massachusetts was tarred and feathered for his Southern leanings expressed in the newspaper.
1909 - A dry spell began in San Bernardino County of southern California that lasted until the 6th of May in 1912, a stretch of 994 days! Another dry spell, lasting 767 days, then began in October of 1912.
http://www.arjazz.org/artists/hof/1995/95_al_hibbler.html
1915-Birthday of singer Al Hibbler, Little Rock, AR
1916 - Altapass NC was deluged with 22.22 inches of rain in 24 hours to establish a state record
1922- Louis Lomax, author, born.
http://www.alan-lomax.com/about_bio.html
1926-Birthday of pianist Mal Waldron, New York City
http://www.enjarecords.com/mal-waldron.htm
http://www.jazzinbelgium.org/guest/waldron.htm
1929-Jazz pianist Bill Evans birthday .
http://www.downbeat.com/artists/window.asp?action=new&aid=50&aname=Bill+Evans
http://members.aol.com/gsonjazz/evans/be-home.htm
http://www.billevans.org/BBS/index.asp
1931-Birthday of Eydie Gorme - U.S. pop vocalist. She was a popular nightclub and recording star. She often appeared with her husband Steve Lawrence, but she maintained a much better separate recording career that kept her near the top of the charts for a long, long time. The duo had a TV show (1959).
1936 -- Jesse Owens leaves Berlin Olympics with four gold medals. 1938 - Benny Goodman and his band, and a quartet, brought jazz to Carnegie Hall in New York City. When asked how long an intermission he wanted, Benny said, "I don't know. How much does Toscanini get?"
1942 - For Columbia Records, Kay Kyser and the band recorded "A Zoot Suit", about the problems associated with wearing the garish, fashion.
1942 - A TWA transport carrying film actress Carole Lombard, her mother, and 20 other passengers, crashed near Las Vegas, Nevada. All aboard were killed.
1944 - General Dwight Eisenhower was appointed Commander-in-Chief of the Allied Expeditionary Force and asked to plan the launch of a second front in Western Europe.
1950-Nat "King" Cole with the Stan Ken Band, records " Orange Colored Sky, " Los Angeles.
1950-Birthday of drummer Alvin Queen, New York City.
1951-Top Hits
Too Young - Nat King Cole
Come on-a My House - Rosemary Clooney
My Truly, Truly Fair - Guy Mitchell
Hey, Good Lookin' - Hank Williams
1953-Birthday of singer James "JT" Taylor, South Carolina.
1952-Baritone saxophonist Gerry Mulligan, with Chet Baker, cuts first piano less quarter, Los Angeles ( Pacific Jazz is born!!! )
1958-Birthday of Madonna Louis Veronica Ciccone, known popularly as "Madonna, " born Bay City, MI.
1959-Top Hits
A Big Hunk o' Love - Elvis Presley
My Heart is an Open Book - Carl Dobkins, Jr.
There Goes My Baby - The Drifters
Waterloo - Stonewall Jackson
1961 - Mickey Mantle signed the contract that made him the American League's highest paid baseball player. "The Mick" played the 1961 season for $75,000. In the National League, Willie Mays, made more money than any other baseball player with a contract for $85,000.
1964 - In New York City, "Hello Dolly!" starring Carol Channing opened at the St. James Theatre. A musical adaptation of Thornton Wilder's play, "The Matchmaker", the show, was called the "possible hit of the season" by critics. "Hello Dolly!" played for 2,844 performances, before returning to in the 1990s with, again star, Carol Channing.
1965 - Reportedly, the San Francisco Giants continued to pay Willie Mays $105,000 a year. In exchange, he gave them a .317 batting average, a slugging percentage of .645, and 52 home runs in return. In 1965, Willie took home the MVP award.
1966 - The Monkees' first single, "Last Train to Clarksville," is released. It sells more than 1 million copies and reaches No. 1 on Billboard's Hot 100.
1967-Top Hits
Light My Fire - The Doors
All You Need is Love - The Beatles
Pleasant Valley Sunday - The Monkees
I'll Never Find Another You - Sonny James
1969-The second day of three for The Woodstock Music and Art Fair on Max Yasgur's farm in Bethel, New York. Over 400,000 attend, most without tickets, which prompts officials to say the festival is open and free. Those up on stage include Jimi Hendrix, Santana, Sly and the Family Stone, the Who, the Grateful Dead, Joan Baez, Janis Joplin, Joe Cocker, Canned Heat, Crosby, Still Nash & Young and the Jefferson Airplane among others. Things that helped make Woodstock a unique event included, but were not limited to, rampant drug use, not enough food, and sanitation, three deaths, two births and four miscarriages. (1969)
1975-Top Hits
Jive Talkin' - Bee Gees
One of These Nights - Eagles
Someone Saved My Life Tonight - Elton John
Wasted Days and Wasted Nights - Freddy Fender
1976 - A&M Records released the album, "Frampton Comes Alive". The double LP soon reached the top spot of the album charts for a 17 week stay. Its first year out, it sold 19 million copies.
1977- TCB (Taking Care of Business ), Elvis Presley leaves Earth, as he was pronounced dead at the Memphis Baptist Hospital at 3:30pm, Eastern time, at the age of 42. In the first "Men in Black," we see him leave our planet. Here it is the anniversary of his death is an occasion for pilgrimages by admirers to Graceland, his home and gravesite at Memphis, Tennessee. ( official site for "live" coverage and movies. In reality, he died while on the toilet in his bathroom.
(http://www.elvis-presley.com ).
1979--The biggest single of the summer is The Knack's "My Sharona," which goes gold. The success of the group is the gimmick of Beatle-esque posturing which the group treats as tongue-in-cheek. The Knack disbands less than two years later.
1983-Paul Simon and actress Carrie Fisher get married. They would divorce in 1985
1983-Top Hits
Every Breath You Take - The Police
Sweet Dreams (Are Made of This) - Eurythmics
She Works Hard for the Money - Donna Summer
He's a Heartache (Looking for a Place to Happen) - Janie Fricke
1984 - The U.S. Jaycees voted to admit women to full membership in the organization.
1984 - At the 11th annual American Music Awards, Michael Jackson received eight awards, including favorite pop and soul male vocalist, pop and soul album winner for "Thriller", pop and soul video winner for "Beat It" and best pop song for "Billie Jean".
1985-Madonna and actor Sean Penn get married in Malibu, as helicopters with photographers hovered overhead. They would divorce in 1989
1985 - Hugh Hefner took the staples out of "Playboy" magazine, ending its 30-year tradition of stapling centerfold models in the bellybutton. The decision made the centerfold more difficult to remove it.
1984-Los Angles federal jury acquits auto maker John Z DeLorean on cocaine charges.
http://www.dead-or-alive.org/dead.nsf/dnames-nf/DeLorean+John
http://www.dmcnews.com/biblio.html
http://babbtechnology.com/thecar/index.htm
1986- Madonna's "True Blue," album goes #1 for 5 weeks & her single "Papa Don't Preach," goes #1 for 2 weeks
1988- IBM introduces software for artificial intelligence.
1991-Top Hits
(Everything I Do) I Do It for You - Bryan Adams
P.A.S.S.I.O.N. - Rhythm Syndicate
Every Heartbeat - Amy Grant
She's in Love with the Boy - Trisha Yearwood
1991-President Bush I declares the recession is near an end. Early in the year the recession that began in May,1990, seemed to be easing, but as the year went on, the economy worsened. By the end of the year unemployment was up to 7.1%, a 5.5 year high; industrial production dropped 1.9%; sales of new homes were down 5.6%, the third straight year of declines; auto sales fared ever worse, being down 11.2%, the worst year since 1963; orders for durable goods followed suit, being off 4.6%, the worse since 1982; the total of installment credit fell 1.0%, the first time it shrunk since 1958; employers' health costs rose 12.1% and ten large industries announced in the course of the second half of the year 161,000 works, with General Motors accounting for 70,000 and International Business Machines, 20,000. A wave of bank mergers created the second, third, and fourth largest banks with the merger of Chemical Bank and Manufacturers Hanover Trust of New York, BankAmerica and Security Pacific of California, North Carolina and Georgia Banks, NCNB and C&S/Sovran Not everyone was doing badly that year as the Census Bureau reported that the income of the top 20% of households rose by 14% from 1984 to 1988, but the median for all households in that period dropped from $37,912 to $35,752 per year. Among the affluent, according to Forbes magazine were 71 billionaires, an increase of 5 for the year. The number of owners of farm land, 29,950,000 people, was the smallest this century, and 47% of the land was held by only 124,000 owners. The recession refused to go away in 1992, getting worse with little consumer confidence. Fear of bad times was reflected in the report that for seven consecutive months, consumers had reduced their debts instead of taking on new obligations. So when President Bush I said on this date in 1991, the recession was at a near end, he was quite off and lost the election to President William Clinton 370 electoral votes to an incumbent president having 168 electoral votes
( Independent candidate Ross Perot won no electoral votes ).
1999-Top Hits
Genie In A Bottle- Christina Aguilera
Bills, Bills, Bills- Destiny s Child
Tell Me It s Real- K-Ci
Summer Girls- LFO
2001-- After piloting the team 13 games above .500 in spite of numerous injuries to key players, manager Jimmy Williams is fired by the Red Sox. The ousted skipper is replaced by the club's well respected pitching coach, Joe Kerrigan.
2001- Barry Bonds' second home run of the game and 53rd of the season breaks the franchise record established by his godfather, Willie Mays. With his first homer, the left fielder eclipses the National League record for home runs by a left handed batter established in 1947 by another Giant, Johnny Mize.
2002 -after four days of delaying the decision, the executive board of the Major League Players' Association votes 57-0 to set an August 30 strike date. All eight previous negotiations since 1972 have resulted in work stoppages in the national pastime.
--------------------------------------------------------------


Baseball Poem
Three Strikes, Yer Out
..... written by Greg Salts, Chula Vista, Calif.
The first pitch was heat that looked more like meat.
You swung awful fast but it fouled off my mask.
You looked far too long at the base coach's face.
Your task here is simple, just get to first base.
You step in the box and shuffle your feet.
"O-2 on the batter," I said,
and was glad I glanced at him then and he really looked mad.
The catcher laid down number three as a sign
A change-up it was and it looked mighty fine.
I can't figure out why you stood there and looked.
But now there's a backward K in the book.
--------------------------------------------------------------

SuDoku
The object is to insert the numbers in the boxes to satisfy only one condition: each row, column and 3x3 box must contain the digits 1 through 9 exactly once. What could be simpler?
http://leasingnews.org/Soduku/soduko-main.htm