OPERATIONS / DOC / FUNDING
COSTA MESA, CALIFORNIA

Full Time Documentation / Funding Clerk
START DATE:
Position Available Immediately

Ground floor opportunity to join fast growing Independent Lessor. Experience required. Word and Excel skills a must.
Benefits provided. Bonus plan participation.
Salary commensurate with experience.
Please fax resume to 714-556-3765. Outline salary expectations.
Friday, August 31, 2007

Happy Labor Day weekend
Headlines---
Archives, August 31, 2001
---subprime mortgage industry did them in---
Louis Schneider Exclusive Interview----
Classified Ads---Legal
103 degrees in Saratoga, California
T-Bills fell for third day
Wit's end reporting to credit agencies
NAELB Moving--Pre-Registration closed Costa Mesa
CyberNet pair accepts plea deal
Classified Ads---Help Wanted
Placard---Queen to the King
Vanguard Expands Bensalem Headquarters
Sandy Spring Bancorp 3rd Q Dividend
USA Truck Announces Lease Purchase Program
Commercial Paper Extends Slump
Mortgage brokers fall on tough times
News Briefs---
You May have Missed---
California Nuts Brief---
Sports Briefs---
"Gimme that Wine"
Calendar Events
Snapple Real Facts
Today's Top Event in History
This Day in American History
Baseball Poem
SuDoku
Daily Puzzle
######## surrounding the article denotes it is a "press release"
Next Wednesday—Gerry Egan, new video exclusive---
Sales makes it Happen
-------------------------------------------------------------------

Archives, August 31, 2001
---subprime mortgage industry did them in---
Louis Schneider Exclusive Interview----
Preferred Lease in the 1990's was doing $12 million a month with their best month $18 million, according to Louis Schneider, one of the founders and present chief operating officer. The plastic leasing card idea that the other founder David Murray discovered and developed at his company Direct Capital was originally being used by Trans Leasing International, Inc., of Northbrook, Illinois, and the card was the LeaseCard.
"We basically were a marketing company, "Schneider explained. " We were not interested in the back end, carrying leases, or even approving leasing. Our financial statements reflected a marketing company, not a lessor."
"Consultants and advertising industry friends were hired to develop a "model", a master marketing plan, that was then taken to companies such as Dun and Bradstreet, where groups were identify who would lease, who would be already a 'good credit,' and then the lists were further re-defined, according to various 'models' that were developed.
"I would originally go to funders and ask what kinds of leases' did they want," Schneider says. "They thought I was crazy. We wanted to fulfill what type of customer they wanted on their books. Instead, they gave us their 'vendor score card' system and rates.
"Others would say we want a score of 620, four years in business, low 4 in the bank, no restriction on guarantees or collateral, or whatever their definition that they wanted for say 11 ½% return."
The operation was to take young people, not in the industry, train them in telephone marketing, in leasing, responding to the leads generated by specific mailings, not just bulk mail, but following the lists Fair Isaac or other scores, very similar to now bank card mail solicitations.
"We did over $120 million with Advanta over a fourteen month period," Schneider summarizes. "They had a full time supervisor and two credit people right here in Lake Tahoe. All of a sudden, one day, the federal regulators walk into Atlanta Bank, tell them there are too many sub-prime mortgages and to close down the operation, including equipment leasing.
"Advanta was buying like crazy, selling the leases off, putting them into securitization, and had a $50 million in warehousing when this happened. It not only put them into a spin, but they were our sole source at the time. We had a bank line, but we had this momentum going, and I remember this day very well, May 30th, it hit us hard. The down market came at the same time. We found ourselves living on the advance rentals until Jim Raeder came along with some investors and saved our company.
"We are back to doing what we do best, marketing leases. As far as our portfolio at Advanta, I think much of it was sold off. People like Rudy Trebels also bought from us via Advanta. They chose the credits. I think the portfolio is performing well, but remember, we are not a 'back-end' leasing company, we are a 'front room' marketing company and I think we are the best in the business."
(Today, Louis Schneider is an attorney, practicing law in Los Angeles, California.)
( A correction was sent to Leasing News from Brian Cascarano, VP Marketing at IFC Credit
Corporation, Morton Grove, ILL. " The fact as stated by Mr. Schneider is the portfolio was sold to Rudy Trebels company, but not directly, via Advanta, which was a typo not caught in the newsletter version. Advanta would syndicate or sell-off its lease purchases."
Brian Cascarano
BCASCARANO@IFCCREDIT.COM
VP Marketing
IFC Credit Corporation

Business Development Specialist
(2 Positions)
Clearwater , Florida
Two years sales exp. 1-2 years leasing exp. For more info, please click here. Please email text resume to
h-r@ccclease.com .
No attachments please.
Founded in 1978, Commonwealth Capital Corp. has been helping lessors grow their equipment-leasing business. We offer true operating leases for in-demand information technology and medical equipment.
--------------------------------------------------------------

Classified Ads---Legal
San Diego, CA
Experienced in-house corporate, equipment leasing and financial services attorney seeks position as managing or transactional counsel. Willing to relocate. Cell Phone: 760-533-4058;
Email: sandidq@msn.com
To place a free "job wanted" ad here, please go to:
http://www.leasingnews.org/Classified/Jwanted/Jwanted-post.htm
For a full listing of all "job wanted" ads, please go to:
http://www.leasingnews.org/Classified/Jwanted/Jwanted.htm
--------------------------------------------------------------

103 degrees in Saratoga, California
By Kit "Man, is it hot!" Menkin
Just when I am noticing that Phoenix, Arizona has had 30 days in a row over 100, right here we have had two days over 100--- and already the talk is about "brown outs" and "black outs." California energy grid managers say they may be cutting power to larger companies and communities. I didn't even know about it until Gerry Egan sent me an "e-mail" from the East Coast, wondering if we had enough juice for the next Leasing News edition.
My office is at the corner of the building and gets the full sun in the afternoon. Right now it is 80 degrees with the air conditioner on, and we have the fans running, too. If we have a power failure,
the backup batteries will save what we are working on, but most likely, we will close up shop and go home.
Reducing power demand is our only choice. We cannot add power because its electricity plants are running at capacity and a heat wave is stressing power systems throughout the West.
A Stage 2 emergency signals that the state's operating reserves have fallen below 5 percent. At that point, Pacific Gas and Electric Co., Southern California Edison and San Diego Gas and Electric Co., the state's largest investor-owned utilities, begin cutting power to the large companies with which they have arrangements.
The highest alert level is a Stage 3 emergency, which indicates that operating reserves have dropped below 1 percent. Rolling blackouts - in which power is cut to certain regions to avoid a system wide crash - are imminent at that stage.
If the state reaches a Stage 2 emergency, it will be its first since July 24, 2006, when California set its all-time record energy demand of 50,270 megawatts.
Most of California's vast Central Valley was expected to have temperatures well over 100 degrees, with parts of the Los Angeles region also forecast to hit 100. Much of the San Francisco Bay area was expected to be warmer than normal.
--------------------------------------------------------------

T-Bills fell for third day
The Securities Industry and Financial Markets Association is recommending that that bond trading in New York halt at 2 p.m. today, EDT, and stay closed for the U.S. Labor Day holiday on Monday, September 3rd. Labor Day is generally a day most banks and financial institutions are closed.
Yesterday, the three-month US Treasury bill fell for its third day. This was the biggest slump in at least seven years. In fact, the demand for the Treasury's $13 billion auction of five-year notes was the highest since September, 2006.
The yield on the three-month Treasury bill has fallen 21 basis points, or 0.21 percentage point, to 3.80 percent at closing yesterday. The yield has dropped 114 basis points since August 8.
Commercial paper outstanding has fallen $244.1 billion, or 11 percent, in the past three weeks, suggesting the Federal Reserve's reduction in the discount rate hasn't enticed buyers back into the market.
Short-term debt maturing in 270 days or less decreased $62.8 billion to a seasonally adjusted $1.98 trillion in the week ended yesterday, according to the Fed. Asset-backed commercial paper, which accounts for about half the market, dropped $59.4 billion.
The average yield on the highest-rated asset-backed commercial paper with one-day maturity rose 11 basis points to 6.15 percent, the highest since January 2001.
Criticism is rising on the relatively new Federal Reserve Chairman Ben S. Bernanke performance, including words such as "lack of experience." His talk on housing and monetary policy at the Kansas City Fed's annual symposium in Jackson Hole, Wyoming, today most likely will address the fear in the financial market place.
It appears the pumping of money and extension of terms is not helping. In the past, former Federal Reserve Chairman Alan Greenspan did not believe in lower the prime rate because stock prices were falling, although perhaps the global pressure and fear and lack of confidence in the current administration are extenuating circumstances.
--------------------------------------------------------------

Wit's end reporting to credit agencies
"We are at wit's end about a situation to which you may have a remedy. As you know our whole economy seems to revolve around credit scores nowadays but we are no longer able to rate defaults/deadbeats etc. to the three retail credit bureaus. The majority of our leases have a personal guarantee and if there is a default and the guarantor does not perform, that fact should be known to the credit world. Additionally over the years we have found that this helps get us paid eventually.

"This used to be a manual system--we filled out the appropriate form and sent it to the three bureaus. Our credit people report that the bureaus no longer accept these manual submissions. All of their information comes from trade "tapes". We like many give our information to D&B and Paynet on a monthly basis but since the primary "maker" is almost always a corporation, it is fruitless to give the bureaus the same info we give D&B and Paynet.

"Meanwhile people who default get away without other potential creditors being able to find out about it AND the all important credit score is higher than it should be.

"Any thoughts?"

Kevin F. Clune CLP
President
Clune & Company LC
5950 Roe Ave.
Mission, KS 66205
Real People, Real Service Since 1957
Direct 913.236.3546
Fax 913.498.3001
Toll Free 800.862.6633
Toll Free Fax 888.862.6601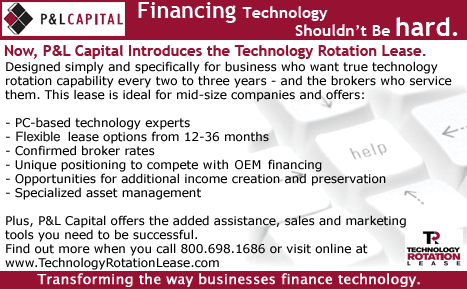 --------------------------------------------------------------

NAELB Moving
--Pre-Registration closed Costa Mesa
National Association of Equipment Leasing Brokers
new address is:
455 South Fourth St.
Suite 650
Louisville, KY 40202
Phone: (800) 996-2352
Fax:(877) 875-4750
Their offices will be closed on Friday, August 31 and re-open on Tuesday, September 4.
"Although no one will be in the office on Friday, Jenn Helton will be forwarding all NAELB calls to her phone and be available from 8:30 a.m. - 5:00 p.m. EST if you need answers about the upcoming Western Regional or any general questions. Please be aware that we will not have access to email or computer files on Friday, so bear with us as we move this weekend."
Jenn Helton
jhelton@hqtrs.com
Please also note: Pre-registration for the Western Regional on September 7 - 8, 2007 in Costa Mesa, California is currently closed. If you plan on attending this meeting, there will be on-site registration available.
For more on the September 7-8 meeting, please go here:
http://www.leasingnews.org/Pages/NAELB_page.htm
Information is also available at:
www.naelb.org
--------------------------------------------------------------

CyberNet pair accepts plea deal
GRAND RAPIDS - The final two players in the long-running CyberNet case accepted a plea deal Thursday on the eve of their trial in federal court.
Though details of the plea deal were not released, Krista Watson and Paul Wright will enter guilty pleas to various charges. Wright, a personal assistant to CyberNet CEO Barton Watson, will enter his plea on Friday.
Earlier Jim Horton, the company president, received a 7.5 year prison term under a plea deal.
Watson, the widow of the deceased CEO Barton Watson, and Barton's personal assistant Paul Wright appeared before Judge Robert Holmes Bell on Tuesday to hear evidence against them. They are likely the final two people associated with the $100 million fraud to face justice.
Wright, 57, primarily was indicted for mail fraud charges connected to his commercial mailbox accounts with CyberNET.
Both are facing very long prison sentences as well as the forfeiture of $3,364,412.49 in nine bank accounts.
Barton Watson took his own life after the fraud came to light. Several others have made plea deals or been convicted on federal charges.
Geraldine Watson, 77, also plead guilty to making a false statement to a firearms dealer related to a gun purchase. She said the gun was for herself, but it's alleged she bought the Remington shotgun for her son Barton. He couldn't buy a gun because of a previous felony conviction. She bought the gun on November 22, 2004 and gave it to Barton the same day. Two days later, he killed himself with that gun.
According to court documents, Watson, 39, her mother-in-law, Geraldine Watson, 77, and a former vice president, Paul Wright, 57, allegedly provided false records, shell companies, mailboxes and phone numbers to appear as legitimate CyberNET customers and suppliers, the government said. They allegedly made the company appear profitable when it was losing $500,000 to $7.6 million a month from 2002 to 2004, investigators proved in court.
The scheme "required the CyberNET principals to expend a substantial amount of effort to prevent lessors and banks from discovering they were deceived," according to court documents. In some instances, the government said, workers would put bricks into empty computer boxes. There were no site inspections. Several leasing companies told Leasing News they turned the credit down suspecting something was wrong with the transaction, although others jumped right in with little due diligence.
"Between 2002 and 2004, CyberNET was able to fraudulently obtain over $100,000,000 from approximately 40-50 lending institutions and leasing companies nationwide," Assistant U.S. Attorney Timothy VerHey wrote in court papers.
--------------------------------------------------------------

Leasing Industry Help Wanted
Accounts Manager

ACCOUNT MANAGER
Phoenix, AZ or virtual office
Responsible for developing and managing high-end small ticket & middle-market Vendor Programs. Base plus commission.
Click here for more detailed information.
Manufacturers' Lease Plans Inc. (MLPi) is the pioneer of short-term rental and operating lease financing, funding high technology equipment manufacturers since the 1960s.
Business Developement Specialist

Business Development Specialist
(2 Positions)
Clearwater , Florida
Two years sales exp. 1-2 years leasing exp. For more info, please click here. Please email text resume to
h-r@ccclease.com .
No attachments please.
Founded in 1978, Commonwealth Capital Corp. has been helping lessors grow their equipment-leasing business. We offer true operating leases for in-demand information technology and medical equipment.
Credit Officer

Credit Officer
Mentor, Ohio
Small firm, 125 deals a month, help us grow, place leases, secure approvals. E-mail us to MattWelly@1acg.com or give us a call to
(800) 830-0084 ext. 203.
ACG Equipment Finance is a full service specialty finance and leasing company with an eye fixed firmly on the future.

Operations / Doc / Funding

OPERATIONS / DOC / FUNDING
COSTA MESA, CALIFORNIA

Full Time Documentation / Funding Clerk
START DATE:
Position Available Immediately

Ground floor opportunity to join fast growing Independent Lessor. Experience required. Word and Excel skills a must.
Benefits provided. Bonus plan participation.
Salary commensurate with experience.
Please fax resume to 714-556-3765. Outline salary expectations.
Relationshio Manager

Relationship Manager
Minneapolis, MN
Primary contact for brokers/lessors. Coordinates development and execution of programs, represents Company at trade association conferences, implements strategy to best serve the brokers/lessor marketplace. Requires 4 year degree or equivalent industry experience.
To apply e-mail resumes attention of Brad Peterson bpeterson@predictifund.com and careers@advanceme.com. Background Checks are required. EOE
Predictifund, a subsidiary of Capital Access Network, Inc. (CAN) providing equipment financing and working capital options to brokers.

----------------------------------------------------------------

Placard---Queen to the King
---------------------------------------------------------------
### Press Release ###########################

Vanguard Expands Bensalem Headquarters
Bensalem, PA--- Vanguard Leasing, Inc. announces the grand re-opening of its corporate headquarters.
Vanguard Leasing Inc., a nationwide lessor and funding source for independent lessors has completed an expansion of its national headquarters. The expansion will accommodate its growth needs for the next 5-7 years. Enhancing the work environment for its staff are a state-of- the-art multimedia teleconference room, wellness center and shower facilities.
Commenting on the facility, Hugh W. Connelly, President, stated, "We are thrilled to open this "home away-from-home" facility for our people. We have invested in our infrastructure giving our associates the modern tools of the trade in financial services." Connelly continued, "The Bensalem site is centrally located, easy to get to and has a vibrant local business community. We look forward to continued growth and furthering our involvement in the local community."
Vanguard Leasing, Inc. is headquartered in Bensalem, PA. Vanguard has additional offices in New Jersey, Delaware and Florida. It is a nationwide small ticket lessor specializing in purchasing portfolios from leasing companies and the direct origination of leases through vendor programs and lease brokers. In addition to its core business, it operates vendor programs under the names of: Vanguard Public Finance, Native American Public Finance, StenoLease®, StenoRent® and SinoCapital – its program for Chinese equipment manufacturers. Additional information can be found on the Company's website at
www.VanguardLeasing.com.
### Press Release ###########################

Sandy Spring Bancorp Announces 3rd Quarter Dividend
OLNEY, Md., -- Sandy Spring Bancorp, Inc., (Nasdaq:SASR) the parent company of Sandy Spring Bank, announced that its Board of Directors has declared a regular quarterly dividend of $0.23 per share for the 3rd quarter of 2007. Compared to the third quarter of 2006, this third quarter dividend for 2007 represents an increase of $0.01 per share. Sandy Spring's dividend payout ratio is 45.10% (3rd Quarter 2007 Declared Dividend/2nd Quarter 2007 Reported Earnings per Share) and its annualized dividend yield is 2.92% (annualized 3rd Quarter Declared Dividend/Closing Stock Price reported on August 29, 2007). The dividend is payable on September 20, 2007 to shareholders of record as of the close of business on September 10, 2007.
About Sandy Spring Bancorp/Sandy Spring Bank
With $3.1 billion in assets, Sandy Spring Bancorp is the holding company for Sandy Spring Bank and its principal subsidiaries, Sandy Spring Insurance Corporation, The Equipment Leasing Company and West Financial Services, Inc. Sandy Spring Bancorp is the second largest publicly traded banking company headquartered in Maryland. Sandy Spring is a community banking organization that focuses its lending and other services on businesses and consumers in the local market area. Independent and community-oriented, Sandy Spring Bank was founded in 1868 and offers a broad range of commercial banking, retail banking and trust services through 42 community offices in Anne Arundel, Carroll, Frederick, Howard, Montgomery, and Prince George's counties in Maryland, and in Fairfax and Loudoun counties in Virginia. Through its subsidiaries, Sandy Spring Bank also offers a comprehensive menu of leasing, insurance and investment management services. Visit www.sandyspringbank.com to locate an ATM near you or for more information about Sandy Spring Bank.
### Press Release ###########################

USA Truck Announces Lease Purchase Program


VAN BUREN, Ark., -- USA Truck, Inc. (Nasdaq:USAK) yesterday announced the introduction of a Lease Purchase program available to driver employees interested in owning their own equipment and becoming owner-operators for the Company. The new program will offer current driver employees that meet certain qualifications the opportunity to purchase their own tractors through a third-party financing partner. Driver employees may purchase tractors directly from USA Truck or from outside sources.
"We are excited to launch this program as many of our driver employees have shown an interest in becoming owner-operators, and this program makes it possible for them to continue their professional driving careers with USA Truck," stated Mike Weindel, Vice President of Human Resources, Recruiting and Training. "The program is designed to help aspiring owner-operators among our driver employees arrange financing to purchase their own equipment and to provide a comprehensive program to help them successfully transition from Company drivers to small business operators. The Company benefits by retaining elite drivers that might otherwise leave the Company to become owner-operators elsewhere and it affords us another avenue to grow our revenue with minimal capital deployed."
This press release contains forward-looking statements and information that are based on our current expectations and assumptions we have made based upon information currently available. Forward-looking statements include statements relating to our plans, strategies, objectives, expectations, intentions and adequacy of resources, and may be identified by words such as "could," "should," "may," "believe," "expect," "intend," "plan," "schedule," "estimate," "project" and similar expressions. Although we believe that the expectations reflected in such forward-looking statements are reasonable, we cannot assure you that such expectations will be realized. If one or more of the risks or uncertainties underlying such expectations materialize, or if underlying assumptions prove incorrect, actual results may vary materially from those expected. Additional risks associated with our operations are discussed in our SEC filings, including our Annual Report on Form 10-K for the year ended December 31, 2006, and our subsequent quarterly reports on Form 10-Q.
All forward-looking statements attributable to us, or persons acting on our behalf, are expressly qualified in their entirety by this cautionary statement.
We undertake no obligation to publicly update or revise any forward-looking statements, whether as a result of new information, future events, or otherwise. In light of these risks and uncertainties, the forward-looking events and circumstances discussed in this press release might not occur.
References to the "Company," "we," "us," "our" and words of similar import refer to USA Truck, Inc. and its subsidiary.
USA Truck is a dry van truckload carrier transporting general commodities via our General, Regional and Dedicated Freight divisions. We transport commodities throughout the continental United States and into and out of portions of Canada. We also transport general commodities into and out of Mexico by allowing through-trailer service from our terminal in Laredo, Texas. Our Third Party Logistics and Freight Brokerage divisions provide customized transportation solutions using our technology and multiple modes of transportation including our assets and the assets of our partner carriers.
CONTACT: USA Truck, Inc.
Mike Weindel, Vice President,
Human Resources, Recruiting and Training
(479) 471-2517
### Press Release ###########################
--------------------------------------------------------------

News Briefs----
Commercial Paper Extends Slump on Asset-Backed Woes
http://www.bloomberg.com/apps/news?pid=20601103&sid=akef2T79bxj4
Mortgage brokers fall on tough times
http://www.usatoday.com/money/economy/housing/2007-08-30-mortgage-brokers_N.htm
Freddie Mac 2Q Earnings Slide 45 Percent
http://www.chicagotribune.com/business/sns-ap-earns-freddie-mac,0,5152296.story
Why a U.S. Subprime Mortgage Crisis Is Felt Around the World
http://www.nytimes.com/2007/08/31/business/worldbusiness/31derivatives.html?_r=
1&ref=business&oref=slogin
Bush to Offer Proposals To Ease Mortgage Crisis
http://www.washingtonpost.com/wp-dyn/content/article/2007/08/30/
AR2007083002207.html?hpid=topnews
Dell's Earnings Rise, but Delays Hinder Recovery
http://www.nytimes.com/pages/business/index.html
Australian Equipment Firm Emeco Holdings Posts $56.1 Million Earnings
http://www.nasdaq.com/aspxcontent/NewsStory.aspx?cpath=20070830%5cACQRTT
200708301759RTTRADERUSEQUITY_1138.htm&
Microsoft to release updates for Vista and XP in 2008
http://www.ajc.com/business/content/business/stories/2007/08/29/Microsoft_0829.html
---------------------------------------------------------------


You May have Missed---
In Forest Park, the roots of Sen. Craig's misadventure
http://www.stltoday.com/stltoday/news/stories.nsf/stlouiscitycounty/story/
26263150D474C4EE8625734800098FDC?OpenDocument
---------------------------------------------------------------

Sports Briefs----
49ers—More turnovers than at a bakery
http://www.sfgate.com/cgi-bin/article.cgi?f=/n/a/2007/08/30/sports/s221003D83.DTL
Raiders fall to Seahawks
http://www.contracostatimes.com/news/ci_6765740?nclick_check=1

Bill Cowher: Not coaching in 2007 or 2008
http://www.usatoday.com/sports/football/nfl/2007-08-29-cowher-status_N.htm
----------------------------------------------------------------


"Gimme that Wine"
It's going to be a 'Wild Bunch' this weekend in Sonoma, and we're not just talking grapes
http://www.sonomasun.com/pub/a/1639?full=1
Mondial du Pinot Noir 2007: Winners of the world's best Pinot Noir awards, very international group, top Pinot from Chile~~~
LAS CONDES SANTIAGO VINA CASA MARIN Lo Abarca Hills Vineyard
http://www.drinksmediawire.com/afficher_cdp.asp?id=1809&lng=2
http://www.mondial-du-pinot-noir.com/mondial.asp?l=1
Chill time depends on the wine
http://seattletimes.nwsource.com/html/foodwine/2003857430_wineqanda29.html
Readers uncork over screw caps
http://seattletimes.nwsource.com/html/foodwine/2003857380_winecol29.html
Former Judge Uses Winery Background for Mediation
http://www.winebusiness.com/news/DailyNewsArticle.cfm?dataid=50075
Wine Prices by vintage
http://www.winezap.com
http://www.wine-searcher.com/
US/International Wine Events
http://www.localwineevents.com/
Winery Atlas
http://www.carterhouse.com/atlas
Leasing News Wine & Spirits Page
http://two.leasingnews.org/Recommendations/wnensprts.htm
The London International Vintners Exchange (Liv-ex) is an electronic exchange for fine wine.
http://www.liv-ex.com/
----------------------------------------------------------------

Calendar Events This Day
College Colors Day
College Color Days is an annual nationwide celebration, that seeks to celebrate and promote college traditions and spirit by encouraging fans, alumni, and students to wear apparel and school colors of their favorite college or university.
http://www.collegecolorsday.com
Eat Outside Day
http://hicards.com/platinum/bizarre/8-31.html
Kazakhstan: Constitution Day
National holiday. Commemorates the constitution of 1995.
https://www.cia.gov/library/publications/the-world-factbook/geos/kz.html
Love Litigating Lawyers Day
http://www.edhelper.com/DailyThemes_August_31.html
Malaysia: Freedom Day (also know as Hari Merdeka Day)
National holiday. Commemorates independence form Britain in 1957.
http://en.wikipedia.org/wiki/Hari_Merdeka
https://www.cia.gov/library/publications/the-world-factbook/geos/my.html
Moldova: National Language Day
National Day. Also called Mother Tongue Day. Commemorates the replacement of the Cyrillic alphabet with the Latin alphabet in 1991.
https://www.cia.gov/library/publications/the-world-factbook/geos/md.html
National Trail Mix Day
http://holidayinsights.com/moreholidays/August/trailmixday.htm
Trinidad and Tobago. Independent Day.
National holiday. Became an independent nation within the British Commonwealth on this day in 1962. Trinidad became a republic, September 24, 1976.
https://www.cia.gov/library/publications/the-world-factbook/geos/td.html
Saint feast Days
http://www.catholic.org/saints/f_day/aug.php
----------------------------------------------------------------

The first food eaten in outer space by an astronaut was applesauce.
True. John Glenn ate applesauce from an aluminum tube that he squeezed to get into his mouth to swallow.
http://library.thinkquest.org/CR0215468/space_food.htm
http://www.ag.iastate.edu/centers/ftcsc/media/bookmark4.pdf
----------------------------------------------------------------

Today's Top Event in History
1939 - At noon, despite threats of British and French intervention, Nazi leader Adolf Hitler signs an order to attack Poland, and German forces move to the frontier. That evening, Nazi S.S. troops wearing Polish uniforms staged a phony invasion of Germany, damaging several minor installations on the German side of the border. They also left behind a handful of dead German prisoners in Polish uniforms to serve as further evidence of the alleged Polish attack, which Nazi propagandists publicized as an unforgivable act of aggression. At dawn the next morning, 58 German army divisions invaded Poland all across the 1,750-mile frontier. Hitler expected appeasement from Britain and France--the same nations that had given Czechoslovakia away to German conquest in 1938 with their signing of the Munich Pact. However, neither country would allow Hitler's new violation of Europe's borders, and Germany was presented with an ultimatum: Withdraw by September 3 or face war with the Western democracies. At 11:15 a.m. on September 3, a few minutes after the expiration of the British ultimatum, Prime Minister Neville Chamberlain appeared on national radio to announce solemnly that Britain was at war with Germany. Australia, New Zealand, and India immediately followed suit. Later that afternoon, the French ultimatum expired, and at 5:00 p.m. France declared war on Germany. The European phase of World War II began.
[headlines]
----------------------------------------------------------------

This Day in American History
1685-Caves used for dwellings were ordered evacuated and filled in by the Governor's Council of Pennsylvania. Early settlers in Pennsylvania, New York and Massachusetts lacked sawmills, even saws, as well as facilities for cutting and using stone. Many poor and rich lived in caves dug into the sides of hills.
1728-Catholic nuns pioneered education in Louisiana. Only nine years after the founding of New Orleans, Ursuline nuns arrived in Louisiana to serve the sick and to teach and train the "casket girls". These orphaned girls, who carried their belongings in caskets or small trunks, arrived from France as prospective wives of settlers. They received a dress in a casket as a gift for their immigration, introducing a new element into Louisiana society. Since these girls were not inmates of penal institutions, as were many of the predecessors, mostly arrested for prostitution as women had little ways of making money. It became and has remained an nor to be descended from a casket girl. The Ursuline Convent in New Orleans provided the best female education obtainable in the colony. Through the years, the nuns not only instructed young ladies from well-to-do families, but also housed, fed, and taught orphan girls. Sisters of the Sacred Heart founded schools such as St Michael's Convent in Convent, Louisiana, where the small cypress desk displayed in this gallery was used. Views about female education varied with time and circumstances. Girls were often taught at home by mothers or tutors. Some were taught by French governess or in small private schools. Others attended Common Schools in neighboring towns and boarded with family or friends.
Although fathers in isolated areas might consider female education dangerous, wealthy parents sometimes sent their daughters to France. Young ladies also enrolled in southern or eastern boarding schools, particularly as female seminaries proliferated in the nineteenth century. Regardless of circumstances, most parents viewed female education only as a preparation for marriage, motherhood, and home management.
1827-Birthday of Anna Bartlett, author of numerous books and novels and author of the hymn "Jesus Loves Me, This I Know." Collaborated on several books with her sister Susan Bogert Warner,
Died July 11, 1819.
1842-Birthday of Mary Corinna Putnam Jacobi: deciding to continue her medical training in France, became the first woman to enter "Ecole de Medecine." Graduating with honors, she returned to New York City to become a lecturer in Dr. Elizabeth Blackwell's Medical College and open a private practice. Because of her European training, she felt American women were not getting the quality of medical training they should and she became an exacting instructor as well as the organizer of the Association for the Advancement of the Medical Education of Women to improve the standards of women's medical training. She published more than 100 titles.
1851- Clipper "Flying Cloud" set new record by sailing from New York to San Francisco in 89 days.
1864 - General William T. Sherman launches the attack that finally secures Atlanta, Georgia, for the Union, and seals the fate of Confederate General John Bell Hood's army, which is forced to evacuate the area. The Battle of Jonesboro was the culmination of a four-month campaign by Sherman to capture Atlanta.
Confederate General William Hardee's corps moved to block Sherman at Jonesboro, and attacked the Union troops on August 31, but the Rebels were thrown back with staggering losses. The entrenched Yankees lost just 178 men, while the Confederates lost nearly 2,000. On September 1, Sherman attacked Hardee. Though the Confederates held, Sherman successfully cut the rail line and effectively trapped the Rebels. Hardee had to abandon his position, and Hood had no choice but to withdraw from Atlanta. The fall of Atlanta was instrumental in securing the reelection of Abraham Lincoln in the fall.
1865 - The US Federal government estimated the American Civil War had cost about eight-billion dollars. Human costs have been estimated at more than one-million killed or wounded.
1875- birthday of Edward Stewart ( Eddie) Plank, Baseball Hall of Fame pitcher born at Gettysburg, PA. Plank won more games than any other left-handed pitcher in American League history during a 17-year career.
http://www.baseballhalloffame.org/hofers_and_honorees/hofer_bios/plank_eddie.htm
1881-The first National tennis championship matches were held at Newport Casino, Newport, RI, by the United States Lawn Tennis Association, which introduced the first national uniform conditions. The single match was won by Richard Dudley Sears, who defeated W.E. Glyn 6-0, 6-3 and 6-2. The doubles were won by Clarence Monroe Clark and Frederick W. Taylor
1886- Charleston, SC. The first major earthquake in the recorded history of the eastern US occurred on this date.. Though a num­ber of smaller eastern US quakes had been described and recorded since 1638, this affected persons living in an area of some 2 million square miles. The epicenter was 15 miles northwest of Charleston, where 41 people died, 90 percent of the city's 6,965 brick buildings were damaged, and nearly all of its 14,000 chimneys were broken off at the roof. Altogether, the earthquake claimed some 100 lives. A series of earthquakes beginning on December 16, 1811, were the most severe in the U.S. history---they changed the course of the Mississippi River and created many new lakes---but the epicenter was in a sparsely populated region and caused no known damage.
1887 - Thomas Edison patented the kinetoscope, the first device for producing motion pictures.
1895- A football team from Latrobe, PA defeated a squad from Jeanette PA, 12-0, which history has regarded as the first professional football game. Latrobe quarterback John Brallier was paid $10 expense money.
1896-Klondike Eldorado Gold Discovery: Two weeks after the Rabbit/Bonanza Creek claim was filed, gold was discovered on Eldorado Creek, a tributary of Bonanza. More than $30 million worth of gold (worth some $600-$700 million in today's dollars) was mined from the Eldorado Claim in 1896.
1900- Mrs. Adolph Ladenburg rides a horse astride in the society spa of Saratoga, NY, and causes a scandal which fortunately doesn't last long because one writer said of the incident, "Farm women have been riding astride as long as there have been horses."
1903 - A Packard made the first completed automobile trip from San Francisco to New York City. The trip took 52 days.
1904- The first African-American Olympic medallist was George C. Poage of the Milwaukee Athletic Club, Milwaukee, WI, who participated in the Third Olympiad at St. Louis, MO. He placed third in the
400-meter hurdles on August 31 and third in the 200-meter hurdles on September 1.
1907--- Writer William Saroyan birthday. (The Human Comedy) born, Fresno, California. In the preface to The Time of Your Life, which won the 1940 Pulitzer Prize for Drama, (which he refused) he urges:
"In the time of your life, live so that in that good time there shall be no ugliness or death for yourself or for any life your life touches. Seek goodness everywhere, andwhere it is found, bring it out of its hiding place & let it be free and unashamed." Saroyan left school at the age of 15 but continued his education by reading & writing on his own, living on his writing from 1920. His stories of the Great Depression celebrated the joy of living in spite of poverty and insecurity. I worked with his brother who was controller at KGO-TV, who was a very generous man.
http://kirjasto.sci.fi/saroyan.htm
1907- birthday of Edgar Sampson, born New York City, great jazz arranger and also composer of "Blue Lou," " Stompin' at the Savoy," "Don't Be that Way," much other swing literature.
1910- Glenn Hammond Curtiss flew his biplane over Lake Erie from Euclid Beach Park, Cleveland, OH, to Cedar Point, Sandusky, OH. He flew at an altitude between 400 and 500 feet. The trip took 78 minutes nonstop over a distance of 70 miles to make the first flight over water.
1918- Birthday of Kenneth S. (Kenny) Washington, football player born at Los Angeles, CA. After gaining American honors at UCLA where he was a teammate of Jackie Robinson, Washington and Woody Strode became the first blacks to play in the NFL after World War II, breaking the league's color barrier with the Los Angeles Rams. He played three seasons and then retired to a career in business. Died at Los Angeles, June 24, 1971. 1920 - The first ever news program was broadcast by the radio station 8MK in Detroit, Michigan. The station had opened its service on August 20.
1928 - Bertolt Brecht's The "Three penny Opera" ("Die Dreigoschenoper") with music by Kurt Weill was premiered in Berlin with Lotte Lenya.
1929-Birthday of Academy Award-winning actor James Coburn, born at Laurel, NE. He rose to fame as the knife thrower in "The Magnificent Seven" and became known for his tough-guy roles in films such as "The Great Escape" and " Our Man Flint. " He received an Oscar for his supporting role in 1999's "Affliction." He died at Los Angeles, CA, Nov 18, 2002.
1934-The first College All-Star Football Game, matching the defending NFL champion against team of college seniors from the previous season, was played at Chicago's Soldier Field. Organized by sportswriter Arch Ward, the game was an annual charity affair played through 1976. IN the first game, the Chicago Bears and the All-Stars played to a 0-0 tie before a crowd of 79,432.
1936- Birthday of Marva Collins, founded Chicago's Westside Preparatory School in 1975 in Garfield Park, Illinois, that transforms so-called "unteachable" ghetto children into scholars.
She continues spreading the word.
http://www.marvacollins.com/biography.html
http://www.marvacollins.com/
1938-Frank Sinatra, 23, cuts "All or Nothing at All" with James Band, Columbia records.
1939 - At noon, despite threats of British and French intervention, Nazi leader Adolf Hitler signs an order to attack Poland, and German forces move to the frontier. That evening, Nazi S.S. troops wearing Polish uniforms staged a phony invasion of Germany, damaging several minor installations on the German side of the border. They also left behind a handful of dead German prisoners in Polish uniforms to serve as further evidence of the alleged Polish attack, which Nazi propagandists publicized as an unforgivable act of aggression. At dawn the next morning, 58 German army divisions invaded Poland all across the 1,750-mile frontier. Hitler expected appeasement from Britain and France--the same nations that had given Czechoslovakia away to German conquest in 1938 with their signing of the Munich Pact. However, neither country would allow Hitler's new violation of Europe's borders, and Germany was presented with an ultimatum: Withdraw by September 3 or face war with the Western democracies. At 11:15 a.m. on September 3, a few minutes after the expiration of the British ultimatum, Prime Minister Neville Chamberlain appeared on national radio to announce solemnly that Britain was at war with Germany. Australia, New Zealand, and India immediately followed suit. Later that afternoon, the French ultimatum expired, and at 5:00 p.m. France declared war on Germany. The European phase of World War II began.
1945 - Van Morrison is born in Belfast, Ireland. His biggest hit is the top 10 song ``Domino,'' released in 1970.
1950-KOUMA, ERNEST R. Medal of Honor
Rank and organization: Master Sergeant (then Sfc.) U.S. Army, Company A, 72d Tank Battalion. Place and date: Vicinity of Agok, Korea, 31 August and 1 September 1950. Entered service at: Dwight, Nebr. Born: 23 November 1919, Dwight, Nebr. G.O. No.: 38, 4 June 1951. Citation: M/Sgt. Kouma, a tank commander in Company A, distinguished himself by conspicuous gallantry and intrepidity at the risk of his life above and beyond the call of duty in action against the enemy. His unit was engaged in supporting infantry elements on the Naktong River front. Near midnight on 31 August, a hostile force estimated at 500 crossed the river and launched a fierce attack against the infantry positions, inflicting heavy casualties. A withdrawal was ordered and his armored unit was given the mission of covering the movement until a secondary position could be established. The enemy assault overran 2 tanks, destroyed 1 and forced another to withdraw. Suddenly M/Sgt. Kouma discovered that his tank was the only obstacle in the path of the hostile onslaught. Holding his ground, he gave fire orders to his crew and remained in position throughout the night, fighting off repeated enemy attacks. During 1 fierce assault, the enemy surrounded his tank and he leaped from the armored turret, exposing himself to a hail of hostile fire, manned the .50 caliber machine gun mounted on the rear deck, and delivered pointblank fire into the fanatical foe. His machine gun emptied, he fired his pistol and threw grenades to keep the enemy from his tank. After more than 9 hours of constant combat and close-in fighting, he withdrew his vehicle to friendly lines. During the withdrawal through 8 miles of hostile territory, M/Sgt. Kouma continued to inflict casualties upon the enemy and exhausted his ammunition in destroying 3 hostile machine gun positions. During this action, M/Sgt. Kouma killed an estimated 250 enemy soldiers. His magnificent stand allowed the infantry sufficient time to reestablish defensive positions. Rejoining his company, although suffering intensely from his wounds, he attempted to resupply his tank and return to the battle area. While being evacuated for medical treatment, his courage was again displayed when he requested to return to the front. M/Sgt. Kouma's superb leadership, heroism, and intense devotion to duty reflect the highest credit on himself and uphold the esteemed traditions of the U.S. Army.
1950---Top Hits
Mona Lisa - Nat King Cole
Play a Simple Melody - Bing Crosby
Sam's Song - Bing & Gary Crosby
Goodnight Irene - Red Foley-Ernest Tubb
1950-First baseman Gil Hodges of the Brooklyn Dodgers become the sixth player in major league history to hit four home runs in one game. He was one of my favorite baseball players, and I got his autograph, too. He added a single as the Dodgers beat the Boston Braves , 19-3.
1951--*LYELL, WILLIAM F. Medal of Honor
Rank and organization: Corporal, U.S. Army, Company F, 17th Infantry Regiment, 7th Infantry Division. Place and date: Near Chup'a-ri, Korea, 31 August 1951. Entered service at: Old Hickory, Tenn. Birth: Hickman County, Tenn. G.O. No.: 4, 9 January 1953. Citation: Cpl. Lyell, a member of Company F, distinguished himself by conspicuous gallantry and outstanding courage above and beyond the call of duty in action against the enemy. When his platoon leader was killed, Cpl. Lyell assumed command and led his unit in an assault on strongly fortified enemy positions located on commanding terrain. When his platoon came under vicious, raking fire which halted the forward movement, Cpl. Lyell seized a 57mm. recoilless rifle and unhesitatingly moved ahead to a suitable firing position from which he delivered deadly accurate fire completely destroying an enemy bunker, killing its occupants. He then returned to his platoon and was resuming the assault when the unit was again subjected to intense hostile fire from 2 other bunkers. Disregarding his personal safety, armed with grenades he charged forward hurling grenades into 1 of the enemy emplacements, and although painfully wounded in this action he pressed on destroying the bunker and killing 6 of the foe. He then continued his attack against a third enemy position, throwing grenades as he ran forward, annihilating 4 enemy soldiers. He then led his platoon to the north slope of the hill where positions were occupied from which effective fire was delivered against the enemy in support of friendly troops moving up. Fearlessly exposing himself to enemy fire, he continuously moved about directing and encouraging his men until he was mortally wounded by enemy mortar fire. Cpl. Lyell's extraordinary heroism, indomitable courage, and aggressive leadership reflect great credit on himself and are in keeping with the highest traditions of the military service.
1953---Birthday of American composer Peter Scott Lewis, born San Rafael, CA.
1954 - Hurricane Carol swept across eastern New England killing sixty persons and causing 450 million dollars damage. It was the first of three hurricanes to affect New England that year
1955- William G. Cobb of the General Motors Corporation gave a publicly demonstration of a solar- powered car. It had 12 photoelectric cells made of selenium which converted light into electric current.
The current powered a tiny electric motor with a drive shaft connected to the rear axle by a pulley. It
was to be the car of the future, with full production before 1960.
1958---Top Hits
Nel Blu Dipinto Di Blu (Volare) - Domenico Modugno
Little Star - The Elegants
My True Love - Jack Scott
Blue Blue Day - Don Gibson
1958 -- Fidel Castro, Che Guevara and their rag-tag rebel army begin their destruction of the US-supported and Mafia-controlled dictatorship. Juan Batista said he could control the "minor rebellion" and the US believed him, as well as decades of other dictators in Central and South American countries, who were supported because they were "anti-Communist."
http://www.patriagrande.net/uruguay/eduardo.galeano/memoria.del.fuego/19580831.htm
http://www.weisbord.org/WhatsGoingOn.htm
1963-The Ronettes single, "Be My Baby" enters the chart.
1963- "My Boyfriend's Back" by the Angels topped the charts and stayed there for 3 weeks.
1966---Top Hits
Summer in the City - The Lovin' Spoonful
Sunny - Bobby Hebb
See You in September - The Happenings
Almost Persuaded - David Houston
1968-Cream's "Fresh Cream" enters the LP chart. It contains the hit single, "Sunshine Of Your Love."
1970 - Debbie Gibson is born on Long Island, N.Y.
1971 - The low of 84 degrees and high of 108 degrees at Death Valley, CA, were the coolest of the month. The average daily high was 115.7 degrees that August, and the average daily low was 93.4 degrees
1974---Top Hits
(You're) Having My Baby - Paul Anka
I Shot the Sheriff - Eric Clapton
Tell Me Something Good - Rufus
The Grand Tour - George Jones
1974 - ``The Partridge Family'' television show ends, leaving David Cassidy free to pursue a solo music career.
1974-- Carole King's 'Jazzman' released in US.
1976- "Alice" premiers on TV. Linda Lavin played the title role in this CBS comedy that was based on the 1975 film "Alice Doesn't Live Here Anymore." Alice Hyatt was the new girl in town---a widow raising her son while trying to make ends meet by waitressing at a diner. She had dreams of making it big as a singer. Nine years later, Alice was able to leave her "temp" job for a gig. Lavin's co-stars were: Vic Tayback as diner owner Mel Sharples. Philip McKeon as Alice's son Tommy. Beth Howland as the waitress Vera Gorman. Polly Holiday as sassy waitress Flo Castleberry. Diane Ladd as Flor's replacement Belle Dupree, Celia Weston as waitress Jolene Hunnicutt., Martha Raye as Mel's mother Carrie and Marvin Kaplan as customer Henry Bessmyer. The last telecast aired on July 2, 1985.
http://www.sitcomsonline.com/alice.html
http://www.televisionheaven.co.uk/alice.htm
http://www.bigbob.com/alice/
http://www.jumptheshark.com/a/alice.htm
http://www.imdb.com/title/tt0071115/
1976-George Harrison is found guilty of "subconscious plagiarism" of the Chiffons hit "He's So Fine" in his "My Sweet Lord.
1980-Pat Benatar's "Crimes Of Passion" LP enters the chart. The album features her signature song "Hit Me With Your Best Shot."
1982---Top Hits
Eye of the Tiger - Survivor
Hurts So Good - John Cougar
Abracadabra - The Steve Miller Band
Fool Hearted Memory - George Strait
1984 - Lightning ignited several forest fires in Montana, one of which burned through 100,000 acres of timber and grassland.
1985-Bryan Adams' "Summer of '69" peaks at #5 on the pop singles chart while Billy Joel's "You're Only Human (Second Wind)" peaks at #9
1987 - The largest preorder of albums in the CBS Records history occurred when 2.25 million copies of Michael Jackson's "Bad" album were shipped to record stores. The LP was the follow up to "Thriller", the biggest Jackson-seller of all time which sold 35 million copies. The "Bad" album was successful by normal standards, but flopped compared to "Thriller," selling only 13 million copies.
1987 - Eight cities in Washington and Oregon reported record high temperatures for the date, including Eugene OR and Portland OR with afternoon highs of 102 degrees. The high of 102 degrees at Portland smashed their previous record for the date by twelve degrees. Frost was reported in South Dakota. Aberdeen SD established a record for the month of August with a morning low of 32 degrees, and Britton SD dipped to 31 degrees.
1988- Five-day power blackout of downtown Seattle begins.
1988- Baseball owners were found guilty of collusion against free agents was the finding of an arbitrator against the owners of the major league baseball clubs. These owners, the ruling said, violated baseball's collective bargaining agreement in relation to 79 players who became free agents at the end of the 1986 season. Almost none of the clubs attempted to sign such players from other clubs. It was a "freeze out." A week later the owners put in a new baseball commissioner and the argument
continued over "monetary damages" the owners lost again in 1987, when the same ruling was made for free agents from the prior year, 1985.
1989 - Thunderstorms developing along a stationary front spread severe weather from Minnesota to Indiana through the course of the day and night. Thunderstorms in Minnesota produced baseball size hail near Saint Michael and Hutchinson, and drenched Moose Lake with nine inches of rain in six hours. Tucson AZ hit 100 degrees for a record 79th time in the year, surpassing a record established the previous year.
1990-- Ken Griffey, Jr, 20, and Ken Griffey, Sr, 40 , made major league history by becoming the first father and son to play together in the same game. They played for the Seattle Mariners in a game against the Kansas City Royals.
1990---Top Hits
Vision of Love - Mariah Carey
Come Back to Me - Janet Jackson
If Wishes Came True - Sweet Sensation
1991 - Metallica's self-titled album debuts at No. 1 on Billboard's pop album chart.
1995 - The Rock and Roll Hall of Fame and Museum opens in Cleveland. The city is argued to be the birthplace of rock beginning in the rooms of radio station WMMS, where disc jockey Alan Freed coined the term ``rock 'n' roll'' in the early 1950s.
1996-Oklahoma State University defeated Southwest Missouri State University, 23-20, in the first Division I-A college football game to be decided in overtime. The game was tied, 17-17, at the end of regulation time. Under new rules effective that year, Southwest Missouri State go the ball first in overtime and kicked a 47-yard field goal. Oklahoma State then got the ball and answered with a 13-yard touchdown run.
1997 - Lady Diana Spencer, former wife of Charles, Prince of Wales, was killed along with her companion Dodi Fayed in a car accident in Paris. Tests conducted by French police indicated that the driver, who also perished in the crash, was intoxicated and likely caused the accident while trying to escape the paparazzi photographers who were following them.
2001-- Due to the fact Little League World Series star pitcher Danny Almonte is 14 years old, not 12 as required by the organization's rules, the Raulindo Paulino All-Stars are stripped of all its wins. The team, which had captured the heart of the community, finished third in Williamsport and were given a parade in New York and honored before a game at Yankee Stadium.
2002-Losing their 13th consecutive game at Shea Stadium to Randy Wolf and the Phillies, 1-0, the Mets complete the worst month at home in National League history. The Amazins' join the Seattle Pilots (August-1969 ) and the Tigers (September-1996) as teams that have not won a home game in a calendar month with at least ten games.
--------------------------------------------------------------

Baseball Poem
Larry Zirlin
Last Baseball Dream of the Season
Although I have no memory
of my career in the majors
my name appears
in the Baseball Encyclopedia
Lifetime average: 241
Now that you know this dream
you know everything about me.
From "Line Drives," 100 Contemporary Baseball Poems,edited by Brooke Horvath
and Tim Wiles, Southern Illinois University Press
--------------------------------------------------------------

SuDoku
The object is to insert the numbers in the boxes to satisfy only one condition: each row, column and 3x3 box must contain the digits 1 through 9 exactly once. What could be simpler?
http://leasingnews.org/Soduku/soduko-main.htm
--------------------------------------------------------------

Daily Puzzle
How to play:
http://www.setgame.com/set/puzzle_frame.htm
Refresh for current date:
http://www.setgame.com/set/puzzle_frame.htm
--------------------------------