Credit: Seeking an energetic, enthusiastic sales oriented credit analyst & packaging specialist at our Irvine CA., headquarters. This key position is responsible for credit analysis, transaction packaging and placement of equipment leases on a discounted, brokered or assigned basis to Pacifica's established lender alliances.
Email: russ@pacifica-capital.com
Tuesday, August 3,2004
Headlines---
Classified Ads---Doc. Manager / Finance / Legal
Larsen gets prison term, told to repay investors
Andrew Thorn says "Goodbye to Leasing"
NorVergence mastermind no stranger to bankruptcy
NorVergence bankruptcy leads to charges of scam
National Lease Funding Source Showcase Finalizes Agenda
ELFF Newsletter—Starts Campaign
Balboa Capital Hires Five Leasing Veterans
CFNB Announces Lower 2004 Earnings/ Strong Origination Volume
BBB Warns Imposters are Targeting Consumers and Businesses
Resource America Increases Cash Dividend by 50%
"Minor Slipage" NACM Credit Manager's Index (CMI) for July 2004
########  surrounding the article denotes it is a "press release"
-------------------------------------------------------------------------------
Classified Ads---Doc. Manager / Finance / Legal
Documentation Manager: New York, NY.
10+ years in equipment leasing/secured lending. Skilled in management & training, documentation, policy and procedure development & implementation, portfolio reporting. Strong work ethic.
Email: dln1031@nyc.rr.com
Finance: Chicago, IL
Experienced in big ticket origination, syndication, valuation and workout.
Twenty five years, MBA, CPA,JD, LLM (Tax), structuring specialist. Inbound and outbound transactions. Email: pal108381@comcast.net
Transaction Summary
Website: www.tlgattorneycpa.com
Finance: Austin, TX.
20+ years all facets of lease/finance. Collection and credit management. Equipment & rolling stock structuring. $150k credit authority, $100 million portfolio management.
Email: texmartin@juno.com
Finance: Lyndhurst, NJ
CFO w/20+ years leasing/financing. Respected by lenders/rating agencies full & fair financial reporting. Outstanding record restructuring debt. Adept at investor relations and mentoring people.
Email: joemcdev@aol.com
Finance: San Jose, CA.
15+ years sourcing debt, managing cash and receivables and other treasury functions. Strong background in credit, contract
administration and bankruptcy litigation experience. MBA Finance.
Email: raycis@comcast.net
Legal: Los Angeles, CA
Experienced in-house corporate and financial services attorney seeks position as managing or transactional counsel. Willing to relocate.
Email: sandidq@msn.com
  Full list at: 
http://64.125.68.90/LeasingNews/JobPostings.htm
------------------------------------------------------------------------------
Larsen gets prison term, told to repay investors
By Mike Freeman
 SAN DIEGO UNION-TRIBUNE STAFF WRITER
A former executive involved in the notorious PinnFund financial scam was sentenced yesterday to more than six years in federal prison and ordered to pay nearly $6.7 million in restitution.
Tommy A. Larsen, 55, of Vista, pleaded guilty in December to mail fraud, wire fraud, money laundering, obstruction of justice and tax evasion. He was sentenced by U.S. District Judge Marilyn Huff.
Larsen was president of PinnLease, a subsidiary of Carlsbad- based PinnFund. Prosecutors contend he orchestrated a complex scheme of bogus equipment leases, then received kickbacks from those leases for himself and PinnFund.
Larsen also admitted to lying in a federal court case, evading taxes by charging personal expenses to PinnFund and structuring his salary to avoid payroll taxes. Some of the money was hidden in offshore banks.
PinnFund, a mortgage lender that employed more than 200 people, was at the center of an elaborate Ponzi scheme that bilked investors out of hundreds of millions of dollars.
Authorities said PinnFund chief executive Michael Fanghella and associate James Hillman promised 160 investors double-digit returns for investing more than $300 million in PinnFund to fund mortgage loans.
Instead, the money went to cover millions in operating losses at PinnFund, o enrich executives and to provide previous investors with their monthly returns.
PinnFund collapsed in 2001 after the Securities and Exchange Commission filed a lawsuit exposing the scam. Criminal charges followed against several of the ringleaders, including Fanghella, who was sentenced in February 2003 to 10 years in prison.
Larsen wasn't a central figure in the initial Ponzi scheme. But prosecutors said he was part of a scam to raid more investor money through the equipment leasing subsidiary.
Larsen's son, Kim A. Larsen, 34, also was sentenced yesterday, receiving 21 months in prison. Kim Larsen ran Copy Fax, which supplied office equipment to PinnFund. He was ordered to pay a $5,000 fine.
"These sentences address an extensive and sophisticated leasing fraud that helped keep the central PinnFund Ponzi scheme going," U.S. Attorney Carol Lam said.
Tommy Larsen is in custody. Kim Larsen is free pending a decision on which federal prison he'll be assigned to serve his sentence.
Including Larsen, seven people linked to PinnFund have pleaded guilty to federal fraud charges. Hillman, one of the top money raisers in the scheme, is fighting charges. No trial date is set in his case.
( full stories on PinnFund here:
http://www.leasingnews.org/Conscious-Top%20Stories/Pinn_Leasing_Sentencing_postponed.htm )
-------------------------------------------------------------------------------
Andrew Thorn says "Goodbye to Leasing"
One of the original Leasing News advisory board members,
a good, loyal friend  says "good-bye" to leasing.  For sixteen years
he has operated Thalman Financial/NowLease in  Apple Valley, Southern California (1)
"
The main question is what can I do now to make things better. I have been in this business for 13 years and I have been through a recession. Dan Rather was not so far off when he closed his broadcast with, "Courage", " he said  June 15,2001 (1).
In June, 2002: " I am competing in my very first Iron Man Triathlon.  What does this mean? It means I will swim 2.4 miles, ride 112 miles (on a bicycle) and run (or walk or crawl) 26.2 miles in a race in Provo Utah."
He left the Leasing News Advisory Board to spend more time with
his family, his church, The Church of Jesus Christ-Later Day Saints,
and then  earned his MBA at the Graziadio School of Business at Pepperdine University
He also bought Business Asset Funding LLC , Hal Hayden and his wife's company in August, 2002.  July,2003,Hal announced he was
leaving Thalman Financial for the candle business  (2)
A very sincere and dedicated person, he now leaves the direct
leasing business.
Here is the only picture of Andrew Thorn from our archives, the year 2002:
David Ross Mayhall-Pacific Capital Leasing, Andrew Thorne, Thalman
Financial, Curt Lysne, CLP—GE Capital/Colonial Pacific
"Dear Friends in the Leasing Industry,
"After much consideration, I decided to retire from Thalman Financial to focus on a new project and business.  I want to thank many of you for our association over the past 16 years.  The decision to leave the industry in some respects is very difficult.  I enjoy many friends in the industry and I feel very comfortable.  The leasing industry has been very good to me and my family and I look forward to remaining involved in a new and different way.
"I am leaving to fulfill a life long desire to teach and to learn.  In the spring of last year I began developing a new company.  I went back to school and earned a Masters in Personal and Executive Coaching, began earning my PhD in Consulting Psychology at Alliant International University and founded Telios Corporation.  The vision of Telios is to "Evoke Excellence in Others."  Our mission is to coach, consult and facilitate individuals, teams and organizations that are passionately pursuing continuous improvement. 
"As accountability and thinking partners, we help create lasting change where it is wanted and needed. We help transform what is learned into actionable power skills that are usable in the daily professional and personal leadership roles. As a result, our clients are more prepared to meet the demands of the day, giving them more time to focus on what really matters most.
"I would like to invite you to tour our website at www.telioscorp.com.  The site explains more fully our purpose and vision. 
"I would like to express my thanks to the many individuals and companies that believed in me and supported me along the way.  I would enjoy keeping in touch and I am sure I will keep an eye on the industry as it has been a big part of my life.
"Kindest Regards,
"Andrew Thorn
(1) http://two.leasingnews.org/archives/June01/6-15-01.htm
(2) http://www.leasingnews.org/archives/July%202003/7-09-03.htm#hal
----------------------------------------------------------------------------
Classified---  Help Wanted
Account Executive / Small ticket leasing account reps


Small ticket leasing account reps., nationwide. Seeking self starters with proven ability to work individually. Our technology gives you the flexibility to work from any location. Aggressive compensation structure, travel exp.,health insurance, matching 401. Grow with us.
Send resume: tcetto@pinnaclecap.com
In addition to our our internal lines, we are partnered with 20 premier funding sources. www.pinnaclecap.com

Credit-Funding-Operations
Credit Analyst: Seeking an energetic and organized Credit Analyst. At least one to two years of experience as a Credit Analyst in financial services (banking, insurance, leasing, or mortgage) is required.
Funding Manager: Seeking a very organized, detail oriented Funding Manager. Minimum two years experience in brokering and discounting commercial equipment transactions is required.
Operations Manager: Seeking an experienced Operations Manager with knowledge of all sides of operations. Must have a minimum of five years related experience.
Send email or fax to Ryan Johnson, Corporate Recruiter.
Email careers@fivepointcapital.com
Fax: (888) 462-4305
Website: www.fivepointcapital.com

We are ready to hear from you and field any leasing questions that you may have.
Five Point Capital
10525 Vista Sorrento Pkwy
San Diego, CA 92121


Credit: Seeking an energetic, enthusiastic sales oriented credit analyst & packaging specialist at our Irvine CA., headquarters. This key position is responsible for credit analysis, transaction packaging and placement of equipment leases on a discounted, brokered or assigned basis to Pacifica's established lender alliances.
Email: russ@pacifica-capital.com
Equipment Finance Sales Executive

Equip. Finance Sales Exec. Grand Rapids, MI. Generate lease originations, call on individual lessees, branch associates, business bankers and commercial bankers, plus create third party vendor programs. Click here for a full job description and/or
to apply for the position.

About the Company: Huntington Bancshares Incorporated is a $31 billion regional bank holding company headquartered in Columbus, Ohio.
www.huntington.com

Marketing Indirect Origination
MARKETING INDIRECT ORIGINATION:

New York. One of the largest ind. equip.lessors needs motivated, self-starter to purchase single investor leases from institutional investors; min.transaction $1 million; portfolio of primarily investment grade lessees/good "story credits".
Min 3 yrs exp. sourcing/ originating leasing transactions, knowledge of credit and pricing.
E-mail: jobposting1@leasingnews.org
Senior Contract Specialist
------------------------------------------------------------------------------
NorVergence mastermind no stranger to bankruptcy
By MARTHA McKAY STAFF WRITER
The Record, Bergen County, NJ
Running a phone company into bankruptcy is nothing new for Thomas N.
Salzano. Before his ill-fated venture, Newark-based NorVergence, folded last month, Salzano headed up a different phone company.
In the early 1990s, after running a freight consulting business,
Salzano founded Minimum Rate Pricing Inc. in Bloomfield, a reseller of
residential long-distance phone service that eventually hired hundreds of people but ran afoul of federal regulators in 1998 when customers complained that MRP illegally switched their long-distance, a technique known as slamming.
A settlement was reached, and MRP agreed to pay a $1.2 million fine
to the Federal Communications Commission. But over the next few months, MRP's business imploded.
The company, which bought its long-distance service wholesale from
WorldCom (now MCI), racked up $67 million in debt, according to court papers, and filed for Chapter 11 bankruptcy protection, along with some related companies, in February 1999.
"It was out of control," recalled Brian Engle, a turnaround
specialist brought in by the creditors." They weren't looking at their costs; the philosophy was, more revenue will solve the problem."
Months later, creditors battled in court for the remaining scraps,
saying in court papers that Salzano set up "The Telecom Education Trust," a college trust fund for Salzano's five children, into which was funneled $250,000 in company funds.
Warren Martin, a New Jersey lawyer who represented the creditors'
committee, said a judge ordered that money returned.
Creditors also accused Salzano of transferring $2.7 million in
company funds to a Swiss bank while the company was in bankruptcy proceedings. But the creditors decided it wasn't worth the cost and effort to pursue those charges, Martin recalled. "Essentially, the business went away and there was nothing left but a bunch of lawsuits," he said.
In the end, the bankruptcy court allowed WorldCom, the largest
creditor, to buy the remaining MRP customers, using part of its debt as payment, Engle
said.
MRP customers became WorldCom customers.
And Salzano started to plan his next venture: NorVergence.
Martha McKay
Staff Writer
The Record
150 River St.
Hackensack, NJ 07601
201-646-4326
Your One stop solution for training and reference material for the Leasing Professional
www.theleasinglibrary.com
800.564.2404
NorVergence bankruptcy leads to charges of scam
( For the first time, how salesmen sold their product, and
why the scheme finally caught up to the Salzano's—a second time.)
By MARTHA McKAY STAFF WRITER
The Record, Bergen County, NJ
At the center of a massive New Jersey bankruptcy that dealt a blow
to 11,000 small businesses in more than 20 states is a small box called "The Matrix."
Newark-based NorVergence, a privately held phone-service reseller,
boasted that the box was packed with enough of the very latest
telecommunications technology to deliver cheap, unlimited local and long-distance phone, cell service, and high-speed Internet access.
In fact, the box was a gimmick. In some cases, it had no practical
use at all.
"It's an unbelievable scam," said Meredith Wood, who runs an
industrial services business in West Milford.
"I wish I'd thought of it," she said with a rueful laugh. "I'd be
calling you from my private island."
Wood bought unlimited long-distance and cell phone service from
NorVergence last year and signed a lease for a Matrix box that NorVergence never even plugged in. Now, Wood is stuck owing a five-year, $45,000 equipment lease to U.S. Bancorp for her Matrix, a piece of gear worth about $600.
The story of how Wood and thousands of other small-business owners
were victimized began to unfold last month, when NorVergence flamed out in a Chapter 7 liquidation in U.S. Bankruptcy Court in Newark. The
company, which once boasted $200 million in annual revenues, left 1,300 employees without jobs, large phone companies such as Qwest, Sprint, and T-Mobile owed at least $30 million, and lawyers wondering where all the money went.
Qwest has received the court's permission to shut off service to
NorVergence's former customers, leaving Wood and the thousands of
other business owners potentially without phone service but still owing
hundreds of millions in payments to banks and finance companies who paid NorVergence millions for the leases.
Christopher Menkin, editor of Leasing News, believes the NorVergence
case is "one of the biggest leasing scandals in the last 25 years."
Corporate culture Drawn in by NorVergence's deeply discounted phone service and slick, reassuring marketing materials, many small-business owners probably didn't think to delve into the company's background.
If they had, they might have turned up court records showing the man
who ran NorVergence, Thomas N. Salzano, had piloted another
telecommunications company that ended in bankruptcy, where creditors accused him of illegally funneling $2.7 million of company funds into a Swiss bank after filing for Chapter 11 protection.
By all accounts, Salzano, who was NorVergence's chief managing
officer and was listed as a director in a Securities and Exchange Commission filing, ran the company despite the CEO title of his brother, Peter J. Salzano. He's described by those who know him as a high-energy executive with a quirky style who rarely wore ties, instead favoring white leisure suits and colorful printed shirts.
He's got "a lot of marketing savvy" and "a lot of ego," those people
said -an arrogant charmer with a creative business mind.
Neither of the Salzano brothers responded to requests for an
interview.
By mid-2003, just two years after it was founded, NorVergence was
buying millions of dollars worth of phone and Internet service from some of the nation's largest carriers, including Qwest, Sprint, and T-Mobile,
and reselling at a deep discount to thousands of small businesses.
The company hired hundreds, packing so many workers onto two floors
at 550 Broad St. in Newark that the building's air conditioning was
overwhelmed and NorVergence had to rent more floors.
Salespeople, many of whom had previously worked in the
telecommunications industry, were attracted by promises of hefty commissions. The sales teams followed a pitch based on a series of scripts hammered home during a two-week sales tryout in Newark.
Kirk Dennis, a top salesman in the Chicago area, recalls a boot
camp-like atmosphere where memorizing the script made the difference between getting a job and getting kicked out.
The NorVergence trainers made you sweat with their intimidating
behavior, said Dennis, describing how they would "catch you in a hallway and say,' Give me your script. 'Y" Anyone who floundered was escorted out.
Of the 90 people who began with Dennis, only 30 were offered a job.
Described by customers as highly polished and aggressive,
NorVergence salespeople fanned out across the country as their employer rapidly opened well-appointed offices in 36 cities.
The pitch, the catch Armed with their sales pitch, and backed up by a flashy Web site, the company went after small-business owners with good credit records, most of whom did not have a telecommunications expert on staff. The salespeople, known as screening managers, used dense, acronym-rich telecommunications jargon in their descriptions of the cheap, unlimited phone services that the "MATRIX unlimited calling solution" would deliver.
According to a sales script obtained by The Record, a screening
manager would tell a prospective customer "because we're swamped with so many new requests, my job is to screen for only qualified applicants down to just the few allowed for each area."
"They let you know if they were going to accept you as a customer -
that was their marketing gimmick," said Carol Marubio, owner of an Illinois roofing company that signed up.
 But by far the bigger gimmick was the Matrix box.
To sell phone service to their small-business customers,
NorVergence, a reseller, bought it wholesale from large carriers such as Qwest and Sprint.
But when the sales team pitched the company's "solution" to
customers, the Matrix box was key.
What many eager customers apparently missed was the fact that the
"unlimited" phone and Internet service NorVergence sold them had no
direct relation to the box, which performed a limited function in some
customers' cases (it allocated bandwidth over a T1 line), and no function in others.
Many apparently believed that the box could be used by other phone
providers.
Most customers didn't think NorVergence would go out of business.
One former salesman said they were told that if a customer asked what would happen if the company ran into trouble, to "just say nothing" and dismiss the possibility.
And some customers interviewed had no idea that NorVergence would
sell their Matrix lease - for cash - to banks and finance companies, in much the same way a bank might sell a mortgage to a third party.
Those sales funneled millions to NorVergence, and locked its
customers into long-term relationships with a bank.
"In my opinion, [NorVergence's] whole setup was designed to sell
equipment leases," said Dan Baldwin, spokesman for TelecomAgent, a non-profit organization that represents sales agents in the telecommunications business, who has been looking into NorVergence's business since early last year.
As for the box, David Silverman, a NorVergence salesman based at the
company's Broad Street headquarters, told the U.S. Bankruptcy Court
at a recent hearing that the Matrix box was useless.
"These boxes serve no purpose; they're worthless," he told the
court. Scores of local companies and organizations - even the New Jersey
Republican State Committee offices in Trenton - signed up for NorVergence service, lured by those promises of deep discounts.
It was hard to turn down.
The company installed customers at the rate of 350 a week -
averaging about $6 million in weekly sales - practically up to the bankruptcy filing, said Oscar Delatorre, a former NorVergence employee who oversaw installations.
That's an estimated $132 million in sales for the first five months
of 2004 alone.
According to a former NorVergence vice president who supplied sales
figures to The Record, new customers signed contracts for $409 million worth of phone systems from January through June 4. Of that, an estimated 40 percent actually were installed, bringing the total sales closer to about $164 million.
Last gasp The whole company was focused on marketing and sales, former employees said.
As its debts rose, NorVergence ratcheted up its sales effort, and
other parts of the business began to deteriorate, they said.
"Customer service and installation was an afterthought," said Jeff
Carlsen, vice president of facilities engineering.
Around January, the company told employees it was looking for
investors, but that effort apparently failed.
On the seven floors at 550 and 570 Broad St., the signs of
disorganization were disturbing.
"There were tables stacked with piles of folders; there was no
particular order to customer files," said Carlsen. "It was unbelievably
unorganized."
Technical problems arose with a new 800 service the company tried to
introduce. It had to pay its mounting bills to Qwest and others - nearing $2 million a week toward the end - to cover service for its existing customer base. So it kept adding more and more new customers, selling their leases to banks, and collecting the cash.
It pushed its sales staff hard. By some estimates, NorVergence
signed up as many as 4,000 customers over the last six months, without connecting their phone service.
After it fell behind in its payments to Qwest, the Colorado-based
carrier shut off service for two days in mid-June. Several days later,
NorVergence bounced hundreds of payroll checks, but asked its employees to keep working.
As creditors closed in, the normally feisty Tom Salzano appeared
defeated, according to one person who met with him then.
On June 30, the company was forced into an involuntary Chapter 11
filing by three banks.
It laid off about 1,000 people that day, owing hundreds back pay and
commissions. As the Salzanos moved to get the word out, the news spread to other floors and a few angry, now ex-employees tried to leave the building with office equipment, former employees said.
Two days later, in bankruptcy court again after a failed attempt by
some banks to inject cash to prop up the operation, NorVergence converted to a Chapter 7, closing for good and liquidating assets.
The aftermath Qwest received permission from the judge to shut off service to NorVergence customers, setting off a mad scramble among customers to find new phone service.
A trustee took possession of NorVergence offices and began the
process of selling any assets. (It remains to be seen if there will be anything left. So far, Qwest is the largest unsecured creditor, with at least $15 million owed, followed by Sprint with at least $10 million. But before they get anything, secured creditors will get paid, along with former employees who file claims.)
About two weeks ago, frustrated customers began to receive letters
from banks and finance companies holding the Matrix leases that they'd
better keep paying.  Dozens of NorVergence customers have formed a legal co-op, hiring a lawyer to fight the banks and get them out of their leases.
There is talk of a class-action suit. Meanwhile, it's still not clear whether the banks and finance companies that bought the Matrix leases understood what they were getting. One source said
it appears that some of the finance companies were not aware, for
example, that the Matrix box could not be used by another phone provider in the event NorVergence shut down.
One source familiar with the group of 35 banks and finance companies
said they purchased at least $220 million worth of NorVergence customers' leases. Some banks are trying to line up new phone-service providers for NorVergence customers.
 A spokeswoman for Adtran, which made the boxes and sold
them to NorVergence, said her company was working with the banks to try to fix the problem.
"Transferring telecommunications services from NorVergence to a
different carrier likely requires modification or replacement of equipment
[the Matrix box] owned primarily by equipment leasing companies," she said.
A spokeswoman for Popular Leasing, a finance company owned by Banco
Popular, said the company had no comment on the NorVergence situation. So did Wells Fargo. And the CIT Group.
Also unclear is the role Robert J. Fine played in the NorVergence
debacle. Fine was NorVergence's director of bank relations, who apparently made the connections between the banks and NorVergence. He recently resigned as president of the trade group Eastern Association of Equipment Lessors (EAEL), according to Leasing News.
Before joining NorVergence, Fine held numerous positions in the
leasing industry. The EAEL did not return repeated phone calls, and Fine
could not be reached for comment.
On the last day of NorVergence's existence last month, Tom Salzano
did not appear in court but his brother Peter, the CEO, did.
His face beaded with perspiration, Salzano left the courtroom to
jeers by former employees who came to the hearing.
He kept his head down and walked away.
---
ELFF Newsletter—Starts Campaign
http://www.leasingnews.org/items/ELFF_2004_Annual_Campaign!!!.htm
---
### Press Release ################################
National Lease Funding Source Showcase Finalizes Agenda
Estimated $1 billion in lease buy/sell investment resources
ATLANTA, GA –  – The Lessors Network has finalized the agenda and closed attendee registration for the exclusive, high profile National Lease Funding Source Showcase.
Unlike traditional industry events, the Lessors Network purposely restricts total attendance to enhance new business development benefits for an elite audience of industry professionals. It is estimated that approximately $1 billion in equipment lease buy/sell investment resources will be represented.
The following professionals, representing funding sources, technology and service providers will be showcased August 25-26 from the Ritz-Carlton, Buckhead hotel in Atlanta, GA:
Maria Gum | President Asset Solutions | Allied Resource Corp.
Scott Hopkins | Corp. Dev. | Special Lessors Network Guest
Stu Weinroth | MD - Capital Markets | Republic Financial Corp
Alan J. Zeppenfeld | Vice President | GlobalTech Portfolio Services
David Judd | Sales Manager | International Decision Systems
John Beville | SVP/Nat. Sales Mgr | SunTrust Leasing Corporation
Tim Cohn | President | Advanced Marketing Consultants, Inc.
Kurt M. Henning | Vice President | SunTrust Leasing Corporation
Derrick Bavol | President | Fortran Group International, Inc.
Richard Snyder | Vice President | Wells Fargo Financial Preferred Capital
John H. Bella, Jr. | Senior Director | Fitch Ratings
Bob Neptune | President | ORIX Public Finance
Larry Bowman | Director | SG Americas Securities, LLC
Fred S. Summers | CEO | Vision Financial
Vincente D'Ingianni III | Mkt Dir | CIT Technology Financing Services, Inc.
Jennifer A/ Coyle | Syn Mgr | Caterpillar Financial Services Corporation
Rick Daubenspeck, ASA | SVP | Valuation Research Corporation
Douglas G. Ducray | SVP | RBS Lombard, Inc,
Ronnie Pearce | SVP | Bank of America Leasing & Capital, LLC
Kurt Burr | COO - Cofounder | Burr Wolff
Alex Dunlap | Vice President | Wells Fargo Financial Resources
Bob Fisher, CLP | Vice President | Douglas-Guardian Services Corp.
Scott Thacker | Senior Director | Oracle Corporation
Patricia A. Clifford | SVP - Syndication | Banc One Leasing Corporation
Chip Ferris | Co-founder | Burr Wolff
Karen Soule | Compliance Manager | Burr Wolff
Carol Diggs | Managing Director | DiGGS! Executive Search
Larry Greer | SVP/CAO | Vision Financial Group, Inc.
Andrew Decker | Vice President | Russell Equipment Co., Inc.
Jim Siegel | National Sales Manager | GE Commercial Finance
John Steindorf | EVP | Capital Data, Incorporated
Stuart M. Litwin | Partner | Mayer, Brown, Rowe & Maw LLP
Robert M. Wax | President | Kingsbury Wax Bova, LLC
Robert W. Merkle | Consultant | Robert W. Merkle
Brad Crawford | Syndication Manager | IKON Office Solutions
Tom Williams | President/CEO | eLease
Merle E. Atkins | EVP | Marshall-Stevens Inc.
Tom Ingoldsby | Partner | Sullivan-Worcester LLP
Shari L. Lipski, CLP | Principal | ECS Financial Services, Inc.
Jim Tiley | Dir. Leasing | IKON Office Solutions
William A. Gaffrey | Asset Mgt Officer | Special Lessors Network Guest
David Burch National Sales Manager | MBNA
Joe DiNicola | Executive Vice President | MBNA
Brad Pike | SVP | Creekridge Capital
Sharon Sagert | Director | Creekridge Capital
George Springsteen | President | Commonwealth Capital Corp.
Kimberly Springsteen | EVP/COO | Commonwealth Capital Corp.
Paul Blyler | VP Sales | Special Lessors Network Guest
Chris Coleman | Region Manager | Caterpillar Financial Services Corporation
Jerry T Hudspeth | President/CEO | Portfolio Financial Ser.
Alan G. Thomson | CEO | Lease Alliance LLC
William Plumer | Vice President | Special Lessors Network Guest
Jeff Schubert | EVP | American Bank Leasing Corp.
Dan Firestone | CEO | Allied Resource Corp
ABOUT THE LESSORS NETWORK:
The Lessors Network is a sales & marketing network facilitating new business development opportunities within the corporate and municipal equipment leasing markets. Networking showcases are traditionally held from the Ritz-Carlton in Atlanta each spring and fall. Website programs and services provide free access to news, events and important resources facilitating funding/syndication, technology and outsourcing services exclusive to the equipment leasing & finance markets.
Additional information can be viewed at www.lessors.com
Contact:
John O. Semon
semon@lessors.com
#### Press Release ################################
BALBOA CAPITAL'S COMMERCIAL DIVISION HIRES FIVE LEASING SALES VETERANS

(Irvine, CA)   Balboa Capital announces the hiring of five Middle-Market Leasing Industry veterans in its Commercial Sales Division.  Patrick Camp, Allen Hosack, Jeff Almond, Jerry Dalton, and Pat McKeon bring over 80 years of commercial leasing experience to the Company.  This group of sales reps, based around the country, was hired over the last three months to concentrate on growing Balboa Capital's middle-market presence with transactions ranging from $ 100,000 to $ 5,000,000.
        Northwest Regional Vice President, Patrick Camp, brings sixteen years of experience including GE Healthcare Financial Services.  He closed over $ 100 million in hospital equipment financing since 1993 and is a member of HFMA.
 Allen Hosack joins Balboa as VP of National Accounts specializing in Electronics Manufacturing.  Mr. Hosack comes to Balboa with 30 years of leasing industry experience that includes Electronic Circuit Board and Semiconductor markets with CitiCapital, where he was a member of both the "President's Club" and "CitiCapital Platinum Club".  Hosack is a member of SMTA and IPC.
 Southwest Regional Vice President, Jeff Almond, adds ten years of industry experience including GE Capital and CIT where he specialized in transactions over $ 1,000,000.  Southeast Regional Vice President,
Jerry Dalton, comes to Balboa with 25 years of leasing industry experience including Borg Warner Acceptance, Pitney Bowes Credit, Federated Financial and UPS Capital.  National Account Manager, Pat McKeon adds six years of middle market leasing experience including Celtic Leasing.
        "This group solidifies our middle-market team," said VP of Commercial Financing, Don Hansen.  "Balboa is expects tremendous growth from this segment over the next year."
About Balboa Capital
Balboa Capital provides equipment leasing and financing to small and mid-sized business in the United States.  The company markets its products through its direct sales force, broker channel, and vendor partnerships.  The company offers leases in the range of $ 5,000 to $ 5,000,000.  Balboa Capital is privately held and based in Irvine, CA. 
Jonathan Albin
Balboa Capital Corporation
Direct: 949.553.3498 Fax: 949.399.3198
jonea@balboacapital.com
#### Press Release ################################
CFNB Announces Lower 2004 Earnings but Strong Origination Volume
IRVINE, Calif.----California First National Bancorp (Nasdaq:CFNB) ("CalFirst Bancorp") today announced that for the fiscal year ended June 30, 2004 net earnings decreased 9 percent to $9.8 million, compared to $10.7 million for fiscal 2003. Diluted earnings per share were $0.88 for the fiscal year ended June 30, 2004, down 8 percent from $0.96 per share reported for the prior year. For the fourth quarter ended June 30, 2004, net earnings of $2.3 million also decreased 9 percent from net earnings of $2.5 million for the fourth quarter of fiscal 2003. Diluted earnings per share for the fourth quarter decreased 13 percent to $0.20 per share, compared to $0.23 per share for the fourth quarter of the prior year, reflecting an increase in fully diluted shares outstanding.
   For the fourth quarter ended June 30, 2004, net direct finance and interest income decreased 9 percent to $4.6 million, compared to $5.0 million for the fourth quarter of fiscal 2003. This decline is primarily due to lower direct finance income resulting from lower yields earned on the company's investment in capital leases, despite an increase in average balances. This was partially offset by a decrease in the provision for lease losses, as the overall level of reserves required against problem leases was relatively constant during the period. Other income of $3.9 million was unchanged from the fourth quarter of the prior year, as a slight increase in income from end-of-term transactions offset a decrease in other fee income. Consequently, gross profit of $8.5 million for the fourth quarter of fiscal 2004 decreased 5 percent from $8.9 million reported for the quarter ended June 30, 2003.
   For the fiscal year ending June 30, 2004, gross profit increased slightly to $35.2 million compared to $35.1 million for the year ended June 30, 2003. This reflected higher other income offset by a decrease in net direct finance and interest income. Net direct finance and interest income decreased 6 percent to $18.7 million, compared to $19.9 million for fiscal 2003. Consistent with the quarterly results, the decrease reflects a decline in direct finance income resulting from lower yields earned on the lease portfolio and lower interest and investment income. This was offset in part by a significant decrease in the provision for lease losses, as the amounts required for reserves against problem leases remained relatively unchanged during the year. Other income increased 9 percent to $16.5 million, compared to $15.2 million reported for fiscal 2003. The increase included a significant increase in income from the sale of leased property that was offset slightly by lower income from lease renewals.
   For the fourth quarter, CalFirst Bancorp's selling, general and administrative ("S,G&A") expenses of $4.8 million was unchanged from the fourth quarter of fiscal 2003. For the year, S,G&A expenses increased by 9 percent to $19.3 million from $17.7 million during the prior year. The increase in S,G&A expenses for the year is due to higher costs related to the development of the organization and expanded marketing programs.
   Commenting on the results, Patrick E. Paddon, president and chief executive officer, indicated that: "Fiscal 2004 has been a year of progress for CalFirst Bancorp, even though the improvement is not reflected in the bottom line. In part, the results reflect the expense of expanding and developing our sales organization and the inherent delay in recognizing earnings from our expansion programs. Nevertheless, there are good indicators of progress. Our volume of lease originations during the fourth quarter and full year were up 42 percent and 35 percent, respectively. While the volume of leases booked during the year increased by only 7 percent, our backlog of lease commitments increased by 39 percent and is at the highest level we have seen in over five years. At June 30, 2004, our net investment in lease receivables was up 7 percent to $141.6 million from June 30, 2003, and our transactions in process were up 50 percent to $30.5 million. Looking forward to fiscal 2005, we should see growth in our direct finance income as the lease commitments are completed and we benefit from an increase in interest rates. The portfolio of leases reaching the end of term is expected to be slightly lower than in fiscal 2004. We plan to continue to invest in the expansion of the sales organization along the lines seen this past year."
   California First National Bancorp is a bank holding company with leasing and bank operations based in Orange County, Calif. California First Leasing Corp. leases and finances computer networks and other high-technology assets through a centralized marketing program designed to offer cost-effective leasing alternatives. California First National Bank is an FDIC-insured national bank that gathers deposits using telephone, the Internet, and direct mail from a centralized location, and will lease capital assets to businesses and organizations and provide business loans to fund the purchase of assets leased by third parties.
CONTACT: California First National Bancorp, Irvine S. Leslie Jewett, 949-255-0500 ljewett@calfirstbancorp.com
### Press Release ###########################
BBB Warns that Imposters are Targeting Consumers and Businesses
 – The Better Business Bureau system today issued a national alert to warn consumers and businesses about two questionable operations that are falsely using the BBB name to trick victims. One business is perpetrating an advance fee loan scam that targets consumers and businesses with poor credit records. It has provided as a reference fictitious BBB phone numbers that are answered by representatives who falsely claim to be with the Better Business Bureau and provide a positive report on the business in question.
The other entity, which appears to be a telemarketer, is contacting local businesses, falsely stating to be from the BBB and calling about a complaint or to update BBB files. The telemarketer proceeds to ask questions that have nothing to do with BBB business and leaves as a contact number 1.800.CALL.BBB.
"Bureaus across the country are reporting calls from victims. These scammers are falsely using the Better Business Bureau name to try to gain credibility with potential victims," said Ken Hunter, president and CEO of the Council of Better Business Bureaus. "We urge people to double-check with their local BBB whenever they receive a dubious phone call or see the BBB name tied to a questionable promotion. We're easy to find in the telephone directory or on the web at www.bbb.org."
Advance Fee Loan Outfit Uses False BBB Phone Numbers and Fake BBB Report
Kirkland Russell and Thomson (KRT), supposedly located in Houston, advertises loans to individuals and businesses. KRT representatives claim that the business is a member of the BBB and suggest that interested customers call fictitious phone numbers for the "Southwestern Division of the BBB in Oklahoma City" and the BBB of Metropolitan Houston to request the company's BBB report.
"The company is using the BBB name as a shill for its business. These are not the phone numbers of the BBBs in Oklahoma City and Houston. And, neither Bureau has issued a satisfactory report on KRT. The company has produced and is distributing a fake, glowing BBB reliability report," Hunter warns.
According to complaints to the BBB, KRT tells customers that they have been approved for a loan and must send a fee for "insurance." KRT asks that the fee, often about $2,000, be wired to various addresses in Canada and New York. Consumers are required to submit personal information, such as Social Security number, bank account number and pay stubs.
"People have not received their loan, nor have they had their money refunded," the BBB in Houston states. Consumers in Texas, Oklahoma, Florida and other states have been targeted.
BBB staff members have confirmed that there is no business by the name of Kirkland Russell and Thomas at the company-provided address in Houston. The Council of Better Business Bureaus sent a letter to KRT Financial Group regarding BBB trademark infringement and false advertising; it has not received a response.
The BBB warns individuals and businesses not to pay in advance for a loan and to never send personal financial information to unknown businesses.
Shady Telemarketer Gives 1.800.CALL.BBB Phone Number
BBB members in Arkansas, California, Georgia, Kentucky, Louisiana, Minnesota, Nebraska, Nevada, Ohio, Texas, Utah, and Washington have reported that they were contacted by an individual posing as a BBB employee.
The callers generally claim to be phoning about a BBB complaint or to "update" BBB files. They attempt to solicit information that is not normally required in order to conduct business with or be a member of the BBB. The callers ask for names of various managers (the head of finance or information technology) and the number of work stations at that business location. Businesses have reported that the callers became rude and used threatening language when questioned about the BBB's need for such information or the nature of the complaint.
The callers leave a 1.800.CALL.BBB (225-5222) as their contact phone number. That phone number, which is NOT owned by the BBB, is constantly busy. Some businesses report that the caller gave the name "Dave Sebastian". Other names that have been used are Claude Ashley and Frank. One caller spoke with a foreign accent.
"Businesses need to be aware that any representatives from the BBB would clearly identify themselves and leave a working phone number. We seek the voluntary cooperation of businesses to resolve disputes and would not hesitate to provide details concerning a complaint," Hunter said. "If you receive a call from anyone representing the BBB and are unsure as to their authenticity, we urge you not to disclose any information and to contact your local BBB immediately."
The BBB in Colton, CA contacted the business listed in several Internet 800 yellow page directories as the owner of the 800.CALL.BBB number. It disclaimed any knowledge of the calls or individuals initiating them.
BBBs typically send complaints to businesses in writing. BBB staff members are forthright about who filed the complaint and how to reach the Bureau, and are always willing to assist business and consumers to amicably resolve disputes that may arise.
### Press Release ########################
Resource America, Inc. Increases Cash Dividend by 50%
PHILADELPHIA--Resource America, Inc. (NASDAQ:REXI) (the "Company") announces that its Board of Directors has authorized the payment of an increased cash dividend on August 31, 2004 in the amount of five cents per share of the Company's common stock to all holders of record at the close of business on August 17, 2004.
   The Company has continuously paid a quarterly cash dividend to its stockholders since August 1995. The Company's new quarterly cash dividend of five cents per share represents a 50% increase from the Company's former quarterly cash dividend of three and one-third cents per share. The Company currently has approximately 17.5 million shares of common stock outstanding.
   Resource America, Inc. is a specialized asset management company that uses industry specific expertise to generate and administer investment opportunities for its own account and for outside investors in the energy, financial services, real estate and equipment leasing industries. For more information please visit our website at www.resourceamerica.com or contact Investor Relations at investor relations@resourceamerica.com. 
   Certain matters discussed within this press release are forward-looking statements within the meaning of the Private Securities Litigation Reform Act of 1995. Although Resource America, Inc. believes the expectations reflected in such forward-looking statements are based on reasonable assumptions, it can give no assurance that its expectations will be attained. Factors that could cause actual results to differ materially from expectations include financial performance, regulatory changes, changes in local or national economic conditions and other risks detailed from time to time in the Company's reports filed with the SEC, including quarterly reports on Form 10Q, reports on Form 8-K and annual reports on Form 10-K.
CONTACT:Resource America, Inc., Philadelphia Investor Relations: Pamela Schreiber, 215-546-5005 Facsimile: 215-546-5388
### Press Release #########################
"Minor Slipage" says NACM Credit Manager's Index (CMI) for July 2004
COLUMBIA, MD: -- The National Association of Credit Management (NACM) has released its Credit Manager's Index (CMI) for July 2004. The CMI, a monthly survey of the business economy from the standpoint of credit and collections, was launched in January 2003 to provide financial analysts with another strong economic indicator.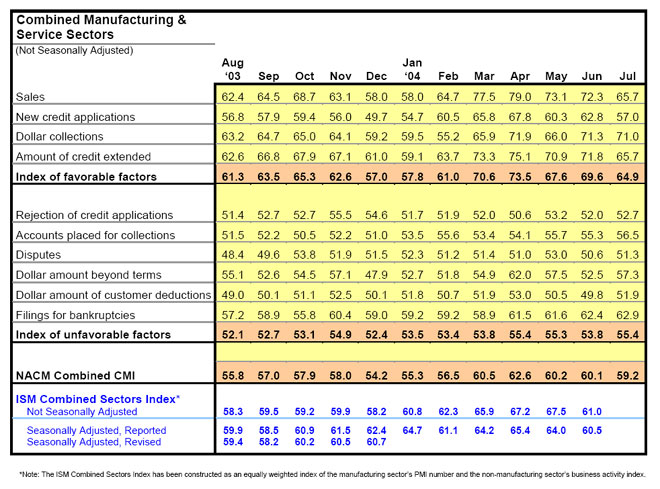 Some minor slippage in economic growth occurred in both the manufacturing and service sectors in July. However, growth continues in the economy as evidenced by readings persistently above 50. On a month-over-month basis, growth is still stronger than recorded during the fourth quarter of 2003 and into the first quarter of 2004. August will probably see some further erosion.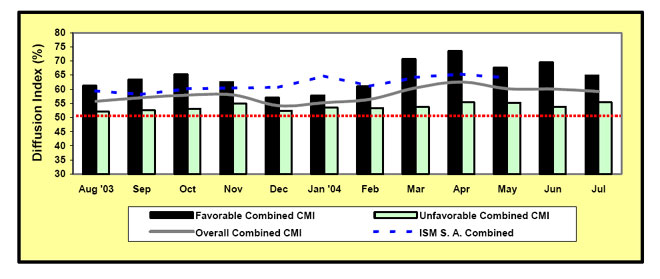 The CMI survey asks credit managers to rate favorable and unfavorable factors in their monthly business cycle. Favorable factors include sales, new credit applications, dollar collections and amount of credit extended. Unfavorable factors include rejections of credit applications, accounts placed for collections, dollar amounts of receivables beyond terms and filings for bankruptcies.

Read the full report here.
###
The National Association of Credit Management (NACM), headquartered in Columbia, Maryland supports more than 25,000 business credit and financial professionals worldwide with premier industry services, tools and information. NACM and its network of Affiliated Associations are the leading resource for credit and financial management information and education, delivering products and services which improve the management of business credit and accounts receivable. NACM's collective voice has influenced legislative results concerning commercial business and trade credit to our nation's policy makers for more than 100 years, and continues to play an active part in legislative issues pertaining to business credit and corporate bankruptcy.
Contact:
Norma Heim, NACM
410-423-1842
#### Press Release #############################
--------------------------------------------------------------------------


30% discount
to Leasing News Readers

World Leasing Yearbook 2004
The only annually-updated international reference book for the asset financing and leasing industry available. The new 25th edition includes the latest market trends, over 100 authoritative articles and reports on the leasing software and IT market, an exclusive ranking of the top 50 leasing markets by size worldwide with feature profiles from Africa to Venezuela PLUS a directory of over 4,400 contacts.

HOW TO ORDER - Simply call our Customer Hotline on +44 (0) 20 7779 8999 or toll free in the US +1 800 437 9997 to receive your 30% discount.
Alternatively visit
http://www.euromoney-yearbooks.com to order online
News Briefs ----------
U.S. Oil Nears Record, Close to $44
http://www.washingtonpost.com/wp-dyn/articles/A35792-2004Aug3.html?nav=headlines
Fifth Third Bancorp will buy Bankshares of Florida
http://www.usatoday.com/money/industries/banking/2004-08-02-fifth-third-fla_x.htm
Fed to cut Hub jobs as fewer use checks
http://www.boston.com/business/articles/2004/08/03/fed_
to_cut_hub_jobs_as_fewer_use_checks/
Terra to sell Lycos unit for $95m, Original Price: $12.5 billion
http://www.boston.com/business/technology/articles/2004/08/03/
terra_to_sell_lycos_unit_for_95m/
Gates Tosses Lofty Dreams at Summit
http://www.internetnews.com/bus-news/article.php/3389561
--------------------------------------------------------------------------------------------------
"Gimme that Wine"
Good medicine UCSF doctor finds a second calling in Mendoza
http://www.sfgate.com/cgi-bin/article.cgi?f=/c/a/2004/07/29/WIG487S66P1.DTL
Jefferson's Dream of International Wine Quality begins at Veramar
http://www.vino.com/press/press_release.asp?PRID=395
Latest Wine Country auction raises $1.1 million for kids; lots combine fine wines, luxury items at Chalk Hill Winery
http://www1.pressdemocrat.com/apps/pbcs.dll/article?AID=/
20040801/NEWS/408010348/1034/NEWS02
Bid to be the "wine maker" on eBay
http://cgi.ebay.com/ws/eBayISAPI.dll?ViewItem&item=2260419140
California vintners are courting a vast Asian market that lacks a big taste for wine
http://www.sacbee.com/content/business/story/10214106p-11134595c.html
Livermore Valley emerges from the shadow of Napa and Sonoma
http://www.sfgate.com/cgi-bin/article.cgi?file=/chronicle/archive
/2004/07/15/WIG5S7KVAH1.DTL&type=winepage
This Day in American History
1492--- Christopher Columbus ( Christophe Colombo ) set sail half a hour before sunrise from the harbor of Palos, Spain. With three ships, Nina, Pinta and Santa Maria, and a crew of 90, he sailed
"for Cathay" but found instead a New World of the Americas, first landing at Guanahani ( San Salvador Island in the Bahamas ) October 12. He returned 224 days later, on March 14, 1493,
to Lisbon, where he dispatched two letters of identical content, one to Raphael Sanchez and the other to Luis de Santangel,  to describe the new world he had discovered.  While he never set foot on the mainland of the United States or even called it America, he described what he thought were
islands of China.  He was to return to the area three more times. During his fourth and final expedition (1502-1504) Columbus ( who's Italian name was Cristo Columbo---history changed it to Columbus
on a map written in Latin ) discovered Martinique, and explored the coasts of present-day Honduras, Nicaragua, Costa Rica, and Panama.
(lower part of http://memory.loc.gov/ammem/today/aug03.html )
1492-The first letter containing a description of America was probably written by the explorer
Christopher Columbus.  He dispatched two letters of identical content, one to Raphael Sanchez and the other to Luis De Santangel.  The first use of the word "America" came from German mapmaker Martin H. Waldessmuller, who named the new land in a map in the honor of Italian explorer Amerigo Verspucci of his discoveries in South America.  Other map makers took copies his maps
and names, including "America."
1900- Ernie Pyle was born at Dana, [N, and began his career in journalism in 1923. After serving as managing editor of the Washington Daily News, he returned to his first journalistic love of working as a roving reporter in 1935. His column was syndicated by nearly 200 newspapers and often focused on figures behind the news. His reports of the bombing of London in 1940 and subsequent reports from Africa, Sicily, Italy and France earned him a Pulitzer Prize in 1944. He was killed by machine-gun fire at the Pacific island of le Shima, Apr 18, 1945.
1900- Central figure in a cause célèbre (the "Scopes Trial" or the "Monkey Trial"), John Thomas Scopes was born today at Paducah, KY. An obscure 24-year-old schoolteacher at the Dayton, TN, high school in 1925, he became the focus of world attention. Scopes never uttered a word at his trial, which was a contest between two of America's best-known lawyers, William Jennings Bryan and Clarence Darrow. The trial, July 10—21,1925, resulted in Scopes's conviction. He was fined $100 "for teaching evolution" in Tennessee. The verdict was upset on a technicality and the statute he was accused of breaching was repealed in 1967. Scopes died at Shreveport, LA, Oct 21, 1970.
1904—Use of "American" as an adjective instead of "United States" was officially recommended by John Hay, secretary of state, who instructed American diplomatic and consular officers to adopt it.
1911--Danish woodcarver Charles  Looff delivered the classic carousel to the Santa Cruz  Beach Boardwalk, California.. A furniture-maker by trade, Looff began carving carousel animals as a hobby after immigrating to America. His first carousel was installed at Coney Island in New York in 1875. The Boardwalk carousel features jeweled horses and a 342-pipe Ruth band organ built in 1894. The carousel and the park's Giant Dipper roller coaster were designated National Historic Landmarks by the US National Par
1923 - Calvin Coolidge was sworn in as the 30th president of the United States, following the death of Warren G. Harding. k Service in June of 1987.
http://memory.loc.gov/ammem/today/aug03.html
1926 --Tony Bennett Birthday, born Tony Benedetto.
http://www.jazzdiscography.com/Artists/Bennett/
http://www.tony-bennett.com/newsFr.html
1946---Top Hits
The Gypsy - The Ink Spots
Doin' What Comes Naturally - Dinah Shore
They Say It's Wonderful - Frank Sinatra
New Spanish Two Step - Bob Wills
1948 --Negro League legend Satchel Paige makes his major league debut hurling seven innings to lead the Indians over the Senators, 5-3.
1954 - For that time, a record divorce settlement was awarded to Mrs. Barbara (Bobo) Rockefeller when her ex, Winthrop Rockefeller, was ordered to pay $5,500,000 to his ex-wife.
1954---Top Hits
Sh-Boom - The Crewcuts
The Little Shoemaker - The Gaylords
Hey There - Rosemary Clooney
One by One - Kitty Wells & Red Foley
1958 - The submarine USS Nautilus began the first crossing of the Arctic Ocean under ice cap. With a crew of 116 men, the Nautilus was commanded by William R. Anderson. The Nautilus was the world's first nuclear powered submarine.
1962---Top Hits
Roses are Red - Bobby Vinton
The Wah Watusi - The Orlons
Sealed with a Kiss - Brian Hyland
Wolverton Mountain - Claude King
1963 - The college football all-stars beat the Green Bay Packers 20-17. It was a huge upset as the college team had been underdogs with odds of 50-1.
1963 - It was the final appearance at the Cavern Club in Liverpool, England for The Beatles as they weres about to leave their hometown for world fame and fortune.
1963 - Capitol Records released The Beach Boys' song, "Surfer Girl". It became one of their biggest hits, making it to number seven on the hit music charts on September 14, 1963.
1963 - Warner Brothers Records released comedian Allan Sherman's summer camp parody, "Hello Mudduh, Hello Fadduh! (A Letter from Camp)". The song would go to number two on the pop charts on August 14, 1963.
1968—Birthday of Rodney Roy "Rod" Beck, baseball player, born Burbank, Ca.
1968 - "Hello, I Love You," recorded by The Doors, jumped into the top spot on Billboard's hit record charts, and stayed there for 2 weeks.
1970 - Hurricane Celia struck the coast of Texas producing wind gusts to 161 mph at Corpus Christi, and estimated wind gusts of 180 mph at Arkansas Pass. The hurricane was the most destructive of record along the Texas coast causing 454 million dollars damage, and also claimed eleven lives
1970---Top Hits  
(They Long to Be) Close to You - Carpenters
Make It with You - Bread
Signed, Sealed, Delivered I'm Yours - Stevie Wonder
Wonder Could I Live There Anymore - Charley Pride
1978---Top Hits
Shadow Dancing - Andy Gibb
Baker Street - Gerry Rafferty
Miss You - The Rolling Stones
Only One Love in My Life - Ronnie Milsap
1979 - "Tonight Show" host Johnny Carson, appeared on the cover of the Burbank, California telephone directory.
1979 - Jai-alai player Jose Ramon Areitio threw the fastest ball ever recorded at a speed of 188 mph (301 kph). Jai-alai is a sport that originated in the Basque region of Spain and France, and it consists of throwing a ball with a long, curved basket against a wall.
1979-The Knack hit the top of both the album and singles charts, with their LP, "Get The Knack" and the single, "My Sharona.
1981 - United States air traffic controllers went on strike, despite a warning from President Ronald Reagan that they would be fired.
1984 - At the 1984 Olympics held in Los Angeles, American Mary Lou Retton won gold in all-around gymnastics.
1985 - Mail service was reinstated to Paradise Lake, Florida, a nudist colony, after residents promised they would wear clothes or at least stay out of sight when the mailperson came to deliver.
1985-Bruce Springsteen's "Glory Days" peaks at #5 on the chart, while Sting's "If You Love Somebody Set Them Free" peaks at #3
1986---Top Hits
Glory of Love - Peter Cetera
Papa Don't Preach - Madonna
Mad About You - Belinda Carlisle
Nobody in His Right Mind Would've Left Her - George Strait
1987 - Joe Niekro got a 10 day suspension for throwing scuffed baseballs. At first he denied the charge made by the home plate umpire, but changed his tune when an emery board fell out of his pocket during an inspection.
1987 - The Iran-Contra congressional hearings ended, with none of the 29 witnesses tying President Ronald Reagan directly to the diversion of arms-sales profits to Nicaraguan rebels.
1988-Steve Winwood's "Roll With It" hits #1 on the chart.
1989 - Thunderstorms representing what remained of Hurricane Chantal drenched Wichita, KS, with 2.20 inches of rain in four hours during the early morning. Thunderstorms developing in Minnesota produced wind gusts to 85 mph at Baudette during the afternoon, and softball size hail at Lake Kabetogama, during the evening. Jamestown, ND, reported a record hot afternoon high of 103 degrees
2002 --In just the first four innings, Edgar Martinez ties a the major league record for sacrifice flies in a game with three. The Mariners' designated hitter becomes the 11th player in history to accomplish the feat doing it in his first three at-bats in Seattle's 12-4 victory over the Indians.
Baseball Poem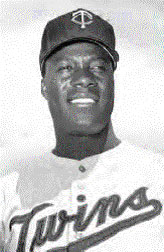 Life
by Jim "Mudcat" Grant
Life is like a game of baseball
And you play it every day.
It isn't just the breaks you get,
But the kind of game you play.

Stop and look the whole team over,
You've got dedication there.
You're bound to be a winner,
With men who really care.

Your pitcher's name is courage,
You need him in this game.
For trust and faith your keystone men,
The grounders they will tame.

Your centerfielder is very fast,
Though small and hard to see.
So watch him when he gets the ball,
He's opportunity.
At first base there's religion,
He's stood the test of time.
At third base there is brotherhood,
A stalwart of the nine.

Your leftfielder is ambition,
Don't ever let him shirk.
Rightfielder is a husky man,
You'll find his name is work.
Your catcher's name is humor,
He's important to the scheme.
While honor is pitching from the bull pen,
Your game is always clean.

With love on your bench,
You've perfection, no less.
And a winning team,
With joy and happiness.

The other team is strong,
Greed, envy, hatred, and defeat
Are four strong infielders you'll have to buck,
To make your game complete.
Discouragement and falsehood,
Are the big boys in the pen.
You'll have to swing hard,
When you meet up with them.

Carelessness and a man called waste,
You'll find them playing hard.
And selfishness and jealousy,
None can you disregard.

There's one more man you'll have to watch,
He's always very near.
He's the pitcher for this team,
I'm told his name is fear.

The game will not be easy,
There'll be struggle, there'll be strife.
To make the winning runs,
For it's played on the field of life.

So stand behind your team,
There'll be many who'll applaud.
Just remember you are the player,
And the umpire there is God.