Top commission (75%) plus health and retirement benefits. Full back office, large book funding sources meeting all your clients requirements. Robert Piot: 714-573-9804 or e-mail rpiot@socalleasing.com


Friday, February 9, 2007
Headlines---
Classified Ads---Operations
Northeast/Midwest: Cold but Coping
From Dash somewhere?????
CIT Group Vice-Chair Exclusive Interview
Leasing Association Events-Meetings Open to All
Mortgage Industry reporting more delinquencies
New Decisions: NorVergence Leases
Cartoon—Need to take some time off
NorVergence questions --by Shawn Halladay
Classified Ads---Help Wanted
CSI Leasing Marks 35th Tops $1 Billion in Assets
Microfinancial 4th Quarter $3.9 million
NetSol $1.5 million contract
International Decision Systems® and Capgemini
CapitalStream new V/p: Herve Marzio
Bangkok: KTB Leasing targets 400% growth in 2007
News Briefs---
You May have Missed---
Sports Briefs---
"Gimme that Wine"
Calendar Events
Snapple Real Facts
Today's Top Event in History
This Day in American History
Winter Poem
SuDoku
Daily Puzzle
######## surrounding the article denotes it is a "press release"
--------------------------------------------------------------------

Classified Ads---Operations

Porsche 911 GT3 415hp (SAE) @7,600 rpm 0-60 mph: 4.1 sec.
Top Track Speed: 193 mph $105,000.00 (second most expensive)
Orange County, CA
Operations/Credit Manager with 15 Years Experience, Middle & Large Ticket, initiated policies for Patriot Act and Sarbanes Oxley, Team Motivator.
E-mail: equiplender@aol.com
East Windsor, NJ
Skilled Manager in credit, collections, training, documentation, policy and procedure, lease and finance operations. Get results and keep the customer coming back.
Email: rgmorrill@comcast.net
Resume
New York, NY
10+ years in equipment leasing/secured lending. Skilled in management & training, documentation, policy and procedure development & implementation, portfolio reporting. Strong work ethic.
Email: dln1031@nyc.rr.com
Wayne, NJ
20+ heavily experienced collection/recovery VP looking to improve someone's bottom line. Proven, verifiable track record. Knowledge of all types of portfolio. Will relocate
Email: cmate@nac.net
For a full listing of all "job wanted" ads, please go to:
http://64.125.68.91/AL/LeasingNews/JobPostings.htm
--------------------------------------------------------------

NorthEast/Midwest: Cold but Coping
"The weather is fine now except for the low temperatures. The one thing we have going for us is that it is February and it can't last too much longer. I hope I don't jinx it. We received about 6 inches of snow from noon until 5:00.
Paul Witte
Vice President/COO
First Federal Leasing
Ph: (765) 962-3881 ext. 515
paul@firstbankrichmond.com
--------------------------------------------------------------

From Dash somewhere?????
"Just wanted to say hello
"Doing well, finally moved into a tent the other day. Been sleeping on the dirt in between patrols for almost two weeks now.
"Heard some funny news about Virginia, particularly Norfolk area… snow and record lows.!!!
"We are burnin' up here….thought it is very funny!
"My crew and I refer to the sun as BOB (lol) Acronym… bright orange ball!!! Hehehehe!! We playfully curse at him and take our frusta rations out on BOB!!!!
"The sun drives us mad and after the first few days we have acclimated and just gone , well mad I suppose. There is a certain kind of fun with it all considering our daily routine.
"Rockin' and a rollin' on the river patrol!!!!"

love you guys…
Talk to you again soon.
Dash J
--------------------------------------------------------------

CIT Group Vice-Chair Exclusive Interview
In an interview with Leasing News, Thomas B. Hallman, CIT Vice Chairman, Specialty Finance, expanded on the strategic vision behind CIT's acquisition of Barclays UK and German vendor finance businesses.
Hallman is responsible for overseeing CIT Specialty Finance, which is comprised of two major business segments, Consumer/Small Business Lending and Vendor Finance. Combined they have managed assets of more than $36 billion. Hallman has more than 30 years of financial services business experience during which time he has led national and international line organizations and engaged in consumer and commercial lending and leasing. Prior to joining CIT in 1995, he held senior management positions with Commercial Credit Corporation, Citibank, and First Nationwide Bank. He is the Chairman of the Board of Directors of the CIT Bank, and is a member of the Board of Directors of Dell Financial Services and Snap-On Credit. He has also served two terms as the Chairman of the American Financial Services Association.

Thomas B. Hallman
"The Barclays acquisition gives us the ability to expand our business model throughout the UK and Germany -- two of CIT's key international markets. Our global vendor finance relationships are supported by our unique Pan-European Dublin operations center which employs more than 400 people" "
Hallman indicated that CIT's vendor finance business has grown in the United States to where, he believes, it is the leader in technology financing for small to medium size lease ticket transactions. He noted CIT's transition into smaller ticket items in the mid-1990s, expanding from large ticket, heavy equipment, to an underserved small-mid ticket marketplace. Along the way, he saw the growing need overseas, particularly as end users learned the benefits of leasing already available in the United States.
"We developed a core set of principles," he explained, "unifying sales and credit. We took our model to other countries, hired local sales and credit talent and trained these 'in country' operations so well that they began to train new employees in other countries as we expanded."
Advanced systems handle the array of currencies involved and produce leasing documents in the various languages of the countries served. These systems are key to the local sales teams in supporting their deep relationships with manufacturers, dealers, and brokers.
"This acquisition represents a significant step for CIT in our strategic effort to increase our presence in key global markets," he said. "This complements our significant presence in the EU, China, Australia, and Latin America, having used the same successful approach that we developed in the U.S. over the last ten years. It's our goal to bring the success we created in these markets to all the countries we serve."
--------------------------------------------------------------

Leasing Association Events-Meetings Open to All
Bringing together Funders, Brokers and Services
First Meeting in 2007
Tuesday, February 13 – 5 P.M.
Starfire Golf Club
11500 North Hayden RD
Scottsdale , AZ 85260
480-948-6000
Keynote Speaker:
Dennis Brown, CAE
V.P. State Government Relations
Equipment Leasing Association
Dennis joined the Equipment Leasing & Finance Association (ELFA) in 1993 as Vice President of State Government Relations to implement a proactive program. He monitors state legislative and regulatory issues that will affect the equipment leasing industry, and develops and promotes ELFA positions and policy. Among many accomplishments, he served as national President of the State Government Affairs Council and as President of the Washington Area State Relations Group. He has won the Award of Excellence in Government Relations from the American Society of Association Executives on several occasions. Dennis Brown has also served as a liaison to tax committees of the National Conference of State Legislatures. Prior to joining ELFA, he was Executive Director of the State Advertising Coalition. A veteran of the U.S. Army having reached the rank of Sergeant, Mr. Brown is a graduate in political science from the University of Maryland , attended law school before leaving to begin a career in government Relations and is a Certified Association Executive (CAE).
Call or write for more information or questions: Patrick McCann 480-218-0525 or Bernice Truszkowski 480-949-0710
-----------------------------------------------------------
UAEL Mountain Area Event
The UAEL Colorado Region
Networking Event

Thursday, February 22, 2007
5:30 PM - 7:30 PM

Dave & Busters
2000 S Colorado Blvd
Denver, CO 80222
Great place to come and network with industry peers.

Attendee Cost

$25.00 (Member Price)
$30.00 (Non-Member Price)

Plan to Attend

To register for this event go to the Event Section of the website.

Host Contact:

Skip Wehner
5280 Financial
303-693-6400 ext 1061
skipw@5280financial.net

Scott Woodring
Dakota Financial, LLC
970-377-1439
swoodring@dakotafin.com

UAEL
78120 Calle Estado #201
La Quinta, CA 92253
-----------------------------------------------------------
UAEL Pacific Area Event
The UAEL Southern California
Roundtable Event

Thursday, March 22, 2007
12:30 PM - 4:30 PM

Experian Building
475 Anton Blvd
Costa Mesa, CA 92626
Attendee Cost

$0.00 (Member Price)
$10.00 (Non-Member Price)

Plan to Attend

To register for the event go to the Event Section of the website.

Description

Please join us for the 5th annual Roundtable

We are pleased to announce some new exciting topics

"How To Put Together A Winning Submission Package"
Mohammed Ahsan

Focus: Commercial Transaction and complex/Structured deals
Present a good story
Shortfalls with a good explanation
Additional support-Real Estate, equipment or other assets

"Trade Show Marketing"
Ken Goodman

Show Selection
Working the Floor as an attendee
Pre and Post Show actions
Vendor relations and Joint Promos
Becoming an Industry expert

"Do You Want To Be The Next Tiger Woods?"
Andrea Woolf, Business Coach

Do you have a plan to Succeed?
Are you clear what success means to you and your company?
Setting clear goals
Being enthusiastic and unstoppable

"Training Your Sales Team"

Making a commitment to your professional life and to your company
Understanding sales quota's
What does it take to make it in this business?

"What Does That Score Mean?"

Experian

Open forum to ask questions and get advise

Each group will be allotted 25 Minute intervals for discussion and they will end with an open question forum.

Host Contact:

Barbara Griffith
Southern California Leasing
714-573-9804
bgriffith@socalleasing.com

Justin Vogel
PFF Bank & Trust
909-851-0782
justin.vogel@pffb.com

Mohammed Ahsan
Quail Capital Corp.
818-843-8686
mahsan@quailcap.com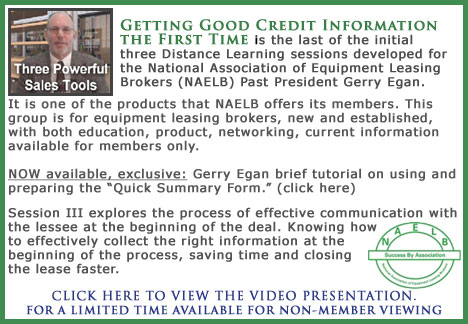 --------------------------------------------------------------

Mortgage Industry reporting more delinquencies
What is surely going to impact the entire financial community with more layoffs, closing of branches and divisions, is the rising delinquency of mortgages. Mortgage brokers who were once in the
leasing industry are considering coming back, complaining about new underwriter tougher requirements and tightening of credit.
According to ABSnet reports, taking the hit are interest only loans, many written on one year term notes, and subprime mortgages.
This is also affecting the housing and construction marketplace.
The latest bad news comes from HSBC Finance, formerly Household, in their February 7th
press release:
"We now expect that the impact of increased provisioning in this area will be the major factor in bringing the aggregate of loan impairment charges and other credit risk provisions to be reflected in the accounts of the Group for the year ended 31 December 2006 above consensus estimates* by some 20 per cent. This is subject to final review and subject to external audit."
The number is $1.8 billion and adding to the original provision of $8 million, the potential loss is almost $10 billion.
Full HSBC press release here:
http://www.hsbc.com/hsbc/news_room/news/news-archive-2007?cp=/
public/groupsite/news_room/2007_archive/hsbc_trading_update_us_m
ortgage_services.jhtml&isPc=true
New York Times Article:
http://www.nytimes.com/2007/02/09/business/worldbusiness/09bank.html?ref=business
--------------------------------------------------------------

New Decisions: NorVergence Leases
-Partners Equity Capital Company, LLC, dba Commerce Commercial lease makes settlement
- Florida AG wins appeal
- PCI and NCCC lose forum issue in Ohio
-Equipment Rental Agreement not valid in Michigan
- Popular has a major loss in Texas
- Another denial for IFC Credit
Partners Equity Capital Company, LLC, dba Commerce Commercial lease makes settlement
In the purchase of Pacific Equity Capital Company, LLC, (PECC) by MAC, reported to be the largest overseas subsidiary of Marubeni Corporation of Japan, the press release noted "acquisition of many of the assets of Partners Equity." NorVergence leases were evidently part of the liability side. In June, 2005, Martin Babicki, Executive Vice President Risk/Operations NorVergence "Equipment Rental Agreement" deposition reveals there were about 636 leases (p. 51), 482 of which were not paying (p. 52) and 393 were in suit (p. 52) as of Jan. 6, 2005.
Many of the leases were written through "Commerce Commercial Lease,"(CCL) who has reached a settlement with AGs of State of California, Connecticut, Delaware, Georgia, Illinois, Kansas, Maryland, Massachusetts, Michigan, Missouri, New Hampshire, North Carolina, Ohio, Pennsylvania, and Rhode Island It deposited $950,561.00 into an escrow account for disbursement.
PECC forgave 78% of the contract balance as of 06/30/2004. The escrow account is for refund to those overpaid. Calculate by taking the amount the customers paid to PECC since June 2004 and subtracting 22% of the customers account balance (PECC forgive 78% of the contract balance). If the result is a negative number, PECC is not required to refund. According to the settlement, previous settled customers can also use a different formula.
Neither of the settlement formulas are as good as the original attorney general's settlements in many states, where it varied from 85% to 95%, including late fees, forced insurance, and personal property taxes. None of the court costs or attorney fees are included, as they also were not in all the cases defendants or plaintiffs have won.
The list serves and blogs voice displeasure from NorVergence lessees with the settlement.
February 1,2007 settlement
http://leasingnews.org/PDF/Equity_Capital.pdf
PECC story
http://www.leasingnews.org/archives/January%202007/01-19-07.htm#pecc
---
Florida AG wins appeal
Florida Attorney General Bill McCollum as finally won the appeal to re-hear the case against NorVergence lessors, naming:
COMMERCE COMMERCIAL
LEASING, LLC,
COURT SQUARE LEASING CORP.,
DOLPHIN CAPITAL CORP.,
IFC CREDIT CORP.,
NATIONAL CITY
COMMERCIAL CAPITAL CORP.,
formerly known as, INFORMATION
LEASING CORP.,
LIBERTY BANK LEASING
PREFERRED CAPITAL
McCollum, of Orlando, served on active duty in the U.S. Navy from 1969 to 1972, retiring as a Commander after 23 years of service in the Judge Advocate General's Corps. He later represented the people of Central Florida in the U.S. House of Representatives for 20 years, retiring in 2001. On January 2, 2007, he was sworn in as Florida's 36th Attorney General
The original complaint named:
CIT Technology Financing Services, Inc.; Commerce Commercial Leasing; Court Square Leasing Corporation; Dolphin Financial Corporation; Information Leasing Corp.; IFC Leasing, Inc.; Irwin Business Finance; Liberty Bank Leasing; Patriot Leasing Co. Inc.; Preferred Capital, LLC; Sterling National Bank and Wells Fargo Financial Leasing, Inc.
The 2003 press released stated there were 700 small Florida businesses named in the 2003 press release. What the number or dollar amount today was not stated.
2003 press release
http://www.leasingnews.org/Conscious-Top%20Stories/Novergence_36.htm
http://myfloridalegal.com/NorVergenceInjunction.pdf
It appears the largest lessor is IFC Credit, who has not given up in any states, settling most of the case, losing the others. The Federal Trade Commission appears still be "negotiating" a "settlement." It
appears IFC Credit has not given in much here either.
Florida ruling:
http://leasingnews.org/PDF/Norv-Florida.pdf
--
PCI and NCCC lose forum issue in Ohio
Preferred Capital and NCCC lose on "forum" issue in Ohio and will have to sue lessees in their home states.
Preferred Capital February 7 lost a case regarding Forum Selection (venue) in Ohio.
PREFERRED CAPITAL, INC., APPELLEE, v. POWER ENGINEERING GROUP, INC;
PAC HEATING , INC., ET AL., APPELLANTS.
[Cite as Preferred Capital, Inc. v. Power Engineering Group, Inc
Complete ruling:
http://leasingnews.org/PDF/Preferred_Capital.pdf
--
Equipment Rental Agreement not valid in Michigan
Michigan Court of Appeals upholds decision that the NorVergence Rental Agreement cannot be separated from the overall NorVergence offer of services, and is voidable based on fraud in the inducement.
http://leasingnews.org/PDF/MichPrefCapAppDecis.pdf
--
Popular has a major loss in Texas
Popular has a major loss in Texas. Reportedly they were attempting to settle this case and the talks have broken down. These rulings are for a case that was not settled, they are a part of the Green class action litigation.
Popular Ruling
http://leasingnews.org/PDF/OrdOverruleDefPlSMJEvid.pdf
---
Another denial for IFC Credit
Denial of IFC Credit motion to dismiss a victim's suit. The trial judge has consolidate a large number of suits involving IFC and possible other NorVergence finance companies.
Copy of ruling:
http://leasingnews.org/PDF/IL_denyIFCmotDism.pdf
--------------------------------------------------------------

--------------------------------------------------------------

NorVergence questions
by Shawn Halladay
www.leasingnotes.com
While hanging out with some attorneys the other day (I know – lapse of judgment), the subject of service contracts came up, along with some enforceability issues, lessee practices, and legal foundations. NorVergence, of course, got mentioned. With that as background, I would like to pose some hypothetical questions to the lessees. The primary premise behind the questions is that, unlike the NorVergence situation, the service provider was legitimate, and the equipment was valued properly and had actual utility – basically, how business should be, and normally is, conducted. So, here we go.

Situation One – you buy equipment for $28,000 that performs an essential function and that requires some form of service (this may be fuel, electricity, or other form of service). Since the service provider is offering significant savings on the cost of the service if you pay for it up front, in a lump sum, you decide to prepay $12,000 for the services over the next four years. Unfortunately, after 18 months, the service provider goes out of business.
1. Who do you blame for this mess?
2. Do you seek legal redress and, if so, from whom?
Situation Two – same situation as One, except you buy the equipment by borrowing $28,000 from the bank, payable at $700 per month over the next 48 months. You also decide to prepay $12,000 for the services over the next four years. After 18 months, the service provider goes out of business.
1. Who do you blame for this mess?
2. Do you seek legal redress and, if so, from whom?
Do you continue to pay the bank loan on the equipment, even though it does not work without the service?
Situation Three – same situation as Two, except you also borrow $12,000 to prepay the services, payable at $300 per month over the next 48 months. After 18 months, the service provider goes out of business.

1. Who do you blame for this mess?
2. Do you seek legal redress and, if so, from whom?
3. Do you continue to pay the bank loan on the equipment, even though it does not work without
the service?
4. Do you continue to pay the bank loan on the prepaid services, even though the service isn't
being provided?
Situation Four – assume the same facts and costs as the previous situations, except this time you lease the $28,000 equipment and finance the $12,000 of prepaid services with a lessor, and the total amount payable is $1,000 per month over the next 48 months. After 18 months, the service provider goes out of business.
1. Who do you blame for this mess?
2. Do you seek legal redress and, if so, from whom?
3. Do you continue to pay the lessor the amount due, even though the equipment does not work without the service, and the service isn't being provided?

Let's have it. What do you think? Remember, there is no fraud involved with either the equipment or the service.
www.leasingnotes.com
Shawn D. Halladay
Managing Principal
124 South 400 East Suite 310
Salt Lake City, UT 84111-2135
Phone: (801) 322-4499
Fax: (801) 322-5454
E-mail: shalladay@thealtagroup.com
The Halladay blog received several responses. Here is one of them:

"In Mr. Halladay's world they would love that leases should be considered the same as loans and they love to point to the hell and high-water clause as a way to convince them that this is so.
"If leases were considered like loans then they would payable no matter what happens with the money or what the money buys. Unfortunately for Mr. Halladay the law does make a fine difference between a lease and a loan, because it does recognize an essential difference in the transaction, which is that a lease is entered into as part of acquiring some service or object.
" A loan is simply I give you money and you give it back later. The law recognizes because of this fundamental difference that a lease cannot simply be treated as a loan or else it would allow for frauds to occur very easily. Therefore there are limits written into the laws regarding leases.
"One is that for a finance lease to have a valid hell or high-water clause there must be clean hands in that the transaction is not occurring just to create a finance lease in order to effect a hell or high-water clause, rather that the transaction is occurring as part of a normal healthy business transaction. Secondly, the law requires that the lease be mostly for goods and nor for service in order for these clauses to be valid, because a promised service can disappear easily whereas goods do not.
"Since most leases are legitimate the hell or high-water clause is normally not contestable as the leasing companies are not the ones who create the problem. However, in a case like NorVergence the leasing companies by their accepting the leases in order to try to make them into finance leases are creating the situation where the fraud was able to be carried out.
"The leasing companies can not simply claim that they had every reason to assume everything was clean here, as all these leases had widely different prices for the same piece of equipment, which should have at minimum led them to question what is going on here. Also as the leasing companies and NorVergence where closely connected, given the number of transactions that occurred between them and given where applicable there where hold-backs and given master lease agreements and any other connections between them, there is a good case to say that they by definition can not have clean hands as they were not a truly independent party.
"Anyways I think I will leave off here as all these points have been made already at one time or another, and really all that is left is to see how the remainder of the cases work their way through the legal system.
"In the meantime I will continue sending out a check every once in a while to the lawyer and comfort myself in that the legal fees have been a lot less then paying the lease. "
Mattisyahu Teichman
<mattisyahu@gmail.com>-
--------------------------------------------------------------

Classified Ads---Help Wanted
Account Manager

North Shore Leasing & Funding Corp.
"FOR ALL OF YOUR FUNDING NEEDS"
Nationwide Account Manager
2 yrs. exp., self-motivated, team oriented, college degree preferred. We approve A to D credits, no equipment restrictions. Resume, salary history, requirements by fax: 631-231-3773 or Steve Kelly at steve@nslf.com
North Shore Leasing & Funding Inc. (NSL&F Inc.) established in 1993, is a national small-ticket equipment leasing company located in Hauppauge, NY.

Sales Professionals


Top commission (75%) plus health and retirement benefits. Full back office, large book funding sources meeting all your clients requirements. Robert Piot: 714-573-9804 or e-mail rpiot@socalleasing.com


----------------------------------------------------------------
### Press Release ###########################
CSI Leasing Marks 35th Anniversary by Topping $1 Billion in Assets
CSI Leasing, a global IT equipment lessor, has announced that its lease portfolio has topped $1 billion in assets. This year the company also celebrates its 35th anniversary.
CSI Leasing was one of the first companies to offer IT equipment lease financing in the early seventies, and has since grown to become one of the world's largest independent IT lessors. The company has helped fuel this growth through acquisitions in the US and abroad, as well as the creation of new leasing entities in a number of countries. Today, CSI has offices throughout the Americas and Europe, and leases equipment in 25 countries.
"The billion dollar mark is a huge milestone for CSI," says Ken Steinback, chairman and CEO. "Our 35 years of management stability and financial strength directly impacts our ability to fund our clients' projects. Our strong financial position means that we can continue to innovate with new offerings to serve the diverse needs of our customers."
Steinback notes that CSI plans to continue on its growth path through more acquisitions, both domestic and abroad, and by continuing to build its current customer base.
CSI Leasing, Inc. helps its corporate clients implement flexible leasing programs that reduce the costs, risks and hassles of using and disposing of technology equipment.
http://www.csileasing.com/financials.html
### Press Release ###########################

Microfinancial 4th Quarter $3.9 million
WOBURN, Mass.----MicroFinancial Incorporated (AMEX:MFI), a financial intermediary specializing in vendor based leasing and financing programs for microticket transactions, announces its financial results for the fourth quarter and year ended December 31, 2006.
2006 Accomplishments Include:
Return to annual profitability with 2006 net income of $3.9 million as compared to a 2005 net loss of ($1.7) million.
Company adds 637 new vendors.
Continued investment in sales and marketing resulted in the origination of $21.5 million in new leases.
A 31%, or $6.4 million, reduction in SG&A expenses compared to 2005.
Payment of $6.2 million in cash dividends.
Fourth Quarter 2006 Results
Net income for the quarter was $1.8 million, or $0.13 per diluted share on 13,979,368 diluted shares, compared to net income of $877,000, or $0.06 per diluted share, in the fourth quarter of 2005.
Fourth quarter revenue for 2006 was $7.5 million compared to $8.9 million in the prior year's fourth quarter. Revenue on leases was $1.5 million, rental revenue was $4.5 million, and other revenue components contributed $1.5 million for the quarter. Lease originations for the quarter were $9.1 million.
Richard Latour, President and Chief Executive Officer, said, "In 2006, we continued to strengthen our sales and marketing programs and rebuild our vendor base. Throughout the year we have made progress executing on our plan to grow our business. The results for the fourth quarter further validate that these efforts are beginning to succeed. Our lease originations improved 42% to $9.1 million as compared to the third quarter of 2006. In addition, during the quarter, we continued to add more vendors, and processed over 6,300 lease applications. We were also pleased to have announced, in December, the dismissal of the attempted shareholder class action and the favorable resolution of the IRS audit."
Full press release at:
http://phx.corporate-ir.net/phoenix.zhtml?c=119119&p=irol-newsArticle&ID=
960196&highlight=
### Press Release ###########################

NetSol Signs Contract Valued at Approximately $1.5 Million
With China Vehicle Finance Operations of Blue-Chip Auto Maker
Contract Marks Third Sale of LeaseSoft Product to Significant Vehicle Finance Operation in Chinese Market
CALABASAS, CA -- -- NetSol Technologies Inc. ("NetSol") (NASDAQ: NTWK), a multinational provider of enterprise software and IT services to the financial services industry, today announced that its Asia Pacific division has signed a contract for the purchase of LeaseSoft, the Company's flagship vehicle portfolio management system, valued at approximately $1.5 million, including license, customization and maintenance. The software was licensed by the China vehicle finance operations of a blue-chip European automotive manufacturer.
LeaseSoft is an end-to-end, modular suite comprised of four software applications. Under terms of this Agreement, the customer is purchasing LeaseSoft Retail Finance software with three application modules -- Credit Application Processing, Contract Management and Wholesale Finance, as well as receiving full software customization, system implementation, and ongoing maintenance and support services for the product.

Najeeb Ghauri
Najeeb Ghauri, chairman and CEO, stated, "This contract marks the third sale of LeaseSoft to a significant vehicle finance operation in the Chinese market. Furthermore, it commences a long-term relationship with one of the most prestigious names in the automotive industry. NetSol is demonstrating that it can and is successfully positioning itself as the premier leasing and finance portfolio management solutions provider worldwide. Given that the Chinese market is still in the nascent stages of development, we believe the LeaseSoft customer base will continue to expand as our sales and market initiatives in this important growth market continue to produce results."
NetSol has successfully implemented LeaseSoft in the Chinese operations of DaimlerChrysler Auto Finance and Toyota Motor Finance.
About NetSol Technologies
NetSol Technologies is a multinational provider of enterprise software and IT services to the financial services industry. NetSol helps clients to identify, evaluate and implement technology solutions to meet their strategic business challenges and maximize their bottom line. By utilizing its worldwide resources, NetSol delivers high-quality, cost-effective equipment and vehicle finance portfolio management solutions. The Company also delivers managed IT services ranging from consulting and application development to systems integration and development outsourcing. NetSol's commitment to quality is demonstrated by its achievement of both ISO 9001 and SEI (Software Engineering Institute) CMMI (Capability Maturity Model) Level 5 assessment, a distinction shared by only 94 companies worldwide. The Company's clients include global automakers, financial institutions, technology companies and governmental agencies. NetSol's largest customer, DaimlerChrysler Services, ranks the Company as a preferred vendor in 40+ countries. Headquartered in Calabasas, CA, NetSol Technologies also has operations and/or offices in London, San Francisco, Adelaide, Beijing, Toronto, and Lahore and Karachi, Pakistan. To learn more about NetSol Technologies, visit the Company's web site at www.netsoltek.com.
### Press Release ###########################

International Decision Systems® and Capgemini Agree to
Collaborate in Delivery of Equipment Finance Solutions and Services
MINNEAPOLIS, Minn. – International Decision Systems, Inc., and Capgemini U.S. LLC, a member of the Capgemini Group, have announced that they are teaming up to deliver expanded implementation, training, and process management services to equipment finance organizations worldwide. This agreement combines the resources of the leading, industry-committed software provider with those of the largest consulting practice dedicated to global asset finance.
The agreement demonstrates the two companies' commitment to joint, collaborative efforts for enhanced delivery of strategy, business process design, technical implementation, and related services to companies running or adopting International Decision Systems products. The resulting service offering will extend across the full finance life cycle and the complete International Decision Systems product suite, which includes Rapport® software for web-based origination, InfoLease® and ProFinia™ software for complete portfolio control, and numerous other solutions.

Dave Nash
David Nash, Vice President of Professional Services for International Decision Systems, said, "This alliance with Capgemini will allow us to deliver an unparalleled solution to our customers. Their approach to clients, the Collaborative Business Experience, will be highly effective in defining and meeting our customers' needs and matching them with ideally configured, world-class software solutions from International Decision Systems."

Cameron Krueger
Cameron Krueger, Capgemini's Asset Finance practice leader, underscored the benefits of this alliance for current and prospective International Decision Systems customers. "International Decision Systems has a long tradition of providing quality solutions to the market, and their newest offerings provide exciting opportunities for asset finance companies," said Krueger. "They serve many of the world's largest asset finance companies, and the demand for high-quality services surrounding their product suite is impressive. We look forward to jointly serving that market."
About Capgemini
The Capgemini Group, one of the world's foremost providers of Consulting, Technology and Outsourcing services, has a unique way of working with its clients, which it calls the Collaborative Business Experience. Through commitment to mutual success and the achievement of tangible value, the company helps businesses implement growth strategies, leverage technology, and thrive through the power of collaboration. Capgemini employs approximately 65,000 people worldwide and reported 2006 global revenues of more than $9 Billion. Capgemini's Asset Finance practice is well recognized for offering independent, vendor-neutral creative solutions – from thought leadership and technology strategy to business process improvement, technology implementations and applications maintenance – to banks, captive and independent lessors and lenders. More information about individual service lines, offices and research is available at http://www.capgemini.com/industries/financial/solutions/leasing
or call Lawrence Latvala at 917-579-4269 for more information.
About International Decision Systems, Inc.
International Decision Systems is the global leader in developing equipment finance portfolio management software and services. Headquartered in Minneapolis, Minnesota, International Decision Systems also has offices in London, Sydney, Singapore and Bangalore. International Decision Systems offers the largest and most experienced global consulting, implementation, and technical support teams in the equipment financing industry. For additional information about International Decision Systems, visit www.idsgrp.com, or call 1-866-465-9393 to reach global headquarters.
### Press Release ###########################

CapitalStream Appoints Herve Marzio to Vice President, Professional Services
Seattle - SEATTLE -- CapitalStream Inc., a leader in front office automation solutions for commercial lending and finance operations, today announced the appointment of Herve Marzio to vice president, professional services. Marzio has built and managed large client service teams that have successfully implemented large-scale enterprise systems across a broad range of enterprises including large banks and financial institutions. He is currently charged with building the processes and personnel skills that ensure CapitalStream's level of service delivery to complement the company's recent growth.
With more than 15 years of software implementation and client service leadership, Marzio comes to CapitalStream from Corillian Corp. (NASDAQ: CORI), a leading provider of online banking, payment and security solutions to the financial services industry, where he successfully led some of the company's most challenging projects. As the project executive responsible for consulting and implementation at strategic accounts, he put into place teams and best practices that ensured repeatable success for all implementations while also increasing profitability and customer satisfaction. Marzio was instrumental in developing and instituting many of the policies and methodologies that enabled the impressive growth of the organization.
Earlier in his career, Marzio was with Lucent Technologies where he was responsible for the release of its next generation voice mail platform, targeted for leading fixed and wireless telephone providers. Marzio earned his Master's degree in Electrical Engineering at Georgia Institute of Technology in Atlanta.
"With a healthy pipeline of new business and a rapidly growing customer base, our professional services organization has become even more critical to CapitalStream's continued success," said Kevin P. Riegelsberger, president and CEO, CapitalStream. "The addition of Marzio to the company's management team represents our strong commitment to building and maintaining a consulting and support organization that can scale, handle an increasing number of simultaneous projects at midsize and large financial institutions. Marzio has the knowledge and experience to enable us to scale to the expanded number and variety of engagements we expect to see over the coming year, contributing greatly to CapitalStream's strategic growth plan."
About CapitalStream
Established in 1995, CapitalStream provides software and consulting services that enable commercial banks and finance companies to collaborate, integrate and operate more effectively across their front office operations. CapitalStream solutions streamline data gathering, deal structuring, credit analysis, document generation, booking, account monitoring and ongoing risk management to more effectively originate transactions and manage commercial relationships. CapitalStream transforms the paper-based operations of mid-market, small business, equipment leasing and commercial real estate groups by reducing costs, risk and processing times to grow their portfolios without increasing headcount. The company ranked among Deloitte's 2006 Technology Fast 500, a listing of the 500 fastest growing technology, media, telecommunications and life sciences companies in North America. For more information, visit us at
http://www.capitalstream.com
or call at 800-827-2010.
### Press Release ###########################
--------------------------------------------------------------

News Briefs----
Bankkok: KTB Leasing targets 400% growth in 2007
http://www.bangkokpost.com/Business/09Feb2007_biz49.php
Consumer Confidence Hits 2 1/2-Year High
http://www.chicagotribune.com/business/ats-ap_business10feb08,0,4838293.
story?coll=sns-business-headlines
Jan. Retail Sales Better Than Expected
http://www.nytimes.com/aponline/business/AP-Retail-Sales.html
McAfee, Broadcom Beat the Street
http://www.internetnews.com/bus-news/article.php/3658881
$225 million ethanol plant set for S. Georgia
http://www.ajc.com/business/content/business/stories/2007/02/07/0207bizethanol.html
Vineyard National Bancorp Establishes SFR Luxury Construction Lending Group in Northern California
http://www.marketwire.com/mw/release_html_b1?release_id=212791
Immigration Raid Leaves Texas Town a Skeleton
http://www.washingtonpost.com/wp-dyn/content/article/2007/02/08/
AR2007020801812.html
Complaints of lost bags by airlines rise
http://www.boston.com/business/articles/2007/02/08/
complaints_of_lost_bags_by_airlines_rise/
YouTube investors, founders net millions from Google pact, according to SEC filing
http://www.usatoday.com/tech/news/2007-02-08-youtube-google_x.htm
"American Idol" introduces the nation to Saratoga's Paul Kim
http://www.mercextra.com/blogs/realitytv/2007/02/08/american-idol-introduce
s-the-nation-to-saratogas-paul-kim/
---------------------------------------------------------------


You May have Missed---
Golf fans drink most wine: study
http://today.reuters.com/news/articlenews.aspx?type=sportsNews&storyID=
2007-02-08T231620Z_01_N07160467_RTRUKOC_0_US-WINE-SPORTS.
xml&WTmodLoc=SportsNewsHome_C1_%5BFeed%5D-8
---------------------------------------------------------------

Sports Briefs----
Phillips new Cowboys' coach; 49ers' Turner snubbed
http://www.dallasnews.com/sharedcontent/dws/dn/latestnews/stories/
020807dnspocowlede.5f46c83c.html
http://www1.pressdemocrat.com/apps/pbcs.dll/article?AID=/20070208/
NEWS/70208009/1010/SPORT01
----------------------------------------------------------------


"Gimme that Wine"
Merlot Fights Back
http://winecountry.com/writers/w001/020507_savvy_merlotfightsback.html
Washington State Tops 31,000 Acres of Grapes
http://www.winebusiness.com/news/dailynewsarticle.cfm?dataId=46534
Portuguese wine has sales of 977 million euros in 2006
http://www.macauhub.com.mo/en/news.php?ID=2828
Out of Italy, and Packing a Jolt---Eric Asimov
http://events.nytimes.com/2007/02/07/dining/reviews/07wine.html?ref=dining
Wine Prices by vintage
http://www.winezap.com
http://www.wine-searcher.com/
US/International Wine Events
http://www.localwineevents.com/
Winery Atlas
http://www.carterhouse.com/atlas/\
Leasing News Wine & Spirits Page
http://two.leasingnews.org/Recommendations/wnensprts.htm
The London International Vintners Exchange (Liv-ex) is an electronic exchange for fine wine.
http://www.liv-ex.com/
----------------------------------------------------------------

Calendar Events This Day
Lebanon: St. Maron's Day
Holiday of Lebanon's Maroinite Christian community. St. Maron was a Syrian hermit of the 4th-5th century.
http://www.itmonline.org/bodytheology/stmaron.htm
http://www.opuslibani.org.lb/egliseeng/002/st-maron.htm
http://www.mari.org/JMS/january97/Saint_Marons_Relic.htm
Lent Continues
http://www.kencollins.com/holy-04.htm
Catholic Saints honored this day:
· St. Apollonia
· St. Alexander
· St. Alto
· Bl. Alvarez of Córdoba
· St. Ammon
· St. Ansbert
· St. Teilo
· St. Cronan the Wise
· St. Cuaran
· St. Eingan
· St. Raynald of Nocera
· St. Nebridius
· St. Nicephorus
· St. Michael Febres Cordero
http://www.catholic.org/saints/f_day/feb.php
----------------------------------------------------------------

The dial tone of a normal telephone is in the key of "F".
(While this cannot be confirmed, according to various web sites, some European phones are in the key of "E" and some phones in the United States manufactured in Europe are between "E" and "F," but are closer to "F." editor)
----------------------------------------------------------------

Today's Top Event in History
1964- The Beatles made their live US television debut on "The Ed Sullivan Show." "I Want to Hold Your Hand" could barely be heard over the screams from the audience, who were also treated to "All My Loving," "Till There Was You," "She Loves You" and "I Saw Her Standing There." There were 50,000 requests for the 725 available seats. The Beatles appeared on the show again a week later. Each program was watched by an estimated 70-million people, the highest rating at the time.
[headlines]
----------------------------------------------------------------

This Day in American History
1773—Birthday of William Henry Harrison, the 9th president of the United States ( March 4-April 4, 1841). His term of office was the shortest in our nation's history-32 days. He was the first president to die in office (of pneumonia contracted during inaugural ceremonies). John Tyler assumed the presidency and historians state his administration was characterized by bickering and frustration, primarily caused by Henry Clay and Daniel Webster over political issues in their own "Whig" party.
1775 ---English Parliament declares Massachusetts colony is in rebellion.
1794- The first warship to capture an enemy shop after the Revolution was the U.S.S. Constellation, a 36-gun frigate of 1,265 tons. Off the island of Nevis, West Indies, the 36-gun Constellation, under the command of Commodore Thomas Truston, met and captured the 40-gun French frigate Insurgente, inflicting 70 casualties at the cost of only 4 American casualties. (not to be confused with the U.S.S.) Truxtun was headed for the island of Nevis when he caught sight of the French frigate L'Insurgente. After pursuing the Frenchman, Truxtun prepared for action. However, as the two ships were on the verge of engaging one another, a squall engulfed them, snapping the main topmast of the French frigate. The loss of mobility, coupled with the French tendency to fire high into the opponent's rigging, gave Truxtun a deadly advantage. Unable to maneuver and suffering from heavy damage to her hull by American gunnery, the 40-gun L'Insurgente was defeated by the 38-gun Constellation. The battle had lasted only seventy-five minutes. The Constellation suffered three casualties, compared to seventy sustained by L'Insurgente. "A very fine frigate [is] being added to our infant Navy" was the report sent to Stoddert.
http://www.navysna.org/awards/Hall%20of%20Fame%20Write%20Ups/Truxton.htm
Constellation which was President Lincoln's flagship or the Federal of Planets Space Ship.)
http://maritimeone.com/id61.htm
http://www.geocities.com/TheTropics/Shores/1258/shipsv.html
http://www.congressionalgoldmedal.com/ThomasTruxton
http://maritimeone.com/id61.htm.htm
http://antiqbook.com/boox/spo/1110.shtml
1812-- Pioneer missionary Samuel Newell married fellow Congregationalist Harriet Atwood. They afterward sailed for India with Adoniram and Ann Hasseltine Judson. (Harriet Newell and Ann Judson thereby became the first American women commissioned for missionary work abroad.)
1825- John Quincy Adams was elected president of the United States by the House of Representatives, into which the election had been thrown by the failure of any of the four candidates to win a majority in the electoral college. Henry Clay, one of the candidates assisted Adams cause in the House. In the four way race of Adams, Andrew Jackson, Henry Clay, and William Crawford Jackson had received more electoral votes than Adams, but no majority.
1859—Birthday of Carrie Chapman Catt. Very young, Carrie Lane noticed that her mother did not go to vote when her father did and she developed a lifelong devotion to the cause of women's suffrage. She became high school principal at Mason City, Iowa, in 1881. Within a few years she was elected superintendent of schools - one of the first women to fill such an office in the United States. After one year of marriage to Leo Chapman, editor and owner of the Mason City Republican, he died of typhoid fever in 1886. It was then that CCC began speaking and organizing activists for the Iowa Woman Suffrage Association and broke onto the national scene like a rocket. She died in New Rochelle, N.Y., on March 9, 1947. Catt is buried in New York City alongside Mary Garrett Hay with whom she lived from 1905 until Hay's death in 1928. They share a single headstone which reads: "Here lie two, united in friendship for 38 years through constant service to a great cause."
1861-- Tennessee votes against secession. On June 8, pro-slavery advocates stop anti-slavery voters at the polls, whereupon Tennessee secedes from the Union.
1886- President Cleveland declares a state of emergency in Seattle because of anti-Chinese violence. These protests were also seen in other Northwest cities due to the influx of "cheap" Chinese labor.
http://immigrants.harpweek.com/ChineseAmericans/Items/Item095L.htm
1873- In the foremost scandal of the day, Victoria Woodhull, publisher, was arrested for writing that renowned preacher Henry Ward Beecher had committed adultery. The postal authorities charged her with sending obscene literature through the mail. She was acquitted of the charge. What made the event more newsworthy is that Beecher was subsequently sued for alienation of affections by Theodore Tilton. The jury and the public found Dr. Beecher innocent but found Mrs. Tilton guilty.
1874—Birthday of American poet Amy Lowell, born at Brookline, MA. Her eccentricities inspire more discussion then her poetry. A lesbian and a very fat woman, she wore frilly clothes, smoked cigars, slept during the day, wrote poetry at night and kept all the mirrors in her house covered.
In 1915, anticipating a wartime shortage, Lowell, like George Sand a woman partial to cigars, ordered 10,000 Manilas. Ezra Pound, trying to help place her poetry, made up the "Imagist" movement. Died Brookline, Ma., May 12, 1925.
http://www.sappho.com/poetry/a_lowell.html
1885--- First Japanese arrive in Hawaii.
1886 President Cleveland declares a state of emergency in Seattle because of anti-Chinese violence.
1900-The great Count Basie bassist Walter Page birthday.
1904- a tremendous fire that started on February 7 was put out in Baltimore, Maryland, after destroying 2600 buildings in an 80-block area of the business district. It was the biggest fire since the great Chicago fire of 1871. Over $80 million (that day's dollar amount ) in buildings were destroyed.
1909—Birthday of Carmen Miranda, born Maria do Carmo Miranda da Cunha in Marco de Canavezes, Portugal. Her family moved to Rio de Janeiro when she was about two years old. Her career took off in the carnival of 1930 with the spectacular success of the marchinha "Taí" A popular movie star and singer in her day, she Carmen of a heart attack on August 5, 1955, at home in Beverly Hills, California.
http://www.maria-brazil.org/carmen.htm
http://www.humnet.ucla.edu/echo/Volume2-Issue1/wells-media/Carmen-Miranda.jpg
1912—The United States Lawn Tennis Association amended the playing rules for its men's single's
championship. The defending champion lost his by directly into the final and was required to play through the tournament.
1914—Birthday of country and western singer, born at Crip, Texas. Ernest Tubb was the sixth member to be elected to the Country Music Hall of Fame and the headliner on the first country music show ever to be presented at Carnegie Hall. His first major hit, " Walking the Floor Over You," gained him his first appearance at the Grand ole Opry in 1942, and he attained regular membership in 1943. He died September 6,1984, at Nashville, Texas.
1914—Birthday of Bill Veek, baseball's premiere promoter and showman as an owner of several
teams. He integrated the American League, sent a midget to the plate to start a game and, in general, sought to provide fans with entertainment in addition to baseball. Inducted into the Hall of Fame in 1991. Died at Chicago, Il, Jan. 2, 1986.
1914-Birthday of ecdysiast Gypsy Rose Lee, real name Rose Louise Hovick, born Seattle, Was. died 1970.
http://us.imdb.com/name/nm0497346/
http://www.thrillingdetective.com/eyes/gypsy_rose_lee.html
1917 -- US: American labor agitator Tom Mooney falsely convicted of fatal bombing. He is Pardoned and released 22 1/2 years from now.
http://www.shapingsf.org/ezine/labor/mooney/
http://www.dartmouth.edu/~library/Library_Bulletin/Nov1989/LB-N89-VClose2.html
1922-World War I left a mountain of debt in its wake: Great Britain owed the US government over four billion dollars, while France and Italy racked up war-related loans of roughly $3 billion and $1.6 billion, respectively. Alhough President Woodrow Wilson blindly insisted on full repayment of all debts to the US, the reality was far thornier, as the European governments were simply too strapped for cash to make good on their loans. Britain attempted to broker a deal for the reciprocal remittance of the debts, but Wilson rebuffed the offer. The debt dilemma festered into the early 1920s, stirring-up bitter and often anti-foreign feelings on both sides of the Atlantic. In hopes of resolving the issue, Congress convened on 09 February 1922, and voted in favor of establishing the World War Foreign Debt Commission. The Commission rounded the money owed to the US to $11.5 billion and established a sixty-two-year term, at 2% interest, for the repayment of the debts.
However, by 1925, the US could no longer ignore fiscal reality: the loans would never be repaid in full. Despite his initial refusal to scuttle the debts, President Calvin Coolidge relented and cancelled good chunks of various governments' outstanding debts.
1933 - The temperature at Moran, WY, located next to Teton National Park, plunged to 63 degrees below zero to establish a state record. The temperature at the Riverside Ranger Station in Montana dipped to 66 below zero to establish a record for the state, and a record for the nation which stood until 1954.
1934 - The mercury dipped to 51 degrees below zero at Vanderbilt to establish a record for the state of Michigan. The temperature at Stillwater plunged to 52 degrees below zero to establish a record for the state of New York.
1942- singer-songwriter Carole King was born in Brooklyn, New York. Along with her then-husband Gerry Goffin, King wrote some of the most successful pop tunes of the 1960's. Among them were "Will You Love Me Tomorrow" for the Shirelles, "Up on the Roof" for the Drifters and "The Loco- Motion" for Little Eva. In the '70s, King started concentrating on her singing. Her 1971 album "Tapestry" became the biggest- selling album of all time, although its sales have since been topped by at least two other albums.
1943- in a major strategic victory, the American 161st and 132nd Regiments retook Guadalcanal in the Solomon Islands on this date after a six-month-long battle. More than 9,000 Japanese and 2,000 Americans were killed. The fierce resistance by the Japanese was an indication to the Allies of things to come. Guadalcanal put the Allies within striking distance of Rabaul, the major Japanese base in the area (as featured in "Victory at Sea".)
1950-- McCarthy starts his infamous McCarthyism. Joseph Raymond McCarthy, a relatively obscure Republican senator from Wisconsin, announces during a speech in Wheeling, West Virginia, that he has in his hand a list of 205 Communists who have infiltrated the US State Department. The unsubstantiated declaration, which is little more than a publicity stunt, suddenly thrusts Senator McCarthy into the national spotlight. Asked to reveal the names on the list, the reckless and opportunistic senator names officials he determines guilty by association, such as Owen Lattimore, an expert on Chinese culture and affairs who had advised the State Department and President Franklin D. Roosevelt. McCarthy describes Lattimore as the "top Russian spy" in America. These and other equally shocking accusations prompt the Senate to form a special committee headed by Senator Millard Tydings of Maryland to investigate the matter.
The committee finds little to substantiate McCarthy's charges, but McCarthy nevertheless touches a nerve in the American public and over the next two years makes increasingly sensational charges, even attacking President Harry S. Truman's respected former secretary of state, George C. Marshall.
1952---Top Hits
Slowpoke - Pee Wee King
Cry - Johnnie Ray
Anytime - Eddie Fisher
Give Me More, More, More (Of Your Kisses) – Lefty Frizzell
1944-Jimmy Page, guitarist with Led Zeppelin, is born.
1955 - No. 1 Billboard Pop Hit: ``Sincerely,'' The McGuire Sisters.
1957- Elvis Presley's "Too Much" hits #1
1958-Last month's report of the American Research Bureau cites Dick Clark's "American Bandstand" as the top-ranked daytime television program, drawing an average of 8,400,000 viewers per day.
1959- Lloyd Price's "Stagger Lee" hits #1
1960---Top Hits
Teen Angel - Mark Dinning
Where or When - Dion & The Belmonts
Handy Man - Jimmy Jones
He'll Have to Go - Jim Reeves
1963-Birthday of country singer Travis Tritt.
1963 - The first Boeing 727 took off, becoming the world's most popular way to fly. Before production was stopped in 1984, 1,832 of the aircraft were built.
1963- Ruby and the Romantics' "Our Day Will Come" enters the pop chart. It hits Number One on both the pop and R&B charts next month, making it the group's biggest hit.
1963- Paul and Paula's "Hey Paula" hits #1
1963- Ruby and the Romantics' "Our Day Will Come" enters the pop charts
1964 -- Arthur Ashe, Jr., becomes first African American on US Davis Cup Team.
1964- The Beatles made their live US television debut on "The Ed Sullivan Show." "I Want to Hold Your Hand" could barely be heard over the screams from the audience, who were also treated to "All My Loving," "Till There Was You," "She Loves You" and "I Saw Her Standing There." There were 50,000 requests for the 725 available seats. The Beatles appeared on the show again a week later. Each program was watched by an estimated 70-million people, the highest rating at the time.
1965--- US sends its first combat troops to South Vietnam: A US Marine Corps Hawk air defense missile battalion is deployed to Da Nang. President Johnson had ordered this deployment to provide protection for the key US airbase there. This was the first commitment of American combat troops in South Vietnam and there was considerable reaction around the world to the new stage of US involvement in the war. Predictably, both communist China and the Soviet Union threatened to intervene if the United States continued to apply its military might on behalf of the South Vietnamese. In Moscow, some 2,000 demonstrators, led by Vietnamese and Chinese students and clearly supported by the authorities, attacked the US Embassy. Britain and Australia supported the US action, but France called for negotiations.
1968---Top Hits
Green Tambourine - The Lemon Pipers
Spooky - Classics IV
Love is Blue - Paul Mauriat
Skip a Rope - Henson Cargill
1969 - The Boeing 747 took its first flight, ushering flew in the age of the jumbo jet. As manager of the Chamber of Commerce of San Bruno, "The Airport City," we issued gold, silver, and copper coins to celebrate the event. They are considered collected items today.
1969 - Roslyn Kind quietly made her television debut on "The Ed Sullivan Show". Ed said she was "...America's teenager who wasn't protesting or playing a guitar." Although she only appeared once, her sister appeared many times. Roslyn Kind is Barbra Streisand's sister.
1970 - Sly and The Family Stone were awarded a gold record for the single, "Thank You (Falettinme Be Mice Elf Agin)". At the time Sly (Sylvester) Stewart was a disc jockey in Oakland, California.
1971 - An earthquake measuring 6.6 struck the San Fernando Valley in California, killing 58 people. Property damage reached $900 million.
1971 -- Satchel Paige becomes first Negro-league player elected to baseball Hall of Fame.
Sometimes I feel like I will never stop
Just go forever
Till one fine morning
I'll reach up and grab me a handful of stars
and swing out my long lean leg
and whip three hot strikes burning down the heavens
and look over at God and say
How about that!
— Samuel Allen, "To Satch"
http://www.negroleaguebaseball.com/history101.html
1972-The aircraft carrier USS Constellation joins aircraft carriers Coral Sea and Hancock off the coast of Vietnam. From 1964 to 1975, there were usually three US carriers stationed in the water near Vietnam at any given time. Carrier aircraft participated in the bombing of North Vietnam and also provided close air support for US and South Vietnamese forces in South Vietnam. In 1972, the number of US carriers off Vietnam increased to seven as part of the US reaction to the North Vietnamese Eastertide Offensive that was launched on March 30 — carrier aircraft played a major role in the air operations that helped the South Vietnamese defeat the communist invasion.
1974- The Love Unlimited Orchestra's "Love Theme" hits #1
1974- Hall and Oates' "She's Gone" enters the pop charts
1974- Paul McCartney and Wings' "Jet" enters the pop charts
1975-- Cher's solo TV show premiered. Among the guests were Elton John, Bette Middler and Flip Wilson.
1976 - No. 1 Billboard Pop Hit: ``50 Ways to Leave Your Lover,'' Paul Simon. The song is Simon's first No. 1 single since ending his 13-year partnership with Art Garfunkel in 1970.
1976---Top Hits
50 Ways to Leave Your Lover - Paul Simon
Love to Love You Baby - Donna Summer
You Sexy Thing - Hot Chocolate
Sometimes - Bill Anderson & Mary Lou Turner
1984---Top Hits
Karma Chameleon - Culture Club
Joanna - Kool & The Gang
Running with the Night - Lionel Richie
Show Her - Ronnie Milsap
1987 - Just twenty years after the first woman was admitted to the New York Stock Exchange, the Exchange Luncheon Club decided to put in a women's rest room. Prior to this gracious offer, the women had to walk down a flight of stairs.
1987 - A storm off the Atlantic coast produced high winds and heavy snow in the northeastern U.S., with blizzard conditions in eastern Massachusetts. Wind gusted to 80 mph and 23.4 inches of snow produced drifts eight feet high at Cape Cod MA. It was the worst blizzard in thirty years for the Cape Cod area. Winds in some of the mountains and ridges of the Appalachian Region gusted to 100 mph
1990-Ashton-Tate, which dominated the computer database software market in the 1980s, had seen a dramatic drop in market share, largely because the company had been slow to upgrade its popular dBase products. In response to the decline, the company began shipping a new product, a graphics program called Applause II. Although graphics and presentation software would become an increasingly important market segment, the company was unsuccessful in its bid to regain its lost position.
1992-Three months after announcing his retirement ( On November 7,1991) from the NBA because he had been infected with HIV, Magic Johnson led the West to a 153-113 victory over the East in the 42nd NBA All-Star Game. Magic was named All-Star Game MVP for the second time.
1997 - "The Simpsons" became the longest-running prime-time animated series. The record was previously held by "The Flintstones".
--------------------------------------------------------------

Winter Poem
Shortcut Through the Storm

by Robert Savino

There were too few roads.
There were too many motorists.
My choice was longer in distance,
but far less travelled.
I took a shortcut through the storm,
crawling over the black-iced asphalt,
too close behind Boyd's black flower car,
in the dreary pitch of Ocean Parkway.
Storm clouds shifting and changing,
pass over, so low, engulf my presence.
I exit in an angel's breath,
a winged spirit of the Great South Bay,
greeted by Moses at the foot of the bridge,
moments from home and the neon lights
of strip mall shops, that brighten the bus
stop at the corner of Oak Neck Road.
Minutes pass slowly within these hours.
Sounds of snow plows wake me from sleep.
--------------------------------------------------------------

SuDoku
The object is to insert the numbers in the boxes to satisfy only one condition: each row, column and 3x3 box must contain the digits 1 through 9 exactly once. What could be simpler?
http://leasingnews.org/Soduku/soduko-main.htm
--------------------------------------------------------------

Daily Puzzle
How to play:
http://www.setgame.com/set/puzzle_frame.htm
Refresh for current date:
http://www.setgame.com/set/puzzle_frame.htm
--------------------------------