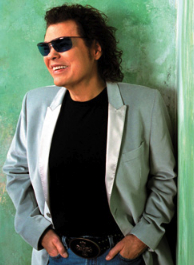 Singer/musician Ronnie Lee Milsap born January 16, 1943 in Robbinsville, North Carolina. Milsap's biggest crossover hits include "It Was Almost Like a Song", "Smoky Mountain Rain", "(There's) No Gettin' Over Me", "I Wouldn't Have Missed It for the World", "Any Day Now", and "Stranger in My House", among others. He is credited with forty #1 hits in country music, third to only George Strait and the late Conway Twitty.
http://www.ronniemilsap.com/bio.html
http://www.myspace.com/ronniemilsap
Headlines---
Merrilees Joins NetBank
Archives, January 15, 2003
Classified Ads---Operations
Goodman joins Providence Capital
Classified Ads---Help Wanted
Leasing Industry Associations
Leasing Association Conferences 2009
Classified ads—Software
Stopping "Trigger Leads"
Leasing News Help Wanted Ads
Cartoon—Breakfast at the Grammar Café
Gran Torino/Marley & Me/Appaloosa
The Wackness/Funny Face
Movie/DVD Reviews by Fernando Croce
Federal Reserve Beige Report
Fed Sees Sharp Decline in Commercial Paper
BofA getting extra $20B in bailout funds
Mortgage rates fall to 38-year low
Foreclosure filings soared 81% last year
Alpharetta company $25MM Ponzi scheme
Star Tribune files Chapter 11 petition
CDW to cut 190 in company's first layoffs
Danville pilot saved Hudson River victims
News Briefs---
You May have Missed---
Top Stories---
California Nuts Brief---
"Gimme that Wine"
Today's Top Event in History
This Day in American History
SuDoku
Daily Puzzle
GasBuddy
Weather, USA or specific area
Traffic Live----
Note: Fernando's movie/dvd reviews are written exclusively for Leasing News. He recommends "Gran Torino," and saw it last night---Eastwood has never been better. I sure wish I looked as good as he does when I turn 74!!!
######## surrounding the article denotes it is a "press release"
(This ad is a "trade" for the writing of this column. Opinions
contained in the column are those of Scott Wheeler.)
-------------------------------------------------------------------

Merrilees Joins NetBank
Archives, January 15, 2003
Merrilees joins NetBank.® Company Launches Leasing Finance Division For Business Equipment Vendors and Manufacturers
ATLANTA NetBank® (Nasdaq: NTBK), the first commercially successful Internet bank, Wednesday announced the formation of NetBank Capital, a business equipment finance division serving vendors and manufacturers. The division will specialize in small-ticket transactions ranging from $10,000 to $250,000 with the capability of funding transactions of up to $1 million.

NetBank hired Jim Merrilees, CLP, to lead the division. A 30-year veteran of the commercial leasing industry, Merrilees has held (many) senior management positions in the small-ticket market over the past sixteen years. His industry experience includes developing vendor programs and purchasing third-party broker business and portfolios. (He is presently a member of the Equipment Leasing Association board of directors, and a past president of the United Association of Equipment Leasing.)

"NetBank has always focused on providing its customers options for when and how they receive services," said NetBank spokesman Matthew Shepherd. "This new division allows us to reach small business owners through a new outlet. Jim brings a customer-centric approach and is the perfect person to lead this initiative."

NetBank Capital complements the bank's existing equipment leasing operation and its plan to introduce a small business banking program this year. The division will operate out of Portland, OR, and can be reached at 503-598-2193.

About NetBank

NetBank is the country's first commercially successful Internet bank and currently serves more than 150,000 customers in all 50 states and 20 foreign countries. NetBank offers a full line of financial services designed around the needs and lifestyles of its customers. Its branchless business model allows it to operate at a fraction of the cost of a traditional bank. Since it's founding in 1996, NetBank has passed the cost savings to customers through more competitive deposit rates and free account services, such as online bill payment. Through its mortgage lending subsidiaries, Market Street Mortgage Corporation and RBMG, Inc., NetBank is a top 30 mortgage lender. NetBank, Equal Housing Lender and Member FDIC, is a primary operating subsidiary of NetBank, Inc. (Nasdaq: NTBK), a diversified financial services company. For more information on NetBank's products and services, please visit www.netbank.com.
--------------------------------------------------------------

Classified Ads---Operations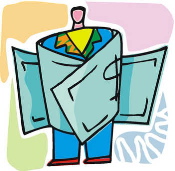 Operations
Orange County, CA.
10+ years of experience with a focus in operations management and expertise in funding and documentation processes. Willing to consider relocation.
kbartling@cox.net
Resume
For a full listing of all "job wanted" ads, please go to:
http://www.leasingnews.org/Classified/Jwanted/Jwanted.htm
To place a free "job wanted" Leasing News ad:
http://www.leasingnews.org/Classified/Jwanted/Jwanted-post.htm
ELFA Career Center: Job Seekers (free):
http://careers.elfaonline.org/search.cfm
--------------------------------------------------------------

Goodman joins Providence Capital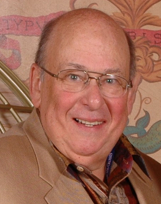 "Many years ago, the New York Times promoted its classified advertising section with a series of ads showing people in various jobs (cook, construction worker, executive, etc) and the quote, 'I got my job through the N.Y. Times.' -- Well, I can now say, 'I got my job through Leasing News' – which is all the more interesting since I wasn't really looking for a job.
"Like many people, I've been using Leasing News for years to keep up with the industry and look for business opportunities such as consulting assignments. That is what I was doing the day I ran across Providence's ad for someone to handle their residual portfolio, something I have a lot of experience with. I called them (I've known Ofer Horn and Davie Lee for years) and offered to handle the residual project on an independent consultant basis.
"Well, after meeting with them (and a bunch of their excited young sales people) the residual project had expanded to a full scale marketing, training and 'back up executive' job and here I am. I had been happily relaxing in a semi-retired consultant/trainer mode and now I'm working full time and it's your entire fault. I may never forgive you! As Michael Corleone said in Godfather III, 'Every time I try to get out, they drag me back in.' (J)
"Anyway. I owe this job – and many other good things over the years – to you and Leasing News and a 'thank you' is long overdue, so, 'Thank you.'
"I hope you have a great 2009."
Regards,
Ken
Kenneth D. Goodman, CLP
Director of Marketing
Providence Capital Funding, Inc.
3020 Saturn Street #203
Brea, CA 92821
Direct: 714-985-6227 - Toll Free: 800-341-1288
Fax: 714-985-6277 - Cell: 888-852-7560
email: kgoodman@providencecapitalfunding.com
--------------------------------------------------------------

Leasing Industry Help Wanted
sales


VENDOR SALES SPECIALISTS
LEASING SALES PROFESSIONALS
Like selling vendor programs and large transactions?
Enjoy international financing programs?
Prefer the advantages of a commission only environment with the security of health and welfare benefits?
CLICK HERE to find out how to have fun again.
Please see our Job Wanted section for possible new employees.
-------------------------------------------------------------

Leasing Industry Associations
(Any up-dates, please email kitmenkin@leasingnews.org)
((Formerly the Eastern Association of Equipment Lessors and United Association of Equipment Leasing (formerly the Western Association of Equipment Lessors) merged together January 1, 2009.)
3525 Piedmont Road , Building 5, Suite 300
Atlanta , Georgia 30305
Phone: (404) 760-2843
E-mail: info@nefassociation.org
"The National Equipment Finance Association (NEFA) is a national association serving small- to mid-size independent equipment finance companies, lessors and sophisticated brokers."
Membership dues:
www.nefassociation.org/displaycommon.cfm?an=1&subarticlenbr=11
Three Conferences in 2009:

The National Equipment Finance Summit - Spring 2009
April 4-7, 2009
Orlando , Florida
2009 Fall Conference and Exposition
September 24-27, 2009
Monterey , California
2009 Super Regional Conference
November 9, 2009
Newark , New Jersey
--------------------------------------------------------------

Leasing Association Conference 2009
April 4-7
National Equipment Finance Association
2009 Spring Education Conference
Hilton Inn
Orlando , Florida
www.nefassociation.com
-----------------------------------------------------
April 16-17
Equipment Leasing and Finance Association
National Funding Exhibition
Fairmont Hotel, Chicago, Illinois
www.elfaonline.org
------------------------------------------------------
April 30-May 2, 2009
NAELB Annual Conference
Red Rock Casino, Resort and Spa
Las Vegas, NV
www.NAELB.org

------------------------------------------------------------
September 24-27, 2009
National Equipment Finance Association
2009 Fall Conference and Exposition
Monterey , California
www.nefassociation.com
--------------------------------------------------------------
October 18th-20th
Equipment Leasing and Finance Association
48th Annual Convention
Manchester Grand Hyatt
San Diego, CA
www.elfaonline.org
-------------------------------------------------------------
November 9, 2009
National Equipment Finance Association
2009 Super Regional Conference
Newark, New Jersey
www.nefassociation.com
-------------------------------------------------------------------
To view Leasing Association Events-Meetings Open to All, please click here.
--------------------------------------------------------------

Classified ads—Software
Leasing Industry Outsourcing
(Providing Services and Products)
Software: Edmonds, WA
Preferred Broker Solutions offers software support (also custom templates & reports) for the System 1 and CapitalStream Advantage products. Ask about our Web Application interface.
E-mail:support@pbs4u.com
All "Outsourcing" Classified ads
(advertisers are both requested and responsible to keep their free ads up to date):
http://www.leasingnews.org/Classified/Outsourcing/Outsourcing.htm
How to Post a free "Outsourcing" classified ad:
http://www.leasingnews.org/Classified/Outsourcing/Outsourcing-post.htm
--------------------------------------------------------------

Stopping "Trigger Leads"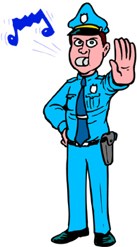 Many credit reporting companies, as well as marketing companies, sell credit inquiries from leasing and finance companies. The software has become so fast and accurate, the credit inquiry in the morning
can be passed on legally to a company who subscribes. Leasing News has been told by readers that companies they have run into have been Balboa Capital, CapNet, Direct Capital, to name a few.
The end of last Leasing News recommended changing the service of your credit inquiry to another company name. Several readers did so, owning other companies or entities. Several reporting
having to pay new fees to join, but report they have stopped being hit with by "Trigger Leads."
Some of the stories related also include vendors. In one instance, the "Trigger Lead" leasing company actually moved the applicant to another vendor and the original vendor blamed the leasing company
who lost the deal for running the credit and making their customer available.
There are funders who re-run credit, but most often at the time of funding to learn if there is any deterioration of credit or if they transaction is being "split" to others.
--------------------------------------------------------------

Leasing News Help Wanted Ads
Alexa Ranks Leasing News #1
This is "free" to those looking for a job. We have many testimonials of helping people to find work, or improve their position. The purpose is to show basic information in 25 words or less. You may add a picture of yourself and/or a resume. You can e-mail the picture or resume, or send to us by mail: 18736 Montewood Dr. Saratoga, CA. 95070 and we will add to your ad.
We will keep the ad in as long as you like. About every 45 days we will confirm you want the ad in place. We do recommend changing the wording every 45 days, especially if you are not getting many calls.
job position (see list)
city, state
25 words maximum copy
e-mail address
If resume or photograph, it will follow your ad.
If you are an employer who wants to advertise to hire an employee, please click "Post" Help Wanted or our newsletter Display/Banner ad. Posting an ad here is "free" to those looking for a job. We do get results.
The purpose is to show basic information and allow a prospective employer to contact you by e-mail and then talk on the telephone, sending a resume last or filling out a formal employer job application. Resume's are often like tombstones, whereas if you can each communicate, they may be more of a chance at success for both parties.
Please send us an email to kitmenkin@leasingnews.org to post your ad.
We will include a photograph of yourself and/or the URL address to your "blog" or website for free.

If you cannot send via e-mail, then send by mail to Leasing News, 18736 Montewood Drive, Saratoga, CA 95070 and we will return it.
--------------------------------------------------------------

--------------------------------------------------------------

Fernando's View
By Fernando F. Croce
In Theaters: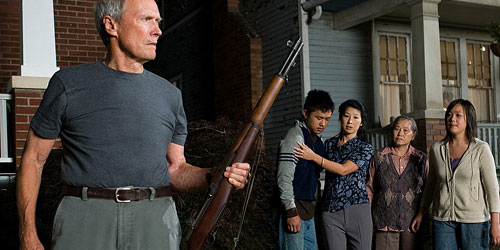 Gran Torino (Warner Bros.): After striking out earlier this year with the disappointing "Changeling," Clint Eastwood hits it out of the ballpark with this barbed, rousing tale about despair and redemption. Eastwood directs the film and also stars as Walt Kowalski, a retired, recently widowed man living in the suburbs of Detroit. Though wanting nothing more than being left alone, he is gradually brought out of his shell by interacting with his immigrant neighbors, whose young son sees him as a father figure. But where will Walt stand when local gangs get involved? Often uproarious, at times disturbing and ultimately moving, the film stands tall as an analysis of undying prejudices and as a monument to the integrity that's made Eastwood an icon for so long.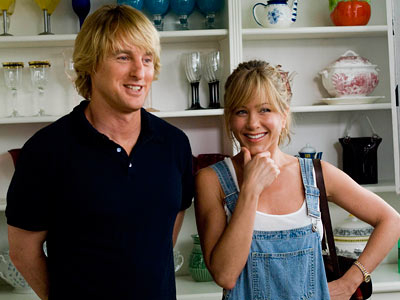 Marley & Me (20th-Century Fox): Funny and sweet, this adaptation of the memoir by newspaper columnist John Grogan in its own modest way gets romantic comedy just right. Owen Wilson, smoother and more assured than he's been in a while, plays Grogan and Jennifer Aniston plays his wife Jennifer. The two have the easy rapport of a pair of experienced sharpshooters, but the real movie-stealer is Marley, a yellow Labrador retriever that's called "the world's worst dog." The unexpected beauty of the film lies in the way it illustrates the joys and disappointments of marriage as the couple ages with their pooch. A prime choice for romantics, and a must for dog lovers.
New on DVD: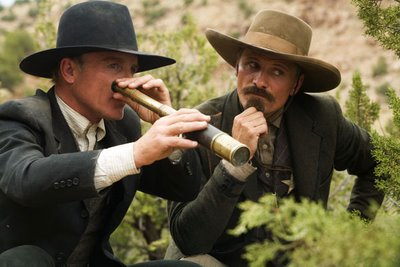 Appaloosa (New Line): Western fans complaining about the lack of modern Westerns should check out this frontier adventure, directed by and starring Ed Harris. Based on a Robert B. Parker novel, the film follows a pair of no-nonsense lawmen, Marshal Cole (Harris) and his loyal deputy Everett (Viggo Mortensen), as they are hired to clean up the brutal New Mexico town of Appaloosa in 1882. Their friendship is put to the test with the arrival of wicked cattle baron Bragg (Jeremy Irons) and Alison (Renee Zellweger), a city woman who takes an interest in them. Though not lacking shootouts and horse chases, this leisurely paced oater is at its best in the dryly humorous scenes between Harris and Mortensen.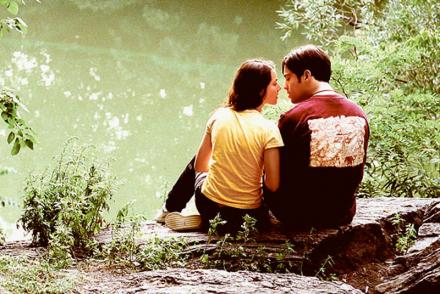 The Wackness (Sony Pictures): Coming-of-age stories may be a dime a dozen, but Jonathan Levine's comedy-drama manages to evoke nostalgia without cheapening it. Set in the summer of 1994, the story follows Luke Shapiro (Josh Peck), a New York high school graduate who copes with his troubled home life by attending sessions with Dr. Squires (Ben Kingsley), a very unconventional psychotherapist. Levine gets the details of the era just right, from the video games to the slang, but his real focus is in the mixed emotions of a teen caught between depression and the first pangs of love. The talented Peck holds his own with a terrifically loose Kingsley, and there's strong support from Olivia Thirlby as the doctor's flirtatious stepdaughter.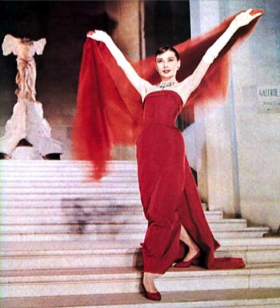 Funny Face (Paramount): A blast from the past getting the deluxe DVD treatment, Stanley Donen's great 1957 musical sparkles brighter than ever. Using as its foundation the contrast between fashion-world designers and Greenwich Village bohemians, the story focuses on the unlikely romance that blossoms between fashion photographer Dick Avery (Fred Astaire) and intellectual bookstore owner Jo Stockton (Audrey Hepburn). She becomes his latest model, but will their budding love survive their whirlwind tour of shows in Paris? Donen may be best remembered for "Singin' in the Rain," but this musical is just as witty and graceful as that classic, with a knockout Gershwin score that includes "How Long Has This Been Going On," "'S Wonderful" and the title song.
--------------------------------------------------------------

Federal Reserve Beige Report

Banking and Finance
Most Districts that reported on lending activity indicated that it continued to decline or remained weak, and many Districts reported that credit conditions remained tight or tightened further. Overall lending activity was reported to have slowed or declined in New York, St. Louis, Kansas City, and Dallas; it remained soft or weak in the Chicago and San Francisco Districts.
Manufacturing activity continued to fall in most Districts since the previous report, with declines reported across a wide range of industries. Cleveland noted a slump in steel shipping and Chicago noted that domestic steel production slowed. Dallas and Philadelphia indicated that industries related to construction experienced large drops in orders, and Richmond noted that import activity for construction and household products remains notably low. San Francisco reported that activity for producers of wood products remains depressed. Kansas City, St. Louis, Cleveland, and Dallas noted decreases in auto and auto-related manufacturing activity. Cleveland, Dallas, and San Francisco reported that capacity utilization was below normal levels or declined. Boston, Philadelphia, Cleveland, Minneapolis, Chicago, and Kansas City mentioned reductions in capital spending or plans to reduce capital spending in 2009. In contrast, firms in defense and medical-device production in the Minneapolis District reported increased activity, and San Francisco noted that aerospace manufacturing continued at a high level. Food manufacturing and processing remained active in the Philadelphia and Dallas Districts and solid in the San Francisco District.
Boston
www.federalreserve.gov/FOMC/BeigeBook/2009/20090114/1.htm
New York
www.federalreserve.gov/FOMC/BeigeBook/2009/20090114/2.htm
Philadelphia
www.federalreserve.gov/FOMC/BeigeBook/2009/20090114/3.htm
Cleveland
www.federalreserve.gov/FOMC/BeigeBook/2009/20090114/4.htm
Richmond
www.federalreserve.gov/FOMC/BeigeBook/2009/20090114/5.htm
Atlanta
www.federalreserve.gov/FOMC/BeigeBook/2009/20090114/6.htm
Chicago
www.federalreserve.gov/FOMC/BeigeBook/2009/20090114/7.htm
St. Louis
www.federalreserve.gov/FOMC/BeigeBook/2009/20090114/8.htm
Minneapolis
www.federalreserve.gov/FOMC/BeigeBook/2009/20090114/9.htm
Kansas City
www.federalreserve.gov/FOMC/BeigeBook/2009/20090114/10.htm
Dallas
www.federalreserve.gov/FOMC/BeigeBook/2009/20090114/11.htm
San Francisco
www.federalreserve.gov/FOMC/BeigeBook/2009/20090114/12.htm
Full Report:
http://www.federalreserve.gov/FOMC/BeigeBook/2009/20090114/FullReport.htm
(This ad is a "trade" for the writing of this column. Opinions
contained in the column are those of Mr. Terry Winders, CLP)
--------------------------------------------------------------

News Briefs----
Fed Sees Sharp Decline in Commercial Paper
http://www.cfo.com/article.cfm/12958026?f=alerts
Bank of America getting extra $20B in bailout funds
http://www.usatoday.com/money/industries/banking/2009-01-16-bank-of-america-20-billion_N.htm
Mortgage rates fall to 38-year low
http://www.upi.com/Business_News/2009/01/15/Mortgage_rates_fall_to_38-year_low
/UPI-54821232053433/
Foreclosure filings soared 81 percent last year
http://www.chicagotribune.com/business/sns-ap-foreclosure-rates,0,6229726.story
Alpharetta company charged in $25M Ponzi scheme
http://www.ajc.com/business/content/business/stories/2009/01/15/georgia_ponzi_scheme.html
Star Tribune files Chapter 11 petition
http://www.upi.com/Business_News/2009/01/16/Star_Tribune_files_Chapter_11_petition
/UPI-19511232085396/
CDW to cut 190 in company's first layoffs
http://www.chicagotribune.com/business/chi-biz-cdw-lays-off-150-jan15,0,6108761.story
Danville pilot saved Hudson River victims
http://www.contracostatimes.com/ci_11464030
---------------------------------------------------------------


You May have Missed---
Presidential Inaugural Website
http://www.pic2009.org/content/home/
(list of donors also available by state,city, name)
http://www.sacbee.com/1098/story/1545211.html
----------------------------------------------------------------

Top Stories
These are the ten top stories chosen by readers as being the most read from the previous week:
http://www.leasingnews.org/archives/January%202009/01-12-09.htm#top10
Top Stories Archive:
http://www.leasingnews.org/Conscious-Top%20Stories/Ten_top_stories.htm
----------------------------------------------------------------


California Nuts Briefs---
California could run out of cash by Feb. 1, analysts say
http://www.sacbee.com/capitolandcalifornia/story/1543460.html
----------------------------------------------------------------


"Gimme that Wine"
Top Napa women winemakers visit Bordeaux
http://www.decanter.com/news/275172.html
Calif. Vineyards could suffer from low rainfall, high temps
http://www.pressdemocrat.com/article/20090114/NEWS/901140198/1349?Title=Dry_days
_deepen_worries_in_farms__vineyards
Very much recommend 2006 Toulouse Pinot Noir
http://www.mendocino.com/?id=3406
Wine Prices by vintage
http://www.winezap.com
http://www.wine-searcher.com/
US/International Wine Events
http://www.localwineevents.com/
Winery Atlas
http://www.carterhouse.com/atlas
Leasing News Wine & Spirits Page
http://two.leasingnews.org/Recommendations/wnensprts.htm
The London International Vintners Exchange (Liv-ex) is an electronic exchange for fine wine.
http://www.liv-ex.com/
----------------------------------------------------------------

Today's Top Event in History
1938- The first jazz concert at Carnegie Hall in New York City: Benny Goodman Band appeared and this concern recording became an overnight sensation, especially "Sing, Sing, Sing" featuring handsome drummer Gene Krupa (his birthday was yesterday). He originally refused to play because they would not let his "black" musician perform.
[headlines]
----------------------------------------------------------------

This Day in American History
1776 -- Continental Congress approves General George Washington's order to enlist free Negroes.
http://courant.ctnow.com/projects/bhistory/arabusa.htm
http://www.free-essays-free-essays.com/dbase/7c/svn25.shtml
http://www.blackcommentator.org/washingtons_slaves.html
http://www.digitalessays.com/history/195.shtml
1786- The Virginia Legislature adopted the Ordinance of Religious Freedom, which guaranteed that no man would be forced to attend or support any church. This mandate later became the model for the First Amendment to the U.S. Constitution
1843- Sara Rosetta Wakeman birthday, aka Lyons/Edwin Wakeman died while with the 153rd NYSV, Co. G&H, as a regular soldier in the Civil War. Her letters, a photo in uniform identifying her, and some personal belongings were found in a trunk in the family attic almost 100 years after her death.

Her war record was found under the name of Lyons Wakeman. Her last letter was from Brandycore Landing, Louisiana, "Made advance up the river about 40 miles to Pleasant Hill - had a fight. Retreated 10 miles, next day the fight resumed at 8." While on guard duty at Cairo Prison in 1863 she had written of a female Union prisoner who had gone into battle as a Major leading her men. The ring she wore, which was inscribed "Rosetta Wakeman, NY Vol. Co. H, 153rd," was sent home after her death in the Marine U.S. Army General Hospital in New Orleans. She had been hospitalized for chronic diarrhea, a major killer of soldiers during the Civil War. She is buried in grave #4066, Section 52, of what is now the Chalmette National Cemetery, Chalmette, LA.
http://search.barnesandnoble.com/BookSearch/results.asp?sourceid=000014
68617162357229&bfdate=01-16-2004+04:04:19&title=+An+Uncommon
+Soldier&match=exact&options=and
1847- Fremont appointed Governor of California. A leader in the successful fight to wrest California away from Mexico, the explorer and mapmaker John C. Fremont briefly becomes governor of the newly won American territory. Still only in his early mid-30s at the time, Fremont had already won national acclaim for his leadership of two important explorations of the West with the military's Corps of Topographical Engineers. Shortly after the government published Fremont's meticulously accurate maps of the Far West, they became indispensable guides for the growing numbers of overland emigrants heading for California and Oregon. In 1845, though, the lines between military exploration and military conquest began to blur when President James Polk sent Captain Fremont and his men on a third "scientific" mission to explore the Rockies and Sierra Nevada-with 60 armed men accompanying them. Polk's ambition to take California from Mexico was no secret, and Fremont's expedition was clearly designed to place a military force near the region in case of war. When Mexico and the U.S. declared war in May 1846, Fremont and his men were in Oregon. Upon hearing the news, Fremont immediately headed south, calling his return "the first step in the conquest of California." When the Anglo-American population of California learned of Fremont's arrival, many of them began to rebel against their Mexican leaders. In June, a small band of American settlers seized Sonoma and raised a flag with a bear facing a five-pointed star-with this act, the revolutionaries declared the independent Republic of California. The Bear Flag Republic was short-lived. In August, Fremont and General Robert Stockton occupied Los Angeles. By January 1847, they had put down the small number of Californians determined to maintain a nation independent of the United States. With California now clearly in the U.S. hands, Stockton agreed to appoint Fremont as the territorial governor. However, a dispute broke out within the army over the legitimacy of Fremont's appointment, and the young captain's detractors accused him of mutiny, disobedience, and conduct prejudicial to military discipline. Recalled to Washington for a court martial, Fremont was found guilty of all three charges, and his appointment to take the position of governor was revoked. Though President Polk pardoned him and ordered him back to active duty in the army, Fremont was deeply embittered, and he resigned from the military and returned to California a private citizen. Although he never regained the governorship of California, the turmoil of Fremont's early political career did not harm his future prospects. In 1851, citizens of California elected him a senator, and became the territorial governor of Arizona in 1878. Today, however, Fremont's youthful accomplishments as an explorer and mapmaker are more celebrated than his subsequent political career.
1861-The Crittenden Compromise, the last chance to keep North and South together, dies in the U.S. Senate. Proposed by Senator John J. Crittenden of Kentucky, the compromise was a series of constitutional amendments. The amendments would continue the old Missouri Compromise provisions of 1820, which divided the west along the latitude of 36º 30". North of this line, slavery was prohibited. The Missouri Compromise was negated by the Compromise of 1850, which allowed a vote by territorial residents (popular sovereignty) to decide the issue of slavery. Other amendments protected slavery in the District of Columbia, forbade federal interference with the interstate slave trade, and compensated owners whose slaves escaped to the free states. Essentially, the Crittenden Compromise sought to alleviate all concerns of the southern states. Four states had already left the Union when it was proposed, but Crittenden hoped the compromise would lure them back. Crittenden thought he could muster support from both South and North and avert either a split of the nation or a civil war. The major problem with the plan was that it called for a complete compromise by the Republicans with virtually no concession on the part of the South. The Republican Party formed in 1854 solely for the purpose of opposing the expansion of slavery into the western territories, particularly the areas north of the Missouri Compromise line. Just six years later, the party elected a president, Abraham Lincoln, over the complete opposition of the slave states. Crittenden was asking the Republicans to abandon their most key issues. The vote was 25 against the compromise and 23 in favor of it. All 25 votes against it were cast by Republicans, and six senators from states that were in the process of seceding abstained. One Republican editorial insisted that the party "cannot be made to surrender the fruits of its recent victory." There would be no compromise; with the secession of states continuing the country marched inexorably towards civil war.
1866- Everett Barney of Springfield, MA, obtained a patent covering his invention of a screw-clamp skate. He marketed the first all-metal roller skate and the country took storm over this new sport.
1871-Jefferson Franklin Long takes oath of office as first Black Congressman from Georgia.
http://bioguide.congress.gov/scripts/biodisplay.pl?index=L000419
1874- poet William Service Birthday
http://www.ude.net/service/index.html
1883-- the U.S. Congress passed a bill creating the Civil Service, in an attempt to end political patronage in the Federal government.
1884-Birthday of publisher Irving Mills, New York City, NY
http://www.redhotjazz.com/irvingmills.html
1893 -- Hawaii: Queen Lilluokalani's regime is overthrown by US pineapple tycoon Sanford Dole & pro-annexation sugar interests. With an amazing sense of timing, US troops just happen to land, "to protect US interests." With support from Beloved & Respected Comrade Leader US Minister John Stevens, Beloved & Respected Comrade Dole declares himself Hawaii's president & lobbies for US annexation. It's manifestly in the can. The Senate Foreign-Relations Committee recommends annexation, declaring it (quote) "a duty that has its origin in the noblest sentiments that inspire the love of a father for his children ." In 1898, President William McKinley signs a joint resolution of Congress authorizing the annexation.
http://www.milimili.com/hawaii/aliis.htm
See John L. Stevens bio: http://www.rootsweb.com/~mecreadf/mtvnotab.htm
http://www.uic.edu/depts/owa/history/liliuokalani.html
1909- Ethel Merman (Ethel Zimmerman) birthday, one of the great American entertainers, whose 29-year Broadway and screen career went from hit to hit, starting with Girl Crazy (1930) and going on to Gypsy (1959) with a stop in 1951 to win the Tony for her work in Call Me Madame. She is probably best known for the show-stopping "There's No Business Like Show Business" from the 1954 show of the same name. EM was awarded the 1972 Tony for her overall distinguished work on behalf of the Broadway theatre. Brassy, exuberant, and energetic, her strong song styling was once described as having "a trumpet in her throat." Won the New York critics award three times.
http://www.musicals101.com/mermbio.htm
http://us.imdb.com/name/nm0581062/
1911- Jay Hanna "Dizzy" Dean, Baseball Hall of Fame pitcher, born at Lucas, AR. Following his baseball career, Dean established himself as a radio and TV sports announcer and commentator, becoming famous for his innovative delivery. "He slud into third, "reported Dizzy, who on another occasion explained that "Me and Paul (baseball player brother Paul "Daffy" Dean)...didn't get much education." Died at Reno, NV, July 17,1974.
1919- Nebraska became the 36th state to ratify the prohibition amendment and the 18th Amendment became part of the US Constitution. One year later, Jan 16,1920, the 18th Amendment took effect and the sale of alcoholic beverages became illegal in the US with the Volstead Act providing for enforcement. This was the first time that an amendment to the Constitution dealt with a social issue. The 21st Amendment, repealing the 18th, went into effect Dec 6,1933.
1920-Zeta Phi Beta founded at Howard University.
http://www.cbu.edu/Clubs/pbs/zpb.html
http://www.zphib1920.org/
1928—Singer 1928 Eartha Kitt Birthday
http://www.bettemidleraloha.com/eartha.htm
1932- Diane Fossey born San Francisco, California, American zoologist became the world's leading authority on the mountain gorillas of Africa. Founded the Karisoke Research Centre for the study of gorillas. Wrote the noted study, Gorillas in the Mist which was made into a Hollywood movie. She was murdered in 1985 evidentally for her conservation measures on behalf of the gorillas.
http://www.gorillafund.org/008_df_frmset.html
1933- Susan Sontag born New York City, American writer, critic, and novelist known for her reflections on modern culture. She draws amazing parallels between Nazi terrorism and the swing to the philosophical right in American culture. In her critical essays, she has disagreed with many of the simplistic outlooks on life by the leaders of many modern American movements including feminism.
http://www.susansontag.com/biography.htm
1935- A.J. Foyt, former auto racer, born Houston, TX.
http://www.formulaone.free-online.co.uk/index.html
http://www.foytracing.com/
1937-Brithday of Bob Bogle, bass guitarist and founding member of the Ventures, born in Portland, Oregon. The Ventures proved to be one of the most popular and influential guitar-based instrumental groups in rock history. Bogle and rhythm guitarist Don Wilson formed the band in the Seattle area in 1959, and by the time they began recording later that year, Nokie Edwards had joined as lead guitarist. Their breakthrough came in 1960 with "Walk Don't Run," an adaptation of a tune by jazz guitarist Johnny Smith. It became their biggest hit, reaching number-two on the Billboard chart. The Ventures hit the Top Five again in 1969 with the TV theme "Hawaii Five-O." Although the group's popularity had waned in North America by 1970, they remained huge stars in Japan.
1938- the first jazz concert at Carnegie Hall in New York City: Benny Goodman Band appeared and this concern recording became an overnight sensation, especially "Sing, Sing, Sing" featuring handsome drummer Gene Krupa ( his birthday was yesterday ). He originally refused to play because they would not let his "black" musician perform.
1941- Cab Calloway features bassist Milt Hinton on "Ebony Silhouette," Okey 6192
1942 - For Columbia Records, Kay Kyser and the band recorded "A Zoot Suit", about the problems associated with wearing the garish, fashion.
http://www.artistdirect.com/store/artist/album/0,,949578,00.html
http://www.ibiblio.org/kaykyser/music/
http://www.zootsuitstore.com/Shopping/Catalog/product_detail.asp?Produ
ctCode=HWBD2003
http://www.elpachuco.com/remotemenu.html
1942 -- Carole Lombard, her mother, and 20 others killed in plane crash. Lombard, married to actor Clark Cable, died in a plane crash while on a war-bond drive.
http://en2.wikipedia.org/wiki/Carole_Lombard
http://www.obituary.com/lombardcarole.html
1942--CALUGAS, JOSE Medal of Honor
Rank and organization: Sergeant, U.S. Army, Battery B, 88th Field Artillery, Philippine Scouts. Place and date: At Culis, Bataan Province, Philippine Islands, 16 January 1942. Entered service at: Fort Stotsenburg, Philippine Islands. Born: 29 December 1907, Barrio Tagsing, Leon, Ploilo, Philippine Islands. G.O. No.: 10, 24 February 1942. Citation: The action for which the award was made took place near Culis, Bataan Province, Philippine Islands, on 16 January 1942. A battery gun position was bombed and shelled by the enemy until 1 gun was put out of commission and all the cannoneers were killed or wounded. Sgt. Calugas, a mess sergeant of another battery, voluntarily and without orders ran 1,000 yards across the shell-swept area to the gun position. There he organized a volunteer squad which placed the gun back in commission and fired effectively against the enemy, although the position remained under constant and heavy Japanese artillery fire.
1944—Top Hits
My Heart Tells Me - The Glen Gray Orchestra (vocal: Eugenie Baird)
Shoo, Shoo, Baby - The Andrews Sisters
Paper Doll - The Mills Brothers
Pistol Packin' Mama - Bing Crosby & The Andrews Sisters
1944- General Dwight D. Eisenhower arrived in London to assume command of the Supreme Headquarters Allied Expeditionary Forces in Europe (SHAEF). Having demonstrated his organizational abilities in North Africa as well as his strength as an arbitrator of inter-Allied rivalries, Eisenhower was charged with the most far-reaching push of the war--the invasion of France.
1952—Top Hits
Slowpoke - Pee Wee King
Sin (It's No) - Eddy Howard
Undecided - The Ames Brothers
Let Old Mother Nature Have Her Way - Carl Smith
1958- pianist Ahmad Jamal records "Poinciana" at Pershing Lounge, Chicago ( Argo 628)
1960—Top Hits
Why - Frankie Avalon
Running Bear - Johnny Preston
Way Down Yonder in New Orleans - Freddie Cannon
El Paso - Marty Robbins
1961 - Mickey Mantle signed the contract that made him the American League's highest paid baseball player. "The Mick" played the 1961 season for $75,000. In the National League, Willie Mays, made more money than any other baseball player with a contract for $85,000.
1964 - In New York City, "Hello Dolly!" starring Carol Channing opened at the St. James Theatre. A musical adaptation of Thornton Wilder's play, "The Matchmaker", the show, was called the "possible hit of the season" by critics. "Hello Dolly!" played for 2,844 performances, before returning to in the 1990s with, again star, Carol Channing.
http://memory.loc.gov/ammem/today/jan16.html
1965- Elmer Valentine, Los Angeles, California opened the Whiskey a-Go-Go, the first discotheque, where the music is provided by a disk jockey playing recordings not by a live band. Valentine borrowed the discotheque concept from a club in Paris, which was also called the Whiskey a-Go-Go. For a time, "disco" and "go-go" were synonymous: Go-go clubs featured scantily clad women dancing in cages to tunes pumped from a jukebox. Discos emerged in larger cities, with disc jockeys pulling music from albums, particularly those recorded by black musicians like Sly and the Family Stone, James Brown, KC and the Sunshine Band, and Donna Summer. The clubs were especially popular among the gay male and urban black subcultures. Cheaper than live-music clubs, discos also became popular with lower-income young people. The underground disco subculture turned into a national sensation when the film Saturday Night Fever was released in 1977. John Travolta starred as Tony Manero, a young man from Brooklyn who dreamed of becoming a professional dancer and danced away his cares at Disco 2001. The movie's soundtrack, featuring the chart-topping songs "Stayin' Alive" and "Disco Inferno," sold 20 million copies and urged its spandex- and lamé-clad fans onto the dance floor. Older music, even Beethoven's, gained a fresh popularity when remixed into disco tunes. Even mainstream pop artists, including the Rolling Stones, tried their hand at disco. But the fad didn't last long; in 1979, disco died almost overnight. Disco albums were returned to producers by the truckload as New Wave took over in popularity. But disco's basic structure set the stage for the evolution of rap, hip-hop, and techno music.
1966-Joan Baez is jailed for 10 days for Vietnam antiwar protest during a demonstration, Oakland, California.
1967-Lucius D. Amerson sworn in as first Black sheriff of the South since Reconstruction, in Macon County, AL. The county seat of Macon County, Alabama, is Tuskegee. The county population on July 1, 1999, was 22,993, a decrease of 1,935 over the 1990 census.
1968—Top Hits
Hello Goodbye - The Beatles
Judy in Disguise (With Glasses) - John Fred & His Playboy Band
Woman, Woman - The Union Gap
For Loving You - Bill Anderson & Jan Howard
1972- The Dallas Cowboys won the first Super Bowl in their history by defeating the Miami Dolphins, 24-3, in Super Bowl VI. Dallas was led by quarterback Roger Staubach, named the game's Most Valuable Player.
1973-Long-running western series Bonanza is finally cancelled after 14 seasons. The show, which debuted in 1959, was the first western to be televised in color. Throughout the 1960s, the show, which featured the adventures of the Cartwright family on their ranch, the Ponderosa, was one of the most highly rated programs on television. My father Lawrence Menkin wrote several of the early episodes. Its trademark theme song rose to No. 19 on Billboard's Top Singles chart in 1961
1974-Muhammad Ali, boxing champion, named the Associated Press Athlete of the Year.
http://www.chs.helena.k12.mt.us/faculty/hhillZ/web00/webper1/pmarshall1.htm
http://www.boxing-memorabilia.com/muhammad%20ali%20biography.htm
1976- "Donny and Marie" premiered on TV. ABC show hosted by brother-and-sister act Donny and Marie Osmond. There were seven other talented siblings in the Osmond family who appeared on the show at times along with regulars Jim Connell and Hank Garcia. The sister-and-brother team could sing, dance and perform on ice skates.
1976—Top Hits
I Write the Songs - Barry Manilow (written by my high school friend Bruce Johnson) Theme from Mahogany (Do You Know Where You're Going To) - Diana Ross
Fox on the Run - Sweet
Convoy - C.W. McCall
1984 - At the 11th annual American Music Awards, Michael Jackson received eight awards, including favorite pop and soul male vocalist, pop and soul album winner for "Thriller", pop and soul video winner for "Beat It" and best pop song for "Billie Jean".
1984—Top Hits
Say Say Say - Paul McCartney & Michael Jackson
Owner of a Lonely Heart - Yes
Karma Chameleon - Culture Club
Slow Burn - T.G. Sheppard
1985 - Hugh Hefner took the staples out of "Playboy" magazine, ending its 30-year tradition of stapling centerfold models in the bellybutton. The decision made the centerfold more difficult to remove it.
1988- Jimmy "The Greek" Snyder, a pro football gabling expert employed by CBS, was fired by the network because of a racially insensitive remarks he made the previous day on Martin Luther King, Jr. birthday during an interview with WRC-TV in Washington, DC.
1991-Allied forces launched a major air offensive against Iraq to begin the Gulf War. The strike was designed to destroy Iraqi air defenses, command, control and communication centers. As Desert Shield became Desert Storm, the world was able to see and hear for the first time an initial engagement of war as CNN broadcasters, stationed at Baghdad, broadcasted the attack live. A little know historic fact, the launched was predicted by pizza orders. At 5am that morning, the Domino's Pizza fast-food chain put out a warning to its franchises that war was likely later that day, based on the record order of pizza the previous night from the Pentagon. The Pentagon is the headquarters o the Department of Defense in Washington, DC, and as reported yesterday, is the world's largest office building.
1996 -- Jamaica: Authorities open fire on Jimmy Buffett's seaplane, mistaking it for a drug trafficker's plane. U2 singer Bono was with Buffett, but neither was hurt
1996--- Wayne Newton performs his 25,000th show in Las Vegas.
1997 - Comedian/actor Bill Cosby's only son was shot to death, the victim of a possible robbery attempt while changing a flat tire on his Mercedes convertible along a freeway, police said. The body of Ennis William Cosby, age 27, was found about 1:45 a.m. in a pool of blood next to the car of a woman passer-by. The murder occurred in a well-to-do area near the Santa Monica Mountains not far from the exclusive Bel-Air section of Los Angeles. The Columbia University graduate student was the son of one of the world's richest entertainers, a man for whom fatherhood was the source of much of his humor
1997-Microsoft launched Office 97. It became a best-selling suite of word processing, spreadsheet, database, graphics, and other applications, rapidly become the leading office software suite, holding more than eighty percent of the market. In what is perhaps the only remaining vestige of Microsoft Bob, the company's cutesy animated interface introduced in 1995, Office 97 included animated characters like a talking paperclip and a tiny Einstein to coach users through their computer tasks.

Super bowl Champions This Date

1972 Dallas Cowboys
--------------------------------------------------------------

SuDoku
The object is to insert the numbers in the boxes to satisfy only one condition: each row, column and 3x3 box must contain the digits 1 through 9 exactly once. What could be simpler?
http://leasingnews.org/Soduku/soduko-main.htm
--------------------------------------------------------------

Daily Puzzle
How to play:
http://www.setgame.com/set/puzzle_frame.htm
Refresh for current date:
http://www.setgame.com/set/puzzle_frame.htm
--------------------------------------------------------------


http://www.gasbuddy.com/
http://www.gasbuddy.com/GB_Map_Gas_Prices.aspx
http://www.gasbuddy.com/GB_Mobile_Instructions.aspx
--------------------------------------------------------------

Weather
See USA map, click to specific area, no commercials
--------------------------------------------------------------

Traffic Live---
Real Time Traffic Information
You can save up to 20 different routes and check them out with one click,
or type in a new route to learn the traffic live.
--------------------------------