Friday, July 19, 2019


Today's Leasing News Headlines
ELFF Reports Confidence Up in July
Increase of to 57.9 from June Index of 52.8
New Hires/Promotions in the Leasing Business
and Related Industries
Leasing Industry Ads---Help Wanted
$10,000 Starting Bonus for Experienced Sales Professional
The Basics of Online Advertising
FinTech #102 by Alex Vasilakos
U.S. Venture Capital Funding Reaches Dot-Com Era Level
By Felix Richter, Statista
July 2019 Fed Beige Report
"Modest Pace Overall"
Sword of Trust/Crawl/High Life
3 Faces/One Sings, the Other Doesn't
Film/Digital Reviews by Leasing News Fernando Croce
Bassett Hound
Gig Harbor, Washington Adopt a Dog
Financing Cannabis Funding Sources
Many Work with Third Party Originators
Cannabis Summit & Expo
July 22- July 25 San Jose, California
News Briefs---
Boeing 737 Max Troubles Add Up: $8 Billion and Counting
This is going to be a real mess for another year or even two
FASB to propose delaying effective dates for 4 major standards
Lease Accounting/Credit losses/Derivatives/Hedging/Insurance
Worst Car Brands Of 2019
Ten Vehicles
Microsoft Reports Hundreds of Election-Related Cyber Probes
All subscribe to Microsoft's year-old AccountGuard service
Minorities in Franchising - What this means to franchising
is that minorities have arrived, are here to stay
Broker/Funder/Industry Lists | Features (wrilter's columns)
Top Ten Stories Chosen by Readers | Top Stories last six months
www.leasingcomplaints.com (Be Careful of Doing Business)
www.evergreenleasingnews.org
Leasing News Icon for Android Mobile Device

You May have Missed---
Poem
Sports Brief----
California Nuts Brief---
"Gimme that Wine"
This Day in History
SuDoku
Daily Puzzle
GasBuddy
Weather, USA or specific area
Traffic Live----
######## surrounding the article denotes it is a "press release," it was not written by Leasing News nor has the information been verified. The source noted. When an article is signed by the writer, it is considered a "byline." It reflects the opinion and research of the writer.


Please send a colleague and ask them to subscribe. We are free
Email kitmenkin@leasingnews.org and in subject line: subscribe


[headlines]
--------------------------------------------------------------
ELFF Reports Confidence Up in July
Increase of to 57.9 from June Index of 52.8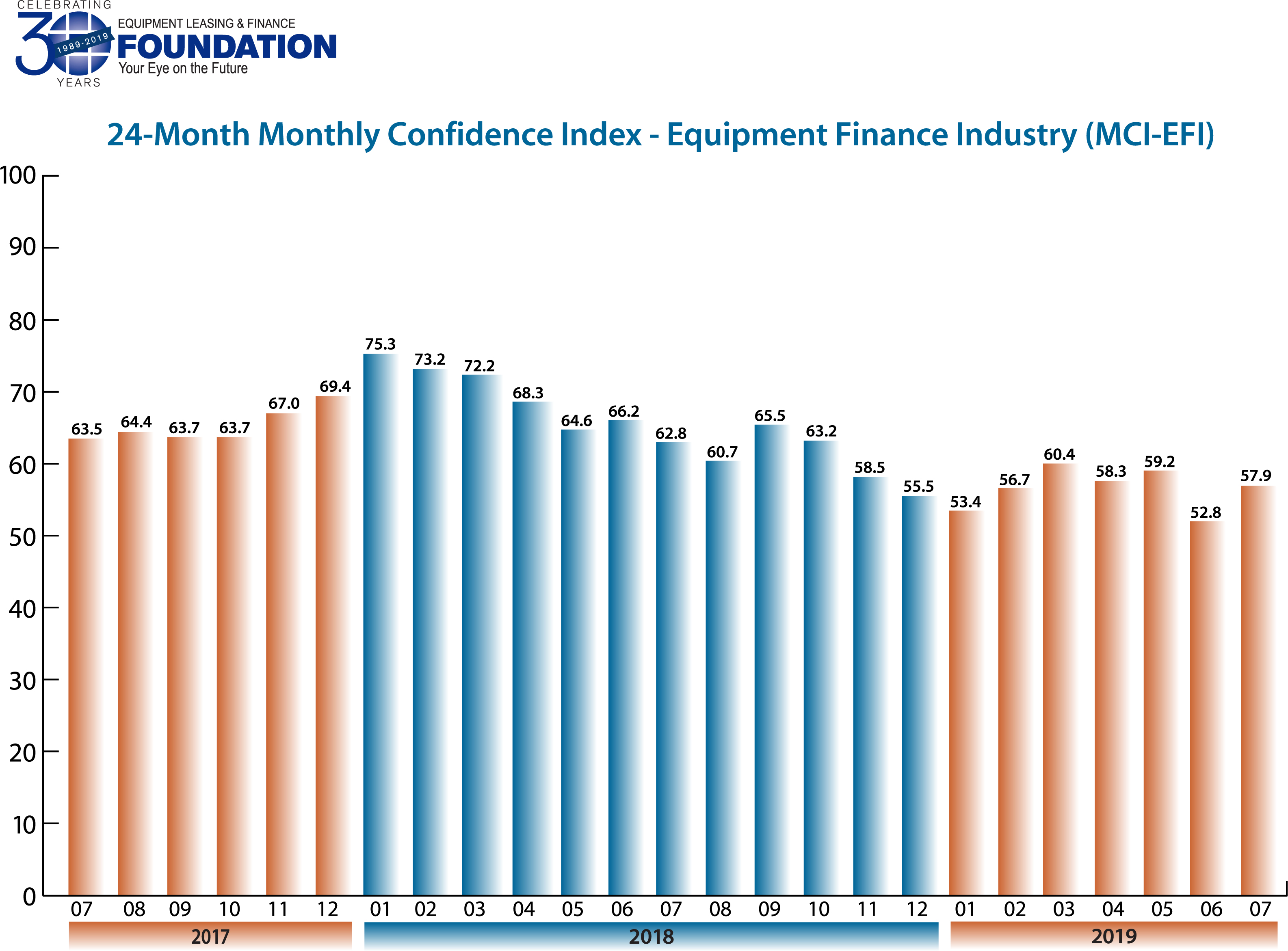 The Equipment Leasing & Finance Foundation (the Foundation) releases the July 2019 Monthly Confidence Index for the Equipment Finance Industry (MCI-EFI) today. Designed to collect leadership data, the index reports a qualitative assessment of both the prevailing business conditions and expectations for the future as reported by key executives from the $1 trillion equipment finance sector. Overall, confidence in the equipment finance market was 57.9, an increase from the June index of 52.8.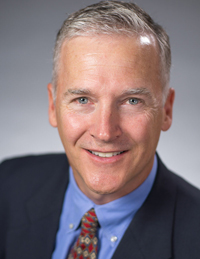 Quentin Cote, CLFP, President, Mintaka Financial, LLC: "I'm optimistic because low unemployment should be leading to increased wages and consumer spending, which should continue to drive the economy. I'm concerned about delayed impacts of trade wars negatively affecting product prices and stanching demand for capital and consumer goods."

Valerie Hayes Jester, President, Brandywine Capital Associates: "Demand is stable but the types of transactions we are seeing are not for business expansions; they are more replacement equipment deals. The mood I sense is a concern that the economy may be at its peak and a decline may commence in the second half of this year. This type of sentiment usually means a weakening in demand for finance."

David Normandin, CLFP, President and CEO, Wintrust Specialty Finance: "The metrics remain solid for the U.S. economy and specifically small business lending. Our application volume continues to grow and conversion rates are strong. The inherent risk in the portfolio continues to be good and performance continues as it has been, with extremely low defaults. My concerns continue to be overly aggressive credit quality and pricing in the overall market. These historically are the indicators of challenges to come, and therefore we remain focused on these metrics in our business."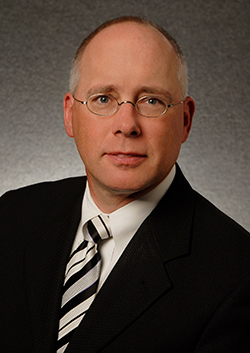 Michael Romanowski, President, Farm Credit Leasing: "Our customers continue to be challenged by low commodity prices and uncertainty over tariffs. This is impacting decisions regarding large capital investments, which is muting our growth opportunities."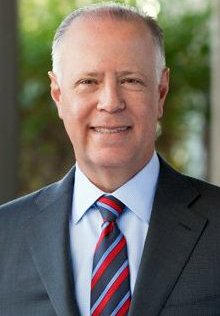 Adam Warner, President, Key Equipment Finance: "Easing of trade tensions with Mexico and China should continue to boost confidence."
When asked to assess their business conditions over the next four months, 10% of executives responding said they believe business conditions will improve over the next four months, up from 3.3% in June. 83.3% of respondents believe business conditions will remain the same over the next four months, an increase from 80% the previous month. 6.7% believe business conditions will worsen, a decrease from 16.7% in June.
10% of the survey respondents believe demand for leases and loans to fund capital expenditures (capex) will increase over the next four months, an increase from none who believed so in June. 86.7% believe demand will "remain the same" during the same four-month time period, an increase from 83.3% the previous month. 3.3% believe demand will decline, down from 16.7% who believed so in June.
10% of the respondents expect more access to capital to fund equipment acquisitions over the next four months, down from 13.3% in June. 90% of executives indicate they expect the "same" access to capital to fund business, an increase from 86.7% last month. None expect "less" access to capital, unchanged from last month.
When asked, 33.3% of the executives report they expect to hire more employees over the next four months, an increase from 30% in June. 63.3% expect no change in headcount over the next four months, unchanged from last month. 3.3% expect to hire fewer employees, down from 6.7% last month.
41.4% of the leadership evaluate the current U.S. economy as "excellent," up from 40% in June. 58.6% of the leadership evaluate the current U.S. economy as "fair," an increase from 56.7% the previous month. None evaluate it as "poor," down from 3.3% in June.
6.7% of the survey respondents believe that U.S. economic conditions will get "better" over the next six months, up from 3.3% in June. 80% of survey respondents indicate they believe the U.S. economy will "stay the same" over the next six months, an increase from 70% the previous month. 13.3% believe economic conditions in the U.S. will worsen over the next six months, a decrease from 26.7% in June.
In July, 30% of respondents indicate they believe their company will increase spending on business development activities during the next six months, an increase from 26.7% last month. 70% believe there will be "no change" in business development spending, a decrease from 73.3% in June. None believe there will be a decrease in spending, unchanged from last month.
Survey Demographics
Market Segment
Bank 60%
Captive 13.3%
Financial Services 0%
Independent 23%
Other 3.3%
Market Segments Based on Transaction Size of New Business Volume
Large-Ticket (New Business Volume Avg. Transaction Size Over $5 Million) 23.3%
Middle-Ticket (New Business Volume Avg. Transaction Size of $250,000 – $5 Million) 50%
Small-Ticket (New Business Volume Avg. Transaction Size of $25,000 – $249,999) 26.6%
Micro-Ticket (New Business Volume Avg. Transaction Less Than $25,000) 0.00%
Organization Size
Under $50 Million 10%

$50 Million – $250 Million: 16.6%

$250 Million – $1 Billion: 16.6%

Over $1 Billion: 56.6%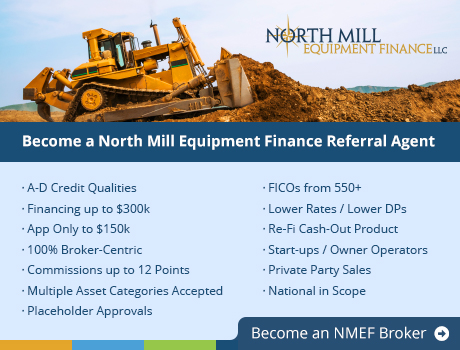 [headlines]
--------------------------------------------------------------
New Hires/Promotions in the Leasing Business
and Related Industries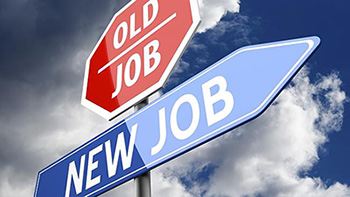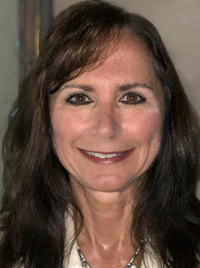 Sherry Anatonakos was promoted to Senior Vice President, Credit Manager and Chief Credit Officer, CBI Equipment Finance, Commerce Bank, Saint Louis Missouri. She joined the firm July, 2005, Vice President, Credit Manager. Previously she was Senior Vice President, Credit Risk Management, GE Capital (2002 -2005); Senior Vice President, Credit Risk Management, Deutsche Financial Services (1995 - 2002); Division Investment Manager, ITT Capital Finance (1990 - 1995); Financial Analyst, Fremont Financial Corporation (1989 - 1990); Credit Analyst, The CIT Group (FKA Manufacturers Hanover Leasing) (1986 - 1989); Processor/Credit Assistant, United States Leasing Corporation (1985 - 1986). Licenses: GE Six Sigma Green Belt, Issued September 2005, No Expiration Date. Education: University of Missouri, Saint Louis, MBA, Finance (1989 - 1993). Eastern Illinois University, BS, Business. (1981 - 1985). Activities and Societies: Delta Zeta Sorority. https://www.linkedin.com/in/sherryantonakos/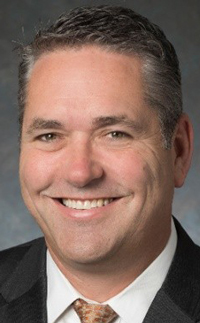 Zane Burgess was hired as Senior Vice President, Director of Equipment Finance & Leasing, Century Bank, Dallas, Texas. Previously, he was Vice President Equipment Finance Specialist, Bancorp South Equipment Finance (September, 2018 - June, 2019); Senior Vice President, CBI Equipment Finance, Inc. (October, 2017 - September, 2018). He began his career at BOK Financial Equipment Finance, Inc., May, 2007, as Vice President; promoted February, 2008, as President, serving to October, 2017). https://www.linkedin.com/in/zane-burgess-429b808/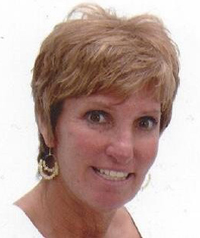 Eileen Carter was hired as Account Executive, Quail Financial Solutions (Quail Capital), Burbank, California. She is based in Birmingham, Alabama. Previously, she was Vice President, Ascentium Capital (August, 2017 - June, 2019); Owner, EMC Capital Group, LLC (July, 2015 - July, 2017). "I have been in this industry since 1990 working for such Fortune 500 companies as General Electric and Pitney Bowes Credit. I owned and operated my own equipment leasing company for several years when I lived in Atlanta, GA." Education: Pace University, Pleasantville/Briarcliff Campus. Bachelor of Business Administration (B.B.A), International Business (1981 - 1985). https://www.linkedin.com/in/eileen-carter-4a20521a/

Jaimee (Villane) Chazen was promoted to Vice President, Underwriting and Credit Operations, Breakout Capital, LLC, McLean, Virginia. She joined the firm February, 2016, as Senior Credit Analyst. Previously, she was Escrow Accountant, McEnearney Associates (October, 2013 - February, 2016); Assistant Community Manager, CMC (August, 2012 - October, 2013); Resident Service Coordinator, Stellar Management (December, 2011 - September, 2012); Real Estate Agent, Weichert (November, 2010 - August, 2011); Forensic Accountant, Sobel & Co., LLC (August, 2008 - August, 2010). Education: West Virginia University, BS, Accounting (2004 - 2008). Activities and Societies: Pi Beta Phi Fraternity for Women, Marching Band. Scotch Plains- Fanwood High School. High School Diploma (2000 - 2004). https://www.linkedin.com/in/jaimeevillane/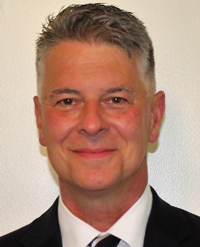 Rick Ciralli was hired as Senior Vice President, Asset Management, Nations Equipment Finance, Norwalk, Connecticut. He continues as Owner, RCGLASS (January, 1998 - Present). Previously, he was Senior Vice President, Asset Management, North Mill Equipment Finance LLC., Formerly Equilease Financial Services, Inc. (May, 2012 - August, 2018). (He also was Senior Vice President, Asset Management, Equilease Financial Services, 2012); National Asset Recovery Manager, PFSC (Portfolio Finance Services Corp), UniCapital Corp Keystone Leasing (January, 1995 - May, 2002); Business Manager, Lease Director, Finance & Insurance Department, Brothers Toyota, Inc. (1993 - 1995); Business Manager, Lease Director, Finance & Insurance Department, Century Toyota, Inc. (1998 - 1993). Education: St. Thomas Aquinas, New Britain, CT. https://www.linkedin.com/in/rick-ciralli-28b92b48/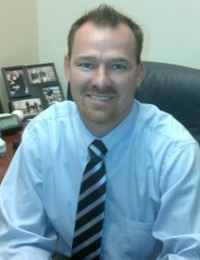 Joseph Denton was promoted to First Vice President, Special Assets Department Manager, Hanmi Bank, Irvine, California. He joined the firm April, 2017, as Vice President, Portfolio Manager. Previously he was at Banc of California, merged with Hanmi Bank, starting there November, 2013, as VP Consumer Credit Administrator/Portfolio Manager; promoted, July, 2016, VP Loan, Lease Portfolio Risk Manager. Prior, he was Special Assets Vice President, California Bank & Trust (March, 2012 - November, 2013). He joined Zions Bank, August, 2008, as New Account Specialist; promoted June, 2009, Commercial Workout Officer. Financial Services Supervisor, Nevada State Bank (August, 2003 - May, 2008). Volunteer: Coach, South County NFL Flag Football (March, 2015). Education: Brigham Young University, Bachelor of Applied Science (BASc), Economics (2006 - 2008). College of Southern Nevada, Associate of Arts (AA), Applied Economics (2004 - 2006).
https://www.linkedin.com/in/joseph-denton-07714a3/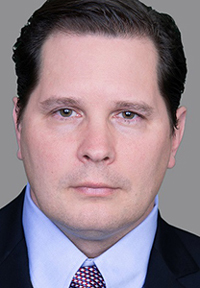 David Koshenina was promoted to Head of Lender Finance Group, Wells Fargo Commercial Capital (WFCC). "In his new role, he will lead a team that provides asset-based lending for specialty finance companies, including other asset-based lenders, factors, equipment leasing, and other nonbank lenders. He is based in Dallas, Texas...Koshenina, a 12-year company veteran who most recently served as managing director of Loan Sales and Syndications for Wells Fargo Capital Finance. Before joining Wells Fargo, he was a turnaround consultant for Alvarez & Marsal and spent six years in Investment Banking at Piper Jaffray Companies covering financial institutions. He holds an undergraduate degree from University of Wisconsin, and an MBA from the University of California, Los Angeles."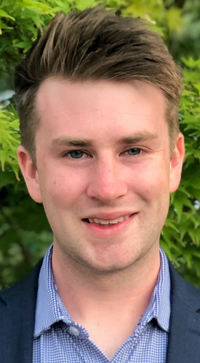 Kyle McGuigan was hired as Junior Credit Analyst, Dext Capital, Portland, Oregon. He previously was a Student Success Peer Facilitator, Oregon State University (November, 2018 - June, 2019); Event Manager, Memorial Union (MU), Oregon State University (January, 2007 - November, 2018). Community Service: Volunteer, Jackson Street Youth Services (January, 2016 - June, 2019). Student Mentor, Oregon State University (September, 2018 - June, 2019). Education: Oregon State University. Bachelor of Science, BS, Finance, Senior (2015 - 2019). Activities and Societies: Phi Gamma Delta Fraternity, Alpha Kappa Psi Business Fraternity, Finance Club. https://www.linkedin.com/in/kyle-mcguigan/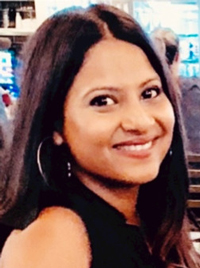 Ananya (Das) Menon was promoted to Senior Loan Closer, Ready Capital, New Providence, New Jersey. She joined the firm June, 2017, as Loan Closer. Previously, she was at Eastern Funding, LLC, starting as Documentation Specialist, February, 2012; promoted June, 2014, Senior Documentation Specialist; promoted July, 2015, Senior Funding Specialist. Contract Administration, Integreon Managed Solutions, Inc. (January, 2011 - September, 2001); Account Manager, EverBank Commercial Finance, Inc. (April, 2006 - January, 2011); Lease Administrator, Conversion Specialist, Automatic Data Processing, Inc. (ADP) (January, 2006 - April, 2006). She joined Key Equipment Finance, June, 2005, as Account Development Representative; promoted October, 2005 as Vendor Service Coordinator. Education: Rutgers, The State University of New Jersey, New Brunswick. Bachelor of Science in Economics (2003 - 2005). Activities and Societies: Academic Dean's List.
https://www.linkedin.com/in/ananya-menon-75100513/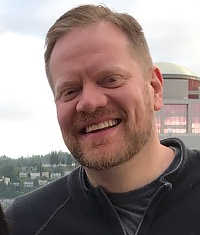 Chris Miller was hired as Senior Credit Officer, Dext Capital, Portland, Oregon. "Due to strong market reception we have far surpassed our initial expectations. The expansion of our credit team will help support our continued growth and ensure we meet the needs of our partners," noted Scott Eshleman, Chief Risk Officer of Dext Capital....Chris has an extensive background in credit with Bank of the West, US Bank, and most recently at Umpqua Bank where he was responsible for underwriting equipment finance requests ranging from $500M to $15MM. Chris also brings portfolio management experience to Dext as well as general business skills from his time as a small business owner."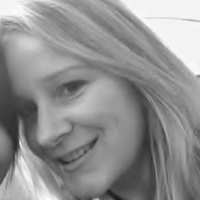 Rita Richeson was hired as Documentation and Funding Manager, Smarter Equipment Finance, Las Vegas, Nevada. She is located in Sacramento, California. Previously, she was Documentation & Funding Manager, TopMark Funding, LLC (November, 2016 - June, 2019); Owner/Managing Member, Lending Processors, LLC (January, 2004 - June, 2014); Manager Documentation & Funding, Balboa Capital (1994 - 2004). Education: Sierra College, Business. https://www.linkedin.com/in/rita-richeson-7b611814/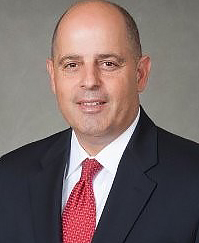 Nick Sentementes was hired as Vice President, Equipment Finance, TriState Capital Bank, Pittsburg, Pennsylvania. He is located in Monroe, Connecticut. Previously, he was Vice President, Key Equipment Finance (June, 2014 - March, 2019); Senior Commercial Loan Officer, People's United Bank, N.A. (June, 2011 - June, 2014); Vice President, Relationship Manager, Citibank (April, 2004 - April, 2011); Senior Account Executive, GE Capital (October, 1999 - March, 2004). Education: The University of Connecticut School of Business. Master of Business Administration, MBA, Finance, General (1990 - 1992). The University of Connecticut. Bachelor's Degree, Finance, General (1983 - 1987).
https://www.linkedin.com/in/nick-sentementes-95a2045a/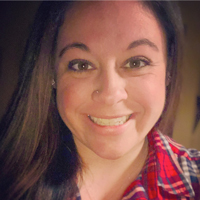 Nicole Tower was hired as Office Manager, The Warren Group, Middleton, Massachusetts. Previously, she was Commercial Lending Assistant, First Ipswich Bank (April, 2019 - July, 2019); Lease Administrator, Beacon Funding (April, 2017 - March, 2019); Funding Manager II, CIT (January, 2015 - July, 2017); Human Resource Coordinator/Onboarding Specialist, CCSI, Inc. (February, 2014 - January, 20150; Retail Store Manager, Winfrey's Fudge & Chocolates (2011 - October, 2013); Office Assistant, Tower Blast & Point (2008 -2011). Education: Southern New Hampshire University, Associate of Arts and Sciences (AAS), Baking and Pastry, Arts/Baker/Pastry Chef (2008 - 2010). Suffolk University, Sawyer Business School. Completed course, Entrepreneurship/Entrepreneurial Studies. (2010 - 2012). https://www.linkedin.com/in/nicole-tower-a134ab71/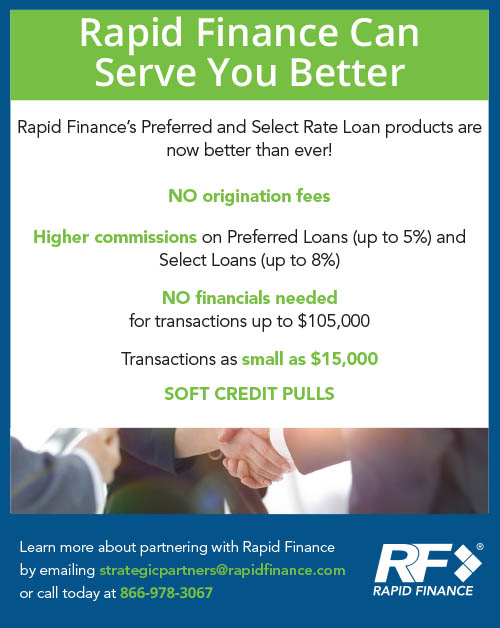 [headlines]
--------------------------------------------------------------
Help Wanted

[headlines]
-------------------------------------------------------------
The Basics of Online Advertising
FinTech #102 by Alex Vasilakos
How does online advertising help a local business grow?
Digital advertising increases awareness. It's that simple. Digital advertising consists of a range of services, all of which work to promote a business online.
More and more businesses are increasing the amount that they spend on digital advertising, and suggest digital advertising on social platforms is well worth the spend.
If I were to provide one tip to people who are using social media, it would be this — don't be afraid of paying for social media reach and clicks.
The best part about digital advertising is that results can be easily monitored and ROI can be easily tracked. You probably don't want to be spending lots of money without some proof of performance, right?
With traditional media channels, there is sometimes no way of tracking the effectiveness of an advertisement in terms of advanced data analytics. With digital advertising, companies like Google and Facebook allow users to access advanced analytics. This way local business know that their money is being well spent and that the digital advertisements are positively impacting their storefront.
When determining the success of an ad, the important factors will differ case by case. For the most part, the success of an ad lies in the indicators listed below.
ROI indicators/measures of a successful campaign:
• Impressions: the actual # of views on an advertisement
• Clicks: the actual # of direct clicks on the advertisement
• Engagements: Social and landing page clicks
• Results: In most cases, results come in the form of a phone call or a store visit.
The Best Places to Advertise
Through our team's extensive work in the digital advertising space, we have come to the same conclusion as pretty much every digital advertising company. The best places to spend money on digital advertising are Google and Facebook.
With digital advertising, not only is a local business visible online, but they are visible to the right people online. Platforms like Facebook and Google allow for advanced targeting, which puts a local business in front of consumers who are more likely to convert into a sale.
Plus, Google and Facebook accounted for roughly 60 percent of ad spend in 2017!

Why advertise on Google?
Reach: Google is the largest search network in the world, and consumers are using Google every single day to search for local businesses. Utilizing Google's massive network capabilities, digital advertisers are able to find ideal prospects and get in front of users looking for their products/services.
In the age of digital, people are not looking at TV commercials or listening to radio ads to find a local business, they are searching for a service and then locating your business online.
With 3.5 billion Google searches conducted every single day, customers are looking for local businesses and businesses should want to be on Google.
Flexibility: Google allows the local advertiser to spend whatever they want, whenever they want. With flexible options for ad spend, advertisers are able to test what works and what doesn't work for a business. Spend a bit, wait to see how the campaign performs, and then reinvest in larger budgets for greater prospect reach.
Why advertise on Facebook?
Audience: The audience on Facebook includes 1.32 billion daily active users (DAUs) on average, at an increase of 17% year-over-year. As a local business, you simply cannot ignore the fact that Facebook is likely an intersection in which you can find prospective customers. If the daily average user's stat doesn't have you convinced, then let's talk about how often social media is being used. The average person spends nearly 35 minutes every day JUST on Facebook.
If there is one thing to take away it is that the audience on Facebook is MASSIVE, and they are on Facebook a LOT.
Targeting: Facebook ad targeting is a marketer's dream. Facebook allows the ability to focus on users so microscopically that you can basically become a bit of a digital stalker (in a good way?). Target users by their interests, behaviors, age, gender, location, and really anything that their Facebook profile may reveal about them including job title.
The Facebook algorithm has brought about changes to the local advertising landscape, but it remains one of the best environments for local businesses to get the word out about themselves!
Conclusion
By leveraging these two platforms, every local business can easily take their advertising game to the next level and begin to rake in new revenue—with the data to back their investment.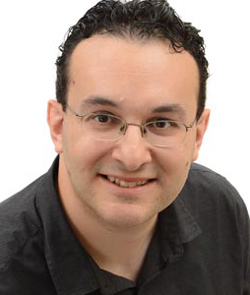 Alex Vasilakos
Director of Marketing
The Finance Marketing Group
Alex@financemarketing.com
Office: 518-591-4645x102 / Fax: 518-677-1071
90 State Street, Suite 1500, Albany, NY 12207

Currently, Alex works exclusively with financial services companies but his depth of knowledge and experience can help design and implement long-reaching strategies for businesses across all industries.
Previous Financial Technology Articles
http://www.leasingnews.org/Conscious-Top%20Stories/fintech.html


[headlines]
-------------------------------------------------------------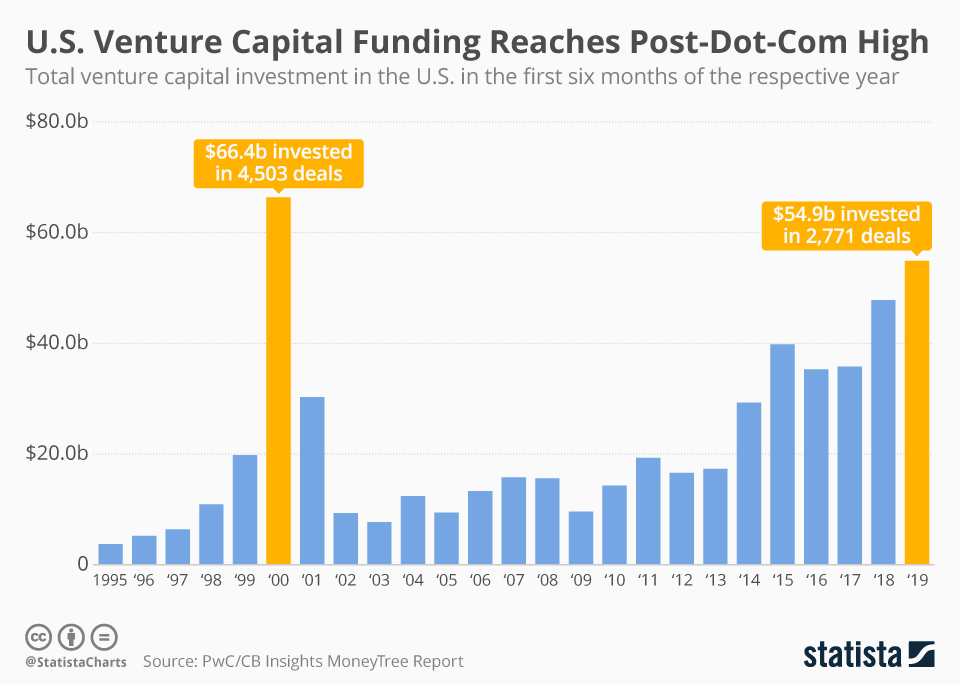 In the first half of 2019, Venture Capital Funding in the United States reached its highest level since the turn of the millennium. According to PwC and CB Insights' quarterly MoneyTree Report, U.S. venture capital funding climbed to $55 billion in the first six months of 2019, the second highest recorded total since the peak of the dot-com boom in 2000. Meanwhile, the number of completed deals dropped to the lowest level since 2013, a trend that was offset by an increase in $100+ million mega-rounds, of which a record number of 112 were completed in the first half the year. With 64 such deals completed between April and June alone, the second quarter set an all-time record in terms of $100+ million rounds.
Despite the fact that venture capital funding is edging towards levels previously seen shortly before the internet bubble burst, another crash doesn't seem imminent. As opposed to the dot-com era, the current surge in investment volume is mainly driven by large deals involving later-stage companies with proven track records.
Internet companies profited most from the surge in VC funding, drawing a total of $22.6 billion in the first half of 2019. Healthcare and Mobile & Telecommunication startups were the other main beneficiaries, receiving $8.8 and $5.9 billion in venture capital, respectively. Meanwhile the number of unicorns, i.e. VC-backed companies valued at $1+ billion, reached a new high. According to PwC and CB Insights, the U.S. unicorn population climbed to 167 by the end of the second quarter, despite several large-scale exits in recent months.
By Felix Richter, Statista
https://www.statista.com/chart/11443/venture-capital-activity-in-the-us/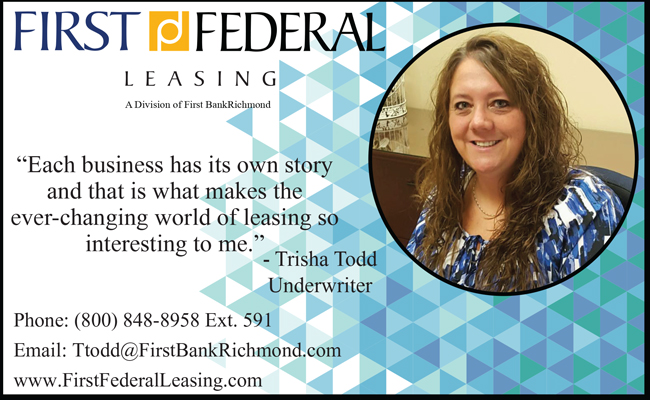 [headlines]
--------------------------------------------------------------
July, 2019 Fed Beige Report
"Modest Pace Overall"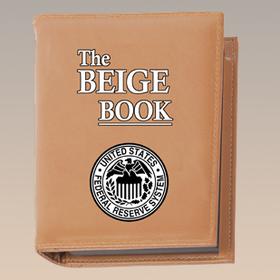 "All but two Districts noting some growth in financing activity. The outlook generally was positive for the coming months, with expectations of continued modest growth, despite widespread concerns about the possible negative impact of trade-related uncertainty."
Full Report from Each of the 12 Districts:
https://www.federalreserve.gov/monetarypolicy/beigebook201907.htm

[headlines]
--------------------------------------------------------------
Fernando's View
By Fernando F. Croce
Off-kilter comedy ("Sword of Trust") and ingenious horror ("Crawl") make for an unusual yet refreshing double-bill in theaters, while DVD releases offer poetic science-fiction ("High Life"), daring allegories ("3 Faces"), and humanistic drama ("One Sings, the Other Doesn't").
In theaters: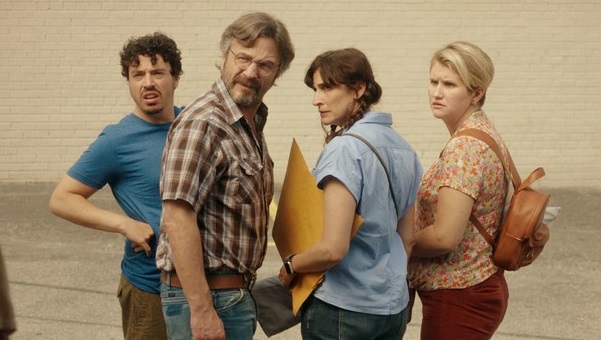 Sword of Trust (IFC Films): After her most serious recent efforts, indie filmmaker Lynn Shelton ("Outside In") returns to her more comedic roots in this enjoyably goofy tale of risky transactions and conspiracy theories. Mel (Marc Maron) is an Alabama pawn shop owner whose latest project, a sword that supposedly played a key role in the Civil War, comes to have far more value than he expected. The first challenge, however, is getting the sword from its current owners, Cynthia (Jillian Bell) and Mary (Michaela Watkins), who are wise to its precious status. Then, there's the matter of meeting mysterious and potentially dangerous buyers. Though the humor is skillfully woven by the cast of talented improvisers, Shelton doesn't neglect the poignancy of the characters' lives. The results are brisk, off-kilter, and fresh.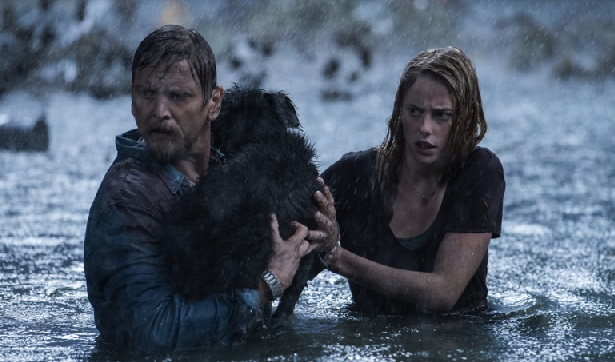 Crawl (Paramount Pictures): Taking a stab at the summer menace formula established by "Jaws," French horror specialist Alexandre Aja ("The Hills Have Eyes") serves up an ingenious machine of B-movie thrills with this grisly creature-feature. Set in Florida during storm season, the story follows young Haley (Kayla Scodelario) as she looks for her father Dave (Barry Pepper), who's injured and trapped in the basement of their house in the middle of a hurricane. Complication her mission is the fact that local alligators have taken to hungrily prowl the area, with unsuspecting visitors met by sharp-toothed predators snapping toward them. Making cunning use of cramped spaces, Aja delivers plenty of well-time scares in this battle between humans and reptiles. Unpretentious and sardonic, it's a bloody entertaining ride.

Nextflix: A durable character actor with a wild streak, Rip Torn (1931-2019) livened many a film with his comic gruffness and palpable sense of danger. So check out Netflix for some of his best roles, which include "Sweet Bird of Youth" (1963), "Payday" (1973), "Cross Creek" (1983), "Men in Black" (1997), and the cable series "The Larry Sanders Show."
On DVD: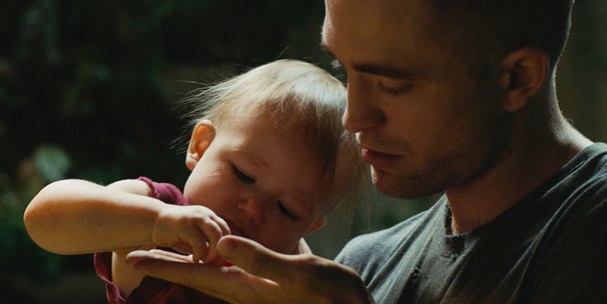 High Life (A24): French director Claire Denis ("35 Shots of Rum") serves up another mysterious, brutal and poetic rumination on life with this mesmerizing science-fiction tale. The futuristic plot takes place in a space station where criminals are sent to serve their prison sentences. One of them, Monte (Robert Pattinson), becomes the guinea pig of choice for Dr. Dibs (Juliette Binoche), a scientist bent on creating a child through artificial insemination. Through a violent turn of events, Monte becomes the sole survivor of the mission as well as the father of a little girl named Willow. Can they stay together as a family while their spaceship heads inexorably toward a black hole? Turning genre conventions on their head, Denis' unique film takes a half-disturbing, half-tender look at humans in outer space.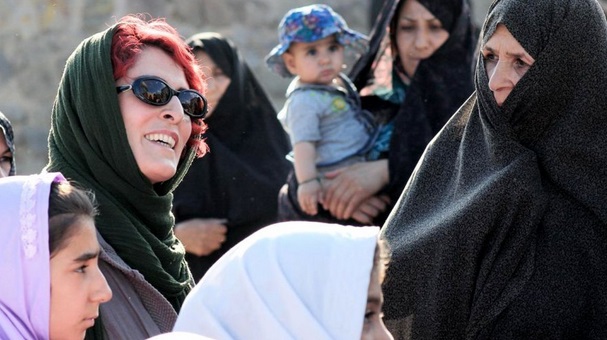 3 Faces (Kino Lorber): Ordered to stop making films in his own country, Iranian director Jafar Panahi ("This is Not a Film") continues his extraordinary run of gentle yet daring cinematic allegories. Here, he appears once again as himself, helping actress-cum-filmmaker Behnaz Jafari (also playing herself) to respond to a distress call from a young woman in a distant rural village. Traveling by car through the winding landscapes in a heartening tribute to the late Iranian master Abbas Kiarostami, Jafari and Panahi encounter several charming and humorous locals. When they discover the truth about the caller (Marziyeh Rezael), things take a serious turn. Brimming with the humor, self-reflexivity and sense of discovery that characterizes the best of Iranian film, Panahi's film is a leisurely ride worth taking. With subtitles.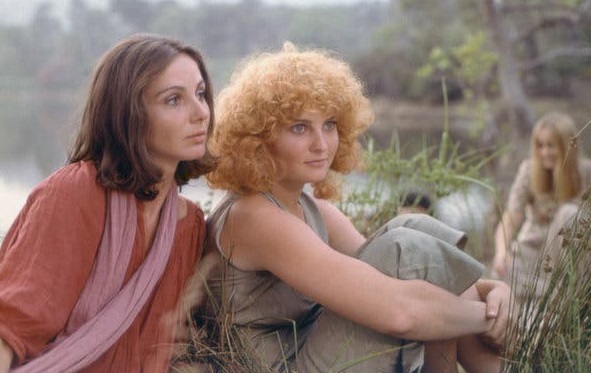 One Sings, the Other Doesn't (Criterion): Better known for her acclaimed later documentaries, beloved Belgian filmmaker Agnes Varda ("The Beaches of Agnes") brings her customary humanism and political commitment to this 1977 drama, about the winding road of friendship between two women. Aspiring singer Pauline (Valerie Maitresse) and country lass Suzanne (Therese Liotard) are youngsters in 1960s Paris whose lives go different ways in the wake of a tragedy. When they next see each other in the early 1970s, they pledge to keep in touch via postcard. Having changed her name to Pomme, Pauline moves to the Middle East while Suzanne leaves the farm to open a clinic to help young women. Mingling ideas and emotions and even songs, Varda's feminist saga tackles still-relevant issues without sacrificing charm. With subtitles.
[headlines]
--------------------------------------------------------------
Bassett Hound
Gig Harbor, Washington Adopt a Dog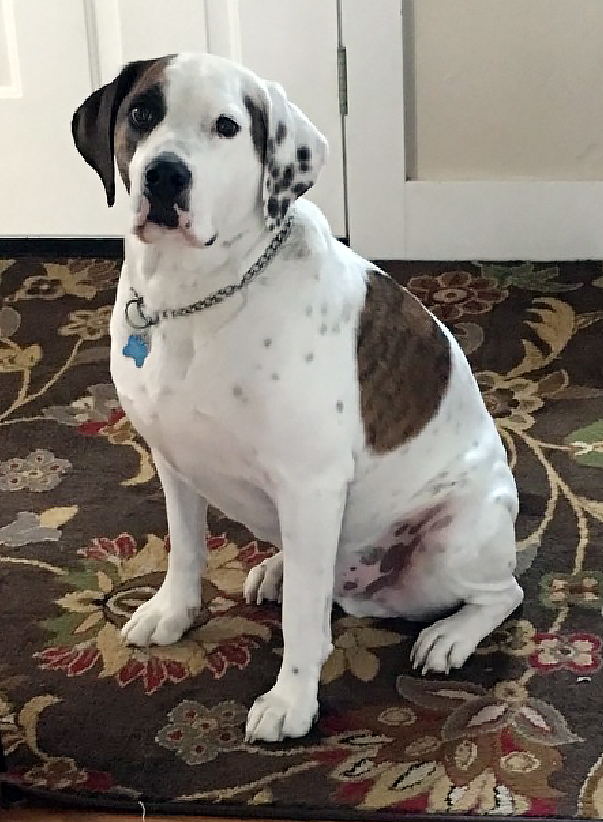 Chubbs is a five year old, Basset Hound mixed with maybe Old English Bulldog. He is SO handsome and receives compliments whenever he is out and about. He is full of personality--he usually greets people with his little tail wagging so much he wags his butt. Chubbs is a SWEET and sensitive boy who will do best in a home that is relatively
quiet with a predictable routine. He's good at being left by himself in the house but would do best with a couple or person who doesn't regularly need to be away from home for long hours.
Chubbs has an inoperable pinched nerve in his back which can cause occasional pain so he needs a home that doesn't have many stairs to climb…a single story home. While some medications could help with the pain, most cause him adverse reactions and his mental health suffers.
Chubbs needs a home with a fenced yard (not invisible/electric fence) Chubbs weighs about 80 lbs.
• Adoption Fee $250
• Breed: Bassett Hound mix
• House Trained
• Weight: 80 lbs.
• Up to date Vaccinations
• Approx. age: 5 years
• Neutered/Spayed
• Microchipped
CHEW Dog Rescue
5803 125th ST CT NW
Gig Harbor, WA 98332
https://chewdogrescue.org/index.php/contact
Application:
https://chewdogrescue.org/index.php/component/rsform/form/5-adoption-application-form
[headlines]
--------------------------------------------------------------
Financing Cannabis Funding Sources
Many Work with Third Party Originators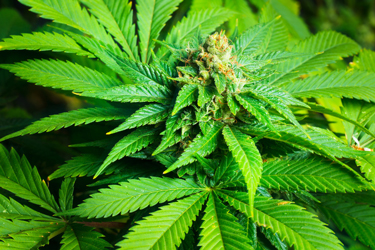 Now Open for the Cannabis Industry
International Financial Services dba IFS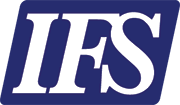 "IFS has approved our 1st deal in the cannabis industry! We are now able to consider established companies with accountant prepared financial statements (or tax returns) within the cannabis industry.
"NOTE: We won't consider any start-ups. Must have at least 3 full years in business. Please contact me for more information or to preview a deal."
Dara Dietmeyer, VP
Credit & Syndications
847-932-0912 direct
ddietmeyer@ifsc.com
INTERNATIONAL FINANCIAL
SERVICES CORPORATION
www.ifsc.com
------------------------------
Alliance Commercial Capital, Inc
161 North Clark Street, 16th Floor
Chicago, Illinois, 60601
888-727-9960 Ext# 6078
Fax: 312-664-3021
sam@accleasing.com
www.accleasing.com
Cannabis Program Highlights:
Loan Size: $25,000 - $10,000,000+
Collateral: lighting, HVAC, benching, extractors, irrigation, CCTV & related cannabis equipment
Locations: Nationwide
Business: The owner/tenant must be licensed and regulated by the State. Personal Guarantees required from all owners. Minimum credit score preferred 700. No bankruptcies in the last 7 years. No unresolved state or federal tax liens.
Application Only: $50,000.
Documentation required: Submit with our attached credit application, copy of vendor invoice/quote, Bank statements for the last 4 months and copy of State Cannabis License
Time in Business: 2+ years
Terms are from 2 to 5 years
Interest rates typically average 9-12.75%
Full Disclosure: Over $50,000
Documentation required: Same as above plus Personal and Corporate tax returns for last 3 years, Personal financial statement for all owners, Debt Schedule, Latest interim Financial Statements.
Start-Ups: Unsecured Business Finance (UBF) program up to $150,000/owner based solely on personal credit. Submit with credit application only.
MoneyTrac Technology, Inc. ("MTT"), a subsidiary of Global Payout, Inc. (OTC:GOHE) , has established and is now marketing an alternative banking solution for the Cannabis industry.
MTT currently has the ability to integrate and streamline electronic payment processing such as E-wallet, mobile applications, debit cards, and credit cards. Currently, MoneyTrac Technology has strategic partnerships with top cannabis services such as GreenRush, BlazeNow, High Grade Management Group, and PotSaver, which was a majority acquisition last October.
According to Bloomberg, "MoneyTrac Technology, Inc., through its subsidiary, provides electronic wallet and e-banking financial solutions for the marijuana industry. It offers financial technology, which includes an e-wallet and mobile app that allows users to access financial information. The company also provides white labeling services; mobile platform to manage financial transactions; and solutions for accessing account information, making payments, and online bill pay activities. In addition, it offers transaction management services."
-----------------------

dw@dwevents:
"I do know a bit about canna finance in the US and have actually completed a deal or two (it's mainly all convertible debt). I ran an event in NYC for over 200 investors at Chelsea Piers and I helped organize, promote and sell out the first Weed Stock conference in Colorado. I have been an investor in the industry since 2013.
"There are no miracle answers for leases (in most states, ownership of canna assets without being licensed as a canna business would prohibit leasing). Most deals are done as loans with a conversion provision and pretty harsh default penalty.
"One thing lenders have to keep in mind is that bankruptcy (other than just a state bankruptcy) isn't available to canna debtors. Federal judges won't hear the cases and will dismiss them if they get filed. In fact most disputes that wind up filed in federal court get dismissed and refiled in state court."
Organigram Enters into Letter of Intent
with Farm Credit Canada for $10 Million
http://leasingnews.org/PDF/Organigram2017.pdf


------------------------------

Number 1 Enterprises, Inc.
Funding Cannabis, Marijuana, CBD, Hemp Businesses

"We specialize in structuring your capital infusion. Number 1 is a group of reformed bankers whom grew weary of declining great clients because their loan requests did not fit into the traditional lenders' 'box'."
Through a network of over 8,000 Funding Sources: Private Investors, Investor Groups, Lenders, Co-Brokers, Facilitators, Hedge Funds, etc., we help businesses acquire the necessary capital to grow their business:
Debt and Convertible Notes
Equity Capital
Unsecured Business Financing
Purchase Order Financing
Accounts Receivable Financing
Factoring
Companies have funded or in process of funding include:
1. Marijuana Grower, Extractor, Edibles Maker, Wholesaler, and Dispensary in Alaska
2. Medical Marijuana Conglomerate Acquiring a Building and Additional Capital for Operations in Nevada
3. Medical Marijuana Grower in Arizona
4. National Builder whom builds Grow-houses of all sizes
5. Warehouse Builder in North Florida which leases the space to Cannabis Grow-houses
6. Grower in Northern Nevada
7. Builder & Grower in New Jersey
8. Cannaceuticals and Hemp-based Nutritional Product company based in Florida and Pennsylvania
9. CBD Oil Manufacturer
10. CBD Oil Wholesalers
11. CBD Oil Retailers
"We will leave no stone unturned to ensure every available option for acquiring your business capital.
"With Number 1, We get it done!"
Andrew DiAlberto, President
Number One Enterprises, Inc. 3100 NW 46th St.
Suite 208
Ft. Lauderdale, FL 33309
Tel: 954-204-3292
Cell: 954-579-2584
E-Mail: andrew@number1ent.com
----------------------------------------
Vertical Companies
Scott Jordan
Managing Director
Financial Services
Englewood, Colorado
sjordan@vertcos.com
303 887 2750
https://www.linkedin.com/in/thescottjordan/
Scott Jordan leads Vertical's financial services arm. He has been in Colorado providing access to capital for marijuana business owners since 2009 and has been called "The Marijuana Money Man" by Fox San Francisco and the Denver Post. He created one of the first companies to provide debt-based capital, Dynamic Alternative Finance in 2014, and arranged over $30 million in funding before accepting the position with Vertical as President of the newly created Financial Services division.
---------------------------------------
Marijuana Industry News
http://mjinews.com/
[headlines]
--------------------------------------------------------------




July 22 - July 25 San Jose, California
San Jose McEnery Exhibit Hall
The San Jose McEnery Convention Center is in San Jose, CA. Located in the Downtown core with its own parking garage, the Convention Center boasts 372,754 sq. ft. of total space, is connected to two hotels, is within walking distance of 5 additional hotels, multiple visual and performing arts facilities and an abundance of restaurants.
General Schedule
https://cannabisbusinesssummit.com/conference-program/#general-schedule
Register Now
https://cannabisbusinesssummit.com/registration/
[headlines]
--------------------------------------------------------------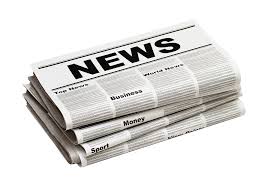 News Briefs----
Boeing 737 Max Troubles Add Up: $8 Billion and Counting
This is going to be a real mess for another year or even two.
https://www.nytimes.com/2019/07/18/business/boeing-737-charge.html
FASB to propose delaying effective dates for 4 major standards
Lease Accounting/Credit losses/Derivatives/Hedging/Insurance
https://www.journalofaccountancy.com/news/2019/jul/fasb-proposal-delay-for-major-standards-201921627.html
Worst Car Brands Of 2019
Ten Vehicles
https://247wallst.com/special-report/2019/07/17/worst-car-brands-of-2019/2/
Microsoft Reports Hundreds of Election-Related Cyber Probes
All subscribe to Microsoft's year-old AccountGuard service
https://www.securityweek.com/microsoft-reports-hundreds-election-related-cyber-probes
Minorities in Franchising - What this means to franchising
is that minorities have arrived, are here to stay
https://www.franchising.com/guides/minorities_in_franchising.html
[headlines]
--------------------------------------------------------------


You May Have Missed---
Boy selling 'ICE COLD BEER' has police called on him
in clever 'marketing strategy'
https://www.usatoday.com/story/news/nation/2019/07/18/ice-cold-beer-utah-boy-has-police-called-him-root-beer-stand/1764610001/
[headlines]
--------------------------------------------------------------
"I Dream of a Baseball Star"
By Gregory Corso
I dreamed Ted Williams
leaning at night
against the Eiffel Tower, weeping.
He was in uniform
and his bat lay at his feet
-- knotted and twiggy.
"Randall Jarrell says you're a poet!" I cried.
"So do I! I say you're a poet!"
He picked up his bat with blown hands;
stood there astraddle as he would in the batter's box,
and laughed! flinging his schoolboy wrath
toward some invisible pitcher's mound
-- waiting the pitch all the way from heaven.
It came; hundreds came! all afire!
He swung and swung and swung and connected not one
sinker curve hook or right-down-the middle.
A hundred strikes!
The umpire dressed in strange attire
thundered his judgment: YOU'RE OUT!
And the phantom crowd's horrific boo
dispersed the gargoyles from Notre Dame.
And I screamed in my dream:
God! throw thy merciful pitch!
Herald the crack of bats!
Hooray the sharp liner to left!
Yea the double, the triple!
Hosannah the home run!
[headlines]
--------------------------------------------------------------

Sports Briefs---

Marcus Mariota Is Already On the Verge of Busting
as an NFL Quarterback
https://bleacherreport.com/articles/2845798-marcus-mariota-is-already-on-the-verge-of-busting-as-an-nfl-quarterback
Jerry Rice, NFL experts see improvement coming for the 49ers
https://www.mercurynews.com/2019/07/18/nfl-experts-see-improvement-coming-for-the-49ers/
Stephen and Ayesha Curry commit to Oakland
with new foundation for kids
https://www.sfchronicle.com/sports/annkillion/article/Stephen-and-Ayesha-Curry-commit-to-Oakland-with-14103846.php
Peyton Manning on running an NFL team:
'At some point, I may say I'm all in'
https://www.usatoday.com/story/sports/nfl/colts/2019/07/17/peyton-manning-too-busy-consider-running-nfl-team/1758028001/
[headlines]
--------------------------------------------------------------


California Nuts Briefs---


Duckhorn to Open Winery for Migration
at Former Starmont Winery in Carneros
https://www.winebusiness.com/news/?go=getArticle&dataId=216843
More Lawsuits Follow Supreme Court Decision
https://www.wine-searcher.com/m/2019/07/more-lawsuits-follow-supreme-court-decision
A holdup in the completion of a sale of wine brands
between Gallo and Constellation is starting to bite
https://www.wine-searcher.com/m/2019/07/gallo-deal-delay-impacts-growers
The World's Most Expensive Champagne
https://www.wine-searcher.com/m/2019/07/the-worlds-most-expensive-champagne
Why Swiss wine is one of the country's best kept secrets
https://www.thelocal.ch/20190718/why-swiss-wine-is-one-of-the-countrys-best-kept-secrets
Time to declare sweetness levels in wine
https://www.drinks-today.com/wine/analysis/time-declare-sweetness-levels-wine
When will California become too hot to grow wine grapes?
https://www.sfchronicle.com/wine/article/When-will-California-become-too-hot-to-grow-wine-14102743.php
Hostile takeover of PG&E? Billion-dollar hedge funds
duel over bankrupt utility
https://www.sacbee.com/news/state/california/article232809912.html?
California misspent $330 million that should
have helped homeowners, court holds
https://www.sacbee.com/news/politics-government/capitol-alert/article232847737.html?
Yosemite's high country finally opens to camping, hiking
https://www.sfchronicle.com/travel/article/Yosemite-s-high-country-finally-opens-to-14104059.php
Bye-bye, manhole: Berkeley bans gendered language
from its city code
https://www.berkeleyside.com/wp-content/uploads/2019/07/2019-07-16-Item-01-Referral-Response-Berkeley-Municipal.pdf


[headlines]
--------------------------------------------------------------



"Gimme that Wine"

http://www.youtube.com/watch?v=EJnQoi8DSE8
Wine Sales Up, Winery Hiring Down and Packaging Sales Trends
https://www.winebusiness.com/news/?go=getArticle&dataId=216765
Newsom signs bill to name Route 128 as a Scenic Highway
https://napavalleyregister.com/news/local/newsom-signs-bill-to-name-route-as-a-scenic-highway/article_18be2e8e-95d8-594d-bb3f-bc67a0d45bcd.html
Great Northwest Wine: Merlot still plays a big role in Washington
https://www.spokesman.com/stories/2019/jul/15/great-northwest-wine-merlot-still-plays-a-big-role/
The value of wine criticism: A conversation with Eric Asimov
https://www.drinks-today.com/wine/general/value-wine-criticism-conversation-eric-asimov
Free Wine App
https://www.nataliemaclean.com/mobileapp/

Wine Prices by vintage
http://www.winezap.com
http://www.wine-searcher.com/
US/International Wine Events
http://www.localwineevents.com/
Leasing News Wine & Spirits Page
http://two.leasingnews.org/Recommendations/wnensprts.htm
[headlines]
----------------------------------------------------------------
This Day in History
1692 - Five Massachusetts women were hanged for witchcraft. Fifteen young girls in the Salem community charged as many as 150 citizens in the area with witchcraft during the greater part of this year. The Salem witch hunt was unleashed in March of the year when some children, called upon to explain their odd behavior, claimed that three old women had bewitched them. The women were tried, convicted, and condemned on the testimony of the children. Although Governor William Phis halted the trails in October, 1692, by January, 1693, twenty persons condemned for witchcraft had been executed and two had died in prison. The first person executed for witchcraft in America was Margaret Jones of Charlestown, Mass. Gov. John Winthrop wrote "that she was found to have such a malignant touch, as many persons, (men, women and children), whom she stroked or touched with any affection or displeasure, etc., were taken with deafness...or other violent pains or sickness...Her behavior at the trial was very intemperate, lying notoriously, and railing upon the jury and witnesses, etc., and in the like distemper she died."
1701 - Representatives of the Iroquois Confederacy signed the Nanfan Treaty at Albany, NY, ceding a large territory north of the Ohio River to England.
1814 - Samuel Colt (d. 1862) was born in Hartford, CT. An industrialist and inventor, he founded Colt's Patent Fire-Arms Manufacturing Company (today Colt's Manufacturing Company), and made the mass production of the revolver commercially viable. His use of interchangeable parts helped him become one of the first to use the assembly line efficiently. Moreover, his innovative use of art, celebrity endorsements, and corporate gifts to promote his wares made him a pioneer in the fields of advertising, product placement, and mass marketing.
1817 - Birthday of Mary Ann Ball Bickerdyke (d. 1901), Knox County, OH. Known as Mother Bickerdyke for her nursing and sanitary commission work during the Civil War, she turned to the work after witnessing the appalling conditions that male nurses and doctors considered normal for hospitals. She would serve at the site of 19 battles. She petitioned in vain for pensions for veterans and nurses after the hostilities.
1825 - The American Unitarian Association was founded by members of the liberal wing of the Congregational churches in New England.
http://www.americanunitarian.org/
1845 - The last great fire to affect Manhattan began early in the morning and was subdued that afternoon. The fire killed 4 firefighters, 26 civilians, and destroyed 345 buildings.
1848 - A convention concerning the rights of women, called by Lucretia Mott and Elizabeth Cady Stanton, was held at Seneca Falls, NY. The issues discussed included voting, property rights and divorce. The convention drafted a "Declaration of Sentiments" that paraphrased the Declaration of Independence, addressing man instead of King George, and called for women's "immediate admission to all the rights and privileges which belong to them as citizens of the United States." This convention was the beginning of an organized women's rights movement in the US. The most controversial issue was Stanton's demand for women's rights to vote.
(lower half of: http://memory.loc.gov/ammem/today/jul19.html )
1860 - Birthday of Lizzie Andrew Borden (d. 1927), Fall River, MA. She was suspected but acquitted of the double murders of her father and her step-mother. There was a great deal of circumstantial evidence, but lack of a murder weapon or blood on her clothes stymied prosecutors. The women of the city of Fall River, Massachusetts, supported her by crowding the courtroom and, after the acquittal, ostracized her. Their attitude plus other factors indicate that she was an abused child/woman. If she committed the murders, she had to have help from people outside the home to cover up the evidence. Contrary to some rumors, the murder hatchet was never found.
1863 - At Buffington Island in Ohio, CSA Gen John Hunt Morgan's raid into the north was mostly thwarted when a large group of his men were captured while trying to escape across the Ohio River. Morgan's Confederates, during the 46-day raid, covered more than 1,000 miles, beginning in Tennessee and ending in northern Ohio. Morgan's raid coincided with the Vicksburg and Gettysburg campaigns, though it was not directly related to either. However, it was meant to draw away tens of thousands of US troops away from these major campaigns and to frighten Northern civilians into demanding their troops be recalled to defend them.
1865 – Charles H. Mayo (d. 1939) was born in Rochester, MN. With his brother, William J. Mayo and five others, he was one of the founders of the Mayo Clinic.
1869 - [published 1911 is about his summer there in 1869] "My First Summer in the Sierra" ---John Muir in Yosemite
http://memory.loc.gov/ammem/today/jul19.html
1881 - Surrender of Sitting Bull and 186 followers, crossing the Canadian border into US; Army breaks its amnesty promise and jails him at Fort Randall, Dakota Territory.
1883 - Max Fleischer (d. 1972) was born in Krakow, Austria-Hungary. Fleischer was a pioneer in the development of the animated cartoon and served as the head of Fleischer Studios. He brought such animated characters as Koko the Clown, Betty Bop, Popeye and Superman to the movie screen and was responsible for several technological innovations.
1886 - Third hurricane in one month crosses Florida causing great damage from Cedar Keys to Jacksonville
1902 – John McGraw made his debut as manager of the New York Giants, losing 5-3 to the Phillies. He would stay on until 1932, winning three World Series.
1902 - Birthday of clarinet player William "Buster" Bailey (d. 1967), Memphis, TN
http://www.redhotjazz.com/BusterBailey.html
http://www.amazon.com/exec/obidos/ASIN/B000000GCZ/greatdayinharlem/
102-8899986-2380120
1909 - With men on first and second, Cleveland shortstop Neal Ball catches Ambrose McConnell's line drive, gets Heinie Wagner at second, and then tags Jake Stahl completing the first modern Major League unassisted triple play in a 6-1 win over the Red Sox.
1910 – Pitching for the Cleveland Indians, Cy Young won his 500th game, the only pitcher in Major League history to do so. He finished his Hall of Fame career with 511, a record many believe is the most unbreakable in all of sport.
1911 - Former circus acrobat Walter Carlisle completes an unassisted triple-play for Vernon (LA) of the Pacific Coast League when he catches a ball in shallow centerfield flips and touches second base and beats the runner back to first base.
1913 - Trombonist Charlie Teagarden (d. 1984) birthday, Vernon, TX.
http://shopping.yahoo.com/shop?d=product&id=1927007162&clink=dmmu.artist&a=b
1916 - Birthday of Eve Merriam (d. 1992), Philadelphia, PA. A poet, playwright and author of more than 50 books for both adults and children. Merriam's works, which often focused on feminism, include "It Doesn't Always Have to Rhyme," "After Nora Slammed the Door," "The Women's Unfinished Revolution," "Mommies at Work," and a book of poems attacked by authorities as glamorizing crime, "The Urban Mother Goose." Her play "Out of Our Father's House," portraying the lives of American women, was presented on public television, "Great Performances" series. She also wrote the first documentary of women's rights for network TV, "We the Women."
http://www.poets.org/poets/poets.cfm?prmID=160
1921 - Birthday of Medical physicist Rosalyn Yalow (d. 2011), New York City. Along with Andrew V. Schally and Roger Guillemin, in 1977, Yalow was awarded the Nobel Prize for Physiology or Medicine. Through her research on medical applications of radioactive isotopes, Yalow developed RIA, a sensitive and simple technique used to measure minute concentrations of hormones and other substances in blood or other body fluids. First applied to the study of insulin concentration in the blood of diabetics, RIA was soon used in hundreds of other applications.
http://spot.colorado.edu/~gamow/george/1987bio.html
1922 - Birthday of George McGovern (d. 2012), Mitchell, SD. Vietnam antiwar activist, Senator, presidential candidate in 1972.
1933 – For the first time in Major League history, brothers on opposing teams homered in the same game. Red Sox catcher Rick Ferrell hit his home run off brother Wes of the Cleveland Indians while Wes hit his off Hank Johnson in the 3rd inning. He will wind up his career with 38 homers in 548 games. Rick will hit only 28 in 1,884 games.
1936 - 17-year-old Iowa farm boy Bob Feller made his Major League debut, pitching one inning of relief against the Senators for the Cleveland Indians in Washington, D.C. The fireballer allowed no hits and no runs, striking out none, walking two.
1937 - Country singer George Hamilton IV (d. 2014), was born in Winston-Salem, North Carolina. Hamilton became much more popular in Canada and Britain than in the US. In Canada, this popularity stemmed from his close association with the songs of Gordon Lightfoot. Hamilton became friendly with Lightfoot in 1965 and recorded such Lightfoot tunes as "Early Morning Rain" and "Canadian Railroad Trilogy." Hamilton began to work with other Canadian writers as well, and later signed with RCA's Canadian division. Hamilton also was the host of the Canadian TV show "North Country" for five years.
http://www.countrypolitan.com/bio-george-hamilton-iv.php
1939 - Jack Teagarden and his orchestra recorded "Aunt Hagar's Blues" for Columbia Records. Teagarden provided the vocal on the session recorded in Chicago, IL.
http://www.redhotjazz.com/teao.html
1939 - Bud Freeman and his Summa Cum Laude Orchestra record "The Eel."
http://www.redhotjazz.com/freeman.html
http://centerstage.net/music/whoswho/BudFreeman.html
http://www.venerablemusic.com/JazzA-MRecordPages/ASL_5280.htm
http://www.interstatecd.com/bio/biopage.P+++++6528.html
1940 - Charlie Barnet Band records "Pompton Turnpike" (Bluebird 10825)
http://www.parabrisas.com/d_barnetc_f.html
http://music.barnesandnoble.com/search/product.asp?ean=743625524727
http://www.jazz-angebote.de/9799897.htm
1940 - Pop music record charts for single songs were published by the music trade newspaper Billboard. The first song to hit No. 1 in the pop charges was Tommy Dorsey's "I'll Never Smile Again," sung by Frank Sinatra
1941 - Birthday of guitarist Phil Upchurch, Chicago, IL
1941 - Birthday of singer Vikki Carr was born Florencia Bisenta deCasilla-Martinez Cardona, El Paso, Texas.
http://vikkicarr.net/
1942 – German Adm. Donitz ordered the last U-boats to withdraw from their United States Atlantic coast positions in response to the effective American convoy system.
1944 - Top Hits
"I'll Be Seeing You" - Bing Crosby
"Long Ago and Far Away" - Helen Forrest & Dick Haymes
"Amor" - Bing Crosby
"Straighten Up and Fly Right" - King Cole Trio
1944 - Some 1,200 8th Air Force bombers bombed targets in SW Germany. Some 500 15th Air Force Liberators (Flying Fortresses) bombed the Munich vicinity.
1944 - CHRISTENSEN, DALE ELDON, Medal of Honor
Rank and organization: Second Lieutenant, U.S. Army, Troop E, 112th Cavalry Regiment. Place and date: Driniumor River, New Guinea, 16-19 July 1944. Entered service at: Gray, lowa. Birth: Cameron Township, lowa. G.O. No.: 36, 10 May 1945. Citation: For conspicuous gallantry and intrepidity at the risk of his life above and beyond the call of duty along the Driniumor River, New Guinea, from 16-19 July 1944. 2d Lt. Christensen repeatedly distinguished himself by conspicuous gallantry above and beyond the call of duty in the continuous heavy fighting which occurred in this area from 16-19 July. On 16 July, his platoon engaged in a savage fire fight in which much damage was caused by 1 enemy machinegun effectively placed. 2d Lt. Christensen ordered his men to remain under cover, crept forward under fire, and at a range of 15 yards put the gun out of action with hand grenades. Again, on 19 July, while attacking an enemy position strong in mortars and machineguns, his platoon was pinned to the ground by intense fire. Ordering his men to remain under cover, he crept forward alone to locate definitely the enemy automatic weapons and the best direction from which to attack. Although his rifle was struck by enemy fire and knocked from his hands he continued his reconnaissance, located 5 enemy machineguns, destroyed 1 with hand grenades, and rejoined his platoon. He then led his men to the point selected for launching the attack and, calling encouragement, led the charge. This assault was successful and the enemy was driven from the positions with a loss of 4 mortars and 10 machineguns and leaving many dead on the field. On 4 August 1944, near Afua, Dutch New Guinea, 2d Lt. Christensen was killed in action about 2 yards from his objective while leading his platoon in position. 2d Lt. Christensen's leadership, intrepidity, and repeatedly demonstrated gallantry in action at the risk of his life, above and beyond the call of duty, exemplify the highest traditions of the U.S. Armed Forces.
1945 - The USAAF struck the cities of Choshi, Hitachi, Fukui and Okazaki with 600 B-29 Superfortress bombers dropping some 4000 tons of bombs. It is largest deployment of the bomber type yet.
1946 - Marilyn Monroe was given her first screen test at Twentieth Century-Fox Studios. Even with no sound, this test was all they needed to sign her first contract. Beginning with "Scudda-Hoo! Scudda-Hay!" in 1948 and ending with "The Misfits" in 1961, Monroe made a total of 29 films during her short career.
1948 - "Our Miss Brooks," starring Eve Arden and Gale Gordon, debuted an attack on an enemy machinegun on CBS radio. Arden played the role of Connie Brooks. The program stayed on radio until 1957, running simultaneously on TV from 1952 to 1956. Miss Brooks taught English at Madison High School. Her pal, the bashful, biology teacher Philip Boynton, was played by Robert Rockwell. The crusty, blustery principal of Madison High, Osgood Conklin, was none other than Gale Gordon. Supporting Eve Arden was Jane Morgan as Miss Brooks' landlady, Mrs. Davis. The main problem child in the classroom, the somewhat dimwitted Walter Denton was Richard Crenna.
http://www.pe.net/~rnovak/omb.html
http://us.imdb.com/Details?0044287
1949 - Singer Harry Belafonte began recording for Capitol Records. The first sessions included "They Didn't Believe Me" and "Close Your Eyes." A short time later, Capitol said Belafonte wasn't "commercial enough," so he signed with RCA Victor (for a very productive and commercial career).
1950 – The Yankees obtained their first black players, OF Elston Howard and P Frank Barnes from the Kansas City Monarchs of the Negro Leagues. Howard was called up to the parent club in 1955 to become the first black player on the Yankees and was a mainstay on their pennant-winning teams through 1964. In 1963, he became the first black player in the American League to be named MVP.
1952 - Author Jayne Anne Phillips born West Virginia. "Black Tickets,"
"Fast Lanes," "Shelter."
http://www.jayneannephillips.com/
1952 - Top Hits
"I'm Yours" - Eddie Fisher
"Kiss of Fire" - Georgia Gibbs
"Walkin' My Baby Back Home" - Johnnie Ray
"Are You Teasing Me" - Carl Smith
1954 - Elvis Presley's first record, "That's All Right (Mama)" backed with "Blue Moon of Kentucky," was released on the Sun label. Elvis had recorded the tunes two weeks earlier with guitarist Scotty Moore and bassist Bill Black at the Sun studio in Memphis. When the record was first aired on a Memphis radio station, Elvis was reported to have hid in a movie theatre because he thought people would laugh at his effort. He needn't have worried . . . "That's All Right (Mama)" became a local hit. Sun is supposed to have pressed only about seven-thousand copies of the record, and one in mint condition today is worth at least $200.
1958 - After a series of disputes over money (and a fistfight with the manager of Harlem's famous Apollo Theater), Drifters manager George Treadwell fires the entire group and installs the existing group, the Five Crowns, in their place, renaming them the Drifters. This lineup, featuring a lead tenor named Ben E. King, would prove to be the most popular critically and commercially, releasing hits like "There Goes My Baby," "This Magic Moment," and "Save the Last Dance for Me."
1960 - Juan Marichal of the San Francisco Giants became the first pitcher to throw a one-hitter in his Major League debut. Marichal allowed just one hit (a double in the eighth inning) as the Giants beat the Philadelphia Phillies.
1960 - Top Hits
"I'm Sorry" - Brenda Lee
"Only the Lonely" - Roy Orbison
"That's All You Gotta Do" - Brenda Lee
"Please Help Me, I'm Falling" - Hank Locklin
1960 - Boise sets highest ever reading with a scorching 111
1960 - Cow Creek, CA in Death Valley starts with a morning low of 102 and rises to 126
1963 – Capt. Joe Walker flew an X-15 to a record altitude of 347,800 feet, thereby qualifying as a human spaceflight under international convention.
1966 - 50-year-old Frank Sinatra marries 20-year-old actress Mia Farrow in New York amid a sea of fourteen movie cameras and 37 regular cameras. The marriage, one of Hollywood's rockiest, will last only two years, with Sinatra issuing an ultimatum to Farrow as she is filming Roman Polanski's movie "Rosemary's Baby" -- one she will ignore, leading Sinatra to serve divorce papers to her on the set.
1965 - Shooting begins on Star Trek 2nd pilot "Where No Man Has Gone Before." This one makes it.
http://www.startrek.com/
1968 - Top Hits
"This Guy's in Love with You" - Herb Alpert
"The Horse" - Cliff Nobles & Co.
"Jumpin' Jack Flash" - The Rolling Stones
"D-I-V-O-R-C-E" - Tammy Wynette
1969 - The Who appeared at Fillmore West in San Francisco.
1969 - No. 1 Billboard Pop Hit: "Grazing in the Grass," Hugh Masekela, a version of the song by The Friends of Distinction reaches No. 3.
1969 - GERTSCH, JOHN G., Medal of Honor
Rank and organization: Staff Sergeant, U.S.. Army, Company E, 1st Battalion, 327th Infantry, 101st Airborne Division. Place and date: A Shau Valley, Republic of Vietnam, 15 to 19 July 1969. Entered service at: Buffalo, N.Y. Born: 29 September 1944, Jersey City, N.J.: Citation: S/Sgt. Gertsch distinguished himself while serving as a platoon sergeant and platoon leader during combat operations in the A Shau Valley. During the initial phase of an operation to seize a strongly defended enemy position, S/Sgt. Gertsch's platoon leader was seriously wounded and lay exposed to intense enemy fire. Forsaking his own safety, without hesitation S/Sgt. Gertsch rushed to aid his fallen leader and dragged him to a sheltered position. He then assumed command of the heavily engaged platoon and led his men in a fierce counterattack that forced the enemy to withdraw. Later, a small element of S/Sgt. Gertsch's unit was reconnoitering when attacked again by the enemy. S/Sgt. Gertsch moved forward to his besieged element and immediately charged, firing as he advanced. His determined assault forced the enemy troops to withdraw in confusion and made possible the recovery of 2 wounded men who had been exposed to heavy enemy fire. Sometime later his platoon came under attack by an enemy force employing automatic weapons, grenade, and rocket fire. S/Sgt. Gertsch was severely wounded during the onslaught but continued to command his platoon despite his painful wound. While moving under fire and encouraging his men he sighted an aid man treating a wounded officer from an adjacent unit. Realizing that both men were in imminent danger of being killed, he rushed forward and positioned himself between them and the enemy nearby. While the wounded officer was being moved to safety S/Sgt. Gertsch was mortally wounded by enemy fire. Without S/Sgt. Gertsch's courage, ability to inspire others, and profound concern for the welfare of his men, the loss of life among his fellow soldiers would have been significantly greater. His conspicuous gallantry, extraordinary heroism, and intrepidity at the cost of his life, above and beyond the call of duty, are in the highest traditions of the U.S. Army and reflect great credit on him and the Armed Forces of his country.
1969 - Apollo 11, with Neil Armstrong, Edwin "Buzz" Aldrin and Michael Collins on board, went into orbit around the moon.
1974 - The House Judiciary Committee recommended that President Richard Nixon should stand trial in the Senate for any of the five impeachment charges against him.
1975 - "Listen To What The Man Said" by Wings hits #1 on the singles chart.
1975 - Orleans' "Dance With Me" is released.
1976 - No. 1 Billboard Pop Hit: "Kiss and Say Goodbye," Manhattans.
1976 - Top Hits
"Afternoon Delight" - Starland Vocal Band
"Kiss and Say Goodbye" - Manhattans
"I'll Be Good to You" - The Brothers Johnson
"Teddy Bear" - Red Sovine
1977 - Slow moving thunderstorms drop 12 inches of rain in the Johnstown, PA area in only 7 hours. Severe flash flooding occurred with Johnstown under 10 feet of water. The death toll was 76 and total damage was $200 million.
1980 - Billy Joel's "It's Still Rock & Roll To Me" hits #1.
1980 - Elton John's "Little Jeannie" hits #3 on the singles chart.
1980 - The Grateful Dead's "Alabama Getaway" peaks at #68 on the singles chart.
1981 - In a private meeting with President Ronald Reagan, French Prime Minister Mitterand revealed the existence of the "Farewell Dossier," a collection of documents showing the Soviet Union had been stealing American technological research and development.
1981 - "Roy Orbison Day" is celebrated in Odessa, Texas.
1984 - Congresswoman Geraldine Ferraro was nominated to run with candidate Walter Mondale on the Democratic ticket, the first female vice-presidential candidate representing a major American political party. They were defeated by the Republican ticket headed by Ronald Reagan.
1984 - Top Hits
"When Doves Cry" - Prince
"Dancing in the Dark" - Bruce Springsteen
"Eyes Without a Face" - Billy Idol
"I Don't Want to Be a Memory" – Exile
1986 - All-time record heat in stubborn heat wave for Charleston, SC with 104, breaking record set earlier in month (9th) of 103.
1986 - Genesis' "Invisible Touch" hits #1 on the singles chart.
1986 - The "Ruthless People" soundtrack enters the album chart. It features the Billy Joel hit, "Modern Woman."
1986 - No. 1 Billboard Pop Hit: "Invisible Touch," Genesis.
1986 - Caroline Kennedy weds Edwin A Schlossberg in Centerville, Mass.
1989 - 181 out of 293 passengers and crew survived the crash of a United Airlines DC-10. The pilot of Flight 232, bound for Chicago, reported trouble to the Sioux City, Iowa airport half an hour before it slammed into the Sioux City runway. Prepared emergency personnel were credited with helping many to survive the fiery crash.
1990 - Singer Vicki Carr helps dedicate the Nixon Presidential Library, singing in front of all four living presidents (Nixon, Carter, Reagan, and George H.W. Bush), all of which she had performed for at the White House during their terms.
1990 - Baseball's all-time hits leader Pete Rose was sentenced in Cincinnati to five months in prison and fined $50,000 for filing false income tax returns. Rose, who spent 25 years in the Majors with 4256 hits, 1314 RBIs and a lifetime average of .303, was released from prison Jan 7, 1991
1994 - The Rolling Stones played a surprise date at the R-P-M club in Toronto as a preview of their "Voodoo Lounge" tour. One-thousand people paid just five-dollars each to see the nearly hour-and-a-half-long show. The Stones had been in Toronto rehearsing for weeks.
1995 - Elvis Presley's former doctor lost his license when the state of Tennessee decided he over-prescribed addictive drugs to patients, including Jerry Lee Lewis. George Nichopoulos called the decision "idiotic." He suggested it stemmed from resentment over Presley's death in 1977. Nichopoulos was found not guilty in 1981 of charges he indiscriminately and negligently prescribed drugs to Presley.
http://www.clearhq.org/PaxtonSu98.html
1996 - Montreal singer Celine Dion performed at the opening ceremonies of the Atlanta Olympics. She sang "The Power of the Dream," written by David Foster, Kenneth (Babyface) Edmonds and Linda Thompson. The song was commissioned for the occasion.
http://www.celineonline.com/
1997 - Daniel Komen of Kenya broke the 8-minute barrier for the 2-mile run while setting a new world record of 7:58.61 at the Hechtel Night of Athletics in Hechtel, Belgium. Komen actually ran two sub-4-minute-miles in this race, running his first mile in 3:59.2, then turned in a second mile of 3:59.4.
http://faculty.rmwc.edu/tmichalik/8min.htm
2004 - In Pacific Coast League action at Portland's PGE Park, Tagg Bozied hits a walk-off grand slam in the bottom of the ninth to beat the Tacoma Rainiers, 8-5. Upon his arrival at home plate, the Beavers' first baseman, jumping for joy, ruptures the patella tendon to his left knee and was taken to Legacy Good Samaritan Hospital by ambulance.
2005 - John G. Roberts, Jr. was nominated to the United States Supreme Court by President George W. Bush to fill a vacancy that would be created by the retirement of Justice Sandra Day O'Connor. Chief Justice William H. Rehnquist died on September 3, 2005, while Roberts's confirmation was still pending before the Senate. On September 5, Bush withdrew Roberts' nomination as O'Connor's successor and announced Roberts' new nomination to the position of Chief Justice. Roberts was confirmed by the full Senate on September 29 by a margin of 78–22.
2014 - R. J. Reynolds must pay over $23 billion in resolution of a lawsuit filed by the widow of a man who died from lung cancer at age 36. The suit accused the company of hiding the health risks and habit-forming nature of cigarettes.
2015 - Jeffrey Webb pleads not guilty to bribery charges in the FIFA soccer corruption case brought against 14 former officials. Webb was the first to be extradited to the U.S. to face the charges.
-------------------------------------------------------------

SuDoku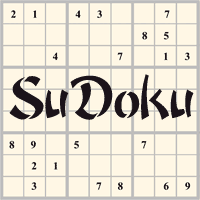 The object is to insert the numbers in the boxes to satisfy only one condition: each row, column and 3x3 box must contain the digits 1 through 9 exactly once. What could be simpler?
http://leasingnews.org/Soduku/soduko-main.htm
--------------------------------------------------------------

Daily Puzzle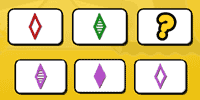 How to play:
http://www.setgame.com/set/puzzle_frame.htm
Refresh for current date:
http://www.setgame.com/set/puzzle_frame.htm
--------------------------------------------------------------


http://www.gasbuddy.com/
http://www.gasbuddy.com/GB_Map_Gas_Prices.aspx
http://www.gasbuddy.com/GB_Mobile_Instructions.aspx
--------------------------------------------------------------

Weather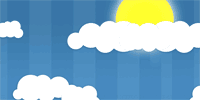 See USA map, click to specific area, no commercials
--------------------------------------------------------------

Traffic Live---
Real Time Traffic Information
You can save up to 20 different routes and check them out with one click,
or type in a new route to learn the traffic live
--------------------------------