2004 ANNUAL CONFERENCE & EXPOSITION (ACE)
October 21-24, 2004
Hyatt Regency Monterey
Monterey California
If you are a former UAEL member and would like to attend the 30th anniversary party, please call Joe Woodley or email to: jwoodley@uael.org
United Association of Equipment Leasing
78120 Calle Estado, 201
La Quinta, CA. 92253
760.567.2227 / 760.564.2206 Fax
Friday, July 2,2004
 Headlines---
Bank of the West Equipment Leasing Expands
AssetControl Lays Off Half Staff?
Norvergence investigated for failing to pay its employees
Free Exhibit Opportunities At Equipment Leasing Showcase
Trucker strike continues – latest action seen in Savannah
"Fin Pac" Sold to Allied Capital
Resource America's LEAF Financial Acquires Premier Lease Services Biz
NACM Credit Manager's Index (CMI) for June 2004-Stable Growth
LaSalle Systems Leasing Relocates  MB Financial Center, Rosemont
GATX Corporation Completes Sale  Info Leasing Assets
Cisco Sets Guinness  Record World's Highest Capacity Internet
Vienna(R) Beef Breaks Record  for World's Longest Hot Dog
Happy Fourth of July from the Editor
########  surrounding the article denotes it is a "press release"
----------------------------------------------------------------------
Classified Ad----Syndicator
Syndicator: Overland Park, KS.
Top Syndicator from single deal to portfolios. 20+ yrs exp. Available for contract work or full time position. Nationwide contacts.  
E-mail: FFLLeasing@aol.com
------------------------------------------------------------------------
Bank of the West Equipment Leasing Expands
As reported in Leasing News about promotions and expansions:
http://www.leasingnews.org/Conscious-Top%20Stories/BOW_New_program.htm
we have it on excellent authority that there are many positions opening up in many departments.
Brokers and others asked us for the address and telephone number of
Bank of the West:
Bank of the West Equipment Leasing
201 N. Civic Drive
Suite 360B
Walnut Creek, CA 94596
USA
Office Phone: (888) 244-0551
Fax: (800) 473-9878
------------------------------------------------------------------------------
AssetControl Lays Off Half Staff?
"AssetControl is laying off at least half the staff today (July 1). They are not going to process any more third party business, only Textron. I hear that Textron is getting back into the leasing business."
    (from a reliable source-name with held )
Norvergence investigated for failing to pay its employees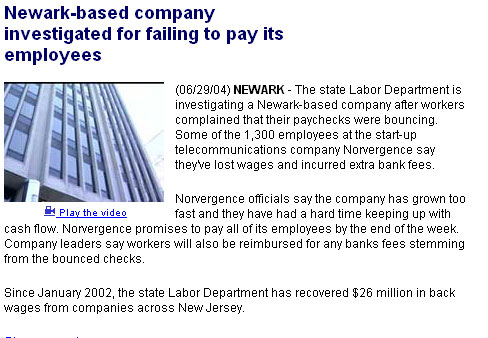 note: There also is a video on the story
This is from the New Jersey Star-Ledger Dated June 17,2004
             Internet company restores service
                         By Joseph R. Perone, Star-Ledger Staff
     About 10,000 high-speed Internet customers of NorVergence were without service yesterday after the Newark telecommunications company failed to make a payment to its network carrier, Qwest Communications.
    NorVergence Chief Executive Peter Salzano said the company failed to make a payment to Qwest for the phone lines his company leases. "We had some financial matters that needed to be cleared up," he said. "Qwest had turned off some of our circuits nationally. This was a working capital issue."
    Salzano said his company made a payment to Qwest to restore service. "They received what they needed to receive," he said, "and they are turning us back on."
    Confused customers initially were told yesterday the NorVergence network was having technical problems. "Their customer service lines were busy for three hours," said Steve Riess, a head-hunter in Chicago. "I haven't had Internet service since 2 p.m. Tuesday afternoon.
    Qwest spokesman Claire Mylott said there were no outages within the Qwest network, and cited a "confidential customer matter" in declining further comment.
  Leasing News has received many customer and other complaints regarding Norvergence, which have been fielded by management as "normal" complaints "as any telephone company would receive about service."  Leasing News was able to resolve some of them.
  Here is one story:
  http://www.leasingnews.org/Weekly%20Report/Weekly_Report-10-15.htm
  and a response from Robert J. Fine
http://www.leasingnews.org/archives/October%202003/10-17-03.htm#nove
--------------------------------------------------------------------
Free Exhibit Opportunities Introduced At Equipment Leasing Showcase
ATLANTA, GA -  - The Lessors Network announced it would no longer require exhibitor registration fees starting with the Lessors Network Fall Showcase, scheduled August 25-26 from the Ritz-Carlton, Buckhead.
Subject to space limitations on a first come basis, registered attendees can reserve exhibit space without additional cost, represent a key marketing opportunity for companies targeting equipment lessors.
In the past, Lessors Network showcases have served as a high profile networking forum for industry professionals representing an elite list of companies including: Allegiant Partners ~ American Appraisal... ~ Amsource Capital... ~ Anderson Young Associates ~ AssetControl Corporation ~ Associates First Capital ~ Bank of America ~ Banc of America Vendor... ~ Bancroft Leasing - ~ Bank One Leasing Corp. ~ Bankers Leasing Company ~ Bell & Howell ~ Boeing Capital Corp. ~ Burr Wolff LP ~ Caterpillar Financial... ~ Chase Equipment Leasing ~ CIT Equipment Financing ~ CIT Technology Finance ~ Citicapital ~ Citibank International ~ Collateral Specialists Inc. ~ Commercial Leasing Corp. ~ Commonwealth Capital Leasing ~ Daimler Chrysler ~ Decision Systems, Inc. ~ De Lage Landen ~ Dell Financial Services ~ Deutsche Financial Services ~ eCredit.com ~ eOriginal, Inc. ~ ePlus Group, Inc. ~ Equilease Financial Ser... ~ Equity Technologies ... ~ Experian ~ Fair, Isaac and Company ~ First Citizens Bank... ~ First Fleet Corporation ~ Fleet Capital Leasing ~ Fortran Group... ~ GATX Capital ~ GE Capital ~ GE Capital Fleet ~ Services ~ GE Capital Rail Services ~ Global Tech ~ GMAC Commercial Mortgage ~ Government Leasing Company ~ IBM Global Financing ~ Information Leasing Corp. ~ International Decision Sys. ~ JLG Industries, Inc. ~ John Deere Credit ~ Key Equipment Finance Group ~ KeyCorp Leasing ~ KPMG Consulting LLC ~ LaSalle Systems Leasing ~ Leasecomm ~ LeasePartners Capital ~ Malvern Hill Associates LLC ~ Marlin Leasing Corp. ~ M/C Leasing ~ McCue Systems Inc ~ MicroBilt Corporation ~ MRC Rail Services ~ NAEDA ~ National Leasing Group ~ NCR Corporation ~ Oracle Credit Corporation ~ ORIX Financial Services Inc. ~ ORIX Public Finance ~ PNC Leasing, LLC ~ Premier Lease & Loan... ~ RBS Lombard, Inc. ~ Republic Financial Corp ~ RVI Group ~ SAP America ~ SG Cowen Securities... ~ Siemens Financial Services ~ Sony Financial Services ~ SouthTrust Leasing ~Sun Trust Leasing Corp. ~ Susan Carol Assoc. ~ Textron Financial Corporation ~ The Alta Group ~ Toyota Financial Services ~ Transamerica Equipment... ~ Transamerica Public Finance ~UCC Direct Services ~ United Capital ~ UPS Capital ~ US Bancorp ~ Vendor Financial Services ~ Vision Financial Group ~ Wachovia Leasing & Equip... ~ Wells Fargo Equipment Finance Inc.
To learn more about the Lessors Network Fall Showcase, visit the Lessors Network web site at www.lessors.com.
ABOUT THE LESSORS NETWORK:
The Lessors Network is a sales & marketing network facilitating new business development opportunities within the corporate and municipal equipment leasing markets. Networking showcases are traditionally held from the Ritz-Carlton in Atlanta each spring and fall. Website programs and services provide free access to news, events and important resources facilitating funding/syndication, technology and outsourcing services exclusive to the equipment leasing & finance markets.
Additional information can be viewed at www.lessors.com
Contact:
John O. Semon
semon@lessors.com
Trucker strike continues – latest action seen in Savannah
    Landline Magazine
 (The official magazine of the independent owners-operators association )
Strikes continued at the nation's ports as hundreds of independent truckers protested rising fuel costs, anti-union laws, unfair wages and inadequate surcharges to offset the cost of fuel.
The latest activity was reported at the Port of Savannah, where about a dozen people stood outside the port's entrance in protest. Truck traffic was down about 15 percent from last Monday, port officials told The Atlanta Journal-Constitution.
Savannah Cartage Inc. has relied only on its company drivers the past two days, because the independent drivers they contract with haven't reported for work, according to WTOC-TV in Savannah.
"We're very concerned about it," the company's Kurt Hutchinson told the station. "I'm sure a lot of the other companies are too, big or small. It's going to have an impact as each day progresses."
Meanwhile, sources told Land Line there is speculation that some carriers are offering incentives to get a few drivers to work. But, overall there more truckers shut down on June 30 than there were on June 29.
For example, the port of Charleston, SC, reported slower-than-normal traffic. About 50 demonstrators carried placards and signs outside port terminals there.
In the meantime, independent truckers, who get paid by the load, have called for the strike to continue through the July Fourth holiday weekend. About 200 independent truckers demonstrated Monday at Port Newark, which is outside New York City and one of the busiest U.S. container ports. Officials also reported trucker protests at ports in Boston, New Orleans and Miami.
Owner-operators are considered independent businesspeople and are forbidden by federal price-fixing laws from negotiating or banding together to talk with employers.
"The only bargaining leverage that these guys have is to withhold services or to threaten to withhold services," said Todd Spencer, executive vice president of the Missouri-based Owner-Operator Independent Drivers Association, which has more than 111,000 members.
Talk about a strike has been rumored for more than two months. This latest action stems from protests that began in early May in Los Angeles and spread to other ports in Virginia and Oakland,
Meanwhile, OOIDA is using its lobbying muscle to push for meaningful surcharge legislation. The association believes that with today's high fuel prices, every shipper should be paying a fuel surcharge adequate to cover costs.
"For any middleman to pocket all or part of the surcharge is a fraud on the shipper and truck owner that should be punishable by law," Spencer said.
OOIDA has asked lawmakers in Washington, DC, to pass fuel surcharge legislation that will provide a permanent fix to this problem. While some legislators may still be hesitant to offer a legislative fix, OOIDA says, the choice to ignore high fuel prices that bankrupt truckers comes with perils for more than just small-business truckers.
"The entire economic recovery for the nation may well be set back or stalled," Spencer said. "Port drivers have been among the most abused in years. Steamship lines and railroads have taken full advantage of their bargaining position to beat these guys down bad. It's not surprising they are angry. And, it's shameful the only way their legitimate concerns will be addressed is when they threaten drastic action."
---------------------------------------------------------------------
"Fin Pac" Sold to Allied Capital
Yes, Virginia, it's true, "Allied Capital Announces Agreement to Purchase Financial Pacific Company.  Terey Jennings, CLP, vice-president,  sent us a copy of the press release:
Announcement to Brokers
Method: via e-mail
To: FP Brokers and Lessors
From: Ted A. Brownrigg
Date: July 1, 2004
We are pleased to announce Allied Capital Corporation has agreed to purchase Financial Pacific Leasing with the expected closing date in August. The press release from Allied Capital is below. We will continue to provide the unique products and high quality service you have learned to expect from Financial Pacific Leasing. If you have any questions just contact your FP Broker Representative.
Allied Capital Announces Agreement to Purchase Financial Pacific Company
Washington, DC, June 30, 2004 – Allied Capital Corporation (NYSE:ALD) today announced that it has agreed to purchase Financial Pacific Company (FinPac), a specialized commercial finance company focused on providing leases for business-essential equipment to small businesses nationwide. The total transaction amount is expected to be approximately $94 million, which includes closing costs and is subject to adjustments. Allied Capital intends to provide both subordinated debt and equity financing for the transaction. The purchase is scheduled to close in the third quarter and is subject to certain closing conditions and regulatory approvals.
"Under the direction of an experienced management team, FinPac's disciplined, conservative approach to underwriting has made the company a leader in small business finance," said Edward Ross, Managing Director at Allied Capital. "We look forward to adding FinPac to our portfolio because we believe the company has strong financial dynamics and the opportunity to prudently grow its asset base."
About Allied Capital
Allied Capital is the nation's largest business development company and provides long-term debt and equity investment capital to companies in a variety of industries. The company also participates in the real estate capital markets as an investor in non-investment grade commercial mortgage-backed securities and collateralized debt obligation bonds and preferred shares. The company is headquartered in Washington, DC. For more information about Allied Capital, please visit the web site at www.alliedcapital.com, call Allied Capital Investor Relations toll-free at (888) 818-5298, or e-mail us at ir@alliedcapital.com. For all media inquiries, please contact Allied Capital's Marketing Department at (202) 331-1112.
About Financial Pacific Company
Financial Pacific Company is a specialized commercial finance company, which provides lease financing to small businesses nationwide through a network of independent brokers. FinPac's portfolio of $200 million in lease assets covers over 25 categories of equipment, including industrial, food service, data processing, vehicles, trailers, construction, and maintenance equipment. The company, which was founded in 1975, employs over 120 professionals and is headquartered in Federal Way, WA. The company's current majority owner is Windward Capital Partners, L.P. For more information, please visit www.finpac.com.
Forward-Looking Statements
The information contained in this press release contains forward-looking statements. These 
forward-looking statements are subject to the inherent uncertainties in predicting future 
results and conditions. Certain factors could cause actual results and conditions to differ 
materially from those projected in these forward-looking statements, and these factors 
are enumerated in the company's periodic filings with the Securities and Exchange 
Commission.
# # #
Since the announcement of Financial Pacific seeking an IPO, Leasing News has followed up with the underwriters, who kept saying it was waiting approval at the Security Exchange Commission.  Evidently the "Fin Pac" board of directors decided to take a direct offer,
as the press release states.  No one is talking about what really happened.
Here is a background on the company up to the seeking of the IPO:
http://www.leasingnews.org/Conscious-Top%20Stories/Fin_pac_prosp_avail-1.htm
---------------------------------------------------------------------
Classified Ads---Help Wanted
Account Executive

Account Executive: Leasing professional in the small to middle market with at least 3 years business development and direct sales experience. Dallas, Denver or Chicago location. Strong commission plan plus benefits. E-Mail tbecker@bankbv.com.
About the Company: Bank of Blue Valley is a locally owned community bank with $600 million in assets. We are one of the leaders in the Kansas City financial community. Our bank offers true community banking with services,
products and convenience for businesses, families and individuals seeking a complete banking relationship. Check out our website @ www.bankbv.com.

Business Development Office
Business Development Officer,leasing exp.,min 3 yrs business & direct sales exp. Banking procedure knowledge helpful. Gilroy, CA location, serving four surrounding counties. E-mail valdezd@1stnational.com or see Career Opportunities www.pcbancorp.com
About the Company: Pacific Capital Bancorp is a $5+ billion, multi-bank holding company dedicated to providing an enduring network of community banks on the Central Coast of California. This unique partnership of independent banks provides customers in six California counties with the financial strength and product diversity of a big bank, delivered with the responsiveness and personalized attention of a local community bank.
Marketing Indirect Origination
MARKETING INDIRECT ORIGINATION:

New York. One of the largest ind. equip.lessors needs motivated, self-starter to purchase single investor leases from institutional investors; min.transaction $1 million; portfolio of primarily investment grade lessees/good "story credits".
Min 3 yrs exp. sourcing/ originating leasing transactions, knowledge credit and pricing.
E-mail: jobposting1@leasingnews.org
Sales

Sales: Long Established West Coast Co., lessor/broker looking to expand. Top commission/salary/bonus. Organized with sales experience in small/mid size leases a necessity. Home office OK. Experienced back office support.
Contact john@odysseyequipfinance.com
About the Company: www.odysseyequipfinance.com
Specialist
Port Leasing Sales Officer - Port of Long Beach: conducts/oversees negotiations for leases, permits, property acquisition; prepares lease proposals; negotiates prop. acquisition; neg. lease agreements with new/exisiting tenants; develops financial info. to analyze lease proposals. College degree expected. Contact: Stuart Satow, CPS Executive Search 916-263-1401, ssatow@cps.ca.gov
----------------------------------------------------------------------------------

World Leasing Yearbook 2004
The only annually-updated international reference book for the asset financing and leasing industry available. The new 25th edition includes the latest market trends, over 100 authoritative articles and reports on the leasing software and IT market, an exclusive ranking of the top 50 leasing markets by size worldwide with feature profiles from Africa to Venezuela PLUS a directory of over 4,400 contacts.

HOW TO ORDER - Simply call our Customer Hotline on +44 (0) 20 7779 8999 or toll free in the US +1 800 437 9997.
Alternatively visit https://www.euromoneyplc.com/ to order online
------------------------------------------------------------------------------
#### Press Release ##########################
Resource America's LEAF Financial Acquires the
Business of Premier Lease Services, L.C.
PHILADELPHIA--(--Resource America Inc. (NASDAQ:REXI) announces today that its wholly owned leasing subsidiary LEAF Financial Corporation ("LEAF") has expanded its lease origination capability and assets under management with the acquisition of the business of Premier Lease Services, L.C. of West Des Moines, IA. The acquisition includes both a portfolio of small ticket leases with a value of $34 million bought on behalf of its investment partners and numerous vendor finance relationships as well as experienced origination personnel. After this acquisition, LEAF will manage approximately $150 million of leases for its own account, for institutions and third party investors. LEAF management believes that the additional origination capability purchased in this acquisition should enable it to originate over $200 million of additional lease assets for its investment vehicles in calendar 2005.
   Premier Lease Services, L.C. is a commercial equipment finance company that specializes in small-ticket equipment leasing and originates, funds, services, and acquires leases in all 50 states. Through established relationships with key equipment vendors such as Maytag, Dixie-Narco and Sears Commercial Appliance, it has originated over $190 million in equipment leases since 1996. In all, over 600 manufacturers, dealers and distributors of equipment to commercial enterprises have taken advantage of "partnering" with Premier.
   Crit DeMent, Chairman and CEO of LEAF, said, "We are pleased to welcome Doug Fisher and the other Premier Lease Services team members to the LEAF family. Premier's strategy of originating business through vendors fits well with the LEAF business model and we are excited by the potential of this synergistic combination. Not only does this enhance our origination capability but our investment partners will benefit from the quality of the assets generated by the Premier channel."
   LEAF Financial Corporation is a commercial leasing company headquartered in Philadelphia, PA. LEAF's business model is to originate small ticket equipment leases by reaching the small to mid sized business market by forming strategic marketing alliances and other program relationships with equipment vendors, commercial banks and other financial institutions. After origination, LEAF manages the leases for its own account, institutions, and individual investors through investment partnerships and other investment vehicles. LEAF Financial Corporation is a wholly owned subsidiary of Resource America Inc. (NASDAQ:REXI).
   Resource America Inc. is a specialized asset management company that uses industry specific expertise to generate and administer investment opportunities for its own account and for outside investors in the equipment leasing, financial services energy and real estate industries. For more information please visit our website at www.resourceamerica.com or contact investor relations at pschreiber@resourceamerica.com. 
CONTACT:Resource America, Inc., Philadelphia Investor Relations: Pamela Schreiber,
215-546-5005 Facsimile: 215-546-5388
SOURCE: Resource America, Inc.
#### Press Release #########################
NACM Credit Manager's Index (CMI) for June 2004:
Stable Readings Indicate Continued Growth
COLUMBIA, MD: - The National Association of Credit Management (NACM) has released its Credit Manager's Index (CMI) for June 2004. The CMI, a monthly survey of the business economy from the standpoint of credit and collections, was launched in January 2003 to provide financial analysts with another strong economic indicator.
Overall, there was very little change in June's aggregate readings for the CMI and its subcomponents. The CMI-Total Index fell 0.1, the manufacturing component rose 0.5, and the service sector dropped 0.7. The bottom line is that the economy continues to grow at a good clip.
The CMI survey asks credit managers to rate favorable and unfavorable factors in their monthly business cycle. Favorable factors include sales, new credit applications, dollar collections and amount of credit extended. Unfavorable factors include rejections of credit applications, accounts placed for collections, dollar amounts of receivables beyond terms and filings for bankruptcies.
A complete index including results from the manufacturing and service sectors, along with the methodology, is available at:
http://www.two.leasingnews.org/loose_files/CMI_June2004.pdf
The National Association of Credit Management (NACM), headquartered in Columbia, Maryland supports more than 25,000 business credit and financial professionals worldwide with premier industry services, tools and information. NACM and its network of Affiliated Associations are the leading resource for credit and financial management information and education, delivering products and services which improve the management of business credit and accounts receivable. NACM's collective voice has influenced legislative results concerning commercial business and trade credit to our nation's policy makers for more than 100 years, and continues to play an active part in legislative issues pertaining to business credit and corporate bankruptcy.
Contact:
Norma Heim, NACM
410-423-1842
### Press Release #########################
LASALLE SYSTEMS LEASING RELOCATES TO MB FINANCIAL CENTER, ROSEMONT
CHICAGO/ROSEMONT, IL – ( LaSalle Systems Leasing, a subsidiary of MB Financial Bank, N.A., has relocated to the new MB Financial Center at 6111 N. River Road in Rosemont.
The new facility provides expanded office space for LaSalle Systems Leasing, which provides creative and flexible lease alternatives primarily in the high technology arena. Historically their focus has been in the operating lease (off balance sheet) financing and has evolved into providing new and used equipment solutions as well as web based services to customers.
MB Financial will consolidate a number of its administrative and operating departments in the new MB Financial Center during the coming months.  MB Financial has been making significant improvements to the Class-A, 11-story office building and adjacent 800 vehicle parking structure located in the greater O'Hare corridor.
MB Financial, Inc. is a Chicago-based financial holding company which is traded on the NASDAQ as "MBFI." MB Financial has more than $4.9 billion in assets. Information about MB Financial can be found at www.mbfinancial.com. MB Financial operates through MB Financial Bank, N.A. in Illinois and Union Bank, N.A. in Oklahoma.
Contact:
Karen Perlman                                                 Jeffrey D. Bierig
312-633-0260                                                 847-509-5777
kperlman@mbfinancial.com                              jbierig@minkuspr.com
### Press Release #########################
GATX Corporation Completes Sale of Information Technology Leasing Assets
CHICAGO, J GATX Corporation (NYSE:GMT) today announced that it completed the sale of substantially all the assets and associated non-recourse debt of its information technology (IT) leasing business, GATX Technology Services, to CIT Group, Inc. The terms of the transaction were not disclosed. The net book value of the IT assets sold, including non-recourse debt, was approximately $520 million.
Brian A. Kenney, chief financial officer of GATX Corporation, stated, "Both parties worked closely together to complete this sale ahead of the original schedule. I look forward to focusing our full attention on capitalizing on the opportunities in GATX's franchise rail and air businesses."
The agreement to sell these IT assets was previously announced on April 15, 2004.
COMPANY DESCRIPTION
GATX Corporation (NYSE:GMT) is a specialized finance and leasing company combining asset knowledge and services, structuring expertise, partnering, and capital to provide business solutions to customers and partners worldwide. GATX specializes in railcar, locomotive, and aircraft operating leasing.
Investor, corporate, financial, historical financial, photographic and news release information may be found at www.gatx.com.
SOURCE: GATX Corporation
GATX Corporation
Robert C. Lyons
(Analysts & Investors),
312-621-6633
or
Rhonda S. Johnson
(Analysts & Investors),
415-955-3211
#### Press Release #######################
Cisco Systems Sets Guinness World Record with the World's
Highest Capacity Internet Router
Ability to Download the Entire Printed Collection of the U. S. Library of Congress in 4.6 seconds
 (Newstream) -- Cisco Systems, Inc. on July the 1st announced that Guinness World Records has certified the Cisco Carrier Routing System (CRS-1) as the highest capacity Internet router ever developed at 92 terabits (92 trillion bits per second) of total throughput, designed to afford up to 100 times more capacity than previously available. The Cisco CRS-1 becomes the first networking technology to be recognized by Guinness World Records, which is the authority on record-breaking achievement around the world.
Cisco's CRS-1, announced in May 2004, is a new class of routing system designed for telecommunications service providers to deliver next-generation data, voice and video services over a converged Internet Protocol (IP) network. This system is ideally suited for large-scale, high-bandwidth applications such as video on demand, online gaming, and real-time interactive services. The IP router, introduced by Cisco in 1984, is the foundation of the public Internet and one of the most important technologies of the past 20 years.
"Cisco is proud to have Guinness World Records recognize the Cisco CRS-1 as the world's highest capacity Internet router," said Tony Bates, architect of the CRS-1 and vice-president and general manager of Cisco's Carrier Core and Multiservice business unit. "The technological advancement of the CRS-1 will provide the capability for Internet services and applications that have never before been available on such a large scale. Millions of people can now look forward to a new suite of exciting, multimedia services both at work and home."
Cisco's innovative and breakthrough routing system achieves the greatest level of speed and network capacity ever attained. The technological advancement of the CRS-1, for example, could make possible the delivery of high-bandwidth services and applications to entire nations. The CRS-1 with 92 terabits of bandwidth capacity, when augmented by adequate network and transmission capacity, would be capable of the following:
Download the entire printed collection of the U. S. Library of Congress in 4.6 seconds, as opposed to a dial-up modem transfer rate of 56 thousand bps which would take 82 years
1 billion people at the same time could play an online game, using real-time voice & chat
Give 872Kbps broadband connection to every household in the United States (105,480,101 households) 15 million people could watch quality video on demand simultaneously, which requires 6Mbps (6 million bits per second) per user
The population of Phoenix, Ariz. (1.3 million) could download a 4 MB song instantaneously. With today's technology, only 9,200 people could download the same song at once Approximately 12,415 people could download a 7.4 GB movie in one second The entire global population (6.4 billion) could have a simultaneous phone call using Voice-over-IP technology
"As the world advances technologically, it is important that we recognize the innovations that will revolutionize global communications," said David Hawksett, science and technology editor at Guinness World Records. "As soon as we saw the numbers, we were delighted to create a brand new category to acknowledge Cisco Systems and this great achievement in networking technology."
The Cisco CRS-1 complements Cisco's existing portfolio of routers that support the world's largest carrier and enterprise networks. The new routing system is the result of Cisco's proven 20-year track record in routing innovations through focused research and development programs. The Cisco CRS-1 provides carriers with high-performance core routing capabilities, and rounds out Cisco's existing carrier-class routing portfolio, which is ideally suited to deliver cost effective and innovative IP services. For information about the Cisco CRS-1 Carrier Routing System and Cisco's routing strategy, visit: www.cisco.com/go/crs
Availability and Pricing
The Cisco CRS-1 is currently in field trials now with carriers and service providers worldwide and will be available in July 2004. The starting system list price is $450,000 USD.
#### Press Release ########################
Vienna(R) Beef Breaks Record at Taste of Chicago for World's Longest Hot Dog, Measuring a Whopping 37 Feet, 2 Inches
        VIENNA BEEF WORLD'S LONGEST HOT DOG
Vienna(R) Beef breaks record at Taste of Chicago for world's longest hot dog, measuring a whopping 37 Feet, 2 inches. Local youth groups helped dress the Chicago-style hot dog starting with 1 gallon yellow mustard, 1 gallon bright green relish, 4 pounds of chopped white onions, 140 tomato wedges, 70 Vienna Kosher pickle spears, 140 sport peppers and finishing a whole lot of celery salt. The Chicago-style hot dog recipe starts with a Vienna all-beef hot dog served on an S.Rosen's poppy-seed bun, also made in Chicago. (PRNewsFoto)[AS]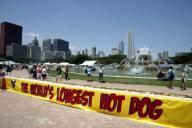 (Photo:  http://www.newscom.com/cgi-bin/prnh/20040701/CGTH021 )
    CHICAGO, -- To celebrate National Hot Dog Month,
Chicago-based Vienna(R) Beef assembled the world's longest hot dog, measuring
37 feet, 2 inches. The Vienna hot dog was more than twice as long as the
16-feet, 1-inch dog the company made last year, also at the Taste of Chicago.
At 37 feet, 2 inches, this year's dog also beat the current world record of 34
feet, 5.25 inches made by students from the University of Pretoria and
displayed at the Sonop Hostel, Pretoria, South Africa, on Oct. 18, 2003.
Vienna Beef is the official hot dog of the Taste.
    The 37-foot and 2-inch hot dog was set in a record-breaking S. Rosen's
bun.  "This year we broke our own record and all others known to date," said
Jane Lustig, vice president of Vienna Beef.  "Chicago hot dog lovers witnessed
the giant feat today near Buckingham Fountain and America's Dog," she said.
    Vienna obtained some extra help in its record attempt. Local youth groups
helped dress the Chicago-style hot dog. Members of The Latin School of
Chicago's band were on hand to keep the beat.
    The Chicago-style hot dog recipe is famous all over the world. It starts
with a Vienna all-beef hot dog, which is made only in Chicago, steamed and
served on a poppy-seed bun, also made in Chicago.  Hot dog experts refer to
the condiment process as "dragging it through the garden," starting with
yellow mustard, bright green relish, fresh chopped white onion, two tomato
wedges, a kosher pickle spear, two sport peppers and finishing with a dash of
celery salt.
    Assembling the world's longest hot dog, which weighed about 17-1/2 pounds,
required:
     -- 7 assemblers, who were chosen from youth and children's groups
        attending the festivities
     -- a record-breaking S. Rosen's bun with an estimated 125,280 poppy seeds
     -- 1 gallon of mustard
     -- 1 gallon of bright green relish
     -- 140 tomato slices
     -- 4 pounds of chopped onions
     -- 70 Vienna Kosher pickle spears
     -- 140 sport peppers
     -- a whole lot of celery salt
    Vienna Beef will donate the equivalent amount of food that makes the
world's longest hot dog to the Greater Chicago Food Depository, a not-for-
profit food distribution center feeding hungry people in Cook County.
    Fun Frankfurter Facts
     -- Americans will enjoy 150 million hot dogs on July 4th alone and
        consume more than 2 billion hot dogs during the rest of the month with
        the summer's total at 7 billion.
     -- Vienna Beef produces 750,000 hot dogs a day, using 60,000 pounds of
        beef per day.
     -- Chicago is home to 1,800 hot dog stands serving Vienna Beef - totaling
        more than the top five major fast food chain outlets in Chicago
        combined.
     -- Chicago ranked No. 4 on the list of the top 10 US Hot Dog Eating
        Cities in 2003.
     -- The Chicago-style hot dog dates back to 1893 when two young immigrants
        brought their frankfurter recipe from Austria-Hungary to Chicago's
        World's Fair/Columbian Exposition.  The newfangled hot dog sandwich
        quickly became Chicago's favorite treat. It wasn't long before the
        entire country discovered Vienna.
    About Vienna(R) Beef
    Vienna(R) Beef, 2501 N. Damen Ave., remains a family-run business, which
began operations in 1893 in Chicago.  The Chicago-style hot dog hasn't changed
and neither has Vienna Beef's commitment to quality.  Customers know that
Vienna Beef means goodness throughout, from the 100% domestic beef and sweet
brisket trimmings to the high-tech processing and old-world hickory smoking,
all prepared in the company's USDA Establishment #1 approved facility.  Vienna
Beef hot dogs are sold at hot dog stands and restaurants; ballparks; zoos; and
country clubs, as well as grocery, warehouse clubs and convenience stores.
Customers know the "V" means pure Chicago flavor, without a single unnatural
additive or undeserved compliment.
    About S. Rosen's
    A Chicago tradition since 1909, S. Rosen's has a proud reputation for
baking the best tasting deli rolls, buns and breads. S. Rosen's rolls, buns
and breads bring a traditional deli taste to hot dogs, Brats and Italian
Sausage sandwiches. S. Rosen's is a truly delicious way to make a sandwich
special. Its parent company, Alpha Baking, produces three million hot dog buns
a day during the peak summer season.
    About America's Dog
    With locations at Buckingham Fountain and Navy Pier, America's Dog is
owned and operated by brothers Manolis and George Alpogianis.  In addition to
the traditional -- and best-selling -- Vienna Beef Chicago-style hot dog,
America's Dog offers 13 different options including the Milwaukee Dog, the
Baltimore Dog and the Atlanta Dog.  Hours at the Buckingham Fountain location
are 10:00 a.m. to 11:00 p.m. every day.
 ### Press Release ########################
_______________________________________________________________
This Day in American History
1776- the Continental Congress, Philadelphia, PA, having a quorum, voted to adopt  a resolution introduced June 7, 1776, by Richard Henry Lee of Virginia: "Resolved, That these United Colonies are, and of right ought to be, free and independent States, that they are absolved from all allegiance to the British Crown, and that all political connection between them and the State of Great Britain is, and ought to be, totally dissolved. That it is expedient forthwith to take the most effectual measures for forming foreign Alliances. That a plan of confederation be prepared and transmitted to the respective Colonies for their consideration and approbation." This resolution prepared the way for signature and adoption, July 4,1776, of the Declaration of Independence.
http://www.stratfordhall.org/rh-letter2.htm
http://lcweb2.loc.gov/ammem/bdsds/lee.html
http://www.richardhenrylee.net/
1777- slavery emancipations was enacted into law by Vermont: " No male person born in this country or brought from over sea, ought to be holden by law, to serve any person as a servant, slave or apprentice, after he arrives to the age of twenty-one years, nor female, in like manner, after she arrives to the age of eighteen years, unless they are bound by their own consent, after they arrive to such age, or bound by law, for the payment of debts, damages, fines, costs, or the like."
1778- Cyrus Griffin of Virginia, the president of the Congress, announced that the Constitution had been ratified by the required nine states (the ninth being New Hampshire June 21, 1788), and a committee was appointed to make preparations for the change of government.
1822-Perhaps one of the events that slowed those advocating freedom was
the ceremony and significance of the hanging of Denmark Vesey.  He was the planner of what would have been the biggest slave revolt in US history.  Denmark Vesey was executed at Charleston, SC.  He had been born around 1767, probably in the West Indies, where he was sold at around age 14 to Joseph Vesey, captain of a slave ship.  He purchased his freedom in 1800.  In 1818 Vesey and others began to plot an uprising, he held secret meetings, collected disguises and firearms and chose a date in June, 1822. But authorities were warned, and police and the military were out in full force.  Over the next two months, 130 blacks were taken into custody, 35, including Vesey, were hanged and 31 were exiled.  As a result of the plot, Southern legislatures passed more rigorous slave codes. http://www.theatlantic.com/issues/1861jun/higgin.htm
1863-The second day of the battle of Gettysburg. Both armies faced each
other in a parallel line one mile apart. General Longstreet basically holds back,
disagreeing with General Lee orders, as Longstreet waits.  Lee sends in
his best, his right hand fighting force, the price of the South,  J.E.B.Stuart. The
delay by Longstreet changes the course of the battle.  The time gives the
Federal troops time to organize and position themselves. In his book, Longstreet
says these reports are incorrect, especially about specific orders to attack.
This battle was never planned, but was stumbled into as General Lee was on his way for a surprise attack on Washington, D.C. Several generals died this
day in battle, and Longstreet has his version of what happened. http://memory.loc.gov/ammem/today/jul02.html
http://www.nps.gov/gett/getttour/day2.htm
http://www.pekin.net/pekin108/edison/projects/jon.htm
http://home.sprynet.com/~carlreed/HuntDay2.html
http://www.civilwarhome.com/longstreetgettysburg2.htm
http://www.geocities.com/Pentagon/Quarters/2471/Gettypictures.html
1864-Congress established the National Statuary Hall, formerly the Hall of the United Sates House of Representatives in the Capital at Washington, DC.  Each state was invited to contribute marble or bronze statues of its most distinguished citizens. http://www.virtualology.com/hallofusa/nationalstatuaryhall/
http://dmla.clan.lib.nv.us/docs/dmla/press/2002/03-11.htm
1890—The Sherman Act was enacted by Congress.  Also known as the Antitrust law, it was " an act to protect trade and commerce against unlawful restraints and monopolies. " It provided that "every contract combination in the form of trust or otherwise, or conspiracy, in restraint of trade or commerce among the several states, or with foreign nations, is hereby declared to be illegal."
http://www.usdoj.gov/atr/foia/divisionmanual/ch2.htm
http://www.infoplease.com/ce6/history/A0844878.html
The census recorded a population of 62,947,714.  The center of population was placed at 20 miles east of Columbus, Indiana.  The melting pot character of New York City was reflected in statistics revealing that there were half as many Italian New Yorkers as Neapolitans in Italy, as many German New Yorkers as Germans in Hamburg, twice as many Irish New Yorkers as Dubliners, and two and half-half times as many Jews as were living in Warsaw. It would not be until shortly after
the turn of the century that immigration laws would slow down the mix.
1881- President James A. Garfield was shot as he entered the railway station at Washington. DC. He died Sept 19, 1881, never having recovered from the wound. The assassin, Charles J. Guiteau, was hanged June 30, 1882.        
  (bottom half of: http://memory.loc.gov/ammem/today/jul02.html )
1904-Jean Rene Lacoste, tennis player and clothier born at Paris, France. Lacoste, known as the Crocodile, was one quarter of the great French tennis players in the 1920's known as the Four Musketeers.  He won Wimbledon and the US championship twice each, the French Open three times and was ranked No. 1 in the world in 1926-27.  He designed the first shirt specifically for tennis, a loose-fitting cotton polo shirt that soon became the standard. He adorned the Lacoste shirt with a small crocodile, the first apparel logo. Died at St. Jean-de-Luz, France, October 12, 1996
http://www.tennisfame.org/enshrinees/jean_lacoste.html
1905-birthday of bandleader, saxophonist Harland Leonard, Kansas City, MO
http://www.umkc.edu/orgs/kcjazz/jazzfolk/leonh_00.htm
http://www.umkc.edu/orgs/kcjazz/jazzfolk/leonh_02.htm
http://www.jass.com/tom/next/lists/harlan.html
1908-birthday of Thurgood Marshall, the first African-American on the U.S. Supreme Court, born at Baltimore, MD.  For more than 20 years, he served a director-counsel of the NAACP Legal Defense and Educational Fund.  He experienced his greatest legal victory May 17,1954, when the Supreme Court decision on Brown v Board of Education declared an end to the "separate but equal" system of racial segregation in public schools in 21 states.  Marshall argued 32 cases before the Supreme Court winning 29 of them, before becoming a member of the high court himself.  Nominated by President Lyndon Johnson, he began his 24-year career on the high court. Oct 2, 1967, becoming a voice of dissent in an increasingly conservative court. Marshall announced his retirement June 27, 1991, and he died January 24, 1993, a t Washington,DC.
http://www.ai.mit.edu/~isbell/HFh/black/events_and_
people/html/001.thurgood_marshall.html
1917-W.E. B. Dubois, Marcus Garvey, and James Weldon Johnson of the NAACP, led a silent march down Fifth Avenue at New York, following the previous day Saint Louis race riots ( reported in yesterday's A Day in American History )  Between 20 and 75 blacks were killed, and hundreds more were injured.
1921-Jack Dempsey successfully defended his heavyweight championship against French contender George Carpentier. The challenger staggered Dempsey in the second round, but the "Manassa Mauler" recovered and knocked out Carpentier in the fifth round.  The fight grossed $1,789,238, boxing's first million-dollar gate, as 80,000 fans took their seats in a specially-built outdoor arena in Jersey City, NJ.
1930-PianistAhmad Jamal (Fritz Jones ) birthday http://www.portsmouthnh.com/jazznight/ahmadjamal.html
http://www.jazzine.com/artists/ahmad_jamal.phtml
1939-birthday of singer Paul Williams, Birmingham, AL
http://members.aol.com/maaalumni/index.html
http://www.angelfire.com/stars/classictemptations/index.html
1941—Gene Krupa Band with Roy Eldridge record " Rockin' Chair."
      (Hoagy Charmichael first wrote and sang this, and Jack Teagarden
      later had a hit in the late 1920's. It later became his signature song. ).
1943-First Lieutenant Charles Hall of Brazil, In, became the first Army pilot who was African-American to shoot down an Axis airplane in World War II when she shot down a German FockeWulf 190 over Sicily.  He was flying a Warhawk as part of a fighter squadron escorting bombers. The squadron commander was Lieutenant Colonel Benjamin Oliver Davis, Jr., who later became the first Africa-American general of the Air Force.
http://www.nasm.si.edu/features/blackwings/hdetail/detail_story.cfm?id=44
http://www.findagrave.com/cgi-bin/fg.cgi?page=gr&GRid=6947
http://www.redstone.army.mil/history/integrate/chron3b.htm   
1944- impresario Norman Granz presented the first Jazz at the Philharmonic concert at the Philharmonic Auditorium in Los Angeles. The series, which later toured the US and Canada, presented the best mainstream jazz artists, both in individual sets, and in an all-star jam session. The success of Jazz at the Philharmonic proved, as Granz said, that there was "money to be made in good jazz." Granz later formed Verve, one of the leading jazz labels of the 1950's and '60s
1951--Top Hits
Too Young - Nat King Cole
Mister and Mississippi - Patti Page
On Top of Old Smokey - The Weavers (vocal: Terry Gilkyson)
I Want to Be with You Always - Lefty Frizzell
1955- "The Lawrence Welk Show" premiered on television, lasting for nearly three decades. By high school best friend Warren Luening played trumpet in the show, who is today a well-known professional studio, move, and television musician. He is mentioned often in movie titles and CD ROMs for his solo's and performance
http://207.168.179.75/jazzography/gallery/Warren_Luening.html
http://www.trumpetguild.org/news/99aa.htm
http://www.flyingpisanos.com/Photos.htm
http://www.musicweb-uk.com/pisanos.html
http://www.artistdirect.com/music/artist/appears/0,,460884,00.html
http://music.barnesandnoble.com/search/product.asp?ean=13431486824
http://music.barnesandnoble.com/search/product.asp?ean=13431463320
http://music.barnesandnoble.com/search/product.asp?ean=11105954020
http://www.artistdirect.com/store/artist/album/0,,1080878,00.html
http://www.artistdirect.com/store/artist/album/0,,192577,00.html http://www.rhino.com/features/tracks/78254trx.html http://www.cdnow.com/pagename=/RP/CDN/FIND/album.html/itemid=1356803
/from=sr163463-2
http://www.stp.uh.edu/vol64/146/shobiz/shobiz-index.html
http://www.artistdirect.com/store/artist/album/0,,203866,00.html
1956 - Elvis Presley recorded "Hound Dog" and "Don't Be Cruel" and "Anyway You Want Me " for his new record label home, RCA Victor in New York. It's the first session to feature the Jordainaries, a vocal harmony quartet.
1957-"The Andy Williams Show" premiered   Mike Post was hired as musical director "in order to appeal to a younger audience; he introduced the practice of prerecording band arrangements rather than recording them during the taping of the show." In 1976, Williams hosted "Andy," a syndicated show.    
1959--Top Hits
Personality - Lloyd Price
Lonely Boy - Paul Anka
Lipstick on Your Collar - Connie Francis
The Battle of New Orleans - Johnny Horton
1961—Roger Maris hits 29th and 30th home run en route to 61 homers.
1963 In one of baseball's most memorable pitching duels, Giants' Juan Marichal and Braves' Warren Spahn both hurl 15 scoreless innings before Willie Mays ends the marathon with a homer off Spahnie in the bottom of the 16th giving San Francisco a 1- 0 win.
1964- President Lyndon Johnson signed the Voting Rights Acts into law, prohibiting discrimination on the basis of race in public accommodations, in publicly owned or operated facilities, in employment and union membership, and in the registration of voters.  The bill included Title VI, which allowed for the cutoff of federal funding in areas where the discrimination persisted.  
1966- Temperature at Philadelphia, PA soared to 104
1967--Top Hits
Windy - The Association
Little Bit o' Soul - The Music Explosion
San Francisco (Be Sure to Wear Flowers in Your Hair) - Scott McKenzie
All the Time - Jack Greene   
1969- Reds pitcher Jerry Arrigo ties a major league mark when he hits his third Brave in the second inning of 9-4 victory. Braves tie the record hitting five batters in one game.
1975--Top Hits
Love Will Keep Us Together - The Captain & Tennille
When Will I Be Loved - Linda Ronstadt
Wildfire - Michael Murphey
Tryin' to Beat the Morning Home - T.G. Sheppard
  1976- Brian Wilson, rehabilitated from drug and other problems, joined the Beach Boys on stage in Oakland, California for the first time in 12 years. He performed with the group again the following night, and the event was recorded for an NBC television special.
1983--Top Hits
Flashdance...What a Feeling - Irene Cara
Electric Avenue - Eddy Grant
Every Breath You Take - The Police
Love is on a Roll - Don Williams
1985- Astro hurler Joe Niekro notches his 200th career victory. The Niekro brothers (Joe & Phil) will join the Gaylords (Jim & Gaylord) as the only brothers to win at least 200 games per pitcher.
1988- Michael Jackson became the first artist to have five number one singles from one album when "Dirty Diana" went to the top of the Billboard Hot 100. The other four chart-toppers from "Bad" were "I Just Can't Stop Loving You," "Bad," "The Way You Make Me Feel" and "Man in the Mirror."  
1989--Thunderstorms produced 158 reports of large hail or damaging winds. Evening storms in northeast Texas produced softball size hail which causes more than $5 million damage at Allen and wind gusts to 90 mph at Dallas which injured 8 persons and caused $7 million damage.
1991--Top Hits
Rush, Rush - Paula Abdul
Unbelievable - EMF
Power of Love/Love Power - Luther Vandross
The Thunder Rolls - Garth Brooks
1992- A cold July day as Saranac Lake, NY drops to 30, East Haven, VT to 29, West Charleston ,VT 30
1994-Andrews Escobar, 27 a defender on Colombia's 1994 World Cup soccer team, was shot 12 times and killed by an unknown assailant in Medellin, Colombia.  The shooting occurred ten days after Escobar had scored an "own goal," kicking the ball into his own net in a 2-1 opening round upset loss to the United States. Witnesses aid the shooter shouted, " Goal! Goal!" as he fired each shot.
1994 -Heavy rains from the remains of Tropical Storm Alberto produces major flooding across northern and central Georgia. Three day rains exceeded 15 inches at Atlanta., GA, 21.10 inches at Americus, GA. Numerous road closures and bridge washouts. 30 people were killed and 50,000 were forced from their homes as 800,000 acres were flooded. Total damage exceeded $750 million
1997 - "Men in Black" opened in the U.S. It's a fun-filled sci-fi tale about a secret organization that's been keeping track of extra-terrestrial aliens on Earth for over 40 years. This organization so secret that when you retire, your memory of it is erased! Agents Kay (Tommy Lee Jones) and Jay (Will Smith) expose a plot by intergalactic terrorist Edgar (Vincent D'Onofrio) who has beamed (or whatever) to Earth to assassinate two ambassadors from opposing galaxies. Complex, but hilarious, but action packed. Audiences beamed (or whatever) to theatres the first weekend, spending $51.07 million on the movie.
2002 -Fifty-three major league players hit a record 62 home runs breaking the mark of 57 established on April 7, 2000. The barrage includes record-tying dozen hit at Chicago's Comiskey Park by the White Sox and the Tigers, the same two teams which set the major league record for homers in a game with 12 at Tiger Stadium in 1995.
-----------------------------------------------------------------------------------------
Happy Fourth of July from the Editor
            July 2, 1776- the Continental Congress, Philadelphia, PA, having a quorum, voted to adopt  a resolution introduced June 7, 1776, by Richard Henry Lee of Virginia: "Resolved, That these United Colonies are, and of right ought to be, free and independent States, that they are absolved from all allegiance to the British Crown, and that all political connection between them and the State of Great Britain is, and ought to be, totally dissolved. That it is expedient forthwith to take the most effectual measures for forming foreign Alliances. That a plan of confederation be prepared and transmitted to the respective Colonies for their consideration and approbation."
 Contrary to widespread misconceptions, the 56 signers did not sign as a group and did not do so on July 4, 1776. Roads were extremely poor, travel was very difficult, and there was a war on. John Hancock and Charles Thompson signed only draft copies on July 4th.
It was also not unanimous, as New York did not agree until July 19th. The signing of the official declaration occurred Aug 2,1776, when 50 men officially signed the document. Later that year, five more  signed separately and one added his name in 1781.
 July 3, 1776 ,John Adams wrote a letter to his wife "...the Second day of July, 1776, will be the most memorable Epoch, in the History of America...celebrated, by succeeding Generations, as the great anniversary Festival. When the letter was published in the nineteenth century, an editor changed the date of the letter to July 5, and had Adams advising his wife that the "Fourth day of July, 1776" would be honored as the anniversary of U.S. independence. Other newspapers picked up the story. It made the rounds just as Internet hoaxes do today, and has become the "traditional date." 
Congress made July 4th a legal holiday in1941.
 As a point of trivia, George Washington ( the second president, but will leave that for another day in history,) very much disliked July 4th as it reminded him in 1754 that he surrendered Fort Necessity when attacked by a large French contingent from Fort Duquesne.  This defeat left the French in possession of the Ohio River Valley and Washington never forgot.  It was the last and most significant of the French and Indian Wars, occurring when a small force under his command in May defeated a reconnaissance party of French and Indians near Duquesne.  Unable to proceed against the superior French forces in the fort, Washington erected Fort Necessity at nearby Great Meadows, only to lose it on July 4, 1754.
http://lcweb2.loc.gov/ammem/bdsds/lee.html
http://www.richardhenrylee.net/
The yellow flag with the rattlesnake in parts above "Don't Tread on Me" was
the first official American Flag. It was adopted by Colonel Christopher Gadsden of South Carolina, who had it approved by the South Carolina Congress. It was first flown by Commodore Esek Hopkins, commander of the new Continental fleet, carried a similar flag in February, 1776, when his ships put to sea for the first time. On January 4,1776 it was flown as he landed in Bermuda and recognized as an American. This is considered the first naval battle of the Revolutionary War.
If there was a popular saying in the colonies, it was "Don't Tread on Me." This was aimed at the British, the Dutch, the French, the Spanish and others who were fighting to claim the new world as theirs. The settlers were a mixture, who fled the lifestyle of Europe and wanted to change their life: freedom, not rule
by a monarch ( dictator.) One of the first things they did was to change
the inheritance law. In Europe, everything went to the eldest son. In
America, it was divided among all the males (and sometimes women were
named, too).
First of all, social customs and things were different at the end of the 18th century. Yellow was not a "warning sign," as it is today, but the most popular color for a flag.
Rattlesnakes did not have the meaning that they have today, as the population had not moved out past Pennsylvania and parts of Ohio, including Louisiana and Texas, who were not even territories at the time. The rattlesnake was one of Benjamin Franklin's and New England's favorite symbols. It was on many flags.
There were many farmers who found the reptile catching rodents, gophers, and they were used often as symbols on our flags and literature---not the connotation we have today from Westerns on TV and the movies.
As I said, things were quite different in those days. The early ports of
commerce for Europe was Bermuda. It was also a favorite "pirate" hide out
as it was in the main lane of commerce between the United States and Europe.
Christopher Columbus was very popular as he discovered the area.  One
of the controversies at the Constitution was many wanted to name the
county the United States of Columbus, but a compromise was reached
with the capital to be named the District of Columbia.
Esek Hopkins of Rhode Island was the first Commander-in-chief of the Continental Navy and severed until January 2, 1778. He also got into trouble with Congress for interpreting his orders rather broadly in diverting his fleet from its announced destination of Charleston to the Bahamas, where he made a successful raid on military stores.  His was the first Naval victory of the Revolutionary War. Congress sacked him anyway. Some say his real crimes were a hot temper and an unguarded tongue. Others say he had secret orders. Among his officers was First Lieutenant John Paul Jones "I have not yet began to fight," who helped take New Providence. This was the first American naval victory. Commodore Hopkins flew on this first and on other voyages the Gadsden flag, designed by a man from Charleston, Carolina, with a coiled rattlesnake and the motto ``Don't Tread on Me.''
As an additional point, military troops of the day carried the Gadsen flag. The official stars and stripes was to come much later, and in reality, not adopted and changed to the format we know today where stars represent the states ( not stripes) until the early 19th century. By 1818, the union consisted of 20 states. A Congressional act on April 4th mandated that the number of stripes be fixed at 13 and that one new star was to be added for each new state, the July 4 following its admission. However, nothing was written about what arrangement the stars should be in. We had the "Grand Star" flag for a while ( the stars were layered out in the form of a star) or staggered or not in rows. During the course of the Civil War,
stars were not deleted, although the states succeeded. Stars also were not added
the same year each state joined the union, as Congress became the body to make the proclamation.
Pledge of Allegiance" first published in a magazine called "The Youth's Companion." Authorship was claimed for James B. Upham and Francis Bellamy. In 1939 the United States Flag Association ruled that Bellamy was the author of the original pledge. The words, "under God" were added on June 14, 1954. In pledging allegiance to the flag, stand with the right hand over the heart or at attention. Men remove their headdress. Persons in uniform give the military salute. All pledge together: "I pledge allegiance to the flag of the United States of America and to the Republic for which it stands, one Nation under God, indivisible, with liberty and justice for all."
History has not changed, but our viewpoint and opinions have such as the first flag, and most popular was the yellow flag and the rattlesnake was a popular symbol. Dates that we celebrate today were not celebrated then, and contrary to popular believe, the constitution meetings were always started with a prayer
 ( often a different minister and a rabbi at several meetings, although most were Episcopalians ) and ended with a prayer, too.
                          We Wish You a Happy Fourth of July Weekend
                                      See You Next Tuesday!!!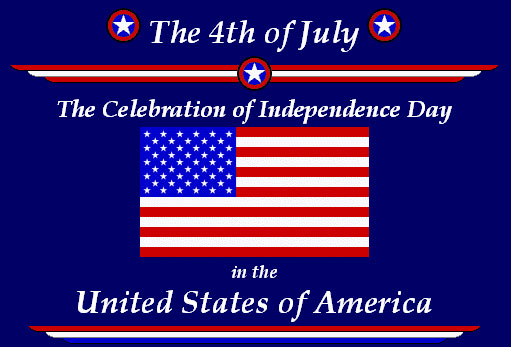 Click on image to see more
---