MARKETING INDIRECT ORIGINATION:

New York. One of the largest ind. equip.lessors needs motivated, self-starter to purchase single investor leases from institutional investors; min.transaction $1 million; portfolio of primarily investment grade lessees/good "story credits".
Min 3 yrs exp. sourcing/ originating leasing transactions, knowledge credit and pricing.
E-mail: jobposting1@leasingnews.org
Wednesday, July 7,2004
 Headlines---
Classified Ads---Collector/Controller
Norvergence Closed !!! To Re-Open Today
Marlin Set to Join Russell 3000 Index
Utility Trailer Celebrates "90 Years Strong"
El Camino Resources Ramps up Mexican Leasing
Edmunds.com Reports True Cost of Incentives
########  surrounding the article denotes it is a "press release"
-------------------------------------------------------------------------------
Classified Ads---Collector/Controller
Collector: Boston, MA. Challenging position where my skills, professional experience, organization, leadership, strategic thinking, creativity, energy, passion, competitive nature will enable me to define opportunities and personal development.
Email: bernd.janet@verizon.net
Collector: Jacksonville, East Brunswick, FL.
13 years experience with collection, recovery, re-marketing and legal on commercial loans and leases. Expertise with distressed portfolios, Six Sigma trained. Willing to relocate. Email:RichardB12364@aol.com
Collector: Joplin, Mo. Will do car repossessions, willing to go about anywhere. Have three years exp. thanks.
Email: derekrgreen@yahoo.com
Collector: West Hartford, CT. Credit/ Collections /Rental Management in leasing & construction fields. Looking for stable company that will appreciate my 20+ years of experience.
Email: losterastringban@aol.com
Controller: Seattle, WA
CPA w/ 15 years management exp. as CFO/ Controller/5 yrs w/ PriceWaterhouse Coopers. Extensive exp providing accounting/ tax guidance for the equipment lease industry. Willing to relocate.
Email: bltushin@hotmail.com
Controller: Southeastern, MI.
Controller & Management experience w/ equip lessors &broker. MBA, CPA w/ extensive accounting, management, securitization experience with public and private companies. Willing to relocate.
Email: Leasebusiness@aol.com
    Full listing of all classified ads: 
http://64.125.68.90/LeasingNews/JobPostings.htm
-------------------------------------------------------------------------------
Trucker strike continues
   (Owner and Operator Independent Drivers Associatio0n---OOIDA)
Strikes continued at some of the nation's ports July 1, but cooled some in other locations as independent truckers continued their efforts to bring attention to rising fuel costs, anti-union laws, unfair wages and inadequate surcharges to offset the cost of fuel.
Activity was reported June 30 at the Port of Savannah, where about a dozen people stood outside the port's entrance in protest. Truck traffic was down about 15 percent from last Monday, port officials told The Atlanta Journal-Constitution.
Meanwhile, the Associated Press reported that most of the independent truckers who boycotted the Port of New Orleans on June 28 returned to work July 1.
Nevertheless, some stories reported more possible protests at ports in New Jersey, South Carolina and other states at least through the July Fourth weekend. Other ports involved are in Boston, New Orleans, Houston and Miami.
For example, up to 100 drivers gathered outside the Port of Miami-Dade, and another protest took place at Port Everglades June 30
Truckers told local news outlets that a major issue there is that cargo-liability insurance is being taken out of the drivers' paychecks.
Napoleon Founte, who works for Quick Drayage, told The Miami Herald, "There are long lines at the Port of Miami, and it takes us about three to four hours to get in and out with our cargo, and we only get $50 per trip."
Meanwhile, sources told Land Line there is speculation that some carriers are offering incentives to get a few drivers to work. But, overall more truckers stopped operating June 30 than on June 29.
For example, the port of Charleston, SC, reported slower-than-normal traffic. About 50 demonstrators carried placards and signs outside port terminals there.
OOIDA's view
A major problem is that owner-operators are considered independent businesspeople and are forbidden by federal price-fixing laws from negotiating or banding together to talk with employers.
"The only bargaining leverage that these guys have is to withhold services or to threaten to withhold services," said Todd Spencer, executive vice president of the Missouri-based Owner-Operator Independent Drivers Association.
Talk about a strike has been rumored for more than two months. This latest round of activity stems from protests that began in early May in Los Angeles and spread to ports in Hampton Roads, VA, and Oakland, CA.
Meanwhile, OOIDA is using its lobbying muscle to push for meaningful surcharge legislation. The association believes that with today's high fuel prices, every shipper should be paying a fuel surcharge adequate to cover drivers' costs.
"For any middleman to pocket all or part of the surcharge is a fraud on the shipper and truck owner that should be punishable by law," Spencer said.
OOIDA has asked lawmakers in Washington, DC, to pass fuel surcharge legislation that will provide a permanent fix to this problem. While some legislators may still be hesitant to offer a legislative fix, OOIDA says, the choice to ignore high fuel prices that bankrupt truckers comes with perils for more than just small-business truckers.
"The entire economic recovery for the nation may well be set back or stalled," Spencer said. "Port drivers have been among the most abused in years. Steamship lines and railroads have taken full advantage of their bargaining position to beat these guys down bad. It's not surprising they are angry. And, it's shameful the only way their legitimate concerns will be addressed is when they threaten drastic action."
In a related development, a strike at the ports of Los Angeles and Long Beach is likely, according to July 1 news reports. However, the
issue at those two ports involves representatives of 16 shipping companies and their clerical workers who must agree to a new contract.
----------------------------------------------------------------------------
-----------------------------------------------------------------------------
Norvergence Closed !!! To Re-Open Today
Norvergence
550 Broad Street
Newark, NJ 07102
973-242-7500 Fax: 973-242-4686
A telephone call to Norvergence answered that they are "closed, but will re-open on Wednesday, July 7th."
E-mail to director of strategic development Robert Fine came back as undeliverable, and his voice mail said he was "out of the office."  He stated to Leasing News on October 17,2003:
"On a personal note, I can assure you that my twenty-seven years of
experience in the equipment leasing industry, primarily working for
commercial banks have impressed upon me the need to know the people with whom you are conducting business. Norvergence is an exciting and fast-paced company and I am very happy to be a part of this organization and look forward to its bright future.
"If anyone has any questions or would like more information, they may
contact me directly at 973-242-7500 (ext. 7293)."
Sincerely,
Robert J. Fine
Director of Bank Relations
http://www.norvergence.com/  has no announcements of any changes
This was posted on New Jersey Channel 12 Web Site July 3, 2004 at: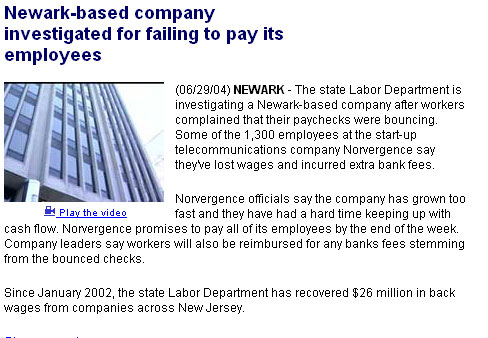 "I can't believe that there are still some NorV employees out there that haven't realized that IT IS OVER!!! Is there a rehab for that NorV kool-aid, because they need to detox.
"We're not getting recalled, we're not getting paid. There is no NorVergence. Norvergence has a trust fund in the name of Pete and Tom Salzano (money in a trust can't be touched, even by bankruptcy) and Tom Salzano has been buying up property in Florida (a homestead state, where bankruptcies and lawsuits can't equal your house...that's why OJ lives there now).
"The Salzanos have been planning this forever, no doubt. I just hope they slipped up somewhere and end up doing the hard time they so richly deserve.
"Get it through your head. We're not being "re-organized", we'll never be recalled and if we ever do get paid, it is because when banks liquidate your assets, the first thing they take care of is payroll and taxes.
"The branch offices are closed, the employees stole whatever they could carry out of there.
"I don't take any pleasure in being the one to drive this home. I liked my job at NorV. I made good money. They constantly screwed me by inventing new and improved ways to take money out of my check, but all in all, it was a good job and a GREAT product. There is no good reason for what has happened, but it has happened. And if you're fool enough to stay at home waiting for the phone to ring with your NorV job waiting on the other end, be prepared to starve.
"It's over....it's just plain over."
  From July 2:
"What was actually told to the employees is this... the banks which are funding Norvergence believe in the product. After the temporary shut down last week, the banks convinced the company to file chapter 11 in order to protect their investments before moving forward. This also protects the customers from losing service while the funding situation is being worked through. When any company files chapter 11 (re-organization), the courts then must review all payments before they are approved, including payroll. Once the company gets approval, all employees will receive what is owed them to date. Unfortunately, all employees had to be sent home by state law until this takes place. The company will then re-organize internally and continue to service their customers. We were told that we would be contacted about when we would receive our paychecks, not if. It is a frustrating situation for many who have not paid their bills yet this month, I am one of them. But I have faith that we will all receive our checks very soon and I cannot stand by and watch people lie publicly about what has happened. Such negativity can only hinder our possibility of being called back to work. Let's keep in mind that Norvergence pays it's employees twice as much as other tel-com companies by using high commission structures to motivate and reward. What other customer service reps and telemarketers do you know that are making $7000 a month? You're not going to make that much anywhere else."
"What non truths are you talking about. The fact that the Salzano brothers have screwed everyone over. I was lucky this is the first pay period where I did not get paid and I never had any bounced checks, however there are people who checks have bounced 2 times and this will make it 6 weeks with NO PAY! They haven't paid their vendors nor have they paid us. Salzano Brothers burn in hell for what you have done not just to the employees and the vendors, but what about all the companies that have signed on for o cents per minute. These people are never going to be able to recoup their money either, because as you know the reimbursement checks are bouncing too. I am no longer a Norvergence groupie I have stopped drinking the Norv Kool Aid and have waken up I suggest you do the same. If we had a 401k plan it would have been Enron all over again. The Salzano Brothers took the money and ran."
"I was upset at first about the whole ordeal. Having my check bounce, then making us work 2 more weeks and then the day before payday FIRING us. They has some nerve. People have rent and mortgages to pay. TODAY! Norvergence is in for $7000 to me. Instead of drawing it out, why not tell us to start looking for jobs elsewhere, 2 weeks ago, so that if things don't work out, we are prepared. I want my money and I will get it somehow. Loyalty gets you nowhere, especially with a company that has crooks and convicted felons running it, let this be a lesson. An expensive one. If they supposedly filed chapter 11, they have to give us that information. It's illegal for them not to. But as I thought about it, I felt a sense of relief to get out of that jungle we called a work environment. However I will miss my some of my fellow co-workers, if any of you have families, and are suffering right now, I hope everything works out. The lord works in mysterious ways, don't worry they will get it in the end. What goes around comes around. It's a wonderful thing to have access to company files. Literally thousands of customers, are they in for a big surprise! If any of you want to expose this company, post, I hope these people rot in prison. How about you guys? Post if so."
More complaints are being posted on the New Jersey News 12 Web Site and distraught customers are looking for answers:
"I would like to add my complaints on Norvergence. Again similar story we signed up on 1/19/2004 with Norvergence telling us that we will save 30%, and even today 6/16/2004 we still are not switched to Norvergence. However our Long distance and 800 toll free was switched to Qwest for and like all other Norvergence customers today, our toll free lines and all outgoing long distance services were down. Norvergence claims that it is "national long distance outage", but we checked with Qwest there is no such interruption with their company. It is obviously Norvergence Internal issues.
"We are still getting invoices from both Verizon and Norvergence as well as the Rental Bank Preferred Capital. Fortunately we are not yet fully connected and we still have all our lines with local Verizon company, we have requested Verizon to switch our long distance back to them and get our toll-free numbers back. This process will take 5 days which the damage is un-accountable. I also requested Bill Freeze so they will not be able to switch me back.
"I am going to refuse paying all Norvergence invoices and since I can not get hold of any customer service like all others, this should lead them to force someone to call ME instead of trying to reach someone. With my phone lines back with Local Carriers, We will not be interrupted with phone calls and I will wait for them to send me to collection and take this to court...
"Anyone filling a lawsuit please add me to your list.
"Eric
Pomona, California
U.S.A."
  Please send this to a colleague as we are trying to build up our
readership.  Ask them to subscribe, as we are "free."
Dan's Cartoon's
The first person to take advantage of our new feature about ads in our "free ad" section was Michigan based cartoonist Dan Rosandich. He can remember drawing cartoons at an early age.
"I recall as a young child, maybe around 5 years old, drawing different animals for my aunt, and she was laughing hysterically", says Rosandich who now has over 26 years behind him as a fulltime freelance cartoonist.
What began as a hobby, turned into an obsession over the years.
"I was constantly drawing and sketching, even in school, when I should have been studying" Dan says. "What else was I going to do with my life?"
After a few odd jobs he decided to try sending in gag panel cartoons to magazines like those you see in the back pages of Saturday Evening Post and others. He picked out a few obscure publications to send his work where the competition was less. The first to
send him a check was  Mechanics illustrated bought one out of his first submission of 10 cartoons. That was back in 1976 when $35 for one cartoon (which is what Mechanics Illustrated paid) was a decent price for a cartoon.
With this incentive, hey went to work creating new back up cartoons and slowly built up a large arsenal of cartoons that were circulating to dozens of magazines at anytime. It wasn't unusual to have well over 1,000 cartoons circulating in the mail at any given time. Financial publications like Barron's, Cash flow, and dozens of regional banking magazines were buying Dan's work regularly.
 With the advent of technology, Rosandich has built his own online catalog of cartoons he offers for publishers, designers, webmasters, editors, presentation specialists, consultants, speakers and other professionals and business people.
 His website DANSCARTOONS.COM (http://www.danscartoons.com) offers an extensive selection of cartoons to choose from which are categorized for easily locating the type of cartoons a person may want to license for a specific usage. Dan's licensing fees are negotiable based on a specific usage and he also specializes in creating custom cartoons to use in print ads, manuals, fax forms, intranets, books etc. Dan can be reached anytime at: dan@danscartoons.com
The cartoons that we "leased" from Dan are at:
     http://two.leasingnews.org/Danscartoon/

-------------------------------------------------------------------------------
Classified Ads---Help Wanted
Account Executive

Account Executive: Leasing professional in the small to middle market with at least 3 years business development and direct sales experience. Dallas, Denver or Chicago location. Strong commission plan plus benefits. E-Mail tbecker@bankbv.com.
About the Company: Bank of Blue Valley is a locally owned community bank with $600 million in assets. We are one of the leaders in the Kansas City financial community. Our bank offers true community banking with services,
products and convenience for businesses, families and individuals seeking a complete banking relationship. Check out our website @ www.bankbv.com.

Business Development Office
Business Development Officer,leasing exp.,min 3 yrs business & direct sales exp. Banking procedure knowledge helpful. Gilroy, CA location, serving four surrounding counties. E-mail valdezd@1stnational.com or see Career Opportunities www.pcbancorp.com
About the Company: Pacific Capital Bancorp is a $5+ billion, multi-bank holding company dedicated to providing an enduring network of community banks on the Central Coast of California. This unique partnership of independent banks provides customers in six California counties with the financial strength and product diversity of a big bank, delivered with the responsiveness and personalized attention of a local community bank.
Marketing Indirect Origination
MARKETING INDIRECT ORIGINATION:

New York. One of the largest ind. equip.lessors needs motivated, self-starter to purchase single investor leases from institutional investors; min.transaction $1 million; portfolio of primarily investment grade lessees/good "story credits".
Min 3 yrs exp. sourcing/ originating leasing transactions, knowledge credit and pricing.
E-mail: jobposting1@leasingnews.org
Sales

Sales: Long Established West Coast Co., lessor/broker looking to expand. Top commission/salary/bonus. Organized with sales experience in small/mid size leases a necessity. Home office OK. Experienced back office support.
Contact john@odysseyequipfinance.com
About the Company: www.odysseyequipfinance.com
Specialist
Port Leasing Sales Officer - Port of Long Beach: conducts/oversees negotiations for leases, permits, property acquisition; prepares lease proposals; negotiates prop. acquisition; neg. lease agreements with new/existing tenants; develops financial info. to analyze lease proposals. College degree expected. Contact: Stuart Satow, CPS Executive Search 916-263-1401, ssatow@cps.ca.gov Recruitment brochure

-------------------------------------------------------------------------------
2004 ANNUAL CONFERENCE & EXPOSITION (ACE)
October 21-24, 2004
Hyatt Regency Monterey
Monterey California
If you are a former UAEL member and would like to attend the 30th anniversary party, please call Joe Woodley or email to: jwoodley@uael.org
United Association of Equipment Leasing
78120 Calle Estado, 201
La Quinta, CA. 92253
760.567.2227 / 760.564.2206 Fax
The Monitor 100
The Monitor 100 is in the June magazine edition.  The thirteenth annual ranking of the 100 largest equipment finance/leasing companies in the U.S.  How they rank by asset size, new business volume and overall growth. 
Inserted into the publication is an excellent twenty page report.
Here are two of the reports. Note: in viewing this, we suggest when
open, increase the PDF viewing size.  The actual printed version
has a much better definition, and not only has a lot more
information, charts, comparisons, but is much more attractive
and much earlier to read than we present here:
http://www.two.leasingnews.org/loose_files/Monitor_100.pdf
http://www.two.leasingnews.org/loose_files/Monitor_100_comp_info.pdf
If you are not a subscriber, you should subscribe, if only to receive
this annual report.
The New 2004 Monitor 100 Report is Now Available!
Includes Top 50 U.S. Bank Report.
To place an order, please call 1.800.456.2570, ext. 125
Become a Monitor subscriber and receive the 2004 Monitor 100 Report PDF
3-Years -- BEST VALUE*
Save 61%  3-years $125
2-Years ave 53% 2-Years 105
1-Year ave 32% -Year$85
To place an order, please call 1.800.456.2570, ext. 125
Monitor 100 Report
2004 Monitor 100 Report (PDF)
Subscriber
$20
Non-Subscriber
$60
Monitor 100 Archives (PDF)
(2004 plus 1997-2003)
Subscriber
$40
Non-Subscriber
$120
*Annual subscription rates for 30 Issues at $3.67 per issue (includes $20 savings for 2004 Monitor 100 PDF) versus $9.50 per issue (10 issues) at our standard one-year rate of $95.
Special subscription rates apply to U.S. residents only -- international subscribers please call 00.1.610.293.1300 x125 for prices.

-------------------------------------------------------------------------------
Card Lenders Shirk Off Losses
   ABSnet
Losses started rising again last month among securitized credit-card accounts, but the troubles aren't expected to last long.
According to a monthly survey by S&P, the amount of card accounts deemed uncollectible rose by 23 bp, to 6.99%, during the 30-day period ended June 15. The rising losses erased improvements from the previous month, when cardholder defaults dropped to their lowest point in almost two years.
Market players shrugged off the deteriorating performance as a temporary blip - since losses among securitized accounts are expected to fall steadily during the second half, thanks to the strengthening economy.
That view seems to be supported by delinquency rates, which have been improving since early this year. In fact, the average amount of securitized accounts falling more than 30, 60 or 90 days past due decreased again during the May-June stretch, for the fourth month in a row.
The credit protections built into credit-card securitizations also improved slightly last month, helping to offset losses. Excess spreads averaged 6.97% as of mid-May, up 16 bp from a month earlier. Those cushions will likely start going downhill over the next month or so, as short-term interest rates rise. However, the harm caused by sliding excess spreads will probably be countered by lower losses.
Last month's improvement among excess spreads, which represent an issuer's profits and act as the first layer of protection for bondholders, were largely attributable to rising yields. On average, yields on securitized card accounts jumped 40 bp, to 17.5% - mainly because there were more business days than usual in last month's collection cycle.
S&P's index measures a number of performance factors for $414 billion of securitized credit-card receivables. A link to the full reports on S&P's past surveys can be found at standardandpoors.com by clicking "Indices" and then "Structured Finance."
---------------------------------------------------------------------------
### Press Release ############################# 
Marlin Business Services Corp. Set to Join Russell 3000 Index
MOUNT LAUREL, N.J.----Marlin Business Services Corp. (NASDAQ:MRLN) was added to the Russell 3000(R) Index on June 25, 2004 when Russell Investment Group reconstituted its family of 21 U.S. indexes. Membership in the Russell 3000, which remains in place for one year, means automatic inclusion in either the large-cap Russell 1000 or small-cap Russell 2000 as well as the appropriate growth and style indexes. Marlin Business Services Corp. will be included in the Russell 2000(R) Index.
   "As a new public company, we are truly excited at our inclusion in this year's Russell indexes and the prestige it offers," said Dan Dyer, Chairman and CEO of the company.
   Membership in Russell's 21 U.S. equity indexes is determined primarily by objective market capitalization rankings and style attributes. Russell indexes are widely used by investment managers and institutional investors for index funds and as benchmarks for both passive and active investment strategies. More than $360 billion is invested in passive funds based on Russell's indexes and an additional $1.4 trillion is benchmarked to them. Investment managers who oversee these funds purchase shares of member stocks according to that company's weighting in the particular index.
   Annual reconstitution of Russell indexes captures the 3,000 largest U.S. stocks as of the end of May, ranking them by total market capitalization to create the Russell 3000. The largest 1,000 companies in the ranking comprise the Russell 1000 while the remaining 2,000 companies become the widely used Russell 2000. 
   About Marlin Business Services Corp. 
   Marlin Business Services Corp. is a nationwide provider of equipment leasing solutions primarily to small businesses. The company's principal operating subsidiary, Marlin Leasing Corporation, finances over 60 equipment categories in a segment of the market generally referred to as "small-ticket" leasing (i.e. leasing transactions less than $250,000). The company was founded in 1997 and completed its initial public offering of common stock on November 12, 2003. In addition to Mount Laurel, NJ, Marlin has regional offices in or near Atlanta, Chicago, Denver and Philadelphia. For more information, visit www.marlincorp.com or call toll free at (888) 479-9111. 
   About Russell Investment Group 
   Russell, a global leader in multi-manager investment services, provides investment products and services in more than 35 countries. Russell manages more than $107 billion in assets and advises clients worldwide representing $1.8 trillion. Founded in 1936, Russell is a subsidiary of Northwestern Mutual and is headquartered in Tacoma, Wash., with additional offices in New York, Toronto, London, Paris, Singapore, Sydney, Auckland and Tokyo. For more information, go to www.russell.com.
CONTACT:Marlin Business Services Corp., Mount Laurel Bruce Sickel, 888-479-9111 X4108
### Press Release ##############################
Senior Management Team of Utility Trailer Celebrates the Contribution of its Dealers in Making Utility Trailer
"90 Years Strong" with Cake Cutting at Annual Dealer Meeting
CITY OF INDUSTRY, Calif.--
   UTILITY TRAILER RECOGNIZES TOP DEALERS AT THE UTILITY TRAILER 90TH ANNIVERSARY DEALER MEETING 
   Utility Trailer Manufacturing Company, which is celebrating its 90th year as America's oldest trailer manufacturer, recently recognized the distinguished commitment of its more than 100 dealers to serving Utility customers at the recent Utility Trailer 90th Anniversary Dealer Meeting held in May in Virginia.
   With a slogan of "90 Years Strong" as the central theme for this year's event, the meeting provided a forum for Utility executives to recap the events of the prior year and to provide an outlook for the coming year. Senior Utility executives who attended included Paul Bennett, Chairman of the Board and CEO, and his wife Beatrice, Hal Bennett, President, and his wife Pamela, and Craig Bennett, Senior Vice President, Sales and Marketing, and his wife Stephne.
   Attendees, representing dealers from nearly every state in the nation, as well as from Canada and Mexico, came to Virginia to attend the Utility Trailer Dealer Meeting and listen to key-note presentations by Utility executives. Presentations included a recap of Utility's record of strong year-to-date sales of its market-leading 3000R reefer, a summary of this year's record after-market parts sales, and a review of the new 4000 D-X which was unveiled recently at this year's Mid America Truck Show in Louisville. Other presentations focused on Utility's plans for plant expansion, the new Wide Track System which utilizes Michelin's X-One tire, purchasing and manufacturing updates. Keith Vieth III, Vice President of America's Commercial Transportation (ACT) Publication, was a guest speaker.
   Among the highlights at this year's festivities for the attendees was the recognition of several dealers who achieved the status as "Goal Achievers", and/or "Top Volume Roundtable", and were acknowledged for their individual accomplishments. Among the dealers recognized for performance excellence were: 
   --  Action Trailer Sales, Utility Trailer Sales of Utah, Utility         Trailer Sales of Mississippi, Utility Sales of Dallas,         Mid-West Utility, Utility Trailer Sales Southeast Texas,         Utility Tri-State, Utility Trailer Sales of Central         California, Valley Equipment, Interstate Trailer & Equipment,         Midwest Utility, Utility Trailers de Mexico S.A. deC.V.,         Utility Trailer Southwest Sales Co., Ocean Trailer, Mid-States         Utility Trailers Sales, Inc., Badger Utility, Utility Trailer         Sales of Washington, C.R.T.S., Utility Trailer Sales of Boise,         Craftsmen Industries, Utility Trailer Sales of Sikeston,         Hawkeye Utility Trailer Sales, Utility Trailer Sales Company         of Arizona, Allstate Sales and Leasing Corp., and General         Trailer Services. 
   "We have always been proud of the commitment to serving our customers exhibited by our dealers and we wanted to give them the recognition they so richly deserve," said Craig Bennett. "As we enter our 90th year we wanted to express our sincere thanks to those who have contributed greatly to making Utility 90 years strong." 
   About Utility Trailer 
   Based in City of Industry, California and celebrating its 90-year anniversary building trailers, Utility Trailer Manufacturing Company is America's oldest privately owned, family-operated trailer manufacturer. Building trailers since 1914, the company designs and manufactures dry freight vans, flatbeds, refrigerated vans, and Tautliner(R) curtainsided trailers. Utility is the largest producer of refrigerated vans and the third largest trailer manufacturer overall in the U.S.A. Utility currently operates five regionally placed trailer factories: two for refrigerated trailers, located in Marion, Virginia and Clearfield, Utah; two for Dry Vans, located in Glade Spring, Virginia and Paragould, Arkansas, and a Flatbed and Tautliner(R) factory in Enterprise, Alabama. Utility's historical position as America's largest producer of refrigerated vans is a direct result of its management's focus on providing innovative solutions to customer problems. Utility's extensive dealer network has over 100 locations throughout the USA, Canada and Mexico and South America. For more information, contact Utility Trailer Manufacturing Company at (626) 965-1541, or visit the company's web site at www.utilitytrailer.com.
CONTACT:Utility Trailer Manufacturing Company Chuck Cole, 626-965-1541 ccole@utm.com
### Press Release #############################

World Leasing Yearbook 2004
The only annually-updated international reference book for the asset financing and leasing industry available. The new 25th edition includes the latest market trends, over 100 authoritative articles and reports on the leasing software and IT market, an exclusive ranking of the top 50 leasing markets by size worldwide with feature profiles from Africa to Venezuela PLUS a directory of over 4,400 contacts.

HOW TO ORDER - Simply call our Customer Hotline on +44 (0) 20 7779 8999 or toll free in the US +1 800 437 9997.
Alternatively visit https://www.euromoneyplc.com/ to order online
El Camino Resources Ramps up Mexican Leasing
WOODLAND HILLS, Calif.---El Camino Resources, Ltd. today reported that it has experienced strong leasing activity within its Mexican subsidiary over the last several months. "In our most recent fiscal quarter, we achieved $25 million in new lease originations in Mexico," noted David E. Harmon, president and chief executive officer of the California-based lessor and technology services provider.
   El Camino Resources ramped up its Mexican operations following a 12-month period of reduced activity, and is now a leader in independent leasing, enjoying strong relationships with a number of leading banks. El Camino is focused on multinational companies located in Mexico, as well as companies listed on the country's stock exchange (BOLSA). Its largest account is a recognized leader in Mexican retailing.
   "We are pleased with our recent results in Mexico," Harmon added. "If the present business pace continues, I expect that we will comfortably exceed our goal of booking $50 million in lease receivables in Mexico during this current fiscal year. In fact, it is conceivable that we might reach the $75 million level."
   Harmon also noted that El Camino is on schedule in rebuilding its United States leasing business. Since announcing the completion of a corporate realignment in April, the American operation has concentrated on staffing key positions, primarily in the sales area, and identifying solutions and services areas for future emphasis. In its first few weeks of operation, the United States operation was responsible for $4 million in leased assets. It expects that figure to increase as activities move into high gear.
   According to Harmon, early signs indicate that United States leasing will be successful in the middle or mid-sized business market (defined as companies with between 100 and 999 employees). This is an area that industry analysts have identified as a major source of information technology business between now and 2008. Areas of growth include Unix- and Linux-based servers, expected to be an almost $61 billion market by 2008, and business process integration/ consolidation. "We can provide leases for hardware needed by mid-size companies, and our Infinite Computer services subsidiary can assist in the integration and server consolidation areas." 
   About El Camino Resources International, Inc. 
   El Camino Resources International, Ltd. (ECR) was founded in 1979 to provide technology equipment leasing/financing and computer trade-in opportunities for businesses and organizations. ECR specializes in mainframes, workstations, client/servers, storage devices and peripheral equipment from such industry leaders as IBM, Sun, and other selected manufacturers. El Camino's Infinite Computer business unit provides a range of maintenance and information technology services to companies based in Southern California, and El Camino Resources Mexico is responsible for leasing transactions within that country.
   El Camino Resources is qualified and prepared to offer quotations for the sale, purchase or lease of new and used information technology equipment. The Company has a strong commitment to customer satisfaction and has enjoyed long-standing relationships with companies of all sizes and types.
   El Camino Resources is headquartered at 6233 Variel Avenue, Woodland Hills CA 91367, and can be reached by telephone at 818.226.6600.
CONTACT:El Camino Resources, Ltd. Peter E. McGuirk, 760-323-1309
( Read our exclusive interview: Harmon on His Way Back!!!
http://www.leasingnews.org/Conscious-Top%20Stories/Harmon-his_way_back.htm 0
### Press Release ##############################
Edmunds.com Reports True Cost of Incentives: Industry Spent at Record Levels in June;
Minivans Thrive Despite Low Incentives
SANTA MONICA, Calif.,  -- Edmunds.com (http://www.edmunds.com), the premier online resource for automotive information, reported today that the average manufacturer incentive per vehicle sold in the United States reached a record high of $2,747 in June 2004, up $123, or 4.7%, from June 2003, and up $240, or 9.6%, from May 2004.
Overall, combined incentives spending for domestic Chrysler, Ford and General Motors nameplates also reached an all-time high at $3,819 per unit in June, up $358 from May 2004.  Chrysler increased its incentives spending in June by $321 to $3,569 per vehicle and gained 1.1% of market share. Chrysler's current market share of 14.5% is the highest since Edmunds.com started tracking industry trends in January 2002.  In June, GM's market share receded by 1.4% to 25.6% despite increasing incentives spending for the third month in a row, raising its average by $389 to $4,312 per vehicle.  Ford offered the largest monthly increase in incentives spending of any domestic manufacturer in June, raising its average by $401 to $3,328 per vehicle, but its market share remained largely unchanged at 18.1%.
Import automakers also felt the pressure In June 2004.  Korean automakers spent $1,868 -- up $55 for the month -- and European automakers spent $2,335 -- up $293 per vehicle sold.  European incentives levels have not been this high since May 2002, according to Edmunds.com. Japanese automakers spent $921 per vehicle sold in June, up $22 from the prior month.
Of all brands, Mini spent the least on incentives per vehicle sold, $41, while Scion spent only $101 per vehicle and Porsche spent only $266.  At the other end of the spectrum, Cadillac spent the most incentives dollars per vehicle for the fourth consecutive month, $6,325, followed by Lincoln at $5,610 and Oldsmobile at $4,939.
Among vehicle segments, large SUVs continued to offer the highest average incentives in June at $4,774 per vehicle.  Other segments with high incentives were large cars at $3,754 and luxury cars at $3,680.  Compact cars had the lowest average incentives at $1,706, followed by luxury sport cars at $1,931 and compact SUVs at $1,945.
Midsize SUVs have lost the most market share since June 2003, decreasing from 12.7% to 10.9%, while their average incentives increased from $2,903 to $2,949 during the same period.  Meanwhile, minivans have gained the most market share, climbing from 6.8% to 7.7%, while their average incentives decreased from $2,807 to $2,678.
"The gas price hike seems to have encouraged consumers to strongly consider the practicality of minivans -- a competitive segment that has recently introduced many new, appealing products," remarked Dr. Jane Liu, Vice President of Data Analysis for Edmunds.com.  "Fortunately for automakers, currently minivans are about as profitable as SUVs."
About Edmunds.com True Cost of Incentives(SM) (TCI(SM)) 
Edmunds.com's TCI(SM) is a comprehensive monthly report that measures automobile manufacturers' cost of incentives on vehicles sold in the United States.  These costs are reported on a per vehicle basis for the industry as a whole, for each manufacturer, for each make sold by each manufacturer and for each model of each make.  TCI covers all aspects of manufacturers' various incentives programs (except volume and similar bonus programs), including dealer cash, manufacturer rebates and consumer savings from subvented APR and lease programs (including subvented lease residual values used in manufacturer leasing programs).  Data for the industry, the manufacturers and the makes are derived using weighted averages and are based on actual monthly sales and financing activity.
About Edmunds.com, Inc.
Edmunds.com is the premier online resource for automotive information. Its comprehensive set of data, tools and services, including Edmunds.com True Market Value(R) pricing, is generated by Edmunds Data Services and is licensed to third parties.  For example, the company supplies over 800,000 pages of content for the auto sections of AOL and NYTimes.com, provides weekly data to Automotive News and delivers monthly data reports to Wall Street analysts. Edmunds.com was named "best car research" site by Forbes ASAP, has been selected by consumers as the "most useful Web site" according to every J.D. Power and Associates New Autoshopper.com Study(SM) and was ranked first in the Survey of Car-Shopping Web Sites as reported by The Wall Street Journal.  The company is headquartered in Santa Monica, Calif. and maintains a satellite office outside Detroit.
SOURCE  Edmunds.com 
### Press Release ##############################
News Briefs---
Economy at midyear on track for best growth in two decades
http://www.signonsandiego.com/news/business/20040706-1041-
Southwest to reduce airfares systemwide up to 65%
http://www.usatoday.com/money/biztravel/2004-07-06-sw-fares_x.htm
Australian Carrier May Serve United States
http://www.washingtonpost.com/wp-dyn/articles/A32797-2004Jul7.html
Big financial firms step up pace of offshoring jobs
Survey finds 400% jump in outsourcing, especially to India
http://www.sfgate.com/cgi-bin/article.cgi?file=/chronicle/archive/2004/07/06
/BUG297EQKJ1.DTL&type=business
Firms that sell push to join bank business—"Industrial Banks"
http://www.boston.com/business/articles/2004/07/06/firms_that_sell_
Look for higher gas prices before long
http://www.usatoday.com/money/industries/energy/2004-07-06-oil_x.htm
Substation fire poses blackout threat in Phoenix
http://channels.netscape.com/ns/news/story.jsp?id=2004070620580002900
121&dt=20040706205800&w=RTR&coview=
Archdiocese of Portland, Ore., Declares Bankruptcy
http://www.washingtonpost.com/wp-dyn/articles/A31266-2004Jul6.html
----------------------------------------------------------------------------
"Gimme that Wine"
Shimmery Rosés in the Midday Sun---Eric Asimov
http://www.nytimes.com/2004/07/07/dining/07WINE.html
History, personality play second fiddle to a free tasting in Calistoga
http://www.sfgate.com/cgi-bin/article.cgi?f=/c/a/2004/06/17/WIGD276N911.DTL
Hanzell Vineyards, founded by a former U.S. ambassador and one of Sonoma County's oldest wineries, has spent $4.1 million
http://www.pressdemocrat.com/business/news/06hanzell_e1e01_biz_e1streete.html
Sierra Club challenges plant to be built in south Napa County
http://www.napanews.com/templates/index.cfm?template=story_full&id=FABE733A-BD27-405D-BD74-571A6A58178F
October 22 and 23
The Culinary Institute of America to Host Robert Parker Wine Advocate 25th Anniversary
http://home.businesswire.com/portal/site/google/index.jsp?ndmViewId=
news_view&newsId=20040702005331&newsLang=en
A Californian vineyard is turning to wi-fi technology to help it grow better grapes.
http://news.bbc.co.uk/1/hi/technology/3860863.stm
               In Apulia, Emancipation for the Grapes
http://www.nytimes.com/2004/07/07/dining/07PUGL.html
Ice Cubes in Wine  (Many people do this on inexpensive wine)
http://wine.about.com/od/storage/a/icecubes.htm Plastic Ice Cubes
"I just ordered myself a fresh, new set of nautical plastic ice cubes from the Oriental Trading Co. They're VERY cute and feature little fish and shells in easy to wash plastic. This is a great way to keep your wine chilled without diluting it. I had a set of these a few years ago but managed to lose them all. I think my guests were walking off with them ..."  On box wine or Toasted Head Chardonnay, you won't taste
the plastic; try in a cheap sweet wine especially.
This Day in American History
1586- Birthday of Thomas Hooker, colonial American pastor and an originator of the earliest system of federal government in America.
http://www.u-s-history.com/pages/h544.html
http://nvnv.essortment.com/thomashooker_rlfj.htm
http://www.famousamericans.net/thomashooker/
http://www.colonialwarsct.org/1636.htm
1754 - In New York City, Kings College opened. For its first year of operation, the institution admitted eight students and one faculty member, Dr. Samuel Johnson, who would also serve as the school president. In 1784, Kings College was renamed Columbia College, and later would became Columbia University. Many prestigious awards hail from the university today, including the Columbia Award for Journalism and the Pulitzer Prize for Journalism that was named after former Columbia professor, Joseph Pulitzer.
1802 - Created by Robert Rusticoat in Hudson, New York, the first comic book to ever be published was "The Wasp."
1846 - Commander J.D. Sloat of the United State Navy raised the American flag in Monterey, proclaiming United States citizenship for California.
1851-birthday of Lillian Jane Martin, founder of Mt. Zion Hospital in San Francisco, the first mental hygienic clinic for normal pre-school children,
famed psychologist  who started the field of gerontology by opening a clinic for the aged in 1929, when she was 78. She lived to an advanced age, doing such things as traveling through the jungles of South America at 87.
In her "before" career, she worked through the ranks at Stanford to become a full professor of psychology in 1911. She was the first woman to head any department there.   After mandatory retirement at 65, she got bored and began feeling old so she taught herself to type and then did strenuous exercises to strengthen her body.
 In 1920 (at 69) she founded Mt. Zion Hospital in San Francisco, the first mental hygienic clinic for normal pre-school children.  In 1929 at 78, she started the work which has resulted in reinventing old age.
http://www.webster.edu/~woolflm/martin.html
1851- Birthday of Charles A. Tindley, African-American Methodist preacher and songwriter. His most enduring gospel hymns include 'Stand By Me,' 'Nothing Between,' 'Leave It There'and 'By and By.'  Died July 26, 1933, Philadelphia, Pennsylvania
http://www.cyberhymnal.org/bio/t/i/tindley_ca.htm
http://www.aaregistry.com/african_american_history/1903
/Charles_A_Tindley_was_a_servant_of_the_Lord
http://www.templeumc.org/archives/Charles_Tindley.html
1861-Birthday of Dr. Nettie Maria Stevens - U.S. biologist who in 1905 announced that chromosomes X and Y were responsible for the sex of the individual. She was never rightfully given full credit for her discovery.
1863-Lt. Colonel Christopher "Kit" Carson ( whom I was named after as my father was writing the radio series in 1942) leaves Santa Fe with his troops, beginning his campaign against the Indians of New Mexico and Arizona. A famed mountain man before the Civil War, Carson was responsible for waging a destructive war against the Navajo that resulted in their removal from the Four Corners area to southeastern New Mexico. Carson was perhaps the most famous trapper and guide in the West. He traveled with the expeditions of John C. Fremont in the 1840s, leading Fremont through the Great Basin. Fremont's flattering portrayal of Carson made the mountain man a hero when the reports were published and widely read in the east. Later, Carson guided Stephen Watts Kearney to New Mexico during the Mexican-American War. In the 1850s he became the Indian agent in Taos for New Mexico, a position he left in 1861 to accept a commission as lieutenant colonel in the 1st New Mexico Volunteers.
Although Carson's unit saw action in the New Mexico battles of 1862, he was most famous for his campaign against the Indians. Despite his reputation for being sympathetic and accommodating to tribes such as the Mescaleros, Kiowas, and Navajo, under orders of the US Military, Carson waged a brutal campaign against the Navajo in 1863. When bands of Navajo refused to accept confinement on reservations, Carson terrorized the Navajo lands--burning crops, destroying villages, and slaughtering livestock. Carson rounded up some 8,000 Navajo and marched them across New Mexico for imprisonment on the Bosque Redondo, over 300 miles from their homes, where they remained for the duration of the war.
Kit Carson guided Stephen W. Kearny's party from New Mexico to California during the Mexican War and his bravery saved the company.   Kit Carson was appointed in 1853 as Indian agent for Taos, New Mexico. Kit Carson was extremely qualified and helped calm the Apaches on several different occasions that appeared nearly hopeless short the entrance of his masterful skills
   During the Civil War Kit Carson joined the Union's Army 1st New Mexican
Volunteers he was promoted to brigadier general for his outstanding campaign record    After the Civil War Kit Carson commanded Fort Garland garrison in Colorado. When he retired, he moved his family back to Taos, New Mexico,
where he died May 23, 1868.
http://members.aol.com/RVSNorton/Lincoln5.html
http://www.civilwarphotos.net/files/images/201.jpg
http://www.desertusa.com/mag99/jan/papr/kitcarson.html
http://www.findagrave.com/cgi-bin/fg.cgi?page=gsrandGScid=38154
1865 - Mary E. Surratt became the first woman to be executed by the US government after being found guilty of conspiring with John Wilkes Booth to assassinate Abraham Lincoln. Her conviction was a subject of controversy as the only crime she appeared to have committed was to own the boarding house where Booth planned Lincoln's assassination.  The president and those living in the area
condemning her for allowing the plot to be hatched in her house.  Whether she
was part of the plot or knew of it was never proven.  Three others, also convicted in the conspiracy, were hanged along with Mary E. Surratt: Lewis Payne, David E. Harold and George A. Atzerodt. This took place at Buzzard Point, site of the first U.S. Penitentiary. She was the first woman hanged in the United States.
The complicity of Mary Surratt in the plot was never completely proven.
Sightings of the ghost of Mary Surratt have been made here, at her boarding house on K Street, and at the site of the Old Brick Capitol (now the site of the Supreme Court). The ghost of Anna Surratt, is said to be heard occasionally banging at the White House door to plead for the life of her mother as she did in fact on the eve of the execution.
http://members.aol.com/RVSNorton/Lincoln26.html
http://www.surratt.org/documents/dmarye.html
1876 - The most notorious train robber of the American West, Jesse James, held up the Missouri-Pacific train and robbed about $15,000. Accompanied by his gang, Jesse James came to typify the hazards of the 19th-century frontier as it has been portrayed in motion-picture Westerns.
1887- Beatrice Fox Auerbach birthday - Hartford, Connecticut, business executive and philanthropist who established a foundation to train women's groups in the techniques of community organization.   She succeeded her father as president of Hartford's G. Fox and Company and developed it into the largest privately- owned retail store in the nation. Died 1968.
1896-The Presidential campaign  was, in many ways, a battle over money. As was expected, the Republican campaign, led by the party's presidential nominee, Ohio governor William McKinley, centered on maintaining the gold standard. On the other side of the fence, the Democrats took a cue from the Populist party and latched on to the free coinage of silver as one of their guiding issues. While the Democrat's decision to support silver shocked a number of political observers, their nominee for the Oval Office proved to be even more surprising. The Democrats had already settled on their issue, but the summer of 1896 found them without a clear candidate for the Oval Office. That all changed at the party's national convention in Chicago on July 7 when William Jennings Bryan, then just a young scribe from Nebraska, stepped to speak before the Democrat's 20,000 delegates. An ardent supporter of the silver movement, Bryan seized the reins of the party by railing against the Republican's and their "demand for a gold standard." During his speech, Bryan laid down his now famous vow against gold and the Republicans: "You shall not press down upon the brow of labor this crown of thorns, you shall not crucify mankind upon a cross of gold." These indelible words sent the delegates into frenzy and effectively sealed Bryan's unlikely nomination as the Democrat's candidate for President. Alas, Bryan's fiery oratory proved to be no match for McKinley's fat coffers: backed by the money and influence of the nation's business leaders, the Republicans were able to lavish roughly $7 million on their campaign. Bryan, on the other hand, spent a scant $300,000 and ultimately lost his bid for the White House. The electoral vote was McKinley, 271; William Jennings Bryan, 176. The popular vote was McKinley 7,103,779, Bryan 5,402,925.  The Republicans not only gained the White House but four seats in the Senate to lead 47-34, seven seats going to minor parties. In the House, the Republicans lost 40 seats but still held a 204-113 majority, 40 seats going to minor parties.  The Republican party was free to have its way and on January 12 the new National Monetary Conference met at Indianapolis, Ind, and endorsed the existing gold standard.
1898-Hawaii was annexed by the US.  President William McKinley signed a resolution annexing Hawaii.  No change in government took place until 1900, when Congress passed an act making Hawaii an "incorporated" territory of the US. This act remained in effect until Hawaii became a state in 1959.
1905--- 127ø F (53ø C), Parker Arizona  (state record)
1906-Birthday of legendry pitcher Leroy Robert "Satchel" Paige.
Sometimes I feel like I will never stop
  Just go forever
  Till one fine morning
  I'll reach up and grab me a handful of stars
  and swing out my long lean leg
  and whip three hot strikes burning down the heavens
  and look over at God and say
  How about that!
      — Samuel Allen, "To Satch"
http://memory.loc.gov/ammem/today/jul07.html
1907 -- Robert A. Heinlein birthday (1907-1988). Prolific American writer, grand master of science fiction. His first stories appeared in action-adventure pulp magazine "Astounding Science Fiction" in 1939.  His first novel, Rocket Ship Galileo appeared in 1947 and paved way to children's science fiction. Wrote The Green Hills of Earth, the militarist Starship Troopers, and the 60s hippie oriented Stranger in a Strange Land (a favorite of mass murderer Charles Manson).
In 1975 Heinlein was awarded the first Grand Master Nebula.
http://www.nitrosyncretic.com/rah/
http://www.wegrokit.com/ http://www.amazon.com/exec/obidos/ASIN/0451912535/inktomi-bkasin-20/002-2909458-5798421
1908- Harriette Louisa Simpson Arnow birthday - U.S. author who described the Souther Appalachian life and people with honesty and authenticity.    She earned a college degree, which shocked her family who were descendants of original Kentucky settlers that didn't believe in women's education. She had to move to Cincinnati to live. Her most critically acclaimed best seller was Hunter's Horn (1949)
http://athena.english.vt.edu/~appalach/writersA/arnow.html
http://www.oriscus.com/kywriters/arnow.htm
http://webpages.marshall.edu/~broyles2/overv1.html
1913-Birthday of sax player Hank Mobley, Eastman GA
Died May 30, 1986
http://members.tripod.com/~hardbop/mobley.html
http://www.wright.edu/~martin.maner/mobley.htm
http://www.metroactive.com/papers/metro/11.20.97/jazz-9747.html
1915-birthday of black author Margaret Walker, writer, born Birmingham, Alabama,  died November 30, 1998
http://www.olemiss.edu/depts/english/ms-writers/dir/alexander_margaret_walker/
http://www.ibiblio.org/ipa/walker/
http://dept.english.upenn.edu/~afilreis/50s/walker-margaret.html
1917-Birthday of jazz guitarist Lloyd "Tiny" Grimes guitar Newport News VA
Played with Charlie Parker and later became a rock'n'roll guitarist.
http://www.geocities.com/bighollowtwang/TinyGrimes.html
http://www.geocities.com/bighollowtwang/TinyGrimes.html
http://www.centrohd.com/biogra/g2/tiny_grimes_b.htm
http://www.geocities.com/doo_wop_gino/cats.htm
1917- John (Lonzo) Sullivan of the country comedy duo of Lonzo and Oscar was born in Edmonton, Kentucky. John's Brother, Rollin, was Oscar. The brothers' original songs included such ditties as "I'm My Own Grandpa" - a hit before the Second World War - "You Blacked My Blue Eyes Too Often" and "Take Them Cold Feet Out of My Back." In 1947, Lonzo and Oscar began a 20 year association with the Grand Ole Opry which ended in June 1967 with John Sullivan's death. Died June 5, 1967.
1923-Famed San Franciscan Lefty O'Doul, who will become an outstanding major  league hitter later in his career, gives up 13 runs in the sixth inning as the Indians rout the Red Sox, 27-3. He will finish his 11-year stint in the majors with a lifetime batting average of .349.
1927- trumpeter and conductor Doc Severinsen born Arlington, Oregon,
perhaps best known as the band leader for the "Johnny Carson Show."
http://www.delafont.com/music_acts/Doc-Severinsen.htm
http://www.pianodesk.com/oldpage/doc.htm
1928- singer Mary Ford, who had a series of pop hits with her husband, guitarist Les Paul, in the 1950's, was born in Pasadena, California. Their successes included "Mockin' Bird Hill," "How High the Moon" and "Waiting For the Sunrise." Their recordings were among the earliest to use the technique of multitracking, and featured Ford's voice answering Paul's talking guitar. The hits stopped in 1961, and Les Paul and Mary Ford were divorced two years later. Ford died on September 30th, 1977.
http://us.imdb.com/Name?Ford,+Mary+(I)
http://www.reevesaudio.com/visitlesandmary.html
http://www.gould68.freeserve.co.uk/Les'n'MaryCol.html
1934 -- F. Scott Fitzgerald, Thomas Wolfe, & Maxwell Perkins, lunch together. Fitzgerald advises Wolfe, struggling with Perkins over revisions to Of Time & the River: "You never cut anything out of a book you regret later."
1937-  With President Franklin D. Roosevelt in attendance at Griffith Stadium in Washington, Yankees' first baseman Lou Gehrig drives in four runs with a home run and a double to lead the AL to an 8-3 victory over the National League in All-Star action.
1948 - Satchel Paige was signed to pitch for the Cleveland Indians. Paige, who became a baseball legend playing in the Negro leagues, put on a major league uniform for the first time in his 23-year career. While he claimed to be 39, many speculated that he was actually in his 50's.
1946-Pope Pius XII presided over the canonization ceremonies for Mother Frances Xavier Cabrini, as she became the first American to be canonized. She was the founder of the Missionary Sisters of the Sacred Heart of Jesus and her principal shrine is at mother Cabrini High School, New York, NY. Carbrini was born at Lombardy Italy., July 15, 1859 and died at Chicago, IL, December 22,1917. Her feast day is celebrated on December 22.
1948---Top Hits
You Can't Be True, Dear - The Ken Griffin Orchestra (vocal: Jerry Wayne)
Nature Boy - Nat King
Woody Woodpecker Song - The Kay Kaiser Orchestra (vocal: Gloria Wood and The Campus Kids)
Bouquet of Roses - Eddy Arnold
1949 - Jack Webb's "Dragnet" made its radio debut on NBC radio. This was the first program to dramatize actual cases from police files. Each episode, on both radio and television, began with the announcement: "The story you are about to hear [see] is true; the names have been changed to protect the innocent;" and ended with the sentence the criminal was given. After a successful television preview on "Chesterfield Sound-Off Time," "Dragnet" made the permanent leap to television in January 1952. From 1952 to 1956, the show enjoyed simultaneous runs on radio and television, continuing on television until 1959. After a seven year hiatus, the show resurfaced as "Dragnet '67" to distinguish itself from its own reruns. This first real-life police drama series was such a success that it remains in syndication today.
1953- R'n'B singer Peter Brown, who had a Top Ten hit in 1978 with "Dance With Me."
http://www.oldies.com/product/index.cfm/id/003497.html
http://www.ostlyrics.com/s/summerofsam/007.htm
1954--Two versions of "Sh-Boom" hit the top-10. The original version by the Chords was at #9 and the cover version by The Crew Cuts was at #5
1954- Memphis disc jockey Dewey Phillips became the first DJ to play an Elvis Presley record when he premiered "That's All Right" on his "Red, Hot and Blue" show on station WHBQ. Phillips also interviewed Presley on the program. "That's All Right" and its flip side, an updating of the country tune "Blue Moon of Kentucky," were hits in the Memphis area.
1956-- The Platters' "My Prayer" is released.
1956---Top Hits
The Wayward Wind - Gogi Grant
Be-Bop-A-Lula - Gene Vincent and His Blue Caps
Born to Be with You - The Chordettes
Crazy Arms - Ray Price
1962 - With "The Stripper," orchestra leader David Rose reached the number 1 spot on the popular music charts. The song stayed at the top spot for one week. Rose's previous success on the music charts was with "Holiday for Strings" in 1944.
1962 - Riding Big Steve at Chicago, Illinois's Arlington Park, jockey Bill Hartack won his 3,000th race.
1964---Top Hits
I Get Around - The Beach Boys
My Boy Lollipop - Millie Small
Memphis - Johnny Rivers
Together Again - Buck Owens
1971-- Commissioner Kuhn and Hall of Fame president Paul Kirk announce former Negro League players will have full membership in the Cooperstown shrine, not a separate wing as previously planned.
1972---Top Hits
Song Sung Blue - Neil Diamond
Outa-Space - Billy Preston
Lean on Me - Bill Withers
Eleven Roses - Hank Williams, Jr.
1975-"Ryan's Hope" premiered on TV. This ABC soap ran until 1989 and was set mostly at the fictional Ryan's Tavern on Riverside Hospital at New York City.
1980---Top Hits
Coming Up - Paul McCartney and Wings
The Rose - Bette Midler
It's Still Rock and Roll to Me - Billy Joel
He Stopped Loving Her Today - George Jones
1981 - President Reagan nominated Sandra Day O'Connor to become a Supreme Court justice; she became the first woman member of the Supreme Court in September.
1984 - 1984--"When Doves Cry," the first single to be released from Prince's 1984 album Purple Rain, hits the top of the charts. The song stayed on top for five weeks and became the best-selling single of 1984. Meanwhile, the album topped the charts for 24 weeks and sold more than 10 million copies.
1986 - Jackie Joyner-Kersee was the United State's biggest success at the Goodwill Games. At the event held in Moscow, Russia, she broke the heptathlon world record with 7,148 points. The same year, Jackie broke her own record when she scored 7,158 points in the United States Olympic Sports Festival where she won all the heptathlon's seven events.
1988 - Thirty-eight cities in the north central and northeastern U.S. reported record low temperatures for the date. Youngstown, OH, hit 100 degrees, and for the second day in a row, Flint, MI, reached 101 degrees, equaling all-time records for those two cities.
1988---Top Hits
Dirty Diana - Michael Jackson
The Flame - Cheap Trick
Mercedes Boy - Pebbles
If It Don't Come Easy - Tanya Tucker
1989 - Thunderstorms produced severe weather during the day, with more than 100 reports of large hail and damaging winds from Ohio to Massachusetts and New Hampshire. Thunderstorm winds reached 90 mph in Sullivan County, NH, and golf ball size hail was reported in Pennsylvania. Twenty-four cities, mostly in the southwestern U.S., reported record high temperatures for the date. Afternoon highs of 105 degrees at Cedar City, UT, and 114 degrees at Moab, UT, were all-time records for those locations
1990- the world's three most famous tenors - Luciano Pavarotti, Placido Domingo and Jose Carreras - performed their first concert together. The performance, in Rome on the eve of the World Cup soccer final, earned millions of dollars for charity. An album of the event, "Carerras-Domingo-Pavorotti in Concert," was a surprise hit on the pop charts, and eventually became the best-selling classical album of all-time.
1998 -In the highest-scoring game in All-Star history, the American League beats the senior circuit, 13-8 in the thin air at Coors Field in Denver. The 21-run total surpasses the previous record set in 1954 when the American League beat the Nationals,11-9 in Cleveland's Municipal Stadium.
1999 - The soundtrack album from Disney's film "Tarzan" was certified platinum on this date.
1999-- The Rockies tie a 1903 major league record scoring in 15 consecutive innings. Phillies' ace Curt Schilling ends the streak.
Baseball Poem
Baseball: a Poem by Nancy Pham 
Baseball is a simple game,
It's hard to find someone who does not know the name,
of Ruth or Gehrig or Mays
baseball can go back to the days
of horse drawn, up to horsepower
an amusement used to pass the hours
and minutes, and days, through a lifetime
like mine
the wonderful joy of horsehide on cowhide
the bat on the ball
spikes on the bag
dirt in your palms
grass under your feet
the white of the lines
the black on the plate
the mound, that's just there
the cap on your head
the wood in your hands
the perfect throw from center to home
from third to first
or that little flip from short to second
to complete
the most beautiful thing in the game
the double play
one…then two
perfection
like 90 feet in a faultless diamond
or 60 feet 6 in between
it's exciting,
the rundown
the homer
the triple
or triple play
the double down the left field line
the stolen base
or pickoff
it's boring,
the walk
the force play
the infield fly rule,
the ground-rule double
it's the stuff dreams are made of
Game 7
Bottom of the 9th
2 outs
bases loaded
and you hit the game winning homer
nothing
nothing
nothing
is better than that
nothing is better than baseball
a pure pastime
a childhood memory
a grown passion