Wednesday, June 18, 2008

Sir Paul McCartney, singer, songwriter (The Beatles, Wings), born
Liverpool, England, June 18, 1942
Headlines---
Classified ads---Controller
Professional Profiles joins Recruiter List
GreatAmerica gets flooded out!
Kit Menkin heard it on the grapevine
Biggest and/or Best Leasing Association?
Robichaud and Tidland at Commerce National
Classified Ads---Help Wanted
Cartoon---the Big Apple
Mozilla Firefox issues No. 3
Sales makes it Happen---by Robert Teichman, CLP
"Sales Isn't Just for the Salesperson"
Housing starts fall in May-- by Al Schuler
Tygris Completes Purchase of Marcap
Financial Times announces Editorial Appointments
Federal Reserve won't change its key rate next week
Housing woes hit community banks—PFF Bank also
Bank economists say home prices yet to bottom
United expects to spend $3.5 billion more on fuel
US floods hit food prices
Goldman earns $2.1bn in second quarter
News Briefs---
You May have Missed---
Investment implies LinkedIn is worth $1B
Sports Briefs---
"Gimme that Wine"
Calendar Events
Snapple Real Facts
Today's Top Event in History
This Day in American History
Baseball Poem
SuDoku
Daily Puzzle
GasBuddy
Weather, USA or specific area
News on Line---Internet Newspapers
Cedar Rapids, Iowa
######## surrounding the article denotes it is a "press release"
------------------------------------------------------------------

Classified ads---Controller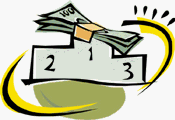 Boca Raton, FL
CPA w/ Sarbanes Oxley/ 15 years management exp. as CFO/ Controller/5 yrs w/ PWC Extensive exp providing accounting/ tax guidance for the equipment lease industry. Willing to relocate.
Email: bltushin@hotmail.com

Chicago, IL
experienced in lease accounting, operations, management, and Sarbanes-Oxley. Seeking position with equipment lessor. Would consider contract assignments or relocating.
Email: leasecontroller@comcast.net

Southeastern, MI
Controller & Management experience w/ equip lessors &broker. MBA, CPA w/ extensive accounting, management, securitization experience with public and private companies. Willing to relocate.
Email: Leasebusiness@aol.com
West Palm Beach, FL
CPA/CFO/Controller/Due Diligence Officer/SOX Lead seeking position.
Email: obrienhowardj@aol.com
For a full listing of all "job wanted" ads, please go to:
http://www.leasingnews.org/Classified/Jwanted/Jwanted.htm
Leasing Recruiters:
http://www.leasingnews.org/Recruits/index.htm
To place a free "job wanted" ad here, please go to:
http://www.leasingnews.org/Classified/Jwanted/Jwanted-post.htm
--------------------------------------------------------------

joins Recruiter List
Leasing Industry Recruiters
These companies have experience in the finance and leasing industry
Please fax our request form back to 408.317-2066 or you
may e-mail to: kitmenkin@leasingnews.org .
Second Column: YCS - Year Company Started | YELB - Years in equipment Leasing Business
Name
City, State
Contact
Website
Leasing Association

YCS
YELB
(see above for meaning)

Nationwide

We are, by choice, a small shop. We take a very personal approach with all our candidates and hiring managers. We treat them all (even those we are unable to help) with respect and professionalism.
--------------------------------------------------------------

GreatAmerica gets flooded out!

Great American---before
(Photo: GreatAmerica.com)

Last Wednesday, in the bottom left hand corner you will see the Great America building surrounded/flooded with water.
(Photo Courtesy: Daryl Warmbrand, Pyramid Leasing)
If you were on our mailing list you received a report from
from Rosanne Wilson, CLP, 1st Independent Leasing, Inc. :

"GreatAmerica was smart enough to have set up a complete backup system at a remote location. They are still approving deals for me and are still funding. They had hoped they would never have to test this system, but are delighted it worked! They won't be able to get Fed Ex or UPS deliveries or even Mail but are funding off of faxed documents! God Bless them."

(From a news article on GreatAmerica web site:
http://www.greatamerica.com/images/NewsImages/GreatAmerica_Bucks_Trend.pdf )
GreatAmerica President Tony Golobic sent out a press release:
"We are continuing to operate and serve our customers with minimal interruption," said GreatAmerica CEO Tony Golobic. "Our primary concern is for the safety and well- being of our employees and uninterrupted service to our customers."

GreatAmerica has moved to pre-arranged emergency office space until their building becomes available. With each new day, GreatAmerica is getting closer to normal operating levels and will continue to expand its temporary accommodations to return to full capacity.

"Each day, GreatAmerica proves that its extraordinary and resilient people are rising to the occasion and proving that we are more than just a physical location," Golobic said. "A disaster like this would have caused a serious blow to many organizations, but we are proving our mettle and winning the battle."
In a previous interview, Chris Walker, CLP, who heads sales for the "broker" direct program group, told Leasing News no one in the building has an office, even the president. Everyone shares communication in open environment. This is done to give their customers access to decision makers."
Perhaps this style was helpful in the move to a back-up facility.
--------------------------------------------------------------

Kit Menkin heard it on the grapevine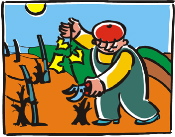 Heard on the grapevine that more and more companies are turning down not only brokers, but discounters with non-recourse lines of credit as well. It is not just Diversified Financial Services and United Health Group.
Sometimes even deals approved are left hanging, or the sales commission or discount level is changed. If you want the deal to fund, this is the new commission, they are told. Some even with commissions split now and over the next two years.
Leasing News has received several such complaints, all resolved, but strange as it has been years since we have seen them enter the bulletin Board Complaint arena. Perhaps the National Association of Equipment Leasing Brokers is experiencing the same things in complaints from their members, but they are not talking, but settle the matter with the condition of keeping the matter confidential.
In checking out some of these "leads," others are letting Leasing News know some sources have said they have reached their "portfolio limit" on trucks or other specific equipment or just general business in a geographic area. Perhaps it is an excuse, but the result is the broker or discounter is cut off.
It also may be that Portfolio Performances in general are seeing spikes in delinquencies.
The broker is then the "sacrificial lamb" when the funding source cuts them off because they thought were performing worse than "the norm."
These should be considered signs that the marketplace is continuing to raise its criteria, examine its portfolio and credit more stringently, even if it means less business. Quality instead of growth seems to be the goal to achieve. Oh, I know everyone wants quality, but at one time it was more quantity: get the deals approved, "damn the torpedoes! Full speed ahead!!!"
Now it is: Thank you, but no thank you.
--------------------------------------------------------------

Biggest and/or Best Leasing Association?
| | |
| --- | --- |
| 1029 | National Association of Equipment Leasing Brokers |
| 741 | Equipment Leasing and Finance Association |
| 314 | United Association of Equipment Lessors |
| 277 | Association of Government Leasing & Finance |
| 181 | Eastern Association of Equipment Lessors |
| | --end of year 2007 membership count |
There is a lot more than just numbers, as mission and personality as well as cost have a factor.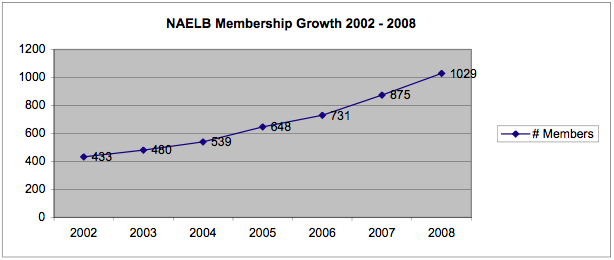 (Source: NAELB)
The National Association of Equipment Leasing Brokers (NAELB) is for brokers; funders and others who belong do not get a vote. Their membership dues have not changed in four years:
Broker $295
Associate $600
Funding Source $750
In addition to a management association that runs the operation and events, they have a very strong balance sheet. They even return $50 for use by a member at the next convention of membership. The conventions are always one of the most inexpensive, if not the most economical, and they have many financial benefits for the members, including education seminars, meet the funder every Wednesday, plus protect their members from those who don't pay their members. There is a lot more, but this should not be an advertisement; although, if you were a broker or discounter, this is the group you want to belong and get involved. Very friendly and welcome new members into the fraternity (if you ladies will allow me to use that expression, as there are many active women in NAELB. They
were the first association to have a female president, and more than once. editor)


(Source: NAELB)
The second group in membership numbers, the Equipment Leasing and Finance Association (ELFA) represents the largest leasing companies, the big money, who turn out at their conventions, support their legislative lobby efforts, education and legal programs, and has a paid staff of 25, many whom have been there for quite some time and are recognized experts in their field by all standards.
In addition, ELFA and their members are often quoted in the Wall Street Journal, Financial Times, American Banker, Barrons, Newsweek, Dow Jones, Bloomberg and Reuters, as well as Google and Yahoo business news, as well as their hosted web seminars. Their president is a former congressman from Texas who is on a first name basis on both sides of "who's who" in Washington, DC.
It is interesting to note in a non-scientific study of 138 companies who qualified with Leasing News as "funders," 70 only belong to one association. Most of them are banks or large financial institutions and they belong to ELFA.
35 belong to two associations.
12 belong to three associations
11 belong to four associations
10 belong to five associations
In the study regarding the possible merger of the Eastern Association of Equipment Lessors (EAEL) and the United Association of Equipment Lessors, Bruce Winter, CLP, representing EAEL, told Leasing News it was an exploratory committee between the two associations. He also said of the 181 EAEL members, 60 also belong to UAEL.
Veteran Donald Ethier, CAE, Vice President, Membership and Marketing for ELFA, gave us permission to quote him on how ELFA arrived at their membership numbers:
"In our terminology, year end means the number we billed for the coming year. In November 2007 we billed 741 members for 2008 renewal, so that is the figure I sent you - I am saying we ended the 2007 membership year when the 2008 renewal process started. The comparable figure for the prior year was 761, so we were down twenty members. The biggest factor is probably industry consolidation (mergers/acquisitions). What number are you showing for the prior year - I may have sent the number at a different time or tried for a December 31 number - I don't remember what I sent.

"The renewal rate for 2008 (so far) is 86%, which is the same as 2007. We expect a few more to come in. We have not had any added attrition because of the dues increase.

"The 685 count today is after dropping the ones that did not renew - around 14% of the 741. The 685 will go up for the rest of the year as additional renewals come in and new members join. I expect the 2008 year end figure will be about the same as the 2007 figure of 741."
It should also be noted that the Association of Government Leasing and Finance had 277 members representing 118 companies, which would change their rating in the group, especially compared to ELFA whose member GE Capital, among some other top companies, belong only to ELFA and is counted as one member (although many from the company are active at ELFA.)
The following count comes from the leasing associations from previous years asking for year-end membership counts (note: information for 2004 was not complete):
Association of Government Leasing
Eastern Association of Equipment Lessors
Equipment Leasing and Finance Association
National Association of Equipment Leasing Brokers
United Association of Equipment Leasing

Last count: Arizona Equipment Leasing Association had 40.
Did not receive a response from several of their members for a year-end count for 2007.
National Vehicle Leasing Association: no official number was obtained,
guesses were from 200 to 250 members.
Note: There are two leasing foundations.
The Equipment Leasing and Finance Foundation has no members, as it is supported by the Equipment Leasing and Finance Association. They do have 188 donors, according to Lisa Levine,
Executive Director.
The Certified Lease Professional Foundation is primarily supported by those who have become "CLP's." There are presently 204 on their website: http://www.clpfoundation.org/clps.php
Many of the associations related to leasing (main page is in the process of being up-dated):
http://www.leasingnews.org/archives/December%202005/12-21-05.htm#mael
--------------------------------------------------------------

Robichaud and Tidland at Commerce National
by Christopher Menkin
When Ron Lear left PFF Bank after ten years to join OFC Capital in Roswell, Georgia, he told me Bob Robichaud, CLP, had also left to help start a leasing department at Commerce National Bank. Ron was instrumental in Robichaud joining PFF as Ron took care of the wholesale business, warehouse lines, lines of credit for leasing companies, and Bob for seven years ran the bank leasing department, going direct, keeping it geographically in California. Bob's greatest claim to fame is he is a previous leasing broker and knows the other side of the desk. He has 39 years in the leasing business.
In setting up the office in Fullerton, California, he wanted Leasing News to hold the announcement until his long time pal Steve Tidland, CLP, came on board as Senior Vice President. The idea was to do leases from $15,000 to $500,000, but this time in the continental United States.
Tidland has over thirty-five years of experience in all aspects of equipment leasing and finance. He left Citizens Business Bank Equipment and Vehicle Leasing/Finance group as senior vice-president. Before that he was the chief credit officer and president of Golden West Financial Services, which was acquired by Citizens Business Bank in 2002. He also will be working on purchasing portfolios, warehouse, and leasing lines of credit.
Bob brought along Christine Pisacane from PFF. She had worked as his right hand in all of the functions relating to the administration, documentation and funding of new leases for PFF. In fact, the first day on board, they had four leasing applications to process.
"As we are still setting up policies and procedures, we are probably 3-4 weeks away from being able to fund, " Bob Robichaud said. "But we have been looking at deals, and more important, setting up
our broker program."
The team wants to make the operation "user friendly" and has full support from Commerce National Bank President & CEO Mark Simmons.
"The addition of this new equipment and commercial vehicle leasing department will offer the Bank's customers new financing opportunities that many of them have historically received from other sources," he said. "We feel confident the new leasing team will quickly make a significant contribution to the continuing growth of our Bank."
General Number: 714-882-8664
Steve Tidland, CLP 714-882-7646
stidland@commercenatbank.com
Bob Robichaud, CLP: 714-882-7648
brobichaud@commercenatbank.com
FULLERTON OFFICE
279 E. Orangethorpe Avenue
Fullerton, CA. 92832
"World Leasing News is a separate entity and not affiliated with Leasing News "
--------------------------------------------------------------

Leasing Industry Help Wanted
Sales Representative


Sales Representative
We're a progressive leasing company with ambitious growth plans for 2008. If you're a proven sales rep in the small ticket arena and ready to join a winning team, contact us immediately. We offer a competitive comp plan, amazing work environment, and have strong relationships with the major funding sources.
E-mail: recruiter@gen-cap.com .
About the Company: Genesis Commercial Capital, LLC; Irvine, CA


VENDOR SALES SPECIALISTS
LEASING SALES PROFESSIONALS
Like selling vendor programs and large transactions?
Enjoy international financing programs?
Prefer the advantages of a commission only environment with the security of health and welfare benefits?
CLICK HERE to find out how to have fun again.
Please see our Job Wanted section for possible new employees.
--------------------------------------------------------------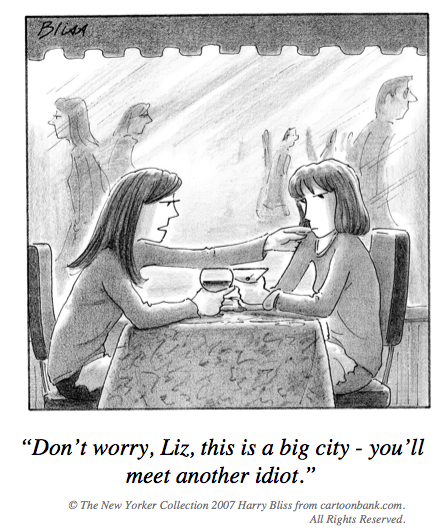 --------------------------------------------------------------

Mozilla Firefox issues No. 3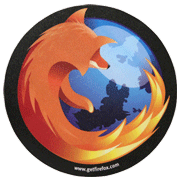 In its quest to overtake the browser marketplace, Firefox issued its third version, with the goal of having the most downloads in 24 hours in the Guinness Book of Records.
Free 7.8mb download
http://www.mozilla.com/en-US/firefox/
The download was successful here, but perhaps because of some many who wanted to connect, the version site three was not available.
Many report Firefox is the fastest browser with many features.
The latest version is supposed to be the fastest.
In the latest survey by www.netapplications.com:
Netapplication.com reports:
"Firefox market share for May was 18.41% up from 17.76% in April. If recent trends continue, Firefox should achieve 20% market share some time in July."
--------------------------------------------------------------

Sales Make it Happen
Sales Isn't Just for the Salesperson
by Robert Teichman, CLP
Finally, the equipment is verified, the deal is booked, the vendor and the salesperson are paid, and the documentation department closes the file. Now the customer will be the responsibility of the billing department for the rest of the lease. Right?
Wrong!
Success in the equipment leasing business depends on continuing to increase the number of transactions written. You can achieve that by writing many new deals, and constantly trying to find new customers, or you can reach the goal by developing and improving relationships you have already established.
Many salespeople in our business believe that equipment leasing is a "deal" business. It isn't. It is "relationship business." Studies have proved time and time again that it is far easier and less costly to sell to existing customers than to develop new ones.
But how do you maintain relationships when most companies buy equipment only occasionally? Certainly, you stay in close touch with your customer. You call your contact person often. You know when the company makes decisions on its capital budget and you contact them then. But did you know that your documentation officer can be your best friend? After all, it is usually the documentation person who is the last one to talk to your customer when the lease is booked.
Since some leases take considerable time to close, your customer may have decided to get some more equipment by then. During the last conversation when the lease closes, the documentation officer could ask if the customer is satisfied with the service, and could then ask if the customer has any additional equipment financing needs. You might be surprised to learn that more equipment is on its way.
Sometimes we lose sight of the fact that selling is not limited to the salesperson. Closing a deal requires the cooperation of Sales, Credit and Documentation. And while the salesperson acts as the Relationship Manager, the other members of the Production Team do their part to help retain the customer's good will and promote future business.
In a successful equipment leasing company, everybody sells.
Bob Teichman, CLP
Teichman Financial Training
"Education & training for leasing and financing personnel"
BoTei@aol.com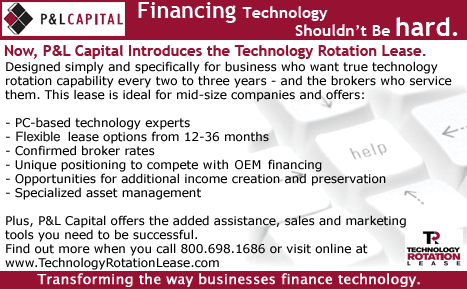 --------------------------------------------------------------

Housing starts fall in May
by Al Schuler
US Department of Agriculture
May housing starts fell 3.3%, to 0.975 million (SAAR). The decrease in total starts was driven by weakness in both components: the volatile multi - family sector was down 8% while single family which was down 1 % to 0.674 million ( SAAR). Regionally, starts contracted in all regions ( MW down 25%; south down 4.4%; and West down 10.3%) except the NorthEast which was up almost 62%. Permits continue to slide, down 1.3% to 0.969 million (SAAR).
Analysis and outlook: The housing correction continues and most analysts don't expect starts to strengthen before 2010. NAHB's latest long term outlook, just released this month, is fairly typical, with some forecasters being more pessimistic while others are moderately more optimistic. NAHB's forecast has housing bottoming in the 4th quarter of this year at 850,000 (SAAR), beginning a moderate recovery in 2009, reaching .995 million (SAAR) starts by 4th Qtr 2009. However, they don't expect starts to reach trend demand (demand supported by underlying demographics) until 2012 when starts are projected to reach 1.85 million (1.48 million SF). Why will it take so long for the market to correct? Below are a few clues, but the main reason is excess inventories.
The main problem is record inventories which are driven by a combination of rising foreclosures, higher mortgage rates, tougher lending standards, and falling house prices. As foreclosures increase, we get downward pressure on prices as supply increases, and the cycle continues. Inventories today are near 11 months, both for new homes and existing homes. Existing home inventory is almost 4 million, over half of which are vacant – vacant homes, particularly ones repossessed, generally are not as well kept up - this can negatively impact neighboring real estate values thus making it more difficult for others to sell their homes.
Home foreclosures set a record in the 1st quarter of 2008. According to the Mortgage Bankers Association, the percentage of home loans in the foreclosure process was 2.47 percent at the end of the 1st quarter, up from 2.07 percent in the 4th quarter 2007. Furthermore the delinquency rate for mortgage loans on 1 - 4 unit residential properties stood at 6.35 percent for the 1st quarter 2008. (The delinquency rate includes loans that are at least one payment past due, but does not include loans in the process of foreclosure). The chart below shows the trend with non – current loans owned by FDIC insured institutions – the problem with mortgages is increasing and it is spreading to other credit vehicles.
Some additional notes on the economy: Mortgage rates are still historically attractive even though recent inflation concerns have driven the 30 year rate to about 6.25 percent. Inflation is becoming a concern for the Fed as the CPI is now above 4 percent and the PPI is above 6 percent with similar problems in Europe and many emerging market countries. Globalization has certainly resulted in increased economic activity, but inflation seems to be one of the negative impacts. We are seeing more and more reports discussing the "age of scarcity" with respect to a growing number of commodities – resources like oil and natural gas, and food for example. So, upshot of all this is that the Fed is probably through lowering rates for this cycle – in fact, the next move may well be higher rates.
Concluding thoughts: It's probably going to take awhile for housing to right itself. Congress and the Bush administration are working on legislation and "jawboning" lenders to help people facing foreclosure - - options on the table like mortgage forgiveness, resetting rates lower; and other similar options. Other proposals focusing on mortgage availability include changing some rules for FHA, and reforming Freddie Mac and Fannie Mae. Another popular option that addresses housing demand is allowing tax breaks for 1st time buyers, and there are others. However, the legislative process is slow as they have to deal with complicated issues like who is at fault; who should pay; who deserves to be helped; what about the legions of people who played by the rules; and so on. Personally, I feel the housing bubble will probably go the way of other bubbles – that is, bubbles collapse and correction takes lots of time. A good example is the dot com bubble – the Nasdaq soared to 5000, and today, 8 years later, it is still only half that level. Will housing take 8 years to return to trend levels? The peak was 2005, and NAHB is forecasting a return to trend demand by 2012 – that is seven years. I guess one lesson from this experience is one needs to be prepared for just about anything. If something looks too good to be true, then maybe it is. All said and done, I feel we as a nation will learn from this – already the lending rules are being improved upon significantly; there is strong legislation aimed at proper disclosure; and the home buyer must learn to do due diligence. I know some instances where people analyzed a computer purchase with more due diligence than buying a house.

---------------------------------------------------------------
### Press Release ###########################

Tygris Completes Purchase of Marcap
- Tygris has completed its acquisition of Chicago-based MarCap LLC, which joins Tygris' middle market equipment leasing and asset finance business
- The business will be led by Laird Boulden, President of Tygris Asset Finance, Inc. in Chicago, and will continue to operate under the MarCap brand
- Tygris is a newly formed commercial finance company created to support the financing needs of middle market companies, with its temporary headquarters in Parsippany, NJ (with offices in Chicago and Stamford, CT)
- Tygris was formed with over $2 billion in equity commitments – the largest initial capital raise ever in the sector
- Tygris was sponsored by Aquiline Capital Partners (the private equity firm lead by Jeff Greenberg, former Chairman and CEO of Marsh & McLennan Cos.) and joined by TPG and New Mountain Capital as lead investors.
MarCap Joins Tygris' Middle Market Equipment Leasing and Asset Finance Business

New York– Tygris Commercial Finance Group, Inc. ("Tygris"), a recently formed commercial finance company, has announced the completion of the acquisition of substantially all of the assets and business of MarCap LLC ("MarCap"), a middle market healthcare equipment finance company headquartered in Chicago. MarCap joins Tygris Asset Finance, Inc., Tygris' middle market equipment leasing and asset finance business led by Laird Boulden, and will continue to operate under the MarCap brand.
For more than 30 years MarCap has provided financing for healthcare organizations, including ambulatory surgery centers, hospitals, cancer centers, dialysis centers and diagnostic imaging centers. MarCap specializes in developing creative, flexible financing solutions to meet a variety of client needs. MarCap is a leading provider of financing for physicians and entrepreneurs around the country and since 2001 the company ranks among the 100 largest equipment finance and leasing companies in the U.S. according to Monitor magazine, a leading industry publication. MarCap will play a key role in Tygris' mandate of providing liquidity and growth capital to middle market companies throughout North America.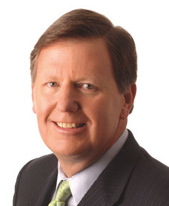 Rick Wolfert
(phote: archive)
"We welcome the MarCap team to Tygris," said Frederick E. "Rick" Wolfert, Chief Executive Officer of Tygris. "The addition of MarCap is an important strategic step in establishing Tygris as a leader in middle market equipment leasing and healthcare finance. We are excited by the opportunities in the asset finance market and we look forward to leveraging MarCap's experience and capabilities as we expand in this large and fast growing sector."
"MarCap has a deep understanding of the financing needs of their healthcare clients and strong industry relationships. Their team has built a leading healthcare specialty finance company that will become the first specialized industry segment for Tygris Asset Finance," said Laird Boulden, President of Chicago-based Tygris Asset Finance, Inc. "This is a natural fit for us. MarCap is fully dedicated to the middle market and completely aligned with our 'back to basics' philosophy."
About Tygris Commercial Finance Group, Inc.
Tygris is a commercial finance company that provides liquidity and growth capital to middle market companies throughout North America. Tygris has three commercial finance businesses: middle market corporate finance, middle market equipment leasing and asset finance, and small ticket leasing. Tygris has offices in Chicago, Stamford, CT and Parsippany, NJ.
For more information please visit www.TygrisCFG.com.
About MarCap LLC
MarCap, headquartered in Chicago, is one of the nation's largest middle market healthcare equipment financing companies and has provided creative, flexible financing solutions for more than 30 years. MarCap works directly with ambulatory surgery centers, hospitals, cancer centers, dialysis centers, diagnostic imaging centers and provides funding for healthcare equipment manufacturers. For more information please visit www.marcapcorp.com.
### Press Release ###########################

Financial Times announces Editorial Appointments in the US
NEW YORK, The Financial Times yesterday announced the following editorial appointments in the US:
Saskia Scholtes, US Financial Services Correspondent
Previously the FT's Capital Markets Correspondent since 2006, Saskia Scholtes has been promoted to US Financial Services Correspondent. As capital markets reporter, she was one of the first to identify the impending subprime crisis in September 2006. This year, she was honoured for her work with the Harold Wincott Award for Junior Financial Journalist of the Year.
In her new role, Scholtes will lead the coverage of commercial and regional banks, mortgage companies and regulation, credit card lenders and US government-sponsored enterprises Fannie Mae, Freddie Mac and Federal Home Loan Banks. Scholtes is based in New York and can be reached at 212-641-6605 or 917-213-4502 and saskia.scholtes@FT.com
Nicole Bullock, Capital Markets Correspondent
Nicole Bullock is the FT's new Capital Markets Correspondent, based in New York. Bullock will lead coverage of US credit markets, including high grade, high yield and distressed debt. Bullock joins the FT from SmartMoney magazine, where she was a senior writer, covering trends in investing, mutual funds, stock picking and the credit markets. Prior to that, Bullock was a reporter and deputy bureau chief at Dow Jones Newswire. She can be reached at 212-641-6348 or 917-519-4579 and nicole.bullock@FT.com
Chrystia Freeland, US Managing Editor for the Financial Times, commented: "Saskia is a rising star and her coverage consistently demonstrates the vision and integrity the FT is known for. I am pleased to welcome Nicole, a veteran business journalist with global experience. Her background in covering the credit markets will be a great addition to our award-winning markets team."
### Press Release ###########################
--------------------------------------------------------------

News Briefs----
Federal Reserve won't change its key rate next week
http://www.boston.com/business/articles/2008/06/17/wholesale_prices_post_
biggest_gain_in_6_months/
Housing woes hit community banks—PFF Bank also
http://www.latimes.com/business/la-fi-smallbanks17-2008jun17,0,4723238.story
Bank economists say home prices yet to bottom
http://www.boston.com/business/articles/2008/06/17/bank_economists_say_home_
prices_yet_to_bottom/
United expects to spend $3.5 billion more on fuel
http://www.chicagotribune.com/business/chicago-united-airlines-fuel-jun17,0,3549659.story
US floods hit food prices
http://www.ft.com/cms/s/0/2a0e8188-3c98-11dd-b958-0000779fd2ac.html?nclick_check=1
Goldman earns $2.1bn in second quarter
http://www.ft.com/cms/s/0/54ec522a-3c68-11dd-b958-0000779fd2ac.html?nclick_check=1
----------------------------------------------------------------


You May have Missed---
Investment implies LinkedIn is worth $1B
http://www.usatoday.com/tech/techinvestor/corporatenews/2008-06-17-linked-in_N.
htm?loc=interstitialskip
---------------------------------------------------------------

Sports Briefs----
Boston Celtics rout LA Lakers, 131-9 http://www.nytimes.com/2008/06/18/sports/basketball/18nba.html?_r=1&hp&oref=slogin2
----------------------------------------------------------------


"Gimme that Wine"
The face of Gallo---Gina Gallo
http://www.pressdemocrat.com/article/20080617/LIFESTYLE/432470135/
1309&title=The_face_of_Gallo
Scrutinizing a Red, Grape by Grape---by Eric Asimov
http://www.nytimes.com/2008/06/18/dining/18pour.html?ref=dining
Art, wine exhibit kicks off in San Francisco
http://www.union-bulletin.com/articles/2008/06/16/local_news/
080616local04strictlybusiness.txt
Chefs from Sonoma, Napa and Marin compete at 'Wines, Vines, and Woolies'
http://www.napavalleyregister.com/articles/2008/06/17/food/doc4856fed30a907671162582.txt
Wine Prices by vintage
http://www.winezap.com
http://www.wine-searcher.com/
US/International Wine Events
http://www.localwineevents.com/
Winery Atlas
http://www.carterhouse.com/atlas
Leasing News Wine & Spirits Page
http://two.leasingnews.org/Recommendations/wnensprts.htm
The London International Vintners Exchange (Liv-ex) is an electronic exchange for fine wine.
http://www.liv-ex.com/
----------------------------------------------------------------

Calendar Events This Day
Egypt: Evacuation Day
Public holiday celebrating the anniversary of the withdrawal of the British Army from the Suez Canal area of Egypt in 1954.
Go Fishing Day
http://holidayinsights.com/moreholidays/June/gofishingday.htm
International Picnic Day
http://fatherhood.about.com/cs/activities/a/summerpicnics.htm
National Cherry Tart Day
Seychelles: Constitution Day
National holiday. Commemorates adoption of constitution in 1993.
https://www.cia.gov/library/publications/the-world-factbook/geos/se.html
Splurge Day
http://holidayinsights.com/moreholidays/June/splurgeday.htm
Saint feast Days
http://www.catholic.org/saints/f_day/jun.php
----------------------------------------------------------------

During World War II, bakers in the United States were ordered to stop selling sliced bread for the duration of the war on January 18, 1943. Only whole loaves were made available to the public. It was never explained how this action helped the war effort.
----------------------------------------------------------------

Today's Top Event in History
1913- Sammy Cahn--- the Tin Pan Alley legend Sammy Cahn was born Samuel Cohen at New York City. He was nominated for 25 Academy Awards and won four times for" Three Coins in the Fountain" (1954), "All the Way" (1957), "High Hopes" (1959) and "Call Me Irresponsible" (1963). In the late 1940s he began working with composer Jimmy Van Heusen, and the two in essence were the personal songwriting team for Frank Sinatra. Cahn wrote the greatest number of Sinatra hits, including "Love and Marriage," "The Second Time Around," High Hopes" and "The Tender Trap." Sammy Cahn died Jan 15, 1993, at Los Angeles, CA.
http://users.bestweb.net/~foosie/samycahn.htm
[headlines]
----------------------------------------------------------------

This Day in American History
1621-The first duel of record took place between two servants of Stephen Hopkins, one of the leaders of the Plymouth Colony. Governor William Bradford's decision was rendered as follows: "The Second Offense is the first Duel fought in New England, upon a Challenge at Single Combat with Sword and Dagger between Edward Dotey and Edward Leister, Servants of Mr. Hopkins; Both being wounded, the one in the Hand, the other in the Thigh; they are adjug'd by the whole Company to have their Head and Feet tied together, and so to lie for 24 hours, without Meat or Drink; which is begun to be inflicted, but within an Hour, because of their great Pains, at their own and their Master's humble request, upon Promise of better Carriage, they are Released by the Governor."
1778-The British Redcoats evacuate Philadelphia. After almost nine months of occupation, the fifteen thousand British troops under Sir Henry Clinton evacuate Philadelphia, the former US capital. The British position in Philadelphia had become untenable after France's entrance into the war on the side of the Americans. In order to avoid the French fleet, General Clinton was forced to lead his British-Hessian force to New York City by land. Other loyalists in the city sailed down the Delaware River to escape the Patriots, who returned to Philadelphia the day after the British departure.
http://www.wpi.edu/Academics/Depts/MilSci/BTSI/abs_phila.html
1812-A after much debate in Congress between "hawks" such as Henry Clay and John Calhoun, and "doves" such as John Randolph, Congress issued a declaration of war on Great Britain on this day. The action was prompted primarily by Britain's violation of America's rights on the high seas and British incitement of Indian warfare on the frontier. War was seen by some as a way to acquire Florida and Canada. The hostilities ended with the signing of the Treaty of Ghent on Dec 24, 1814, at Ghent, Belgium. ( lower half of: http://memory.loc.gov/ammem/today/jun18.html )
1811-The term Coodies came into the American language. The term Coodies was applied derisively to the faction of the Federalist Party that urged support for the War of 1812, a position highly unpopular with the majority of the party and the population of America, who did not want to go to war. The term derived from the series of pro-war articles written by Gulian Crommelin Verplanck, under the
pen name Abimeleck Coody. Verplanck was a distinguished editor, author, and Shakespearean scholar. People who were pro war were considered to have the Coodies. The epithet King Coody was applied to Rep. Roger Brooke Taney of Maryland, later chief justice of the Supreme Court.
1812-After much debate in Congress between "hawks" such as Henry Clay and John Calhoun, and "doves" such as John Randolph, Congress issued a declaration of war on Great Britain. The action was prompted primarily by Britain's violation of America's rights of the high seas and British incitement of Indian warfare on the frontier. War was seen by some as a way to acquire Florida and Canada. The hostilities ended with the sign of the treaty of Ghent on December 24, 1814, Ghent, Belgium.
1848-Captain Charles Welsh arrived in San Francisco. He was to build the first brick house in North Beach. A street was later named for him.
1851-The grant or patent of the "Suisun Rancho," was made for military services of Francisco Solano, Indian chief, and a Mexican citizen.
1857-birthday of Henry Clay Folger, Jr., American businessman and industrial who developed one of the finest collections of Shakespearna in the world and bequeathed it ( The Folger Shakespeare Library, Washington, DC) to the American people. Born at New York, NY. Died June 11, 1930, at Brooklyn, NY. http://search.biography.com/print_record.pl?id=14824
1863 - After repeated acts of insubordination, General Ulysses S. Grant relieves General John McClernand during the siege of Vicksburg.
1864-At Petersburg, Grant ends 4 days of assaults.
The pontoon bridge serves to bring supplies, but no victories.
http://www2.cr.nps.gov/abpp/battles/va098.htm
http://members.aol.com/siege1864/richpete.html
1864 - Union war hero Joshua Lawrence Chamberlain is severely wounded at Petersburg, Virginia, while leading an attack on a Confederate position. Chamberlain, a college professor from Maine, took a sabbatical to enlist in the Union army. As commander of the 20th Maine, he earned distinction at Gettysburg when he shored up the Union left flank and helped save Little Round Top for the Federals. His bold counterattack against the Confederates earned him the Congressional Medal of Honor. His wound at Petersburg was the most serious of the six he received during the war. Doctors in the field hospital pronounced his injury fatal, and Union General Ulysses S. Grant promoted him to brigadier general as a tribute to his service and bravery. Miraculously, he survived and spent the rest of the Petersburg campaign convalescing at his Maine home. He returned to the Army of the Potomac in time for Lee's surrender at Appomattox, and he was given the honor of accepting the arms of the Confederate infantry. Chamberlain returned to Maine after the war and served four terms as governor. He then became president of Bowdoin College—the institution that had refused to release him for military service—and held the position until 1883. Chamberlain remained active in veterans' affairs and, like many soldiers, attended regimental reunions and kept alive the camaraderie created during the war. He was present for the 50th anniversary of Gettysburg in 1913, one year before he died of an infection from the wound he suffered at Petersburg.
1873 - Susan B. Anthony is fined $100 for attempting to vote for president.
1877 - birthday of James Montgomery Flag, Pelham Manor, New York, creator of the illustration of Uncle Sam.
http://memory.loc.gov/ammem/today/jun18.html
1892- Macadamia nuts first planted in Hawaii; became a major export item throughout the world
1900--Birthday of author Laura Z. Hobson - wrote revolutionary novels about social injustices. Gentleman's Agreement dealt with anti-Semitism, Tenth Month, on unwed motherhood, Consenting Adult, on homosexuality.
1906-birthday of Kay Keyser, American bandleader whose band, " Kay Kyser's Kollege of Musical Knowledge" enjoyed immense popularity tin the swing era. He was born James King Kern Kissers in Rocky Mount, NC. A shrewd showman and performer, he said he never learned to read music or play an instrument. Among his hit recordings were " Three Little Fishes," and " Praise the Lord and Pass the Ammunition, " a World War II favorite. Kyser retired from show business in 1951 and died at Chapel Hill, SC, July 23, 1985.
1909-drummer Ray Bauduc born New Orleans, LA. http://www.angelfire.com/mac/keepitlive/drummers/Baudue/bauduc.htm
http://www.parabrisas.com/d_bauducr.html
http://www.parabrisas.com/d_bauducr_f.html
1910-drummer Ray McKinley, born Ft. Worth, Texas.
http://americanhistory.si.edu/archives/d5635b.htm
http://www.angelfire.com/mac/keepitlive/drummers/McKinley/mckinley.htm
1911-Tenor sax Babe Russin born Pittsburgh, Pa. www.artistdirect.com/music/artist/bio/0,,488048,00.html?artist=Babe+Russin
1912—Tennessee University opens as Tennessee A&L State College
1913-birthday Sylvia Porter, American financial journalist, born at Patchogue, NY. Her column was syndicated by the Los Angeles Times, reaching 450 newspapers worldwide. She also wrote more than 20 books and was noted for her ability to turn complex economic language into readable prose. Porter died June 6, 1991, at Pound Ridge, NY.
http://www.us-israel.org/jsource/biography/porter.html
1913- Sammy Cahn--- the Tin Pan Alley legend Sammy Cahn was born Samuel Cohen at New York City. He was nominated for 25 Academy Awards and won four times for" Three Coins in the Fountain" (1954), "All the Way" (1957), "High Hopes" (1959) and "Call Me Irresponsible" (1963). In the late 1940s he began working with composer Jimmy Van Heusen, and the two in essence were the personal songwriting team for Frank Sinatra. Cahn wrote the greatest number of Sinatra hits, including "Love and Marriage," "The Second Time Around," High Hopes" and "The Tender Trap." Sammy Cahn died Jan 15, 1993, at Los Angeles, CA.
http://users.bestweb.net/~foosie/samycahn.htm
1914-Birthday of country bandleader and songwriter Pee Wee King.
1915—World famous firefighter "Red" Adair, born Houston, Texas, died August 7, 2004. He became world famous as an innovator in the highly specialized and extremely hazardous profession of extinguishing and capping blazing, erupting oil wells, both land-based and offshore.
http://www.dailycelebrations.com/asp/displayByDate/displayByDate.asp?month=5&day=28
1928 - Amelia Earhart becomes the first woman to cross the Atlantic by airplane.
1934-the first Nationwide highway planning survey was authorized by Congress to be made by the Bureau of Public Roads of the department of Agriculture, in cooperation with state highway departments, to obtain traffic volume, load weight, and other information needed for the national planning of a nationwide system of interstate highways.
1936- Mobster Charles 'Lucky' Luciano is found guilty on 62 counts of compulsory prostitution.
1937-Birthday of American novelist Gail Godwin, born Birmingham, among her books, The Odd Woman; A Mother & Two Daughters.
http://www.amazon.com/exec/obidos/ASIN/0345389913/absolutsearch05/
102-3944147-3635339
1938- Babe Ruth wears a Dodger uniform for the first time as a coach. The 'Bambino' also takes batting practice with the team.
1939-birthday of baseball Hall of Fame outfielder Louis Clark (Lou" Brock, El Dorado, AR.
1942--Sir Paul McCartney birthday
1942 - The U.S. Navy commissions its first black officer, Harvard University medical student Bernard Whitfield Robinson.
1944--Birthday of American Composer Paul Lansky
1945---Top Hits
Sentimental Journey - The Les Brown Orchestra (vocal: Doris Day)
Dream - The Pied Pipers
Laura - The Woody Herman Orchestra
At Mail Call Today - Gene Autry
1945-- Lt. Gen. Simon Bolivar Buckner, killed by Japanese artillery on Okinawa. On April 1, 1945, with his Tenth Army, he had launched the invasion of Okinawa, a strategic Pacific island located midway between Japan and Formosa. Possession of Okinawa would give the US a base large enough for an invasion of the Japanese home islands. Although there were over 100'000 Japanese defenders on the island, most were deeply entrenched in the island's densely forested interior, and by the evening of 01 April, 60'000 US troops had come safely ashore.
However, on 04 April, Japanese land resistance stiffened and at sea Kamikaze pilots escalated their deadly suicide attacks on US vessels. Over the next month, the battle raged on land and sea, with the Japanese troops and flyers making the Americans pay dearly for every strategic area of land and water won. On 18 June, with US victory imminent, General Buckner, the hero of Iwo Jima, was killed by Japanese artillery. Three days later, his Tenth Army reached the southern coast of the island, and, on 22 June, Japanese resistance effectively came to an end. Lieutenant General Mitsuru Ushijima, the Japanese commander, with some of his officers and troops, committed suicide rather than surrender.
as the US Tenth Army overcomes the last major pockets of Japanese resistance on Okinawa Island, ending one of the bloodiest battles of World War II.
The Japanese lost 120'000 troops in the defense of Okinawa, while the Americans suffered 12'500 dead and 35'000 wounded. Of the thirty-six Allied ships lost, most were destroyed by the 2000 or so Japanese pilots who gave up their lives in Kamikaze missions. With the capture of Okinawa, the Allies prepared for the invasion of Japan, a military operation predicted to be far bloodier than the 1944 Allied invasion of Western Europe. The plan called for invading the southern island of Kyushu in November of 1945, and the main Japanese island of Honshu in March of 1946.
1945 - Gen. Dwight D. Eisenhower received a tumultuous welcome in Washington, where he addressed a joint session of Congress. Eisenhower went on to meet Pres. Harry Truman and the 2 men established a warm relationship that later soured. In 2001 Steve Neal authored "Harry and Ike: The Relationship That Remade the Postwar World."
1946-Bobby Sherwood Band records "Sherwood's Forest."
1950-Brithday of American Composer Frank Ferko, born Barberton, OH.
1953—Top Hits
Song from Moulin Rouge - The Percy Faith Orchestra
April in Portugal - The Les Baxter Orchestra
I'm Walking Behind You - Eddie Fisher
Take These Chains from My Heart - Hank Williams
1953-Birthday of Robbie Bachman, drummer for Bachman-Turner Overdrive, was born in Winnipeg. The Canadian rock band, which also included Robbie's brothers Randy and Tim on guitars, was internationally popular in the 1970's with such hits as "Blue Collar," "Let It Ride," "Takin' Care of Business" and "You Ain't Seen Nothing Yet," a 1974 million-seller. At its peak, BTO won many polls and honors in the US, as well as seven Juno Awards.
1953- Sending 23 batters to the plate at Fenway, the Red Sox enjoy a 17-run and 14-hit seventh inning as they pound the Tigers, 23-3. Sammy White sets a modern major league record scoring three times in the frame and outfielder Gene Stephens collect three hits in the to establish an American League record.
1954 - Albert Patterson was assassinated in Phoenix, Ala. He had recently been elected as attorney general on a platform to crack down on vice. His murder led the governor to call in the National Guard to replace local law enforcement and cleanup the vice. Patterson's son John filled the attorney general position. He was elected governor in 1958.
1959 - A Federal Court annuls the Arkansas law allowing school closings to prevent integration.
1960-Don Sutton of the California Angels pitched a three-hitter against the Texas Rangers to win the 300th game of his career by the score of 5-1. Sutton pitched in the majors from 1966 to 1988 and finished with 324 victories.
1961---Top Hits
Moody River - Pat Boone
Quarter to Three - U.S. Bonds
Tossin' and Turnin' - Bobby Lewis
Hello Walls - Faron Young
1963- Three thousand Blacks boycott Boston public school.
1965 - No. 1 Billboard Pop Hit: ``I Can't Help Myself,'' Four Tops.
1966 - Gen. William Westmoreland, senior U.S. military commander in Vietnam, sends a new troop request to the Joint Chiefs of Staff. Westmoreland stated that he needed 542,588 troops for the war in Vietnam in 1967--an increase of 111,588 men to the number already serving there. In the end, President Johnson acceded to Westmoreland's wishes and dispatched the additional troops to South Vietnam, but the increases were done in an incremental fashion. The highest number of U.S. troops in South Vietnam was 543,500, which was reached in 1969.
1967 - The Jimi Hendrix Experience makes its debut performance at the Monterey (Calif.) Pop Festival. The Hendrix album ``Electric Ladyland,'' released in 1968, tops Billboard's pop album chart for two weeks.
1968—Poor People's Campaign's Solidarity Day takes place.
1969---Top Hits
Get Back - The Beatles
Love Theme from Romeo & Juliet - Henry Mancini
In the Ghetto - Elvis Presley
Running Bear - Sonny James
1976-Electric Light Orchestra's "OLE ELO" goes gold. The LP is a greatest hits collection.
1977 - Fleetwood Mac worked "Dreams" to the number one spot on the pop music charts this day. It would be the group's only single to reach number one. Fleetwood Mac placed 18 hits on the charts in the 1970s and 1980s. Nine were top-ten tunes.
1977---Top Hits
Dreams - Fleetwood Mac
Got to Give It Up (Pt. I) - Marvin Gaye
Gonna Fly Now (Theme from "Rocky") - Bill Conti
Luckenbach, Texas (Back to the Basics of Love) - Waylon Jennings
1980-The film, "The Blues Brothers", starring Dan Ackroyd and John Belushi, premieres in New York City. Cameo's in the film include Aretha Franklin, Ray Charles, James Brown and John Lee Hooker.
1983-Dr. Sally Ride, 32-year-old physicist and pilot, functioned as a "mission specialist and became the first American woman in space when she began a six-day mission aboard the space shuttle Challenger in 1983. The "near-perfect" mission was launched from Cape Canaveral, FL, and landed, June 24, 1983, at Edwards Air Force Base, CA.
1985---Top Hits
Everybody Wants to Rule the World - Tears for Fears
Heaven - Bryan Adams
Sussudio - Phil Collins
Country Boy - Ricky Skaggs
1987 - It was a hot day in the Upper Great Lakes Region. Nine cities in Michigan and Wisconsin reported record high temperatures for the date. The high of 90 degrees at Marquette, MI, marked their third straight day of record heat. Severe thunderstorm in the Northern and Central High Plains Region spawned half a dozen tornadoes in Wyoming and Colorado. Wheatridge, CO, was deluged with 2.5 inches of rain in one hour.
1989 - Unseasonably hot weather prevailed in the southwestern U.S. In Arizona, afternoon highs of 103 degrees at Winslow, 113 degrees at Tucson, and 115 degrees at Phoenix were records for the date.
1998 - The Walt Disney Co. becomes an even bigger player on the Internet with the purchase of a 43% stake in Web search engine company Infoseek Corp. Disney Plans to launch an Internet portal - a Web site that contains entertainment, news and search capabilities in one location.
1999- Disney release the animated feature "Tarzan." The soundtrack features five tracks by Phil Collins each sung in five different languages -- English, French, German, Italian and Spanish. Collins did two versions in Spanish -- one with a Latin American accent and another with a Castilian.
2001- Citing he wants to spend more time with his family, Orioles legend Cal Ripken Jr. announces he will retire at the end of the season. The two-time MVP will be best remembered for his streak of playing in consecutive 2,632 games.
2001- With the time starting when the pitcher enters fair territory, a two-minute limit for warm-up tosses thrown by relievers who come in during an inning is now mandated by the commissioner's office. At the beginning of an inning the allotted warm-up time will be 1:40 unless the game is on national television in which event the time allowed will be increased by 20 seconds.
2002- In the first major league game to feature four players with 400 career homers, the Cubs beat the Rangers, 4-3, as Alex Gonzalez hits a walk-off homer in the bottom of the ninth inning. Sammy Sosa (475), Fred McGriff (459) and Juan Gonzalez (401) watched Rafael Palmerio add his 460th home run to the total.
2005 After 136 at-bats and 155 plate appearances with the bases full, Derek Jeter hits the first grand slam in his carrier. The Yankees shortstop's homer ends the longest drought (at bats and number of homers) among current major leaguers without hitting a bases loaded home run.
--------------------------------------------------------------

Baseball Poem

Baseball Cards
Our sons shake their heads
They don't understand
How we could have lost
Those Mantle rookies
Early Aarons
And sophomore Stargells
Not just a single star
But whole galaxies
Swallowed up in black holes
Long gone
Of course if our generation
Had hung on
Those cardboard rectangles
Would not be worth all that much today
To our collecting sons
Would they?
Can't have it both ways
Worth
Is in the eye of the kid
Beholding a likeness he sees
In his favorite team's colors
At the ballpark or on TV—
Paper companion to
An autographed plastic & foam seat cushion
Or a newspaper clipping from that day
He became the batting champ
Of one lad's heart
Even as we stuck the cards in bike wheels
Or flipped and pitched them
Snapping them fiercely against concrete
Even then some were special
Would we sell them today?
What would it profit us
To gain transitory bucks
But lose reminders
Of the way we were?
That much?
Well, that's different
Yet no one can purchase memories
Connections with first heroes
Access to the seasons of our
Infatuation
Written by Gene Carney
"Romancing the Horsehide,"
Baseball Poems on Players and
the game. Published by McFarland
and Company.
--------------------------------------------------------------

SuDoku
The object is to insert the numbers in the boxes to satisfy only one condition: each row, column and 3x3 box must contain the digits 1 through 9 exactly once. What could be simpler?
http://leasingnews.org/Soduku/soduko-main.htm
--------------------------------------------------------------

Daily Puzzle
How to play:
http://www.setgame.com/set/puzzle_frame.htm
Refresh for current date:
http://www.setgame.com/set/puzzle_frame.htm
--------------------------------------------------------------


http://www.gasbuddy.com/
http://www.gasbuddy.com/GB_Map_Gas_Prices.aspx
http://www.gasbuddy.com/GB_Mobile_Instructions.aspx
--------------------------------------------------------------

Weather
See USA map, click to specific area, no commercials
--------------------------------------------------------------

News on Line---Internet Newspapers
Cedar Rapids, Iowa
--------------------------------