Sales Manager – Irvine, CA
We're looking for a detail oriented, profit driven Sales Manager with 10 years experience in sales and/or management in the middle ticket equipment finance/leasing industry. Great opportunity for huge earnings potential as we offer a competitive salary with bonus and commission. Send resumes to llewis@calfirstlease.com .

Wednesday, March 29, 2006
Headlines---
Fed Raises Fed Funds to 4 ¾%
Archives---Code of Ethics "Body Count"
Classified Ads--- Sales Manager
Your Friendly Federal Trade Commission
Plus Senior Atty. Brook Answers Questions
Meetings Tomorrow Open to Non-Members UAEL
TEAM Equipment added to "Story Credit" List
Sales Makes it Happen—by Terry Winders, CLP
Vary Lease Structure to Customers Needs
Classified Ads---Help Wanted
New Study Debuts:
Leasing Decisions of Small Firms
Placard---Rule #1—The Boss is Always Right
Islamic financial companies 30 yr. Stride
World Deal Market Booming, says New Report
SG Equip. Finance opens subsidiary in Ukraine
Tanzania reforms support finance leasing
News Briefs---
You May have Missed---
California Nuts Brief----
"Gimme that Wine"
Restaurant Review-Scoma's, Sausalito, CA
Calendar Events
Top Event This Day in History
This Day in American History
A Collection of short Poems About Rain
######## surrounding the article denotes it is a "press release"
Fed Raises Fed Funds to 4 ¾%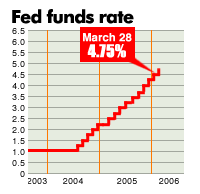 Here is official press release ######################
The Federal Open Market Committee decided today to raise its target for the federal funds rate by 25 basis points to 4-3/4 percent.
The slowing of the growth of real GDP in the fourth quarter of 2005 seems largely to have reflected temporary or special factors. Economic growth has rebounded strongly in the current quarter but appears likely to moderate to a more sustainable pace. As yet, the run-up in the prices of energy and other commodities appears to have had only a modest effect on core inflation, ongoing productivity gains have helped to hold the growth of unit labor costs in check, and inflation expectations remain contained. Still, possible increases in resource utilization, in combination with the elevated prices of energy and other commodities, have the potential to add to inflation pressures.
The Committee judges that some further policy firming may be needed to keep the risks to the attainment of both sustainable economic growth and price stability roughly in balance. In any event, the Committee will respond to changes in economic prospects as needed to foster these objectives.
Voting for the FOMC monetary policy action were: Ben S. Bernanke, Chairman; Timothy F. Geithner, Vice Chairman; Susan S. Bies; Jack Guynn; Donald L. Kohn; Randall S. Kroszner; Jeffrey M. Lacker; Mark W. Olson; Sandra Pianalto; Kevin M. Warsh; and Janet L. Yellen.
In a related action, the Board of Governors approved a 25-basis-point increase in the discount rate to 5-3/4 percent. In taking this action, the Board approved the requests submitted by the Boards of Directors of the Federal Reserve Banks of Boston, New York, Philadelphia, Cleveland, Richmond, Atlanta, Chicago, St. Louis, Minneapolis, Dallas, and San Francisco.
(For further details, please see "News Briefs")
### Press Release ###########################

Archives---March 29, 2001--Code of Ethics "Body Count"
It appears that the Leasing News concept of counting how many members were expelled from an association as the "rating" of the associations standards or ethics is incorrect. It is not a "body count," as was the practice in Viet Nam, but a "dispute resolution"
The actual procedure starts out with a "committee" and may not go before the full board. Here is a first of a series of report.
We are pleased to have Joe Bonnano, CLP, who we consider the premiere leasing attorney, legal counsel for the National Association of Equipment Leasing Brokers, write about this exclusively for Leasing News:
"A few weeks ago in your newsletter, you had raised the issue of how many members had each leasing association expelled from its membership. I respectfully believe that the question is misplaced. I believe that the proper question to determine the effectiveness of an ethics program is along the lines of how many disputes between members of your association has your association provided assistance to resolve and of any unresolved disputes, how many members has the association had to expel? Let me explain what this rather long question is getting at.
"The NAELB has in place an ethics procedure that was carefully designed by Barry Marks and myself, of course with the approval of the entire NAELB Board and ultimately adopted by the NAELB membership. The procedure is as follows. First, a written Complaint is filed with my office. The Complaint is forwarded by me to the party that is accused of unethical behavior and there is a 10-day period to respond to my office in writing. The submission of supporting documentation is encouraged.
"From there, I look at the position of both parties and try to work with both parties to amicably resolve the issues. In the event that the issues cannot be resolved, then the second phase of the procedure is used. My office then takes all correspondence that I have received in the matters, deletes all references to all names of any individual or entity and forwards that "blind" correspondence to our ethics committee, that consists of two brokers and two funders. Each of those committee members then responds to me with their opinion on the issues. This is a built in safety gap that allows opinions from those that are actually engaged in brokering and funding on a daily basis.
"When those opinions are obtained, I then go back to the parties and indicate on a "blind" basis what the opinion of the committee was. That is, the identity of the committee is only known to me. This feature preserves the integrity of any business relationships that may exists between parties involved in the dispute and their reputation with those individuals on the ethics committee. After those opinions are reviewed and discussed, there is yet another opportunity to resolve the dispute. At that point, if the dispute cannot be resolved then the parties have the option to take the matter to the full NAELB Board of Directors. When the matter goes to the full board, the names of the parties are revealed to the Board members only. At that point, the Board has wide discretion to take any action that it deems appropriate, including expulsion.
"So as you can see, to the NAELB the expulsion of members is not a goal, the goal is to assist members in dispute resolution. Expulsion of members is only a last resort, and results in only the extreme cases of either flagrant unethical conduct or a failure to respond and acknowledge the ethics procedure. In the past year, we have unfortunately had to expel two members. Through my office, I must have assisted in the resolution of anywhere from 10-20 disputes, both formally and informally. So from our perspective, the ethics program clearly sets forth a code of ethics to abide by and the NAELB attempts to resolve ethical disputes between its members. In the event the dispute cannot be resolved, then expulsion is clearly the action of last resort.
"It is my experience that this program works and is a great benefit to our members. It is available to all members, including funding sources, of the NAELB. It is a benefit to all of our members.
"Thanks again Kit and looking forward to seeing you in New Orleans."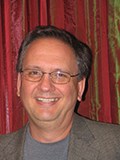 Joe Bonanno, CLP, NAELB Legal Counsel
law@jgbesq.com
(781) 391-7800
www.leasingissues.com
--------------------------------------------------------------

Classified Ads--- Sales Manager
Livermore Valley (Around Poppy Ridge Golf Course) California *
Here is a larger view you may open:
http://www.leasingnews.org/items/LN_Classified/Livermore.jpg
Atlanta, GA
30 years in transportation Finance with strong management/ sales background. Represented company on national & region markets. Started two successful operations- produce profits and growth.
Email: pml@mindspring.com
Chicago, IL
Successful sales manager has 15 years experience with captives and independents. Expertise in re-energizing existing sales teams and territories, also building teams from scratch. True Team Leader looking for new challenge.
email: Murph5553@aol.com
Chicago, IL
Senior sales manager seeks Chicago based sales management role with growing, creative, customer focused lessor. Extensive experience/documented results in all aspects of information technology leasing.
Email: belanger@dataflo.net
Dallas/Fort Worth, TX
Domestic-int'l exp. Small to middle ticket. 24 yrs with Fortune 500 firms(2). Consistently achieves margin/ volume goals.
Email: dptr7300@sbcglobal.net
Geneva, IL
Leasing leader seeking sales manager, senior sales/business development, marketing or strategic planning opportunity. Twenty plus years in the business. Looking for a new challenge.
E-mail: edok@sbcglobal.net
Marlton, NJ
25 years exper. Promoted to sales manager after attaining highest percentage of quota for 2 years. Increased business by 50% over two years as sales manager.
Email: Sjgaul@aol.com
New York, NY
I have over 25 years owning an independent leasing company that specialized in truck leasing. Tow trucks, Limos, ambulances, tractors, etc..
Email: rfleisher@rsrcapital.com
Pennsauken, NJ
17 Years Leasing in all capacities from CSR and Collections to National Sales Management and Vice President Vendor Development. Exceptional People Skills. Many industry references.
email: cherfurth1@aol.com
Portland, OR
18+ yrs w/bank leasing company. Supervised 14- 20 sales people. Willing to relocate for the proper position.
Email: pthygeson@netscape.net
For a full listing of all "job wanted" ads, please go to:
http://64.125.68.91/AL/LeasingNews/JobPostings.htm
To place a free "job wanted" ad, please go to:
http://64.125.68.91/AL/LeasingNews/PostingForm.asp
* Livermore Valley (Around Poppy Ridge Golf Course) California
sunil6865-pbase@yahoo.com
Sunil Veluvali, pbase gallery
http://www.pbase.com/sunil6865/landscapes
----------------------------------------------------------------

Your Friendly Federal Trade Commission
Plus Senior Attorney Brook Answers Questions
by Christopher Menkin
"The Commission is headed by five Commissioners, nominated by the President and confirmed by the Senate, each serving a seven-year term (on a staggered basis so they do not all expire at the same time.) The President chooses one Commissioner to act as Chairman. No more than three Commissioners can be of the same political party. The current Chairman and Commissioners are: Deborah Platt Majoras, Pamela Jones Harbour, Jon Leibowitz, William E. Kovacic, and J. Thomas Rosch.
http://www.ftc.gov/bios/commissioners.htm
"The FTC may begin an investigation in different ways. Letters from consumers or businesses, Congressional inquiries, or articles on consumer or economic subjects may trigger FTC action."
http://www.ftc.gov/ftc/action.htm
Perhaps best known to the equipment leasing industry is FTC Senior Attorney Randy Brook out of the Northwest Regional Office, Seattle, Washington. He has over thirty-three years with the commission, winning many restitutions, the most recent was from Leasecomm, where stop collection efforts on all outstanding judgments, totaling $24 million, involving the financing of the software and equipment for processing credit-card transactions. Leasecomm also paid a $1 million fine to be split by the states of Massachusetts, Florida, Illinois, Kansas, North Carolina, North Dakota and Texas. The district attorney for Ventura County, California also received a portion of that fine.
Leasing News readers perhaps know this man most from our stories on the NorVergence scandal, where he acknowledges communicating with private attorneys, the attorneys generals and their staff, plus 'FTC headquarters staff in Washington, DC. He states the FTC has always welcomed information from both state government and the private sector, striving to work for the good of all consumers, including those in business.
In writing the story about how many were offered and took settlements from the attorneys generals office in NorVergence lease settlements, Brook said he could make no official comment, but personally believes they were reasonable offers.
The FTC is not involved in criminal prosecutions but primarily in protecting consumers and obtaining restitution, he pointed out. As an information gathering process across the 50 states, what the FTC staff uncovers can be used in deciding whether to bring cases with nationwide effect. That information may also be used by various law enforcement agencies of both the federal and state governments.
In the NorVergence telephone scandal, the FTC received a $181,721,914 judgment in the Federal District Court case against NorVergence . While it is most likely there will be more liabilities than assets, the judgment was of assistance to those who had signed leases where the equipment and service did not begin or any collateral nature from those who had direct leases with NorVergence.
At the present time, Brook and his staff are looking into several leasing companies in the manner in which their financial records book the "Equipment Rental Agreements." In one instance, a Civil Investigative Demand (CID) was issued to IFC Credit Corporation, Morton Grove, Illinois, for such information. On the Lease Team web site where their clients are listed, one of them is IFC Credit. Brook claims to be comfortable in reading "Lease Plus," the software which records the leases for accounting purposes and is utilized by IFC Credit Corporation.
In the Leasing News story about the numbers who accepted settlements from New York Attorney General Elliott Spitzer and his staff, Leasing News noted it had questions (http://www.leasingnews.org/archives/March%202006/03-24-06.htm#norv). In an exclusive interview, FTC Senior Attorney Randy Brook had answers :
"As you know there are many ways to define "leases ." These may vary leg ally, accounting wise, by the consumer, by the leasing trade itself... T hese NorVergence contracts principally financed services, which doesn't sound like a lease in any legal sense. Even the forms themselves are titled "Equipment Rental Agreements , " not leases . From an accounting standpoint, they might be treated as leases, but that treatment would have to comply with FASB 13. With NorVergence as the "rentor," and with a rental price tens or hundreds of times the Matrix cost, they would presumably start out as a sales-type lease under FASB 13 . The rental agreement might be treated after assignment to a finance company as a direct financing lease, but I can't see how it could ever be an "operating lease ."
"Xerox Corp. got into trouble with the Securities and Exchange Commission when it mixed services in with its copier leases and treated the whole package as an operating lease. Note that I don't have any reason to think the finance companies here are treating the NorVergence rental contracts as operating leases, but I expect we will find exactly what they are doing during our investigations.
"In investigating finance company practices, the FTC is examining how the accounting was recorded of the "Equipment Rental Agreement." Under FASB 13, one of the requirements is to determine the "Fair Market Value" of the equipment. FASB 13 lease classification also requires consideration of residual value at the end of the lease. What numbers were utilized? The actual cost of the Matrix Box or the rental price? The FTC charged that the rental contract prices had nothing to do with the cost of the Matrix box. It also charged that finance companies doing business with NorVergence knew or should have known that the Matrix was only an incidental part of the services promised by NorVergence and that, based on the wide variance in rental agreement amounts, that the contracts might have been part of a scheme to defraud consumers. Thus, the manner in which the rental agreements were on the actual books is something the FTC is examining closely.
"Kit , you've asked me about UCC Article 2A. First, I should say that the UCC is a state law issue, and the FTC doesn't enforce state law. However, if a company misrepresents that consumers have to pay no matter what happens, and misleadingly base that claim on a state law that might not apply at all, that misrepresentation could be an FTC issue. This happened in the Leasecomm case.
"In Leasecomm, the FTC contended that the leases were for intangibles like websites that could not be subject to 2A leases. Here, with the rental agreements principally covering future services, the same argument might apply. However, there's another reason why it might be misleading to say that 2A applied to NorVergence rental agreements. Article 2A presumes that the lessor is not the manufacturer or supplier and has not selected the product leased. NorVergence claimed to be the manufacturer, or at least was the supplier of Matrix boxes manufactured by Adtran. It was also the original "rentor" and selected the equipment out of its inventory. I don't see how 2A could apply to this situation. This could impact whether any "hell or high water" clause would be enforceable, although as I said, this is a matter of state law, not FTC law. However, as the FTC charged in the NorVergence case, various clauses in the NorVergence Rental Agreement might have allowed the finance companies to misrepresent that consumers owed money regardless of whether NorVergence provided the promised services.
" Another thing the FTC is looking at, as you can see in the investigational documents made public in a recent court filing, is "force placed" insurance on the Matrix boxes. A rental contract provision allows the rentor to obtain loss or damage insurance on the Matrix and bill the customer for it, similar to what is done for vehicles purchased on credit or home mortgages . Here we have to ask how the amount of insurance coverage was arrived at .
"The same question comes up regarding personal property tax. Was it on the fair market value of the equipment only, as is the requirements in most counties through the United States that collect this tax, or did it include the soft costs, such as service, installation, and labor that were part of the total rental price ?"
Now it is time for the leasing companies to answer questions from the friendly Federal Trade Commission.
----------------------------------------------------------------

Two Meeting Tomorrow Open to Non-Members UAEL
Leasing Association Meetings Open Non-Members
Roundtable Event
UAEL So-Cal Region would like to invite you to our
Annual Roundtable Event
Thursday, March 30th, 2006
1:00 PM – 4:30 PM
Experian Building , Orange County
Roundtable Discussions:
Mohammed Ahsan, Quail Capital
"How to put together a winning submission package"
Ken Goodman, Goodman & Associates
" Advanced Leasing Sales Skills"
Sell more, build stronger vendor relationships and understand your lessee
Bob Robichaud, PFF Bank & Trust
"How to sell a deal by understanding their financials"
Paul Foster, Allegiant Partners
"Selling structured transactions to your credit challenged customer; working with start-ups and how to get them financed"
Experian
" How to read credit reports and business credit reports"
Chris Pisacane, PFF Bank & Trust
" How to make your deals fund fast, eg: doc issues, delivery, vendor invoice"
**This discussion will help with back office issues.
No cost to UAEL Members, $10 for Non-Members
Please register via email with Gina Iacono at
giacono@westoverfinancial.com or telephone (714) 834-0127, ext. 102
Event Hosted by the UAEL Southern California Region
----------------------------------------------------------------------------
March 30, 2006 at 6:00 PM
UAEL Texas Networking Regional
Meet Brokers, Lessors and Funding Sources
Fox & Hounds Pub
Located: Exit Corporate Drive , Lewisville off 35E. Continue North on Access Road less than 1 mile on the Right.
1640 Stemmons Freeway
Lewisville , TX 75057
Phone: 972-221-8346
No Cost
Appetizers, No host bar
Guest Speaker to be announced
50-50 Raffle
Register online at www.uael.org or contact Bill Grohe at
Phone: 415-681-2234 or email at bill@uael.org
--------------------------------------------------------------

TEAM Equipment Leasing added to "Story Credit" List
Story Credit Lessors - Update
Rank

Name
In Business Since
Contact
Website
Leasing Association

Employees

Geo
Area

Dollar
Amount

Broker Qualify

7

$5,000.00 - $65,000.00
(Z) "TEAM Equipment Leasing is a structured lender for brand new businesses or for older companies with previous credit problems. We do not credit score. The secret to producing an approval for C-Credits starts with interviewing your customer."
Story Credit Lessors
These companies specialize in "C" and "D" credits, often news businesses, or businesses where the principal(s) have Beacon score around 600 or previous difficulties; meaning to become comfortable with the credit and financial situation you need to learn the "story" to make a positive decision, often requiring further security, shorter term, or additional guarantors. Many of these companies may also be a "B," but appear otherwise without the "story" to understand the full financial picture.
(To qualify for this list, the company must be a funder and not a "Broker/Lessor" or "Super Broker/Lessor", along with an acceptable Better Business Bureau Rating and no history of complaints at Leasing News. We reserve the right to not list a company who does not meet these qualifications.)
We encourage companies who are listed to contact us for any change or addition they would like to make. Adding further information as an "attachment" or clarification of what they have to offer would be helpful to readers is very much encouraged.
( To apply to be listed, please fill in this form and fax to 408.374.3843 or you
may e-mail to: kitmenkin@leasingnews.org )
Story Credit Form
Alphabetical list - click on company name to view more details

ABCO Leasing, Inc.
Boston Financial & Equity Corp.
Mesa Leasing, Inc.
Advantage Funding
Cobra Capital LLC
Pawnee Leasing Corporation
Agility Solutions
Creative Capital Leasing Group, LLC
Pentech Financial Services, Inc.
Allegiant Partners Incorporated
Dakota Financial
Radiance Capital, LLC
American Leasefund, Inc.
Dolsen Leasing Company
Summit Leasing, Inc.
Bankers Capital
Financial Pacific Leasing
Sunrise International Leasing Corp.
Barrett Capital Corporation
Forum Financial Services, Inc.
TEAM Equipment Leasing, Inc.
Black Rock Capital
Gonor Funding
TechLease, L.L.C.
Blackstone Capital Partners, L.P.
IFC Credit Corporation
Rank

Name
In Business Since
Contact
Website
Leasing Association

Employees

Geo
Area

Dollar
Amount

Broker Qualify

1

Financial Pacific Leasing
1975
Terey Jennings CLP,
800-447-7107, tjennings@finpac.com
www.finpac.com
EAEL, ELA, NAELB, UAEL (P)

115

Nationwide

$5,000-$50,000

Please Call or see "Prospective Broker" section on website

1

106

Nationwide

$250,000 - $15,000,000+

Please Call

3

45

Nationwide

$1,000 - $30,000

One year time in business

4

Pentech Financial Services, Inc.

1983

Peter C. Eaton

Eastern Region Sales Manager

Phone - 608.661.9536

peter@pentechfinancial.com

Larry Blazek

Western Region Sales Manager

408.879.2215

LarryB@pentechfinancial.com

www.pentechfinancial.com

ELA, NAELB, UAEL (H)

32

Nationwide

$250,000 - $3,000,000

Contact Larry Blazek
or
Peter Eaton

Vehicles Only

$10,000 - $1,000,000

Sunrise International Leasing Corporation

1975

Carrie Halvorson or Jim Teal,

800-950-3211

www.sunriseleasing.com

ELA (I)

20

U.S., Canada, Latin America

$1,000
minimum no hard cap in place for maximums

One year time in business

12

National

$100,000 to $1,500,00

A deal in hand and a full package

Creative Capital Leasing Group, LLC

1980

Alister McNeil

949-646-6814

949-646-7094- Fax

www.Creativeclg.com

NAELB, UAEL (M)

12

USA

$40,000 - $1,000,00

Please call Broker Manager, Todd or Jason

Summit Leasing, Inc.

1986

James, Klemens, Kevin, Mike, Mark

(800) 736-1530

www.summitleasing.com

UAEL (S)

12

CA, ID, MT, OR, WA

$20,000 - $400,000

Contact us

10

11 Western State

$10,000.00 - $250,000.00

Allegiant Partners Incorporated

1998

415.257.4200

Doug Houlahan ext. 205

Paul Foster ext. 206

www.allegiant-partners.com

ELA, NAELB & UAEL (B)

9

Nationwide, including Alaska & Hawaii

$70,000 to $250,000

8

Nationwide
(except LA, AR and AK)

$50,000 to $2,000,000

Please Call

7

US Canada (F)

$50,000 to $3MM

$250,000 average transaction

Please Call

7


Nationwide

$50,000 to $1.0 million. Our average size transaction is $250,000.
Preferred Range
$100,000 to $500,000


7

$5,000.00 - $65,000.00

16

American Leasefund, Inc.

1999

Tom Davis

tom@alclease.com

800.644.1182 - PH

503.244.0845 - FX

www.alclease.com

UAEL (Q)

6

Idaho, Montana, Oregon, Washington

$3,500 - $50,000

Please Call

17

6

Nartionwide - 50 States

$25,000.00 +

Please contact Larry LaChance

18

6

Nationwide

$50,000 to $1MM

$250,000 average transaction

Please call

19

6

Arizona, California & Nevada

$10,000 to $200,000

NAELB Members preferred but not required

20

5

U.S.

$50,000 - $1,000,000
(Master Lease)

Please Call

21

5

Western U.S.

$25,000 - $350,000

22

3

USA

$10,000 to $100,000 with an average of $25,000 - $35,000

23

Barrett Capital Corporation
1975
Barry Korn
914-632-4200
Cell: 914.954.1900
Barrett@BarrettCapital.com
www.BarrettCapital.com
NVLA

4

United States

Vehicles Only

$10,000 minimum

Please Call

24

Dakota Financial

2001

Michael Green

Managing Partner

310.696.3030 x 24

mgreen@dakotafin.com

EAEL, NAELB, UAEL (K)

4

Nationwide

$10,000 - $200,000

25

4

Northwestern
(see comments)

$5,000 - $50,000

Please Call

26

4

Nationwide

$20,000, average transaction size is $200,000

Please Call
(A) Pawnee Leasing Corporation; Some times we go higher than $30,000, but our marketplace is from $1,000 to $30,000.
(B) Allegiant.pdf
(C) Mesa Leasing, Inc., Industries served: Titled vehicles (Trucks, trailers, OTR, etc.), Construction, Restaurants, and all the other "hard to get approved" industries.
(D) ABCO Leasing, Inc. in Seattle area has been operating since 1974 serving the broker community. We required full financial disclosure on every transaction. We do story transaction, but do not like to refer to them as "C" of "D" credits. We think of therm as "A" type credits that have not been discovered yet. In actuallity, we do not really like to look at what most describes as "D" credits.
(E) Black Rock Capital comment: We book anywhere between $15 to 20 million per year. We do no "app only" business and require a full financial package for each transaction. Our average size transaction is approximately $250k and, although, we concentrate in printing, packaging (steel rule die industry) and road construction equipment we do not rule out anything that makes sense. More information can be found at www.blackrockcapital.com.
(F) Black Rock Capital (Ireland) Limited and Black Rock Capital (UK) Limited provide the same services for small to middle market corporations in the European Economic Community and the United Kingdom.
(G) Cobra Capital, LLC. Comments: Our registered trademark "Making impossible possible" is our central marketing tagline for both strong and weak credits. I have developed a 10 year history, (from Cobra and my prior company GALCO), with specialty, non-conforming transactions (story credits) and have a solid reputation for candidly responding to our originators and lessees and working diligently to mitigate deal risk rather than making excuses to turn deals down. Our originators prefer our underwriting approach to non-conforming transactions since unlike most non-conforming funders, we prefer to mitigate risk versus jacking our return. Both Originators and Lessee's prefer our candid approach as we are also frequently asked to advise lessee's and lessors on the best way to structure their bank loans and raise capital due to our 25+ year banking and accounting backgrounds as my partner and I are both former bankers and CPA's.
| Partners Bio | LaSalle Bank Reference | Cole Taylor Bank Reference |
(H) Pentech is the lessor partner with Manifest Funding Services for their Navigator, Navigator Plus & Navigator Direct. This is through our sister company Pentech Funding Services, located in San Diego and headed up by Ron Wagner.
(I) Sunrise International Leasing Corporation Comment: The broker program is "...an informal program as our primary business is still vendor leasing."
(J) Boston Financial & Equity Corporation, most of our leases are venture capital backed startups and turnarounds. We require full financial disclosures, CPA and internal statements, no tax returns. We do not required additional collateral, no PG's or RE needed. Do not send deals with large tax liens, especially if they are payroll taxes.
(K) Dakota Financial is a collateral-based direct funding source that specializes in C & D level transaction for customers who are unable to receive funding from traditional sources. Our nationwide program provides funding for start-ups as well as credit profiles that have prior bankruptcies, judgements, tax liens, repossessions or slow pays. I would say that the average credit score of our transactions is in the mid 500s. We have done many deals in the sub 500 range. Although we do all kinds of equipment, we specialize in trucks (including over the road owner operators), trailers, yellow iron and logging equipment. I encourage you to go to our website, www.dakotafinancial.com to find out more information including examples of recent funded transactions.
(L) IFC Credit Corporation also services on a regular basis "A" and "B" credits, but it also considers "story credits." "As you say, we need to become comfortable with the credit and financial situation and learn the "story" to make a positive decision, often requiring further security, shorter term, or additional guarantors. I would describe the B and C type credits we fund as companies having 'checkered earnings'."
(M) Creative Capital Leasing Group: "We are able to fund tough deals, bad credits, BK's, past tax liens, start ups, used equipment, etc., because we look outside the transaction for real estate, and marketable securities to take as additional collateral."
(N) Blackstone Capital Partners, L.P. lends up to 50% of verified auction value for working capital and/or equipment financing requests (we of course include equipment to be acquired in our valuation). Using this formula, allows Blackstone to approve deals on the assets rather than the credit or cash flow that other lenders desire. Also being an asset lender, we are looking for hard assets i.e. yellow iron, machine tool, manufacturing lines, textile etc... We do not care for soft assets such as computers, furniture, restaurant, or "white elephants" (equipment that is too specific to the clients needs and was specially built for them - there would be no resell available and our liquidity if repossessed would be in jeopardy). If you have any questions, please feel free to call, we will do our best to help or seek the answer for you.
(O) Bankers Capital " We will do ANY Type of Equipment, in ANY industry, in ANY state. We especially like 6-figure transactions with full financial packages no matter how good or bad they look. We look to structure the story C&D credits with any kind of additional collateral that makes sense. It could be with 2nd or 3rd mortgages on residential or commercial Real Estate, additional equipment, cash value life insurance, security deposits, vendor agreements. We look for any way to make the deal work instead of looking for any way to decline the deal."
(P) Financial Pacific Leasing supports a nationwide network of Brokers and Lessors. We specialize in "B" and "C" credits for established companies as well as companies under two years in business.
(Q) American Leasefund, Inc. funds small hard to do transactions under $50,000.00. Most of the transactions are "app only". We look for additional collateral or larger first payments to help the weaker credits. We maintain and service our own portfolio. All of our lessee billings are done via ACH.
(R) Dolsen Leasing has served the 11 Western States since 1958 and specializes in B & C Credits for established and new companies. We require a full financial package and offer both leases and financing for new and used equipment in the range of $10,000.00 to $250,000.00. Specialties include titled vehicles for both existing and new owner operators. Story credits are considered as long as credit has been reestablished and trends are positive. Credit decisions are based on old fashioned common sense, not credit scores, allowing us a very quick turnaround-often the same day. We accept broker business and also have in house salesmen.
(S) We at Summit Leasing consider ourselves to be primarily "B" credit lenders, working almost exclusively through brokers.
(T) TechLease - due to previous experiences, TechLease is vertically focused on three primary sectors: Semiconductor, Media and Aerospace. We fund all deals and hold paper an all equipment under $250,000. Deals over $150,000 we typically want to meet the Lessee face-to-face. We prefer business in California, however we will fund nationwide.
(U) Radiance Capital, LLC specializes in start-up business. These are the northern states we do business in AK, AZ, CA, CO, ID, OR, WA. Click here to read our Product overview and Press Realease.
(V) Agility Solutions; we fund all equipment used by Wireless Internet Service Providers.
Click here to see Leasing News story.
(W) Forum Financial Services, Inc., prefer venture capital backed start-ups and middle market to large corporate turnaround companies including companies in bankruptcy and post bankruptcy. Our absolute minimum sales for an established business with financial problems are $10.0 million. (this does not include venture capital backed start-ups).
(X) Advantage Funding - While we also consider quality equipment leasing as a funder, in the title vehicle leasing business, we consider all types of situations and credits and speciality vehicles for commercial use. We have a history of understanding all types of title vehicle leasing.
(Y) Gonor Funding specializes in hard to fund leases with D credit. Collateral based with good rates and commission program.
(Z) "TEAM Equipment Leasing is a structured lender for brand new businesses or for older companies with previous credit problems. We do not credit score. The secret to producing an approval for C-Credits starts with interviewing your customer."
http://www.leasingnews.org/Story_Credit/Story_Credit.htm
--------------------------------------------------------------


Sales Make it Happen
Vary the Lease Structure to Accommodate Customers Needs
By Terry Winders, CLP
Today, customers want to match rentals to the true use of the equipment and to match the timing of rentals to the income generated by the equipment. They also are using the rent expense to control the income statement and tax obligations. Therefore, a lease salesperson needs to vary the lease structure to meet the customer's needs. The old 36,48, 60 month schedules no longer work. If the lessee is going to expense the rents for book and tax accounting, it seems appropriate for it to take the expense when it receives revenue from using the equipment. Therefore you need to ask questions on how the equipment is going to be used and create a lease structure around the answers.
First question: What time of the year is the best for you to exchange equipment and be the lease disruptive to your business. This may give you a termination date different than what 36,48, or 60 months would give you. Or, they may have a seasonal business that requires different lease payments each month of the year.
Even if the equipment does not lend itself to operating classification for GAAP accounting (rents expensed as paid) having the lease payments follow the revenue stream makes the "cash" for payments easier and makes collection less of a problem. Having level payments that have no regard for the lessee's cash flow or revenue recognition is not providing the correct structure.
The more structure you provide the more the discussion revolves around the benefits leasing offers instead of comparing your rate to the competitor's rate. Remember to adjust for Seasonal cash flow, accommodate for increasing maintenance expense by stepping down the lease payments over time, offer floating skip plans to cover unusual revenue variations, or lowering the first six months lease payments to allow the equipment to become producing prior to full payments and tie the term to the actual period of use.
For companies whose sales and collection effort are not seasonal or constant, irregular rental schedules can be planned to match payments to uneven cash flows. Some firms have definite strong and weak times of the year, A rental structure to accommodate their fluctuating cash flows ensures that they will be able to make payments without increasing costs by drawing down an operating line of credit, for example. These programs are becoming very popular and are easy to arrange if the customer can provide data about its revenue stream. When making this sort of lease, it is important not to be mesmerized by sales figures. Sales generate paper profits, but the collection of sales provides cash to meet obligations.
Structure requires you to always propose what the customer asked for as plan A but if you ask the correct questions you may be able to win with plan B or Plan C, if it gives the customer a better match up to the real world of cash flow management.
Terry Winders, CLP
Lease training and Consulting
502-327-8666
leaseconsulting@msn.com

--------------------------------------------------------------

Classified Ads—Help Wanted
Account Executive
At Dell Financial Services, we fuel your potential with the kind of challenging opportunities and hands-on support you need to grow. We're the exclusive provider of leasing and finance services for Dell technology systems worldwide. If you're ready for your chance to take the field, join our team as a:
Account Executive
Responsible for working remote out of a home office in the states of MI, GA, WA, CO, CA and MN. We're looking for seasoned candidates with 8+ years of Equipment Leasing Sales experience with a successful track record of increasing market/account penetration by assigned segment and/or geographic region, improving customer satisfaction and growing the business for long term results. You will be working in a relationship sales environment directly with CFOs, CIOs, CEOs and other high-level executives. If this type of opportunity sounds appealing, please send a copy of your resume to US_DFS_STAFFING@dell.com


Account Executive
Seeking an assertive, goal-oriented, profit-motivated Account Executive with sales experience in the equipment finance industry for Irvine , California headquarters. Unlimited earning potential - competitive salary with bonus and commission. Send resumes to llewis@calfirstlease.com or log on to www.calfirstjobs.com/apply_now.htm to apply for position.

Business Development Officer

Business Development Officer—
Golf Industry
Located in SE region of U.S.
This opportunity with VGM Financial Services (affiliate of TCF Financial Corp.) offers rewards for selling vendors & leasing programs to golf car & turf equipment manufacturers, dealers/distributors & golf clubs. You'll work with VGM Club, largest buying group in golf industry, to facilitate eqpm't financing needs of member courses. BS & 5 yrs vendor/leasing sales exp. req'd, including golf industry eqm't financing. Send resume & letter to: jclark@vgmfs.com


Chief Credit Officer
Lease Coordinator

Lease Coordinator, Accurate preparation of equipment lease documentation and funding. Knowledge of leasing industry preferred. email kgoo@celticleasing.com

Lease Representatives

Seeking Lease Representatives
in Baltimore, Atlanta,
Charlotte or Raleigh.
In these positions, you will develop and maintain relationships with lease brokers, leasing companies, equipment vendors and direct lessees throughout the Region. Must be knowledgeable in indirect/third party transactions ranging from $15K and up and have the necessary in-market experience. Please apply on-line at www.mandtbank.com.
At M&T Bank, we provide an exciting and challenging work environment where performance and innovative thinking are encouraged and rewarded at every level. With over 700 branches, your career can travel as far as you want to take it!

Portfolio Collection & Customer Service

Portfolio Collection & Customer Service Specialist, Irvine, CA
Small ticket lessor seeks candidates with related work experience in the equipment leasing industry. Candidates must possess strong verbal/written communication and negotiating skills. Competitive comp package and outstanding work environment! Please e-mail resumes: recruiter@gen-cap.com.

Sales Manager

Sales Manager – Irvine, CA
We're looking for a detail oriented, profit driven Sales Manager with 10 years experience in sales and/or management in the middle ticket equipment finance/leasing industry. Great opportunity for huge earnings potential as we offer a competitive salary with bonus and commission. Send resumes to llewis@calfirstlease.com .

--------------------------------------------------------------

New Study Debuts: Leasing Decisions of Small Firms
Improving cash flow continues to be the main reason small firms choose to lease equipment, according to a new Equipment Leasing and Finance Foundation study on the leasing decisions of small companies.
This study, called Leasing Decisions of Small Firms, identifies the reasons firms choose to lease and the reasons they choose to purchase. Also, it describes who, in the small business community, chooses to lease and who chooses not to.
Using survey data collected by the Gallup Organization on behalf of the National Federation of Independent Business, the study offers a profile of small firms most likely to lease equipment and also identifies challenges facing the leasing industry in the small business sector.
"There is a huge opportunity for lessors in the small business area," says Morris G. Danielson, Ph.D., St. Joseph's University, a researcher on the study. "Only 14 percent of the firms in our research lease in any meaningful way. That means 86 percent are potential customers."
One of the most striking outcomes of the study was that the more educated a business owner, the more likely they chose to lease.
But, Danielson says, "The highly educated owners also don't lease 100% of the time. The ones that do not lease as much don't because they perceive it costs more. They don't buy into sales efforts that don't hold up to cost tests. But, educated owners will seek to understand the cash flow and tax benefits."
The study found that the small firms most likely to lease are the very smallest companies with one to three employees. Also, the firms that are the youngest (in business less than 5 years) are good leasing candidates.
"They are growing and do not have as much capital built up," says Morrison. "But, these firms pose both an opportunity and a challenge. Some of these smaller firms may be less likely to meet standard credit terms."
Educating potential lessees on the benefits of leasing was offered as a main strategy for lessors seeking to increase their share of this market, especially pointing out tax benefits and risk transference benefits.
Morrison says, "a main reason the respondents reported they purchase is that it costs less. So, there really is a perception that leasing is more expensive. The industry hasn't convinced small businesses the benefits outweigh the costs."
He adds that specifically where lessors should educate this market is on tax benefits.
"The study asked if they calculated tax consequences and asked about their use of cash flow projections in investments. What we found are the firms that calculate the tax implications of investments are more likely to lease equipment," he points out.
The study also found that firms have a preference for leasing or purchasing depending on the kind of investment they were making.
"Firms that are investing in new lines and making riskier investments are the firms that would be most likely to lease," Morrison says, adding that the firms choose leasing for risk transference reasons.
"We found that the small firms are buying into the risk transfer benefit," he says, citing the very smallest firm, the youngest companies and those organizations investing in new business ventures as the prime candidates for this benefit.
So lessors seeking an untapped market should consider the small business community. Just make sure you educate them well, advises Morrison. In other words, help them do the math.
The Leasing Decisions of Small Firms study was conducted by Danielson and Jonathan A. Scott, Ph.D., Temple University and is available through the Equipment Leasing & Finance Foundation at www.LeaseFoundation.org. The cost to non-donors is $75.00 for the study; donors receive a copy at no cost.
Sites of Reference:
http://www.leasefoundation.org/store/
CONTACT:
Lisa A. Levine, CAE
Equipment Leasing & Finance Foundation
Phone Number: 703-527-8655
Fax Number: 703-465-7488
E-mail: llevine@elamail.com
---------------------------------------------------------------

---------------------------------------------------------------

Islamic financial companies made great strides in last 30 years
Kuwait News Agency (KUNA)
KUWAIT, (KUNA) -- Islamic financial institutions have made great strides in the past 30 years taking over about 30 to 35 percent of the current market, a share that is expected to increase to 50 percent in the next five years, chairman of Rasameel Structured Finance Company Mansour Al-Mubarak said Tuesday.
Al-Mubarak, whose company is co-sponsoring the 3rd Islamic Banking Conference to be held next Tuesday, said in a press release issued today that Islamic financial institutions have made these strides by focusing on human development and by improving their financial products.
He urged lawmakers and the Central Bank of Kuwait to expedite the issuance of the Islamic Sukouk (timeshare lease bond) law to increase investment tools in the Islamic financial market.
He said the Ministry of Commerce and Industry must strengthen its role in raising the quality and performance of the market by speeding up the establishment of an independent stock market authority assigned to regulate the exchange and to ensure transparency and justice and promote trust among traders.
On the Islamic Banking conference to be held next week, he said it is an opportunity for experts to exchange views and experiences on the development of this sector and its future prospects.
The conference is organized by Al-Fajr Consultancy Company in cooperation with the Kuwaiti Economic Society.
### Press Release ###########################
--------------------------------------------------------------

World Deal Market is Booming, says New Report

The global corporate finance market is performing powerfully, with the number of deals completed by IMAP (International Network of M&A Partners) in 2005 reaching a seven-year high. IMAP is one of the world's leading international M&A networks, comprising independent M&A advisory firms from across the globe.
Fresh research from IMAP shows there were 220 transactions completed by its members in 2005 – more than any year since 1998, and a 16 per cent increase on 2004. Furthermore, the total value of deals, at $4.1 billion, has doubled over the last 4 years. The survey also predicts a robust 2006.
The number of cross border transactions represented 25 per cent of the total number of completed deals. Most notable cross border transactions for IMAP members included Anritsu of Japan acquiring NetTest of Denmark, Amtek Group of India acquiring Zelter GmbH in Germany, and the merger of Pierrel (Italy) and Pharmapart (Switzerland). Anritsu is Japan's largest test and measurement equipment maker with turnover of circa US$790m, Amtek is a leading US$700m turnover automotive components group, and Pierrel and Pharmapart are leading pharmaceutical contract manufacturing and research service providers.
The IMAP research shows that in Europe there were 120 cross border deals, worth $2.23 billion, while North America recorded 94 deals, valued at $1.7 billion, and South America & Asia saw six transactions worth $133 million.
Meanwhile the survey suggests the high level of demand for European acquisitions is set to continue, with 60 per cent of respondents predicting more buyers in 2006.
In North America, the survey emphasizes an upsurge in the number of businesses coming onto the cross border market, with 70 per cent of members foreseeing a greater number of sellers in 2006, whilst 95 per cent of members are predicting the same number of buyers as last year.
Bruce Kropschot
Kropschott Financial Services
Bruce Kropschot, president of Kropschot Financial Services which has been an IMAP member for nearly 20 years, stated "Strategic buyers are back in the European market and private equity remains strong, especially since finance is readily available and relatively cheap. Europe will be an interesting area in 2006, with many interesting cross-border opportunities."
Not surprisingly, many IMAP members are expecting to see a continuing increase in the number of buyers from Russia, India and China making acquisitions in Europe and North America.
Mr. Kropschot says "2006 is going to be a good year to be in the deal business in North America". "The continuing availability of cash to finance deals, fuelled by low interest rates and promising economic prospects all bode well. There will be greater cross border activity" he adds. Kropschot Financial Services is the leading provider of M&A advisory services for equipment leasing companies, and Mr. Kropschot indicated that the firm expects to close a large cross border equipment leasing company sale in April.
IMAP (International Network of M&A Partners) is an exclusive global network of M&A advisory firms. IMAP has unmatched global reach, with over 400 dealmakers spread across 31 countries, covering North and South America, Europe and Asia. Globally, IMAP advised on 220 completed transactions in 2005.
### Press Release ###########################

SG Equipment Finance opens a subsidiary in Ukraine
SG Equipment Finance, the leading European specialist for Equipment and Vendor Finance, establishes a subsidiary in Ukraine to extend the scope of its international network. SG Equipment Finance aims to develop its existing multi-country relationships and vendor programmes in Ukraine, and spread its expertise into this new territory.
This development confirms SG Equipment Finance's strategy of supporting leading international equipment manufacturers, and providing them with flexible and innovative financing solutions whatever the market and the needs. The new subsidiary reinforces the leading position of SG Equipment Finance across Europe and is a step further in its developing coverage in Central and Eastern Europe.
SG Equipment Finance will be able to reinforce its commitments with key customers of Société Générale group. Moreover, the creation of this new subsidiary reflects the willingness of Société Générale to develop further synergies between its business lines.
About Société Générale
Société Générale is one of the largest financial services groups in the euro-zone. The Group employs more than 103,000 people worldwide in three key businesses:
*Retail Banking & Financial Services: Société Générale serves more than 19 million individual customers worldwide.
*Global Investment Management & Services: Société Générale is one of the largest banks in the euro-zone in terms of assets under custody (EUR 1,418 billion, December 2005) and under management (EUR 386 billion, December 2005).
*Corporate & Investment Banking: Société Générale ranks among the leading banks worldwide in euro capital markets, derivatives and structured finance.
Société Générale is included in the four major socially-responsible investment indexes.
www.socgen.com
About SG Equipment Finance
SG Equipment Finance is the leading institution in Europe for equipment and vendor finance businesses.
*Operates in 20 countries
*Serves more than 150,000 clients
*Employs more than 1,800 people
*End managed assets of EUR 17.6 billion and EUR 8.3 billion in terms of new business volumes (December 2005)
www.sgef.com
Contact
SG Equipment Finance
Aline Fleuret
Tel +33 (0)1 41 29 64 70
aline.fleuret@socgen.com
### Press Release ###########################
--------------------------------------------------------------

Tanzania Legal reforms underway to support finance leasing
A team of financial and development experts is working on package of institutional reforms supportive of finance leasing in Tanzania.
The squad of consultants consists is made of both foreign and indigenous persons, and are working under the auspices of the Tanzania Leasing Project (TANZALEP).
It aims at introducing sustainable institutional reforms that would allow smooth implementation of the product and benefit the targeted group, the Small and Medium Enterprises (SMEs).
Finance leasing is a medium term financing technique for the procurement of machinery, equipment, vehicles and properties.
SMEs would benefit from TANZALEP through finance leasing services, which would be introduced soon. Speaking in Dar es Salaam last week, the TANZALEP Public Relations consultant, Betty Masanja, said the project has been given the task of ensuring that the whole process of finance leasing services are implemented as agreed.
TANZALEP has also circulated to the government all necessary items which are needed to be changed to make it start smoothly.
This is being done in the context of the second generation Financial Sector Reform Programme (FSAP). 'There are a lot of challenges in the legal and tax frameworks, and we are compelled to amend those first before we start operations', she said .
She said a section of the law which allows the court injunctions when a borrower has defaulted has been pointed as the snag to the implementation of the project the country 'We proposed to the government to put in place stern measures when a borrower has defaulted in order to recover the loans within a short period of time,' she noted.
Experience shows that court injunctions have been a major setback in the smooth loan disbursement to various sectors of the economy.
Financial institutions are reluctant to provide more loans fearing court injunctions when borrowers fail to pay. They say normally court injunctions favour borrowers at the expense of the lending institutions.
A financial analyst, who preferred anonymity, said there is a tendency for many borrowers to go to court when they fail to pay back their borrowed money .
As a result, there are so many pending cases due to court injunction right now that banks fear to issue more loans to avoid the unnecessary expenses involved in their recovery. He urged people to have a culture of paying back the loans so as to provide an opportunity for other bank customers to access credit facilities.
The TANZALEP official also noted another problem which may delay the finance leasing project. This was the high credit risk due to poor credit ethics and debit service culture She insisted that a lot is needed within the tax system in order to make the leasing process smooth and clearly understood.
'We have proposed to the government to make some changes to the tax system, which has been acting as a hindrance to both sides hence, failure to implement the project,'she said.
When the proposals are agreed, it is expected that the new service would enable SMEs to access medium term financing . Experts say that leasing was advantageous for new SMEs that do not have a long track record, nor a significant base for collateral as required by traditional banks.
It has also been an important source of medium and long term financing for companies in developed economies.
Overall, a healthy leasing industry facilitates a country's economic development through increased financial flows to the productive sectors of the economy, promotes the growth of domestic production and provides increased financial options for private business.
However they say that in most developing countries finance leasing was still in its infancy stage.
Available information shows that there are only four commercial banks and three other leasing companies offering leasing or some sort of asset financing. The total leasing portfolio in Tanzania amounted to USD 35.2m .
Despite the fact that they contribute substantially to the growth of the economy, SMEs in Tanzania have for quite a long time now been denied capital to develop their businesses.
The sector is estimated to generate about one third of Tanzania's GDP, and employs about 35 percent of the country's labour force.
The TANZALEP project is implemented by the International Finance Corporation (IFC) under the sponsorship of the Swiss government through an agency called SECCO.
---------------------------------------------------------------

News Briefs----
From Fed, More of the Same
Key Interest Rate Raised to 4.75% in Bernanke's First Meeting
http://www.washingtonpost.com/wp-dyn/content/article/2006/03/28/AR2006032800366.html
RMBS of 2005 vintage continues to haunt industry
http://www.absnet.net/include/showfreearticle.asp?file=/headlines/2.htm
GM reveals more SEC probes; GMAC sale looks rocky
http://www.usatoday.com/money/autos/2006-03-28-gm-investigations_x.htm
Fifth Third shareholders vote to reelect CEO, other incumbent directors to board
http://www.snl.com/interactivex/article.aspx?CdId=A-2410034-14441
Anyone who does business in Oregon has crossed paths with a top-level executive trained by U.S. Bancorp.
http://msnbc.msn.com/id/12033554/
Cronos Group Seeks to End Suit by Purchasing All Creditor Claims of Plaintiff
http://biz.yahoo.com/ap/060327/cronos.html?.v=1
G.A.O. Sees Loss in Oil Royalties of at Least $20 Billion
http://www.nytimes.com/2006/03/29/business/29leases.html?_r=1&oref=slogin
McClatchy accepts bids for 12 Knight Ridder papers on auction block
http://www.signonsandiego.com/news/business/20060328-1522-mcclatchy-knightridder.html
Apple C.E.O. Jobs Pays His Taxes — With Apple Stock
http://dealbook.blogs.nytimes.com/?p=1267
Potty parity? Not at the new Busch Stadium
http://www.stltoday.com/blogs/news-talk-of-the-day/2006/03/potty-
parity-not-at-the-new-busch-stadium/
Married man sues eHarmony over rejection
http://www.siliconvalley.com/mld/siliconvalley/14199052.htm
Using various published expert opinions, Fitch estimates 400,000 deaths could occur in Europe and 209,000 in the U.S in a bird flu pandemic
http://www.fitchratings.com/corporate/events/press_releases_detail.cfm?pr_id=229708&
sector_flag=7&marketsector=1&detail=
---------------------------------------------------------------


You May have Missed---
Scientists re-create action of S.F. '06 quake
Simulation depicts temblor's severity
http://www.sfgate.com/cgi-bin/article.cgi?f=/c/a/2006/03/29/QUAKE.TMP
----------------------------------------------------------------


California News Briefs---
A 'fragile economy' ahead
State budget will suffer, UCLA forecast warns
http://www.sfgate.com/cgi-bin/article.cgi?f=/c/a/2006/03/29/CALECON.TMP
----------------------------------------------------------------


"Gimme that Wine"
Fife winery, properties for sale
MILLIONS IN WINERIES, VINEYARDS, OAKLAND HOME BEING LIQUIDATED
http://www.northbaybusinessjournal.com/apps/pbcs.dll/article?AID=/20060327/
BUSINESSJOURNAL/60325013/1208
Bringing wood to wine instead of wine to the wood
http://www.mg.co.za/articlepage.aspx?area=/breaking_news/breaking_news
__international_news/&articleid=267878
Silva Corks to start on $4 million plant in Santa Rosa, CA.
http://www.northbaybusinessjournal.com/apps/pbcs.dll/article?AID=/20060327/
BUSINESSJOURNAL/60325025/1207
Bordeaux stand-off continues despite plummeting sales
http://www.decanter.com/news/82272.html
Don Sebastiani & Sons Revs Its Engine With New Luxury Label -- Used Automobile Parts
http://home.businesswire.com/portal/site/google/index.jsp?ndmViewId=news_view&newsId=
20060327005958&newsLang=en
If you want to know if you got a value for your wine, or what the wine price is today, go to www.winezap.com Type in the vintage (year) and name of the producer with wine type or geographic area, such as 1995 Chateau Lynch Bages Pauillac. Even 1995 Lynch Bages will work, or 1999 Viader
--------------------------------------------------------------

Restaurant Review
588 Bridgeway
Sausalito, CA 94965
T: 415.332.9551
F: 415.332.0827
Lunch and Dinner Service
Seven (7) days a week
Continuous service from 11:30 a.m. until evening closing
CLOSED Tuesdays and Wednesdays
from November through March
Dress is casual.
http://www.scomassausalito.com/
Since 1963, I have been going to this restaurant since it was known as "The Glad Hand." It was purchased by the owners of Scoma's in San Francisco, and recently the interior was remodeled. A great, small bar, where we have played "dollar poker" while waiting for a table.
Most people get seated right away in the main dinning room. The secret is the back room with a view of San Francisco. It is small, cramped, with several favorite romantic tables. No reservations here for the back room, I have been told. It is wait. Those that have been lucky enough to be seated here, wait in the bar; some go for a walk in Sausalito, which is not the same as it was even ten years ago. There is a new "downtown" with restaurants and other stores, but not with any view.
The best idea is to park in the public parking behind the two elephants and walk, especially if the weather is nice.
The food is the draw, meaning fresh fish, great pasta, and a reasonable wine list. You can also buy legal abalone here ( they have a loan officer on the spot to lend you money for the purchase.)
If you have a large party, you may want the main dinning room.
For the trivia fans, what are the names of the two elephants?
"Jumbo" and "Peewee."
http://www.ci.sausalito.ca.us/shs/hist-dist/bridgeway/plaza-his2.htm
(For other reviews: please go here:
http://two.leasingnews.org/Recommendations/rstrnt.htm 0
----------------------------------------------------------------

Calendar Events This Day
National Mom and Pop Business Owners Day
A Day recognizing those very special husband-and-wife business owner teams that work and commune together. Take this day to strike a balance between business and love.
Pitchers Day
----------------------------------------------------------------

Today's Top Event in History
1979- The House Select Committee on Assassinations released the final report on its investigation into the assassinations of President John F. Kennedy, Martin Luther King, Jr., and Robert Kennedy on this day. Based on available evidence, the committee concluded that President Kennedy was assassinated as a result of a conspiracy, although no trail of a conspiracy could be established. They also concluded that on the basis of scientific acoustical evidence two gunmen fired at the President, although no second gunman could be identified. [Note: In December 1980, the FBI released a report discounting the two-gunman theory, stating that the distinguishable sounds of two separate guns were not proven scientifically.] In addition the committee concluded that the possibility of conspiracy did exist in the cases of Dr. King and Robert Kennedy, although no specific individuals or organizations could be pinpointed as being involved.
----------------------------------------------------------------

This Day in American History
1748 - The heaviest snow of the "Winter of the Deep Snow" in New England came to an end. Coastal Salem was left with more than thirty inches of snow on the ground.
1756- the first stage route linking Philadelphia and New York City was completed. The roads were poor in Colonial times and affected meetings in Philadelphia... By 1766, the Flying Machine, a box wagon that ran from Camden , New Jersey to what is now Jersey City, New Jersey was the fastest way to travel. The 90-mile trip took two days and passengers had to use a ferry at each end. The first major turnpike in America was completed in 1794 between Philadelphia and Lancaster, Pa. The large profits that could be realized by sponsoring such a company led to the construction of many such roads throughout America, often in areas where they were not necessary. Lancaster Turnpike, 62 miles long, was the first macadam road in the U.S. In 1806 today the first appropriation by Congress was made to build the Great National Pike, also known as the Cumberland Road as it linked Cumberland, Maryland to Vandalia, Illinois.
1790-birthday of John Tyler, tenth president of the US (Apr 6, 1841-Mar 3, 1845). Born at Charles City County, VA, Tyler succeeded to the presidency upon the death of William Henry Harrison. Tyler's first wife died while he was president, and he remarried before the end of his term in office, becoming the first president to marry while in office. Fifteen children were born of the two marriages. In 1861 he was elected to the Congress of the Confederate States but died at Richmond, VA, Jan 18, 1862, before being seated. His death received no official tribute from the US government.
http://www.whitehouse.gov/history/presidents/jt10.html
1806-Congress appropriated $30,000 as part of a program to build national highways, starting with what was called the Great National Pike, later to be known as the Cumberland Gap, built in sections from 1806 to 1940 between Cumberland, MD, and Vandalia, ILL. Total cost was $6,821,246. In 1856 the road was turned over to the states though which it passed.
1848-ice jam in Niagara Falls. For the first time in recorded history, Niagara Falls stopped flowing. An ice jam in the Niagara river above the rim of the falls caused the water to stop.
http://memory.loc.gov/ammem/today/mar29.html
1856-Clipper ship "Nightingale" sailed from London to San Francisco in 121 days, a world record.
1867-birthday of Denton True "Cy" Young, Baseball Hall of Fame pitcher, born at Gilmore, OH. Young is baseball's all-time winningest pitcher, having accumulated 511 victories in his 22-year career. The Cy Young Award is given each year in his honor to major league's best pitcher. Inducted into the Hall of Fame in 1937. Died at Peoli, OH, Nov 4, 1955.
1867-the North American Pact: this act of the British Parliament established the Dominion of Canada, uniting Ontario, Quebec, Nova Scotia and New Brunswick. The remaining colonies in Canada were still ruled directly by Great Britain until Manitoba joined the Dominion in 1870, British Columbia in 1871, Prince Edward Island in 1873, Alberta and Saskatchewan in 1905 and Newfoundland in 1949. Union was proclaimed July 1, 1867.
1882-the first Knights of Columbus charter was granted by the state of Connecticut. This Catholic, family, fraternal, service organization has grown into a volunteer force of Knights and family members totaling nearly six million who annually donate tens of millions of dollars and volunteer hours to countless charitable projects.
1886 -- Coca-Cola is created (with cocaine—legal in this day and age).
1886 - Atlanta, GA, was drenched with a record 7.36 inches of rain in 24 hours
1906-birthday of E. Power Biggs, an American citizen, well-known Baroque organist who helped establish the organ as a concert instrument. Biggs refused to perform on electronic organs, but sought out and recorded on organs surviving from the era of Johann Sebastian Bach and George Frederick Handel. After arthritis forced him to retire, he published early organ music. Biggs was born at Westcliff-on-Sea, Essex, England, and came to the US in 1930 at the age of 24. He died Mar 10, 1977, at Boston.
http://web.wt.net/~pallas/BiggsSite.htm
1918--Singer Pearl Bailey birthday
http://www.wic.org/bio/pbailey.htm
http://womenshistory.about.com/library/bio/blbio_bailey_pearl.htm
1920 - Clear Spring, MD, received 31 inches of snow in 24 hours to establish a state record.
1925 -- Late March. Black leaders protest the showing of D. W. Griffith's Birth of a Nation, scheduled to open at the Rialto Theatre in Charleston on April 1, on the grounds it violated a 1919 state law prohibiting any entertainment which demeaned another race. Mayor W. W. Wertz & the West Virginia Supreme Court supported their argument and prevented the showing of the film.
1940-Frank Sinatra with the Tommy Dorsey Band cuts " Fools Rush In."
1944---Top Hits
Besame Mucho - The Jimmy Dorsey Orchestra (vocal: Bob Eberly & Kitty Kallen
Mairzy Doats - The Merry Macs
Poinciana - Bing Crosby
So Long Pal - Al Dexter
1945 - Providence, RI, hit 90 degrees to establish a March record for the New England area
1951 – 23 rd Annual Academy Awards at the RKO Pantages Theater in Los Angeles was hosted by Fred Astaire. Best Picture (of 1950) was "All About Eve" ("It's all about women --- and their men!"), produced by Darryl F. Zanuck. It won six Oscars in all, including Best Supporting Actor for George Sanders, Best Director and Best Writing/Screenplay for Joseph L. Mankiewicz; Best Costume Design/Black-and-White for Edith Head and Charles Le Maire; and Best Sound/Recording (20th Century-Fox Sound Dept.). "All About Eve" also was nominated eight other times. The Best Actor award went to José Ferrer for "Cyrano de Bergerac" and the Best Actress was voted to be Judy Holliday for "Born Yesterday". Best Supporting Actress was Josephine Hull for "Harvey". Best Music/Song prizes were awarded to Ray Evans and Jay Livingston for the Nat King Cole classic, "Mona Lisa", from "Captain Carey, U.S.A.".
http://www.infoplease.com/ipa/A0148477.html
1951 - The Rodgers and Hammerstein musical "The King and I" opened on Broadway. "The King and I" starred Yul Brynner, age 31, http://www.geocities.com/crawfordgirl/yulramses.html in the role of the King of Siam -- the king who, along with his subjects, valued tradition above all else. Anna, the English governess hired to teach the King's dozens of children, was portrayed by Gertrude Lawrence. Ms. Lawrence and Mr. Brynner acted, danced and sang their way into our hearts with such memorable tunes as: "Getting to Know You", "Shall We Dance", "Hello, Young Lovers", "I Whistle a Happy Tune", "We Kiss in a Shadow", "I Have Dreamed", "Something Wonderful", "A Puzzlement", and "March of the Siamese Children". "The King and I" ran for a total of 1,246 outstanding performances at New York's St. James Theatre.
1952---Top Hits
Wheel of Fortune - Kay Starr
Anytime - Eddie Fisher
Please, Mr. Sun - Johnnie Ray
(When You Feel like You're in Love) Don't Just Stand There - Carl Smith
1954-born at Scranton, PA, Karen Ann Quinlan became the center of a legal, medical and ethical controversy over the right to die. She became irreversibly comatose on Apr 14, 1975. A petition filed by her adoptive parents in New Jersey's Superior Court, Sept 12, 1975, sought permission to discontinue use of a respirator, allowing her to die "with grace and dignity." In 1976 the petition was upheld by New Jersey's Supreme Court. Quinlan lived nearly a decade without the respirator, until June 11, 1985. Her plight brought into focus the ethical dilemmas of advancing medical technology--the need for a new understanding of life and death; the right to die; the role of judges, doctors and hospital committees in deciding when not to prolong life. Make sure you have written documents, properly executed in conformance with your state's law, to express your intentions regarding medical decisions (including "life support" systems that only prolong death), which may need to be made under circumstances in which you may no longer be able to make them for yourself.
1960---Top Hits
The Theme from "A Summer Place" - Percy Faith
Wild One - Bobby Rydell
Puppy Love - Paul Anka
He'll Have to Go - Jim Reeves
1961- District of Columbia residents were given the right to vote in presidential elections under the 23rd Amendment.
1962-Gene Chandler reveives a gold record for the biggest hit of his career, "Duke of Earl."
1962 - Jack Paar left his highly successful late night TV talk show after five years. He left behind a salary of $250,000 and an estimated audience of eight-million people, including my family. My father and I would stay up late every night, watching this show together. It was our favorite. On Friday nights, we had poker games and watched it while we played. Fill-in hosts were used, including one who would ultimately win the coveted position of host of "The Tonight Show". He was Johnny Carson.
1964--534 Broadway, San Francisco, Ca: Lenny Bruce, wearing only his birthday suit fell out of the Swiss American Hotel`s second story window into the parking lot on. He landed on his feet, breaking both ankles and smashing his bones into his hips. But he was concious.The hospital attendants taped his mouth shut as his language was disturbing to them.
1964 - Thompson Pass, AK, finished the month with 346.1 inches of snow, a record monthly total for the state of Alaska.
1968---Top Hits
(Sittin' On) The Dock of the Bay - Otis Redding
Love is Blue - Paul Mauriat
La - La - Means I Love You - The Delfonics
A World of Our Own - Sonny James
1968-Grateful Dead and Chuck Berry opened at the Carousel Ballroom.
1971 -- Lt. William Calley is convicted of the premeditated murder of at least 22 Vietnamese civilians at My Lai 4. He was paroled in November, 1974.
http://www.law.umkc.edu/faculty/projects/ftrials/mylai/myl_bcalleyhtml.htm
1973-Dr. Hook and the Medicine Show get their wish as their smiling faces appear on the cover of Rolling Stone magazine, just as the group had hoped for in its Top Ten hit "The Cover of the Rolling Stone," which goes gold six days later.
1975-Labelle's "Lady Marmalade," all ready holding the Number One spot on the R&B chart, reaches Number One on the pop chart, where it stays for one week.
1975-Led Zeppelin registers all six of its albums on the charts simultaneously, a feat never before made in pop history. For the record, coming after its chart-topping current release, "Physical Graffiti," are: "Led Zeppelin IV" at #83, "Houses of the Holy" at #92, "Led Zeppelin II" at #104, "Led Zeppelin" at #116 and "Led Zeppelin III" at #124.
1976-"December, 1963 (Oh What a Night)," the Four Seasons' first Number One hit since "Rag Doll" in 1964, is certified gold.
1976 - 48 th Academy Awards were held at the Dorothy Chandler Pavilion in Los Angeles. Hosts for the gala were Goldie Hawn, Gene Kelly, Walter Matthau, George Segal and Robert Shaw (Saul Zaentz, Michael Douglas, producers) selected as the Best Picture of 1975 "One Flew Over the Cuckoo's Nest" . It also scored the Best Director prize for Milos Forman, the Best Actor honor for Jack Nicholson and the Best Actress Oscar for Louise Fletcher, plus the Oscars for Best Writing to Bo Goldman and Lawrence Hauben. The Best Supporting Actor nod went to eighty-year-old George Burns for "The Sunshine Boys" and Best Supporting Actress was Lee Grant in "Shampoo". The Best Music/Song winner was Keith Carradine for "I'm Easy" from "Nashville". Other favorite winning and nominated flicks from the year 1975 include: "Dog Day Afternoon" which won the Oscar for Best Writing/Original Screenplay (Frank Pierson); "Jaws" which was awarded gold statuettes for Best Sound (Robert L. Hoyt, Roger Heman, Earl Mabery, John R. Carter), Best Film Editing (Verna Fields); and Best Music/Original Score (John Williams); "The Day of the Locust"; "Funny Lady"; and "Tommy".
http://www.infoplease.com/ipa/A0149329.html
1976 - Jennifer Capriati (tennis champion: Olympic gold-medallist [1992], Wimbledon [1990]), born New York, New York.
1976---Top Hits
December 1963 (Oh, What a Night) - The Four Seasons
Dream Weaver - Gary Wright
Lonely Night (Angel Face) - Captain & Tennille
Til the Rivers All Run Dry - Don Williams
1977- Sweden's Abba, receive a gold record for their only U.S. Number One, "Dancing Queen," a song perfectly timed for the disco era.
1979- the House Select Committee on Assassinations released the final report on its investigation into the assassinations of President John F. Kennedy, Martin Luther King, Jr., and Robert Kennedy on this day. Based on available evidence, the committee concluded that President Kennedy was assassinated as a result of a conspiracy, although no trail of a conspiracy could be established. They also concluded that on the basis of scientific acoustical evidence two gunmen fired at the President, although no second gunman could be identified. [Note: In December 1980, the FBI released a report discounting the two-gunman theory, stating that the distinguishable sounds of two separate guns were not proven scientifically.] In addition the committee concluded that the possibility of conspiracy did exist in the cases of Dr. King and Robert Kennedy, although no specific individuals or organizations could be pinpointed as being involved.
1982 - The oldest soap opera on network television, "Search for Tomorrow", made a big change. It jumped from CBS, where it grew in popularity for 30 years, to the daytime schedule on NBC. During the change, the program, owned and sponsored by Proctor and Gamble, continued right along with the soap, going from one network to the other the following day. The company wanted to maintain its regular 12:30 p.m. time slot, but CBS had other plans for "Search". NBC agreed to the 12:30 time and "Search" became an NBC property. Lots of celebrities have been featured on "Search for Tomorrow" including: Don Knotts, Sandy Duncan, Lee Grant, Tom Ewell, Roy Scheider and Hal Linden.
1982 - the 54th Annual Academy Awards, presented this day at the Dorothy Chandler Pavilion, Los Angeles. Talk-show host Johnny Carson acted as host for the party. Two of America's most revered performers, Henry Fonda and Katharine Hepburn scored as Best Actor and Best Actress in "On Golden Pond". The Best Picture (1981) and Best Writing/Screenplay Written Directly for the Screen (Colin Welland) was "Chariots of Fire" (David Puttnam, producer). It also won the prizes for Best Costume Design (Milena Canonero) and Best Music/Original Score (Vangelis). The Best Director Oscar went to Warren Beatty for "Reds". Best Supporting Actor, John Gielgud, won for his work in "Arthur". The Best Supporting Actress was Maureen Stapleton for "Reds" and Best Music/Song prizes went to Burt Bacharach, Carole Bayer Sager, Christopher Cross and Peter Allen for "Arthur's Theme (Best That You Can Do)" from "Arthur", of course. One of the night's biggest winners (four Oscars -- Art Direction, Sound, Film Editing, Special Effects -- and four more nominations) was "Raiders of the Lost Ark".
http://www.infoplease.com/ipa/A0149517.html
1984---Top Hits
Jump - Van Halen
Somebody's Watching Me - Rockwell
Footloose - Kenny Loggins
Roll On (Eighteen Wheeler) – Alabama
1989 - The 61st Annual Academy Awards ceremony was presented at the Shrine Auditorium, Los Angeles. ( sorry no host was recorded in my source.) "Rain Man" (Mark Johnson, producer) was awarded the Best Picture Oscar with its star, Dustin Hoffman, scoring as Best Actor, Barry Levinson getting the Best Director prize, and Ronald Bass and Barry Morrow picking up the award for Best Writing/Original Screenplay. Best Actress (of all the movies of 1988) was Jodie Foster for "The Accused". The Best Supporting Actor Oscar was won by Kevin Kline for "A Fish Called Wanda" and the Best Supporting Actress was Geena Davis in "The Accidental Tourist". Carly Simon won Best Music/Song for "Let the River Run" from "Working Girl". Other popular movies from 1988 including Oscar winners and non-winning nominees were: "Dangerous Liaisons"; "Mississippi Burning"; "Big"; "Gorillas in the Mist"; "Who Framed Roger Rabbit"; "Beaches"; "Die Hard"; "Beetlejuice", et al.
http://www.infoplease.com/ipa/A0149738.html
1989 - Thunderstorms produced torrential rains in northeastern Texas and southwestern Arkansas. Longview TX reported 14.16 inches of rain. More than eleven inches of rain at Henderson TX caused a dam to give way, and people left stranded in trees had to be rescued by boat. Total damage in northeastern Texas was estimated at 10 to 16 million dollars
1990---Top Hits
Black Velvet- Alannah Myles
Love Will Lead You Back- Taylor Dayne
I Wish It Would Rain Down- Phil Collins
I ll Be Your Everything- Tommy Page
1993 – 65th Annual Academy Awards at the Dorothy Chandler Pavilion, Los Angeles. Comedian/actor Billy Crystal hosted the show for the fourth straight year. Clint Eastwood was honored with Best Picture and Best Director Oscars for his "Unforgiven". He starred, directed and produced the gritty Western which also won an award for Best Film Editing (Joel Cox) and Best Supporting Actor (Gene Hackman). Best Actor was Al Pacino for "Scent of a Woman" and the Best Actress prize went to Emma Thompson for "Howards End". Marisa Tomei took home the award for Best Supporting Actress for "My Cousin Vinny". 'Toons winning tune awards was a popular 1990s event at the Oscars and this year was no different. "Aladdin" picked up two: Best Music/Song awarded to Alan Menken (music), Tim Rice (lyrics) for "A Whole New World" and Best Music/Original Score (Alan Menken
http://www.infoplease.com/ipa/A0149864.html
1998-The Indiana Pacers, coached by Larry Bird, set an NBA record for fewest points scored in a game by one team since the advent of the 24-second clock in the 1954-55 season. The Pacers, without their two top scores, Reggie Miller and Rik Smits, managed on 55 points, losing to the San Antonio Spurs, 74-55. Indiana shot 27 percent for the game. The previous record for fewest points was 57 held by three teams.
1999-the Dow-Jones Index of 30 major industrial stocks topped the 10,000 mark for the first time.
2004—Top Hits
Yeah!- Usher Featuring Lil Jon & Ludacris
One Call Away- Chingy Featuring J. Weav
Tipsy- J-Kwon
Solitaire- Clay Aiken
NCAA Basketball Champions This Date
1943 Wisconsin
1976 Indiana
1982 North Carolina
Stanley Cup Champions This Date
1929 Boston Bruins
--------------------------------------------------------------

Spring Poems
RAIN, RAIN, GO AWAY
A Collection of short Poems About Rain
Rain, rain, go away,
Come again some other day,
Little Johnny wants to play.
Rain, rain, go to Spain,
Never show your face again.
It's Raining, It's Pouring
It's raining, it's pouring,
The old man is snoring.
He bumped his head, and he went to bed,
And he couldn't get up in the morning.
Raindrops
Raindrops are such funny things.
They haven't feet or haven't wings.
Yet they sail through the air,
With the greatest of ease,
And dance on the street,
Wherever they please.
Splash
"Splash," said a raindrop
As it fell upon my hat;
"Splash said another
As it trickled down my back.
"You are very rude," I said
As I looked up to the sky;
Then another raindrop splashed
Right into my eye!