Three Small Ticket Specialists

Ft. Lauderdale, FL, Nashville, TN, and
Richmond, VA.
Click here for more information.


Friday, March 30, 2007
Headlines---
Welcome New Readers
Classified Ads---Sales Managers
ELFA reports Originations fell again in February
500 NorVergence ERA cases to be consolidated
Cartoon---Rudy Trebels talking with his attorney
Story Credit List---North South Leasing
Classified Ads---Help Wanted
To Tell the Truth---by Paul Bent
"Just What is ADR, Anyway?"
KC Computer and AdvanceMe
Placard---I will have a program
May 6-8 EAEL Conference, Galloway, New Jersey
Layton F. Krawiec joins Heritage Pacific Leasing
CIT Announces Healthcare REIT IPO
Key National Finance promotes Gottwals and Jankoski
Tim Maloof New VP in Capital Markets US Bank Finance
Study: Sports—Creates Decline in Office Productivity
Merrill's Subprime Risk High
Rates on 30-year mortgages unchanged near '07 low
Panel Backs Bill To Restrain Fannie, Freddie
News Briefs---
You May have Missed--- New Airbus A380
"Gimme that Wine"
Calendar Events
Snapple Real Facts
Today's Top Event in History
This Day in American History
Spring Poem
SuDoku
Daily Puzzle
######## surrounding the article denotes it is a "press release"
-------------------------------------------------------------------------------

Welcome New Readers
While most who read Leasing News go to the web site first, many still join our mailing list. Our goal is to print daily from Monday to Friday, but most often it is only three times a week:
Monday-Wednesday-Friday.
If you are on the mailing list, you are informed that the new edition is available. Sometimes if there is very important news, we may send as an "extra."
In reality, the e-mail is notification, as it actually directs you to our web site, where the news edition is posted. The web site also has our other features and information. A site map is available,
as well as a full archive to all our previous news editions---plus
"top stories" as viewed by readers and one as viewed by the "editor."
If you like what you see, please ask a colleague to subscribe.
Welcome aboard!!!
Kit Menkin, editor/publisher
kitmenkin@leasingnews.org
http://www.leasingnews.org/sitemap.htm
--------------------------------------------------------------

Classified Ads---Sales Managers
Leasing News is contacting all those who have asked for a "free classified ad" to verify that the mailing address is active, that they are still seeking employment, and if there are any changes
or up-dates to their ads. Those that do not respond, we will assume no longer want to continue their "job wanted ad."
editor
Atlanta, GA
30 years in transportation Finance with strong management/ sales background. Represented company on national & region markets. Started two successful operations- produce profits and growth.
Email: pml@mindspring.com
Chicago, IL
Successful sales manager has 15 years experience with captives and independents. Expertise in re-energizing existing sales teams and territories, also building teams from scratch. True Team Leader looking for new challenge.
email: Murph5553@aol.com
Geneva, IL
Leasing leader seeking sales manager, senior sales/business development, marketing or strategic planning opportunity. Twenty plus years in the business. Looking for a new challenge.
E-mail: edok@sbcglobal.net
Marlton, NJ
25 years exper. Promoted to sales manager after attaining highest percentage of quota for 2 years. Increased business by 50% over two years as sales manager.
Email: Sjgaul@aol.com
Pennsauken, NJ
17 Years Leasing in all capacities from CSR and Collections to National Sales Management and Vice President Vendor Development. Exceptional People Skills. Many industry references.
email: cherfurth1@aol.com
To place a free "job wanted" ad here, please go to:
http://www.leasingnews.org/Classified/Jwanted/Jwanted-post.htm
For a full listing of all "job wanted" ads, please go to:
http://www.leasingnews.org/Classified/Jwanted/Jwanted.htm
--------------------------------------------------------------

ELFA reports Originations fell again in February
Business equipment leasing fell again in February, according to the Equipment Leasing and Finance Association (ELFA) Monthly Leasing and Finance Index (MLFI-25.) 25 member companies reported new commercial equipment leases and loans totaling $4.6 billion, compared with $5.5 billion in January; overall new business volume for the period declining by 16 percent since January. January saw a 47% decrease since the month of December. The two month down trend was viewed as cyclical.
"The decline in new business volume in February doesn't really come as a surprise given historical trends," says Jim McGrane, President, US Express Leasing, whose company participates in the survey.

Jim McGrane, President, US Express Leasing
"What's encouraging, however, is the year over year growth in new volume is up," he said," indicating business investment in equipment in light of a potentially softening economy. We would like to think this growth along with continued steady credit quality bodes well for our industry for the remainder of 2007."
ELFA President Kenneth E. Bentsen, Jr. was as optimistic; pointing out that the data was "impressive in the face of an uneven economic outlook."

ELFA President Kenneth E. Bentsen, Jr.
"February's drop in new business volume tracks a well-established seasonal trend showing lower activity during the winter months," he added.
McGrane noted that comparing February to the same month in 2006, new business volume for February 2007 has actually grown by 17 percent. In that view, business was better compared to the February of last year.
Despite the view of looking at the glass as being half full, rather than half empty, there is obviously a change going on in the United States financing economy. Many link to the sinking housing market, plus the growing default of subprime loans. Another example is new niches are being explored and emphasis is on specific industries, rather than a broad based approach that both the small ticket and middle market embraced in previous years. While the leasing companies brag business is great, they evidently are getting ready with promotions of key personnel, changes in strategy, and becoming more aggressive in seeking business.
The major leasing and industrial finance companies have expanded their market place to include Europe, India, Pakistan such as GE and CIT have expressed, GE in Japan with an offer to buy Sanyo Credit and major New York banks expanding their lending and leasing in China, as they seek higher yields, better margins, and the need to join seemingly faster growing marketplaces.
More on the February MLFI-25 report:


Click on the image to see a larger graphic.
Receivables over 90 days inched slightly upward by 0.1 percent.
Average losses remained the same over the prior month at 0.5 percent.



Credit approval ratios improved by 0.5 percent from the previous month.
Total employment headcount decreased over the previous month. Headcount was 11,416 in February and 11,434 in January, for comparison. In February 2006, headcount was lower at 10,497 or an 8.8% increase year over year.
The MLFI-25 provides metrics reflecting monthly commercial equipment lease and loan activity as reported by 25 participating ELFA member equipment finance companies representing a cross section of the equipment finance sector including small ticket, middle market, large ticket, bank, captive and independent leasing and finance companies. Because the same companies participate in the survey each month, the MLFI-25 provides a consistent trend analysis of current activity. Based on hard survey data, the responses mirror the economic activity of the broader equipment finance sector, which contributes to the representation of current business conditions nationally.
ELFA MLFI-25 Participants:
ADP Credit Corporation
Bank of America Leasing
Bank of the West
Canon Financial Services
Caterpillar Financial Services Corporation
CIT
De Lage Landen Financial Services
First American Equipment Finance
GreatAmerica Leasing Corporation
Hitachi Credit America
HP Financial Services
Irwin Financial
John Deere Credit Corporation
Key Equipment Finance
LaSalle National Leasing Corporation
Marlin Leasing Corporation
National City Commercial Corp.
RBS Asset Finance
Regions Equipment Finance
Siemens Financial Services
US Bancorp Leasing & Financial
US Express Leasing
Verizon Capital Corp/Verizon Credit
Volvo Financial Services
Wells Fargo Equipment Finance
--------------------------------------------------------------

500 NorVergence ERA cases to be consolidated
A "Notice of Motion" was filed March 28, 2008 that Honorable Judge William D. Maddux, Circuit Court of Cook County, Illinois will present Plaintiffs' motion to consolidate approximately 500 class action NorVergence Equipment Rental Agreement at 10:30am on April 6, 2007, Room 2005 of the Daley Center, Chicago, Illinois. The great majority of cases involve IFC Credit Corporation,
Morton Grove, Illinois.
There are 148 attorneys listed with their telephone numbers who have been notified of the consolidation hearing.
"Once the cases are consolidated before Judge Henry, Judge Henry can then stay the cases and proceed with the present class action, without further piecemeal litigation before other judges on the same issue," the motion states.
"Of the 500 pending cases, 496 or 99% involve only IFC---the Defendant in this first-filed class action-as the finance company: The remaining four cases break down as follows: one case involving Wells Fargo, one case involving Popular Leasing, and two cases involving Crown Bank. As will be demonstrated to Judge Henry, counsel for Plaintiffs are experienced class action lawyers, have succeeded in obtaining class certification in numerous consumer class action cases, have dedicated their entire practice to consumer class action litigation for years, and, for example, were counsel of record in the following matters: Valley Forge Ins. Co. v. Swiderski Electronics, lnc., 223 I11, 2d 352 (I11. November 30, 2006); Kinkel v. Cingular Wireless LLC, 273 I11. 2d 1 (I11. October 5, 2006)."
a court document footnote
"Due to the efforts of the Office of the Illinois Attorney General, the three referenced finance companies other than lFC---Popular Leasing, Wells Fargo, and Crown Bank---have agreed to settle Illinois ERA disputes and to forgive a sizeable portion of the amounts allegedly due under the outstanding ERAs. This settlement program is optional but upon information and belief a substantial percentage of Illinois lessees of these finance companies have either "opted in" or otherwise settled and their cases are resolved. Obviously, the four lessees with cases pending against these finance companies in this Court have decided not avail themselves of this settlement program. These four "holdout" cases do not present an obstacle to the present class action resolution of 99% of the pending cases all of which involve only IFC as the finance company."
a court document footnote
Copy of court documents:
http://leasingnews.org/PDF/USMIcro%20Motion%20Cnsldate%203%2029%2007.PDF,
--------------------------------------------------------------

Cartoon---Rudy Trebels talking with his attorney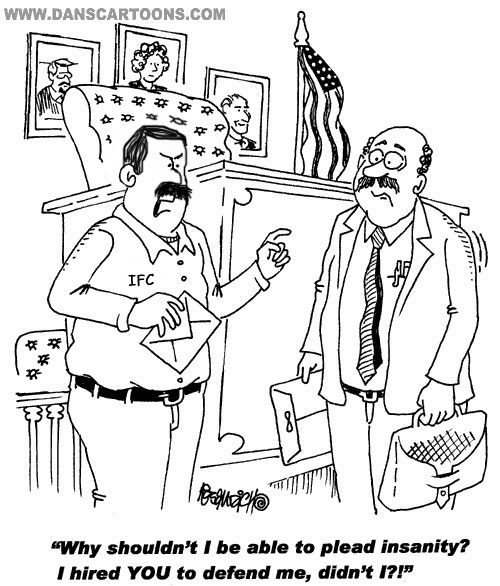 --------------------------------------------------------------

Story Credit List---North South Leasing
"C" and "D" trucks only
Story Credit Lessors - Update
Business Reports:
BBB - Better Business Report | CBB - Leasing News Complaint Bulletin Board
| CNI - Current News Information
Name
In Business Since
Contact
Website
Leasing Association

Employees

Geo
Area

Dollar
Amount

Business Reports

Nationwide
(Trucks only)

$15,000
(BB) North South Leasing - We offer a second chance leasing option for Semi's. We install GPS on every truck and the customer pays $400; the unit is unique to that truck so it is non-refundable. Borkers earn a 5% commission.
To view the complete list, pleaseclick here.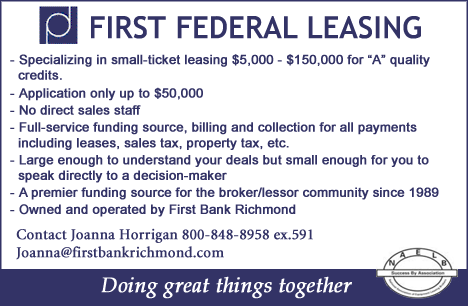 --------------------------------------------------------------

Leasing Industry Help Wanted
Account Executive


Account Executives

Boston, Cleveland, Detroit, St. Louis,
SF Bay Area
Top position to work with CFOs, CIOs, CEOs and other high-level executives. 7+ years equipment leasing exp. Resume/indicating you saw ad in Leasing News to: US_DFS_Staffing@dell.com
About the Company: We're the exclusive provider of leasing and finance services for Dell technology systems worldwide. At Dell Financial Services our mission is to deliver financing solutions that enable and enrich the Dell Customer experience.


Assistant Manager


Assistant Manager
San Francisco, California
Excellent opportunity to work with growing equipment leasing bank division, excellent reputation. Click here for more information.

First Republic Bank has offices in the San Francisco Bay Area, throughout California, and in Portland, Seattle, Las Vegas, Boston and New York.
Regional Sales Managers


Regional Sales Managers
To establish small ticket vendor programs in major metro areas. Excellent compensation/ benefit package. View job description. Send resumes to Zully.Fernandez@IrwinCF.com
Company Description:
Irwin Commercial Finance (NYSE: IFC) is a true direct lender and in the ever changing leasing environment, we bring stability, creativity and consistent customer service levels to our business.


Small Ticket Specialists

Three Small Ticket Specialists

Ft. Lauderdale, FL, Nashville, TN, and
Richmond, VA.
Click here for more information.


--------------------------------------------------------------

Just What is ADR, Anyway?
Paul Bent, Attorney at Law
Principal, The Alta Group, LLC
Everyone's heard about it, many people have strong opinions about it, some people have actually used it, but no one seems to understand exactly what it is. I'm talking about ADR – Alternative Dispute Resolution. This is the blanket term used for mediation, arbitration, and a few other things you may have heard of. In a nutshell, these are methods for dealing with problems and disputes in leases or transactions without going to court. Hence the name "alternative"; they are alternatives to litigation, or lawsuits and courtrooms.
In general, ADR comprises two ways of dealing with disputes outside the courtroom. One is arbitration, which is pretty well understood by most leasing folks. In this process, a neutral third person (the arbitrator) is selected by the disputing parties to hold a hearing, to hear the respective claims or defenses of the parties, to review the evidence presented by them, and to make a ruling about who owes what to whom. You can think of an arbitrator as something like a private judge; a neutral and objective person who hears all the facts and evidence and makes a ruling.
Arbitration is a creation of the contract between the parties. Everything that happens in arbitration is controlled by the "arbitration clause" in the lease or other agreement, including how the arbitrator is selected, what rules are followed regarding evidence, and all the other details. The arbitration clause can be only one sentence long, or it can run to pages. The important thing to know is that the parties themselves control the entire process; they make their own rules for the arbitration (or they incorporate existing rules, such as those from the National Arbitration Forum or the American Arbitration Association).
One other thing to remember about arbitration (and one that is frequently misunderstood) is that arbitration can be binding or non-binding, and an arbitration ruling can be appealable or not appealable, all as decided ahead of time by the parties themselves. You may hear people complain that they don't like arbitration because the arbitrator's ruling is final and non-appealable; so, if they lose, they're stuck. But that is only the case if the parties agree to that ahead of time. There are many contracts and arbitration clauses under which an arbitration ruling is non-binding (advisory in nature, or binding only as to certain issues). Actually, the beauty of arbitration is that it can be crafted to whatever the parties desire it to be; they simply need to specify in the arbitration clause how they want it to work.
Then what about mediation? How does that work? Well, it seems that mediation is even more misunderstood than arbitration. Mediation is not like an arbitration (or a trial) at all. The mediator, who is a neutral person selected mutually by the parties, does not make any ruling, does not make any award, does not hear evidence and testimony, and does not decide who's right and who's wrong. Rather, the purpose of the mediator (and the mediation) is simply to talk about the dispute with the parties and to see if there is some way to work out a settlement of the problem. The mediator sometimes meets with everyone together and sometimes meets with the parties alone, in separate rooms, so that everyone can express their view of the matter and talk candidly about what they want out of the deal.
In all cases, everything that everyone says is completely confidential. Here in California, where I practice, and in many other states the confidentiality of mediations is built right into the state law. No one can use anything said during mediation as evidence later, and no one can require the mediator to testify about what was said during the mediation. So nothing you say in trying to settle the dispute in mediation can be used against you later, if you're not able to settle and you go on to arbitration
or litigation.
What's most important (and most often misunderstood) is that, by definition and by nature, a mediation is never binding. It cannot be. The mediator cannot make any kind of ruling or award, binding or otherwise, and the parties don't have to agree to anything they don't want to. The mediator is there simply as a facilitator of the parties' discussions, not as a decision maker.
The only binding thing that can come out of mediation is a settlement that all parties agree on. If there is not a mutually acceptable settlement and a final agreement among all parties (which, once signed, is of course binding, just like any contract), then the mediation is finished and everyone ends up right where they started. They haven't given away any rights or benefits (thanks to the confidentiality rules), and they are free to pursue whatever other avenues they choose in connection with the dispute.
It's not unusual for mediation to take place before an arbitration or a trial. That's when it is most likely to help. It gives the parties a chance to see if they can work something out with each other without giving anything away or committing to a binding procedure, and before they spend a lot of money, time, and heartburn on a trial. That's why mediation is such a useful and important tool in dispute resolution; and it should be seriously considered by any leasing company or lender faced with a legal or contractual dispute.
ADR, whether as arbitration, mediation, or some other non-judicial method of dealing with business disputes, is worth knowing more about and making a part of every company's arsenal of problem solving approaches.
As a principal of the Alta Group, he serves as an industry expert in legal matters involving leasing, complex corporate financings, transaction structuring, and contract interpretation; and he provides services as a neutral mediator and arbitrator in difficult disputes over leasing and corporate finance, with emphasis on maintaining relationships and avoiding litigation.

In addition to serving as a principal of The Alta Group, he is the founder, president and general counsel of GoodSmith & Co., Incorporated, a corporate financial services firm specializing in large-ticket leasing and asset-based corporate financing.

Paul Bent is an active musician;– now a singer, formerly a violinist and bass player. He is a professional, on the payroll of the Los Angeles Master Chorale, singing at 8 concerts a year at Walt Disney Concert Hall. He also is active in singing in the Los Angeles, California area, –jazz
and classical, mostly.
----------------------------------------------------------------

KC Computer and AdvanceMe
Wednesday, March 28,2007 news edition about "Advanceme," who give an advance on credit card purchases as a form of a loan with a minimum of credit card volume of $1,700.00 per month, brought many positive responses. Many were also confused as there being label a "funder" in various leasing association. Leasing News wrote they are a funder, but not leasing.
Leasing News wrote, "Their web site "www.advanceme.com" has a list of testimonials. Leasing News contacted them and found they were not only very pleased with the service, but were happy to recommend them. Mark Gailey purchased KC Computers in the small Northern California gold country town Sutter Creek and was responsible for paying off the remaining payments of the loan, he thought was 21% of the money advanced from the credit cards. He thought if sales went down one month, or he needed to purchase items, the convenience and the experience he had with AdvanceMe, he would utilize their service, and recommends them highly to others."
Here is the actual testimonial from the www.advanceme.com web site:
"I have used AdvanceMe since November, 2004. The company has been easy and enjoyable to work with. This type of funding is different but easy to use. KC is a small company but this type of funding fits our needs well. "
Marshall Wells, KC Computers, Sutter Creek, CA
Sutter Creek is in the heart of the California Gold Country, now more a wine country, where many people who have lived in the San Francisco Bay Area have gone up to retire, or have a second home.
To get an idea of its location, please click on this map:
http://www.leasingnews.org/items/Sutter_creek-map.gif
Here is a link that you can move, for a wider picture:
http://www.mapquest.com/maps/map.adp?city=Sutter%20Creek&state=ca
For readers who would like to know more about KC Computer, this is a recent article from
www.ledger-dispatch.com (Serving Amador County Since 1855:)
Mark and Nadine Gailey are new owners of KC Computers at Sutter Hill, where Mark builds new computers, repairs computers and establishes computer networks for businesses throughout the county.
Photo by: Courtesy to the Ledger Dispatch
New owners take over thriving computer business
Having worked at KC Computers for three years, it was an easy transition for Mark Gailey, with his wife, Nadine, to purchase the 12-year business. "When Marshall Wells, the previous owner, retired after several other times, I saw the opportunity to buy this place," Gailey said. "One of the major things we'll be concentrating on is marketing to new clients."
Gailey builds new computers, repairs personal computers at businesses and residences, and has built and maintains a number of intra-networks for local companies including a publication, auto repair sites and medical professionals.
Gailey started his career in the early 1980s, working at IBM in San Jose, then Intel, before contracting with Motorola for 15 years. He and Nadine moved here four years ago from Gilroy to be closer to Nadine's family. "We knew the area and liked it, and it made sense for us to relocate," he said. The Gaileys, who live in Pine Grove, are parents to Kristopher, 15, a student at Amador High School, and Shania, 2.
Currently, the couple and three employees staff the business at 460 Highway 49, Suite G, adjacent to the Trinity Thrift Shop at Sutter Hill. The employee roster may expand days open to Saturday to accommodate "working people who can't get to us during the week," Gailey said.
"We're very pleased to continue a tradition of excellence set by Marshall at KC Computers," he added.
For all your computer needs, call 267-9052 Monday through Friday, 9 a.m. to 5 p.m.
----------------------------------------------------------------

----------------------------------------------------------------

May 6-8

Eastern Association of Equipment Lessors
Seaview Resort & Spa
Marriott Resort
Galloway, New Jersey
The EAEL 2007 Conference Chaired by Paul Meyer
Play!

Two Championship
Golf Courses

The now-famous Bay Course offers a link style challenge to both amatuer and professional golfers alike.
The equally impressive Pines Course American "Parkland-style" course features tight fairways with well-protected landing areas for a truly different challenge.

Offering a complete menu of salon and spa services. Get the Red Carpet treatment during the conference and schedule your appointment today.


401 South New York Road
Galloway, NJ 08205

Reservations: (800) 205-6518

Join us for the annual spring conference in Galloway, New Jersey at the beautiful Seaview Resort & Spa, May 6th, 7th & 8th.

Keynote Speaker,

Ken Bentsen

of the

ELFA

Rick Farrell

of

Selling Dynamics

presenting "Selling has Nothing to do with Selling!"

"BI"

--

The Business Improvement Company

presenting a session driving sales and channel performance

Seaview Resort & Spa

DATE: May 6th, 7th & 8th




LOCATION: Galloway, NJ
EAEL
Brochure to EAEL Conference
http://www.eael.org/doc/EAEL-spring.pdf

---------------------------------------------------------------
### Press Release ###########################

Layton F. Krawiec joins Heritage Pacific Leasing
Heritage Pacific Leasing is pleased to announce that Clayton F. Krawiec has joined the sales staff at their Dallas offices. Clayton's primary responsibility will be to increase lease volume on a national level.
Clayton is a lifelong Texas resident and attended Texas A & M University. He has worked as Vice President of Operations for an oil & gas company, Sales Manager for mortgage banking institutions, has owned his own construction company, and has served President Bush as a member of his Advance Staff. Clayton lives in Frisco, TX where he is a member of Celebration Covenant Church and is active in the community.
He will be assisting in building the Dallas office and can be personally reached at (972)219-0223 ext. 29 or emailed at claytonk@hpl1.com.
### Press Release ###########################

CIT Announces Healthcare REIT IPO


'Care Investment Trust' to Invest in Healthcare-Related
Commercial Mortgage Debt and Real Estate
NEW YORK – – CIT Group Inc. (NYSE: CIT), a leading global provider of commercial and consumer finance solutions, announced yesterday that a registration statement on Form S-11 has been filed with the Securities and Exchange Commission regarding the initial public offering of Care Investment Trust Inc., a newly-organized, real estate investment and finance company that will principally invest in healthcare-related commercial mortgage debt and real estate. Care Investment Trust will be managed and advised by CIT Healthcare LLC, a unit of CIT.
Care Investment Trust will elect to be taxed as a real estate investment trust (REIT) for federal income tax purposes. If approved, Care Investment Trust will list its common stock on the New York Stock Exchange under the symbol "CRE". Credit Suisse Securities (USA) LLC and Merrill Lynch, Pierce, Fenner & Smith Incorporated will act as joint book-running managers for the offering.
Care Investment Trust will provide financing to companies operating a full range of healthcare-related facilities, including skilled nursing facilities, hospitals, outpatient centers, surgery centers, senior housing, assisted living facilities, independent living facilities, continuing care retirement communities, medical office buildings, laboratories, and other healthcare facilities.
A registration statement relating to these securities has been filed with the Securities and Exchange Commission but has not yet become effective. These securities may not be sold nor may offers to buy be accepted prior to the time the registration statement becomes effective.
The offering will be made only by means of a prospectus. Copies of the preliminary prospectus, when available, may be obtained by contacting Credit Suisse Securities (USA) LLC, One Madison Avenue, New York, NY 10010-3629, attention: Prospectus Department, or by calling 1-800-221-1037 or Merrill Lynch, Pierce, Fenner & Smith Incorporated, 4 World Financial Center, New York, NY 10080, attention: Prospectus Department (4th Floor).
About CIT Healthcare
CIT Healthcare offers a full spectrum of financing solutions and related strategic advisory services to companies across the healthcare industry throughout the United States. It meets the diverse commercial financing needs of U.S. healthcare providers.
About CIT
CIT Group Inc. (NYSE: CIT), a leading global commercial and consumer finance company, provides clients with financing and leasing products and services to clients in a wide variety of industries. Founded in 1908, CIT has more than $74 billion in managed assets and possesses the financial resources, industry expertise and product knowledge to serve the needs of clients across approximately 30 industries worldwide. CIT, a Fortune 500 company and a member of the S&P 500 Index, holds leading positions in vendor financing, factoring, equipment and transportation financing, Small Business Administration loans, and asset-based lending. With its global headquarters in New York City, CIT has more than 7,300 employees in locations throughout North America, Europe, Latin America, and Asia Pacific. www.cit.com
### Press Release ###########################


Key National Finance promotes Gottwals and Jankoski
H. Clifton Gottwals has been promoted to senior vice president, operations. In this role, Mr. Gottwals will provide strategic and operational direction to Key National Finance, with initial focus on Key Equipment Finance. His office is located at Key National Finance's worldwide headquarters outside Boulder, Colorado.
"Clif is uniquely qualified to fill this critically important role," said Paul A. Larkins, president and chief executive officer, Key National Finance. "His extensive experience in operational re-engineering, operations management, sales effectiveness and automation, and numerous other critical disciplines make him uniquely qualified to take on this exciting new role."
In May 2006 Mr. Gottwals was named executive vice president, North America, within Key Equipment Finance's global vendor services business. He joined Key Equipment Finance in 2001 as senior vice president of Operations in Key's global vendor services group. During this time he also lead Key Equipment Finance's European organizational redesign team. In 2003 he was named executive vice president, Global Programs and Strategic Planning, where he built a best-in-class global program management team. Prior to joining Key, he held operations positions of increasing responsibility with G.E. Capital Corp., Signet Bank and BancOne Leasing Corporation. Mr. Gottwals earned his bachelors of science degree in economics from the Washington and Lee University and his masters of science in economics from the London School of Economics.
effrey S. Jankoski as vice president and business development manager specializing in material-handling equipment. In this role, Mr. Jankoski is responsible for identifying new material-handling equipment clients and developing vendor programs for Key Equipment Finance's Construction and Industrial operation. His office is based in Huntersville, North Carolina.
"During his more than 20 years' experience in the equipment finance field, Jeff has exhibited a proven track record in the material-handling equipment market," said Jeff Enoch, sales director, Construction and Industrial segment, for Key Equipment Finance's global vendor services group. "I am confident he will be a strong asset as Key expands its market reach."
Prior to joining Key, Mr. Jankoski was North American business manager for Barloworld Finance in Charlotte, North Carolina. Previously he was northeast and southeast sales manager for Hyster Credit Company (a division of CIT). He earned his bachelors of arts in business administration (marketing) from the University of Cincinnati.
Key National Finance includes the Equipment Finance and Consumer Finance businesses of KeyCorp. Equipment Finance professionals (dba Key Equipment Finance) meet the equipment leasing and financing needs of businesses of all sizes and provide global equipment manufacturers, distributors and resellers with financing options for their clients. Consumer Finance provides federal and private education loans and payment plans for students and their parents; makes marine loans through multiple channels; finances dealer inventories of automobiles, recreation vehicles and watercraft; makes home improvement loans through dealers; and provides payroll solutions for businesses of all sizes. Key National Finance's five businesses total more than $29 billion in managed assets and nearly 1,700 employees in 26 countries.
Cleveland-based KeyCorp is one of the nation's largest bank-based financial services companies, with assets of approximately $93 billion. Key companies provide investment management, retail and commercial banking, consumer finance, and investment banking products and services to individuals and companies throughout the United States and, for certain businesses, internationally.
### Press Release ###########################


U.S. Bank Equipment Finance Names New VP in Capital Markets Finance
DULUTH, Ga. — U.S. Bank Equipment Finance has named Tim Maloof as vice president of sales in its capital markets finance group, responsible for identifying, building and managing funding relationships with peer group bank-owned leasing companies as well as large commercial finance companies. In addition, he will seek to acquire lease and loan transactions and interact with intermediaries, such as income funds.
Maloof comes to U.S. Bank Equipment Finance with 23 years of experience in the equipment financing industry. He was most recently with ORIX Commercial Finance and prior to that he held positions at Lyon Credit Corporation (Credit Lyonnais Bank), Chrysler Capital, CIT and GE Capital. Maloof is based in Duluth, Ga., and can be reached by phone at (770) 291-2002.
"We're pleased to have Tim join the capital markets team of our vendor finance group. He brings with him many years of industry experience and a proactive marketing style that will help build new client relationships," said Jamie Gioia, executive vice president and general manager of the vendor finance group.
Maloof earned a bachelor's degree in finance from Georgia State University. He resides in Lawrenceville, Ga. with his wife and children.
U.S. Bank Equipment Finance, one of the largest bank-affiliated equipment finance companies in the nation, has been providing quality equipment finance solutions for 35 years. It's a major funding source for companies in virtually every industry sector nationwide. The capital markets finance group serves principals and peer institutions in the middle-market and upper-middle market syndications community and buys single investor transactions, participations and debt streams. Visit U.S. Bank Equipment Finance online at www.usbank.com/leasing.
U.S. Bank Equipment Finance is part of U.S. Bancorp (NYSE: USB). With assets of $219 billion, U.S. Bancorp is the 6th largest financial holding company in the United States. The company operates 2,472 banking offices and 4,841 ATMs, and provides a comprehensive line of banking, brokerage, insurance, investment, mortgage, trust and payment services products to consumers, businesses and institutions. U.S. Bancorp is the parent company of U.S. Bank. Visit U.S. Bancorp
### Press Release ###########################
--------------------------------------------------------------

News Briefs----
Sporting News Research Study Concludes Sports May Be Contributing to the Decline
in Office Productivity
http://www.prnewswire.com/cgi-bin/stories.pl?ACCT=104&STORY=
/www/story/03-29-2007/0004556064&EDATE=
Merrill's Subprime Risk High
http://www.nypost.com/seven/03292007/business/merrills_subprime_risk
_high_business_.htm
Rates on 30-year mortgages unchanged near '07 low
http://www.usatoday.com/money/economy/housing/2007-03-29-mortgage-rates_N.htm
Panel Backs Bill To Restrain Fannie, Freddie
http://www.washingtonpost.com/wp-dyn/content/article/2007/03/29/
AR2007032902036.html
Qwest, AT&T, Verizon win government telecom contract worth up to $48 billion; Sprint left out
http://www.signonsandiego.com/news/business/20070329-1454-telecom-contract.html
Housing slump expected to keep economy at sluggish pace
http://www.signonsandiego.com/news/business/20070329-1356-economy.html
Dell says audit found accounting errors
http://hosted.ap.org/dynamic/stories/D/DELL_FILING?SITE=CADIU&SECTION=
HOME&TEMPLATE=DEFAULT
Microsoft launches Deepfish, new Web browser for smart phones
http://seattletimes.nwsource.com/html/businesstechnology/
2003641580_webmsdeepfish29.html
---------------------------------------------------------------


You May have Missed---
First Flight of the New Airbus A380
http://www.leasingnews.org/Pages/Airbus.htm
(This is courtesy of Charlie Lester. He sent it to me with this message: " Your new private plane is almost ready for you. See the shot of the girl in the blue shirt and tell me that ain't duct tape on the wall holding that plane together. Charlie."
----------------------------------------------------------------


"Gimme that Wine"
Kosher wines climb in quality; Zin Man takes the summer off; honors for St. J Riesling
http://info.detnews.com/wine/columns/silfven/details.cfm?id=386
Martine Saunier/Pairing wine with pleasure
http://www.sfgate.com/cgi-bin/article.cgi?f=/c/a/2007/03/23/WIGT1OOH491.DTL
Wine Prices by vintage
http://www.winezap.com
http://www.wine-searcher.com/
US/International Wine Events
http://www.localwineevents.com/
Winery Atlas
http://www.carterhouse.com/atlas
Leasing News Wine & Spirits Page
http://two.leasingnews.org/Recommendations/wnensprts.htm
The London International Vintners Exchange (Liv-ex) is an electronic exchange for fine wine.
http://www.liv-ex.com/
----------------------------------------------------------------

Calendar Events This Day
Doctor's Day
Traditional annual observance since 1933 to honor America's physicians on the anniversary of the occasion when Dr. Crawford W. Long became the first acclaimed physician to use ether as an anesthetic agent in a surgical technique, March 30, 1842. The red carnation has been designated the official flower of Doctor's Day.
Mule Day
Started in 1934 as Breeders Day when mules were brought into town
for sale or to be trade.
National Hot Dog Day
http://homeschooling.about.com/library/blmar29a.htm
Trinidad and Tobago: spiritual Baptist Liberation Shouter Day
Public holiday.
Saint Feast Days
http://www.catholic.org/saints/f_day/mar.php
----------------------------------------------------------------

The pineapple is a very big berry.
(Number 15 incorrect. The pineapple is a "terrestrial herb.")
http://www.hort.purdue.edu/newcrop/morton/pineapple.html
http://www.crfg.org/pubs/ff/pineapple.html
----------------------------------------------------------------

Today's Top Event in History
1950-- Dr. John Northup Shive of the Bell Telephone Laboratories, Murray Hill, New Jersey, announced he had developed a "phototransistor" operated by light rather than electric current. It was not until 1951 that transistors were produced commercially, the first for Western Electric, used in long distance dialing equipment. The microprocessor did not come along until the late 1970, developed by Intel, Santa Clara, California.
[headlines]
----------------------------------------------------------------

This Day in American History
1492 --King Ferdinand & Queen Isabella sign decree expelling Jews from Spain. Cristo Colombo's navigator was Jewish, but not told to the royalty. It was he who discovered the new land, they thought was India (thus the natives were called Indians) and also changed the date from the 13th to the 12th, as they thought it would be unlucky to record the event on that number. In reality, neither actually stepped on either the South or North America continents in their five trips to the area.
1823 - A great Northeast storm with hurricane force winds raged from Pennsylvania to Maine. The storm was most severe over New Jersey with high tides, uprooted trees, and heavy snow inland.
1842- Dr. Crawford W. Long, having seen the use of nitrous oxide and sulfuric either at "laughing gas parties, observed that individuals under their influence felt no pain, on this date he performed an operation under the influence of either. To honor him, March 30th is also "Doctor's Day," with the red carnation designated the official flower to worn in the lapel today.
1843- Napoleon E. Guerin of New York City patented an egg incubator for hatching chickens, revolutionizing the industry.
1858- Hyman L. Lipman of Philadelphia received the patent for inventing a pencil with an attached eraser. The pencil had a groove into which was "secured a piece of prepared rubber,
glued in at one end."
1867-- US purchases Alaska from Russia for $7,200,000 (2¢ an acre.) The phrase Seward's folly was coined to characterize the purchase of Alaska from Russia. The purchase was negotiated by Secretary of State William Henry Seward. Alaska was also ridiculed as Seward's icebox.
1867---Birthday of Jessie Donaldson Hodder, prison reformer. When her common-law husband rejected her and their two children, found work in the New York State prison system and developed reforms that became the model for the nation by giving women prisoners dignity, a chance to reform, education, etc.
1870-The Fifteenth Amendment was adopted. It stipulated that no state shall deprive any citizen of the right to vote because of race, color, or previous condition of servitude. After reconstruction was ended by a deal with Southern Democrats to win their votes to decide the presidential election in an electoral tie, Poll taxes and literacy tests cancel out Black and other minority voters in the South. In many counties, it would not be until the 1960's and the birth of the civil rights movement that many were allowed to vote.
1882--Birthday of Melanie Klein, pioneer child psychologist who believed cruelty against the mother affected the child much more than Freud and his school of followers had thought.
1888-Birthday of "The Louisiana Lady," Camille Nickerson, music arranger, composer, musician and educator, remembered for her musical talent and her work as a music collector who gathered and transcribed Creole music. Born at the French Quarter, New Orleans. Of Creole extraction herself, Nickerson performed for a time in the US and Europe using the stage name, "The Louisiana Lady." She died at Washington, DC, at age 94.
1889- The first recorded golf mixed foursome was played at the Grey Oaks course of the St. Andrews Golf Club, Yonkers, NY, John B. Upham and Carrie Low played John Reid and Mrs. John G. Reid.
1913—Birthday of Frankie Laine, actor, singer, known for many songs such as "Mule Train," "Lucky ole Sun," "Cool Water," "I Believe, "Granada," and singer of TV songs such as "Rawhide" and "Viva Las Vegas." A top performer in the late 40's and 50's and on early television. Originally a jazz singer, sidetracked by the famous arranger Mitch Miller, rock and roll changes the venue of music for many of these early 1950's singers. He died March 6, 2007 at the age of 93.
http://www.latimes.com/news/obituaries/la-me-laine7feb07,1,1340769.story?coll=
la-news-obituaries&ctrack=1&cset=true
http://www.frankielaine.com/
1923 - In New York, the Audubon Ballroom was the site of the first dance marathon. Alma Cummings danced the fox trot, one-step and waltz with six partners.
1943 -- Rodgers and Hammerstein's first collaboration, Oklahoma, opens on Broadway.
1945-- Eric Clapton birthday, born Ripley, England. Singer with Yardbirds, Cream, Derek and the Dominoes, Bluesbreakers, Faith, and songwriter, best known for starting the "unplugged"
video and CD trend.
http://www.sai.msu.su/~util/clapton.html
1945---Top Hits
My Dreams are Getting Better All the Time - The Pied Pipers
A Little on the Lonely Side - The Frankie Carle Orchestra (vocal: Paul Allen)
Accentuate the Positive - Johnny Mercer
Shame on You - Spade Cooley
1950-- Dr. John Northup Shive of the Bell Telephone Laboratories, Murray Hill, New Jersey, announced he had developed a phototransistor" operated by light rather than electric current. It was not until 1951 that transistors were produced commercially, the first for Western Electric, used in long distance dialing equipment. The microprocessor did not come along until the late 1970, developed by Intel,
Santa Clara, California.
1950 -- President Harry S Truman denounces Senator Joe McCarthy as a saboteur of U.S.
foreign policy.
1953--Top Hits
Till I Waltz Again with You - Teresa Brewer
Don't Let the Stars Get in Your Eyes - Perry Como
Pretend - Nat King Cole
Kaw-Liga - Hank Williams
1961---Top Hits
Surrender - Elvis Presley
Dedicated to the One I Love - The Shirelles
Apache - Jorgen Ingmann
Don't Worry - Marty Robbins
1963 - He's So Fine, recorded by The Chiffons, jumped into the top spot on Billboard's record charts on this date, and stayed in the Number 1 spot for 4 weeks.
1963—Birthday of baseball player turned Rapper, M.C. Hammer, real name Stanley Kirk Burrell, born Oakland, California.
1964 - One of the best known game shows on television, "Jeopardy", developed by Merv Griffin, first aired on NBC-TV. Host, Art Fleming never missed a show in 2,500 programs. Three contestants won cash by attempting to give the correct questions to an answer in six different categories. Contestants go through two rounds and a "final jeopardy," where they can wager up to all their earnings on one question. The series returned in 1984 with Alex Trebek as the popular host.
1966—Los Angeles Dodgers pitchers Sandy Koufax and Don Drysdale ended their joint monthly long holdout by signing contracts for $130,000 and $105,000 respectively. Koufax (26-8 in 1965) and Drysdale (23-12) had shaken up the baseball establishment tby joining forces and hiring lawyers to negotiate for them. Still, their contracts fell short of their goal, a e-year deal for $1.05 million.
1967 - No. 1 Billboard Pop Hit: ``Happy Together,'' The Turtles. The group is called the Crossfires before signing with Liberty Records.
1967 - The cover of the Beatles' ``Sgt. Pepper's Lonely Hearts Club Band'' album is staged and photographed at Chelsea Manor Studios in London using collage and wax figures from Madame Tussaud's famous museum. The actual cover is a painting of that photograph. Among the likenesses featured on the cover are Mae West, Shirley Temple, Fred Astaire, Bob Dylan, Tony Curtis, Marlon Brando, Oscar Wilde, Marlene Dietrich and W.C. Fields.
1968 - Quebecois chanteuse Celine Dion is born in Charlemagne, Canada. The singer has nine best-selling French albums under her belt before she records "Unison" in 1990.
1969 - No. 1 Billboard hit: ``Dizzy,'' Tommy Roe. The song is Roe's biggest hit. It remains at No. 1 for four weeks and sells 6 million records.
1969---Top Hits
Dizzy - Tommy Roe
Traces - Classics IV featuring Dennis Yost
Time of the Season - The Zombies
Who's Gonna Mow Your Grass - Buck Owens
1970 - "Applause" starring Lauren Bacall, opened on Broadway. The show became one of the hardest tickets to get. Critics called Bacall "a sensation." The play was an adaptation of the movie, "All About Eve". It continued for 896 performances. In 1972, a London version of the show, also starring
Bacall, opened.
1970 - Television dramas were added to daytime lineups on both ABC and NBC. "The Best of Everything" and "A World Apart" were first aired on ABC. On NBC debuted
"Somerset" and "Another World".
1970 -- After years of struggle & a nationwide boycott, the United Farm Workers sign the first table-grape contract with two of California's largest grape growers.
But the victory will prove to be only one battle in a long war. By 1974, the union is threatened not only by growers but by more powerful unions. The International Brotherhood of Teamsters will muscle its way into the fields & sign sweetheart contracts with growers who haven't signed with United Farm Workers. The combined wealth & political power of the Teamsters & the growers nearly destroys the UFW.
1971 - The Bee Gees were given a gold record for, "Lonely Days". When playing the gold record, they heard the song at a faster speed and said, "Hey, this sounds like disco!" The rest is part of "Saturday Night Fever" history.
1974 - John Denver hit #1 with, "Sunshine on My Shoulders", his first number one song. Three other Denver singles reached the top of the music world: "Annie's Song", "Thank God I'm a Country Boy" and "I'm Sorry". "Take Me Home Country Roads" made it to number two, while "Rocky Mountain High" only reached number 9. Denver wrote Peter, Paul and Mary's "Leaving on a Jet Plane"; and won an Emmy for the television special, "An Evening with John Denver".
1977—A new era began in San Francisco football as Edward J. DeBartolo, Jr. bought the 49ers from the original owners. The 49ers never reached the NFL championship game while the Morabito family owned them, but they won five Super Bowls during the first 18 years of DeBartolo's tenure. Forced to turn the team over to his sister due to a business dealing with the former Governor of Louisiana, the 49ers never have been the same since. When he returns for retirement of jerseys, the fans go crazy over his attendance. I can personally attest that "Eddie! Eddie!" is the loudest yell of the events.
1977---Top Hits
Rich Girl - Daryl Hall & John Oates
Dancing Queen - Abba
Don't Give Up on Us - David Soul
Southern Nights - Glen Campbell
1977-The Eagles' "Hotel California" starts climbing the Billboard LP Chart to the top.
1977 - Hartford, CT, hit 87 degrees to establish a record for the month of March.
1978 - Ellen Corby returned to Walton's Mountain over a year after she left in an ambulance after a stroke. The episode was titled, "Grandma Comes Home".
1981 - United States President Ronald Reagan was shot in the chest by a would-be assassin as he walked to his limousine in Washington DC. In the attack, Press Secretary James Brady and two police officers were wounded. John W. Hinkley Jr. was convicted for the crime.
1981-- Former Secretary of State Alexander Haig's televised announcement (while President Ronald Reagan was undergoing surgery after being shot by a would-be assassin): "As of now, I am in control here in the White House..." Haig continued to say, "Constituently, gentlemen, you have the president, the vice-president and the secretary of state in that order." What makes this so funny and memorable was his arrogance, plus the fact that he was incorrect. According to the New York Desk Reference, for those who want to get on " Who Wants to be a Millionaire": 1.Vice-President, 2. Speaker of the House, 3. President Pro Tempore of the Senate, 4. Secretary of State, 5. Secretary of the Treasury. The point is that the Secretary of State is fourth in line, not second. He surely was not in charge.
1983 - Basketball player Larry Bird, set a regular season Celtic scoring record as he got 53 points. The record remained until 1985 when Bird broke it himself with a 60-point performance on March 12.
1985---Top Hits
One More Night - Phil Collins
Lovergirl - Teena Marie
We are the World - USA for Africa
Seven Spanish Angels - Ray Charles with Willie Nelson
1987 - Vincent van Gogh's "Sunflowers" brought in $39.85 million, more than triple the record for a painting at auction. It was sold on the 134th anniversary of the artist's birth. Singer Don McLean wrote and sang a musical tribute to the artist, titled "Vincent", in April of 1972.
1987 -a low pressure area spread heavy snow across the Ohio Valley and lower Great Lakes region. Cleveland, Ohio recorded 16 inches of snow in 24 hours -- their second highest total of record. Winds gusting to 50 mph created 8 to 12 foot waves on Lake Huron and the storm ushered in unseasonably cold air into the south central and southeastern US with nearly 100 record lows in 3 days.
1987 -The 59th Annual Academy Awards extravaganza emanated from the Dorothy Chandler Pavilion of the Los Angeles Music Center. Chevy Chase, Goldie Hawn and Paul 'Crocodile Dundee' Hogan hosted. (Hogan was also an Oscar nominee for Best Writing, Screenplay Written Directly for the Screen with Ken Shadie and John Cornell for "Crocodile Dundee".) Now let's get right to the good part: Best Picture: "Platoon" (Arnold Kopelson, producer); Best Director: Oliver Stone for "Platoon"; Best Actor: Paul Newman for "The Color of Money"; Best Actress: Marlee Matlin for "Children of a Lesser God"; Best Supporting Actor: Michael Caine for "Hannah and Her Sisters"; Best Supporting Actress: Dianne Wiest for "Hannah and Her Sisters" and Best Music/Song: Giorgio Moroder (music), Tom Whitlock (lyrics) for "Take My Breath Away" from "Top Gun". And HBO (Home Box Office) earned its first Oscar as "Down and Out in America" tied for Best Documentary feature. The cable-TV film played in a Los Angeles movie theatre for one week to qualify for the Academy Award. http://www.imdb.com/Sections/Awards/Academy_Awards_USA/1987
http://www.infoplease.com/ipa/A0149676.html
http://www.filmsite.org/aa86.html 1986?
1989 -- Gladys Knight performs solo for the first time since grammar school without The Pips during a gig at Bally's in Las Vegas. She becomes a regular in the town,
still there the last time I visited Vegas.
1989 - Thunderstorms developing along and ahead of a slow moving cold front produced large hail and damaging winds at more than fifty locations across the southeast quarter of the nation, and spawned a tornado which injured eleven persons at Northhampton NC.
1991-- 44th NCAA Ice Hockey Championship: Northern Michigan beats Boston University 8-7; Northern Michigan's 1st NCAA hockey title
1992-- 64th Academy Awards (Silent of the Lambs sweeps with Best Picture, Anthony Hopkins as Best Actor and Jodie Foster as Best Actress). The 64th Annual Academy Awards statuette-passing-out-party was thrown at the Dorothy Chandler Pavilion, Los Angeles. Funny man and actor/producer/writer/director Billy Crystal was host as that creepy "The Silence of the Lambs" (Edward Saxon, Kenneth Utt, Ronald M. Bozman, producers) won the prize for Best Picture of 1991. "Silence" also won the Best Director Oscar for the creepy Jonathan Demme; Best Writing/Screenplay Based on Material from Another Medium for the creepy Ted Tally; Best Actor for the creepy Anthony Hopkins and Best Actress for the anything-but-creepy Jodie Foster. Jack Palance won Best Supporting Actor for playing Curly in "City Slickers" and the Best Supporting Actress Oscar was claimed by Mercedes Ruehl for "The Fisher King". Best Music/Song: Alan Menken (music), Howard Ashman (lyrics) for "Beauty and the Beast" from, you guessed it, "Beauty and the Beast". You probably wouldn't have guessed that the movie, "Terminator 2: Judgment Day", nominated in six categories, won four Oscars for Best Sound (Tom Johnson, Gary Rydstrom, Gary Summers, Lee Orloff); Best Effects/Sound Effects Editing (Gary Rydstrom, Gloria S. Borders); Best Effects/Visual Effects (Dennis Muren, Stan Winston, Gene Warren Jr., Robert Skotak); and Best Makeup (Stan Winston, Jeff Dawn).
http://www.imdb.com/Sections/Awards/Academy_Awards_USA/1992
http://www.filmsite.org/aa91.html 1991?
1992 - Baseball player, Sammy Sosa was traded by the Chicago White Sox with Ken Patterson to the Chicago Cubs for George Bell.
1998 60th NCAA Men's Basketball Championship: at Alamodome San Antonio, Kentucky beats
Utah 78-69
2006 --As a result of the recently released book detailing Barry Bonds allegedly using performance-enhancing drugs, Bud Selig appoints George Mitchell to head an investigation into the use of steroids in baseball. The former Senate Majority Leader will have the authority to expand the probe, which will be made public, into events prior to Fall of 2002, when such substances were banned by major league baseball.
NCAA Basketball Champions This Date
1940 Indiana
1943 Wyoming
1981 Indiana
1987 Indiana
1998 Kentucky
--------------------------------------------------------------

Spring Poem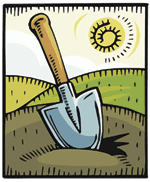 I love life; to be free as the bird on the wing,
To feel the rain and wind in my hair,
To smile, to laugh, to sing,
To know the joys found everywhere;
To listen to the church bells ring,
Sending their beautiful music through the air,
To see the morning sun awaken nature in spring,
And the moon that soothes and drives away the day's care;
The falling leaves as autumn's winds sing,
And snow castles where Christmas bells go, "Ding-a-ling,"
To be free of hate and revenge and the unhappiness they
bring. I love life for the love, beauty and good in everything.
I love life for its joys and sorrows,
Its sudden disappointments and thrills of delight
That come with the morning to shape our tomorrows
And so often leave with the curtain of night.
I love life with all the beauties of nature's wonderland,
The strange ways of man both cultured and crude
(They will not let the great forests stand,
Yet build roads to see the mountains and valley view).
I love life; oh, let me know it to the full in living —
To be free of bitterness and have wisdom of mind,
To be kind to others and always forgiving.
Dear Lord, I ask in humbleness for a little more time.
Bee Samann
"Easy Reading Poems"
Vantage Press, NYC
--------------------------------------------------------------

SuDoku
The object is to insert the numbers in the boxes to satisfy only one condition: each row, column and 3x3 box must contain the digits 1 through 9 exactly once. What could be simpler?
http://leasingnews.org/Soduku/soduko-main.htm
--------------------------------------------------------------

Daily Puzzle
How to play:
http://www.setgame.com/set/puzzle_frame.htm
Refresh for current date:
http://www.setgame.com/set/puzzle_frame.htm
--------------------------------