Friday, March 7, March, 2008
Headlines---
Classified ads--Asset Management
Fed to lower rate before March 18th?
LEAF closes old Jim Harris' Allco Leasing company
Manifest to pay back Doc., UCC, insurance, plus
Cartoon---At the White House
Best Funding Source 2008 by Christopher Menkin
Gerry Egan's Real Motor Home
Nassau Quarterly Report: Truck Trouble
Beige Book Report Discouraging
PayNet Launches PayNet MasterScore
Homeowner equity falls below 50%
Dollar hits another low
Highest unemployed two years
News Briefs---
You May have Missed---
Those Lipitor Ads: Dr. Jarvik Makes His Case
"Gimme that Wine"
Calendar Events
Snapple Real Facts
Today's Top Event in History
This Day in American History
Winter Poem
SuDoku
Daily Puzzle
GasBuddy
Provence, France-Vacation
News on Line---Internet Newspapers
Santa Rosa, California
San Francisco Valley Leasing: Next Friday
######## surrounding the article denotes it is a "press release"
------------------------------------------------------------------

Classified ads--Asset Management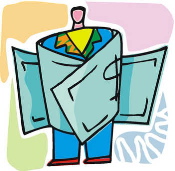 Los Angeles, CA
Lease Administrator with strong background in processing and operations development. Seeking immediate opening for Senior Processor Position with long term potential for Credit Administration.
Cindy.Messler@gmail.com
Massachusetts, MA
Started in credit and collections 30 years ago with a private agency. My skills are negotiating with Attorney's, Insurance Companies & Large & small companies.
cityofpa@earthlink.net | Resume
http://www.leasingnews.org/Classified/Resumes/cityofPA_Resume.doc
New York, NY
10+ years in equipment leasing/secured lending. Skilled in management & training, documentation, policy and procedure development & implementation, portfolio reporting. Strong work ethic.
Email: dln1031@nyc.rr.com
Seattle, WA
20 years combined experience in Asset Management and Collections. History of successfully maximizing the residual position through superior negotiation skills and remarketing.
Email: gcsprings@comcast.net
United States
Multi- talented individual looking to relocate back to mainland. Over 20 years of experience in Asset Management, Venture Leasing, Operations and Senior Management Positions.
RESUME | Email: dan@ggpglobal.com
For a full listing of all "job wanted" ads, please go to:
http://www.leasingnews.org/Classified/Jwanted/Jwanted.htm
To place a free "job wanted" ad here, please go to:
http://www.leasingnews.org/Classified/Jwanted/Jwanted-post.htm
--------------------------------------------------------------

Fed to lower rate before March 18th?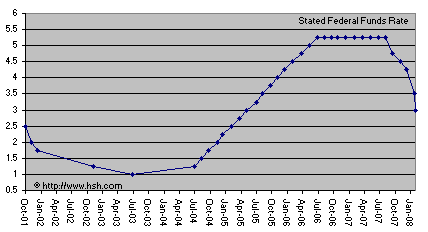 The talk is that the Fed may lower its rate before its regular meeting next Tuesday on March 18th. Some say it will be a half point, others says three-quarters, as the economy continues to slide.
Other economist believe the Fed is pro longer the recession, contributing to the falling of the dollar, as inflation is the key worry, that the market is not being driven by rates being too high, but fear to extend credit and contribute to coming loses. Certainly there is no argument that margins
are really being squeezed.
More important, Leasing company stock is going into the dumpster: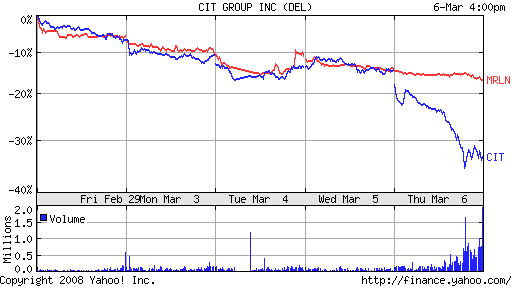 CIT Group worse, down to $15.86 on Thursday with volume at 24,280,313.The open was $19.78,
down $4.50 (22.10%)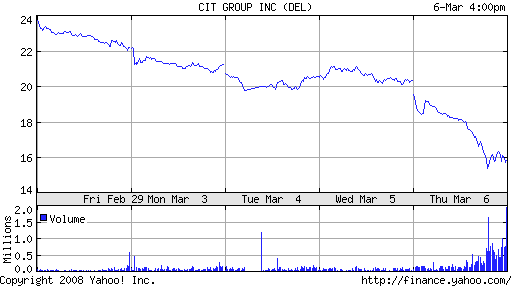 Marlin continues slide, down to $8.39 on Thursday with volume at 52,336.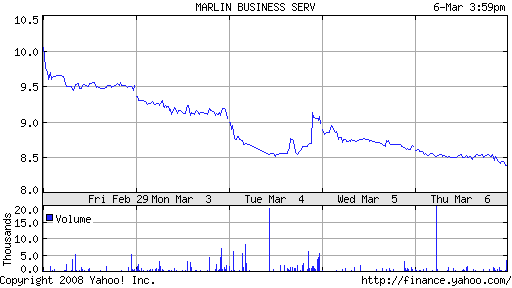 Other stock:
Microfinancial at $4.39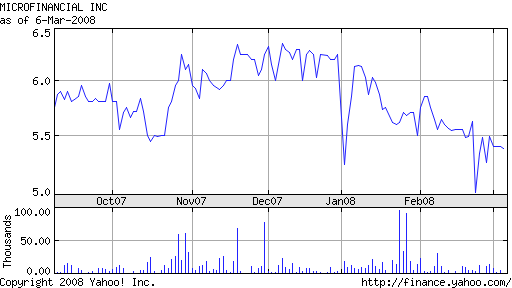 KeyCorp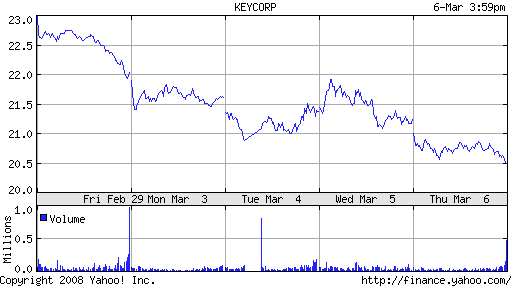 Resource America (LEAF)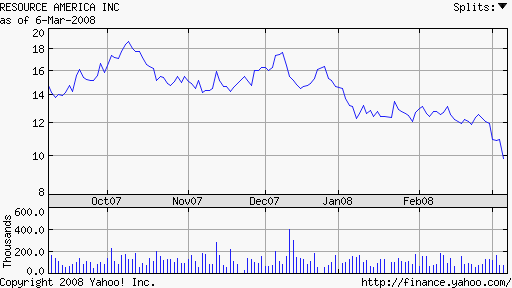 --------------------------------------------------------------

LEAF closes old Jim Harris' Allco Leasing company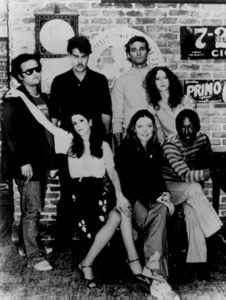 From a very high reliable source:
"I just got off the phone with my favorite credit analyst over at Leaf Specialty Finance in Portland. (That was the former Allco Leasing for 40 years before Leaf bought it 3 years ago). He was shocked and devastated and said that Paul Menzel walked in the door at 10:00AM this morning and told all of them the 'show is over' and to pack their personal belongings. They are shutting them down today , & turning the lights off. They all have to go home. They were all taken by surprise and there was no warning. From what it sounded like, the other divisions of Leaf, such as Net Bank and Pacific Bank, will remain. I have known the people in that office for years and they are some of the best in the business. I am saddened by how Leaf chose to be so brutal about this and give them no warning. "
Closing offices right away and not having employees linger, protecting company data, records, lists, and other property is standard, especially if the operation is being shut down. This was the case here and does not reflect on the personnel, but is the procedure.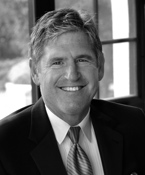 Menzel had a tough job to do, and he did it. Contacted by Blackberry, he responded:

"LEAF Third Party Funding has made the strategic decision to close its Portland office and redeploy resources to its core operation in Santa Barbara, CA, "Paul Menzel, CLP, President, LEAF Third Party Funding, Santa Barbara, CA. told Leasing News." This decision is in response to the significant volume growth we are experiencing in our core Third Party business and commitment to continue to increase the service levels we provide our broker/lessor partners. As part of this decision we will no longer be pursuing new middle market structured transactions for non-traditional credits requiring significant credit enhancements as a condition for approval.
"This consolidation will allow LEAF to focus on its core growth strategies in serving our broker/lessor network through the Third Party Funding group in Santa Barbara and the Specialty Finance group in South Carolina. LEAF Third Party Funding provides application only programs up to $100,000. LEAF Specialty Finance funds transactions of any size in the franchise, specialized programs, and 'bankable' commercial credits segments.
"The Portland office will no longer be accepting new credit applications. All outstanding approvals will be honored until expiration. I will take responsibility for coordinating the processing of any outstanding transactions and if you have any questions, please do not hesitate to contact me.
"We thank you for all of your many years of support and look forward to continue to serve this industry in the future."
Reportedly the office consisted of five people: Brad Christiansen, who ran it and did most of the sales, a secretary, an operations person and two people who did both credit and fundings. At one time,
the company had up to 21 employees, according.
Jim Harris started this company on his own after a group of we brokers, who had an association in the 1970's, decided to also create lines of credit for leases (A.J.Batt was there, too, among others.) Harris' concept was very strong collateral. Primarily leases over $100,000 and the broker could get no more than five points. Most of the leases were written first and five percent, with the five percent going to the broker as his commission. Most of the leases were "fair market value"
to Allco, not the broker.
--------------------------------------------------------------

Manifest to pay back Doc., UCC, insurance, plus more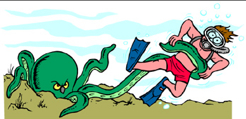 June 7, 2004 Lyon Financial Services was served with a class action suit which eventually involved in U.S.Bank Manifest Funding Services, who settled the action on June 20, 2007 right before trial, and then on October 9, 2007 finalized the addendum and settled with attorneys nationwide. They are now notifying its lessors on record that their lessees will be contacted by U.S. Bank Manifest if any fee was paid directly to Manifest and not the lessor who discounted the transaction:
"Your past customer base that had paid an origination fee, UCC filing fee, PPT, or Property Damage Surcharge from 2000 to present will be notified on what they have to do to make a claim. That information should be sent out to them next week. The claim form and class action notice is a sample of what they will receive."
"U.S. Bank will make the required modifications to our documentation and welcome letter outlined in the Class Action Settlement. U.S. Bank will continue to charge these fees which we feel are reasonable. We are not contemplating any other changes to our fee policies. Changes include:
A. Documentation changes:
1. Taxes and fees: updated to include verbiage stating "may make a profit"
2. Collateral Protection and Insurance: updated to include verbiage stating "may make a profit" and the method of calculation
B. Welcome letter changes: updated to include verbiage stating "may make a profit" and the method of calculation regarding the Property Damage Surcharge fee and Personal Property Tax filing fee, when applicable.
Please Note:
Brokers and Lessors under whose name we billed any of the fees at issue are released from any potential liability as to the Class.
Lessees will receive material from a third party administrator regarding this settlement (if you would like a copy, please request the information from your Manifest Funding Services' Sales Representative)."
See #1 at end of article
The agreement also covers a host of refunds to lessees regarding documentation, UCC fees, personal property tax overstatements or double-billing, and is too long to print here, but is available as an attachment at the end. (See #2 at end of article)
Leasing News was told there were several other companies who also settled, but none to date have confirmed or denied. The amount of the dollars involved has also not been confirmed or denied. There were six told to Leasing News, and another attorney mentioned two others.
Leasing News has been writing about the many class action lawsuits readers are not seeing in the other media. The companies don't send out press releases, and most of the information Leasing News receives are from the attorneys who file the action, contacting for general information, or Leasing News discovers from questions asked by the leasing companies being named who want to know what we have heard.
There have been several lawsuits regarding insurance. At one time, credit and disability was common to place with leases and loans. Today it is not seen very much, and when it is, there is full disclosure. The word being used most is "transparency." It seems to be in the vogue. The lease or finance should be "transparent" to the costs involved.
There are cases pending, including one with a CIT subsidiary, regarding substitute insurance, meaning when the lessee does not provide insurance at the beginning or during the lease, the leasing company has the right to do so, but must inform their customer they are earning a fee or commission for this service.
There is a major class action suit regarding Evergreen Leases being readied to be served, now illegal in two states (Rhode Island and Illinois) and pending in Wisconsin. The action does not involve lessees who elect to continue the rental payments or refuse to pay a residual, but when it is automatically done without the knowledge of the lessee. Not all lessees count their lease payments, and invoices sent out often do not show balances or payments made. Several leasing companies, such as Manifest in the past, split the extra payments with lessees and advertised such at leasing conferences. Many today are up-front with brokers about this procedure, as well as many captive vendors and lessors continue payments on leases, especially copier leases, which reportedly Manifest Business Service does and is noted in their SEC filing about "extra payments."
The Evergreen case in Wisconsin was reported incorrectly in other association media ( ELFA to their members and UAEL in the latest Newsline article) in that the bill called for a notification in the monthly billing statement, a telephone call or visit to the lessee, or certified letter.
Again, extended payments for "tax leases," or the lessee elects rather than paying the residual, or is charged when the residual is not paid, is not an "Evergreen lease." Worse, many of the automatic extended payments are charges to lessees with $1.00 option out that the lessee signed but can't find their agreement or have forgotten about.
Leasing News has been trying to warn the industry for quite some time that keeping advance rentals or deposits because the customer lied or you put time into the transaction was not legal without a bilateral-explicit signed agreement, that a leasing company must be licensed to do business in many states and must do business only with those who are licensed (yes, leasing is regulated, most ignore it) and that overcharging fees to earn extra profit such as on documentation, UCC, personal property tax, and other items are coming under scrutiny. The subprime mortgage dilemma has exposed their abuses, and while it has affected the leasing and finance industry, it is the internet that has created a playing field for the small attorney office and legal authorities to take on smaller dollar case issues.
As important, since the start of the NorVergence lease issue, and one major leasing company not settling early as their colleagues did ( readers know who I am talking about) the industry is seeing commercial law transactions now being classified as consumer law transaction, a major blow to enforcing legal commercial contracts. And once the cucumber has become a pickle, it can't change back. By putting our heads in the sand as to the awakening of lessees, we only have ourselves to blame for not policing the actions of a few.
#1 Copy of Nationwide Announcement Settlement
http://leasingnews.org/PDF/Class%20action_Nationwide.pdf
#2 Copy of Legal Settlement with fees/penalties
http://leasingnews.org/PDF/Nationwide_settlement.pdf
#3 Claim form
http://leasingnews.org/PDF/Class_action_ClaimForm.pdf
#4 Wisconsin Bill
http://www.leasingnews.org/archives/December%202007/12-19-07.htm#elfa
--------------------------------------------------------------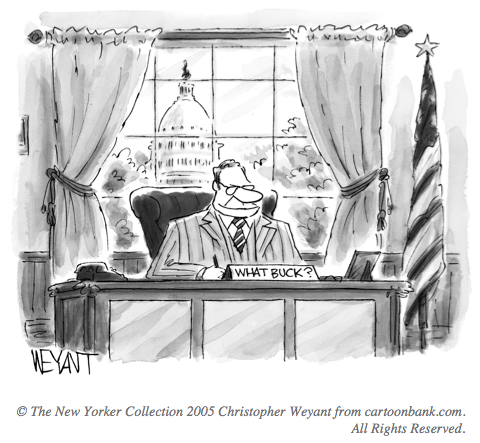 --------------------------------------------------------------

Best Funding Source 2008
by Christopher Menkin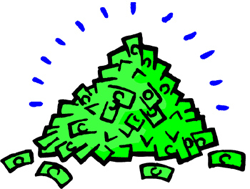 If you are a medium to top discounter, lessor, bank, or a leasing company who is looking for re-sale, warehouse, or best support, this is the funder conference for you: Chicago April 16-17
If you are a first timer, small to medium discounter or broker, the NAELB Conference in New Orleans is the place to go. If you do a good volume, you want to go to the Equipment Leasing and Finance Association Funding Exhibition, April 15-17, Chicago, Illinois.
You could spend a day in Chicago, then fly to New Orleans, if you have the budget and energy.
For several years the exhibitors have been giving feedback "off the record" as to the amount of business they pick up at the various conferences. Many of them admit they go primarily for a few good clients they already have, as they are expected to exhibit, attend, and often complain there are just too many conferences and regional activities they have to attend. Here you have two conferences unfortunately about the same date.
The one conference that both funders and those who attend have had nothing but good things to say for years to Leasing News has been the Funding meeting in Chicago given each year by the Equipment Leasing and Finance Association. You will see companies here who do not exhibit at the other association conferences.
For those new to the business, smaller companies, independent brokers, the NAELB Conference in New Orleans is a must. You don't have to think about this twice. Go to New Orleans.
If you are a funder and want the A credits, the volume companies, this is where you want to be---only once a year. You won't see these most of these funders already signed up at any of the other conferences. Sorry, no golf, just business
There are still Funding Source Exhibit spots left for the 20th Annual ELFA National Funding Exhibition, April 16 - 17 in Chicago.
For two decades the Funding Exhibition has been the most efficient, cost-effective way to meet and do business with the finest equipment leasing and finance companies in the industry. If you're looking for profitable investment opportunities, the Exhibition is a must.
For ELFA brochure, attending or exhibition:
http://www.elfaonline.org/pub/events/2008/NFE/#ex
ELFA National Funding Exhibition ---25 to date
April 16-17, 2008
Funding Source Exhibitors (as of March 3)
"We know from experience to expect many more, since ELFA has held this meeting annually for the last 20 years. As you know, several hundred members of the equipment finance sector attend this meeting."
Diane Helyne Zyats
Vice President / Communications
Equipment Leasing and Finance Association
Alliance Leasing, Inc.
All Points Capital
ALTEC Capital Services
Comerica Leasing Corporation
Fifth Third Leasing Company
First Eagle Bank
GE Commercial Finance
Huntington Equipment Finance
IBM Global Financing
IFC Credit Corporation
Key Equipment Finance
Kingsbridge Holdings, LLC
Lakeland Bank
National City Leasing Industry Finance
New World Equipment Funding, LLC
People's Capital & Leasing Corp.
Popular Equipment Finance
Prudential Capital Group
RBS Asset Finance
Regions Equipment Finance
Sovereign Bank
Sterling Bank Leasing
SunTrust Leasing Corporation
US Bank Business Equipment Financing
Wells Fargo Equipment Finance Inc.
For ELFA brochure, attending or exhibition:
http://www.elfaonline.org/pub/events/2008/NFE/#ex
NAELB, New Orleans—63 to date
While the NAELB New Orleans Conference has more exhibitors, and certainly will have a large turn-out many excellent workshops, speakers, as well as several days to meet old and make new friends) please note the difference. The Chicago conference also covers the small ticket marketplace, but also is aimed at lines of credit, larger ticket items, syndications, warehouse lines, and underwriting. A chance to meet face to face.
Note: The Early Bird discount date has be extended until next Friday, March 14th.
ABCO Leasing, Inc.
ACC Capital Corporation
Affiliated Investment Group, Inc.
Allegiant Partners Incorporated
American Lease Insurance
Amerisource Funding
Arvest Equipment Leasing & Finance
Axis Capital, Inc.
Balboa Capital
Bank of the West
Bankers Capital
Bankers Healthcare Group, Inc.
Baystone Financial Group
Bibby Financial Services, Inc.
Bryn Mawr Funding
BSB Leasing, Inc.
CFC Investment Company
Court Square Leasing Corporation
Credit.net
Dakota Financial, LLC
Diversified Lenders, Inc.
Enterprise Funding Group
Equipment Finance Partners
Equipment Lessors Protection Association
Evans National Leasing
Financial Pacific Leasing
First Federal Leasing
Government Leasing Company
GreatAmerica Leasing Corp.
Greystone Equipment Finance
instaCover
LEAF Financial Corporation
Litehaus Systems, Inc.
Marlin Leasing
Mesa Leasing, Inc.
MicroBilt Corporation
New World Equipment Funding, LLC
Numina Finance and Service Company, Ltd.
OFC Capital
OneWorld Leasing, Inc.
P & L Capital Corp., Inc.
Padco Financial Services, Inc.
Pawnee Leasing Corporation
Pentech Financial Services, Inc.
Pinnacle Business Finance
Pioneer Capital Corporation
PredictiFund
Preferred Business Solutions
Puget Sound Leasing
Quail Capital Corp.
Quiktrak, Inc.
Silver Hill Financial, LLC
Standard Professional Services, LLC
Summit Leasing, Inc.
SunBridge Capital, Inc.
TEAM Funding Solutions
Tetra Financial Group
TimePayment Corp.
Transportation Capital
Triad Leasing & Financial, Inc.
U.S. Bank Manifest Funding Services
Union Capital Partners
Vision Compliance
www.naelb.org for more information
--------------------------------------------------------------

Leasing Industry Help Wanted
Broker Relations Manager

Broker Relations Manager
Bothell , Washington
Build/manage broker base. Provide guidance to new brokers. Work with "full financial" credit packages, "story" & non-standard credits from $25,000 to $450,000.
e-mail jimb@abcoleasing.net or
fax resume: 425.806.1813 .
Our new business is sourced exclusively through brokers.
Controller

Controller
Los Angeles, CA
Require Great Plains & 5+ yrs of accounting exp. CPA & exp. in equip. leasing are desired but not required. Must have BA in accounting/finance field. Send resume to
recruiting@julesandassociates.
About the Company : Jules & Associates, Inc. is at forefront of the equipment finance industry. Founded in 1989, we have been ranked twice by Inc. Magazine as one of the fastest growing companies in the U.S.
Senior Credit Analyst


Senior Credit Analyst
Westport, CT.
Captive construction equipment finance background preferred;flexible adaptive team player w/8 years underwriting exper. For more info/to apply click here.
A Fortune 500 construction equipment manufacturing company.


--------------------------------------------------------------

Gerry Egan's Real Motor Home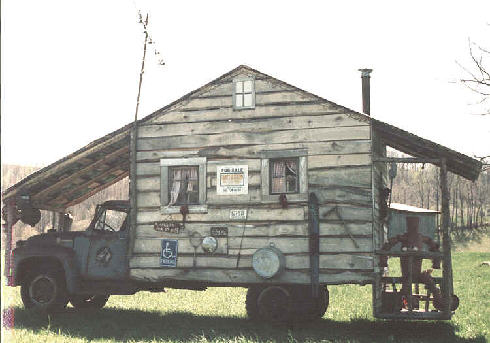 "I saw the article and pictures in Wednesday's Leasing News about my new motor home. I'm afraid there may have been some mix-up in the pictures and I wouldn't want people to get the wrong idea; some of my clients may think I'm charging too much!
"While Jamie and I certainly do enjoy traveling in ours, and although ours does have all the comforts of home, the one in the pictures you posted is just a bit fancier and more expensive than ours.
I've attached a better picture of our motor home here.
"Thanks,"
Gerry Egan
President
TecSource, Inc.
5621 Departure Drive, Suite 113
Raleigh, NC 27616
Phone: 919-790-1266
Fax: 919-790-2262
E-Mail: mailto:GerryEgan@ForEquipmentLeasing.com
Internet: www.ForEquipmentLeasing.com
Wednesday story on Gerry's new motor home:
http://www.leasingnews.org/#miss
--------------------------------------------------------------

Nassau Quarterly Report: Truck Trouble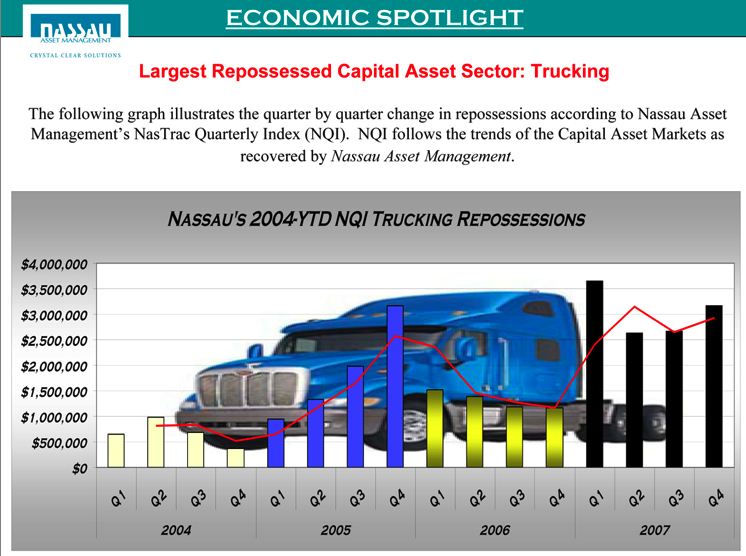 Preceding the quarterly Nassau Asset Management report, its president Edward Castagna made national newspapers with his comments to Associated Press:
"Reposessor Nassau Asset Management repossessed 110% more trucks in 2007 than it did in 2006, according to President Edward Castagna. And it's taking less time to pick up a truck, which he sees as a sign that there's less work to keep them on the road — and out of his reposessors' reach.
"'It used to take weeks, now it takes days or hours,' he said."
Nassau Asset Management tracks equipment trends as part of its business providing collections, repossessions and remarketing services to the nation's leasing and finance industry.
"We are seeing a very significant correction in the market," said Nassau President Edward Castagna. "Even in a category such as construction equipment, where the 12-month total showed a decline, repossessions were up significantly in the second half of 2007."
Nassau Asset Management is also seeing a growing international presence in the U.S. market, via the Internet. Castagna estimated that Nassau's web site receives 700,000 hits each month, many of them coming from international companies.
"These companies are coming forward to review the equipment online," Castagna said. "They then bid on it and come to the U.S. to inspect it and then purchase."
With the diminishing value of a dollar, often it is viewed by other countries as getting a 50% discount.
Some countries the dollar is a lower value and the discount in comparison is more than 50% and shipping is insignificant in comparison, they report. Good buys in the "states!"
Castagna sees the truck problems directly related to homebuilding, which affects a number of peripheral business sectors, most of which utilize trucks.
"From the forest to the saw mill to the construction site, along with the movement of people in and out of those homes and the delivery of appliances and furniture to the home, there are trucks involved in every step of the process," he says. "The rings continue to expand out of the housing epicenter."
Low interest rates in the past few years and significant sales of the remaining trucks with '06 engines as compared to the less proven '07 versions with tougher emission standards, led to an increase in late model trucks on the market, driving down prices in the used truck market.
As further proof of the decline in sales in new trucks, recent truck registration data from market research firm R.L. Polk & Co. showed registrations of new Class 8 trucks fell 37.8% from 2006. 169,900 new Class 8 trucks were registered in 2007 - compared with a record 272,700 units.
The Polk report also indicated the total number of Class 8 vehicles in operation rose just 2.2% over the same period last year. For the year, truck manufacturers sold 150,965 Class 8 vehicles in 2007, the lowest number since 2003 and a 46.8% fall from 2006.
Medical Repos Increased - Repossessions and liquidations rose in 2007 for medical devices by 121 percent. Nassau believes this spike reflects activity with smaller type devices and other medical devices that are subject to changes in insurance coverage. When health insurance providers stop funding certain tests, the use of certain machines becomes obsolete. This stops the revenue stream for these machines and pushes them into repossession.
In addition, there has been a dramatic increase in lending volume of medical equipment in the past few years. This subsequent increase in repossessions and liquidations may simply be a result of this increase of volume in the marketplace.
Construction Repos Declined - Repossessions and liquidations of construction equipment dropped by 32 percent in 2007, as compared to 2006. Castagna believed this sector avoided the problems of other categories for much of the year because of the continued strength of the commercial construction industry. Market analysts reported that non-residential construction activity has actually grown in the past 12 months, going into the last half of 2007. However, during the last half of the year, Nassau's experienced a slight increase in the rate of repossessions of construction equipment, indicating this sector may be feeling pressure and warrants further scrutiny.
To view a complete video report on Nassau Asset Management's NQI for 2007, please go to NQI Video: Q4/2007 Year-End Review (11.6mb, WMV format—2:20s length)
http://www.nasset.com/news/Nassau_Asset_Management.wmv
--------------------------------------------------------------

Beige Book Report Discouraging


"Two-thirds of the Districts cited softening or weakening in the pace of business activity, while the others referred to subdued, slow, or modest growth. Retail activity in most Districts was reported to be weak or softening... several Districts, including New York, Philadelphia, St. Louis, and Atlanta, reported increased prevalence of layoffs, reductions in work hours, or hiring freezes."
Summary:
www.federalreserve.gov/fomc/beigebook/2008/20080305/default.htm
Full Report at the end, here a reports from the 12 Districts:
Boston:
www.federalreserve.gov/fomc/beigebook/2008/20080305/1.htm
New York;
http://www.federalreserve.gov/fomc/beigebook/2008/20080305/2.htm
Philadelphia
www.federalreserve.gov/fomc/beigebook/2008/20080305/3.htm
Cleveland
www.federalreserve.gov/fomc/beigebook/2008/20080305/4.htm
Richmond
www.federalreserve.gov/fomc/beigebook/2008/20080305/5.htm
Atlanta
www.federalreserve.gov/fomc/beigebook/2008/20080305/6.htm
Chicago
www.federalreserve.gov/fomc/beigebook/2008/20080305/7.htm
St. Louis
www.federalreserve.gov/fomc/beigebook/2008/20080305/8.htm
Minneapolis
www.federalreserve.gov/fomc/beigebook/2008/20080305/9.htm
Kansas City
www.federalreserve.gov/fomc/beigebook/2008/20080305/10.htm
Dallas
www.federalreserve.gov/fomc/beigebook/2008/20080305/11.htm
San Francisco
www.federalreserve.gov/fomc/beigebook/2008/20080305/12.htm
Full Report:
www.federalreserve.gov/fomc/beigebook/2008/20080305/FullReport.htm
---------------------------------------------------------------
### Press Release ###########################

PayNet Launches the Highly-Predictive PayNet MasterScore
Skokie, Ill.—PayNet announces the release of the PayNet MasterScore, the most predictive pooled-data credit score ever developed for commercial equipment financing, and applicable for the full range of borrower industries and equipment types being financed today.
The score was developed by a group of credit professionals and mathematicians using PayNet's data pool of over 12 million equipment loans and leases totaling over $550 Billion, combining traditional credit expertise with cutting-edge modeling of the complex drivers that most impact the payback performance of term loans and leases. And unlike many other models, the MasterScore was built using data from both recent years and from the last recession, to help it better predict outcomes in both good times and bad.
According to the company, the development process for the PayNet MasterScore considered several hundred potential variables, ultimately resulting in the selection of 57 unique variables meeting the dual criterion of producing superior predictive power, while paralleling the practices and principles of traditional credit underwriting. The model includes specialized scorecards for major industry segments, such as Transportation, Construction, Agriculture, Healthcare and Retailer segments.
While most other commercial credit scores focus almost exclusive on an applicant's delinquency history, the MasterScore was developed using such an extraordinarily large sample of prior transactions that it was possible to take advantage of a wide variety of attributes and subtle clues that are in fact very predictive of future performance. Besides delinquency and changes in patterns of delinquency, the model considers the applicant's time in business, life cycle stage, business size, industry, borrowing experience, financing practices, paydown, historic regional risk, and local economic conditions, among many other factors.
"The PayNet MasterScore is actually a new and substantially improved version of the PayNet Rating, originally rolled-out in 2002. And because the PayNet MasterScore, like the original PayNet Rating, was built using comparable term-debt data, it is not surprising that this model's performance statistics far outperform those of scores based primarily on trade credit data" says Bill Phelan, president and co-founder of PayNet.
http://www.sanfranciscovalleyleasing.com/
### Press Release ###########################
--------------------------------------------------------------

News Briefs----
Homeowner equity falls below 50% for first time since 1945
http://www.chicagotribune.com/business/chi-home-equity-low-federal-reserve-
mar6,0,336194.story
Dollar hits another low amid unchanged rates in Europe
http://www.usatoday.com/money/markets/2008-03-06-dollar-thu_N.htm
Highest unemployed two years, new jobless rate drops however
http://www.usatoday.com/money/economy/2008-03-06-jobless_N.htm
---------------------------------------------------------------


You May have Missed---
Those Lipitor Ads: Dr. Jarvik Makes His Case
http://www.nytimes.com/2008/03/06/opinion/l06jarvik.html?_r=1&oref=slogin
----------------------------------------------------------------


"Gimme that Wine"
Amazon moves into wine with wine.com
http://www.decanter.com/news/196238.html
Oregon farmers turn to automation, computer technology
http://blog.oregonlive.com/breakingnews/2008/03/oregon_farmers_turn_to_automat.html
Famous Names Boosting Wine and Spirits Sales at the Grocery Store
http://www.nielsen.com/media/2008/pr_080305.html
Wine Prices by vintage
http://www.winezap.com
http://www.wine-searcher.com/
US/International Wine Events
http://www.localwineevents.com/
Winery Atlas
http://www.carterhouse.com/atlas
Leasing News Wine & Spirits Page
http://two.leasingnews.org/Recommendations/wnensprts.htm
The London International Vintners Exchange (Liv-ex) is an electronic exchange for fine wine.
http://www.liv-ex.com/
----------------------------------------------------------------

Calendar Events This Day
Cereal Day
Employee Appreciation Day
Middle Name Pride Day
Today's name celebration requires honesty and boldness. Tell three people who don't already know it what your middle name is.
National Crown Roast of Pork Day
http://holidayinsights.com/moreholidays/March/roastporkday.htm
Salesperson's Day
World Day of Prayer
An ecumenical event that reinforces bonds among people of the world as they join in a global circle of prayer.
www.churchwomen.org
Saint feast Days
http://www.catholic.org/saints/f_day/mar.php
----------------------------------------------------------------

There are four main Blood types: A, B, AB and O and each Blood type is either Rh positive or negative. Blood types in the US - Type O positive 38.4%, O negative 7.7%, A positive 32.3%, A negative 6.5%, B positive 9.4%, B negative 1.7%, AB positive 3.2%, AB negative 0.7%
----------------------------------------------------------------

Today's Top Event in History
1985 - The song "We Are the World", from the album of the same name, was played on the radio for the first time. Forty-five of pop music's top stars had gathered together to combine their talents to record the music of Lionel Richie and Michael Jackson. Richie and Jackson sang, too, while Quincy Jones did the producing of the USA for Africa record. The proceeds of the multimillion-selling recording went to aid African famine victims. The project, coordinated by Ken Kragen, was deemed a huge success.
[headlines]
----------------------------------------------------------------

This Day in American History
1539-Former black slave Estevanico (Esteban) de Dorantes, native of Azamoor Morocco, sets out to explore what is now the southwestern part of the US.
http://www.tsha.utexas.edu/handbook/online/articles/view/EE/fes8.html
1644-First Whaling Industry: Southampton, NY, a town on the coast of Long Island where whales were often cast ashore, established the first whaling industry. The town was divided into four wards of 11 persons each to attend to the whales. Two persons from each ward were employed to cut them up so that each inhabitant obtained an equal portion. The popularity grew to the point a whaling franchise was granted to a Mr. Whiting in 1647 for the waters of Long Island Sound between Stonington, CT, and Montauk Point, NY.
1638 -Controversial colonial churchwoman Anne Hutchinson, 47, and nineteen other exiles from the Massachusetts Bay Colony settled in Rhode Island, at the site of modern Portsmouth.
http://www.annehutchinson.com/anne_hutchinson_biography_001.htm
1729- Henrietta Johnston, self-taught portrait artist born in Ireland about 1655 and immigrated to the United States with her husband in 1707 and settled in what is now Charleston, SC. Her husband immediately became ill and while she nursed him and took care of her children and home in abject poverty, to raise money she began to draw portraits of local dignitaries in the new form of pastels.
Almost 50 portraits are credited to her and she is considered to be the first American woman artist. Her technique was straight forward with little adornment. Almost nothing is known about her life. She may have moved to New York to work after her husband's death.
http://askart.com/Biography.asp
http://www.amazon.com/exec/obidos/ASIN/0945578032/avsearch-df1-2-20/
102-1682336-8966565
1776 - Lead by General William Howe, the British evacuate Boston. Howe's army and a group of 1000 loyalists will set sail for Halifax, Nova Scotia on 17 March.
1778 -Captain James Cook first sights Oregon coast, at Yaquina Bay
http://www.newportnet.com/coasthistory/RoadTrip.htm
1782 -Ohio Territory militiamen began a two-day massacre of the Moravian Indian town of Gnadenhutten (modern New Philadelphia, Ohio). In all, 96 Christian Indians of the Delaware tribe were slaughtered, in retaliation for Indian raids made elsewhere in the Ohio Territory.
http://www.usgennet.org/usa/topic/colonial/pioneer/chap16.html
1802 -In Washington, D.C., the first Baptist church was organized with six charter members. Their first pastor Obadiah Brown was hired five years later, and Brown remained in that pulpit while involving himself in every important local Baptist program for the next 43 years!
1848 - In Hawaii, Great Mahele (division of lands) signed
http://hotspotshawaii.com/nalostuff/May96/GreatMahele.html
http://www.amazon.com/exec/obidos/ASIN/0870221256/avsearch-df1-2-20/
102-1682336-8966565
1849- Luther Burbank, American naturalist and author, creator and developer of many new varieties of flowers, fruits, vegetables and trees. born at Lancaster, MA.. Luther Burbank's birthday is observed in California as Bird and Arbor Day. He died at Santa Rosa, CA, Apr 11, 1926.
1850-Slave States Balance: the acquisition of territory following U.S. victory in the Mexican War revived concerns about the balance of free and slave states in the Union. This day Senator Daniel Webster delivered his famous "Seventh of March" speech urging sectional compromise on the issue of slavery. Advising abolition-minded Northerners to forgo antislavery measures, he simultaneously cautioned Southerners that disunion inevitably would lead to war.
http://www.dartmouth.edu/~dwebster/speeches/seventh-march.html
Following the lead of senators Henry Clay and Stephen Douglass, Webster endorsed Clay's plan to assure sectional equilibrium in Congress. Passed after eight months of congressional wrangling, the legislation admitted California to the Union as a free state, permitted the question of slavery in Utah and New Mexico territories to be decided by popular sovereignty, settled Texas border disputes, and abolished slave trading in the District of Columbia while strengthening the Fugitive Slave Act. This speech by Daniel Webster supported Senator Henry Clay's compromise, who had run for president, lost, and come back to the U.S. Senate as a most influential politician. It brought together the U.S. Senate for a brief period of time. He espoused the provisions of the Fugitive Slave Bill. It is said, John Greenleaf Whittier had Webster in mind when he wrote in his poem: "Ichabod:"
" All else is gone from those great eyes
The soul has fled;
When faith is lost, when honor dies
The man is dead."
http://www.lib.umd.edu/RARE/RareCollection/danielwebster.html
1854- Charles Miller of St. Louis, MO, patented a sewing machine to stitch buttonholes,
revolutionizing the garment industry.
1860 -- 6,000 shoemakers joined by 20,000 other New England workers in Lynn, Massachusetts strike. During the great New England shoemakers strike, about 1,000 women workers in Lynn, Massachusetts, strike for a union & against wage cuts. Marching through a blizzard, the women carry signs proclaiming: "American Ladies Will Not Be Slaves." In 10 days, a procession of 10,000 workers marches through Lynn in the largest labor protest prior to the Civil War. Within a month, shoe manufacturers offer higher wages to bring strikers back to the factories. But the companies refuse to recognize a union.
1862 -- Battle of Elkhorn Tavern, Day 2, Generals McCulloch, McIntosh and Slack killed. Union Army gains control of Missouri.
http://civilwartraveler.bravepages.com/PR/PRPAN12.htm
http://www.cwbattlefields.com/virtualtours/pearidgebattle.html
http://www.civilwarhome.com/pearidge.htm
http://stellar-one.com/civil_war/battle_of_pea_ridge_23.htm
http://www.lsjunction.com/people/mccullob.htm
http://www.2020site.org/texas/lesson58.html
http://stellar-one.com/civil_war/battle_of_pea_ridge_39.htm
1865- Michael A. Healy of Georgia, became the first Coast Guard serviceman who was African-American. He was appointed this day to the Revenue Cutter Service, the predecessor of the Coast Guard. He became captain on March 3, 1883, and was commanding officer of the Bear from 1886 to 1895.
1865-Battles round Kinston NC
http://www.aboutthecivilwar.com/
1869- the Suez Canal opened. This waterway across Egypt connecting the Mediterranean and Red seas was built by the French. In 1956, Egyptian president Nasser nationalized the canal, prompting an invasion by the British, French and Israelis. The Six-Day War in 1967 shut down the canal for eight years.
1872 -8º F in Boston MA
1888 Alcide "Slow Drag" Pavageau Birthday
1893-(Alice) Lorena Hickok, highest paid woman newspaper reporter of her day with Associated Press, political reporter, and later became investigator for Harry Hopkins in the Department of Commerce after her involvement with Eleanor Roosevelt made her step out of journalism. She actually lived in the White House with Mrs. Roosevelt and slept in ER's apartment.
http://www.gwu.edu/~erpapers/teachinger/glossary/hickok-lorena.cfm
http://www.gaussian.com/ptownfringe/lorena.htm
http://www.amazon.com/exec/obidos/ASIN/0306809982/ref=ase_atriumA/
102-1682336-8966565
1908 -Cincinnati Mayor Mark Breith stood before city council & announced that, "women are not physically fit to operate automobiles"
1911- Willis S. Famsworth of Petaluma, CA received two patents, one for a coin-operated locker, and one with William H. Reed on a coin receptacle "magazine-hinge and conveyor" The insertion of a coin in a slot released a key to open and close the locker. The "magazine hinge" enable newspapers
and magazines to be purchased from a locked stand.
1917- drummer Lee Young born, New Orleans, LA.
1917 -- The first jazz record goes on sale. The Victor Company released a tune called "The Dixieland Jazz Band One-Step" recorded by Nick La Rocca & his Original Dixieland Jazz Band who had traveled all the way
from New Orleans to New York to make the record.
1935-Monopoly was invented this day by Charles Darrow. While unemployed during the Depression, Charles Darrow devised this game and he sold it himself for two years. Monopoly was mass marketed by Parker Brothers beginning in 1935. Darrow died a millionaire in 1967.
1938-Janet Guthrie, an aerospace engineer, was one of the first four women to qualify for the scientist- astronaut program of NASA, the first woman to race in the Indianapolis 500 races, finishing ninth in 1978. (She was forced to withdraw two other times because of engine trouble. Her other entries in 1977 and 1979 were aborted because of engine trouble. No women were even allowed in the repair and refueling pits at the Indy 500 until a lawsuit in 1972.)
http://www.janetguthrie.com/
http://www.britannica.com/women/articles/Guthrie_Janet.html
1945-Saving Private Ryan: a small advance force of the US first Army captured the Ludendorff railway bridge across the Rhine River at Remagen -the only bridge across the Rhine that had not been blown up by the German defenders-thus acquiring the first bridgehead onto the east bank, a turning point in World War II. Not since the days of Napoleon had an invading army crossed the Rhine. There have been several movies about this event, including, "Saving Private Ryan."
1945---LEIMS, JOHN HAROLD Medal of Honor
Rank and organization: Second Lieutenant, U.S. marine Corps Reserve, Company B, 1st Battalion, 9th Marines, 3d Marine Division. Place and date: Iwo Jima, Volcano Islands, 7 march 1945. Entered service at: Chicago, Ill. Born: 8 June 1921, Chicago, Ill. Citation: For conspicuous gallantry and intrepidity at the risk of his life above and beyond the call of duty as commanding officer of Company B, 1st Battalion, 9th Marines, 3d Marine Division, in action against enemy Japanese forces on Iwo Jima in the Volcano Islands, 7 march 1945. Launching a surprise attack against the rock-imbedded fortification of a dominating Japanese hill position, 2d Lt. Leims spurred his company forward with indomitable determination and, skillfully directing his assault platoons against the cave-emplaced enemy troops and heavily fortified pillboxes, succeeded in capturing the objective in later afternoon. When it became apparent that his assault platoons were cut off in this newly won position, approximately 400 yards forward of adjacent units and lacked all communication with the command post, he personally advanced and laid telephone lines across the isolating expanse of open fire-swept terrain. Ordered to withdraw his command after he had joined his forward platoons, he immediately complied, adroitly effecting the withdrawal of his troops without incident. Upon arriving at the rear, he was informed that several casualties had been left at the abandoned ridge position beyond the frontlines. Although suffering acutely from the strain and exhausting of battle, he instantly went forward despite darkness and the slashing fury of hostile machinegun fire, located and carried to safety 1 seriously wounded marine and then, running the gauntlet of enemy fire for the third time that night, again made his tortuous way into the bullet-riddled deathtrap and rescued another of his wounded men. A dauntless leader, concerned at all time for the welfare of his men, 2d Lt. Leims soundly maintained the coordinated strength of his battle-wearied company under extremely difficult conditions and, by his bold tactics, sustained aggressiveness, and heroic disregard for all personal danger, contributed essentially to the success of his division's operations against this vital Japanese base. His valiant conduct in the face of fanatic opposition sustains and enhances the highest traditions of the U.S. Naval Service.
1946—Top Hits
Let It Snow - Vaughn Monroe
Symphony - The Freddy Martin Orchestra (vocal: Clyde Rogers)
Oh, What It Seemed to Be - The Frankie Carle Orchestra (vocal: Marjorie Hughes)
Guitar Polka - Al Dexter
1946 - Grauman's Chinese Theatre on Hollywood Boulevard was the site of the 18th Annual Academy Awards celebration. Bob Hope hosted the first half of the show with James Stewart stepping up to the mike for the second half. The Best Motion Picture of 1945 was Paramount's "The Lost Weekend", produced by Charles Brackett. It also won for Best Director (Billy Wilder), Best Actor (Ray Milland), and Best Writing of a Screenplay (Charles Brackett and Billy Wilder). The Oscar for Best Actor in a Supporting Role went to James Dunn for "A Tree Grows in Brooklyn". Best Actress was Joan Crawford for her performance in "Mildred Pierce". The votes for The Best Actress in a Supporting Role prize went to Anne Revere for "National Velvet". The Best Music/Scoring of a Musical Picture Oscar went to George Stoll for "Anchors Aweigh" and Best Music/Song was "State Fair" by Oscar Hammerstein II and Richard Rodgers.
http://www.infoplease.com/ipa/A0148306.html
1951--*BRITTIN, NELSON V. Medal of Honor
Rank and organization: Sergeant First Class, U.S. Army, Company I, 19th Infantry Regiment. Place and date: Vicinity of Yonggong-ni, Korea, 7 March 1951. Entered service at: Audubon, N.J. Birth: Audubon, N.J. G.O. No.: 12, 1 February 1952. Citation: Sfc. Brittin, a member of Company I, distinguished himself by conspicuous gallantry and intrepidity above and beyond the call of duty in action. Volunteering to lead his squad up a hill, with meager cover against murderous fire from the enemy, he ordered his squad to give him support and, in the face of withering fire and bursting shells, he tossed a grenade at the nearest enemy position. On returning to his squad, he was knocked down and wounded by an enemy grenade. Refusing medical attention, he replenished his supply of grenades and returned, hurling grenades into hostile positions and shooting the enemy as they fled. When his weapon jammed, he leaped without hesitation into a foxhole and killed the occupants with his bayonet and the butt of his rifle. He continued to wipe out foxholes and, noting that his squad had been pinned down, he rushed to the rear of a machine gun position, threw a grenade into the nest, and ran around to its front, where he killed all 3 occupants with his rifle. Less than 100 yards up the hill, his squad again came under vicious fire from another camouflaged, sandbagged, machine gun nest well-flanked by supporting riflemen. Sfc. Brittin again charged this new position in an aggressive endeavor to silence this remaining obstacle and ran direct into a burst of automatic fire which killed him instantly. In his sustained and driving action, he had killed 20 enemy soldiers and destroyed 4 automatic weapons. The conspicuous courage, consummate valor, and noble self-sacrifice displayed by Sfc. Brittin enabled his inspired company to attain its objective and reflect the highest glory on himself and the heroic traditions of the military service.
1954—Top Hits
Make Love to Me! - Jo Stafford
Young-At-Heart - Frank Sinatra
Cross Over the Bridge - Patti Page
Slowly - Webb Pierce
1955 - "Peter Pan", with Mary Martin and Cyril Richard, was presented as a television special for the first time. The complete Broadway cast production was also broadcast in color on WRCA, Channel 4, New York City on "Producer's Showcase." It could also be seen in black and white on the NBC network.
1956 - Lonnie Donegan's hit song, "Rock Island Line", was doing well on the pop music charts from across the big pond. The popular music from Great Britain's 'King of Skiffle' ushered in the new music craze called 'skiffle'. Donegan was born in Glasgow, Scotland and was a member of Chris Barber's Jazz Band. He had one other major hit on the U.S. pop charts even bigger than "Rock Island Line". In 1961, Donegan's "Does Your Chewing Gum Lose It's Flavor (On the Bedpost Over Night)" made it to the top five in America. The song was a top-10 hit in 1924 by Ernest Hare and Billy Jones. However, instead of "Chewing Gum" in the original title, it was "Spearmint". Donegan recorded his version of the song in 1959, two years before it became a hit. Incidentally, John Lennon and George Harrison of The Beatles both started their careers in skiffle bands.
1956---Birthday of American composer Daniel Dorff, New Rochelle, NY.
1962—Top Hits
Duke of Earl - Gene Chandler
Hey! Baby - Bruce Channel
Break It to Me Gently - Brenda Lee
Walk on By - Leroy Van Dyke
1965-Selma, Alabama March: 525 people began a fifty-four mile march from Selma, Alabama to the state capitol in Montgomery They were demonstrating for African American voting rights and to commemorate the death of Jimmie Lee Jackson, shot three weeks earlier by an state trooper while trying to protect his mother at a civil rights demonstration. On the outskirts of Selma, after they crossed the Edmund Pettus Bridge, the marchers, in plain sight of photographers and journalists, were brutally assaulted by heavily armed state troopers and deputies. Here is their story with photographs: http://memory.loc.gov/ammem/today/mar07.html
1965 -- First US "combat" troops sent to Vietnam. (As opposed to "advisers" & troops who are in a defensive roll.)
The Johnson administration tries to hide this policy change & denies rumors, but a State Department spokesman "mistakenly" tells the press the truth.
1983- Willie Nelson received a lifetime achievement award at the Songwriters' Hall of Fame dinner in New York.
1970—Top Hits
Bridge Over Troubled Water - Simon & Garfunkel
Travelin' Band/Who'll Stop the Rain - Creedence Clearwater Revival
Rainy Night in Georgia - Brook Benton
It's Just a Matter of Time - Sonny James
1978—Top Hits
(Love Is) Thicker Than Water - Andy Gibb
Sometimes When We Touch - Dan Hill
Emotion - Samantha Sang
Mamas Don't Let Your Babies Grow Up to Be Cowboys - Waylon & Willie.
1985 - The song "We Are the World", from the album of the same name, was played on the radio for the first time. Forty-five of pop music's top stars had gathered together to combine their talents to record the music of Lionel Richie and Michael Jackson. Richie and Jackson sang, too, while Quincy Jones did the producing of the USA for Africa record. The proceeds of the multimillion-selling recording went to aid African famine victims. The project, coordinated by Ken Kragen, was deemed a huge success.
1986—Top Hits
Kyrie - Mr. Mister
Sara - Starship
Living in America - James Brown
You Can Dream of Me - Steve Wariner
1987 - World Boxing Council (WBC) heavyweight champ, 'Iron' Mike Tyson, became the youngest heavyweight titlist ever as he beat James Smith in a decision during a 12-round bout in Las Vegas.
--------------------------------------------------------------

Winter Poem
Canadian Winter
by Jelaluddin Rumi
Sometimes it feels like
it is always winter here
In our "snowy north"
as others call it
while they ask us, with sly smiles,
if we live in igloos, and use dogsleds
to get around.
I could move, I suppose.
Someplace warm, where
I could grow
Morning Glories instead of Marigolds
And not have to read about hockey
eight months of the year.
But here, there is a breathless anticipation
of the seasons change.
We are all watchful eyes
for the first buds on trees,
And the last of the ice
flowing away down the river.
So I think I will stay
In my "snowy north".
Where the hoarfrost on the trees stands out
so clear against the cold air
it makes your heart hurt just to look at them
And the borealis dance over the fields in May
Calling me to remember
the joyous flow of life.
--------------------------------------------------------------

SuDoku
The object is to insert the numbers in the boxes to satisfy only one condition: each row, column and 3x3 box must contain the digits 1 through 9 exactly once. What could be simpler?
http://leasingnews.org/Soduku/soduko-main.htm
--------------------------------------------------------------

Daily Puzzle
How to play:
http://www.setgame.com/set/puzzle_frame.htm
Refresh for current date:
http://www.setgame.com/set/puzzle_frame.htm
--------------------------------------------------------------


http://www.gasbuddy.com/
http://www.gasbuddy.com/GB_Map_Gas_Prices.aspx
http://www.gasbuddy.com/GB_Mobile_Instructions.aspx
--------------------------------------------------------------

Provence, France-Vacation
http://le-monastier.site.voila.fr/
--------------------------------------------------------------

News on Line---Internet Newspapers
Santa Rosa, California
--------------------------------