Friday, November 16, 2007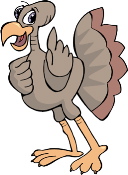 E-Mail Malfunction:
"I am sorry to report we had an e-mail malfunction. A new feature
was added to the program, that allows those who have accidently
been deleted, now can add themselves again.
"In trying to correct some from readers who wanted to be added,
the list may have been confuted. This means if you are from
another list, and on this one, all you need to do is unsubscribe
from this "main list."
"Those leaving early for Thanksgiving, enjoy the season."
Kit Menkin, editor
Headlines---
Archives—November 19, 2001
Passing of Jeff Wong, Esq.
Classified Ads---Legal/Leasing Attorneys
What's doing at Pawnee Leasing?
1-2-3- 4: Sterling $35 Million more
Where is the leasing sales market headed?
by Christopher Menkin
Premier Funding Group-Broker/Lessor list
Classified Ads---Help Wanted
"economy strong enough to absorb the recession"
California Foreclosures increase 221%
FinanceEdge Provides Front-End/Chase Industries
Marlin Accelerates Growth with New Talent
market 4 big rig trucks like the housing market?
Pitney Bowes to cut 1,500 jobs
Tyco's Dynamic Duo Staying Behind Bars
News Briefs---
You May have Missed---
California Nuts Brief---
Sports Briefs---
"Gimme that Wine"
Calendar Events
Snapple Real Facts
Today's Top Event in History
This Day in American History
Football Poem
SuDoku
Daily Puzzle
News on Line---Internet Newspapers
Long Island, New York
######## surrounding the article denotes it is a "press release"
-----------------------------------------------------------------

Archives—November 19, 2001
Passing of Jeff Wong, Esq.
One of the great leasing attorneys, bon vivant, entertainer, a good friend to many, still missed, his passage to another world is announced:
http://leasingnews.org/PDF/Jeffrey_Wong_Memorial.pdf
Jeff's Restaurant Guide—still valid
http://www.leasingnews.org/Pages/Guide_SF.htm
(Ironically, also on this day Leasing News publishes
CapitalWerks "unsatisfactory D&B rating.")
http://two.leasingnews.org/archives/November%202001/11-19-01.htm
--------------------------------------------------------------

Classified Ads---Legal/Leasing Attorneys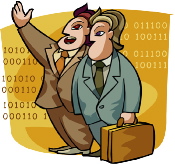 San Diego, CA
Experienced in-house corporate, equipment leasing and financial services attorney seeks position as managing or transactional counsel. Willing to relocate. Cell Phone: 760-533-4058;
Email: sandidq@msn.com
Birmingham, Alabama
The lawyers of Marks & Weinberg, P.C. have over 30 years experience in dealing with virtually every type of equipment financing and are recognized throughout the industry for prompt, practical solutions and exemplary service. They offer cost-conscious, effective lease enforcement and good counsel.
Email: Barry@leaselawyer.com
Website: www.leaselawyers.com
California, National: city: Riverside
Ellen Stern - get results, reasonable pricing; numerous industry contacts, nearly 30 yrs exp.in SoCal, 20 yrs equip.: CFL license specialist, documentation, work-outs, litigated collections, recoveries; deal-maker.
Email: leaselaw@msn.com | UAEL
Connecticut, Southern New England: EVANS, FELDMAN & BOYER, LLC Collections, litigation, documentation, portfolio sales and financing, bankruptcy. We represent many of the national and local leasing companies doing business in this state. Past chairman EAEL legal committee. Competitive rates.
email: rcfeldman@snet.net EAEL
Law Firm - Service, Dallas, TX. ELA
Mayer regularly practices in leasing, secured financing, project development and finance and corporate finance.
email: dmayer@pattonboggs.com
Website: www.pattonboggs.com
Los Angeles, Statewide: CA. "ELA" Aggressive creditors rights law firm specializing in equipment leasing handling collection matters on a contingency, fixed fee or hourly basis. email:RGarwacki@prodigy.net
Los Angeles -statewide: CA "ELA "
Practice limited to collections, bankruptcy and problem accounts resolution. Decades of experience. 10-lawyer firm dedicated to serving you. Call Ronald Cohn, Esq. (818)591-2121 or email. Email: rrcohn@aol.com

Long Beach, CA
Wagner & Zielinski, successfully representing lessees/ lessors. Not a member of any leasing organization, therefore not beholden to special interests. Richard Wagner
(562) 216-2952 www.wzlawyers.com


Long Beach CA.
Paul Bent, helping settle deals that have gone bad. Attorney for 20+ years with GoodSmith & Co., now providing mediation and dispute resolution for lessees and lessors.
www.paulbent.com

National: Coston & Rademacher: Business attorneys serving the lease-finance industry since 1980. Transactional, documentation, corporate/finance, workouts, litigation, bankruptcy, portfolio management. Chicago-based national practice. Jim Coston, CLP (Members: UAEL, ELA, MAEL).
email: Jcoston@costonlaw.com
Website:www.costonlaw.com

Kenneth C. Greene,
Northern California
Twenty years experience, reasonable fee, well-known in the industry, experience both sides, call for a free consultation. 415.806.2254, kenlaw100@aol.com

St. Louis County, MO. - statewide:
Defend clients sued by Popular Leasing USA and other assignees of Norvergence rental agreements. Also register and collect foreign judgments. Ronald J. Eisenberg, Esq.
Email: reisenberg@sl-lawyers.com
Schultz & Little L.L.P. www.sl-lawyers.com

Westport, CT: We represent finance companies, banks, lessors, etc., in replevins/seizures, collections and bankruptcy matters in Connecticut and New York. Flat fee, contingency and hourly rates.
Email: rchinitz@replevinlawyer.com
To place a free "job wanted" ad here, please go to:
http://www.leasingnews.org/Classified/Jwanted/Jwanted-post.htm
For a full listing of all "job wanted" ads, please go to:
http://www.leasingnews.org/Classified/Jwanted/Jwanted.htm
--------------------------------------------------------------

What's doing at Pawnee Leasing?
While the press release came from Barry Shafran, Chesswood Income Fund, in Canada, he was in a morning meeting with management of Pawnee Leasing in Fort Collins, Colorado. Chesswood is the parent of Pawnee. Leasing News was told that Shafran had left right before the full company staff meeting, and was on his way back to Canada.
It appears the entire company was in an hour and a half meeting afterward the meeting with Shafran. President Gary Souverein was not available, Leasing News being told he was still on a long telephone conference call.

Gary H. Souverein, President & COO
Shafran announced earlier in the morning that Chesswood Income Fund "recorded a non-cash goodwill impairment in this quarter of $10.5 million, resulting in a Net Loss."
"We continue to remain disciplined in the face of loose credit standards and pricing that does not reflect, in our opinion, the risk profile of the market," said Barry Shafran, CEO of the Fund. "This discipline means that we will not likely generate the growth we would like in the near term, while this cycle runs its course. As we have discussed in prior quarters, chasing volume in this environment is extremely risky."
"Notwithstanding the market environment, we are always working toward broadening our broker base and the products we can offer as well as improving our collections and recovery processes, while we watch for new opportunities that we believe this business cycle will generate, as a correction unfolds," added Shafran.
In the original prospectus when Chesswood Income Fund formed, they told prospective stock purchasers "Pawnee Leasing, the largest of Chesswood's companies, is an acknowledged leader in small-ticket equipment leasing, specializing in providing business equipment leases up to $30,000 for start-up and less traditional credit profiles. Founded in 1982, Pawnee originates all of its leases through a ("network of 550") independent network of lease brokers and conducts business in all of the lower 48 states of the U.S.
The company is best known for "C" and "D" leases, which are "start-ups," "challenged credit," "collateral problem deals" where leases are structured with advance payments, terms, and other conditions. They have a strong and loyal following in the leasing broker marketplace.
In a recent telephone conversation with Gary Souverein where the company's stock had gone to a low of $4.50, he said he did not understand why the stock would get so low. He thought it was fear in the marketplace from subprime mortgage loans. The facts are, he told Leasing News, Pawnee is profitable, knows the marketplace, and the coming tightening of credit will bring more business to them as their typical customers will have more trouble in getting approvals. They can only do better in the next 12 months.
The local board of directors appears to be active, including co-founder Rob Day, who even reads Leasing News from time-to-time.
In his press release, Shafran alluded to profit of Pawnee:
"Net income before non-controlling interest for the three and nine months ended September 30, 2007, prior to the impairment charge, was $2.6 million and $9.2 million, respectively."
What the next paragraph states brought up questions to ask Gary Souverein:
"We continue to remain disciplined in the face of loose credit standards and pricing that does not reflect, in our opinion, the risk profile of the market," said Barry Shafran, CEO of the Fund. "This discipline means that we will not likely generate the growth we would like in the near term, while this cycle runs its course. As we have discussed in prior quarters, chasing volume in this environment is extremely risky."
"Notwithstanding the market environment, we are always working toward broadening our broker base and the products we can offer as well as improving our collections and recovery processes, while we watch for new opportunities that we believe this business cycle will generate, as a correction unfolds," added Shafran.
The original IPO prospectus stated: "Pawnee is a leasing company that leases micro and small-ticket business equipment fundamental to the core operations of its lessees' businesses. Pawnee provides equipment lease financing to small businesses in the start-up and segment of the U.S. equipment leasing market through its network of over 550 independent brokers operating in the lower 48 states of the United States"
Symbol Last Trade $ Change % Change Volume
CHW.UN 4.240 -0.390 -8.42 470,809
Chesswood Press Release:
http://leasingnews.org/PDF/ChesswoodFund1.pdf
--------------------------------------------------------------

1-2-3- 4: Sterling $35 Million more
In July, when Sterling Financial, Lancaster, Pennsylvania to be acquired by PNC Financial Group, Inc., for $565 million, effective in early 2008, they had expected a $165 million loss from equipment leasing fraud. Sterling said at that time it anticipated restating several years of earnings, including 2006, and subtracting an after-tax charge of up to $165 million from the revised 2006 figures.
After an audit, it is now up $35 million to a total more than $200 million.
Equipment Finance, Lancaster, Pa, which financed equipment for the construction and logging business, was accused of collusion and fraud, covering up loan delinquencies by using faked documents.
Five Equipment Finance employees, including the chief operating officer, resigned.
PNC Financial Group has said it will shut down Equipment Finance.
In addition to the Bank of Lancaster County, Sterling Financial includes Bank of Hanover, Bay First Bank, PennSterling Bank, Bank of Lebanon County, Pennsylvania State Bank and Delaware Sterling Bank & Trust Company.
It also operates fleet and equipment leasing unit Town & Country Leasing. It also offers trust, investment and brokerage services through Sterling Financial Trust Company, Church Capital Management LLC and Bainbridge Securities.
Nasdaq Listing and Hearing Review Council has determined to grant the request from Sterling to allow its continued listing on The Nasdaq Stock Market. It will not be until the first quarter of 2008 that
the sale to PNC Financial will "close."
--------------------------------------------------------------

Where is the leasing sales market headed?

by Christopher Menkin
It hasn't been a surprise to those who read Leasing News that companies such as Key Finance and CIT are not only in "branding" marketing overseas, but are increasing their presence in Europe, India and China. They see the business will come from overseas, or perhaps originations are down in the mainland and they are being driven to where the action is going.
In a turn of events, CIT announced an affiliation with Microsoft for both the United States and Canadian marketplace.
CIT stated in their press release they currently provides vendor financing solutions for Microsoft's products and services in France, Germany, Italy, South Korea, Switzerland and the United Kingdom.
The US and Canada market was a natural for them, they said.
After all, their claim to fame is vendor financing centers, especially the financing of Dell computers.
According to the trend from the Equipment Leasing and Finance Association MFLI-25 survey, small ticket, and even middle-ticket, leasing business has been sliding downwards. From public small
ticket financial statements, originations are down compared to last year. Whether this is a reflection of tightening credit, a demand for less equipment as more manufacturing moves overseas, or simply the slowing down of IT technology, particularly a lack of major changes in the computer industry, is speculation. These answers are probably close to the truth, but there is more going on than we realize. It is like being in the middle of the forest. We know there are a lot of trees, but we can't see them all.
LEAF's move into NetBank Business Finance, and the change of name to LEAF Specialty Finance, shows they think the company's role is continued medical and dental practice loans, the franchise industry, and other such specialties. Alco, there other product, was heavy into collateral transactions, often structured.
There not only is Security Financial and Equipment Leasing closing their operation down, but CapitalWerks and host of smaller companies. And there are more layoffs to come, such as
LaSalle Leasing. You can bet, if GE buys Merrill, the staff will eventually be given the opportunity for jobs elsewhere at GE, but move on. When they bought the giant U.S. Leasing, no one is left from there. The last person went to Merrill. Wait until he sees the next surprise.
Where do the sales employees go? Many become independent brokers.
The Equipment Leasing and Finance Foundation MLFI-25 employee statistics has reflected the change over the last year, reflect the change, from growing the year before, to down over 1,000 from the group since the first of the year.
Operations are becoming more computer generated. Ten years ago lease contracts were done on a typewriter. Now papers and documents are sent by e-mail with reports available as fast as the speed of your internet connections.
The latest phenomena is those who moved out of leasing who went into the mortgage business. They want to come back. They are telling their colleagues leasing is the place to be.
Not just documentation people, but sales. Many want to enter the broker field.
They send e-mails and telephone Leasing News, citing similarities, such as mortgage brokers rely on real estate agency business or direct, just as a personal property broker relies on a vendor or direct business. Both operations are used to being "commission" generated, rather than sales personnel with a draw. Both rely on credit reports primarily for scoring and subprime business requires financial statements and "telling the story correctly why the applicant is qualified."
The mortgage brokers also call themselves "mortgage companies" just as leasing brokers call themselves "leasing companies" or "we fund our own leases."
Many tell us they want to enter the middle-market, not small ticket.
They see mico, mini, and $25,000 plus going to manufacturers and distributors who are "getting married" to leasing and finance companies. They know how telephone for mortgage business, leasing can't be any more difficult, they say, particularly in an application marketplace.
At the same time, many dealers of equipment are going into the brokerage business, not only financing equipment they sell, but other equipment or "sales/leasebacks" through their company invoices. These dealers have been joining leasing association as now everyone can learn how leasing works and how to improve your leasing sales!!!
--------------------------------------------------------------

Premier Funding Group joins Broker/Lessor list
"Broker/Lessor" List
Third Column: YES - Year Company Started | YELB - Years in equipment Leasing Business
A - City Business License | B- State License | C - Certified Leasing Professional |
D - State(s) sales/use tax license |
E - Named as "lessor" on 50% or more of lease contract signed. |
Name
City, State
Contact
Website
Leasing Association

YCS
YELB


(see above for meaning)

# of Empl.

Geographic Area

Minimum
Dollar
Amount

Buisness Reports

D

1995


15

Nationwide

$5,000

*

*

*

*

*
(CC) Premier Funding Group, Inc. A variety of programs are available for new and established brokers alike. We work with "A" to "C" credits. Please see our website for additional information – www.pfglease.com .
To view the complete list, please click here.
--------------------------------------------------------------

Leasing Industry Help Wanted
Sr. Lease Contract Specialist


EFD Direct Lease
Sr. Lease Contract Specialist
Walnut Creek, CA
You will create all necessary lease and loan documentation for complex direct equipment leases. Requires a BA or equivalent & 6+ years of leasing and contract experience. CLICK HERE for a detailed description and resume submission info.
Visit www.bankofthewest.com , for more information. Bank of the West and its subsidiaries are equal opportunity/affirmative action employers.
Sales Professional

Sales Professional
San Francisco, CA
Mid to large ticket market/Fortune 1000-- prefer min. 5 yrs. sales exp. in finance. Will consider all applicants w/equip. finance exper. click here.


--------------------------------------------------------------

"economy is strong enough to absorb the recession"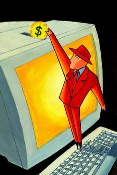 (Long time readers may remember Leasing News monthly reports from Al Schuler of the USDA Forest Service. His reports were public information. They were excellent indicators of the economy. When we started writing about subprime mortgage industry problems over a year and a half ago, we thought we had too much on the housing industry, so discontinued them. There may be a number of readers who agree with me that it was a mistake on our part. Maybe his remarks are too esoteric, but I always found them profound and accurate. editor)
(What you see from Schuler is how it affects the rest of the economy, meaning from a timber viewpoint: construction companies, haulers, refrigerator manufacturers, truckers, and a full list of home building suppliers. He saw the "chain."
(In the future, these forecasts will become more serious as it will affect city, county, and state budgets due to less sales tax, less personal and real estate property tax. You will see cities and states needing to cut budgets, but employee unions opposing any cutbacks or changes. They are very strong. Perhaps too strong. The pendulum has swung the other way.
(In reality, it has been the consumer buying for new and existing houses that have kept the confidence up. You will see from Schuler's unique economic viewpoint in timber forecasting, he has unique insight into the U.S. Economy. Editor)
September housing starts decreased 10.2%, to 1.19 million (SAAR). The 33.4% decline in multifamily starts was the main reason as single family starts were off a more modest 1.7%. Regionally, starts were off the most in the Midwest (-28.4%) and the West (- 10.1%). They were up 45% in the Northeast while they were essentially flat in the South (-0.2%). Permits continue to slide, down 7.3% to 1.226 million SAAR as builders focus on reducing inventories.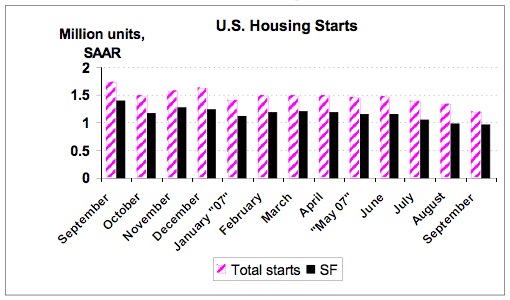 Analysis and outlook: The housing correction continues: Both total starts and single family starts are off 31% from year ago levels (September 2006). Inventories of new homes for sale remain at 8.2 months supply (August) while existing homes have a 10 month supply. The total inventory is 529,000 new homes and 4.56 million existing homes – that's 5.1 million homes for sale – about double the typical inventory over the past decade. Until that inventory comes down, there will be little incentive fro builders to increase the pace of building homes. To date, new home prices are coming down faster than existing homes, probably because there is more incentive (inventory carrying cost) for the builders to unload bloated inventories. A common problem, however, is that many of the potential buyers of new homes are owners of existing homes and in most cases; they need to find a buyer for their home before they buy a new home. That means existing home prices have to come down quite a bit and that would make them more affordable, eventually reducing inventories, and this would support a turnaround in the "new home market" which is so critical to building material manufacturers – ie., lumber, OSB, plywood.
The chart below, from the National Association of Homebuilders (NAHB), using U.S. Census data, shows the extent of the slowdown in permits across the country. Fewer permits lead to fewer starts, and that means weak wood product markets. The slowdown is most cases are more rapid in those regions where previous house price increases were the greatest. In addition, we can see relatively more rapid deceases in permits in regions where employment is suffering due to problems in the domestic auto and related industries – MI, OH, IN.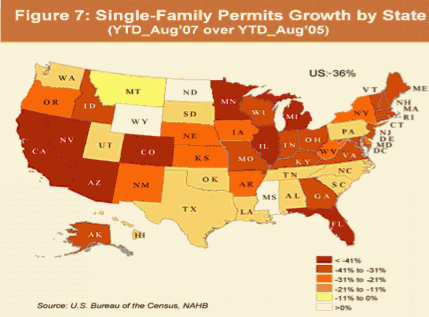 The message to me is that the builders are really trying their best to lower inventories –by lowering prices and offering other incentives to prospective buyers - however, until existing homes prices show more of a downward correction (thus improving affordability), the overall housing market won't pick up much momentum in my opinion. As mentioned in previous editions of this report, existing homes (often called the "resale market") represent about 85% of the housing market, and because the inventory overhang is greatest there (10 months versus 8 months for new homes – and many of these "existing homes" are newly bought (speculation), but now vacant, thus competing directly with "new homes"), the overall housing market won't reverse course until the problems ( prices are too high) in the "resale market" are fixed.
When will things get better? I wish I knew – for more insight, there is an excellent report in NAHB's Builder magazine (October - pages 186-189), outlining recent "forecasts" by industry experts. The consensus is that there was too much overbuilding between 2004-2006 plus a relaxation of lending standards and regulatory oversight and this resulted in the bloated inventories we have today. Prices are still too high in many regions of the country, particularly when factoring in higher interest rates and tighter lending standards which reduces the potential pool of buyers. The consensus forecast is for a "bottom in 2nd half of 2008, with modest recovery beginning in 2009.
The "obvious solution" is a significant fall (10% or more) in prices for existing homes – will it happen – and will it adversely affect the rest of the economy – is the $64,000 dollar question. Personally, I believe the economy is strong enough to absorb the recession in the housing market and further fall in existing home prices. As long as prices don't "free fall" (which can cause panic throughout the economy), the economy is large enough and diversified enough to remain buoyant. The job market remains solid – the weak numbers in August were revised upward significantly as were weak numbers in earlier summer months. Corporate balance sheets are still solid; exports are picking up thanks to our weakening dollar; and inflation is subdued and this translates to relatively attractive mortgage rates on a historical basis.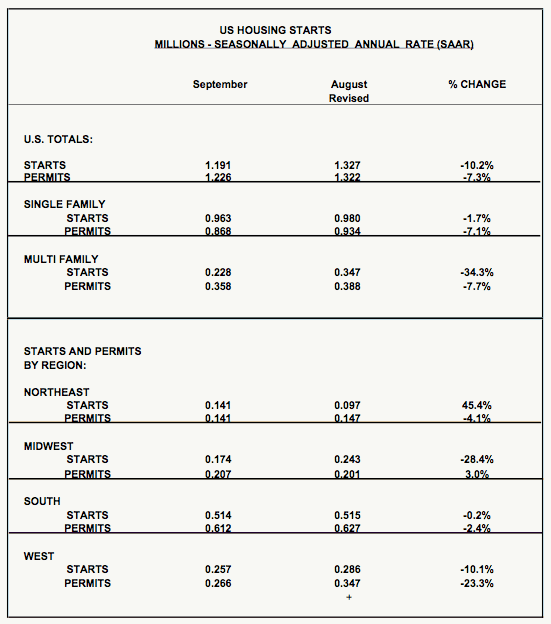 ---------------------------------------------------------------
### Press Release ###########################

California Foreclosures increase 221% in October, 2007
Foreclosures Increase 18,975 in One Year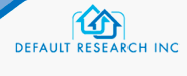 Mt. Pleasant, PA – Default Research, the fastest growing foreclosure research company in the nation, is reporting that California foreclosure filings are up a dramatic 221 percent in October 2007 compared to the same time last year.
According to Default Research (www.defaultresearch.com), San Diego County led the state with 3,427 foreclosure filings up 400 percent in October. Riverside and Los Angeles Counties followed San Diego with foreclosure increases of 290 percent and 160 percent respectively.
"Right now, Southern California is the epicenter of the foreclosure crisis," said Serdar Bankaci, President/CEO of Default Research Inc. "Out of the five largest counties in the state, San Diego is hardest hit followed by Riverside and Los Angeles. Last month was bad for the Golden State and the coming months could be even worse."
Bankaci explained California could see an even bigger spike in foreclosures in the next two quarters as a large number of three year adjustable rate mortgages are due to reset. Many of those deals were made in late 2004 and 2005 when the market was booming.
"California had some of the most expensive real estate in the country and many people bought homes they couldn't afford with teaser loans," said Bankaci, whose company provides the freshest foreclosure leads and most accurate foreclosure statistics in the country. "Those families who lived beyond their means are going to go from boom to bust and unfortunately join a growing number of Americans in foreclosure."
For a full listing of the foreclosure statistics in the counties covered by Default Research in California, please click on, www.newsletter.defaultresearch.com . With an emphasis on educating people about the foreclosure crisis, the Default Research site also offers extensive foreclosure resources, links to free informational teleseminars and a link to their growing national monthly foreclosure education newsletter, The Homestand.
Default Research is the national leader in foreclosure research. More information about Default Research can be found at its Web site:
www.defaultresearch.com .
### Press Release ###########################

FinanceEdge Provides Front-End Commercial Finance Software Solutions to Chase Industries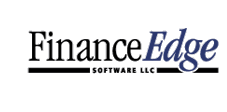 ST. PETERSBURG, FL,—FinanceEdge Software, LLC, a premier provider of software solutions to the equipment leasing and financing industry, announced today the implementation of its Edge software package for Chase Industries, Inc., one of North America's leading providers of leases and commercial financing for the healthcare industry.
"We're excited at the opportunity to help Chase Industries gain the advantage of the Edge front-end platform," says Michael C. Cumby, chief technology officer of FinanceEdge. "We have designed our suite of solutions precisely for the needs of companies like Chase Industries and are proud of the fact that they are realizing significant gains in efficiency and productivity through our product."
The Edge originations workflow software, which was installed and fully operational at Chase Industries' headquarters in September 2007, handles all of the front-end processing for leases and other forms of commercial finance transactions for the company. Edge replaced a legacy CapitalStream Advantage system, according to Kyra Siverly, vice president of Chase Industries.
Siverly, a certified lease professional, led Chase Industries' two-year evaluation process for a new front-end lease management system that would retain an easy-to-use interface but provide the legroom for her company to grow. But in evaluating replacement front-end systems, Siverly soon recognized that bigger was not necessarily better in terms of Chase Industries' needs.
"We realized that we needed a system that wasn't too big," Siverly explains, "We didn't want a system that was inflexible and so big that it might be cumbersome to navigate."
The Web-enabled capabilities of Edge were a significant feature in Siverly's decision. "The Web-based features not only allow our sales people in the field to see their transactions, but they also give our vendors access to the system to see up-to-date information on their transactions," Siverly says.
Siverly was also impressed by how user friendly Edge was—which helped ensure that the Chase Industries team was able to get up to speed quickly—and with how responsive the FinanceEdge service and support team was in introducing Chase Industries to the product through Webinars and product demonstrations.
"Customer service is paramount in our company, so when we find a technology supplier like FinanceEdge that demonstrates a comparable commitment, we're very impressed," says Siverly. "Anytime we've had a question, they've been right there for us. No question is too minute."
Chase Industries is confident that Edge provides the room needed to grow, too. "There's still so much more that it does that we're not utilizing at this time," says Siverly, "But with a click of a button, we can easily incorporate any new features we might need without taking on a complete system upgrade or buying a new version of the software."
About Chase Industries
Chase Industries, headquartered in Grand Rapids, Michigan, was established in 1993 with the mission of providing competitive financing for healthcare professionals. A nationwide independent finance company that specializes in financing services to the healthcare market, Chase Industries works directly with Tier 1 medical vendors and physician groups, outpatient facilities, dentists, and veterinarians to provide customized financing for equipment and working capital as well as offer financing for their patients. Chase Industries' management team has over 50 years of healthcare financing experience and, with its five offices, is dedicated to providing customized leasing and working capital programs for medical professionals.
About FinanceEdge Software LLC
FinanceEdge Software, LLC, is a long-established provider of front-end software solutions to the equipment leasing and finance industry. FinanceEdge focuses on the needs of growing small to medium-sized companies in both North America and Europe. "Edge," the company's latest evolution of software technology, gives customers of any size the technological edge to succeed in today's financing marketplace. For more information, visit
http://www.financeedgesoftware.com
### Press Release ###########################

Marlin Accelerates Growth with New Talent
MOUNT LAUREL, N.J., -- Marlin Business Services Corp. (Nasdaq:MRLN) is pleased to announce the hiring of Ray Shilling as Director of Sales -- Office Equipment Group and Bob Haley as Vice President of Sales and Training. Ray joins Marlin as a seasoned manager in the Commercial Lending field. His previous work experience includes sales management roles at Advanta Leasing where he developed several vertical market businesses including the office equipment group. Bob Haley joins Marlin most recently from McCoy Enterprises where he served as a senior training consultant. He has also held numerous management roles in the telecom industry including General Manager at RCN Corporation and Vice President of Sales and Marketing at Centennial Corporation. Bob will assume the management responsibility for a New Jersey-based sales team and company-wide sales training programs.
"We are excited to be adding this top management talent to the Marlin sales organization," said Ed Siciliano, Marlin's Chief Sales Officer. "Ray and Bob bring a great balance of leasing experience and outside sales management depth to Marlin. We have accelerated the pace in which we are building the sales organization. Ray and Bob will be critical to our expansion as we broaden our approach to the small ticket market."
About Marlin Business Services Corp.
Marlin Business Services Corp. is a nationwide provider of equipment leasing and working capital solutions primarily to small businesses. The Company's principal operating subsidiary, Marlin Leasing Corporation, finances over 70 equipment categories in a segment of the market generally referred to as "small-ticket" leasing (i.e. leasing transactions less than $250,000). The Company was founded in 1997 and completed its initial public offering of common stock on November 12, 2003. In addition to its executive offices in Mount Laurel, NJ, Marlin has regional offices in or near Atlanta, Chicago, Denver, Philadelphia and Salt Lake City. For more information, visit
http://www.marlincorp.com or
call toll-free at (888) 479-9111.
### Press Release ###########################
--------------------------------------------------------------

News Briefs----
Is the market for big rig trucks like the housing market?
http://www.forbes.com/2007/11/12/flint-trucks-toyota-oped-cx_jf_1
113flint.html?partner=email
Pitney Bowes to cut 1,500 jobs, explore options for unit
http://money.cnn.com/news/newsfeeds/articles/newstex/AFX-0013-21010332.htm
Tyco's Dynamic Duo Staying Behind Bars
http://www.cfo.com/article.cfm/10160150/c_10132205?f=home_todayinfinance
Wells Fargo CEO: Housing slump is worst since Great Depression
http://www.signonsandiego.com/news/business/20071115-1348-wellsfargo-housing.html
USA TODAY plans to cut 45 newsroom jobs
http://www.usatoday.com/money/media/2007-11-15-usa-today-buyouts_N.htm
Honda to lease fuel cell cars in Calif. $600 month
http://www.businessweek.com/ap/financialnews/D8STQLN80.htm
---------------------------------------------------------------


You May have Missed---
Top Ten Christmas Albums
http://leasingnews.org/PDF/Top_Ten_Christmas_Albums.pdf
---------------------------------------------------------------

Sports Briefs----
Vick's federal case may be a guide to how Bonds' case goes
http://www.sfgate.com/flat/archive/2007/11/15/chronicle/archive/
2007/11/15/SPNCTDCSP.html
Smith Out; Dilfer to Start Sunday
http://www.sfgate.com/cgi-bin/article.cgi?f=/c/a/2007/11/15/SPO7TD8OM.DTL
----------------------------------------------------------------


California Nuts Briefs---
Season opens outside Golden Gate, crabbers sit at dock
http://www.sfgate.com/cgi-bin/article.cgi?f=/c/a/2007/11/15/MNCRTD67Q.DTL
----------------------------------------------------------------


"Gimme that Wine"
California Vintners Praise High Quality 2007 Winegrape Harvest
http://winebusiness.com/news/DailyNewsArticle.cfm?dataid=51380
Australian Drought May See Wine Grape Growers Quit, Review Says
http://www.bloomberg.com/apps/news?pid=20601081&sid=aDsZRjLAKyvM&refer=australia
Weak dollar pushes wine prices up, even the cheap ones
http://www.star-telegram.com/food/story/303080.html
Golden days for Argentine wine could turn cloudy
http://www.usatoday.com/money/world/2007-11-15-argentina-wine_N.htm
Wine Prices by vintage
http://www.winezap.com
http://www.wine-searcher.com/
US/International Wine Events
http://www.localwineevents.com/
Winery Atlas
http://www.carterhouse.com/atlas
Leasing News Wine & Spirits Page
http://two.leasingnews.org/Recommendations/wnensprts.htm
The London International Vintners Exchange (Liv-ex) is an electronic exchange for fine wine.
http://www.liv-ex.com/
----------------------------------------------------------------

Calendar Events This Day
Button Day
http://holidayinsights.com/moreholidays/November/buttonday.htm
Estonia: Day of National Rebirth: anniversary
National holiday. Commemorates the 1988 Declaration of Sovereignty.
Became independent from the Soviet Union in 1991.
Have a Party with Your Bear Day
http://holidayinsights.com/moreholidays/November/partybearday.htm
Oklahoma: Admission Day
Became 46th state in 1907.
Saint Eustatius: West Indies: Statia and America Day.
St. Eustatius. Leeward Islands. To commemorate the first salute to an American flag by a foreign government, from Fort Oranje in 1776. Festivies include sports events, and dancing. During the American Revolution, St. Dustatius was an important trading center and a supply base for the colonies.
United Nations: International Day for Tolerance
On December 12, 1996, the General Assembly established the International Day for tolerance, to commemorate the adoption by UNESCO member states of the Declaration of Principles on Tolerance in 1995. www.un.org
Saint feast Days
http://www.catholic.org/saints/f_day/nov.php
----------------------------------------------------------------

Giraffes can lick their own eyes.
(now that is a trivia that will get everyone's attention)
----------------------------------------------------------------

Today's Top Event in History
[headlines]
----------------------------------------------------------------

This Day in American History
1620- Fifteen pilgrims lead by Captain Myles Standish, William Bradford, Stephen Hopkins and Edward Tiley discovered corn on the future site of Provincetown, MA. They named the place "Corn Hill." This vegetable would become a staple for the settlers. The Indians also taught them how to make pop corn, a very popular item even way back then.
1747- Knowles Riot in Boston; hundreds of sailors, laborers & free blacks rise up against British Navy Press Gangs, temporarily forcing an end to impressments in the Royal Navy. Many believe this gave rise to the American Revolution, although there were several such acts of rebellion, none as dramatic as this as it was a "mob act," mostly poor whites and black, and not planned such as the Boston Tea Party.
http://www.kellscraft.com/bostonillustrated/bostonillustrated01a.html
http://www.psupress.org/Justataste/samplechapters/justatastePencak.html
http://www.eco.utexas.edu/facstaff/Cleaver/HydraArticletable.pdf
1776- Fort Washington on Manhattan Island fell to the British, who took about 2,000 prisoners. Colonial troops were on retreat and the war looked bleak as the weather.
1776- The first salute to a U.S. Flag (Grand Union Ensign also known as the Continental Union flag) was a volley of 11 guns fired by Fort Orange on St. Eustatius, Dutch West Indies, Leeward Islands today, in 1776. The salute was in response to a volley fired from the "Andrea Doria" commanded by Isaih Robinson. It was saluted by Johannes de Graeff, governor of the colony. The brig was captained by Nicholas Biddle, who had been sent to St. Eustatius to transport arms and ammunition for the American Leasing Army. This was an important event as St. Eustatius was a very important trading center and a supply base for the colonies.
1776 - During the Revolutionary War, Lieutenant General Wilhelm von Knyphausen and a force of 3,000 Hessian mercenaries lay siege to Fort Washington on Long Island. Throughout the morning, Knyphausen met stiff resistance from the Patriot riflemen inside, but by the afternoon the Americans were overwhelmed, and the garrison commander, Colonel Robert Magaw, surrendered. Three thousand Americans were taken prisoner, and valuable ammunition and supplies were lost to the Hessians. Two weeks earlier, William Demont had deserted from the Fifth Pennsylvania Battalion and given British intelligence agents information about the Patriot defense of New York, including information about the location and defense of Fort Washington. Demont was the first traitor to the Patriot cause, and his treason contributed significantly to Knyphausen's victory. The area is now a landmark and has quite a bit of American history behind it.
1777- The second Continental Congress adopted the Articles of Confederation and Perpetual Union. Submitted to the states for ratification two days later. March 1, 1781 they were adopted. Although ultimately supplanted by the United States Constitution, the Articles of Confederation provided stability during the Revolutionary War years and attempted to define "states rights" and "federal
authority."
http://memory.loc.gov/ammem/today/nov15.html
1798- British seamen board the U.S. frigate Baltimore and impress a number of crewmen as alleged deserters, a practice that contributed to the War of 1812.
1813 - The British announce a blockade of Long Island Sound, leaving only the New England coast open to shipping.
1821- Trader William Becknell reaches Santa Fe, N.M., on the route that will become known as the Santa Fe Trail.
1864-General William T. Sherman march to the sea with 62,000 men began. Leaving Atlanta, GA., in flames, it was thought the fires were started by Sherman's troops,
but historians state most of the major fires were started by Confederates fleeing the
city, not wanting to supply the Union troops with food and supplies. Sherman was to seep across a 60-mile front with little serious opposition, his army destroying everything useful to the Confederates, who were doing the same to his army. The South was cut in two. General William J. Hardee and his remaining Confederate forces evacuated Savannah, GA. on December 21. Sherman occupied the city that day.
1873- Birthday of William Christopher (W.C.) Handy, American composer, bandleader, "Father of the Blues," W.C. Handy was born at Florence, AL. He died at New York, NY, Mar 28,1958. If you can't have but one jazz CD in your collection, let me recommend Louis Armstrong Plays W.C.Handy.
http://www.amazon.com/exec/obidos/tg/stores/detail/-/music/B000002ADP/reviews/
107-7460879-4591723
http://www2.una.edu/library/handy/
1889- The Oahu Railway and Land Company (OR&L) began operating on Hawaii's third largest island. The brainchild of Massachusetts native Benjamin Franklin Dillingham, the railroad made it possible to move agricultural products from inland to port, stimulating the local economy and providing a valuable transportation route for decades.
(Lower portion of: http://memory.loc.gov/ammem/today/nov16.html )
1892-the University of Chicago won its first football victory. The preceding October 22, they played to a 0-0 tie with Northwestern in its first ever football game and this was their first win for Coach Amos Alonzo Stagg 10-4 against Illinois at Chicago. A founding member of the Big 10, Chicago eliminated its football program for many years, but now competes against the likes of New York University, Emory and Washington University at St. Louis. This Saturday it is the traditional rival game as football fans will switch from channel to channel in perhaps the most heated college game of the year.
1899- Birthday of Mary Margaret McBride, who from 1934 to 1954 conducted a radio show of astonishing and human interest facts and in 1940 was voted the most popular woman in radio. She was one of the first big radio stars who tried to move to the new media of television where she was declared a big flop. It was the same night Milton Berle became the permanent host of "Texaco Star Theatre," and NBC showcased McBride in the timeslot right after Berle. Early TV's biggest success was a performer who'd never done well on radio--Milton Berle, a vaudevillian. His popularity on TV showed the uncertainty of predicting how radio stars would likely fare on television. "We all knew one thing that wouldn't work," recalled George Burns, also a vaudevillian, about moving from radio to TV: "standing in front of a microphone and reading from a script. Unfortunately, that's what we were best at." She died in 1976.
1907- Oklahoma became the 46th state. The word, Oklahoma, is a combination of two Choctaw words meaning red people. Then, why Sooner? Many, many Oklahoma homesteaders thought sooner was better than later, better to stake their homesteads first, before it was legal to do so.
http://memory.loc.gov/ammem/today/nov16.html
1914- The Federal Reserve banks were formally opened. The Federal Reserve Act, approved on December 23, 19113, was an " act to provide for the establishment of Federal Reserve Banks, to furnish an elastic currency...to establish a more effective supervision of banking in the United States. " The 12 regional district banks were under the supervision of a seven-member Board of Governors.
1918- In NY City, the United Lutheran Church was organized by a merger of three general Lutheran bodies in the U.S. and Canada. (In 1962, the ULC became one of the branches of Lutheranism which formed the Lutheran Church in America.)
1920- The postage meter was officially set at Stamford, CT, by the Pitney-Bowes Postage Meter Company. Although the idea of metered mail originated in 1900, when the American Postage Meter Company was organized in Chicago, it was not until September 1, 1920, that the Post Office Department approved it. About $2 million was spent on research and development of the machine. Today they have a near monopoly on this device. You cannot purchase the meter, you must "rent" it.
1931 -- Singer Bob Gibson birthday, born New York City died September 27, 1996, Portland, Oregon
http://www.musicweb.uk.net/encyclopaedia/g/G33.HTM
http://www.provide.net/~cfh/gibson.html
1937- Bob Crosby records " South Rampart St. Parade," LA, Decca 15038
1940 - No. 1 Billboard Pop Hit: ``Only Forever,'' Bing Crosby.
1945, Woody Herman waxes "Wildroot," Columbia 36949.
1940, Cornell University played Dartmouth College in football and came away with a victory. But the winning touchdown was cored on a fifth-down play, given to Cornell by referee's error. After the game, Cornell did the honorable thing, surrendering the triumph.
1945--HORNER, FREEMAN V. Medal of Honor
Rank and organization: Staff Sergeant, U.S. Army, Company K, 119th Infantry, 30th Infantry Division. Place and date: Wurselen, Germany, 16 November 1944. Entered service at: Shamokin, Pa. Birth: Mount Carmel, Pa. G.O. No.: 95, 30 October 1945. Citation: S/Sgt. Horner and other members of his company were attacking Wurselen, Germany, against stubborn resistance on 16 November 1944, when machinegun fire from houses on the edge of the town pinned the attackers in flat, open terrain 100 yards from their objective. As they lay in the field, enemy artillery observers directed fire upon them, causing serious casualties. Realizing that the machineguns must be eliminated in order to permit the company to advance from its precarious position, S/Sgt. Horner voluntarily stood up with his submachine gun and rushed into the teeth of concentrated fire, burdened by a heavy load of ammunition and hand grenades. Just as he reached a position of seeming safety, he was fired on by a machinegun which had remained silent up until that time. He coolly wheeled in his fully exposed position while bullets barely missed him and killed 2 hostile gunners with a single, devastating burst. He turned to face the fire of the other 2 machineguns, and dodging fire as he ran, charged the 2 positions 50 yards away. Demoralized by their inability to hit the intrepid infantryman, the enemy abandoned their guns and took cover in the cellar of the house they occupied. S/Sgt. Horner burst into the building, hurled 2 grenades down the cellar stairs, and called for the Germans to surrender. Four men gave up to him. By his extraordinary courage, S/Sgt. Horner destroyed 3 enemy machinegun positions, killed or captured 7 enemy, and cleared the path for his company's successful assault on Wurselen.
1947---Top Hits
I Wish I Didn't Love You So - Vaughn Monroe
Near You - The Francis Craig Orchestra (vocal: Bob Lamm)
You Do - Dinah Shore
I'll Hold You in My Heart (Till I Can Hold You in My Arms) - Eddy Arnold
1950 - No. 1 Billboard Pop Hit: ``Harbor Lights,'' Swing & Sway with Sammy Kaye.
1952- "Our Goodly Heritage" debuted over CBS television. This Sunday morning Bible study program, hosted by William Rush Baer of New York University, aired a little over five years.
1952- Birthday of Glenn Burke, baseball player born at Oakland, CA. Burke spent four seasons in the majors (1976-79) with the Los Angeles Dodges and the Oakland Athletics. He was the first former baseball player the cause of whose death was acknowledged as AIDS. Died at San Leandro, CA, May 30, 1995.
1952 -- John Clellon Holmes article, "This is the Beat Generation", appears in NY Times Magazine. His novel, Go, often call the first published "Beat" novel, which presented characters based on Kerouac, Ginsberg and Neal Cassady in 1952, five years before Kerouac would turn the same cast of characters into legends with 'On The Road.' also appears this fall. Also during this month, Jack Kerouac works as student brakeman for railroad in California & his Book of Dreams project is begun here in Los Gatos, Ca ( He and Cassady would die deaths related to alcoholism.)
http://www.litkicks.com/BeatPages/page.jsp?what=NealCassady
1955---Top Hits
Sixteen Tons - Tennessee Ernie Ford
Autumn Leaves - Roger Williams
Only You - The Platters
Love, Love, Love - Webb Pierce
1955- 'Tennessee' Ernie Ford drove to the top spot on the record charts on this day. Sixteen Tons, where he owed his "soul to the company store..." became the fastest-selling record in history, jumping to #1 in just 3 weeks. The tune, on Capitol Records, stayed at #1 for eight weeks.
1956- Elvis Presley's film debut, "Love Me Tender," opens in New York. Despite critical reaction, it takes in nearly $4 million in just two months.
1958 - Golfers enjoying an autumn day got a surprise when over six inches of snow fell on Tucson, Arizona.
1959 - The Rodgers and Hammerstein musical ``The Sound of Music'' opened on Broadway, originally staring Theodore Bikel and Mary Martin. The show played 1,443 performances (the second longest running musical at that time.) In 1965, it was released as a movie starring Julie Andrews and Christopher Plummer. It is based on an original true story from the book, first made into a German film, very popular in Europe. Maria von Trapp's book, The Story of the Trapp Family Singers was published in 1949 and shortly after Hollywood approached Maria with an offer to buy the book title. They wanted to buy the title but create their own story. Maria refused to sell the title without the whole story and produced the film herself in Germany.
http://www.prigsbee.com/Musicals/shows/soundofmusic.htm
http://www.amazon.com/exec/obidos/ASIN/B00000AG6Y/103-0205572-2897419
1959 -- Beat author Jack Kerouac appears on the Steve Allen Show in Hollywood. After the show he has dinner with sex kitten Mamie Van Doren.
1959 - The most severe November cold wave in U.S. history was in progress. A weather observing station located 14 miles northeast of Lincoln MT reported a reading of 53 degrees below zero, which established an all-time record low temperature for the nation for the month of November. Their high that day was one degree above zero.
1959-- "Mr. Blue" by the Fleetwoods topped the charts and stayed there for a week.
1959 — The Patriots become the AFL's eighth and final franchise under the ownership of William H. Sullivan, Jr.
1960- After the integration of two all-white schools, 2,000 whites riot in the streets of New Orleans.
1960 - No. 1 Billboard Pop Hit: ``Stay,'' Maurice Williams & the Zodiacs. The song is the shortest No. 1 single in the rock era, at one minute and 37 seconds.
1962- Wilt Chamberlain of NBA San Francisco Warriors scores 73 points vs. NY
1963---Top Hits
Deep Purple - Nino Tempo & April Stevens
Washington Square - The Village Stompers
I'm Leaving It Up to You - Dale & Grace
Love's Gonna Live Here - Buck Owens
1963- "Deep Purple" by Nino Tempo & April Stevens topped the charts and stayed there for a week.
1965--First public announcement about Walt Disney World.
1966 --Dr Sam Sheppard freed after 9 years in jail, by a jury. His story is the
basis of several television series and movie, "The Fugitive."
1968-B.J. Thomas' "Hooked on a Feeling" is released.
1969-News reports charged a U.S. infantry unit with massacre at My Lai 4, a village in the Song my district in South Vietnam , on March 16, 1968. More than 450 villagers including many women and babies were said to have been slain. Pending an investigation, Lt. William L. Calley, Jr. in charge of the U.S. unit at the time, was kept on active duty beyond his official tour. He later would receive several months in jail in one of the many military cover-ups about the war in Viet Nam.
1970 - No. 1 Billboard Pop Hit: ``I Think I Love You,'' The Partridge Family. The song reaches the top spot exactly two months and four days after ``The Partridge Family'' TV show debuts.
1971---Top Hits
Gypsys, Tramps & Thieves - Cher
Theme from Shaft - Isaac Hayes
Imagine - John Lennon Plastic Ono Band
Lead Me On - Conway Twitty & Loretta Lynn
1972- A coastal storm gave New England a lashing. Heavy, wet snow in parts of New Hampshire and Vermont downing power and utility lines while heavy rains in southern New England producing some flooding
1973- 30th manned US space flight launched with three astronauts, G.P. Carr, W.R. Page and E.G. -*Gibson who spent 84 days on the space station. Space walks totaled 22 hours. Returned to Earth on Feb 8, 1974.
1973-- President Nixon authorizes construction of the Alaskan pipeline.
1974- "Whatever Gets You Thru the Night" by John Lennon with the Plastic Ono Nuclear Band topped the charts and stayed there for a week.
1974 - NBC-TV began a two-night showing of the award-winning film, "The Godfather", starring Marlon Brando. The film was the highest price paid for a shown on television movie when NBC paid Paramount Pictures $10 million to show it.
1974-John Lennon enjoys his first Number One hit with "Whatever Gets You thru the Night." Helping out on piano and vocals is Elton John.
1974-Stevie Wonder's "Boogie on Reggae Woman" is released.
1974---Birthday of America composer Michelle Willis, Idaho Falls, Idaho
1975 - Chicago Bear Walter Payton rushed for 105 yards in a game against the San Francisco 49ers, for his first game of 100 plus yards. He would reach this feat over 50 times throughout his career, adding two 200-yard games, as well.
1977-The Canadian trio Rush receive three gold records for "2112," "All the World's a Stage" and "A Farewell to Kings." The group, which started out as a Led Zeppelin-inspired power trio, opted for a more experimental progressive direction on those LPs and found itself a sizable audience.
1979---Top Hits
Heartache Tonight - Eagles
Dim All the Lights - Donna Summer
Still - Commodores
You Decorated My Life - Kenny Rogers
1980 - No. 1 Billboard Pop Hit: ``Lady,'' Kenny Rogers. The song is written and produced by Lionel Richie.
1983- Oriole Cal Ripken is named the American League's MVP becoming the first player to win the Rookie of the Year and Most Valuable Player Award in consecutive years.
1984- Dr. Anna L. Fisher was the first astronaut who was a mother. She was a member of the crew of Space Shuttle "Discovery" mission that lifted off Cape Canaveral, FL. She participated in the world's first satellite retrieval and repair operation.
1985- "We Built This City" by Starship topped the charts and stayed there for 2 weeks.
1987---Top Hits
I Think We're Alone Now - Tiffany
Mony Mony "Live" - Billy Idol
(I've Had) The Time of My Life - Bill Medley & Jennifer Warnes
Maybe Your Baby's Got the Blues - The Judds
1987 - High winds and heavy snow created blizzard conditions across parts of eastern Colorado. Wind gusts reached 68 mph at Pueblo, and snowfall totals ranged up to 37 inches at Echo Lake. In Wyoming, the temperature dipped to 14 degrees below zero at Laramie. Strong thunderstorms in Louisiana drenched Alexandria with 16.65 inches of rain in thirty hours, with an unofficial total of 21.21 inches north of Olla. Flash flooding in Louisiana caused five to six million dollars damage.
1989 - Severe thunderstorms produced 22 tornadoes from Virginia to New York. Winds gusted to 80 mph caused a wall at the Coldenham School in Newburgh, NY to collapse, killing 9 children Snow and gusty winds invaded the north central U.S. Winds gusting to 40 mph produced wind chill readings as cold as 25 degrees below zero, and blizzard conditions were reported in Nebraska during the late morning hours. High winds around a powerful low pressure system produced squalls in the Great Lakes Region. Winds gusted to 63 mph at Whitefish Point MI, and snowfall totals in Michigan ranged up to 19 inches at Hart, north of Muskegon
1992- For the first time since 1563, the Roman Catholic Church issued a new universal catechism, which addressed modern-day issues.
1994- Bernette Johnson was sworn in as the first black woman ever elected to the Louisiana Supreme Court.
1994---Top Hits
I ll Make Love To You- Boyz II Men
Here Comes The Hotstepper (From "Ready To Wear")- Ini Kamoze
All I Wanna Do- Sheryl Crow
Another Night- Real McCoy
1996- "Head Over Feet" by Alanis Morissette topped the charts and stayed there for 4 weeks.
1999---Top Hits
Smooth- Santana Featuring Rob Thomas
Back At One- Brian McKnight
Mambo No. 5 (A Little Bit Of...)- Lou Bega
I Need To Know- Marc Anthony
2000 - Madonna and Eminem top the winners at the MTV Europe Music Awards 2000, presented at Stockholm's Globen venue. Madonna's worldwide smash "Music" helps her pick up prizes for best dance artist and best female artist, while Eminem wins for best hip-hop artist, and sees his "The Marshall Mathers LP" named best album.
2001 -Yankee right hander Roger Clemens (20-3, 3.51 ERA) wins the Cy Young Award for an unprecedented sixth time (Red Sox -1986, '87, '91 and Blue Jays -1997, '98). The 'Rocket' becomes the first Pinstripper to win the award since 1978 when Ron Guidry copped the honor.
2003---Top Hits
Baby Boy- Beyonce Featuring Sean Paul
Stand Up- Ludacris Featuring Shawnna
Holidae In- Chingy Featuring Ludacris & Snoop Dogg
Damn!- YoungBloodZ Featuring Lil Jon
--------------------------------------------------------------

Football Poem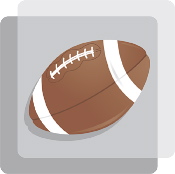 Nick Ferguson: The Poet Has Found a Home
By Doug Collins
DenverBroncos.com
The poet has found himself
And now finally knows peace
For where once the soul of a traveler lived
There exists a spirit at ease
One mile above the ocean
In the land where the Broncos roam
The poet can finally rest
For, at last, he has found a home.
http://www.denverbroncos.com/page.php?id=334&storyID=3367
--------------------------------------------------------------

SuDoku
The object is to insert the numbers in the boxes to satisfy only one condition: each row, column and 3x3 box must contain the digits 1 through 9 exactly once. What could be simpler?
http://leasingnews.org/Soduku/soduko-main.htm
--------------------------------------------------------------

Daily Puzzle
How to play:
http://www.setgame.com/set/puzzle_frame.htm
Refresh for current date:
http://www.setgame.com/set/puzzle_frame.htm
--------------------------------------------------------------

News on Line---Internet Newspapers
Long Island, New York
http://www.antonnews.com/threevillagetimes/
--------------------------------