Friday 30, 2007
Headlines---
Classified ads---Other web sites
Oh, No! Mr. Bill!---More Fraud/CitiCapital
Leasing Business is Flat
Cartoon---ELFA charts
NVLA December 13-16-Training Program
Classified Ads---Help Wanted
Letters---We get eMail
Fitch: Underwriting & Fraud Subprime Mortgages
Credit Quality in a Freefall
Bernanke hints at further rate cut
US bank earnings plunge in third quarter
Dell's U.S. sales fall, profits disappoint
News Briefs---
You May have Missed---
Jerry Lee Lewis, Fats Domino, Ray Charles
California Nuts Brief---
Sports Briefs---
"Gimme that Wine"
Calendar Events
Snapple Real Facts
Today's Top Event in History
This Day in American History
Football Poem
SuDoku
Daily Puzzle
GasBuddy
News on Line---Internet Newspapers
Denver, Colorado
######## surrounding the article denotes it is a "press release"
------------------------------------------------------------------

Classified ads---Other web sites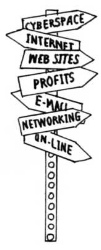 This section has been up-dated. Here are web site where positions that you may qualify for are located. It is also a good idea to visit a bank, financial institution, or leasing company that you may
commute to or may be interested in relocating to. Their human resource department often has ads listed that do not appear in your local newspaper or on a web site you have been visiting.
accountingweb.careerbank.com
www.adams-inc.com
www.affinitysearch.com
www.bajobs.com
www.BayJobs.com
www.careerbank.com
www.careerpath.com
www.craigslist.org (available in many cities now, use scroll feature)
www.credittoday.com
www.elaonline.com
www.FinanceLadder.com
www.goldenparachute.com
www.Headhunter.net
www.hotjobs.com
www.jobs.net
www.jobsearchusa.org
www.JobSpin.com
www.jobsinthemoney.com
www.lessors.com
www.MarketingJobs.com
www.monitordaily.com
www.monster.com
www.monstertrak.monster.com/
www.Postonce.com
www.RecruiterConnection.com
www.resumeblaster.com
www.theleasebog.com
www.vault.com
www.vetjobs.com
www.worktree.com
To place a free "job wanted" ad here, please go to:
http://www.leasingnews.org/Classified/Jwanted/Jwanted-post.htm
For a full listing of all "job wanted" ads, please go to:
http://www.leasingnews.org/Classified/Jwanted/Jwanted.htm
--------------------------------------------------------------

Oh, No! Mr. Bill!---More Fraud/CitiCapital
Leasing broker Alan B. Fabian, 43, a Baltimore, Md. area certified public accountant, perhaps best known as being a financial backer and campaigner for Mitt Romney for President, has more problems. This time the grand jury has found he filed a false individual federal tax return for the year 2002.
The grand jury already indicted him on federal charges for mail fraud, money laundering, bankruptcy fraud, perjury and obstruction of justice from an alleged scheme to defraud a computer equipment leasing company, financial institutions and a government consulting company of $32 million.
The indictment claims forfeiture of $32 million in substitute assets, including eight properties in North Carolina and a property in Hunt Valley; cash; a yacht; three vehicles; and Fabian's interest in several companies, plus a garage full of "Romney for President" lawn signs.
The new 2002 tax charges possibly may add from three to five years more, if convicted. The mail fraud carries a maximum sentence of 20 years in prison for each of the nine counts 10 years in prison for each of the nine counts of money laundering and one count of obstruction of justice; and five years in prison for each of the two counts of bankruptcy fraud and two counts of perjury.
A trial date has not been set.
If he cooperates, or makes a deal, the sentences and fines could be reduced. That is the case in Operation Lease Fleece where 23 of those who have plead "information" have agreed to two to five years of jail time in court sealed documents, admitting to the money they took in dollar terms. Of course, this is up to the judge who makes the sentencing.
At this time, Leasing News understands this may not happen until after the holidays, as late as February. Several other individuals are to be named, as well as two other Southern California companies. In our quest to find out more information, it appears all of this started in 2004 at CitiCapital, including not only a loose credit policy ( no "PG's" required or run) but CitiCapital banking officers on the take.
Leasing News has learned that it was CitiCapital who two years ago tipped off the Feds that started the investigation that lead to several named to wear wire and also cooperate with evidence and information for a reduced sentence. For the record, this did not start with Jim Raeder and Mark McQuitty of CapitalWerks. They took advantage of the situation, for sure (note, the word alleged was not used. editor) Leasing News hopes to have the full inside story in December. How it happened and what funders can do to make sure it doesn't happen to them.
--------------------------------------------------------------

Leasing Business is Flat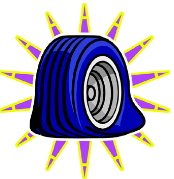 The Equipment Leasing and Finance Association's 1/ (ELFA) Monthly Leasing and Finance Index (MLFI-25) for October confirms what Leasing News is hearing on the streets: Small to mid-size leasing is flat; many report down, as subprime mortgage and the economy is scaring business decision makers. It is also being reflected in consumer confidence.
The ELFA is down from the last quarter by $130 million. September, 2007, saw $7.2 billion in transactions, October, 2007, saw $6.8 billion.
The third quarter was almost $7 billion.
As serious are credit approval ratios, showing a decline.
Charge offs are also starting to rise: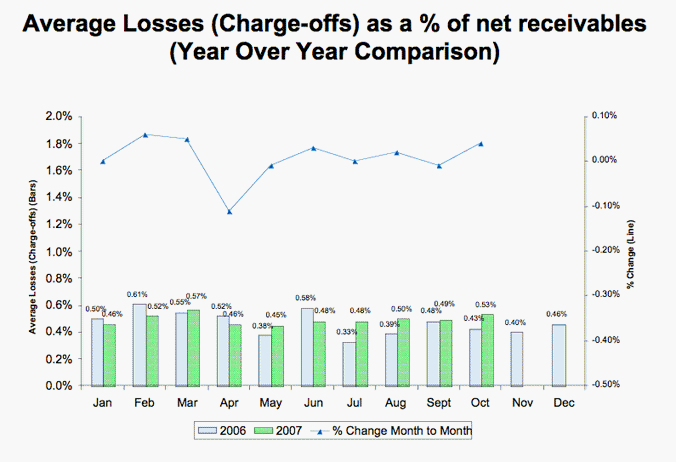 This is from a well-known person in the leasing industry, and not having his permission to quote him, his name is omitted:
"People are afraid for good reason. Our whole country especially our young working class has been transformed from savers to no equity consumers. The keg ran out and the party is over. If you want my opinion: we're in big trouble."
Reflective is what is also happening in the leasing and finance industry is the employment report from MLFI-25: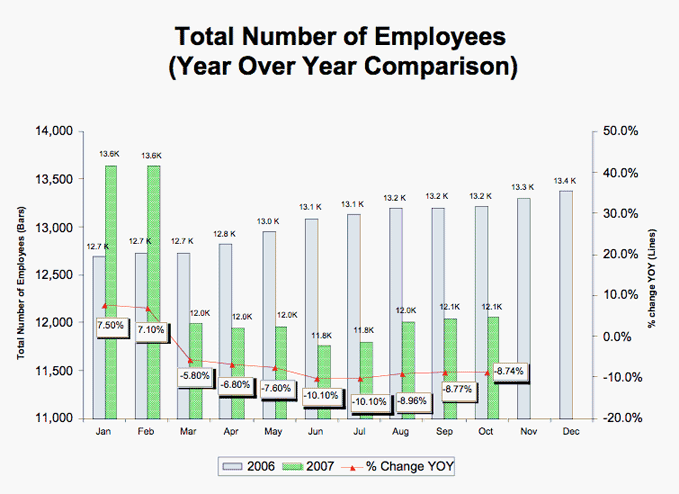 All the charts indicate leasing and finance companies are feeling the downturn, and are not hiring, or replacing people who leave. In the group giving the statistics, both CitiCapital and LaSalle Equipment Leasing will certainly lower the employment statistics to be seen at the end of the year. Caterpillar Financial and John Deere Credit also state the housing decline has affected their business.
ELFA MLFI-25 Participants

ADP Credit Corporation
Bank of America
Bank of the West
Canon Financial Services
Caterpillar Financial Services Corporation
CIT
CitiCapital
De Lage Landen Financial Services
First American Equipment Finance
GreatAmerica
Hitachi Credit America
HP Financial Services
Irwin Financial
John Deere Credit Corporation
Key Equipment Finance
LaSalle National Leasing Corporation
Marlin Leasing Corporation
National City Commercial Corp.
RBS Asset Finance
Regions Equipment Finance
Siemens Financial Services
US Bancorp
US Express Leasing
Verizon Capital Corp
Volvo Financial Services
Wells Fargo Equipment Finance
--------------------------------------------------------------

Cartoon---ELFA charts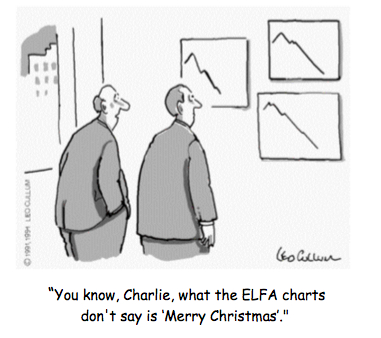 --------------------------------------------------------------

NVLA December 13-16-Training Program
The National Vehicle Leasing Association (NVLA) announced that its Certified Vehicle Lease Executive (CVLE) training program course in Vehicle Lease Accounting will be held December 13th – 16th, 2007 in Orlando Florida at the Four Points Sheraton Studio City.
Full story here:
http://leasingnews.org/PDF/NVLA_%20Announces_Lease_%20Accounting.pdf
--------------------------------------------------------------

Leasing Industry Help Wanted
--------------------------------------------------------------

Letters---We get eMail

Christopher "Kit" Menkin/ editor

"Why won't you print the Atel Press Release?
"So the releases that you posted regarding Metro Bridge and Bombardier are release and not advertising? They are the same exact make up of the one I sent you, not to mention you have posted several other similar ones in the past? What's the real deal?"
Atel
(I don't remember them. This one is not of interest to our readers as it shows money for a vendor program. I get these all the time and rarely do I reproduce them.

(I turn down almost 3/4 of the press releases.

(People don't read leasing news for this type of self-serving, boring promotion. That's the real deal.)
"I am disappointed to see the email exchanges between you and Atel and your refusal to print our press releases. Please let me know if you don't want to receive our press releases and I will have (my staff) stop sending them to you. My view is that our information is no different than what I see in your newsletter on a daily basis. Please give me a call if you would like to discuss, "
dc
Dean Cash

(I am the editor of Leasing News and determine what is newsworthy. It is as simple as that.

(If you don't want to send me press releases, that is fine with me. It won't affect my ratings.

(That ATEL took over 30 days to pay me, is not the issue.
The press release is boring.

(We have published our mission and policy and we have the right to refuse a press release.

(if you want to draw a line in the sand over this, go ahead. Editor)
"I never mentioned the advertising nor would I attempt to interfere with your editorial discretion. I just ask that you give us the same consideration as other companies, thanks, "
dc
Dean Cash
-----
Menzel on Commissions in leasing
click on the body of the chart to enlarge, or go here:
http://www.leasingnews.org/Pages/Points_by_companies.htm
"I believe that we, as an industry, need to maintain good discipline on this issue. The reason for caps on points is very simple. Points paid up front translate into simple interest paid by the borrower or lessee. The rate of interest paid by the borrower translates into risk to the lender or lessor. This is based on one of the oldest and most reliable equations known to man ... the risk-reward equation. This equation says that the higher the "reward" or yield, the higher the inherent "risk".
"Some in our industry think they can trick this equation by disguising yield to the customer. Higher points on smaller transactions can be acceptable since costs are fixed against the cost of the equipment. Naturally, the higher the equipment cost, the lower the points need to be to cover the initial direct costs of the transaction.
"In the end, losses will be higher with higher yielding portfolios and regulators will zero in on disguised yield with disclosure requirement like those in the consumer lending world i.e. Truth in Lending laws. Do we self regulate or wait for the government to do it for us?"
Paul J. Menzel, CLP
President
LEAF Third Party Funding
341 Bollay Dr
PO Box 60607
Santa Barbara, CA 93160-0607
PH: (805) 722-1571
FX: (267) 675-5767
EMail: PMenzel@Leaf-Financial.com
(I believe the leasing and finance industry is well regulated. There are commercial laws that cover invoicing, business practices, fraud, as well as many states require those involved to be licensed, have a sales tax permit, put advance rentals into escrow or be licensed to handle them. This wives' tale that leasing is like the old west that anything goes is not true at all. Ask the FBI, the IRS, the US Postal Department, and the local district attorneys' offices. Violate the law and you go to jail.
(Perhaps you mean there should be a self-regulating agency such as the attorneys, real estate, and other groups have; maybe everyone should be a CLP to be in the leasing business? Not a bad idea, but
there are only slightly over 200 CLP's. There should be more.
(As to commissions, the law associations don't say what their members can charge, nor do the others. It is what each member thinks their time is worth. Referral fees are often not included in attorney invoices, or even mortgage transactions, or sales of portfolio's, or discounts, or what a dealer gets reaching a certain level of transactions. Don't get me into credit card disclosures!
What a racket that is.
(I do agree, a lessee who accepts a 20% commission deal, I certainly would think was desperate or something else is going on in the transaction. Editor)
-----------------
FBI Operation Lease Fleece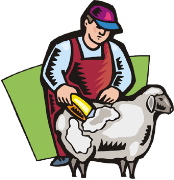 "I trust none of this is a surprise to anyone....those that were caught up in funding these people knew the reputations of these companies. Without going in too deep one could have checked the BBB.
"Shame on those that fed these companies. They had been warned and it was pretty much "public" knowledge that these guys were operating on the edge. ...once again greed in this industry has allowed this to happen.
"We can all make money and keep our reputation by doing business the right way. As the saying goes...the Want of money is the Root of all evil....not the money itself. "
Debbie
Deborah J. Monosson
President & CEO
Boston Financial & Equity Corporation
1260 Boylston Street/Boston MA/02215
T:617-267-2900x121 F:617-437-7601
www.bfec.com
---
Harold Gold, one of the 23 in Operation Lease Fleece
"In the 1980's Graphics Leasing Corporation became one of the preeminent lessors of electronic typesetting systems. These systems were eventually challenges by Apple's Macintosh for graphic design superiority. However, the output device remained a staple of the graphic arts industry. Those output devices could print up to 2,400 (or I believe 3,600) lines per inch onto films and printing plates.

"When the vendors began to market their systems as modular systems, breaking the components into a front end (design station), back end (output devise - basically a very high end laser printer) and an interpreter (the raster image processor that converted the image on the screen into a stream of language a computer printer could understand - nicknamed a RIP and the root of the current term to "rip a file"). At that time funding sources offered $50,000 app-only programs. Systems ran from $60,000 to $100,000. To service the vendors Harold began to split the deals. The problem was when the vendor refused to split the invoice and so Harold had the vendor invoices printed at a local print shop and typed in his office. This progressed to adjusting the equipment costs and removing critical line items -- think of a 2 component $65,000 deal with another $20,000 of "air" from the buyout of the prior lease. The new deal is based on $85,000 and even though one piece might be $55,000 and the other $10,000, during the re invoicing process Harold would direct one invoice to read $49,995 and the other to read $35,000. The first funding source did fine at $50,000 for a $55,000 machine. The second funding source paid $35,000 plus commissions for a $10,000 machine.

"He obviously fit well into the current scheme and having been through Club-Fed once before, likely added value to this process with his experience and wisdom."
(Name With Held)
--
Permission to reprint Leasing #102
"Although I have many years in business, and I have leased software and equipment, I am fairly new to the leasing industry, which is why I appreciate your newsletter. You have a great newsletter for the leasing industry. By the end of the year, I am starting a newsletter for my clients and potential clients. This includes equipment vendors / manufacturers and some end users. I have not yet decided if it will be one newsletter, or two – with one aimed at end users and one aimed at vendors / manufacturers. I am leaning toward sending one newsletter to all.
"I have a question for you. If I gave it proper credit, can I use one of your stories, such as the Leasing 102 article by Terry Winders? I think it is a great story, and that it would be useful to those on the purchasing end of a lease to help them make a more informed decision. I am not trying to infringe on copyrights or anything like that; I want to make my clients the best informed buyers in the business in order to build customer loyalty.
"Please let me know. Thanks."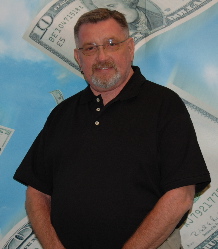 R C Stewart
Finance Coordinator
ACG Equipment Finance
Mentor, Ohio
Toll Free: 800-830-0084 Ext. 218
Direct Line: 440-579-0418
Fax: 800-830-9855
Email: rcstewart@1acg.com
Web: www.1acg.com
(Leasing News policy is anything we print can be shared, except for copyright items, such as many of the cartoons, or an article where permission was obtained to reprint it, as it is copyrighted.)
---------------------------------------------------------------
### Press Release ###########################

Fitch: Underwriting & Fraud Significant Drivers of Subprime Defaults; New Originator Reviews

NEW YORK----Recent vintage residential mortgage-backed securities (RMBS), backed by pools of subprime mortgages continue to substantially under-perform initial expectations, which has resulted in significant ratings downgrades and heightened risk of losses to principal. Fitch's analysis of subprime defaults suggests that lax underwriting and fraud may account for as much as one-quarter of the underperformance of the 2006 vintage of Subprime RMBS transactions. Fitch will be utilizing the insights from its research to improve its RMBS rating process.
The very high delinquency and default performance of recent vintage subprime RMBS has a variety of causes, including declining home prices and the prevalence of high-risk mortgage products such as stated-income loans and 100% combined-loan-to-value loans. Fitch has commented extensively on these drivers of mortgage default, most recently in the special report 'Drivers of 2006 Subprime Vintage Performance', dated Nov. 13, 2007. However as noted in the report, these factors do not fully account for the large number of early defaults that are occurring. Many industry observers have noted that poor underwriting, together with borrower/broker fraud, also appear to be playing a role in high defaults.
While some degree of early defaults are to be expected in subprime mortgage pools, the extraordinarily high level of defaults encountered by the 2006 vintage cannot be explained by home price declines alone. It has become increasingly evident that loans originated with lax underwriting and higher instances of fraud can have a material impact on a securitization. In order to better understand the unexpected high level of early defaults in subprime RMBS, Fitch analyzed a small sample of early defaults from 2006 Fitch-rated subprime RMBS.
Fitch's findings from this review include:
--Apparent fraud in the form of occupancy misrepresentation;
--Poor or lack of underwriting relating to suspicious items on credit reports;
--Incorrect calculation of debt-to-income ratios;
--Poor underwriting of 'stated' income loans for reasonability;
--Substantial numbers of first-time homebuyers with questionable credit/income.
'In the absence of effective underwriting, products such as 'no money down' and 'stated income' mortgages appear to have become vehicles for misrepresentation or fraud by participants throughout the origination process,' said Fitch Managing Director Diane Pendley. 'During the rapidly rising home price environment of the past few years, the ability of the borrower to refinance or quickly re-sell the property prior to the loan defaulting masked the true risk of these products and the presence of misrepresentation and fraud. With home prices now falling in many regions of the country, many loans that would have paid off in prior years remain in the pool and are more likely to default.'
Fitch believes that high risk products and poor underwriting combined have had a substantial impact on defaults. For example, for an origination program that relies on owner occupancy to offset other risk factors, a borrower fraudulently stating intent to occupy will dramatically alter the probability of the loan defaulting. When this scenario happens with a borrower who purchased the property as a short-term investment, based on the anticipation that the value would increase, the layering of risk is greatly multiplied. If the same borrower also misrepresented his income, and cannot afford to make the payments, the loan will almost certainly default and result in a loss, as there is no type of loss mitigation, including modification, which can rectify these issues.
Fitch's research notes that in order to detect and prevent poor underwriting and fraud, a combination of technology and basic risk management is needed not only before, but also during and after the origination of a loan. 'There are several effective fraud indication tools available to originator/issuers; however, no process or tool can identify all instances of misrepresentations of fraud,' said Fitch Ratings Managing Director Glenn Costello. 'Through our enhanced originator review program it is our objective to help mitigate exposure to these kinds of risks in rated RMBS.'
Enhanced Originator/Issuer Reviews for U.S. RMBS:
In light of its research, Fitch believes that it is important to reassess the risk management processes of originators, conduits and/or issuers for product being securitized going forward. Beginning in January 2008, Fitch U.S. RMBS rating process will incorporate a more extensive review of mortgage origination/acquisition practices, including a review of originator/conduit/issuer due diligence reports, and a sample of mortgage origination files. Additionally, Fitch is studying how a more robust system of representation and warranty repurchases could help to provide more stable RMBS performance..
Fitch will conduct enhanced originator/issuer reviews for all subprime transactions. Fitch will not rate subprime RMBS without completion of the review process. Fitch also intends to conduct enhanced reviews for Alt-A RMBS; however, these will be phased-in based on Fitch's view of the risk of particular Alt-A programs. High-risk programs include Pay-Option Arms and programs exhibiting substantial risk-layering. Such programs will be high priority for review.
Fitch's originator/conduit/issuer review process will feature the following elements:
1. Receipt of information package from originator/issuer containing:
--Operational Questionnaire
--Portfolio Statistics
--Due Diligence Reports
--Other Supporting Documentation, as Required
2. On-site Discussion with originator/issuer's senior management and risk management based on Fitch topics list including:
--Sourcing - control processes, level of due diligence, if not directly originating
--Underwriting - guidelines, exceptions, and controls over underwriting decision process
--Property Valuations - guidelines, exceptions, and controls over determination of value process
--Risk Management - audits and compliance to policies and procedures
3. On-site file reviews:
--Targeted sample of mortgage origination loan files
--Review conducted to confirm Fitch's understanding of originator/issuer's control environment
Fitch will provide a more detailed discussion of the originator/issuer review process in the form of a criteria report. Fitch will be communicating directly with originators, conduits, and issuers regarding reviews to be conducted in the interim.
Fitch's new report, 'The Impact of Poor Underwriting Practices and Fraud in Subprime RMBS Performance', is available on the Fitch Ratings Subprime market page at www.fitchratings.com/subprime.
Fitch's rating definitions and the terms of use of such ratings are available on the agency's public site, www.fitchratings.com. Published ratings, criteria and methodologies are available from this site, at all times. Fitch's code of conduct, confidentiality, conflicts of interest, affiliate firewall, compliance and other relevant policies and procedures are also available from the 'Code of Conduct' section of this site.
### Press Release ###########################
--------------------------------------------------------------

News Briefs----
Credit Quality in a Freefall
http://www.cfo.com/article.cfm/10234409/c_10208967?f=home_todayinfinance&x=1
Bernanke hints at further rate cut
http://www.chicagotribune.com/business/chi-071129bernanke,0,5626857.story
US bank earnings plunge in third quarter
http://www.msnbc.msn.com/id/22010581/
Dell's U.S. sales fall, profits disappoint
http://www.usatoday.com/money/companies/earnings/2007-11-29-dellprofit_N.htm
U.S. says home prices are falling, first time in 13 years
http://www.usatoday.com/money/economy/housing/2007-11-29-ofheo-q3_N.htm
Striking Screenwriters Dismiss New Proposals
http://www.nytimes.com/2007/11/29/business/media/30writers.html?_r=
1&ref=business&oref=slogin
---------------------------------------------------------------


You May have Missed---
Jerry Lee Lewis, Fats Domino, Ray Charles Sept. 15,2006 the Netherlands--
Directed by Paul Scheffer and a cameo by Rod Stewart.
7.24 minutes long Boogie Woogie!!! (two songs)
http://www.leasingnews.org/Audio/Charles_Lewis.htm
---------------------------------------------------------------

Sports Briefs----
Favre hurt 2ndQ: Dallas 37, Green Bay 27
http://sports.yahoo.com/nfl/recap?gid=20071129006
http://www.dallasnews.com/sharedcontent/dws/dn/latestnews/stories/
113007dnspocowlede.296fade.html
Rams' Bulger ruled out for Atlanta game
http://www.theredzone.org/absolutenm/templates/template.asp?articleid=361&zoneid=1
----------------------------------------------------------------


California Nuts Briefs---
San Francisco Bay opens to fishing, effective immediately
http://www.sfgate.com/cgi-bin/article.cgi?f=/c/a/2007/11/29/MNE5TLG7V.DTL
----------------------------------------------------------------


"Gimme that Wine"
Three Wine Enthusiasts Win Trips to World-Class Wine Regions
http://www.prnewswire.com/cgi-bin/stories.pl?ACCT=104&STORY=
/www/story/11-27-2007/0004712290&EDATE=
Rain, Hail Test French Wine Producers; Late Sun Saves Vintage
http://www.bloomberg.com/apps/news?pid=20601093&sid=aWhp5NVZI_3w&refer=home
Red wine may provide cure for diabetes
(after a few glasses, you don't care)
http://www.telegraph.co.uk/earth/main.jhtml?view=DETAILS&grid=&xml=/
earth/2007/11/28/sciwine128.xml
Wine Prices by vintage
http://www.winezap.com
http://www.wine-searcher.com/
US/International Wine Events
http://www.localwineevents.com/
Winery Atlas
http://www.carterhouse.com/atlas
Leasing News Wine & Spirits Page
http://two.leasingnews.org/Recommendations/wnensprts.htm
The London International Vintners Exchange (Liv-ex) is an electronic exchange for fine wine.
http://www.liv-ex.com/
----------------------------------------------------------------

Calendar Events This Day
Clear Up The Clutter Day
Computer Security Day
The use of computers and the concern for security increases daily. This annual observance reminds people to protect their computers, program, and data at home and at work.
www.computersecuirtyday.com
Philippines. Bonifacio Day
Commemorates birth of Andres Bonifacio, leader of the 1986 revolt against Spain.
Bonifacio was born in 1863.
Saint Andrew's Day
Feast day of the apostle and martyr Andrew, who died about AD 60. Patron saint of Scotland.
http://www.catholic.org/saints/saint.php?saint_id=109
Saint feast Days
http://www.catholic.org/saints/f_day/nov.php
----------------------------------------------------------------

New York City is nicknamed the Big Apple after an early swing dance that originated in a South Carolina club called The Big Apple.
(Incorrect: History shows sports writers picked up the term from jockeys, who wanted to race in New York, as that was the big time to them in the 1920's. They referred to New York City as the big apple, and a newspaper columnist adopted that title as racing was very popular during this period:
http://gonyc.about.com/cs/atozinde1/a/bigapple.htm
http://en.wikipedia.org/wiki/Big_Apple
----------------------------------------------------------------

Today's Top Event in History
1931-The Joy of Cooking is published, perhaps the most popular all-purpose cookbook, self-published by Irma Rombauer (1877-1962—her son by the way started Rombauer Winery in Napa making outstanding wine.) Rombauer's book was a comforting voice for cooks during the Depression, and the book grew into an institution. The first commercial edition of the book appeared in 1936, and it offered a revolutionary "action format" (chronologically ordered ingredients followed by instructions) now commonplace in cookbooks. In reality, she was not a cook, and most of the recipes she collected from friends and others, and wrote in a style for people who were not cooks.
The numerous editions overseen by Rombauer and later her daughter and grandson sold more than 14 million copies. Her son makes some great Chardonnay.
[headlines]
----------------------------------------------------------------

This Day in American History
1729 ---Birth of Samuel Seabury, first bishop of the American Protestant Episcopal Church. (Following the American Revolution, Seabury helped formulate the constitution which made the American Protestant Episcopal Church independent and autonomous from the Church of England.)
1782-The Articles of Peace between Great Britain and the U.S., which were to end America's War of Independence, were signed at Paris, France . The refined and definitive treaty of peace between Great Britain and the U.S. was signed at Paris, on September 3, 1783. In it, "His Britannic Majesty acknowledges the United Sates...to be free, sovereign and independent states; that he treats them as such; and for himself, his heirs and successors, relinquishes all claims to the government, propriety and territorial rights of the same, and every part thereof..." The time delay was not only due to communication by sea, but time was needed for over 100,000 loyalists to leave the United States. Also known as Tories, the loyalists suffered various penalties for their loyalty to the Crown, including confiscation of property, removal from public office, and punitive taxation. Probably no more than 10% of the colonials were Tories, who were generally well-to-do, engaged in commerce, or the professions, or public officials. Many fled to Canada, where they were granted land if they fought in the British Army, some to England. Some returned after the war. Many, however, had remained behind, thinking Great Britain would win the war. After the conflict, those Tories that did remain were able to recover at least part some of their confiscated property, according to historians. In 1784 a major depression crippled the U.S. economy, prompting states to institute separate measures to aid recovery. The hardships suffered during this depression led to Shay's Rebellion on January 25,1787.
1810 - Birthday of Oliver Fisher Winchester, rifle maker, was born. Winchester began his career as a clothing manufacturer. He opened a store in Baltimore making and selling shirts (1837), before moving to New York (1847) where he took on a partner. Winchester patented a new method or manufacturing men's shirts, and opened a factory in nearby New Haven, Conn. In 1850. He invested his profits from the factory into Volcanic Repeating Arms Company, becoming principal shareholder and president by 1856. Under his leadership, the company acquired rights to manufacture pistols and rifles patented by Tyler Henry and others. The repeating rifle was in full production by 1860, and was in heavy demand during the Civil War, during which Winchester continued to improve the rifle's design by acquiring other patents. He renamed the company the Winchester Repeating Arms Company in 1866. A political and philanthropic figure, he was lieutenant governor of Connecticut (1866–67) and made large donations to Yale. After his death, his wife moved to San Jose and began building the rest of her life the Winchester Mystery House.
1812 -- American forces invaded Canada at Queenston on October 13 and lost. British forces under General Brock hurried down the road from Niagara-on-the-Lake to reinforce the troops at Queenston. When they arrived, the fight began to warm up and the main body of the American militia, on the U.S. side, refused to cross the river to back up the success of their comrades. Their cowardice in abandoning the brave men who had gone before, and the poor leadership of the American Forces changed victory to defeat and possibly changed the entire outcome of the war. General Brock led an attack against the forces on the hill and was killed by a sniper's bullet in the first charge. U.S. forces were back again on this date with an army of 5,000 troops assembled near Buffalo. A small force crossed the river and captured a British battery. General Smythe demanded the British surrender Fort Erie, when this was refused, he called off the invasion plan. His men broke their weapons in frustration and humiliation. Smythe was publicly called a coward and challenged to a duel by U.S. Col. Peter Proter. He resigned his command of the frontier, but was dismissed from the army in disgrace by the Senate. After two years of bloodshed, misguided and misdirected efforts, the armies were back where they started. There was no doubt that both sides of the river gave a heartfelt sigh of relief when the Treaty of Ghent ended the war in December, 1814.
1835-Birthday of Samuel Langhorne Clemens, known as "Mark Twain, " Celebrated American author, whose books include: The Adventures of Tom Sawyer, The Adventures of Huckleberry Finn and The Prince and the Pauper. Born at Florida, MO, Twain is quoted as saying, "I came in with Halley's Comet in 1835. It is coming again next year, and I expect to go out with it." He did Twain died at Redding, CT, Apr 21, 1910 (just one day after Halley's Comet perihelion).
http://memory.loc.gov/ammem/today/nov30.html
1854 -- "Fighting Mary" Eliza McDowell born. A social worker, she helped organize the first women's local union of the Amalgamated Meat Cutters in 1902. Comprised mostly of women workers, the Local grew to more than 1,000 members.
http://www.chicagotribute.org/Markers/McDowell.htm
http://womenshistory.about.com/library/bio/blbio_mcdowell_mary.htm
1864 - The once proud Confederate Army of Tennessee suffers a devastating defeat when its commander, General John Bell Hood, orders a frontal assault on strong Union positions around Franklin, Tennessee. The loss cost Hood six of his finest generals and nearly a third of his force.Of 15,000 Union troops engaged, 200 were killed and slightly more than 2,000 were wounded. The Confederates had 23,000 men at Franklin; 1,750 died and 5,500 were wounded or captured. The losses among the Confederate leadership were horrifying. Six generals were killed, including Patrick Cleburne, one of the Confederate army's finest division commanders. Another five were wounded, one more captured, and 60 of Hood's 100 regimental commanders were killed or wounded. Despite the defeat, Hood continued to move against Thomas. Just two weeks later, Hood hurled the remnants of his army against the Yankees at Nashville with equally disastrous results.
1866-Construction begins on the first underwater highway tunnel, the Washington Street Tunnel, beneath the Chicago River, Chicago, IL. The total length of the tunnel and its approaches as 1,520 feet. It was lowered in 1907 to provide a clear draft of 27 feet in the Chicago River.
1874 – Birthday of Lucy Maud Montgomery; Canadian writer, famous for her juvenile books, especially Anne of Green Gables (rejected by several publishers) published in 1908, and followed by six sequels.
http://www.kirjasto.sci.fi/lmmontg.htm
1875 - A severe early season cold wave set November records. Temperatures plunged to 5 degrees in New York City, NY, 2 below at Boston, MA and 13 below at Eastport, ME
1887-The first softball game was played at the Farragut Boat Club, Chicago, IL. The game was invented by George W. Hancock, who devised a set of rules that gradually developed as the game progressed. A broomstick was used for the bat and a boxing glove for the ball. The game was known variously as Diamond Ball, Fast Ball, Kitten Ball, Playground Ball, and recreation Ball. It was named softball by Walter C. Hakanson.
1907-Nov 30 or 31st Disappearance of SF Police Chief William Biggy
http://www.sfmuseum.org/sfpd/sfpd1.html
http://www.thejukejoint.com/franksinatrajr.html
1906-Birthday of John Dickson Carr lives. Pseudonyms Carr Dickson, Carter Dickson, Roger Fairbairn. American born writer of detective fiction, whose specialty was "locked-room" puzzles, which he developed to its limits. Published about 80 mysteries. Fifty of them featured one of his three detectives - Henri Bencolin, Dr. Gideon Fell, & Sir Henry Merrivale.
http://www.kirjasto.sci.fi/jdcarr.htm
1912-Birthday of Gordon Parks, film director/writer (The Learning Tree) lives. Photographer for Life magazine, director of "The Learning Tree" & "Shaft", called a "Twentieth Century Renaissance man" by the NAACP, who awarded him its Spingarn Medal in 1972.
1915 - "Brownie" McGee, blues singer and guitarist, born Knoxville, Tennessee. Best known as part of the duet Brownie McGee and Sonny Terry. Died February 16, 1996, Oakland, California.
http://www.bluespower.com/a-bm01.htm
http://www.imdb.com/name/nm0569185/
1924---Birthday ofShirley Chisholm, first black woman to serve in U.S. Congress. Got legislation passed that guaranteed minimum wages for domestic workers. Angered the political powers by actively seeking the presidency, winning 154 delegates. After serving seven terms, Chisholm retired from Congress in 1982, becoming a professor at Mount Holyoke College.
1929-Birthday of Dick Clark, long-time host of "American Bandstand, entertainer, producer, born Mount Vernon, NY.
1929 - Johnny Horton is born in Los Angeles. His biggest hit is ``The Battle of New Orleans,'' which tops Billboard's Hot 100 for six weeks in 1959 and sells more than 1 million copies.
1929--Birthday of Joan Gana Cooney, television producer. After winning an Emmy for an anti-poverty special in 1966, she raised the funds to found the Children's Television Workshop which developed and produced Sesame Street, The Electric Company, and provide home and hearth for the Muppets.
1931 -- William Ernest "Bill" Walsh birthday, Pro Football Hall of Fame coach, 49ers,
Born Los Angeles, CA.
1931 –Trumpet player Jack Sheldon Birthday
http://www.jacksheldon.com/
1931-The Joy of Cooking is published, perhaps the most popular all-purpose cookbook, self-published by Irma Rombauer (1877-1962—her son by the way started Rombauer Winery in Napa making outstanding wine.) Rombauer's book was a comforting voice for cooks during the Depression, and the book grew into an institution. The first commercial edition of the book appeared in 1936, and it offered a revolutionary "action format" (chronologically ordered ingredients followed by instructions) now commonplace in cookbooks. In reality, she was not a cook, and most of the recipes she collected from friends and others, and wrote in a style for people who were not cooks.
The numerous editions overseen by Rombauer and later her daughter and grandson sold more than 14 million copies. Her son makes some great Chardonnay.
1933 –Birthday of African-American artist Sam Gilliam, born, Tupelo, Mississippi. Artist known for unique manipulation of materials resulting in painted sculpture or suspended paintings. His work was in the exhibit African-American Artists 1880-1987.
http://www.ket.org/content/painting/gilliam.htm
http://www.artcyclopedia.com/artists/gilliam_sam.html
http://www.crosstownarts.com/CrosstownArts/client_art/sam/sam.html
1937 –Birthday of Noel Paul Stookey, American folk singer. Stookey was "Paul" of the 1960s folk trio Peter, Paul & Mary. Converted in the late 1960s, Stookey is now a Christian recording artist, and prefers using his "born again" name, "Noel."
http://www.noelpaulstookey.com/index.html
1938-- Bunny Berigan records Bix Biederbeck's "Davenport Blues."
1939-- Dwight David Eisenhower was issued pilot's license No. 93,258 by the Civil Aeronautics Administration. He learned to fly when he was a lieutenant colonel on General Douglas Macarthur's staff in the Philippines. He is the only president of the United States to hold an airplane pilot's license.
1940-- Charlie Parker cuts first date with Jay McShann Band, Radio KFBI, Wichita, KS, " I've Found a New Baby."
1943 - On Capitol Records, Nat 'King' Cole and his trio recorded "Straighten Up and Fly Right", the first recording for the King Cole trio.
1943--Birthday of American composer Jerry Hunt, Waco, Texas.One of the most original composers of our time, Hunt, often creating scores of complex physical moves in space, made a concert into an occasion that re-creates music's role in divination of all countries and ages... for example, his "Sur John Dee" (1966) in John Cage's thought-provoking compilation "Notations"(1969, Something Else Press). Hunt was also an innovative computer systems designer and created mysterious alliances of computers and primal energy in his installation pieces (one a voodoo hut with computerized proximity detectors triggering electronic sounds for the New Music America festival in Houston).Died Canton, Ohio, 27 November 1993.
1943---*OHATA, ALLAN M. Medal of Honor
Sergeant Allan M. Ohata distinguished himself by extraordinary heroism in action on 29 and 30 November 1943, near Cerasuolo, Italy. Sergeant Ohata, his squad leader, and three men were ordered to protect his platoon's left flank against an attacking enemy force of 40 men, armed with machine guns, machine pistols, and rifles. He posted one of his men, an automatic rifleman, on the extreme left, 15 yards from his own position. Taking his position, Sergeant Ohata delivered effective fire against the advancing enemy. The man to his left called for assistance when his automatic rifle was shot and damaged. With utter disregard for his personal safety, Sergeant Ohata left his position and advanced 15 yards through heavy machine gun fire. Reaching his comrade's position, he immediately fired upon the enemy, killing 10 enemy soldiers and successfully covering his comrade's withdrawal to replace his damaged weapon. Sergeant Ohata and the automatic rifleman held their position and killed 37 enemy soldiers. Both men then charged the three remaining soldiers and captured them. Later, Sergeant Ohata and the automatic rifleman stopped another attacking force of 14, killing four and wounding three while the others fled. The following day he and the automatic rifleman held their flank with grim determination and staved off all attacks. Staff Sergeant Ohata's extraordinary heroism and devotion to duty are in keeping with the highest traditions of military service and reflect great credit on him, his unit, and the United States Army.
1945---Top Hits
It's Been a Long, Long Time - The Harry James Orchestra (vocal: Kitty Kallen)
That's for Me - Dick Haymes
I'll Buy that Dream - The Pied Pipers
Shame on You - The Lawrence Welk Orchestra (vocal: Red Foley)
1948 --Baseball's Negro National League announced they are disbanding; the 1949 is their last season. The National Negro American League closed its doors in 1962, although its fans were less and less after the 1950's as blacks began to play in the major leagues.
http://www.negroleaguebaseball.com/history101.html
http://www.nlbpa.com/history.html
1950-- Clover Dairy Company, Wilmington, DE, sold their first can of concentrated milk called Sealtest. Two parts of water were added to one part fluid milk. The Clover Dairy Company was a division of the National Dairy Products Corporation.
Originally it was only a "test," thus the name on the can.
1951 - U.S. Air Force Major George A. Davis shot down three Tupolev TU-2s and a MiG jet fighter to become the fifth ace of the war.
1952 - U.S. Air Force Lieutenant Colonel Winton W. Marshall destroyed one TU-2 and a LA-9 and was officially credited as the sixth ace of the war.
1952-- On a local New York television show, Jackie Robinson accuses the Yankee organization of being racist due to its failure to have a black player on the club.
1953---Top Hits
Rags to Riches - Tony Bennett
Many Times - Eddie Fisher
Ricochet - Teresa Brewer
There Stands the Glass - Webb Pierce
1954-The first meteorite known to have struck a person crashed through the roof of a house at Sylacauga, AL, bounced off a radio, and struck Mrs. Elizabeth Hodges on the hip. she was not permanently injured. The space rock was a sulfide meteorite weighing 8.5 pounds and measuring seven inches long. It was put on display in the University of Alabama Museum of Natural History, Moundville, AL.
1954-Birthday of June Pointer, Pointer Sisters, born Oakland, California.
http://www.thepointersistersfans.com/june.html
1955 - Billy Idol (William Michael Albert Broad), Guitarist, singer, songwriter, born Middlesex, England.
http://www.billyidol.com/v1/frame.html
1956- Floyd Patterson won the heavyweight title by knocking out Archie Moore in the fifth round of a fight in Chicago. Patterson claimed the title made vacant by the retirement of Rocky Marciano on April 27.
1961---Top Hits
Runaround Sue - Dion
Please Mr. Postman - The Marvelettes
Goodbye Cruel World - James Darren
Big Bad John - Jimmy Dean
1964 - A cold wave brought temperatures to 17 below at Minneapolis and 3 below at Springfield, IL
1967-- Julie Nixon & David Eisenhower announce their engagement
1968 - Diana Ross and the Supremes hit t#1 on the music charts with "Love Child", a controversial song for the times. It stayed at #1 for two weeks.
1969---Top Hits
Come Together/Something - The Beatles
And When I Die - Blood, Sweat & Tears
Na Na Hey Hey Kiss Him Goodbye - Steam
Okie from Muskogee - Merle Haggard
1969 -- Simon & Garfunkel's first TV special airs. Sponsor AT&T backs out when they learn that the duo plan to show footage of Bobby Kennedy's funeral march and clips of the Vietnam War.
1971 - No. 1 Billboard Pop Hit: ``Family Affair,'' Sly & the Family Stone. The song is the group's last top 10 hit.
1971 - As the "ABC Movie of the Week", ABC-TV presented "Brian's Song". The story was about Chicago Bears Brian Picolo and his friendship with Gayle Sayers, who watched him die a tragic death. The movie rated a 32.9 and a 48 share. "Brian's Song", performed by Michel Legrand, was the movie's theme.
1974 - The Eagles released their hit, "Best of My Love", but it would take until March 1,1975 for it to hit #1 on the top 40 charts.
1977---Top Hits
You Light Up My Life - Debby Boone
Don't It Make My Brown Eyes Blue - Crystal Gayle
How Deep is Your Love - Bee Gees
The Wurlitzer Prize (I Don't Want to Get over You) - Waylon Jennings
1983-- Radio Shack announces the Tandy Model 2000 computer (80186 chip)
1985--Separate Lives" by Phil Collins & Marilyn Martin topped the charts and stayed there for a week.
1985---Top Hits
Separate Lives - Phil Collins & Marilyn Martin
Broken Wings - Mr. Mister
Never - Heart
Too Much on My Heart - The Statler Brothers
1986 - No. 1 Billboard Pop Hit: ``The Next Time I Fall,'' Peter Cetera with Amy Grant. The single is the second No. 1 hit in a row for Cetera, a former member of Chicago.
1987 -- "Weird Al" Yankovic records first of his "Even Worse" LP: "Melanie" & "Stuck In A Closet With Vanna White".
1987 — Los Angeles Raiders running back Bo Jackson rushes for 221 yards in just his fifth career NFL game as the Raiders beat Seattle 37-14. Jackson scores on runs of 91 and 2 yards, and adds a 14-yard touchdown catch.
1988 -- LL Cool J performs the first rap concert held in Africa.
1991 ---93 cars and 11 truck accident near Coalinga, California (Central California, after the grape vine,) during a dust storm, 17 die and 150 are injured. The area is well-known for its "tully" fog and dust storms.
1991-"Set Adrift on Memory Bliss" by P.M. Dawn topped the charts and stayed there for a week.
1991 -Minneapolis ended the month with 46.9 inches of snow, the most ever for November and for any month. Although the official start of winter was still 3 weeks away, the city had already surpassed the normal seasonal snowfall record with 55.1 inches since October 1
(normal for the entire winter is 49.2 inches)
1993 --Brady gun bill signed into law.
2000 --Free agent Mike Mussina inks an $88.5 million, six-year contract with the Yankees. The ten-year veteran compiled a 147-81 record with a 3.53 ERA as an Oriole hurler.
--------------------------------------------------------------

Football Poem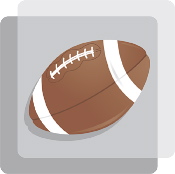 S.F. 49ers
Jane Griffin
Gold helmets shine in the sunlight.
The jerseys are loose and the pants are tight.
Those were the only things shining this year.
After so many losses, there's no reason to cheer.
That's what all thought but one loyal fan
Because not matter what, I believe that they can.
I know we could have won the Superbowl
If our kicker was able to make a field goal.
Many times when we could have won the game,
Because of special teams, we left the field in shame.
We'll have to wait until next season
To be the ones doing the teasin'.
The Superbowl will be our mission.
After all it's 49ers tradition.
(written a long time ago.)
--------------------------------------------------------------

SuDoku
The object is to insert the numbers in the boxes to satisfy only one condition: each row, column and 3x3 box must contain the digits 1 through 9 exactly once. What could be simpler?
http://leasingnews.org/Soduku/soduko-main.htm
--------------------------------------------------------------

Daily Puzzle
How to play:
http://www.setgame.com/set/puzzle_frame.htm
Refresh for current date:
http://www.setgame.com/set/puzzle_frame.htm
--------------------------------------------------------------




http://www.gasbuddy.com/
http://www.gasbuddy.com/GB_Map_Gas_Prices.aspx
http://www.gasbuddy.com/GB_Mobile_Instructions.aspx
--------------------------------------------------------------

News on Line---Internet Newspapers
Denver, Colorado
--------------------------------