Leasing Sales Manager
Develop & lead sales force in a fast track
company. Our phenomenal growth provides this great opportunity, 5+ years exper. working w/brokers. Relocate to beautiful
San Antonio, Texas. resumes@swcreditlender.com


Wednesday, October 12, 2005
Headlines---
Welcome New Readers
Classified Ads --- Job Wanted
Top Ten Stories --- October 3-7, 2005
Leasing Association Conferences - Fall. 2005
Sales Make it Happen --- Rethinking Customer Loyalty
Classified Ads --- Help Wanted
Forsythe Technology Appoints William P. Brennan President
Sterling National Bank Opens N.J. Regional Office
Today's Top Event in History
This Day in American History
######## surrounding the article denotes it is a "press release"

Welcome New Readers
While most who read Leasing News go to the web site first, many still join our mailing list. Our goal is to print daily from Monday to Friday, but most often it is only three or four times a week, so when you are on the mailing list, you are informed that the new edition is available.
We go to "press" when we think there is enough equipment leasing news to do so.
Readers on our mailing list also get notices of major events from time to time.
We welcome the new readers and hope you enjoy and find informative Leasing News.
----------------------------------------------------------------

Classified Ads --- Sales Manager & Senior Management
Sales Manager
Atlanta, GA
30 years in transportation Finance with strong management/ sales background. Represented company on national & region markets. Started two successful operations- produce profits and growth.
Email: pml@mindspring.com
Chicago, IL.
Successful sales manager has 15 years experience with captives and independents. Expertise in re-energizing existing sales teams and territories, also building teams from scratch. True Team Leader looking for new challenge.
email: Murph5553@aol.com
Chicago, IL
Senior sales manager seeks Chicago based sales management role with growing, creative, customer focused lessor. Extensive experience/documented results in all aspects of information technology leasing.
Email: belanger@dataflo.net
Dallas/Fort Worth, TX.
Domestic-int'l exp. Small to middle ticket. 24 yrs with Fortune 500 firms(2). Consistently achieves margin/ volume goals.
Email: dptr7300@sbcglobal.net
Marlton, NJ
25 years exper. Promoted to sales manager after attaining highest percentage of quota for 2 years. Increased business by 50% over two years as sales manager.
Email: Sjgaul@aol.com
New York, NY
I have over 25 years owning an independent leasing company that specialized in truck leasing. Tow trucks, Limos, ambulances, tractors, etc..
Email: rfleisher@rsrcapital.com
Pennsauken, NJ.
17 Years Leasing in all capacities from CSR and Collections to National Sales Management and Vice President Vendor Development. Exceptional People Skills. Many industry references.
email: cherfurth1@aol.com
Portland, OR.
18+ yrs w/bank leasing company. Supervised 14- 20 sales people. Willing to relocate for the proper position.
Email: pthygeson@netscape.net
Scottsdale, AZ
Have successfully built or rebuilt 3 national sales forces in 3 different industry niches. Strong credit and operations background compliment overall experience. Strong industry references.
Email: azlessor@cox.net
Senior Management
Baltimore, MD
25 year veteran of commercial and equipment leasing seeking a senior management position with leasing or asset based financing company in the southeast (Florida preferred)
Email: kellogg_md@yahoo.com
Denver, CO.
Fortune 500 GM/SVP wants to team up with aggressive lender looking for Western expansion mid-market equip. finance/leasing. 20+ years experience within Rocky Mountain/Southwest and Ca markets.
Email: legal@csotn.com
Hope, NJ.
25 years in optimizing call center operations, collections, billing, and back end revenue generation. Experienced in $7 + billion dollar portfolios. Verifiable achievements.
E-mail: cmate@nac.net
Irvine, CA.
Credit executive, portfolio manager and syndication facilitator. Extensive business building experience in small and mid-ticket operations. Highly innovative. Fortune 100 audit and technology skills. Bottom-line manager.
Email: lenhubbard@bigfoot.com
Jacksonville, FL.
15+yrs Collections/Customer Service Expert. InfoLease, CARMS,managed staffs excess 100 VERY successfully - will relocate WITHIN Florida for right position ~ SIMPLY THE BEST
Email: rafftink@aol.com
Lawton, OK.
Twenty years, I have been the President of Cash Financial Services. I sold my loan portfolio. Resume.
email: bobmooreok@email.com
Long Island, NY
Degree Banking/Finance. 13 years leasing exp. Now prez young leasing company where promises were not met. Interested in joining established firm with future.
Email: bob33483@yahoo.com
New York, NY, NJ, Ct Tri-State
Top Exec. middle and big ticket, top skills treasury,funding, ops,transaction detail, syndication, ready to max profit, help build quality operation. right now!
E-Mail: leasefinance@optonline.net
Orange County, CA
25+ years experience large ticket equipment finance companies and commercial banking. Operations, documentation, legal, credit, workouts, portfolio management. $2+Billion portfolio. Seeking CFO, COO or similar.
Email: finance1000@cox.net
Philadelphia, PA.
27 yrs. exp. sales, ops., credit, strategy, P&L mngmet. Most recently created & executed the biz plans for 2 highly successful Bank-owned small ticket leasing subsidiaries.
email: mccarthy2020@comcast.net
Portfolio Management Consultant;
25+years experience in Collections, Customer Satisfaction, Asset Management, Recoveries, Continuous Process Improvement, Back end Revenue Generation, Cost per Collection Analysis. $5+Billion Portfolio expertise.
Email: efgefg@rogers.com
Salt Lake City, UT
GM in Sales, Marketing & Operations for Several technology captives. Seeking new adventure in Western States. Consultant of full time.
Email: stevegbdh@hotmail.com
San Francisco, CA.,
25 years experience w/global leasing company, sales,marketing,business dev., P&L responsibility, asset mgmt, brokering and re-marketing. Interested in joining an est. firm with a future.
Email: rcsteyer@yahoo.com
Syracuse, N.Y.
Int. equip. leasing exec. 25 yrs global P&L sr. mngt., including corporate turnarounds, strategic planning, new biz dev., structure finance, contract neg., vendor leasing specialist.
Email: jimh356094@aol.com
Wilmington, DE.
Over 15 years experience managing Credit, Risk Management and Fraud operations for large Financial Institution. Proven Results. Anywhere between NYC and DC for right opportunity.
Email: cklous@comcast.net
For a full listing of all "job wanted" ads, please go to:
http://216.66.242.252/AL/LeasingNews/JobPostings.htm
To place a free "job wanted" ad, please go to:
http://216.66.242.252/AL/LeasingNews/PostingForm.asp
---------------------------------------------------------------

Top Ten Stories - October 3-7, 2005
(These are not the top best stories or most interesting, but a count by how many readers read the article. The one on top was read by the greatest majority of readers:)
1. U.S. Bancorp Equipment Finance, Inc. Names Gioia Head of Vendor Finance Group
http://www.leasingnews.org/archives/October%202005/10-04-05.htm#bancorp
2. Lease/Finance Calculators On Line
http://www.leasingnews.org/archives/October%202005/10-04-05.htm#calc
3. Key Equipment Finance Names Vice President, Vendor Financing, Canada
http://www.leasingnews.org/archives/October%202005/10-05-05.htm#key
4. Main Street National Bank Opens Midwest Regional Equipment Leasing Office
http://www.leasingnews.org/archives/October%202005/10-07-05.htm#national
5. Leasing Insurance Fraud Einhorn to be Sentenced Today
http://www.leasingnews.org/archives/October%202005/10-03-05.htm#fraud
6. CEO Masters with Clay Feet
http://www.leasingnews.org/archives/October%202005/10-05-05.htm#sales
7. Federated Financial Corporation of America announces
expansion of Commercial Portfolio Servicing Division
http://www.leasingnews.org/archives/October%202005/10-07-05.htm#ffca
8. Story Credit Lessors
http://www.leasingnews.org/archives/October%202005/10-07-05.htm#story
9. CIT to Divest Approximately $290 Million of Non-Core Assets
http://www.leasingnews.org/archives/October%202005/10-03-05.htm#cit
10. Ohio District Court Issues Favorable Ruling to Lessor in NorVergence Case
http://www.leasingnews.org/archives/October%202005/10-03-05.htm#norv
----------------------------------------------------------------

Leasing Association Conferences-Fall, 2005
Equipment Leasing Association
October 23-24
44th Annual Convention
Boca Raton Resort & Club
Boca Raton, Florida
A non-member who has not attended the conference before is invited
to attend.
Registration and all information about the Annual Convention are now available on-line at http://www.elaonline.com/events/2005/annconv/
ELA's 44th Annual Convention focuses on creating and managing value and performance.
By Lesley Sterling
Value is a subjective word. But it is a critical component of a company's performance and health. The 2005 Special Edition of The McKinsey Quarterly on Value and Performance suggests that companies with a clear sense of value "...have a robust strategy, well-maintained assets, innovative products and services, a good reputation with customers, regulators, governments and other stakeholders and the ability to attract, retain and develop high-performing employees." Sound like any of your companies out there? Equipment lessors who are most successful at creating value for customers, investors, parent company and employees strengthen their market presence and increase their opportunities for growth.
Sessions planned for the 44th Annual ELA Convention, scheduled October 23-25, 2005 at the Boca Raton Resort & Club in Boca Raton, Florida, address a wide variety of the dimensions critical to creating and managing value and performance. "Creating Value," this year's convention theme, implies that your company is successful because of greater knowledge, convenience or speed.
For the 44th time, everyone who is anyone in equipment leasing and finance will gather at the ELA Annual Convention. What brings them back? As the largest annual gathering of equipment leasing leaders, the ELA Annual Convention is a tremendous opportunity to meet with colleagues, conduct business and update your learning on the latest issues impacting your business. And perhaps most important of all…the ELA Annual Convention is one of the best ways to test your assumptions about your market segment, the economy, and opportunities for business development.
We invite you to review what's in store for you in Boca Raton this year:
General Sessions
--The United States' Place in the World Today--
A first-rate group of policy analysts have been invited to discuss America's role in the world today. This formidable panel is comprised of the following individuals:
Richard Haass--Mr. Haass is president of the Council on Foreign Relations. Until recently, Richard Haass was director of policy planning for the Department of State, where he was a principal advisor to Secretary of State Colin Powell on a broad range of foreign policy concerns. Haass also served as U.S. Coordinator for policy toward the future of Afghanistan and was the lead U.S. Government official in support of the Northern Ireland peace process. For his efforts, he received the State Department's Distinguished Honor Award. Previously, Ambassador Haass was vice president and director of foreign policy studies at The Brookings Institution.
Dr. Zbigniew Brzezinski--Dr. Brzezinski is a counselor with the Center for Strategic & International Studies, and the Robert E. Osgood Professor of American Foreign Policy at the Paul Nitze School of Advanced International Studies, Johns Hopkins University, Washington, DC. From 1977 to 1981, Brzezinski was National Security Advisor to President Carter. In 1981 he was awarded the Presidential Medal of Freedom for his role in the normalization of U.S.-Chinese relations and for his contributions to the human rights and national security policies of the United States.
General Brent Scowcroft (Ret.)--As president and founder of The Scowcroft Group, and one of the country's leading experts on international policy, Brent Scowcroft provides strategic advice and assistance in dealing in the international arena. Gen. Scowcroft has served as the National Security Advisor to both Presidents Ford and G.H.W. Bush. During his twenty-nine-year military career, West Point-graduate Scowcroft attained the rank of Lieutenant General and served as the Deputy National Security Advisor, Professor of Russian History at West Point; Assistant Air Attaché in Belgrade, Yugoslavia; Head of the Political Science Department at the Air Force Academy; Air Force Long Range Plans; Office of the Secretary of Defense International Security Assistance; Special Assistant to the Director of the Joint Chiefs of Staff; and Military Assistant to President Nixon.
Creating Pockets of Greatness
Jim Collins--Jim Collins is a student of enduring great companies—how they grow, how they attain superior performance, and how good companies can become great companies. Having invested more than a decade of research into the topic, Jim has authored or co-authored four books—including "Built to Last," a fixture on the Business Week bestseller list for more than six years, and the New York Times bestseller, "GOOD TO GREAT: Why Some Companies Make the Leap…And Others Don't." His work has been featured in Fortune, The Economist, Fast Company, USA Today, Industry Week, Business Week, Newsweek, Inc., and Harvard Business Review.
Economic Realities: The World View
David D. Hale--David Hale is the Global Chief Economist for the Zurich Financial Services Group and its investment affiliates, advising the group's fund management operations on the economic outlook and a wide range of public policy issues. Mr. Hale is a member of the National Association of Business Economists, the New York Society of Security Analysts, the Financial Instruments Steering Committee of the Chicago Mercantile Exchange and the Academic Advisory Board of the Federal Reserve Bank of Chicago. He writes on a broad range of economic subjects for such publications as The Wall Street Journal, The Far Eastern Economic Review, The Financial Times of London, The New York Times, The Nihon Kezai Shimbun, The Financial Analyst Journal, The Harvard Business Review, and Foreign Policy. Since 1990, he also has been a consultant to the United States Department of Defense on how changes in the global economy are affecting United States security relationships.
Breakout Session Sampler
Thirty concurrent breakout sessions have been planned, including the annual meetings of the six ELA Business Councils. Sessions selected for the 44th Annual ELA Convention describe one or more value propositions that are reflected in any of the following:
• Greater value for customers
• New ways of looking at customers
• How products are positioned or priced
• Differentiating your company from competitors
• Higher returns
• Greater market share
• Effective use of resources
• Personnel programs that add value
• Effective management of assets
• Risk management
• Optimizing changes in a new regulatory environment.
For a complete listing of the sessions planned, go to the ELA website: http://www.elaonline.com/events/2005/annconv/
"Business Growth through Customer Satisfaction—How to Make it Happen"
Attendees to this session will get a greater understanding of the role customer satisfaction plays in driving business growth, and will learn specific approaches to pursue better customer satisfaction in a variety of areas. In his more than 20 years working in financial services, Keith Kendall, VP & Managing Director, HP Financial Services, has developed a sense of what works. He maintains that there are three keys to successfully creating and maintaining value for the customer and therefore driving satisfaction: effective partnering, efficient processes, and customer dialogue. Kendall will outline the strategy of HP Financial Services in its pursuit of total customer experience (TCE) and how that has brought the organization squarely into a redesign of customer processes that is spawning new ways of working and driving positive results.
"Developing & Motivating a Sales Force that Creates Value"
This session highlights the value created by a well-trained, highly motivated sales force. Three organizations—a bank, an independent and a captive—will share how they organize, develop, motivate, evaluate and compensate their sales force. Issues discussed include: critical competencies; turning work activities into planned and tracked learning events; using collaborative simulation to improve performance; expanding the role of the sales force into strategic planning and portfolio performance; alignment strategies; processes; performance measurement initiatives; compensation methodologies; sales force structure; activity segmentation; assessment; training methods and performance measurement; importance of aligning captive and vendor sales force training programs with end user go-to-market strategies and financing offerings. Panelists include Paul Frisch, EVP, US Bancorp Equipment Finance, Inc.; Lynda Jackson, Principal, The Alta Group; Todd Karas, Managing Director, Bank of America; Gary Kempinski, VP, Business Development, GE Commercial Finance; and Chuck Thomas, IBM Global Financing.
"Best Practices: How Front-End Systems Can Improve Origination Capacity"
To remain competitive, innovative finance organizations are returning to the point of origination to tap under-leveraged resources and open new portals for business growth. Panelists will share real-world challenges they faced during front-end to back-end processing system integration, the solutions they came up with for implementing a standard process, and the results in improved efficiency, profitability and long term business. Case studies presented by small, mid and large ticket equipment financing companies. Speakers include: Virginia Garcia, (moderator), TowerGroup; Mike Romanowski, CoBank; Elaine Temple, First Continental; and Jim Zook, International Decision Systems.
"Know Your Competition: How to Compete Against Alternative Capital Market Products"
Recent innovations in public debt securities and institutional finance have generated a host of new products that are an alternative to leasing in funding capital equipment acquisitions, especially for below investment grade companies. Mindy Berman, 42 North Structured Finance, Inc., will help attendees identify the capital markets products that compete against leasing products. These products are not always a direct replacement for leasing but provide an alternative source of funds that frequently pre-empts a company's need to finance capital equipment spending on a dedicated basis. She will also identify the size and characteristics of each product market and the target borrowers for each. Berman will discuss how these capital market alternatives compare to equipment financing and the pros and cons of each, including terms, pricing and corporate restrictions. How to sell against these products will also be reviewed.
"Getting the Leads-Managing the Relationship-Closing the Loop"
This panel of experts from leasing, business process and technology service providers will review the latest tools, techniques and methodologies in sales and marketing automation. Presenters will address key topics such as list/campaign management techniques, leading sales automation technologies, tying together marketing, sales, pricing, credit and operations, application to small versus mid ticket businesses, marketing vendor programs, accelerating source/program approval. Panelists, which include: Michael Pennell, CapitalStream; John Hurt, LaSalle National Leasing Corp.; and Steve LeBarron, Blackwell Consulting Services, will provide real world examples of techniques and technologies that have, and have not, worked.
"Data Security: The Rules Have Changed and the Risks are Higher"
The flood of news items disclosing one data security breach after another continues to rise. These data security breaches are embarrassing and costly: the average reported loss of a data theft incident is $2.7 million (Wall Street Journal). Jeffrey Zeigler, Newmarket Trading Group Ltd, will help attendees understand how the changing regulatory environment is effecting data security requirements for owners and lessees of information technology equipment. Areas covered include Sarbanes-Oxley, Health Insurance Portability and Assurance Act (HIPAA) and Graham Leach Bliley ( GLB). Attendees will also learn how the rise of identity theft and the technology used to combat its spread is impacting the equipment leasing industry. The security and documentation procedures needed to demonstrate compliance is also discussed. The session will address the key issues related to ELA members for data security requirements in 2005 and beyond.
"Building Small Ticket Business by Creating Value for Manufacturers and Distributors: Take the Mystery out of Leasing with Technology"
Manufacturers and distributors of equipment need robust funding sources and programs that will enable them to differentiate their products from the competition by way of financing they provide their customers. Financing must be price competitive, easy to access and able to support multiple levels of credit-worthiness. Dwight Jackson and Stuart Koplowitz of Terra Vista Software, Inc., will discuss: how automating the process of online rate sheet pricing and applications reduces response time back to customers resulting in increases in the sales hit rate for manufacturers and distributors; how automating rate sheet pricing substantially reduces the risk to the funder by improving the accuracy by which the process is applied, improving efficiencies and reducing costly mistakes. This translates into higher profit and overall customer satisfaction and better customer retention.
We hope to see in you Boca Raton, Florida. For a complete review of the activities and sessions planned for the 44th Annual Convention, please visit the ELA website here:
http://www.elaonline.com/events/2005/annconv/
Lesley Sterling is ELA vice president, professional development.
---------------------------------------

Association of Government Leasing & Finance
November 9, 2005
Dana Point, California
Conference Brochure and Registration:
http://www.aglf.org/pdf/25AM05RegPgm.pdf
AGL&F FALL CONFERENCE SPONSORS
Chairman's Club
AIG Commercial Equipment Finance
Banc of America Leasing and Capital Group
DeLage Landen Public Finance, LLC
Standard & Poor's Corp.
President's Club
Fifth Third Leasing Company
LaSalle National Leasing Corporation
Moody's Investors Service
National City Commercial Capital
Oppenheimer & Co., Inc.
SunTrust Leasing Corporation
Silver Anniversary Club
All Points Capital Corp.
Ambac Assurance Corp.
Becker Stowe & Bieber, LLC
Chapman & Cutler, LLP
Doyle & Bachman
Financial Security Assurance
GE Capital Public Finance
Gilmore & Bell, P.C.
Government Leasing Company
Marquette Bank
Peck Shaffer & Willams, LLP
Popular Leasing
Tatonka Capital Corp.
Wachovia Bank, N.A.
Windels Marx Lane & Mittendorf, LLP
----------------------------------------------------------------

Sales Make it Happen
Rethinking Customer Loyalty
Customer loyalty is a major concern for everyone in business today, perhaps because there appears to be so little loyalty among so many customers. At best, loyalty is fleeting among many customers, and at worst, it simply isn't part of their thinking.
I am always amazed at how many books are written each year on the subject of customer loyalty. These books are written and read, I think, because we don't want to face the reality of pervasive disloyalty in the business world. We do a good job for our customers, we treat them fairly, our pricing is competitive and we remain loyal to our customers. So why aren't they more loyal to us?
At the risk of sounding cynical, customer loyalty really is a simple concept, and for me can be boiled down into the following statement: Customers are loyal so long as the rewards of loyalty outweigh the rewards of disloyalty! Approached from this understanding, the challenge of gaining customer loyalty may not become easier, but surely comes into clearer focus.
To make matters more challenging, providing good service to customers today will not guarantee continued loyalty. I was shocked to discover that 80% of
customers who switch vendors rate the service of their previous vendors as "satisfactory to good." Good service is no longer good enough to guarantee customer loyalty!
Keeping customers loyal continues to be more challenging than ever for most businesspeople. Next week we will explore some ways to promote customer loyalty in highly competitive industries, like equipment financing.
--- from the desk of a retired, successful leasing company president.
----------------------------------------------------------------

Classified Ads --- Help Wanted
Lease Representative

Baltimore - Washington area
Lease Representative
M&T Bank is seeking an in-market lease representative to develop and maintain relationships with broker/lessors, equipment vendors, and direct lessees throughout Maryland and Northern Virginia. Must be knowledgeable small ticket leasing ($75K average ticket) and third-party lease/loan transactions. Please apply on-line at www.mandtbank.com and view posting #4044.
At M&T Bank, we provide and exciting and challenging work environment where performance and innovative thinking is encouraged at every level. With over 700 branches, your career can travel as far as you take it!

Leasing Sales Manager

Leasing Sales Manager
Develop & lead sales force in a fast track
company. Our phenomenal growth provides this great opportunity, 5+ years exper. working w/brokers. Relocate to beautiful
San Antonio, Texas. resumes@swcreditlender.com


National Account Manager

Truck/Trailer Industry
National Account Manager
5+ year proven track record, located in either Texas or upper Mid-West markets,
estab. relationships to produce min. $750k
a month, for more information, click here.
To apply click here.


----------------------------------------------------------------
###Press Release############################

Forsythe Technology Appoints William P. Brennan President
Industry-leading provider of IT consulting, leasing, and value-added-reseller services poised for continued growth.
Skokie, Ill. -- William P. Brennan, 49, has been named president of Forsythe Technology, a technology infrastructure solutions provider, and of its subsidiary Forsythe Solutions Group. He was also elected to the board of directors for each company. Mr. Brennan assumes the president's post previously held by Forsythe chairman Richard A. Forsythe, who founded the company in 1971.
"Over the past 35 years, our company has established a reputation for taking great care of our customers while achieving steady growth and an unbroken record of profitability," comments Mr. Forsythe. "I am confident that Bill's talent and experience will enable him to take our already-successful business to a higher level."
Mr. Brennan brings more than 25 years of IT industry and business strategy and management experience to his current position. Most recently, he served as Forsythe Solutions Group's senior vice president of sales, and prior to that, as vice president of sales and product operations, responsible for client targeting, marketing integration, and sales programs; sales team development and planning; sales methodology; and order fulfillment processes. Before joining Forsythe in 2003, Mr. Brennan was an independent consultant, leading strategic business transformation engagements. He also spent 14 years in sales, marketing, and management with IBM Corporation.
"The credit for building this company over the years goes to its capable employees and leaders," says Mr. Brennan. "We are extremely fortunate to have so many dedicated, knowledgeable people within our organization, and working together, I believe we can continue to strengthen and grow our business. I am honored and excited by this opportunity."
Mr. Brennan's appointment coincides with Mr. Forsythe's plans to sell his 85 percent ownership stake in an employee stock ownership plan (ESOP) leveraged buyout over the coming months. The sale will increase the ESOP's ownership in the company to 100 percent. Mr. Forsythe will continue as chairman until the sale is complete.
"Forsythe Technology is a great company because of its first-class employees," adds Mr. Forsythe. "I believe that the best way to ensure the company's future success is to leave it in the hands of those who work hard every day to bring value to our customers by delivering quality consulting services and providing optimal technology and financing solutions."
Also announced is the departure of David Nolan, senior vice president of network and security solutions. Mr. Brennan comments, "David's contributions over the past three years, especially in the areas of IT risk management and network solutions, made a tremendous contribution to Forsythe's business model by helping to establish Forsythe as a highly-regarded player in the consulting services market. We thank him and wish him well."
###Press Release###########################


Sterling National Bank Opens N.J. Regional Office
Second Regional Office to Offer Banking Solutions to Underserved Businesses
NEW YORK, NY. - Sterling National Bank, the principal banking subsidiary of financial holding company Sterling Bancorp (NYSE: STL), announced the opening of its New Jersey Regional Office at Park 80 West, Plaza One in Saddle Brook, N.J.
The New Jersey Office will support the Bank's Equipment Leasing, Sterling Factors, Commercial Lending, Commercial Real Estate and Asset-Based Lending units to better serve existing and potential clients in the New Jersey and surrounding markets. Sterling's new office will offer businesses a variety of tailored products and solutions to meet their individual financing needs.
Bob Schnitzer, Sterling's Asset-Based Lending Group Director of Business Development, and Tom Butler, Regional Market Manager, will lead Sterling's business development loan efforts and multi product offerings in the region.
"The opening of a new regional business development office exemplifies Sterling's ongoing commitment to its core relationships with small- to medium-sized businesses, which Sterling has specialized in serving continuously for over 75 years," said Louis J. Cappelli, Sterling's Chairman and CEO. "Our staff comprises seasoned veterans who understand and can fulfill the financing needs of local businesses with the attention, dedication and service they require."
With Sterling Home Mortgage already operating in Cherry Hill, N.J, the Saddle Brook regional business development loan office is the second New Jersey location for Sterling.
About Sterling Bancorp
Sterling Bancorp (NYSE: STL) is a financial holding company with assets of $1.9 billion, offering a broad array of banking and financial services products. Its principal banking subsidiary is Sterling National Bank, founded in 1929. Sterling provides a wide range of products and services, including business and consumer loans, commercial and residential mortgage lending and brokerage, asset-based financing, factoring, trade financing, equipment leasing, corporate and consumer deposit services, trust and estate administration, and investment management services. The Company has operations in New York, New Jersey, Virginia and North Carolina and conducts business throughout the U.S.
CONTACT:
Thomas Walsh
MWW
Phone Number: 201-964-2464
E-mail: twalsh@mww.com
###Press Release############################
----------------------------------------------------------------

Today's Top Event in History
1882 - the first hotel to install electric lights was the Prospect House, Blue Mountain Lake, NY. In 1881, the electricity was installed, but the lights were not entirely dependable. In 1882, the Duke of Beranga and his party arrived after dark to celebrate Columbus Day. As they were show to their rooms the lights went out, but after a slight delay the lights went on again. History records this event, and states the name of the hotel was later changed to the Eutowana.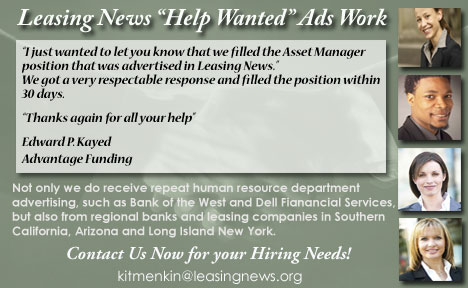 ----------------------------------------------------------------

This Day in American History
1802 - the first West Point graduates were Joseph Gardner Swift of Massachusetts and Simon Magruder Levy of Maryland, also the first graduate of the Jewish religion. They graduated as second lieutenants. They were the only students to graduate of the original class of 10, which consisted of 5 men from Massachusetts, and1 each from Connecticut, Maryland, Missouri, New York and Virginia. Levy resigned from the army in 1805 because of contracting the measles, quite serious in its day. Swift was brevetted a brigadier general on November 11,1813 for his heroism in the battle at Chrysler's Field in upper Canada. On February 19,184, he was promoted to brigadier general for her meritorious service in the defense of New York in the War of 1812. He became head of the Military Academy in 1816 and retired from the Army in 1818. He died in 1865.
1843 - the B'Nai B'rith ( Sons of the Covenant) was founded in New York City by Henry Jones and 11 others.
1882 - the first hotel to install electric lights was the Prospect House, Blue Mountain Lake, NY. In 1881, the electricity was installed, but the lights were not entirely dependable. In 1882, the Duke of Beranga and his party arrived after dark to celebrate Columbus Day. As they were show to their rooms the lights went out, but after a slight delay the lights went on again. History records this event, and states the name of the hotel was later changed to the Eutowana.
1914- Annette Abbott Adams became the first U.S. federal prosecutor who was also a woman when she was sworn in an Attorney General in California.
http://www.law.stanford.edu/library/wlhbp/papers/aaahtml.html#lifetime
1939 - pianist Mary Lou Williams records Little Joe from Chicago.
1950 - Verve Records cuts Getz Meets Mulligan in HiFI
1950. "Burns and Allen Show" premiered. The comedic husband and wife duo of George Burns and Gracie Allen starred as themselves in this comedy series in which Burns was the straight man and Allen was known for her ditziness. The show employed the technique of speaking directly to the camera ("breaking the fourth wall"); Burns often commented on the plot, told jokes or tried to make sense of Allen's actions and statements. Also on the show were their real-life son, Ronnie Burns, Baa Benaderet, Hal March John Brown (until blacklisted by McCarthyites in the "red scare"), Fred Clark, Larry Keating, Bill Goodwin and Harry von ZeII. The show was done live for the first two seasons and included vaudeville scenes at the end of each episode.
1953, "The Bob Hope Show Premieres on TV. This was a monthly television show and sometimes every other week. During the first season he hosted "The Colgate Comedy Hour," and during the later seasons his show was seen replacing and then alternating with Milton Berle (and in 1955-56 with Martha Raye and Dinah Shore). Leo Robin and Ralph Rainger wrote Hope's trademark show-closing song, "Thanks for the Memory.
1979, after an All-American career at Indiana State, forward Larry Bird made his professional debut with the Boston Celtics. He scored 14 points and had five assists in 28minutes and the Celtics beat the Houston Rockets, 114-108. Bird soon proved his ability to shoot, pass and rebound. He led the Celtics to 32 more victories than they had the previous season and won the league's Rookie of the Year Award.
1999, according to the United Nations, the population of the world reached six billion on this date. More than one-third of the world's people live in China and India. It wasn't until 1804 that the world's population reached one billion; now a billion people are added to the population about every 12 years.
World Series Champions This Date
1907 Chicago Cubs
1916 Boston Red Sox
1920 Cleveland Indians
1967 St. Louis Cardinals