Leasing News Advisor
Steve Crane, CLFP
Steve Crane, CLFP, is an original member of the Leasing News Advisory Board from July 2000. He is Executive Vice President and the Sales Manager for BSB Leasing, which is funding source/syndicator in Colorado. Steve enjoys working remotely from his home in the San Francisco, East Bay Area.
Prior to joining BSB in September of 2014, Steve was Vice President and Marketing Manager for the Indirect Equipment Financing Group at Bank of the West where he worked for nearly 20 years. He graduated from California State University, Sacramento with a Bachelor of Science degree in Finance and has held positions with numerous companies in his career, including Westinghouse Credit, Ingersoll-Rand Financial, CIT and Taylor Financial. Steve has been an active volunteer in the Leasing and Financing community over the years, holding various positions, including President and Treasurer of the Certified Leasing and Finance Professional Foundation, board member of the former Eastern Association of Equipment Leasing, and conference chairs for The National Association of Equipment Leasing Brokers and National Equipment Finance Association.
Steve enjoys outdoor activities including traveling, hiking, running, gardening, and sailing. He is an avid triathlete, having completed many races, including 10 half and two full Ironman events.
Steve Crane, CLFP
Executive Vice President & Sales Manager
BSB Leasing, Inc.
7921 Southpark Plaza, Suite 208
Littleton, CO 80120
scrane@bsbleasing.com
303-376-4668
Fax: 303-329-0240
www.bsbleasing.com
Steve has been married to his wife Cheryl for 38 years and they have two sons, Ryan and Alex. Ryan is our oldest son, a firefighter in Northern California, stationed in Sunol. He spent a lot of time on the Dixie and Caldor fires in 2021. Alex is a MD in Southern California, in his second year of residency and working on a sports medicine residency. He just got accepted into a sports medicine fellowship with Kaiser, which he's excited about.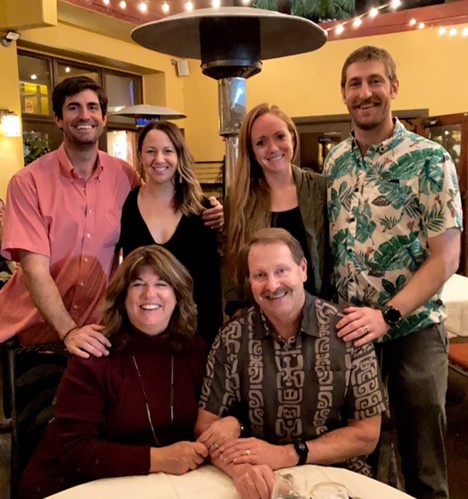 Son Ryan and girlfriend Brooke, daughter-in-law Jess, son Alex, wife Cheryl and Steve.