Leasing News Advisory Board Member Biography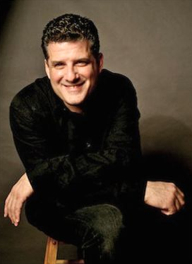 (photo by Dina Scoppettone (c) 2008)
Dan Pulcrano, Publisher
Metro Newspaper
Founder & CEO, Boulevards News Media
Dan Pulcrano is CEO and Executive Editor of the Silicon Valley-based Metro Newspapers group, a group of newspapers that includes Metro Silicon Valley, Metro Santa Cruz and the North Bay Bohemian. Between 1991 and 2001, Pulcrano oversaw the creation and sale of Metro's community newspaper publishing division, Silicon Valley Community Newspapers, which publishes weekly newspapers in the Silicon Valley Communities of Los Gatos, Saratoga, Campbell, Willow Glen, Sunnyvale and Cupertino.
Metro has been involved in launching several pioneering online services, including LiveWire (1993) and Virtual Valley Community Network (1994). A Metro division, Boulevards, operates a network of city sites, including San Francisco.com, Los Angeles.com and San Antonio.com, as well as MrMovieTimes.com, SFStation and Taxigrab.com. He recently launched Metroactive.com, an on line newspaper with the latest information on news, music, movies, and restaurants. He is also founding member of Associated Cities, a trade group for .com geodomain owners.
Dan Pulcrano joined the Leasing News Advisory Board on September 29, 2005.
A personal friend of Kit Menkin when Dan was editor and then publisher of the Los Gatos Weekly, he has helped raise money for ventures that Dan serves as president, and also serves on Dan's board of directors. Almost twenty years ago Dan purchased the names of most US cities internet addresses, many which he has sold, but has kept many that he partners with Google.
"We ... had a 10-watt FM radio station at my high school. I covered board of education and borough council meetings, interviewed the governor, met Secretary of State Kissinger and talked my way into a Washington party with then-Vice President Ford. Being where the action is and getting to meet smart people was part of what attracted me to newspapering," he told DJ Journal, the Domain Industry News Magazine, in February, 2008.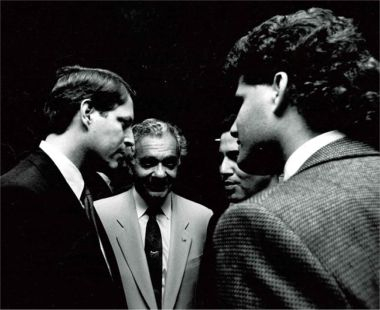 Former Vice President Al Gore (far left) was
among the prominent figures Pulcrano (far right)
interviewed as a young reporter.
"While working in Santa Barbara on a summer break when I was 19, Jay Levin approached me and asked if I would help him start the LA Weekly. He was an entrepreneur and journalist who wrote about things that mattered but were ignored by mainstream media: independent film, punk rock, undiscovered comedians, emerging fashion districts like Melrose, the secret U.S. war against the Sandinistas. It became the fastest growing weekly ever launched, and had a transformative effect not only on Los Angeles, but on major sectors of the entertainment industry and the newspaper publishing industry as well. Working there was life changing for me too; from that point on I knew what I wanted to do," Pulcrano told DJ Journal.
Legendary Rolling Stone publisher Jann Wenner also inspired Pulcrano. " ... Jann was a founding investor in my publishing group and has remained incredibly supportive through the ups and downs of transforming it from a print company into a Web publisher at the epicenter of the Internet revolution, which has been a fun but hellish 15-year odyssey."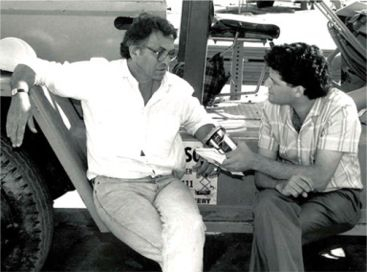 Legendary music industry icon Bill Graham (left)
chats with young reporter Dan Pulcrano.
A veteran of the LA Weekly and San Diego Reader startups, Pulcrano served as vice president and First Amendment chair of the Association of Alternative Newspapers, where he spearheaded opposition to the Communications Decency Act. Pulcrano has served as president of the California Free Press Association and board member of the Institute for Alternative Journalism. Pulcrano founded and served as first president of the San Jose Downtown Association, which has been heavily involved in shaping Silicon Valley's revitalized urban center, and chaired the city's parking commission. He also served as board president of the Hakone Foundation, which operates a Japanese garden and cultural center in Saratoga, California.
He is a graduate of the University of California, Santa Cruz, with a degree in Journalism and Newspaper Management.
A bachelor who works twenty hours a day, he also is very much involved in San Jose politics, plus very much enjoys the night life with backstage passes and special invites. He likes to travel to Mexico, the Caribbean islands, and has been to Cuba often as a journalist and a tourist. Despite this tempo, he continues to be on the leading edge on the World Wide Web, brilliant in grasping ideas, and as competent as the many internet technicians who work for his companies on World Wide Web concepts. He some how still finds time to write occasional editorials and features, and give advice to Leasing News