Leasing News Advisor
Hugh Swandel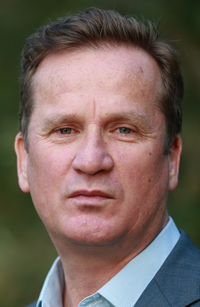 Hugh Swandel | President
Meridian OneCap Credit Corp
4710 Kingsway
Suite 1500, Metrotower 1
Burnaby, B.C.,Canada V5H 4M2
T: 604-646-2254 | 888-735-2201, extension 8298 (toll-free)
C: 204-996-4844
hugh.swandel@meridianonecap.ca
meridiancu.ca/mocc
Mr. Swandel joined the Advisory Board July 6, 2011.

Hugh Swandel has been active in the commercial equipment finance industry for 30 years in a variety of roles. Currently Mr. Swandel is the President of Meridian OneCap Commercial Credit (MOCC). MOCC is a market leader in the Canadian equipment financing sector with offices across Canada. Previously Hugh was the Senior Managing Director of The Alta Group in Canada and worked for clients in both United States and Canada. The Alta Group is a global consultancy practice specializing in the asset-based finance industry. During recent years Hugh Swandel has assisted many top North American firms on a variety of projects including market entry studies, acquisitions, due diligence, funding and strategic planning.
Hugh serves on the boards of directors of the Canadian Finance and Leasing Association (CFLA), is Chairman of the CFLA research committee, and is the past President of the National Equipment Financing Association (NEFA, USA). He also is a member of the Equipment Leasing and Finance Association of America (ELFA). He has reported on many events and conferences for Leasing News and is an active participant on the Advisory Board.
In 2006, 2010 and in 2018, Hugh received the Canadian leasing industry's highest honor when he was named "CFLA Member of the Year." He is one of a small group of industry professionals to receive the award on three separate occasions.
Mr. Swandel is an active fundraiser and trustee of the Chris Walker Education Fund – an equipment finance industry charity dedicated to furthering research and education in memory of Chris Walker. In addition to supporting industry research, Mr. Swandel and his family operated fundraising concerts for Post-Traumatic Stress Charities in memory of RCMP officer and family friend Ken Barker.
Prior to founding his consulting firm, Swandel and Associates, in 2001, Hugh served as president and chief operations officer of Electronic Financial Group (EFG). EFG was a Canadian company that launched a multi lending web-based credit system. Earlier, Hugh spent 10 years with National Leasing Group in a variety of senior positions. National Leasing Group is a Canadian lessor that has won numerous awards for excellence in management and innovation.