David Murray
VP of Product Development & Founder
David began his career as a Scientist/Engineer working as a software developer for McDonnell Douglas Astronautics Company. While at McDonnell Douglas, David worked on the Space Shuttle, the MX Missile and the NASA's Space Station. Later he headed up an Advanced Technology Team in Washington DC working with DARPA and NASA developing new materials and computer technologies.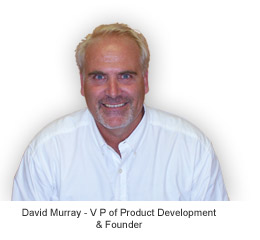 After McDonnell Douglas, David went to work for several small financial services companies and in 1992 he left and began his career as an entrepreneur. He founded a company called Direct Capital and developed a new model for equipment financing. A few years later he sold that company and started Preferred Capital Corporation. In just a few years he grew that company from a small one-man firm to a company with fundings of nearly $200 Million and over 250 employees. It was at Preferred Capital that David met Tom Allanson. David's company was generating lease contracts and selling them to a division of GE Capital - and Tom was the President of that division.
After he sold Preferred Capital, David founded a company called Kord Marketing Group. This was a high tech consulting company with clients like Intuit, Ingram Micro and Insight. Later, Intuit hired him as the Head of Innovation for TurboTax.

In his innovation role at Intuit David worked with both marketing and product development personnel teaching them how to "think outside the box". While this was rewarding work, the bureaucracy of a Fortune 500 company was frustrating and so he and Tom left and founded TaxNet™, a company dedicated to innovation in the on-line tax market place.
David has a Bachelor of Science in Structural Engineering from the University of Vermont and a Masters in Business Administration from Pepperdine University.