Ten Attorneys Against Evergreen Abuse
Help in Leasing News' Bulletin Board Complaint Issues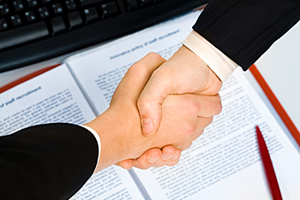 The original intention of the Evergreen clause in an equipment leasing contract was to have an alternative to when the lessee did not exercise the residual at the end of the contract. Often the clause calls for an automatic additional twelve months when the residual is not resolved.

In most cases, the lessor notifies the lessee that the residual will be due, often ninety days in advance. However, often there is nothing in the contract that requires the lessor to notify the lessee regarding the expiration of the contract.
Contrarily, many small ticket lessors do not notify the lessee, and automatically continue the lease, often via an ACH or continued billing, which often goes unnoticed until many payments have already been made.
Leasing News would like to see an industry standard that lessees are notified in advance of the expiration of their contract regarding its termination. We support the clause, and the notification requirement is wide open, meaning 90, 60, even 30 days and by telephone or mail.
This list of attorneys agrees with this and will be available to lessees, sometimes able to help them without a fee, or at a reduced rate, in an effort to end the abuse of Evergreen clause leases.

Joseph G. Bonanno, Esq., CLFP
Attorney at Law, Massachusetts
Andover Landing at Brickstone
300 Brickstone Square, Ste. 201
Andover, MA 01810
Tel: (781)328-1010
Fax: (781) 827-0866
Email: law@jgbesq.com
"Industry expert witness in litigation, numerous authored and
co-authored published articles and conducting educational
seminars. Very well-known in the industry."
Ronald J. Eisenberg
Schultz & Associates LLP
640 Cepi Drive, Suite A
Chesterfield, MO 63005
(636) 537-4645 x108
(636) 537-2599 (fax)
www.sl-lawyers.com
(Proven Leasing Litigator, well respected by all sides)
Marshall Goldberg, Esq.
GLASS & GOLDBERG, ALC
22917 Burbank Blvd.
Woodland Hills, CA 91367-4203.
(818) 888-2220
mgoldberg@glassgoldberg.com
www.glassgoldberg.com
Ronald P. Gossett
Gossett & Gossett, P.A.
400 Seridan Street, Building I
Hollywood, Florida
954-983-2828
Fax: 954-983-2850
rongossett@gossettlaw.com
(Many cases including NorVergence, Brican, among others, a winner)
Ken Greene
Law Offices of Kenneth Charles Greene
5743 Corsa Avenue Suite 208
Westlake Village, California 91362
Tel: 818.575.9095
Fax: 805.435.7464
Skype: 424.235.1658
kenlaw100@gmail.com
(Ken was involved in the formation of Leasing News and
represented it (pro bono) in the early days.)
Peter S. Hemar, Esq.
Hemar & Associates, Attorneys at Law
2001 Wilshire Blvd., Suite 510
Santa Monica, CA 90403
Telephone: (310) 829-1948
Fax: (310) 829-1352
phemar@hemar.com
(My firm supports the clause giving lessees advance
notice of the expiration of their contract.)
Edward P. Kaye, Managing Partner
Schickler Kaye LLP
One Rockefeller Plaza11th Floor
New York, NY 10020
Direct Dial: 212-262-6397
Facsimile: 212-262-6298
ekaye@skfinancelaw.com
www.skfinancelaw.com
(Experienced vehicle leasing attorney. Past president
and current board member of the National Vehcile Leasing Association,
member Leasing News Advisory Boar,
former leasing company co-founder, CEO and general counsel.)
Brandon J. Mark
Attorney at Law, Admitted in Utah and Oregon
Parsons Behle & Latimer
201 South Main Street, Suite 1800
Salt Lake City, UT 84111
Direct Dial 801.536.6958
Facsimile 801.536.6111
www.parsonsbehle.com
BMark@parsonsbehle.com
(His firm represents banks who buy leases, and his
clients refuse to buy these types of leases.)
Frank Peretore
Chiesa Shahinian & Giantomasi
West Orange, New Jersey
http://www.csglaw.com/biographies/frank-peretore
Phone 973-530-2058
fperetore@csglaw.com
(Experienced leasing attorney, aggressive, author, active
National Equipment Finance Association, ELFA, too)
Kevin E. Trabaris, Partner
Culhane Meadows PLLC
30 S. Wacker Drive, 22nd floor
Chicago, IL 60606
Telephone: 847-840-4687
Email: ktrabaris@culhanemeadows.com
llflegal.com/attorneys/kevin-trabaris
"In my career, I've repeatedly seen this provision misused
by unscrupulous lessors and think it's a bad idea for both
the lessee and the lessor."