Leasing & Financing Books

---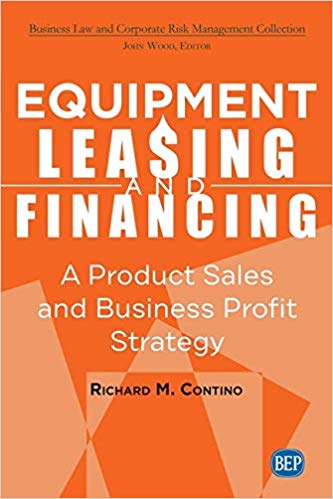 "This book explains how companies that sell equipment and other products can increase product sales and add an additional profit center by establishing their own innovative leasing and financing operation.
"Industry data shows that the need for equipment and other product financing has evolved over the past few decades to where now nine out of ten U.S. companies use leasing or other forms of third party financing to acquire the equipment or other products they need. For market-aggressive companies offering products for sale, having an available in-house customer product leasing and financing program as a product marketing strategy can dramatically increase their ability to close product sales.
"In the past, establishing an in-house financing activity was difficult and expensive, requiring unique and substantial additional business operational and financing components in addition to an extensive learning curve. This is no longer the case. In recent years, there have been wide-spread market advances surrounding the financing of equipment and other products that enable forward-thinking companies to cost-effectively establish their own in-house product financing activity, using readily available, state-of the-art financing software programs, and third-party back-office services to manage any part of the financing process.
"This book will provide a product vendor with the turnkey know how it needs to assess the viability of establishing an in-house equipment financing operation, as well as the various considerations needed to set up and run its own cost-effective and profitable product financing activity."
https://www.amazon.com/Equipment-Leasing-Financing-Business-Strategy/dp/194999192X

Richard M. Contino is an internationally-recognized equipment leasing expert, with an extensive legal, business, marketing, tax, transaction structuring, financial and management background. He is an advisor on all types of start-up and on-going equipment leasing business activities for lessors, lease lenders and syndicators, equipment vendors, lease investors and corporate lessees. He is former General Counsel of De Lage Landen, Wayne, Pennsylvania, a subsidiary of The Rabobank Group, and the 14th largest equipment lessor in the U.S. Mr. Contino is the author of eight books on business, negotiating, and equipment leasing. He has conducted private on-site and publicly-held business success, communication, finance, and negotiation seminars throughout the United States for professional organizations (e.g., American Management Association, Equipment Leasing and Finance Association, Illinois Institute of Continuing Legal Education, National Seminars Group, Practicing Law Institute, and University of California Graduate School of Law) as well as corporations (e.g., AT&T, EXXON Corporation, NYNEX, and Texas Instruments Corporation). He is a retired JAG Captain, US Air Force.


---
Amembal & Halladay Announce
the Release of Two New Publications

Amembal & Halladay proudly announce the release of their two new publications. The two represent the 17th and 18th publications published by the firm, respectively.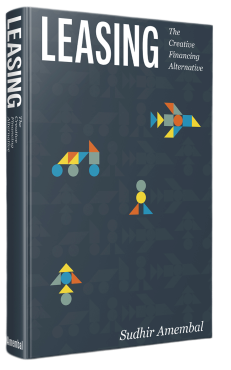 Leasing - The Creative Financing Alternative, by Sudhir Amembal, CLFP, was written with two objectives in mind. The first is to provide guidance to lessors on increasing business volume as well as profitability. The second is to provide clear and cohesive information on topics of substantial significance to include Funding, Operating Leases, Vendor Programs, and Measuring Financial Performance. The publication's breadth and depth make it useful to the novice, the experienced, and everyone in-between; to personnel from any and all departments; and, to management who will find numerous implementable ideas.
Table of Contents:
https://amembalandhalladay.com/publications/
$245 U.S. Orders
$295 International Orders
435 pages
---------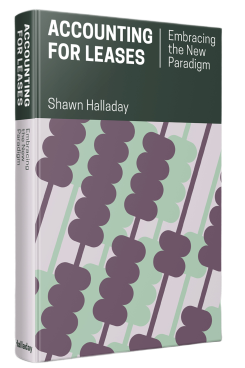 Accounting for Leases - Embracing the New Paradigm, by Shawn Halladay, CLFP, examines the lease accounting requirements of IFRS 16 and ASC 842 in an easy-to-understand manner. The book highlights where the Standards differ from each other and from prior guidance. The book focuses on applying the rules to real-world issues, reinforced by numerous examples. The content helps accountants comply with the rules; provides management with a key understanding of their impact; gives sales teams the tools to identify customers' needs; and guides lessees in applying the significant changes to their business.
Preface:
https://amembalandhalladay.com/publications/
$245 U.S. Orders
$295 International Order
424 pages

Amembal & Halladay is the world's most highly respected training and consultancy firm in the equipment leasing and finance industry. The firm has trained over 80,000 leasing professionals throughout the world: provided advisory, consultancy, and professional development services to a host of equipment finance and leasing firms; and, published 18 industry best-sellers.
For additional information, including table of contents, availability, and pricing click here: amembalandhalladay.com/publications/
Equipment Leasing in Canada

Hugh Swandel, Senior Managing Director-Canada, The Alta Group, recommends, noting, "It was great to be asked to contribute to this new book on equipment financing in Canada. It is now the most current source of information you can get on all aspects of the Canadian industry. Jon Fleisher has coordinated contributions from an all star team of authors."

Available for $195 as Preorder:
https://store.lexisnexis.ca/en/categories/shop-by-jurisdiction/federal-13/equipment-financing-in-canada-skusku-cad-6692/details


---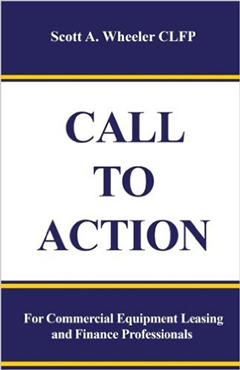 Scott A. Wheeler, CLFP, a thirty-four year veteran in the commercial equipment leasing and finance industry, has compiled his favorite sales tips into an easy-to-read format for veteran and novice commercial equipment leasing and finance professionals.
"'Call to Action,' 134 pages, is designed to assist individuals to think outside of their current comfort zone, to increase their productivity, and to enhance their personal value proposition," Scott Wheeler explains. "Each chapter in this book touches upon a significant area in the finance and leasing industry. The sales tips are followed by call to action exercises to stimulate group discussions and individual reflection.
"Professionals throughout the equipment finance and leasing industry will benefit greatly from using this book as a reference guide and workbook for self-improvement."
$19.95 at Amazon

A portion of each sale will be donated to the Chris Walker Educational Fund – dedicated to the education of professionals in the commercial equipment leasing and finance industry.
Scott is a well-known author for several leasing publications, including Leasing News, plus issues a weekly newsletter as well as conducts a school for training entrepreneurs to become independent leasing brokers.
Scott A. Wheeler, CLFP
Wheeler Business Consulting
1314 Marquis Ct.
Fallston, Maryland 21047
Phone: 410 877 0428
Fax: 410 877 8161
Email: scott@wheelerbusinessconsulting.com
Web: www.wheelerbusinessconsulting.com


---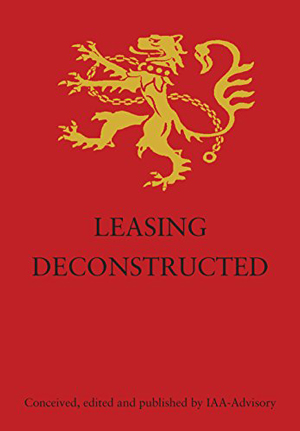 Written by a team from the IAA-Advisory Group in the United Kingdom. Chairman is Derek Soper.
"The book is handsome with 142 very readable pages. This book, mainly targeted at new entrants whether countries, sectors or individuals, examines the features of all the component parts of this business and explains each without the complication of local environments. This gives the reader the basic knowledge to grow the various financial products within their own jurisdiction and shape them to suit their customer's requirements."
Table of Contents
Preface
chapter one: The value of leasing and its impact on markets
chapter two: What is this thing called leasing?
chapter three: The commercial framework for leasing
chapter four: financial terms
chapter five: risk & Pricing
chapter six: Lease funding
chapter seven: Lease accounting
chapter eight: marketing financing
chapter nine: using services to add value & differentiate
chapter ten: What next?
It is easily available at $36.50 at Amazon:
https://www.amazon.com/Leasing-Deconstructed-IAA-Advisory-Limited-ebook
---
The Successful Equipment Lease Broker
by Joshua Fant (December, 2010)
He is a real estate broker in the Greater Seattle area.
He was a leasing broker from January, 1999 to August, 2005.
Book may be dated. 14 day return policy (also to their book store).

$39.95 Barnes & Noble
https://www.barnesandnoble.com/w/the-successful-equipment-lease-broker-inc-the-leasing-expert/1029662145
---
Start Your Own Leasing Company!
By Paul Sutton (2014) 111 pages-Fourth edition.
Company appears to have a collection of "how to" books. They have return policy for printed books only.
Book: $44.95 Download $19.46

https://www.businessbooksource.com//books/274/start-leasing-company.cfm
---
The CLFP Foundation Professional Handbook
Eighth Edition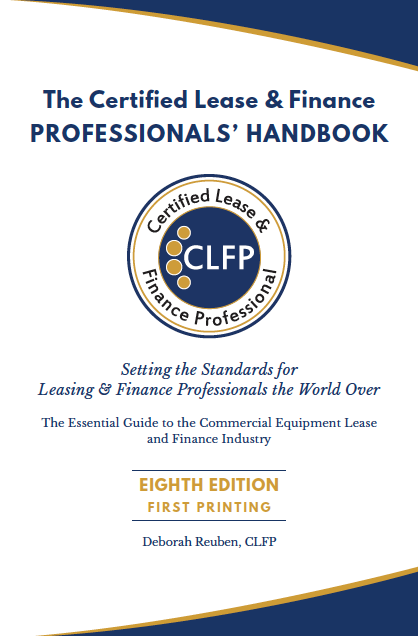 The Certified Leasing and Finance Professional designation is the only certification for the Equipment Finance Industry. There are currently 571 active Certified Lease & Finance Professionals and Associates in the United States, Canada and Australia.

Amazon $70.00/Also available on Kindle
https://www.amazon.com/Certified-Lease-Finance-Professionals-Handbook/

The History of the CLP Handbook
By Robert Teichman, CLP
http://leasingnews.org/archives/Oct2012/10_10.htm#handbook
---

Equipment Leasing
Publisher: Matthew Bender

Three Volume Set; loose leaf; updated with revisions
Updated Yearly
$1,747 Print
$1,544 eBook
(with yearly up-date savings plan)
http://www.lexisnexis.com/store/catalog/booktemplate
/productdetail.jsp?pageName=relatedProducts&catId=167&prodId=10538

---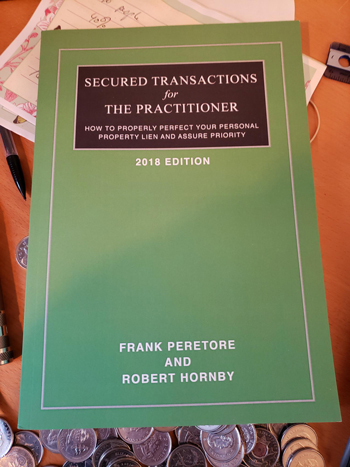 Secured Transaction for the Practitioner
By Frank Peretore and Robert Hornby
Paperback $29.95
https://www.amazon.com/s?k=Secured+Transaction+for+the+
Practitioner+by+Frank+Peretore+and+robert+Hornby&ref=nb_sb_noss
---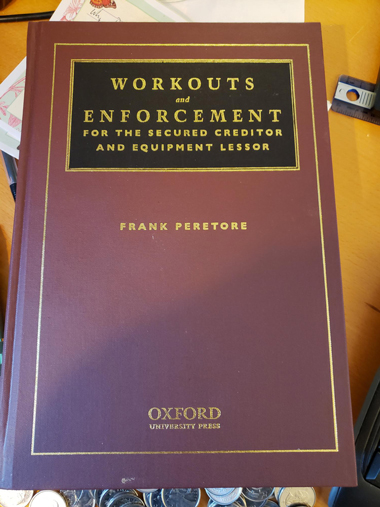 Workouts and Enforcement for the Secured Creditor and Equipment Lessor
By Frank Peretore
Paperback $79.99 and hardback $99.88 four sellers
https://www.amazon.com/Workouts-Enforcement-Secured-Creditor-Equipment-dp-1632816105/dp/1632816105/ref=mt_other?_encoding=UTF8&me=&qid= authors