Account Executives

Boston, Cleveland, Detroit, St. Louis,
SF Bay Area
Top position to work with CFOs, CIOs, CEOs and other high-level executives. 7+ years equipment leasing exp. Resume/indicating you saw ad in Leasing News to: US_DFS_Staffing@dell.com
About the Company: We're the exclusive provider of leasing and finance services for Dell technology systems worldwide. At Dell Financial Services our mission is to deliver financing solutions that enable and enrich the Dell Customer experience.


Wednesday, April 4, 2007
Headlines---
Classified Ads/-Job Wanted/Asset Management
New "Story Credit:" Sterling Financial
May 17-19, 2007 NAELB Conference up-date
"Opportunity" as many falter in leasing market
CIT continues its aggressive marketing
Classified Ads---Help Wanted
Sales makes it Happen---by Linda P. Kester
#35 "The Strangest Secret"
Linda Kester's new book is now available
Cartoon---Bob Teichman School of Easter Business
FirstLight Financial Corporation new platform
CSI Leasing Acquires JTA Lease Portfolio
Mark Hoffman/GE Healthcare Financial Services
Donald Kochan Key Equip. Finance VP.Nat.Sales
IDS releases LeaseEnterprise® 5.7
CIT to Announce 1st Q Results Wednesday, April 18
M&T joins loan-trouble sub-prime ranks
Boeing's 787 orders top 500
Toyota Sales up 7.7%
News Briefs---
"Gimme that Wine"
Calendar Events
Snapple Real Facts
Today's Top Event in History
This Day in American History
Baseball Poem
SuDoku
Daily Puzzle
######## surrounding the article denotes it is a "press release"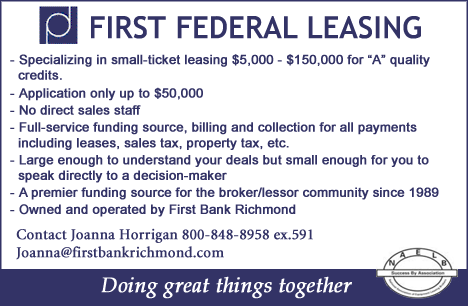 ---------------------------------------------------------------------

Classified Ads---Job Wanted/Asset Management
There have been changes to this section, as we are contacting all those who are advertising to improve their ad copy, plus we verify their e-mail is working and they are still seeking employment. editor
Bloomfield Township, MI
15+ yrs experience asset management and credit analyst. Leadership and training skills. Audited returns, max residual, lease end and resale negotiator.
E-mail: cmcozzolino@msn.com
Boston, MA
10yrs exp structuring/modeling sophisticated lease/ loan products. Expert programmer: customized portfolio mgmt, securitization, economic capital & pricing applications. Available for contract work.
E-mail: lease_structuring@yahoo.com
Boston, MA
description:18 years of general equipment asset management experience from commerical aircraft to furniture and fixtures. End of lease equipment disposition, mid-term residual analysis, residual forecasting
Email: sblaspina@comcast.net

Chicago, IL
MBA, 15+ years exp. Long history of success in maximizing residual position through outstanding negotiation skills & lease contract management. Third party re-marketing, forecasting etc...
email: jgambla@aol.com
Chicago, IL
2+ Years Exp. Asset Remarketing Transportation/ Medical/Cosmetic Equipment; Superior End Of Lease Negotiation Skills; Comprehensive Buyer Contacts; Available Immediately For Assignment
Email: Lonnie0168@comcast.net
Princeton, NJ
Asset management/credit/collection
20+ years experience in equipment financing.Last five years in Asset Management including remarketing, end of lease negotiations, equipment and market evaluations
E-mail: bgaffrey@earthlink.net
Sausalito, CA
Sr. Corp. officer, presently serving as consultant, fin. service background, M&A, fund raising, great workout expertise, references.
Email: nywb@aol.com
Sonoma, CA
20+ years managing/ maximizing residual values, exp. computers/ hi-tech mfg. Excellent negotiation skills. Outstanding 3rd party contacts/buyers. Created deal winning
structures-established residual values.
Email: dfeltman@yahoo.com
Wilton, CT
18 years exp. in IT and High Tech leasing industry. Residual forecasting, workouts, off-lease sales, mid-term restructures, auctions, all aspects of remarketing and equipment management.
Email: charrer@hotmail.com
These job-wanted ads are free. We also recommend to both those seeking a position and those searching for a new hire to also go to other e-mail posting sites:
http://www.leasingnews.org/Classified/Posting_sites.htm
In addition, those seeking employment should go to the human resource departments on company web sites for funders, captive lessors, and perhaps "broker-lessors."
To place a free "job wanted" ad here, please go to:
http://www.leasingnews.org/Classified/Jwanted/Jwanted-post.htm
For a full listing of all "job wanted" ads, please go to:
http://www.leasingnews.org/Classified/Jwanted/Jwanted.htm
--------------------------------------------------------------

New "Story Credit:" Sterling Financial, Kansas
Story Credit Lessors - Update
Business Reports:
BBB - Better Business Report | CBB - Leasing News Complaint Bulletin Board
| CNI - Current News Information
Name
In Business Since
Contact
Website
Leasing Association

Employees

Geo
Area

Dollar
Amount

Business Reports

Sterling Financial

4200 Somerset Drive

Prairie Village, KS

June 1993

Mr. Jody Dick, Exec, Vice President

jody@everestkc.net

913-648-2322

12

Nationwide

$5,000 to $30,000
To view the complete list, please click here.
--------------------------------------------------------------

May 17-19, 2007 NAELB Conference up-date


Membership of NAELB may reach 1,000 by the conference date.
This will be the largest conference of equipment leasing brokers in the history of leasing.
Don't miss out!!!
Early Bird Rate expires on April 11th; basically have one week to take advantage of this price. In addition, the contest for a lucky three winners to win one of these prizes will end:
Free Airfare to the 2007 NAELB Annual Conference!
Free Hotel Stay at the Opryland Resort for Conference!
Free 2007 NAELB Conference Registration!
Conference cost and reservation form:
http://www.naelb.org/associations/2004/files/2007%20NAELB%20Conference%
20Registration%20Form.pdf
Conference Brochure (12 page download:)
http://www.naelb.org/associations/2004/files/2007%20NAELB%20Conference%
20Registration%20Brochure.pdf
Don't forget the Distance Learning Center with NAELB Past President Gerry Egan:
http://www.naelb.org/displaycommon.cfm?an=1&subarticlenbr=3
--------------------------------------------------------------

"Opportunity" as many falter in leasing market
The National Association of Credit Manager's March poll reflects the consistent 25 member Equipment Leasing and Finance Association monthly poll, as well as other financial indicators, and perhaps as important, what readers tell Leasing News---the first quarter has seen slowing down in business across the board.
The smart ones are ahead of the game, taking advantage of the economic situation. While the news might appear "bad," to many, it is spelled "opportunity."
There has been a lot of activity in selling off divisions, portfolios, and personnel promotions, as well as new attitudes in going after business. This realignment is also good for the younger and smaller businesses, as well as the leaders ahead of the game. Consolidation makes room for newer companies. It is a rite of passage in the leasing and finance business.
This may be a good opportunity for leasing and finance companies with good cash and liberal lines of credit. In the meantime, others are expanding overseas as they see the business will be coming from these marketplaces, not the domestic being hit with housing, mortgages, closing businesses, and layoffs and higher prices of energy. This gives smaller companies a better opportunity to stake out their share of a field they find profitable to cultivate.
One of the key things in looking at the he National Association of Credit Management (NACM) March survey is that most of the 25,000 members, business credit and financial professionals worldwide, are reporting on short term credit versus long term.
This does not mean the survey has little significance, on the contrary, it reports a three month in a row decline, as well as noting it is also the seventh month out of eight that the numbers are declining. Cash flow is getting tighter among businesses, one of the main reasons that leasing and equipment/software financing becomes more popular than borrowing.
"Collections problems also appeared in the accounts placed for collection component, which is now below the 50 level, signaling economic contraction," Dan North, Chief Economist with credit insurer Euler Hermes ACI, said. "The weakness in collections suggests that businesses are having cash flow problems reflecting the erosion of the economy as a whole."
It should be pointed out that the Service Sector, which generally has been doing better in the past, is also following the same trend as the Manufacturing sector:
The story on CIT that follows is a very good example of the smart leaders moving forward in a ever changing world economy.
--------------------------------------------------------------

CIT continues its aggressive marketing
In its latest bold move, the CIT Group states they have signed a definitive purchase agreement to acquire the U.S. Business Technology Finance (BTF) unit of Citigroup Inc. with 425 employees.
CIT has been a leader in the vendor finance partners program since their formation in 1908. Recent growth and acquisition has been achieved with programs developed in this satellite age, has added BTF assets of $2 billion in the niche they excel---providing innovative sales financing programs and services to manufacturers, resellers, and distributors.
The BTF unit is the number two provider of vendor financing programs for manufacturers and distributors of imaging, office furniture and technology equipment in the U.S. Imaging equipment financing is the major line of BTF's business, which also includes vendor financing, captive financing, tax-exempt financing, dealer wholesale financing as well as a wide variety of lease structures and other financing alternatives.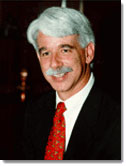 Jorge A. Bermudez, President/CEO, Citigroup Commercial Business Group, North America; CEO Citibank Texas, Citigroup International's Senior Advisor, and a member of Citigroup's Operating and Management Committees.
"Leasing remains part of our core business strategy," Jorge Bermudez, CEO of Citi's Commercial Business Group, said. "This unit has many strong attributes including outstanding employees, but was not central to the direction we want to take in our overall business. This transaction will allow us to reallocate capital to those areas that we want to target for high growth." said Jorge Bermudez, CEO of Citi's Commercial Business Group.

Thomas B. Hallman
Thomas B. Hallman, CIT Vice Chairman, Specialty Finance, said, "This acquisition is another important milestone in our strategy to become the global leader in Vendor Financing. A combination of strong organic growth and strategic acquisitions of high-quality organizations has positioned us well to accomplish this goal. The first priority of our newly combined team will be the delivery of exceptional levels of support to our customers."
Recent news CIT Vendor Finance U.S surpassing the $2 billion mark in credit applications submitted online; and surpassing $1 billion in total lease and loan originations with owners of its long-time commercial partner, NetJets; plus the announcement last month week that CIT was offering to purchase for cash any and all of its outstanding 7.75% Senior Notes due April 2, 2012.
This is CIT's second vendor finance transaction with Citi. In 2004, CIT acquired CitiCapital's vendor finance business in Western Europe. CIT's European presence was further strengthened three months ago when it acquired the $2 billion UK and German vendor finance business of Barclays Bank PLC.

Rob Cook, President of CitiCapital
"We are confident that CIT will provide the level of superior service that our U.S. Business Technology Finance customers have enjoyed and come to expect," said Rob Cook, President of CitiCapital.
Based out of Dallas, Texas, Cook will remain with CitiCapital.
BTF was one of 6 areas over which Rob has responsibility, the others being: Commercial Equipment Finance, Material Handling, Healthcare and Energy, Private Label Equipment Group and CitiCapital Canada

Kris Snow
Kris Snow, President of CIT Vendor Finance, Americas, said, "This transaction makes perfect sense as it fits extremely well into our U.S. business, particularly in extending our presence with a majority of the leading office equipment and technology manufacturers and software providers. We look forward to bringing our value-added services to these companies and to their customers, which will enable them to grow and profit."
Banc of America Securities LLC advised CIT on this transaction.
--------------------------------------------------------------

Leasing Industry Help Wanted
Account Executive


Account Executives

Boston, Cleveland, Detroit, St. Louis,
SF Bay Area
Top position to work with CFOs, CIOs, CEOs and other high-level executives. 7+ years equipment leasing exp. Resume/indicating you saw ad in Leasing News to: US_DFS_Staffing@dell.com
About the Company: We're the exclusive provider of leasing and finance services for Dell technology systems worldwide. At Dell Financial Services our mission is to deliver financing solutions that enable and enrich the Dell Customer experience.


Assistant Manager


Assistant Manager
San Francisco, California
Excellent opportunity to work with growing equipment leasing bank division, excellent reputation. Click here for more information.

First Republic Bank has offices in the San Francisco Bay Area, throughout California, and in Portland, Seattle, Las Vegas, Boston and New York.
Regional Sales Managers


Regional Sales Managers
To establish small ticket vendor programs in major metro areas. Excellent compensation/ benefit package. View job description. Send resumes to Zully.Fernandez@IrwinCF.com
Company Description:
Irwin Commercial Finance (NYSE: IFC) is a true direct lender and in the ever changing leasing environment, we bring stability, creativity and consistent customer service levels to our business.


Sales Director

Sales Director
Vendor Relationship Development
Office equipment experience a must. Territory covers FL, GA, SC, NC, AL, MS, LA. Must be able to sell value. To apply online click here.
About the company:
GreatAmerica offers office equipment financing to businesses across the U.S., and is the largest independent leasing company in the small ticket equipment financing market.


Small Ticket Specialists

Three Small Ticket Specialists

Ft. Lauderdale, FL, Nashville, TN, and
Richmond, VA.
Click here for more information.


--------------------------------------------------------------

Sales Make it Happen
by Linda P. Kester
"The Strangest Secret "
This is from Linda Kester book to be published in April by www.leasingpress.com. It is designed to not only be a reference, but a "daily reminder." Some of the subjects are a few paragraphs, some are longer, such as this one on how to win back your vendor. These articles are from her first draft, and some of the titles and copy has changed in the final revision.
35
Earl Nightingale said that the strangest secret is that we become what we think about most. This is also stated in the bible "As he thinketh in his heart, so is he" - Proverbs 23:7
You do become what you think about most. Frequently think about your sales and marketing efforts. What do you intend to manifest and attract into your leasing sales?
Don't think: I don't have enough volume.
Think: I intend to attract an abundance of volume by my creative marketing efforts.
What you think about expands. If you think you don't have enough applications, you will continue to not have enough applications.
If you think there is an abundance of applications out there and you intend to service those applications in a creative way, you will match up with applications. Try it!
Linda Kester helps leasing companies increase volume. For more information, visit: www.lindakester.com. Questions, contact: Linda@lindakester.com.
--------------------------------------------------------------

Linda Kester's new book is now available, according to co-publisher Barry S. Marks:
"We are pleased to announce a new book that is a must-have for any one who sells equipment leasing and other types of equipment finance.
"366 Marketing Tips for Equipment Leasing by Linda Kester gives the reader a tip a day (plus one) in an easy to read, can-do format. Not only are these practical, time proven tips from the acknowledged industry expert, they are inspirational tools that will jump start any marketing program.
"366 Tips makes a great present, a reward and incentive and at $79.95 (with volume discounts available) can be purchased for your entire sales staff or marketing department."
For information or to order, log onto www.leasingpress.com or call 815.753.1116.
Be the first on your block to order one:
http://www.leasingpress.com/Order%20Form.htm
--------------------------------------------------------------

Cartoon---Bob Teichman School of Easter Business
---------------------------------------------------------------
### Press Release ###########################

New Commercial Finance Platform: FirstLight Financial Corporation
OLD GREENWICH, Conn. -- The doors open this week at the newly formed commercial finance business FirstLight Financial Corporation, based in Old Greenwich, Conn.
Formed by a team of seasoned professionals, FirstLight offers customized financings, primarily for middle market companies. The business is a "one-stop" source of capital including senior debt, second lien and mezzanine debt, structured financings and equity.
"I'm very excited about the team we've assembled to build our business," said Founder & CEO Ron Carapezzi. "We bring a client-focused approach to the market and a belief that we will deliver a superior product and service offering to our customers that will differentiate our company."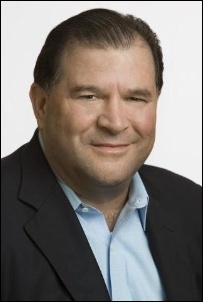 FirstLight Financial Corporation's Founder & CEO, Ron Carapezzi
Carapezzi is a 24-year GE veteran and former corporate officer. During his tenure at GE, he was President and CEO, GE Commercial & Industrial Finance in addition to leading four other GE business units including Merchant Banking (Sponsor Finance), US Equipment Finance, Bank Loans and Capital Funding. He holds a B.A. in Finance from Fairfield University.
FirstLight's executive team also includes Phil Carlson, Senior Managing Director, Sales; Terry Harris, Chief Risk Officer; Anthony DiGiacomo, General Counsel; Mike Hensinger, Senior Managing Director, Bank Loans & Trading; Tom Ceto, Senior Managing Director, Specialized Industries and Jason Van Dussen, Managing Director, Capital Markets. All come from well-known financial institutions and collectively have over 120 years of industry experience.
For more information, visit www.firstlightfinancial.com.
### Press Release ###########################

CSI Leasing Acquires JTA Lease Portfolio
(Kropschot Financial Services initiated this transaction and served as exclusive financial advisor to JTA Leasing Co. LLC.)
ST. LOUIS — CSI Leasing, a global IT equipment lessor headquartered in St. Louis, has acquired a substantial portion of the leasing portfolio of JTA Leasing Co. LLC, of Fort Lee, New Jersey. The acquisition includes 440 IT lease agreements and the associated computer equipment, with original value in excess of $70 million. Terms of the portfolio acquisition were not disclosed.
JTA founder and president, Mark Kitaeff, has joined CSI as a senior marketing executive and will continue to serve his corporate customers while developing new business for CSI. Kitaeff commented, "This is a great opportunity for me to expand the services I can offer my customers. CSI believes in attentive, personalized service and the kind of customized leasing solutions that my customers have become used to, so I think we have a great fit. With CSI's financial strength and worldwide scope, I am excited about our future together."
Steve Hamilton, CSI's executive vice president for acquisitions and international operations, stated, "We are extremely pleased that Mark is joining the CSI team. He has a long and successful history in the leasing business, and we are fortunate to gain someone with his talents."
Kitaeff founded JTA in 2000, following a 16-year sales career with Jacom Computer Leasing and UniCapital Corporation. Kitaeff has also worked as a certified public accountant with PricewaterhouseCoopers.
CSI Leasing, Inc. is one of the largest independent IT leasing companies in the world, with assets in excess of $1 billion and operations in more than 17 countries. A pioneer in the IT leasing arena in 1972, CSI helps its corporate clients implement flexible leasing programs that reduce the costs, risks and hassles of using technology equipment. More information is available at www.csileasing.com.
### Press Release ###########################

GE Healthcare Financial Services Names Mark Hoffman
Business Development Segment Leader

CHICAGO – GE Healthcare Financial Services recently promoted Mark Hoffman to senior vice president, business development for its Vendor & Practice Solutions team. In his new role, Hoffman will be responsible for overseeing the business development origination team, which is committed to developing new relationships with medical equipment manufacturers and distributors.
"Mark brings an extensive background in finance and business development to this position," said Catherine Estrampes, general manager for GE Healthcare Financial Services' Vendor & Practice Solutions team. "His experience in the captive and vendor finance industry and his commitment to customer satisfaction will help our customers become more productive, competitive and profitable through the creation of tailored, competitively-priced financing programs."
Hoffman joined GE Healthcare Financial Services in May of 2006 as vice president of business development for strategic accounts. Prior to joining GE, Hoffman served as vice president and assistant treasurer for Baxter Healthcare, and had general management responsibility for Baxter's captive finance business. Prior to this role, he worked for GE Vendor Financial Services as IT growth leader. Hoffman has also held several leadership positions in the financial services industry with such companies as Heller Financial, Siemens Financial Services, AT&T Credit Corp, and Eastman Kodak Credit Corp.
A resident of Oakland, Mich., Hoffman received a bachelor's degree in government and master's in business administration degree and from the University of Maryland, College Park.
About GE Healthcare Financial Services GE Healthcare Financial Services is a provider of capital, financial solutions, and related services for the global healthcare market. With over $16 billion of capital committed to the healthcare industry, GE Healthcare Financial Services offers a full range of capabilities from equipment financing and real estate financing to working capital lending, vendor programs, and practice acquisition financing. With its knowledge of all aspects of healthcare from hospitals and long-term care facilities to physicians' practices and life sciences, GE Healthcare Financial Services works with customers to create tailored financial solutions that help them improve their productivity and profitability. For more information, visit: www.gehealthcarefinance.com.
### Press Release ###########################

Key Equipment Finance Names Donald Kochan Vice President and National Sales Manager

SUPERIOR, CO. –– Key Equipment Finance, one of the nation's largest bank-affiliated equipment financing companies and an affiliate of KeyCorp (NYSE: KEY), has named Donald Kochan as vice president and national sales manager specializing in construction and industrial equipment. His office is based in Cincinnati, Ohio.
"During his 30 years' experience in the finance field, Don has gained a strong working knowledge of the construction equipment market," said Jeff Enoch, sales director, Construction and Industrial segment, for Key Equipment Finance's global vendor services group. "His extensive sales and management experience will be an asset as we expand our equipment portfolio."
Prior to joining Key, Mr. Kochan was regional sales manager at Financial Federal Credit. He served as senior vice president for the eastern region of Transamerica Equipment Financial Services for nearly ten years and spent 12 years in sales and regional management at ITT Capital Finance. He earned his bachelor of business administration from Ohio University and pursued graduate studies at Case Western Reserve University and the Weatherhead School of Management.
Key Equipment Finance is an affiliate of KeyCorp (NYSE: KEY) and provides business-to-business equipment financing solutions to businesses of many types and sizes. They focus on four distinct markets: • businesses of all sizes in the U.S. and Canada (from small business to large corporate); • equipment manufacturers, distributors and value-added resellers worldwide; • federal, provincial, state and local governments as well as other public sector organizations; and • lease advisory services for manufacturers' captive leasing and finance companies.
Headquartered outside Boulder, Colorado, Key Equipment Finance manages a $13.1 billion equipment portfolio with annual originations of approximately $6.4 billion. The company has major management and operations bases in Toronto, Ontario; Albany, New York; Chicago, Illinois; Houston, Texas; London, England; and Sydney, Australia. The company, which operates in 26 countries and employs 1,100 people worldwide, has been in the equipment financing business for more than 30 years. Additional information regarding Key Equipment Finance, its products and services can be obtained online at KEFonline.com.
Cleveland-based KeyCorp is one of the nation's largest bank-based financial services companies, with assets of approximately $93 billion. Key companies provide investment management, retail and commercial banking, consumer finance, and investment banking products and services to individuals and companies throughout the United States and, for certain businesses, internationally.
### Press Release ###########################

International Decision Systems, Inc. Announce the Release of LeaseEnterprise® 5.7
MINNEAPOLIS, Minn. – International Decision Systems, Inc. announces the release of its latest version of LeaseEnterprise®, their lease/loan accounting software designed specifically for smaller lessors. Many new features are included in this release along with two new optional modules.
"As a company we are committed to the leasing industry and realize that one system can't meet the needs of all lessors," said Todd Davis, chief executive officer of International Decision Systems, Inc. "We are pleased that we are able to offer lessors choices; LeaseEnterprise was designed for lessors who don't require the robust functionality of InfoLease® or the asset centricity of ProFinia™."
With this release many new features have been added to the base product. New fields have been added to capture and display additional information for ease of use and audit purposes. LeaseEnterprise has also added international date support for customers outside of the United States. For companies requiring a more robust database, LeaseEnterprise is now certified on Microsoft® SQL Server 2005.
LeaseEnterprise is now easier to integrate with standard accounting packages. "Many small lessors use products like *QuickBooks® and Peachtree® to run their business," said David Antila Product Manager for LeaseEnterprise. "In release 5.7 we have simplified the process of linking LeaseEnterprise to these products."
Linking your current origination software to LeaseEnterprise has also been made easier with this release. "Last year we linked Rapport®, our origination software, to LeaseEnterprise" commented Katie Emmel, Director of Product Management for International Decision Systems®. "In this release we worked with the LeaseEnterprise team to create a generic integration module that will allow LeaseEnterprise customers to connect to their existing front-end systems."
To learn how LeaseEnterprise helped Michael Green, managing director of Dakota Financial grow his business, you can listen to the recording of the webcast, "Generating and Managing Business Growth with LeaseEnterprise", by visiting http://www.idsgrp.com/products/LeaseEnterprise_links/case%20studies.htm.
About LeaseEnterprise
LeaseEnterprise designed to handle lease accounting for companies with smaller portfolios and limited staff, is being adopted by organizations big and small as it is easy to set up and simple to use. LeaseEnterprise is the industry's most intuitive and robust tool for automating lease management without intensive training or technical support. When combined with Rapport software it creates a seamless end-to-end solution enabling you to maximize your operational ROA via streamlined business processes, improved productivity, and better information access. See for yourself how easy LeaseEnterprise is to use by downloading a full-featured 15 day demonstration copy from our website at http://www.idsgrp.com/products/demos/LeaseEnterprise_Demo.htm.
About International Decision Systems, Inc.
International Decision Systems is the global leader in developing equipment finance portfolio management software and services. Headquartered in Minneapolis, Minnesota, International Decision Systems also has offices in London, Sydney, Singapore and Bangalore. International Decision Systems offers the largest and most experienced global consulting, implementation, and technical support teams in the equipment financing industry. For additional information about International Decision Systems, visit www.idsgrp.com or call 1-866-465-9393 or 1-612-851-3200 for the global headquarters. To reach the European office, call +44.1256-302000.
*QuickBooks is a registered trademark of Intuit Inc., Peachtree is a registered trademark of Sage Software, Inc.
### Press Release ###########################

CIT to Announce First Quarter 2007 Results on Wednesday, April 18
Conference Call and Audio Webcast Scheduled for 11:00 AM EDT
NEW YORK, A-- CIT Group Inc. (NYSE: CIT - News), a leading global provider of commercial and consumer finance solutions, today announced that it will issue its earnings results for the quarter ending March 31, 2007, before the market opens on Wednesday, April 18, 2007. CIT will hold a conference call and audio webcast to discuss the results at 11:00 AM EDT.
Call-in Number:
U.S. & Canada 866-831-6272
International 617-213-8859
Access code CIT Group
Webcast: http://ir.cit.com
Please dial-in to the call or link to the webcast at least 10 minutes prior to register or download any necessary software. A replay of the call and webcast will be available until 11:59 PM EDT on
April 25, 2007.
Replay Number:
U.S. & Canada 888-286-8010
International 617-801-6888
Access Code 13791892
Webcast Replay: http://ir.cit.com
### Press Release ###########################
--------------------------------------------------------------

News Briefs----
M&T joins loan-trouble sub-prime ranks
http://www.nypost.com/seven/04032007/business/mt_joins_loan_trouble
d_ranks_business_roddy_boyd.htm
Boeing's 787 orders top 500
http://seattletimes.nwsource.com/html/businesstechnology/
2003649237_webboeing03.html
Toyota Sales up 7.7%
http://www.prnewswire.com/cgi-bin/stories.pl?ACCT=104&STORY=/www/story/
04-03-2007/0004559051&EDATE=
New Century files for Chapter 11 bankruptcy
http://money.cnn.com/2007/04/02/news/companies/new_century_bankruptcy/
index.htm?section=money_latest
Tribune Agrees to Billionaire Zell's $8.2 Billion Bid (Zell to sell the Chicago Cubs and others to help with purchase)
http://quote.bloomberg.com/apps/news?pid=20601087&sid=aK5_MnsAID58
Voting Rights Drive 'Idol,' Not the Abuse or the Hair
http://www.nytimes.com/2007/04/04/arts/television/04watc.html?_r=1&8dpc&oref=slogin
American Idol Final 9 Review
http://www.myajc.com/post/idolblog/43_the_final_nine_perform.html
----------------------------------------------------------------


"Gimme that Wine"
Online Direct Shipping Seminar to Update Wineries on Latest Regulations
http://www.winebusiness.com/news/DailyNewsArticle.cfm?dataid=47328
California Central Coast Seminar Highlights
http://www.winesandvines.com/head_mar07_middle.html
Willamette Valley Vineyards, Inc. Reports a Profit for the Year Ended December 31, 2006
http://biz.yahoo.com/prnews/070402/sfm111.html?.v=61
The Meritage Resort at Napa Announces April Opening for Estate Cave Wine Bar
http://www.prleap.com/pr/71560/
Two family-owned wine bottling companies merge
http://sanfrancisco.bizjournals.com/sanfrancisco/stories/2007/04/02/daily19.html
Wine Prices by vintage
http://www.winezap.com
http://www.wine-searcher.com/
US/International Wine Events
http://www.localwineevents.com/
Winery Atlas
http://www.carterhouse.com/atlas
Leasing News Wine & Spirits Page
http://two.leasingnews.org/Recommendations/wnensprts.htm
The London International Vintners Exchange (Liv-ex) is an electronic exchange for fine wine.
http://www.liv-ex.com/
----------------------------------------------------------------

Calendar Events This Day
Bonza Bottler Day
To celebrate when the numbers of the day is the same number of the month.
Flag Act Day
Congress approved the first US flag in 1818.
National Cordon Bleu Day
http://southernfood.about.com/od/skilletchicken/r/blbb23.htm
National Reading a Map Day
http://homeschooling.about.com/od/unitssubjhol/qt/apr4a.htm
Passover—Second Day
First day of the Omer
http://urj.org/holidays/baomer/
http://www.dorhadash.org/omer.htm
Senegal: Independent Day
National holiday. Commemorates independence from France in 1960.
Vitamin C Day
1932, Vitamin C was first isolated by C.C. King at the University of Pittsburg.
Tell a Lie Day
Saint Feast Days
http://www.catholic.org/saints/f_day/apr.php
----------------------------------------------------------------

Heavier, not bigger, lemons produce more juice.
True---Best to choose smooth skin lemons bigger than their size, squeeze at room temperature, and microwaving them a very short time will get you more juice.
http://whatscookingamerica.net/lemons.htm
April to July is the peak season.
"To get maximum juice, up to 30 percent more, make sure the lemon is at room temperature. Then roll it around on a countertop with the heel of your hand until it softens before juicing."
http://www.tonytantillo.com/fruits/lemons.html
----------------------------------------------------------------

Today's Top Event in History
1873-Carrie S. Burnham began her argument, made before the Supreme Court of Pennsylvania. She had been stopped from voting in the October, 1871 and appealed to the Supreme Court, who told her she could not vote because she was a woman and the right to vote only applied to men. http://memory.loc.gov/ammem/today/apr04.html
[headlines]
----------------------------------------------------------------

This Day in American History
1800- Congress enacted the Bankruptcy Act. It did not permit voluntary bankruptcy and applied to traders only. It was repealed three years later.
1802- Birthday of Dorthea Dix, American social reformer and author, born at Hampden, ME. Left home at age 10, was teaching at age 14 and founded a home for girls at Boston while still in her teens. In spite of frail health, she was a vigorous crusader for humane conditions in insane asylums, jails and almshouses and for the establishment of state-supported institutions to serve those needs. Named superintendent of women nurses during the Civil War. Died at Trenton, NJ, July 17, 1887.
http://www.dhhs.state.nc.us/mhddsas/DIX/dorothea.html
http://www.nursingadvocacy.org/press/pioneers/dix.html
1804 -a large tornado crossed 6 counties in Georgia and killed 11 people near Augusta.
1818—Congress approves the U.S. flag with 13 stripes. On admission of each new state to the Union, another star would be added to the flag, the number and pattern of stripes remaining the same.
1859-" I Wish I Was in Dixie's Land" (better known as "Dixie" was introduced by Daniel DeCatur Emmett at Mechanics Hall, New York city, and was published by Firth Pond and Company, New York city. It was written and composed by Emmett, a Northerner, expressly for Bryant's Minstrels, who performed at 472 Broadway, New York City. It was announced as a plantation song an dance.According to some sources, it was based on a song of lament sung by the slaves of a Dutch planter named Dixye, who sold them away to a farmer in Piedmont County, South Carolina, after tryingunsuccessfully to grow tobacco in Harlem, New Amsterdam( the future New York City). African-Americans in Knox County , Ohio, have long claimed that Daniel D. Emmett learned the song "Dixie" from the Snowdens, an African-American family of musicians who performed banjo and fiddle tunes and sang popular songs for black and white audiences throughout rural central Ohio from the 1850s to the early twentieth century.
http://www.southcarolina-info.com/hist/dixie.html
It was sung at the inauguration of Jefferson Davis as president of the Confederate States on
February 18, 1861.
http://civilwarhome.com/dixie.htm
1873-Carrie S. Burnham began her argument, made before the Supreme Court of Pennsylvania. She had been stopped from voting in the October, 1871 and appealed to the Supreme Court, who told her she could not vote because she was a woman and the right to vote only applied to men. http://memory.loc.gov/ammem/today/apr04.html
1887- The first woman elected mayor in the US was Susanna Medora Salter, who was elected mayor of Argonia, Kansas. Her name had been submitted for election without her knowledge by the Women's Christian Temperance Union, and she did not know she was a candidate until she went to the polls to vote. She received a two-thirds majority vote. Argonia is a city located in Sumner County, Kansas. She received a two-thirds majority vote and served for one year for a salary of $1. As of the 2000 census, the city had a total population of 534. Although her term was uneventful, her election generated worldwide interest from the press, sparking a debate regarding the feasibility of other towns following Argonia's lead, which ranged from objections to a "petticoat rule" to a "wait-and-see" attitude. After only a year in office, she declined to seek reelection. In 1893 she moved to Alva, Oklahoma with her husband and family.
She lived until she was 101. The house she lived in during her tenure as mayor was added to the National Register of Historic Places in September, 1971.
1898-the first musical comedy written by African-Americans for African-American performers was " A Trip to Coontown," a musical comedy in two acts by Bob Cole and Billy Johnson, produced a the Third Avenue Theatre at 31st Street in New York City. Cole played the part of the tramp Willie Waysie, and Johnson played Jim Flimflammer, the bunco steerer.
1906--Birthday of trumpet player Frankie Newton, Emory, VA.
1913-bassist Gene Ramey born, Austin, TX
1915-Mobile telephone one-way communication was established by Bell System engineers from Montauk Point, NY, to Wilmington, DE, a distance of 250 miles.
1915-bluesman Muddy Waters, whose real name was McKinley Morganfield, was born in Rolling Fork, Mississippi. He began recording in 1941, and his 1948 hit "I Can't Be Satisfied" helped bring the amplified guitar to the fore in blues music. His Chicago-based band included such notables as James Cotton, Buddy Guy, Willie Dixon and Otis Spann. Muddy Waters played a significant part in developing modern rhythm and blues that came to be known as Chicago or urban blues. It was predominantly from this music that later forms such as rock and roll and soul sprang.
Waters' style had a profound effect on pop music in the 1950s and '60s, and he influenced such musicians as Jimi Hendrix and the Rolling Stones. In fact the Stones took their name from a Waters' recording, "Rollin' Stone." And Waters was the one who brought Chuck Berry to the attention of Chess Records in 1955. Muddy Waters died in 1983.
http://www.muddywaters.com/index2.html
1917-birthday of singer Big Chief Jolley ( George Landry ) New Orleans, LA
1922—Birthday of motion picture composer Elmer Bernstein, perhaps best known for 'The Man with the Golden Arm."
1923 - an F4 tornado killed 15 people and injured 150 at Alexandria and Pineville, Louisiana. 142 homes and businesses in Pineville were destroyed.
1924-Gibert Ray "Gil" Hodges, baseball player and manager, born at Princeton, IN. Hodges was the first baseman on the famous Brooklyn Dodgers" Boys of Summer" teams. ( I got his autograph on a baseball when I was a kid.). He managed the New York Mets to the 1969 World Series title. Died at West Palm Beach, FL, April 2, 1972.
1928- -- Birthday of Maya Angelou born Louis, Missouri. African-American poet whose autobiographical work explores economic, racial, & sexual oppression themes. Her first work, I Know Why the Caged Bird Sings (1970), is followed by Gather Together in My Name (1974), The Heart of a Woman (1981), & All God's Children Need Traveling Shoes.
1932-Vitamin C was first isolated by C.C. King at the University of Pittsburgh.
1933 - Pigeon River Bridge, MN, reported 28 inches of snow, which established the state 24 hour snowfall record.
1935- Benny Goodman cuts his first Victor record session.
1939-Glenn Miller records his theme " Moonlight Serenade) Bluebird 19214)
1939-trumpet player Hugh Masakela born Witbank, So. Africa
1943-the nine-man crew of the World War II American Liberator bomber Lady Be Good bailed out 200 miles off course over the Sahara Desert and disappeared this day. They were returning to their base in Libya after a raid over southern Italy. On Nov 9,1958,15 years after the plane went down and more than 13 years after the war had ended, a pilot flying across the Sahara south of Tobruck sighted wreckage of an aircraft in the sand. Five skeletons and a diary describing the final days of the crew were recovered. The radio, guns and ammunition in the plane were in working order. Life Magazine devoted a full issue to this discovery.
1946---Birthday of the "coach," Craig T. Nelson, actor, born Spokane, Washington.
1950- Birthday of Judith Resnik, astronaut. The 36-year-old electrical engineer mission specialist was the second US woman in space. She perished in the Challenger explosion, Jan. 28, 1986.
http://www.jsc.nasa.gov/Bios/htmlbios/resnik.html
1952- "Police Story" premiers on TV. Produced by Jerome Robinson, directed by David Rich and narrated by Norman Rose, "Police Story" was an early anthology series on CBS depicting incidents from real-life police files.
1950—Birthday of Jim Lahti's sister, Christine, acrtress (Emmys for "chicago Hope," "Swing Shfit, director (Oscar for "LIberman in Love), born Birmingham, MI.
1951—Birthday of Steve Gatlin of country's Gatlin Brothers Band.
1953-the first scholastic fraternity chapter established at an African-American university was the Phi Beta Kappa, at Fisk University, Nashville, TN.
1960 - Elvis Presley records ``Are You Lonesome Tonight.''
1960 - Eleven Academy Awards were presented to one movie at the 32nd Annual Academy Awards at the RKO Pantages Theater, Los Angeles. "Ben-Hur", the Best Picture of 1959, was the first motion picture to receive that many Oscars. The other categories for which the MGM film, produced by Sam Zimbalist, was honored were: Best Director (William Wyler); Best Actor (Charlton Heston); Best Supporting Actor (Hugh Griffith); Best Cinematography/Color (Robert L. Surtees); Best Art Direction-Set Direction/Color (Edward Carfagno, William A. Horning, Hugh Hunt); Best Costume Design/Color (Elizabeth Haffenden); Best Sound (Metro-Goldwyn-Mayer Studio Sound Department, Franklin E. Milton, Sound Director); Best Film Editing (John D. Dunning, Ralph E. Winters); Best Effects/Special Effects (visual-A. Arnold Gillespie, Robert MacDonald III; audible-Milo B. Lory); and Best Music/Scoring of a Dramatic or Comedy Picture (Miklos Rozsa). "Ben-Hur" lost only one nomination: Best Writing/Screenplay Based on Material from Another Medium. "Room at the Top" (Neil Paterson) took that Oscar home and the Best Actress award, too (Simone Signoret). The Best Supporting Actress award went to Shelley Winters for her performance in "The Diary of Anne Frank", her second Oscar. The moviemakers of "Anatomy of a Murder" had high hopes with six nominations in the ring; but that's all they were. However, the Best Music/Song Oscar went to "High Hopes" (James Van Heusen-music, Sammy Cahn-lyrics) from "A Hole in the Head". It would be 38 years and a lot of high hopes before one film won 11 Academy Awards again ("Titanic"). And who knows how long before the host is an Award recipient again! (Bob Hope received the Jean Hersholt Humanitarian Award.)
http://www.infoplease.com/ipa/A0148797.html
1963 - No. 1 Billboard Pop Hit: ``He's So Fine,'' The Chiffons. In 1976 the estate of songwriter Ronnie Mack wins a lawsuit against former Beatle George Harrison. A judge rules that Harrison subconsciously copied his No. 1 song ``My Sweet Lord'' from ``He's So Fine.''
1964 - The Beatles set an all-time record on the Top 100 chart of "Billboard" magazine this day. All five of the top songs were by the British rock group. In addition, The Beatles also had the number one album as "Meet the Beatles" continued to lead all others. The LP was the top album from February 15 through May 2, when it was replaced by "The Beatles Second Album". It was estimated at the time that The Beatles accounted for 60 percent of the entire singles record business during the first three months of 1964. The top five singles by The Beatles this day were:
1) Can't Buy Me Love
2) Twist and Shout
3) She Loves You
4) I Want to Hold Your Hand
5) Please Please Me
1965 - Actor Robert Downey Jr. is born in New York, NY. Downey Jr. has penned more than 30 original songs, and his version of Charley Chaplin's theme song, "Smile," is included on the soundtrack to the film "Chaplin."
1967 - Johnny Carson quit "The Tonight Show". He returned three weeks later with an additional $30,000 a week! Here's Johnnnnnnny!!!
http://www.jonnycarson.com/carson4.htm
1967-speaking before the Overseas Press Club at New York City, Reverend Dr. Martin Luther King, Jr, announced his opposition to the Vietnam War. That same day, at the Riverside Church at Harlem, King suggested that those who saw the war as dishonorable and unjust should avoid military service. He proposed that the US take new initiatives to conclude the war.
1968-Martin Luther King, Jr., born on 15 January 1929, is shot and killed by a sniper while standing on the balcony outside his second-story room at the Lorraine Motel in Memphis TN. On this night,April 4, presidential candidate Robert F. Kennedy, just two months away from his own assassination, announced King's death at a political rally in Indianapolis. Urging calm, Kennedy fell into quoting the Ancient Greek tragedian Aeschylus in an effort to articulate the inexplicable tragedy of King's murder: "In our sleep, pain that cannot forget falls drop by drop upon the heart until, in our own despair, against our will, comes wisdom through the awful grace of God." As word of the assassination spread, riots broke out in several major cities, and in Washington, D.C., fires set by enraged protestors devastated portions of the downtown area. The National Guard was subsequently called in, and for several days the armed troops patrolled the streets of the nation's capital. James Earl Ray was convicted of his assassination, but King's family to this day believe he was killed by others.
1968- Bobby Goldsboro was awarded a gold record for "Honey." The record sold one-million copies within three weeks, and eventually sales were over three-million. "Honey" topped the Billboard Hot 100 chart for five weeks.
1969-CBS canceled the "Smothers Brothers" comedy series. The hour-long show strongly influenced television humor during the two years it aired. Tom and Dick, however, frequently found themselves at odds with the censors over material that would be considered tame today. Guests and cast members frequently knocked the Vietnam War and the Nixon Administration. Acts featuring antiwar protestors such as Harry Belafonte were often cut.
http://www.smothersbrothers.com/
1969-the first heart transplant using an artificial heart took place at St. Luke's Episcopal Hospital in Houston, Texas ( an exhibit is now at Herman Hospital, University of Texas at Houston ). Dr. Denton A. Cooley ( still in practice), implanted the world's first entirely artificial heart into Haskell Karpk, age 49, from Skokie, IL. The prosthetic heart was made of Dacron and plastic. Karp lived with the hear for three days, when it was replaced by a transplanted heart. He died on April 8.
1971 - Veterans stadium in Philadelphia, PA was dedicated this day. It was the largest baseball park in the National League. A total of 56,371 fans could come out to see the Phillies play baseball or the Eagles play football. The stadium has been nicknamed the Vet. Seating was later increased to 63,000.
1973 - Sandia Crest, NM, reported a snow depth of 95 inches, a record for the state of New Mexico.
1973 - No. 1 Billboard Pop Hit: ``The Night the Lights Went out in Georgia,'' Vicki Lawrence. Lawrence is probably best known as the look-alike to the star of ``The Carol Burnett Show.'' The song debuts at No. 100 on the Hot 100.
1981-first mayor of a major city of Mexican descent was Henry Gabriel Cisnernos, San Antonio, Texas.
1983 -a snowstorm in the midwest left 11 inches of snow on the ground at Liberal, Kansas and 14 inches at Trousdale, Kansas. Further to the west in Colorado, the storm was in its 2nd day and by the time it was all over on the 5th, 21 inches of new snow was recorded at Fort Collins and Buckhorn Mountain, not to far from Fort Collins, was buried under 64.4 inches.
1984 - Bob Bell retired as Bozo the Clown on WGN-TV in Chicago, IL. Bell was an institution in the Windy City since making his first appearance in 1960. Pinto Colvig was the original Bozo.
1987-Denis Potvin of the New York Islander, the highest-scoring defenseman in NHL history at the time, scored the 1,000th point of his career. Potvin entered the Hockey Hall of Fame in 1991.
1987-- one of the most famous record companies in the world, RCA Records, officially became the Bertelsmann Music Group - BMG for short - upon its takeover by the giant West German publishing, broadcasting and recording company. The new owners said Nipper, the famous Radio Corporation of America dog, would continue as the new firm's logo, and the names RCA, Arista and Red Seal would still appear on BMG record labels.
1987 -New England was in the middle of its second heavy rainstorm in 5 days. Ten persons were killed in a bridge collapse over Schoharie Creek. This was the same storm that produced record snows in the Appalachians. This storm dumped 4 to 7 inches of rain over the area and this, combined with snowmelt and rivers already at bankfull, produced record flooding, especially in Maine. 2300 homes were flooded in Maine with 215 totally destroyed. Record water levels were reached at many dams. Damage in the state alone reached 100 million dollars.
1990 - A deep low pressure system in northern New York State brought heavy snow to parts of western and central New York during the day. The snowfall total of 5.8 inches at Buffalo was a record for the date, and 9.5 inches was reported at Rochester. Snowfall totals ranged up to 11 inches at Warsaw.
1996- Jerry Garcia's widow, Deborah, and Grateful Dead guitarist Bob Weir sprinkled a small portion of Garcia's ashes into India's holy Ganges River. Deborah Garcia kept her plans secret because she feared thousands of fans might have travelled to India and disrupted the ceremony. The rest of Garcia's ashes were released off San Francisco later that month. The Grateful Dead leader had died of a heart attack following a drug overdose in a rehabilitation facility, Forrest Farm, in Marin County.
1996-- The former general manager of Daiwa Bank's New York branch pleaded guilty to aiding a $1.1 billion cover-up.
1996-- In its IPO, just two days after Lycos and a week before Yahoo!, Search engine Excite's stock opens at $17 and closen at $20.
2000-Michigan State beats Florida 89-76 to win NCAA Title.
http://sportsillustrated.cnn.com/basketball/college/2001/ncaa_tourney/news/
2001/04/02/final_gamer_ap/
NCAA Basketball Champions This Date
1983---North Carolina State
1988---Kansas
1994---Arkansas
2000---Michigan State
--------------------------------------------------------------

Baseball Poem
Lawrence Ferlinghetti, "Baseball Canto"
Watching baseball, sitting in the sun, eating popcorn,
reading Ezra Pound,
and wishing that Juan Marichal would hit a hole right through the
Anglo-Saxon tradition in the first Canto
and demolish the barbarian invaders.
When the San Francisco Giants take the field
and everybody stands up for the National Anthem,
with some Irish tenor's voice piped over the loudspeakers,
with all the players struck dead in their places
and the white umpires like Irish cops in their black suits and little
black caps pressed over their hearts,
Standing straight and still like at some funeral of a blarney bartender,
and all facing east,
as if expecting some Great White Hope or the Founding Fathers to
appear on the horizon like 1066 or 1776.
But Willie Mays appears instead,
in the bottom of the first,
and a roar goes up as he clouts the first one into the sun and takes
off, like a footrunner from Thebes.
The ball is lost in the sun and maidens wail after him
as he keeps running through the Anglo-Saxon epic.
And Tito Fuentes comes up looking like a bullfighter
in his tight pants and small pointy shoes.
And the right field bleechers go mad with Chicanos and blacks
and Brooklyn beer-drinkers,
"Tito! Sock it to him, sweet Tito!"
And sweet Tito puts his foot in the bucket
and smacks one that don't come back at all,
and flees around the bases
like he's escaping from the United Fruit Company.
As the gringo dollar beats out the pound.
And sweet Tito beats it out like he's beating out usury,
not to mention fascism and anti-semitism.
And Juan Marichal comes up,
and the Chicano bleechers go loco again,
as Juan belts the first ball out of sight,
and rounds first and keeps going
and rounds second and rounds third,
and keeps going and hits paydirt
to the roars of the grungy populace.
As some nut presses the backstage panic button
for the tape-recorded National Anthem again,
to save the situation.
But it don't stop nobody this time,
in their revolution round the loaded white bases,
in this last of the great Anglo-Saxon epics,
in the territorio libre of Baseball.
--------------------------------------------------------------

SuDoku
The object is to insert the numbers in the boxes to satisfy only one condition: each row, column and 3x3 box must contain the digits 1 through 9 exactly once. What could be simpler?
http://leasingnews.org/Soduku/soduko-main.htm
--------------------------------------------------------------

Daily Puzzle
How to play:
http://www.setgame.com/set/puzzle_frame.htm
Refresh for current date:
http://www.setgame.com/set/puzzle_frame.htm
--------------------------------