Monday, April 23, 2007
Headlines---
Classified Ads---Asset Management
Sterling Financial Postpones 1st Quarter
Former CyberNet controller faces sentencing
"We catch 'em! " –Funder gives up six
Scott Mackenzie awarded Legend of Africa
Candace Cheney promoted at Quail Capital
Top Stories---April 16-April 20
Cartoon---New Yorker Magazine
Leasing 102 -by Mr. Terry Winders, CLP
Tax Depreciation for Leases to Municipal
IBM Recycled More Than 100 Million Pounds
Real Lease proud to meet growing business need
Mortgage-Backed Security Down Slightly
LaSalle Bank to be sold in $21 billion deal
ABN Amro Agrees to Sell to Barclays $91.2 Billion
News Briefs---
You May have Missed---
Sports Briefs---
"Gimme that Wine"
Calendar Events
Snapple Real Facts
Today's Top Event in History
This Day in American History
Baseball Poem
SuDoku
Daily Puzzle
--------------------------------------------------------------
--------------------------------------------------------------

Classified Ads---Asset Management
Boston MA
18 years of general equipment asset management experience from commercial aircraft to furniture and fixtures. End of lease equipment disposition, mid-term residual analysis, residual forecasting
Email: sblaspina@comcast.net
New York, NY
10+ years in equipment leasing/secured lending. Skilled in management & training, documentation, policy and procedure development & implementation, portfolio reporting. Strong work ethic.
Email: dln1031@nyc.rr.com
To place a free "job wanted" ad here, please go to:
http://www.leasingnews.org/Classified/Jwanted/Jwanted-post.htm
For a full listing of all "job wanted" ads, please go to:
http://www.leasingnews.org/Classified/Jwanted/Jwanted.htm
--------------------------------------------------------------


Sterling Financial Corporation of Lancaster, Pa., Postpones First Quarter Earnings Release
LANCASTER, Pa., -- Sterling Financial Corporation is postponing the release of its earnings for the quarter ended March 31, 2007. The release was originally scheduled for April 24th.
Sterling's management has received information suggesting irregularities related to certain financing contracts in one of its financial services group companies, Equipment Finance LLC (EFI). EFI provides commercial financing for the soft pulp logging and land-clearing industries, primarily in the southeastern United States.
Management moved immediately to notify the Audit Committee and Board of Directors about this information, and the
Audit Committee engaged nationally recognized, expert accountants and legal counsel to conduct an independent investigation.
"As you would expect, Sterling is taking this matter very seriously," said J. Roger Moyer, Jr., president and chief executive officer of Sterling Financial Corporation. "We are committing all necessary resources to complete the investigation in a thorough, timely and professional manner and to take any remedial steps necessary."
--------------------------------------------------------------

Former CyberNet controller faces sentencing
By Nate Reens
The Grand Rapids Press
www.mlive.com
GRAND RAPIDS—Already part of one major financial fraud, former CyberNet controller David M. Roepke was not going to let another swindle skate by, turning in a woman who bilked $500,000 from a separate company even while he was under investigation in the $100 million CyberNet scheme.
When U.S. District Judge Richard Enslen sentences Roepke for money laundering, Roepke will get consideration for a lesser sentence by virtue of his role in the federal charges issued against the one-time financial officer of a Virginia company.
Roepke, 63, faces up to 20 years in prison at his sentencing today in the CyberNet case. In the separate incident, he discovered the theft at Vogel Lubrication by reviewing company records after taking a job following the 2004 raid at CyberNet.
He likely was familiar with part of the Vogel ruse—making false payroll entries and transferring cash between bank accounts—from his position as the "money man" at CyberNet.
Prosecutors said he moved funds from ill-gotten loans to make it appear the high-tech computer business was doing well financially.
He did not make decisions and acted out of fear, Roepke bemoaned in a letter he wrote last week to Enslen.
Roepke wrote there was no excuse for his choices, but his fear of losing his job forced him to go along with the orders of company head Barton Watson. Watson killed himself days after his company collapsed.
"Working for CyberNet became a nightmare," Roepke said in the letter, which described the browbeating of workers over simple tasks. "All of this left me emotionally drained and fearful .... But, I stayed because I was grateful for the paycheck."
Vogel Lubrication has agreed to let Roepke keep his job should he avoid prison, the 63-year-old wrote. The theft he found at the company landed the former worker there a 33-month sentence in federal prison.
A request for leniency
Roepke had only limited information about what upper management was doing, his defense attorney, Jeffrey O'Hara, stated in court documents.
"His actions at Vogel are the true reflection of who he is," O'Hara said.
Roepke will be the second player sentenced in the scam. Former company President James Horton is serving 7 ½ years in prison.
Meanwhile, Watson's wife, Krista Kotlarz-Watson, and an assistant, Paul Wright, still face criminal counts.
Watson's mother, Geraldine Watson, has pleaded guilty to furnishing her son with the 12-gauge that authorities believe he shot himself with.
Other Cybernet stories:
http://www.leasingnews.org/Conscious-Top%20Stories/CyberNet.htm
--------------------------------------------------------------

"We catch 'em! " –Funder gives up six
"One funder gave me 6 groups today with all their investigation," said Bernie Boettigheimer, CLP, Chief, Lease Police. "It has been very gratifying to me that so many credit professionals have given me sound direction and recommendations.
"Reports of Unusual Vendor Activity we can immediately put a dent in the approximately 60-70 fraud groups working in the Leasing Industry right now."
During this initiation period, LeasePolice.com will be collecting default histories from lessors as well as "unusual activity" warnings on vendors and lessees. During this initial period, the system will be a free service. Upon maturation of the database, the price of the service is expected to be less than $5 per report.
LeasePolice.com offers two types of user accounts – funder and broker. Broker accounts are limited in the amount of pulls per month. All funder users must provide default data on their portfolio.
To view an online demo of the LeasePolice.com system, go to:
https://www.leasepolice.com/infosite/product.html
To subscribe, go to www.leasepolice.com. During the initial 6 month data collection period, all accessed matches are free!
Lease Police, Inc.
15950 North Dallas Parkway
Suite 400
Dallas, TX 75248
Telephone (972) 361-8111
Fax (972) 692-8091
Contact: Bernie Boettigheimer, bernieb@leasepolice.com
--------------------------------------------------------------

Scott Mackenzie awarded Legend of Africa
One of the NorVergence leases was the African-American Dance Theater and School Kuumba House,
a non-profit organization in Houston, Texas.

Scott Mackenzie of Dallas, Texas took the case on pro bono and prevailed.
"Lindi Yeni and Kuumba House awarded me with the Legend of Africa Award
for my pro bono efforts which freed them from the NorVergence lease," he told Leasing News." It is the first time that I have ever been given an award and I so very happy that I was in the right place at the right time to help them.
"It is sad that they were subjected to a ridiculous lawsuit over the Norvergence scam, but fortunately my efforts, combined with the moral support of Leasing News readers and many others brought the nightmare to an end for one charity.
"I only wish I could help so many others who have been abused by the NorVergence scam."
Dancing for Joy
Scott Mackenzie
Donald Scott Mackenzie, Attorney at Law
9603 White Rock Trail, Suite 324
Dallas, TX. 75238
(214) 245-4625
fax (214) 764-0780
email: dallaslaw@gmail.com
Webpage: www.scottmackenzie.com
News article on Kuumba House
http://www.leasingnews.org/archives/December%202006/12-20-06.htm#kuumba
--------------------------------------------------------------

Candace Cheney promoted at Quail Capital
Quail Equipment Leasing, part of the Quail Capital Corporation, is pleased to announce the appointment of Candace Cheney to the position of Vice President Operations.
"Candace has been a critical member of our team for several years said Jeff Rudin," company co-founder. "She will now have increased responsibility for strategic planning and team building while continuing to manage daily operations."
Founded in 1999, located in Burbank, California, more information about the company may be found
at www.quailcap.com and
http://www.leasingnews.org/archives/November%202006/11-20-06.htm#quail
--------------------------------------------------------------
Leasing Industry Help Wanted
Account Executive


Account Executives

Boston, Cleveland, Detroit, St. Louis,
SF Bay Area
Top position to work with CFOs, CIOs, CEOs and other high-level executives. 7+ years equipment leasing exp. Resume/indicating you saw ad in Leasing News to: US_DFS_Staffing@dell.com
About the Company: We're the exclusive provider of leasing and finance services for Dell technology systems worldwide. At Dell Financial Services our mission is to deliver financing solutions that enable and enrich the Dell Customer experience.


Finance Consultant


Finance Consultants
Orange County, California
The Cambridge Difference
More Approvals.
Quicker Fundings.
Regional Sales Managers


Regional Sales Managers
To establish small ticket vendor programs in major metro areas. Excellent compensation/ benefit package. View job description. Send resumes to Zully.Fernandez@IrwinCF.com
Company Description:
Irwin Commercial Finance (NYSE: IFC) is a true direct lender and in the ever changing leasing environment, we bring stability, creativity and consistent customer service levels to our business.


Sales Director

Sales Director
Vendor Relationship Development
Office equipment experience a must. Territory covers FL, GA, SC, NC, AL, MS, LA. Must be able to sell value. To apply online click here.
About the company:
GreatAmerica offers office equipment financing to businesses across the U.S., and is the largest independent leasing company in the small ticket equipment financing market.


--------------------------------------------------------------

Top Stories---April 16-April 20
Here are the top ten stories most "opened" by readers last week:
(1) Fourth richest leasing person in the world
http://www.leasingnews.org/archives/April%202007/04-16-07.htm#4th
(2) Marlin Leasing announces new President
http://www.leasingnews.org/archives/April%202007/04-20-07.htm#marlin
(3) Northern Leasing Systems another NorVergence?
http://www.leasingnews.org/archives/April%202007/04-18-07.htm#nls
(4) Main Street originates $10MM of leases per month?
http://www.leasingnews.org/archives/April%202007/04-18-07.htm#solid
(5) "To Tell the Truth---Barry A. Dubin, Esq
"Not in favor of signed lease check list"
http://www.leasingnews.org/archives/April%202007/04-20-07.htm#truth
(6) Leasing 102--by Mr. Terry Winders, CLP
"The Ignorance Plea"
http://www.leasingnews.org/archives/April%202007/04-16-07.htm#102
(7) Yesterday was an anniversary
http://www.leasingnews.org/archives/April%202007/04-18-07.htm#ann
(8) Sallie Mae to be acquired $25 billion
http://www.snl.com/interactivex/article.aspx?CdId=A-5592716-9320
(9) The story of NorVergence as per Wikipedia
http://www.leasingnews.org/archives/April%202007/04-18-07.htm#norv
(10) A True Test of the new Code of Ethics for ELFA
http://www.leasingnews.org/archives/April%202007/04-18-07.htm#elfa
Extra: CIT Reports Record "Solid Start" First Quarter Results
http://www.leasingnews.org/archives/April%202007/04-18-07.htm#solid
(This "extra" was not counted as it was originally an e-mail, then
added to the web site. It most likely was very well read. editor)
----------------------------------------------------------------

----------------------------------------------------------------

Leasing 102
by Mr. Terry Winders, CLP
Tax Depreciation for Leases to Municipal or 501C (not-for-profit)
Depreciation for income tax maters is called Capital Recovery, and for GAAP accounting, it is called the amortization of an expense. Capital recovery benefits are only allowed for Lessor's if they follow the rules, and have a "true lease," and the lease term is 80% or less of the equipments useful life.
Back in the Thirties the Government recognized that assets depreciate faster in the beginning than they do later on, so ADR depreciation was established as an accelerated form of depreciation with many classifications. In 1991 the economic recovery tax act established ACRS depreciation which decreased the categories of equipment and increased the acceleration. In 1986 they "modified" ACRS and it became MACRS to slow down the acceleration and the introduction of the Alternative Minimum Tax reduced it even more for those required to pay income tax under the AMT.
The tax reform act of 1984 was the first time a reduction in accelerated depreciation benefits were required for leases to a U.S. State or Municipal Government or a not-for-profit entity (501C). Straight line depreciation was all that lessor's are allowed to take because the "use" of the equipment is in a company organized not to make a profit. The 1984 Act required the Lessor to take straight line depreciation over the greater of the property's ADR Class life, or 125% of the lease term. Even though the lessor's income is taxed it is the "use" that dictates the right to take capital recovery benefits not ownership.
There are exceptions for short term leases (under three years and the lease term must be lower that 30% of the ADR class life). The class life for computers is Asset class 00.12 with a class life of 6 years, so to quality under 30% the ADR term the lease needs to be under 21.5 months. Also there are some exceptions for high tech short term assets. A complete review of the qualified high tech assets is required to determine if your high tech asset qualifies.
Mr. Terry Winders has been a teacher, consultant, expert witness for the leasing industry for thirty years and can be reached
at leaseconsulting@msn.com or 502-327-8666.
He invites your questions and queries.
----------------------------------------------------------------


IBM Recycled More Than 100 Million Pounds of Computer Equipment
Last Year by K.C. Jones
InformationWeek
TechWeb
IBM said it processed more than 100 million pounds of used and obsolete computer gear in 2006.
IBM announced its progress Friday, two days before Earth Day. The company said it processed the products as part of its computer renewal and recycling efforts worldwide and returned less than 1% of the nonhazardous material to landfills.
The announcement marked the fourth year in a row that IBM reported decreasing the amount of equipment it returns to landfills.
"While we are known for being a leading manufacturer of IT equipment, IBM also leads the way in computer disposal," Wayne Balta, IBM VP of environmental policy, said in a prepared statement. "By returning less to landfills through renewal, refurbishment, and recycling, we are doing our part to protect the environment around the world." IBM has recycled computers for more than 20 years, when it began leasing and taking responsibility for equipment coming off lease. IBM employees familiarized themselves with environmental regulations around the world and developed practices for data security.
IBM said more than 600 million corporate PCs alone are due for retirement by 2010, but only 2 to 5% will be wiped clean of sensitive data and recycled. IBM customers can use a disk-overwriting service that overwrites the hard drives to U.S. Department of Defense standards.
IBM said its Global Asset Recovery Services takes in more than 40,000 pieces of IT gear from clients each week.
"Closets filled with old IT equipment are becoming a huge headache for IT managers across the globe," Daniel Ransdell, general manager of IBM Global Asset Recovery Services, said in a prepared statement. "We have taken the skills and know-how that we have built up over the years and are now helping companies clean out their closets. Today we have best-in-class, comprehensive solutions that can address an enterprise's environmental and data-security challenges and put some money back in their pocket after resale in the secondary market."
IBM touts brand agnostic computer recycling operations, taking back the equipment of all other IT manufacturers. IBM also recycles medical devices, like MRI and medical diagnostic equipment, for reuse, refurbishing, resale, and leasing.
----------------------------------------------------------------

Real Lease proud to meet growing business need
Deborah Alexander
Staff writer
http://www.democratandchronicle.com
Rochester Democrat and Chronicle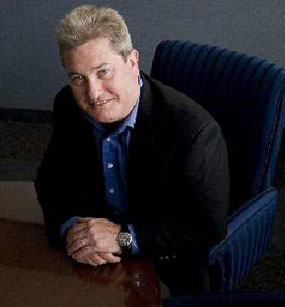 Real Lease Inc. President and CEO Robert D. Noonan of Pittsford, New York
What does Real Lease do?
Real Lease is a general equipment lessor specializing in three specific niche markets: commercial equipment leases; tax-exempt municipal leases; and energy performance contract funding.
Who are some of your clients?
Real Lease has a wide client base that ranges from small proprietorships, partnerships and corporations to large private and public companies. A separate line of business includes tax-exempt municipal and higher education clients throughout the eastern United States.
How many people work for the company?
The company employs 12, all located in Pittsford.
What are the advantages of leasing equipment?
Leasing provides many benefits — the two primary reasons are cash flow and tax structuring. Many clients lease their equipment to help manage their cash-flow requirements. Real Lease structures leases that are customized for specific client needs. Some clients want the ability to have their lease be an "off balance sheet" expense, while others want the ability to depreciate their leased equipment. Leases can be structured to meet either tax goal.
What are the services you are most proud of?
Real Lease is proud of its reputation as the regional independent market leader for small-ticket equipment leasing to commercial businesses. We are also recognized as a market leader for funding large-ticket energy performance contracts for both tax-exempt and commercial markets.
Our newest product, which is growing very quickly, is small-ticket tax-exempt leases for municipal clients. This product is currently being offered in seven states and will be expanding to 13 states by the end of 2007 and 20 states by the end of 2008.
How does Real Lease distinguish itself from other leasing companies?
We pride ourselves on giving clients the highest level of service and fast turnaround, while also providing customized lease structures that provide the client the flexibility, cash flow and tax benefits they require.
How has your company kept pace with changing technology?
We have leveraged our continued growth through investment in technology and processes that are directed at serving our clients' needs.
What do you see as the future for the leasing industry?
Over the last decade, leasing has become a mainstream alternative for equipment acquisition. The leasing industry, as a component part of the entire financing industry, is outpacing the industry's growth and I fully expect that to continue.
Where do you see Real Lease in the next 10 years?
Real Lease will be expanding its geographic markets. We understand the need to incorporate our core tenants and time-tested business practices that have made us successful and will allow us to continue to grow.
What is the best advice you ever received?
My dad had a saying or bit of advice: "You are born with two ears and one mouth. Remember to use them in that proportion." Over time that has proven true and served me well.
How do you spend your spare time?
What's that?
1. Deborah Alexander
---------------------------------------------------------------
### Press Release ###########################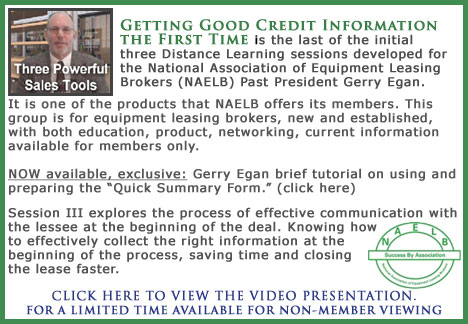 Mortgage-Backed Security Down Slightly
ABSnet
The volume of mortgage-backed security deals totaled $247.66 billion in the first quarter, down from $261.41 billion in the first quarter of 2006, according to Thomson Financial.
The figures are preliminary because the numbers are revised upward - often significantly - as additional deals are reported after the end of each quarter.
J.P. Morgan led the rankings of MBS underwriters in the first quarter with an 11.8% market share, compared with 6.5% in the first quarter of 2006. Deals managed by J.P. Morgan totaled $29.19 billion, up from the $17.07 billion recorded a year earlier, according to the data.
Lehman Brothers finished second in the rankings with a 10% market share. Its volume totaled $24.81 billion, down from $27.13 billion a year earlier.
Washington Mutual Inc. ranked third, with a market share of 7.6%, up from 4.4% in the first quarter of 2006, and its volume totaled $18.89 billion, up from $11.54 billion a year earlier.
Rounding out the top 10 for the quarter were Bear, Stearns & Co., with a 7.6% market share; Citigroup, with 7.1%; Royal Bank of Scotland Group, with 6.9%; Deutsche Bank AG, with 6.3%; Goldman Sachs & Co., with 5.6%; Banc of America Securities LLC, with 5.2%; and Credit Suisse, with 5.1%.
The Thomson Financial data for underwriters of mortgage-backed debt are compiled for securities pools that are at least 50% backed by first-lien mortgages and at least 50% by mortgages with a principal balance of $300,000 or more.
The company also ranks managers of asset-backed securities, which include those backed by real estate-related debt such as second-lien loans, home-equity lines of credit, manufactured housing contracts and home improvement loans.
The volume of ABS deals totaled $288.78 billion in the first quarter, up slightly from the $287.93 billion recorded a year earlier, according to Thomson's numbers.
Citigroup topped the ABS category with an 11.6% market share, up from 10.1% a year earlier. It was followed by Merrill Lynch, with 11.3%; J.P. Morgan, with 8.7%; BoA Securities, with 7.6%; and Deutsche Bank, with 7.2%. The rest of the top 10 were Barclays Capital, with a 6.2% market share; Morgan Stanley, with 5.9%; Royal Bank of Scotland, with 5.7%; Credit Suisse, with 5.4%; and Countrywide Securities Corp., with 5.2%.
### Press Release ###########################
--------------------------------------------------------------

News Briefs----
LaSalle Bank to be sold in $21 billion deal
http://www.chicagotribune.com/business/chi-070422lasalle,1,6950146.story?coll=
chi-news-hed&ctrack=1&cset=true
ABN Amro Agrees to Sell to Barclays $91.2 Billion
Bhttp://www.nytimes.com/2007/04/23/business/worldbusiness/23bank.html?_r=1&ref=
business&oref=sloginarclays of Britain
More Staff Cuts Expected at Chicago Tribune and Los Angeles Times
http://www.nytimes.com/2007/04/23/business/media/23paper.html?_r=
1&ref=business&oref=slogin
Dallas Fed exec eyes globalization's effect
http://www.usatoday.com/money/economy/2007-04-22-fisher-usat_N.htm
Iacocca maintains blunt style in new book
http://www.usatoday.com/money/companies/management/
2007-04-22-iacocca-usat_N.htm
---------------------------------------------------------------


You May have Missed---
House votes to give shareholders a 'say on pay' of execs
http://www.usatoday.com/money/companies/management/
2007-04-20-ceo-pay-vote_N.htm
---------------------------------------------------------------

Sports Briefs----
Warriors stun top-seeded Mavericks with 97-85 win
http://www.mercurynews.com/ci_5729265?nclick_check=1
http://www.dallasnews.com/sharedcontent/dws/dn/latestnews/stories/
042307dnspomavslede.384a421.html
----------------------------------------------------------------


"Gimme that Wine"
Central Coast winemaking whiz kid Andrew Murray splits from his parents and strikes out on his own
http://www.sfgate.com/cgi-bin/article.cgi?f=/c/a/2007/04/20/WIGV6P9PKN1.DTL
Fetzer promotes environmentally friendly practices in marketing wine
http://www.courier-journal.com/apps/pbcs.dll/article?AID=/20070422/
BUSINESS/704220396
Immigration Reform vs. Immigration Reform vs. Vineyard Labor NeedsVineyard Labor Needs Bronco president unveils proposal for glass plant in Napa
http://www.sfgate.com/cgi-bin/article.cgi?f=/c/a/2007/04/20/WIGFGPA9DK1.DTL
Warehouse wineries take root in Sonoma County
http://www1.pressdemocrat.com/apps/pbcs.dll/article?AID=/20070418/NEWS04/
704180303/-1/SPECIAL&THEMES=FOODWINE
Wine Prices by vintage
http://www.winezap.com
http://www.wine-searcher.com/
US/International Wine Events
http://www.localwineevents.com/
Winery Atlas
http://www.carterhouse.com/atlas
Leasing News Wine & Spirits Page
http://two.leasingnews.org/Recommendations/wnensprts.htm
The London International Vintners Exchange (Liv-ex) is an electronic exchange for fine wine.
http://www.liv-ex.com/
----------------------------------------------------------------

Calendar Events This Day
Canada: Newfoundland: Saint George's Day
Holiday observed at Newfoundland on Monday nearest Feast Day (April 23) of Saint George
Cherry Cheesecake Day
http://homeschooling.about.com/library/blfeb20a.htm
http://www.acheesecake.com/CherryCheeseCake.html
http://www.dinewithoutwhine.com/cherry-cheesecake.htm
Confederate Memorial Day in Alabama
On the fourth Monday in April. Other southern states observe Confederate Memorial Day on different dates.
Saint George Feast Day
Martyr and patron saint of England, who died April 23, AD 303. Hero of the St. George's and the dragon legend. The story says that his faith helped him slay a vicious dragon that demanded daily sacrifice after the king's daughter became the intended victim.
http://www.woodlands-junior.kent.sch.uk/customs/stgeorge3.html
http://www.britannia.com/history/stgeorge.html
http://www.angelfire.com/art/alara/dragons/dmyths.html
Span: Book Day and Lover's Day
Barcelona. Saint George's Day and the anniversary of the death of Spanish writer Miguel de Cervantes have been observed with special ceremonies in the Palacio de la Disputacion and throughout the city since 1714. Book stands are set up in the plazas and on the street corners. This is Spain's equivalent of Valentine's Day. Women give books to men; men give roses to the women.
Turkey: National Sovereignty and Children's Day
Commemorates Grand National Assembly's inauguration 1923.
United Nations: World Book and Copyright Day
Saint Feast Days
http://www.catholic.org/saints/f_day/apr.php
----------------------------------------------------------------

Blackboard chalk contains no chalk.
http://www.bookrags.com/Chalk (see history below definition)
http://en.wikipedia.org/wiki/Chalkboard ( made from gypsum,
(calcium sulfate) rather than calcium carbonate. )
----------------------------------------------------------------

Today's Top Event in History
1953-- Beginning of Army-McCarthy hearings. I remember watching this on television and not really understanding what was happening, but the adults around me wanted me there to remember how television was changing our lives with such "live" events. Here was the US Senate investigation into allegations by Senator Joseph McCarthy that Secretary of the Army Robert P. Stevens had hampered his investigative committee's attempts to uncover Communists in the military, begin on Capitol Hill. However, under encouragement from President Dwight D. Eisenhower, Stevens countercharged that McCarthy and his chief counsel, Ray Cohn, had tried to get preferential treatment in the US Army for a former McCarthy aide. The televised hearings, which stretched over two months, exposed McCarthy to the American public as a reckless and excessive tyrant who never produced proper documentation for a single one of his charges. In the early months of 1954, McCarthy, who had already lost the support of much of his party, finally overreached himself when he took on the US Army. Republican President Dwight D. Eisenhower pushed for the investigation of McCarthy's conduct, and the subsequent televised hearings finally exposed McCarthy. In December, the Senate voted to censure him. By the time of his death from alcoholism in 1957, the influence of Senator Joseph McCarthy in Congress was negligible.
[headlines]
----------------------------------------------------------------

This Day in American History
1564-birthday of Williams Shakespeare: perhaps the first non-American birthday we celebrate here. Shakespeare created the most influential and lasting body of work in the English language, an extraordinary explanation of human nature in 36 plays and 154 sonnets. Also died on what is considered historically his birthday, 23 April 1616.
http://www.shakespeare.org.uk/
1635- The first public school in America opened, the Boston Latin School. The first schoolmaster was a Dutchman, Adam Roelantsen, who arrived in New Amsterdam in 1633 and set up the first school in America as part of the Dutch Reformed Church. The first secondary school was the Boston Latin School, with a classical curriculum derived from English schools. By 1720, five public schools were maintained in Boston, and were so well regarded they enrolled students from as far away as the West Indies. The Boston Latin School is still in existence.
1750 ---The first colonial settlement west of the Allegheny Mountains other than military forts and outpost was established by the Loyal Land Company of Virginia. On March 6, a group of six men in the employ of the company, led by Dr. Thomas Walker, a physician, started out from Charlottesville, VA. They searched the future sit of Barbourville, KY, on April 23, and built a house that was completed on April 30.
1789 - President-elect George Washington and his wife moved into the first executive mansion, the Franklin House, in New York.
1789 - "Courier De Boston" was first published in, Boston, Massachusetts, making it the first Roman Catholic magazine in the United States.
1791- The birthday of James Buchanan, 15th president, born at Cove Gap, PA, who served from March 4, 1857 to March 3, 1861, the only president who never married.
1813-birthday of Stephen A. Douglas, U.S. Congressman, Senator and presidential candidate who ran against Abraham Lincoln. He was in favor of the new territory and states being allowed to choose whether they wanted to be "slave" or "anti-slave states." He is also very well known for the series of "Lincoln-Douglas" debates.
http://memory.loc.gov/ammem/today/apr23.html
1856- Granville T. Woods was born at Columbus, OH. Known as the" black Thomas Edison," he invented the Synchronous Multiplex Railway Telegraph which allowed communication between dispatchers and trains while the trains were in motion, which decreased the number of train accidents. In addition, Woods is credited with a number of other electrical inventions and historians do compare him favorably to Thomas Edison. Died Jan 30, 1910, at New York, NY.
http://www.princeton.edu/~mcbrown/display/woods.html
http://www.gibbsfoundation.org/GTWoods.htm
1872-Charlotte E. Ray became the first African-American woman attorney admitted to the Washington Bar, o the Supreme Court of the District of Columbia. History also records her as the first African-American woman to receive a law degree, receiving her LL.B. degree from t e School of Law, Howard University, Washington, DC, on February 27, 1872. She opened a law practice, but both racial and woman prejudice forced her to close the office. She then joined the Woman's Suffrage Movement.
http://www2.lhric.org/pocantico/womenenc/ray.htm
http://womenshistory.about.com/library/bio/blbio_ray_charlotte.htm
http://blackhistory.eb.com/micro/495/76.html
1885 -Denver, Colorado in the midst of a snowstorm which dumped 23 inches of snow in 24 hours. Idaho Springs, Colorado received 32 inches from this storm.
1896- The first move was shown at Koster and Bials Music Hall in New York City. Up until this time, people saw films individually by looking into a Kinetoscope, a box-like "peep show." This is the first time an audience sat together and watched a movie together. What they saw was a series of short scenes, including a ballet scene, a burlesque boxing match, surf breaking on the shore, and a comic allegory entitled," The Monroe Doctrine." Thomas Alva Edison was present for his Vitascope and the audience called for Edison, but he did not appear and refused to take a bow.
1900 - The word, hillbilly, was first printed in an article in the "New York Journal". It was spelled, Hill-Billie, and defined as a "free and untrampled white citizen of Alabama who lived in the hills." The article went onto say "he has no means to speak of, dresses as he can, talks as he pleases, drinks whiskey when he gets it and fires off his revolver as the fancy takes him."
1910 - The temperature at the Civic Center in Los Angeles, CA, hit 100 degrees to establish an April record for the city.
1912--Birthday of American Composer Bernard Brindel, Chicago, Illinois. Died May 13, 1977, San Francisco, Ca. The recipient of numerous commissions and prestigious grants, he has been performed throughout the United States and also in Bulgaria. A successful teacher and music director at several major institutions in Illinois and Michigan for many years, Brindel resided in Wilmette, Illinois,
1913-National Urban League founded. The Urban League is the nation's oldest and largest community-based movement devoted to empowering African Americans to enter the economic and social mainstream. Today, the National Urban League, headquartered in New York City, spearheads the non-partisan efforts of its local affiliates. There are over 100 local affiliates of the National Urban League located in 35 states and the District of Columbia providing direct services to more than 2 million people nationwide through programs, advocacy and research.
1915-birthday of pianist-arranger Joe Lippman Boston, MA.
1920--Birthday of Canadian string instrument builder Frank Gay was born in Marcelin, Saskatchewan. In 1953, Gay established a studio in Edmonton, building guitars for such famous country stars as Johnny Cash, Don Gibson and Hank Snow. Three of Gay's guitars - those owned by Johnny Horton, Webb Pierce and Faron Young - have been placed in the Country Music Hall of Fame in Nashville.
1921 - Charles Paddock set a record in the 300-meter track event by posting a time of 33.2 seconds. In Atascadero, California, there is a zoo named after Paddock.
1921-birthday of baseball Hall of Fame pitcher Warren Edward Spahn, Buffalo, NY.
1923-- The New Symphony Orchestra, which would become the Toronto Symphony Orchestra in 1927, gave its first concert at Massey Hall. The orchestra was conducted by Luigi von Kunits, who remained in the position until his death in 1931.
1932-Bing Crosby records "Sweet Georgia Brown" with Isham Jones Band.
1932 -- Birthday of Jim Fixx, author of Complete Book of Running, which kick-started the 1970s His autopsy reveals one coronary artery 99% clogged, another 80% obstructed, a third 70% blocked .... Fixx had three other attacks in the weeks prior to his death.
1936— Pioneer rock singer Roy Orbison was born in Vernon, Texas. His writing and performing in the 1950's helped create a mass market for rock music, including his own recording of "Ooby Dooby," which was a moderate hit in 1956. In 1958, Orbison wrote "Claudette," named for his wife, which became a million-seller for the Everly Brothers. Roy Orbison's sound mellowed somewhat in the following decade, and he began his string of million-sellers in 1960 with "Only the Lonely." His other hits included "Running Scared," "Crying" and "Oh, Pretty Woman," a number-one record in 1964. Orbison suffered two personal tragedies in the '60s. In 1966, his wife was killed in a motorcycle accident. Three years later, two of his three children died in a fire at his home near Nashville. Orbison's career took an upswing in 1988 when his collaboration with Bob Dylan, George Harrison and Tom Petty under the name the Traveling Wilburys was a big hit. Just as the album and the single from it, "Handle With Care," were climbing the charts, Orbison died of a heart attack on December 6th. His album, "Mystery Girl," was released two months after his death, and produced the hit single "You Got It."
http://www.orbison.com/
http://www.hotshotdigital.com/OldRock/RoyOrbisonDisco.html
http://www7.cddb.com/xm/cd/country/66059409.html
1944 – birthday of Tony (Anthony James) Esposito (Hockey Hall of Fame player: NHL: Montreal Canadiens, Chicago Blackhawks [Calder Memorial Trophy: NHL's outstanding rookie: 1969-1970/all-star: 1970, 1972, 1980/shared Vezina Trophy for best goaltender [1972, 1974]; played 886 games in NHL, winning 423, losing 307, earning draw in 151; 76 shutouts with a 2.92 goals-against-average; in 99 playoff games, Tony won 45, lost 53 with a 3.07 average; shared goaltending duties with Ken Dryden in 1972 when Team Canada played the Soviet Nationals in famed Series of the Century [Canada edged Soviets, four games to three w/one tied]; brother of Hockey Hall Fame player, Phil Esposito)
http://www.legendsofhockey.com/
http://www.hockeysandwich.com/tesposito.html
1944 – Birthday of Marty Fleckman (golf: Univ. of Houston: [3 NCAA championship teams/individual title: 1965: two-day total of 135/All-American: 1965/medalist honors at Western Amateur: 1966/Walker Cup team: 1967]; pro: Cajun Classic champ: 1967; golf teacher: Meyer Park Golf Course, Houston)
http://www.golfescapes.com/marty.htm
1945---Top Hits
Candy - Johnny Mercer & Jo Stafford
I'm Beginning to See the Light - The Harry James Orchestra (vocal: Kitty Kallen)
My Dreams are Getting Better All the Time - The Pied Pipers
Smoke on the Water - Bob Wills
1948 - At Bay Meadows racetrack in California, Johnny Longden set a record when he became the first race jockey to ride 3,000 career winners. Today the property is being torn down to make way for
houses.
1951 - The Associated Press began using teletype setting when they gave a perforated, paper-tape message to a news bureau in Charlotte, North Carolina. The message was then fed into a monitor before sending it to a printer. From there, the newspaper copy was finished.
1953---Top Hits
Doggie in the Window - Patti Page
Pretend - Nat King Cole
I Believe - Frankie Laine
Your Cheatin' Heart - Hank Williams
1953-- Beginning of Army-McCarthy hearings. I remember watching this on television and not really understanding what was happening, but the adults around me wanted me there to remember how television was changing our lives with such "live" events. Here was the US Senate investigation into allegations by Senator Joseph McCarthy that Secretary of the Army Robert P. Stevens had hampered his investigative committee's attempts to uncover Communists in the military, begin on Capitol Hill. However, under encouragement from President Dwight D. Eisenhower, Stevens countercharged that McCarthy and his chief counsel, Ray Cohn, had tried to get preferential treatment in the US Army for a former McCarthy aide. The televised hearings, which stretched over two months, exposed McCarthy to the American public as a reckless and excessive tyrant who never produced proper documentation for a single one of his charges. In the early months of 1954, McCarthy, who had already lost the support of much of his party, finally overreached himself when he took on the US Army. Republican President Dwight D. Eisenhower pushed for the investigation of McCarthy's conduct, and the subsequent televised hearings finally exposed McCarthy. In December, the Senate voted to censure him. By the time of his death from alcoholism in 1957, the influence of Senator Joseph McCarthy in Congress was negligible.
1954-Henry Aaron of the Milwaukee Braves hit the first home run of his major league career. It came against Vic Rosdchi of the St. Louis Cardinals in the Braves' 7-5 victory.. Not only did he raise the bar for home runs, but he also established 12 other major league career records, including most games, at-bats, total bases and RBI's. Aaron won three Gold Glove awards, earned National League MVP honors in 1957, and appeared in a record 24 All-Star Games. Aaron went onto hit 755 homes, more than any other player. Television commercial depict Barry Bonds chasing his record, and Aaron trying to frustrate him at batting practice.
http://members.djcafe.com/hankaaron/
1954-the NBA approved a proposal by Syracuse Nationals owner Danny Biasone to adopt a 24-second clock. The rule stated that "a team in control of the ball must make an attempt to score within 24 seconds after gaining possession of the ball." Biasone promoted the rule to boost the league's offensive output. He decided on 24 seconds by dividing the total number of shots taken in an average game into 48 minutes, the time played in regulation game.
1956- Elvis Presley, accompanied by Bill Black and Scotty Moore, makes his Las Vegas debut at the New Frontier Hotel, where he is the opening act for the Freddie Martin Orchestra and comedian Shecky Greene. The two week run is called off after only one week due to poor reception; Presley won't play Las Vegas again for almost 13 years.
1958 - No. 1 Billboard Pop Hit: ``Witch Doctor,'' David Seville. Seville later creates the Chipmunks, which hit No. 1 in 1958 with ``The Chipmunk Song.''
1961---Top Hits
Blue Moon - The Marcels
Runaway - Del Shannon
Mother-In-Law - Ernie K-Doe
Don't Worry - Marty Robbins
1968--- In Dallas, the 10.3 million-member Methodist and the 750 thousand-member Evangelical United Brethren churches joined together to form the United Methodist Church. The merger made this the second largest Protestant denomination in the United States (after the Southern Baptists).
1969---Top Hits
Aquarius/Let the Sun Shine In - The 5th Dimension
You've Made Me So Very Happy - Blood, Sweat & Tears
It's Your Thing - The Isley Brothers
Galveston - Glen Campbell
1972-- Apollo 16 astronauts explore Moon surface.
1977---Top Hits
Don't Leave Me This Way - Thelma Houston
Southern Nights - Glen Campbell
Hotel California - Eagles
She's Got You - Loretta Lynn
1979 - No. 1 Billboard Pop Hit: ``Heart of Glass,'' Blondie. When the song hits No. 1, Andy Warhol throws a party for the group at Studio 54 in New York.
1985---Top Hits
We are the World - USA for Africa
Crazy for You - Madonna
Nightshift - Commodores
I Need More of You - Bellamy Brothers
1986 - Light snow fell in Norfolk, Virginia. This is the latest date that snow has ever been observed in Norfolk since records began in 1874.
1989-"Baywatch" premiered on television. Set on a California beach, this program starred David Hasselhoff and a changing cast of nubile young men and women as lifeguards. Later the program was moved to Hawaii; the last episode was made in 2001. The most widely viewed TV series in the world, the program aired in 142 countries with an estimated weekly audience of 1.1 billion.
1989 - Salina, KS, was the hot spot in the nation with a high of 105 degrees. The high of 105 degrees established an April record for the state of Kansas. A total of eighteen cities in the central U.S. reported record high temperatures for the date. (
1962 - The Beatles released in the United States their first major recording on this date, the single My Bonnie / The Saints, on the Decca label.
1963 - Pete Rose of the Cincinnati Reds got his first hit in the major leagues. It was a booming triple off the Pirates' Bob Friend. 'Charlie Hustle' went on to break Ty Cobb's all-time hitting record more than 20 years later, playing for the Reds, the Phillies and the Expos. He was later banished from baseball for illegal betting.
1964 - Ken Johnson of the Houston Astros will certainly never forget this day. Johnson tossed the first no-hit game -- for a loss -- in baseball history. Cincinnati's Reds beat Johnson's no hitter by a score of 1-0. The Reds capitalized on two costly Houston errors.
1965 - More than 200 United States planes struck North Vietnam in one of the heaviest raids of the Vietnam War.
1969 - Sirhan Sirhan was sentenced to death for assassinating New York Sen. Robert F. Kennedy. The sentence was later reduced to life imprisonment. I cover part of this as West Coast News Producer for
ABC-TV News, acting as an afternoon news producer in addition to
my normal management assignment.
1970-Norman Greenbaum's "Spirit in the Sky" goes gold.
1971- On the steps of the US Capitol in Washington DC, nearly a hundred Vietnam veterans ceremoniously return their medals and military decorations. The next day, major demonstrations against the Vietnam War are held across the nation's capital. In 1961, US President John F. Kennedy sent the first US military personnel to bolster the ineffectual autocratic regime of South Vietnam against the Communist North. Three years later, with the South Vietnamese government crumbling, President Lyndon B. Johnson ordered limited bombing raids on North Vietnam and Congress authorized the use of US troops. By 1965, North Vietnamese offensives left President Johnson with two choices: escalate US involvement or withdraw. Johnson ordered the former, and troop levels soon jumped to over 300'000 as US air forces commenced the largest bombing campaign in history. Over the next few years, the extended length of the war, the high number of US casualties, and the exposure of US involvement in war crimes such as the massacre at My Lai helped to turn many in the United States against the Vietnam War, and created a perilous national division. Some Vietnam veterans cooperated with antiwar protestors in their condemnation of the war, while thousands of military draftees burned their draft notices and hundreds of military personnel deserted their ranks. In the early 1970s, President Richard M. Nixon began withdrawing US troops but increased bombing across Indochina. In 1973, a peace agreement was reached and the last US troops left Vietnam. Two years later, the last Americans were evacuated from Saigon as Communist forces launched their final triumphant offensive into South Vietnam. It was the longest and most unpopular war in US history, and cost fifty-eight-thousand US lives.
1985 - The Coca-Cola Company of Atlanta, GA, told the world in a barrage of advertisements that it was changing its 99-year-old secret formula. New Coke was called "the most significant soft drink development" in the company's history. The public did not like it. Fans of the original Coke were instrumental in bringing Classic Coke back. The Coca-Cola did keep the "new" diet Coca-Cola. This year they started introducing cherry coke, lemon coke, and this summer, vanilla.
http://memory.loc.gov/ammem/ccmphtml/colahome.html
http://www.coca-cola.com/
http://www.boetsworldofcocacola.com/
1987 - "Business Week" magazine announced its list of the highest paid executives in the U.S. Lee Iacocca of Chrysler Corporation topped the list, followed by Paul Fireman of Reebok International. The computer revolution did not begin until the 90's, knocking most automobile executives way off the charts.
1988-the smoking ban on airplane flights went into effect. In compliance with rules issued by the Federal Aviation Administration, airlines banned smoking on domestic passenger flights lasting less than two hours, with the exception of chartered flights and travel club flights. Northwest Airlines voluntarily banned smiling on domestic passenger flights of all durations. The first commercial domestic air service that was entirely smoke-free, including the cockpit, was inaugurated by Delta Air Lines of Atlanta, GA, which banned smoking on all flights beginning January 1995. Other airlines adopted this policy in the following year.
1993 - A coastal storm dumped big late season snows across central and northeastern New York. Two day snowfall totals included 22 inches at Malone, 19.2 inches at Tully, 19 inches at Ellenburg Depot, and 10.3 inches at Binghamton.
1993 -an F4 tornado struck Tulsa and Catoosa, Oklahoma. 7 people were killed and 100 were injured. A second tornado (F3) touched down from the same thunderstorm cell and ripped through Catoosa, doing heavy damage and injuring 30 people. 70 percent of the businesses in Catoosa were damaged or destroyed. Total damage was 100 million dollars.
1994-Discovery of the top "quark." Physicists at the Department of Energy's Fermi National Accelerator Laboratory found evidence for the existence of the subatomic particle called the top quark, the last undiscovered quark of the six predicted to exist by current scientific theory. The discovery provides strong support for the quark theory of the structure of matter. Quarks are subatomic particles that make up protons and neutrons found in the nuclei of atoms. The five other quark types that had already been proven to exist are the up quark, down quark, strange quark, charm quark and bottom quark. Further experimentation over many months confirmed the discovery and it was publicly announced Mar 2, 1995.
1996 - A three-night auction of the late Jacqueline Kennedy Onassis' possessions began at Sotheby's in New York with a bidding frenzy.
1996 - one inch of snow on this day at Cleveland, Ohio brought its seasonal snowfall to 101.1 inches -- the city snowiest winter ever. The old record was 100.5 inches set in 1981-82.
1999 ---Fernando Tatis becomes the first player in major league history to hit two grand slams in one inning. The Cardinal third baseman hits both off Dodger starter Chan Ho Park in an 11-run third setting the major league mark. His eight RBIs in one inning also breaks the old record of six.
Stanley Cup Champions This Date
1950 Detroit Red Wings
--------------------------------------------------------------

Baseball Poem


To truly be the first must be a wonderful moment when the event is of a great magnitude. This terrific poem pays tribute to the first Hispanic baseball player in major league history and one can only imagine what that moment must have been like when he stepped up to the plate...
Beisbol's Arrival
Beisbol's Arrival
by Michael J. Bielawa ©
Published: Baseball Almanac (2000)
how did baseball first
arrive
in these southern worlds
and then return North
reinvented rich aromatic coffee dark fresh as rain
beisbol
before visas & passports
an Americano wading through jungle
under a panama hat
during gold rush daze or
aboard ship
unloaded at hazy evening dockside
flambeaux illuminated
clipper's crew on
drunken leave
swinging beer and denuded
banana stalk in jest
jostling warped dock boards
below bare feet running
to an imaginary first base
the game actually stops with each hit
(experienced fielders reminding a batter
who'd never played before
to...
RUN!)
imagine the thoughts
in the eyes of this first
Latino youth
stepping from damp shadows of a
curtained doorway
somewhere a baby crying at his back
striding toward
an unfamiliar sailor or would-be forty-niner
taking the makeshift bat (maybe a pick-ax handle)
in calloused hands
squinting at the blonde pitcher
summoning future spirits
Adolfo Luque
Minnie Minoso
Cepada, Cookie, Clemente
Carew, Valenzuela
rubbing the bat with such small hands
unknowingly molding the future
--------------------------------------------------------------

SuDoku
The object is to insert the numbers in the boxes to satisfy only one condition: each row, column and 3x3 box must contain the digits 1 through 9 exactly once. What could be simpler?
http://leasingnews.org/Soduku/soduko-main.htm
--------------------------------------------------------------

Daily Puzzle
How to play:
http://www.setgame.com/set/puzzle_frame.htm
Refresh for current date:
http://www.setgame.com/set/puzzle_frame.htm
--------------------------------