Finance Consultants
Orange County, California
The Cambridge Difference
More Approvals.
Quicker Fundings.
Friday, April 27, 2007
Headlines---
Classified Ads---Legal
NetBank Sold
Who's running Marlin Leasing?
Cartoon---the Big Kahuna
Classified Ads---Help Wanted
"Nashville! Be there or be square!
"To Tell the Truth"-- by Kenneth C. Greene, Esq
In California, you had better have a license to lease
Northern Leasing Systems gets bum rap
MicroFinancial First Quarter Results
EuroBancshares First Quarter Results
ABN Amro Investors Push for Higher Bid
News Briefs---
You May have Missed---
Sports Briefs---
"Gimme that Wine"
Calendar Events
Snapple Real Facts
Today's Top Event in History
This Day in American History
Basketball Poems--Three
SuDoku
Daily Puzzle
######## surrounding the article denotes it is a "press release"
----------------------------------------------------------------------

Classified Ads---Legal
San Diego , CA
Experienced in-house corporate, equipment leasing and financial services attorney seeks position as managing or transactional counsel. Willing to relocate.
Cell Phone: 760-533-4058;
Email: sandidq@msn.com

San Francisco, CA
Ken Greene, active in finance and leasing for 25 years, seeks "in house" counsel position,full-time. Reference available.
Email: kenlaw100@aol.com
To place a free "job wanted" ad here, please go to:
http://www.leasingnews.org/Classified/Jwanted/Jwanted-post.htm
For a full listing of all "job wanted" ads, please go to:
http://www.leasingnews.org/Classified/Jwanted/Jwanted.htm
----------------------------------------------------------------

NetBank Sold
Leasing News has learned from a reliable source that NetBank has been sold. The papers have not been finalized, but an announcement is expected May 1st.
The status of Netbank Business Finance is not known at this time.
As soon as Leasing News can get further confirmation, what was told to us will be
reported here as fact.
--------------------------------------------------------------

Who's running Marlin Leasing?
by Christopher Menkin
Who's in charge at Marlin Business Service? It really looks like CEO Dan Dyer is out to lunch and the man calling the shot is the attorney George Pelose.
Mr. Pelose has refused to speak directly to Leasing News, stating anything he would say has to be done through the Security Exchange Commission filings.
Leasing News has asked him and other officers for Marlin Leasing's side of the story, particularly the "retirement of the former chief financial officer, then retirement of the former president Gary Shivers and now the alleged Pelose memo regarding the termination of the vice-president of broker services, Michael Bennie. Who's left to run the store?
According to the SEC filings, Pelose is "General Counsel and Secretary since 1999. In December 2006, Mr. Pelose became the Chief Operating Officer of the Corporation. From 1997 to 1999, Mr. Pelose was an attorney with Merrill Lynch Asset Management, providing legal and transactional advice to a portfolio management team that invested principally in bank loans and high-yield debt securities." He is also listed on press releases as the public relations contact (I am not making this up.)
Bennie was highly popular in the broker community. According to several ex-employees, they are waiting for Gary R. Shivers, the former president, two years to be up so they join him in a new leasing company. Perhaps Michael Bennie will be there, too.
For the record, Leasing News has not spoken to Mr. Bennie directly or indirectly, although we welcome his comments, should he have any to make.
Again, Leasing News welcomes any comment or statement from Marlin Business Services. Readers would like to know your side of the story.
The story we hear from several sources, and therefore we believe there may be validity here, Bennie was let go as "grudge" held by George Pelose. This is somewhat validated in Pelose's alleged memo that Leasing News printed on Wednesday. It no longer is personnel issue when reportedly sent to employees and others by the original writer. As an attorney, Pelose should be well aware of the lack of
confidentiality posed in his alleged memo to employees and the harm that it infers to Mr. Bennie's good reputation. He has not confirmed nor denied that he wrote the memo.

Reportedly there was, and has been an issue with checks to brokers, vendors etc. getting cut very late, sometimes a day or two late since the accounting department has had people resign, and not been replaced. "Like all departments, the accounting dept. was understaffed from the beginning. Dan Dyer likes to minimize head count and maximize production. Great for his pockets, bad for everyone else," Leasing News was told.

"Anyway, there was a manager's meeting a month or so ago. Bennie suggested that they hire a temp in accounting to just see if it would help get checks out more quickly. It worked. Bennie, jokingly, gave an "I told you so speech" to Pelose in front of some people
(and I believe it wasn't malicious, that isn't Bennie's way).

"Well, George didn't like it, didn't let it go, and Bennie was let go."
It was also reported he did not receive any severance.
Talk is Dominic Janney is next. Mancini is safe, they say. By the way, Mr. Pelose, we have over 30 readers who work at Marlin, including most of the directors, and also employees who access from their home computer. I bet half the staff read us, although you have given orders they are not to believe anything we write (several told us you forbid them to read us. )
Fact: many read us first thing in the morning from their home computer.
Marlin Leasing has not announced the termination of its vice-president of the broker division, but they did announce the Annual Meeting of Shareholders (the "Annual Meeting") of the Corporation to be held on Friday, May 25, 2007, at 9:00 a.m., at the Marriott Hotel, 915 Route 73, Mount Laurel, New Jersey, 080541.
1. To elect a Board of Directors of six (6) directors to serve until the next annual meeting of shareholders of the Corporation and until their successors are elected and qualified; and

2. To transact such other business as may properly come before the meeting or any adjournment or postponement thereof.
Here are the six nominees:

| | | | |
| --- | --- | --- | --- |
| Name | Age | Principal Occupation | Director Since |
| Daniel P. Dyer | 48 | CEO of Marlin Business Services | 1997 |
| John J. Calamari | 52 | Executive Vice President and Chief Financial Officer of J.G. Wentworth | 2003 |
| Lawrence J. DeAngelo | 40 | Partner with Roark Captial Group | 2001 |
| Kevin J. McGinty | 58 | Managing Director of Peppertree Partners LLC | 1998 |
| James W. West | 60 | President & CEO of Clanco Managment Corp. | 1998 |
| Edward Grzedzinski | 51 | Former Chairman and CEO of NOVA Corporation | 2006 |
For information about salaries, remuneration, and other information filed with the SEC, please go here:
http://leasingnews.org/PDF/Marlin_14A.PDF
If you missed the extra on Mike Bennie on Wednesday, please go here:
http://www.leasingnews.org/archives/April%202007/04-25-07.htm#marlin
----------------------------------------------------------------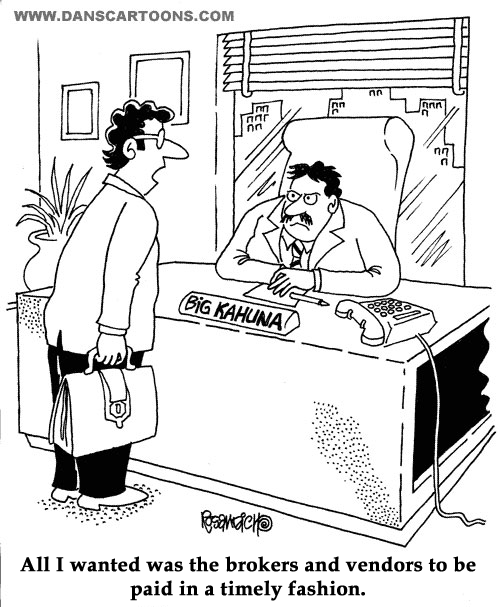 --------------------------------------------------------------

Leasing Industry Help Wanted
Account Executive


Account Executives

Boston, Cleveland, Detroit, St. Louis,
SF Bay Area
Top position to work with CFOs, CIOs, CEOs and other high-level executives. 7+ years equipment leasing exp. Resume/indicating you saw ad in Leasing News to: US_DFS_Staffing@dell.com
About the Company: We're the exclusive provider of leasing and finance services for Dell technology systems worldwide. At Dell Financial Services our mission is to deliver financing solutions that enable and enrich the Dell Customer experience.


Finance Consultant


Finance Consultants
Orange County, California
The Cambridge Difference
More Approvals.
Quicker Fundings.
Regional Sales Managers


Regional Sales Managers
To establish small ticket vendor programs in major metro areas. Excellent compensation/ benefit package. View job description. Send resumes to Zully.Fernandez@IrwinCF.com
Company Description:
Irwin Commercial Finance (NYSE: IFC) is a true direct lender and in the ever changing leasing environment, we bring stability, creativity and consistent customer service levels to our business.


Sales Director

Sales Director
Vendor Relationship Development
Office equipment experience a must. Territory covers FL, GA, SC, NC, AL, MS, LA. Must be able to sell value. To apply online click here.
About the company:
GreatAmerica offers office equipment financing to businesses across the U.S., and is the largest independent leasing company in the small ticket equipment financing market.


Sr. Credit Analyst


Sr. Credit Analyst
Walnut Creek, California
Excellent opportunity to work with growing equipment leasing bank division, excellent reputation. Click here for more information.

First Republic Bank has offices in the San Francisco Bay Area, throughout California, and in Portland, Seattle, Las Vegas, Boston and New York.
----------------------------------------------------------------

"Nashville! Be there or be square! "
Rosanne Wilson, CLP
1st Independent Leasing, Inc.
Beaverton, Oregon
May 17-19, 2007

"The Sweet Sound of Success"
For costs and to register for the conference and events, click here.
Conference Brochure (12 page download:)
http://www.naelb.org/associations/2004/files/2007%20NAELB%20Conference
%20Registration%20Brochure.pdf
Hotel Information
Gaylord Opryland Resort & Convention Center
2800 Opryland Drive
Nashville , TN 37214
Airline Information
Northwest Airlines is offering a 5 - 12 % discount on their fares for air travel to and from the conference.

You or your travel agent may call Northwest Airlines at 1-800-328-1111 and reference the WorldFile code, NYUYD .

You may also visit Northwest's website at www.nwa.com. Under the Flights tab at the bottom, click on NWA Discount Travel E-Cert Redemption.

Login as a guest. Complete the flight search section and navigate to the bottom where you will see "Click here if you have a Northwest meeting agreement WorldFile number." Enter the WorldFile code, NYUYD and complete your transaction.

Travel agents should visit www.worldagentdirect.com.
Details
10 th Annual NAELB Golf Tournament information:
http://www.leasingnews.org/Pages/NAELB_Annual_Conference.htm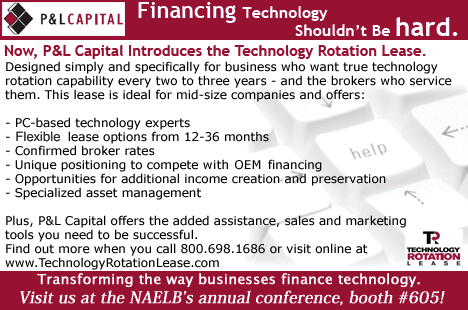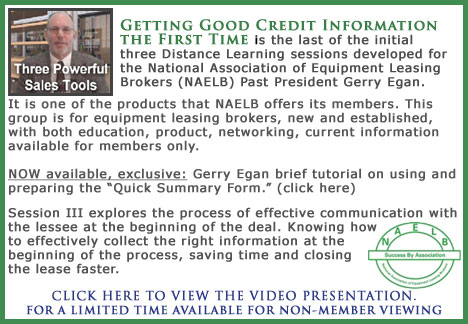 ----------------------------------------------------------------

In California, you had better have a license to lease.
by Kenneth C. Greene, Esq.
In considering leases across the United States, the laws regarding usury, handling of "advance payments," "commitment fees," "deposits" and being "licensed," vary quite a bit. Unlike real estate agents, CPA's, and attorneys, many states do not require that a "broker" or "funder" be licensed, unless it is another type of entity governed by banking or financing regulations. Ignorance is considered bliss until they wind up in court.
Originally most leases were "tax" leases, not "accounting" leases, which meant that they were treated as if the creditor was the owner of the equipment and thus entitled to depreciation or tax investment credits (remember that in the old days). FASB came along and the alleged abuse of "tax shelters" changed that. Commercial Code Section 2A defined it even further.
Most leases were then considered, for tax purposes, to be really "finance" leases with full payouts. Many also included a "bonus" at the end called a "residual." Somehow the $1.00 purchase option became popular, perhaps because it made it easier for the lessor to borrow against a portfolio or to "discount" the lease to another source.
The lease was initially popular because the monthly payments were "lower," since the residual at the end was in essence absorbing the decrease in the stream of payment cost. Discounting the interest and then applying it to the fixed purchase option or "fair market value," resulted in a lower monthly payment than a loan. Also a lessor could offer an even lower payment by factoring in the depreciation "profit." Leases were simpler.
In the sub prime lease market places, companies such as Avco, Budget and Foothill Finance would charge first and last plus the residual, most often at ten percent, at the beginning of the contract. In addition to the "in advance interest," the security deposit and purchase option were actually additional profit as the rate did not change. For tax purposes, these transactions were treated as "loans."
For legal purposes, however, particularly in bankruptcy court, the companies claimed that the agreements were leases, and that the equipment was owned by them, rather than a part of the company's assets. This enhances the rights of a creditor in a bankruptcy case in several respects, and generally improves the possibility and size of a recovery.
The government entities, including the courts, originally looked at leasing as they did "rental" agreements such as vehicle leases, where the value was at the end. As the rules changed both tax wise, and accounting (which is often quite the opposite of the legal definitions), those involved in leasing were not considered lenders requiring regulation as to either what they charged or the "interest" profit, as they were purportedly the "owners" of the equipment, not lenders in the traditional sense.
It is amazing, in light of recent rules that leasing companies can securitize a portion of the lease stream, that more so-called operating leases are not more popular in the small to middle size marketplace.
There are more and more companies today that are looking toward the residual and only financing 80% of the cost to attempt to meet the governing rules of FASB. Investors float the 20% and other
costs, while the bank or lending institution bears the 80%, often on a non-recourse basis, depending on the value of the equipment and its residual.
In the largest populated state of the union, California, in which one of every eight people in the United States live, the rules are the toughest for those who want to engage in financing. The state requires all those who are engaged in the practice, from referrers to those who actually fund, to have a finance lender's license. Banks and some others are exempt from being licensed; however, they must do business with only those who hold the license.
Leasing News has written about this since they started, and has on its
web site:

"Unless you are doing 'true,' 'tax' or real 'operating leases,' such as a rental yard would do, the transactions you are involved in are in 'jeopardy' as well as your company and yourself. That is not an opinion. It is a fact. editor. ($300 application fee, with includes a $100 investigation fee, annual assessment $250+ per location. You need a clean record, a $25,000 net worth, and provide a $25,000 Surety bond, (usually $250 a year or $700 for three years from most insurance agencies) plus pay a fee and abide by all the laws, plus have the recommendation of three licensed individuals or companies. All requirements and procedures are spelled out on the application. You should consult an attorney before submitting it, or perhaps to help in completing the form. You apply as a "lender"
or as a "broker" or both.
Here is the application:
http://www.corp.ca.gov/pdf/CFL839l.pdf
in Word format:
http://www.corp.ca.gov/forms/fll839packet0103.doc
about the law such as:
http://www.corp.ca.gov/pub/lender.htm
http://www.corp.ca.gov/fsd/fsd.htm#laws
http://www.corp.ca.gov/pub/publications.htm
http://www.corp.ca.gov/pdf/CFL2002ARC.pdf
If you are engaged in leasing in this state, and receive a fee or commission, you must have a license or be a salaried employee of the licensed holder (no independent subcontracts, please). To learn if a company is licensed is easy:
http://www.corp.ca.gov/fsd/lic/
Leasing News Advisory Board's Ken Greene is a well-known jazz piano player and attorney. He is presently back in private practice, but is interested in full or part-time work as a corporate counsel.
He is one of the original founders and on the Leasing News Advisory Board, active in the educational aspects of law. He lectures on leasing law and documentation, litigation and collection matters, and has produced and presented seminars to leasing companies on enhancing the attorney-client relationship. He has also instructed on law and documentation for the United Association of Equipment Leasing's Institute for Leasing Professionals, with courses leading to the Certified Leasing Professional exam, and has taught nationally for Euromoney Lease Training.
Ken welcome questions.
Kenneth C. Greene
P.O. Box 751
Kentfield, CA 94914-0751
Tel: 415.259.5494
Fax: 415.924.0971
Email: kenlaw100@aol.com
----------------------------------------------------------------

Northern Leasing Systems gets bum rap
by Christopher Menkin
In an exclusive interview with founder Jay Cohen, CEO of Northern Leasing Systems, it appears the company was broadsided by the allegations from the Missouri Attorney General's offices.
Attorney General Jay Nixon last week took legal action against his company claiming they had "... defrauded dozens of Missouri small businesses that leased its credit card swiping machines. The allegations in Nixon's lawsuit against Northern Leasing Systems Inc. include charges that the company altered contracts signed by Missouri businesses in order to obligate them to four-year leases that could not be canceled and to pay as much as $4,000 for a machine worth about $300."
"When we get complaints, especially from an attorney general's office, we react right away, "he told Leasing News. " In this instance, we found out about their concerns for the first time from the press release. We were not contacted in advance."
He says he and his staff moved quickly to meet with the AG's office to learn about the complaints and to rectify any problems. They have been taking this approach since the company started in 1991. Northern Leasing Systems average transaction is $1,500 and they have over one half million lessees on the books. On a shear number basis, they are going to get complaints from those who want to cancel out of a lease before the end of the term of the contract.
"This is our sixteenth year doing this, "Cohen explains. "Certainly there are misunderstandings that happen with third party sales. We are very strong on rules and practices, including the processing of the lease. Not only do we do a thorough verification, checking of terms and conditions, at the time of funding, but we call back in five days or a week, for a second verification. We have found sometimes the salesman or vendor has someone standing by when the first telephone verification is made."
The company's primary focus is the credit card authorization equipment market for small and medium-sized businesses. Northern Leasing finances the leasing of the equipment by purchasing the equipment selected by its customers from independent equipment suppliers.
He says they keep track of vendors with high complaints and cut them off if they reach a certain level. They follow up with a "welcome letter" and telephone checks because it is better to start off a relationship on the right foot than down the road as it becomes more expensive to resolve.
"We strongly monitor our vendors, "he says. "And yes, we get complaints. It happens with this type of volume and size lease ticket. It is expensive to have delinquencies and collection problems of these small ticket leases, so if a customer is not happy, we want to know about it up-front, do something about it right then and there."
"No, we don't have 'Evergreen Leases'," he told Leasing News. The "rental" contract is spelled out and at the end of the term, the lessee can go 'month-to-month' and/or buy the equipment at any time, no penalties. It's not profitable to handle these small transactions any other way."
According to Northern Leasing Systems, a number of important misunderstandings involving complainants in the suit were resolved during the meeting with the Missouri attorney generals' staff itself. "In fact, the two merchants named in the action had settled their differences with the company prior to the filing of the suit, "CEO Cohen said.
Northern Leasing Systems issued a press release, stating they were responding immediately, when notified originally about the complaints.
A spokesman for the Missouri Attorney General's office told Leasing News:
"Our office stands by our petition, and we have no control over what Northern Leasing wants to say publicly about this case. We did in fact have a face-to-face meeting with them to hear what they had to say, but we remain concerned about their conduct and if this matter is not resolved immediately, we are prepared to go forward and utilize any options we feel are necessary."
Northern Leasing Systems continues to work with the AG's Office to resolve complaints from customers who were not identified in the action by name.
As a result of the meeting, a hearing for injunctive relief previously scheduled for April 20th has been postponed.
The Better Business Bureau record seems to back up Cohen's claim as to resolving complaints:
Complaint Issues:
Please understand that complaints may concern more than one issue
| | | | |
| --- | --- | --- | --- |
| | | | |
| Advertising Issues | 2 | 0 | 2 |
| Contract Disputes | 92 | 90 | 182 |
| Credit or Billing Disputes | 48 | 43 | 91 |
| Customer Service | 2 | 1 | 3 |
| Delivery Issues | 1 | 2 | 3 |
| Guarantee or Warranty Issues | 1 | 3 | 4 |
| Miscellaneous | 8 | 11 | 19 |
| Product Quality | 8 | 4 | 12 |
| Refund Practices | 4 | 2 | 6 |
| Repair Issues | 0 | 2 | 2 |
| Selling Practices | 39 | 46 | 85 |
| Service Issues | 13 | 9 | 22 |
| TOTAL | 218 | 213 | 431 |
Complaint Outcome Statistics:
Complaint Outcome

Resolved
Consumer received the requested resolution

26

40

66

Resolved
Consumer received part of the requested resolution

97

54

151

Administratively Judged Resolved
The Company has responded to the complaint(s) addressing
the disputed issues, however, the consumer remains dissatisfied

90

119

209

No Response
The Company has failed to respond to complaints

5

0

5

TOTAL

218

213

431
http://www.newyork.bbb.org/reports/businessreports.aspx?pid=44&page=1&id=37657
Please go here to view the full Better Business Bureau report:
http://www.newyork.bbb.org/reports/businessreports.aspx?pid=44&page=1&id=37657
It should be noted that Jay Nixon is serving his fourth term as Attorney General of Missouri. He is an announced candidate for Governor in 2008.
http://www.nixonforgovernor.com/
---------------------------------------------------------------
### Press Release ###########################

MicroFinancial Incorporated Announces First Quarter 2007 Results
WOBURN, Mass--MicroFinancial Incorporated (AMEX-MFI), a financial intermediary specializing in vendor based leasing and financing programs for microticket transactions, today announced financial results for the first quarter ended March 31, 2007.
Net income for the quarter improved 59% to $1.2 million, or $0.09 per diluted share, compared to net income of $0.8 million, or $0.05 per diluted share, in the first quarter of 2006.
Revenue for the quarter ended March 31, 2007 was $7.5 million compared to $8.9 million in the first quarter of 2006. Income on leases was $2.0 million, up $1.4 million from the same period last year and rental income was $3.9 million, down $1.8 million from March 31, 2006. Other income components contributed $1.6 million for the quarter, down $1.0 million from the same period last year.
Richard Latour, President and Chief Executive Officer said, "I am pleased with the progress we made in the first quarter with respect to our originations. In the first quarter of 2007, new contract originations dramatically improved to $10.1 million compared to $2.9 million in the first quarter of 2006. In addition, we approved 155 new vendors during the quarter, bringing our total vendor list to approximately 1,350. We also processed over 7,700 applications, an increase of over 4,800 applications as compared to the same period last year."
Total operating expenses for the quarter declined 27.4% to $5.6 million from $7.7 million in the first quarter of 2006. Selling, general and administrative expenses of $3.6 million decreased $0.6 million compared to the same period last year, primarily due to reductions in legal and collection expenses. The first quarter provision for credit losses decreased slightly to $1.5 million from $1.6 million for the same period in 2006, while net charge-offs decreased to $1.9 million versus $2.8 million in the first quarter of 2006. Depreciation and amortization expense of $0.5 million declined 73.8% compared to the same period last year, primarily due to a decline in the number of rental and service contracts combined with a greater percentage of the applicable assets becoming fully depreciated. As a result of lower debt balances, interest expense declined 84.4% to $13,000 as compared to the first quarter of 2006.
Mr. Latour added, "As we look ahead to the rest of 2007, our management team remains focused on increasing originations through rebuilding our vendor base, as well as, looking for new portfolio and additional growth opportunities."
Full financial statement and press release here:
http://phx.corporate-ir.net/phoenix.zhtml?c=119119&p=irol-newsArticle
&ID=990537&highlight=MicroFinancial
Incorporated Announces First Quarter 2007 Results
### Press Release ###########################

EuroBancshares, Inc. Reports Earnings for the First Quarter Ended March 31, 2007
SAN JUAN, Puerto Rico, EuroBancshares, Inc. (Nasdaq: EUBK - News; the "Company") today reported its results for the quarter ended March 31, 2007.
Net Income
EuroBancshares reported net income of $1.3 million, or $0.06 per diluted share, for the quarter ended March 31, 2007, compared to $3.3 million, or $0.15 per diluted share, for the same period in 2006. Rafael Arrillaga- Torrens, Jr., Chairman, President and Chief Executive Officer commented: "Performance during this first quarter of 2007 continues to be disappointing. We continue to incur expenses associated with the asset issues that developed in previous quarters while at the same time positioning the Company for future improvements. Thus, the first quarter of 2007 has been another quarter of transition as we continue to take the necessary actions to improve the impact on our financial condition caused by the Island's economic situation and the fierce competition for deposits brought about by some of our peers. The situation with the flat yield curve and the overall economy on the Island is still challenging. "
"Overhead also increased as employment and other expenses associated with our footprint expansion, residential mortgage and trust operations are higher as we continue to invest in such areas to position them for future growth. The impact of such steps will not be immediate, but should assist us in meeting the challenges of our current operating environment. On the other hand, we have seen positive results from our actions pertaining to our leasing portfolio, the repositioning of the investment portfolio and the redemption of $25 million in Trust Preferred Securities. In fact, we experienced net interest margin and spread expansion in the first quarter of 2007, when compared with the fourth quarter of 2006. Net charge-offs and delinquencies on the leasing portfolio have also improved over the fourth quarter of 2006. We continue to be focused on our strategic plan and continue gaining market share."
Full press release here:
http://investor.eurobankpr.com/ReleaseDetail.cfm?ReleaseID=239803
### Press Release ###########################
--------------------------------------------------------------

News Briefs----
ABN Amro Investors Push for Higher Bid
http://www.nytimes.com/2007/04/27/business/worldbusiness/27bank.html?_r=
1&ref=business&oref=slogin
Microsoft quarterly profits blast off
http://www.usatoday.com/money/companies/earnings/2007-04-26-microsoft_N.htm
DeVry to lay off 145 employees
http://www.chicagotribune.com/business/chi-070426devry,0,3354808.
story?coll=chi-business-hed
---------------------------------------------------------------


You May have Missed---
Idol Gives Back raises $60 mil plus
http://www.myajc.com/post/idolblog/426_idol_gives_back_raises_60_mil_plus.html
---------------------------------------------------------------

Sports Briefs----
Culpepper issues statement on his health
http://www.sun-sentinel.com/sports/football/pro/dolphins/sfl-daunte042607,0,
4945379.story?coll=sfla-dolphins-front
One to forget: Mavs lose, 97-85
http://www.dallasnews.com/sharedcontent/dws/dn/latestnews/stories/
042307dnspomavslede.384a421.html
----------------------------------------------------------------


"Gimme that Wine"
Washington State licenses 500th winery
http://www.decanter.com/news/117434.html
Inventors say 'Ring of Oden' boosts the flavor of wine
http://www.townonline.com/amesbury/homepage/x682959493
Kentucky Wine & Vine Fest Offers Dose Of Haute Cuisine, Home Grown
http://www.chattanoogan.com/articles/article_106288.asp
Customers Make Their Own at Kings Hill
http://winesandvines.com/head_apr07_king.html
Wine Prices by vintage
http://www.winezap.com
http://www.wine-searcher.com/
US/International Wine Events
http://www.localwineevents.com/
Winery Atlas
http://www.carterhouse.com/atlas
Leasing News Wine & Spirits Page
http://two.leasingnews.org/Recommendations/wnensprts.htm
The London International Vintners Exchange (Liv-ex) is an electronic exchange for fine wine.
http://www.liv-ex.com/
----------------------------------------------------------------

Calendar Events This Day
Arbor Day in Arizona –
The last Friday in April is proclaimed as Arbor Day in Arizona. It is not a legal holiday.
Child Care Professionals Day
Matanzas Mule Day –
In one of the first naval action of the Spanish-American War, US naval forces bombarded the Cuban village of Matanzas. It was widely reported that the only casualty of the bombardment was one mule. "The Matanzas Mule" became instantly famous and remains a footnote on the history of the Spanish-American War.
Morse Code Day
Birthday of the American artist and inventor of the Morse code, Samuel Finley Breese Morse. The first message tapped out by Morse from the Supreme Court Chambers at the US Capital building on May 24, 1844 was "What hath God wrought." Wonder what he would say if it was an e-mail he was sending for the first time.
National Arbor Day – Since 1872, a day to honor and plant trees.
Observed that last Friday of April (although some states have different dates), which is generally a good planting date throughout the country. First observance of Arbor Day was in Nebraska, April 10, 1872, where it is still a state holiday. For info Natl Arbor Day Foundation, 100 Arbor Ave. Nebraska city, NE 68410.
Web: www.arborday.org.
National Prime Rib Day
http://homecooking.about.com/library/archive/blbeef8.htm
Serbia National Day
Sierra Leone: Independence Day – National Day.
Commemorates Independence form Britain in 1961
Slovenia: Insurrection Day – National holiday.
Commemorates the founding of the Liberation Front in 1941 to resist Slovenia's occupation by
the Axis powers.
South Africa: Freedom Day – National holiday.
Commemorates the day in 1994 when, for the first time, all South Africans had the opportunity to vote.
Togo: Independence Day – National holiday.
In 1960 Togo gained its independence from French administration under a UN trusteeship.
Write an Old Friend Today Day
http://homeschooling.about.com/library/blapr27a.htm
----------------------------------------------------------------

No word in the English language rhymes with month.
http://www.indepthinfo.com/articles/words-that-do-not-rhyme.shtml
Other non-rhyming words:
http://everything2.com/index.pl?node=rhyme
----------------------------------------------------------------

Today's Top Event in History
1959 - "Personality", by Lloyd Price was released. From the 1950s to the early 1960s, Price had 10 songs on the nation's pop music charts.
Over
and over
I tried to prove my love to you
Over and over
What more can I do
Over and over
My friends say I'm a fool
But over and over
I'll be a fool for you

'cause you got personality,
Walk, personality
Talk, Personality
Smile, Personality
Charm, personality
Love, personality
And of Cause you've got
A great big heart
So over and over
Oh, I'll be a fool to you
Now over and over
What more can I do?

Over and over
I said that I loved you
Over and over, honey
Now it's the truth
Over and over
They still say I'm a fool
But Over and over
I'll be a fool for you.
[headlines]
----------------------------------------------------------------

This Day in American History
1773-The British Parliament passes the Tea Act, a bill designed to save the faltering East India Company by greatly lowering its tea tax and thus granting it a monopoly on the American tea trade. The low tax allows the East India Company to undercut even tea smuggled out of America, and many colonists view the act as another example of taxation without representation. When three tea ships, the Dartmouth, the Eleanor, and the Beaver, arrived in Boston Harbor, the colonists demanded that the tea be returned to England. After Massachusetts Governor Thomas Hutchinson refused, Patriot leader Samuel Adams organized the so-called "Boston Tea Party" with about sixty members of the "Sons of Liberty." On December 16, 1773, the Patriots boarded the three British ships disguised as Mohawk Indians, and dumped 342 chests of tea into Boston Harbor. The destroyed tea was valued at approximately ten thousand pounds. Parliament, outraged by the Boston Tea Party and other blatant destruction of British property, enacted the Coercive Acts, also known as the Intolerable Acts, in the following year. The colonists in turn responded by calling the first Continental Congress to consider a united American resistance against the British
1791-Birthday of American artist and inventor, Samuel Finley Breese Morse, after whom the Morse code is named, born at Charleston, MA, and died at New York ,NY, April 2, 1872. Graduating from Yale University in 1810, he went to the Royal Academy of London to study painting. After returning to America he achieved success as a portraitist. Morse conceived the head of an electromagnetic telegraph while on shipboard, returning from art instruction in Europe in 1832, and he proceeded to develop his idea. With financial assistance approved by Congress, the first telegraph line in the US was constructed between Washington, DC and Baltimore, MD. The first message tapped out by Morse form the Supreme Court Chamber of the US Capitol building on May 24, 1844, was, 'What hath God wrought?"
1805-The first American flag flown over a fortress of the Old World
was flown when Lieutenant Presley Neville O'Bannon of the Marines raised the colors over the Tripolitan fortress at Dama, on the north coast of Africa (now in Libya). After marching 800 km from Egypt, US agent William Eaton leads a small force of US Marines and Berber mercenaries against the Tripolitan port city of Derna. Lieutenant Presely O' Bannon, commanding the Marines, performed so heroically in the battle that Hamet Karamanli presented him with an elaborately designed sword that now serves as the pattern for the swords carried by Marine officers. The phrase "to the shores of Tripoli" from the official song of the US Marine Corps also has its origins in the Derna campaign.
1810 -- Ludwig van Beethoven gives the world a romantic piece for piano, with the dedication, "For Therese, as a remembrance." Nowadys nobody remembers Therese. The publisher couldn't read Beethoven's handwriting & to this day the piece is known as "Fur Elise."
While Beethoven never married, he came very close several times, and had many loves of his life as a musician and composer. "We can only speculate upon whether it was Beethoven's intention to write the piece in the letters of the name of his beloved. The famous melody starts with the tones E - D# - E, or enharmonically E - Eb - E, which in German languages equivalents E - Es - E, the "tuneable" letters in the name ThErESE or EliSE.
http://users.sowega.net/chanhtu/furelise.html
http://www.8notes.com/scores/7063.asp
http://www.ezfolk.com/uke/tabs1/fur-elise/fur-elise.html
1813 -- US burns captures York (today called Toronto) and then
proceeds to burn it to the ground in an unsuccessful attempt to gain control of Lake Ontario. There is the fight regarding boundaries, fishing, and as important, over 300,000 loyalist left after the revolutionary war, many to Canada where England granted land to those who opposed the revolution and assisted the British. There were still hard feelings between the two groups, as Canada was a province
of England and many believed the colonist here were still a threat.
1816-The first tariff passed by Congress for protection rather than primarily for revenue was the "act to regulate the duties on imports and tonnage."
1822-Birthday of Ulysses S. Grant, 18th president of the US (Mar 4, 1869—Mar 3, 1877)., President Lincoln promoted Grant to lieutenant general in command of all the Union armies Mar 9,1864, changing the direction of the war effort.. On April 9, 1865, Grant received General Robert F. Lees surrender, at Appomattox Court House, VA, which he announced to the Secretary of War as follows: "General Lee surrendered the Army of Northern Virginia this afternoon on terms proposed by myself. The accompanying additional correspondence will show the conditions fully." Nicknamed Unconditional Surrender Grant," Grant was a brilliant, inventive, creative General, who did like to drink, but a controversial president, who failed in his second attempt for the presidency and reported died he died at Mount McGregor, NY, July 23, 1885,a "broken man," four days after completing his memoirs. He was buried at Riverside Park, New York, NY, following a huge parade. Grant's Tomb was dedicated in 1897. So now you know who is buried at Grant's Tomb.
http://memory.loc.gov/ammem/today/apr27.html
1825 The industrialist Robert Owen sets up Utopian Socialist Colony at New Harmony, Indiana. About 1,000 settlers were attracted to the 20,000acres made available. Dissension arose and there waas lack of dirction among those who were supposed to cooperate. Owen left in 1827. In 1828 the community ceased to exist as a Utopian enterpise.
1825 -- The first strike for the 10-hour work-day, by carpenters in Boston.
1848 Slavery abolished in all French territories.
http://www.info-france-usa.org/atoz/overseas.asp
1864--On his birthday, Grant officially issued orders to his armies that would lead to the end of the American Civil War. The plan called for Sherman to advance on Confederate forces through Georgia, Siegal to move through the Shenandoah Valley, Butler to advance up the James River toward Richmond and Meade to follow and engage the Army of Northern Virginia under Robert E. Lee.
1865- The Sultana, heavily overloaded with an estimated 2,300 passengers, exploded in the Mississippi River, just north of Memphis, en route to Cairo, Illinois. Most of the passengers were Union soldiers who had been prisoners of war and were eagerly returning to their homes. Although there was never an accurate accounting of the dead, estimates range from 1,450 to nearly 2,000. Cause of the explosion was not determined, but the little-known event is unparalleled in US history.
1865 - Actor John Wilkes Booth, the assassin of President Lincoln, was shot and killed in a barn near Port Royal, Virginia, by federal cavalrymen after they set the barn on fire.
1875-John McClosey was the first Catholic priest from the United States to be made a cardinal, under the title of Santa Maria supra Minervam by Pope Pius IX. The investiture was made in the cathedral on Mott street, New York City.
1880 –Francis D. Clarke and M.G. Fooster secured a patent on a "device for aiding the deaf to hear" that made its own electricity and operated by bone conduction. The first electrical hearing aid produced commercially was the Acousticon, invenented by Miller Reese Hutchinson of New York City in 1901. The first hearing aid using transistors was manufactured by Sonotone Corporation, Elmsford, NY, and offered for sale on December 29,1942. It weighted 3.5 ounces and was three inches long.
1892-Birthday of composer and conductor Howard Fogg, a pioneer in the composition and synchronization of film soundtracks, was born in Lewiston, Maine. Fogg spent much of his life in Montreal. In 1934, he wrote what is considered the first original composition for a Canadian film - the music for a documentary called "Rhapsody in Two Languages." Fogg died in 1953.
1899 - In Chicago, Illinois, the Western Golf Association was founded.
1899 - A tornado struck Kirksville, MO, killing 34 persons and destroying 300 buildings.
1900-Birthday of Walter Lantz, originator of Universal Studios' animated opening sequence fro their first major musical film, The King of Jazz. Walter Lantz is best remembered as the creator of Woody Woodpecker, the bird with the wacky laugh and the taunting ways. Lantz received a lifetime achievement Academy Award for his animation in 1979. He was born at New Rochelle, NY, and died March 22, 1994, at Burbank, California.
1903 - In Long Island, New York, Jamaica Race Track opened. Spectators included Lillian Russell and Diamond Jim Brady.
1904 -- Congress extends the Chinese Exclusion Act indefinitely (first passed in 1882; again in 1902 extending the act for 10 years), making it unlawful for Chinese laborers to enter the US & denying naturalized citizenship to the Chinese already here.
1912 -one of the worst tornado outbreaks in Oklahoma's history occurred. 16 tornadoes rated F2 or greater touched down in the state with 6 of them rated F4. 29 people were killed.
1915-the temperature at Washington, DC hit 92 degrees, the highest ever in April. New York City hit 92 degrees as well.
1931--- 100ºF (38ºC), Pahala, Hawaii (state record)
1932--Birthday of Casey Kasem, famous countdown disc jockey.
1932-Birthday of Maxine Brown of the country trio, the Browns, born in Samti, Louisiana. Their recordings of "The Three Bells," "Scarlet Ribbons" and "The Old Lamplighter" were big hits on both the country and pop charts in 1959 and '60. Maxine tried a solo career after the Browns broke up in 1967, but had only one minor hit.
1938 - On Victor Records, Tommy Dorsey and his orchestra recorded "I Hadn't Anyone 'til You", featuring Jack Leonard on vocals.
1939-- drummer Jerry Mercer of the Montreal-based rock group April Wine was born. Mercer replaced April Wine's original drummer, Richie Henman, in 1974. April Wine was Canada's leading touring band of the '70s, and among their hits were 1972's "You Could Have Been a Lady" and "Roller" from 1979. Their biggest international success came in the following decade when "Just Between You and Me" made number 21 on the Billboard Hot 100 in 1981. April Wine also appeared with the Rolling Stones at a Toronto night club in March 1977.
1942 -a destructive tornado, rated F4, tracked through Rogers and Mayes counties in Oklahoma. The town of Pryor was hit squarely. 52 people were killed and damage amounted to $2.5 million.
1944- Cuba Gooding of the '70s soul group the Main Ingredient born. Perhaps his son Cuba Gooding, Jr., is better known as an actor; Early on, he landed guest starring roles on shows like "Hill Street Blues" (1981) and "MacGyver" (1985). His first major role was in the 1991 box office surprise Boyz n the Hood (1991). He followed this success with supporting roles in major films like A Few Good Men (1992), Lightning Jack (1994) and Outbreak (1995).
In 1996, Cuba was cast as an arrogant but loyal football player in the Tom Cruise-Cameron Crowe film Jerry Maguire (1996). The film became a huge box office smash and earned Cuba an Academy Award for Best Supporting Actor. His "Show Me The Money" line in the movie became a nationwide catchphrase. The role elevated him to superstar status, as many of Hollywood's top producers began to "show him the money" to appear in their films.
1947-Peter Ham of Badfinger is born. One of rock music's true talents who died way to soon.
1948 - Kate Pierson of The B-52s is born in Weehawken, N.J. The group's biggest hits are the 1989 songs ``Love Shack'' and ``Roam,'' both of which reach No. 3 on Billboard's Hot 100. Pierson also sings backup on R.E.M.'s top 10 hit ``Shiny Happy People.'' Both bands are based in Athens, Ga.
1949---Top Hits
Cruising Down the River - The Blue Barron Orchestra (vocal: ensemble)
Forever and Ever - Perry Como
"A" You're Adorable - Perry Como
Candy Kisses - George Morgan
1950 --The modern state of Israel is officially recognized by the British government.
1951-Birthday of Ace Frehley, former lead guitarist with the theatrical rock group Kiss, was born in New York. Kiss, known for their painted faces and extravagant on-stage antics, was one of the biggest-selling acts of the 1970's. Frehley was recruited for the band through an ad in The Village Voice. The critics almost unanimously panned Kiss's heavy-metal thudding, but their albums sold in the millions. Frehley left Kiss in 1983.
1956 - At age 31, Rocky Marciano, undefeated in 49 professional bouts (43 knockouts and six title defense), announced his retirement as World Heavyweight Boxing Champion.
1957---Top Hits
Little Darlin' - The Diamonds
All Shook Up - Elvis Presley
Mama Look at Bubu - Harry Belafonte
Gone - Ferlin Husky
1959 - "Personality", by Lloyd Price was released. From the 1950s to the early 1960s, Price had 10 songs on the nation's pop music charts.
1959 - Sheena Easton is born in Bellshill, Scotland. Her biggest hit is ``Morning Train (Nine to Five),'' which tops Billboard's Hot 100 for two weeks in 1981.
1963-- Martha and the Vandellas had their first entry on the Billboard rhythm-and-blues chart, "Come and Get These Memories." Three months later, the Motown group would have its biggest hit, "Heat Wave."
1964-John Lennon's "In His Own Write," a collection of funny poems and drawings, is published in the U.S.
1965---Top Hits
Game of Love - Wayne Fontana & The Mindbenders
Mrs. Brown You've Got a Lovely Daughter - Herman's Hermits
I Know a Place - Petula Clark
This is It - Jim Reeves
1968-US Vice President Hubert announces his candidacy for the Democratic presidential nomination. In an interview, he said he supported the current US policy of sending troops "where required by our own national security." On 31 March 1968, President Lyndon B. Johnson, frustrated with his inability to reach a solution in Vietnam, announced that he would neither seek nor accept the nomination of his party for re-election. This set up a contest for the Democratic nomination. Humphrey's main competition was Senator Eugene McCarthy [ (D-Minnesota), who had come within a few hundred votes of beating Lyndon Johnson in the New Hampshire primary. Robert Kennedy had entered the race and won most of the Democratic primaries until he was assassinated in June. When the Democratic National Convention opened in Chicago in August, a conflict immediately erupted over the party's Vietnam platform. While demonstrations against the war took place in the streets outside the convention hall, Humphrey won the party nomination. He was ultimately defeated in the general election by Republican Richard Nixon, who criticized the Johnson's handling of the war and ran on a platform of achieving "peace with honor" in Vietnam.
1968-Jimmy Ellis won a 15-round decision over Jerry Quarry to capture the heavyweight championship. This fight at Oakland, CA, was the final in an eight-man elimination tournament to select a champion to replace Muhammad Ali, form whom the title was stripped.
1968-Simon & Garfunkel's "Mrs. Robinson" is released. It is from
the soundtrack of "The Graduate."
1969-Joe Cocker makes his American debut on the "Ed Sullivan Show" before embarking on a tour.
1970-The Civic Center branch of Surety National Bank became the first bank to be fully automated opened in Los Angeles, CA. It contained six telestations equipped with closed-circuit television and monitored by a teller. A "validator" provided instant validation of checks by code rather than by signature. A money machine dispensed cash in an envelope. This was well before ATM's. Not known what
happened to Surety National Bank.
1973---Top Hits
Tie a Yellow Ribbon Round the Ole Oak Tree - Dawn featuring Tony Orlando
Sing - Carpenters
The Cisco Kid - War
Superman - Donna Fargo
1974- Waylon Jennings's first number-one single, "This Time," entered the country charts in the US.
1975-Saigon is encircled by North Vietnamese troops.
1976 - Maxine Nightingale was awarded a gold record for the single, "Right Back Where We Started From", which spent 2 weeks at #2. In the early 1970s, Nightingale was in the productions of "Hair", "Jesus Christ Superstar", "Godspell" and "Savages".
1979-Stevie Wonder makes a surprise appearance at a Duke Ellington tribute concert at UCLA's Royce Hall. He performs "Sir Duke and Ellington's "C-Jam Blues."
1980-Three years and a day after opening its doors, New York's legendary disco, Studio 54 shuts down due to numerous questionable activities. Several movies about the club and its attendees will make it appears the club was open for longer, but it was not.
1981---Top Hits
Kiss on My List - Daryl Hall & John Oates
Morning Train (Nine to Five) - Sheena Easton
Being with You - Smokey Robinson
A Headache Tomorrow (Or a Heartache Tonight) - Mickey Gilley
1981-Xerox introduces its STAR 8010 information system, the first computer on the market to boast a mouse and a point-and-click interface. The STAR was based on cutting-edge work at Xerox's Palo Alto Research Center, which had developed a graphic user interface using a mouse for a machine called the Alto. The mouse, first demonstrated in 1968 by Douglas Engelbart of the Stanford Research Institute, would not catch on until the Apple Macintosh was introduced in 1984. Xerox devoted nine years and some $50 million to developing the STAR, but the product failed, partly because of its high price of $16,500, It had no easy language to learn and no spreadsheet capabilities, and one of the major developers Alan Kay went on to Atari and then to Apple, to help in development of its computer.
384 KB (expandable to 1.5MB) of real memory
10, 29 or 40 MB hard drive
17-inch display
mouse
8" floppy drive
Ethernet connection
http://www.digibarn.com/collections/systems/xerox-8010/index.html
http://www.thocp.net/hardware/xerox_star.htm
http://xeroxstar.tripod.com/index.html
1986 - No. 1 Billboard Pop Hit: ``Addicted to Love,'' Robert Palmer. This is Palmer's first No. 1 single.
1987 - Forty-two cities in the western and south central U.S. reported record high temperatures for the date. The afternoon high of 87 degrees at Olympia WA was an April record, and highs of 92 degrees at Boise ID, 95 degrees at Monroe LA, and 96 degrees at Sacramento CA tied April records. (The National Weather Summary) More than 300 daily temperature records fell by the wayside during a two week long heat wave across thirty-four states in the southern and western U.S. Thirteen cities established records for the month of April.
1988 - observers at the Mount Washington Observatory in New Hampshire reported over 7 feet of snowfall in a 10 day period, bringing their total for April to 89.9 inches. This set a new record for April snowfall on the mountain breaking the old standard of 89.3 inches set in 1975. Records have been kept on the summit since December of 1932.
1989 -severe thunderstorms struck Omaha, Nebraska. Hail up to 4.5 inches in diameter fell. 3 inches of rain in a relatively short period of time caused flooding of streets with 3 feet of water reported at some intersections.
1989---Top Hits
Like a Prayer - Madonna
Funky Cold Medina - Tone Loc
I'll Be There for You - Bon Jovi
The Church on Cumberland Road - Shenandoah
1990 - Thunderstorms produced severe weather in eastern Texas and the Lower Mississippi Valley. Severe thunderstorms spawned thirteen tornadoes in Texas and twelve in Louisiana. A tornado southwest of Coolidge TX injured eight persons and caused more than five million dollars damage. There were also eighty-five reports of large hail and damaging winds, with baseball size hail reported at Mexia TX and Shreveport LA. Forty-three cities in the eastern U.S. reported record high temperatures for the date. Records highs included 94 degrees at Charleston WV, 95 degrees at Baltimore MD and96 degrees at Richmond VA.
1994-The first criminal convicted on the evidence of DNA matching was Timothy W. Spencer, who died in the electric chair in Greensville Correctional Center, Greensville, VA. Spencer was convicted of murdering four women in Richmond, VA, in 1987. DNA from his cells were matched with DNA found in evidence at the scene of the crime, a process also known as genetic fingerprinting.
1995- The US Justice Department files an antitrust suit to block Microsoft from buying Intuit, makers of the popular Quicken financial software, for $2.1 billion. The suit argued that financial software was one of the only remaining software sectors not dominated by Microsoft. Intuit dominated about 70% of the personal finance software segment, while Microsoft Money held only 22%. Microsoft voluntarily abandoned the merger in May.Of all the products developed by Microsoft to date, Microsoft Money never took off compared to Quicken.
1995- Ross Glatzer, president of Prodigy Services Co., the leader of the pack on the Internet, quits amid tension between parent companies IBM and Sears. IBM reportedly wanted more power over the online venture, which had just started showing signs of profitability. The two companies had invested $1 billion in the venture since 1985. In March, Prodigy's second-in-command, Scott Kurnit, left the company to join MCI's new Internet venture. The company continued to struggle after Glatzer's departure. In 1996, Prodigy's management purchased the company and began transforming it into an Internet service provider.
1996-- Barry Bonds, joins his father and godfather, becoming only the fourth major leaguer to hit 300 homers and swipe 300 bases as he homers for the Giants' in a 6-3 victory over the Marlins. Bobby Bonds, Willie Mays and Andre Dawson are the only other 300-300 players.
2000 ---Sixteen players of the Tigers and White Sox are suspended for a total of 82 games for participating in two brawls at Comiskey Park five days ago making it the most severe punishment ever given for a bench-clearing incident. Both managers, Phil Garner and Jerry Manuel, are suspended for eight games each.

--------------------------------------------------------------

Three Basketball Poems
Basketball Practice
Justin G., ,

Basketball Practice
"AGAIN!"
I sprint to the end of the court
my legs cutting through the oppressive air,
desperately trying to reach the endline.
"AGAIN!"
I take off, this time not as fast
wondering why I bother to give up
two hours each night to be commanded
like a remote control car.
"FIFTEEN FOUL SHOTS"
I walk slowly to the line
happy for the time to catch my breath.
I pick up the ball and begin.
"BACK ON THE LINE!"
Again I sprint to the end of the court
mouth wide open
sweat dripping from my face.
"AGAIN!"
As I run up the court
for what I hope will be the last time tonight,
I glance over my shoulder
to see my coach, red-faced and grinning,
remote control
gleaming in his hand.
by J. G., Houlton, ME
Foul shot
One second is left in the game
you're at the foul line and going insane
the game is on your shoulders the score is tied
right now you feel like want to hide
the first attempt you shoot like a brick
and you just wish there was something to kick
your hands are sweaty, your knees are weak
the adrenaline in your body is at its peak
the ref hands you the ball
you feel very very small
you remember how you shot the ball and feel like a jerk
and then you remember you have science homework
you concentrate with all your might
your stomach is very very light
the crowd is so loud it awakens the dead
your feet feel like buckets of lead
you shoot the ball that is what you do
do you make it? that depends on you
-Mark
Shoes
Many sizes, many shapes, and many colors
There are Jordans, and Pippins, and Pennys
There are Mashburns, and Hills, and Shaqs
There's even LJs, Kidds, and Stacks
How many shoes I wonder
Man will never know
-Jason

--------------------------------------------------------------

SuDoku
The object is to insert the numbers in the boxes to satisfy only one condition: each row, column and 3x3 box must contain the digits 1 through 9 exactly once. What could be simpler?
http://leasingnews.org/Soduku/soduko-main.htm
--------------------------------------------------------------

Daily Puzzle
How to play:
http://www.setgame.com/set/puzzle_frame.htm
Refresh for current date:
http://www.setgame.com/set/puzzle_frame.htm
--------------------------------