Documentation Processor
New York, NY.
Mid-Town New York office seeking Documentation Processor with approximately 3 years experience. Click here for details.
Wednesday, April 23, 2008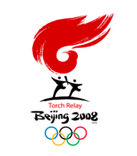 Headlines---
Alert: Major Independent Not paying bills
Classified Ads---Sales Manager
CIT Hikes its Equity-Raising to $1.5B
Marlin to sell 1,216,288 shares
Classified Ads---Help Wanted
Leasing Meetings open to members/non-members
Sales makes it Happen—by Kit Menkin
"Get off the telephone"
Cartoon---Retirement
Steve Crane, CLP, the Outdoorsman
Office Depot offers Leasing
BofA: economy won't dig out of hole soon
Bank of America to alter loan practices
Fed auctions another $50 billion to banks
Oil prices push airlines to shrink, airfares up
United to cut flights and 1,100 jobs
California foreclosure "surge": Up 327%
News Briefs---
"Gimme that Wine"
Calendar Events
Snapple Real Facts
Today's Top Event in History
This Day in American History
Baseball Poem
SuDoku
Daily Puzzle
GasBuddy
Provence, France-Vacation
News on Line---Internet Newspapers
The West, US
######## surrounding the article denotes it is a "press release"
-------------------------------------------------------------------

Alert: Major Independent Not paying bills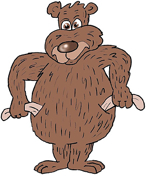 Leasing News is getting e-mail that a major independent leasing company is behind on broker commissions, several since February, 2008, plus other "complaints" about not being paid.
If you fall into this category, please contact
kitmenkin@leasingnews.org.
If the delinquency is more than a few, Leasing News will name the company,
very well-known to the leasing industry.
Will keep information confidential and try to help you get paid.
Kit Menkin
--------------------------------------------------------------

Classified Ads---Sales Manager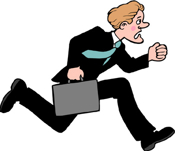 Atlanta, GA
Strong sales and leadership skills; demonstrated with sales training and sales performance. Lead team in both regional and national operations and developed marketing programs.
Email: mll1946@comcast.net
[Resume]
Chicago, IL
Sales Executive or Senior Manager, with responsibility for leasing capital equipment in support of transactions based on current market values, market potential and economic trends.
tomvolk53@hotmail.com
Resume
For a full listing of all "job wanted" ads, please go to:
http://www.leasingnews.org/Classified/Jwanted/Jwanted.htm
Leasing Recruiters:
http://www.leasingnews.org/Recruits/index.htm
To place a free "job wanted" ad here, please go to:
http://www.leasingnews.org/Classified/Jwanted/Jwanted-post.htm
--------------------------------------------------------------

CIT Hikes its Equity-Raising to $1.5B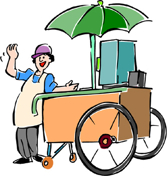 Timing of the sale of common and convertible preferred leaves one observer saying the banking giant was "desperate."
Stephen Taub
CFO.com
CIT Group Inc. boosted its total capital-raising — through sale of $1 billion of common stock and $500 million of convertible preferred — by 50 percent from the infusion that it had originally planned.
The CIT common was priced at $11 per share, down more than 18 percent from its closing price of $13.50 on Friday. Such heavy dilution has become commonplace of late among financial institutions looking to shore up their equity capital.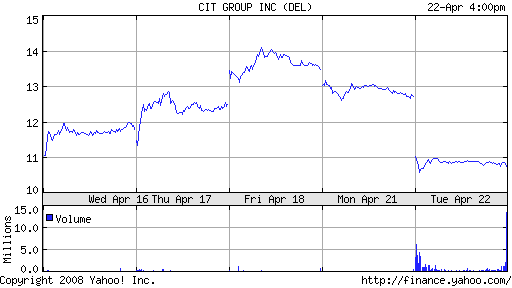 Some market observers saw timing as the reason for the price fall-off. "You have to figure CIT is desperate to raise capital," said Gimme Credit, in a report issued Tuesday morning. "If not, we can't imagine why it chose yesterday to announce a new offering, considering investors were still reeling from National City's dilutive $7 billion private equity infusion."
As we reported yesterday, the Cleveland-based banking giant said it is raising of $7 billion, including $985 million of private equity capital from Corsair Capital, which specializes in the financial services industry.
The global commercial finance company intends to use proceeds from the common sale for general corporate purposes, including $8 million to pay dividends on its outstanding preferred stock for the second quarter, and $23 million to pay interest on its outstanding junior subordinated notes in the third quarter. Proceeds from the convertible preferred sale will be used for general corporate purposes.
The convertible preferred will pay cash dividends at an annual rate of 8.75 percent. Each share will be convertible at any time, at the holder's option, into 3.9526 shares of CIT's common stock, plus cash in lieu of fractional shares. This is equivalent to an initial conversion price of about $12.65 per share of CIT's common stock.
After June 20, 2015, CIT may convert some or all of the convertible preferred stock if its common stock closes 150 percent of the then conversion price for 20 trading days during any period of 30 consecutive trading days.
J.P. Morgan Securities Inc., Morgan Stanley & Co. Incorporated, Lehman Brothers Inc. and Citigroup Global Markets Inc. are serving as joint book running managers of these offerings.
--------------------------------------------------------------

Marlin to sell 1,216,288 shares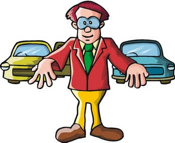 Marlin has exited both the factoring and capital loan market place, but sent an e-mail to existing brokers that they are now accepting vehicle leasing applications and are entering the vehicle leasing
field. They finally did receive approval for an industrial bank in Utah. Now they plan to issue new stock and re-elect the board of directors.
In a April 22, 2008 filing with the Security Exchange Commission, Marline refers to its efforts to issue 3,300,000 shares from their current 2,100,000. In the filing, they request it be 1,216,288 shares.
The SEC filing serves notice the same 7 directors on the board be re-elected:
Daniel P. Dyer 49 CEO of Marlin Business Services Corp. 1997
John J. Calamari 53 Executive Vice President and Chief Financial Officer of
J.G. Wentworth 2003
Lawrence J. DeAngelo 41 Partner with Roark Capital Group 2001
Kevin J. McGinty 59 Managing Director of Peppertree Partners LLC 1998
James W. Wert 61 President & CEO of Clanco Management Corp. 1998
Edward Grzedzinski 52 Former Chairman and CEO of NOVA Corporation 2006
Matthew J. Sullivan 50 Partner with Peachtree Equity Partners 2008
(Mr. Sullivan, all of the nominees have been previously elected as directors by the Corporation's shareholders. Mr. Sullivan was appointed to the Board of Directors in April 2008 as the designee for Peachtree Equity Partners pursuant to the Letter Agreement, dated June 18, 2007)
Marlin also requests an increase in the shares made available to existing officers and directors as part of additional compensation.
The call is for an Annual Stockholders meeting on May 22, 2008 at the DoubleTree Hotel,
Mount Laurel, NJ.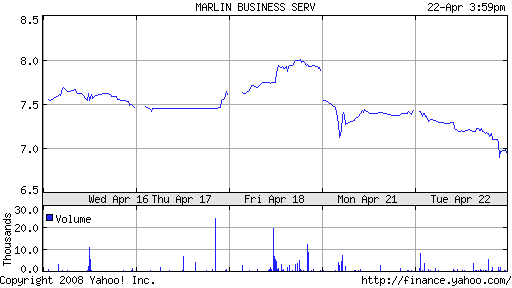 Evidently reading the SEC filing, the stock fell to a low of $6.96 from a previous close of $7.43, falling as far as $6.88 from a high of the 52 week range of $24.29 on volume of 49,894.
38 pages, includes year-end financials
http://leasingnews.org/PDF/MRLN_Apr22_08.pdf
--------------------------------------------------------------

Leasing Industry Help Wanted
Collector

Collector
Lake Success, NY
Full time, entry or jr. level collector, auto and/or equip collection exp. preferred. Resume: fax 718-392-5427
attn: Ed Kaye/Eric Coolbaugh
About the Company: Advantage Funding is the leader in automotive and equipment lease financing, Lake Success, NY.


Document Processor

Documentation Processor
New York, NY.
Mid-Town New York office seeking Documentation Processor with approximately 3 years experience. Click here for details.
Leasing Sales Representative

Leasing Sales Representative
Long Island, NY
Hiring experienced or new to business sales reps. Transactions in all states / all industries. Send resume to: info@sterlingcap.net or fax 631-414-7571.
About the Company: Sterling Capital Leasing, LLC is a national small ticket/middle market leasing company

Special Assets Workout Officer

Special Assets Workout Officer,
San Francisco, CA
5+ years collection experience work-out commercial accts. equip. finance/leasing-
click here for more info
About the Company: Bank of the West and its subsidiaries are equal opportunity/affirmative
action employers.


--------------------------------------------------------------

Leasing Association Events-Meetings Open to All
Friday, May 16, 2008
Networking in the Fast Lane
Indianapolis, IN
Midwest Region
----------------------------------------------------------------------
Eastern Association of Equipment Lessors
Chapter Meeting Schedule for more information: www.eael.org
EAEL
Tel : 212 809-1602
Fax : 212-809-1650
62 William Street, 4th Floor
New York, NY 10005
| | | |
| --- | --- | --- |
| May 1 st | Philadelphia | Chapter Meeting |
| June | Baltimore | Crabfeast |
| June 5 th | New Jersey | Chapter Meeting |
| June 10 th | New York City | Chapter Meeting |
| June 12 th | Boston | Chapter Meeting |
| June 17 th | Charlotte | Chapter Meeting |
| June 19 th | Buffalo | Chapter Meeting |
| July 8 th | Atlanta | Chapter Meeting |
| July 21 | EAEL Night | Yankee Stadium |
| August | New York City | Golf Outing |
| October 14 th | Atlanta | Chapter Meeting |
| November 4 th | Buffalo | Chapter Meeting |
| November 6 th | Connecticut | Chapter Meeting |
| November 12 th | Philadelphia | Chapter Meeting |
| November 13 th | Long Island | Chapter Meeting |
| November 18 th | New Jersey | Chapter Meeting |
| December 2 nd | Boston | Holiday Party |
| December 3 rd | Buffalo | Holiday Party |
| December 4 th | Baltimore | Holiday Party |
| December 8 th | New York City | Holiday Party |
| December 9 th | Charlotte | Holiday Party |
-----------------------------------------------------------------------
To view Leasing Association Conferences in 2007, please click here.
--------------------------------------------------------------

Sales Make it Happen --- by Kit Menkin
"Get off the Telephone"
Unless you are in a location where you cannot make a personal call, you will be wasting your time on the telephone in today's economy. The days of buying a "list" and then by shear numbers falling into someone looking for financing are going to be extremely tough.
The credit cards and letters offering $150,000 lines of credit will also be affected. The companies who by shear number just throw untrained or newly trained sales crew to man the telephone boiler room will be the first to be hit. At best, they will be winding up more and more with "C" and "D" credits, finding them more and more difficult to get financed.
Plan to spend at least two days on the street.
So what do you do? Plan to spend at least two days on the street. Follow-up by card, telephone, internet, anything to keep your name there to contact you.
Now call on your current customers or company customers who are paying on time or you do not see on a delinquency list. See if they have any questions. Don't try to sell them right away, act as "customer service."
Second, call on those in the 30 day column to see what you can do to help? "Customer Service."
Develop a new market plan. Used equipment always does better in a down marketplace. Read the classified ads in the local newspapers or in the classified on line, call those selling to see if you can help. The idea is not just to pick up a customer, but a vendor. If you find a customer that you have rapport and is selling to up-grade, you have a lead for a vendor.
If you find a buyer and a seller, and it is a private sale, not a dealer (dealers advertise), work with a company who will do a private sale.
If a vendor is in your town, ask him when is the best time of day to meet him. You want to understand what he sells as you may have customers from leases you or your company have completed; who are paying you on time.
Start attending auctions in your area. Put flyers on cars parked nearby that you finance used equipment. Mingle in the audience. Look not only for bidders for future sales, but the dealers who attend the auction to see what equipment sells for.
Go to bankruptcy sales, meet vendors and potential customers. Make friends with bankers, and creditors there, too. Hand out your business card.
Work with a vendor for an ad on Craig's list or Ebay to help "sell" their equipment via financing. Tell them what you learned recently by attending auctions. How you can help them.
Definitely make a routine about spending two days a week away from your telephone, calling on dealers, even if only three or four a day, due to traveling. Best time to call: 9:30am to 11:30am, 1:30pm to 4:30pm; use the in-between time to conduct current business. Stick to the plan. Work the plan. No goofing off, but change your day so you are committed.
Just show up in person. Even if the dealer is working with another leasing company, I bet they are getting more leases turned down than before---and I further bet they have never met their leasing service representative---as everything today is over the telephone, fax, and the internet. Nothing beats eyeball to eyeball and making a friend. Hit the streets.
Always hand deliver the check to the vendor. If you are a broker, most funders will allow you to do this as you signed a "reps and warrants" form. Most dealers don't care who is named on the check, but they have it hot in hand, personally delivered by you.
Get off the telephone and start using your shoe leather. You not only will make sales, but survive in the rough times certainly ahead for the 12 to18 months. Make a plan. Work the plan.
Sales Makes it Happen articles:
http://www.leasingnews.org/Legacy/index.html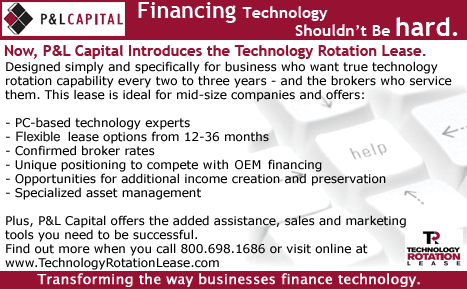 --------------------------------------------------------------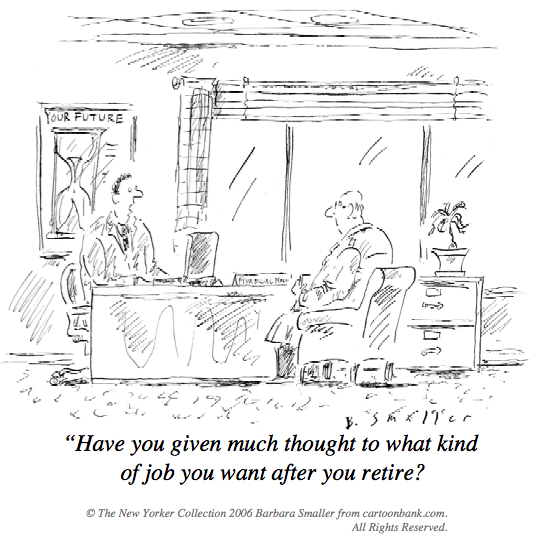 --------------------------------------------------------------

Steve Crane, CLP, the Outdoorsman
Leasing News Advisory Board Member Biography
Steve Crane, CLP, has known Kit Menkin since his days at CIT, Taylor Leasing, and this year celebrates 13 years with Bank of the West Leasing. Steve travels the United States, located out of Bank of the West's Walnut Creek offices, San Francisco Bay Area, California. He has many friends in the business and is well-known and respected in the equipment leasing industry.
Steve joined the Leasing News Advisory Board on July 10, 2000. He has been active in sponsoring conference calls, attending meetings and promoting our trade publication. He travels more and more, for his bank, seems to enjoy seeing his many friends in the leasing business, but he will be the first to tell you he would rather be with his family. His main love is his family, then the outdoors.
"I enjoy doing many things with my family including cooking, watching movies, traveling and attending sporting events," he said.
He celebrates 25 years marriage this year to his college sweetheart, Cheryl, planning a special trip, perhaps to South America, he says.

Steve with his wife Cheryl and sons Alex and Ryan.
They have two children: Ryan, who is a sophomore at Chico State.
He is working on a psychology degree and plans to be a firefighter when he graduates. Alex is a junior at Northgate High School in Walnut Creek, CA. He is an accomplished hurdler on the track team and also plays goalie on his water polo team
"I am still active in the Boy Scouts as Assistant Scoutmaster in Troop 444 in Concord…currently serving as a merit badge counselor and mentoring Scouts on their Eagle Projects." he said. "My son Ryan is an Eagle Scout. Alex is working on his Eagle Service Project and should soon earn the Eagle rank."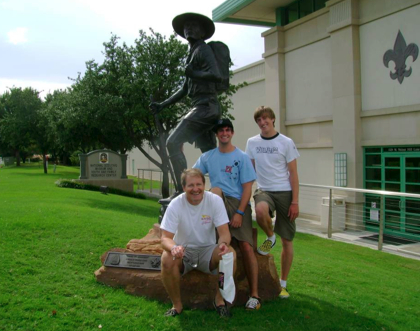 Steve with his sons Ryan and Alex outside the Boy Scouts of America headquarters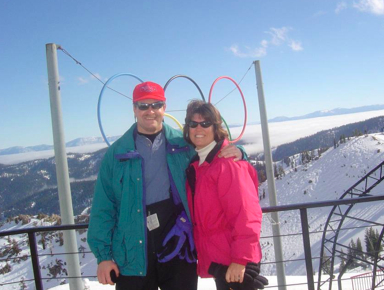 Steve with his wife Cheryl at Squaw Valley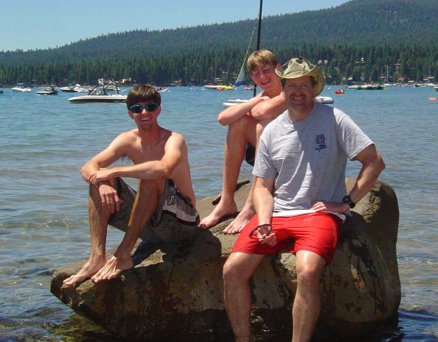 Steve with his two sons vacationing at Lake Tahoe
Steve with his son Alex near the Clouds Rest peak in Yosemite, overlooking half dome. He and his sons are planning in August, to ascend Mt. Whitney with his sons, the highest mountain in the lower 48 states..
"I love the outdoors and am an avid runner, cyclist, swimmer, backpacker and skier. I particularly like to backpack, canoe, and hike.
Steve keeps in shape as a "recreational runner," typically doing three to five miles daily, even when he travels. The year before he competed in the New York City Marathon, 26.2 miles.

Steve with his Bank of the West bear after finishing the NYC Marathon
"I am currently training for the Vineman 70.3 Ironman Triathlon in Sonoma County in July ," he said." I did this same race last year too as well as some Olympic distance triathlons"
Leasing News ask him four questions to answer, as also given to the other advisory board members:
(1) What was the biggest issue you currently face in your business?
"My opinion is that the biggest issue that our industry currently faces is the economy. In the past several years our industry has experienced good times, and portfolios have performed relatively well. As the economy continues to soften, portfolios will feel the impact, and delinquencies will rise. Fortunately, at Bank of the West our credit culture has mitigated exposure to the credit environment; however, other companies have not been so fortunate. I believe that the industry will continue to experience a shakeout for the next year or so, and then return to some degree of normalcy."
(2) What advice would you give a younger person entering the field?
"Find an area that is of interest to you, that you can have fun with, and focus on it completely. Learn everything you can about it and become an "expert in your field". I have been in the leasing business for over 25 years and the most successful and happiest people that I have met are the ones that have found a niche and exploited it."
(3) What attributes do you possess that contribute to your success?
"I feel that the two key attributes to my success are having a positive attitude, and honesty. Being in sales and marketing it is important to be approachable and comfortable talking with people. It is also important that the people you are dealing with get straight answers, even if it means giving them news that they don't want to hear. I believe that if you have the ability to communicate with people in a candid and honorable way, it will gain you respect. As my friend and mentor Russ Rickards always said, "It's not what you say but how you say it." And as I go through life I have found that there is more truth than poetry to this statement."
(4) What do you want to do before you die?
"This is a tough one for me – I would like to say that I want to climb Mount Everest or finish the Ironman Triathlon in Kona, but that is probably unrealistic due to my advanced age.
Realistically, my family means the world to me! My one wish before I die is to see my two sons have happy marriages, raise families, and my wife and I to attend our grandchildren's weddings – even if in a wheelchairs"
Steve Crane, CLP
Vice President & Marketing Manager
Bank of the West Leasing
201 Civic Drive, 360B
Walnut Creek, California
scrane@bankofthewest.com
888.244.0551 ext. 3899
800.473.9878 - Fax
www.bankofthewest.com
Biography:
Steve Crane has been in the equipment leasing industry for over 25 years. He currently holds the position of Vice President and Marketing Manager for Bank of the West in the San Francisco area, where he has been for almost 13 years.
"I thoroughly enjoy my job and Bank of the West and working with the numerous brokers and lessors from whom we source our business as well as the wonderful group of people in my office."
Prior to this, Steve spent 9 years as a principal in Taylor Financial, an equipment lessor in Oakland, California. He has also worked at CIT, Ingersoll-Rand Financial and Westinghouse Credit in various capacities. Steve holds a Bachelor of Science degree from the California State University, Sacramento in Finance and Marketing and earned his Certified Lease Professional (CLP) designation in 1999. He served on the executive board of the CLP foundation for three years, holding the positions of Treasurer (2004) and President (2005)
In 2003, he was elected to the Eastern Association of Equipment Lessors board of directors. In 2004, he served as Conference Chair for the UAEL Fall Conference in Monterey. He is proud to note that he attends many of the Association of Government Leasing and Finance, Eastern Association of Equipment Lessors, Equipment Leasing and Finance Association, National Association of Equipment Leasing Broker, and United Association of Equipment Leasing conferences and meetings.
---------------------------------------------------------------
### Press Release ###########################

Office Depot Introduces New Product Leasing Option to Help Its
Customers Take Care of Business in Tough Economy
Office Depot's SmartWayLeasing(TM) Designed to Help Stimulate
Small Business Growth in North America

DELRAY BEACH, Fla.--NYSE:ODP), a leading global provider of office products and services, announces the launch of a new office equipment and furniture leasing option for small business customers in North America. The new SmartWayLeasing(TM) service, delivered in partnership with specialist international leasing business ThinkSmart, is currently available in select Office Depot retail store locations in the Greater Tampa-St. Petersburg, Florida area, with nationwide expansion expected during the year. SmartWayLeasing from Office Depot is the first small business product leasing solution available through an Office Supply Superstore.
Office Depot's SmartWayLeasing enables small businesses to save thousands of dollars of upfront expenses by providing them with the option to lease office equipment, including computers, peripherals and office furniture. Customers can select from a three or four year term and can choose from a wide variety of equipment ranging in price from $500 to $10,000. At the end of the lease term, the customer has the option to either renew the current lease, return the equipment, or upgrade to new equipment.
"Small businesses are facing many challenges with the current economic environment, and the new SmartWayLeasing option from Office Depot will help to provide these customers with the flexibility needed to stretch their equipment budgets further," said Chuck Rubin, President of North American Retail for Office Depot. "Small business growth is a critical component that fuels today's economy and Office Depot understands the small business customer better than anyone. That's why we continue to look for new and innovative ways to partner with our customers and help them to succeed."
Small businesses can also include important core supplies such as ink, toner and paper as part of their SmartWayLeasing plan.
Approval takes place directly at Office Depot retail locations, with most approvals taking less than 10 minutes. Customers can take in-stock merchandise with them the same day, with the exception of large items such as furniture that can be scheduled for delivery.
For more information about Office Depot's SmartWayLeasing plan, please visit www.officedepot.com.
About Office Depot
Every day, Office Depot is Taking Care of Business for millions of customers around the globe. For the local corner store as well as Fortune 500 companies, Office Depot provides products and services to its customers through more than 1,600 worldwide retail stores, a dedicated sales force, top-rated catalogs and a $4.9 billion e-commerce operation. Office Depot has annual sales of approximately $15.5 billion, and employs about 49,000 associates around the world. The company provides more office products and services to more customers in more countries than any other company, and currently sells to customers directly or through affiliates in 43 countries.
Office Depot's common stock is listed on the New York Stock Exchange under the symbol ODP and is included in the S&P 500 Index. Additional press information can be found at: http://mediarelations.officedepot.com.
About ThinkSmart
ThinkSmart is a leading international financial services company that is focused on the delivery of B2B finance products through the retail environment. The business currently operates with market leading retailers and financial institutions in Europe and Australia where it has built a reputation for processing high volumes of low value business finance transactions both quickly and efficiently. ThinkSmart is listed on the Australian Stock Exchange code (ASX:TSM).
### Press Release ###########################
--------------------------------------------------------------

News Briefs----
BofA's quarter hints economy won't dig out of hole soon
http://seattletimes.nwsource.com/html/businesstechnology/2004364704_bofa22.html
Bank of America to alter loan practices
http://www.chicagotribune.com/business/chi-tue-bofa-apr22,0,933623.story
Fed auctions another $50 billion to banks
http://www.washingtonpost.com/wp-dyn/content/article/2008/04/22/
AR2008042201073.html?sub=AR
Oil prices push airlines to shrink, airfares to grow
http://www.usatoday.com/money/industries/travel/2008-04-22-airlines-oil-fares_N.
htm?loc=interstitialskip
United to cut flights and 1,100 jobs after $537M loss
http://www.usatoday.com/money/industries/travel/2008-04-22-united-q1_N.htm
California foreclosure "surge": Up 327% from '07 levels
http://latimesblogs.latimes.com/laland/2008/04/california-fo-1.html
'Wall Street Journal' top editor stepping down
http://www.usatoday.com/money/media/2008-04-22-journal-editor_N.htm
Top 6 American Idol Contestants
http://www.accessatlanta.com/blogs/content/shared-blogs/accessatlanta/idol/
entries/2008/04/22/422_top_6_idol.html
----------------------------------------------------------------


"Gimme that Wine"
San Marcos brewery, brewer wins World Beer Cup titles
http://www.signonsandiego.com/news/business/20080422-1421-bn22beernews.html
Frosty spring raises concerns
COLD COULD IMPACT SIZE OF '08 HARVEST, ALSO TAXES RESERVOIRS
http://www.busjrnl.com/article/20080421/BUSINESSJOURNAL/233450849/1207/
BUSINESSJOURNAL02
Frost kills many Chardonnay growers in North Carolina
http://www.wxii12.com/news/15948950/detail.html
Texas Wineries Grow Up, Beat the Heat, Seek Their Own Styles
http://www.bloomberg.com/apps/news?pid=20601088&sid=aca6ARDgwzZ8&refer=muse
Two new wine shippers created in Napa, Windsor
http://www.busjrnl.com/article/20080421/BUSINESSJOURNAL/807297205/
1219/businessjournal
Sonoma-Cutrer Pops Cork
http://www.winesandvines.com/template.cfm?section=news&content=54908
Your Genetics May Determine the Wines You Prefer
http://wine.appellationamerica.com/wine-review/562/Tasting-Genetics.html
Wine Prices by vintage
http://www.winezap.com
http://www.wine-searcher.com/
US/International Wine Events
http://www.localwineevents.com/
Winery Atlas
http://www.carterhouse.com/atlas
Leasing News Wine & Spirits Page
http://two.leasingnews.org/Recommendations/wnensprts.htm
The London International Vintners Exchange (Liv-ex) is an electronic exchange for fine wine.
http://www.liv-ex.com/
----------------------------------------------------------------

Calendar Events This Day
Administrative Professionals Day
www.iaap-hq.org
Lover's Day
http://holidayinsights.com/moreholidays/April/loversday.htm
National Cherry Cheesecake Day
http://homeschooling.about.com/library/blfeb20a.htm
Saint George: Feast Day
Martyr and patron saint of England, who died April 23, Ad 202. Hero of the St. George and the dragon legend. The story says that his faith helped him slay a vicious dragon that demanded daily sacrifices after the king's daughter became the intended victim
Spain: Book Day and Lover's Day.
Barcelona, Saint George's Day and the anniversary of the death of Spanish writer Miguel de Cervantes have been observed with special ceremonies in the Palacioa de la Dispatacion, aand throughout the city since 1714. Books stands are set up in the plaza and on different corners. This is Spain's' equivalent of Valentine's Day. Women give books to men, men give roses to women.
Saint feast Days
http://www.catholic.org/saints/f_day/apr.php
----------------------------------------------------------------

Dismal first-year sales of famous products:
1. VW Beetle (U.S.)--sold 330 first year.
2. Liquid Paper--sold 1,200 bottles first year
3. Cuisinart--sold 200 first year.
4. Remington typewriter--sold 8 first year.
5. Scrabble--sold 532 first year.
6. Coca-Cola--sold 25 bottles first year. (For total of $50; supplies and advertising ran $70.)
----------------------------------------------------------------

Today's Top Event in History
1989-"Baywatch" premiered on television . Set on a California beach, this program starred David Hasselhoff and a changing cast of nubile young men and women as lifeguards. Later the program was moved to Hawaii; the last episode was made in 2001. The most widely viewed TV series in the world, the program aired in 142 countries with an estimated weekly audience of 1.1 billion.
(certainly popular at "Friends")
[headlines]
----------------------------------------------------------------

This Day in American History
1564-birthday of Williams Shakespeare: perhaps the first non-American birthday we celebrate here. Shakespeare created the most influential and lasting body of work in the English language, an extraordinary explanation of human nature in 36 plays and 154 sonnets. Also died on what is considered historically his birthday,
23 April 1616. http://www.shakespeare.org.uk
1635- the first public school in America opened, the Boston Latin School . The first schoolmaster was a Dutchman, Adam Roelantsen, who arrived in New Amsterdam in 1633 and set up the first school in America as part of the Dutch Reformed Church. The first secondary school was the Boston Latin School , with a classical curriculum derived from English schools. By 1720, five public schools were maintained in Boston , and were so well regarded they enrolled students from as far away as the West Indies . The Boston Latin School is still in existence.
1750-- The first colonial settlement west of the Allegheny Mountains other than military forts and outpost was established by the Loyal Land Company of Virginia . On March 6, a group of six men in the employ of the company, led by Dr. Thomas Walker, a physician, started out from Charlottesville , VA. They searched the future sit of Barbourville , KY , on April 23, and built a house that was completed on April 30.
1791- The birthday of James Buchanan, 15th president, born at Cove Gap, PA, who served from March 4, 1857 to March 3,1861,the only president who never married.
1813-birthday of Stephen A. Douglas, U.S. Congressman, Senator and presidential candidate who ran against Abraham Lincoln. He was in favor of the new territory and states being allowed to choose whether they wanted to be "slave" or "anti-slave states." He is also very well known for the series of "Lincoln-Douglas" debates.
http://memory.loc.gov/ammem/today/apr23.html
1856- Granville T. Woods was born at Columbus , OH . Known as the" black Thomas Edison," he invented the Synchronous Multiplex Railway Telegraph which allowed communication between dispatchers and trains while the trains were in motion, which decreased the number of train accidents. In addition, Woods is credited with a number of other electrical inventions and historians do compare him favorably to Thomas Edison. Died Jan 30, 1910, at New York , NY .
1872-Charlotte E. Ray became the first African-American woman attorney admitted to the Washington Bar, o the Supreme Court of the District of Columbia . History also records her as the first African-American woman to receive a law degree, receiving her LL.B. degree from t e School of Law , Howard University, Washington, DC, on February 27, 1872. She opened a law practice, but both racial and woman prejudice forced her to close the office. She then joined the Woman's Suffrage Movement.
http://www2.lhric.org/pocantico/womenenc/ray.htm
http://womenshistory.about.com/library/bio/blbio_ray_charlotte.htm
1896- The first move was shown at Koster and Bials Music Hall in New York City . Up until this time, people saw films individually by looking into a Kinetoscope, a box-like "peep show." This is the first time an audience sat together and watched a movie together. What they saw was a series of short scenes, including a ballet scene, a burlesque boxing match, surf breaking on the shore, and a comic allegory entitled," The Monroe Doctrine." Thomas Alva Edison was present for his Vitascope and the audience called for Edison , but he did not appear and refused to take a bow.
1907 - The steam laundries of San Francisco and vicinity, with the exception fo a few, remain on strike after more that four weeks. Soiled linen is becoming a serious problem in many households. The few laundries that are in operation were unable to call for or deliver washing. Patrons who took their wash to the laundries returned with the dirty linen. The strike does not appear mearer a settlement than it was three weeks ago.
1907 - Jack Londond, on board his yacht the Snark, pulled out into the harbor from the Franklin Street wharf at 12:30 today amid the cheers of is frineds and admirers. He stood on deck with his wife and small crew.
1915-birthday of pianist-arranger Joe Lippman Boston , MA .
1921-birthday of baseball Hall of Fame pitcher Warren Edward Spahn, Buffalo , NY .
1932-Bing Crosby records "Sweet Georgia Brown" with Isham Jones Band.
1936- Pioneer rock singer Roy Orbison was born in Vernon, Texas. His writing and performing in the 1950's helped create a mass market for rock music, including his own recording of "Ooby Dooby," which was a moderate hit in 1956. In 1958, Orbison wrote "Claudette," named for his wife, which became a million-seller for the Everly Brothers. Roy Orbison's sound mellowed somewhat in the following decade, and he began his string of million-sellers in 1960 with "Only the Lonely." His other hits included "Running Scared," "Crying" and "Oh, Pretty Woman," a number-one record in 1964. Orbison suffered two personal tragedies in the '60s. In 1966, his wife was killed in a motorcycle accident. Three years later, two of his three children died in a fire at his home near Nashville. Orbison's career took an upswing in 1988 when his collaboration with Bob Dylan, George Harrison and Tom Petty under the name
http://www.orbison.com/
http://www.hotshotdigital.com/OldRock/RoyOrbisonDisco.html
1941 - Birthday of Allen Cohen. Poet, editor of San Francisco Oracle, visionary, champion for peace and justice who inspired his generation. Allen died April 30, 2007. The memory of Allen Cohen will forever live in the hearts of those who loved him and all whose lives he touched with his poetry and his promotion of peace and love.
1942--Birthday of Sandra Dee, singer/actress/heart thrub to a generation.
1944 – birthday of Tony (Anthony James) Esposito (Hockey Hall of Fame player: NHL: Montreal Canadiens, Chicago Blackhawks [Calder Memorial Trophy: NHL's outstanding rookie: 1969-1970/all-star: 1970, 1972, 1980/shared Vezina Trophy for best goaltender [1972, 1974]; played 886 games in NHL, winning 423, losing 307, earning draw in 151; 76 shutouts with a 2.92 goals-against-average; in 99 playoff games, Tony won 45, lost 53 with a 3.07 average; shared goaltending duties with Ken Dryden in 1972 when Team Canada played the Soviet Nationals in famed Series of the Century [Canada edged Soviets, four games to three w/one tied]; brother of Hockey Hall Fame player, Phil Esposito)
http://www.legendsofhockey.com
1944 – Birthday of Marty Fleckman (golf: Univ. of Houston : [3 NCAA championship teams/individual title: 1965: two-day total of 135/All-American: 1965/medalist honors at Western Amateur: 1966/Walker Cup team: 1967]; pro: Cajun Classic champ: 1967; golf teacher: Meyer Park Golf Course, Houston)
1948-Johnny Longden became the first race jockey to ride 3,000 career winners as he set the mark at Bay Meadows in San Mateo, CA.
1954-Henry Aaron of the Milwaukee Braves hit the first home run of his major league career. It came against Vic Rosdchi of the St. Louis Cardinals in the Braves' 7-5 victory.. Not only did he raise the bar for home runs, but he also established 12 other major league career records, including most games, at-bats, total bases and RBI's. Aaron won three Gold Glove awards, earned National League MVP honors in 1957, and appeared in a record 24 All-Star Games. Aaron went onto hit 755 homes, more than any other player. Television commercial depict Barry Bonds chasing his record, and Aaron trying to frustrate him at batting practice.
1954-the NBA approved a proposal by Syracuse Nationals owner Danny Biasone to adopt a 24-second clock. The rule stated that "a team in control of the ball must make an attempt to score within 24 seconds after gaining possession of the ball." Biasone promoted the rule to boost the league's offensive output. He decided on 24 seconds by dividing the total number of shots taken in an average game into 48 minutes, the time played in regulation game.
1956---Elvis Presley made his Las Vegas debut, opening for comedian Shecky Greene. Presley's two-week engagement was cancelled after a week because of poor audience response. Elvis would not return to Vegas for 13 years.
1989-"Baywatch" premiered on television . Set on a California beach, this program starred David Hasselhoff and a changing cast of nubile young men and women as lifeguards. Later the program was moved to Hawaii; the last episode was made in 2001. The most widely viewed TV series in the world, the program aired in 142 countries with an estimated weekly audience of 1.1 billion.
1963 - Pete Rose of the Cincinnati Reds got his first hit in the major leagues. It was a booming triple off the Pirates' Bob Friend. 'Charlie Hustle' went on to break Ty Cobb's all-time hitting record more than 20 years later, playing for the Reds, the Phillies and the Expos. He was later banished from baseball for illegal betting.
1964 - Ken Johnson of the Houston Astros will certainly never forget this day. Johnson tossed the first no-hit game -- for a loss -- in baseball history. Cincinnati's Reds beat Johnson's no hitter by a score of 1-0. The Reds capitalized on two costly Houston errors.
1970-In San Francisco> Tour/Show:Joe Cocker (Mad Dogs and Englishmen),Joe Cocker,Van Morrison,
The Stonemans , Jethro Tull , Fairport Convention, Salt 'N Pepper, Clouds , Dry Paint ,Brotherhood Of Light , Little Princess #109
1985 - The Coca-Cola Company of Atlanta, GA, told the world in a barrage of advertisements that it was changing its 99-year-old secret formula. New Coke was called "the most significant soft drink development" in the company's history. The public did not like it. Fans of the original Coke were instrumental in bringing Classic Coke back. The Coca-Cola did keep the "new" diet Coca-Cola. This year they started introducing cherry coke, lemon coke, and this summer, vanilla. http://memory.loc.gov/ammem/ccmphtml/colahome.html
http://www.coca-cola.com/
1987 - "Business Week" magazine announced its list of the highest paid executives in the U.S. Lee Iacocca of Chrysler Corporation topped the list, followed by Paul Fireman of Reebok International. The computer revolution did not begin until the 90's, knocking most automobile executives way off the charts.
1988-the smoking ban on airplane flights went into effect. In compliance with rules issued by the Federal Aviation Administration, airlines banned smoking on domestic passenger flights lasting less than two hours, with the exception of chartered flights and travel club flights. Northwest Airlines voluntarily banned smiling on domestic passenger flights of all durations. The first commercial domestic air service that was entirely smoke-free, including the cockpit, was inaugurated by Delta Air Lines of Atlanta, GA, which banned smoking on all flights beginning January 1995. Other airlines adopted this policy in the following year.
1994-discovery of the top "quark." Physicists at the Department of Energy's Fermi National Accelerator Laboratory found evidence for the existence of the subatomic particle called the top quark, the last undiscovered quark of the six predicted to exist by current scientific theory. The discovery provides strong support for the quark theory of the structure of matter. Quarks are subatomic particles that make up protons and neutrons found in the nuclei of atoms. The five other quark types that had already been proven to exist are the up quark, down quark, strange quark, charm quark and bottom quark. Further experimentation over many months confirmed the discovery and it was publicly announced Mar 2, 1995.
1999-- Fernando Tatis becomes the first player in major league history to hit two grand slams in one inning. The Cardinal third baseman hits both off Dodger starter Chan Ho Park in an 11-run third setting the major league mark. His eight RBIs in one inning also breaks the old record of six.

Stanley Cup Champions This Date
1950 Detroit Red Wings
--------------------------------------------------------------

Baseball Poem
BOB SHEPARD
Bill Lattanzi
Transmigratory birds -
Orioles, Jays, Cards -
In town one day, gone the next.
Our cities connect by rail by bus by train
By plane, by wire and less.
We move.
Born in the burbs, 90 miles from your
Calm, Bob Shepard:
"Now batting. The Centerfielder. Mickey Mantle."
And you were old then. Doing your crosswords,
Looking up at just the right moment, never
Missing a line. Your P.A. voice sitting
kindly between the squawk of the Scooter and
the Ol' Redhead, wised up, seen it all.
We migrate and grow by rail and plane and
PF Flyer - running faster, jumping higher -
Now we're minutes from Fenway, and
Sox fans, too. Proof that peace is possible;
It's all a game. And with my sons
We sit, ghost of my Dad and we and them and watch
Rootless and rooted, rooting,
And listen for you, Bob Shepard, 87 I think you are, still there,
In between clever McCarver and professional Buck.
Look up, Bob. Look up.
"Number 2. The shortstop. Derek Jeter. Jeter."
The game goes on.
--------------------------------------------------------------

SuDoku
The object is to insert the numbers in the boxes to satisfy only one condition: each row, column and 3x3 box must contain the digits 1 through 9 exactly once. What could be simpler?
http://leasingnews.org/Soduku/soduko-main.htm
--------------------------------------------------------------

Daily Puzzle
How to play:
http://www.setgame.com/set/puzzle_frame.htm
Refresh for current date:
http://www.setgame.com/set/puzzle_frame.htm
--------------------------------------------------------------


http://www.gasbuddy.com/
http://www.gasbuddy.com/GB_Map_Gas_Prices.aspx
http://www.gasbuddy.com/GB_Mobile_Instructions.aspx
--------------------------------------------------------------

Provence, France-Vacation
http://le-monastier.site.voila.fr/
--------------------------------------------------------------

News on Line---Internet Newspapers
The West, U.S.
--------------------------------