Special Assets Workout Officer,
San Francisco, CA
5+ years collection experience work-out commercial accts. equip. finance/leasing-
click here for more info
About the Company: Bank of the West and its subsidiaries are equal opportunity/affirmative
action employers.


Friday, April 25, 2008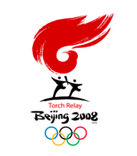 Headlines---
Classified Ad---Syndicator
Brokers not Paid
Leasing Up, but Down?
Judge rules against IFC appeal in Texas
Cartoon—Rudy loses control
Fed Weighs Pause After Next Rate Cut
Classified Ads---Help Wanted
Sudhir w/two ex-Monitor staff starts WLN
Marlin's New Director guesses wrong
Business Bankruptcies Rose 43% in 2007
ELFA Legal Forum Deadline
"Mediation" by Paul Bent
NationaLease Est. Private Equity Fund
Leasing Advisor Andrew Lea
First Sound Bank Grows/Puget Leasing
Sterling Bancorp Reports 22% Rise
TCF Stockholders Approve Proposals
Fitch: Pressure on Global Bank Ratings
Ford Reports Profit up: $100MM Europe sales
New home sales plunge lowest level 16½ yrs
Rates on 30-year mortgages top 6% this week
Microsoft 3Q profit falls 11%
AmEx profit falls 6%/cardholders miss payments
Immelt faces room of angry GE shareholders
News Briefs---
You May have Missed---
"Gimme that Wine"
Calendar Events
Snapple Real Facts
Today's Top Event in History
This Day in American History
Spring Poem
SuDoku
Daily Puzzle
GasBuddy
Provence, France-Vacation
News on Line---Internet Newspapers
Vero Beach, California
######## surrounding the article denotes it is a "press release"
------------------------------------------------------------------

Classified Ad---Syndicator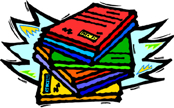 Overland Park, KS
Top Syndicator from single deal to portfolios. 20+ yrs exp. Available for contract work or full time position. Nationwide contacts.
E-mail: FFLLeasing@aol.com
Westchester County, NY
7+ years in pricing, credit, and syndications. Strong credit skills and marketing experience at VP level. All collateral. MBA in Finance.
Email: Joe.Sears@gmail.com
For a full listing of all "job wanted" ads, please go to:
http://www.leasingnews.org/Classified/Jwanted/Jwanted.htm
Leasing Recruiters:
http://www.leasingnews.org/Recruits/index.htm
To place a free "job wanted" ad here, please go to:
http://www.leasingnews.org/Classified/Jwanted/Jwanted-post.htm
--------------------------------------------------------------

Brokers not Paid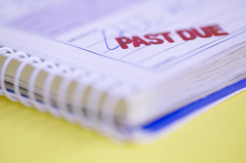 The story about one of the brokers not being paid may wind up as a legitimate Bulletin Board Complaint or be resolved. It is difficult to believe that the independent leasing company in question wants to be named in a legitimate complaint in Leasing News, especially at this time.
Another company, located in Southern California, was brought up as "slow pay" recently by brokers, with several not paid for almost a month. The problem here is none of those who have report their commission is owed want their name to be mentioned as they are afraid of retribution or worse, not getting paid.
It seems this cash flow of money owed may be a "sign of the times."
--------------------------------------------------------------

Leasing Up, but Down?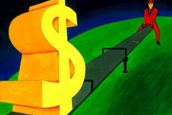 The Equipment Leasing and Finance Association (ELFA) MLFI-25 report showed originations going from $5.4 billion to $7 billion from February to March, but stated in their press release to the media: "the increase was anticipated due to the quarter-ending cyclicality of the equipment finance business."
The ELFA press release appeared to be more concerned with "March decreased 10.3 percent when compared to March 2007. " The other media picked this up that the subprime mortgage debacle has
hit the leasing industry. Perhaps it has, but alternate financing companies, such as leasing, are very healthy compared especially to the mortgage industry. By the way, the average mortgage rate rose to 6% last week (story later in this edition. editor.)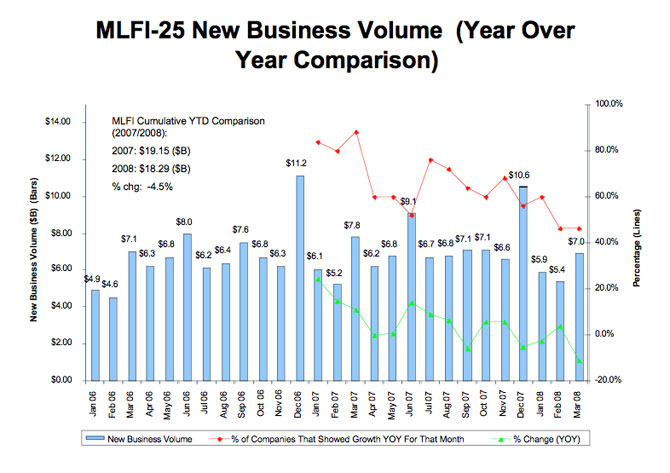 The perspective is a matter of opinion, comparing a current month to a previous month or the same month to one the previous year; being positive or being negative. Today is certainly a different market place than a year ago. The situation may be likened to the half full glass or a half empty glass analogy. The glass is half full when viewed as good news that leasing originations were on the plus side compared to the previous month. Half-empty when comparing to the previous year.
More important than which view point is more accurate was the MFLI-25 result: current credit approvals for March: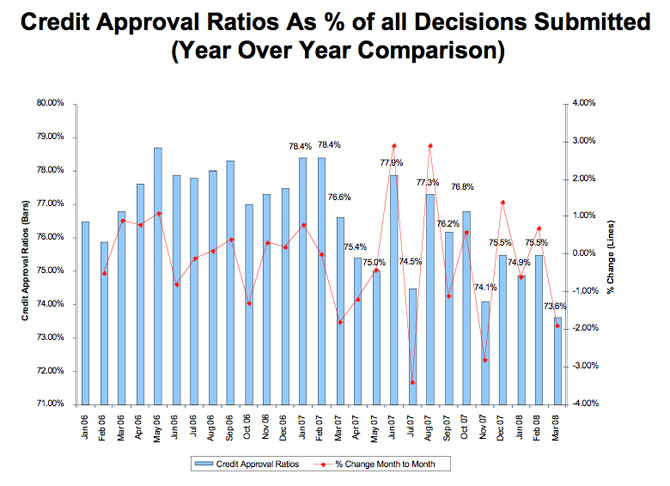 "Overall credit quality over the last two plus years has been extraordinary and some back up should be expected," the honorable Kenneth E. Bentsen, Jr. President of the ELFA, said. "And it is likely that the commercial finance sector is feeling the effects of the credit crunch putting downward pressure on new originations.

Hon. Kenneth E. Bentsen, Jr.
(photo: ELFA.org)
"Clearly the deterioration of the housing sector and credit crisis have had some effect on corporate capital investment appetite and balance sheets," he added.
David Merrill, President, Fifth Third Leasing Company, located in Cincinnati, Ohio, said, "The MLFI-25 indicates credit approval rates are down and delinquencies are up slightly after a period of exemplary performance and we are now seeing slower volume which indicates caution," said David Merrill, President, Fifth Third Leasing Company, located in Cincinnati, OH."
"The downturn is not widespread, however. Trucking, construction related sectors and rail have been most affected," said Merrill.
Fifth Third Leasing Company is the newest participant in the MLFI-25.
He also serves as treasurer of ELFA.
Charge-offs were also up: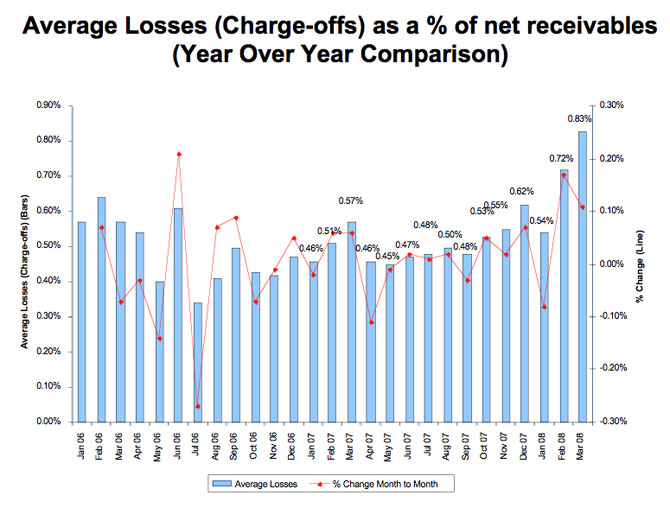 The chart also showed that employment was down, although the numbers that appeared were the same. This could be because LaSalle Equipment Leasing was no longer part of MLFI-25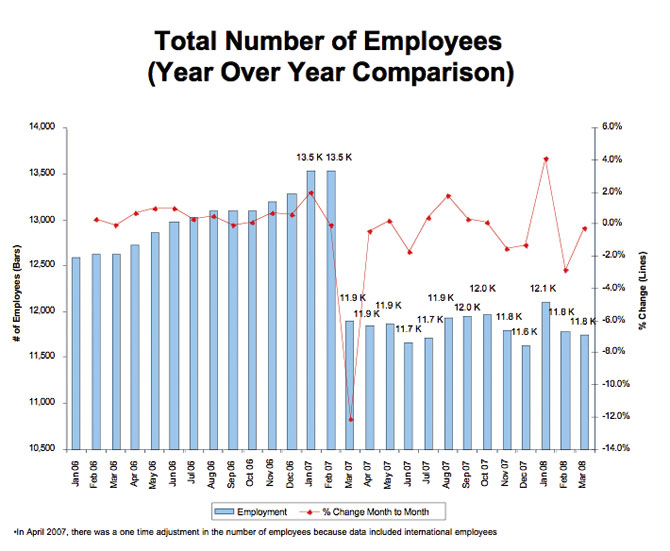 ELFA MLFI-25 Participants
ADP Credit Corporation
Bank of America
Bank of the West
Canon Financial Services
Caterpillar Financial Services Corporation
CIT
Citicapital
De Lage Landen Financial Services
Fifth Third Bank
First American Equipment Finance
GreatAmerica
Hitachi Credit America
HP Financial Services
Irwin Financial
John Deere Credit Corporation
Key Equipment Finance
Marlin Leasing Corporation
National City Commercial Corp.
RBS Asset Finance
Regions Equipment Finance
Siemens Financial Services
US Bancorp
US Express Leasing
Verizon Capital Corp
Volvo Financial Services
Wells Fargo Equipment Finance
--------------------------------------------------------------

Judge rules against IFC appeal in Texas
by Christopher Menkin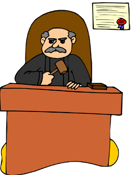 In a major legal blow, IFC, Morton Grove, Illinois lost their appeal regarding the "hold back" issue and NorVergence leases in Texas regarding SOS or Specialty Optical Systems, Inc. This not only costs IFC a lot of money, losing the appeal, but hits right before their bench trial to start next week in Chicago, Illinois brought by the Federal Trade Commission. It appears IFC thinks the FTC is a "paper tiger."
Too many attorneys spoil the broth. Leasing News predicts the FTC will prove their case in court.
Judge Martin Richter of the Fifth District of Texas at Dallas ruled:
"Having resolved all of IFC's issues concerning the judgment against it, we affirm the trial court's judgment..." except sanctions.
Judge Richter also stated: "We conclude the evidence was sufficient to support the trial court's finding that the Lease was unenforceable because Specialty was fraudulently induced to sign it. IFC's third issue is resolved against it. Because of our resolution of this issue, we need not reach IFC's remaining issues concerning the judgment."
IFC did win the sanction to not have to inform all NorVergence leases of the motion regarding 'hold back" as well as costs the judge wanted to add to the decision:
"The court awarded $22,078.25 in attorney's fees for the motion when the entire amount of attorney's fees for the trial of the matter were only $45,000. See Footnote 4 The amount of costs incurred, as established by affidavit, were $401.96, and the court gives no explanation or authority for doubling these costs. The record is also silent as to the court's rationale for requiring IFC to contact other lessees in other litigation or for the court's appointment of Specialty's counsel to police the notification process. Without guidance from the court as to the nature of the offensive conduct, we are unable to determine a relationship between the sanction, the conduct, and the abuse sought to be remedied. Accordingly, we conclude the trial court abused its discretion when it awarded sanctions against IFC. We sustain IFC's ninth issue.
"Specialty moved for summary judgment prior to trial. IFC filed a response supported by the affidavit of executive vice-president Patrick Witowski. The affidavit stated that IFC took assignment of the Lease by paying the purchase price of $24,723.51, the amount of damages to which IFC claimed it was entitled to recover on its counterclaim for breach of contract. When it was subsequently disclosed that IFC paid only $11,743.67 of the full purchase price for the Lease, Specialty filed a motion for sanctions. The motion requested that IFC be sanctioned because Witowski's affidavit constituted perjury.
" Following the entry of final judgment, the court conducted a hearing on the motion for sanctions. Witowski testified that the $13,000 discrepancy between the contractual purchase price and the amount paid resulted from two holdbacks in the amount of $6, 180.88 and one for $618.09. Witowski explained that the accounting for the holdbacks was complicated, and the court agreed. Although the holdbacks were never paid to NorVergence because it never met the conditions triggering payment, IFC claims the holdbacks were effectively credited to NorVergence because the total amount of NorVergence's recourse obligations to IFC for its breach far exceeded the amount of its holdbacks. Witowski testified that the statement he made in his affidavit was not false.
"At the conclusion of the hearing, the trial court entered an order sanctioning IFC. The order requires IFC to send letters to all lessees against which it has made claims under leases or rental agreements acquired from NorVergence. The letter must explain the precise amount of money paid to NorVergence, the basis for and amount of any holdbacks, the basis for the holdback, and the manner in which the holdbacks were applied in IFC's accounting records. Although IFC is in litigation with many of the lessees, none are a party to this case. IFC is also ordered to provide copies of the letters to counsel for Specialty and to pay counsel for Specialty the sum of $13,600 as reimbursement for the fees to be incurred monitoring IFC's compliance. The order also awards $22,078.25 to Specialty for attorney's fees incurred in bringing the motion, and the sum of $803.92, representing two times the actual costs incurred by Specialty. In its ninth issue, IFC argues the imposition of sanctions constitutes an abuse of discretion because: (1) the entry of the award violates IFC's fundamental right of due process because IFC was not given notice that the holdbacks would constitute a basis for sanctions in the absence of a finding that IFC committed perjury; (2) it is
improper to sanction IFC on the basis that it engaged in "double dipping" by attempting to collect damages from Specialty when it had not remitted the holdbacks to NorVergence; See Footnote 2 (3) the sanctions were excessive; and (4) because IFC is in litigation with most of the lessees to whom IFC is required to send notice, the imposition of non-monetary sanctions constitutes an improper attempt to control litigation in foreign courts."
Judge Martin Richter ruling:
http://leasingnews.org/PDF/IFC_Credit.pdf
Leasing News to be sued for slander re: IFC/SOS story:
http://www.leasingnews.org/archives/April%202006/04-19-06.htm#ifc
--------------------------------------------------------------

Cartoon—Rudy loses control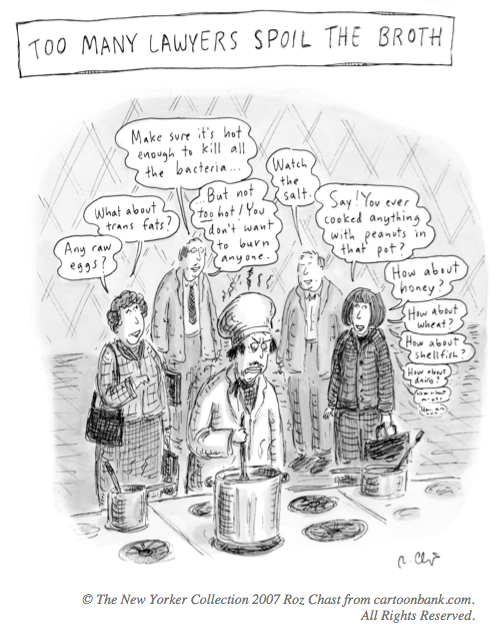 --------------------------------------------------------------

Fed Weighs Pause After Next Rate Cut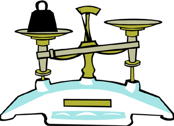 ELFA eNews Daily
Wall Street Journal (04/24/08)
P. A1 ; Ip, Greg; Kingsbury, Kevin
The Federal Reserve has cut the federal funds rate to 2.25 percent from 5.25 percent, amounting to seven reductions over a span of eight months, and experts anticipate another 0.25 percentage point cut at its April 29-30 meeting. However, experts think the central bank could take a breather after the next rate cut to give officials time to assess the impact of rate reductions, upcoming tax rebates, and other measures on the economy during the latter half of the year. Moreover, there are concerns that further reducing the federal funds rate could increase inflationary pressure and weaken the dollar even more.
Despite rising food and oil prices, officials point to some improvements in the financial markets, with the 30-year mortgage rate on the decline; however, they note that stricter lending standards could worsen the downturn. The statement issued by the Fed after its meeting likely will point to ongoing concerns about economic growth and inflation and suggest that additional rate cuts will be made as necessary.
--------------------------------------------------------------

Leasing Industry Help Wanted
Collector

Collector
Lake Success, NY
Full time, entry or jr. level collector, auto and/or equip collection exp. preferred. Resume: fax 718-392-5427
attn: Ed Kaye/Eric Coolbaugh
About the Company: Advantage Funding is the leader in automotive and equipment lease financing, Lake Success, NY.


Document Processor

Documentation Processor
New York, NY.
Mid-Town New York office seeking Documentation Processor with approximately 3 years experience. Click here for details.
Leasing Sales Representative

Leasing Sales Representative
Long Island, NY
Hiring experienced or new to business sales reps. Transactions in all states / all industries. Send resume to: info@sterlingcap.net or fax 631-414-7571.
About the Company: Sterling Capital Leasing, LLC is a national small ticket/middle market leasing company

Special Assets Workout Officer

Special Assets Workout Officer,
San Francisco, CA
5+ years collection experience work-out commercial accts. equip. finance/leasing-
click here for more info
About the Company: Bank of the West and its subsidiaries are equal opportunity/affirmative
action employers.


--------------------------------------------------------------

Sudhir with two ex-Monitor staff starts WLN

Please do not get this confused with Leasing News, as it is not an affiliated publication. The recognized international leasing trainer Sudhir Amembal has joined together with the former editor and advertising director of the Monitor to start World Leasing News.
Lead by Sue Lafter, who also is the editor of the United Association of Equipment Leasing "Newsline," and former editor of the Monitor, as well as Susie Angelucci, the former Monitor advertising director, they promise a bi-weekly internet magazine (up-dated daily) plus a monthly printed magazine to 20,000 subscribers starting in June, 2008.
Angelucci, Rafter, Sampaio, Frontario

"Cha, Cha, Cha!" Sue Angelucci, Lisa Rafter, The Monitor; Len Sampaio, Security Financial Services; and Frank L. Frontario, Mercantile Lessors, Inc. shakin' it on the way to Las Fiesta de Los Vientes."
Western Association of Equipment Lessors, Regional Reporter, November,1995
"Our reach of over 20,000 subscribers (15,000 domestic; 5000 international) doubles the reach of other industry publications! And, includes each and every member of ELFA, UAEL, NAELB, EAEL, plus so many more!!! WLN is unique -- as it will offer weekly blogs, audio interviews, webinars, regular columns, plus news and more!"
"Currently, we are offering special "pre launch" rates (effective only through 6/15/08). WLN will offer several products including:
- Email Blast (only 3 spots available)
- Full Page/Full Color Digital Magazine Sponsorships
- Rotating Banner Ads (Top Horizontal, Large Square, Skyscraper, and Rectangle). Limited availability.
- Enhanced Leasing Services and Funding Source Directories
- Classified Job Listings & Employer Profiles"
Susie Angelucci to one of Leasing News advertisers.

Sudhir Amembal, 1991 (archives, most current photograph)
Evidently the key promoter will be Sudhir Amembal, who billed himself as "the world renown leasing trainer," when he introduced "2006 Asian Leasing Yearbook" as his 14th book on leasing. The press release also stated, "He is chairman of the recently formed Asian Centre for Lease Education (ACLE). ACLE offers a Certified Professional in Leasing (CPL) programme in the Asian region."
This is his second try at a news web site, having a site constructed when he was involved with Amembal Capital, as Leasing News wrote about. He did not found Amembal Capital, but joined the company in 1996 as a minority investor and was elected Chairman. The company was founded by Loni Lowder in 1979 as PFC Group. In February, 2002, Sudhir sold his interest in Amembal Capital which changed its name to ACC Capital
April, 2002, he became a member of the Advisory Board of Odessa Technologies, Inc. has endorsed LeaseWave, Odessa's Internet based lease accounting and asset management system.
His next venture was Leasing Institute of America:
"With the faculty of Sudhir Amembal, Loni L. Lowder, Charles E. Brazier, CLP, Jason Smith, General Manger, and Joe Bonanno, Esq., with $30,000 you can take part in the "Five Day Leasing School" to participate in "Stage One...The Executive Lease Broker Program...the most in-depth curriculum and training program available on the market for business professionals interest in entering the commercial equipment lease brokerage business." The company was sold to Wildwood Financial, who's founder subsequently died, but vice-president has now started another school, Canyon Leasing along with ex-Advanta and Marlin Leasing founders.
In December, 2005, Sudhir Amembal joined Leaseinspection.com as an advisor. He also reportedly even made sales calls.
April, 2008:
"-Odessa Technologies, Inc. and Amembal & Associates, in joint venture, announced the release of a suite of software products aimed at the sales force of leasing companies. After identifying a clear lack of specialized products catering specifically to the sales needs of the leasing industry, the companies have joined forces to address these needs. The sales suite of products, called "Leasedream," will allow salespersons to sell leasing using an entire array of analytical tools. Each component of the sales suite will address a distinctive sales need and can be used as a stand-alone product. Odessa and A&A plan to market the suite internationally. "
WLN Media Kit:
http://leasingnews.org/PDF/World_Leasing_Media_Kit.pdf
More information on the new software Leasedream:
--------------------------------------------------------------

Marlin's New Director guesses wrong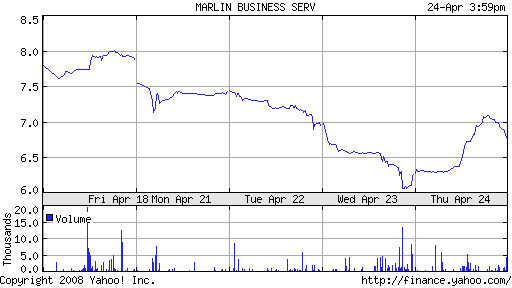 It was as low as $6.27 yesterday, but finished at $6.79.
On April 17, 2008 new Marlin Business Service Director purchased
5,000 shares for $7.61, according to a SEC filing.
"Matthew J. Sullivan, 50, Partner with Peachtree Equity Partners 2008
(Mr. Sullivan, all of the nominees have been previously elected as directors by the Corporation's shareholders. Mr. Sullivan was appointed to the Board of Directors in April 2008 as the designee for Peachtree Equity Partners pursuant to the Letter Agreement, dated June 18, 2007)"
SEC filing
He now owns 7,000 shares direct and 2,309,934 indirect.
"The 2,309,934 reported shares are owned directly by WCI (Private Equity) LLC, whose sole manager is Peachtree Equity Investment Management, Inc. (the "Manager"). The reporting person is one of the directors of the Manager and could be deemed to be an indirect holder of the reported shares. The reporting person disclaims beneficial ownership of these shares and this report shall not be deemed an admission that he is the beneficial owner of these shares for purposes of Section 16 or for any other purpose, except to the extent of his pecuniary interest therein."
SEC filing:
http://www.snl.com/irweblinkx/doc.aspx?IID=4089372&DID=7690682
--------------------------------------------------------------

Business Bankruptcies Rose 43 Percent in 2007
ELFA eNews Daily
Wall Street Journal (04/23/08)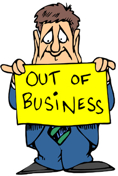 An Euler Hermes report estimates that the number of businesses that sought protection from bankruptcy increased 43 percent from 19,695 businesses to 28,322 between 2006 and 2007, as indicated in final figures issued by the U.S. bankruptcy courts. Euler Hermes ACI chief economist Dan North stated, "The escalation in bankruptcies is a direct result of the deterioration in the U.S. economy, which is now in recession.
Businesses are now facing a serious combination of factors which will almost certainly continue the trend of increased bankruptcies, including skyrocketing energy and commodities prices, plummeting house prices, job loss, a slowing consumer, record foreclosures and delinquencies, and tightening credit conditions." North said the volume of bankruptcies will probably swell over the next year as the economic recession continues.
--------------------------------------------------------------

**********announcement**********************************
ELFA Legal Forum Deadline
The registration list deadline for the Equipment Leasing and Finance Association Legal Forum is today, April 25; after tomorrow you will not be included in the published registration list. Non-members may attend and a second attorney from a law firm may attend at a reduce price.
ELFA Legal Forum is considered the Industry Standard on Legal Information and Education In view of the leasing market place, attorneys specializing in leasing will be much busier than last year.
This year's program, scheduled for May 4-6, 2008 at the Westin Michigan Avenue in Chicago Illinois, offers up the same great sessions and networking events attendees have come to expect. And the amazing resource materials developed by speakers and presenters are incomparable. Attendees have been known to save the conference notebooks as reference guides which they turn to year after year.
Please take a moment to review this years agenda by going here: http://www.elfaonline.org/pub/events/2008/LF/
We are sure you will agree that the ELFA Legal Committee has once again put together an agenda that you won't want to miss.
***** Announcement************************************
[headlines]
--------------------------------------------------------------

"Mediation"
Paul Bent, Attorney at Law
Principal, The Alta Group, LLC
(Monday's Leasing #102 by Terry Winders, CLP, discussed arbitration, and did mention mediation. Perhaps one of the best, if not the best authority on leasing mediation is attorney Paul Bent of the Alta Group. Here he brings up points that readers may not know about the process. editor.)
Mediation is always non-binding and always completely confidential, so the parties don't have to worry that their statements or positions during the mediation will be used against them if there is no settlement. However, once they reach a settlement and sign an agreement, that agreement is just as binding as any other contract. In fact, many settlement agreements include very tough sanctions that automatically come into play if a party breaches the settlement agreement itself. (I just mediated and settled a case in which, if the borrower defaults on the settlement agreement itself, the lender can immediately go to court and automatically get a judgment against the borrower, with no trial or other delays. This is called a "stipulated judgment," and it gives the lender or lessor a lot of comfort that the borrower/lessee can't just default again like he did on the original loan or lease.)
Regarding arbitration, this can be either non-binding (advisory) or binding, as chosen by the parties themselves before the hearing. As Terry says, in binding arbitration the arbitrator's award can be filed in court and enforced as a judgment. Also note there are other providers of arbitration services besides the AAA, including the National Arbitration Forum (NAF) and JAMS. All have their own rules and all have panels of arbitrators to choose from in various areas of the law. (AAA arbitrators are not required to be lawyers, although many of them are. NAF arbitrators are all lawyers.) Usually, the parties can select the arbitrator from a list provided by the arbitration service – a "strike list," from which the parties strike the ones they don't like. There aren't a lot of arbitrators who are experts specifically in leasing and secured lending, although there are usually enough that the parties can select someone they feel is well qualified. (E.g., I'm on both the AAA and the NAF panels, and all of my cases are in leasing or secured lending.)
One other thing to note. The parties have complete control of the process, whether mediation or arbitration. They can pick the mediator or arbitrator, they can select the provider, they can make the rules for the hearing, and they can decide how they want to hearing to be handled. The courts will honor almost anything they agree on as to rules and procedures, as long as they're spelled out in the agreement. Therefore, it's very important for lessors to make sure their lawyers or documentation specialists include complete language and rules in the lease agreement itself. Some arbitration provisions go on for several pages and lay out exactly how the process should go. (As just one example, I recently arbitrated a commercial lending dispute in which the loan agreement included, among many other things, detailed provisions for who should pay the arbitration fees and costs, and when and how they should be divided up.) Lessors should not hesitate to include as much detail as possible in the dispute resolution section of the lease agreement. That is almost always better then simply relying on the AAA rules or the Federal Arbitration Act, which don't address specific financing issues at all.
Paul Bent
Principal

As a principal of the Alta Group, he serves as an industry expert in legal matters involving leasing, complex corporate financings, transaction structuring, and contract interpretation; and he provides services as a neutral mediator and arbitrator in difficult disputes over leasing and corporate finance, with emphasis on maintaining relationships and avoiding litigation.
In addition to serving as a principal of The Alta Group, he is the founder, president and general counsel of GoodSmith & Co., Incorporated, a corporate financial services firm specializing in large-ticket leasing and asset-based corporate financing.
Paul Bent is an active musician;– now a singer, formerly a violinist and bass player. He is a professional, on the payroll of the Los Angeles Master Chorale, singing at 8 concerts a year at Walt Disney Concert Hall. He also is active in singing in the Los Angeles, California area,
jazz and classical, mostly.
"Dispute Resolution" by Mr. Terry Winders, CLP
http://www.leasingnews.org/archives/April%202008/04-21-08.htm#102
--------------------------------------------------------------

NationaLease Establishes Private Equity Fund
truckinginfo.com
NationaLease has established a private equity fund to "enable effective ownership transition of existing NationaLease members and provide an opportunity for new ownership to gain viable entry as an independent lessor in the truck leasing and rental industry," said Roger Welling, senior VP, NationaLease.

The goal is to preserve and promote the legacy of the independent truck lessor, protect jobs, give customers clear alternatives, and continue to strengthen NationaLease, an already 700-plus location strong organization representing more than 150,000 vehicles, Welling said.

"Consolidation continues to be a reality for all industries including ours," Welling said. "It poses a threat, but also presents significant opportunities. When events like this happen in our industry, members work hard to regain that business, which they have historically been very successful at. They are successful because we are in a service business and people do business with people."

Welling provided some statistics to support his view: NationaLease members grew their combined fleets more than 5% over the last two years. In addition, seven new members were added in 2007 bringing the total to 187 members.

Doug Clark, NationaLease president and CEO states, "We have grown both organically and through the addition of new members and locations. We are a customer-focused organization and will continue to provide the level of flexibility and superior service.

---------------------------------------------------------------

Leasing News Advisory Board Member Biography
Andrew Lea – East meets West
Andrew Lea joined the Leasing News Advisory Board on February 5, 2004. In a lunch at the Vognier, San Mateo, California, with his boss John McCue of McCue Systems, it was recommended that Lea join the advisory board because he was "very creative, up on the latest technology, and could add many good ideas. He would be a great asset."
Later McCue Systems would be merged with the international software company NetSol Technologies and McCue Systems then would not only represent the United States, but have the opportunity to expand into other markets. It was Andrew Lea's idea to name his feature "East meets West" because of this event.

Andrew has written many industry articles, including one, for the Equipment Leasing and Finance Foundation, where he presents some of his groundbreaking ideas: In "The Potential of Web Services to Transform Equipment Leasing," he offers a vision of business opportunities shared among vendors, funders, originators, and lessors, using a web-based collaboration infrastructure.

Since 2001, ELT Magazine's readers have annually given top ranking to McCue Systems' ads (produced by Andrew ), giving them consistent top-tier placement (for "informativeness," readability, and attention-catching) among all ads in the publication.
Andrew was responsible for winning this recognition for McCue Systems, one among many examples. He also gets an award here among Leasing News Advisors for making the most suggestions, coming up with new ideas, pointing out ways for improvement. Most of all, he is not afraid to communicate, even if his observation is not adopted. It should be pointed out – he does have a very high batting average; someone you definitely want on your team.
Andrew Lea
VP Marketing & Corporate Communications
McCue Systems Inc. ~ A NetSol Technologies Company
111 Anza Blvd - Suite 310 Burlingame, CA 94010 USA
+1 650-348-0650 ext 1171 ~ Fax: +1 888-730-2527
andrewl@mccue.com
www.mccue.com
For over 20 years, Andrew Lea has worked with leading technology companies as a branding and marketing communications strategist. Under his marketing leadership since 1999, McCue Systems has vied effectively against rival providers many times its size for brand awareness and positive perception. Leveraging its strong commitment to the leasing industry and the acceptance of its equipment leasing solutions by lessors throughout the U.S. economy, McCue Systems has enjoyed steady growth in its industry standing, as both solution provider and thought leader.
In 2005, McCue Systems was acquired by NetSol Technologies Inc. (NASDAQ:NTWK), a U.S.-based global provider of enterprise applications and managed services for commercial finance. Andrew now manages corporate global branding and marketing communications for the NetSol Technologies Group of service and solution providers.
Andrew 's articles and white papers on equipment finance trends and technology have appeared in The Journal of Equipment Lease Finance, Equipment Leasing Today, The Monitor, The World Leasing Yearbook, and The Equipment Finance Journal. He has been a member of the Advisory Board of Leasing News.com since 2004, and served as a technology panel moderator at the recent 2006 Equipment Leasing and Finance Association (formerly the Equipment Leasing Association) Annual Convention, one of many such appearances as a speaker at industry events.
Andrew holds a Bachelor's Degree from the University of California at Berkeley and a Masters Degree from the New School University in New York City . He may be reached at andrewl@mccue.com.
---------------------------------------------------------------
### Press Release ###########################

First Sound Bank Grows Significantly
Following Asset Acquisition of Puget Sound Leasing Company, Inc.
-- First Sound Bank (OTC Bulletin Board: FSWA - News) today reported after-tax earnings of $587 thousand for the quarter ending March 31, 2008, compared to $334 thousand for the first quarter a year ago. First quarter 2008 earnings include a first-time tax provision of $273 thousand and reflect the impact of the acquisition of substantially all of the assets -- as well as a subsequent sale of leases -- of Puget Sound Leasing Company, Inc. Acquisition of the leasing company was completed on March 1, 2008.

The bank's assets at quarter-end stood at $255.0 million, up $71.6 million or 39.0 percent from $183.4 million at year-end 2007. Loans ended the quarter at $209.3 million, up 45.9 percent from $143.5 million the previous quarter. (At closing, Puget Sound Leasing additions to First Sound Bank's balance sheet included $54 million in assets and $49 million in loans [leases]). Deposits rose 24.4 percent, from $147.3 million to $183.2 million. Non-interest bearing deposits, which comprised 16.4 percent of deposits, rose 23.9 percent -- from $24.3 million to $30.1 million.
First Sound Bank's net interest margin showed improvement over year-end 2007, increasing from 4.54 to 4.85 percent. This margin is adversely affected by reductions in the prime rate as more than 55 percent of the bank's loans are made at a variable rate and re-price immediately upon any change in prime. The adverse effects of cuts in the prime rate are offset to some degree by interest rates charged on the lease portfolio, which are priced at a fixed rate.
Credit quality continues to be good, with minimal increases in delinquencies. First Sound Bank -- which has no exposure in the subprime real estate market -- recognizes, however, the need to be continually diligent in the oversight of credit in light of the current downturn in the economy.
First Sound Bank's efficiency ratio at quarter-end was 58.7 percent -- a 10.9 percent improvement over the ratio at year-end.
"The integration of Puget Sound Leasing and First Sound Bank is going very well," said First Sound Bank Chairman and CEO Don Hirtzel. "There is a high regard among staff on both sides, we have very compatible management teams, and Puget Sound Leasing's strong, new equipment leasing generations compare favorably to last year's volumes."
"We remain quite confident about the opportunities available in this marketplace for a commercial bank such as First Sound," said First Sound Bank President and COO Steve Shaughnessy. "Our clients continue to recognize and applaud our service, our responsiveness and our flexibility in helping them to achieve their business objectives, and -- most importantly -- they recommend us to their peers."
First Sound Bank was founded in July 2004 with initial investor capital of $20 million -- at the time, the most equity ever raised by a de novo bank in the Northwest. In the fall of 2006, the bank raised an additional $11 million in capital. With $255 million in assets, the bank serves clients with a dedicated 89-person staff located in its downtown Seattle office and its leasing company in Bellevue.
For a more detailed financial analysis, contact jgould@firstsoundbank.com
Certain statements in this press release, including statements regarding the anticipated development and expansion of First Sound Bank's business, and the intent, belief or current expectations of the company, its directors or its officers, are "forward-looking" statements (as such term is defined in the Private Securities Litigation Reform Act of 1995). Because such statements are subject to risks and uncertainties, actual results may differ materially from those expressed or implied by such forward-looking statements.
About First Sound Bank
First Sound Bank is a Seattle-based bank offering customized banking for small- to medium-sized businesses, organizations, not-for-profits and professionals in the Puget Sound region. Founded by a team of veteran local banking executives, First Sound Bank is committed to delivering personalized service, convenient access and competitive rates to support the needs of the business community. First Sound Bank offers online banking at http://www.firstsoundbank.com plus an expansive banking network in the western U.S., as well as ATM banking throughout the country and abroad.
### Press Release ###########################

Sterling Bancorp Reports 22% Rise in EPS for 2008 First Quarter,
Net Income Was $4.0 Million or $0.22 per Share
NEW YORK, -- Sterling Bancorp (NYSE: STL), a financial holding company and the parent company of Sterling National Bank, today reported its financial results for the first quarter ended March 31, 2008.
"Sterling is off to a strong start for 2008. In a period of nearly unprecedented economic turbulence, we delivered a 22% increase in earnings per share, continued loan growth, rising core demand deposits and stable asset quality. Our increased profitability was the result of our continuing focus on growing our business and improving the net interest margin, while controlling funding costs, credit risk and operating expenses," noted Louis J. Cappelli, Chairman and Chief Executive Officer. He added, "At a time when many financial institutions have suspended or reduced their dividends, Sterling has continued its commitment to this important element of shareholder value, most recently with the dividend paid on March 31, 2008."
"In the critical area of asset quality, Sterling continued to benefit from our longstanding prudent approach to underwriting and risk management. While no institution is immune to the present disruption in the financial markets, we have a diverse loan portfolio with limited exposure to consumer debt, home equity lending products, credit card receivables, auto loans or other asset classes that have recently generated losses for some institutions."
"We are continuing to experience positive momentum in our business, reflected in our robust loan pipeline," Mr. Cappelli continued. "We remain a consistent and reliable source of funding, while some competing institutions have had to withdraw from providing credit due to capital constraints or the dislocation caused by industry consolidation. We continue to believe that, in the current environment, our strong capital and liquidity have positioned Sterling to take advantage of opportunities to serve the unmet credit needs of customers in our market."
First Quarter 2008 Financial Results
Net income for the 2008 first quarter was $4.0 million or $0.22 per diluted share, an increase of 22% in EPS compared with $3.5 million or $0.18 per diluted share for the same quarter of 2007.
The primary source of this earnings increase was higher net interest income, which rose to $20.0 million on a tax equivalent basis for the first quarter of 2008, up 13.1% from $17.6 million in the same period of 2007. The increase in net interest income primarily reflected higher interest income generated by growth in earning assets, coupled with lower funding costs due to the Federal Reserve's actions on interest rates and the Company's strategy to employ wholesale funding rather than rely on higher-priced certificates of deposit.
Reflecting the above factors, the net interest margin rose to 4.39% for the 2008 first quarter versus 4.24% for the same period last year.
Noninterest income was $8.7 million for the first quarter of 2008, compared with $9.2 million in the same period last year. The decrease principally resulted from lower mortgage banking income due to valuation adjustments on loans held for sale, coupled with lower volume of loans sold and higher losses on sales of other real estate owned.
Noninterest expenses for the 2008 first quarter were $20.2 million, compared to $19.6 million for the same quarter last year. Reflecting the Company's cost-control discipline, this was an increase of only 2.7%, primarily due to higher salaries and benefit costs.
The provision for income taxes was $2.4 million and $2.2 million for the first quarter of 2008 and 2007, respectively.
Asset and Deposit Growth
Loans held in portfolio, net of unearned discounts, were $1,155.4 million at March 31, 2008, up 6.9% from March 31, 2007. The year-over-year growth in the loan portfolio reflected robust demand in the Company's marketplace.
Investment securities totaled $761.0 million at March 31, 2008, up from $571.3 million a year ago, primarily due to the implementation of asset/liability management strategies designed to capitalize on current market conditions.
Demand deposits were $494.3 million at the end of the 2008 first quarter, compared to $461.7 million a year earlier, and represented 33% of total deposits, one of the highest ratios of demand to total deposits in the industry.
Asset Quality Highlights
The provision for loan losses was $2.0 million for the first quarter of 2008, compared to $1.3 million for the prior year period.
The ratio of nonperforming assets to total assets was 0.42% at March 31, 2008, compared to 0.43% at March 31, 2007. The allowance for loan losses as a percentage of total loans held in portfolio was 1.31% at March 31, 2008, compared to 1.46% at March 31, 2007.
The adequacy of the provision and the resulting allowance for loan losses is determined based on management's continuing evaluation of the loan portfolio, including an assessment of current and expected future economic conditions, the changing mix of loans in the portfolio, and numerous other factors.
Capital Management and Dividends
As of March 31, 2008, the Company exceeded the requirements for a well- capitalized institution for regulatory purposes. Its Tier 1 risk-weighted capital ratio was 9.73% and its Tier 1 leverage ratio was 6.76% at that date.
Sterling paid a cash dividend of $0.19 per common share on March 31, 2008, to shareholders of record as of March 15, 2008. This extended the Company's record of dividend payments to 249 consecutive quarters, or more than 62 years.
Conference Call
Sterling Bancorp will host a teleconference call for the financial community on April 24, 2008 at 10:00 a.m. Eastern Time to discuss the 2008 first quarter financial results. The public is invited to listen to this conference call by dialing 800-762-7308 at least 10 minutes prior to the call.
A replay of the conference call will be available beginning at approximately 1:00 p.m. Eastern Time on April 24, 2008 until 11:59 p.m. Eastern Time on May 8, 2008. To access the replay by telephone, interested parties may dial 800-475-6701 and enter the access code 920378.
About Sterling Bancorp
Sterling Bancorp (NYSE: STL) is a New York-based banking and financial services company that serves the needs of businesses, professionals and individuals. With assets exceeding $2.1 billion, Sterling offers a broad array of products and services, combined with a unique high-touch approach to customer service. The Company's principal banking subsidiary, Sterling National Bank, with offices in New York City and Queens, Nassau and Westchester counties, was founded in 1929.
Known for its focus on business customers, Sterling offers such services as working capital lines, asset-based financing, factoring and accounts receivable management, payroll funding and processing, equipment leasing and financing, commercial and residential mortgages, international trade financing, cash management, a wide array of deposit products, trust and estate administration, and investment management services.
### Press Release ###########################

TCF Stockholders Approve Proposals at Annual Meeting
WAYZATA, Minn., -- TCF Financial Corporation ("TCF") (NYSE:TCB) announced today, following its annual meeting, that TCF stockholders elected four directors, voted to eliminate the classified board structure and provide for the annual election of Directors, and voted in favor of the appointment of KPMG LLP as independent registered public accountants for the fiscal year ending December 31, 2008.
TCF is a Wayzata, Minnesota-based national financial holding company with $16.4 billion in total assets. The company has 453banking offices in Minnesota, Illinois, Michigan, Colorado, Wisconsin, Indiana and Arizona, providing retail and commercial banking services, and investments and insurance products. TCF also conducts leasing and equipment finance business in all 50 states.
### Press Release ###########################

Fitch: Pressure on Global Bank Ratings Intensifies in Q108
Fitch Ratings-London/Paris/NY/HK- Fitch Ratings says the ongoing illiquid and volatile conditions in global financial markets are continuing to put pressure on bank ratings. In Q108, the negative shift in the ratio of Positive to Negative Outlooks continued, while the number of negative rating actions taken during the quarter remained at a comparatively high level. According to the latest Fitch quarterly series of "Global Bank Rating Trends" reports, the operating environment for banks in 2008 is likely to remain challenging and further pockets of negative rating actions are possible.
"Some of the major US banks have been hit particularly hard," says Alison Le Bras, Managing Director in Fitch's Financial Institutions Group. "Although measures by the US Federal Reserve have improved short-term funding, several of the major US commercial and investment banks now have Negative Outlooks or Watches."
While Q407 saw the highest level of negative rating actions (69) since the series of publications began, Q108 saw a continuation of the gloomy trend with some 52 negative rating actions. At the same time, the number of Positive Outlooks compared to Negative Outlooks continued to decline, standing at 1.7 to 1 at end-Q108 compared with a peak of around 5 to 1 just one year earlier.
Although the number of negative rating actions in developed markets fell to 41 in Q108 from 48 in Q407, outright downgrades remained historically high at 18. These downgrades were in the developed Americas and Europe. Banks in emerging markets, on the other hand, have fared better to date, despite some exceptions such as in Kazakhstan. Nevertheless, the ratio of Positive to Negative Outlooks in emerging markets declined further during the quarter, suggesting that the more positive rating trend in these markets may be coming to an end.
While globally 78.3% of Fitch's bank ratings still have a Stable Outlook, the number of ratings with a Positive Outlook (10.8%) continues to decrease at the expense of a greater proportion of banks having a Negative Outlook (6.5%).
The report, entitled "Global Bank Rating Trends Q108" will be available shortly on Fitch's public website, www.fitchratings.com.
### Press Release ###########################
--------------------------------------------------------------

News Briefs----
Ford Reports Profit up: $100MM Europe sales
http://www.washingtonpost.com/wp-dyn/content/article/2008/04/24/AR2008042403463.html
New home sales plunge to lowest level in 16½ years
http://www.signonsandiego.com/news/business/20080424-1418-economy.html
Rates on 30-year mortgages top 6% this week
http://www.usatoday.com/money/economy/housing/2008-04-24-mortgage-rates-rise_N.htm
Microsoft 3Q profit falls 11% from Vista-heavy 2007 quarter
http://www.signonsandiego.com/news/business/20080424-1421-earns-microsoft.html
AmEx says profit falls 6% as cardholders miss payments
http://www.signonsandiego.com/news/business/20080424-1400-earns-a
mericanexpress.html
Immelt faces room of angry GE shareholders
http://www.newsobserver.com/business/story/1048018.html
Carly: 'Not that sad' to be eliminated from 'Idol'
http://www.usatoday.com/life/television/news/2008-04-24-idol-castoff-carly_N.htm
---------------------------------------------------------------


You May have Missed---
A Losing Year at Countrywide, but Not for Chief
http://www.nytimes.com/2008/04/25/business/25pay.html?_r=1&ref=business&oref=slogin
----------------------------------------------------------------


"Gimme that Wine"
Russian River Valley Pinot Noir Gets Its Dew
http://wine.appellationamerica.com/wine-review/563/Russian-River-Valley-Pinot.html
The booming wine market
http://www.independent.co.uk/life-style/food-and-drink/features/
the-booming-wine-market-814750.html
Saving the world from Frankenwines
http://www.theglobeandmail.com/servlet/story/RTGAM.20080423.wdecanter23/BNStory/
lifeMain/home?cid=al_gam_mostemail
Bolt From the Blue' on a Tuscan Red
http://www.nytimes.com/2008/04/23/dining/23brunello.html?ref=dining
Rum's ship comes in
http://www.sfgate.com/cgi-bin/article.cgi?f=/c/a/2008/04/24/WI1MVOKPT.DTL
Wine Prices by vintage
http://www.winezap.com
http://www.wine-searcher.com/
US/International Wine Events
http://www.localwineevents.com/
Winery Atlas
http://www.carterhouse.com/atlas
Leasing News Wine & Spirits Page
http://two.leasingnews.org/Recommendations/wnensprts.htm
The London International Vintners Exchange (Liv-ex) is an electronic exchange for fine wine.
http://www.liv-ex.com/
----------------------------------------------------------------

Calendar Events This Day
Anzac Day (Australia)
http://www.anzacday.org.au/spirit/spirit2.html
Arbor Day
In most states, the last Friday of the Month
http://www.arbor-day.net/arbor-day-state-dates.htm
Cuckoo Day
Various April dates are called 'Cuckoo Day' in different parts of the country.
Here is an old traditional rhyme about the Cuckoo's summer life cycle:
In April I open my bill
In May I sing night and day
In June I change my tune
In July far far I fly
In August away I must
The cuckoo sings from St. Tiburtius' Day (14th April) to St John's Day (24th June).
Superstition
If you should hear the cuckoo sing on St, Tiburtius Day, you should turn over all the money in your pockets, spit and not look at the ground! If you do this and are standing on soft ground when you do it, you will have loads of good luck. However if you are standing on hard ground - the cuckoo's call means bad luck.
`
East Meets West Day
http://holidayinsights.com/moreholidays/April/eastmeetswestday.htm
National Zucchini Bread Day
http://italianfood.about.com/library/weekly/aa040299.htm
Penguin Awareness Day and World Penguin Day
http://holidayinsights.com/other/penguinawareness.htm
Saint feast Days
http://www.catholic.org/saints/f_day/apr.php
----------------------------------------------------------------

EARS
If your right ear itches, someone is speaking well of you.
If your left ear itches, someone is speaking ill of you.
Left for love and right for spite:
Left or right, good at night.
----------------------------------------------------------------

Today's Top Event in History
1928 - Buddy, the first seeing eye dog, was presented to Morris S. Frank on this day. Many seeing eye organizations and schools continue to offer specially trained dogs "...to enhance the independence, dignity, and self-confidence of blind people..." (visit http://www.seeingeye.org/).
[headlines]
----------------------------------------------------------------

This Day in American History
1507-Little is known about the obscure scholar now called the "godfather of America," the German geographer and mapmaker Martin Waldseemuller, who gave America its name. In a book titled Cosmographiae Introductio, published this day, 1507, Waldseemuller wrote: "Inasmuch as both Europe and Asia received their names from women, I see no reason why any one should justly object to calling this part Amerige, i.e., the land of Amerigo, or America, after Amerigo, its discoverer, a man of great ability." Believing it was the Italian navigator and merchant Amerigo Vespucci who had discovered the new continent, Waldseemuller sought to honor Vespucci by placing his name on his map of the world, published in 1507. First applied only to the South American continent, it soon was used for both the American continents. Waldseemuller did not learn about the voyage of Christopher Columbus until several years later. Of the thousand copies of his map that were printed, only one is known to have survived. Waldseemuller probably was born at Radolfzell, Germany, about 1470. He died at St. Die, France, about 1517-20.
http://www.newadvent.org/cathen/15531a.htm
1831-The first streetcar company was incorporated this day in 1831 to be known as the New York and Harlem Railway
http://www.aggreen.net/ny_railroads/ny_rails.html
http://www.harlem.org/
1861-- Emma Edmonds alias Frank Thompson became a male nurse in the Second Volunteers of the United States Army. She later wrote Nurse and Spy, published in 1865, a rather lurid and perhaps not too accurate an autobiographical account of her exploits as a Union field nurse in northern Virginia and Kentucky but who was also a spy for the union forces. It has been estimated that approximately 400 women succeeded in enlisting in the army (either Union or Confederate) during the Civil War. She is buried in Washington Cemetery, Houston Texas, in lot G-26. This is a GAR lot that belonged to George B. McClellan Post of the Grand Army of the Republic. She is the only female member of the organization formed after the Civil War by Union veterans-The Grand Army of the Republic (GAR). There is also a biography of EE, She Rode with Generals, by Sylvia Gannett. Also, Richard Hall in Patriots in Disguise has some biographical information on Edmonds, including her postwar career, but the source of Hall's comments appears to be from Gannett's book.
1875 - New York City received three inches of snow, the latest measurable snow of record for that location.
1898—The U.S. declares war on Spain.
http://memory.loc.gov/ammem/today/apr25.html
1898 - The temperature at Volcano Springs CA hit 118 degrees to establish a U.S. record for the month of April.
1901- New York began requiring license plates on automobiles, the first state to do so.
1907- Revolutionizing shipping, covered in a "History" Television documentary very well, was the first turbine-propelled naval ship "Chester," commissioned this day and built at the Bath Iron Works, Bath, ME. The contract price for the hull and machinery was $1,688,000, quite a bit of money for its day. The" Chester" was equipped with four Parsons turbines. It trail speed was 26.52 knots, freeing ships from relying on wind to cross the Atlantic and Pacific Ocean.
1908-birthday of pianist Joe "from Bowling Green" Dean, St. Louis, MO.
1908-Birthday of Edward R. Murrow( born Egbert Roscoe Murrow) in Greensboro, North Carolina
http://www.pbs.org/wnet/americanmasters/database/murrow_e.html
http://www.museum.tv/archives/etv/M/htmlM/murrowedwar/murrowedwar.htm
1910 - Chicago, IL, was blanketed with 2.5 inches of snow, and a total of 6.5 inches between the 22nd and the 26th. It was the latest significant snow of record for the city.
1913-birthday of the great alto sax player Earl Bostic, Tulsa, OK Died 1965, New York City.
http://www.spaceagepop.com/bostic.htm
http://home.earthlink.net/~jaymar41/bostic.html
(When I was learning how to play the alto sax, he was my favorite in the early 1950's. I played along with "Harlem Nocturne" for hours until I memorized every lick and turn. It was not until I went to California and saw Charlie Parker in person that I decided I would never become an alto saxophone player and took up playing the Dixieland clarinet and fronting a 21 piece dance band sans musical instrument. I realized I had no talent to be an alto sax player after hearing "the Bird" in person. Charlie Parker with strings is perhaps my favorite album, next to Gil Evans and Miles Davis "Sketches of Spain" or "Old Bottle, New Wine." or Basie's atom bomb album. I also like both Turk Murphy Plays WC Handy and Louis Armstrong plays WC Handy. I like my friend Warren Luening's Big Band recordings. On yes, forgot, Bill May plays Jimmy Lunceford. Love all the Billy May albums. What a great arranger!!!!
My dance band could play "Lean Baby, Lean." Kit Menkin).
1913-birthday of accordion player Santiago "Don" Jimenez, San Antonio, TX
Died December 18, 1984 San Antonio
http://www.tsha.utexas.edu/handbook/online/articles/view/JJ/fji3.html
http://www.arhoolie.com/titles/7023.shtml
1915-birthday of guitarist Johnny Shines, Frayser, TN .Died April 20, 1992, Tuscaloosa, AL
http://www.amazon.com/exec/obidos/ASIN/B000003OQZ/inktomi-musicasin-20/
103-6620160-9563023
1917-birthday of Ella Fitzgerald. Ella Fitzgerald was admired for her superlative musicianship and her skill in scat singing (singing improvised syllables while using the voice as an instrument). Born in Newport News, Virginia, and reared in a New York City orphanage, Fitzgerald was discovered at the age of 16, singing in a Harlem talent show. From 1934 until 1939 she sang with the Chick Webb Band, directing it for a time after the leader's death in 1939. One of her first hit tunes was is now an Easter favorite," A Tisket, A Tasket." In the mid-1940s, working with the American impresario Norman Granz, she toured Europe and Asia and performed in his Jazz at the Philharmonic concerts. Fitzgerald appeared in the 1955 film "Pete Kelly's Blues." In 1958 Fitzgerald appeared with the American jazz composer Duke Ellington at Carnegie Hall in New York City. She has also toured Europe frequently with the Oscar Peterson Trio. She died at her home in Beverly Hills, California, on June 15th, 1996.
http://museum.media.org/ella/
http://www.redsugar.com/ella.html
http://www.amazon.com/exec/obidos/ASIN/B0000047FO/inktomi-musicasin-20/
103-6620160-9563023
1923-birthday of guitarist/singer Albert King (Albert Nelson), Indianola, MS. He was a star at the Fillmore's East and West during the 1960's, appearing on the bill with top rock stars. King's most popular records were made for the Stax label in Memphis in the late '60s and early '70s. "Cold Feet" made the pop charts in 1968. King died of a heart attack on December 21st, 1992, in Memphis, Tennessee.
http://www.blueflamecafe.com/index.html
1928-birthday of tenor sax player Willis "Gator Tail" Jackson, Miami,FL. Died, October, 1987
1928 - Buddy, the first seeing eye dog, was presented to Morris S. Frank on this day. Many seeing eye organizations and schools continue to offer specially trained dogs "...to enhance the independence, dignity, and self-confidence of blind people..." (visit http://www.seeingeye.org/).
1932-birthday of Meadow George "Meadowlark" Lemon II, basketball Hall of Famer, born Lexington, SC.
1945-East meets West: US Army Lieutenant Albert Kotzebue encountered a single Soviet soldier near the German village of Lechwitz, 75 miles south of Berlin. Patrols of General Leonard Gerow's V Corps saluted the advance guard of Marshall Ivan Konev's Soviet 58th Guards Division. Soldiers of both nations embraced and exchanged toasts. The Allied armies of East and West had finally met.
1946 - Jimmie Lunceford Orchestra recorded "Cement Mixer", (Majestic . ) http://www.pbs.org/jazz/biography/artist_id_lunceford_jimmie.htm
http://www.cleveland.oh.us/wmv_news/jazz54.htm
1947-Theodore Roosevelt National Park established. Located in North Dakota, the Theodore Roosevelt National Park includes two sections of the Badlands on the Missouri River as well as Theodore Roosevelt's Elkhorn Ranch. http://www.theodore.roosevelt.national-park.com/
1950-The Boston Celtics made Chuck Cooper, an All-American from Dugquesne University playing with the Harlem Globetrotters, the first black player drafted by any NBA team when they selected him in the second round.
1951--MIYAMURA, HIROSHI H. Medal of Honor
Rank and organization: Corporal, U.S. Army, Company H, 7th Infantry Regiment, 3rd Infantry Division. Place and date: Near Taejon-ni, Korea, 24 and 25 April 1951. Entered service at: Gallup, N. Mex. Birth: Gallup, N. Mex. G.O. No.: 85, 4 November 1953. Citation: Cpl. Miyamura, a member of Company H, distinguished himself by conspicuous gallantry and intrepidity above and beyond the call of duty in action against the enemy. On the night of 24 April, Company H was occupying a defensive position when the enemy fanatically attacked threatening to overrun the position. Cpl. Miyamura, a machine gun squad leader, aware of the imminent danger to his men unhesitatingly jumped from his shelter wielding his bayonet in close hand-to-hand combat killing approximately 10 of the enemy. Returning to his position, he administered first aid to the wounded and directed their evacuation. As another savage assault hit the line, he manned his machine gun and delivered withering fire until his ammunition was expended. He ordered the squad to withdraw while he stayed behind to render the gun inoperative. He then bayoneted his way through infiltrated enemy soldiers to a second gun emplacement and assisted in its operation. When the intensity of the attack necessitated the withdrawal of the company Cpl. Miyamura ordered his men to fall back while he remained to cover their movement. He killed more than 50 of the enemy before his ammunition was depleted and he was severely wounded. He maintained his magnificent stand despite his painful wounds, continuing to repel the attack until his position was overrun. When last seen he was fighting ferociously against an overwhelming number of enemy soldiers. Cpl. Miyamura's indomitable heroism and consummate devotion to duty reflect the utmost glory on himself and uphold the illustrious traditions on the military service.
1953 - NBC-TV presented "Ethel and Albert", the video version of the popular radio show. Peg Lynch and Alan Bunce starred in the program
http://www.classicthemes.com/50sTVThemes/themePages/ethelAndAlbert.html.
1954-Bell Telephone Laboratories, New York City, announced the invention by Gearld Pearson, Calivin Fuller, and Daryl Chapin of a solar energy battery to convert the sun's energy into useful amounts of electricity. Made of specially treated strips of silicon, the battery needed no fuel other than the light of the sun. It had no moving parts, nothing in it was consumed or destroyed, and theoretically it was possible for it to last indefinitely.
1956-Malcolm McLean of Maxton, NC first containership, the Ideal X, left the port of Newark, NJ. He invented containerized shipping. He developed a large shipping container that could be packed with goods at the factor5y, hauled by truck to a port facility, carried on a specially fitted ships to a port terminal, offloaded from the ship, and hitched directly to trucks or loaded on freight cards for cross-continental transport, all without unpacking the containers' contents. The first containership facility was the Elizabeth-Port Authority Marine Terminal, operated by the Port of New York Authority. It opened for business on August 15,1962, when Sea-Land Service's SS Elizabethport docked in New Bay, Elizabeth, NY, on the south side of Elizabeth Channel, south of Port Newark. During its first year, the facility handled 1.5 million tons of cargo on 242 vessels and employed730 people, who earned a total of more than $4 million. This revolutionized the entire shipping industry, plus gave birth to container and railroad carrier leasing.
1956- Elvis Presley reached number one on the charts for the first time, with "Heartbreak Hotel." It was Presley's first hit for RCA Victor after the company purchased his contract from Sam Phillips of Sun Records for $35,000.
1958-Arnold Palmer struggled to a final round 73, one over par, but still won the first of his four Masters championships. Palmer finished at 284, one shot better than Doug Ford and Fred Hawkins. He would win the tournament again in 1960, 1962 (in a playoff) and 1964.
http://www.palmergolf.com/
1959-the canal incorporated into a seaway opened, a 400-mile waterway between Montreal and Lake Erie, connecting the St. Lawrence River with the Great Lakes. It formed part of the St. Lawrence Seaway, 2,342 miles long, which allowed oceangoing ships to travel from the Atlantic Ocean to Duluth, MN.
1964- US President Lyndon B. Johnson announces that General. William Westmoreland will replace Gen. Paul Harkins as head of US Military Assistance Command Vietnam (MACV) as of 20 June. The assignment would put Westmoreland in charge of all American military forces in Vietnam. One of the war's most controversial figures, General Westmoreland was given many honors when the fighting was going well, but when the war turned sour, many Americans saw him as a cause of US problems in Vietnam. Negative feeling about Westmoreland grew particularly strong following the Tet Offensive of 1968, when he had requested a large number of additional troops for deployment to Vietnam. On 22 March 1968, President Johnson announced that Westmoreland would leave South Vietnam to take on the post of Army Chief of Staff; Gen. Creighton Abrams replaced him as the senior US commander in South Vietnam.
1964-Dionne Warwick's "Walk on By" enters the Hot 100. Her fifth and thus far, biggest hit will eventually get to #6 on the chart for 13 weeks.
1964-Peter and Gordon reach Number One on the U.K. pop chart with "World without Love," a song composed by Paul McCartney of the Beatles.
1967-Abortion first legalized: the first law legalizing abortion in the US was signed by Colorado Governor John Arthur Love. The law allowed therapeutic abortions in cases in which a three-doctor panel unanimously agreed.
1967--STUMPF, KENNETH E. Medal of Honor
Rank and organization: Staff Sergeant (then Sp4c.), U.S. Army, Company C, 1st Battalion, 35th Infantry, 25th Infantry Division. Place and date: Near Duc Pho, Republic of Vietnam, 25 April 1967. Entered service at: Milwaukee, Wis. Born: 28 September 1944, Neenah, Wis. Citation: For conspicuous gallantry and intrepidity in action at the risk of his life above and beyond the call of duty. S/Sgt. Stumpf distinguished himself while serving as a squad leader of the 3d Platoon, Company C, on a search and destroy mission. As S/Sgt. Stumpf's company approached a village, it encountered a North Vietnamese rifle company occupying a well fortified bunker complex. During the initial contact, 3 men from his squad fell wounded in front of a hostile machinegun emplacement. The enemy's heavy volume of fire prevented the unit from moving to the aid of the injured men, but S/Sgt. Stumpf left his secure position in a deep trench and ran through the barrage of incoming rounds to reach his wounded comrades. He picked up 1 of the men and carried him back to the safety of the trench. Twice more S/Sgt. Stumpf dashed forward while the enemy turned automatic weapons and machineguns upon him, yet he managed to rescue the remaining 2 wounded squad members. He then organized his squad and led an assault against several enemy bunkers from which continuously heavy fire was being received He and his squad successfully eliminated 2 of the bunker positions, but one to the front of the advancing platoon remained a serious threat. Arming himself with extra hand grenades, S/Sgt. Stumpf ran over open ground, through a volley of fire directed at him by a determined enemy, toward the machinegun position. As he reached the bunker, he threw a hand grenade through the aperture. It was immediately returned by the occupants, forcing S/Sgt. Stumpf to take cover. Undaunted, he pulled the pins on 2 more grenades, held them for a few seconds after activation, then hurled them into the position, this time successfully destroying the emplacement. With the elimination of this key position, his unit was able to assault and overrun the enemy. S/Sgt. Stumpf's relentless spirit of aggressiveness, intrepidity, and ultimate concern for the lives of his men, are in the highest traditions of the military service and reflect great credit upon himself and the U.S. Army.
1970 - DJs around the U.S. played the new number one song, "ABC", quite often, as the Jackson 5 reached the number one spot in pop music for two weeks. "ABC" was the second of four number one songs in a row for the group from Gary, IN. "I Want You Back" was their first. "ABC" was one of 23 hits for Michael, Tito, Jackie, Jermaine and Marlon. "ABC" was knocked out of first place by The Guess Who and their hit, "American Woman".
1972 - Bill Sharman, ending his first year as head coach of the Los Angeles Lakers, was named Coach of the Year in the National Basketball Association (NBA). Sharman had a first year record of 69 wins and 13 lo1973 - The group, The Sweet, received a gold record for the hit "Little Willy". The English rocker band recorded four hits in addition to their first million-seller, "Ballroom Blitz", "Fox on the Run", "Action" and "Love is like Oxygen". "Little Willy" was a top-three hit, while the group's other gold record winner, "Fox on the Run" made it to the top five.
1974, Anniversary of the Portuguese revolution; a public holiday in Portugal.
1974-the National Football League adopted a 15-minute, sudden death quarter in an effort to reduce the number of tie games. The league also moved the goal posts from the goal line to the back line of the end zone to make it more difficult to kick field goals.
1976-Center fielder Rick Monday of the Chicago Cubs rescued an American flag from several fans who ran onto the field and attempted to set it on fire. The incident occurred in Dodger Stadium in the fourth inning of a 5-4 10 inning victory by the Dodgers.
1976 - No. 1 Billboard Pop Hit: ``Let Your Love Flow,'' Bellamy Brothers.
1977-At a concert at the Saginaw, Michigan Civic Center, Elvis Presley makes what will be the last recordings of his life. Three songs from the show will appear, in heavily overdubbed mixes, on the posthumously released Presley album, "Moody Blue."
1979-The film "Rock & Roll High School" starring the Ramones premiers.
1980 -- President Jimmy Carter tells the American people about the hostage rescue disaster in Iran.
1982- National holiday in Egypt celebrating the return of Sinai to Egypt after the peace treaty between Egypt and Israel.
1985 - "Big River (The Adventures of Huckleberry Finn)" opened at the Eugene O'Neill Theatre on Broadway in New York City. The Tony Award-winning score for the show was written by Roger Miller (his first Broadway production). The show, about life on the Mississippi, with Daniel Jenkins in the starring role of Huck Finn, ran for 1,005 performances and won the Tony for Best Musical of the Year. "Big River" picked up several more Tony Awards: Featured Actor in a Musical to Ron Richardson; Best Director (Musical) to Des McAnuff; Best Book (Musical) to William Hauptman; and Best Scenic Designer and Lighting Designer to Heidi Landesman and Richard Riddell respectively.
1988---Top Hits
Wishing Well—Terence Trent D Arby
Anything for You—Gloria Estefan
Angel---Aerosmith
Where Do Broken Hearts Go—Whitney Houston
Pink Cadillac---Natalie Cole
1990-Hubble Space Telescope: deployed by Discovery, the telescope is the largest on-orbit observatory to date and is capable of imaging objects up to 14 billion light-years away. The resolution of images was expected to be seven to ten times greater than images from Earth-based telescopes, since the Hubble Space Telescope is not hampered by Earth's atmospheric distortion. Launched Apr 12, 1990, from Kennedy Space Center, FL. Unfortunately, the telescope's lenses were defective, so the anticipated high quality of imaging was not possible. In 1993, however, the world watched as a shuttle crew successfully retrieved the Hubble from orbit, executed the needed repair and replacement work and released it into orbit once more. In December 1999 the space shuttle Discovery was launched to do extensive repairs on the telescope.
1993—Top Hits
Freak Me---Silk
Informer—Snow
Nothin' But a "G" Thang---Dr.De
I Have Nothing (from the "Bodyguard")—Whitney Houston
1995-- The 257-day strike ends as the Dodgers beat the Marlins 8-7. The work stoppage caused last season to end early, force the cancellation of World Series, and delayed the opening of this season.
1998-- The 'Iron Man's' streak continues as Cal Ripken plays in his 2,500th consecutive game as the Orioles host the A's at Camden Yards.
2001-- Padres' outfielder Rickey Henderson, 42, breaks the career walks record established by Babe Ruth when he receives his 2,063rd base on balls.
2002—Top Hits
Foolish---Ashanti
What's Luv---Fat Joe featuring Ashanti
U Don't Have to Call—Usher
I Need a Girl (part 1)---P.Diddy featuring Usher and Loon
Ain't It Funny—Jennifer Lopez featuring Ja Rule
NBA Finals Champions This Date
1952 Minneapolis Lakers
1965 Boston Celtics.
Stanley Cup Champions This Date
1964 Toronto Maple Leafs
--------------------------------------------------------------

Spring Poem
Hot Stove
by Two Finger Carney
Before television
People talked
And when the snows came
People talked near the hot stove
Smell the bread baking
And wonder if the Babe
Really did call that homer
Pull off your wet boots
Prop up your feet so your soles
Are toasting
And wonder how Cobb would do
Against Carl Hubbell
Or how your favorite team
Of the past
Might fare next spring
If they could be resurrected
Or coaxed out of that Iowa cornfield
Sip some hot cocoa with marshmallows
Invite the kids to join in
Was it better when the gloves were small
Or is that just nostalgia?
For your own youth?
Could Canseco have started
For the '27 Yankees
And should games in which
The first hit is yielded in the 10th
Count as a no-hitter?
Steer clear of religion and politics
And players' salaries
And the afternoon can go on
Until sundown
Was the best-pitched game
The double no-no by Vaughn and Toney
Or Walsh's 1-0 loss to Joss' perfecto / Or the iron man duel
between Burdette and Haddix?
And how come no one hits .400 any more?
The stoves are in junk yards or museums now, forever cool
But the questions live on
Talking baseball
Beats most things on TV
That is
When there's no game to watch
--------------------------------------------------------------

SuDoku
The object is to insert the numbers in the boxes to satisfy only one condition: each row, column and 3x3 box must contain the digits 1 through 9 exactly once. What could be simpler?
http://leasingnews.org/Soduku/soduko-main.htm
--------------------------------------------------------------

Daily Puzzle
How to play:
http://www.setgame.com/set/puzzle_frame.htm
Refresh for current date:
http://www.setgame.com/set/puzzle_frame.htm
--------------------------------------------------------------


http://www.gasbuddy.com/
http://www.gasbuddy.com/GB_Map_Gas_Prices.aspx
http://www.gasbuddy.com/GB_Mobile_Instructions.aspx
--------------------------------------------------------------

Provence, France-Vacation
http://le-monastier.site.voila.fr/
--------------------------------------------------------------

News on Line---Internet Newspapers
Vero Beach, California
--------------------------------