Experienced Sales Person
Orange County, California
Commission 40-65%, full back office, Marketing Tools, vendor programs, credit analyst available.


Barbara Griffith 714-573-9804
About the Company: Southern California Leasing: Professional, Reputable, 17 year winning track record.


Wednesday, April 22, 2009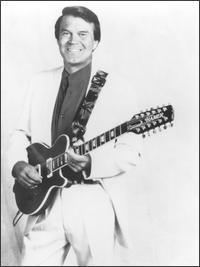 Singer/Songwriter/Musician Glen Travis Campbell born April 22, 1936 Delight, Arkansas. During his 50 years in show business, Campbell has released more than 70 albums, over 45 million records. Very heavy in demand as a musician. He was a touring member of The Beach Boys, filling in for Brian Wilson in 1964 and 1965. Other classics featuring his guitar playing include: "Strangers in the Night" by Frank Sinatra, "You've Lost That Lovin' Feelin'" by The Righteous Brothers and "I'm a Believer" by The Monkees. Perhaps best known for "Gentle On My Mind," "By The Time I Get To Phoenix," "Wichita Lineman." Active on TV in many series as well as his own: (22 episodes, 1969-1972)
http://www.glencampbellshow.com/gc_bio.html
http://www.youtube.com/watch?v=4qoymGCDYzU
Headlines---
Classified Ads---Asset Management
How's Business---Don't Ask!
by Christopher Menkin
March---The List Up-dated
Key Loans and Leases off 1st Quarter
Classified Ads---Help Wanted
Cartoon---Marci takes her dog for a ride
Sales makes it Happen--by Kit Menkin
Cold Calling----Part II
US Bancorp 51% 1st Q Loss/Lease Losses Up
First Caterpillar Loss Since 1992
Ideal time to Review Your Financial Situation
Zions Bancorp has big loss
Many banks have 'more capital than they need'
Wells Builds Lead in New Mortgages over BofA
Germany closes in on "bad bank" plan
Banks in Europe Lag in Recovery
More Layoffs at Yahoo as Profits Fall 78%
News Briefs---
You May have Missed---
California Nuts Brief---
Sports Briefs---
"Gimme that Wine"
Today's Top Event in History
This Day in American History
Baseball Poem
SuDoku
Daily Puzzle
GasBuddy
Weather, USA or specific area
Traffic Live----
######## surrounding the article denotes it is a "press release"
-----------------------------------------------------------------

Classified Ads---Asset Management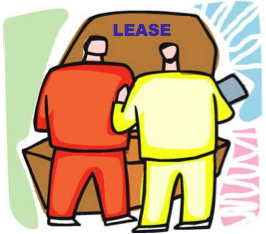 Massachusetts, MA
Started in credit and collections 30 years ago with a private agency. My skills are negotiating with Attorney's, Insurance Companies & Large & small companies.
cityofpa@earthlink.net | Resume
Minneapolis, MN
16 years leasing experience from micro to large ticket market, variety of equipment. Most recently calling on vendor telecom dealers in Upper Midwest.
golfadm@yahoo.com
United States
Multi- talented individual looking to relocate back to mainland. Over 20 years of experience in Asset Management, Venture Leasing, Operations and Senior Management Positions.
RESUME | Email: dan@ggpglobal.com
United States
Portfolio Management/Collections/Workouts. 12 yrs + management $1B lease portfolio, administration, EOT negotiations, buyouts, extensions, workouts, collections, bankruptcy, property valuation/ litigation, results orientated:
portfoliomgt007@yahoo.com
For a full listing of all "job wanted" ads, please go to:
http://www.leasingnews.org/Classified/Jwanted/Jwanted.htm
To place a free "job wanted" Leasing News ad:
http://www.leasingnews.org/Classified/Jwanted/Jwanted-post.htm
ELFA Career Center: Job Seekers (free):
http://careers.elfaonline.org/search.cfm
How's Business---Don't Ask!
by Christopher Menkin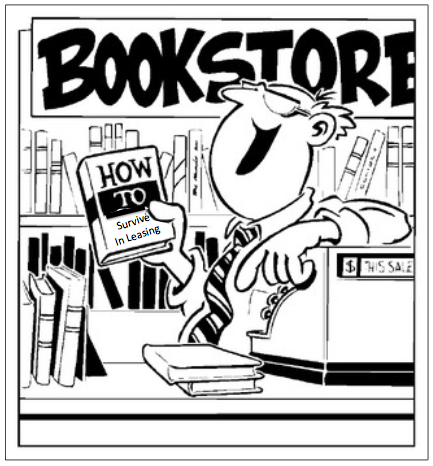 Readers report business is at a very low ebb. There are some niche industries doing well, with money evidently available for the type of credit. Leasing News continues to hear nothing but how tough the market is, how slow it is, and generally around April 15th tax time, this is not unusual. However, readers report it is unusually slow.
The biggest complaint: changes in credit criteria, tightening of all credits, the difficulty in getting lessees qualified.
One of the most frequent questions Leasing News is asked is who is doing "sale/leasebacks." The "business loan" market seems to have dried up with allegedly Balboa, LEAF, Marlin out.
There are several "story credit" doing the tougher deals, but it appears only Dakota Financial (http://www.dakotafin.com/) is doing "sale/leasebacks." The catch is in additional to the
"personal property" they want real estate. Again, it also depends on the situation and the collateral.
My guess is many readers are walking into situations where their prospect is looking for "working capital." Evidently they believe their only source would be the equipment they own "free and clear."
There are also reports of lessees who would like to refinance their finance or leases to obtain a lower dollar amount. When their lessor won't agree, they believe they can take the equipment elsewhere to obtain a lower dollar payment. There are some vendors who participate in this, calling the equipment new, including giving cash back and a lower payment as a means to induce the transaction. Lease Police is reporting more of such incidents.
The bottom line is there are many who are looking for financing for new equipment and for working capital, but are having great difficulty in qualifying for one or the other or both.
The best place to find out who is doing what and why, are the two leasing conferences this month. It may be too late for the first one. April 22-23 Equipment Leasing and Finance Association National Funding Exhibition Fairmont Hotel, Chicago, Illinois.
360 are expected to attend the National Association of Equipment Leasing Brokers Las Vegas April 30-May 2, 2009 NAELB Annual Conference Red Rock Casino, Resort and Spa Las Vegas, Nevada is at 360. NAELB management was hoping to make their goal of 400. They have 45 exhibitors, mostly funders. www.naelb.org
Top Funder

The Monitor magazine will debut its first-ever Brokers' Choice Award. The Monitor has asked the NAELB broker community to tell them what makes their funding source the best in the business. The winner will be announced at the Las Vegas Conference
The winner will be announced at the 2009 NAELB Annual Conference in Las Vegas.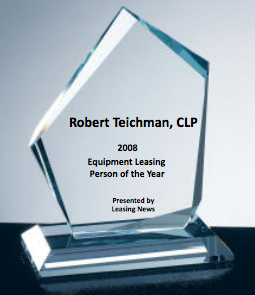 Paul Menzel, CLP, president of Financial Pacific, will be presenting the
Leasing News Person of the Year 2008 to Robert Teichman, CLP.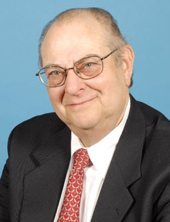 He is 2007-2008 president of the Certified Lease Professional Foundation and Chairman of the Leasing News Advisory Board; one of the original founders of internet trade publication as well as one of the originals in the formation of the CLP program. His career spans over 45 years with Belvedere Equipment Finance, Crocker Bank, Dividend Leasing, New England Capital, Sumitomo Bank, as well as his own company Teichman Financial Training, Sausalito, California.
Steve Reid has been assigned to cover the NAELB Conference for Leasing News. Look for his reports starting the end of next week.
Leasing News Person of the Year:
http://www.leasingnews.org/archives/January%202009/01-05-09.htm#year
-------------------------------------------------------------

March---The List Up-dated
"The List"
--- Mergers, Acquisitions & Changes
"The Good, the Bad and the Ugly"--
http://www.leasingnews.org/list.htm
Court Square, Malvern, Pennsylvania (03/09) Reports noted denied that the subsidiary of Provident Bank is closing down.
Union Capital Partners, MidVale, CO (03/09) Sole to ACC Capital, principals to work at ACC.
LEAF (03/09) Resource America withdraws $250MM IPO
Pentech Financial, Campbell, CA (03/09) Both Ron Wagner, CLP, formerly head of Vanguard, and Brad Brisbin, formerly vice-president sales and marketing, are available; a relatively skeleton staff remains to service the existing Pentech portfolio.
DZ Bank, Germany/USA (03/09) Exits securitization marketplace; "...unit's 21-member staff will soon shift somewhere else."
IFC Credit, Morton Grove, IL (03/09) Second Bulletin Board Complaint, removed from Story Credit list.
Key (03/09) Paul A. Larkins resigns.
Pugent Sound Leasing, Bellevue, WA (03/09) Filings show 12 employees confess all at instruction of the Secords.
http://leasingnews.org/PDF/First_Sound_Bank_Secord.pdf
http://leasingnews.org/PDF/secord_declaration1.pdf
Marlin Business Services, Mount Laurel, NJ (03/09) Closes Two Office/28 let go
HSBC (03/09)6,100 people are being laid off and all HFC and Beneficial branches, estimated to be 800, will close. ""HSBC remains committed to the US financial services market, including the remaining businesses in HSBC Finance, as well as its US banking operations under HSBC Bank."
SunBridge Capital, Fairway, KS (03/09) Posts on internet they have shut down, no more business.
Benchmark Financial Group, Aliso Viejo, CA (03/09) Gets first Bulletin Board Complaint,
Chronological List Up-Date
http://www.leasingnews.org/list_chron_new.htm
Alphabetical List Up-Date
http://www.leasingnews.org/list_alpha_new.htm
-------------------------------------------------------------

Key Loans and Leases off 1st Quarter

Key Corp (NYSE: KEY) announced a first quarter net loss attributable to Key of $488 million, compared to net income attributable to Key of $218 million for the first quarter of 2008. The loss for the current quarter was primarily the result of an increase in the provision for loan losses, they said, and a noncash accounting charge for intangible assets impairment. Changes are being made at the bank.
"In light of the prevailing economic environment during the first quarter of 2009, Key continued to build its loan loss reserves by taking an $875 million provision for loan losses, which exceeded net charge-offs by $383 million...
"Our results reflect an extremely challenging operating environment and the expedient steps we continue to take to identify problem loans and to build Key's loan loss reserves," said Chief Executive Officer Henry L. Meyer III. "We believe building additional reserves is appropriate given the continued pressure on credit quality, as more businesses and consumers are affected by the persistent severity of the economic downturn...
"During the first quarter, Key originated approximately $7.8 billion in new or renewed loans and commitments to consumers and businesses, " he said."In the current environment, it is imperative that we strike a careful balance between managing risk effectively and doing our part to help the country regain its financial viability."
No comment was made in the press releases about the leases, but here are the numbers taken from the financial statement they enclosed: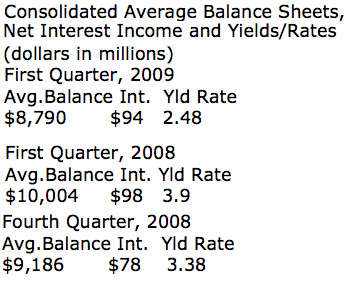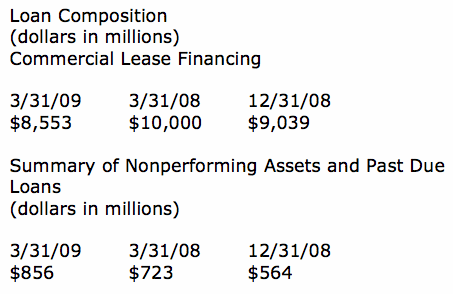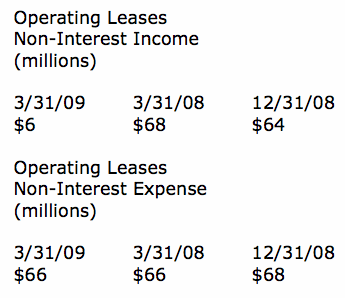 Press Release (24 pages)
https://www.snl.com/irweblinkx/news.aspx?iid=100334
--------------------------------------------------------------

Leasing Industry Help Wanted
Credit Syndicator / Funding Specialist

Credit Syndicator
Full time opening for the right team player with heavy structured transaction experience. Click here for description.
Funding Specialist
Full time opening for the right team player with heavy structured transaction experience. Click here for description.

LEASING ACCOUNT EXECUTIVE
Seeking an experienced Leasing Professional who has:
a proven track record in the middle market arena
experience w/ customer & vendor programs
Home State Leasing Corporation, a subsidiary of Home State Bank, N.A., has been serving the needs of our clients since 1915.
Sales

Experienced Sales Person
Orange County, California
Commission 40-65%, full back office, Marketing Tools, vendor programs, credit analyst available.


Barbara Griffith 714-573-9804
About the Company: Southern California Leasing: Professional, Reputable, 17 year winning track record.



Sales
San Clemente, California
The iFinancial Group is looking for highly motivated individuals with experience originating equipment lease transactions . We offer a relaxed work environment, provide leads and offer above industry standard commission. Call Todd Clark 888-852-5155 x223
email: tclark@ifinancialgroup.com
Ten years providing financing nationwide



VENDOR SALES SPECIALISTS
LEASING SALES PROFESSIONALS
Like selling vendor programs and large transactions?
Enjoy international financing programs?
Prefer the advantages of a commission only environment with the security of health and welfare benefits?
CLICK HERE to find out how to have fun again.
Please see our Job Wanted section for possible new employees.
--------------------------------------------------------------

Cartoon---Marci Slagle, CLP, takes her dog for a ride
----------------------------------------------------------------

Sales makes it Happen--by Kit Menkin
Cold Calling----Part II
Part I dealt with the procedure on how to get to see the decision maker, and the value of cold calling in a tough market place: become a sales person, not a telemarketer. Dress well.
Part II: make a plan, and work the plan.
Where do you go? Auction, convention, show, visiting service clubs, perhaps even preparing a talk as I did in Santa Clara County at the Kiwanis, Rotary, you name it. The Chamber of Commerce had the lists. If you belong to one, they often share lists or information. Today the internet may have all of this. Leasing a car and equipment today is a good topic for service clubs. Yes, that is "cold calling."
You can also have your own "seminar," which I did once a month for vendors, wine and cheese at 4pm and to hear the latest about leasing and financing. This is cold calling. Start with five or six, and don't be surprised that you can have from 30 to 50, so make sure they respond they are coming so you have enough wine and cheese on hand. Hint: Don't have cheap wine and cheese. You want them to come back. Rent a small hall or ask a client who has the facilities to use their address. Take the wine from your cellar. Spending $300 to $500 to get one deal, or better, a vendor relationship, or keeping one.
What is that worth?
Plan your day to make telephone calls, return calls from 8:00am to 9:30am, and cold call from 10am until 4pm, then return calls; cold call through lunch, if possible. Many businesses will be open, particularly if you are "working" an industrial section. Work a holiday. You will be surprised how many entrepreneurs are open and working. They will be impressed you called on them!!!
Don't rely on the internet to tell you where to go, get a paper map, decide an area you want to drive on Saturday, and see for yourself where you want to spend the week. If you don't want to do it all day Saturday, then the morning and spend a few hours Sunday. Sales is a seven day a week job, not Monday-to-Friday from 9am to 5pm. Take your kid or kids with you and make it a fun experience for them, too, seeing what dad or mom does, seeing new places, having lunch with you. Make it an outing, not a drag you "have to do."
Make your plan to go from one side of the map to the other, even if it takes you six months or a year. In the beginning devote at least five days, then four days, and remember when visiting a client, a prospect, a vendor, especially delivering a vendor check or signing a lease, to visit the company's neighbors in the four or five block radius, at least.
If you live in a smaller town, decide which town and day you are going to spend your time. Don't drive during your "cold calling time." Leave earlier, arrive in your area on time.
I also recommend spending a day with a vendor salesman as he calls on his clients. You learn about his product, his customers, about him, and even if you don't pick up a sale, you may get business cards, and at best, you made a friend with the vendor salesman as you are their to help him sell his product.
Don't sit around complaining business is slow. Do something about it!!!
If you are one of those that just wants to mark off a map, or write down you called on 25 businesses, remember that is not the goal. The goal is not to impress you wife, your sales manager, on how many places you went.
Set yourself a dollar goal each day, so at the end of the week, did you make that goal, as that is the only one that really counts. Did you earn $400 a day, $2,000 a week, and when you start hitting
that goal. Raise it. It's not the territory you covered or how many you saw, it is what you sold---or as a farmer, planted in the ground to grow and yield in the right season.
Follow-up. Just because you covered one area, doesn't mean you can't go back, particularly if you get a lead for someone you have called upon or a sale in the area. Every business person wants to meet again a successful person. They are in sales, too. They like your "luck" to rub off on them.
Don't goof off when you are out on the street. The only one you are fooling is yourself. Look at that dollar amount you want to each day, the goal at the end of the week, the month, as each of the $400 a day or $8400 a 21 day month.
If that is too high for you, start out at $200, or if you want to look at it another way, you want $2,000 a day in leases, if you are just beginning.
Or assign a gross sale amount, $2,000 a day in sales. My second month in 1971 was $4,000 a day. There are "Top Gun Club" salesmen who sign $5 million a year, $400,000 a month, $20,000 a day.
Cold Calling---Part I
by Kit Menkin
http://www.leasingnews.org/archives/March%202009/03-25-09.htm#sales
Sales Makes it Happen articles:
http://www.leasingnews.org/Legacy/index.html
----------------------------------------------------------------

US Bancorp 51.5% First Q Loss/ Lease Losses Up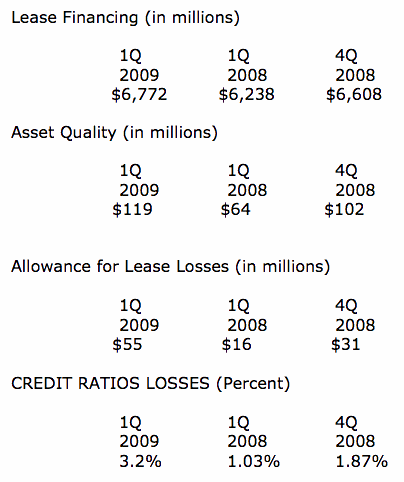 MINNEAPOLIS--- U.S. Bancorp (NYSE: USB) U.S. Bancorp reported net income of $529 million for the first quarter of 2009, compared with $1,090 million for the first quarter of 2008 and $330 million for the fourth quarter of 2008. Results for the first quarter included record total net revenue of $3.9 billion driven by strong year-over-year growth in net interest income, average loans and deposits and record mortgage banking revenue.
U.S. Bancorp Chairman, President and Chief Executive Officer Richard K. Davis said, "I am very proud of U.S. Bancorp's first quarter results. These results clearly demonstrated our Company's ability to produce strong core operating earnings despite a very challenging economic environment...our strong balance sheet growth demonstrated that U.S. Bank remains positioned to respond to the borrowing needs of its customers, thereby supporting the government's efforts to maintain the flow of credit in this stressful environment.
"I would like to take this opportunity to thank all of our 56,000 employees. It is the support, commitment and hard work of these engaged employees that has enabled us to leverage the distinct advantages we offer our customers, including the strength and quality of our balance sheet, the breadth of our products and services, the convenience of our offices, the financial expertise of our bankers, and the superior service we provide.
"Our Company's focus has not changed. Our financial discipline and prudent approach to risk, high quality balance sheet, capital strength and earnings power have, and we believe will, allow us to successfully manage through the challenges of the coming year. This management team remains firmly committed to building deeper customer relationships, investing in innovation for the future and expanding our capabilities and reach, all for the benefit of our customers, communities, employees and shareholders."
Total average loans, excluding covered assets, were $19.1 billion (12.3 percent) higher in the first quarter of 2009 than the first quarter of 2008, driven by growth in most loan categories. Average total retail loans grew $9.9 billion, total commercial loans grew $4.4 billion, total commercial real estate loans grew $3.9 billion and residential mortgages grew $937 million. Retail loan growth, year-over-year, included a $4.7 billion increase in federally guaranteed student loan balances resulting from a portfolio purchase, the transfer of loans held for sale to held for investment and production growth.
Total average loans, excluding covered assets, were $2.4 billion (1.4 percent) higher in the first quarter of 2009 than the fourth quarter of 2008. Total average retail loans grew $1.9 billion on a linked quarter basis. Consumer lending continued to experience strong growth in installment products and home equity lines. In addition, credit card balances continued to show solid growth. Total commercial real estate loans increased by $740 million and residential mortgages grew by $485 million.
These increases were partially offset by a decline in average total commercial loans of $802 million, which was primarily the result of lower overdrafts and noninterest bearing corporate card balances. Average covered assets related to the Downey and PFF acquisitions were $11.3 billion in the first quarter of 2009 compared with $5.2 billion in the fourth quarter of 2008. These balances were acquired on November 21, 2008.
Full Press Release with Financial Statements:
http://phx.corporate-ir.net/phoenix.zhtml?c=117565&p=irol-newsArticle&ID=1278517&highlight=
### Press Release #############################

First Caterpillar Loss Since 1992

PEORIA, Ill.— Caterpillar Inc. (NYSE: CAT) reported sales and revenues were $9.225 billion, down 22 percent from $11.796 billion in the first quarter 2008.
"These results demonstrate significant reduction in our cost structure as a result of swift deployment of the economic trough strategy we introduced in 2005. I'm proud of Team Caterpillar's response to these challenging economic conditions," said Chairman and Chief Executive Officer Jim Owens. "Our business units are making the tough decisions necessary to respond to this widespread and sharp global recession. By taking aggressive and decisive actions now, we're positioning the company not only for success in the short-term, but to be even more competitive in the long-term when the global economy recovers. We were also pleased with the improvement in price realization during the quarter. It's a testament to the value customers place on our products," Owens added.
"In addition to cost control, we're very focused on maintaining our financial strength. We expect to lower inventory by about $3 billion in 2009 and reduced it by $789 million in the first quarter. Inventory management is a key element of the Caterpillar Production System using 6 Sigma, and we are pleased with the traction we're gaining. In this environment liquidity is a major focus, and as a result we've decided to hold more cash than usual. While we do not anticipate the need to issue additional term debt during the remainder of the year, we may do so to maintain our liquidity position. Maintaining Caterpillar's financial strength through these very difficult times will allow us to emerge a stronger company," Owens said.
The first-quarter loss of $112 million was down $1.034 billion from a $922 million profit in the first quarter of 2008. The decrease was largely a result of lower sales and revenues and $558 million of redundancy costs.
"This is an extremely difficult time for employees affected by this severe economic downturn, and providing them with financial assistance and transitional support is important. While redundancy costs have been a considerable expense, it's the right thing to do for our people," Owens said.
"Financial Products profit before tax is expected to decline by about 40 percent in 2009 as a result of higher liquidity costs and the resulting tighter spreads between the cost of borrowing and Cat Financial's lending rates
Because the timing of economic recovery is extremely difficult to predict, it is prudent to focus on "trough" actions to weather the downturn and position the company for economic growth when it comes. As a result, we are taking significant actions to:
* Lower production to levels below expected end-user demand to help dealers lower their inventories.
* Reduce cost levels and improve cash flow.
* Strengthen our financial position, significantly reduce inventory and improve liquidity.
* Continue to invest for the future in research and development and select new facilities. Elements of the Outlook include:
* We expect to lower inventory by about $3 billion in 2009 and reduced it by $789 million in the first quarter. Inventory management is a key element of the Caterpillar Production System using 6 Sigma, and we are pleased with the traction we are gaining.
* We expect dealers to reduce their new machine inventory about $2 billion. Dealers reduced their new machine inventory by about $300 million during the first quarter.
* Significant reduction in capital expenditures for 2009.
* Suspension of Caterpillar stock repurchases.
* Authorization by the Caterpillar Board of Directors to make voluntary contributions of approximately $650 million in Caterpillar common stock to U.S. pension plans to improve the
funded status of the plans.
* Maintenance of a high level of cash as a result of volatile credit markets.
* We are forecasting improved price realization for 2009 and
realized $225 million in the first quarter.
* Overall material costs for 2009 are expected to be about the same as 2008.
* Sharp declines in overtime work. Factory overtime is a key element of volume flexibility, and many facilities were working high levels of overtime throughout most of 2008.
* Thousands of employees at facilities around the world are being affected by temporary layoffs and full- and partial-plant shutdowns.
* Suspension of salary increases for most support and
management employees.
* Elimination of short-term incentive compensation based on the current profit outlook range.
* Significant reductions in total compensation for executives/senior managers
Full Press Release/ First Quarter with Financial Statements (32 pages)
http://www.cat.com/cda/layout?m=38622&x=7
### Press Release #############################

Ideal time to Review Your Financial Situation

Silver Spring, MD - Congress has once again designated April as Financial Literacy Month. One of the core missions of the National Foundation for Credit Counseling (NFCC) is to create a culture of financial stability, and considering the recent economic headlines, many Americans have a renewed enthusiasm toward regaining control of their financial future.
The NFCC suggests that consumers review the following "Top Ten" financial basics to see if their financial house is in order.
1. I open my bills the day they arrive.
This may seem like common sense, but everyday people walk into an NFCC Member Agency with grocery bags filled with unopened bills. Ignoring the problem won't change anything, but facing the facts and developing a plan will.
2. I review my monthly creditor statement thoroughly.
Consumers not only need to be aware of the amount they owe and payment due date, but should check their statement for unauthorized charges which could indicate ID theft, rate changes, credit limit changes, and any additional fees that might have been added on. Contact the issuer immediately if you observe anything out of the ordinary on your statement, or if the terms have changed.
3. I pay my bills on time.
Late fees can be in the $40 range, and one late payment can ding your credit score by as much as 100 points. If you're a procrastinator, travel, or are just plain unorganized, set up automatic bill paying to make sure you're never late with a payment.
4. I record each check I write, along with any ATM withdrawals.
Overlimit and Non-sufficient Fund fees can be as high as credit card late fees. Even if your financial institution allows you to exceed your balance, you'll pay a hefty price for that courtesy. Record all transactions and know where you stand at all times.
5. I do not max out my credit card limits.
Utilizing all of your available credit will likely backfire on you. Creditors like to see people responsibly manage their credit by using only 30 percent or less of what's available. Maxing out your cards could indicate that you're in financial distress and move you over into the risk category in the creditor's eyes. That could equal higher rates and lower credit lines moving forward.
6. I track my spending and know where my money goes.
You are relinquishing control of your financial future unless you have a keen awareness of your spending habits. Many people feel that having a budget would restrict them, but in reality a spending plan frees you to use your hard earned money exactly as you deem best. Track your spending for 30 days, organizing the results by category. Once you see your spending in black and white, it will put you in the financial driver's seat where you belong.
7. I have at least one month's income earmarked for emergencies.
Unanticipated expenses have been known to wreck the best of budgets. Without a rainy day fund, when the emergency arises, you have to either pay for it by charging, often adding to an already burdensome debt load, or grab cash from another area, thus neglecting that payment. Start by putting 10 percent of each paycheck into an emergency account. At the end of a year, you'll have a little more than one month's income stashed away, which will be a welcome safety net.
8. I have three to six month's income saved in the event I lose my job.
Job losses have affected almost every employment sector, thus no one is immune from the pink slip. The time to prepare is now. Without a paycheck, cash is indeed king. Accumulating this much money can seem like a daunting task. However, no one has ever regretted having significant savings to fall back on during hard times. Recognize that you're on a slippery slope if this element is not a part of your overall financial picture.
9. I have an annual insurance check-up.
No one should be over-insured or under-insured. The way to avoid this is to review your policies once each year with your insurance agent. Make sure that you understand exactly what is covered and what isn't, as the last thing you need in an emergency is a bad surprise. If you don't understand the lingo, ask for further explanation. Inquire about ways to save on your overall insurance costs without sacrificing coverage.
10. I have a well thought through plan for tomorrow, and am executing it.

People have short-term and long-term goals, and we need to plan for each. An example of a short-term goal is a summer vacation. Long-terms goals are things such as a college education for your children and your retirement. Such financial realities cannot be ignored, nor will they take care of themselves.
Hopefully you found that you are in good financial shape, answering yes to each of the above statements. However, if you need assistance putting some components of this financial plan in place, know that there is help available. To find a trained and certified counselor at the NFCC Member Agency closest to you, simply dial (800) 388-2227, or go online to www.DebtAdvice.org. For assistance in Spanish, dial (800) 682-9832.
The National Foundation for Credit Counseling (NFCC), founded in 1951, is the nation's largest and longest serving national nonprofit credit counseling organization. The NFCC's mission is to promote the national agenda for financially responsible behavior and build capacity for its members to deliver the highest quality financial education and counseling services. NFCC Members annually help more than three million consumers through close to 850 community-based offices nationwide. For free and affordable confidential advice through a reputable NFCC Member, call 1-800-388-2227, (en Español 1-800-682-9832) or visit www.nfcc.org.
#### Press Release ##############################
---------------------------------------------------------------------

News Briefs----
Zions Bancorp has big loss
http://news.yahoo.com/s/nm/20090420/bs_nm/us_zionsbancorp_1
Geithner: Many banks have 'more capital than they need'
http://www.usatoday.com/money/economy/2009-04-21-tarp-fund_N.htm
Wells Fargo Builds Lead in New Mortgages Over Bank of America
http://www.bloomberg.com/apps/news?pid=20601103&sid=asIRknGFQLhE&refer=news
Germany closes in on "bad bank" plan
http://uk.reuters.com/article/businessNews/idUKTRE53K4X520090421
Banks in Europe Lag in Recovery
http://www.washingtonpost.com/wp-dyn/content/article/2009/04/21/AR2009042101241.html
More Layoffs at Yahoo as Profits Fall 78%
http://www.internetnews.com/search/article.php/3816586/More+Layoffs+at+Yahoo
+as+Profits+Fall+78.htm
---------------------------------------------------------------


You May have Missed---
Greatest Number One Hits
http://new.music.yahoo.com/blogs/yradish/26198/greatest-number-one-hits
----------------------------------------------------------------

Sports Briefs----
Marleau gets winner, Sharks trim Ducks' lead
http://www.sfgate.com/cgi-bin/article.cgi?f=/n/a/2009/04/21/sports/s221206D42.DTL
----------------------------------------------------------------


California Nuts Briefs---
A rebirth in Silicon Valley
http://www.chicagotribune.com/business/columnists/chi-tue-greising-silicon-valley-
apr21,0,6029678.column
Assembly aides see salary hikes
http://www.sacbee.com/latest/story/1799064.html
Party-house excesses brings call for Sonoma Valley regulations
http://www.pressdemocrat.com/article/20090421/ARTICLES/904219892/1349?Title=
Crashing-the-party-houses
----------------------------------------------------------------


"Gimme that Wine"
Randall Grahm is shaking things up at Bonny Doon Vineyard.
http://www.nytimes.com/2009/04/22/dining/22pour.html?_r=1&ref=dining
San Jose lawmaker's beer-tax plan is back
http://www.mercurynews.com/breakingnews/ci_12186881?nclick_check=1
Home wine shipments legalized in Kansas
http://primebuzz.kcstar.com/?q=node/18123
Wine order fulfiller expands into Napa, Oregon, three-tier system
http://www.northbaybusinessjournal.com/article/20090420/BUSINESSJOURNAL/
904199972/1219/businessjournal
Missouri wines bring home the gold
http://blogs.pitch.com/fatcity/2009/04/missouri_wines_bring_home_th.php
Wine Prices by vintage
http://www.winezap.com
http://www.wine-searcher.com/
US/International Wine Events
http://www.localwineevents.com/
Winery Atlas
http://www.carterhouse.com/atlas/\
Leasing News Wine & Spirits Page
http://two.leasingnews.org/Recommendations/wnensprts.htm
The London International Vintners Exchange (Liv-ex) is an electronic exchange for fine wine.
http://www.liv-ex.com/
----------------------------------------------------------------

Today's Top Event in History
1922- Bassist Charlie Mingus, a leader in modern jazz, was born in Arizona. He started with the traditional jazz outfits of Louis Armstrong, Kid Ory and Lionel Hampton. But by 1953, Mingus had moved to the modern camp, playing with the likes of Dizzy Gillespie and Charlie Parker. He was also justly famous for leading his own groups, and for his compositions. Mingus died of Lou Gehrig's disease in 1979.
http://www.mingusmingusmingus.com/bio/mingusbio.html
http://www.duke.edu/~rdk1/
http://webusers.siba.fi/~eonttone/mingus/
[headlines]
----------------------------------------------------------------

This Day in American History
1526 - The 1st American slave revolt occurred in SC.Nearly 40 years before the first permanent European settlement in North America, Spanish explorers bring enslaved Africans to what are now the Carolinas. The Africans escape in what is the first recorded slave revolt in North America.
1778 - Captain John Paul Jones of Ranger led landing party raid on Whitehaven, England. Whitehaven was an English seaport on the Irish Sea. The decision to raid it was not made because of its strategic value, for the ships in its harbor were mostly coastal fishing vessels, containing little of value to the English war cause. John Paul Jones' original idea was to capture an important person in the course of the raid and hold the unfortunate prisoner hostage until the British ministry released American sailors from prison. By this time, the Revolutionary War had been going on for three years. Soldiers taken prisoner during land engagements were frequently exchanged as prisoners of war. But the English still treated anyone found on an American armed vessel as a pirate. This was a sore point with sailors in the Continental Navy, and especially with Jones. He hoped his raid might free some of the American seamen languishing in English prisons. The destruction caused by the Whitehaven raid was paltry, but its effectiveness as propaganda was electrifying. No raid had been made on an English seaport since 1667, thanks to Britain's dominance of the seas. Englishmen wondered uneasily where the mighty Royal Navy had been in Whitehaven's time of need, and Jones appeared, not for the last time, in English newspapers as a swashbuckling pirate. The effects of the Continental Navy's daring exploits upon English commerce helped arouse distaste among the British people for continuing the Revolutionary War.
1794- The first death penalty ban by a state was enacted by Pennsylvania. The law abolished all executions except in cases murder in the first degree. Michigan enacted a general ban on the death penalty on May 4, 1846, except in cases of treason against the state.
1802-the U.S. learned that Napoleon I of France in 1800 had secured through a secret agreement(treaty of San Ildefonso, in effect giving back territory awarded Spain by France in the Treat of Fontainebleau in 176) the return of the Louisiana territory from Spain. ( France was at war with England and believed that many British trade ships were disguised as American ships---in 1808 they would start seizing ships, considered piracy by the US). This was alarming news because the mouth of the Mississippi River was now in the hands of an aggressive power, and Americans west of the Allegheny Mountains depended on free passage and the use of the port of New Orleans to transfer their products to oceangoing ships. President Thomas Jefferson ordered Robert R. Livingston, U.S. minister to France, to buy land on the lower Mississippi for use as a port, or to secure a guarantee of free navigation. In October, Spanish officials, still in New Orleans, refused to allow Americans to use the port. This serious disruption of American commerce led Jefferson in the next year to begin negotiations for purchase of Louisiana.
1864- By Act of Congress, the phrase "In Good We Trust" began to be stamped on all U.S. coins.
1869-at noon a gunshot signaled the start of the Oklahoma land rush as thousands of settlers rushed into the territory to claim land. Under pressure from cattlemen, the federal government opened 1,900,00 acres of central Oklahoma that had been bought from the Creek and Seminole tribes. Andy Grove, former president of Intel, commented that the rush for the internet is very much like the Oklahoma Land Rush. The first one to grab the parcel of land, has rights for the rest of their life. Bill Gates was listening.
1876-in the first National League game ever played, the Boston Red Caps
( later the Braves) defeated the home town Philadelphia Athleticss,6-5. Jim O'Rourke got the first hit, and Joseph Borden, playing under the name of Josephs, was the winning pitcher.
1883 - An outbreak of tornadoes from Louisiana to Kansas claimed the lives to 200 persons. One of the tornadoes destroyed the town of Beauregard MS.
1887 -- James Norman Hall (1887-1951) born, Colfax, Iowa. American writer, best-known for the Mutiny on the Bounty (1932), coauthored with Charles Nordhoff. Hall lived in California & Tahiti. He also published poetry, children's books, short stories, and travel books.
1889 - At precisely high noon, thousands of would-be settlers make a mad dash into the newly opened Oklahoma Territory to claim cheap land. The nearly two million acres of land opened up to white settlement was located in Indian Territory, a large area that once encompassed much of modern-day Oklahoma
1891- Laura Gilpin birthday, famed photographer of New Mexico, the SouthWest, and the Navaho Indian way of life.
http://www.photographydealers.com/htdocs/representedartists/
lgilpin/artistindex.html
http://ci.rio-rancho.nm.us/library/gilpin.html
http://www.sla.purdue.edu/WAAW/Palmquist/Photographers/Gilpin.htm
1898- the American gunboat Nashville, captured the Spanish ship Buena Ventura. On April 24, Spain declared that a state of war existed with the United Sates. The following day, Congress declared that a state of war had existed since April 21.
http://www.spanamwar.com/timeline.htm
http://lcweb.loc.gov/rr/record/
http://memory.loc.gov/ammem/sawhtml/sawhome.html
1906-Father Ricard at the University of Santa Clara wrote to the "San Jose Mercury":
The earthquake period is gone. Once the pent up forces of nature have had a vent, nothing of a serious nature need be apprehended. At the most a succession of minor shocks may be felt and that's all. It is not unreasonable, therefore, for people to continue in dread of a new destructive temblor. People should fearlessly go to work and repair mischief done and sleep quietly at night anywhere at all, especially in wooden frame. Never mind foreboders of evil:
they do not know what they are talking about. Seismonetry is in its infancy and those therefore who venture out with predictions of future earthquakes when the main shock has taken place ought to be arrested as disturbers of the peace. Board of Supervisors met for the first time since the earthquake in Sup. McGushin's saloon. Lawyers for the Home Telephone Co. were also there and paid bribes to the supervisors.
1913—birthday of guitarist Willie C. "Boll Weenie Bill" Moore Kinston, NC
1914- Babe Ruth made his professional pitching debut, playing for the Baltimore Orioles in his own hometown. Allowing just six hits and contributing two singles himself, Ruth shut of the Buffalo Bisons, 6-0.
1914--FLETCHER, FRANK JACK Medal of Honor
Rank and organization: Lieutenant, U.S. Navy. Place and date: Vera Cruz, Mexico, 21 and 22 April 1914. Entered service at: Iowa. Born: 29 April 1885, Marshalltown, lowa. G.O. No.: 177, 4 December 1915. Citation: For distinguished conduct in battle, engagements of Vera Cruz, 21 and 22 April 1914. Under fire, Lt. Fletcher was eminent and conspicuous in performance of his duties. He was in charge of the Esperanze and succeeded in getting on board over 350 refugees, many of them after the conflict had commenced. Although the ship was under fire, being struck more than 30 times, he succeeded in getting all the refugees placed in safety. Lt. Fletcher was later placed in charge of the train conveying refugees under a flag of truce. This was hazardous duty, as it was believed that the track was mined, and a small error in dealing with the Mexican guard of soldiers might readily have caused a conflict, such a conflict at one time being narrowly averted. It was greatly due to his efforts in establishing friendly relations with the Mexican soldiers that so many refugees succeeded in reaching Vera Cruz from the interior.
1917- the William Metz Ice Company of Pittsburgh, PA, began operating equipment to ice refrigerated railroad cars. Manufactured by Thomas Wright of Jersey City, NJ, it consisted of a truck with an extension top adjustable to any position to enable ice to be placed in the upper most section of the car, making it possible for one man to do all the loading without the held of assistants. It is credited with expanding the agriculture and farming industry in the United Sates.
1920 – birthday of Hal March (Mendelson) (TV emcee: What's It For, The $64,000 Question, Laughs for Sale; actor: My Friend Irma, The Soldiers, The Imogene Coca Show, The George Burns and Gracie Allen Show; San Francisco. Died Los Angeles, Jan 19, 1970)
http://us.imdb.com/Name?March,+Hal
1921—birthday of congo/bongo drummer Candido Camero San Antonio De Los Baños Cuba
http://www.rhythmweb.com/bongo/candido.htm
http://www.latinpercussion.com/candido.htm
1922-pianist Lou Stein born, Philadelphia, PA
http://www.personal.psu.edu/faculty/e/w/ews3/SHJM/
SteinHausJazzMusic/LouStein.html
1922- bassist Charlie Mingus, a leader in modern jazz, was born in Arizona. He started with the traditional jazz outfits of Louis Armstrong, Kid Ory and Lionel Hampton. But by 1953, Mingus had moved to the modern camp, playing with the likes of Dizzy Gillespie and Charlie Parker. He was also justly famous for leading his own groups, and for his compositions. Mingus died of Lou Gehrig's disease in 1979.
http://www.mingusmingusmingus.com/bio/mingusbio.html
http://www.duke.edu/~rdk1/
http://webusers.siba.fi/~eonttone/mingus/
1928-birthday of trumpet player Tommy Turrentine, Pittsburgh, PA
http://members.tripod.com/~hardbop/tommyt.html
1935-birthday of bass player Paul Chambers, Pittsburgh, PA
http://members.tripod.com/~hardbop/chambers.html
1936 - Bob Feller made his pitching debut with the Cleveland Indians. Feller struck out 15 St. Louis Browns in his first outing. Three weeks later, he tied the American League record by striking out 17 Philadelphia Athletics.
1936- Glen Campbell was born in Billstown, Arkansas. At the age of 22, he moved to Los Angeles and began playing guitar on recording sessions. One record he is said to have played on is "Tequila" by the Champs. In 1965, Campbell took Brian Wilson's place on a tour by the Beach Boys. Two years later, he topped both the country and pop charts with "Gentle on My Mind" and "By the Time I Get to Phoenix." His other hits include "Wichita Lineman" and "Galveston." His television series, "The Glen Campbell Show," ran for 4.5 years. He plays almost fulltime in Branson, Missouri
http://www.glencampbellshow.com/
http://www.branson.net/
1937 – birthday of (John Joseph) Jack Nicholson (Academy Award-winning actor: One Flew Over the Cuckoo's Nest [1975], Terms of Endearment [1983], As Good as It Gets [1997]; Five Easy Pieces, The Shining, Batman, Broadcast News, Chinatown, Easy Rider, Prizzi's Honor, The Witches of Eastwicke, Little Shop of Horrors, A Few Good Men)
http://www.geocities.com/Hollywood/Film/3000/
http://www.evesmag.com/nicholson.htm
http://the-movie-times.com/thrsdir/actors/jnicholson.html
1939-birthday of singer Mel Carter, Cincinnati, OH
http://www.mel-carter.com/
1940-The first all-Chinese commercial radio program was broadcast this day over KSAN Radio in San Francisco, CA.
1945 - Adolf Hitler, learning from one of his generals that no German defense was offered to the Russian assault at Eberswalde, admits to all in his underground bunker that the war is lost and that suicide is his only recourse. Almost as confirmation of Hitler's assessment, a Soviet mechanized corps reaches Treuenbrietzen, 40 miles southwest of Berlin, liberates a POW camp and releases, among others, Norwegian Commander in Chief Otto Ruge.
1945 - Himmler meets Count Bernadotte of the Swedish Red Cross and gives him a message to pass to the western Allies, offering a German surrender to the British and Americans but not to the Soviets. The message is passed to the Allies on the 24th.
1945 - US 7th Army units cross the Danube at Dillingen and Baldingen.
1945 - Units of 2nd and 4th US Corps (parts of US 5th Army) reach the Penaro River in their advance to the Po River. On the left flank Modena is taken.
1946 - Tex McCrary and Jinx Falkenburg arrived at WEAF radio in New York City with an entertaining morning show called, "Hi, Jinx". WEAF later became WNBC and then WFAN SportsRadio 66. This was one of the most popular radio shows in the 1940's and early 1950's. They switched over to television in the 1950's.
http://www-itg.lbl.gov/Seaborg.talks/presidents/24.html
http://www.geocities.com/Hollywood/Studio/5217/jinxbio.htm
1951--*LITTLETON, HERBERT A. Medal of Honor
Rank and organization: Private First Class, U.S. Marine Corps Reserve, Company C, 1st Battalion, 7th Marines, 1st Marine Division (Rein.). Place and date: Chungchon, Korea, 22 April 1951. Entered service at: Blackhawk, S. Dak. Born: 1 July 1930, Mena, Ark. Citation: For conspicuous gallantry and intrepidity at the risk of his life above and beyond the call of duty while serving as a radio operator with an artillery forward observation team of Company C, in action against enemy aggressor forces. Standing watch when a well-concealed and numerically superior enemy force launched a violent night attack from nearby positions against his company, Pfc. Littleton quickly alerted the forward observation team and immediately moved into an advantageous position to assist in calling down artillery fire on the hostile force. When an enemy hand grenade was thrown into his vantage point shortly after the arrival of the remainder of the team, he unhesitatingly hurled himself on the deadly missile, absorbing its full, shattering impact in his body. By his prompt action and heroic spirit of self-sacrifice, he saved the other members of his team from serious injury or death and enabled them to carry on the vital mission which culminated in the repulse of the hostile attack. His indomitable valor in the face of almost certain death reflects the highest credit upon Pfc. Littleton and the U.S. Naval Service. He gallantly gave his life for his country.
1952--Top Hits
Wheel of Fortune - Kay Starr
Anytime - Eddie Fisher
Be My Life's Companion - The Mills Brothers
(When You Feel like You're in Love) Don't Just Stand There - Carl Smith
1954 - Senator Joseph McCarthy begins hearings investigating the United States Army, which he charges with being "soft" on communism. These televised hearings gave the American public their first view of McCarthy in action, and his recklessness, indignant bluster, and bullying tactics quickly resulted in his fall from prominence. In February 1950, Senator McCarthy charged that there were over 200 "known communists" in the Department of State. Thus began his dizzying rise to fame as the most famous and feared communist hunter in the United States.In December 1954, the Senate voted to censure McCarthy for his conduct.
1956 - Elvis Presley made his Las Vegas debut at the Frontier Hotel. With "Heartbreak Hotel" at the top of the pop charts, one can imagine the excitement generated by the new 'King of rock and roll'. Even with a number one hit, Elvis was not yet well-received by the middle-aged audience. Management of the Frontier was so unimpressed, they gave Elvis his walking papers after one week of a two-week engagement. " Elvis left the building" would later be the way to get audiences to leave and stop applauding for an encore. 1957 - Frances Farmer, once a $1,500-a-week movie star, said yesterday that "San Franciscans are estremely civilized people to let me get down to the business of living" as a $70-a-week clerk. Farmer, a flaxen-haired beauty at 40, was discovered over the weekend working as a reservation clerk at the Sheraton-Palace Hotel.
1959 - The Chicago White Sox took 'batting practice' against the Kansas City Athletics, 20-6. Chicago scored 11 runs in the seventh inning with only one hit, a single by Johnny Callison. The Sox got 10 walks and one hit batted. Not to be outdone in the effort, the Athletics contributed three errors.
1959-Alan Freed premieres his last Rock 'n' Roll movie, Go Johnny Go, starring Chuck Berry, Ritchie Valens, Jackie Wilson, Eddie Cochran and The Flamingos.
1960--Top Hits
The Theme from "A Summer Place" - Percy Faith
Greenfields - The Brothers Four
Sweet Nothin's - Brenda Lee
He'll Have to Go - Jim Reeves
1962 - The Toronto Maple Leafs won back the Stanley Cup after 11 years. The National Hockey League champions kept Lord Stanley's cup locked up in Toronto for the next three seasons.
1967 - Randy Matson set a world outdoor record in the shot put with a toss of 71 feet, 5-1/2 inches in College Station, Texas. The shot landed in section E-83 of the grandstand, but fortunately, no one was hurt.
1968--Top Hits
Honey - Bobby Goldsboro
Cry like a Baby - The Box Tops
Lady Madonna - The Beatles
Fist City - Loretta Lynn
1968-Trumpeter Herb Alpert sang "This Guy's In Love With You" on his CBS-TV special. The Burt Bacharach / Hal David composition would rise to the top of the US chart, where it stayed for four weeks.
1968 - In a news conference, Defense Secretary Clark Clifford declares that the South Vietnamese have "acquired the capacity to begin to insure their own security [and] they are going to take over more and more of the fighting."
1970 - Tom Seaver of the New York Mets struck out 19 batters to tie a National League baseball record. He also set a record by striking out 10 batters consecutively as the 'Amazing' Mets defeated the San Diego Padres at Shea Stadium.
1970 - Henry Ross Perot, remember him, a candidate for the U.S. Presidency, did not have a good day. Perot, of Dallas, TX, reportedly lost $450 million in the stock market. 1974 - Redbone won a gold record for the single, "Come and Get Your Love". The group, playing American Indian 'swamp rock', formed in Los Angeles in 1968. Lolly and Pat Vegas, brothers, had been session musicians and worked on the "Shindig" TV show. Anthony Bellamy and Peter De Poe were also members of the group. Redbone had one other hit, "The Witch Queen of New Orleans". The top five hit, "Come and Get Your Love", was the group's second and final chart success.
1970---Earth Day
http://memory.loc.gov/ammem/today/apr22.html
1971 - Former US Navy Lieutenant John Kerry (27) testified before the US Senate Foreign Relations Committee and talked about alleged war crimes and atrocities committed in Vietnam by US forces.
1974-The L.A. group, Redbone won a Gold record for the single, "Come and Get Your Love".
1976--Top Hits
Disco Lady - Johnnie Taylor
Let Your Love Flow - Bellamy Brothers
Right Back Where We Started From - Maxine Nightingale
Drinkin' My Baby (Off My Mind) - Eddie Rabbitt
1976-Johnnie Taylor's "Disco Lady" becomes the first single record to sell over 2 million copies.
1978- Bob Marley and the Wailers performed at the One Love Peace Concert near Kingston, Jamaica. It was Marley's first appearance in his homeland since being wounded in an assassination attempt in December 1976. After the concert, Marley persuaded Prime Minister Michael Manley and Opposition Leader Edward Seaga to come on stage and shake hands.
http://www.bobmarley.com/
1978-Gerry Rafferty's "Baker Street" is released. It will become his biggest US hit, reaching #2 on the Hot 100.
1980-The United States boycotted the Olympic Games by refusing to send its athletes to the Summer Olympic Games in Moscow to protest the Soviet Union's invasion of Afghanistan. At the urging of President Jimmy Carter, the U.S. Olympic Committee voted 1,604 to 797 to boycott the games. The following day, a number of athletes and coaches filed a class-action suit in the U>S. District court in Washington, DC, to block the boycott, but the suit was dismissed on May 16. The Soviet Union retaliated by boycotting the 1984 Summer Olympics in Los Angeles, CA.
1980 - A record April heat wave sent the mercury up to the 100 degree mark in Iowa.
1984--Top Hits
Against All Odds (Take a Look at Me Now) - Phil Collins
Hello - Lionel Richie
Hold Me Now - The Thompson Twins
The Yellow Rose - Johnny Lee with Lane Brody
1987 - Fifteen cities in the southeastern U.S. reported new record high temperatures for the date. The afternoon high of 96 degrees at Pensacola FL established a record for the month of April.
1989 - Twenty-seven cities in the central U.S. reported record high temperatures for the date. The high of 96 degrees at Omaha was an April record, and the high of 100 degrees at Lubbock TX equaled their record for April. Hill City KS and Liberal KS tied for honors as the hot spot in the nation with afternoon highs of 103 degrees.
1993-the museum commemorating the Holocaust, the U.S. Holocaust Memorial Museum, opened to the public in Washington, DC. The museum combined innovative multimedia displays with one of the nation's largest repositories of documentary information about the Holocaust.
http://www.ushmm.org/
1998-Top Hits
Too Close, Next
All My Life, K-Ci
Let's Ride, Montell Jordan Feat
Frozen, Madonna
You re Still The One, Shania Twain
2000-- The event which triggers the biggest mass suspension in the history of the game takes place at Comiskey Park after White Sox hurler hits Dean Palmer with a seventh inning pitch in retaliation of Jeff Weaver's plunking of Carlos Lee in the previous frame. The ensuing brawls in both the seventh and ninth innings will see the ejection of eleven participants with sixteen players, coaches and managers suspended and another nine being fined.

NBA Finals Champions This Date

1947 Philadelphia Warriors

Stanley Cup Champions This Date

1945 Toronto Maple Leafs
1962 Toronto Maple Leafs
--------------------------------------------------------------

SuDoku
The object is to insert the numbers in the boxes to satisfy only one condition: each row, column and 3x3 box must contain the digits 1 through 9 exactly once. What could be simpler?
http://leasingnews.org/Soduku/soduko-main.htm
--------------------------------------------------------------

Daily Puzzle
How to play:
http://www.setgame.com/set/puzzle_frame.htm
Refresh for current date:
http://www.setgame.com/set/puzzle_frame.htm
--------------------------------------------------------------


http://www.gasbuddy.com/
http://www.gasbuddy.com/GB_Map_Gas_Prices.aspx
http://www.gasbuddy.com/GB_Mobile_Instructions.aspx
--------------------------------------------------------------

Weather
See USA map, click to specific area, no commercials
--------------------------------------------------------------

Traffic Live---
Real Time Traffic Information
You can save up to 20 different routes and check them out with one click,
or type in a new route to learn the traffic live
--------------------------------