Sales
San Clemente, California
The iFinancial Group is looking for highly motivated individuals with experience originating equipment lease transactions . We offer a relaxed work environment, provide leads and offer above industry standard commission. Call Todd Clark 888-852-5155 x223
email: tclark@ifinancialgroup.com
Ten years providing financing nationwide

Friday, April 24, 2009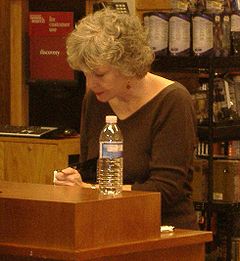 Mystery Writer Sue Taylor Grafton born April 24, 1940 Louisville, Kentucky; best known for her detective series female private investigator named Kinsey Millhone who lives in Santa Teresa, California: "A" Is for Alibi, written and set in 1982.Her latest book, "T" Is for Trespass, was released in December 2007.
http://www.suegrafton.com/
Headlines---
Classified Ads---Controller
$40 Million Fraud/Leasing Founder Assets Frozen
Unbelievable Bulletin Board Complaint –Up-Date
Open Letter to Brokers/Salesmen/Funders et. al.
by Christopher Menkin
Classified ads---Help Wanted
OFC Capital Downsizes
Microfinancial/TimePayment Profits Down
Cartoon---I wonder
How Remote Lease/Financing Education is Working
by Scott Wheeler
Goodbye Solo/Earth/Frost/Nixon
JCVD/The Hairdresser's Husband
Fernando's View by Fernando F. Croce
MLFI Shows Continued Decline in New Business
GATX 1t quarter net income of $27.6 million
Lakeland Reduces Leasing Portfolio
First Security Group Has $1.3 Million Loss
Official: Evans Bancorp exits leasing business
GATX Q1 profit declines, backs 2009 outlook
CIT might have losses until 2010
Paulson threatened to oust BofA CEO
SunTrust posts $815M loss in 1Q
Wells Profit is Vanishing
Home sales drop 3 percent in March
U.S. Map of Unemployment
Freddie Official Spoke of Resigning
News Briefs---
You May have Missed---
California Nuts Brief---
Sports Briefs---
"Gimme that Wine"
Today's Top Event in History
This Day in American History
Basketball Poem
SuDoku
Daily Puzzle
GasBuddy
Weather, USA or specific area
Traffic Live----
######## surrounding the article denotes it is a "press release"
-------------------------------------------------------------------

Classified Ads---Controller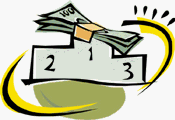 Boca Raton, FL
CPA w/ Sarbanes Oxley/ 15 years management exp. as CFO/ Controller/5 yrs w/ PWC Extensive exp providing accounting/ tax guidance for the equipment lease industry. Willing to relocate.
Email: bltushin@hotmail.com

Chicago, IL
experienced in lease accounting, operations, management, and Sarbanes-Oxley. Seeking position with equipment lessor. Would consider contract assignments or relocating.
Email: leasecontroller@comcast.net

Southeastern, MI
Controller & Management experience w/ equip lessors &broker. MBA, CPA w/ extensive accounting, management, securitization experience with public and private companies. Willing to relocate.
Email: Leasebusiness@aol.com
For a full listing of all "job wanted" ads, please go to:
http://www.leasingnews.org/Classified/Jwanted/Jwanted.htm
To place a free "job wanted" Leasing News ad:
http://www.leasingnews.org/Classified/Jwanted/Jwanted-post.htm
ELFA Career Center: Job Seekers ( free ):
http://careers.elfaonline.org/search.cfm
------------------------------------------------------------------------------

$40 Million Fraud/Leasing Founder Assets Frozen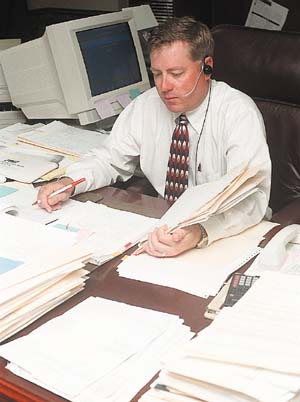 Benny Judah works the phones in his office at Excel Financial Co.
The Security Exchange Commission has frozen the assets and accused 50 year old Benny Judah of Lubbock, Texas of selling some $40 million in unregistered securities between January 2006 and March 2009 for use in his company Excel Lease Fund Inc. dba Excel Financial Leasing, but using the funds for "day trading."
The complaint filed in US District Court Northern District of Texas on April 21st that through Excel Financial Leasing, he sought to raise $50 million to fund Excel's equipment-leasing business, investments as well as retire debentures which are typically funds raised by a company that pay a fixed interest rate secured through company assets. His circular proclaimed he had over 4500 leases with receivables from the leases at $15 million earning 19.8%. The complaint claims the leases are "fictitious."
There is no rating by the Better Business Bureau, and a leasing web site was not found, nor does the company appear to be a member of any leasing association.
After the funds were frozen, Judah petitioned the court to obtain $25,000 as a retainer for his attorneys Michael H. Carper and Robert N. Nebb of the Law Offices of Michael H. Carper, P.C. U.S. Judge Sam R Cummings granted the request.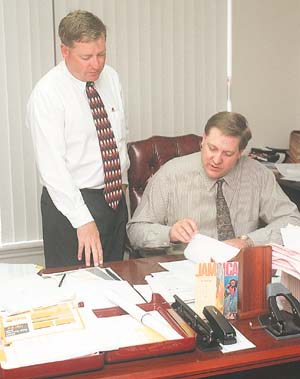 Excel CEO Benny Judah, left, discusses business with Excel Travel president Allan Judah.
A web site states there were 15 employees at Excel and the company started in 1985
http://www.manta.com/coms2/dnbcompany_jmvjmt
In 2001, Judah was ordered to pay a $50,000 civil penalty following allegations he and his company, Excel Leasing, sold $32 million in unregistered securities to investors nationwide between 1987 and 2000. The settlement was made without admitting or denying any wrongdoing.
Copy of April 21 SEC Complaint:
http://leasingnews.org/PDF/Judah_Complaint_PDF.pdf
2001 SEC Case:
http://www.sec.gov/litigation/litreleases/lr16882.htm
Lubockonline.com story "Strive to Excel"
http://www.lubbockonline.com/direct/business/1197/pg10.htm
-------------------------------------------------------------------

Unbelievable Bulletin Board Complaint –Up-Date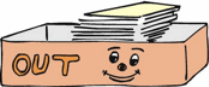 The issue of a lease contract with a $1.00 purchase option on the face next to the monthly payment, the original proposal showing the same monthly payment and $1.00 purchase option, but a "fair market value" then twelve month "Evergreen Clause" being enacted because the party did not give 180 notice regarding the exercise of the residual ( although he did mail in a $1.00 with the last month's payment) has been resolved.
The president of the company wrote a letter of apology to the lessee, including in the letter a "bill of sale" as well as a $25 Starbucks card.
--------------------------------------------------------------------

Open Letter to Brokers/Salesmen/Funders et. al.
by Christopher Menkin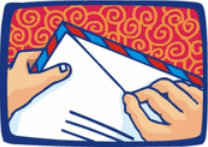 This is more directed to those in sales whether direct or indirect, captive, independent, corporate.
Your company may be angry with this advice, but you should keep a signed copy of the lease you consummated with your customer. If you ever have intentions of asking for repeat business from the customer or the vendor involved, this document is important. If you leave your present company, you will not have an pportunity to bring this document unless you have your own private copy.
At least, make a copy of the residual.
If there is an issue about the purchase option, you might wind up being a hero. You can earn your customers loyalty by looking out for them.
You should note six months from the date you guess the lease payments will terminate in your own personal calendar, whether it is Palm Pilot, Microsoft, ACT, Advantage. You should then make sure you call your client to remind them to send a letter to the original name on the lease contract that they want to exercise the purchase option or residual. Don't let them fall into the 180 day trap.
I also recommend that the party collecting the payments also be notified. Often lease companies are sold or the lease is sold, and in some instances it can be the third or fourth company actually collecting the stream of payments.
If it is a company that has made the Leasing News Complaint Bulletin Board, not only telephone but send a certified return receipt request letter.
I also recommend the lessee count the payments, as paperwork may be lost, numbers changed, and customers who have been burned actually make copies of the checks they sent to keep track ( some even copies of lease payments that have cleared the bank.) Leasing News has received complaints about many such instances happening more often than you will guess.
The also applies to brokers or lessors sharing residuals as without a specific letter such as Allegiant or Financial Pacific provide, you might find yourself arguing with GE that they are not the owners of the equipment or can sell it for $1.00 to the lessee.
Perhaps the most controversial thing you can do as an independent, (and I recommend as an employee, too, as it is good business: confirm with the lessee that they have received signed contracts back from the leasing company. In almost all the complaints Leasing News has received, the lessee never has signed contracts from the Leasing Company, only their originals that were sent to them. Some have signed contracts, but not complete, particularly the purchase option letter. It is lost or missing on purpose. Why not take care of this while all the information is fresh.
You might wait three months as an excuse to contact the customer again. Often, the lessee is not aware that they have the document missing. If not there, the lessee should request it from the leasing company (not you.) This applies not only to small employee companies, but large corporations and attorney offices ( yes, they rarely even read the contract and often let someone in the office file it without even reviewing what was sent---if they were representing their client, they would, but their own office.
Never, CPA's included. I know from 37 years experience with a large following of attorney offices from San Francisco to Carmel/Monterey.
One of the problems that may occur is that the company assigned does not have the residual letter, or says it was not required when they took over the lease. Or they may want you to contact the original lessor and not get involved. Believe me, if you default in the lease, they will not only come after you but the equipment as well.
If you are unable to obtain a signed copy of the lease, especially the purchase option, or if the document sent is not signed by you, you should seek legal advice. Contact Leasing News for an attorney who is experienced and is willing to seek remedy with a leasing company ( many will not, as they may be representing the company in their area.)
You also may want the lessee to consider opening an escrow account, putting the payments into that, if the leasing company balks at providing the paperwork. While it may affect your credit rating, that can be corrected, if you prove your point. Once the lease payments are paid, the one collecting them is no longer involved in what the residual will be.
The time to resolve what the purchase option is should be sooner than later, definitely not after all the payments have been made.
If you don't take care of your customer, someone else will.
-----------------------------------------------------------------

Classified ads---Help Wanted
Credit Syndicator / Funding Specialist

Credit Syndicator
Full time opening for the right team player with heavy structured transaction experience. Click here for description.
Funding Specialist
Full time opening for the right team player with heavy structured transaction experience. Click here for description.

LEASING ACCOUNT EXECUTIVE
Seeking an experienced Leasing Professional who has:
a proven track record in the middle market arena
experience w/ customer & vendor programs
Home State Leasing Corporation, a subsidiary of Home State Bank, N.A., has been serving the needs of our clients since 1915.
Sales

Sales
San Clemente, California
The iFinancial Group is looking for highly motivated individuals with experience originating equipment lease transactions . We offer a relaxed work environment, provide leads and offer above industry standard commission. Call Todd Clark 888-852-5155 x223
email: tclark@ifinancialgroup.com
Ten years providing financing nationwide



VENDOR SALES SPECIALISTS
LEASING SALES PROFESSIONALS
Like selling vendor programs and large transactions?
Enjoy international financing programs?
Prefer the advantages of a commission only environment with the security of health and welfare benefits?
CLICK HERE to find out how to have fun again.
-----------------------------------------------------------------

OFC Capital Downsizes

Add to the latest list in downsizing OFC Capital Corporation, Roswell, Georgia, part of the MidCountry Financial Corporation, who are involved in several financial enterprises, including MidCountry Bank.
Reportedly eight people have been let go at OFS, two salesmen are now doing collections, and others are commission only. One of the ones laid-off is Ron Lear, well-known to Leasing News readers from his work at PFF Bank as well as on the board of now National Equipment Leasing Association.
He is keeping his office in Southern California, where he has worked out of for 15 years, primarily with working with smaller banks and equipment leasing brokers searching for lines or homes for larger lease transactions. He may be reached at 714-960-7837 or at LearLease@Gmail.com.
OFC Capital lists on their web site ( http://www.ofccap.com/history.php ) many of the larger transactions they have made and perhaps their customers best tell the story:
Northern Leasing Systems, Inc.
$14,428,081
Northern Capital Associates VIII, L.P.
Micro Ticket Portfolio
$28,661,692
Allegiant Partners, Inc.
Small Ticket Portfolio
$11,858,946
Allegiant Partners Inc.
$4,696,362
Lease Equity Appreciation Fund I, L.P.
Small Ticket Portfolio
$16,735,442
Axis Capital, Inc.
Small Ticket Portfolio
$11,858,946
Vencore Solutions
Venture Capital Lease Portfolio
$10,613,533
Preferred Capital
Small Ticket Portfolio
$35,400,208
LEAF Asset Management
$6,716,634
Bush Truck Leasing, Inc.
$4,476,905
Radiance Capital LLC
$3,978,610
Office Depot, Inc.
Printing Centers Equipment
$13,621,000
Textron Financial Corporation
Machine Tool Portfolio
$21,902,224
MidCounty Financial:
http://www.midcountryfinancial.com/90484.html
-------------------------------------------------------------------

Microfinancial/TimePayment Profits Down
by Christopher Menkin

Microfinancial, Woburn, Massachusetts, parent of TimePayment, self-proclaimed specialists in the microticket size leases reports first quarter profit was $600,000 compared to $1.55 million the first quarter of 2008.
The consolidated balance she shows Cash was down, $2,109,000 March 31,2009 compared to year-end 2008 $5,047,000. Provisions for credit losses was increased from $3,357,000 to $5,453,000.
Readers tell Leasing News that Timepayment showing signs of credit tightening and other observations, not confirmed.
Many are concerned as this marketplace is drying up as losses to margins are reportedly deteriorating.
The president of Microfinancial is bullish on his company:
" During the first quarter, we processed over 15,500 applications for over $114 million, an increase of approximately 7% and 13% respectively over the first quarter of 2008. On an application dollar basis, our approval rates declined to 47% in the first quarter from 48% for the same period a year ago," said Richard Latour, President and Chief Executive Officer. "In addition, we approved 340 new vendors bringing our total vendor count to approximately 3,800. We believe that our conservative leverage ratio, strong cash flow, and availability under our revolving line of credit provide us with the opportunity to continue to grow a well diversified portfolio."
"Revenue for the quarter ended March 31, 2009 was $10.9 million compared to $9.2 million in the first quarter of 2008 as expected declines in rental income and service contracts during the quarter were more than offset by growth in lease revenues. Income on leases was $6.8 million, up $1.9 million from the same period last year and rental income was $2.2 million, down $0.6 million from March 31, 2008. Other revenue components contributed $1.9 million for the quarter, up $0.3 million from the same period last year."
SEC 8K Filing:
http://phx.corporate-ir.net/phoenix.zhtml?c=119119&p=irol-SECText&
TEXT=aHR0cDovL2NjYm4uMTBrd2l6YXJkLmNvbS94bWwvZmlsaW5nLnhtbD9yZXBvPX
RlbmsmaXBhZ2U9NjI3OTg2NyZhdHRhY2g9T04mc1hCUkw9MQ%3d%3d
---------------------------------------------------------------

---------------------------------------------------------------

How Remote Lease/Financing Education is Working
by Scott Wheeler

Scott Wheeler is the former President of The Equipment Leasing Company (ELC) in Sparks, Maryland, a subsidiary of Sandy Spring Bank. He originally joined ELC in 1989. He has over twenty-six years of leasing experience and an Executive Masters in Business Administration. He has written several "Sales makes it Happen" for Leasing News plus has started a series of Webinair training sessions.
Leasing News thought it would be interesting to readers to learn how the Webinar training sessions work and the feed back he has gotten.
Over the past two months Wheeler Business Consulting LLC has hosted seven remote learning sessions. The experience has been exciting and somewhat surprising. I have to admit that at first I was apprehensive. I prescribe to the in-person training as being most effective; because the interaction between the presenter and participant is so very important. There is no substitute for eye to eye contact to demonstrate whether or not you are making your point; and tangent discussions can facilitate the best learning experiences. However, I was constantly being asked to provide quick, inexpensive mini sessions with content for lease/finance originators and the remote web based training was and is the best solution.
The concept is to provide a weekly sales meeting format to individuals with a wide variety of different experiences. To date there have been over 100 participants involved in the webinars. We have covered a wide variety of topics. The weekly format allows individuals to participate on all subjects or just those which they have the most interest. The individuals who have joined all of the weekly sessions have gained the most and have witnessed my growth as I have become more comfortable with the format and technology. Each participant can view my power point via the internet and can listen to my presentation either through their computer or via a telephone line.
At the end of my presentation there is time for questions and answers. Most individuals have felt more comfortable following up with me after the session with questions, comments and suggestions. I am delighted to have the opportunity to have these conversations afterward to answer specific situations and challenges.
The webinars have given me the opportunity to be engaged with many different types of individuals in our industry; from the one man shop to the thirty person independent lessor. Individuals and companies are looking to redefine their positions in the market.
There is no doubt that many individuals are looking for that magical solution. They want me to provide them with that "ONE BIG SOLUTION" that if they try will increase their business immediately. Unfortunately, I don't have, nor do I believe any of us have possession of that single button. However, knowledge is the answer to most challenges. Many need to revisit the basics and I am happy to encourage everyone, no matter their years of experience to make sure they are constantly strengthening their fundamental selling and lease/financing skills. In addition, we all need to address the next steps we are willing to take to ensure we are properly prepared for the "New Economy".
The old means by which we have marketed ourselves are not, nor will they be effective in the future. Therefore, we all need to redefine ourselves and explore new techniques for the future. Because of the diverse group of participants, it is difficult to customize the material for a specific company; however, the webinars have caused participants to think differently about their business and to implement new means to solicit business for the long term.
Several participants have admitted they are cutting expenses and that training and education line items are usually the first to be eliminated. They go on to admit that in today's environment training and education are more important than any other time; and that in reality now is the best time to invest in their future success. The webinars have provided an inexpensive means to connect to an educational channel within the comfort of you own office. I have been asked to create additional sessions, to repeat the sessions I have already hosted, and to supplement the webinars with in-person visits and seminars. I plan to continue the webinars as one of the offering of Wheeler Business Consulting LCC. The webinars are held every Wednesday at 1:00pm Eastern Time to accommodate individuals from coast to coast.
Please feel free to contact Scott Wheeler with any suggestions or potential topics to be covered in future webinars.
scott@wheelerbusinessconsulting.com or 410-877-0428.
------------------------------------------------------------------

Fernando's View
By Fernando F. Croce
In theaters, "Goodbye Solo" pulls at the heartstrings while "Earth" fills the eyes. New DVDs include the engaging sparring of "Frost/Nixon," and a forgotten action star's intriguing comeback in "JCVD."
In Theaters: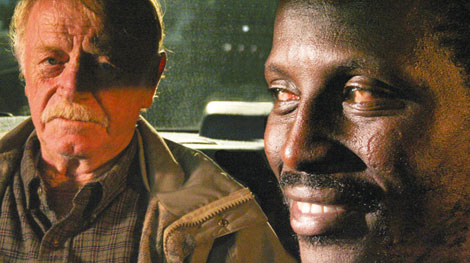 Goodbye Solo (Roadside Attractions): Solo ( Souléymane Sy Savané) is a cheerful family man from Senegal trying to make it in North Carolina by driving a taxi cab. William (Red West) is a life-hardened, aged local who has little hope in dreams and even less patience with the enthusiasm of someone like Solo. It's difficult to imagine a more unlikely pair of protagonists, yet once brought together over the course of a long drive to the mountains, the two men gradually develop an understanding of each other's sets of values, and true friendship blossoms. Warmly acted and directed with a keen eye for surprising humanity by Ramin Bahrani, this is a deeply moving, at times unexpectedly funny, and ultimately hopeful look at human connection in difficult times.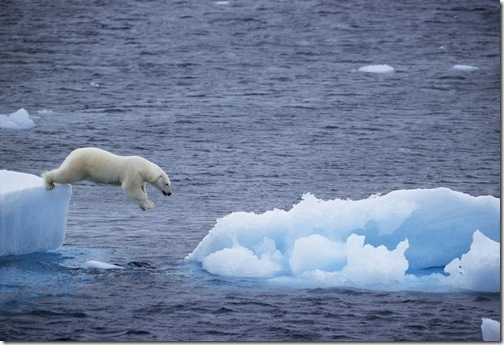 Earth (Disneynature): Audiences who were moved and tickled by the natural wonders of "March of the Penguins" will want to try this eye-filling, family-friendly documentary from Disneynature, which takes a global look at all the discoveries still to be made in our planet. Not restricting itself to just one zone or climate, the film travels to such extremes as the North Pole and the Kalahari Desert. In between, there are glimpses of elephants searching for water, lions enforcing their territory, and polar bears protecting their young. Without resorting to special effects, filmmakers Alastair Fothergill and Mark Linfield take viewers on a glorious tour of Earth's least seen corners, weaving together a fascinating mosaic of wild life in all its forms.
New on DVD: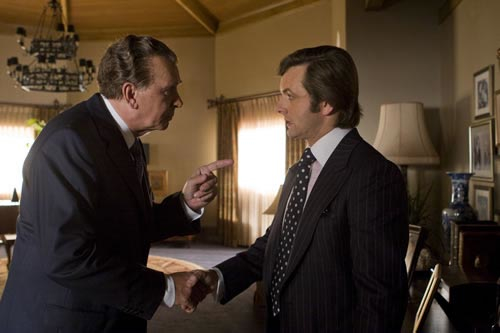 Frost/Nixon (Universal): Following the Watergate scandal, former President Richard Nixon (excellently played by Frank Langella) becomes an exiled ogre hoping for a comeback. He gets his chance in 1977, when lightweight British talk show host David Frost (Michael Sheen) offers to do a series of interviews with him. Frost, however, is out to get an admission of guilt from the politician, and what was originally supposed to be a puff piece quickly becomes a tug of war between the two men. Langella and Sheen give terrific performances in this adaptation of Peter Morgan's acclaimed play, with sturdy support from Kevin Bacon, Oliver Platt and Sam Rockwell. Snappy and frequently absorbing, it's director Ron Howard's best film in years.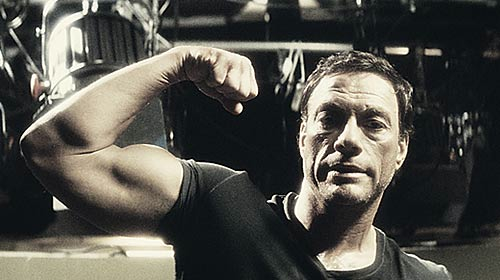 JCVD (Peace Arch): The initials stand for Jean-Claude Van Damme, the once famous action-star who's since his heyday become a staple of direct-to-video junk. Judging from this ingenious satire, however, he deserves better material than what he's been doing. Playing himself (or, rather, a comically washed-up version of himself), Van Damme finds himself broke, braving family problems, and losing what few roles he gets to fellow '90s muscle-head Steven Segal. While on his way back to his native Brussels, however, he's kidnapped and becomes once again part of the spotlight. A sharp look at celebrities, media, and comeback kids, the film mocks action movies while being quite exciting, and, best of all, it reveals Van Damme as a deft comic actor.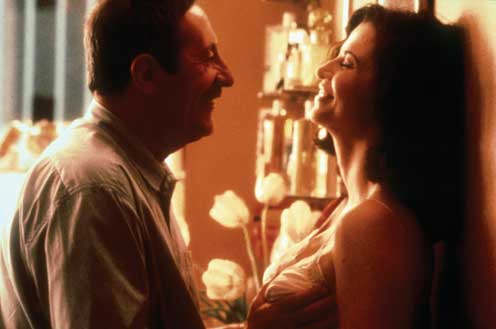 The Hairdresser's Husband (Severin): A charmer from 1990 finally receiving its DVD release, this French comedy-drama turns an unlikely premise into an engaging and provocative romance. As a boy, Antoine developed a huge crush on the local hairdresser. Now grown old (and played by the marvelously basset hound-faced Jean Rochefort), he's obsessed with cutting hair and vows to make one of the hairdressers in his neighborhood his wife. He sets his sights on the much younger Mathilde (Anna Galiena), but can their relationship survive their differences? Always unexpected and intimate, this film by acclaimed director Patrice Leconte ("Monsieur Hire," "Man on the Train") is guaranteed to surprise and delight viewers looking for more offbeat humor. With subtitles.
------------------------------------------------------------------
### Press Release #############################

MLFI Shows Continued Decline in New Business Volume for March;
Demand Drops in 1Q 2009
Washington, DC,— The Equipment Leasing and Finance Association's (ELFA) Monthly Leasing and Finance Index (MLFI-25 ), which reports economic activity for the $650 billion equipment finance sector, showed overall new business volume for March declined by 30 percent when compared to the same period in 2008. For the first quarter of 2009, new business volume declined by 31 percent as compared to the first quarter of 2008.
New business volume contracted by 17 percent in the fourth quarter of 2008, year over year (revised). Month-to-month new business volume increased 42.4 percent from February to March, from $3.3 billion to $4.7 billion.
The MLFI-25 is the only index that reflects capex, or the volume of commercial equipment financed in the U.S. The MLFI-25 is a financial indicator that complements other relevant economic indices, including the monthly durable goods report produced by the U.S. Department of Commerce, which reflects new orders for manufactured durable goods, and the Institute for Supply Management Index, which reports economic activity in the manufacturing sector. Together with the MLFI-25 these reports provide a complete picture of the status of productive assets in the U.S. economy: equipment produced, acquired and financed.
The MLFI-25 reported receivables over 30 days increased to 5.0 percent as compared to 4.5 percent in February.
Charge-offs increased to 2.21 percent from 1.74 percent in the prior month and more than doubled March 2008 losses.
Credit approvals dropped to 64.3 percent from 64.7 percent. Forty-seven percent of participant companies reported that fewer transactions were submitted for approval during the month, due to tightening underwriting standards and lower demand.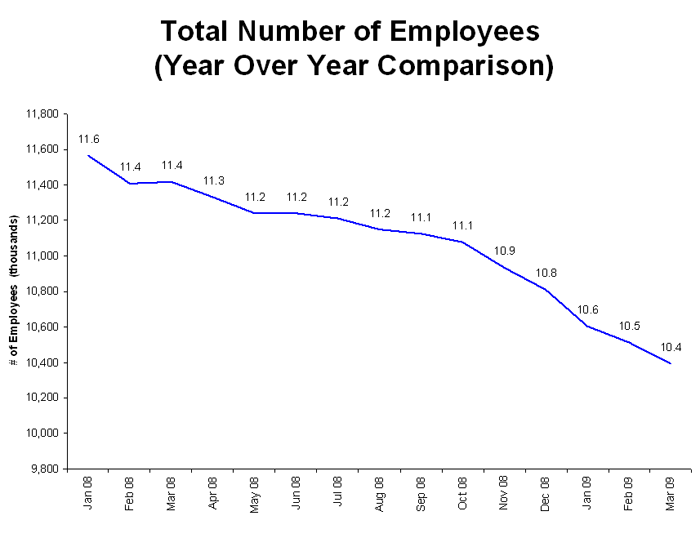 Total headcount for equipment finance companies showed a slight decline in March (0.95%).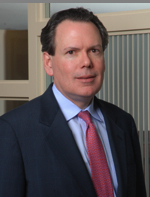 Hon. Kenneth E. Bentsen, Jr.
"The contraction in the nation's economy is clearly being felt in the commercial sector as both new business volume numbers and Member company reports indicate a decided slowdown in demand for investment in capital goods," said ELFA president, Kenneth E. Bentsen, Jr. "The combination of slack demand and tighter underwriting standards put a damper on the U.S. equipment finance market in the first quarter, following on a decline that began in the prior quarter," Bentsen said.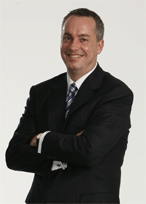 William H. Verhelle
Bill Verhelle, CEO of First American Equipment Finance in Fairport, NY and Immediate Past Chairman of the ELFA commented on the MLFI data. "The magnitude of the first quarter decline in US business capital equipment financing activity (more than 30 percent on a seasonally adjusted basis) may indicate that a big pull-back in business equipment spending is now compounding the ongoing consumer spending decline," said Verhelle.
First American Equipment Finance is a participant in the MLFI survey. "Until the fourth quarter of 2008, MLFI data indicated that the recession had not slowed capital equipment acquisitions. U.S. businesses now appear to be dramatically cutting equipment acquisitions," Verhelle said.
About the ELFA's MLFI-25
The MLFI index is released globally at 9:00 a.m. Eastern time from Washington, D.C. each month, on the day before the U.S. Department of Commerce releases the durable goods report. More information on the Monthly Leasing and Finance Index, including methodology and participants is available below and at
http://www.elfaonline.org/ind/research/MLFI/
MLFI-25 Methodology
The ELFA produces the MLFI-25 survey to help member organizations achieve competitive advantage by providing them with leading-edge research and benchmarking information to support strategic business decision making.
The MLFI-25 is a barometer of the trends in U.S. capital equipment investment. Five components are included in the survey: new business volume (originations), aging of receivables, charge-offs, credit approval ratios, (approved vs. submitted) and headcount for the equipment finance business.
The MLFI-25 measures monthly commercial equipment lease and loan activity as reported by participating ELFA member equipment finance companies representing a cross section of the equipment finance sector, including small ticket, middle-market, large ticket, bank, captive and independent leasing and finance companies. Based on hard survey data, the responses mirror the economic activity of the broader equipment finance sector and current business conditions nationally.
The results of each MLFI-25 are posted on the ELFA website. ELFA is the premier source for statistics and analyses concerning the equipment finance sector. Please visit http://www.elfaonline.org/ind/research/ for additional information.
ELFA MLFI-25 Participants
ADP Credit Corporation
Bank of America
Bank of the West
Canon Financial Services
Caterpillar Financial Services Corporation
CIT
De Lage Landen Financial Services
Dell Financial Services
Fifth Third Bank
First American Equipment Finance
GreatAmerica
Hitachi Credit America
HP Financial Services
John Deere Credit Corporation
Key Equipment Finance
Marlin Leasing Corporation
National City Commercial Corp.
RBS Asset Finance
Regions Equipment Finance
Siemens Financial Services
Susquehanna Commercial Finance, Inc.
US Bancorp
Tygris Vendor Finance
Verizon Capital Corp
Volvo Financial Services
Wells Fargo Equipment Finance
About the ELFA
The Equipment Leasing and Finance Association (ELFA) is the trade association that represents companies in the $650 billion equipment finance sector, which includes financial services companies and manufacturers engaged in financing capital goods. ELFA members are the driving force behind the growth in the commercial equipment finance market and contribute to capital formation in the U.S. and abroad. Its over 700 members include independent and captive leasing and finance companies, banks, financial services corporations, broker/packagers and investment banks, as well as manufacturers and service providers.
For more information, please visit www.elfaonline.org
(This ad is a "trade" for the writing of this column. Opinions
contained in the column are those of Mr. Terry Winders, CLP)
### Press Release ############################

GATX Corporation Reports 2009 First Quarter Results
CHICAGO---- GATX Corporation (NYSE:GMT) reported 2009 first quarter net income of $27.6 million compared to net income of $51.8 million in the first quarter of 2008. The 2009 first quarter results include a negative after-tax fair-value adjustment of $11.6 million and the 2008 first quarter results include a $6.8 million share after-tax benefit from the reversal of tax reserves.
"We entered the year anticipating considerable challenges in our markets and operating conditions have been consistent with our expectations," said Brian A. Kenney, president and chief executive officer of GATX. "In Rail, our customers are seeing decreased demand for their products and certain customers are operating under increasing financial stress. Consequently, there is pressure on fleet utilization and lease rates. Our North American fleet utilization was 96.5% at the end of the first quarter, down from 97.9% at year end and renewal lease rates on railcars in GATX's Lease Price Index (LPI) declined 5.5%. Fortunately, the steps we took in recent years to position GATX for a downturn are helping us manage through these difficult market conditions.
"As expected, the environment in Marine is also challenging. In Specialty, charter rates at the marine joint ventures declined significantly in the fourth quarter of 2008, and while they have increased in some markets, they remain weak compared to recent years. American Steamship Company (ASC) recently commenced its sailing season, and it is clear that continued idling of steel manufacturing capacity on the Great Lakes will result in significantly lower iron ore shipments during the year."
Mr. Kenney concluded, "Our 2009 full-year earnings estimate remains unchanged, excluding fair-value adjustments as noted above. There is increased downside variability to the estimate due to a variety of uncontrollable factors, which were noted in our 2008 year-end press release, including the price of scrap steel and other assets and increased financing costs that most companies face when accessing today's capital markets. While the environment is volatile and difficult to predict, we remain focused on utilizing this uncertainty to strengthen our position in the market."
Full Press Report Here:
http://ir.gatx.com/phoenix.zhtml?c=70051&p=irol-newsArticle&ID=1279840&highlight=
#### Press Release #############################
Lakeland Reduces Leasing Portfolio
OAK RIDGE, N.J., -- Lakeland Bancorp, Inc. (Nasdaq: LBAI - News) reported first quarter Net Income of $3.2 million as compared to $5.5 million for the same period of 2008. Diluted earnings per common share of $0.11 for the first quarter of 2009 compared to diluted earnings per common share of $0.24 for the same period last year. Return on Average Assets was 0.48% and Return on Average Common Equity was 5.76% for the first quarter of 2009.
" The first quarter results were adversely impacted by a $6.4 million provision for loan and lease losses compared to a $1.3 million provision for the same period last year. The current quarter's provision included $5.8 million allocated to leasing loans, which compared to $433,000 for the same period last year.
Thomas J. Shara, Lakeland Bancorp's President and CEO said, "We continue to reduce our leasing portfolio which has declined 11% in the first quarter and now represents 13.6% of the loan portfolio. Excluding the leasing runoff, total loans grew 7.5% on an annualized basis. We also continue to benefit from an improved net interest margin. Net interest margin at 3.80% was 11 basis points higher than the fourth quarter of 2008, and 18 basis points higher than the same period last year. In addition, during the first quarter of 2009, we received $59.0 million from the U.S. Treasury under the Capital Purchase Program, which increased our total risk-based capital ratio to 14.58% at March 31, 2009."
Full report:
http://finance.yahoo.com/news/Lakeland-Bancorp-Reports-prnews-15016779.html?.v=1
#### Press Release ############################

First Security Group Has $1.3 Million Loss For First Quarter
First Security Group, Inc. (Nasdaq: FSGI), Thursday reported a net loss available to common shareholders of $1.3 million, or $0.08 for the first quarter of 2009, compared to the net loss available to common shareholders of $3.3 million, or $0.21 for the fourth quarter of 2008.
First Security maintained an elevated provision for loan and lease losses in recognition of the recession and its effect on consumers, businesses and real estate builders and developers. The provision for the first quarter of 2009 was $5.0 million, compared to $8.7 million in the fourth quarter of 2008, and $1.2 million in the first quarter of 2008.
Highlights of the quarter's performance included:
Capital: First Security's tangible equity ratio improved from 9.20 percent at December 31, 2008, to 11.69 percent at March 31, 2009, as a result of a $33 million preferred stock capital investment from the U.S. Treasury in January 2009. First Security remains firmly above the industry threshold for well-capitalized banks.
Allowance for Loan and Lease Losses:First Security strengthened its allowance from 1.72 percent of total loans and leases to 2.02 percent, as of December 31, 2008, and March 31, 2009, respectively, through provision building.
Full Press Release:
http://www.chattanoogan.com/articles/article_149587.asp
### Press Release ##############################
-------------------------------------------------------------------

(Leasing News provides this ad "gratis" as a means
to help support the growth of Lease Police )
News Briefs----
Evans Bancorp to cut leasing business
(First reported in Leasing News April 17)
http://www.buffalonews.com/145/story/648657.html
GATX Q1 profit declines, backs 2009 outlook
http://uk.reuters.com/article/rbssIndustryMaterialsUtilitiesNews/idUKBNG36455920090423
CIT might have losses until 2010
http://www.nytimes.com/2009/04/24/business/24cit.html
Paulson threatened to oust BofA CEO if he pulled out
http://www.marketwatch.com/news/story/paulson-threatened-lewis-seal-merrill/story.aspx?
guid=%7B44D09600-944A-4A04-8AB9-919E166E0AF4%7D&dist=msr_9
SunTrust posts $815M loss in 1Q
http://www.ajc.com/business/content/business/stories/2009/04/23/suntrust_earnings.html
Wells Profit is Vanishing
http://www.nypost.com/seven/04232009/business/wells_profit_is_vanishing_165729.htm
Home sales drop 3 percent in March
http://www.upi.com/Business_News/2009/04/23/Home-sales-drop-3-percent-in-March/UPI-49521240506115/
U.S. Map of Unemployment
http://www.nytimes.com/interactive/2009/03/03/us/20090303_LEONHARDT.html?ref=business
Freddie Official Spoke of Resigning
http://www.washingtonpost.com/wp-dyn/content/article/2009/04/22/AR2009042201185.html
Cardholders stunned by huge rate hikes, slashed credit limits
http://www.chicagotribune.com/business/chi-fri-credit-card-consumers-apr24,0,6514874.story
U.S. Said to Seek a Chrysler Plan for Bankruptcy
http://www.nytimes.com/2009/04/24/business/24chrysler.html?_r=1&hp
Bucking Recession, Amazon Profits Jump 24%
http://www.internetnews.com/bus-news/article.php/3817046/Bucking+Recession+Amazon+Profits+Jump+24.htm
Netflix profit rises as subscribers increase, costs decline
http://www.marketwatch.com/news/story/netflix-profit-rises-company-lifts/story.aspx?guid=%7BCD
27F458-9CF2-425E-824D-BC8E66E73412%7D&dist=msr_1
Jay Leno misses first "Tonight Show" in 17 years
http://www.contracostatimes.com/top-stories/ci_12211119?nclick_check=1
---------------------------------------------------------------


You May have Missed---
Saratoga couple devastated by theft of dog from their front yard
http://www.mercurynews.com/breakingnews/ci_12212337
----------------------------------------------------------------

Sports Briefs----
Ducks blank Sharks again, take 3-1 series lead
http://www.sfgate.com/cgi-bin/article.cgi?f=/n/a/2009/04/21/sports/s221206D42.DTL
----------------------------------------------------------------


California Nuts Briefs---
AG Jerry Brown sues Wells Fargo for $1.5 billion
http://www.sfgate.com/cgi-bin/article.cgi?f=/c/a/2009/04/23/MNOI177TVN.DTL
----------------------------------------------------------------



"Gimme that Wine"
Recession prompts layoffs at Sonoma-Cutrer, Fetzer
http://www.pressdemocrat.com/article/20090422/ARTICLES/904229877/1350?Title=
Recession-prompts-layoffs-at-Sonoma-Cutrer-Fetzer
Will wine on tap gain in popularity?
http://www.heraldtribune.com/article/20090422/ARTICLE/904219925/2104/FEATURES?Title=
Will-wine-on-tap-gain-in-popularity-
Setting the Benchmark for Winery Tasting Room Research: An Emerging Region Gets a Global Perspective
http://news.prnewswire.com/DisplayReleaseContent.aspx?ACCT=104&STORY=/www/story/
04-22-2009/0005011027&EDATE=
Pinot Noir's Regional Pedigree
http://wine.appellationamerica.com/wine-review/695/Pinot-Pedigree.html
Wine Prices by vintage
http://www.winezap.com
http://www.wine-searcher.com/
US/International Wine Events
http://www.localwineevents.com/
Winery Atlas
http://www.carterhouse.com/atlas/\
Leasing News Wine & Spirits Page
http://two.leasingnews.org/Recommendations/wnensprts.htm
The London International Vintners Exchange (Liv-ex) is an electronic exchange for fine wine.
http://www.liv-ex.com/
----------------------------------------------------------------

Today's Top Event in History
1962-the first coast-to-coast telecast by satellite was made by the Massachusetts Institute of Technology's Lincoln Laboratory field station at Camp Parks, Ca., transmitted airwaves to the two-year-old orbiting balloon Echo I, which bounced them back to earth. They were received at Millstone Hill, Westford, MA. the pictures were of poor quality but were recognizable.
[headlines]
----------------------------------------------------------------

This Day in American History
1766-Robert Bailey Thomas, founder and editor of The Farmer's Almanac (first issue for 1793) was born at Grafton, MA. Thomas died May 19, 1846, while working on the 1847 edition.
http://www.almanac.com/aboutofa.html
1800-Congress approved an act providing "for the purchase of such books as may be necessary for the use of Congress ... and for fitting up a suitable apartment for containing them." Thus began one of the world's greatest libraries: Library of Congress.
http://memory.loc.gov/ammem/today/apr24.html
1836- birthday of West Point Graduate Lieutenant George N. Bascom, who was assigned to search out Apache chief Cochise, believed to be responsible for an 1861 raid on an Arizona ranch. He arrested Cochise at Apache Pass, but the chief escaped and declared war, launching a reign of terror known as the Apache Wars. Bascom was born at Owingsville, KY, and died the year following his Apache adventure when he became a casualty of the Civil War battle at Fort Craig, Valverde, NM, Feb 21,1862.
http://www.army.mil/cmh-pg/books/amh/amh-toc.htm
1862-Union Captain David Farragut leads a flotilla past two Confederate forts on the Mississippi River south of New Orleans. Moving at 2:00 a.m., Farragut lost one ship but successfully ran past the strongholds. He scattered some Confederate ships and sailed to New Orleans. and on May 1, captured the City of New Orleans without having to fire one shot. In July, he was promoted to Rear Admiral.
1847- At the conclusion of the Mexican War, the Mormon Battalion of the Army of the West established Fort Moore overseeing the pueblo of Los Angeles. The fort was named in honor of their captain who had perished in the Battle of San Pascual.
http://www.mormonbattalion.com/
http://www.onlineutah.com/historybattalion.shtml
1873-free lunches for the poor an sick were offered by the New York Diet Kitchen Association, who opened at 410 East 23 rd Street, New York City, for the relief of the destitute sick. Beef tea, soup, milk-cooked rice, eggs and oatmeal were served. The first president was Mrs. A.H. Gibbons.
http://www.nycares.org/
1886-the first Catholic priest who was African-American and assigned to work in the United Sates was Reverend Augustus Tolton. He was ordained at the College of Propaganda, Rome, Italy, and opened a mission in Quincy, IL, in the diocese of Springfield, IL.
1899 - Two women and one son lived to tell the story of being picked up by a tornado and carried more than a fourth of a mile, flying far above the church steeples, before being gently set down again. The young boy and one of the ladies said they had the pleasure of flying alongside a horse. The horse "kicked and struggled" as it flew high above, and was set down unharmed about a mile away.
1901-the American League made its debut as a major league with a schedule of four games. Three were rained out, but the Chicago White Stockings beat the Cleveland Blues, 8-2, to get the season under way. 14,000 saw the game played at the Chicago Cricket Club.
1902-- Professional baseball gets its start in Durham, North Carolina as the Tobacconists (renamed the Bulls 11 years later) played an exhibition game against Trinity College (now Duke University). The Bulls, except for 1971-80, when minor league baseball didn't exist in the city, will continue to play in Durham until the present day.
1905-birthday of Robert Penn Warren, American poet, novelist, essayist and critic. America's first official poet laureate, 1986-88, Robert Penn Warren was born at Guthrie, KY. Warren was awarded the Pulitzer Prize for his novel All the King's Men , as well as for his poetry in 1958 and 1979. He died of cancer Sept 15, 1989, at Stratton, VT.
http://www.robertpennwarren.com/
1908 - Severe thunderstorms spawned eighteen tornadoes over across the Central Gulf Coast States claiming the lives of 310 persons. The state of Mississippi was hardest hit. A tornado near Hattiesburg MS killed 143 persons and caused more than half a million dollars damage. Four violent tornadoes accounted for 279 of the 310 deaths. The deadliest of the four tornadoes swelled to a width of 2.5 miles as it passed near Amite LA. The tornado also leveled most of Purvis MS.
1911—the National Urban League, American voluntary-service agency tracing its origins to 1911 and dedicated to eliminating racial segregation and discrimination and helping blacks and other minorities to participate in all phases of American life. By the late 20th century more than 110 local affiliated groups were active throughout the United States. It is headquartered in New York City. In 1911 three organizations--the Committee for Improving the Industrial Conditions Among Negroes in New York (founded in 1906), the League for the Protection of Colored Women (founded 1906), and the Committee on Urban Conditions Among Negroes (founded 1910)--were merged to form the National League on Urban Conditions Among Negroes, which sought to help blacks, especially rural Southern blacks migrating to New York City, to find jobs and housing and generally to adjust to urban life. The model organization established in New York City was imitated in other cities where affiliates were soon established. By 1919 the national organization had assumed the shorter name, National Urban League. From its founding, the League has been interracial--the chairman of the board traditionally being white and the president and chief executive officer (overseeing day-to-day operations) being black. The primary task of helping migrants gradually evolved over the years into larger concerns, and, especially under the presidency of Whitney M. Young, Jr. (1961-71), the League emerged as one of the strongest forces in the American civil-rights struggle. Under his successor, Vernon E. Jordan, Jr. (1971-81), the League furthered its vision by embracing such causes as environmental protection, energy conservation, and the general problems of poverty. Under the presidency of John E. Jacob (1982-94), the agency renewed its emphasis on social welfare.
http://www.nul.org
1912 1st "Keystone Kops" film, titled "Hoffmeyer's Legacy
http://www.wayoutwest.org/kennedy/filmography/1912-1914.html
1913-the Woolworth Building in New York City became the tallest structure in the world, with the exception of the Eiffel Tower in Paris. It formally opened at 7:30pm when President Woodrow Wilson at the White House, Washington, DC, pressed a telegraph key that rang a bell in the engine room and dinning hall and lit the electric lights on the 55 floors. The architect was Cass Gilbert. It would not be until 1931 that the 1,250 Empire State Building would open.
1919- League of Women Voters, established at the convention of the National-American Convention. Its official formation was symbolically timed to coincide with the 50th anniversary of women's voting rights, equal to that of men, established for the first in the world in the territory of Wyoming in 1869.
1923-- President Warren G. Harding witnesses the first shutout ever thrown at Yankee Stadium as Babe Ruth homers in a 4-0 victory over the Senators.
1926-great Chicago jazz impresario Joe Sega born Philadelphia, PA.
1928-tenor saxophone player Johnny Griffin born Chicago, IL.
http://members.tripod.com/~hardbop/griffin.html
1928-Herbert Grove Dorsey of the U.S. Coast and Geodetic Survey received a patent for the fathometer, which measures the depth of water. The device measured the depth by means of a series of electrical sounds and light signals.
http://www.bigelow.org/virtual/handson/fathometer.html
1936-Benny Goodman Trio cuts "China Boy," Chicago, IL
http://www.davidmulliss.com.au/BennyGoodman/benny.htm
http://www.pbs.org/jazz/biography/artist_id_goodman_benny.htm
http://www.davidmulliss.com.au/BennyGoodman/
http://www.davidmulliss.com.au/BennyGoodman/sounds.htm
1936- The first unscheduled event to be televised as it occurred was an outdoor scene of firemen answering at alarm in Camden, New Jersey. The pictures were taken by engineers form the RCA-Victor Company, Camden.
1937-teno sax player Joe Henderson born Lima, OH. Died June 29,2001
http://www.grunthos.demon.co.uk/joe_henderson.htm
http://www.melmartin.com/html_pages/Interviews/henderson.html
http://members.tripod.com/~hardbop/henderson.html
1940-birthday of mystery writer Sue Grafton, Louisville, KY
http://www.suegrafton.com/
1942-singer and actress Barbra Streisand was born in Brooklyn, New York. One of the world's most popular performers, Streisand first came to attention as the star of the 1962 Broadway musical "I Can Get It For You Wholesale." Her stage success led to a recording contract with Columbia. Then in 1964 came the role with which she is most associated - the lead in "Funny Girl." Her recording of the ballad "People" from that show was her first big hit and firmly established her as a recording artist as well as a stage star. Streisand made her movie debut in the film version of "Funny Girl" in 1968. Her subsequent films have included "The Owl and the Pussycat," "The Way We Were" and "Yentl." The theme from "The Way We Were" was a million-seller for Barbra Streisand in 1973.
http://www.barbrastreisand.com/
http://www.bjsmusic.com/
1943-birthday of Richard M. Daley, former mayor of Chicago, born Chicago, IL.
http://www.wheeling.com/richarddaley/bio.shtml
1944-United Negro College Fund founded.
http://www.uncf.org/
1944--*SQUIRES, JOHN C . Medal of Honor
Rank and organization: Sergeant (then Private First Class), U.S. Army, Company A, 30th Infantry, 3d Infantry Division. Place and date: Near Padiglione, Italy, 23-24 April 1944. Entered service at: Louisville, Ky. Birth: Louisville, Ky. G.O. No.: 78, 2 October 1944. Citation: For conspicuous gallantry and intrepidity at risk of life above and beyond the call of duty. At the start of his company's attack on strongly held enemy positions in and around Spaccasassi Creek, near Padiglione, Italy, on the night of 23-24 April 1944, Pfc. Squires, platoon messenger, participating in his first offensive action, braved intense artillery, mortar, and antitank gun fire in order to investigate the effects of an antitank mine explosion on the leading platoon. Despite shells which burst close to him, Pfc. Squires made his way 50 yards forward to the advance element, noted the situation, reconnoitered a new route of advance and informed his platoon leader of the casualties sustained and the alternate route. Acting without orders, he rounded up stragglers, organized a group of lost men into a squad and led them forward. When the platoon reached Spaccasassi Creek and established an outpost, Pfc. Squires, knowing that almost all of the noncommissioned officers were casualties, placed 8 men in position of his own volition, disregarding enemy machinegun, machine-pistol, and grenade fire which covered the creek draw. When his platoon had been reduced to 14 men, he brought up reinforcements twice. On each trip he went through barbed wire and across an enemy minefield, under intense artillery and mortar fire. Three times in the early morning the outpost was counterattacked. Each time Pfc. Squires ignored withering enemy automatic fire and grenades which struck all around him, and fired hundreds of rounds of rifle, Browning automatic rifle, and captured German Spandau machinegun ammunition at the enemy, inflicting numerous casualties and materially aiding in repulsing the attacks. Following these fights, he moved 50 yards to the south end of the outpost and engaged 21 German soldiers in individual machinegun duels at point-blank range, forcing all 21 enemy to surrender and capturing 13 more Spandau guns. Learning the function of this weapon by questioning a German officer prisoner, he placed the captured guns in position and instructed other members of his platoon in their operation. The next night when the Germans attacked the outpost again he killed 3 and wounded more Germans with captured potato-masher grenades and fire from his Spandau gun. Pfc. Squires was killed in a subsequent action.
1945-- two members of Creedence Clearwater Revival, bass player Stu Cook and drummer Doug Clifford, were born. "Proud Mary," a single from their second album, made Creedence into a superstar band in 1969. Their blending of rhythm-and-blues with Cajun and other southern music forms resulted in more than a dozen hits during the next three years. The band broke up in 1972 when leader John Fogerty decided he wanted a solo career.
1949 - Dick Powell starred in "Richard Diamond, Private Detective" on NBC radio. The show stayed on the air for four years. Later, it would have a three-year run on TV starring David Janssen in the title role.
1950- the first basketball player who was an African-American, Charles Henry Cooper, was drafted today by the Boston Celtics. He played for the team on November 1, 1950, in Fort Wayne, IN.
1951---WILSON, HAROLD E. Medal of Honor
Rank and organization: Technical Sergeant, U.S. Marine Corps Reserve, Company G, 3d Battalion, 1st Marines, 1st Marine Division (Rein.). Place and date: Korea, 23-24 April 1951. Entered service at: Birmingham, Ala. Born: S December 1921, Birmingham, Ala. Citation: For gallantry and intrepidity at the risk of his life above and beyond the call of duty while serving as platoon sergeant of a rifle platoon attached to Company G, in action against enemy aggressor forces on the night of 23-24 April 1951. When the company outpost was overrun by the enemy while his platoon, firing from hastily constructed foxholes, was engaged in resisting the brunt of a fierce mortar, machine gun, grenade, and small-arms attack launched by hostile forces from high ground under cover of darkness, T/Sgt. Wilson braved intense fire to assist the survivors back into the line and to direct the treatment of casualties. Although twice wounded by gunfire, in the right arm and the left leg, he refused medical aid for himself and continued to move about among his men, shouting words of encouragement. After receiving further wounds in the head and shoulder as the attack increased in intensity, he again insisted upon remaining with his unit. Unable to use either arm to fire, and with mounting casualties among our forces, he resupplied his men with rifles and ammunition taken from the wounded. Personally reporting to his company commander on several occasions, he requested and received additional assistance when the enemy attack became even more fierce and, after placing the reinforcements in strategic positions in the line, directed effective fire until blown off his feet by the bursting of a hostile mortar round in his face. Dazed and suffering from concussion, he still refused medical aid and, despite weakness from loss of blood, moved from foxhole to foxhole, directing fire, resupplying ammunition, rendering first aid, and encouraging his men. By his heroic actions in the face of almost certain death, when the unit's ability to hold the disadvantageous position was doubtful, he instilled confidence in his troops, inspiring them to rally repeatedly and turn back the furious assaults. At dawn, after the final attack had been repulsed, he personally accounted for each man in his platoon before walking unassisted l/2 mile to the aid station where he submitted to treatment. His outstanding courage, initiative, and skilled leadership in the face of overwhelming odds were contributing factors in the success of his company's mission and reflect the highest credit upon T/Sgt. Wilson and the U.S. Naval Service
1952 - Raymond Burr made his TV acting debut on the "Gruen Guild Playhouse" in an episode titled, "The Tiger". Not long after this start, Burr would be seen in the hugely popular "Perry Mason" and much later in "Ironside".
http://www.raymondburrvineyards.com/
1957- The first Ricky Nelson single, "I'm Walkin' " backed with "A Teenager's Romance," was released. It sold a million copies.
1957--16 year old Ricky Nelson releases his first record, "Teenager's Romance" with his cover of Fats Domino's "I'm Walkin'" on the flip side. The disc sold nearly 60,000 copies within three days and eventually went over a million. The hit was, "I'M Walkin'," a Fats Domino R&B song.The white fusion with black R&B was about to happen.
1957 - The Palo Alto superintendent of schools announced yesterday yhr appointment of the first Negro principal on the peninsula. The new principal, Willis A. Williams, will head Palo Alto's Addison Elementary School.
http://www.ricknelson.com/
1959- James Brown made his debut at the Apollo Theatre in New York.
http://www.funky-stuff.com/jamesbrown/
1959- "Your Hit Parade," the Saturday night pop music show which had been broadcast regularly on radio and then on TV since 1935, went off the air.
http://www.museum.tv/archives/etv/Y/htmlY/yourhitpara/yourhitpara.htm
1959-Mack Charles Parker lynched in Montgomery, Alabama. After the FBI investigated, those charges with the lynching were never convicted, nor was Parker proven to have raped anyone. The book "Blood Justice" covers this event in American history and lays the platform for the beginnings of the Civil Rights Movement in this area.
http://www.angelfire.com/wi/Carver/mcppms.html
http://foia.fbi.gov/foiaindex/parker.htm
http://essay.studyarea.com/essay/Book_Report/19.php
http://www.amazon.com/gp/product/0195054296/002-5217827-1679236?
v=glance&n=283155
1961--Del Shannon's "Runaway" hit #1 on the Billboard Hot 100, enabling him to finally quit his job as a carpet salesman.
1962---Top Hits
Good Luck Charm - Elvis Presley
Mashed Potato Time - Dee Dee Sharp
Young World - Rick Nelson
Charlie's Shoes - Billy Wal
1962-the first coast-to-coast telecast by satellite was made by the Massachusetts Institute of Technology's Lincoln Laboratory field station at Camp Parks, Ca., transmitted airwaves to the two-year-old orbiting balloon Echo I, which bounced them back to earth. They were received at Millstone Hill, Westford,MA. the pictures were of poor quality but were recognizable.
1962 Met manager Casey Stengel is fined $500 dollars by Commissioner Ford Frick for appearing in a beer ad.
1962 Dodger Sandy Koufax ties a major league record striking out18 batters in a nine inning game as the Dodgers rout the Cubs, 10-2 at Wrigley Field.
1963-Guard Bob Cousey of the Boston Celtics ended a 23-year career in the BBA bys coring 18 points against the Los Angeles Lakers and leading the Celtics to a fifth consecutive championship. Cousy made a brief comeback in the 1969-70 season but played only seven games. He went on to coach Boston College to a record 117 wins and 38 losses.
1965 - "Game of Love", by Wayne Fontana and The Mindbenders, made it to the top spot on the "Billboard" music chart. "Game of Love" stayed for a short visit of one week, before Peter Noone and Herman's Hermits took over the top spot with "Mrs. Brown You've Got a Lovely Daughter".
1965--Wayne Fontana and the Mindbenders had the top tune on both the Billboard Hot 100 and The Cashbox Best Sellers list with "Game Of Love." By the end of the year, Fontana would leave the band and would go on to some solo success in the UK, while the rest of the group would enjoy a #2 hit in the US the following year with "A Groovy Kind Of Love".
1968-Louis Armstrong was at #1 in the UK with the single "What A Wonderful World". At 66 years of age, it made him the oldest act ever to score a UK #1. The song stalled at #32 in the US, but Louis is also the oldest person to reach #1 on the Billboard chart, a feat he accomplished in 1964 with "Hello Dolly".
1969--Chicago bluesman Muddy Waters recorded a live album called "Fathers and Sons." Appearing with him were a host of white blues singers, including Paul Butterfield and Mike Bloomfield. Waters had a tremendous influence on many British rock 'n' rollers, including the Rolling Stones, whose name is taken from one of Waters' songs.
www.muddywaters.com
1969 - The singing family, The Cowsills, received a gold record for their hit single, "Hair", from the Broadway show of the same name.
http://cowsill.com/cowsills/
1970----Top Hits
Let It Be - The Beatles
ABC - The Jackson 5
Spirit in the Sky - Norman Greenbaum
Is Anybody Goin' to San Antone - Charley Pride
1976 -- Saturday Night Live producer Lorne Michaels appears on the show and offers the Beatles "a certified check for $3,000" to reunite & sing three songs. "You divide it up any way you want," he said, "If you want to give Ringo less, it's up to you."
1976-Wings' "At The Speed Of Sound" went to #1 on the US album chart. It was Paul McCartney's fifth #1 after he left The Beatles.
1978---Top Hits
Night Fever - Bee Gees
If I Can't Have You - Yvonne Elliman
Can't Smile Without You - Barry Manilow
Every Time Two Fools Collide - Kenny Rogers & Dottie West
1980 -- US military operation to save 52 hostages in Iran ends in disaster. The hostages are subsequently split up to deter another similar attempt. During the operation, three of the eight helicopters of the airborne operation failed. At the staging area inside Iran, the mission was canceled, but during the withdrawal one of the remaining helicopters collided with one of the six C-1`30 transports, killing eight and injuring five.
1981- IBM's first personal computer was released. Although IBM was one of the pioneers in making mainframe and other large computers, this was the company's first foray into the desktop computer market. Eventually, more IBM-compatible computers were manufactured by IBM's competitors than by IBM itself. It was at this period that Bill Gates "spun off" a new operating system, he called Windows.XP, the first non-windows (DOS) based operating for "personal use."
1985 - There were a reported 832,602 millionaires in the United States on this day, according to researchers. The average millionaire was 57 years old. A majority (85 percent) held college degrees. 20 percent were retired and 70 percent were self-employed. Could not find a current list of millionaires. If anyone has it, please forward with reference. In searching for this information, learned from the most recent census, the average household income with husband and wife is $51,751. Woman with no husband: $28,116. Man with no wife: $31,267. Foreign born: $38,929. Hispanic: $31,767. Black: 30,439. Asian and Pacific: $55,521
http://www.census.gov/prod/2001pubs/p60-213.pdf
This source says has 4 million names of American million, Canadian and UK billionaires.
http://philanthropy.link.ca/
Here is history of wealth in American:
http://www.raken.com/american_wealth/
1986---Top Hits
Kiss - Prince & The Revolution
Manic Monday - Bangles
Addicted to Love - Robert Palmer
Cajun Moon - Ricky Skagg
1989 - Twenty cities in the central U.S. reported record high temperatures for the date. Russell KS was the hot spot in the nation with a reading of 101 degrees. Evening thunderstorms produced severe weather from Colorado to Wisconsin. Hail four and a half inches in diameter was reported at Sargeant NE.
1991-Garth Brooks dominated the Academy of Country Music awards with a record six trophies. He was voted entertainer of the year and top male vocalist, and also won for best single and album. Brooks's "The Dance" also gave him best song and video awards.
www.garthbrooks.com
1993---Top Hits
Informer-- Snow
Freak Me--- Silk
Nuthin But A "G" Thang--Dr. Dre
I Have Nothing (From "The Bodyguard"--, Whitney Houston
1996- Canadian Shania Twain won the top album trophy for "The Woman in Me" and was named best new female singer at the annual Academy of Country Music Awards. "The Woman in Me" had earlier won the country album Grammy and Twain was the best new country artist at the American Music Awards the previous January.
1998 --Dodger backstop Mike Piazza ties a major league record hitting his third grand slam of the month. The blast highlights a nine-run second inning which leads Los Angeles to 12-4 victory over the visiting Cubs.
1998 ---Hitting a solo homer off Giant's Orel Hershiser at 3Com Park, Geoff Jenkins becomes the first Brewer player ever to homer in his first major league game. The rookie joins Chuck Tanner, who accomplished the feat in 1955 as a member of the Braves, as the only players in Milwaukee baseball history to homer in their first game.
1998--Top Hits
Too Close--- Next
All My Life--- K-Ci
Let s Ride-- Montell Jordan Feat. Master P
Frozen-- Madonna
You re Still The On-- Shania Twain
NBA Finals Champions This Date
1963 Boston Celtics
1967 Philadelphia 76ers
2001-Paul Orfalea (53), founder of Kinko's copy store chain, gave a $8.5 million donation to San Francisco City College to support child care.
--------------------------------------------------------------
Basketball Poem
REAL BASKETBALL STARS
Rachel Ann Roskey, Canada
I Grab My Jersey And My Shoes
I Am Going To A Game That I Will Not Lose
I Put On My T-Shirt And Throw On My Shorts
Because Today I Will Play On The Basketball Courts
I Am Going To Play With My Basketball Team
We're Going To Win Gold, Or So It May Seem
I Practice My Lay-ups, Dribbling And Shot
I Shoot It And Score, It Was Right On The Dot
Now I Went In A Little Cocky, Because We Began To Lose
But My Team Will Not, No Way, We Refuse
So As I Became Angry, Also A One Man Team
I Got A Foul And Of Course Wanted To Scream
Half Time Came And My Coach Told Us To Bring It In
How Could We Lose, We Needed To Win
We Pulled It Together, And We Became A Squad
I Pleaded And Prayed To The One And Only God
There Was 5 Seconds Left, It Was A Tied Game
Jamie Passed It To Sam, And We Tried For Our Fame
She Tested For That Lay-up And Did Miss
But That Was That And This Is This
That Was Two Years Ago And I Have Learned One Thing
Work As A Team And Success It Shall Bring
--------------------------------------------------------------

SuDoku
The object is to insert the numbers in the boxes to satisfy only one condition: each row, column and 3x3 box must contain the digits 1 through 9 exactly once. What could be simpler?
http://leasingnews.org/Soduku/soduko-main.htm
--------------------------------------------------------------

Daily Puzzle
How to play:
http://www.setgame.com/set/puzzle_frame.htm
Refresh for current date:
http://www.setgame.com/set/puzzle_frame.htm
--------------------------------------------------------------


http://www.gasbuddy.com/
http://www.gasbuddy.com/GB_Map_Gas_Prices.aspx
http://www.gasbuddy.com/GB_Mobile_Instructions.aspx
--------------------------------------------------------------

Weather
See USA map, click to specific area, no commercials
--------------------------------------------------------------

Traffic Live---
Real Time Traffic Information
You can save up to 20 different routes and check them out with one click,
or type in a new route to learn the traffic live
--------------------------------