ELD Marketing Specialist
Walnut Creek, CA
Serve as a liaison between the leasing department and several hundred brokers . Requires a BA/BS; 3+ years of leasing and contract experience; Click here for detailed description & resume submission info.


Friday, August 4, 2006
Weather history indicates East Coast heat waves
Headlines---
Weather history: East Coast heat waves
Classified Ads—Asset Management
Marlin Leasing Posts Stunning 2nd Q
Kerhoulas settles California tax issue
Placard---Ladder of Achievement
Contact Management Survey
Classified Ads---Help Wanted
Leasing Associations Conference 2006
Surprise Bank of England rate-hike
New Leasing Rules Could Add Assets
Mortgage demand drops to 2002 Level
Mark and Rachelle Gordon obituary
AOL to be "Free"
Kamradt Promoted at ATEL Capital Group
Beach Business Bank joins With Baycap
Latin America: Equipment Leasing Boom
GATX Leases New Headquarters
Trinity Industries Earnings/Revenue
Netsol Technologies Announcement
CapitalStream Appoints Celeste Hauck VP
News Briefs---
You May have Missed---
"Gimme that Wine"
Calendar Events
Today's Top Event in History
This Day in American History
Baseball Poem
SuDoku Puzzle
######## surrounding the article denotes it is a "press release"
-----------------------------------------------------------------

Weather history indicates East Coast heat waves
1975 - Record heat gripped New England. Highs of 104 degrees at Providence, RI, and 107 degrees at Chester and New Bedford, MA, established state records. The heat along the coast of Maine was unprecedented, with afternoon highs of 101 degrees at Bar Harbor and 104 degrees at Jonesboro. Hot weather continued in the central U.S. Fifteen cities reported record high temperatures for the date, including Concordia KS with a reading of 106 degrees, and Downtown Kansas City, MO, with a high of 105 degrees. Evening thunderstorms produced severe weather in the Ohio Valley and the north central U.S. Thunder- storms in South Dakota produced wind gusts to 70 mph at Philip, and hail two inches in diameter at Faulkton.
1980 - A record forty-two consecutive days of 100 degree heat finally came to an end at the Dallas-Fort Worth Airport. July 1980 proved to be the hottest month of record with a mean temperature of 92 degrees. There was just one day of rain in July, and there was no measurable rain in August. There were 18 more days of 100 degree heat in August, and four in September. Hot weather that summer contributed to the deaths of 1200 people nationally, and losses from the heat across the country were estimated at twenty billion dollars.
1986 - The temperature at Little Rock, AR, soared to 112 degrees to establish an all-time record high for that location. Morrilton, AR, hit 115 degrees, and daily highs for the month at that location averaged 102 degrees.
(August 2) 1987-Hot weather continued in the central U.S. Fifteen cities reported record high temperatures for the date, including Concordia KS with a reading of 106 degrees, and Downtown Kansas City, MO, with a high of 105 degrees. Evening thunderstorms produced severe weather in the Ohio Valley and the north central U.S. Thunder- storms in South Dakota produced wind gusts to 70 mph at Philip, and hail two inches in diameter at Faulkton.
(July 32) 1987 - Afternoon highs of 106 degrees at Aberdeen, SD, and 102 degrees at Ottumwa, IA, and Rapid City, SD, established records for the date. It marked the seventh straight day of 100 degree heat for Rapid City. Baltimore, MD, reported a record twenty-two days of 90 degree weather in July. Evening thunderstorms produced golf ball size hail at Lemmon, SD, and wind gusts to 80 mph at Beulah, ND.
1988 - Searing heat continued from the Middle and Upper Mississippi Valley to the Middle and Northern Atlantic Coast States. Twenty- six cities reported record high temperatures for the date. Chicago IL reported a record seven days of 100 degree heat for the year
1995-Heat Wave in Chicago, Illinois; 525 deaths attributed.
http://www.sws.uiuc.edu/atmos/statecli/1995chicago.htm
1999 - The U.S. heat wave -- linked to at least 94 deaths -- continued. As Chicago baked in 100-degree weather, thousands of hot and sweaty residents were forced to endure the heat without air conditioning or fans, due to sporadic power outages and brownouts.
http://hpccsun.unl.edu/nebraska/heatwave99.html
http://www.disastercenter.com/guide/heat.html
----------------------------------------------------------------

Classified Ads—Asset Management
Brick*House Vineyards, Newberg, Oregon *
Austin, TX
20+ years exper. lease/finance. P & L responsibility, strong credit & collection management, re-marketing& accounting. Computers, construction, auto & transportation. Both commercial/ consumer portfolios.
Email: kmalone@austin.rr.com
Bloomfield Township, MI
15+ yrs experience asset management and credit analyst. Leadership and training skills. Audited returns, max residual, lease end and resale negotiator.
E-mail: cmcozzolino@msn.com
Boston, MA
10yrs exp structuring/modeling sophisticated lease/ loan products. Expert programmer: customized portfolio mgmt, securitization, economic capital & pricing applications. Available for contract work.
E-mail: lease_structuring@yahoo.com
Chicago, IL
MBA, 15+ years exp. Long history of success in maximizing residual position through outstanding negotiation skills & lease contract management. Third party re-marketing, forecasting etc...
email: jgambla@aol.com
Chicago, IL
2+ Years Exp. Asset Remarketing Transportation/ Medical/Cosmetic Equipment; Superior End Of Lease Negotiation Skills; Comprehensive Buyer Contacts; Available Immediately For Assignment
Email: Lonnie0168@comcast.net
Princeton, NJ
Asset management/credit/collection
20+ years experience in equipment financing. Last five years in Asset Management including remarketing, end of lease negotiations, equipment and market evaluations
E-mail: bgaffrey@earthlink.net
Sausalito, CA
Sr. Corp. officer, presently serving as consultant, fin. service background, M&A, fund raising, great workout expertise, references
Email: nywb@aol.com
Sonoma, CA
20+ years managing/ maximizing residual values, exp. computers/ hi-tech mfg. Excellent negotiation skills. Outstanding 3rd party contacts/buyers. Created deal winning structures-established residual values.
Email: dfeltman@yahoo.com
Wilton, CT
18 years exp. in IT and High Tech leasing industry. Residual forecasting, workouts, off-lease sales, mid-term restructures, auctions, all aspects of remarketing and equipment management.
Email: charrer@hotmail.com
For a full listing of all "job wanted" ads, please go to:
http://64.125.68.91/AL/LeasingNews/JobPostings.htm
To place a free "job wanted" ad, please go to:
http://64.125.68.91/AL/LeasingNews/PostingForm.asp
*
Outstanding Pinot Noir. Open to the public Memorial Day and Thanksgiving weekends and by appointment the rest of the year .
http://www.brickhousewines.com/index.html
----------------------------------------------------------------

Marlin Leasing Posts Stunning 2nd Quarter
Based on initial equipment cost, the company set records for neworiginations for both the quarter at $97.9 million and a single month (June) at $35.5 million. Net investment in leases was $622.8 million at June 30, 2006.
103 sales representatives produced 8,553 new sales with a total gross volume of $97,871,000 for the first six months of the year with an implicit yield of 12.68%.
End-user customer base grew to more than 85,000 at June 30, 2006 compared to 81,000 at June 30, 2005. The number of active leases in the portfolio was approximately 107,000 at June 30, 2006.
Stockholder equity went up from $112,609,000 to $126,241,000 while cash and cash equivalents went down from $34,472,000 to $3,168,000 in this six month interim financial statement.
Net income of $5.3 million for the second quarter ended June 30, 2006, a 17.8% increase over net income of $4.5 million for the same period in 2005. Diluted earnings per share was $0.44 for the second quarter of 2006, an increase of 15.8% compared to $0.38 for the same period in 2005.
The company press release stated, "Due to better than expected collections on leases in areas effected by Hurricane Katrina, net income was positively impacted by an after tax reduction of reserves for expected losses of $545,000 or $.045 per diluted earnings per share.
" Net income for the six-month period ended June 30, 2006 was impacted by the same after tax reduction of reserves for expected losses related to Katrina of $545,000, or $.045 per diluted earnings per share."
Full Press Release:
http://leasingnews.org/PDF/Marlin_2nd_qtr.pdf
--------------------------------------------------------------

Kerhoulas settles California tax issue
For almost five years Bette Kerhoulas, CLP, has been trying to resolve an issue with the California State Board of Equalization, who after an audit, charged Panfinco dba Pacific-Capital, Irvine, California with not paying "sales/use tax" on documentation and filing fees ( if billed separately rather than on the invoice for first and last they would not be subject to tax, they ruled) plus leases the company assigned they consider "sold," meaning the assets were not only taken as collateral in discounting, but title changed hands, therefore the leases were subject to sales/use tax in the transfer.
Several hundred thousand dollars are involved in "double taxation," and Pacifica-Capital has spent close to $100,000 to date in defending their position. The issue was "settled" before the actual hearing by the California State Board of Equalization.
According to the June 6, 2006 edition of ELT News, "The Equipment Leasing Association (ELA) has filed comments with the California Board of Equalization in case #217918 in support of a leasing company contesting application of sales tax to discounted or assigned true leases where the assignment contracts ostensibly transferred title to the property but in reality title was not transferred as the leasing company retained the residual equity interest. The leasing company also argues that for those other transactions in which title was in fact transferred, if the assignment is considered a second sale, then leasing company is entitled to an offset for taxes it originally paid on the equipment. Also in contention is tax on documentation fees in $1 purchase option leases. It is viewed as a case of double taxation since tax was paid up front on the equipment cost providing the State all revenues to which it is entitled."
The United Association of Equipment Leasing also was active in its support.
Leasing News asked Ms. Kerhoulas to give Leasing News readers a recap and the resolution as they may also find themselves in this spot one day:
The Case regarding Assignment of Title issues and tax on Documentation Fees was resolved on July 18, 2006 by a unanimous vote of the Board of Directors based on an agreed-upon Third Supplemental Decision and Recommendation made by Senior Tax Counsel of the Appeals Division.
The final outcome was the following:
The California State Board of Equalization still will not waiver on the assessment of tax on documentation fees, site inspections, etc. - as they consider those items part of gross receipts.
We convinced the Board to apply Business Taxes Law Guide Annotation 330.1878 for the proposition that in sales and use tax matters, the language used by the parties to characterize their transactions does not necessarily control. The annotation specifies other evidence such as whether the transferor retained title to the subject property after the payments to the transferee (lessor/assignee), and whether the transferor claimed depreciation and was responsible for the collection of property tax in connection with the property.
In other words, even if the form of an assignment document states that title to the property transfers from the Assignor to the Assignee, if the Assignor in substance is only assigning a stream of payments to the Assignee, but retains the residual position, depreciates the equipment and controls the collection of property tax, there is no second sale.
Regarding the transactions where Pacifica did indeed sell the residual and execute an Assignment Document in which title to the property transferred to the Assignee, the BOE determined that since there was no intervening use (the leases and assignments were executed contemporaneously), Pacifica should be given an allowance for tax-paid purchases resold. The BOE, however, considered all gross receipts received as part of the transaction, so we were not only taxed on the Present Value of the assignment (our fee), but on the advance rentals that we retained, and all non-taxable items that were on the original invoice, including installation, freight, etc...
Kit, this appeals process took over four years and only came about through the tireless efforts of the following team:
Pacifica retained the counsel of Cary Boyden, Esq, of Boyden, Cooluris, Livingston & Saxe PC in 2003. He was instrumental in arguing the legal facts of the case.
In the final months, once we had exhausted all our appeals and were scheduled for a Hearing in front of the members of the Board of Equalization, Cary suggested that this process had now become a political battle and we should bring in a lobbyist. Based on ELA's recommendation, we hired Jeffrey Leacox, Esq. and Patrick Shannon, Esq. of Greenberg Traurig, LLP. Jeff recommended Patrick as the lead lobbyist. Patrick was amazing. He was familiar with the Board and was able to set up individual meetings with each of the five members so that Patrick and I could outline our arguments and plead our case prior to the actual date of the conference. It was the member's pressure on the Audit Staff that brought about a Second SD&R. More detailed documentation and education of our discounting procedures followed, and then a final meeting with J. Angeja, Senior Tax Counsel and B. Heller, Tax Counsel. The result was a Third SD&R which gave us virtually everything that we were fighting for (except eliminating the tax on doc fees). I would highly recommend Patrick and his firm for future lobbying efforts related to our industry. He's now an expert!
ELA - This Association provided an amicus brief in support of our position. It was well received and may have had an impact on the Board members as they were reviewing our arguments. Dennis Brown, Val Pfeiffer and the State Government Relations Committee are to be commended for their efforts.
UAEL - This Association also provided an amicus brief in support of our position. Joe Woodley, Victor Harris and the entire Board are to be commended for their efforts.
US Bancorp/Manifest Funding Group and Pentech Financial Services, Inc. went so far as to contribute to our lobbying efforts. I can't thank them enough...
LeasingNews - Thank you, Kit, for keeping this issue in the forefront and helping to gather information throughout the four-year process.
In closing, all I can say is that if I had it to do all over again, I would still make the choice to fight the California State Board of Equalization for the tax assessments that were clearly double taxation and wrong. I spent thousands of hours and many thousands of dollars in attorney and lobbyist fees. Of course our win greatly reduced Pacifica's tax liability (which had been paid in order to reduce further interest), but the fight was primarily to keep a precedent from being set which would negatively affect thousands of leasing companies that do business in California - and with the added knowledge that other states would most likely follow California's lead.
Bette
Bette Kerhoulas, CLP
Managing Director
PACIFICA CAPITAL
bettek@pacifica-capital.com
www.pacifica-capital.com
8105 Irvine Center Drive, Suite 500
Irvine, CA 92618
(949) 727-3711, Ext. 227
(800) 800-8081, Ext 227
(949) 727-3722 Main Fax
--------------------------------------------------------------

To view our collection of placards, please go here:
http://two.leasingnews.org/Placards/index.htm
--------------------------------------------------------------

Contact Management Survey
----------------------------------------------------------------

Classified Ads---Help Wanted
Account Managers
"Specializing in Equipment Financing"
Charlotte * Los Angeles * New York * Phoenix

National Account Managers
60% com./30% res. APP only to $150,000. No industry/geo restrictions. Tremendous flexibility/freedom: your home office or our regional offices. bjohnson@alliancecap.com

Marketing Specialist


ELD Marketing Specialist
Walnut Creek, CA
Serve as a liaison between the leasing department and several hundred brokers . Requires a BA/BS; 3+ years of leasing and contract experience; Click here for detailed description & resume submission info.


Sales

Highest Commission in Industry
Seeking self-motivated, energetic individuals for California, Florida, Georgia, Illinois,Texas
equipment transportation leasing/financing. Moderate travel & extensive phone work.
Email resume : ekaye@advantagefunding.us or fax to 718-392-5427.
About the Company: Advantage Funding was recently acquired by Marubeni Motor Holdings, a major Japanese trading company and is a leading commercial and consumer vehicle and equipment financing and leasing company based in Long Island City, NY.


RETAIL MERCHANT VENDOR SALES
Outstanding opportunity for established vendor sales professional to introduce a cash advance product that vendors can utilize to facilitate the sale of their products. To apply, please send resume to applicant@1rstfunds.com.

Sales Manager

Inside Sales Manager
Troy, MI
Proven in sales, prospecting and closing
skills. Must know how to lead and
grow our sales team. Send resumes to htischer@leasecorp.com

--------------------------------------------------------------

Leasing Association Conference 2006

September 18, Monday
EAEL Expo
2006 EXPO: Innovative Ideas!
Mark your calendars: Monday, September 18 at the Glenpointe Marriott with Keynote Speakers: Christine Todd Whitman and EconomistsL Jonathan and David McMurray. Our Chairman Scott Wheeler promises this year will be the best ever!
Agenda and Registration Page:
http://www.eael.org/doc/SeptemberMeetingBrochure.pdf
Please call the EAEL office at 212-809-1602 or alison@eael.org for pricing and registration form.
---------------------------------------------------------------------------
EAEL and NAELB
Partnership Once Again to
PRESENT
EXPO 2006
(September 18th - Teaneck NJ)
Members from both EAEL and NAELB have come together to develop an excellent agenda for this year's EXPO. Every Leasing Professional should plan to attend this exciting event. The theme this year is "INNOVATIVE IDEAS" and the goal of the event is to bring knowledgeable leasing professional together to share and expand their leasing knowledge. The agenda includes but is not exclusive of:
Key Note Speakers:
Christine Todd Whitman - 50th governor of NJ. and past Environmental Protection Agency Administrator. Jonathan and David Murray- regular guest on The Today Show and CNBC Morning Call where they discuss current economic conditions and investment themes and wealth management strategies.
Interactive Forum:
"Hiring, Training, and Retaining Superior Sales Professionals in Today's Competitive Market" This discussion will be lead by Steve Chreist of Selling-UP (A regular contributor to Leasing News) and Mike Toglia of Molloy Associates.
CLP Introduction Class:
The CLP Foundation is offering an "Introduction Class to CLP" on Sunday Sept 17th
The Expo is nearly sold out of exhibiting space for Lease Funders and Service Providers. (However there are still a few spots available).
I invite all Leasing Professionals to join us on September 18th in Teaneck NJ. This is a MUST attend event for everyone. We are expecting record numbers again this year.
For more information and a registration form visit: http://www.eael.org/doc/SeptemberMeetingBrochure.pdf or contact Alison at the EAEL Office at 212 209 1602 or Scott Wheeler- EXPO Chairman at 800 365 6566
----------------------------------------------------------------------------
UAEL Annual Conference & Exhibition
Embassy Suites Hotel
Albuquerque, NM
October 5-8th, 2006

Important International Balloon Festival Information!

Gondola Club Membership
is included with paid
Conference Registration

Please check the box on the
registration form for attending
the International Balloon
Festival's Saturday morning
Mass Ascension.

Sign up Now!
One of the most popular UAEL events as it is the Grand Opening of the International Balloon Festival, titled: "Out of the Blue." UAEL will provide early morning transportation between the Embassy Suites Hotel and the mass ascension of hundreds of hot air baloons from 7am to 10am.
Important Flight Information!

Flights into Albuquerque
are selling out fast.

Prices go up every day you wait, so
please book your flight ASAP!

General Session & Keynote Speaker
Larry Mersereau, CTC

" Stand out "
How to Position and Grow your business with
POWERFUL Brand Identity

If you're not one of the first two or three names that come to mind when your prospect is ready to make a buying decision, you're not even in the game. And if you want the best shot at their business, you'd better be first on the list. Get up early Friday morning for this session (based on Larry's new book by the same title), and you'll take home brand-building and positioning tactics that you can use immediately to establish top-of-mind awareness in any market.

You'll learn how to write your own unique positioning statement, a key step in establishing your brand recognition and market superiority.
(If you don't have one now, you've got to come to Albuquerque!) You'll identify which of the four possible market positions you're in now, which one you might prefer to occupy, and what you have to do to get there. You'll analyze your key competitors' positions, and identify what it takes to compete effectively with each one. You'll come away primed to etch your brand indelibly in the hearts and minds of your buying public, and to build a solid foundation for long-term growth and profitability.
Review the Larry Mersereau, CTC website
www.promopower.com
for more information
The Funding Source and Service Provider Expositon will be held Friday, October 6, after the event. Educational sessions and the Annual Business Meeting will be held on Saturday, October 7.
You will become a Balloon Fiesta "VIP" and enjoy the International Balloon Festival from a private reserved area, away form the crowds and with comfortable seating indoors and out.
Enjoy this exclusive setting that includes delicious food and a private tent during the Mass Ascension, which is famous for being a top draw of the Festival.
UAEL is also providing transportation and admission to the event with paid registration so sign up ASAP to reserve your place at this exciting event .
Annual Conference & Exhibiton
Kim at 760-564-2227
or email at kim@uael.org
More information at: www.uael.org
Schedule of the International Balloon Festival:
http://www.aibf.org/scripts/index/list_events_total.php
You can see the balloons from the Embassy Hotel, where UAEL
has booked rooms. Register early as this is a popular event.
Click here for the hotel:
http://embassysuites.hilton.com/en/es/hotels/index.jhtml;jsessionid=YRSAQP3J
RBD14CSGBIVMVCQKIYFC3UUC?ctyhocn=ABQEMES
Exhibitor Layout (The choice of booth location is based in the order of conference registration, so register ASAP to secure your desired spot:)
http://www.uael.org/events/conferences/ace/exhibit.asp
----------------------------------------------------------------------------
Equipment Leasing Association
45th Annual Convention
October 22-24
JW Marriott Desert Springs Resort & Spa
Palm Desert, CA
LA Convention Registration Available Online!
For equipment lessors, the era of "business as usual" has ended. We face a future marked by some hard realities--a mature product, more competitive financing alternatives, greater regulation, greater transparency, less tolerance for certain traditional practices, and fewer opportunities for tax and accounting structures. Those are the realities, but it's what you do with them that matters. Companies willing to ask the tough questions, to discard outmoded ideas, to innovate and to take responsibility for the image and reputation of the industry will create their own place. The future belongs to those willing to create a whole new beginning for their company. The 45th Annual ELA Convention will address these issues.
Registration and all information about the Annual Convention are now available on-line at
http://www.elaonline.com/events/2006/AC/
Don't Wait! Register today for this premier industry event!
--------------------------------------------------------------

Surprise Bank of England rate-hike rattles stocks
SAN FRANCISCO (MarketWatch) - An interest-rate hike by the Bank of England took U.S. and European markets by surprise Thursday and sent those markets as well as U.S.-listed shares of European companies lower.
The Bank of England on Thursday unexpectedly raised its key interest rate by a quarter percentage point to 4.75%, taking back a quarter-point cut it made a year ago.
Investors also moved with caution ahead of Friday's U.S. employment report for July, which is seen as having a significant effect on the Federal Reserve's own rate decision at its meeting on Aug. 8.
The Bank of New York Europe ADR Index lost 0.7% to 148.53 and the Bank of New York Composite ADR Index fell 0.6% to 147.58.
Wall Street had been assessing monthly sales figures from retailers including Wal-Mart Stores Inc. (WMT : Wal-Mart Stores, Inc.
The bank cited the quickening pace of economic activity in the past few months as well as higher energy prices as reasons for the increase. See full story. See London Markets.
In a move that was widely expected, the European Central Bank also hiked its key interest rate for the fourth time in nine months, to 3% from 2.75%.
"This puts a lid on growth outside the U.S.," said Michael Metz, chief investment officer at Oppenheimer & Co. "And we already knew that growth was slowing in the U.S." See Market Snapshot.
Most banking shares on the Europe ADR Index were in the red after the BoE rate hike because of fears that higher interest rates will mean more homeowners won't be able to make their mortgages payments. A number of banks have recently reported higher bad debt levels.
--------------------------------------------------------------

New Leasing Rules Could Add Assets
Accounting changes by FASB and IASB should boost balance sheets, but aren't likely to spawn upgrades in credit ratings, says S&P.
Stephen Taub, CFO.com
The lease-accounting project recently proposed by the Financial Accounting Standards Board and the International Accounting Standards Board (IASB) could result in hundreds of billions of dollars added to corporate balance sheets, according to a new Standard & Poor's report.
The new lease-accounting standards aren't likely to spawn a material change in issuer credit ratings, however, because the previously off-balance sheet amounts are already largely factored into current rating, the rating agency said. "We already attribute additional debt for operating leases, and we therefore do not currently envision that there will be a material impact to our issuer ratings merely as a result of adding these obligations to the balance sheet, unless the nature of the lease arrangements or their monetary significance were not sufficiently disclosed or otherwise available to Standard & Poor's analysts," said Len Grimando, the firm's director for financial reporting analysis.
S&P also said that it's too soon to speculate on what new lease-accounting framework would result from the major project by FASB and IASB. That said, the new regime will require some methodology to record assets and liabilities arising from leasing arrangements as well as to bring many such transactions that are currently treated as operating leases onto the lessee's balance sheet, according to the agency.
The report does stress that the project could result in some important rating considerations, with the potential for ratings changes. That potential lies in covenant and regulatory compliance matters, adverse market reaction, changes in business practices, and other factors.
Much more importantly, the project could spur a big shift in corporate culture. "Perhaps the greatest impact of these proposed rules would be the potential for changes in corporate behavior and business practices that such lease accounting changes may cause," said Neri Bukspan, S&P's chief accountant, in a statement.
The report also pointed out that changes in business practices would affect lessee-issuers, lessor-issuers, and issuers that service the lease-structuring industry.
The FASB-IASB project could also curb the appeal and change certain structured transactions, according to S&P.
--------------------------------------------------------------

Mortgage demand drops to 2002 Level
The Mortgage Bankers Association reports applications hit a new low, reporting its seasonally adjusted index of mortgage application activity for the week ended July 28 decreased 1.2% to 527.6 — its lowest since May 2002 — from the previous week's 533.8.
It was the third straight week that overall mortgage activity slumped, despite a decline in interest rates during that period.
The average rate on a 30-year fixed- rate mortgage in the U.S. fell to 6.63 percent this week, the second straight decline, according to Freddie Mac.
Other rates also slid.
The 30-year rate fell from last week's 6.72 percent and compares with 5.82 percent a year earlier.
The one-year adjustable rate fell to 5.69 percent from 5.78 percent, Freddie Mac said.
The 15-year fixed rate fell to 6.27 percent from 6.34 percent.
--------------------------------------------------------------

Mark and Rachelle Gordon obituary
Mark Gordon (Gordon & Glickson) and his wife both passed away tragically last Saturday in a home fire. Many clients in leasing and finance and a very good guy
Gordon, Rachelle And Mark Lee

Rachelle ''Shelley'' Gordon, nee Slavin, 56, and Mark Lee Gordon, 55, died suddenly July 29, 2006, at their residence in Lincoln Park. Shelley a teacher, educator and community leader. Mark a Senior Partner at the Law Firm of Gordon & Glickson for 25 years, recently merged with McGuire Woods, Chicago. Shelley and Mark are the dearly beloved parents of Michael. Shelley is the daughter of the late Harry and Ruth Slavin; dear sister of Roy (Melba) Slavin. Mark is the dearly beloved son of Betty, nee Levy, and George Gordon; brother of Rita Gordon. Both are survived by aunts and uncles Sidney (Doris) Slavin and Marilyn (Norman) Schakne, Doris Kaplow (the late Paul Levy), Aleida (the late Bernard) Levy; nieces and nephews Scott and Sean Slavin and Jennifer Kunkle; as well as countless cousins, friends and associates who mourn their untimely loss. Funeral services, Tuesday 10:30 a.m. at Temple Jeremiah, 937 Happ Road, Northfield. Interment Rosehill Cemetery. In lieu of flowers, memorial contributions may be made to the charity of your choice. Info: Piser Funeral Services, 847-679-4740.
Attorney, wife killed in Lincoln Park blaze
By Lolly Bowean
Tribune staff reporter
www.tribune.com
A Chicago attorney and his wife were killed Saturday morning, on their 34th wedding anniversary, when a fire consumed the inside of their two-story graystone in Lincoln Park, authorities said.

Mark, 55, and Rachelle Gordon, 56, were found in the second-floor bathroom of the house and probably were trying to escape the blaze, Chicago Fire Department officials said.

The couple's 18-year-old son, Michael, lived in the basement, friends said, but he wasn't home when the fire occurred.

Friends, business partners and neighbors gathered outside the home, on the 600 block of West Fullerton Parkway, Saturday morning.

"They were two of the greatest individuals," said Stuart Smith, an attorney and friend who worked with Mark Gordon. "You could always count on them to help you, to assist you. [They're] going to be missed."

The fire was reported about 3 a.m., and firefighters arrived looking for a rubble fire, department spokesman Larry Langford said. When they arrived, firefighters didn't see the fire at first, but soon discovered the flames inside the Gordon's home, he said.

"When they found the fire, they attacked it and were able to put it out relatively quickly," he said. "They had to walk around looking for it because there was smoke, but no broken windows. The fire was contained in the building."

The fire started in a sitting area in the basement and slowly worked its way up until it consumed most of the inside of the house, Langford said. There were smoke detectors inside the house that were hard-wired to a security system, but it didn't work, Langford said.

"Why the system didn't give warning is unknown," he said.

Fire officials are investigating the cause of the blaze, but they don't suspect foul play, Langford said.

Mark Gordon was a partner with McGuireWoods, a Richmond, Va.-based firm that recently merged with Gordon's practice. He specialized in information technology law and was considered a pioneer in the field.

"He was one of the leading lights and had a national reputation," said Richard Greenberg, managing partner for McGuireWoods' Chicago office. "He was well-published, spoke a lot and was in demand for seminars. He was one of the leaders in developing technology as its own recognized field of law."

His wife, Rachelle, was a teacher, researcher and author, her friends said.

"This just doesn't make sense," said Marilyn Katz, a friend of Rachelle Gordon, who was at the home Saturday. "They are a wonderful family. Shelly is like everyone's best friend. It won't be the same without them."

lbowean@tribune.com
--------------------------------------------------------------

AOL to be "Free"
Dear AOL Member,

I want to let you know about some exciting changes happening at AOL. Our service has always provided both a way to connect to the Web and an entertaining online destination once you're connected.

Today we are announcing that AOL's software, email, and many compelling AOL features -- including your Address Book, Screen Name, the Buddy List® feature and more -- will be free to everyone with an Internet connection.

What Does This Mean for You?

Nothing about your service arrangement with us will change unless you want it to. Your current plan, which includes 24/7 customer support, unlimited email storage, your email addresses and all the AOL content and services you rely on, will still be there for you.

Even if you choose a different high-speed provider from the one you use to connect to the Internet today:
You can keep your AOL Screen Name and email address for as long as you want to use it, completely free;
You can continue to use your AOL software, and you can still get all your favorite features and content, completely free;
You will still get the most comprehensive free set of safety and security tools available, plus world-class, high-speed content like video, music and more.
All of this is free , no matter who provides your Internet connection.

Why Is AOL Doing This?

We're simply changing with the times. There are many options for Internet access, whether it's dial-up or broadband. At the same time, a lot of online content and services are now available on the Web free of charge because they are supported by advertising. So, while your Internet connectivity needs may change over time, what you love about the Web does not. We are now able to ensure that the familiar AOL experience, your Screen Name, your Address Book, your Buddy List, your Favorite Places, and other content and features you enjoy, will always be available to you for free.

In September, you will be hearing about more changes and other new features at AOL. Until then, you can visit AOL Keyword:
New AOL for more information and to sign up for informative email alerts.

Sincerely,

Jon Miller
Chairman and CEO
AOL LLC
---------------------------------------------------------------
### Press Release ###########################

Kamradt Promoted at ATEL Capital Group

Dean Cash, CEO and President of the ATEL Capital Group announced the promotion of James A. Kamradt to Executive Vice President and National Sales Manager for ATEL Securities Corporation, effective August 1, 2006.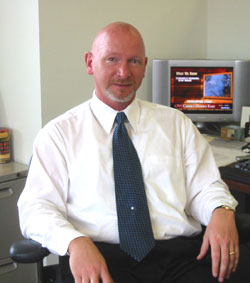 James A. Kamradt
"Jim has been with ATEL for almost 10 years, holding increasingly responsible positions over this period, most recently SVP-Operations with ATEL Leasing Corporation. He brings a wealth of leasing industry experience to this position, with over 23 years in the business."
Prior to joining ATEL, Jim was employed by Phoenix Leasing and Dana Commercial Credit Corporation, where he was the founding facilitator of a Quality Program that ultimately won the Malcolm Baldridge Award. Jim holds an MBA from the University of California at Berkeley and has been an adjunct professor at Dominican University of California.
"I am very confident that Jim will do an outstanding job in this new position. We are looking for continued growth under Jim's leadership."
Mr. Kamradt, who has worked closely with ASC's sales force over the past eight years says, "The sales team that we have assembled is top-shelf and I am proud to be a part of it. Over the past twenty years ATEL has continued to thrive due to our commitment to our Customers, Investors and Broker Dealers.
" I am committed to providing the highest level of communication, primarily through regular personal contact with each and every one of our partners. I am particularly excited about our Growth Capital Funds, which provide a great opportunity for clients to invest in carefully selected, pre-IPO companies funded by leading venture capital firms.
"The benefit of having a diversified portfolio of hard assets backing the investment is a key reason that I welcome the opportunity to discuss the superior value that ATEL provides to our broker dealers and investors alike."
ATEL Capital Group is a diversified financial services business with interests in equipment leasing, real estate, growth capital, and property management. ATEL Securities Corporation is a leader in both public and private Direct Participation Programs. Since its founding in 1977, ATEL has priced, structured, owned, managed, and arranged billions of dollars of business with a management team that has over 150 years of combined experience. ATEL is headquartered in San Francisco, with an operations center in Denver and an office in Honolulu.
### Press Release ###########################

Beach Business Bank Joins Forces With Baycap For Business Leasing Program
MANHATTAN BEACH, Calif.----Beach Business Bank (OTCBB:BBBC) (the "Bank") today announced that it has finalized details of a new joint marketing effort for equipment leases for businesses and professionals nationwide.
Baycap, Inc. ("Baycap") is a nationwide leasing company and has been one of the Bank's most successful clients. The Bank and Baycap have been working together to develop a program for the Bank's clients who would prefer the flexibility of a lease to other forms of financing. "This was a natural fit for us," said Phillip Bond, executive vice president and chief credit officer of Beach Business Bank. "As a business bank, we are frequently asked about leasing. Now we can give our clients exactly what they want. We have been financing Baycap's business for quite some time, so we know the principals and know that their level of high-touch client service is exactly what we want for our clients."
"We are in a high growth mode, so expanding our relationship with Beach Business Bank makes perfect sense," said Todd Coordt, the chief executive officer of Baycap, Inc. "The Bank is very pro business and they provide us an extraordinary level of service. Our shared vision of helping businesses succeed will play a critical role in the success of this new equipment leasing program."
Beach Business Bank is headquartered at 1230 Rosecrans Avenue, Lobby Level, in Manhattan Beach, and has a second full-service branch at 180 East Ocean Boulevard, Lobby Level, in Long Beach, CA.
For more information on the Bank, please visit www.beachbusinessbank.com or call 866-862-3878 or 310-536-2260; and in Long Beach, call 562-435-8600.
Baycap is headquartered at 423 S. Pacific Coast Hwy Suite 201 in Redondo Beach, CA. For more information on Baycap, visit www.baycapinc.net or call 877-992-2922 or 310-944-9900.
pated events or circumstances after the date of such statements.
Contacts
Beach Business Bank
Phillip Bond, 562-481-3410
pbond@beachbusinessbank.com
or
Todd Coordt, 310-316-9202
toddcoordt@baycapinc.net
### Press Release ###########################

Latin America Experiencing Equipment Leasing Boom
Report Shows Region's Volume Up 50 Percent in 2005, with Brazil's Nearly Doubling, Argentina's Recovering
FORT LAUDERDALE, FL,– Equipment leasing volume in Latin American countries increased by more than 50 percent on average in 2005, according to a report by The Alta Group Latin American Region (LAR). The Alta LAR 100 report, which includes the firm's second annual ranking of the Top 100 leasing companies in Latin America, has expanded with new information revealing the region's fastest-growing businesses, key multinationals, and growth in each country.
"Our most interesting finding is the impressive growth in leasing throughout Latin America in 2005," said Rafael Castillo-Triana, principal for The Alta Group LAR. The firm provides consulting, legal and research services to manufacturers, banks, leasing companies, associations and organizations working in Latin America.
"Brazil, which has the largest leasing industry in the region, experienced tremendous growth and almost doubled in size," he added. "The report also shows that Argentina's leasing industry is recovering from the downturn following the country's economic crisis of 2002."
Alta believes equipment leasing has grown in Latin America because it has proven to be an effective tool to funnel capital investment into emerging economies, and because the prevailing macroeconomic conditions in Latin America have favored the increasing demand of capital investment, Castillo-Triana noted. "However, the industry still needs to be prepared to be sustainable and continue growing, even in periods of macroeconomic downturns. Alta's sense is that most of the large players are intending to do so, but this requires a lot of adjustments and a willingness to abide by best management practices for the leasing industry," he said.
The report's ranking of the Top 100 leasing operations in Latin America is based on each company's reported portfolio of leased assets in 2005. Alta LAR developed the rankings from data published by the corresponding country leasing associations, Central Banks of regulatory entities, rating agencies and in some cases from data provided by individual companies.
The 10 leading companies in the Alta LAR 100 this year are, in order:
Cia Itauleasing de Arrendamento Mercantil (Brazil)
Safra Leasing S/A Arrendamento Mercantil (Brazil)
Banco Santander-Santiago- leasing portfolio (Chile)
Leasing Colombia CFC + Suleasing (Colombia)
Bradesco Leasing S/A Arrendamento Mercentil (Brazil)
Banco de Chile –leasing portfolio (Chile)
Popular Auto (Puerto Rico)
Leasing de Occidente CFC (Colombia)
Banco IBM S/A Arrendamento Mercantil (Brazil)
Banco Itau S/A Arrendamento Mercantil (Brazil)
The complete Alta LAR 100 report is available free of charge, in both English and Spanish. For a copy, please visit www.thealtagroup.com. The Alta Group LAR also plans to offer an in-depth database to accompany the report, for a fee, Castillo-Triana said.
About The Alta Group
The Alta Group is a global consultancy serving equipment leasing and finance companies, investment professionals, manufacturers, banks and government organizations. Founded in 1992, The Alta Group supports clients in North America; Latin America; Western, Central and Eastern Europe; Australia and China. For more information, visit www.thealtagroup.com.
### Press Release ###########################

GATX Leases New Headquarters
CHICAGO--(--GATX Corporation (NYSE:GMT) announced that it executed a new long-term lease agreement for its headquarters in downtown Chicago. In 2008, GATX Corporation will relocate its corporate and rail headquarters to 222 West Adams, having leased approximately 109,000 square feet in Tishman Speyer's Franklin Center complex in Chicago's West Loop district.
Brian A. Kenney, chairman and CEO of GATX Corporation stated, "This new lease offers GATX great flexibility, space efficiency, advanced technology and a lower cost platform from which to operate and grow our business. In addition, the location of this exceptional building is highly accessible to our employee base.
"Special recognition goes to Melissa Copley, President of Copley Advisors, who led this highly complex process to a successful conclusion, and Mike Thomas, Vice President of Jones Lang LaSalle, who supported Melissa in the transaction. I am pleased that GATX's headquarters will continue to be located in downtown Chicago where we have been since our founding in 1898."
COMPANY DESCRIPTION
GATX Corporation (NYSE:GMT) provides lease financing and related services to customers operating rail, air, marine and other targeted assets. GATX is a leader in leasing transportation assets and controls one of the largest railcar fleets in the world. Applying over a century of operating experience and strong market and asset expertise, GATX provides quality assets and services to customers worldwide. GATX has been headquartered in Chicago, IL since its founding in 1898 and has traded on the New York Stock Exchange since 1916. For more information, visit the Company's website at www.gatx.com.
Investor, corporate, financial, historical financial, photographic and news release information may be found at www.gatx.com.
### Press Release ###########################

Trinity Industries, Inc. Reports Strong Earnings and Record Revenues
DALLAS, -- Trinity Industries, Inc. TRN today reported earnings from continuing operations of $62.6 million, or $0.79 per common diluted share for the second quarter ended June 30, 2006. These results include a gain of $0.09 per common diluted share from the disposition of property. Earnings from continuing operations for the same quarter of 2005 were $20.5 million, or $0.27 per common diluted share. Total earnings for the second quarter were $85.8 million, or $1.08 per common diluted share, including $0.29 of earnings per common diluted share from the disposition of the fittings business. This compares with total earnings of $21.8 million or $0.29 per common diluted share for the same quarter of 2005.
For the six months ended June 30, 2006, the Company reported earnings from continuing operations of $97.6 million, or $1.23 per common diluted share, compared with earnings from continuing operations of $25.7 million or $0.34 per common diluted share for the same period of 2005. For the six months ended June 30, 2006, the Company reported total earnings of $122.8 million, or $1.55 per common diluted share, compared with total earnings of $27.8 million or $0.37 per common diluted share for the same period of 2005.
Revenues for the second quarter increased 23 percent to $883.8 million compared to revenues of $718.0 million for the same period in 2005. Quarterly revenues were the highest in the Company's history. Revenues for the six months ended June 30, 2006 increased 20 percent to $1,628.6 million compared to revenues of $1,352.7 million for the same period in 2005.
"The driving factors behind our businesses remain strong," said Timothy R. Wallace, Trinity's Chairman, President and CEO. "As a result, our performance continues to improve. Our manufacturing facilities are operating at high levels of utilization and efficiency. Our backlog of orders in both our rail and barge groups continued to grow during the second quarter. This is a positive indicator of continued momentum for Trinity."
Trinity received orders for 10,012 railcars in North America during the second quarter, which ended June 30, 2006, and shipped 6,233 railcars. Trinity's North American railcar order backlog rose to 29,320, an increase of over 3,700 from the March 31, 2006 order backlog.
The Company added approximately 1,500 new railcars to its railcar lease fleet during the second quarter, bringing the fleet total to more than 27,200 at June 30, 2006. "Investing in our lease fleet continues to be one of our core strategies," Wallace said.
Trinity's Inland Barge Group's order backlog grew to $487 million at the end of the second quarter. "Our Inland Barge Group's earnings exceeded our expectations as a result of improved efficiencies," Wallace said.
Trinity's Energy Equipment Group also improved its operating profit over the second quarter of 2005. "Our structural wind tower business remains strong and continues to have a nice level of inquiries for additional products."
Full press release at:
http://www.trin.net/invsrela/press/Trinity%20Industries%20Reports%20Strong%20Earnings
%20and%20Record%20Revenues%2008-02-06.pdf
### Press Release ###########################

Netsol Technologies Announces Successful Deployment of End-to-End
Funding System at Provident Inventory Finance
Company deploys new web-based business originations, fully integrated with back office portfolio management and accounting operations
CALABASAS, CA – – NetSol Technologies, Inc. (NASDAQ:NTWK), a U.S.-based, multinational provider of enterprise software and services for equipment financing, today announced that its wholly owned Burlingame, Calif.-based subsidiary, McCue Systems, has successfully designed and deployed a fully customized portfolio management solution at Sydney, Australia-based Provident Inventory Finance.
Provident Inventory Finance provides tailored funding options through brokers, or introducers, enabling them to offer this innovative form of cash flow finance, not offered by traditional lenders, that does not require real estate security or stock presales.
"We are very gratified to see our introducer network growing rapidly," commented Provident Inventory Finance Managing Director Matthew Nolan. "We asked McCue Systems to provide a business origination tool that would inter-operate seamlessly with our customer-facing website. They delivered an effective solution that meets our needs and, most importantly, the needs of our introducers."
Nolan added, "McCue further demonstrated its commitment to our success by minimizing our start-up costs and aligning our ongoing outlays with the growth of the business and our increased usage of the system."
NetSol's McCue Systems development team, working in concert with integration and ASP partner LeaseDimensions, developed and deployed a web-based originations tool designed to streamline deal acquisition and funding decisions for the organization's introducer network throughout Australia.
"The success of the Provident Inventory Finance solution is an excellent example of the ability of NetSol Technologies to leverage its asset finance expertise to deliver customized solutions globally, " stated NetSol Technologies Chairman Najeeb Ghauri. "We look forward to supporting the continued success of Provident Inventory Finance."
About Provident Inventory Finance
Provident Inventory Finance Limited is a member of the successful Provident Capital Group of companies. Established in 1990 and wholly Australian owned, the Provident Capital Group manages a portfolio of AUD$250m. Provident Inventory Finance is a specialized lender providing short term loans to Australian businesses, facilitating their acquisition of inventory. Funding is provided on flexible terms to suit our clients and for amounts up to AUD$3m. Provident Inventory Finance's assists growing and profitable businesses that have seasonal buying needs, an opportunity to achieve supplier discounts or a need for additional working capital to expand. For more information, visit www.inventoryfinance.com.au
About McCue Systems
With over 30 years of experience in developing business solutions for the equipment and vehicle leasing industry, McCue Systems Inc. is the leading provider of lease/loan portfolio management software for banks, leasing companies and manufacturers. Its flagship product, LeasePak, simplifies lease/loan administration and asset management by accurately tracking leases, loans and equipment from origination through end-of-term and disposition.
McCue Systems leads the leasing technology industry in the development of Web-enabled and Web-based tools to deliver superior customer service, reduce operating costs, streamline the lease management lifecycle, and support collaboration with origination channel and asset partners. For more information, visit www.mccue.com.
About NetSol Technologies, Inc.
NetSol Technologies is an end-to-end solution provider for the lease and finance industry. Headquartered in Calabasas, CA, NetSol Technologies, Inc. operates on a global basis with locations in the U.S., Europe, East Asia and Asia Pacific. NetSol helps its clients identify, evaluate and implement technology solutions to meet their most critical business challenges and maximize their bottom line. By utilizing its worldwide resources, NetSol delivers high-quality, cost-effective IT services ranging from consulting and application development to systems integration and outsourcing. NetSol's commitment to quality is demonstrated by its achievement of both ISO 9001 and SEI (Software Engineering Institute) CMM (Capability Maturity Model) Level 4 assessment. For more information, visit NetSol Technologies' web site at www.netsoltek.com .
### Press Release ###########################

CapitalStream Appoints Celeste Hauck to Vice President, Professional Services
Seattle - SEATTLE -- CapitalStream Inc., a leader in front office automation solutions for commercial lending and finance operations, today announced the appointment of Celeste Hauck to vice president, professional services. Hauck has built and managed large client service teams who have successfully implemented large-scale enterprise systems across a broad range of enterprises including large banks and financial institutions. She will focus on building the processes and personnel skills that ensure CapitalStream's level of service delivery to complement the company's overall growth plans.
Hauck spent the last 16 years with Ceridian, a $2 billion enterprise software and services company, in numerous roles including regional vice president of implementation services, general manager and district vice president of client services. Most recently she spearheaded Ceridian's largest Six Sigma project, which defined new implementation methodologies and led to improved implementation cycle time, accelerated revenue recognition, improved customer satisfaction and significant cost savings.
"With a healthy pipeline of new business, it is more important than ever that we create a consulting and support organization that can scale, handle multiple large projects simultaneously and exceed customer expectations," said Kevin P. Riegelsberger, president and CEO, CapitalStream. "Hauck's drive and significant leadership experience will contribute greatly to CapitalStream's strategic growth plan."
About CapitalStream
Established in 1995, CapitalStream provides software and consulting services that enable commercial banks and finance companies to collaborate, integrate and operate more effectively across their front office operations. CapitalStream solutions streamline data gathering, deal structuring, credit analysis, document generation, booking, account monitoring and ongoing risk management to more effectively originate transactions and manage commercial relationships. CapitalStream transforms the paper-based operations of mid-market, small business, equipment leasing and commercial real estate groups by reducing costs, risk and processing times to grow their portfolios without increasing headcount. For more information, visit us at www.capitalstream.com .
### Press Release ###########################
--------------------------------------------------------------

News Briefs----
AOL Plans to Cut 5,000 Jobs
http://www.washingtonpost.com/wp-dyn/content/article/2006/08/03/
AR2006080301401.html
Bank of America plans to add 1,300 New England jobs
http://www.boston.com/business/articles/2006/08/03/
bank_of_america_plans_to_add_1300_new_england_jobs/
Retailers Report Solid Sales in July
http://www.chicagotribune.com/business/sns-ap-retail-sales,1,7861050.story?
coll=chi-business-hed
More air passengers getting bumped
http://www.usatoday.com/money/biztravel/2006-08-03-bumped-usat_x.htm
---------------------------------------------------------------


You May have Missed---
Trillions stashed offshore cost government $40 billion to $70 billion annually
http://seattletimes.nwsource.com/html/businesstechnology/
2003167926_webtaxhavens01.html
----------------------------------------------------------------


"Gimme that Wine"
Worth its weight in gold?
Why some people happily pay $500 for a bottle of wine
http://www.sfgate.com/cgi-bin/article.cgi?f=/c/a/2006/08/03/WIGVHK6MGT1.DTL&
hw=wine&sn=001&sc=1000
California wineries produce crowd-pleasers
http://www.sfgate.com/cgi-bin/article.cgi?f=/c/a/2006/08/03/WIGOKK97QM1.DTL&
hw=wine&sn=005&sc=228
Americans flock to buy home cellars
http://www.decanter.com/news/91014.html
Wine Prices by vintage
http://www.winezap.com
http://www.wine-searcher.com/
US/International Wine Events
http://www.localwineevents.com/
Winery Atlas
http://www.carterhouse.com/atlas/\
Leasing News Wine & Spirits Page
http://two.leasingnews.org/Recommendations/wnensprts.htm
----------------------------------------------------------------

Calendar Events This Day
Braham Pie Day
Freedom Park, Breaham, MN. Celebrate Braham's status as "Homemade Pie Capital of Minnesota" during this one-day festival.
Visitors will find homemade pies, craft displays, pie-eating contests, a pie auction, a pie race and performing artists in Braham's main street park. www.braham.com
Burkina Faso: Revolution Day.
National holiday. Commemorates 1983 coup.
Coast Guard Day
Celebrates anniversary of the Revenue Cutter Service in 1790, which merged with the Life Saving Service in 1915 to become the U.S. Coast Guard
Work like a Dog Day
A celebration (during the Dog Days of Summer) of the professional and personal satisfaction experienced by entrepreneurs and small business that work like a dog to be successful. www.evilwinproductions.com
----------------------------------------------------------------

Today's Top Event in History
1964-After disappearing on June 21, three civil rights workers were found murdered and buried in an earthen dam outside Philadelphia, MS. The three young men were workers on the Mississippi Summer Project organized by the Student Nonviolent Coordinating Committee (SNCC) to increase black voter registration. Prior to their disappearance, James Chaney, Andrew Goodman and Michael Schwerner were detained by Neshoba County police on charges of speeding. When their car was found, burned, on June 23, President Johnson ordered an FBI search for the men.
----------------------------------------------------------------

This Day in American History
1693 - It is believed that a monk named Dom Perignon invented champagne at the Benedictine Abbey of Hautvillers in the region of Champagne, northern France. He made the first champagne by re-fermenting a certain wine in the spring and then placing it in strong, sealed bottles so that the wine would become sparkling. Dom Perignon was the Cellar master for 47 years until his death in 1715. The sparkling wine was crude and perhaps the first one to produce what we drink today was Mme. Nicole-Barbe Clicquot, who developed the sur pointe process that clarified the sediment out of sparkling wines. She was also an astute business person, especially in a day that women did not run business. Nicole Barbe Clinquot was the daughter of the mauor of Reims who at 20 was widowed with a daughter after three years of marriage to a vintner. She vowed to carry on her husband's business. She developed the process of remuage (moving) in which the bottles of wine are stored upside down (on their corks or sur pointe) and then the bottles are shaken periodically and then rotated to force the sediments in the wine to settle down on the cork. After a certain period, the cork is quickly removed, the sediment is expelled by the wine gases and then the bottle is quickly re-corked. The widow Clinquot also invented pink champagne. My favorite in Louis Roederer, but a Grand Madame Clinquot, now that is a fine sparkling wine! Here is a secret. You can serve "Champagne" with everything. If you cannot match a wine to a food, serve "Champagne." Next, a very good beer. Don't laugh, some fine beer goes with everything ( especially if it is "fresh.") Now what does this have to do with American History? Nothing, but thought you would like to know more about sparkling beverages.
http://www.umc.fr/encyclopedie/vignes_au_plaisir/veuve_clicquot.htm
1735 - Freedom of the press was established in the United States when John Peter Zenger, publisher of the New York Weekly Journal, won an acquittal of the libel charges placed by Gov. William Crosby. The royal governor had tried to censor Zenger's attacks on the British crown.
1753 - George Washington became a Master Mason.
http://memory.loc.gov/ammem/today/aug04.html
1790-U.S.Coast Guard founded.
http://www.uscg.mil/hq/g-cp/history/collect.html
1810-Birthday of abolitionist Robert Purvis. He ran all the Underground Railroads from his home and was the founder of the American Leasing Anti-Slavery Society.
http://www.nyjournalnews.com/blackhistory/purvis.html
http://www.spartacus.schoolnet.co.uk/USASpurvis.htm
1830- Plans for the city of Chicago laid out.
http://www.1upinfo.com/encyclopedia/C/Chicago-history.html
http://www.aviewoncities.com/chicago/chicagohistory.htm
1838-Emancipation of slaves in the Bahama's and Grenada this day by the British . A rumor started in the South that salves would try to escape to the Bahama's and fear of this lead to stricter attitudes and positions of slavery, especially by the many large slave owner who relied on the "free" labor at their farms, called plantations.
1873- While protecting a railroad survey party in Montana, Custer and his 7th Cavalry clash for the first time with the Sioux Indians, who will defeat them three years later at Little Big Horn. During the previous two years, Lieutenant Colonel George Armstrong Custer and his 7th Cavalry had not fought a single battle against the hostile Indians of the western Plains. Hungry for action, Custer was pleased when the 7th Cavalry was ordered to help protect a party of surveyors laying out the route for the proposed Northern Pacific Railroad. The new transcontinental railroad (the third in the United States) was to pass through territory controlled by hostile Sioux Indians. Custer was optimistic that the assignment would give him a chance to improve his reputation as an Indian fighter. Initially, the military escort saw little action. The hostile Indians seemed to be avoiding or ignoring the survey party. For Custer, the mission turned into something of a lark. He spent much of his time shooting buffalo, antelope, elk, and other animals. To find good hunting, he often led the 7th Cavalry far away from the survey party and the main body of the military escort. On this day in 1873, Custer was far ahead of the rest of the force, camping along the Tongue River in southeastern Montana. Suddenly, a large band of Sioux warriors appeared on the horizon and attacked. The Indians were led by Crazy Horse and Sitting Bull, but the young braves seemed to have attacked impetuously and with little planning. Custer, who had been taking an afternoon nap, reacted quickly and mounted an effective defense. After a brief skirmish, the Indians withdrew. Since only one soldier and one Indian were killed in the skirmish, Custer's short battle along the Tongue River seemed relatively insignificant at the time. However, Custer's easy escape in his first encounter with Sitting Bull and Crazy Horse may have given him a dangerously scornful view of their fighting abilities. It helped to confirm his belief that the Plains warriors tended to flee rather than fight. As a result, when Custer again encountered Sitting Bull and Crazy Horse at the Little Big Horn River three years later, his greatest fear was that they would withdraw before he could attack, and he rushed in without proper reconnaissance. That time, though, the Indians stood and fought, leaving Custer and more than 200 of his men dead.
1874 -Methodist clergyman John H. Vincent (1832-1920) and Ohio manufacturer Lewis Miller established the Chautauqua Assembly in northwest New York state a summer retreat center combining recreational activities with the training of Sunday School teachers and other church workers.
1875 - The first Convention of Colored Newspapermen was held in Cincinnati, Ohio. The convention's aim was to promote the establishment of United States newspapers that would focus on the African American community.
1881- 122ø F (50ø C), Seville, Spain (European record)
1897-Blackman Henry Rucker appointed Collector of Internal Revenue for Georgia
http://www.ga3d.net/sweetauburn/rucker.htm
1882 - A vivid aurora was visible from Oregon to Maine, down the east coast as far as Mayport, FL, and inland as far as Wellington KS. Observers at Louisville KY noted "merry dancers" across the sky, and observers at Saint Vincent, MN, noted it was probably the most brilliant ever seen at that location.
1900-Louis Armstrong, Jazz musician extraordinaire born at New Orleans, LA. For years, he had told reporters that he was born on July 4 th , but actual records show August 4, which he realized later in life, noting his orphan home had told him otherwise. Died at New York, NY, July 6, 1971. Perhaps the greatest jazz trumpet player who ever lived. Asked to define jazz, Armstrong reportedly replied, "Man, if you gotta ask, you'll never know." The trumpet player was also known as Satchmo. He appeared in many films. Popular singles included "What a Wonderful World" and "Hello, Dolly" (with Barbra Streisand) and "High Society." Two of my favorite albums are "Armstrong Plays W.C. Handy" and "Ella and Louis."
http://www.satchmo.net/
http://www.redhotjazz.com/louie.html
http://www.amazon.com/exec/obidos/search-handle-form/103-5362656-4423850
Best Louis Armstrong Vocal:
http://www.amazon.com/exec/obidos/ASIN/B00004RD5E/qid=1059868750/sr=2-2/
ref=sr_2_2/103-5362656-4423850
My favorite single Armstrong Album:
http://www.amazon.com/exec/obidos/tg/detail/-/B000002ADP/qid=1059868810/sr=1-1/
ref=sr_1_1/103-5362656-4423850?v=glance&s=music
http://www.amazon.com/exec/obidos/tg/detail/-/B0000047FO/qid=1059868625/sr=10-2/
ref=sr_10_2/103-5362656-4423850?v=glance&s=books
1904-Trumpet player Bill Coleman birthday, Centreville, KY1904-pianist/alto sax/trumpet player Kenneth Anderson born Pittsburgh, PA
(see the list:
http://jazzinstituteofchicago.org/index.asp?target=/jazzgram/bronzeville/union/part3.asp )
1905- Piano player Joseph Louis "Red" Cayou born New Orleans, LA", LA Died May 12, 1994.
1910-Birthday of American composer William Howard Schuman who won the first Pulitzer Prize for composition and founded the Juilliard School of Music, born at New York. His compositions include American Festival Overture, New England Triptych, the baseball opera The Mighty Casey and On Freedom's Ground, written for the centennial of the Statue of Liberty in 1986. He was instrumental in the conception of the Lincoln Center for the Performing Arts and served as its first president. In 1985 he was awarded a special Pulitzer Prize for his contributions. He also received a National Medal of Arts in 1985 and a Kennedy Center Honor in 1989. Schuman died at New York City, Feb 15, 1992.
1916 - Denmark agreed to cede the Danish West Indies, including the Virgin Islands, to the United States for $25 million. The deal took effect the following March 31.
1919-Birthday of Glenn Clarence Cunningham, the "Kansas Ironman," American track athlete and 1934-37 world record holder for the mile, member of the US Olympic teams in 1932 and 1936, was born at Atlanta, KS. On June 16, 1934, at Princeton, NJ, Cunningham set a world record for the mile (4:06.7 min). Cunningham died at Menifee, AR, Mar 10, 1988.
1920- Birthday of Helen Thomas - U.S. journalist.. One of nine children of Lebanese immigrants who arrived in the U.S. with $17, she worked her way through college. Her parents ran a grocery store. Her parents kept the accounts in their heads because they could not read or write. Like typical immigrants who wanted a better life for their children, they encouraged Helen Thomas and all of her sisters and brothers to get an education She went to Washington, DC got a job for the-then United Press (later United Press International) to write women things for radio but her ambition and willingness to work on her own enabled her to move up to covering the Justice Department, various government agencies, even Congress. After covering, mostly on her own, the newly elected John Kennedy, she began attending White House press conferences, also on her own. She was promoted to White House correspondent in 1970 just in time for the Watergate scandals. She was the only member of the print media to accompany President Nixon on his noted trip to China in 1972. She became bureau chief in 1974, the first woman to ever hold such a post with any news service. She made friends with Martha Mitchell, the wife of Nixon's attorney general John N. Mitchell who was jailed for his involvement in the Watergate break-in cover-up. Martha Mitchell, in late night phone conversations, confided to her suspicions and outrage over the Watergate incident and attempts to hide it.
A determined feminist, she forced the National Press Club to "allow" women journalists to attend the luncheon that would be address by visiting Soviet premier Nikita Khrushchev. Thomas later became an officer with the Press club and would become president of the Gridiron Club, an exclusive press organization.
Her questioning of presidents, demanding that they be held accountable made her many enemies, but she was seen as one of the most reliable reporters in Washington. Because of her Lebanese ethniticity, she was accused of being pro-Arab, which she was not. Such as charge of prejudice was never made towards any male reporter no matter what their religion, ethnic background, or social connections were. Because of her seniority, she had the singular honor of being the regular whose dignified "Thank you, Mr. President" signaled the end of White House press conferences. But before the honored phrase, she was known to ask devastating and perceptive questions of all eight of the presidents she reported on. She was tough, shrewd, and always fair gaining respect from all of the eight presidents she made squirm with her no nonsense questions. She was one of the few reporters who sought answers rather than positioning themselves for promotions. When UPI was sold in May 2000 to a communications corporation with ties to the Unification Church that owns a right-wing newspaper, MT, 79, said she'd step down. She said she intends to write a book, may syndicate a column, and give speeches. "Presidents come and go, but Helen's been here for 40 years now, covering eight presidents and doubtless showing the ropes to countless young reporters and, I might add, more than a few press secretaries," President Clinton said at her retirement. "Whatever she decides to do, I'll feel a little better about my country if know she'll still be spending some time around here at the White House. After all, without her saying, 'thank you, Mr. President,' at least some o us might never have ended our news conferences," he said.
"Even though she has her own opinion, her reporting is straight down the middle and it's all hard news - none of this analysis and chin-stroking that goes on in journalism today," former White House press secretary Mike McCurry said.
1921-guitarist Herb Ellis born McKinley, Texas
http://www.arjazz.org/artists/hof/1994/94_herb_ellis.html
http://www.classicjazzguitar.com/artists/artists_page.jsp?artist=12
http://www.guitar-masters.com/Players/Player-Ellis.html
http://www.canuck.com/jazz/Ellis.html
1927 - The General Electric Station in Schenectady, New York, station 2XAG which was later named WGY, began experimenting with operations from a 100,000-watt transmitter. The FCC would later regulate the power of AM radio stations to not go over 50,000 watts on "clear channels" where few stations would interfere with each other.
1927 - For Victor Records in Bristol, Tennessee, singer Jimmie Rodgers recorded his first songs. On the record he sang "Sleep Baby Sleep" and "Soldier's Sweetheart".
1930 - The temperature at Moorefield, WV, soared to 112 degrees to establish a state record, having reached 110 degrees the previous day. Widespread drought after April of that year caused some towns to haul water for domestic use, and many manufacturing plants were barely operational.
1933-Sax player Sonny Simmons born Sicily Island, Louisiana.
http://www.gallery41.com/JazzArtists/SonnySimmons.htm
http://www.vh1.com/artists/az/simmons_sonny/bio.jhtml
http://www.hollowear.com/reviews/simmons.html
http://ubl.artistdirect.com/music/artist/bio/0,,493395,00.html?artist=Sonny+Simmons
1934 - The first major league baseball player to score 6 runs in one game became Mel Ott today.
1936-"Long" John Woodruff wins an Olympic gold medal in the 800-meter run
http://www.fay-west.com/connellsville/historic/woodruff.php
http://www.greaterconnellsville.org/woodruff/commemorativeprintform.htm
1940 - "Crime Doctor" introduced a new radio hero. CBS radio presented Dr. Benjamin Ordway, the show's main character, as an amnesia victim. A former criminal, he got hit on the head, and began to work as a crime fighter.
1944 - Nazi police found Anne Frank and her family, hiding in secret rooms above her father's factory in Amsterdam, Holland. Anne was 15 years old at this time and had kept a diary during the two years of hiding from the Nazis. After the arrest, Anne and her sister were taken to a concentration camp. Anne Frank would die at Bergen- Belsen. Later Anne's diary was found and has since been translated into 30 languages, and adapted as both a play and a Hollywood film.
1944 - No. 1 Billboard Pop Hit: "Swinging on a Star," Bing Crosby.
1947---Top Hits
Peg o' My Heart - The Harmonicats
That's My Desire - The Sammy Kaye Orchestra (vocal: Don Cornell)
I Wonder, I Wonder, I Wonder - Eddy Howard
Smoke! Smoke! Smoke! (That Cigarette) - Tex Williams
1953-drummer Jeff Hamilton born Richmond, Indiana
http://www.hamiltonjazz.com/hamiltonbio.html
1954 - In Saskatchewan, Canada, the uranium rush began.
1954 - Alfred Hitchcock's Rear Window had its world premier at New York's Rivoli Theater.
1954 - No. 1 Billboard Pop Hit: "Sh-Boom," The Crew-Cuts.
1955---Top Hits
Rock Around the Clock - Bill Haley & His Comets
Ain't That a Shame - Fats Domino
Learnin' the Blues - Frank Sinatra
I Don't Care - Webb Pierce
1955 - To Catch a Thief, starring Cary Grant and Grace Kelly and directed by Alfred Hitchcock, debuted in New York on this date. The film later received an Oscar for Best Color Cinematography.
1956 - at Wendover, Utah, Wilhelm Herz was clocked at 210 miles per hour, making him the first person to race a motorcycle over 200 miles-per-hour.
1957 - A world record was set by Florence Chadwick who swam the English Channel in 6 hours, 7 minutes.
1957 - Juan Fangio won his last car race, winning the world auto driving championship for the fifth consecutive year.
1957---The Everly Brothers make their second appearance on the Ed Sullivan Show and introduce their upcoming single, "Wake Up Little Susie," a song which would go on to cause some major controversy and be banned from some radio stations
1958- Billboard magazine introduces its "Hot 100" chart, a list of the 100 best-selling pop singles in the country. This list replaced multiple charts the magazine had previously published, including Best Sellers in Stores and Most Played in Juke Boxes. The first song to top the Hot 100 list was "Poor Little Fool" by Ricky Nelson.
1958- Dumont TV Network crumbles. My father was a producer/writer/director for the Dumont network, creating among shows such as "Harlem Detective," "Captain Video," "Hands of Murder." He met often with Dr. Dumont, who he once gave one of the exploding cigars I put in his pocket as a kid. Dumont was a scientist and not a "showman," losing Jackie Gleason among others. My father worked right under Ted Bergman, who I remember my father respected, but Dr. Dumont was not a businessman ( nor was my father. )
http://members.aol.com/cingram/television/dumont2.htm
http://www.museum.tv/archives/etv/D/htmlD/DuMont/DuMont.htm
1961- 108ø F, Spokane, WA (record)
http://aviationweather.gov/wxfact/AUG.html
1962-Jamaica Independence Day. National holiday observing achievement of Jamaican independence form Britain August 6, 1962. Annually the first Monday in August.
1963---Top Hits
So Much in Love - The Tymes
Fingertips - Pt 2 - Little Stevie Wonder
(You're the) Devil in Disguise - Elvis Presley
Ring of Fire - Johnny Cash
1963- In his first at-bat in two months after breaking his left foot, Mickey Mantle slams a pinch-hit home run in the ninth inning to beat the Orioles, 11-10.
1964-After disappearing on June 21, three civil rights workers were found murdered and buried in an earthen dam outside Philadelphia, MS. The three young men were workers on the Mississippi Summer Project organized by the Student Nonviolent Coordinating Committee (SNCC) to increase black voter registration. Prior to their disappearance, James Chaney, Andrew Goodman and Michael Schwerner were detained by Neshoba County police on charges of speeding. When their car was found, burned, on June 23, President Johnson ordered an FBI search for the men.
1964 - No. 1 Billboard Pop Hit: "A Hard Day's Night," The Beatles.
1971---Top Hits
You've Got a Friend - James Taylor
Mr. Big Stuff - Jean Knight
Draggin' the Line - Tommy James
I'm Just Me - Charley Pride
1972 - Superfly, starring Ron O'Neal, opened in theaters. Starring Ron O'Neal and directed by Gordon Parks, Jr., Superfly's success at the box office and unexpected acclaim prompted two sequels. The plot centers on a Harlem drug dealer who wants to retire. Curtis Mayfield's dynamic soundtrack set it apart from similar low-budget films.
1974- Paul Simon's "Love Me Like A Rock" is released.
1974 - No. 1 Billboard Pop Hit: "Feel Like Makin' Love," Roberta Flack.
1979---Top Hits
Bad Girls - Donna Summer
Good Times - Chic
Ring My Bell - Anita Ward
You're the Only One - Dolly Parton
1980 - A record forty-two consecutive days of 100 degree heat finally came to an end at the Dallas-Fort Worth Airport. July 1980 proved to be the hottest month of record with a mean temperature of 92 degrees. There was just one day of rain in July, and there was no measurable rain in August. There were 18 more days of 100 degree heat in August, and four in September. Hot weather that summer contributed to the deaths of 1200 people nationally, and losses from the heat across the country were estimated at twenty billion dollars.
1981 - A United States court ordered striking air traffic controllers back to work and fined their union $2.4 million a day for the duration of the strike. 1983 - During warm-ups, New York Yankee outfielder Dave Winfield threw a baseball and accidentally killed a seagull. When the game was over, Toronto police surrounded the batter and arrested him for "causing unnecessary suffering to an animal."
1987---Top Hits
Shakedown - Bob Seger
I Still Haven't Found What I'm Looking For - U2
I Want Your Sex - George Michael
Snap Your Fingers - Ronnie Milsap
1988-Congress votes $20,000 to each Japanese-American interned in WW II.
1989 - Thunderstorms produced severe weather from eastern Nebraska and northeastern Kansas to the Great Lakes Region, with 150 reports of large hail or damaging winds during the afternoon, evening, and nighttime hours. Thunderstorms produced tennis ball size hail at Claremont, MN, and wind gusts to 75 mph at Milwaukee, WI. Thunderstorms representing what once was Hurricane Chantal produced five inches of rain at Grant, MI, and deluged Chicago, IL, with more than three inches of rain in three hours
1995- Long time coach Jimmie Reese, whose 23 years in an Angels uniform equals longest in club history is inducted into the Angels' Hall of Fame. The former roommate of Babe Ruth began his career as a batboy for the Pacific Coast League's Los Angeles Angels in 1917.
1995 - Babe, the charming sleeper hit about a pig who learns to be a sheep dog, debuted in United States movie theaters. The gentle film, with state-of-the-art computer technology, thrilled audiences young and old, and the film garnered many awards and nominations, including the Golden Globe for Best Motion Picture - Comedy/ Musical, and it was nominated for a Best Picture Oscar. Veteran actor James Cromwell received an Oscar nomination for Best Supporting Actor for his role as Farmer Hoggett, and director Chris Noonan received the New York Film Critics Circle Awards for Best New Director. The National Society of Film Critics declared it Best Film of the Year. Christine Cavanaugh supplied the voice of the hero pig, and Roscoe Lee Browne was a moving narrator. Babe was based on the book "The Sheep-Pig" by Dick King- Smith.
1997 - The world's oldest person, Jeanne Calment, died aged 122 years and 164 days in Arles, France.
1998 -Yankees' slugger Darryl Strawberry hits a game-tying pinch-hit grand slam in the ninth inning of New York's 10-5 win becoming the second major leaguer to hit two pinch-hit grand slams in one season.
2000-- With 32 home games remaining, the Astros, who moved from the pitcher-friendly Astrodome to homer-haven Enron Field this season, set a franchise-record by already hitting 83 homers at home this season.
2001--Top Hits
Bootylicious -Destiny's Child
Loverboy -Mariah Carey Featuring Cameo
Let Me Blow Ya Mind -Eve Featuring Gwen Stefani
Hit 'Em Up Style (Oops!) -Blu Cantrell
--------------------------------------------------------------


Baseball Poem

Life
by Jim "Mudcat" Grant
Life is like a game of baseball
And you play it every day.
It isn't just the breaks you get,
But the kind of game you play.

Stop and look the whole team over,
You've got dedication there.
You're bound to be a winner ,
With men who really care.

Your pitcher's name is courage,
You need him in this game.
For trust and faith your keystone men,
The grounders they will tame.

Your centerfielder is very fast,
Though small and hard to see.
So watch him when he gets the ball,
He's opportunity.
At first base there's religion,
He's stood the test of time.
At third base there is brotherhood,
A stalwart of the nine.

Your leftfielder is ambition,
Don't ever let him shirk.
Rightfielder is a husky man,
You'll find his name is work.
Your catcher's name is humor,
He's important to the scheme.
While honor is pitching from the bull pen,
Your game is always clean.

With love on your bench,
You've perfection, no less.
And a winning team,
With joy and happiness.

The other team is strong,
Greed, envy, hatred, and defeat
Are four strong infielders you'll have to buck,
To make your game complete.
Discouragement and falsehood,
Are the big boys in the pen.
You'll have to swing hard,
When you meet up with them.

Carelessness and a man called waste,
You'll find them playing hard.
And selfishness and jealousy,
None can you disregard.

There's one more man you'll have to watch,
He's always very near.
He's the pitcher for this team,
I'm told his name is fear.

The game will not be easy,
There'll be struggle, there'll be strife.
To make the winning runs,
For it's played on the field of life.

So stand behind your team,
There'll be many who'll applaud.
Just remember you are the player,
And the umpire there is God.
--------------------------------------------------------------

SuDoku
The object is to insert the numbers in the boxes to satisfy only one condition: each row, column and 3x3 box must contain the digits 1 through 9 exactly once. What could be simpler?
http://leasingnews.org/Soduku/soduko-main.htm