Controller
Boca Raton, FL
CPA, 5 yrs leasing exp. min. 15 yrs in accounting. For more info, please
click here
Océ Financial Services, Inc. is a dedicated captive leasing company, consolidating all lease-related activity for Océ North America and Océ Imagistics.


Wednesday, August 22, 2007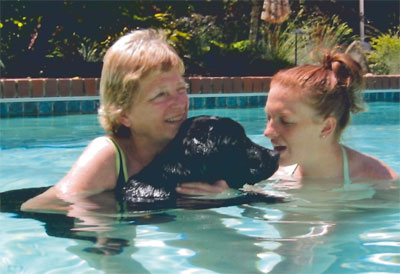 Sue and Katie with Bode in the swimming pool
92 degrees, Saratoga, California
Headlines---
Archives, Aug 22, 2005---Dash with NCW2, IBU 41
Classified Ads----Senior Management
Fed to lower rate before September 18th
Cartoon---Message of importance
1 in 5 Credit Expected to Add Staff This Year
Classified Ads---Help Wanted
2007 NAELB Western Regional Meeting
Copernic---Best Internet Browser!
Wienermobile-71 Years on the Hot Dog Highways
Sales makes it Happen---by Mr. Terry Winders, CLP
"The use of Lease Proposals"
OVLA opposes law for $150 to sell off lease vehicles
Lu Watter' Yerba Buena Jazz Band
ZRG Reports 63.7% Growth in first half of 2007
Doreen Cropp VP Healthcare U.S. Bank
Madison Capital's New Fully Electronic Leasing Option
BCI Aircraft Leasing in Ponzi Scheme, SEC claims
Cash flow shows worries run deep
Investors Say That Fed Must Do More for Markets
AT&T quietly introduces $10 DSL plan in 22 states
News Briefs---
You May have Missed---
30 Things You Probably Didn't Know About Elvis
California Nuts Brief---
"Gimme that Wine"
Calendar Events
Snapple Real Facts
Today's Top Event in History
This Day in American History
Baseball Poem
SuDoku
Daily Puzzle
######## surrounding the article denotes it is a "press release"
-------------------------------------------------------------------

Archives, Aug 22, 2005---Dash with NCW2, IBU 41
"Dad, tell your friend (Dwight Galloway) Quantico was the first Marine Corp Base I trained at... When in North Carolina I was training with the guys from Lejune At a place called BlackWater. I am sure he knows all about it. My home base is now Portsmith, Virginia.
I'm with NCW2, IBU 41.
Here he is shipping out. Four tours in waters of Iraq (two on a destroyer guarding oil platforms, in small craft then, too, inspecting ships in the area; two in Riverene on land and sea, he may be on fifth as I have not heard from him in a month. His very proud father.)
--------------------------------------------------------------

Classified Ads----Senior Management
Atlanta, GA
Strong sales and leadership skills; demonstrated with sales training and sales performance. Lead team in both regional and national operations and developed marking programs.
Email: mll1946@comcast.net

Philadelphia, PA
27 yrs. exp. sales, ops., credit, strategy, P&L mngmet. Most recently created & executed the biz plans for 2 highly successful Bank-owned small ticket leasing subsidiaries.
email: mccarthy2020@comcast.net
Syracuse, NY
Int. equip. leasing exec. 25 yrs global P&L sr. mngt., including corporate turnarounds, strategic planning, new biz dev., structure finance, contract neg., vendor leasing specialist.
Email: jimh356094@aol.com
To place a free "job wanted" ad here, please go to:
http://www.leasingnews.org/Classified/Jwanted/Jwanted-post.htm
For a full listing of all "job wanted" ads, please go to:
http://www.leasingnews.org/Classified/Jwanted/Jwanted.htm
--------------------------------------------------------------

Fed to lower rate before September 18th
By Christopher Menkin
August 10th, Leasing News wrote: "There is speculation that a special meeting may be held to lower the interest rate. Whether .25 is enough is speculation, as well as is the flowing of money more serious than inflation..."
The "mini-panic" started the stock computers making decisions that alarmed the Federal Reserve, particularly since priming billions into the system seem to be daily fixes, so the prime rate was lowered a 50 basis points (half point,) as many insiders predicted. The Board is also announcing a change to the Reserve Banks' usual practices to allow the provision of term financing for as long as 30 days, renewable by the borrower.
The next meeting is September 18th and the speculation continues that rates will be reduced before the regular meeting.
Senator Christopher Dodd, D-Conn., chairman of the Senate Bank Committee, who is also running for president, said yesterday that ""I think the Fed gets it " but was critical of the Treasury Secretary Henry M. Paulson for saying that it would take considerable time to work out the mortgage problems even while affirming that the economy is sound.
"This will play out over time and liquidity will return to normal when the market has a better understanding, when investors have a better understanding, of the risk return trade-off," Paulson said.
In a further sign of credit market strains, the gap between the pricing of the highest and lowest risk commercial paper hit its widest since 2001.
Yields on three-month US Treasury bills initially fell a further 0.35 per cent, to 2.86 per cent, after plunging on Monday in the biggest one-day fall since the 1987 stock market crash. The Fed injected $3.5 billion more into markets yesterday, while also infusing liquidity by cutting fees for lending securities to dealers.
It appears Federal Reserve Chairman Ben Bernanke is still learning the ropes as he certainly is no Alan Greenspan, the former long time chairman of the Federal Reserve. At the same time, the entire Bush administration appears to be out to lunch. President George Bush as his white house press conference before going on vacation said he was not concerned about the economy and the mortgage market would straighten itself out. Maybe the expression should be: on vacation.
The facts are banks and mortgage companies are continuing to close down units, such as Capital One on Monday announcing it will shut its GreenPoint Mortgage unit and fire 1,900 employees because it expects tighter credit to squeeze both lenders and home buyers out of the market. SunTrust Banks announced letting 7% go. Last Friday First Magnus Financial announced it was closing down, lettings nearly 6,000 employees go. And Countrywide Financial, (CFC) the nation's largest mortgage, despite the full page ads in major newspapers, has been giving employees termination notices left and right.
The only instrument being promoted by most, such as Sterling Bank in newspaper ads, is the "reverse mortgage" where the homes are mostly unencumbered with long time residents with excellent credit and not expected to overextend themselves due to their maturity.
The main concern is the tightening of credit by member banks and other financial institutions. As the top companies yield a benefit from lower rates, the great majority of entrepreneurs and others fit into a different category, relaying on business loans, credit cards, and the cash flow from their sales. As it tightens, so does cash flow. Rates don't go lower, just better margins as there is more "risk" in
the credit risk.
As in the mortgage market place, the scenario has become bearish as uncertainty, and to name it correctly, the uncomfortable feeling of what is happening to the global economy as well as the local market due to the down housing market, soft manufacturing, stagnant consumer income, high cost of both local, state, and the federal government bothers many. Some even fear the breaking of the subprime market could happen to the plastic credit card market that has introduced heavy and high cost debt to the general public; many consumers have cards that pay one card off against another; continued borrowing to stay afloat.
Many "B" leasing funders have tightened up their criteria, and even the "C" and "D" brokers note a difficulty in getting deals approved that would have flown through due to the high margins.
This is definitely become the marketplace where independent leasing brokers become more important to all those involved in the process from the lessee to the funder.
If the Feds lower their rate before the September 18th meeting, it may have an effect. If they wait until September 18th, the momentum will require another ½ point effort. Where is Alan Greenspan when we need him now?
These predictions have been printed in Leasing News:
March 14
For Whom the Mortgage Bell Tolls by Christopher Menkin
http://www.leasingnews.org/archives/March%202007/03-14-07.htm#bell
April 12
$1 Billion Pledged to Help Fend Off Foreclosures
http://www.washingtonpost.com/wp-dyn/content/article/2007/04/11/AR2007041102200.html
August 10, 2007
Prime Rate Story
http://www.leasingnews.org/archives/August%202007/08-10-07.htm#fed
And perhaps the first one printed here about the problems with subprime mortgages:
February 3, 2006
Bad Moon on the Rise --by Steve Chriest
http://www.leasingnews.org/Selling_Up/Bad_Moon.htm
--------------------------------------------------------------

--------------------------------------------------------------

One in Five Credit Departments Expected to Add Staff This Year
www.credittoday.com
Reflecting a strong economy, 21 percent of credit execs expect to add staff this year, compared to only 9 percent who expect to downsize, according to Credit Today's Salary & Job Satisfaction Survey. Data shown below are in percentage terms.

Source: Credit Today 2007-2008 Salary & Job Satisfaction Survey
Major Trends
Consumer products manufacturers appear much stronger than industrial products manufacturers, as two and a half times more consumer products manufacturers expect to add credit staff than downsize, while more industrial manufacturers are expecting to downsize than add staff.
As might be expected, the energy sector is very strong, with none expecting to downsize and more than 25 percent of respondents expecting to add staff. The same strong trends show up in the service and financial sectors, with five times more respondents expecting to add staff than downsize.
The table below gives the number of companies in each line of business who feel they will add staff, stay the same, or downsize.
Which Best Describes Your Outlook on Staffing for the Coming Year?

Source: Credit Today 2007-2008 Salary & Job Satisfaction Survey
Get the Full Report!
There are two easy ways to purchase the complete Credit Today 2007-2008 Salary & Job Satisfaction Survey. Either way, you can download it immediately.
The first (and best) way is to get it for free as a Member of Credit Today. To sign up and have immediate access to the survey and all our other great resources, including our download section, please go here:
https://www.credittoday.net/public/5.cfm?Product=5&Quantity=1
To order the full report, $175:
http://www.credittoday.net/products/item5.cfm?Product=5&Quantity=1
--------------------------------------------------------------

Leasing Industry Help Wanted
Accounts Manager

ACCOUNT MANAGER
Phoenix, AZ or virtual office
Responsible for developing and managing high-end small ticket & middle-market Vendor Programs. Base plus commission.
Click here for more detailed information.
Manufacturers' Lease Plans Inc. (MLPi) is the pioneer of short-term rental and operating lease financing, funding high technology equipment manufacturers since the 1960s.
Busienss Developement Specialist

Business Development Specialist
(2 Positions)
Clearwater , Florida
Two years sales exp. 1-2 years leasing exp. For more info, please click here. Please email text resume to h-r@ccclease.com .
No attachments please.
Founded in 1978, Commonwealth Capital Corp. has been helping lessors grow their equipment-leasing business. We offer true operating leases for in-demand information technology and medical equipment.
Controller


Controller
Boca Raton, FL
CPA, 5 yrs leasing exp. min. 15 yrs in accounting. For more info, please
click here
Océ Financial Services, Inc. is a dedicated captive leasing company, consolidating all lease-related activity for Océ North America and Océ Imagistics.


EFD Credit Officer


EFD Credit Officer III
Walnut Creek, CA
You will underwrite equipment finance and lease transactions primarily using credit scoring systems. Requires 5 years lending experience including underwriting. BA degree preferred. CLICK HERE for a detailed description and resume submission info.

Visit www.bankofthewest.com, for more information. Bank of the West and its subsidiaries are equal opportunity/affirmative action employers.


Operations / Doc / Funding

OPERATIONS / DOC / FUNDING
COSTA MESA, CALIFORNIA

Full Time Documentation / Funding Clerk
START DATE:
Position Available Immediately

Ground floor opportunity to join fast growing Independent Lessor. Experience required. Word and Excel skills a must.
Benefits provided. Bonus plan participation.
Salary commensurate with experience.
Please fax resume to 714-556-3765. Outline salary expectations.
--------------------------------------------------------------

2007 NAELB Western Regional Meeting
September 7-8 ~~ Costa Mesa , California
~ Make Your Reservations ~

The 2007 Western Regional Meeting will be here before you know it so don't delay in making your reservations at the Hilton Orange County/Costa Mesa or submitting your registrations for the event.

~ Click Here to Make Hotel Reservations ~

~ 2007 NAELB Sponsors ~

Presidential Sponsors
ACC Capital Corporation
NetBank Business Finance
SunBridge Capital, Inc.
U.S. Bank Manifest Funding Services

Gold Sponsors
Allegiant Partners Incorporated
Bank of the West
Dakota Financial, LLC
Enterprise Funding Group
Evans National Leasing, Inc.
Government Leasing Company
LEAF Financial Corporation
Marlin Leasing Corp.
P & L Capital Corp.
Pawnee Leasing Corporation
Pentech Financial Services, Inc.
Pioneer Capital Corp.
PredictiFund
Preferred Business Solutions
Puget Sound Leasing
TimePayment Corporation

Silver Sponsors
1st Priority Acceptance LLC
ABCO Leasing, Inc.
Amerisource Funding
Balboa Capital
Bankers Capital
Bibby Financial Services, Inc.
BSB Leasing, Inc.
Court Square Leasing Corporation
ECS Financial Services, Inc.
Equipment Finance Partners
Equipment Lessors Protection Association
Financial Pacific Leasing, LLC
First Lease, Inc.
Greystone Equipment Finance Corporation
Litehaus Systems, Inc.
MicroBilt Corporation
Padco Financial Services, Inc.
Performance Capital Corporation
Podium Financial Group, Inc.
Studebaker-Worthington Leasing Corp.
TEAM Funding Solutions
Tetra Financial Group, LLC

Level 4 Sponsors
Burke Fossee III, P.C.
First Federal Leasing
Mesa Leasing, Inc.

Broker Members - registration cost is only $99 for the full Western Regional experience. It's a great deal for all the networking you'll do. Don't miss these great educational sessions on Friday!

Best Practices Broker exam

By passing the NAELB Best Practices Broker exam, you can be one of the first who can proudly display "Best Practices Broker" on your letterhead, business cards and brochures. You must have registered for the exam and approved before arriving onsite. No walk-ins will be accepted. This exam is for broker members only.

Why Should I Become a CLP and What Will It Do For Me?

Featured Speakers:
Bob Teichman, CLP - Teichman Financial Training (Moderator)
Chris Enbom, CLP - Allegiant Partners
Rob Crivello, CLP - Windor Capital Finance
Kevin Ralph, CLP - Bank of the West

This workshop will not only answer those two important questions, but it will give you valuable insight into the steps necessary to become a Certified Leasing Professional. It will explain the materials and special programs available to assist you with your studies and review the subjects covered in the exam. Test your leasing knowledge by taking a short exam covering the subjects in the Body of Knowledge and then review your answers with CLPs.


Western Regional Exhibitors
(as of August 17)

ABCO Leasing, Inc.
ACC Capital Corporation
Allegiant Partners Incorporated
Amerisource Funding
Axis Capital, Inc.
Balboa Capital
Bank of West
Belvedere Equipment Finance
Bibby Financial Services, Inc.
Blackstone Equipment Financing
Broker Resource Solutions, LLC
BSB Leasing, Inc.
Dakota Financial, LLC
Enterprise Funding Group
Equipment Finance Partners
Evans National Leasing, Inc.
Financial Pacific Leasing, LLC
First Lease, Inc.
Government Leasing Company
iBank.com
LEAF Financial Corporation
Litehaus Systems Inc.
Marlin Leasing Corp.
Mesa Leasing, Inc.
MicroBilt Corporation
NetBank Business Finance
Numina Finance and Service Company, Ltd.
OneWorld Leasing, Inc.
P & L Capital Corp.
Padco Financial Services, Inc.
Pawnee Leasing Corporation
Pentech Financial Services, Inc.
Pinnacle Business Finance
Pioneer Capital Corp.
Podium Financial Group, Inc.
PredictiFund
Preferred Business Solutions
Puget Sound Leasing
Standard Professional Services, LLC
SunBridge Capital, Inc.
TEAM Funding Solutions
TechLease L.L.C.
Tetra Financial Group, LLC
TimePayment Corporation
Triad Leasing
Union Capital Partner, LLC
U.S. Bank Manifest Funding Services
Varilease Finance, Inc.
--------------------------------------------------------------

Copernic---Best Internet Browser!
"This is the best browser I have found on the internet, and have utilized Copernic Professional for years," Christopher "Kit" Menkin, editor, Leasing News." You do not have to go back and forth, plus you can go back to your original search very easily. It is also more accurate; including chronological information instead of what is "most popular."
The basic engine is free, and there is a $29.96 and the top $79.95.
Give the free search engine a try:
http://www.copernic.com/en/products/agent/index.html
--------------------------------------------------------------

71 Years on the Hot Dog Highways - and Still Hauling Buns
Celebrate 71 years of Hotdogging history. This year marks the 71rst anniversary of the Oscar Mayer WIENERMOBILE, originally leased by Ira Romoff's father-in-law, Ivan Gonnif. Since it made its debut
in 1936, the WIENERMOBILE has been a familiar sight on the hot dog highways of the United States, bringing family fun to millions. It was originally Kosher, and I bet you didn't know that either.
--------------------------------------------------------------

Sales Make it Happen
The Use of Lease Proposals
By Terry Winders, CLP
The difference between a professional salesperson, and an order taker, has to do with how you discover the customer's true interest and what they will accept in a lease transaction. The proposal is an excellent tool to do this if you take the time to construct it wisely and include all of the differences that set you apart from your competition plus a complete explanation of the type of transaction you are proposing.
A lease proposal when presented correctly can properly present your terms and conditions to the potential lessee, however, it requires a complete presentation of all your terms and conditions. Space here does not lend itself to present a proper proposal so the discussion will address its purpose.
Some poorly presented proposals only discuss the rental terms and the three end of the lease options. While this may be acceptable in small ticket leases it will lose you most middle market transactions where the average customer is searching for the best "deal" and only understands a little about what a lease can do for them.
A professional lease salesperson extracts as much information as possible from discussions with the customer but also knows the importance of discovering your differences, or advantages, from your competition. These differences cover a large area such as grace periods, stipulated loss requirements, late charge assessments, property tax procedures, differences in documentation, return conditions or location, and ease of doing business.
Differences are advantages if presented correctly and differences abound if you look for them.
One of the most important steps, is the last one, often over looked, and in the parlance, can be a "conditional close," if done properly:
Review the proposal with your customer to view their reaction to each of your terms or conditions.
Most professional salespeople will tell you that they only discover the customer's true interest as they review the terms of the proposal. They usually have to modify the proposal to reflect the new facts, from the presentation, and return at a later date with the corrected presentation.
One of the secrets of presenting a proposal is to only give the customer a proposal termination date that is shorter than they want. If your proposal is the best they have then they will argue with you about the date.
If the "conditional close" did not work, it may mean you are not competitive. They will disregard the date and this should ring an alarm bell in you mind. Don't be fooled that the sale is "closed."
Proposals are only a tool. They do not sell your lease--- you do.
It is common for customers to pick up suggestions from other presentations and change their minds. If you just send them your proposal thinking that it is only the rate or payment that is the determining factor, you are missing the boat.
Each day the customer is exposed to new ideals and is prone to have a new thought as to what they want. You have to stay on top of these changes if you are to succeed. Many top salesmen believe the sale is closed after the equipment is delivered and accepted, and their commission clears the bank---not when the commitment letter is signed.
--
Terry Winders, CLP
Lease training and Consulting
502-327-8666
leaseconsulting@msn.com

--------------------------------------------------------------

OVLA opposes law for $150 to sell off lease vehicles
August 20, 2007
The Honorable Marc E. Dann
Attorney General of Ohio
30 E. Broad St.,
Columbus, OH 43215-3400
ATTN: Nadine L. Ballard, Consumer Protection Section Chief
Mr. Attorney General:
The Ohio Vehicle Leasing Association or The OVLA strongly believes the recently rendered Ohio Attorney General Opinion 2007-24 is in error as it requires the participation of motor vehicle leasing dealers in the Ohio Title Defect Recision Fund or TDRF. This is a departure (as stated in the your Aug. 10 letter) from the practice of the last ten years and, we believe, is contrary to the intent of the Ohio General Assembly in enacting this law.
The TDRF was created in 1996 by the General Assembly to enable new and used motor vehicle dealers to sell vehicles without a "title in hand" (resulting from the inability of the financial industry to process paperwork in a timely manner) and to protect Ohio consumer ownership rights. Until now, motor vehicle lessors did not participate in TDRF as they, by law, are prohibited (Title 45) from selling new and used vehicles to the public.
To enable a motor vehicle leasing dealer to sell a vehicle to a consumer it also must have either a license as a new or used dealer in addition to the leasing license. Many licensed vehicle leasing dealers have used vehicle dealer licenses to enable them to sell "off-lease" vehicles to consumers and, therefore, do participate – as required by law – in TDRF. The OVLA also has several members who are licensed as new, used, and leasing dealers as required by Ohio law.
The OVLA believes Opinion 2007-24 is in error in requiring vehicle dealers licensed only to lease vehicles to pay into the fund. It also appears that some of our members, with all three licenses – new, used, and leasing – will be required to pay $450 (or bonded) each time TDRF shrinks below the $300,000 threshold – as you say in your Aug. 17 letter it has. Also, many licensed used dealers are licensed as leasing dealers and thus must pay twice as opposed to once in the past. This plaices an unfair burden on these dealers, many of which are small, independent Ohio business people.
The OVLA, inclosing, strongly urges the Ohio Attorney General to reconsider requiring motor vehicle leasing dealers licensed by Ohio to lease vehicles (not sell them) from being required to pay $150 into the fund on or before September 17, 2007, as they, by law, are not permitted to sell vehicles under Ohio law.
Sincerely,
The Ohio Vehicle Leasing Association
/s/ Richard E. Lightner
Executive Vice President
CC: Board and Membership of The OVLA
OADA President Tim Doran – Attn: Joe Cannon
OIADA Executive Director James R. Mitchell
--------------------------------------------------------------

Lu Watter' Yerba Buena Jazz Band
One of my favorite Dixieland bands, as I listen to the disc 4 of the set "Lu Watters Buena Jazz Band, from a radio broadcast on August 16, 1947 at the Dawn Club in San Francisco. It is classic, clean, great rhythm, and melody. Bob Helm on clarinet, Wally Rose on piano, Turk Murphy on trombone, Harry Mordecai on banjo (Clancy Hayes would join him later). Dick Lammi on bass. Of course, Lu Watters and Bob Scobey on cornet. Man, it doesn't get any better than this (except for Louis Armstrong --Armstrong plays W.C. Handy!!!) But than again, you shouldn't say one is better than another as they are all great. (listen to an early Turk Murphy on Beale Street Blue, but I sure like Struttin' with some Barbecue and Watters own Antigua Blues…It almost makes me want to take out my clarinet and play along as I did starting in 1955 when I was 13 years old.
(I have the original LP albums as well as the original 78 Shellac
from 1941. I bought this one at www.jazzheritage.com
( a great club to join) (Kit)
The four disc set is Available at:
http://www.jazzbymail.com/ViewAlbum.aspx?iPID=2469&iAID=1370&sPC=1370_2468
&sLCD=gtj4409&sAN=Lu%20Watters%20Yerba%20Buena%20Jazz%20Band
---------------------------------------------------------------
### Press Release ###########################

ZRG (Z Resource Group, Inc) Reports 63.7% Growth in first half of 2007
Westborough, MA ZRG reports a very strong first half of 2007, with 63.7% revenue growth. The Westborough, MA based retained search firm attributes the growth to several factors. First, our core lending markets have grown tremendously, including the equipment leasing vertical, which is our core revenue generator. Additionally, three newer vertical markets segments continue to show very strong growth rates with IT leadership, private equity backed search and life sciences leading the way.
ZRG Larry Hartmann is the founder and former board member of Rockford Industries, Inc. Rockford was later purchased by American Express, where he became the executive vice-president of American Express Business Finance. In 2002, he joined ZRG and is now the managing partner.
"Currently, 80% of our revenues are from repeat clients and our services are being used both at the middle management level as well as the C-Level, "Managing Partner Larry Hartmann relayed. " We are finding that once clients experience our patent pending CollaboRATE and Z Score process, they don't go back to old fashioned retained search approaches. We have expanded our service offering to now cover European needs as well offering the same methodology and approach for US based businesses with needs abroad".

Kenneth Vancini, managing partner
As an original founder of ZRG and a Managing Partner, Ken runs our operations while playing an integral role in the overall management and success of the company.
"While the industry is showing excellent growth across the board, our run rate reflects the market reception to our approach, "Ken Vancini, Managing Partner explained. "Innovation and fact based decisioning are valued in today's fight for talent. We are very optimistic that the commercial launch of our CollaboRATE product during the fourth quarter will help drive strong revenue growth throughout 2008 and beyond".
About ZRG
ZRG is a fast growth executive search, consulting and advisory firm focused on providing innovative, fact based human capital solutions. . Headquartered in Westborough, MA, Z Resource Group and its subsidiaries maintain branch offices in throughout the United States. The firm specializes in several markets including financial services/banking, technology, life sciences, education, real estate and private equity backed business.
### Press Release ###########################

U.S. Bank Equipment Finance Names Doreen Cropp Vice President
of Business Development Focused on Healthcare
PORTLAND, Ore. – U.S. Bank Equipment Finance has named Doreen Cropp to the position of vice president for business development for its Oliver-Allen Technology Leasing group. In this position, Cropp will develop vendor leasing relationships to facilitate the acquisition of equipment and technology for medical group practices and other healthcare organizations.
PORTLAND, Ore. – U.S. Bank Equipment Finance has named Doreen Cropp to the position of vice president for business development for its Oliver-Allen Technology Leasing group. In this position, Cropp will develop vendor leasing relationships to facilitate the acquisition of equipment and technology for medical group practices and other healthcare organizations.
"We're delighted to welcome Doreen to Oliver-Allen Technology Leasing. With Doreen's vendor finance experience and successful track record, we're well-poised to expand our presence in this growing segment of the healthcare market," said Jamie Gioia, executive vice president, U.S. Bank Equipment Finance.
A 19-year veteran of the leasing industry, Cropp was most recently with Citigroup Vendor Finance responsible for business development in the healthcare market. Previous to this, Cropp held the position of national accounts manager with HPSC and earlier in Cropp's career she was co-founder and president of Centaur Financial Services.
Oliver-Allen Technology Leasing is part of U.S. Bank Equipment Finance, one of the largest bank-affiliated equipment finance companies in the nation. U.S. Bank Equipment Finance has been providing quality equipment finance solutions for more than 35 years. It's a major funding source for companies in virtually every industry sector nationwide. Visit U.S. Bank Equipment Finance on the web at www.usbank.com/leasing.
U.S. Bank Equipment Finance is part of U.S. Bancorp (NYSE: USB). With $223 billion in assets, U.S. Bancorp is the parent company of U.S. Bank, the 6th largest commercial bank in the United States. The company operates 2,499 banking offices and 4,867 ATMs, and provides a comprehensive line of banking, brokerage, insurance, investment, mortgage, trust and payment services products to consumers, businesses and institutions. Visit U.S. Bancorp on the web at www.usbank.com.
Sites of Reference:
http://www.usbank.com/leasing
### Press Release ###########################

Brokers, Vendors, Customers Enjoy Faster End-to-End Transactions Using
Madison Capital's New Fully Electronic Leasing Option
Baltimore, MD – In a bold leap forward, leasing company Madison Capital, LLC has adopted a cutting edge fully paperless transaction model within their leasing business. This technology gives Madison and its clients advantages when completing their lease documentation. Already utilizing an automated lease origination system to generate PDF documents, Madison Capital has added electronic signature and vaulting capabilities via the Web-based on demand eLeasing solution offered by eOriginal, Inc. The eOriginal® technology allows all parties to a lease to sign their documents electronically, and then protects the digital originals via advanced electronic vaulting. This keeps the entire lease paperless from beginning to end, replacing the need to print and sign on paper while maintaining security, legality and negotiability throughout the entire process. Because it is Web-based, the eOriginal technology integrated easily into Madison's existing system. In less than three weeks, Madison Capital was able to eliminate the final hurdles to offering a fully electronic lease, allowing their customers, vendors, and internal staff a more streamlined and efficient business experience.

Allan Levine, Chief Operating Officer
MADI$ON CAPITAL
member Leasing News Advisory Board
"Madison Capital has always been a state-of-the-art company relying on cutting edge technology," stated Allan Levine, Madison's COO and co-founder. "We found that if we're not, we can't process transactions fast enough. We firmly believe, at some point in time, almost everything is going to be paperless. It is important to us to get in on that technology and process now and stay ahead of the competition."
Previously, transactions that were originated electronically, once approved, had to be printed for signature, returned by express mail, reviewed for accuracy and in many cases, returned to the lessee for missing signatures, incorrect title/entity or other errors, slowing down the transaction. Using eOriginal's technology, electronic transactions stay digital; the original lease documents are uploaded into Madison Capital's secure portal using the new electronic signature technology, then the lessee receives an invitation to log in and sign electronically. Once complete, an email notification is sent to all the parties and the documents are processed by Madison Capital for funding. They are executed electronically by Madison, vaulted, and managed until the lease terminates. The eLeases are either held or sold on the secondary market, with access controlled by the authorized administrators at Madison Capital. This Web-based process decreases paperwork snafus and eliminates missing signatures thus speeding up the funding, productivity, and organizational efficiencies. With eLeasing in place, there is now a process for customers needing the flexibility of reviewing and signing documents at a time and from a location convenient for them.
"It really reduces the amount of work for our internal team, leasing agents, and vendors as well," explains Nancy Pistorio, Madison's Executive Vice President. "And, that is especially true near the end of the month. Last month, we had a broker who spent all day driving docs to me so he could get paid. With our new system, all he has to do is check his email to see the docs are signed with an eSignature and we can pay him immediately. What took two days will now take him about 15 minutes."
Removing the paper from the process is key to Madison Capital's ability to provide superior service to all involved, including their internal teams. The benefits to customers include an expedited application and approval process, and now, an advanced delivery process. This paperless process will allow a customer to take delivery of their equipment perhaps days or weeks sooner than with a paper-based process. For brokers and leasing agents, the days of overnight shipping or driving documents to and from the finance company are eliminated – especially during those critical days at month end – resulting in faster payment and booked sales. As a vendor, equipment is moved through the process at a faster rate, allowing for more deals more quickly. For Madison's internal processing teams, electronic signatures are a great way to free resources and add new business. "With eLeasing, I can do more remotely without being tied to my office," says Pistorio. "I can visit a new prospect, then go out to my car and sign off on paperwork from my laptop. Getting tied to your office to do a lot of paperwork doesn't build your business. eLeasing allows my sales reps and our executives to operate remotely and still get our paperwork done in a timely manner."
The business process gains are also measurable. According to Levine, "I think it will speed up transactions overall, front to back, twenty to thirty percent." Levine expects paperless to be the process of choice for most of his clients. There are always clients who, for whatever reason, opt not to use a paperless process. For example, some still do not have email, or choose not to use it. So for those folks, the old business practice of signing and shipping back paper documents will still be available.
eOriginal, Inc.'s advanced electronic signature and vaulting solutions enable equipment leasing and finance companies to eliminate paper while legally protecting their assets as eContracts documents are held and transitioned throughout their lifecycle. eOriginal, Inc. has partnered with DocuSign, Inc., offering their combined technology and processes to create legally binding electronic signatures and electronic finance documents that are tamper-evident, auditable and legally enforceable. eOriginal technology provides compliance for managing electronic signatures and transferable records under E-Sign, UETA and UCC Revised Article 9-105. eOriginal technology protects nearly $10 Billion in secured electronic assets and has managed more than 500,000 electronic finance documents without a single error or legal challenge. For more information, visit us at www.eoriginal.com or call us at 410-895-7699.
Madison Capital, LLC was preceded by two companies. Harbor Equipment Leasing began in Baltimore in 1983, to provide direct equipment lease financing to businesses locally and throughout the Mid Atlantic region. Fox-Valley Leasing began over 30 years ago and provided vehicle leasing services to commercial clients, both large and small. Over the years, each company grew and extended their geographic territory to eventually conduct business throughout the U.S. and Canada. In August of 1997, the companies joined to form Madison Capital, LLC. We have over 50 years of combined experience. Our focus is on outstanding service, quick response, and knowledgeable support. We are a direct funding source for most types of equipment and all makes of vehicles. We have brokerage capability and experience for equipment transactions up to $10,000,000. For more information, visit www.madisoncapital.com, or call us at 800-733-5529.
### Press Release ###########################
--------------------------------------------------------------

News Briefs----
BCI Aircraft Leasing in Ponzi Scheme, SEC claims
http://www.chicagotribune.com/business/chi-tue_hollnagelaug21,0,2788366.story?track=rss
Cash flow shows worries run deep
http://www.usatoday.com/money/economy/2007-08-19-cp_N.htm
Investors Say That Fed Must Do More for Markets
http://www.nytimes.com/2007/08/22/business/22fed.html?_r=1&ref=business&oref=slogin
AT&T quietly introduces $10 DSL plan in 22 states
http://www.stltoday.com/stltoday/business/stories.nsf/manufacturingtechnology/
story/A4ADAA6883ABA9948625733E005D95A0?OpenDocument
---------------------------------------------------------------


You May have Missed---
30 Things You Probably Didn't Know About Elvis
http://oldies.about.com/od/elvispresleyhistory/a/elvistrivia.htm?nl=1
----------------------------------------------------------------


California Nuts Briefs---
California Lawmakers pass $103 Billion budget after 52 days
http://www.sacbee.com/111/story/337058.html
----------------------------------------------------------------


"Gimme that Wine"
'Pretty fantastic' grape harvest underway in Northern California
http://www1.pressdemocrat.com/article/20070820/NEWS/70820011/1033/NEWS01
New York Juicy grape harvest predicted
http://charlotte.bizjournals.com/buffalo/stories/2007/08/20/daily1.html
Family Winemakers of California 17th Annual Tasting
http://www.winebusiness.com/news/DailyNewsArticle.cfm?dataid=49930
Auction of Washington Wines Raises $1.95 Million
http://www.winebusiness.com/news/DailyNewsArticle.cfm?dataid=49931
Wines That Are All In the Family
http://www.tastecaliforniatravel.com/index.php?option=com_content&task
=view&id=15&Itemid=26
New Zealand Wine exports hit $700m
http://www.nbr.co.nz/home/column_article.asp?id=18785&cid=4&cname=
Business%20Today
Wine Prices by vintage
http://www.winezap.com
http://www.wine-searcher.com/
US/International Wine Events
http://www.localwineevents.com/
Winery Atlas
http://www.carterhouse.com/atlas
Leasing News Wine & Spirits Page
http://two.leasingnews.org/Recommendations/wnensprts.htm
The London International Vintners Exchange (Liv-ex) is an electronic exchange for fine wine.
http://www.liv-ex.com/
----------------------------------------------------------------

Calendar Events This Day
Be an Angel Day
A day to do "one small act of service for some one. Be a blessing in someone's life.
www.earthangel4peace.com
http://holidayinsights.com/moreholidays/August/beanangelday.htm
Eat a Peach Day
Tooth Fairy Day
http://holidayinsights.com/moreholidays/February/toothfairyday.htm
Saint feast Days
http://www.catholic.org/saints/f_day/aug.php
----------------------------------------------------------------

"Q" is the only letter in the alphabet not appearing in the name of any U.S. state.
----------------------------------------------------------------

Today's Top Event in History
1901-Henry LeLand founded The Cadillac Company, named after eighteenth century French explorer Antoine de la Mothe Cadillac, founder of the city of Detroit. The Cadallac reached its height of popularity during the 1950s. The Cadillac Debutante, which debuted at the Waldorf Astoria, was based on the play The Solid Gold Cadillac. Cadillac sales decreased during the 1970s as the American car market experienced an influx of smaller imports, but luxury car sales, Cadillac included, have rebounded in recent years, particularly its SUV Escalade, said to be stolen four more times than any other car today; the most frequently stolen vehicle on the road, according to insurance claim statistics.
http://www.geocities.com/motorcity/track/2582/cadillac/cadindex.html
http://www.ajc.com/business/content/business/0803/21stolen.html
[headlines]
----------------------------------------------------------------

This Day in American History
1654-The first Jews to arrive in America were Marra­nos, Spanish Jews who had converted to Chris­tianity in order to escape torture and death un­der the Inquisition. Marranos were part of Co­lumbus's voyage of discovery in 1492 and of Spanish explorations and settlements in the 16th century. A handful of Jews came to the English colonies in Virginia and Massachusetts in the first half of the 17th century, but most historians consider the first permanent Jewish settler in America to have been Jacob Barsimson of Holland, who landed at the Dutch colony of New Amsterdam (the future New York City.) A month later, a group of 23 Jews from Recife, Brazil, arrived in New Amsterdam seeking refuge from Portu­guese persecution. Against the wishes of the colony's governor, Peter Stuyvesant, the Dutch West India Company allowed them to stay, provided "the poor among them should not be­come a burden to the Company or the commu­nity, but be supported by their own nation." They had left their homeland to escape religious prosecution. While some of the prejudice was brought to the New World, as different immigrants arrived, they learned to accept each other and work together.
1670- In Massachusetts, English-born colonial missionary John Eliot, 66, founded an Indian church at Martha's Vineyard, with educated Indians Hiacoomes and Tackanash appointed pastor and teacher, respectively.
1771-The talk of the colonies was a dwarf exhibited as a theatrical attraction. His name is not known, but he was a man, 53 years of age and 22 inches high, shown at the house of Widow Bignall, next door to King's Head Tavern, a little above Mr. Hancock's wharf in Boston, MA. Admission was one shilling. His appearance was advertised in the Massachusetts Spy this date.
1775- King George III proclaims colonies to be in open rebellion, vows to send more troops.
1791 -- Haiti: Encouraged by the French & American revolutions, 100,000 slaves revolt. They wage war first on French, then Spanish & English troops to achieve freedom for slaves in 1793. In 1804, Haiti becomes first free black country in the world. Bowing to pressure from Southern slaveholders, the US refuses recognition of Haiti until 1865.
1816- Damaging frosts in low places from New England to North Carolina in the "Year-without-a-Summer"
1834-Birthday of Samuel Pierpoint Langley, American astronomer, physicist and aviation pioneer for whom Langley air Force Base, VA, is named. Born at Roxbury, MA. Langley died at Aiken, SC, Feb. 27,1906. 1846-Without a shot fired, the US annexes New Mexico.
http://rip.physics.unk.edu/Kearney/SWK.html
http://www.newmexico.org/culture/history.html
http://www.state.nm.us/category/aboutnm/fastfacts.html
http://www.southernnewmexico.com/snm/history.html
http://www.nmcn.org/features/articles/timeline.html
1846 -- General Kearney announces annexation of New Mexico by U.S.
http://www.kumeyaay.com/history/article_detail.html?id=6
http://bchs.kearney.net/BTales_197901.htm
1847-What would later become the world famous Mormon Tabernacle Choir gave its first public performance at Salt Lake City, Utah, for an outdoor meeting of the Church of Jesus Christ of Latter-day Saints. Widely known for its concert tours, recordings and weekly radio and television broadcast from Temple Square, the choir's radio program " Music and the Spoken Word" is the longest continuously running radio program in network history, dating back to 1929.
1851- The first yacht to win in the international yacht race was America, owned by a syndicate headed by Commodore John Cox Stevens of the New York Yacht Club. They won what was known as the "hundred Guinea Cup." The trophy, latter turned over to the New York Yacht Club, where you may view it today, became known as the America's Cup. ***
1865- William Sheppard of New York City patented liquid soap.
1901-Henry LeLand founded The Cadillac Company, named after eighteenth century French explorer Antoine de la Mothe Cadillac, founder of the city of Detroit. The Cadallac reached its height of popularity during the 1950s. The Cadillac Debutante, which debuted at the Waldorf Astoria, was based on the play The Solid Gold Cadillac. Cadillac sales decreased during the 1970s as the American car market experienced an influx of smaller imports, but luxury car sales, Cadillac included, have rebounded in recent years, particularly its SUV Escalade, said to be stolen four more times than any other car today; the most frequently stolen vehicle on the road, according to insurance claim statistics.
http://www.geocities.com/motorcity/track/2582/cadillac/cadindex.html
http://www.ajc.com/business/content/business/0803/21stolen.html
1906- the first "Victrola" was made by the Victor Talking Machine Co., Camden, NJ.
1916-Birthday of pianist Sonny Thompson
http://music.lycos.com/artist/bio.asp?QT=A&QW=Sonny+Thompson&AN=Sonny+
Thompson&MID=28067&MH=
http://www.bluesbeforesunrise.com/bbssetlist011198.html
http://www.amazon.com/exec/obidos/ASIN/B000000PTY/fast-musicasin-20/
103-5362656-4423850#product-details
1917 - John Lee Hooker, American blues guitarist and singer, born in Clarksdale, Miss. He began his career in Detroit in 1948 with the release of Boogie Chillun, the biggest of his several hit records and a staple of both the blues and rock repertoires. He toured continually, and among "deep blues" artists, enjoyed an unusually successful career, appearing in concerts and on recordings with many of the leading figures in rock. He was inducted into the Rock 'n' Roll Hall of Fame in 1991. Died June 21,2001 at his home in the San Francisco Bay Area.
http://www.johnleehooker.com/biography.htm
http://www.vh1.com/artists/az/hooker_john_lee/bio.jhtml
http://www.blueflamecafe.com/index.html
1920 – Birthday of Ray Bradbury (writer: Fahrenheit 451, The Toynbee Convector, Martian Chronicles).
http://www.raybradbury.com/about.html
1926-Birthday of Bob Flanagan, lead singer of the '50s pop group the Four Freshmen.
http://business.baylor.edu/Phil_VanAuken/graphics/Jazz/group3.htm
http://www.amdest.com/stars/freshmen.html
http://www.fourfreshmen.com/wwwboard/wwwboard.shtml
http://wwwp.musicmatch.com/artist/artist.cgi?ARTISTID=341444&TMPL=LONG#bio
http://www.fourfreshmen.com/fan.htm
http://www.fourfreshmen.com/index.htm
1932- Philippa Duke Schuyler birthday, black-American pianist and writer started composing music at age three and at 12 her award- winning symphonic work was played by the Detroit Symphony. She has appeared as guest soloist, performing her own works with major symphony orchestras in the U.S. She died May 9,1967 in a helicopter accident in Da Nang, Vietnam, where she had gone in her new career as a reporter.
http://www.washingtonpost.com/wp-srv/style/longterm/books/reviews/composit.htm
http://stream.realimpact.net/rihurl.ram?file=realimpact/wnyc/studio360/studio091402c.
ra&start=%2200:00.0%22&end=%2214:52.1%22
http://www.africanpubs.com/Apps/bios/1149SchuylerPhilippa.asp?pic=none
http://www.philippaschuyler.org/tn5_Philippa_Duke_Schuyler.asp
http://www.oup.co.uk/isbn/0-19-511393-4
1933--Birthday of American composer James Ciernia,born St. Paul, MN.
1936-Birthday of drummer Lex Humphries, New York City
http://www.vervemusicgroup.com/verve/artist.asp?aid=3702
1938-Birthday of rockabilly singer Dale Hawkins, born in Goldmine, Louisiana. His brief moment in the national spotlight came in 1957 when" Suzie Q" made it to number 27 on the Billboard pop chart. It's still a favorite oldie, and was revived with great success in 1968 by Creedence Clearwater Revival.
http://www.rockabilly.nl/artists/dhawkins.htm
http://www.tsimon.com/dhawkins.htm
1938- Count Basie records for Decca records, "Jumpin' at the Woodside."
1939- Julian Seth Kahn of New York City received a patent for a "spray can." It was equipped with an inexpensive disposable valve mechanism. Under controlled pressure, it dispensed such items as whipped cream, paints, pharmaceuticals, and insecticides.
1944- Cootie Williams cuts the first record of "Round Midnight."
1945-Many do not realize that the Vietnam Conflict actually began this day in 1945, less than a week after the Japanese surrender ended World War II, a team of Free French parachuted into southern Indochina in response to a successful coup by a Communist guerrilla named Ho Chi Minh in the French Colony.
1949----Top Hits
Some Enchanted Evening - Perry Como
Room Full of Roses - The Sammy Kaye Orchestra (vocal: Don Cornell)
You're Breaking My Heart - Vic Damone
I'm Throwing Rice (At the Girl that I Love) - Eddy Arnold
1950- Althea Gibson becomes 1st black competitor in national tennis competition at Forrest Hills.
http://www.tennisfame.org/enshrinees/althea_gibson.html
http://www.altheagibson.com/gallery.html
1956- President Dwight Eisenhower and Vice-President Richard Nixon denominated by Republican convention in San Francisco.
http://gi.grolier.com/presidents/ea/bios/34peise.html
1956 - Filming begins on Elvis Presley's movie debut, ``The Reno Brothers.'' The movie is later re-titled ``Love Me Tender.''
1957----Top Hits
Love Letters in the Sand - Pat Boone
Tammy - Debbie Reynolds
Whispering Bells - The Dell-Vikings
(Let Me Be Your) Teddy Bear - Elvis Presley
1961- Roger Maris, in his record-setting season, becomes the first player to hit his 50th home run in the month of August. The 26-year old all-star outfielder connects off Ken McBride as the Yankees lose to the Angels, 4-3.
1964-Martha & The Vandellas' "Dancing In The Streets" is released.
1964-Liberty Records reports the album, "The Chipmunks Sing the Beatles" is selling 25,000 copies a day.
1965----Top Hits
I Got You Babe - Sonny & Cher
Save Your Heart for Me - Gary Lewis & The Playboys
Help! - The Beatles
Yes, Mr. Peters - Roy Drusky & Priscilla Mitchell
1965 -Juan Marichal thinks Johnny Roseboro throws too close to his head returning the ball to Sandy Koufax and attacks Dodger catcher with his bat. The Los Angeles backstop suffers cuts on the head during the 14-minute brawl.
1966- the United Farm Workers Organizing Committee (UFWOC), later to be renamed the United Farm Workers of America (UFW), was formed.
http://memory.loc.gov/ammem/today/aug22.html
1967---Birthday of American composer Louis Kobra,born Citrus Heights, CA.
1969-Three-day Wild West Festival at the San Francisco Kezar Stadium with Janis Joplin, Turk Murphy, Jefferson Airplane, the Dead, Country Joe, Santana, Sly and the Family Stone and the Youngbloods.
1970-Creedence Clearwater Revival's "Cosmo's Factory" LP hits #1, a position it would hold for 9 weeks.
1972 - The Republican party re-nominated Richard M. Nixon (President of U.S.) and Spiro T. Agnew (Vice President) in Miami, FL.
1973----Top Hits
Touch Me in the Morning - Diana Ross
Live and Let Die - Wings
Brother Louie - Stories
Louisiana Woman, Mississippi Man - Conway Twitty & Loretta Lynn
1981----Top Hits
Endless Love - Diana Ross & Lionel Richie
Theme from "Greatest American Hero" (Believe It or Not) - Joey Scarbury
Slow Hand - Pointer Sisters
I Don't Need You - Kenny Rogers
1982- Ernie Banks becomes the first Cub to have his uniform number (14) retired.
1984 - The last Volkswagen Rabbit rolled off the assembly line in Westmoreland, PA. Over 11 million of the economical cars had been produced.
1987 - Madonna's single "Who's that Girl" hit #1 in the U.S for a short and sweet one-week stay at the top.
1987-Suzanne Vega's "Luka" peaks at #3 on the pop chart
1989----Top Hits
Right Here Waiting - Richard Marx
On Our Own - Bobby Brown
Cold Hearted - Paula Abdul
Sunday in the South – Shenandoah
1989-Nolan Ryan of the Texas Rangers became the first pitcher to strike out 5,000 batters when he fanned Rickey Henderson of the Oakland A's in the fifth inning of a 2-0 Oakland win. Henderson went down on a 3-2 count, winging at a fastball. Ryan ended his career with 5,714 strikeouts.
1990- President George Bush I calls up military reserves. By November some 230,000 American troops are in Saudi Arabia and President Bush announces that 150,000 more would be sent. By the end of 1990, 580,000 Iraqi troops were believed to be in Kuwait or southern Iraq. Facing them were 485,000 troops of 17 allied countries.
1990--thunderstorms dropped heavy rains in Virginia with Nassawadox recording 12 inches in just 2 hours. Numerous road washouts occurred including several on U.S. 13, a major route to the Tidewater area.
1993---Top Hits
Can t Help Falling In Love (From "Sliver")- UB40
Whoomp! (There It Is)- Tag Team
Dreamlover- Mariah Carey
Lately- Jodeci
1998 -With his 52nd home run, Mark McGwire breaks Babe Ruth's record for round-trippers in three consecutive seasons. 'Big Red' has 162 homers in three seasons (1996-52, 1997-58) compared to the Bambino's 161 dingers hit in 1926-28.
1998---Top Hits
The Boy Is Mine- Brandy
My Way- Usher
The First Night- Monica
Crush- Jennifer Pai
2000- Hitting a solo blast and a three-run round tripper during a nine-run sixth inning of a 14-6 victory over the Expos, Dodger first baseman Eric Karros becomes the first player in the 111- year franchise history to hit two homers in an inning.
2002---Top Hits
Dilemma, Nelly Featuring Kelly Rowland
Hot In Herre- Nelly
Complicated- Avril Lavigne
Just A Friend 2002- Mario
2003-- For the fourth consecutive season, Garret Anderson reaches 100 RBIs mark to become the first player in team history to do so. The Angels' outfielder was also the first to have three straight 100-RBI seasons.
***
In 1848, Queen Victoria authorized the creation of a "One Hundred Guinea Cup" of solid silver (134oz), 27" tall for a yacht race "open to all nations."
In 1851 one American boat challenged 16 English ships. The Royal Yacht "Squadron" of Cowes, England was the host. The New York Yacht Club entry was the schooner "America." W.H. Brown, the designer, was so confident of his design that he refused payment if "America" did not win. The oft-quoted remark by the Queen was sparked by a great lead and victory around the Isle of Wight over the 16 other yachts.
She asked, "Who is first?"
"America" has won, she was told.
"Who was second," asked the Queen?
The reply still echoes -our Majesty, there is no second."
In 30 defenses since then, the interplay of national pride, giant egos, wide-ranging brilliant designs, and now modern technology, have kept the cup very much alive. The 132 years of successful defense by the New York Yacht Club remains the longest record in sports history. Sir Thomas Lipton tried for 31 years to win The Cup, commencing in 1899. From schooners, to J-boats, to 12 meters to the current IOAC designs, men's brains, wits, skills and money have been locked in sea-swept combat.
--------------------------------------------------------------

Baseball Poem
An Asterisk as Big as a Ball
the ball talked to
three hundred thirty feet of air,
rising into the teeth
of the bat's echo,
crashing into right field bleachers
like any other Yankee missile —
an exiled hero
circled the Ruthian diamond
to footnote glory —
just down the first base line
the magic bat lay,
like a gun that had killed
its owner.
from Tim Peeler, from his book
"Touching All the Bases." He has given us permission
to reproduce them.
These come from a soft cover 128 pages
with index published by www.mcfarlandpub.com
While they are all mostly baseball,
some are not. He is a unique American poet.
He lives in Hickory, North Carolina.
--------------------------------------------------------------

SuDoku
The object is to insert the numbers in the boxes to satisfy only one condition: each row, column and 3x3 box must contain the digits 1 through 9 exactly once. What could be simpler?
http://leasingnews.org/Soduku/soduko-main.htm
--------------------------------------------------------------

Daily Puzzle
How to play:
http://www.setgame.com/set/puzzle_frame.htm
Refresh for current date:
http://www.setgame.com/set/puzzle_frame.htm
--------------------------------