Frustrated Sales Person
If you are experiencing difficulty in fulfilling local banks' credit criteria with your transactions, believe that foreign funding could be of assistance and are ready for an exciting new challenge---then you need to apply for this sales position.


gocustomcapital.com
is an International equipment leasing company recently established in Brea, California, seeking to attract frustrated sales persons.
Monday, August 11, 2008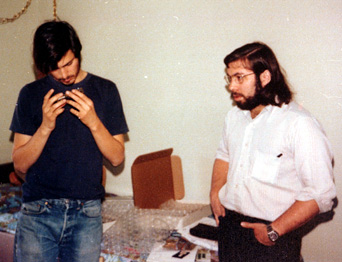 (Photo: Steve Jobs and Steve Wozniak in 1975 with a "Blue Box".) Steve Wozniak, co-founder of Apple Computer. August 11, 1950 San Jose, California. Feb.1981: a plane crash changed his health and life. He is still an employee of Apple and major stockholder.
http://en.wikipedia.org/wiki/Steve_Wozniak
http://www.woz.org/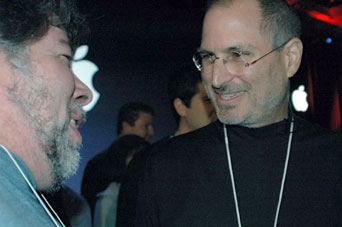 ((Photo: Steve Wozniak and Steve Jobs in 2005 at Macworld Keynote in
San Francisco, 1/11/05 (photo by Al Luckow).))
Headlines---
August 11, 2005—Started Funder List
Classified Ads---Outsourcing
Banks continue to tighten credit/discounting
Top Stories --August 4--August 8
What % Revenues Are Generated from Fee Income
Classified Ads—Help Wanted
Leasing 102 by Mr. Terry Winders, CLP
Have Legal Review Your Documents
Cartoon---Banker tightens credit
UAEL Conference September 25-28
WJR: It's Getting Hard to Lease a Car
Most banks have cushion of capital
Help for Seniors Who Have Reverse Mortgages
Financial Giants Suffer ARS Freezer Burn
News Briefs---
You May have Missed---
"Gimme that Wine"
Calendar Events
Snapple Real Facts
Today's Top Event in History
This Day in American History
Baseball Poem
SuDoku
Daily Puzzle
GasBuddy
Weather, USA or specific area
Traffic Live----
News on Line---Internet Newspapers
Russian Newspaper
######## surrounding the article denotes it is a "press release"
---------------------------------------------------------------------

August 11, 2005—Started Funder List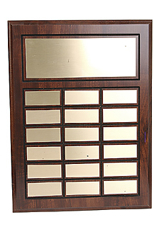 The Funder list was started in August 11, 2005. It grew into an "A" and "B" because the original list was too large. All funders, unless publically held or owned by a bank, were required to verify that they were a "true" funder, controlling the credit decisions. They then make the "A" list.
June 23, 2006, after a reader's poll, the policy was changed to list all companies whether on the Bulletin Board Complaint list or a poor BBB report. Prior they were not listed. The idea was to let readers make their own decisions about a company. In addition, companies who resolved complaints listed could have the posting removed by satisfying the complaint, with the proviso of any new complaint bringing back all the complaints received, resolved or not.
Today there also is a list of "Story Credits" who have to meet the same requirements of bank verification as well as other lists for other categories.
It is the responsibility of those listed to keep their information current.
All Leasing News Lists
"The List"
--- Mergers, Acquisitions & Changes
"The Good, the Bad and the Ugly"--
--------------------------------------------------------------

Classified Ads---Outsourcing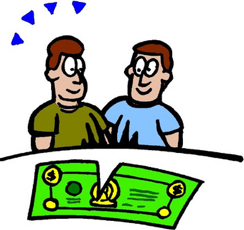 This section is free to those who provide services to the leasing industry. They include many from back room to site inspections, as well as:
Mobile NJ Lease Signing Service
We are New Jersey mobile lease signers and Notaries.
We bring lease to clients, expedite signing and return docs. Same day.
Jim Lissemore, Pres
www.Flexo-Notaries.com
Leasing Industry Outsourcing
(Providing Services and Products)

Accounting / Aircraft / Appraisals
Appraisals: Boston, MA
Nationwide appraisals, remarketing, audits, inspections and more! Over 15-years industry experience and dedicated to deliver personal, prompt, professional services.
Call Chris @ 508-785-1277. Email:chris@dovermanagementgroup.com



Appraisals: National Equipment Appraisal prepares Certified Machinery and Equipment Appraisals. IRS qualified, USPAP Compliant. Nationwide - fast turnaround.
Visit www.nationalequipmentappraisal.com or
call 714-282-1525."
Accounting: Dallas, TX
Provide cost effective Sales and Use Tax and Property Tax consulting and administration Services to the leasing industry. Many leasing industry referrals available.
E-mail: mattm@osgsolutions.com

Accounting: National Property Tax Compliance Services to the leasing industry. Over 60-years experience and fifty Lessors as clients. References and free quotes available, (216) 658-5618,
E-mail gary@avptc.com

Aircraft Delivery: Seattle, WA
Global Aircraft Delivery ferries all types of aircraft all over the world. We are a unique ferry company moving your aircraft with our expert turnkey operation. www.globalaircraftdelivery.com
E-mail:info@globalaircraftdelivery.com
Asset/Recovery & Collections:
Charlotte, NC
IRTC Continencies: Commercial Collections-Skip Trace- Repossessions-judgment enforcement-Investigations- Asset Re-marketing& No Cost Warehousing East Coast USA. Call 336-877-3077 ask for Robert or
E-mail to Robert@mbsfinancial.com
Asset Management: Atlanta, GA
premier provide accounts receivable management functions from 3rd Party contingency collections to Portfolio Purchasing. Contact George Elliott, National Account Manager. 678-694-9063,
www.westassetmanagement.com


Asset Management: Boston, MA
Nationwide appraisals, remarketing, audits, inspections and more! Over 15-years industry experience and dedicated to deliver personal, prompt, professional services.
Call Chris @ 508-785-1277. Email:chris@dovermanagementgroup.com


Asset Management: Minneapolis, MN
NetSentric provides services to leasing companies: Inspection, Appraisals, Auditing, Warehousing, Repossession, Asset Management, Repairs, Remarketing and Field Service for Electronics and Computing Technology.
Email: jcahill@netsentricinc.com


Asset Management: Nationwide
BUYER/LENDER BEWARE. Don't sign anything until Collateral Verifications Inc. goes onsite, knocks on the door and gets the facts.
http://www.i-collateral.com
Email: mark@i-collateral.com
Asset Management: Oxnard-Hollywood Beach, CA
20 Years Exp. w/Equity Analysis/Placement- Residual Forecasting Methodologies Computer Equipment Assets. Portfolio Mgr. Two Major Leasing Companies/Strong Analyst Background w/Leading Info Services Firm.
E-mail: GregoryMLorenz@aol.com
Backoffice: Atlanta , GA
GlobalTech Portfolio Services provides world class lease, loan administration and asset management for equipment and vehicles. Current portfolios $1 billion. Contact Alan Zeppenfeld 678-816-2216
E-mail:azeppenfeld@globaltechfinancial.com

Back Office: Atlanta, GA
Let Tax Partners handle your sales and use tax compliance duties w/less risk and cost than in-house. Largest tax compliance firm
in US
E-mail:sales@taxpartners.com
Backoffice: Dallas, TX

Property Tax and sales and use tax administration services performance is guaranteed and we will save you time and money or our service is free.
E-mail: info@osgsolutions.com


Backoffice: Indianapolis, IN
JDR Solutions, LLC specializes in delivering customized back-office lease portfolio admin./ASP services for lessors, banks, manufacturer captives: other financial institutions.
Paul Henkel (317) 251-5352 ex. 7201
E-mail: paul.henkel@jdrsol.com

Backoffice: Jacksonville, FL
CIT's Portfolio Service Group: providing cost-effective lease/portfolio services: Accounting, Tax Reporting, Collection svc, End of Lease Solutions, Front End Documentation, Invoicing, and on-line reporting
E-mail: vincente.dingianni@cit.com
Back Office: Laughlin, NV
20 years experience on funder/broker sides. Looking for a relationship where I act as credit shop for smaller brokers when financial statements are involved.
E-mail:batarista@laughlin.net
Backoffice: New Rochelle, NY
Proactive management/administration of commercial/consumer vehicle lease/finance portfolios covering insurance, titles,
registrations, sales/property taxes, tickets, collections, accounting, vehicle disposition. Since 1975
E-mail: Barrett@BarrettCapital.com
Back Office: Northbrook, IL
Our staff of CPA's and lease professionals can handle any or all portfolio responsibilities incl. portfolio mgmt, invoicing, sales/property/income tax, accounting, etc. E-mail:ngeary@edwinsigel.com

Back Office: San Rafael, CA
We can run your back office from origination to final payoff. 30 years experience in commercial equipment lease and loan portfolio management.
E-mail:gmartinez@phxa.com
Back Office - Portland, OR
Keep more of your hard-earned commissions! Middle-Market, Small-Ticket for brokers, nationwide, 20+years experience, negotiable splits. Contact us for more information at (888)745-9481 or
bev@alliedpacific.net
Back Office: National Property Tax Compliance Services to the leasing industry. Over 60-years experience and fifty Lessors as clients. References and free quotes available,
(216) 658-5618,
E-mail gary@avptc.com

Collector / Collections / Consultant / Communications
Collector: Atlanta, GA
Asset Recovery Specialist. We get your money or we get your > equipment back for you. Physical Asset Recovery Experts!
E-mail: mcrouse911@joimail.com
Collector: Cleveland, OH
Huntley Capital & Associates is your solution to late payments, no payments, and asset recovery. Call 216-337-7075.
Email: ghpatey@msn.com

Collector: Los Angeles, CA
Expert skiptracers covering Southern California. We locate skips, judgment debtors and collateral. When you can't get the job done in house, give us a call at
1-800-778-0794.
E-mail: ceo@interagencyLA.com
Collector: Louisville, KY
We are a full service collection agency with attorney network. 21 years experience. Please call Jon Floyd, VP at 1-800-264-6850
email: jfloyd@collectcsg.com

Collector: Mandeville, MI
International commercial collection services all fees are on contingency on line access.
E-mail: rmelerine@collect-now.com
www.drspay.com
www.collect-now.com


Collector: Milwaukee, WI
We specialize in ATM machine reposession and remarketing. We can get you top dollar for your inventory.
E-mail: bdperry1@yahoo.com

Collector: Nationwide
End of lease negotiations & enforcement. Third-party collections. Skip-tracing. Background checks. Credit & asset investigations. 15+ years in leasing industry. Providing services to clients nationwide.
800-824-0234 john.kenny6@worldnet.att.net

Collector: Saint Louis, MO
Complete commercial collection agency. Licensed bonded in all states and will out performed any other agency!
Call 1-800-659-7199 ext.315
E-mail: jfloyd@lindquistandtrudeau.com
Consultant: Burlington, CT
We provide our clients with a full range of consulting services such as portfolio conversions, reconciliation, custom programming and leasing operations utilizing InfoLease.
Email: info@new-millennium-assoc.com
Consultant: Henderson, NV
Focus on new business development and process efficiencies to create incremental revenue and profitability. Executive level vendor experience, and satisfied outsourcing clients. Incredible track record.
E-mail: rbutzek@cox.net
Consultant: Sausalito, CA
Lease trainer and consultant. 38 years in equipment leasing. Expert in transaction analysis, financial statement analysis, credit, packaging, structuring. Presents highly popular classes and workshops.
E-mail:BoTei@aol.com

Consultant: North of Detroit, MI
INFOLEASE EXPERT - 18 years experience. Since being downsized in 2002, working as a consultant for several leasing companies. Seeking consulting projects nationwide.
E-mail: darwint@prodigy.net

Consultant: Ridgefield CT.
Lisa Lersner w/20 years exp. specializing in leasing technology now providinglessor selection andmanagement services, includingthe securing of debt and equity and acquisition guidance services.
Email: LLersner@leasefinanceconsulting.com Go to www.leasefinanceconsulting.com

Communications: Chassell, MI

Cartoons on business, finance & computers. Use for your presentations, website, newletter, direct

mail projects etc. Fees are negotiable.
Email: dan@danscartoons.com
Go to http://www.danscartoons.com
Finance: Chicago, IL
Experienced in big ticket origination, syndication, valuation and workout.
Twenty five years, MBA, CPA,

JD, LLM (Tax), structuring specialist. Inbound and outbound transactions. Email:pal108381@comcast.net
Transaction Summary | The Lechner Group
Website: www.tlgattorneycpa.com


Finance: Naperville, IL
Your guide to the right questions and answers in finance. Expert in capital raising, GAAP, acquisitions, lease economics. CPA. MBA.
E-mail: m.willow@ameritech.net
Finance: Charlotte, NC
15 Years of Equipment Leasing Experience and Recruiting with Business Aviation niche. Visit us at www.turningpointgrp.com
E-mail: info@turningpointgrp.com
Human Resource Consultant: New York, NY
Employee Relations, Recruiting, Benefits, employee customer surveys, plus payroll administration "ON-LINE" services-- AND IN PERSON at your location Please visit: www.adviceonhr.com
Information System: North Detroit, MI
INFOLEASE EXPERT - 18 years experience. Since being downsized in 2002, working as a consultant for several leasing companies.
Seeking consulting projects nationwide.
email: darwint@prodigy.net


Lease Portfolio: Stilwell, KS
Looking to buy or sell lease portfolio? 20+ year lease consultant specializing in portfolio placement. Free initial consultation. References available on request.
Contact today
E-mail:MLOST@aol.com


Legal: http://www.leaselawyer.com/
"I enjoy brainstorming about all aspects of leasing. I'll be back to you within 24 hours of your call or e-mail!" Barry S. Marks, Esq.
E-mail: poetbarry@aol.com

Legal: Los Angeles, CA
Challenge me with your legal question about leasing. No charge for a "free" consultation. Richard Wagner, Esq. www.wzlawyers.com .
E-mail: rwagner@wzlawyers.com
Legal: Westport, CT
We represent finance companies, banks, lessors, etc., in replevins/seizures, collections and bankruptcy matters in Connecticut and New York. Flat fee, contingency and hourly rates.
Email: rchinitz@replevinlawyer.com
Marketing services creative boutique: ads, flyers, premiums, trade show support and much more. Over 15 years experience working with CIT and ORIX. Currently seeking new relationships:
http://www.tollinadvertising.com/

Operations / Remarketing / Repossessions
Operations: Houston, TX
Silverlake Inspections LLC is an independent contracting company for real estate and equipment verification with pictures.
Email: jimh05@sbcglobal.net

Operations: Portland , OR
Portfolio Financial Servicing Company provides state of the art portfolio servicing for portfolios of all sizes. Contact Eric Gross
(800 547-4905 X-3226.)
egross@pfsc.com
Operations: Roseburg, OR
Tired of paying a full time documentation person? Try outsourcing. Ideal for anywhere in the USA. E-mail or Call Trina Drury
541-673-4116 or 541-784-7973.
email: doc_prep@yahoo.com


Remarketing: Nassau Asset Management Specializing in: Repossession, remarketing, plant and fleet liquidation, skip tracing and collections. All types of equipment. Over 160 locations nationwide. We will tailor any remarketing program to your specific requirements. www.nasset.com
Contact: ECast@nasset.com
ELA,NAB T ,EAEL,NAELB,UAEL
Re-Seller: Orem, UT
CVI is an asset recovery company that collects on accounts,repossesses equipment and remarkets throughout the united states. For more information call David at
801-765-9939
E-mail:canyonviewinc@juno.com

Sales: Glen St. Mary, FL
Southeast Sales Rep,To Promote Specialty Pasture-Turf Agricultural Equipment. Will Find Aggressive Dealers and Locations. North Florida Area Between 2 Major Interstate.
E-mail: kenneth@thompsonaeration.com
Site Inspection: Placentia, CA
On site verifications, document signing or collections. Quick, accurate and professional. Reports with photographs e-mailed direct. Agents throughout US. Contact for coverage and rates.
E-mail:pwright@yk2bizsolutions.com


Site Inspection: US & Canada
Quiktrak performs equipment inspections within 24 hours of your job placement anywhere in the US. Order, check status & receive reports & photos online.
E-mail:sdresser@quiktrak.com
Site Inspection: National Property Tax Compliance Services to the leasing industry. Over 60-years experience and fifty Lessors as clients. References and free quotes available, (216) 658-5618,
E-mail gary@avptc.com

Site Inspection: New Jersey
Mobile NJ Lease Signing Service
We are New Jersey mobile lease signers and Notaries.We bring lease to clients, expedite signing and return docs. Same day.
Jim Lissemore, Pres www.Flexo-Notaries.com

Inspection: Tampa /St. Pete, FL
Contact Dick Mitchell @ Randolph Lynn Associates for prompt professional pre-funding equipment inspections, collateral "visits", and related lessee/vendor contacts. (Florida locations) 727-302-9144
E-mail:dmrla@gte.net
Software: Edmonds, WA
Preferred Broker Solutions offers software support (also custom templates & reports) for the System 1 and CapitalStream Advantage products. Ask about our Web Application interface.
E-mail:support@pbs4u.com
Trainer: Atlanta, GA
Able to provide training to dealers on financial merchandising as well as provide asset management service
E-mail:kingcole@mindspring.com
Trainer: Sausalito, CA
Lease trainer and consultant. 38 years in equipment leasing. Expert in transaction analysis, financial statement analysis, credit, packaging, structuring. Presents highly popular classes and workshops.
E-mail: BoTei@aol.com

Syndicator: Overland Park, KS
Top Syndicator from single deal to portfolios. 20+ yrs exp. Available for contract work or full time position. Nationwide contacts.
E-mail: FFLLeasing@aol.com


For a full listing of all "job wanted" ads, please go to:
http://www.leasingnews.org/Classified/Jwanted/Jwanted.htm
Leasing Recruiters:
http://www.leasingnews.org/Recruits/index.htm
To place a free "job wanted" ad here, please go to:
http://www.leasingnews.org/Classified/Jwanted/Jwanted-post.htm
--------------------------------------------------------------

Banks continue to tighten credit/discounting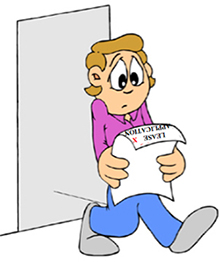 Readers continue to inform Leasing News that their banks are not only tightening criteria, but raising rates and changing terms.
This is a typical reaction sent to their salesman and brokers
(the name of the lessor has been deleted):
I am writing to you today in order to update you on ******* Funding and notify you of impending changes to our programs.
"Why the Changes?
Yesterday, we received an email from the lead bank that holds our permanent funding facility. Due to the unstable financial markets, and weakness in banking stocks in general, their cost of funds has increased dramatically, they have been forced to reduce the volume of new loans to be made and make certain changes to their loan products. Consequently, the bank has notified us that they are making material changes to *******'s funding facility, effective immediately. This includes reducing our monthly volume commitment, increasing our pricing and changing some credit parameters. ******* has a nearly ten year relationship with the bank, and we have been assured that the changes are simply reactions to the current problems in the credit markets, and have nothing to do with our performance or the performance of our leases. We expect to work closely with the bank as they navigate the difficult marketplace.
"What We Are Doing About the Situation?
It is very important that you understand that Management is doing everything possible to maintain our commitment to you. We have reached agreement on one new credit facility; we believe we are close to finalizing a second facility (anticipated to be available at the end of next month); and, we are in serious talks with several other financial services entities specializing in our industry. Raising liquidity in this market is a slow and costly process. Fortunately for *******, we continue to be a very attractive company to do business with. Unlike the portfolios of some of our competitors, ours is performing impressively. We were not involved with subprime or alternative lending. We are profitable and remain focused on our customers and our products. We expect this latest turn of events will be temporary.
"What This Means to You.
While we are in the process of exploring and closing new facilities, it will become necessary to make changes in our products which reflect the changes made by the Bank.
"Titled vehicles: First, due to the bank's new requirements for titled vehicles, we have elected to discontinue originating and funding these assets, effective immediately. For the time being, we will not consider new transactions for titled vehicles. We expect this to be a temporary situation and will quickly alert you when we have a new program in place to accept this class of equipment. If you have a transaction that has been documented and submitted for funding, we will honor the commitment if all required documentation is completed and accepted by 5:00 PM, Monday, August 4, 2008. If you have an outstanding approval, we will reevaluate the transaction at your request on a case by case basis; however, all outstanding approvals will require a renewed approval, based on the tighter restrictions, before it is accepted for funding.
"Pricing: Next, due to the increase in our cost of funds, we have no choice but to raise our rates to you. We have experienced price increases ranging from 125 to 200 basis points in our revised facility. Management has elected to increase our buy rates by 100 basis points, and we will absorb the balance. Our new rates are effective August 14, 2008 for both new and existing approvals. Your revised rate sheet is attached.
"We do understand the issues related to your approved and quoted business. We apologize for this and hope you understand that this is out of our hands. We are certainly willing to talk with you about measures we can jointly take to mitigate them.
"Volume: The volume we have funded has grown dramatically over the past year. Our commitment from the Bank is substantially less than our current funding run rate. Although we have added a new financing partner to the syndicate which provides our financing, we will still be unable to meet the current level of needs, at least through the third quarter. Partially, this will be offset by reductions in volume attributed to titled vehicles, but we expect that we may experience periodic delays in funding at times during the remainder of the third quarter.
"Prefunds: Separately, we have recently reviewed our policy on prefunds. Going forward, we will limit the amount we will prefund to 25% of the equipment cost, with the balance paid when the equipment is delivered and accepted. Prefunds and vendors will still need to be approved by credit prior to submitting for funding.
"We appreciate your understanding while the markets are in turmoil. We value our ongoing relationship and look forward to serving you for many years to come!"
--------------------------------------------------------------

Top Stories --August 4--August 8
Here are the top ten stories most "opened" by readers last week:
(1) Marlin Sues Direct Capital et. al.
http://www.leasingnews.org/archives/August%202008/08-06-08.htm#sue
(2) Gary Shivers is Back!!!!
http://www.leasingnews.org/archives/August%202008/08-04-08.htm#back
(3) Letter from Gary Shivers
http://www.leasingnews.org/archives/August%202008/08-06-08.htm#letter
(4) Marlin still a "Wrong Way Corrigan" company
http://www.leasingnews.org/archives/August%202008/08-06-08.htm#marlin
(5) Florida bank closed by FDIC
http://money.cnn.com/2008/08/01/news/companies/FDIC_bank_closure/
?postversion=2008080120
(6) Sale of S-W to Main Street Nat. Bank
http://www.leasingnews.org/archives/August%202008/08-04-08.htm#sale
(7) Irwin lost $107MM, including $23.4MM leasing
http://www.leasingnews.org/archives/August%202008/08-08-08.htm#ifc
(8) 27 WBC leasing franchises/56 territories
http://www.startribune.com/business/26186484.html?page=1&c=y
(9) RCC, related to LEAF, 2nd Q Results
http://www.leasingnews.org/archives/August%202008/08-06-08.htm#reit
(10) Higher Car Payments for Leases
http://www.bloomberg.com/apps/news?pid=20601213&sid=aStq6nvSPVDw&refer=home
--------------------------------------------------------------

What Percentages of Revenues Are Generated from Fee Income
(Other Revenues)?
ELFA eNews Daily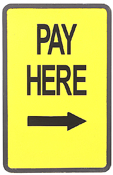 ELFA's premier benchmarking survey has just been released. This survey covers all aspects of the Equipment Finance Industry, and it's a "must have" if your organization wants to benchmark itself against your peers. The survey presents the most comprehensive industry performance metrics available. This year, 154 member companies participated in the survey, the highest participation rate in 25 years. That means the data is more relevant and credible than ever!
Survey says.....On average, an organization generated about 21.8% of their revenues from "other revenues" which include late fees, brokerage fees, portfolio sales, sale of non-lease assets, etc. Overall, other revenue category decreased by 1.1% from the previous year with the same companies reporting two years of data. Although percentages vary by type of organization, market segment, annual volume, and distribution channel. All the breakouts are available in the full SEFA report.
ELFA member-respondents have been sent complimentary copies of the Survey Report; in addition, confidential Individual Company Data Sheets, which show individual company statistics ranked against a peer group, has been sent to all respondents. Non-respondents may purchase the Survey Report from the ELFA by visiting
http://www.elfaonline.org/pub/pubs/ProductDetail.cfm?product_code=RSEFA2008
Member: $495.00
Non-Member: $695.00
For more information or to receive the table of contents of the report, please call Bill Choi at
(202) 238-3413 or BChoi@elfaonline.org.
--------------------------------------------------------------

Leasing Industry Help Wanted
National Account Manager

Arizona * California * Illinois * Minnesota

TOP PERFORMERS ONLY
SINCE 1995
National Account Manager
60% commission. APP only to $ 250,000. No industry/geo restrictions. Tremendous flexibility/freedom: your home office or our regional offices. BJohnson@Alliancecap.com


Sales Person

Frustrated Sales Person
If you are experiencing difficulty in fulfilling local banks' credit criteria with your transactions, believe that foreign funding could be of assistance and are ready for an exciting new challenge---then you need to apply for this sales position.


gocustomcapital.com
is an International equipment leasing company recently established in Brea, California, seeking to attract frustrated sales persons.
Vendor Sales Specialists


VENDOR SALES SPECIALISTS
LEASING SALES PROFESSIONALS
Like selling vendor programs and large transactions?
Enjoy international financing programs?
Prefer the advantages of a commission only environment with the security of health and welfare benefits?
CLICK HERE to find out how to have fun again.

About the company: Located on the water in
beautiful Newport Beach, California.The environment is positive.

Growing vendor based equipment leasing company
Learn our value proposition
2 Years Sales or Related Exp.
College Degree Preferred
You will work with people
that you can trust and respect
Click here to learn more


Please see our Job Wanted section for possible new employees.
-------------------------------------------------------------

Leasing 102
by Mr. Terry Winders, CLP
Have Legal Review your Documents
There are changes in laws affecting leasing and finance often. Your contract provisions may have changed and the only manner you might discover the change is when you are in court or when your contract is reviewed by your legal counsel. If this is not done every year, it definitely should be every two years that counsel reviews all your documents.
Here are two provisions you should consider to be free of responsibility for equipment performance:
To begin with, please remember that UCC Article 2A splits leases into two categories, two party (vendor leasing) and three party (finance leases). This is important because in a two party lease the Lessor is also the equipment supplier and since the Lessor is the purveyor of goods and the Lessee is a company leasing the use of the equipment for a limited period of time, the use of the equipment and, just as in Article 2 of the UCC in the case of sales, they are entitled to certain basic protections regarding the quality of the leased asset. In the absence of a disclaimer of warrantees the Lessor may be subject to implied warranties of fitness and merchantability. This means that the Lessee has a right to expect the equipment to perform correctly without failure or significant down time. When there is a breach of the implied warranty of merchantability, the lessee may not only recover lease payments previously made, but may also recover consequential damages.
There are generally two warranties that may be implicit in any sale of "goods." First, the Warranty of Fitness for a Particular Purpose is implied if it can be shown that the seller at the time of purchase has reason to know a particular purpose for which the goods are required. The buyer must rely on the seller's judgment or skill when making the purchase. Basically, the seller warrants that the goods sold shall be fit for that particular purpose.
The second warranty is the Implied Warranty of Merchantability. This is a warranty that the goods are fit for the ordinary purposes for which they are used. The purpose is to hold the seller responsible when inferior goods, not of a merchantable standard, are passed on to the unsuspecting buyer.
However, a merchant may disclaim these warranties. There are generally two rules when doing so. First, use the word "merchantability" in the disclaimer and make the language conspicuous. For example, the disclaimer should be in bold or capital letters and in a larger type face. Next, one may use expressions such as "AS IS" or "with all faults" to disclaim implied warranties. Again, these should be easy for the buyer to see.
In net leases that are finance leases (three party Lease) Article 2A exempts the Lessor from implied warranties and again like Article 2, provides for a method to waive these warranties. You must include a disclaimer of Warranties (supply contract) in bold print (conspicuous) plus you must pass on to the Lessee any and all warrantees provided by the vendor and state same in your lease agreement and most important require this pass through in your vendor purchase order. Example Purchase Order Language:
Title to the equipment shall pass from you directly to us and shall be free of all liens and encumbrances. You warrant that the equipment will comply with all warranties, agreements and representations made by you to lessee, and you agree that all warranties agreements and representations made by you (supply contract) to lessee or to us shall be fully enforceable by us and/or by lessee in its own name.
In addition a net lease finance Lessor requires the "Lessee" as part of the disclaimer to inspect and accept the equipment (acceptance certificate). If it meets with the lessee's approval and they sign and acceptance certificate with the correct language you have taken another step in protecting yourself from equipment claims. Here is some example acceptance language:
The following Items of Equipment have been (a) delivered to Lessee under the Lease (as evidenced by a signed Delivery Certificate), (b) fully and completely installed (if and to the extent any installation is required), (c) tested by Lessee to the extent Lessee deems appropriate in order to make this Certificate), (d) found to be suitable to Lessee for purposes of accepting those Items under the Lease and making them subject to the Schedule and the Lease (without waiving any rights or claims against the Vendor), (e) put into use on or as of the Commencement Date, and (f) accepted by Lessee, and Lessee hereby waives any right to revoke its acceptance with respect thereto:
With both the disclaimers of warrantees and the acceptance certificate, a net Lessor under a three party finance lease is protected legally from equipment failure. This does not rule out that the Lessee will be upset and try not making payments if the equipment fails to live up to the promises of the vendor. Once again it is important to have a check list for the salesperson, or your cover letter, to verbalize your net lease status and the fact that you have passed on the warrantees so that the Lessee can take any equipment failures directly to the vendor plus the fact you have a "hell and high water" provision that requires them to make payments regardless of equipment failure.
Remember to have your legal counsel review your lease documents at least every two years to stay on top of the changes brought on by new legal cases. I personally recommend an annual audit. The money you save in the long run may be quite worth the expense today.
Mr. Terry Winders, CLP, has been a teacher, consultant, expert witness for the leasing industry for thirty years and can be reached at leaseconsulting@msn.com or 502-327-8666.
He invites your questions and queries.
Previous #102 Columns:
http://www.leasingnews.org/Conscious-Top%20Stories/Leasing_102/Index.htm
(This ad is a "trade" for the writing of this column. Opinions
contained in the column are those of Mr. Terry Winders, CLP)
--------------------------------------------------------------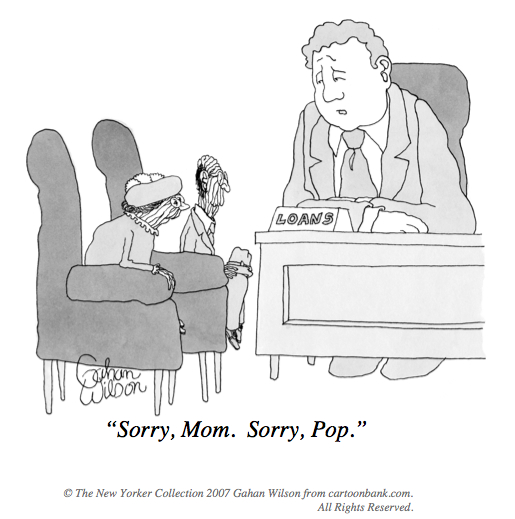 ---------------------------------------------------------------
### Press Release ###########################

UAEL Conference September 25-28
Highlights First-Time Activities that focus on Increased Networking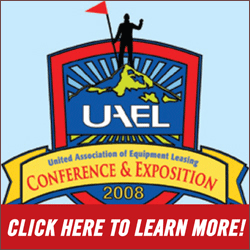 LA QUINTA, CA –"Reach your Professional Summit: Scaling New Business Heights," will be the theme of the upcoming United Association of Equipment Leasing (UAEL) 2008 Annual Conference & Exposition. The conference will focus on staying ahead in today's challenging economy and will be held on September 25-28, 2008 in Denver at the Sheraton Denver Hotel. The conference is sponsored by UAEL, a national organization that fosters the exchange of information and ideas related to equipment leasing and commercial finance by offering members a wide range of educational and networking opportunities.
UAEL's fall conference will feature a variety of new programs designed to encourage networking, with a focus on first-time attendees. Programs that feature leasing tools to help new and longtime members manage their business will also play a key role at this year's conference. First-time conference activities will include a newly-developed Ambassador Program, designed to ensure first-time attendees get the most out of their conference experience; and the Advisory Panel Sessions, that will tap into the breadth of resources at UAEL through field expert panels that focus on the latest industry issues and business opportunities.
This year's conference attendees will benefit from a wide range of information that can be immediately transferred to their business needs. Presentations to date are: "Stoking the Coals: Leveraging the Power of Nutrition, Sleep and Stress", and "Personalized Multi-Channel Marketing," that will examine successful campaigns which combine email, web and direct mail.
Conference speakers include: Kristin Wehner, MSM, founder of Kinetic Enterprise; Toby Gadd, President of Montage Graphics; Dana Freeman, President of DFCO LLC; and Danial Abbas, Hewlett Packard Company.
The keynote speaker for this year's conference is Eric Alexander, skier, climber and mountaineer, who defied the odds and scaled Mt. Everest in 2001 while guiding his blind friend to the 29,035 foot summit. Alexander will share this inspirational story and challenge conference attendees to overcome the "Everest's" in their own life.
An early registration discount for the fall conference is available through September 1, 2008. For details on registration costs, visit www.uael.org, or contact the UAEL office at (760) 564-2227.
### Press Release ###########################
--------------------------------------------------------------

News Briefs----
Wall Street Journal: It's Getting Hard to Lease a Car
http://online.wsj.com/article/SB121833626021927441.html?mod=googlenews_wsj
Most banks have cushion of capital
http://www.signonsandiego.com/news/business/20080810-9999-1b10banks.html
Help for Seniors Who Have Reverse Mortgages
http://www.washingtonpost.com/wp-dyn/content/article/2008/08/09/
AR2008080900139.html
Financial Giants Suffer ARS Freezer Burn
http://www.cfo.com/article.cfm/11910547/c_11908699?f=home_todayinfinance
---------------------------------------------------------------


You May have Missed--
Cheech & Chong Plan First Tour In 25 Years
http://www.billboard.com/bbcom/news/article_display.jsp?vnu_content_id=1003833079
----------------------------------------------------------------


"Gimme that Wine"
Mondavi legacy lives on in Napa Valley
http://www.sfgate.com/cgi-bin/article.cgi?f=/c/a/2008/08/07/
DDKR125MLK.DTL&type=wine
`Electronic Tongue' Hunts for Wine Fakes in $6.8 Billion Market
http://www.bloomberg.com/apps/news?pid=20601088&sid=aKIGjLVfWSfU&refer=muse
Early harvest coincides with climate change message
http://sonomasun.thmm.com/?p=3938
Mendocino wine executive admits misappropriation
http://www.pressdemocrat.com/article/20080808/NEWS/808080362/1350&title=
Wine_exec_admits_misappropriation
Wine for a good cause
http://www.contracostatimes.com/ci_10152920?nclick_check=1
Wine Prices by vintage
http://www.winezap.com
http://www.wine-searcher.com/
US/International Wine Events
http://www.localwineevents.com/
Winery Atlas
http://www.carterhouse.com/atlas
Leasing News Wine & Spirits Page
http://two.leasingnews.org/Recommendations/wnensprts.htm
The London International Vintners Exchange (Liv-ex) is an electronic exchange for fine wine.
http://www.liv-ex.com/
----------------------------------------------------------------

Calendar Events This Day
Chad: Independence Day.
National Holiday. Commemorates independence from France in 1960.
National Raspberry Tart Day
Play In the Sand Day
http://homeschooling.about.com/od/craftfun/ss/treasure.htm
Presidential Joke Day
http://holidayinsights.com/moreholidays/August/presidentialjoke.htm
Saint Clare of Assisi: Feast Day
Chiara Fabrone de Offreduccio, a religious leader inspired by St. Francis of Assis, was the first woman to write her own religious order rule. Born at Assis, Italy, July 15, 1194, she died there Aug 11, 1253.
A "Privilege of Poverty" freed her order from any constraint to accept material security making the "poor Clares" totally dependent on God.
http://www.catholic.org/saints/saint.php?saint_id=215
Son and Daughter Day
http://holidayinsights.com/moreholidays/August/sondaughterday.htm
Zimbabwe: Heroes Day
National holiday. Followed by Defense Forces Day in August 12.
Saint feast Days
http://www.catholic.org/saints/f_day/aug.php
http://www.123greetings.com/events/august2008.html
----------------------------------------------------------------

India is by far the largest world producer of bananas, growing 16.5 million tons in 2002, followed by Brazil which produced 6.5 million tons of bananas in 2002. To the Indians, the flower from the banana tree is sacred. During religious and important ceremonies such as weddings, banana flowers are tied around the head, for they believe this will bring good luck.
----------------------------------------------------------------

Today's Top Event in History
1911-Duke Kahanamoku breaks the world record in the 100-yard free-style swim by 4.6 seconds in Honolulu Harbor, Hawaii.
http://memory.loc.gov/ammem/today/aug11.html
[headlines]
----------------------------------------------------------------

This Day in American History
1760-The first Methodist preacher, Philip Embury, arrived in New York City on the Perry, which carried 70 passengers, half of whom were Methodists. With the assistance of Barbara Heck, he organized the first Methodist Society in America in 1776.
1807-Birthday of David R. Atchison, Missouri legislator who was president of the US for one day. Born at Frogtown, KY, Atchison's strong pro-slavery opinions made his name prominent in legislative debates. He served as president pro tempore of the Senate a number of times, and he became president of the US for one day Sunday, Mar 4,
1841-Having escaped from slavery only three years earlier, Frederick Douglass was legally a fugitive when he first spoke before an audience this day in 1841. At an antislavery convention on Nantucket Island, Douglass spoke simply but eloquently about his life as a slave. His words were so moving that he was asked to become a full-time lecturer for the Massachusetts Anti-Slavery Society. Douglass became a brilliant orator, writer and abolitionist who championed the rights of blacks as well as the rights of all humankind.
1849--pending the swearing in of President-elect Zachary Taylor Monday, Mar 5, 1849. The city of Atchison, KS, and the county of Atchison, MO, are named for him. He died at Gower, MO, Jan 26, 1886.
http://www.history.rochester.edu/class/douglass/home.html
1860—Nevada is known as the "Silver State" as the first silver mill to treat sliver ore successfully, as well as the first reducing mill to treat ore-bearing quartz, was established by the Washoe Gold and Silver Mining Company, No. 1, near Virginia City, Nevada. The mill operated by waterpower, was built by Almarin B. Paul, who began construction work on May 25, 1860, and completed it on August 9, 1860. It consisted of 24 stamps that began to crush on August 11, 1860.
1862-Birthday of Carrie Jacobs Bond, American composer of well-known songs, including "I Love You Truly" and "A Perfect Day," and of scores for motion pictures, Carrie Jacobs Bond was born at Janesville, WI. She died at Hollywood, CA, at age 84, Dec 28, 1946.
1861-The first US Senator to address the Senate in military uniform was Edward Dickinson Baker, Republican of Oregon. He was drilling his regiment at Meridian Hill when he was summoned to refute Senator John Breckinridge, Democrat of Kentucky, who was speaking against a proposal to send troops against the South. Baker did not have time to change into civilian attire, but removed his sword prior to delivering his speech. Baker City and County were named for London-born Edward Dickinson Baker, a Disciple minister. E.D. Baker had been converted to Christ at the Carrolton Church in Greene County, Illinois. Baker held many roles. He defeated Abraham Lincoln in a primary election in 1842. Baker and Lincoln were friends and the Lincolns named their second son Edward Baker Lincoln in honor of E. D. Baker. He came to Oregon in 1860 and campaigned for Lincoln. Later, becoming United States senator from Oregon, Baker introduced Lincoln at his first inaugural.
He was killed at the battle of Balls Fluff, VA, on October 21, 1861.
http://bioguide.congress.gov/scripts/biodisplay.pl?index=B000059
http://www.ehistory.com/uscw/features/regimental/pennsylvania/union/71stPennsylvania/eb.cfm
1862-Birthday of song writer Carrie Jacobs Bond she had been left a penniless widow with a baby son and earning her living running a boarding house and painting china. She was able to supplement her income by giving recitals in private homes. Her growing popularity gave her courage to start her own publishing company. Using borrowed money, the Carrie Jacobs-Bond and Son Publishing Company became highly successful printed the sheet music to her songs. Wildly popular in her day, the perennial favorite "I Love You Truly" made her a wealthy woman but it was "When You Come to the End of a Perfect Day" that was the most popular of all, selling more than 5 million copies of the sheet music. She wrote about 400 songs and published slightly less than half. Her autobiography is The Roads of Melody (1927).
http://parlorsongs.com/bios/cjbond/cjbond.asp
http://www.library.wisc.edu/etext/WIReader/Galleries/Bond.html
http://findaid.oac.cdlib.org/findaid/ark:/13030/kt5p300680
1874 - Harry S. Parmelee of New Haven, Connecticut got a patent for the sprinkler head.
1896 - The pull-chain electric-light socket was patented by Harvey Hubbell of Bridgeport, Connecticut.
1897-Birthday of poet Louise Bogan; chairman of poetry at the Library of Congress, poetry critic for New Yorker magazine for 37 years (1931-1969), and a distinguished poet in her own right. Her final collection The Blue Estuaries: Poems, 1923-1968 (1968) presents her finest work.
http://www.english.uiuc.edu/maps/poets/a_f/bogan/life.htm
1904 pianist Jess Stacy birthday, "Sing,Sing,Sing" soloist, born Bird's Point, Mo
http://ml.islandnet.com/pipermail/dixielandjazz/2002-November/004847.html
1909 - The first United States ship to use the "SOS" radio distress call was the liner "Arapahoe".
The first distress signal used was the "CQ" for "stop sending and listen." The first SOS was made by Theodore D. Hauber, operator of the Clyde liner Arapahoe, a single-screw freight and passenger steamer of som3 3,000 tons, bound for Charleston, SC, and Jacksonville, Fl, from New York City. Its engines were disabled 21 miles southeast of Diamond Shoals, off Cape Hatteras at 3:45pm. Both the SOS and the CQD signals were sent. The SOS was first heard and acknowledged by R.J. Vosburg, wireless operator at station HA in Cape Hatteras, NC.
1908—Birthday of clarinetist Russell Procope, NYC. He was Duke Ellington's alto clarinetist for 28 years.
1911-Duke Kahanamoku breaks the world record in the 100-yard free-style swim by 4.6 seconds in Honolulu Harbor, Hawaii.
http://memory.loc.gov/ammem/today/aug11.html
1921-Birthday of author Alex Haley , Ithaca, New York. He was raised by his grandmother at Henning, Tennessee, and entered the US Coast Guard in 1939 serving as a cook, but eventually he became a writer and college professor. His interview with Malcolm X for Playboy magazine led to his first book, " The Autobiography of Malcolm X," which sold six million copies and was translated into eight languages (it was an excellent, moving biography of a man I interviewed several times as a newsman; he was quite an "electric" interview ). His Pulitzer Prize-winning novel published in 1976, Roots, sold millions and was translated into 37 languages and was made into an eight-part TV miniseries in 1977, holding the first top ratings of any such series, generating interest in all human ancestry. Haley died at Seattle, WA, Feb 13,1992
http://www.tnstate.edu/library/digital/Haley.htm
http://www.suite101.com/article.cfm/literary_tour/26207
http://www.kintehaley.org/
1922-Birthday of Mavis Gallant - Canadian short story writer and novelist. Although she settled in France, she considered herself primarily a Canadian. She traveled widely. Most of her short stories were published in The New Yorker magazine.. "Green Water, Green Sky," "A Fairly Good Time," and "Home Truths" are considered her best stories by man
http://www.reaaward.org/html/mavis_gallant.html
1929-Babe Ruth of the New York Yankees became the first player to hit 500 career home runs when he connected off Willis Hudlin as the Cleveland Indians defeated the Yankees, 6-5. The home was also the 30th of the year for the Bambino.
1934-The first prisoners arrive at Alcatraz, San Francisco, a prison for the "most dangerous."
( lower half of: http://memory.loc.gov/ammem/today/aug11.html )
1941 - With his orchestra, Glenn Miller recorded "Elmer's Tune" for Bluebird Records.
1942-Moview star Hedy Lamarr, born Hedwig Eva Maria Kiesler in Vienna about 1914, received a patent while under contract with the MGM studio in Hollywood for the development of the concept of "frequency hopping" as a means of controlling torpedoes by radio.
1944-Burlington, VT reaches a scorching 101 for all-time maximum record.
1946---Top Hits
They Say It's Wonderful - Frank Sinatra
The Gypsy - The Ink Spots
Surrender - Perry Como
New Spanish Two Step - Bob Wills
1946-Birthday of writer Marilyn Vos Savant, holder of the world's highest IQ according to the Guinness book of records.
http://www.marilynvossavant.com/
http://www.nationmaster.com/encyclopedia/Marilyn-vos-Savant
1951 -The Braves beat the Dodgers 8-1 in the first major league game to be televised in color.
1954---Top Hits
Sh-Boom - The Crewcuts
The Little Shoemaker - The Gaylords
In the Chapel in the Moonlight - Kitty Kallen
One by One - Kitty Wells & Red Foley
1956-Elvis Presley's "Don't Be Cruel" is released. It will become his second Billboard chart topper.
1958 - "Hard Headed Woman," the feature song of the movie "King Cole," earned Elvis Presley a gold record.
1962---Top Hits
Breaking Up is Hard to Do - Neil Sedaka
The Loco-Motion - Little Eva
Ahab, the Arab - Ray Stevens
Wolverton Mountain - Claude King
1962-A flood of new releases hit the Billboard Hot 100 chart, that will go on to be hit records. Mary Wells' "You Beat Me to the Punch", Ray Stevens' "Ahab the Arab", Johnny Tillotson's "Send Me the Pillow That You Dream On", The Marvelettes' "Beechwood 4-5789", The Contours' "Do You Love Me", The Beach Boys' "Surfin' Safari", Booker T and the MGs' "Green Onions" and Tony Bennett's "I Left My Heart in San Francisco".
1964 - No. 1 Billboard Pop Hit: "Everybody Loves Somebody," Dean Martin. The song becomes the theme song to NBC's "The Dean Martin Show" the following year.
1965-Watts Riot: A minor clash between the California Highway Patrol and two young blacks set off six days of riots in the Watts area of Los Angeles. Thirty-four deaths were reported and more than 3,000 people were arrested. Damage to property was listed at $40 million. The less-immediate cause of the disturbance and the others that followed was racial tension between whites and blacks in American society.
1966--The Beatles held a press conference at the Astor Towers Hotel in Chicago where John Lennon apologized for his remarks that The Beatles were "more popular than Jesus now." The US media mis-quoted Lennon and rallies were held all over the country to smash and burn Beatle records. Lennon said later that he was trying to say, "the way they (some fans) carry on, it's like we're more popular than Jesus Christ."
1967---WHEAT, ROY M. Medal of Honor
Rank and organization: Lance Corporal, U.S. Marine Corps, Company K, 3d Battalion, 7th Marines, 1st Marine Division. Place and date: Republic of Vietnam, 11 August 1967. Entered service a*: Jackson, Miss. Born: 24 July 1947, Moselle, Miss. Citation: For conspicuous gallantry and intrepidity at the risk of his life above and beyond the call of duty. L/Cpl. Wheat and 2 other marines were assigned the mission of providing security for a Navy construction battalion crane and crew operating along Liberty Road in the vicinity of the Dien Ban District, Quang Nam Province. After the marines had set up security positions in a tree line adjacent to the work site, L/Cpl. Wheat reconnoitered the area to the rear of their location for the possible presence of guerrillas. He then returned to within 10 feet of the friendly position, and here unintentionally triggered a well concealed, bounding type, antipersonnel mine. Immediately, a hissing sound was heard which was identified by the 3 marines as that of a burning time fuse. Shouting a warning to his comrades, L/Cpl. Wheat in a valiant act of heroism hurled himself upon the mine, absorbing the tremendous impact of the explosion with his body. The inspirational personal heroism and extraordinary valor of his unselfish action saved his fellow marines from certain injury and possible death, reflected great credit upon himself, and upheld the highest traditions of the Marine Corps and the U.S. Naval Service. He gallantly gave his life for his country.
1969-Diana Ross invites 350 guests to a Beverly Hills club to see the newest Motown act, The Jackson 5.
1970---Top Hits
(They Long to Be) Close to You - Carpenters
Make It with You - Bread
Signed, Sealed, Delivered I'm Yours - Stevie Wonder
Don't Keep Me Hangin' On - Sonny James
1970-Jim Bunning of the Philadelphia Phillies defeated the Houston Astros,6-5, to become the first pitcher to win 100 games in each major league. Bunning, who started his career with the Detroit Tigers became a Congressman from Kentucky after retiring from baseball and was inducted into the Baseball Hall of Fame in 1996.
1974 - No. 1 Billboard Pop Hit: "The Night Chicago Died," Paper Lace. The song is written by Mitch Murray and Peter Callander.
1975-Aerosmith's "Toys In The Attic" LP goes gold.
1978---Top Hits
Miss You - The Rolling Stones
Three Times a Lady - Commodores
Grease - Frankie Valli
Love or Something Like It - Kenny Rogers
1981 - No. 1 Billboard Pop Hit: "Endless Love," Diana Ross & Lionel Richie. The song holds onto the top spot for nine weeks, making it the most successful duo, most successful Motown single and most successful soundtrack single of all time.
1982-The debut of Anglo-American pop-rock band, the Pretenders is certified platinum about three years after it's released. The L.P. contained two hits, "Brass in Pocket" and "Kid."
1984- President Ronald Reagan's voice-test joke: in preparation for a radio broadcast, during a thought-to-be-off-the-record voice level test, instead of counting "one, two, three . . ." the president said: "My fellow Americans, I am pleased to tell you I just signed legislation which outlaws Russia forever. The bombing begins in five minutes." The statement was picked up by live television cameras and was heard by millions worldwide. The incident provoked national and international reactions, including a news network proposal of new ground rules concerning the use of "off-the-record" remarks.
1984 - Ray Parker, Jr.'s single, Ghostbusters, hit the Number 1 spot on the Billboard's record charts on this date, and stayed there for 3 weeks. Parker also wrote and produced the song, which was the title theme song for one of the highest-grossing comedy films in movie history. He later received an Academy Award nomination for it.
1986---Top Hits
Glory of Love - Peter Cetera
Papa Don't Preach - Madonna
Mad About You - Belinda Carlisle
Rockin' with the Rhythm of the Rain - The Judds
1987-The Beatles' album "Sgt. Pepper's Lonely Hearts Club Band" was named 'the best album made during the last 20 years' by Rolling Stone magazine.
1987 - Music magazine "Rolling Stone" said "Sgt. Pepper's Lonely Hearts Club Band" was "the best album made during the last 20 years".
1988 - Moisture from what remained of Tropical Storm Beryl resulted in torrential rains across eastern Texas. Twelve and a half inches of rain deluged Enterprise TX, which was more than the amount received there during the previous eight months. Philadelphia PA reported a record forty-four days of 90 degree weather for the year. Baltimore MD and Newark NJ reported a record fourteen straight days of 90 degree heat
1989 - One of the most severe convective outbreaks of record came to a climax in southern California after four days. Thunderstorms deluged Benton CA with six inches of rain two days in a row, and the flooding which resulted caused more than a million dollars damage to homes and highways. Thunderstorms around Yellowstone Park WY produced four inches of rain in twenty minutes resulting in fifteen mudslides. Thunderstorms over Long Island NY drenched Suffolk County with 8 to 10 inches of rain. Twenty-three cities in the southeastern U.S. reported record low temperatures for the date. It was, for some cities, the fourth straight morning of record cold temperatures.
1991- In only his second big league start, 21-year old White Sox southpaw Wilson Alvarez no-hits the Orioles, 7-0. Only Browns' hurler Bobo Holloman, who threw a no-hitter in his first major league start in 1953 accomplished the feat in fewer starts.
1993-First foreign-born officer appointed chair of joint chiefs: President Bill Clinton appointed Army General John Shalikashvili to succeed Colin Powell as Chairman of the Joint Chiefs of Staff. Shalikashvili was born at Poland, but his family fled to Germany in 1944 to escape advancing Soviet troops. After moving to the US, his family lived at Peoria, IL. "General Shali" has a distinguished military record and is a Vietnam war veteran.
1993-a severe thunderstorm spawned a high elevation F3 tornado in the Ashley National Forest, 20 miles north of Roosevelt, UT. The tornado touched down 3 times along a 17 mile path and was up to 1/2 miles wide. 1000 acres of trees were snapped or uprooted. The highest elevation damage was at 10,800 feet.
1994 ---Randy Johnson's pitch to strike out A's Ernie Young will become the last ball thrown in the major league for seven and half month as the longest work stoppage in baseball history begins.
1994---Top Hits
Stay (I Missed You) (From "Reality Bites"), Lisa Loeb
I Swear- All-4-One
Fantastic Voyage- Coolio
Wild Night- John Mellencamp With Me Shell Ndegeocello
Can You Feel The Love Tonight (From "The Lion King")- Elton John
1994- Record high set at Miami with 96 then heavy thunderstorms drop the temperature to 70, a record low for the same date
1997—Congress passed the line-item veto for the President in 1996, but this day in 1997 William Jefferson Clinton was the first to use it, eliminating three provisions from legislation that had been passed by Congress. The line-item veto, a power sought by presidents since Ulysses S. Grant, enables presidents to strike particular items from newly enacted federal laws without having to veto the entire bill.
1998- Lawrence Ferlinghetti was named the first poet laureate of San Francisco.
1999—Top Hits
Genie in a Bottle- Christina Aguilera
Tell Me It s Real- K-Ci
Bills, Bills, Bills- Destiny s Child
All Star- Smash Mouth
2001- Using fewest number of games anyone has ever needed to hit 50 homers in a season, Giant outfielder Barry Bonds reaches the milestone in 117 contests. In 1999, Sammy Sosa reached the mark in 121 contests.
2002- Sammy Sosa's grand slam and run-scoring double against the Rockies gives the Cubs' slugger 14 RBIs over two games establishing a new a National League record. The previous mark was 13 shared by Nate Colbert (Padres-1972) and Mark Whiten (Cardinals -1993).
2003- By fanning Jeff Kent in the seventh inning at Wrigley Field, Kerry Wood became the
fastest major leaguer to record his 1,000th career strikeout needing only 134 games to reach the milestone. It took 143 games for Roger Clemens to accomplish the feat.
Top Hits---2003
Crazy In Love- Beyonce Featuring Jay-Z
Right Thurr- Chingy
Never Leave You - Uh Ooh-- Uh Oooh!, Lumidee
P.I.M.P-, 50 Cent
--------------------------------------------------------------

Baseball Poem

This poem by Robert L. Harrison depicts one of the best teams of all times. The 1927 Yankees or "Murderer's Row" were legendary and this poem pays tribute to those magnificent Yanks. In 1929, Babe was the first to hit 500 home runs.
1927 Yankees
by Robert L. Harrison ©

Published: New York Baseball Poems (1999)

Gather 'round you fans of baseball
you lovers of season past,
let me take you back to the greatest team
that ever played on grass.
Guided by Miller Huggins
known as "murderer's row,"
never was such a string of pearls
so feared this side of Hell.
Greedy was this awesome bunch
with Ruth and Gehrig leading the punch,
and Hoyt and Moore on the mound
shooting all the batters down.
Gasping crowds assemble
like sinners in a tent,
watching all the other teams
trying to repent.
God blessed those boys of summer
those pin-striped renegades,
with a winning passion
while others saw only the haze.
Gathering in the rosebuds
by playing excellent ball,
called the "five o'clock lightning"
taking the pennant in the fall.
Gone were any pretenders to the throne
no on stood wherever these Yankees roamed,
twenty-five men made up this team
and all had a year better than their dreams.

1927 Yankees by Robert L. Harrison ©
Fast Facts
Murderer's Row was anchored by Babe Ruth, who hit sixty home runs and batted .356; and Lou Gehrig, who had forty-seven home runs and batted .373.
The team won one-hundred ten games and the other members included: Earle Combs, who hit .356 and led the league in hits, singles and triples; Tony Lazzeri, who hit eighteen home runs and batted .309; and Bob Meusel who hit .337.
This poem is a Baseball Almanac exclusive and appears here with expression written permission from the author

http://baseball-almanac.com/poems.shtml
--------------------------------------------------------------

SuDoku
The object is to insert the numbers in the boxes to satisfy only one condition: each row, column and 3x3 box must contain the digits 1 through 9 exactly once. What could be simpler?
http://leasingnews.org/Soduku/soduko-main.htm
--------------------------------------------------------------

Daily Puzzle
How to play:
http://www.setgame.com/set/puzzle_frame.htm
Refresh for current date:
http://www.setgame.com/set/puzzle_frame.htm
--------------------------------------------------------------


http://www.gasbuddy.com/
http://www.gasbuddy.com/GB_Map_Gas_Prices.aspx
http://www.gasbuddy.com/GB_Mobile_Instructions.aspx
--------------------------------------------------------------

Weather
See USA map, click to specific area, no commercials
--------------------------------------------------------------

Traffic Live---
Real Time Traffic Information
You can save up to 20 different routes and check them out
with one click, or type in a new route to learn the traffic live.
--------------------------------------------------------------

News on Line---Internet Newspapers
Russian Newspaper
*Other on line newspapers:
http://www.leasingnews.org/Newspapers.htm
--------------------------------