Wednesday, August 27, 2008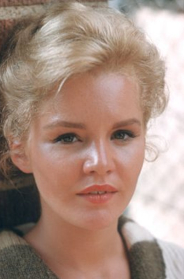 Actress Susan Ker "Tuesday" Weld, born August 17, 1943, New York City. I had a date with her in high school before she hit it big in 1959 with "The Many Loves of Dobie Gillis" (142 episodes.) She appeared in many movies. In her thirties, Weld gave memorable performances in Looking for Mr. Goodbar (1977), for which she was nominated for an Academy Award as best supporting actress; as well as Who'll Stop the Rain (1978) opposite Nick Nolte; and Michael Mann's acclaimed 1981 film Thief, opposite James Caan.
http://www.imdb.com/name/nm0001839/
Headlines---
ex-Leaf employees now available
Classified Ads---Sales
Lease originations month-to-month decline 15%
Operation Lease Fleece: What are they doing today?
Cartoon---Work Release Program
Classified ads---Help Wanted
New Hires---Promotions
Post a Help Wanted Ad
Sales makes it Happen---by Linda P. Kester
"Your Unique Selling Position"
also Meet Linda Kester in Costa Mesa!
Small Banks, Tight Credit
Bank profits fell 86% /117 banks in trouble
FDIC to boost insurance fund
Fed Hints It Will Raise Benchmark Rate
Most affluent city might surprise you
News Briefs---
You May have Missed---
"Gimme that Wine"
Calendar Events
Snapple Real Facts
Today's Top Event in History
This Day in American History
Baseball Poem
SuDoku
Daily Puzzle
GasBuddy
Weather, USA or specific area
Traffic Live!----
News on Line---Internet Newspapers
Denver, Colorado
######## surrounding the article denotes it is a "press release"
------------------------------------------------------------------------------

ex-Leaf employees now available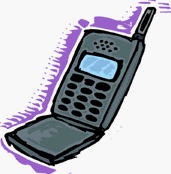 There are many good people who do not get the exposure that they deserve. Leasing News is now attempting to ask for rosters of employees when a company closes or merges.
One of the main problems for employees is the location of employment available. Here five will consider relocating, five will consider depending on the position, although six prefer to stay in the greater Santa Barbara area, work out of their home or perhaps work out a commute program of three or four days at a further distant location.

--------------------------------------------------------------

Classified Ads---Sales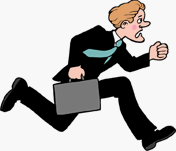 (Don't give up. Even in Southern California, a sales person who went on the list in early June finally found a position, and with a major bank. He said he received many good inquiries from the classified ad. It was his use of the internet and going to bank HR department listings that lead him to the job that he appears very happy to have found. Reportedly the captive vendor market is also hiring. Editor)
Atlanta, GA
If you can use a polished, seasoned, driven leasing professional with 14 years of extremely productive experience, please call me.
Resume Attached.
Saul Sloman
Cherry Hill, NJ
College grad seeking entry level sales position for equipment leasing and financing in small to mid-size ticket markets. Have 6 months experience in the industry and self-motivated. Contact Matt at 609-280-2178 or
email at mkuzan@gmail.com

Chicago, IL
Sales Executive or Senior Manager, with responsibility for leasing capital equipment in support of transactions based on current market values, market potential and economic trends.
tomvolk53@hotmail.com
Resume
Cincinnati, Ohio
8+ years in medical sales. Available for Full-Time work as Business Development Manager.
Email: sronnie35@gmail.com
Copenhagen, Denmark
10 years of experience as VP Europe, Middle East and Africa for a US based Equipment Leasing Company. $500,000 plus w/ excellent connections European shipping lines/ maritime financing.
Click here.
Fresno, CA
Aggressive, competitive self-starter w/successful vendor/direct equipment
leasing and asset-based lending experience seeks return to leasing industry
after successful stint in business banking sales.
Email: dsp559@hotmail.com
Resume
Hillsborough, NJ
Sales professional (3 yrs mortgages, 1 year securities) looking to transition my experience/skills into the equipment leasing/financing. Pete Brusyo
(908) 625-7232 or
peterbrusyo@yahoo.com
Resume
Montgomery, AL
Individual with 10 years advertising sales exp. & 7 years insurance sales exp. Wants independent contractor situation in Alabama.
Work with leasing company or broker.334-590-5133
E-mail: billmcneal2003@yahoo.com
Pittsburgh , PA
Aggressive self starter looking for leasing position w/10 plus yrs sales exp., plus banking experience 814-538-9129
mwiser500@hotmail.com
Oklahoma
Over 30 years of financing experience, resume posted at www.geocities.com/bobbybenmoore, phone 580-351-2531
Stuart, FL area
Years of experience in leasing sales, credit, operations, documentation and syndication. Seeking position with direct middle market lender, equip. mfr or major equip. distributor. email: southernleasing@bellsouth.net
Texas/Oklahoma
15 year lease vet looking for plact to take business.great references. all major equipment types. open to compensation. please contact if interested.
E-mail: bankingdallas@yahoo.com
For a full listing of all "job wanted" ads, please go to:
http://www.leasingnews.org/Classified/Jwanted/Jwanted.htm
Leasing Recruiters:
http://www.leasingnews.org/Recruits/index.htm
To place a free "job wanted" ad here, please go to:
http://www.leasingnews.org/Classified/Jwanted/Jwanted-post.htm
--------------------------------------------------------------

Lease originations month-to-month decline 15%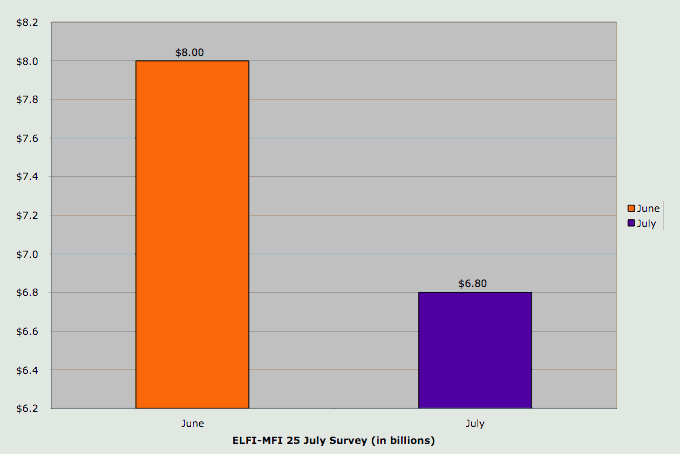 The majority of leasing companies saw a decline of business in the second quarter of 2008, according to the Equipment Leasing and Finance Association most recent survey.
The ELFA-MLFI-25 shows July data report originations month-to-month declined by 15 percent to
$6.8 billion.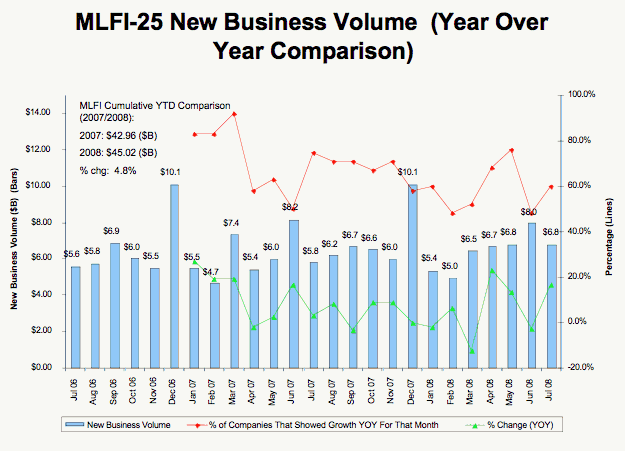 Credit approvals were corresponding down also.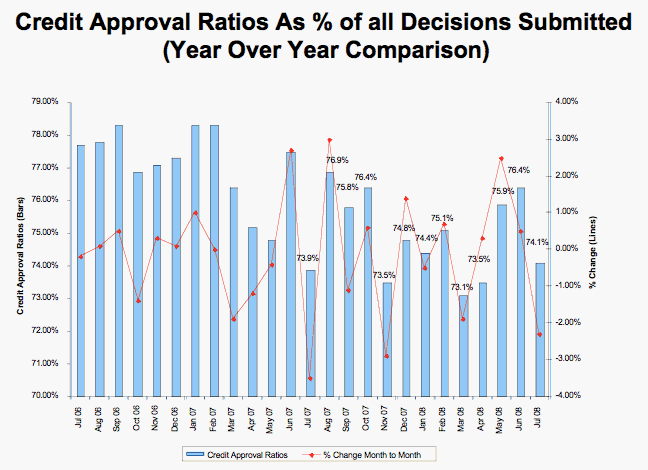 Leasing companies have been reporting to Leasing News that the second quarter has been soft, particularly in the small ticket marketplace. Tax incentives do not seem to be an inducement
here, as well as credit has tightened up.
It is hogwash to believe that a tightening credit marketplace or downturn is good for the leasing industry. This thinking is quite wrong as the pie of business is much smaller. Even "C" and "D"
credits are part of the pie, as if all leasing does is poorer credits.
That is not true.
The old adage that a rising tide raises all books is true, as well as the vice versa,
a low tide sinks all boats.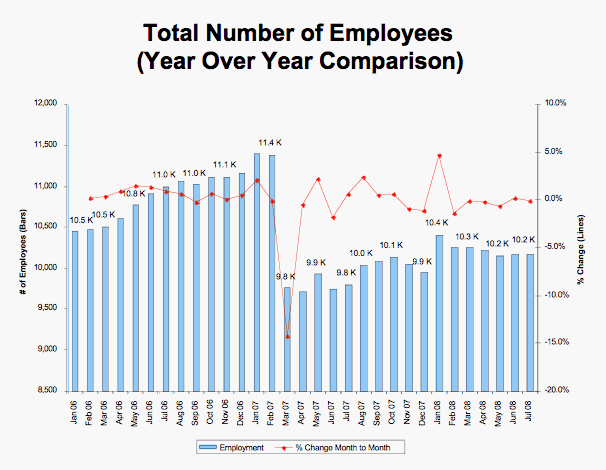 The employment numbers look "strange" in comparison to news of leasing companies merging, closing operations, and letting people go as CIT, Citibank, GE and Irwin Bank have recently done. The ZRG Executive Hiring Index is due soon. It will be interesting to see if there are no changes for the last three months as the ELFI-25 indicates.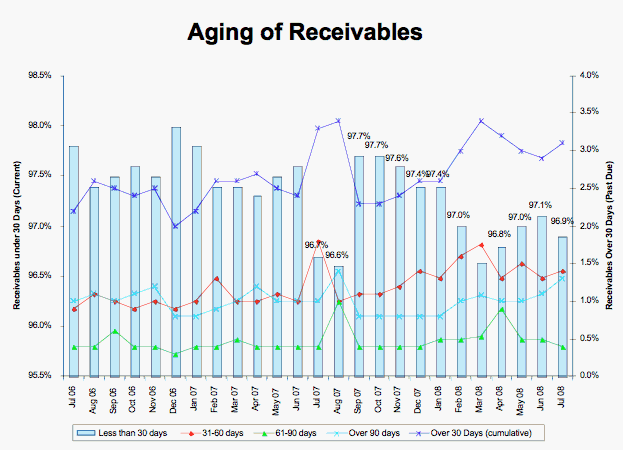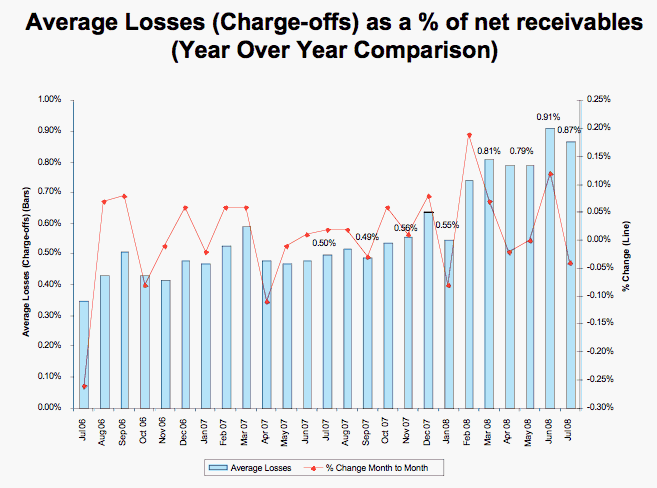 Companies participating in the survey (note: Irwin Financial closed their operation in the US in July, US Express Leasing was recently sold to Tigris, several of the companies in their public SEC statements reported a net profit and overall business declines in their second quarter. editor)
ADP Credit Corporation
Bank of America
Bank of the West
Canon Financial Services
Caterpillar Financial Services Corporation
CIT
Citicapital
De Lage Landen Financial Services
Fifth Third Bank
First American Equipment Finance
GreatAmerica
Hitachi Credit America
HP Financial Services
Irwin Financial
John Deere Credit Corporation
Key Equipment Finance
Marlin Leasing Corporation
National City Commercial Corp.
RBS Asset Finance
Regions Equipment Finance
Siemens Financial Services
US Bancorp
US Express Leasing
Verizon Capital Corp
Volvo Financial Services
Wells Fargo Equipment Finance
--------------------------------------------------------------

Operation Lease Fleece: What are they doing today?
by Christopher Menkin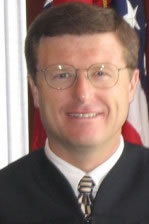 Hon. Cormac J. Carney, Former UCLA football star, and UCLA Football wide receiver Rose Bowl MVP.
In November, 2007 the FBI investigation dubbed "Operation Lease Fleece" charged 23 in their roles in a fraud scheme that allegedly caused more than $20 million in losses to several lending institutions that believed they were financing equipment leases.
It appears all named have plead "guilty," all but one have had sentencing dates made, then postponed by U.S. District Federal Judge Judge Cormac J. Carney, formerly a UCLA Football wide receiver Rose Bowl MVP.
Of those waiting for sentencing, many are back in business or enjoying the time off before they start federal prison time.
It appears the sentencing delay requested by US Attorney Jennifer L. Waier centers around others who have not made a pleading and will be taken to court for a judge or jury to decide their guilt or
innocence. Ms. Waier has not communicated with Leasing News, and the opinion comes from previous such cases modus operandi, as well as Judge Carney would not generally postpone sentencing without "good cause."
The so-called three ring leaders lives have changed as their guilty plea" hangs over them. It appears they are looking at this waiting time as their "last hurrah."
Adam Zuckerman was about to make a "mea culpa" to Leasing News, then went on a cruise, then at the beginning of the year to Israel, and has been active in "putting deals" together, traveling all over the country using a "pen name," he did divulge to those he was working with. He remains an entrepreneur. He is greatly concerned with having a reduced sentence and has apparently cooperated in every way to obtain this goal.
Long time partners Jim Raeder and Mark McQuitty of CapitalWerks, Preferred Lease, formerly SierraCities from the sale of their company Republic Leasing of Southern California, appear to have gone their separate ways. They have been living off the sale of Republic Leasing of Southern California for quite some time, Leasing News was told by Jim Raeder. CapitalWerks/Preferred Leasing was never very profitable, he said.
After pleading guilty in a sealed document, Raeder moved to Colorado, where he was originally raised, bringing his family. He told Leasing News he is spending a lot of time with his wife and children. He has been wondering if he will ever get back into the leasing business after he serves his time, and appears to Leasing News he wants to return in some capacity upon his release.
Mark McQuitty stayed in Southern California, had rented several offices, was reportedly active in several ventures, but appears to have let them lapse. He is originally from New Zealand. Whether he will eventually return to his home country is not known.
During the time since his pleading guilty, he has had three serious DMV convictions. He was put on three years probation on July 31, 2008 with the sentence stayed. The DMV record does not show if his license was revoked, but the court knowing his pleading guilty to federal charges may have influenced the decision. (Out of respect for his family, Leasing News is not providing his public DMV conviction record sent in by a reader.)
To top off McQuitty's troubles, his former "personal assistant" has been sending emails to the news media and others offering to tell her story for a price.
The following email was received by Leasing News, confirmed that the person exists, had worked for Capital Werks/Preferred Leasing, and may be a "credible witness." She also may be involved, too, but no one is able to confirm or deny such involvement.
The following emails have been edited for legal reasons:
"My name is Melody Catale (formally Melody Castro).
I was Mark McQuitty's personal assistant for last 12+ years...
"Recently, I was offered some $ for an exclusive story. I began working with him in 1996 at the Republic Group, then First Sierra (aka: Sierra Cities), worked for free to start CapitalWerks (also info on Aspen/ IMG/Isystems)... I can deliver proof, facts, emails, logs, inside perks, pics, even FBI info that only mark & I know... I can also tell you all future plans & fake names, goals, etc.....(& much much more)."
Leasing News returned the email that we do have the funds to pay for information, and received the following response:
"Mr. Menkin, I really thought you would want this 'true' story. Too bad! You are a great reporter and I thank you for all the info I've gathered off your website. If you change your mind, let me know. I am hurt due to betrayal but will send story to banks myself...just to have some good old fashion revenge. Let me know if you change your mind. I wouldn't mind some $$$$... Thank you for your time :) "
Docket Up-Date
UNITED STATES DISTRICT COURT, CENTRAL DISTRICT OF CALIFORNIA (Southern Division - Santa Ana)
CRIMINAL DOCKET FOR CASE #: 8:07-cr-00239-CJC All Defendants
Jennifer L Waier
AUSA - Office of US Attorney
411 West Fourth Street, Suite 8000
Santa Ana, CA 92701
714-338-3550
Email: USACAC.SACriminal@usdoj.gov
LEAD ATTORNEY
These are from public documents
(Those records found follow the original list from the US Attorney's office:)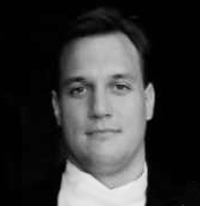 February 19 James Reader pled guilty 18:1343: Wire Fraud before Judge Cormac J. Carney. Sentencing set for 2/23/2009 10:00 AM before Judge Cormac J. Carney. Documents sealed.
May 20 Mark McQuitty pled guilty 18:1343: Wire Fraud before Judge Cormac J. Carney. Sentencing set for 5/18/2009 10:00 AM before Judge Cormac J. Carney. Documents sealed. Since the arrest, he has several DMV convictions.
April 8 Anthony E. Watson pled guilty before Judge Cormac J. Carney. Sentencing was originally set for 7/21/2008 10:00 AM before Judge Cormac J. Carney. Documents sealed. Latest: Sentencing Hearing to 11/3/2008 10:00 AM before Judge Cormac J. Carney.
June 1 Adam Zuckerman pled guilty with the jury trial date of
July 8, 2008 at 8:30 a.m. as to this defendant only. Sentencing set for 7/13/2008 10:00 AM before Judge Cormac J. Carney.
Plea agreement as of December 7, 2007 is sealed. He reportedly wore a wire, contributed names and dates, plus will testify against many of those named. He has allegedly gone on a cruise, and with
permission traveled to Israel, but has now turned in his passport.
Latest: Sentencing set for 7/13/2009 10:00 AM before Judge Cormac J. Carney.
January 31 Kirk A. McMahan pled guilty before Judge Cormac J. Carney. Sentencing set for 10/20/2008 09:00 AM before Judge Cormac J. Carney.
February 19 Paul Arnold pled guilty before Judge Cormac J. Carney. Sentencing set for 2/23/2009 10:00 AM before Judge Cormac J. Carney. Documents sealed. Latest: Sentencing set for 6/8/2009 10:00 AM before Judge Cormac J. Carney.
Geoffrey Silver to the charge of conspiracy to appear before Judge Cormac J. Carney June 30, 2008. Documents sealed. Latest;
Sentencing set for 6/8/2009 10:00 AM before Judge Cormac J. Carney.
Brian Sime also known as Joe Turner also known as Tonga Title 18:1014 FALSE STATEMENT TO FINANCIAL INSTITUTION: 18: 2(b) CAUSING AN ACT TO BE DONE (1) Public Defender reassigned. Documents sealed.
May 20 Leo J Najera pled guilty before Judge Cormac J. Carney. Sentencing set for 11/10/2008 11:00 AM before Judge Cormac J. Carney. Documents sealed
March 13 Leigh Dorand pled guilty 18:1343: Wire Fraud before Judge Cormac J. Carney. Sentencing set for 2/9/2009 10:00 AM before Judge Cormac J. Carney. Document sealed
March 6 James H Breedlove pled guilty 18:1343: Wire Fraud before Judge Cormac J. Carney. Sentencing set for 7/21/2008 at 9:00 AM before Judge Cormac J. Carney. Documents sealed. Latest:
Sentencing set for 10/6/2008 at 10:00 AM before Judge Cormac J. Carney.
Mark Castleman indicted for mail fraud Jury Trial continued to 12/2/2008 09:00 AM before Judge Cormac J. Carney. Jury Trial continued to 12/2/2008 09:00 AM before Judge Cormac J. Carney.
February 4 Les Spitzer also known as Guy Amsalem pled guilty before Judge Cormac J. Carney. Sentencing set for 12/15/2008 10:00 AM before Judge Cormac J. Carney. Documents sealed.
March 11 Jeffrey Greenough pled guilty to 18:1343: Wire Fraud(1) 18:2: Aiding and Abetting and Causing an Act to be Done before Judge Cormac J. Carney. Sentencing hearing for defendant Jeffrey Greenough to 11/3/2008 09:00 AM before Judge Cormac J. Carney. Documents sealed.
March 11 Lourey McComber pled guilty to 18:1343: Wire Fraud(1) 18:2: Aiding and Abetting and Causing an Act to be Done before Judge Cormac J. Carney. Stipulation to Continue 46 Sentencing hearing to 8/11/2008 11:00 AM before Judge Cormac J. Carney. Documents sealed. Latest: Sentencing set for 11/17/2008 at 10:00 AM before Judge Cormac J. Carney.
March 7 Harold Gold pled guilty to 18:1343: Wire Fraud(1) before Judge Cormac J. Carney. Sentencing set for 7/14/2008 09:00 AM before Judge Cormac J. Carney. Documents sealed. Latest:
Sentencing Hearing to 3/9/2009 11:00 AM before Judge Cormac J. Carney.
February 12 Nohad Mousa pled guilty to 18:1341 MAIL FRAUD before Judge Cormac J. Carney.
JUDGMENT AND COMMITMENT by Judge Cormac J. Carney as to Defendant Nohad Mousa (1), Count(s) 1, 6 months imprisonment, time served. Pay $100 special assessment. Pay total restitution of $94,775. Interest on restitution ordered waived. Defendant shall be held jointly and severally liable with co-participant George Simon (Docket No 8:07CR00246) for the amount of restitution ordered in this judgment. All fines are waived. 3 years supervised release under terms and conditions of US Probation Office and General Orders 318 and 01-05. Signed by Judge Cormac J. Carney.
Plea Agreement:
http://leasingnews.org/PDF/NohadMousa.pdf
Notably absent in court records is John J. Callaghan, 38, of Warminster, Pennsylvania, who worked at Citicapital. Allegedly there were three or four Citicapital bank officers named. According to a Citicapital press release three were dismissed. They are not named, nor allegations that the fraud was higher up in administration.
Subprime and other large losses seem to have taken precedence.
According to the US Attorney press release, complaints from Citibank started their investigation.
Here are those originally named by the FBI and US Attorney's office:
James T. Raeder II, 42, of Mission Viejo, who worked at Capitalwerks/Preferred Lease
Mark McQuitty, 46, of Trabuco Canyon, who worked at Capitalwerks/Preferred Lease
Richard Norris, 60, of Los Angeles, who worked at Capitalwerks/Preferred Lease
Anthony E. Watson, 61, of San Clemente, who worked at CapitalWerks/Preferred Lease
Douglas Cox, 37, of Rancho Santa Margarita, who worked at CapitalWerks/Preferred Lease
Adam Zuckerman, 37, of Laguna Beach, who worked at Brickbanc
Kirk McMahan, 31, of Newport Beach, who worked at Brickbanc
Paul Arnold, 56, of Laguna Hills, who worked at Brickbanc
Geoff Silver, 35, of Calabasas, who worked at Silver Industries
Brian Sime, 29, of Irvine, who worked at Brickbanc
John J. Callaghan, 38, of Warminster, Pennsylvania, who worked at Citicapital
Leo Najera, 28, of Mission Viejo, who worked at ECCI
John Budge, 38, of Sartell, Minnesota, who worked at Bach Business Credit
Leigh Dorand, 42, of Phoenix, who worked at Tech Capital
James Breedlove, 51, of Newport Beach, who worked at Santa Fe Equipment
Mark Castleman, 47, of Chino Hills, who worked at Industrial Information Systems
Les Spitzer, 60, of Grenada Hills, who worked at Pyramid Infinite
George Simon, 38, of Redondo Beach, who worked at Advantage IT Solutions
Jeff Greenough, 48, of Laguna Beach, who worked at Peniche
Troy Worrell, 47, of Newport Beach, who worked at Peniche;
Lourey McComber, 53, of Prescott Valley, Arizona, who worked at Peniche
Harold Gold, 75, of Falmouth, Massachusetts, who worked at Leasing Services
Nohad Mousa, 40, of Anaheim, who worked at Saut Wa Soora, Inc.
Hon. Cormac J. Carney: Operation Lease Fleece judge
http://www.leasingnews.org/archives/June%202008/06-27-08.htm#judge
Operation Lease Fleece
http://www.leasingnews.org/archives/February%202008/02-25-08.htm#p2
--------------------------------------------------------------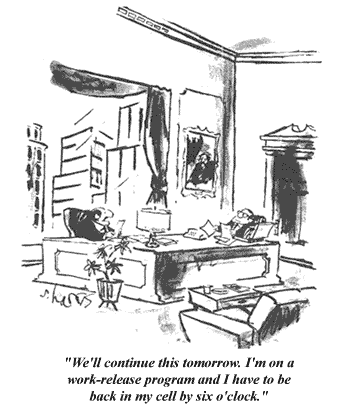 --------------------------------------------------------------

Classified Ads---Help Wanted
Vendor Sales Specialists


VENDOR SALES SPECIALISTS
LEASING SALES PROFESSIONALS
Like selling vendor programs and large transactions?
Enjoy international financing programs?
Prefer the advantages of a commission only environment with the security of health and welfare benefits?
CLICK HERE to find out how to have fun again.
[headlines]
--------------------------------------------------------------

New Hires---Promotions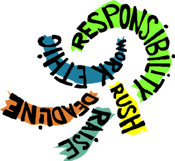 R. Zane Burgess promoted to President of BOKF Equipment Finance, Inc., a division of BOK Financial Corporation and Bank of Texas, Dallas/Fort Worth, Texas.
Melissa Carlson has been promoted to "broker manager relationships at Pinnacle Business Finance, Tacoma, Washington. She has held positions at Pinnacle for the last six years in sales management, marketing and corporate training. Carlson will manage the broker relationships in Washington, Montana, Colorado, Texas, Oklahoma, Kansas, Nebraska, North and South Dakota, Minnesota, Iowa, Missouri, Arkansas and Louisiana.
Claude Elmore with 32 years experience in the leasing industry has joined Pinnacle Business Finance, Tacoma, Washington as a "broker manager" to focus on the western region of the U.S. (Oregon, California, Arizona, New Mexico, Utah, Nevada, Idaho and Wyoming)
Mark Stevens has been named the Association's Chief Lending Officer. Mr. Stevens, formerly of Atlanta, joined Farm Credit from Prudential Capital Group, where he served as Chief Credit Officer.
Mr. Stevens has served in executive level positions at GMAC Commercial Finance, Bank of America and GE Capital Corporation. He earned a Bachelor's Degree at the University of North Carolina, Chapel Hill, and an MBA from the University of North Florida, Jacksonville.
Jeffrey A. Welch has been hired as Executive Vice President and Chief Credit Officer, Sandy Spring Bank, OLNEY, Md. Mr. Welch has taken on the role of Chief Credit Officer from Daniel J. Schrider who was appointed President and Chief Revenue Officer by the board of directors in March. Welch has over 25 years of experience in the financial services industry specializing in commercial lending, credit risk management, and credit policy primarily for large regional banks operating in the local area. He has also worked as a consultant to area banks in credit risk management.
--------------------------------------------------------------

Help Wanted Ad Pricing Criteria
$500.00 minimum for four lines
$75.00 each additional line
- Design work to help create the ad is free.

- Description of your company is free
(company description cannot have more lines than your ad)
Cost Per Day (based on ad price)
$500.00 - $23.81 per day
$600.00 - $28.57 per day
$700.00 - $33.33 per day
$800.00 - $38.10 per day
$900.00 - $42.86 per day

All rates are subject to change.
Ads run a minimum of 21 days on the web site ( holidays not included.) There are placed in the "Help Wanted' section by category, alphabetical, with the largest ad in the category first. Copy may be amended without any extra charge.
It is also our policy to place "help wanted" ads above the news edition headlines. This position is not available as a paid position, but appear on the top of the news edition in a rotation basis. This position is not guaranteed,but is a practice to give advertisers more attention to their ad.
Please send an email to kitmenkin@leasingnews.org to post a Help Wanted Ad.
Here are some samples of various size ads:
www.leasingnews.org/Classified/examples.htm
If you prefer a " non-employment" ad, we sell a banner ad, please
click here for pricing.
If you would like more information, please contact: kitmenkin@leasingnews.org
We reserve the right to refuse any advertising.
Ads for employment should be placed in the classified ad section, where it is possible to also appear at the top of the headlines.
No changing or alternating banner ads.
Ad copy may be up-dated or changed at any time during the time period.
No charge for artwork or design.
To see sample size of ads, please go here.
--------------------------------------------------------------

Meet Linda Kester in Costa Mesa!
Linda will be presenting "Hell or High Water" Marketing at the NAELB Western Regional Conference, appearing a week from this Saturday.
More information is available at:
http://leasingnews.org/PDF/2008%20Western%20Regional%20Registration%20Brochure.pdf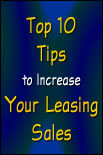 Top Ten Tips to Increase Leasing Sales
Price: $15.00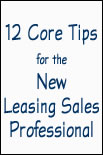 12 Core Fundamental Tips for the NEW Leasing Sales Professional Price: $15.00
Linda P. Kester's two others books, ""366 Marketing Tips for Equipment Leasing" and "12 Core Fundamental Tips for the NEW Leasing Sales Professional" are also available at:
To Order, please go here:
https://www.lindakester.com/products/cd_order_form.aspx
Sales Make it Happen
by Linda P. Kester
This is from her new book now available at www.leasingpress.com
234
Unique Selling Position
Every leasing company has something that makes it unique. Find your unique selling position. Examine your business and find the issues that differentiate you. Tout your company's uniqueness in your marketing efforts.
One leasing company prides itself in being "easy to do business with." They promote that in every aspect of their business.
If nothing pops out as your unique marketing feature, then take some time to examine what it is you offer. Revisit what made you want to get into leasing to begin with. Ask key vendors or trusted lessees what they see as your distinctive characteristics. In addition, read about future trends and look ahead to discover what you can offer first and better than anyone else.
Exercise
Here's an exercise right now for you. Brainstorm and simply fill in the blanks.
What sets us apart is:___________________________________________________
What makes us different is: _____________________________________________
Something that you'll get with us , that no one else offers is : _________________
_____________________________________________________________________
Find your unique selling position---you'll see more volume!
Linda Kester helps leasing companies increase volume. For more information, visit: www.lindakester.com. Questions, contact: Linda@lindakester.com.
Here is a "Selected Biblography" from Linda P. Kester's new book," 366 Markeitng Tips for Equipment Leasing."
Carnegie , Dale. How to Win Friends & Influense People. New York: Simon & Schuster, 1936
Convey, Stephen. The 7 Habits of Highly Effective People. New Yor: Fireside, 1990
Dyer, Wayne. The Power of Intention. New York: William Morrow, 1994
Gitomer, Jeffrey. The Sales Bible. Ney York: Entrepreneur
Meisenheimer, Jim. 47 Ways to Sell Smarter. Libartyville Illinois:Helbern, 1994
Middleton, Robert. InfoGuru Marketing. Boulder Creek, California: Action Plan, 2003
Miner, Nanette. 101 Media & Marketing Tips for the Sole Prietor. Bristol, Connecticut: BVC Publishing, 1998
Miltz, Barry. You Need to be a Little Crazy. Chicago: Dearborn, 2003
Page, Rick. Hope is Not A Strategy. New York: McGraw-Hill, 2002
Richardson, Linda. Stop Telling Start Selling. New York: Summit, 1991
Schiffman, Stephan. The 25 Sales Strategies. Holbrook, MA: Adams Media, 1999
Seligman, Martin. Learned Optimism. New York: Pocket Books, 1990
Sobczak, Art. Telephone Tips that Sell! Omaha, NE: Business By Phone, 1996
Stevens, Mark. Your Marketing Sucks. New York: Creown Business
Ziglar, Zig. Top Performance. New Your: Berkley Books, 1986

### Press Release ###########################
--------------------------------------------------------------

News Briefs----
Small Banks, Tight Credit
http://www.washingtonpost.com/wp-dyn/content/article/2008/08/26/AR2008082603327.html
FDIC: Bank profits fell 86% in Q2; 117 banks in trouble
http://www.usatoday.com/money/industries/banking/2008-08-26-troubled-banks-fdic_N.htm?csp=34
FDIC to boost insurance fund
http://money.cnn.com/2008/08/26/news/economy/FDIC_fund/index.htm?section=money_latest
Fed Hints It Will Raise Benchmark Interest Rate
http://www.nytimes.com/2008/08/27/business/economy/27fomc.html?_r=1&ref=business&oref=slogin
Most affluent city might surprise you
http://www.usatoday.com/news/nation/census/2008-08-26-income-side_N.htm?loc=interstitialskip
---------------------------------------------------------------


You May have Missed---
No income tax on bank deposit interest for foreigners
http://www.bankrate.com/brm/itax/tax_adviser/20080826-bank-deposit-interest-a1.asp
----------------------------------------------------------------


"Gimme that Wine"
Monterey Optimism in full bloom as wine harvest nears
http://www.thecalifornian.com/apps/pbcs.dll/article?AID=/20080825/BUSINESS/808250314
Jordan Vineyard & Winery Offers Customers One-of-a-Kind Loyalty Program
http://www.marketwatch.com/news/story/jordan-vineyard--winery-offers/
story.aspx?guid=%7BC8EB10C4-5B94-4EE9-850F-F9F9C99EE711%7D&dist=hppr
Hoax leaves bitter taste for wine magazine
http://www.chicagotribune.com/business/chi-sun-wine-hoaxaug24,0,7875970.story
Move over, California -- here come those Midwestern wines
http://www.pressdemocrat.com/article/20080825/NEWS/808250311/1033/news&title=
Move_over__California____here_come_those_Midwestern_wines
Wine Prices by vintage
http://www.winezap.com
http://www.wine-searcher.com/
US/International Wine Events
http://www.localwineevents.com/
Winery Atlas
http://www.carterhouse.com/atlas
Leasing News Wine & Spirits Page
http://two.leasingnews.org/Recommendations/wnensprts.htm
The London International Vintners Exchange (Liv-ex) is an electronic exchange for fine wine.
http://www.liv-ex.com/
----------------------------------------------------------------

Calendar Events This Day
First Kiss Day
August 27, 1929, Popeye and Olive Oyl had their first kiss
Global Forgiveness Day
http://holidayinsights.com/moreholidays/August/forgivenessday.htm
Just Because Day
http://holidayinsights.com/moreholidays/August/justbecauseday.htm
Modova: Independence Day
Republic of Moldova. Moldova declared its independence from the Soviet Union in 1991.
https://www.cia.gov/library/publications/the-world-factbook/geos/md.html
National Banana Lovers Day
Saint feast Days
http://www.catholic.org/saints/f_day/aug.php
----------------------------------------------------------------

The average person uses the bathroom 6 times per day.
----------------------------------------------------------------

Today's Top Event in History
1900- U.S. Army physician James Carroll allowed an infected mosquito to feed on him in an attempt to isolate the means of transmission of yellow fever. Carroll developed a severe case of yellow fever, helping his colleague, Army pathologist Walter Reed, prove that mosquitoes transmit this often-deadly disease.
http://memory.loc.gov/ammem/today/aug27.html
(This ad is a "trade" for the writing of this column. Opinions
contained in the column are those of Mr. Terry Winders, CLP)
[headlines]
----------------------------------------------------------------

This Day in American History
1633- Irish Catholic Cecil Calvert, 27, sent two ships (the Ark and the Dove) from Ireland to establish a colony in America as a refuge for fellow Catholics. His work later earned Lord Calvert the nickname, "Colonizer of Maryland."
1650-History records the first expedition, lead by Englishman, who cross ed the Allegheny Mountains at Fork Henry, at the falls of the Appomattox River, VA, and returned on September 4. The party consisted of Captain Abraham Wood and his servant, Henry Newcombe; Edward Bland, merchant, and his servant, Robert Farmer, Elias Pennant and Sackford Brewster, and two guides, Oyeocker, a Nottaway chief, and Pyancha, an Appamattuck war captain.
1655- Acomac, VA, was the site of the first play presented in the North American col­onies. The play was Ye Bare and Ye Cubb, by Phillip Alexander Bruce. Three local residents were arrested and fined for acting in the play. At the time, most colonies had laws prohibiting public performances; Virginia, however, had no such ordinance. The actors, Cornelius Watkinson, Philip Howard, and William Darby, were accused of sedition and were summoned to appear in court on November 16, 1665, " in those habiliments that they then acted in and give a draught of such verses or other speeches and passages which were then acted by them. " They were found not guilty, and Edward Martin, who had informed on them, was ordered, " to pay all the expenses of the presentment."
1655- New Amsterdam and Peter Stuyvesant bars Jews from military service. The first Jew to settle in North America, Jacob Barsimson, arrived on Manhattan Island, first of 24 Jewish immigrants in 1654. In September three Jews fleeing the Spanish Inquisition in Brazil arrived in New Amsterdam, and more followed. Their right to stay was upheld by the Dutch West India Company, against t the wishes of Governor Peter Stuyvesant. They founded Congregation Shearith Israel, with Saul Brown as first rabbi.
1776-In the Battle of Long Island, NY, American forces commanded by Gen. Israel Putnam and Gen. John Sullivan were defeated by the British under Gen. Sir William Howe and Gen. Sir Henry Clinton. Howe took Gen. Sullivan prisoner. On August 30 the Americans evacuated Long Island and crossed to Manhattan. The British recognized the strategic importance of New York as the focal point for communications between the northern and southern colonies. Washington also recognized this, and in April of 1776 he marched his troops from Boston to New York. He positioned his troops on the western end of Long Island in anticipation of the British arrival. When the British fleet arrived they had 45,000 troops against Washington's 20,000. The British attacked, forcing Washington to cross the East River into Manhattan. Washington left 3,000 men to defend Fort Washington, then headed north.
http://darter.ocps.net/classroom/revolution/longisle.htm
http://www.britishbattles.com/long-island.htm
1805- Sallie Chapman Gordon Law birthday; organized a 12-bed hospital in Memphis for Confederate soldiers and somehow managed to care for the wounded of the great battle of Shiloh in 1862. When Memphis was taken by the Union forces, Law converted her assets into medicinal drugs which she smuggled into the South.
1849-Austin College was chartered in Texas at Huntsville under Presbyterian sponsorship. In 1876 the school campus was moved to Sherman, TX.
1859- W.A. "Uncle Billy" Smith discovered oil in a shaft being sunk by Colonel EL. Drake at Titusville, in western Pennsylva­nia. Drilling had reached 69 It, 6 inches when Smith saw a dark film floating on the water below the derrick floor. Soon 20 bar­rels of crude were being pumped each day. The first oil was refined to make kerosene for lighting, replacing whale oil. Later it was refined to make gasoline for cars. The first gas station opened in 1907.
1862-Confederate female spy Belle Boyd released from Old Capital Prison in Washington, DC
1871-Birthday of Theodore Dreiser, American novelist, born at Terre Haute, IN. As part of the Chicago group, he was an exponent of American naturalism in literature. His first novel, " Sister Carrie," (1900), was suppressed by his publisher on moral grounds. Driser's finest achievements in widely considered to be his novel, " An American Tragedy, " (1925), a college requirement. He died December 28, 1945, at Hollywood, CA.
1872--BROWN, JAMES Medal of Honor
Rank and organization: Sergeant, Company F, 5th U.S. Cavalry. Place and date: At Davidson Canyon near Camp Crittenden, Ariz., 27 August 1872. Entered service at:------. Birth: Wexford, Ireland. Date of issue: 4 December 1874. Citation: In command of a detachment of 4 men defeated a superior force.
http://medalofhonorrecipients.blogspot.com/2006/12/medal-of-honor-recipient-sergeant_23.html
1872- Mary Anderson birthday: Swedish-born Director of the Woman's Bureau of the U.S. Dept. of Labor for more than 20 years. Arrived in the U.S. at 16 not knowing a word of English, worked as a cook, stitched shoes in a factory for 18 years of ten-hour days, and with a fierce determination educated herself in the evenings. She became active in her local of the International Boot and Shoe Union
1873- American lawyer Horatio G. Spafford's four daughters drowned when their passenger ship, while crossing the Atlantic, collided with another and sank. The following month, as his own ship passed over the spot of the earlier tragedy, Spafford penned the words to the enduring hymn, "It is Well With My Soul."
1877- Birth of Lloyd C. Douglas, American Lutheran clergyman and religious novelist. Douglas published his first best-seller, "Magnificent Obsession," in 1929, followed later by "The Robe" (1942) and "The Big Fisherman" (1948).
http://www.amazon.com/exec/obidos/external-search/103-5362656-4423850?tag=
fast-bkasin00 20&keyword=Lloyd%20C%2e%20Douglas&mode=books
1879 - Birthday of African-American Publisher Robert Lee Van.
1893 - The first of three great hurricanes that year struck South Carolina drowning more than 1000 persons in a tidal surge at Charleston.
1900- U.S. Army physician James Carroll allowed an infected mosquito to feed on him in an attempt to isolate the means of transmission of yellow fever. Carroll developed a severe case of yellow fever, helping his colleague, Army pathologist Walter Reed, prove that mosquitoes transmit this often-deadly disease.
http://memory.loc.gov/ammem/today/aug27.html
1905- Mary Jane Ward birthday" author of the chilling Snake Pit (1946) about life in an insane asylum. She commented: "There was no attempt to write any sort of fact. Juniper Hills, from tubs to tunnel, was built and peopled by a mind that was on vacation."
http://www.raintreecounty.com/SnakePit.html
1905--Birthday of Mary Jane Ward, author of the chilling Snake Pit (1946) about life in an insane asylum.also wrote The Tree Has Roots (1937), The Wax Apple (1938), The Professor's Umbrella (1948), and A Little Night Music (1951).
http://www.raintreecounty.com/SnakePit.html
1908-- Sarah J. Rooke, a telephone operator, disregards her personal danger to alert and save most of the people of Folsom, New Mexico, from flood waters. She died when the flood washed away the building as she was desperately trying to reach more residents.
http://folsommuseum.netfirms.com/folsom_floods.htm
http://www.legendsofamerica.com/HC-DryCimarron3.html
1908-birthday of Lyndon Baines Johnson, the 36th president of the US succeeded to the presidency following the assassination of John F. Kennedy. Johnson's term of office: Nov 22, 1963—Jan 20, 1969. In 1964, he said: "The challenge of the next half-century is whether we have the wisdom to use [our] wealth to enrich and elevate our national life—and to advance the quality of American civilization." He perhaps would have been remembered as one of the greatest presidents of his time for all the domestic acts, laws, events, but all of this was overshadowed by his posture to show he was not weak on communism and the poor military advise he took. He died a few years after leaving office, a broken and very unhappy man. Johnson was born near Stonewall, TX, and died at San Antonio, TX, Jan 22, 1973. His birthday is observed as a holiday in Texas.
1909—Tenor sax player Lester Young birthday
http://www.shs.starkville.k12.ms.us/mswm/MSWritersAndMusicians/
musicians/YoungLester.html
1921 - J.E. Clair, who owned the Acme Packing Company, bought a pro football franchise for Green Bay, WI. He wanted to pay tribute to those who packed the meat at his processing plant, thus: the Green Bay Packers. (note, they are usually not referred to as "Green Bay
Packers, " but THE Green Bay Packers, as is the Bronx, the Fed, and other such Americanism.
1923-Birthday of trumpet player Idress Sulieman,
born St. Petersburg, FL.
1939 - Singer Allan Jones recorded "I'm Falling in Love with Someone" on Victor Records.
1946---Top Hits
To Each His Own - Eddy Howard
Surrender - Perry Como
They Say It's Wonderful - Frank Sinatra
New Spanish Two Step - Bob Wills
1947- Dan Bankhead becomes the major league's first black pitcher. He doesn't do well in a relief stint giving up ten hits and six runs in three and third innings in a 16-3 loss to the Pirates, but the Dodger rookie hits a home run in his first major league at-bat .
1951--*HARTELL, LEE R. Medal of Honor
Rank and organization: First Lieutenant, U.S. Army, Battery A, 15th Field Artillery Battalion, 2d Infantry Division. Place and date: Near Kobangsan-ni, Korea, 27 August 1951. Entered service at: Danbury, Conn. Birth: Philadelphia, Pa. G.O. No.: 16, 1 February 1952. Citation: 1st. Lt. Hartell, a member of Battery A, distinguished himself by conspicuous gallantry and intrepidity at the risk of his life above and beyond the call of duty in action against an armed enemy of the United Nations. During the darkness of early morning, the enemy launched a ruthless attack against friendly positions on a rugged mountainous ridge. 1st Lt. Hartell, attached to Company B, 9th Infantry Regiment, as forward observer, quickly moved his radio to an exposed vantage on the ridge line to adjust defensive fires. Realizing the tactical advantage of illuminating the area of approach, he called for flares and then directed crippling fire into the onrushing assailants. At this juncture a large force of hostile troops swarmed up the slope in banzai charge and came within 10 yards of 1st Lt. Hartell's position. 1st Lt. Hartell sustained a severe hand wound in the ensuing encounter but grasped the microphone with his other hand and maintained his magnificent stand until the front and left flank of the company were protected by a close-in wall of withering fire, causing the fanatical foe to disperse and fall back momentarily. After the numerically superior enemy overran an outpost and was closing on his position, 1st Lt. Hartell, in a final radio call, urged the friendly elements to fire both batteries continuously. Although mortally wounded, 1st Lt. Hartell's intrepid actions contributed significantly to stemming the onslaught and enabled his company to maintain the strategic strongpoint. His consummate valor and unwavering devotion to duty reflect lasting glory on himself and uphold the noble traditions of the military service.
1952- Birthday of comedian Pee-Wee Herman , very popular for his 1950 "look," until he went to the movies by himself.
http://www.mugshots.org/hollywood/pee-wee-herman.html
1954---Top Hits
Sh-Boom - The Crew Cuts
The Little Shoemaker - The Gaylords
Hey There - Rosemary Clooney
I Don't Hurt Anymore - Hank Snow
1961- Hitting his 51st home run against the Kansas City A's, Roger Maris has the most homers in major league history at this point in the season.
1962---Top Hits
The Loco-Motion - Little Eva
Things - Bobby Darin
You Don't Know Me - Ray Charles
Wolverton Mountain - Claude King
1964 - Hurricane Cleo battered Miami and the South Florida area. It was the first direct hit for Miami in fourteen years. Winds gusted to 135 mph, and the hurricane caused 125 million dollars damage.
1965- Elvis Presley plays host to the Beatles at his home in Bel-Air. The get-together last four hours.
1965- Columbia Records releases Bob Dylan's second electric album, "Highway 61 Revisited." Hits include "Like a Rolling Stone" and "Ballad of a Thin Man."
1966- The Association's "Cherish" is released.
1968- Police and anti-war demonstrators clash at Chicago's Democratic National Convention, polarizing all sides to the issue of the war in Viet Nam, as Hubert Humphrey, President Lyndon Johnson's vice-president, is elected the presidential nominee. Protesting the police riot, members of the convention's Wisconsin delegation attempt to march to the convention, but police turn them back. Julian Bond, denied his seat in the Georgia state legislature, seconds the nomination of Eugene McCarthy, adding that he has seen such police behavior only in Mississippi, Alabama and Georgia. Some say the fight about Viet Nam is still going on today with bitterness remaining in many veterans hearts of those who did not support the war or their country: right or wrong.
1970---Top Hits
Make It with You - Bread
Spill the Wine - Eric Burdon & War
War - Edwin Starr
Don't Keep Me Hangin' On - Sonny James
1970 - The Troubadour in Los Angeles, CA was the venue of singer Elton John's first concert appearance in America and a record company executive for UNI records (a division of MCA) signed Elton to a recording contract. There were many singers who got their start here, including Neil Diamond.
1970 - Elko, NV, was deluged with 3.66 inches of rain in just one hour, establishing a state record.
1971-Birthday of Janet Evans US swimmer (Olympics-1992)
1978---Top Hits
Grease - Frankie Valli
Miss You - The Rolling Stones
Boogie Oogie Oogie - A Taste of Honey
Talking in Your Sleep - Crystal Gayle
1975 - No. 1 Billboard Pop Hit: ``Get Down Tonight,'' KC and the Sunshine Band.
1977- Supertramp's "Give A Little Bit" peaks at #15 on the pop singles chart while Crosby, Stills and Nash's "Just A Song Before I Go" peaks at #7.
1981 - Divers probing the wreckage of the luxury cruise ship "Andrea Doria" recovered two safes from the purser's office. The "Andrea Doria" sank in a collision with the Swedish liner "Stockholm" (July 25, 1956). What was in the safes? Oh, only about a million dollars in cash and jewelry.
1981- National Centers for Disease Control announces high incidence of Pneumocystis & Kaposi's sarcoma in gay men
1982-Oakland Athletics outfielder Rickey Henderson stole his 119th base of the season in a game against the Milwaukee Brewers, thereby breaking Lou Brock's major league record for most stolen bases in one season set in 1974. Henderson added three more steals in the game, which Oakland lost, 5-4.
1982- Crosby, Stills & Nash's "Daylight Again," the group's first album since the 1977 "CSN," is certified gold. On the album is the current Top 20 tune "Wasted on the Way."
1984 - The Menetta Lane Theatre in Greenwich Village opened. It was the first new off-Broadway theatre to be built in 50 years in New York City. The ribbon cutting was done by "America's First Lady of the Stage", Helen Hayes.
1984 - A new face joined the group of journalists on CBS-TV's "60 Minutes". Diane Sawyer became the fifth reporter on the top-rated TV newsmagazine. Mike Wallace, Morley Safer, Harry Reasoner and Ed Bradley welcomed Sawyer to the show.
1986---Top Hits
Papa Don't Preach - Madonna
Higher Love - Steve Winwood
Venus - Bananarama
Strong Heart - T.G. Sheppard
1986 - Nolan Ryan of the Houston Astros notched career win #250, by leading the Astros to a 7-1 victory over the Chicago Cubs.
1987 -Paul Molitor's 39-game hit streak comes to an end as he waits in the on-deck circle watching pinch hitter Rick Manning single home the winning run in a 1-0, 10-inning victory over the Indians.
1987 - No. 1 Billboard Pop Hit: ``La Bamba,'' Los Lobos. Ritchie Valens hit No. 22 with the song in 1959 just one day before he died in the same plane crash that killed Buddy Holly and the Big Bopper. The Los Lobos version of ``La Bamba'' was recorded for the film of the same name.
1987 - Washington D.C. soared to a record hot 100 degrees, while clouds and rain to the north kept temperature readings in the 50s in central and southeastern New York State.
1988- Elton John's "I Don't Want To Go On With You Like That" peaks at #2 on the pop singles chart while Pat Benatar's "All Fired Up" peaks at #19.
1989 - Chuck Berry performs Johnny B Goode for NASA engineers and scientists in celebration of Voyager II's encounter with the planet Neptune.
1997 -In honor of first baseman Jim Thome's birthday, the Indians begin pulling up their socks to just below the knees. The Tribe will win 17 of 27 games en route to clinching American League East flag while sporting this new look.
1998-Top Hits
The Boy Is Mine- Brandy
The First Night- Monica
Crush-Jennifer Paige
2001- Joining Babe Ruth (1920 -21 and 1927-28) and Mark McGwire (1996-99), Sammy Sosa (1997-2001) becomes the third player in baseball history to hit 50 homers in a season four times.
2002- The first video streaming coverage of a major league baseball game takes place on the internet. Approximately 30,000 fans visit MLB.com to see the Yankees defeat the Rangers, 10-3.
2006---Barry Manilow's TV special Barry Manilow: Music and Passion was presented with an Emmy Award for Best Individual Variety Performance. The following day Manilow underwent surgery to repair torn cartilage in both hips and faced a six week recovery.
--------------------------------------------------------------

Baseball Poem

Baseball Poem
The Closer
"We need to have a talk about the door."
Her venom bared, she sheds her socks, her blouse,
her bra, her pants, then slithers off the floor
and into bed. Her eyes uncoil her spouse.
The hissing message piques his ears. His hair
is shocked erect. His paws are clenched. His back
is arched. He freezes, sizing up her stare,
then creeps up slowly, hungry for attack.
The closer takes the field, immersed in sweat,
the bases loaded, two outs, one-run lead,
the swarming air abuzz about the threat,
the prize so near desire transmutes to need.
He bends and grabs the rosin, throws it down,
then with a long, deep breath, ascends the mound.
--------------------------------------------------------------

SuDoku
The object is to insert the numbers in the boxes to satisfy only one condition: each row, column and 3x3 box must contain the digits 1 through 9 exactly once. What could be simpler?
http://leasingnews.org/Soduku/soduko-main.htm
--------------------------------------------------------------

Daily Puzzle
How to play:
http://www.setgame.com/set/puzzle_frame.htm
Refresh for current date:
http://www.setgame.com/set/puzzle_frame.htm
--------------------------------------------------------------


http://www.gasbuddy.com/
http://www.gasbuddy.com/GB_Map_Gas_Prices.aspx
http://www.gasbuddy.com/GB_Mobile_Instructions.aspx
--------------------------------------------------------------

Weather
See USA map, click to specific area, no commercials
--------------------------------------------------------------

Traffic Live---
Real Time Traffic Information
You can save up to 20 different routes and check them out
with one click, or type in a new route to learn the traffic live.
--------------------------------------------------------------

News on Line---Internet Newspapers
Denver, Colorado
*Other on line newspapers:
http://www.leasingnews.org/Newspapers.htm
--------------------------------