Experienced Sales Professionals.
Are you seeking independence?
To learn more click here.

Wednesday, December 13, 2006
Headlines---
Phil Dushey, Original Advisory Board member
Classified Ads---Senior Management
In Memory of Richard Fulton Ford
Feds wish Leasing "Happy Holidays"
CIT to add 10 percent to sales force
Fitch: Equip. Leasing ABS "to remain strong"
Microfinancial Dismissal Class Action Suit
Save the Dates: 2007 Leasing Conferences
Sales Makes it Happen---Linda Kester
"Professional Associations"
Two Dinner Meetings Tonight-Open to All
2006 Industry Report—Now Available
Classified Ads---Help Wanted
Cartoon---New Yorker Magazine
Seattle Ranks Number One in Reading
Investment will expand MachineryLink
GATX Announces New Appointments
Alter Moneta Announcement/Canada
News Briefs---
You May have Missed---
Sports Briefs---
"Gimme that Wine"
Calendar Events
Snapple Real Facts
Today's Top Event in History
This Day in American History
American Football Poem
######## surrounding the article denotes it is a "press release"
-------------------------------------------------------------------------------

Phil Dushey, Original Advisory Board member
Phil Dushey is one of the founding Leasing News Advisory Board members, serving since July 10, 2000. He participated in all telephone conference calls, meetings, and in the early days, dinners. We value his outspoken contributions. He was one of the first to "complain" about the text format, the layout, always asking for photographs, graphics, html, to look better on line than we were; a "medium is the message" strong advocate.
Perhaps he is also now one of our proudest advisors as we have become what he originally wanted us to look like. It was basically a matter of "abilities" and investment of time and money and prodding from such advisors as Phil Dushey.
He wants you to become the best your are, and it reflects in his business and personal life.
Philip Dushey
Global Financial Services
17 State Street
New York NY 10004
Email phil@globaleasing.com
Phone 212-480-4900
phil@gbtsinc.com
www.globalbrokersystems.com
www.globaleasing.com
www.globalchurchfinancing.com
Phil Dushey has been active in the finance and leasing industry for the past 30 years. His first company was Global Financial Services, which is still active and successful today. Global specializes in all types of financing such as equipment leasing, accounts receivable financing, debt restructuring, and establishing lines of credit. Mr. Dushey feels that to be competitive in today's expanding financial climate a company must be able to service all of his clients needs not just equipment leasing.
In 1989, Mr. Dushey saw a need for a company that would serve the needs of churches, synagogues, mosques, and other places of worship throughout the country for equipment Leasing. At the time, most financing sources were reticent regarding religious institutions. He then formed Global Church Financing. It continues to be the leading company in providing financing to churches and other religious institutions today.
In 2003, Mr. Dushey fulfilled one of his lifelong dreams and formed Global Broker Training Systems. This is a comprehensive and successful training school in the country to train people who want to enter the finance and leasing business. The program includes everything they need to enter the business. The training is based upon Mr. Dushey's 30 years of experience in the business.
A member of the Eastern Association of Equipment Lessors, Equipment Leasing and Finance Association (formerly the Equipment Leasing Association) and the United Association of Equipment Leasing, he has served on numerous committees, continuing to be active.
He and his wife Laurie have been married for 37 years, with three children and five grandchildren.
--------------------------------------------------------------

Classified Ads---Senior Management
The popular magazine Harper's Weekly political cartoonist Thomas Nast is credit with creating Santa Claus with a beard and in his red suit as we know him today. *
Senior Management: Atlanta, GA
Experienced leasing exec looking for next challenge. Various asset types, deal sizes and channels. Turn-around or expansion opportunity. Email: akimicata@mindspring.com
Senior Management: Atlanta, GA
Commercial Finance and Leasing expert with proven success in the transportation finance industry. Working directly with company Presidents to develop national transportation programs. Email: mll1946@comcast.net

Senior Management: Baltimore, MD
25 year veteran of commercial and equipment leasing seeking a senior management position with leasing or asset based financing company in the southeast (Florida preferred)
Email: kellogg_md@yahoo.com
Senior Management: Denver, CO
Fortune 500 GM/SVP wants to team up with aggressive lender looking for Western expansion mid-market equip. finance/leasing. 20+ years experience within Rocky Mountain/Southwest and Ca markets.
Email: legal@csotn.com
Senior management: Hope, NJ
25 years in optimizing call center operations, collections, billing, and back end revenue generation. Experienced in $7 + billion dollar portfolios. Verifiable achievements.
E-mail: cmate@nac.net
Senior Management: Irvine, CA
Credit executive, portfolio manager and syndication facilitator. Extensive business building experience in small and mid-ticket operations. Highly innovative. Fortune 100 audit and technology skills. Bottom-line manager.
Email: lenhubbard@bigfoot.com

Senior Management: Lawton, OK.
Twenty years, I have been the President of Cash Financial Services. I sold my loan portfolio. Resume.
email: bobmooreok@email.com


Senior Management: Long Island, NY
Degree Banking/Finance. 13 years leasing exp. Now prez young leasing company where promises were not met. Interested in joining established firm with future. Email:bob33483@yahoo.com

Senior Management: New York, NY, NJ, Ct Tri-State
Top Exec. middle and big ticket, top skills treasury,funding, ops,transaction detail, syndication, ready to max profit, help build quality operation. right now!
E-Mail: leasefinance@optonline.net

Senior Management: Philadelphia, PA
27 yrs. exp. sales, ops., credit, strategy, P&L mngmet. Most recently created & executed the biz plans for 2 highly successful Bank-owned small ticket leasing subsidiaries.
email: mccarthy2020@comcast.net
Senior Management: Salt Lake City, UT
GM in Sales, Marketing & Operations for Several technology captives. Seeking new adventure in Western States. Consultant of full time. Email: stevegbdh@hotmail.com
Senior Management: San Francisco, CA, 25 years experience w/global leasing company, sales,marketing,business dev., P&L responsibility, asset mgmt, brokering and re-marketing. Interested in joining an est. firm with a future. Email:rcsteyer@yahoo.com
Senior Management: Sausalito, CA
Sr. Corp. officer, presently serving as consultant, fin. service background, M&A, fund raising, great workout expertise, references Email: nywb@aol.com
Senior Management: Syracuse, NY
Int. equip. leasing exec. 25 yrs global P&L sr. mngt., including corporate turnarounds, strategic planning, new biz dev., structure finance, contract neg., vendor leasing specialist. Email: jimh356094@aol.com
Senior Management: Tampa FL.
20+ years small to middle ticket finance, operations/sales management experience. Outstanding record revenue enhancement, operational improvement/ team development. Email: rlindcpa@earthlink.net
Senior Management: Tampa FL.
20+ yrs small/middle ticket finance, operations/ sales management exper. Outstanding record of revenue enhancement, operational improvement and team development.
Email: rlindcpa@earthlink.net
Senior Management: Wilmington, DE
Over 15 years experience managing Credit, Risk Management and Fraud operations for large Financial Institution. Proven Results. Anywhere between NYC and DC for right opportunity. Email: cklous@comcast.net
To place a free "job wanted" ad here, please go to:
http://64.125.68.91/AL/LeasingNews/PostingForm.asp
For a full listing of all "job wanted" ads, please go to:
http://64.125.68.91/AL/LeasingNews/JobPostings.htm
*This is a very early Nast drawing of Santa Claus created in 1865. The image at right is an original leaf from an 1865 Harper's Weekly where the picture first appeared. The illustration is captioned, "A Merry Christmas to All", and features a portrait that all today would recognize as Santa Claus. From this picture, we can see that our modern image of Santa has changed little in the last 140 years. The image of Santa is surrounded by smaller images showing the typical Christmas Traditions of the 1860's. This is a classic Thomas Nast picture of Santa Claus.
The history of the Santa Claus tradition first emerged when the Dutch settlers came to Manhattan, U.S.A on the day of Christmas in 1624. Thomas Nast is credited for creating of Santa Claus picture in 1862, which first appeared in Harper's Weekly magazine. Though with the passage of time the picture of Santa Claus has evolved as a round-bellied old man bespectacled and dressed in a red coat trimmed with white fur and carrying a bag of gifts while riding on a sleigh pulled by reindeers.
--------------------------------------------------------------

In Memory of Richard Fulton Ford
"Richard Fulton Ford Passed away suddenly December 9th, 2006. He was preceded in death by his beloved wife Elizabeth McNeill Ford. He is survived by his three devoted daughters Kristina Ford Rubenstein (Neil Rubenstein), Alexis Barbara Ford, and Samantha Ford Collins (John O. Collins), and his brothers and sisters Ellen Ford O'Connell, Philip W. Ford, Victoria Ford Greeley, Janet J. Ford, Robert B. Ford, and his in-laws Mrs. Barbara B. McNeill and John and Connie McNeill, as well as many nieces, nephews and friends.
"Dick was a seventh generation Californian born in Bakersfield, California on July 1st, 1938 to Robert Davis Ford and Barbara Johnston Ford. With his family, Dick lived all over the world including many years in Caracas, Venezuela. Dick graduated from The Cate School, Menlo College, and the United States Army Language School in Monterey. Dick was active in a number of organizations including the Bohemian Club and the St. Francis Yacht Club, where he served as Commodore and was skipper of the schooner Yankee. Dick was a dedicated parishioner of St. John's Episcopal Church in Ross.
"A Memorial Service will be held Thursday, December 14th, 2:00 p.m. at St. John's Episcopal Church in Ross. Reception to follow at St. Francis Yacht Club on the Marina in San Francisco. In lieu of flowers, the family requests contributions to St. John's Episcopal Church at 14 Lagunitas Road, Ross, CA 94957 or the Yankee LLC, 358 Skyline Dr., Daly City, CA 94015.
"Dick will be dearly remembered by his many friends and family. His generosity and kindness will never be forgotten. Monte's Chapel of the Hills Family Owned and Operated San Anselmo ~ 415-453-8440"
www.marinij.com
http://www.leasingnews.org/archives/December%202006/12-11-06.htm#ford
--------------------------------------------------------------

Feds wish Leasing "Happy Holidays"
It wasn't happy for those in the equipment leasing industry looking for better "buy rates." The Federal Reserve Board Open Market Committee had lowered their best rate, but they did not. It remains at 5.25%. with the basic U.S. prime rate is at 8.25%, its highest level since 2001.
The next two meetings are tentatively scheduled for January 30-31 and March 20-21. The present rate will then hold another 45 days, but the guessing of the economists is by the March 20-21 meeting, there most likely will be a change---could be up, could be down, depends if you are a "bear" or a "bull."
Mortgage rates have been falling as the decline in real estate and the housing interest has changed. Note: it is not high interest rates that have slowed this market sector, but the actual costs of land and building (inflation?) It is now a buyer's marketplace. Maybe that
is the same with the equipment leasing industry.
Full official statement here:
http://www.federalreserve.gov/boarddocs/press/monetary/2006/20061212/
--------------------------------------------------------------

CIT to add 10 percent to sales force
CIT expanded its sales force by 28 percent to 1,241 in the first nine months of this year to better pitch equipment financing and other loans to companies in fast-growing industries such as health care and telecommunications.
CEO Jeffrey Peek said the company will boost that level another 10 percent in 2007.
"We will look to trim jobs in businesses that have 'excess capacity,'"
he added.
''It makes sense to selectively prune some of the areas that have excess capacity," Peek said Tuesday in his prepared remarks at an
''You should be looking for us to thin down the headcount in some areas."
Peek didn't say which businesses would see reductions.
The CIT web site reports 6,700 employees.
---------------------------------------------------------------
### Press Release ###########################

Fitch: Equipment Leasing ABS "to remain strong"
NEW YORK----Despite the slowdown in the U.S. housing market, Fitch expects collateral and ratings performance for the majority of U.S. non-mortgage ABS to remain stable through 2007, according to Fitch Ratings in its Global Structured Finance Outlook report for 2007.
In terms of Commercial ABS, performance in the equipment lease, utility tariff and tobacco settlement bonds is expected to remain strong, while the outlook for both franchise loan and small business loan ABS remains clouded by smaller net recoveries and longer-than-anticipated recovery times on certain transactions. Elsewhere, despite record passenger airline traffic volume, improved credit profiles of the legacy U.S. carriers and a significant pick-up in lease rates, increased financial leverage of carriers, and oil price volatility, will continue to weigh on aircraft ABS.
"Though the U.S. consumer is walking a thin line with household leverage and debt service burdens remaining at historically high levels," said Director Kevin D'Albert.
"Non-mortgage related collateral and ratings has proven resistant to declining home prices, higher interest rates and volatile energy prices. Fitch expects prime credit card and auto ABS to continue to demonstrate immunity to negative rating actions well into 2007. Additional economic stress, excessive competition in the credit card lending arena and challenges faced by US auto manufacturers may begin to affect collateral performance later in '07.
"The credit card ABS sector has exhibited strong performance on a year-over-year basis. However, Fitch expects delinquencies and losses to slowly trend upward towards their long-term historical averages as the benefits of bankruptcy reform disappear and consumers find it increasingly difficult to squeeze equity from the homes to meet their financial obligations," said D'Albert.
These factors are beginning to cause late payments to increase and monthly payment rates to slow as consumers are increasing their revolving exposure. Strong excess spread levels should cushion deals against higher losses in the short term. However, tiering among issuers may emerge.
The ripple effect of increased demands placed on the consumer also extends to auto-related ABS performance, which has begun to soften in segments such as dealer floorplan and rental fleet ABS. These conditions are likely to persist in 2007, also due to ongoing challenges facing the U.S. auto manufacturers.
Fitch's 'Global Structured Finance: 2007 Outlook and 2006 Review' includes asset performance and rating volatility forecasts for the global ABS, CMBS, RMBS and CDO sectors in 2007. The report also evaluates the impact of broader macroeconomic trends on the global structured finance markets and gives an overview of asset performance and credit migration trends over the past year.
The report is available on the Fitch Ratings web site at www.fitchratings.com.
Fitch's rating definitions and the terms of use of such ratings are available on the agency's public site, www.fitchratings.com. Published ratings, criteria and methodologies are available from this site, at all times. Fitch's code of conduct, confidentiality, conflicts of interest, affiliate firewall, compliance and other relevant policies and procedures are also available from the 'Code of Conduct' section of this site.
Contacts
Fitch Ratings
Kevin D'Albert, 212-908-0823
or
Claire Mezzanotte, 212-908-0503 (Consumer ABS)
or
John Bella, 212-908-0243 (Commercial ABS)
### Press Release ###########################

MicroFinancial Incorporated Reports Dismissal of Class Action Suit Appeal
WOBURN, Mass.---MicroFinancial Incorporated (AMEX:MFI) announced today that on December 6, 2006, the parties filed an Agreement of Dismissal with the United States Court of Appeals for the First Circuit whereby the Plaintiffs voluntarily agreed to dismiss their appeal with prejudice.

(The complaint alleges that MicroFinancial materially overstated its revenues and earnings by improperly recognizing tens of millions of dollars of financing income, fees and other revenues arising from delinquent and defaulted commercial leasing, rental and finance contracts that defendants knew, or recklessly disregarded, were uncollectable because the contracts were unenforceable in their terms.

(On October 11, 2002, defendants stunned the market by announcing that MicroFinancial was ceasing to make new lease originations as a part of a new business strategy to leverage the Company's technology and loan servicing platform. Market reaction to the Company's announcement was swift and severe, losing 37% of its value to close at $2.14 per share on October 11, 2002.
http://www.leasingnews.org/Conscious-Top%20Stories/leasecomm_Class_Action_Suit.htm )
As previously disclosed, in October of 2003, the Company was served with a purported shareholders' class action complaint against the Company, certain of its officers and directors, and its auditor, in the United States District Court for the District of Massachusetts alleging violations of federal securities laws. On June 13, 2006, the court granted the Company's motion to dismiss the suit in its entirety with prejudice. On July 12, 2006, the Plaintiffs appealed the decision to dismiss the suit to the United States Court of Appeals for the First Circuit.
About MicroFinancial
MicroFinancial Inc. (AMEX:MFI), headquartered in Woburn, MA, is a financial intermediary specializing in leasing and financing for products in the $400 to $15,000 range. The company has been in operation since 1986.
CONTACT: MicroFinancial Incorporated
Richard F. Latour, 781-994-4800
President and CEO
SOURCE: MicroFinancial Incorporated
( Collection of MicroFinancial articles:
http://www.leasingnews.org/Conscious-Top%20Stories/micro_leasecomm.htm )
### Press Release ###########################

2007 Equipment Leasing Association Conferences
April 12-15
United Association of Equipment Leasing
The Westin Casuarina Hotel and Spa
Las Vegas, Nevada
Annual Spring Conference
Betty Kerhoulas & Doug Houlahan—Conference Co-Chairs
April 15-17
Equipment Leasing and Finance Association
Four Seasons Las Colinas Resort & Club
Dallas, TX
Large Ticket/Bank Leasing Conference
(newly combined conference)
April 18-19
Equipment Leasing and Finance Association
Fairmont Hotel, Chicago, IL
National Funding Exhibition
April 22-24
Equipment Leasing and Finance Association
Hyatt Regency Grand Cypress
Orlando, FL
Captive and Vendor Finance Conference
May 6-9
Eastern Association of Equipment Lessors
Seaview Resort & Spa
Marriott Resort
Galloway, New Jersey
The EAEL 2007 Conference Chaired by Paul Meyer
May 17-19
National Association of Equipment Leasing Brokers
Opryland Resort
Nashville, Tennessee
Nashville 2007 Conference
October 4-7
United Association of Equipment Leasing
Fall Annual Conference
October 28-30
Equipment Leasing and Finance Association
Walt Disney World Dolphin Resort
Orlando, Florida
46th Annual Convention
--------------------------------------------------------------

Sales Make it Happen
by Linda P. Kester

"Professional Associations"

This is from Linda Kester book to be published soon. It is meant to both be read, and utilized as a "reference book." The advance copy received by Leasing News was the size of a "pocket book" and spiral bound, with the articles numbered, as reproduced below.

34

There are thousands of professional associations out there that vendors and lessees belong to. It's easy to waste money by joining too many associations or joining the wrong ones.

Be sure you thoroughly understand the association's purpose and benefits of joining. Be selective, start with two or three associations and visit a few times as a guest.

Get a feel for the members, the types of programs, and the benefits your membership would give you.

Remember, however, that joining an association is not going to automatically bring you business. You have to work for the business. Volunteer to do what it needs to be done – big or small. Do every task professionally and personably. The more you do, the better you will be known and the more likely your name will spring to people's minds when they are asked to refer a leasing company.

Linda Kester helps leasing companies increase volume. For more information visit www.lindakester.com . Questions, contact: Linda@lindakester.com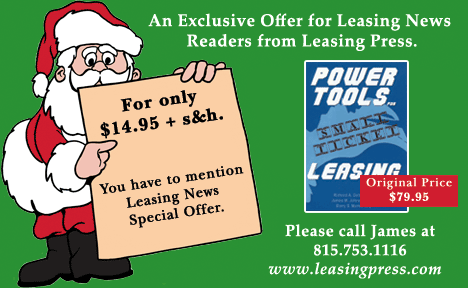 --------------------------------------------------------------

Two Dinner Meetings Tonight-Open to All
Leasing Association Events-Meetings Open to All
UAEL Pacific Area Event
Northwestern Regional Holiday Networking Event

Wednesday, December 13, 2006
The event starts at 6:00 PM

C.J. Brennan's
201 Williams Ave. S
Renton, WA 98057

We will be doing a food drive for Northwest Harvest, so we want everyone to bring canned food.
The individual with the most canned food will be the lucky winner of a holiday prize!
REGISTER NOW:
$20.00 per attendee
$10.00 per attendee (With Food Donation)
Non-Members welcome!
Register Online at the UAEL website
Please contact Tara Aasand, Premier Lease & Loan Services,
for more information about the event.
Phone 425-649-6077 or Email taasand@plls.com .
UAEL
78120 Calle Estado #201
La Quinta, CA 92253
------------------------------------------------------
UAEL South Atlantic Area Event
Florida Region
Holiday Networking Event

Wednesday, December 13, 2006
Starts at 6:00PM

Courtside Grille
110 Fountain Parkway
St Petersburg, FL 33716
727-561-7433
www.courtsidegrille.com

A GREAT opportunity to network with industry peers after work with hors d'ouvres
and a no host bar!
REGISTER NOW:
$10.00 per attendee
(non-members welcome!)
Register Online at the UAEL website
Please contact Tom Williams, eLease Funding, Inc. for more information about the event. Phone 800-499-2577 x 252 or Email tom@elease.com .
To opt out of UAEL promotional emails please reply back to this email address info@uael.org
UAEL
78120 Calle Estado #201
La Quinta, CA 92253
--------------------------------------------------------------


(looking for a Christmas present---here is one for
the head of your company or department manager)
2006 State of the Industry Report Debuts
ELTnews
The 2006 State of the Industry Report, one of the most highly anticipated products by the Foundation, made its debut last month. The SOI, an industry favorite, foretells the leasing and finance business' changing future, highlighting its strengths and weaknesses, opportunities and challenges.
Many of the companies interviewed, as part of the report development, reported growth goals that were often double or even triple of the growth rate of the industry. This optimism warranted further investigation and the SOI shows that the industry is set to move beyond the "cannibalistic battle" for market share in order to meet growth goals. Moving beyond leasing into other forms of equipment finance and offering total equipment finance solutions were two activities noted. Banks, in particular, were singled out as the segment most likely to realize an advantage of the industry expanding beyond leasing; they are able to leverage internal referrals from commercial banking divisions to earn the new, expanded business.
Other changes to the market include smaller lessors seeking ways to take advantage of the increasing globalization of the US economy and the increase in lessors focusing on developing vendor programs.
On a challenging note, margin compression is expected to worsen. With ready access to capital and intensifying competition, lessors are set to explore niches, from equipment type to customer credit grade, in order to deal with those added pressures.
However, economic growth and the expanding footprint of the industry will present lessors with much opportunity to grow, profitably. How quickly a lessor can adapt to the changes will determine their performance.
Financial Institutions Consulting, Inc., once again, produced the report using ELFA Survey of Industry Activity data and other sources and one-on-one interviews with key industry leaders in order to analyze and interpret the performance of the industry. From this analysis, among other data points, FIC was able to project and discuss future implications for the industry.
Foundation donors may receive a copy of the 2006 SOI at no charge. Non-donors may download the report for $200 from the Foundation library and store.
Sites of Reference:
http://www.leasefoundation.org/SOIRpt06.htm
http://www.leasefoundation.org/store/
CONTACT:
Lisa A. Levine, CAE
Equipment Leasing & Finance Foundation
Phone Number: 703-527-8655
Fax Number: 703-465-7488
E-mail: llevine@elaonline.org
--------------------------------------------------------------

Classified Ads---Help Wanted
Controller

Requirements:
- BA/BS in Finance or Accounting
- CPA Required
- Current working knowledge of Tax Laws
- Prior leasing experience preferred
- Proficient with Great Plains and Excel
- Strength in LeasePlus and Access are preferred.
About us: Nationwide Funding, LLC is a leading provider of equipment financing and leasing solutions for businesses nationwide, and the vendors who serve them. With its prime location in Southern California and offices in Chicago's downtown financial district, Nationwide Funding, LLC has been able to secure specialized credit facilities and create funding partnerships with a wide variety of financial institutions.


Funding Specialist


Funding Specialist, Irvine, Ca
Small ticket exp., min 2+ years with plenty of energy. Bachelor's Degree preferably in Finance or other Business discipline.
Contact: pstuber@nationwidefunding.com
About Us: Nationwide Funding, L.L.C. is a financial services company offering equipment financing and business capital to small business owners and municipalities in all 50 states.


Sales
Experienced Sales Professionals.
Are you seeking independence?
To learn more click here.

---offer to expire at end of year----
Lease a "Help Wanted" Ad
Reach more readers at a lower price than any other equipment leasing internet publication. These are experienced individuals, well-informed as they read Leasing News to keep up-to-date.
Christmas Special
31 Days
(Extra ten days)
You can't beat this low "lease rate" and reach more of the audience you are seeking than at Leasing News!!!
Help Wanted Ad Pricing Criteria
$500.00 minimum for four lines
$75.00 each additional line
- Design work to help create the ad is free.

- Description of your company is free
(company description cannot have more lines than your ad)
Cost Per Day (based on ad price)
$500.00 - $16.13 per day
$600.00 - $19.35 per day
$700.00 - $22.58 per day
$800.00 - $25.81 per day
$900.00 - $29.03 per day

All rates are subject to change.
Three month, Six month and One year contracts available with a discount.
To see sample size of ads, please go here
If you prefer a " non-employment" ad, we sell a banner ad, please click here
for pricing.
----------------------------------------------------------------

----------------------------------------------------------------

Seattle Ranks Number One in Reading

Seattle tops a new list of large American cities that ranks them by whether their residents read -- be it books, magazines, newspapers or material on the Web. The study, compiled by Central Connecticut State University, bills itself as a measure of the nation's "cultural vitality." Did your city make the list?
This study attempts to capture one critical index of our nation's social health—the literacy of its major cities (population of 250,000 and above). This study focuses on six key indicators of literacy: newspaper circulation, number of bookstores, library resources, periodical publishing resources, educational attainment, and Internet resources (introduced in the 2005 study).
----------------------------------------------------------------

Investment will expand MachineryLink leasing services

www.agriculture.com
MachineryLink, Inc. announced the closing of a $17.4 million equity raise to support its investment in future growth. The investment was made by several institutional investors, including October Capital, Adams Street Partners, River Cities Capital Funds, Alpha Capital Partners and a syndicate of private investors.
MachineryLink is a specialty finance and asset management company that provides progressive combine-leasing products to farmers across North America. The Company has experienced 115% annual growth since it commenced operations in 2001. At the core of its value in the marketplace is the compelling alternative of its lease products to the cost of owning increasingly costly harvesting equipment.
"This new capital provides the Company a very strong foundation upon which to quickly and aggressively execute our growth plans, and accelerate our market reach and penetration," says Scott Hazlett, President and CEO. "This investment bolsters our capacity to execute our growth plans and deliver greater value to an ever-increasing population of customers, while positioning us to deliver a superior return to our shareholders."
"We believe the concept of leasing otherwise under-utilized and increasingly costly harvesting equipment is approaching a 'tipping-point,' where the vast majority of the most progressive and forward-thinking growers will seek this alternative to ownership. We are excited about the company's future growth trajectory, and see the enormous value MachineryLink brings to the broad-based agricultural market," says Ron LeMay, Chairman of Kansas City-based October Capital, and an early-stage investor in the company.
---------------------------------------------------------------
### Press Release ###########################

GATX Corporation Announces New Appointments
CHICAGO----GATX Corporation announced James F. Earl was elected by the GATX board of directors as executive vice president and chief operating officer of GATX Corporation. In addition, the board of directors elected Clifford J. Porzenheim vice president of strategic growth.
Brian A. Kenney, chairman and chief executive officer of GATX stated, "The creation of the position of COO for GATX Corporation reflects the newly simplified structure of the Company. With his wealth of experience and record of achievement, Jim is uniquely qualified to lead our operations in all our markets - rail, marine and industrial equipment.
"During his tenure as SVP of fleet management, Cliff was highly successful in implementing the strategy of attractive and advantaged investment in our railcar fleet. He understands our customers, our asset portfolio and our markets and brings needed expertise to furthering our targeted growth strategy."
Mr. Earl joined GATX Capital's Rail Group in 1988 as director. From 2001 to 2004, Mr. Earl was responsible for the North American commercial activities of the Company, including sales, marketing, fleet management, customer service, and locomotive operations. In 2004, Mr. Earl was named executive vice president - rail, managing the entire rail operation at GATX. Prior to joining the Company, Mr. Earl served as director - service and equipment planning - with Soo Line Railroad, and with Southern Pacific Railroad as a terminal superintendent and assistant trainmaster. Mr. Earl received his BSBA from Washington University in St. Louis in 1979 and his MBA from the Wharton School of the University of Pennsylvania in 1981.
Mr. Porzenheim joined GATX in 1996 and served as director of corporate development and vice president of corporate strategy. He was named senior vice president, fleet management and marketing at GATX Rail in 2002. Prior to GATX, Mr. Porzenheim worked as a management consultant at the Boston Consulting Group and A.T. Kearney. He received his bachelor of science in economics from the Wharton School of the University of Pennsylvania in 1985 and his masters of management from the J.L. Kellogg School of Northwestern University in 1990.
COMPANY DESCRIPTION
GATX Corporation (NYSE:GMT) provides lease financing and related services to customers operating rail, marine and other targeted assets. GATX is a leader in leasing transportation assets and controls one of the largest railcar fleets in the world. Applying over a century of operating experience and strong market and asset expertise, GATX provides quality assets and services to customers worldwide. GATX has been headquartered in Chicago, IL since its founding in 1898 and has traded on the New York Stock Exchange since 1916. For more information, visit the Company's website at www.gatx.com.
Investor, corporate, financial, historical financial, photographic and news release information may be found at www.gatx.com.
CONTACT: GATX Corporation
Rhonda S. Johnson, 312-621-6262
Director, Investor Relations
rhonda.johnson@gatx.com
SOURCE: GATX Corporation
### Press Release ###########################

Alter Moneta Announces Bear Stearns Merchant Banking to
join Caisse de dépôt et placement du Québec as a Major Shareholder
Montréal, Québec—Alter Moneta, an equipment finance specialist headquartered in Montréal, Quebec, has announced a strategic change in shareholder ownership. Bear Stearns Merchant Banking ("BSMB") has agreed to acquire a controlling interest in Alter Moneta, subject to certain Canadian regulatory approvals.
Caisse de dépôt et placement du Québec ("Caisse"), a leading investment fund who manages, on behalf of its depositors, assets under management of over $CDN 122 billion, has been a major shareholder of Alter Moneta since its inception and has helped to build the company's franchise to what it is today. Caisse will remain as one of the main shareholders within the new organization. "We are proud of the growth demonstrated by Alter Moneta since our initial investment in this dynamic organization" states Paul-Henri Couture, Senior Vice President, Investments of Caisse. "In concert with BSMB, we maintain an enduring confidence in Alter Moneta's continued capacity to expand and thrive within the equipment finance marketplace."
Alter Moneta's existing management team will remain in place and Tom Wajnert, senior advisor to BSMB for commercial finance, will assume the role of Executive Chairman. A 30-year industry veteran known for his innovative leadership, Mr. Wajnert founded and headed AT&T Capital Corporation for 13 years, which was one of the largest publicly traded global equipment leasing and finance companies. Mr. Wajnert led the transaction to take the company private in 1996 as well as the subsequent sale of the company in 1997. He has also served as chairman of the Equipment Leasing and Finance Association.
"Our primary motivations for electing to join forces with BSMB are their considerable capital strength, and Tom Wajnert's proven knowledge and experience within our industry," says Mark Lempko, General Manager of the US Equipment Finance Division. "With BSMB, we now have significant capital representation in the U.S., in tandem with our existing representation in Canada with Caisse—affirming our strong cross-border orientation."
"In 2007, we anticipate that approximately 60 percent of our total originations will come from the U.S.," says Alter Moneta CEO Alain Savard. "Capital is the essence of any financial services organization," he adds. "By teaming with BSMB, we have a partner with broad experience in the financial services sector. We plan to expand our geographic footprint beyond the east coast of the U.S. and the eastern provinces of Canada." Alter Moneta also plans to double its employee roster to serve an expanding customer base.
"Alter Moneta is an impressive company and a great place to work," Wajnert says. "The company established itself quickly and has grown into a major North American player during a time that has been difficult for the industry. Management has recruited people of the highest caliber and managed their organic growth exceptionally well." Wajnert notes that Alter Moneta's success was accelerated by its acquisition of HSBC's U.S. leasing operations in 2003 and of Lutex Leasing Inc. in 2005.
As of September 30, 2006, Alter Moneta had an equipment finance portfolio in excess of $US 1 billion, including freight transportation, construction, manufacturing, passenger transportation, and a variety of commercial equipment. The company maintains its Lutex vehicle leasing operation in a separate facility in greater Montréal and its U.S. origination and customer service platform in Buffalo, N.Y.
"Beyond Alter Moneta's ability to thrive in any market, what is most impressive to me is management's focus on empowering their people," Wajnert says. "Alter Moneta is a flat, performance-based, people-centric organization, with an enlightened approach to bringing good people together—and enabling them to do the best things for their company and for their customers."
"We count on our people to be the drivers of what makes our business better," Lempko says. "From our customer service group to our leadership team, we abide by a continuous process improvement philosophy and take a 'high touch' approach to our customers. When linked with our industry knowledge and ongoing investment in technology, we offer a distinct value proposition to our market—one that will be only enhanced by our partnership with BSMB and Caisse."
About Alter Moneta
Alter Moneta, headquartered in Montréal, Québec, was established in 1998 as a de novo asset-based equipment finance company with the backing of Caisse. Today, it is one of the fastest-growing independent lease originators in the mid-market equipment finance industry in North America. The company provides collateralized lending, financing and leasing services to middle-market businesses, in the trucking and warehousing, construction, manufacturing, and services industries. The company lends against and finances a wide range of new and used revenue-producing, essential-use equipment including cranes, trailers, and trucks. More information about Alter Moneta can be found at www.altermoneta.com.
About BSMB
BSMB invests private equity capital in compelling leveraged buyouts, recapitalizations and growth capital opportunities alongside superior management teams. BSMB focuses on making control or entrepreneur-driven investments, principally in middle-market financial services, retail, and consumer products companies. Since its formation in 1997, BSMB has been an investor in over 50 portfolio companies. BSMB manages nearly $5 billion of private equity capital, including its new $2.7 billion institutional fund and capital dedicated to its affiliate, Bear Growth Capital Partners. Current BSMB portfolio companies include: ACA Capital Holdings, Balducci's, CamelBak Products, Cavalry Investments, Churchill Financial Holdings, Multi Packaging Solutions, New York & Company, Seven For All Mankind, Stuart Weitzman, Transamerican Auto Parts Company and The Vitamin Shoppe. More information about BSMB can be found at www.bsmb.com.
About Caisse de dépôt et placement du Québec
The Caisse de dépôt et placement du Québec, created in 1965 by an Act of the National Assembly of Québec, is an institution that actively manages funds on behalf of its depositors, in accordance with their investment policies. Caisse is the largest institutional fund manager in Canada and one of Québec's leading financial institutions. Caisse invests in Canada as well as internationally and conducts its operations from its business office in Montréal and its head office in Québec City. More information about Caisse can be found at www.lacaisse.com.
### Press Release ###########################
--------------------------------------------------------------

News Briefs----
GE Chief Immelt Sees Up to 13% Profit Growth in 2007
http://www.bloomberg.com/apps/news?pid=20601103&sid=a2ibA1DmtWLE
Greenspan says dollar likely to weaken further
http://www.stltoday.com/stltoday/business/stories.nsf/story/
D1074AB6BD57B90B86257242001048C5?OpenDocument
No change in mortgage loan limit
http://www.absnet.net/include/showfreearticle.asp?file=/headlines/3.htm
Wolfowitz in firing line as World Bank faces mass exodus
http://www.theage.com.au/news/business/wolfowitz-in-firing-line-as-wor
ld-bank-faces-mass-exodus/2006/12/12/1165685680622.html
Banner to Buy F&M Bank in $98.8M Deal
http://news.moneycentral.msn.com/provider/providerarticle.aspx?feed=
AP&Date=20061212&ID=6269098
California Capitol Corridor riding high on Amtrak line's 15th anniversary, train has shown that a clean and comfortable trip draws passengers
http://sfgate.com/cgi-bin/article.cgi?file=/c/a/2006/12/13/AMTRAK.TMP
Golden State losing luster
SAN JOSE MERCURY NEWS
http://www1.pressdemocrat.com/apps/pbcs.dll/article?AID=
/20061211/NEWS/612110306&SearchID=73265747992056
---------------------------------------------------------------


You May have Missed---
Foreclosures Increase 4 Percent in November According to RealtyTrac(TM) U.S. Foreclosure Market Report
http://www.prnewswire.com/cgi-bin/stories.pl?ACCT=104&STORY=
/www/story/12-12-2006/0004490106&EDATE=
---------------------------------------------------------------

Sports Briefs----
If nothing else, Shell consistent
http://www1.pressdemocrat.com/apps/pbcs.dll/article?AID=/20061211/
NEWS/61211003&SearchID=73265747785401
Did tapes give Miami an edge against Brady?
http://msn.foxsports.com/nfl/story/6265432
----------------------------------------------------------------


"Gimme that Wine"
With Such Enemies, Does Merlot Need Friends?—Eric Asimov
http://www.nytimes.com/2006/12/13/dining/13wine.html?_r=1&ref=dining&oref=slogin
Number of California Grapegrowers Declining
http://winesandvines.com/headline_12_11_06_grape.html
Special Evening in WineCountry with Woody Allen- December 23
http://winecountry.com/exclusive-experiences/offers/OL00002/
The dangers of genetically modified wine yeast
http://www.napavalleyregister.com/articles/2006/12/12/opinion/commentary/
doc457eba649e8e0569076997.txt
Wine Prices by vintage
http://www.winezap.com
http://www.wine-searcher.com/

US/International Wine Events
http://www.localwineevents.com/

Winery Atlas
http://www.carterhouse.com/atlas/\

Leasing News Wine & Spirits Page
http://two.leasingnews.org/Recommendations/wnensprts.htm

The London International Vintners Exchange (Liv-ex) is an electronic exchange for fine wine.
http://www.liv-ex.com/
----------------------------------------------------------------

Calendar Events This Day
Cocoa Day
http://www.icco.org/about/growing.aspx
http://www.icco.org/about/chocolate.aspx
Malta: Republic Day
National holiday. Malta became a republic in 1974
Sweden: Santa Lucia Day
Nationwide celebration of festival of light, honoring St. Lucia. Many hotels have their own Lucia, a young girl attired in a long, flowing white gown who serves guests coffee and lussekatter (saffron buns) in the early morning. It is also celebrated in Norway and Finland.
http://www.internet-at-work.com/hos_mcgrane/holidays/nora.html
http://www.newadvent.org/cathen/09414a.htm
http://www.catholic.org/saints/saint.php?saint_id=75
----------------------------------------------------------------

The average raindrop falls at 7mph
Using the following program, a small drop falls at 9mph, Typical at 14mph, and a large rain drop at 20mph—wind and other conditions will also affect the speed, but on the average it appears 9mph for a small rain drop.
(click the right mouse button on the drop on the side of the scale, to find out yourself at:
http://www.grow.arizona.edu/Grow--GrowResources.php?ResourceId=146
----------------------------------------------------------------

Today's Top Event in History
1944-- Japanese kamikaze crashes into US cruiser Nashville, killing 138.
http://www.multied.com/Navy/cruiser/Nashville.html
http://www.steelnavy.com/Nashville.htm
[headlines]
----------------------------------------------------------------

This Day in American History
1621- The first shipment of furs were shipped to England on the S.S. Fortune under the charge of Robert Cushman, one of the Plymouth colonists. The cargo, valued at $2,450, consisted of furs, sassafras, clapboards, and wainscot. The boat was captured by the French and the cargo seized. Things were not merry in the old colony.
1666- Frederick Phillips in New Amsterdam ( the future New York City) cornered the market in wampum* by creating a shortage, considered by historians as the first " financial corner" of the marketplace in the New World. He buried several hogsheads ( a large barrel or cask holding anywhere from 63 to 110 gallons of it in order to force those who had to use this medium of exchange to purchase wampum from him at a higher price. (* wampum were tubular beads made from specific oyster shells and used as an exchange of value by various Indian tribes, often sewn into belts or garments.)
1769-Dartmouth College is chartered.
http://memory.loc.gov/ammem/today/dec13.html
1774- Contrary to popular belief, the first battle of the Revolutionary War was not the Battle of Lexington on April 17.1775, but happened on this date in 1774. Major John Sullivan of the Granite State Volunteers, later a major general in the Continental Army, captured by the British, helped Washington against General Howe. He led 400 patriots that attacked Fort William and Mary at New Castle, New Hampshire, in Portsmouth Harbor. They bound the commander of the fort and frightened the soldiers away, capturing 100 casks of power and small arms. The news of this victory spread over New England the next few months, leading up to the Battle of Lexington.
http://www.seacoastnh.com/framers/sullivan.html
1818- Birthday of Mary Todd Lincoln, wife of Abraham Lincoln, sixteenth president of the United Sates, born at Lexington, Kentucky. Died at Springfield, Illinois, July 16, 1882.
1835- Birthday of Phillips Brooks, American clergyman and composer born at Boston, Massachusetts. Perhaps best remembered for his lyrics for the Christmas carol " O Little Town of Bethlehem." Brooks died at Boston, Jan. 23,1893.
1843-- "A Christmas Carol" by Charles Dickens published, 6,000 copies sold
1861- Battle of Alleghany Summit WV, a bitter winter killed most wounded
and other soldiers, too.
http://www.paralumun.com/waralleghany.htm
http://docsouth.unc.edu/robson/robson.html
1862-General Robert E. Lee with 80,000 Confederates repulsed General Burnside with his 150,000 Federals at the Battle of Fredericksburg, Virginia. After hard fighting along the Massaponax River, Burnside lost almost 14,000 troops. The victory spurred Lee to take his army and invade the North, who's march was discovered by accident in Gettysburg, PA. Burnside was put in this position due to General McClennan's defeats as well as his political attempts to raise money to run for president. Lincoln eventually would go against
his cabinets wishes and chose Ulysses Simpson Grant, although he was told "Grant drank too much" at Washington dinner parties.
http://www.nps.gov/frsp/fredhist.htm
http://www.civilwarhome.com/fredricksburgbattle.htm
http://www.nps.gov/frsp/fburg.htm
1864- Battle of Fort McAllister GA as General Sherman gets ready to attack Savannah.
http://web.ask.com/searchcp?q=Battle+of+Fort+McAllister+GA&t=Battle+Fort+
McAllister+GA&cache=00*dfxr&url=http://www2.cr.nps.gov/abpp/battles/
ga028.htm&page=&ws=1
1878 -Los Angeles, CA fell to 30, the lowest at that time for December.
1903 –Birthday of drummer Sonny Greer
http://www.drummerworld.com/drummers/Sonny%20Greer.html
1911 -- American poet Kenneth Patchen born. Pioneered jazz poetry ("Kenneth Patchen Reads with the Chamber Jazz Sextet"). For more than thirty years, Patchen lived with a severe spinal ailment that caused him almost constant physical pain. The weight of this personal battle was compounded by his sensitivity to greater issues of humanity, and his poetry paid special attention to the horrors of war. With his work he tried to create a kind of sanctuary for the reader, apart from reality, where larger-than-life characters were motivated by their loving and benevolent natures. Kenneth Patchen died in 1972.
http://www.poets.org/poets/poets.cfm?45442B7C000C0401
http://www.connectotel.com/patchen/
http://www.bopsecrets.org/PS/rexroth1.htm
http://opening.hefko.net/gi_patchen.html
1913-Birthday of Archibald Lee Wright, better known as Archie Moore, at Benoit,MS. One of the most colorful fighters ever. Moore boxed from the mid-1930s to 1963, holding the light-heavyweight title for a record nine years. For much of his career, he fought an average of once a month. Moore let an aura of celebrity surround him; he lied about his age, at an unusual diet, married five times and spoke out on a variety of political and social issues. Died at San Diego, CA., Dec 9,1998,
1918-Birthday of the "Mad Russian, " William Vukovich, Sr. born William Vucerovich at Frsno, CA. Vukovich began racing midget cars in 19387 and picked up his career after World War II. Known as the "Mad Russian" for his hell-bent style, he won the 1953 Indianapolis 500 from the pole and the 954 race as well. Ahead again in the 1955 race, he crashed on the 57th lap. Died at Indianapolis, IN, May 30, 1955.
1925- Actor/Comedian/Singer Dick Van Dyke born West Plains, Mo.
1927 -- James Wright born Martin's Ferry, Ohio. American poet of the postmodern era who writes of sorrow, salvation, & self-revelation. Much of his work draws upon the images of nature & industry found in his native Ohio River valley.
1928 - The George Gershwin composition, "American in Paris", had its debut performance by the New York Philharmonic Orchestra under the direction of Walter Damrosch.
1928 -- Clip-on tie designed.
1929 - Hoagy Carmichael and Louis Armstrong recorded "Rockin' Chair" on Columbia records and cylinders.
1932- the great Bennie Moten's Kansas City Band cuts last date for Victor, 1932.
1936 - Green Bay won the National Football League championship after they beat the Boston Redskins, 21-6. It was Boston's last game, as they became the Washington Redskins in 1937.
1937 - Japanese forces took the Chinese city of Nanking (Nanjing). Over the following six weeks, in one of the worst atrocities of World War II, they killed an estimated 200,000 Chinese in what became known as the "Rape of Nanking."
1938- Birthday of Gus Johnson, Jr., basketball player born at Akron, OH. Johnson played at the University of Akron, Boise Junior College and the University of Idaho. He was drafted by the Washington Bullets and helped make them a perennial contender for playoff honors. Johnson was the prototype of the power forward. He could score from the corner and was one of the first players to use the slam dunk. He finished his career with the Phoenix Suns. Died at Akron, OH, April 29,1987.
1939 - In World War II, the battle of the River Plate took place off the coast of South America between the British cruisers Exeter, Ajax and Achilles and the German battleship Graf Spee.
1940- Lester Young splits from the Count Basie Band.
1940 - Glenn Miller and his orchestra recorded the two-sided jump tune, "The Anvil Chorus", for Bluebird Records in New York. The 10-inch, 78 rpm record was six minutes long.
1941- The first Ace in World War II was First Lieutenant Boyd David Wagner of Johnstown, PA. While serving in the Army Air Corps in the Philippines, Wagner was attacked by five Japanese pursuit planes. He shot two plans out of the air and machine-gunned 12 on the ground, leaving five burning. He was awarded the Distinguished Service Cross.
1944-- Japanese kamikaze crashes into US cruiser Nashville, killing 138.
http://www.multied.com/Navy/cruiser/Nashville.html
http://www.steelnavy.com/Nashville.htm
1945- singer June Christy signs contract with Capitol Records ( records 18 post-Stan Kenton albums).
1948 - After an 11 1/2 month strike, the American Federation of Musicians went back to work. During the strike there was also an 11½-month ban on phonograph records.
1949 - The American League said no to a proposal to revive the spitball, outlawed since 1920. Many pitchers still tossed the spitter anyway.
1950----Top Hits
A Bushel and a Peck - Perry Como & Betty Hutton
Rudolph, the Red-Nosed Reindeer - Gene Autry
Nevertheless - Jack Denny
I'm Moving On - Hank Snow
1958----Top Hits
To Know Him, is to Love Him - The Teddy Bears
Problems - The Everly Brothers
Queen of the Hop - Bobby Darin
City Lights - Ray Price
1960 - The first of three Middle Atlantic snowstorms produced a foot of snow at Baltimore MD. A pre-winter blizzard struck the northeastern U.S. producing wind gusts as high as 51 mph, along with 16 inches of snow at Nantucket MA, and 20 inches at Newark NJ.
1961-- Jimmy Dean's Big Bad John album is country music's 1st million $ seller
http://www.epinions.com/content_3866271876
1961 - No. 1 Billboard Pop Hit: "The Lion Sleeps Tonight," The Tokens
1962 - A severe Florida freeze occurred. Morning lows reached 35 degrees at Miami, 18 degrees at Tampa, and 12 degrees at Jacksonville. It was the coldest December weather of the 20th century and caused millions of dollars damage to crops and foliage. In Georgia, the morning low of 9 degrees below zero at Blairsville established a state record for the month of December.
1966----Top Hits
Good Vibrations - The Beach Boys
Mellow Yellow - Donovan
Lady Godiva - Peter & Gordon
Somebody Like Me - Eddy Arnold
1968 - A severe coastal storm produced high winds and record early snows from Georgia to Maine. Winds reached 90 mph in Massachusetts, and ten inches of snow blanketed interior Maine.
1973 - No. 1 Billboard Pop Hit: "The Most Beautiful Girl," Charlie Rich.
1974 - Former Beatle George Harrison was invited to lunch by President Gerald R. Ford. At the White House, the two exchanged buttons, Ford giving George a WIN (Whip Inflation Now) pin and Harrison giving the President an OM (Hindu mantra word expressing creation) button.
1974----Top Hits
Kung Fu Fighting - Carl Douglas
When Will I See You Again - The Three Degrees
Cat's in the Cradle - Harry Chapin
She Called Me Baby - Charlie Rich
1975 – Saturday Night Live is first produced "delayed recording." The late-night television variety show, Saturday Night Live, did not broadcast live for the first time on this date. NBC was concerned that the host for that evening's show, popular comedian Richard Pryor, would utter some obscene words or phrases. Pryor had promised that he would not use foul language, but as most of his stand-up routine consisted of four-letter words, the possibility existed that he would accidentally, or purposefully, "let loose." The show's executive heads decided that the show would be placed on a 5-second electronic delay. Two expletives spoken by Pryor were determined unsuitable for television and were deleted before they hit the airwaves.
1975-David Bowie's "Golden Years" and Foghat's "Slow Ride" are released.
1978 - The Philadelphia Mint struck the first Susan B. Anthony dollar coins, with 1979 dates and the first "P" mintmark since the silver nickels of World War II. Denver production began on January 9, 1979, and San Francisco minting began on February 2, 1979. The Susan B. Anthony dollar, the first coin to honor a woman, was not a hit with the public for several reasons, most importantly because it was often mistaken for a quarter, which was about and eighth of an inch smaller in diameter.
1982----Top Hits
Mickey - Toni Basil
Maneater - Daryl Hall & John Oates
The Girl is Mine - Michael Jackson/Paul McCartney
Redneck Girl - The Bellamy Brothers
1983 - In professional basketball, Detroit and Denver played for 3 hours, 11 minutes. The Pistons won, 186-184, during triple overtime. NBA records for single-game were set for most points by two teams; by one team; assists; and field goals. Kiki Vandeweghe of the Denver Nuggets scored a career-high with 51 points.
1985 - In a first for movies, the murder mystery, "Clue", opened featuring three different endings. Newspaper ads said which ending was playing at which theatre.
1986 - In the school's 62-year history, Duke University won its first NCAA team championship when the Blue Devils' soccer team beat Akron, 1-0.
1986 - Madonna's recording of Open Your Heart entered Bilboard's Top 40 pop charts on this date, and later peaked at Number 1 for a week. The song stayed on the charts for 14 weeks.
1986 - "The Way it Is", by Bruce Hornsby and the Range, hit #1 for a week in the U.S.: "That's just the way it is; Some things will never change. That's just the way it is; Aw, but don't you believe them."
1987 - A major winter storm produced high winds and heavy snow in the Southern Rockies and the Southern High Plains. Snowfall totals in New Mexico ranged up to 25 inches at Cedar Crest, with up to three feet of snow reported in the higher elevations. Winds of 75 mph, with gusts to 124 mph, were reported northeast of Albuquerque NM. El Paso TX was buried under 22.4 inches of snow, including a single storm record of 16.8 inches in 24 hours. The snowfall total surpassed their previous record for an entire winter season of 18.4 inches. Record cold was experienced the next three nights as readings dipped into the single numbers. High winds ushering unseasonably cold air into the southwestern U.S. gusted to 100 mph at Grapevine CA
1988 - Cold arctic air spread from the Great Lakes Region to the Appalachian Region. Twenty-five cities, mostly in the northeastern U.S., reported record low temperatures for the date. The low of 12 degrees below zero at Albany NY was their coldest reading of record for so early in the season. Saranac Lake NY was the cold spot in the nation with a low of 28 degrees below zero.
1989 - Strong northwesterly winds, ushering bitterly cold arctic air into the central U.S., produced squalls with heavy snow in the Great Lakes Region. Snowfall totals in Upper Michigan ranged up to 24 inches at Manistique. Nine cities in Arkansas and Texas reported record low temperatures for the date, including Calico Rock AR with a reading of 4 degrees above zero.
1990----Top Hits
Because I Love You (The Postman Song) - Stevie B
From a Distance - Bette Midler
Something to Believe In - Poison
I've Come to Expect It from You - George Strait
1991- North and South Korea signed a treat of reconciliation and nonaggression, formally ending the Korean War---38 years after fighting ceased in 1953. This agreement was not hailed as a peace treaty, and the armistice that was signed July 27,1953, between the UN and North Korea, was to remain in effect until it could be transformed into a formal peace.
1995-- US Federal Court votes that Cable companies must carry local stations
1997-- 63rd Heisman Trophy Award: Charles Woodson, Michigan (CB)
http://www.nfl.com/players/playerpage/12841
http://www.collegefootballnews.com/Top_100_Players/
Top_100_Players_34_Charles_Woodson.htm
1998 - Voters in Puerto Rico rejected United States statehood.
1998 -- Baltimore and Minnesota combine to set an NFL record with three kickoff return touchdowns in the same game, all in the first quarter of the Vikings' 38-28 victory. Corey Harris and Patrick Johnson score for the Ravens while David Palmer turns the trick for Minnesota. Vikings kicker Gary Anderson sets an NFL record when he converts his 34th consecutive field goal.
http://images.nfl.com/history/images/1213.jpg
--------------------------------------------------------------

American Football Poem
The Autumn Wind
"The Autumn wind is a pirate
Blustering in from sea
With a rollicking song he sweeps along
Swaggering boisterously
His face is weather beaten
He wears a hooded sash
With his silver hat about his head
And a bristly black moustache
He growls as he storms the country
A villain big and bold
And the trees all shake and quiver and quake
As he robs them of their gold
The Autumn wind is a Raider
Pillaging just for fun
He'll knock you 'round and upside down
And laugh when he's conquered and won"
--------------------------------------------------------------

SuDoku
The object is to insert the numbers in the boxes to satisfy only one condition: each row, column and 3x3 box must contain the digits 1 through 9 exactly once. What could be simpler?
http://leasingnews.org/Soduku/soduko-main.htm

--------------------------------------------------