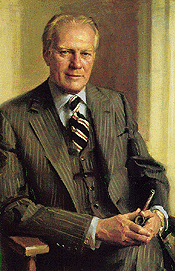 Gerald R. Ford
1913-2006
Friday, December 29, 2006
Headlines---
Steve Gabriel, Youngest Advisory Board Member
Classified Ads---Operations
New Feature---Ask Steve Chriest
Sherwin/Noriega form Magellan Capital Partners
Pacifica Capital moves
Broker-Lessor List up-dated
Cartoon---Fountain of Funding
2007 Leasing Association Conferences
Bank Notice
As Power Shifts in Congress,
Financial Services Industry Can Expect Change
Top Gun still Available
News Briefs---
You May have Missed---
California Nuts Brief---
Sports Briefs---
"Gimme that Wine"
Calendar Events
Snapple Real Facts
Today's Top Event in History
This Day in American History
American Football Poem
Leasing News Person of Year for 2006 to be announced
January 3rd, 2007
Happy New Year!!!
------------------------------------------------------------------------

Steve Gabriel, Youngest Advisory Board Member
Steve joined the Leasing News Advisory Board on February 5, 2004.
He is our youngest member. He also has direct experience with trade publications and the news media from the other side of the desk.
He has been responsible for format changes at Leasing News, and has contributed a new organization of monthly topics and features that hopefully will be implemented in 2007. He is a very creative person.
Steve Gabriel
Account Supervisor, Porter Novelli
1919 S. Bascom Avenue
Third Floor
Campbell, CA 95008
steve.gabriel@porternovelli.com
www.porternovelli.com
As account supervisor, Steve Gabriel plays an integral role in the strategic development and management of public relations programs and activities for his clients. He is responsible for managing his account teams on all aspects of client programs including corporate initiatives, new product and technology introductions, and comprehensive media outreach programs. Steve is currently managing the public relations programs for Synplicity, Inc., a leading supplier of innovative software solutions for the design of complex, high-performance semiconductors, and Silicon Storage Technology, Inc. (SST), a leading manufacturer of nonvolatile memory products. He also plays an integral role developing public relations plans and strategies for QUALCOMM's CDMA Technology division.
For Synplicity, Steve played a key role in expanding the company's public relations efforts internationally. He currently leads a global PR team in Europe and Asia. He has been critical in planning and executing several successful launches for Synplicity, including the company's entrance to the highly competitive ASIC and structured ASIC synthesis markets.
During his seven-year tenure with the agency, Steve has worked on the account teams of leading semiconductor and technology companies such as ARC International, NetLogic and Semtech. In addition, he has experience in launching start-up companies, including Veridicom, a spin-off from Lucent/Bell Labs.
Steve worked for American Leasing, Santa Clara, California, right out of college, and also developed Sports Leasing, Santa Clara, California. During this time, he also served on the public relations committee for both the Santa Clara County Salvation Army and the San Jose Salvation Army Adult Rehabilitation Center.
He is married to his high school sweetheart, Gretchen, and they have two sons, Samuel and Justin.
Steve holds a bachelor's degree in public relations from Pepperdine University.
---------------------------------------------------------------

Classified Ads---Operations

New York City *
Orange County, CA
Operations/Credit Manager with 15 Years Experience, Middle & Large Ticket, initiated policies for Patriot Act and Sarbanes Oxley, Team Motivator.
E-mail: equiplender@aol.com
East Windsor, NJ
Skilled Manager in credit, collections, training, documentation, policy and procedure, lease and finance operations. Get results and keep the customer coming back.
Email: rgmorrill@comcast.net
Resume
New York, NY
10+ years in equipment leasing/secured lending. Skilled in management & training, documentation, policy and procedure development & implementation, portfolio reporting. Strong work ethic.
Email: dln1031@nyc.rr.com
Wayne, NJ
20+ heavily experienced collection/recovery VP looking to improve someone's bottom line. Proven, verifiable track record. Knowledge of all types of portfolio. Will relocate
Email: cmate@nac.net
These job-wanted ads are free. We also recommend to both those seeking a position and those searching for a new hire to also go to other e-mail posting sites:
http://64.125.68.91/AL/LeasingNews/Classified.htm
In addition, those seeking employment should go to the human resource departments on company web sites for funders, captive lessors, and perhaps "broker-lessors."
To place a free "job wanted" ad here, please go to:
http://64.125.68.91/AL/LeasingNews/PostingForm.asp
For a full listing of all "job wanted" ads, please go to:
http://64.125.68.91/AL/LeasingNews/JobPostings.htm
* This aerial panoramic photograph of New York was taken by James Blakeway. It features the Lower Manhattan area of New York City known as the financial district, the area in which Wall Street is located. The twin towers centered in the photograph are the World Trade Center Buildings. Further right is the Empire State Building. To the right is the East River with the Brooklyn, Manhattan, Williamsburg and Queensboro Bridges visible. At the left is the Statue of Liberty with Ellis Island to its' right. The Hudson River is located just behind Manhattan. In the distance beyond the Hudson River is the State of New Jersey.

Unframed Print: $25.00 each
Framed Print: $79.00 each

Additional pricing:
http://www.panoramas.com/PosterFrame.htm
http://www.blakewaystore.com/
---------------------------------------------------------------

New Feature---Ask Steve Chriest
Steve actually started the "Sales makes it Happen" series, then went on to the series of "Selling Up." Due to his time commitments, and other projects, even his time on the airplane between engagements was becoming less. He wants to stay in contact with his many friends in the equipment leasing business, and in this regard, is starting a new feature.
Readers are encouraged to ask anything about sales and sales management. Replies will be published in each Friday's issue.
---------------------------------------------------------------

Sherwin/Noriega form Magellan Capital Partners
Tony Sherwin announces that he, along with Harold Noriega, have founded Magellan Capital Partners, an independent equipment leasing company located in Tustin, California. The company specializes in small to medium ticket transactions ranging from $10,000 to $10 million.
Both have a history of generating high volume in both small and large ticket transactions.
Tony has been in the equipment leasing industry for 18 years, all of which were with Pacifica Capital, located in Irvine, CA.
"I'm proud to say that I was a partner of Pacifica Capital for all 18 years and was very fortunate to have two wonderful partners in Bette Kerhoulas and Harold Noriega, who is now a partner of Magellan Capital".
"Bette introduced me to the business of equipment leasing and taught me many things that I'm very grateful for, most of all integrity, ethics and sound business practices".
Tony's role at Pacifica Capital was primarily in sales and marketing,
generating income through direct lessee business, vendor relationships and bank referral programs.
At the United Association of Equipment Leasing (UAEL) national conference in San Diego during the spring of 2002 Tony was recognized as one of "The Top Gun Producers" in our industry and was a guest speaker along with other top gun producers in a highly publicized session called "The Secrets of the Top Gun Producers". He has also been very active as a panelist in many round table sessions at other UAEL events during the past 5 years.
In a September 9, 2002 interview for "The Top Gun Producers," he stated:
"I was the top producer in leases generated for my company which generated over $30 million in sales, a high percentage of which went to leasing. I saw this as a great opportunity and made the commitment. So my entrance into this industry as an owner started immediately and without any real experience in equipment leasing.
"My income has been determined through commissions, residuals and through profit sharing. My commission split has always been 50% of the revenue I produce and 45% of any income generated through residuals I directly book. Profit sharing is the icing on the cake. Pacifica Capital has always been profitable and I have certainly benefited from its performance.
"Harold Noriega, also a partner of Pacifica Capital, and I combined have consistently produced over 1mm in fee income alone for several years. Our primary responsibilities are in sales generation and the management and support of the sales team."
He says today, "At Magellan, our hope is to form long term partnerships with clients and equipment suppliers that are built on a foundation of being able to offer competitive rates with exceptional service while maintaining the flexibility to structure excellent financing terms providing us with an opportunity to earn their future business."
Tony Sherwin was born and raised in Southern California and attended
California State University at Fullerton graduating with a degree in Public Relations. He currently resides in Tustin, California with his wife and four children.
Anthony Sherwin
Magellan Capital Partners
714-505-2265
714-505-1199 Fax
tonys@magellan-financial.com
http://www.magellan-financial.com
17332 Irvine Blvd., Suite 296
Tustin, CA 92780
---------------------------------------------------------------

Pacifica Capital moves

Pacifica Capital has moved from Irvine, California, to 31726 Rancho Viejo Road, #205, San Juan Capistrano, California. Telephone numbers are the same:
800-800-8081 Toll Free
949-727-3711 Phone
949-727-3722 Main Fax
949-727-1242 Sales Fax
www.pacifica-capital.com
Bette Kerhoulas, founder of the company in 1984, and the first female president of the United Association of Equipment Leasing, was not available due to the holidays. The operator said that the new offices were five miles from Ms. Kerhoulas's home. She will be back January 2nd, 2007.
Happy New Year, Bette!!!
---------------------------------------------------------------

Broker-Lessor List up-dated
(If you would like to up-date your listing or add new information,
please contact kitmenkin@leasingnews.org )
http://www.leasingnews.org/Brokers/broker_Lessor.htm
http://www.leasingnews.org/Brokers/broker_Lessor_B.htm
---------------------------------------------------------------

---------------------------------------------------------------

Leasing Association Conference 2007
April 12-15

United Association of Equipment Leasing
The Westin Casuarina Hotel and Spa
Las Vegas, Nevada
Annual Spring Conference
Betty Kerhoulas & Doug Houlihan—Conference Co-Chairs
----------------------------------------------------------
April 15-17

Equipment Leasing and Finance Association
Four Seasons Las Colinas Resort & Club
Dallas, TX
Large Ticket/Bank Leasing Conference
(newly combined conference)
---------------------------------------------------------
April 18-19

Equipment Leasing and Finance Association
Fairmont Hotel, Chicago, IL
National Funding Exhibition
-----------------------------------------------------------
April 22-24

Equipment Leasing and Finance Association
Hyatt Regency Grand Cypress
Orlando, FL
Captive and Vendor Finance Conference
-----------------------------------------------------------
May 6-9

Eastern Association of Equipment Lessors
Seaview Resort & Spa
Marriott Resort
Galloway, New Jersey
The EAEL 2007 Conference Chaired by Paul Meyer
------------------------------------------------------------
May 17-19

National Association of Equipment Leasing Brokers
Opryland Resort
Nashville, Tennessee
Nashville 2007 Conference
-------------------------------------------------------------
October 4-7

United Association of Equipment Leasing
Fall Annual Conference
-------------------------------------------------------------
October 28-30

Equipment Leasing and Finance Association
Walt Disney World Dolphin Resort
Orlando, Florida
46th Annual Convention

---------------------------------------------------------------

Bank Notice
We hate to be the one to say,
But you're overdrawn another day.
Your funds are gone; your account is too,
Does the word "deposit" ring a bell with you?
This letter is not meant to inform or harass,
But to get to the point- You're a pain in our ass!
It's obvious your balance doesn't phase you a bit,
"Cause you keep writing checks that aren't worth a shit"
So we are telling you now, our friendship is through,
Plus a couple more things that we are going to do.
We're telling everyone how worthless you are,
We're taking your house, your wife, and your car.
We're going to court to get back our funds,
And when we're through, we'll have nailed your buns!
And in conclusion, we simply must say,
thank you for banking with us and have a nice day.
---------------------------------------------------------------

As Power Shifts in Congress,
Financial Services Industry Can Expect Change
by David G. Mayer
(A partner at the law firm of Patton Boggs LLP. David is a member of the firm's Business Transactions Group. He is the author of the book, Business Leasing for Dummies. This first appeared in Business Leasing News, December, 2006.)
As Democrats prepare to take control of both the Senate and the House of Representatives in the 110th Session of Congress, will the financial services industry face significant changes in the final two years of the Bush presidency? Will the 110th Session of Congress end up mired in gridlock as the Democrats take the reins of power? Will the changes Democrats actually achieve in the next two years make this election a yawn or a wake-up call for the future of the financial services industry?
Last month, Patton Boggs LLP , the powerhouse in public policy, offered its views of the dramatic change in Congress in presentations in Washington DC, Dallas, Houston and New York entitled "The Agenda of the 110th Congress, A New Form of Divided Government? An Initial Analysis by Patton Boggs LLP." The firm addressed these questions and others, suggesting that recent history demonstrates that Presidents who have opted for compromise with their opponents have been able to achieve significant victories.
Financial Services
Both the House Committee on Financial Services and the Senate Committee on Banking, Housing and Urban Affairs will undergo leadership changes. While the chairs of these two committees will continue to have wide latitude in setting the agendas for their committees, many of the legislative issues identified here were likely to be on those agendas no matter which party controlled the House and the Senate next year.
House Financial Services Committee and Senate Banking Committee
With Democrats having gained control of the House, Representative Barney Frank (D-MA), the Committee's ranking Democrat, will likely become chair of the House Committee on Financial Services . Representative Paul Kanjorski (D-PA) will likely chair the Subcommittee on Capital Markets . According to Newsweek , the Committee on Financial Services has historically been among the more bipartisan of house committees. Among Frank's stated priorities is increasing oversight of hedge funds, including investment by pension funds in hedge funds. See The New Team in Town , Newsweek online (Nov. 9, 2006).
Current Senate Banking Committee Senator Chris Dodd (D-CT) will replace Chairman Richard Shelby (R-AL). Senator Dodd's appointment results from the retirement of Senator Paul Sarbanes (D-MD). According to the Equipment Leasing and Finance Association (formerly the Equipment Leasing Association (ELFA)), major issues affecting the leasing business include the application to leasing companies of the Sarbanes-Oxley Act of 2002 (Act) and the Basel II Capital Accord (Basel II). See ELFA Election Analysis . Basel II and industrial loan charters (ILCs) will be high on the list of priorities for the Senate Banking Committee , according to the American Banker magazine on December 1, 2006.
Insight to Change: Major Issues on the Agenda
Beyond leasing companies, major issues that can and will likely affect the broader financial services industry include:
• Sarbanes-Oxley Act Reform. Congress has resisted calls to relax the requirements of the Act. However, "reform" scrutiny will continue, both from comparatively smaller publicly traded companies and organizations such as the Chamber of Commerce. A private sector blue ribbon panel recently convened, with the apparent blessing of the Bush Administration, and issued its report. It called for relaxation of some financial regulations and less aggressive civil and criminal penalties for violations of rules. See Financial-Rule Overhaul Hits a Nerve, The Wall Street Journal , page C:3, Col 1, S.W.Ed (Dec. 1, 2006).
*Insight Point: Although state prosecutors called the panel's ideas "absurd" according to The Wall Street Journal , it remains to be seen w hether the recommendations of this panel will serve as a catalyst to legislative changes. Conventional wisdom seems to hold that a Democratic Congress will be more reluctant to make major changes in the Act, but Republicans might have taken a "go slow" approach as well. Moreover, some Members of Congress have expressed the view that the SEC and the Public Company Accounting Oversight Board ( PCAOB ) already have sufficient authority to address many of the issues raised under the Act. However, the SEC has taken note of the "very significant costs" of compliance with the corporate control aspects of the Act and intends to review compliance costs and efficiency under Section 404 in its December 13 meeting. See Remarks by Treasury Secretary Henry M. Paulson on the Competitiveness of U.S. Capital Markets Economic Club of New York , SEC Press Release hp-174 (Nov. 20, 2006).
• Consumer Data Protection and Privacy. There is a bipartisan consensus within Congress that legislation should be enacted to protect consumer data. In 2006, multiple committees approved data security bills and legislation was pending before the Senate Banking Committee when the Senate adjourned.
*Insight Point: With Democrats in control, the shape of such legislation could be dramatically different, including whether any new federal standards should preempt laws that have been enacted in more than 25 states and whether State Attorneys General should be given authority to enforce new federal standards. In addition, there will be renewed debate over questions such as whether notice of a data breach must be given to consumers in the absence of a substantial likelihood of harm to consumers. Given recent disclosures concerning the use of " pretexting " to gain cell phone information (a form of identity theft) and the inadvertent disclosure of social security numbers, the pressure for federal legislation will continue to grow in 2007.
• Hedge Funds and Derivatives. The 110 th Congress may devote continuing attention to hedge funds and give consideration to whether legislation is required in the wake of a federal court decision earlier this year invalidating the SEC's rule requiring most hedge fund managers to register with the SEC under the Investment Advisers Act of 1940. The Treasury Department has previously announced that it is undertaking a study of the systemic issues presented by the growth of hedge funds in recent years.
*Insight Point: It is quite possible that the other members of the President's Working Group on Financial Markets will participate in this review. The issue will get additional attention because Representative Frank and other Members have requested that the Government Accountability Office conduct a broad study of hedge funds, including the role pension funds play in investing in hedge funds. There will continue to be calls to amend the Commodities Exchange Act to provide greater regulatory oversight of off-exchange derivatives contracts involving commodities, such as oil and other energy products.
• Terrorism Risk Insurance. The Terrorism Risk Insurance Act (commonly known as TRIA) is scheduled to expire on December 31, 2007. The 110 th Congress will decide whether to extend this program, which provides for federal assistance in connection with insured losses resulting from acts of terrorism. See Fed Extends Terrorism Risk Insurance Act for Two Years , Business Leasing News (Jan. 2006).
*Insight Point: Senator Dodd is believed by some to be receptive to renewing and possibly expanding TRIA, but Senator Shelby's position remains a matter of speculation.
• Consumer Lending Issues. Both the Senate Banking Committee and the House Financial Services Committee are expected to devote attention to a range of consumer lending issues that are variously described as subprime lending, predatory lending, and exotic mortgages. In addition to considering legislation at least with respect to certain " predatory lending " practices, the committees will likely monitor how lenders implement the exotic mortgage guidelines issued in September 2006 by key federal financial institution regulators.
*Insight Point: These and similar "consumer financial protection" issues will receive greater attention with the Democrats in control of the House and the Senate.
• Financial Institution Capital Standards. The 110 th Congress is expected to continue its review of the domestic implementation of the Basel II international regulatory standards that would impose new risk-based capital requirements on financial institutions.
*Term to Know: Basel II , formally known as the "International Convergence of Capital Measurement and Capital Standards: A Revised Framework," will, in theory, create a more flexible and comprehensive framework for bank capital requirements built on three mutually reinforcing "pillars": (1) minimum capital requirements, (2) supervisory review of capital adequacy, and (3) market discipline.
Some Members of Congress have expressed concerns that the Basel II standards may be inadequate and others have questioned their suitability for smaller banks.
*Insight Point: Further oversight hearings and Congressional meetings with U.S. regulators appear likely, though regulators intend to start implementation in 2008.
This entire subject is enormously complex and involves numerous government agencies, which interact with each other in developing appropriate risk-based capital regulation. The Office of the Comptroller of the Currency (OCC), Board of Governors of the Federal Reserve System (Board), Federal Deposit Insurance Corporation (FDIC), and Office of Thrift Supervision (OTS) (collectively, the Agencies) recently issued a 158-page joint notice for proposed rulemaking (NPR) that sets forth revisions to the existing risk-based capital framework. Their framework, called Basel IA, would enhance risk sensitivity without unduly increasing the regulatory burden of banks not subject to Basel II (that is, in general, banks other than the largest 20 U.S. banks that are active internationally).
*Action Item: The Agencies have invited NPR within 90 days after its publication in the Federal Register. They propose to:
• expand the number of risk weight categories,
• allow the use of external credit ratings to risk weight certain exposures,
• expand the range of recognized collateral and eligible guarantors,
• use loan-to-value ratios to risk weight most residential mortgages,
• increase the credit conversion factor for certain commitments with an original maturity of one year or less,
• assess a charge for early amortizations in securitizations of revolving exposures, and
• remove the 50 percent limit on the risk weight for certain derivative transactions.
For a current review of implementation issues, see Basel II, An Update on U.S. Implementation , by Kyle L. Brandon, Securities Industry and Financial Markets Association, Vol. I, No. 1 (Nov. 1, 2006).
• Economic Substance Issue. According to the ELFA, a key question for the equipment leasing and finance industry is whether the new Chair of the Senate Finance Committee will continue to propose provisions to codify the economic substance doctrine or make changes in the JOBS Act of 2004, which had been consistently proposed over the past two years by Chairman Grassley.
*Warning: The new leadership in the Committee coupled with new committee membership will could cause closer scrutiny and action on the economic substance point and interfere with historical tax treatment of even the most ordinary leasing transactions with a focus on leveraged leases. See Leasing 101: What Is The "Economic Substance Doctrine" Under Federal Tax Law? , Business Leasing News (June 2003).
As the Bush presidency winds down, the financial services industry will potentially encounter significant changes in compliance under the Sarbanes-Oxley Act, enhanced efforts to control predatory lending, increased hedge fund regulation, review of tax breaks and the start of implementation of Basel II. Is it prudent to think that none of these changes will make a difference to profitability, risk management and new business opportunities in financial services markets? Should financial services and leasing companies ignore the election as more of the same? The next several months could be one of those periods where the old adage applies: "If you snooze, you lose." Perhaps the November election is a wake-up call or should be treated as one.
Thanks to Donald V. Moorehead and Jeff Turner for commenting on this article and to Aubrey A. Rothrock and Kirsten Wegner of Patton Boggs LLP for providing the material for this article.
Reprinted from Business Leasing News, December, 2006
http://leasingnews.org/PDF/BLN-December_2006.PDF
---------------------------------------------------------------

Top Gun still Available
HP-12C book $55
HP-18B/19B book $55
Both Books for $95
"The calculator books are in continuous use and I sold a multiple order last week to a company that uses it as part of their training program. The HP books are priced to include shipping and handling."
Meliinda Graneri
Understanding Net Present Value and Internal Rate of Return
Building profit into transactions Step and skip payment programs Much more
The Lease Master and Skills Advancement
by Bill Graneri
"Mike continued to sell the tapes until his death and I believe the last set sold for $190 which includes the postage and the workbook that goes with it. The information on the tapes is timeless."
Melinda Graneri
To learn more, please click here.
http://www.leasingnews.org/items/The_lease_master.htm

contact: Melinda Graneri bgcloser@aol.com
--------------------------------------------------------------

News Briefs----
Snowstorm threatens to close Denver airport for 2nd time during holidays
http://www.usatoday.com/weather/storms/2006-12-28-west-coast-storm_x.htm
Existing-Home Sales Up 0.6% in November, but Prices Fell
http://www.washingtonpost.com/wp-dyn/content/article/2006/12/28/
AR2006122800259.html
The Year in Review: Bank of America
http://www.chron.com/disp/story.mpl/ap/fn/4431053.html
The Secret Weapon at Boeing
A booming business in cargo planes has lifted sales as competitor Airbus struggles
http://www.businessweek.com/bwdaily/dnflash/content/dec2006/db20061228_460167.
htm?chan=top+news_top+news+index_top+story
Pa.'s Sterling Financial Sells 3 Insurance Units
http://www.insurancejournal.com/news/east/2006/12/28/75465.htm
Tight Seattle office space now landlord's market
http://seattletimes.nwsource.com/html/businesstechnology/2003498161_cre280.html
Chicago office building sales jump to record in 2006
http://www.chicagotribune.com/business/chi-061228chicago-office-story,0,7169019.
story?coll=chi-business-hed
---------------------------------------------------------------


You May have Missed---
Experts say Google will be No. 1 in visitors in '07
http://www.usatoday.com/tech/news/2006-12-27-webleader_x.htm
---------------------------------------------------------------

Sports Briefs----
Don't look past wild cards in the AFC
http://www.mercurynews.com/mld/mercurynews/16339356.htm
----------------------------------------------------------------


California Nuts Briefs---
Governor holds video conference from his hospital room
http://www.sacbee.com/111/story/99655.html
----------------------------------------------------------------


"Gimme that Wine"
Raise a glass and make that toast
http://www.napavalleyregister.com/articles/2006/12/28/features/food_and_wine/
doc4593ced87f191758198963.txt
Chehalem Mountains Becomes Oregon's Fifteenth American Viticultural Area
http://biz.yahoo.com/prnews/061227/sfw017.html?.v=85
The Top 10 Northern California Restaurants of 2006
http://sfgate.com/cgi-bin/article.cgi?f=/c/a/2006/12/27/FDGV2N3U0G1.DTL
Year's best Washington wine? Here's my top 100
http://seattletimes.nwsource.com/html/foodwine/2003495996_winecol27.html
Wine Prices by vintage
http://www.winezap.com
http://www.wine-searcher.com/
US/International Wine Events
http://www.localwineevents.com/
Winery Atlas
http://www.carterhouse.com/atlas/\
Leasing News Wine & Spirits Page
http://two.leasingnews.org/Recommendations/wnensprts.htm
The London International Vintners Exchange (Liv-ex) is an electronic exchange for fine wine.
http://www.liv-ex.com/
----------------------------------------------------------------

Calendar Events This Day
No Interruption Day
On this day there shall be no interruptions. This is a day for quiet and/or focus. It is a day to renew our energies to prepare ourselves for the new calendar year.
www.springboardtraining.com
Saint Thomas of Canterbury: Feast Day
Thomas, Archbishop of Canterbury, was born at London in 1118 and was murdered at the Canterbury Cathedral on this date in 1180.
http://www.newadvent.org/cathen/14676a.htm
http://www.fordham.edu/halsall/source/1170benedict-becket.html
http://www.fisheaters.com/customschristmasx.html
Texas: Admission Day
Became the 29th state in 1845.
Tick Tock Day
Time runs out. All those dreams y0ou've had, al those fantasies. It's time, friend. Do it!
www.wellcat.com
----------------------------------------------------------------

Hawaii is the only U.S. state that grows coffee.
http://www.hawaiicoffeeassoc.org/history.htm
http://www.hawaiicoffeeassoc.org/kauai.htm
http://www.hawaiicoffeeassoc.org/kona.htm
----------------------------------------------------------------

Today's Top Event in History
1972 - After 36 years in publication, the "LIFE" magazine's last weekly issue went to the newsstands. It is said the newsweekly "redefined photojournalism while showing America its own face." The magazine's first issue featured a newborn baby and a doctor, with the heading, "LIFE Begins." The magazine became an occasional publication, before enjoying a monthly distribution.
[headlines]
----------------------------------------------------------------

This Day in American History
1808—Birthday of Andrew Johnson 17th president of the US, assumed office after Pres. Lincoln was shot; prior to public office owned a tailor shop where he did tailoring in Laurens, South Carolina. He was the first president to be impeached by the House, but was acquitted by the US Senate. After his term, he made several unsuccessful attempts to win public office. He was elected to the US Senate from Tennessee, but served a very short term from March 4, 1875 until July 31, 1875.
http://memory.loc.gov/ammem/today/dec29.html
1830 - A very heavy snowstorm ushered in the "winter of the deep snow". The storm produced 30 inches of snow at Peoria IL and 36 inches at Kansas City MO. Cold and snow continued until the middle of February causing great suffering among pioneers.
1845 - The flags of Spain, France, Mexico, the Republic of Texas, the Confederate States of America and of the United States have flown over the area known as Texas, the state that became the 28th of the United States of America on this day. And, the state nickname, the Lone Star State, comes from the Texas state flag with its one star. Texas is an altered pronunciation of the Indian word, Tejas, meaning friends, and that's why the Texas state motto is "Friendship." The capital of the second largest state is Austin, its state bird, the mockingbird, the state flower, the bluebonnet, the state tree, the pecan tree. When admitted, the land
was comprised of the present state of Texas and part of New Mexico, Colorado, and Wyoming) is admitted as the 28th state of the Union, with the provision that the area (389,166 square miles) should be divided into no more than five states "of convenient size."
1849 --The Christmas hymn by Edmund Sears, "It Came Upon a Midnight Clear," was first published in "The Christian Register." Sears' carol features the American emphasis in Christian living, that is, the social message of "peace on earth, good will toward men."
1849 -- Gas lighting is installed in the White House.
1851-The first YMCA was organized. The first US Branch of the Young Men's Christian Association was organized at Boston. It was modeled on an organization begun at London in 1944.
1862 -- Union General William T. Sherman's troops try to gain the north side of Vicksburg in the Battle of Chickasaw Bluffs.
1890---Wounded Knee Massacre: More than 200 Native American men, women, and children were slain by the US 7th Cavalry at Wounded Knee Creek, South Dakota. Federal efforts to suppress a ceremonial religious practice " The Ghost Dance (which called for a messiah who would restore the bison to the plains, make the white men disappear and bring back the old Native American Way of life) had resulted in the death of Sitting Bull, December 15, 1890, which further inflamed the disgruntled Native Americans and culminated in the slaughter at Wounded Knee, December 29. Accordingly, the government and populace believed "The Ghost Dance" had magic and were superstitious enough that it would come true if allowed to occur.
1894 - A severe freeze hit Florida destroying fruit and causing considerable damage to trees.
1900--Birthday of clarinet player Willie Humphrey, New Orleans, LA
http://www.answers.com/topic/willie-humphrey
http://www.cduniverse.com/search/xx/music/pid/5994390/a/
New+Orleans+Clarinet+Vol.+2.htm
1917 - Washta1907 --Birthday of Robert C. Weaver, the first African American to serve on a president's cabinet. He was Franklin D. Roosevelt's secretary of Housing and Urban Development., IA dropped to -40, the record low for the state.
1920--Birthday of guitarist Irving Ashby, best known for playing with
the King Cole Trio, and Lionel Hampton's "Flying Home." born Summerville, MA
http://www.rockabilly.nl/references/messages/irving_ashby.htm
http://www.vh1.com/artists/az/ashby_irving/bio.jhtml
http://www.stripes.com/photoday/ella/pages/ella01.html
http://www.mmguide.musicmatch.com/album/album.cgi?ALBUMID=1429895
1921 -- Sears Roebuck president Julius Rosenwald pledges $20 million of his personal fortune to help Sears through hard times.
1924 - J.M. Barrie's fanciful tale about a boy who didn't want to grow up was released on film for the first time in the silent Peter Pan.
1934 - In New York City, the first regular-season, college basketball game was played at Madison Square Garden where New York University beat Notre Dame, 25-18. In the night's second game, Westminster defeated St. Johns, 37-33.
1936—Birthday of Mary Tyler Moor, actress (two Emms for "The Dick Van Dyke Show, "three Emmys for "The Mary Tyler Moore Show,", born Brooklyn, NY.
1939 - The satirical Western film, Destry Rides Again, starring James Stewart and Marlene Dietrich, opened in the United States.
1943 - Bing Crosby recorded "San Fernando Valley" because he felt it would be a hit. A week after its release, the song became a favorite everywhere.
1945 - On radio, the mystery voice of Mr. Hush was first heard on, "Truth or Consequences", hosted by Ralph Edwards. The show was supposed to be a parody of giveaway shows, but the idea was taken seriously and lasted five weeks before Mr. Hush was identified as fighter Jack Dempsey, for a $13,500 prize.
1945 - Sheb Wooley made the first commercial record to be recorded in Nashville, Tennessee. The recorded song was on the Bullet label; but it took Wooley 13 years to have a hit with "The Purple People Eater". Wooley, whose first name is Shelby, played Pete Nolan on television's "Rawhide". He also recorded novelty songs as, Ben Colder, and acted in "High Noon", "Rocky Mountain", "Giant" and "Hoosiers". In 1968, the Country Music Association honored him as the Comedian of the Year. Wooley wrote the theme song to television's "Hee Haw".
1947-Birthday of actor Ted Danson, "Cheers," "Becker," Three Men and a Baby," born in San Diego, Ca.
1949 - Bridgeport, Connecticut's KC2XAK became the first ultrahigh frequency, or UHF, television station to operate on a regular daily schedule. UHF stations broadcast where the VHF, or very high frequency, stations end, channels 14 through 83.
1949--Birthday of pianist Charles Mann, Atlanta, GA
1950---Top Hits
The Thing - Phil Harris
Tennessee Waltz - Patti Page
Nevertheless - Jack Denny
If You've Got the Money Honey I've Got the Time - Lefty Frizzell
1950-- "You Asked for It" premiered on television.
1951 - Singer Yvonne Elliman ("If I Can't Have You") is born in Honolulu.
1952 - Sonotone Corporation offered the first transistorized hearing aid for sale.
1953 - Jean Stapleton made her Broadway debut starring with Judith Anderson in the production, "In the Summer House", which opened in New York. The show closed after 55 performances.
1954 - Fort Scott, KS, was buried under 26 inches of snow in 24 hours to establish a state record. (28th-29th.)
1955-- Barbra Streisand's 1st recording, "You'll Never Know" at age 13.
1956 -- President Dwight Eisenhower asks Congress for the authority to oppose Soviet aggression in the Middle East.
1957 - Steve Lawrence and Eydie Gorme married. They became popular singers on Steve Allen's "The Tonight Show", and as Las Vegas showroom regulars and recording artists. Today they are still together, in one of the most enduring marriages in Hollywood.
1958---Top Hits
The Chipmunk Song - The Chipmunks
One Night - Elvis Presley
Lonesome Town - Ricky Nelson
City Lights - Ray Price
1958- "Young Dr. Malone" premiered on television.
1958-- Baltimore Colts beat New York Giants 23-17 in NFL championship game.
1963 - The disc jockeys at New York's 50,000-watt WABC, were upstaged by the 5,000-watt WMCA and its famed 'Good Guys' when the latter became the first New York radio station to play the Beatles' "I Want to Hold Your Hand". WABC got revenge by calling itself the 'official' Beatles station: W-A-Beatle-C.
1963 -- The Weavers, America's preeminent folk music group, give their farewell concert at Orchestra Hall in Chicago. They made a nationwide impact with their recordings in the late 40's & early 50's with songs like "Goodnight Irene" & "On Top of Old Smokey."
http://www.geocities.com/Nashville/3448/weavers.html
1965 -- A Christmas truce is observed in Vietnam, while President Johnson tries to get the North Vietnamese to the bargaining table.
1966---Top Hits
Winchester Cathedral - The New Vaudeville Band
I'm a Believer - The Monkees
That's Life - Frank Sinatra
There Goes My Everything - Jack Greene
1967-- Star Trek's "The Trouble with Tribbles" 1st airs.
1968-- New York Jets beat Oakland Raiders 27-23 in AFL championship game.
1972 - After 36 years in publication, the "LIFE" magazine's last weekly issue went to the newsstands. It is said the newsweekly "redefined photojournalism while showing America its own face." The magazine's first issue featured a newborn baby and a doctor, with the heading, "LIFE Begins." The magazine became an occasional publication, before enjoying a monthly distribution.
1973 - Time in a Bottle, recorded by the late Jim Croce, jumped into the Number 1 spot on Billboard's record charts on this date, and stayed there for 2 weeks. Croce had died in a plane crash three months earlier and was never to realize the success of his romantic recording.
1974 - No. 1 Billboard Pop Hit: "Lucy in the Sky with Diamonds," Elton John. The John Lennon-Paul McCartney song first appeared on the Beatles album "Sgt. Pepper's Lonely Hearts Club Band" in 1967.
1974---Top Hits
Angie Baby - Helen Reddy
Lucy in the Sky with Diamonds - Elton John
You're the First, the Last, My Everything - Barry White
What a Man, My Man Is - Lynn Anderson
1979 -- Houston safety Vernon Perry sets an NFL playoff record with four interceptions in the Oilers' 17-14 victory over San Diego.
1981-- President Ronald Reagan curtails Soviet trade in reprisal for its hash policies on Poland.
1982 - It was the last time, after 25 seasons, Paul 'Bear' Bryant led the Alabama Crimson Tide football team as they defeated Illinois, 21-15, at the Liberty Bowl in Memphis, Tennessee. Sixty-nine year old Coach Bryant retired as the NCAA's winningest coach. His overall record included 322 wins as coach at Maryland, Kentucky, Texas A&M and Alabama. Total, his teams won six national championships, and played in twenty-nine bowl games, of which they won fifteen of them. He was nicknamed Bear because he once wrestled a bear in a traveling show.
1982---Top Hits
Maneater - Daryl Hall & John Oates
The Girl is Mine - Michael Jackson/Paul McCartney
Dirty Laundry - Don Henley
Wild and Blue - John Anderson
1984- 100 cities in the eastern U.S. recorded record high temperatures. Southerly winds gusting to 50 mph helped Kansas City experience its warmest ever December day. The morning low of 60 gave way to a high of 71
1987 - A storm off the Middle Atlantic Coast produced heavy snow in the Appalachians and the northeastern U.S. Snow and high winds created blizzard conditions in southeastern Massachusetts. Cape Cod received thirteen inches of snow, and snow drifts three feet deep were reported around Chatham MA. Strong winds produced wind chill readings as cold as 60 degrees below zero in southwestern New England. In the western U.S., a Pacific coast storm produced heavy snow in the Sierra Nevada Range of California, with 24 inches reported at Mammoth Mountain.
1989 -Portland, ME recorded its 22nd consecutive day of below freezing temperatures, a new record.
Snow and ice prevailed from the southwestern U.S. to the Great Lakes Region. Flagstaff, AZ, received nine inches of snow in just six hours.
1990---Top Hits
Because I Love You (The Postman Song) - Stevie B
Justify My Love - Madonna
Impulsive - Wilson Phillips
I've Come to Expect It from You - George Strait
1992 - Big snows were in progress across the Sierra Nevada mountain range in California. 30 inches of snow blanketed Dagget Pass in 24 hours. 28 inches of snow at the Sierra Ski Ranch brought the snow depth to 118 inches
1995 - The powerful film Dead Man Walking opened in United States theaters. The film earned a Best Actress Oscar and Screen Actors Guild award for Susan Sarandon, as well as Oscar nominations for Sean Penn, director Tim Robbins, and Bruce Springsteen, who wrote the title song.
2002--- Three blocks away from the blast, thousands of spectators at Paul Brown Stadium cheer as 1,275 pounds of explosives implodes Cinergy Field sending a huge dust cloud down the Ohio River. The structure, formerly known as Riverfront Stadium, was the site where Hank Aaron tied Ruth's career home run record on Opening day in 1974 and Pete Rose broke Ty Cobb's all-time hits record in 1985.
--------------------------------------------------------------

American Football Poem
"A champion is one who gets up when he can't."
Jack Dempsey
-------------------------------------------------------------------------------
"Take pride in how far you have come; have faith in how far you can go."
Unknown
-------------------------------------------------------------------------------
"Tough times don't last, tough people do."
Unknown
-------------------------------------------------------------------------------
If you think you are beaten, you are.
If you think you dare not, you don't.
If you think you'd like to win, but you think you can't,
it's almost certain you won't.
If you think you'll lose, you've lost.
For out in the world you'll find,
success begins with a fellow's will.
It's all in the state of mind.
If you think you're outclassed, you are
You've got to think high to rise.
You've got to be sure of yourself,
before you can ever win a prize.
Life's battles don't always go,
to the stronger or faster man.
But sooner or later the man who wins,
is the man who thinks he can.
Unknown
--------------------------------------------------------------

SuDoku
The object is to insert the numbers in the boxes to satisfy only one condition: each row, column and 3x3 box must contain the digits 1 through 9 exactly once. What could be simpler?
http://leasingnews.org/Soduku/soduko-main.htm

--------------------------------------------------