Collectors
Wrentham, Mass.
Growing Leasing Collection Division for 25+ year estab. business. Must have exceptional, creative negotiation skills, ability to thrive in high volume, fast paced environment. Click here for more info:

Monday, December 10, 2007
(See the names of those who have donated)
Please click here to go to Kit's On Line Salvation Army Kettle
Headlines---
Archives--December 11, 2000
UniCapital/BSB Leasing
Classified ads---Sales
NAELB Membership Milestone: 1,000
Verhelle new President ELFA/New Board
Adrian Miller/Financial & Training List
Scott Wheeler, CLP-The Perfect Holiday Gift
for Generation Y and Generation X
Top Stories --- December 3-7
Cartoon----Sydney Harris
Classified Ads---Help Wanted
Leasing 102 by Mr. Terry Winders, CLP
"Depreciation"
Tosh Named Div.Prez. Premier Lease & Loan
Feds Rate & Credit harder to obtain
GE loses bid container-leasing firm
FASB Rule Spawns a Second Bottom Line
News Briefs---
You May have Missed---
California Nuts Brief---
Sports Briefs---
"Gimme that Wine"
Calendar Events
Snapple Real Facts
Today's Top Event in History
This Day in American History
Football Poem
SuDoku
Daily Puzzle
GasBuddy
News on Line---Internet Newspapers
National
######## surrounding the article denotes it is a "press release"
-----------------------------------------------------------------

Archives--December 11, 2000
UniCapital/BSB Leasing
UniCapital Announces Bankruptcy Filing
MIAMI--(BUSINESS WIRE)--Dec. 11, 2000--UniCapital Corporation (OTCBB:UCPC) today announced it has filed petitions for reorganization under Chapter 11 of the United States Bankruptcy Code. Chapter 11 petitions were filed on behalf of UniCapital Corporation and substantially all of its subsidiaries, not including certain special purpose entities related to the company's conduit and securitization financings. The Chapter 11 cases were filed in the United States Bankruptcy Court for the Southern District of New York. The cases were assigned to the Honorable Judge Blackshear, Bankruptcy Judge.
Prior to the Chapter 11 filing, UniCapital sold its lease servicing operations to Portfolio Financial Servicing Company. Also prior to the Chapter 11 filing, UniCapital sold certain assets composing a portion of the businesses of five of its wholly owned operating subsidiaries. Terms of the transactions were not disclosed.
BSB Leasing
(One of the very few companies that honored all its commitments; all approvals, all deals in funding at UniCapital that they didn't fund, and took care of all their brokers--personal testimony. Kit Menkin, editor)
"To borrow a phrase from Carl Sandberg, "the reports of our demise have been greatly exaggerated". BSB Leasing is still alive and kicking. You couldn't get through to Bruce Zwillinger at our office because we are in the process of changing out our servers from "UniCapitals network" to our own network and in the short term lost our e-mail capacity. We'll be up shortly. The address and the phone numbers (800-945-3372) remain the same. I can't make an "official" announcement just yet but I can tell you that we, BSB Leasing, expect to be accepting new business in the next few days.
"Most of our staff is still in place and looking forward to continuing our strong relationships with our clients and colleges. We appreciate all the support you have shown during this difficult period."
Sincerely,
Don Myerson
President
BSB Leasing
--------------------------------------------------------------

Classified ads---Sales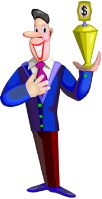 Atlanta, GA
If you can use a polished, seasoned, driven leasing professional with 14 years of extremely productive experience, please call me.
Resume Attached .
Saul Sloman
Cherry Hill, NJ
College grad seeking entry level sales position for equipment leasing and financing in small to mid-size ticket markets. Have 6 months experience in the industry and self-motivated. Contact Matt at 609-280-2178 or
email at mkuzan@gmail.com
Copenhagen, Denmark
10 years of experience as VP Europe, Middle East and Africa for a US based Equipment Leasing Company. $500,000 plus w/ excellent connections European shipping lines/ maritime financing.
Click here.
Dallas-Fort Worth Texas
Highly experienced, vendor driven professional sales/manager. Solid, "up and running" book of business. Can produce from day one.Looking for aggressive company to join with.
Email: bankingdallas@yahoo.com
Fresno, CA
Aggressive, competitive self-starter w/successful vendor/direct equipment
leasing and asset-based lending experience seeks return to leasing industry
after successful stint in business banking sales.
Email: dsp559@hotmail.com
Resume

Knoxville, TN
12+ years experience in equipment finance (Vendor/Direct/Broker). IT and Construction Equipment. Book of business. Looking for a Career Opportunity preferably in Construction.
Email: Jproulx@smokymountainfinance.com
Montgomery, AL
Individual with 10 years advertising sales exp. & 7 years insurance sales exp.
Wants independent contractor situation in Alabama.
Work with leasing company or broker.334-590-5133
E-mail: billmcneal2003@yahoo.com
Oklahoma
Over 30 years of financing experience, resume posted at www.geocities.com/bobbybenmoore, phone 580-351-2531
San Diego , CA
Tenacious, competitive self-starter w/successful vendor/direct equipment leasing and asset-based lending experience seeks return to leasing industry after successful stint in secondary mortgage markets sales.
E-mail: pajohnson1@cox.net
Stuart, FL area
Years of experience in leasing sales, credit, operations, documentation and syndication. Seeking position with direct middle market lender, equip. mfr or major equip. distributor. email: southernleasing@bellsouth.net
Classified ads from those seeking employment are "free." Please go to:
http://www.leasingnews.org/Classified/Jwanted/Jwanted-post.htm
For a full listing of all "job wanted" ads, please go to:
http://www.leasingnews.org/Classified/Jwanted/Jwanted.htm
--------------------------------------------------------------

Congratulations!!! NAELB Membership Milestone: 1,000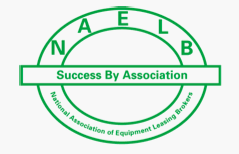 The first national equipment leasing association to reach 1,000 members is the National Association of Equipment Leasing Brokers (NAELB), pronounced "NAH-ELB" by many members and also spelled out.
"The National Association of Equipment Leasing Brokers (NAELB) is pleased to welcome the 1,000th member to the association:
CanAm Financial
231 Maypple Lane
Elizabethtown, KY 42701
Email: peter@canamfinancial.com
Web Address http://www.canamfinancial.com
Business Phone (270) 268-8173
Business Fax (270) 737-3499

"CanAm Financial Services, Inc. located in Elizabethtown, Kentucky, won the honorable distinction of becoming the 1,000th member of the NAELB. " Monica Harper Executive Administrator for NAELB announced in a press release. They win a free membership of $295 by becoming the 1,000th member.
"The company who referred them to the association was Global Financial Services located in New York, New York, " she further announced. Mr. Phil Dushey is president, also one of the founding members of the Leasing News Advisory Board.
"Philip Dushey, president, Global Financial Services and Peter Jones, president, CanAm Financial Services, Inc. are two of many helping to make the NAELB the largest leasing association in the United States!," Ms. Harper said.
Fred St Laurent,CEO and President,SFBI Professional Recruiting, also a member of the Leasing News Advisory Board, has been serving as the Chairman of the Membership Committee for the NAELB during the recent historic rise in membership.
Each year, Leasing News announces the membership of each leasing association: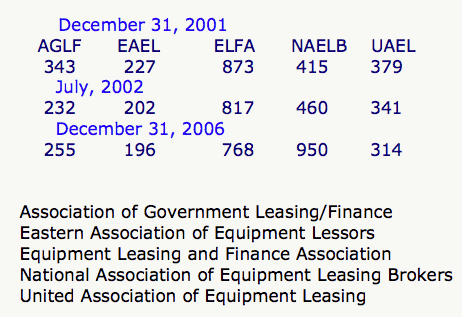 It is no secret that only broker members may vote and the association is fully geared to the individual broker no matter how long they have been in business or the size of their company. Funders are allowed to join, but have not vote in the organization.
NAELB is also unique having an "independent service" as their administrative arm. It has enabled them to have a large liquid net asset.
Their liquid financial statement has enabled them to offer their members many benefits, many programs, a lot of training and other features not available to new brokers at any other association.
It should also be noted the first female president of an equipment leasing association was elected by NAELB:

June Sciotto, Regal Finance, Charlotte, North Carolina, 1994-1996,
First female president of a Leasing Association:
To learn more about membership advantages at NAELB,
please go here:
http://www.naelb.org/displaycommon.cfm?an=4
All non-profit leasing associations

Leasing association first female presidents:
http://www.leasingnews.org/archives/April%202007/04-06-07.htm#fla
--------------------------------------------------------------

Verhelle new President ELFA/New Board of Directors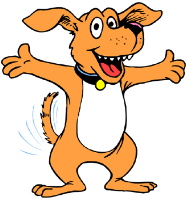 William H. Verhelle, CEO and founder of First American Equipment Finance was elected Chairman of the Board of the Equipment Leasing and Finance Association, who's membership represents major banks, leasing companies, finance companies, manufacturers who finance their products, as well as major attorney firms, CPA firms, major software and service companies with a full-time professional
staff exceeding 25. The association also serves as legislative advocates in Washington, DC, as well as many states and other government entities.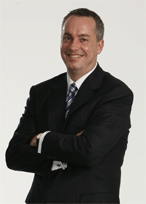 William H. Verhelle
Before co-founding First American, Mr. Verhelle was Vice President and Western Division Manager of the Tokai Financial Services middle-market leasing company (now, De Lage Landen Financial Services). Bill holds a Bachelor of General Studies Degree (BA) from the University of Michigan at Ann Arbor, a Master of Business Administration (MBA) from the Anderson School at UCLA and a Doctor of Laws (JD) from Cornell Law School. He is a member of the New York Bar Association. Bill currently serves as Vice Chairman of the Equipment Leasing and Finance Association (ELFA), and as Chairman of the ELFA's Government Affairs Committee in Washington, D.C. Bill resides in upstate New York with his wife Cyndee and their four sons.

James J. Ambrose, President, Equipment Finance, General Manager, GE Healthcare Financial Services, was elected vice chair. He leads GE Healthcare Financial Services' equipment finance and leasing activities, including our strategic alliance with GE Healthcare. Jim has held a variety of leadership positions within GE in marketing, product management and sales. Jim holds a Bachelor's degree from Boston College and a MBA in Finance from New York University.
The new Board members and officers will serve until ELFA's Annual Convention in October 2008. The slate of officers and board members was recommended by ELFA's nominating committee and approved by a vote of the general membership.
"We have seen many changes in the equipment finance industry over the years, and the association has followed suit," said Mr. Verhelle. "The last three years have been a period of transition for ELFA with a new association president, Ken Bentsen, and we are working with the new leadership and staff to ensure we are being responsive to the changing needs of our members."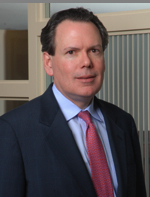 Hon. Kenneth E. Bentsen, Jr.
"We are delighted that Bill will lead the association over the next year, which could be a pivotal year for the equipment finance community," said ELFA president, the Honorable Kenneth E. Bentsen, Jr. "As the equipment finance sector continues to grow and evolve, with a combination of new financial products and new market participants, we are fortunate to have strong leadership at the helm. The make up of the board and officer slate is representative for the posture of the business today."
The new members of the ELFA Board of Directors include:
• Kent M. Adams, President, Caterpillar Financial Services Corporation
• Christa Hemans, President, Court Square Leasing Corporation
• James McGrane, President & CEO, US Express Leasing, Inc.
• Philip R. Rosenblatt, Partner, Nutter, McClennen & Fish, LLP
• Richard Remiker, Managing Director, Group Head, Merrill Lynch Capital – Equipment Finance
• Robert J. Rinaldi, Senior Vice President, National City Commercial Capital Company, LLC
• Frederick S. Summers, Chairman & CEO, Vision Financial Group, Inc.
• Adam D. Warner, President, Key Equipment Finance
Kenneth E Bentsen, Jr. continues to serve as President. Kenneth E. Collins, Jr., John M. McQueen and John M. Butler are the ELFA Vice Chairs. Edward A. Groobert, Esq., Partner, Dykema Gossett, continues to serve as secretary and David A. Merrill, President, Fifth Third Leasing Company will serve as treasurer.
Valerie H. Jester, President of Brandywine Capital Associates, Inc. is immediate past chair.
In addition to Mr. Verhelle, Ms. Jester and Mr. Merrill, the following are also members of the ELFA Board of Directors:
• Laurie A. Bakke, Vice President, Huntington Bank Equipment Finance
• George K. Booth, Managing Director, Black Rock Capital LLC
• Aylin N. Cankardes, President, Rockwell Financial Group
• Edward Castagna, President, Nassau Asset Management
• Glenn P. Davis, Vice President, NorLease, Inc.
• Crit DeMent, Chairman, CEO, LEAF Financial Corporation
• Curt F. Glenn, Senior Vice President – Portfolio Management, GATX Corporation
• Eric Hanson, Managing Director, LAZARD
• Thomas M. Jaschik, Group SVP, LaSalle National Leasing Corporation
• Cameron W. Krueger, Vice President – Banking and Asset Finance, Capgemini Financial Services LLC
• Joel C. Rutledge, President, BB&T Equipment Finance
42 Pages ELFA 2007 Annual Report:
http://www.elfaonline.org/pub/about/PDFs/07ELFAAnnualRpt.pdf
--------------------------------------------------------------

Adrian Miller joins Financial and Training List
Financial and Sales Training
Second Column: YCS - Year Company Started | YELB - Years in equipment Leasing Business
Name
City, State
Contact
Website
Leasing Association

YCS
YELB


(see above for meaning)

Geographic Area

Speciality

Highly results-driven, informative and enjoyable sales skills training programs that will leave participants empowered for bottom-line success. AMST guarantees a positive return on training time and investment.
--------------------------------------------------------------

Scott Wheeler, CLP--The Perfect Holiday Gift
for Generation Y and Generation X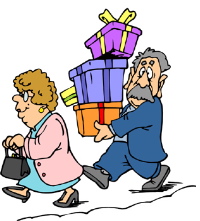 by Scott Wheeler, CLP
Everyone is always looking for the gift that keeps on giving for years to come. If you have a nephew or niece who is in their 20's or 30's, what gift could you give them which could change their lives? A gift that will transform their lives and allow them to be more like you- a gift which has real meaning and will let them emerge from the clouds and become a force to be reckoned with.
Your wisdom is priceless. The market is crying out for you to find your future successor in the leasing industry. As with most industries, there is a concern with who will replace the aging baby boomers. Our industry is certainly no exception and the future void; which we have been talking about for the past decade, is quickly approaching - it is knocking on our doors. The good news is the void is an excellent opportunity for young aggressive individuals to get into the leasing industry today and to have the opportunity to grow into an industry which is going to be in desperate need of talent over the coming ten years.
It is often said that our industry is made up of mostly graying and balding men- I would add that these men are quickly retiring and fading away.
As an industry we have done little in the past ten to twenty years to attract, train or retain younger replacements. In the late 1970's and early 1980's there were large leasing companies who developed successful training programs and recruited us baby boomers into the industry. These large companies populated the entire industry with knowledgeable individuals who went on to become successful. Today as a mature industry these large training programs are few and far between – and the void continues to grow.
Every void is the creation of an opportunity. I would argue there are hundreds if not thousands of bright young individuals who would love the opportunities which we enjoyed over the past thirty years and frankly the upcoming opportunities may be greater than we could ever imagine. Our industry has a lot to offer:
It continues to grow

It is driven by the entrepreneurial spirit

It provides an above average income for those who are willing to put forth an honest day's work.

It is dynamic and ever changing

It offers daily challenges and hourly rewards

And who is kidding who-It doesn't take a brain surgeon to be successful
I have had the pleasure to work with some of these younger individuals over the past several years and there is no doubt they are different than our generation. Some say they have no patience, they have been spoiled (by their parents – you and I), and they aren't motivated. I would argue these points are often misconceptions.
The younger generation is quite bright, very computer and technologically literate, they are looking to be rewarded for their efforts immediately, however they are quite entrepreneurial. We just need to provide them with a detailed road map of the opportunities which exist in leasing and hold their hands during the training process; however, I believe there is a great future for your nephews and nieces in the leasing industry.
Don't forget to package your advice into a well wrapped box with plenty of ribbons and bows. This generation pays attention to the details and is wowed by the presentation as much as the contents.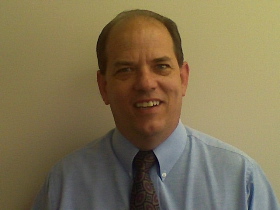 Scott Wheeler, CLP
Active in leasing industry since 1982. 1989- Present, The Equipment Leasing Company – Baltimore Maryland. Currently: President of the Equipment Leasing Company; board member of the Eastern Association of Equipment Lessors, Certified Leasing Professional since 2000.
SWheeler@SandySpringBank.com
--------------------------------------------------------------

Top Stories --- December 3-7
Here are the top ten stories most "opened" by readers last week:
(1) Creative Capital Leasing Group messy BK
http://www.leasingnews.org/archives/December%202007/12-05-07.htm#ccl
(2) Operation Lease Fleece up-date
http://www.leasingnews.org/archives/December%202007/12-07-07.htm#olf
(3) More changes at CIT –More to follow?
http://www.leasingnews.org/archives/December%202007/12-07-07.htm#cit
(4) One World Leasing up-date
http://www.leasingnews.org/archives/December%202007/12-05-07.htm#owl
(5) Leasing 102 by Mr. Terry Winders, CLP
Questions for Potential Lessee--Part II
http://www.leasingnews.org/archives/December%202007/12-03-07.htm#102
(6) Mortgage write-offs not as bad as presented
http://www.leasingnews.org/archives/December%202007/12-03-07.htm#mort
(7) (tie)
Aggregate Funding Sources---up-dated
http://www.leasingnews.org/archives/December%202007/12-03-07.htm#afs
(7) (tie)
OFC Capital adds Intermediary Finance
http://www.leasingnews.org/archives/December%202007/12-03-07.htm#ofc
(8) SBA- Role in Massive Loan Fraud
http://www.allbusiness.com/law-legal-system/legal-services-lawyers/4974129-1.
html?busintel=12_06_07
(9) Marlin at $13.20
http://www.leasingnews.org/archives/December%202007/12-07-07.htm#marlin
(10) Sales makes it Happen—by Adrian Miller
"Do You Hear What I Hear?"
http://www.leasingnews.org/archives/December%202007/12-05-07.htm#sales
--------------------------------------------------------------

--------------------------------------------------------------

Leasing Industry Help Wanted
Collectors
Collectors
Wrentham, Mass.
Growing Leasing Collection Division for 25+ year estab. business. Must have exceptional, creative negotiation skills, ability to thrive in high volume, fast paced environment. Click here for more info:

Lease Officer
--------------------------------------------------------------

Leasing 102
by Mr. Terry Winders, CLP
"Depreciation"
A lessee must classify a lease for GAAP accounting based on four qualifications that approach the true meaning of "economics". This means that the four qualifications ignore legal implications or federal income tax requirements. On many occasions a capital lease looks like a loan to an accountant but its structure makes it a true lease for federal income tax purposes. Also the word "depreciation" gets confusing because we use it in both accounting and income tax but very differently.
For accounting; depreciation amortizes the equipment cost, minus a salvage value, over the useful life of the equipment to the firm, on a straight line basis. For Federal income tax; depreciation is called "capital recovery" where our tax laws allow us to take an accelerated expense called the "modified accelerated cost recovery system" (MACRS) over a defined term. The MACRS is actually a method to allow business to recover capital investment by allowing business to have tax free income equal the percentage of equipment cost allowed year under the MACRS system. So depreciation is the amortizing of an expense for accounting and capital recovery for tax.
When a lessee says they want to depreciate the equipment they are usually talking about the need to take MACRS depreciation for federal income tax. However, you should ask just to be sure. Depreciation for GAAP accounting is taking in two forms and three different ways. The two forms are straight line depreciation of the net present value of the total lease rental stream for capital lease accounting and expensing the lease payments as paid for operating lease accounting providing the rentals follow the use otherwise it will be expensed on a straight line basis.
Lessee depreciation for capital lease accounting depends on if an automatic title transfer or a bargain purchase option exists at termination. If so then the term of straight line depreciation must be the actual useful life of the equipment to the firm regardless of the lease term. If the purchase option is not a bargain but the lease fails the 90% test then the term of depreciation is limited to the term of the lease.
I know accounting appears complex and boring to some lease sales personnel but it is important to understand the impact of loans and leases on the financials of our customers to properly provide lease structures that enhance our product and not detract from it.
Mr. Terry Winders, CLP, has been a teacher, consultant, expert witness for the leasing industry for thirty years and can be reached at leaseconsulting@msn.com or 502-327-8666.
He invites your questions and queries.
Previous #102 Columns:
http://www.leasingnews.org/Conscious-Top%20Stories/Leasing_102/Index.htm
---------------------------------------------------------------
### Press Release ###########################

Stephen J. Tosh Named Divisional President of Premier Lease & Loan Services
Division of Great American Insurance Group

Cincinnati, Ohio- Great American Insurance Group has announced that Stephen J. Tosh has been promoted to Divisional President of its Premier Lease & Loan Services division.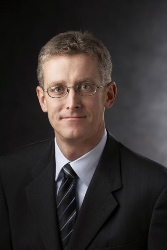 Stephen J. Tosh
Mr. Tosh has been with Great American since 1991. Prior to this promotion, he served as Divisional Senior Vice President with responsibility for Premier Lease & Loan Services' automotive and international operations.
Mr. Tosh has a Bachelor of Science degree from Miami University in Oxford, Ohio and a Masters of Business Administration from Indiana University in Bloomington, Indiana.
About Premier Lease & Loan Services
A member of Great American Insurance Group, Premier Lease & Loan Services specializes in providing lease- and loan-related insurance products for financial institutions, focusing on commercial equipment lessors and vehicle lenders and lessors. Premier's creative and flexible programs provide risk management, fee income and product enhancement benefits. Headquartered in Cincinnati, Ohio, Premier has offices in Seattle, San Diego, the United Kingdom and Ireland. Additionally, Premier has sales offices spanning the globe.
About Great American Insurance Group
Great American Insurance Group's roots go back to 1872 with the founding of its flagship company, Great American Insurance Company. Based in Cincinnati, Ohio, the operations of Great American Insurance Group are engaged primarily in property and casualty insurance, focusing on specialty commercial products for businesses, and in the sale of annuities, life and supplemental health insurance products. The members of Great American Insurance Group are subsidiaries of American Financial Group, Inc. (AFG) also based in Cincinnati, Ohio. AFG's common stock is listed and traded on the New York Stock Exchange ("NYSE") and NASDAQ under the symbol ("AFG").
### Press Release ###########################
--------------------------------------------------------------

News Briefs----
Feds Rate & Credit has become harder to obtain
http://www.chicagotribune.com/business/sns-ap-fed-interest-rates,0,2440117.story
GE loses bid to control container-leasing firm
http://www.stamfordadvocate.com/business/scn-sa-nor.ge2dec08,0,
3297488.story?track=rss
FASB Rule Spawns a Second Bottom Line
http://www.cfo.com/article.cfm/10274330/c_10274673?f=home_todayinfinance&x=1
Weeks Winners and Losers
http://www.nypost.com/seven/12092007/business/this_weeks_winners_and_l
osers_820398.htm
Web Retailers Get into Employee Gifts
http://www.nytimes.com/2007/12/10/technology/10ecom.html?_r=1&ref=
business&oref=slogin
---------------------------------------------------------------


You May have Missed---
Slowing U.S. economy inflicts pain around the world
http://www.usatoday.com/money/economy/2007-12-09-global-economy_N.htm
---------------------------------------------------------------

Sports Briefs----
McDonald: Can't get more lopsided than this Raiders'
http://www.contracostatimes.com/ci_7677975?nclick_check=1
Dallas Movers and Shakers
http://cowboysblog.dallasnews.com/
Titanic victory in Tennessee
http://www.signonsandiego.com/sports/chargers/20071209-1406-fbn-chargers-titans.html
49ers flattened by Vikings
http://www.sfgate.com/cgi-bin/article.cgi?f=/c/a/2007/12/09/SPA9TR97O.DTL
Cincinnati plays keep-away, leaves Rams frustrated
http://www.stltoday.com/stltoday/sports/stories.nsf/rams/story/
5374C8161807A868862573AD00140ACD?OpenDocument
Hawks clinch division with victory
http://seattletimes.nwsource.com/html/seahawks/2004062303_webhawks09.html
Patriots reject Steelers' guarantee en route to 13-0
http://www.usatoday.com/sports/football/nfl/2007-12-09-steelers-patriots_N.
htm?loc=interstitialskip
Giants 16, Eagles 13
Another Ugly Win, but Looks Don't Matter
http://www.nytimes.com/2007/12/10/sports/football/10giants.html?ref=sports
----------------------------------------------------------------


California Nuts Briefs---
As if wildfires, freezing weather, fruit flies, rising gas prices and global competition aren't enough, in January citrus farmers must cut water usage 30 percent, leaving them feeling . . .
http://www.signonsandiego.com/news/business/20071209-9999-1n9citrus.html
----------------------------------------------------------------


"Gimme that Wine"
Drink and Be Merry: Wine Prices to Rise—Eric Asimov
http://www.nytimes.com/2007/12/05/dining/05pour.html?ref=dining
2007 Winemaker of the Year: Josh Jensen of Calera Wine Company
http://www.sfgate.com/cgi-bin/article.cgi?f=/c/a/2007/12/07/WIDATNG8P.DTL
Online Wine Sales Flourish during Holidays
http://winebusiness.com/news/DailyNewsArticle.cfm?dataid=51713
Wine Prices by vintage
http://www.winezap.com
http://www.wine-searcher.com/
US/International Wine Events
http://www.localwineevents.com/
Winery Atlas
http://www.carterhouse.com/atlas
Leasing News Wine & Spirits Page
http://two.leasingnews.org/Recommendations/wnensprts.htm
The London International Vintners Exchange (Liv-ex) is an electronic exchange for fine wine.
http://www.liv-ex.com/
----------------------------------------------------------------

Calendar Events This Day
Human Rights Day
Presidential Proclamation, 1949.
Mississippi Admission Day
Became 20th state in 1817.
http://homeschooling.about.com/cs/unitssubjgeog/a/susms.htm
Thailand: Constitution Day. National holiday
Commemorates the constitution of 1932, the nation's first.
https://www.cia.gov/library/publications/the-world-factbook/geos/th.html
United Nations Human Right Day, 1948
The Declaration sets forth basic rights and fundamental freedoms to
http://holidayinsights.com/moreholidays/December/humanrightsday.htm
Saint feast Days
http://www.catholic.org/saints/f_day/dec.php
----------------------------------------------------------------

If Brooklyn, New York became independent of New York City, it would be the third largest city in the United States, after the remainder of New York and Los Angeles.
----------------------------------------------------------------

Today's Top Event in History
1953 - With an investment of $7,600, Hugh Hefner, a college student, published the first "Playboy" magazine. There is no date printed on the first issue -- now a collector's item. The reason, according to Hef, is that he doubted anyone would expect a second issue to be printed. Included in this first issue: A classic, nude, calendar photo of actress Marilyn Monroe. My next door neighbor was at the college and Hefner persuaded him to become the bookkeeper, later developing subscription lists that they sold to keep going until advertising kicked in as well as other promotions, such as being a Playboy, belonging to the key club, and eventually Playboy Clubs themselves.
[headlines]
----------------------------------------------------------------

This Day in American History
1672- the first postal route between cities was the route between New York City and Boston, MA. Governor Francisco Lovelace of New York announced that monthly service would be inaugurated on January 1, 1673. The first post rider left New York City on January 22,1673, and arrived in Boston three weeks later.
1776- the Continental Congress authorized a loan of $181,5000 from France, to be used for the purchasing of supplies and construction of cruisers. The length of the loan was indefinite. Bonds were sold at par. The rate of interest was 5 percent, payable annually. The loan was received on June 4, 1777. The final redemption was made on December 31, 1793, when the balance due was merged into the general account of the French debt. Alexander Hamilton was between September 13,1789 and February 17, 1790 obtained loans from the Bank of New York and Bank of North America. The interest rate was six percent.
1787- birthday of Thomas Alluded, a hearing educator who, with Laurent Clerc, founded the first public school for deaf people, Connecticut Asylum for the Education and Instruction of Deaf and Dumb Persons (now the American School for the Deaf), at Hartford, CT, Apr 15, 1817. Gallaudet was born at Philadelphia, PA, and died Sept 9,1851, at Hartford, CT.
1819- African American Tom Molineux had a wide following by the time he left for England in 1810 to fight the English champion Tom Cribb on this day. Molineux, grew up in slavery, history records on a plantation in Virginia, and was said to have won his freedom by winning boxing bouts arranged by slave owners. He was very popular and the favored to win in the English champion fight this date. Although he knocked Cribb out in the 23rd round, he was falsely accused of using lead weights in his gloves, and the fight continued, ending in a victory for Cribb in the 40th round.
1817- Mississippi became the 20th state.
1830- birthday of one of America's greatest poets, Emily Dickinson, born at Amherst, MA She was reclusive. mysterious, and frail in health. Seven of her poems were published during her life, but after her death her sister Lavinia, discovered almost 2,000 more poems written on the backs of envelopes and other scraps of pa locked in her bureau. They were published gradually, over 50 years, beginning in 1890. She died May 1 1886, at Amherst, MA. The little-known Emily Dickinson who was born, lived and died at Amherst now is recognized as one of the most original poets of the English-speaking world.
1845-- President James Polk makes a bold move to radically expand the burgeoning United States. Polk gave Congressman John Slidell the go-ahead to settle a border dispute concerning Texas, as well as to purchase New Mexico and California, from Mexico. As per Polk's demand, Slidell anted up $5 million for New Mexico and $25 million for California; however, Mexico refused the offer, emboldening the president to marshal a war effort in the name of "reannexing" the territory. We then annexed California and other land from Mexico with troops in Los Angeles and San Francisco.
1850- Birthday of Jennie Augusta Brownscombe,- U.S. painter, specialist in scenes of early U.S. history. She was sought out by magazine and calendar publishers because of her meticulous perspective and realism. Huge numbers of reproductions of her paintings were also sold. Most buyers never knew her name. In all, she copyrighted more than 100 paintings. She lived simply with one companion/servant and died at 85. http://www.artoftheprint.com/artistpages/brownscombe_jeannie_augusta
_youngwomanhood.htm
http://www.artnet.com/ag/artistdetails.asp?aid=3197
http://www.malaspina.com/site/person_256.asp
http://www.artcyclopedia.com/artists/brownscombe_jennie_augusta.html
1851- birthday of American librarian and inventor of the Dewey decimal book classification system was born at Adams Center, NY. Born Melville Louis Kossuth Dewey, he was an advocate of spelling reform, urged use of the metric system and was interested in many other education reforms. Dewey died at Highlands County, FL, Dec 26,19Th
1864-Union General William T. Sherman completes his "March to the Sea" when he arrives in front of Savannah, Georgia. Since mid-November, Sherman's army had been sweeping from Atlanta across the state to the south and east towards Savannah, one of the last Confederate seaports still unoccupied by Union forces. Along the way, Sherman destroyed farms and railroads, burned storehouses, and fed his army off the land. In his own words, Sherman intended to "make Georgia howl," a plan that was approved by President Lincoln and Ulysses S. Grant, general-in-chief of the Union armies. The city of Savannah was fortified and defended by 10,000 Confederates under the command of General William Hardee. The Rebels flooded the rice fields around Savannah, so only a few narrow causeways provided access to the city. Sherman's army was running low on supplies and he had not made contact with supply ships off the coast. Sherman's army had been completely cut off from the North, and only the reports of destruction provided any evidence of its whereabouts. Sherman directed General Oliver O. Howard to the coast to locate friendly ships. Howard dispatched Captain William Duncan and two comrades to contact the Union fleet, but nothing was heard of the trio for several days. Duncan located a Union gunboat that carried him to Hilton Head Island, South Carolina. Supply ships were sent to Savannah, and Duncan continued on to Washington to deliver news of the successful "March to the Sea" to Secretary of War Edwin Stanton. For ten day, Hardee held out as Sherman prepared for an attack. Realizing the futility of losing in force entirely, Hardee fled the city on December 20 and slipped northward to fight another day.
1869---Women in Wyoming received the right to vote. Originally expressed as a means of attracting women to this state where men overwhelming outnumbered the opposite sex, equality was a theme to be repeated over and over again as Wyoming became the first to grant women many equal rights.
( lower half of http://memory.loc.gov/ammem/today/dec10.html )
1873- Birthday of Janet Scudder , an American sculptor, born in Terre Haute, Ind., studied with Frederick MacMonnies in Paris. She is known for her medallions and relief portraits and especially for her fountains, usually with childish figures conceived in a playful manner. Notable examples of her art are the "Frog Fountain" in the Metropolitan Museum, New York; the "Fighting Boy Fountain" in the Chicago Art Institute; and "The Sun Goddess" on the facade of the Brooklyn Institute Museum. Miss Scudder received medals at Chicago in 1893, St. Louis in 1904, and San Francisco in 1915.
http://www.artcyclopedia.com/artists/scudder_janet.html
http://askart.com/artist/S/janet_scudder.asp?ID=18320
1898- the "Treaty of Paris" was signed, which officially ended the Spanish-American War. American and Spanish ambassadors met at Paris, France, to negotiate a treaty. Under the terms of this treaty, Spain granted the US the Philippine Islands and the islands of Guam and Puerto Rico, and agreed to withdraw from Cuba Senatorial debate over the treaty centered on the US's move toward imperialism by acquiring the Philippines~ A vote was taken Feb 6,1899, and the treaty passed by a one-vote margin~ President William Mckinley signed the treaty Feb 10, 1899.
1904- the New York Police Department, New York City, appointed the first two motorcycle police officers, assigned to the police headquarters in the Bronx
and Manhattan. Respectively there were Anthony L. Howe and Eugene Case.
1905-- "The Gift of the Magi," a short story by William Sydney Porter, 43, was first published. Known by his pen name, O. Henry, Porter's writings were characterized by trick endings, making him a master of short story telling.
http://www.auburn.edu/~vestmon/Gift_of_the_Magi.html
1906 -First American awarded Nobel Peace Prize - President Theodore Roosevelt
1913--Birthday of American composer Morton Gould,Richmond Hill, NY.Prolific American composer, conductor arranger. Lived in Great Neck, L.I., N.Y. Worked in all mediums; composing, conducting arranging music. Had his own symphony orchestra at one time and was guest conductor of various orchestras, including Chicago Symphony with which he made a number of recordings for RCA.
1914-Birthday of Dorothy Lamour (Mary Leta Dorothy Slaton ) born New Orleans,LA.- U.S. singer-actor and wearer of a sarong in many of her movies. Sheis most renowned for her "road" films with Bob Hope and Bing Crosby and Hurricane (1937). One of the big questions was what held up the sarongs - she said muscle control had a lot to do with it. During the Second World War she auctioned two of her sarongs as part of fund-raising efforts that collected more than $2 million for the war effort. She was a native of New Orleans and never saw the South Pacific until she was 70 when she said it looked as pretty as the back lot of Paramount. Died Los Angeles, Ca. 22 September 1996
http://www.geocities.com/Hollywood/Hills/2440/lamour.html
http://us.imdb.com/name/nm0483787
1931- the first Nobel Peace Prize awarded to an American woman was awarded to Jane Addams, the pioneering social worker who founded Hull House, In Chicago, ILL, to serve the city's poor residents. She received the award jointly with Dr. Nicholas Murray Butler, president of Columbia University, for her leading role in the women's peace movement. She chaired the Woman's Peace Party in 1915, presided over the Women's International League for Peace and Freedom from 1919 to 1929 and helped to found the American Civil Liberties Union in 1920.
1932-Birthday of bass player Bob Cranshaw, Evanston, Il
http://shopping.yahoo.com/shop?d=product&id=1927028789&clink=dmmu.artist&a=b
1938-Filming finally begins on Gone with the Wind after years of delay. Producer David O. Selznick had not yet cast an actress to play the leading role of Scarlett O'Hara, so the first day's shooting was of the burning of Atlanta, which didn't require close footage of Scarlett.
1938- Pearl S.Buck becomes the first woman to win the Nobel Prize for Literature.
http://www.nobel.se/literature/laureates/1938/buck-bio.html
1941 -Jimmy Dorsey Bank records "Tangerine." Decca 4123
1941-With no weapon larger than the .30 caliber MG, 153 Marines defended Guam until overwhelmed.4,000 Japanese troops land on the Philippine Islands, while Japanese aircraft sink the British warships Prince of Wales and Repulse. Guam, an American-controlled territory, was also seized. British Prime Minister Winston Churchill finally exclaims, "We have lost control of the sea." The attack on Pearl Harbor was only one step in a larger plan to dominate the Pacific, which entailed knocking out first American, then British, naval opposition. Japanese bombing raids on Guam, Midway Island, and Wake Island followed the attack on the American fleet anchored at Pearl Harbor. American airfields there were destroyed, as were Clark and Iba airfields in the Philippines, wiping out more than half of the United States' aircraft dedicated to the Far East. These bombing raids were followed up, on December 10, by 2,000 Japanese troops that landed on the Philippine island of Luzon in the north, and another 2,000 that landed at Vigan on the western coast. And in Guam, 700 Japanese Special Naval Landing Forces invaded and occupied the American-controlled military outpost of Guam after only a 25-minute military engagement, resulting in the capture of 500 Americans soldiers. The United States was not alone in its struggle for the Pacific. Great Britain had also declared war on the Empire of Japan on December 8. The next day, Japan occupied the capital of Thailand and then landed in the Malay Peninsula, which could not be repulsed by the outmatched Australian and Indian troops. Britain responded by dispatching Force Z, their Royal Navy unit dedicated to supporting Singapore, when Japanese bombers spotted Z's battleship, the Prince of Wales, and its sister ship, the Repulse, sailing for Kuantan on the eastern coast of the Malay Peninsula, on the erroneous belief that the Japanese had just put troops ashore there. The bombers rained down torpedo bombs on the British warships, sinking them and killing 840 men. "In all the war, I have never received a more direct shock," Churchill lamented. And the Japanese were far from finished: The humiliation of the United States in the Philippines and a more extensive occupation of Indochina and the South Pacific were still to come.
1941 - PBY piloted by LT Utter of VP-101 shoots down Japanese ZERO in first Navy air-to-air kill during World War II.
1941 - The long-running debate on draft regulations ends with Roosevelt signing into law a revised bill which puts those who have been fathers since before Pearl Harbor at the bottom of the list.
1946 - The temperature at New York City soared to 70 degrees.
1948 -- United Nations passes Universal Declaration of Human Rights.
http://www.un.org/Overview/rights.html
1950- Dr. Ralph Johnson Bunche became the first African-American awarded the Nobel Peace Prize. Bunche was awarded the prize for his efforts in mediation between Israel and neighboring Arab states in 1949.
1950--*PAGE, JOHN U. D. Medal of Honor
Rank and organization: Lieutenant Colonel, U.S. Army, X Corps Artillery, while attached to the 52d Transportation Truck Battalion. Place and date: Near Chosin Reservoir, Korea, 29 November to 10 December 1950. Entered service at: St. Paul, Minn. Born: 8 February 1904, Malahi Island, Luzon, Philippine Islands. G.O. No.: 21, 25 April 1957. Citation: Lt. Col. Page, a member of X Corps Artillery, distinguished himself by conspicuous gallantry and intrepidity in action above and beyond the call of duty in a series of exploits. On 29 November, Lt. Col. Page left X Corps Headquarters at Hamhung with the mission of establishing traffic control on the main supply route to 1st Marine Division positions and those of some Army elements on the Chosin Reservoir plateau. Having completed his mission Lt. Col. Page was free to return to the safety of Hamhung but chose to remain on the plateau to aid an isolated signal station, thus being cut off with elements of the marine division. After rescuing his jeep driver by breaking up an ambush near a destroyed bridge Lt. Col. Page reached the lines of a surrounded marine garrison at Koto-ri. He then voluntarily developed and trained a reserve force of assorted army troops trapped with the marines. By exemplary leadership and tireless devotion he made an effective tactical unit available. In order that casualties might be evacuated, an airstrip was improvised on frozen ground partly outside of the Koto-ri defense perimeter which was continually under enemy attack. During 2 such attacks, Lt. Col. Page exposed himself on the airstrip to direct fire on the enemy, and twice mounted the rear deck of a tank, manning the machine gun on the turret to drive the enemy back into a no man's land. On 3 December while being flown low over enemy lines in a light observation plane, Lt. Col. Page dropped handgrenades on Chinese positions and sprayed foxholes with automatic fire from his carbine. After 10 days of constant fighting the marine and army units in the vicinity of the Chosin Reservoir had succeeded in gathering at the edge of the plateau and Lt. Col. Page was flown to Hamhung to arrange for artillery support of the beleaguered troops attempting to break out. Again Lt. Col. Page refused an opportunity to remain in safety and returned to give every assistance to his comrades. As the column slowly moved south Lt. Col. Page joined the rear guard. When it neared the entrance to a narrow pass it came under frequent attacks on both flanks. Mounting an abandoned tank Lt. Col. Page manned the machine gun, braved heavy return fire, and covered the passing vehicles until the danger diminished. Later when another attack threatened his section of the convoy, then in the middle of the pass, Lt. Col. Page took a machine gun to the hillside and delivered effective counterfire, remaining exposed while men and vehicles passed through the ambuscade. On the night of 10 December the convoy reached the bottom of the pass but was halted by a strong enemy force at the front and on both flanks. Deadly small-arms fire poured into the column. Realizing the danger to the column as it lay motionless, Lt. Col. Page fought his way to the head of the column and plunged forward into the heart of the hostile position. His intrepid action so surprised the enemy that their ranks became disordered and suffered heavy casualties. Heedless of his safety, as he had been throughout the preceding 10 days, Lt. Col. Page remained forward, fiercely engaging the enemy single-handed until mortally wounded. By his valiant and aggressive spirit Lt. Col. Page enabled friendly forces to stand off the enemy. His outstanding courage, unswerving devotion to duty, and supreme self-sacrifice reflect great credit upon Lt. Col. Page and are in the highest tradition of the military service.
1953 - With an investment of $7,600, Hugh Hefner, a college student, published the first "Playboy" magazine. There is no date printed on the first issue -- now a collector's item. The reason, according to Hef, is that he doubted anyone would expect a second issue to be printed. Included in this first issue: A classic, nude, calendar photo of actress Marilyn Monroe. My next door neighbor was at the college and Hefner persuaded him to become the bookkeeper, later developing subscription lists that they sold to keep going until advertising kicked in as well as other promotions, such as being a Playboy, belonging to the key club, and eventually Playboy Clubs themselves.
1953 - Harry Belafonte debuted on Broadway in "Almanac" at the Imperial Theatre. Critics hailed Belafonte's performance as "electrifyingly sincere." Also starring in the show: Hermione Gingold, Billy DeWolfe, Polly Bergen and Orson Bean.
1955—Top Hits
Sixteen Tons - Tennessee Ernie Ford
Memories are Made of This - Dean Martin
Nuttin' for Christmas - Barry Gordon
Love, Love, Love - Webb Pierce
1955 - "The Big Surprise" on NBC-TV awarded the largest amount of money given away on television. Mrs. Ethel Park Richardson of Los Angeles, CA may have needed an armored truck to carry away her $100,000 in cash.
1963—Top Hits
Dominique - The Singing Nun
Everybody - Tommy Roe
Louie Louie - The Kingsmen
Love's Gonna Live Here - Buck Owens
1964 - Rev. Martin Luther King became a recipient of the Nobel Prize for Peace. He was the youngest person to have earned the award.
1965 -- Bill Graham holds second benefit for SF Mime Troupe, at Fillmore (first time there) Fillmore and Geary — 3,500 turn out. Warlocks become "The Grateful Dead," and debut with the new name at the Fillmore Auditorium for the second San Francisco Mime Troupe Appeal Party. The Jefferson Airplane, The Great Society, the John Handy Quintet, the Mystery Trend, and Sam Thomas also appeared.
1966 - The Beach Boys made a one-week stop at the top of the "Billboard" Hot 100 as "Good Vibrations" made it to #1. It was the third #1 hit the group scored. The others were "I Get Around" and "Help Me, Rhonda".
1967 - Otis Redding and four members of the Bar-Kays (Otis' backup group) were killed in the crash of a private plane near Madison, Wisconsin. Redding was 26 years old. His signature song, "(Sittin' On) The Dock of the Bay" was recorded three days before his death. It was #1 for four weeks beginning February 10, 1968. Redding was inducted into the Rock and Roll Hall of Fame in 1989. The Bar-Kays biggest hit was in July, 1967: "Soul Finger". James Alexander, bass player for the group, was not on the plane. Ben Cauley, trumpet player, survived the crash. The group played for a time with various new members.
1970-The defense opens its case in the murder trial of Lt. William Calley. Charged with six specifications of premeditated murder, Calley was a platoon leader in Charlie Company, 1st Battalion, 20th Infantry, 11th Infantry Brigade (Light) of the 23rd (America) Division. He was tried because of his leadership role in the My Lai massacres. On March 16, 1968, Calley led his troops to murder innocent Vietnamese civilians living in a cluster of hamlets located in Son Tinh District in Quang Ngai Province in the northern coastal lowlands.
Citing "superior's orders," Defense Attorney George Lattimer contended that Capt. Ernest Medina, Calley's company commander, told his men that they were finally going to fight the enemy. He reportedly ordered "every living thing" killed. Lattimer also cited poor training of the platoon, the rage of the men who had seen their buddies killed, and the expectation of fierce resistance as additional factors contributing to the incident. The lawyer also charged that higher commanders on the ground and in the air observed the episode but did nothing.
Despite Lattimer's argument, Calley was found guilty of murdering 22 civilians and sentenced to life imprisonment. His sentence was reduced to 20 years by the Court of Military Appeals and further reduced to 10 years by the Secretary of the Army. Proclaimed a "scapegoat" by much of the public, Calley was paroled by President Richard Nixon in 1974, after serving about a third of his 10-year sentence.
1971—Top Hits
Family Affair - Sly & The Family Stone
Have You Seen Her - Chi-Lites
Got to Be There - Michael Jackson
Kiss an Angel Good Mornin' - Charley Pride
1971 - William H. Rehnquist was confirmed by the Senate, 68-26, as U.S. Supreme Court Justice. He replaced Justice John Harlan who resigned in September 1971. Rehnquist joined the Court on January 7, 1972, the same day as Justice Lewis F. Powell Jr.
1971- In one of the worst deals ever made, the Mets trade Nolan Ryan and three prospects to the Angels for six time all-star third baseman Jim Fergosi. The fireballer from Texas will set the all-time strike out record (5,714) and will become a member of the Hall of Fame while Fergosi will provide little help for New York.
1972 - No. 1 Billboard Pop Hit: ``Me and Mrs. Jones,'' Billy Paul.
1972 - The longest non-scoring pass in NFL history was made as Jim Hart of the St. Louis Cardinals passed from his own one-yard-line to Bobby Moore, known now as Ahmad Rashad, who was tackled on the Los Angeles Rams' one-yard-line. The pass officially went for 98 yards.
1974 -- Representative Wilbur D. Mills, Democrat from Arkansas, resigns as chairman of the Ways and Means Committee in the aftermath of the first truly public sex scandal in American politics.
http://waysandmeans.house.gov/legacy/portraits/1899-2000/mills.htm
http://mullings.com/dr_05-10-00.htm
1977 - In only his second year of riding, Steve Cauthen became the first jockey to win $6-million in a single season. Cauthen was dubbed 'The Six Million Dollar Man', and 'Stevie Wonder' by his admirers and was named 1977 Sportsman of the Year by "Sports Illustrated", the Associated Press, "ABC's Wide World of Sports" and "The Sporting News".
1979—Top Hits
Babe - Styx
Still - Commodores
Please Don't Go - K.C. & The Sunshine Band
I Cheated Me Right Out of You - Moe Bandy
1982 - Heavyweight Michael Dokes knocked out Mike Weaver at 1:03 of the first round to win the WBA heavyweight title in Las Vegas.
1982 - No. 1 Billboard Pop Hit: ``Mickey,'' Toni Basil. Basil is an actress and choreographer whose film credits include ``Village of the Giants,'' ``Head'' and ``American Grafitti.''
1985 - The R.H. Donnelley Corporation announced plans to bring full color to its phone books, with red, blue and green ... along with the traditional Yellow Pages; and it wasn't long before ads printed in the Yellow Pages began sprouting up with red, blue and green accents (which cost more than the traditional, black-only print).
1987—Top Hits
Heaven is a Place on Earth - Belinda Carlisle
Faith - George Michael
Should've Known Better - Richard Marx
Somebody Lied - Ricky Van Shelton
1988 - Chicago's "Look Away" was the #1 single in the U.S. It was one of three top-ten hits from the "Chicago 19" album (the others were "I Don't Wanna Live Without Your Love" and "You're Not Alone").
1989 — Seattle wide receiver Steve Largent makes his NFL record 100th touchdown catch in the Seahawks' 24-17 win at Cincinnati.
1990 - Janet Jackson is the big winner at the first Billboard Music Awards, taking home trophies in eight categories. Other multiple winners are New Kids on the Block, Randy Travis, Clint Black and Phil Collins.
1991 - The U.S. Supreme Court struck down New York's "Son of Sam Law" that forced criminals' profits for selling their stories to be seized and given to their victims. The High Court held that the New York law was inconsistent with the First Amendment to the U.S. Constitution.
1991 - Alan Freed, the disc jockey credited with giving 'Rock and Roll' its name, was posthumously awarded a star on the Hollywood Walk of Fame. (Freed died Jan 20, 1965.)
1992 - A slow-moving Nor'easter storm batters the northeast U.S. coast killing 19 people.
1993—Top Hits
Again- Janet Jackson
I'd Do Anything For Love (But I Won't Do That)- Meat Loaf
All That She Wants- Ace Of Base
Hero- Mariah Carey
Shoop- Salt-N-Pepa
1994 - Kenny G's "Miracles: The Holiday Album" was number one in the U.S. It became the best selling Christmas album in history, selling over 8 million albums as of 2000. The tracks: "Winter Wonderland", "White Christmas", "Have Yourself a Merry Little Christmas", "Silent Night", "Greensleeves", "Miracles", "Little Drummer Boy", "The Chanukah Song", "Silver Bells", "Away in a Manger" and "Brahms Lullaby".
1995-- Worst snowstorm in Buffalo history, 37.9" in 24 hours (Starting Dec 9 at 7 PM, breaks previous record of 25.3" in 1982). December 26-29, 2001,they get 80 inches of snow.
1998- After 24 years and 1,071 appearances, Dennis Eckersley, 44, who has pitched in more major league games than any other player retires as an active player.
1998-Top Hits
I m Your Angel- R. Kelly
Nobody s Supposed To Be Here- Deborah Cox
Lately- Divine
Doo Wop (That Thing)- Lauryn Hill
--------------------------------------------------------------

Football Poem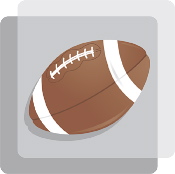 American Football Poem(s)
http://home.comcast.net/~midimusic2000/mp3/big12/Oklahoma__Boomer_Sooner.mp3
http://home.comcast.net/~midimusic2000/mp3/big12/Oklahoma__Nine_and_Swing.mp3
Boomer Sooner, Boomer Sooner,
Boomer Sooner, Boomer Sooner,
Boomer Sooner, Boomer Sooner,
Boomer Sooner, O-K-U.
Oklahoma, Oklahoma,
Oklahoma, Oklahoma,
Oklahoma, Oklahoma,
Oklahoma, O-K-U.
I'm a Sooner born and a Sooner bred
And when I die I'll be a Sooner dead!
Rah Oklahoma, Rah Oklahoma,
Rah Oklahoma, O-K-U!
Arthur M. Alden, a student of history and
physiology and the son of a Norman
jeweler, wrote the lyrics to the Oklahoma's
"Boomer Sooner" in 1905. He borrowed the
tune from Yale University's "Boola Boola,"
but improvised the words. A year later, an
addition was made to the song that was
roughly based on North Carolina 's "Tarheels are Great."
The combination of these two forms Oklahoma's battle
song as Sooners know it today.
[First Verse]
From the hillsides, from the prairies,
Comes a song that never wearies
Loyalty that never varies.
Oklahoma, hail!
Ivied walls and stately towers,
Campus fair 'neath sun or showers,
All the love we bear thee flowers
And will never fail.
[Chorus]
Shout the chorus loudly
Bear the emblem proudly
Army vast, we march at last
And lift our voices stoutly.
On we march for Alma Mater,
On we march nor ever falter
Singing loud, each son and daughter,
Oklahoma, hail!
[Second Verse]
From thy gracious font of learning,
We will quench our thirst so burning
Kindly Mother to thee turning.
Oklahoma, hail!
Wisdom brought from out the ages,
Truth of saints and laws of sages
Ours to take from glitt'ring pages,
Never growing stale.
[Chorus]
"Oklahoma Hail!" is the original Oklahoma alma
mater song. Louise B. Adams wrote the words and
R. H. Richards arranged the tune, which is a Welsh air
called "Men of Harlech." It was performed as early as 1928.
The most famous---Oklahoma!!!
Oklahoma, where the wind comes sweepin' down the plain
And the wavin' wheat can sure smell sweet
When the wind comes right behind the rain.
Oklahoma, ev'ry night my honey lamb and I
Sit alone and talk and watch a hawk
Makin' lazy circles in the sky.
We know we belong to the land
And the land we belong to is grand!
And when we say
Yeeow! A-yip-i-o-ee-ay!
We're only sayin'
You're doin' fine, Oklahoma!
Oklahoma O-K-L-A-H-O-M-A
OKLAHOMA!
To create the musical Oklahoma!, Rodgers and
Hammerstein added lyrics, music and dance to a
play written by Lynn Riggs, who was a native of Claremore,
Oklahoma and an O.U. graduate. The title song of the
revolutionary musical was adopted by the State of Oklahoma
as its official song and anthem on May
6th, 1953.
--------------------------------------------------------------

SuDoku
The object is to insert the numbers in the boxes to satisfy only one condition: each row, column and 3x3 box must contain the digits 1 through 9 exactly once. What could be simpler?
http://leasingnews.org/Soduku/soduko-main.htm
--------------------------------------------------------------

Daily Puzzle
How to play:
http://www.setgame.com/set/puzzle_frame.htm
Refresh for current date:
http://www.setgame.com/set/puzzle_frame.htm
--------------------------------------------------------------


http://www.gasbuddy.com/
http://www.gasbuddy.com/GB_Map_Gas_Prices.aspx
http://www.gasbuddy.com/GB_Mobile_Instructions.aspx
--------------------------------------------------------------

News on Line---Internet Newspapers
National
--------------------------------