VENDOR SALES SPECIALISTS
LEASING SALES PROFESSIONALS
Like selling vendor programs and large transactions?
Enjoy international financing programs?
Prefer the advantages of a commission only environment with the security of health and welfare benefits?
CLICK HERE to find out how to have fun again.
Monday, December 1, 2007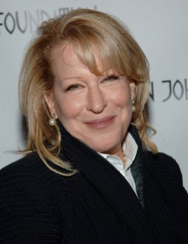 Actress, comedian, singer Bette Midler born December 1, 1945 Patterson, New Jersey; "The Divine Miss M," four Grammy Awards, four Golden Globes, three Emmy Awards, and a Tony Award, and has been nominated for two Academy Awards. She is currently performing a new concert show, "The Showgirl Must Go On," live five nights a week as one of the current headliners at Caesars Palace in Las Vegas (together with Cher and Elton John).
Headlines---
Classified ads---Other sites
IFC Credit latest to make cut backs
Balboa Capital Exits Broker Business Badly
Cartoon---Balboa Management Meeting
Bank Beat
Cartoon---Qualifying for a loan
Banks and Leasing by Shawn Halladay
NAELB takes position on "Trigger Leads"
Top Stories---November 24-November 28
Classified Ads---Help Wanted
Cartoon---"He's made partner"
Leasing 102 by Mr. Terry Winders, CLP
"Holding Leases"
ELFA October Report with Charts
Midwest Leasing/Target Equipment Leasing Merge
Maricle accused of starting new leasing Co.
Popular Portfolio for sale, Van Etten says why
Bailouts: $7 TT and rising (full list at end)
Facebook Aims to Extend Its Reach
News Briefs---
You May have Missed---
"Gimme that Wine"
Today's Top Event in History
This Day in American History
SuDoku
Daily Puzzle
######## surrounding the article denotes it is a "press release"
-------------------------------------------------------------------
-------------------------------------------------------------------

Classified ads---Other sites
Not many of our colleagues mention other sites to visit to both seek employment and perhaps fill a position. Leasing News has been asking human resource personnel specifically as well as advertisers here and readers, too, where to look, thus this list:
accountingweb.careerbank.com
www.adams-inc.com
www.affinitysearch.com
www.aol.com
www.bajobs.com
www.BayJobs.com
www.careerbank.com
www.careerbuilder.com
www.careerpath.com
www.craigslist.org (available in many cities now, use scroll feature)
www.credittoday.com
ELFA Career Center
www.elaonline.com
www.FinanceLadder.com
www.goldenparachute.com
www.Headhunter.net
www.hotjobs.com
www.jobs.net
www.jobsearchusa.org
www.JobSpin.com
www.jobsinthemoney.com
www.leasingworld.co.uk
www.lessors.com
www.MarketingJobs.com
www.monitordaily.com
www.monster.com
www.monstertrak.monster.com/
www.Postonce.com
www.RecruiterConnection.com
www.resumeblaster.com
www.theleasebog.com
www.vault.com
www.vetjobs.com
www.worktree.com
www.worldleasingnews.com
To place a free "job wanted" ad on Leasing News, please go to:
http://www.leasingnews.org/Classified/Jwanted/Jwanted-post.htm
For a full listing of all "job wanted" ads, please go to:
http://www.leasingnews.org/Classified/Jwanted/Jwanted.htm
--------------------------------------------------------------

IFC Credit latest to make cut backs

Several reliable sources have been reporting to Leasing News that IFC Credit Corporation, Morton Grove, Illinois, has been cutting back on employees the last few months with the latest from 26 to 35 employees. Leasing News was told this was not due to the FTC settlement regarding NorVergence leases, but a general malaise in the leasing industry catching up to IFC.

Mike Beltrano Jr., Vice President of Marketing, FirstCorp, confirms "a reduction in force totaling 15 employees did take place last week across IFC divisions and subsidiaries."
IFC has four main entities, IFC's Middle Market Group for transactions of $500,000, First Corp. for transactions under $500,000, Spectrum Medical, and Pioneer Capital out of Texas in the small ticket marketplace, stating 4,000 plus applications annually.

Estimated total employees are 125.
--------------------------------------------------------------

Balboa Capital Exits Broker Business Badly
by Christopher Menkin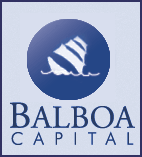 While no officer at Balboa Capital, Irvine, California returned telephone calls or emails, Leasing News communicated with many readers who spoke directly to Balboa officers, and many others whose number one complaint was they could not contact anyone at Balboa since the previous Friday about leasing transactions in progress. Several reported transactions not funded with vendor purchase orders out, delivery and acceptance made, but no communication from Balboa Capital on status. No thirty or sixty day grace period on transactions approved, or worse, yet, signed and waiting delivery. Perhaps the number one complaint was the cut off of communication.
Balboa Capital was formed in 1988 by Patrick Byrne and Shawn Giffin, with a background from Amplicon, a company many old timers think was the founder of dirty tricks in the leasing business.
1993-Balboa Capital Corporation, VP Finance Shawn Giffin, CLP (left) congratulates President Patrick E. Byrne, CLP. The Western Association of Equipment Leasing (WAEL) member firm was recently ranked #67 overall on the Inc. 500 list.
WAEL Newsline
It was no secret in the leasing industry the two founders eventually could not get alone, that they traded running the company by the other taking a "sabbatical." The see-saw relationship was reported often in Leasing News, such as September 25, 2003 from Shawn Giffin:
"I love the company and am extremely proud of our employees," he said.
"I believe it's the right time for other leadership to assert itself.
That's all there is to it. If I am needed, I am prepared to jump back in. My biggest strength, though, is hiring people a whole lot smarter than me. We have the right leadership team intact to grow the company and provide our customers an outstanding experience."
Patrick Byrne responded:
"I have actually been back at Balboa on a daily basis since the beginning of the year focusing on the Marketing and Operations side of the business. Prior to the beginning of the year, I took a sabbatical from Balboa for a little over two years. While I remained active on the Balboa's board as Chairman during my sabbatical, I got involved in some other areas, consulted and invested in some early stage companies; I started a real estate company; I invested, and then divested, ownership in some bars and restaurants; I completed a joint MBA degree from Columbia and The London Business School; I married a beautiful woman, and we now have incredible baby boy. I feel my time away from the day-to-day activities of Balboa allowed me to gain a better perspective on Balboa and made me a more valuable contributor. I love being back at Balboa and connecting and re-connecting with the great group of people that work here."
Balboa Capital has graduated many to start their own leasing companies. Most notably are the partnership of Mark McQuitty and Jim Raeder who sold their company to Sierra Cities to go public. (Presently both have pled "guilty" in a plea deal which the FBI called "Operations Lease Fleece.")
Balboa was reportedly more a marketing company, actually discounting most transactions, than using warehouse lines, packaging them as groups of leases or discounting one at a time, using Colonial Pacific, CitiCapital, GE Capital, Financial Pacific to name a few ( these were companies named in Leasing News Bulletin Board complaints where lessees were sending the stream of payments.)
Balboa Capital owners allegedly could not resolve their differences and placed the company for sale, according to a highly reliable source. After a considerable amount of time, and the disputes not being resolved between the founders, Patrick Byrne wound up with the shares of Shawn Giffin. The actual agreement is not publically known.
In an effort to raise the sales of the company, Byrne bought a new software operating system as well as decided to open a broker division. It was Leasing News recommendation to Pat Byrne to hire Curt Lysne. GE had bought out Colonial Pacific and it did not take them that long to the Portland, Oregon operation. Lysne did not want to leave the Northwest area, had several misgivings about what he had heard about Balboa, he told Leasing News at the time, but evidently agreed to living three or four days in Southern California and working from Portland, Oregon; with conditions not to mix direct sales and its operation and to institute other criteria to attract better, lower rate, bank and syndication lines. He told Leasing News at the time he wanted to create a culture that would attract and maintain top indirect business as he did at Colonial Pacific.
December 17, 2007 Leasing News announced Curt Lysne, CLP had been hired to lead the sales and marketing efforts of PFSC as Vice President, National Sales and Marketing, Portland, Oregon. He left
Balboa Capital with no announcement as to why. He has not spoken publically about since. He was not available for an interview for this story as Leasing News was told he had gone to London, England to spend Thanksgiving with his daughter.
Close associates told Leasing News some of the reasons were Balboa Trigger Leads, the direct salesmen calling broker lessees and vendors, and the lack of sales leadership and decline in the culture as reasons he left. In less than a year after his departure, the division he headed was shut down quite abruptly.
When Leasing News received complaints from Balboa lessees regarding "Evergreen Leases" and "$1.00" purchase options that turned into "FMV," Shawn Giffin handled the complaints directly himself,
resolving all of them. Leasing News had his direct private telephone number. Things changed when Patrick Bryne came back, as he would mostly turn complaints over to others or not get involved at all, eventually not returning any telephone calls or emails. The company also seemed to have gone through several "contract attorneys" and their response to inquiries by Leasing News has been non-existent.
Today, employees and others have commented to Leasing News that Byrne is not in the office more than once or twice a week. He may work out of his house or may have other interests, but his involvement in day-to-day operation are under Patrick Ontal, Vice President of Inside Sales, hired July 18,2007, who reportedly led the Franchise Finance sales team at Key Equipment Finance, and Phil Silva, who was hired May 15,2007, as Executive Vice-President, and promoted to president on April 24,2008. He was the General Manager for the Healthcare and Franchise segments at American Express Business Finance.
Right before Thanksgiving, some major changes took place, as performance was reportedly falling off in all departments. The broker division was first to go as the base was diminishing as more and more brokers were complaining about the Trigger Leads marketing and the active farming of the broker Leads base for the Balboa Capital direct reps and vendor group, which reportedly hasn't gotten off the ground after two years.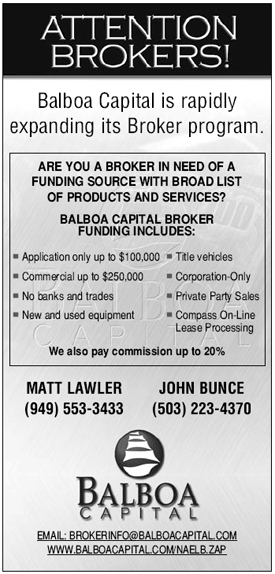 Brokers were notified by email without other notice:
""Dear Broker:
"Please accept this as Balboa Capital Corporation's notice that we are ending our relationship with your company effective today, Friday, November 21, 2008. Thank you for your past business. And while this was a difficult decision, we wish you only the very best with your future endeavors.
"If you should have any questions, please contact Patrick Ontal or Phil Silva at (949) 553-3451."
These officers were not able to be reached by many, according to readers who contacted Leasing News. All approvals were void on November 21st, several at rates where the broker could earn a 20% commission, or worse yet, did not have another source for the type of credit and equipment. Some may have included working capital loans, something Balboa was also promoting to increase business.
Here are some of the emails Leasing News received, and in hopes of not affecting their potential funding or receiving past commissions, their names are not included:
"I just spoke with Phil Silva, he said they basically shut down their broker division and let go of most employees they have in that division, but are continuing their sales and vendor sides. They aren't honoring deals I have in funding, and obviously outstanding approvals."
"What's most scary is the fact that they have a list of all these customers that we have financed through them who I'm sure they will call from their direct sales side."
---
"i am an active broker with balboa and i have two approvals with two purchase orders---i asked them if they were going to honor the purchase orders---they said e-mail the approvals and they would get back to me----tell the brokers to beware of their approvals and their fundings."
"I cannot get anybody at balboa to call me back to see if they will honor their commitments---what a sorry state of affairs. They are dodging calls as well. Just for your info."
---
"Our chief credit guy just said he got an email stating they are not accepting anymore business and they're not honoring existing Approvals…"
---
"I am part of a company that is a Broker for Balboa Capital and thought I would share some news with you. On Friday, November 21st I received an e-mail stating that Balboa Capital would no longer be doing business with us. I assumed that since the new broker agreement was due on Friday someone goofed up and didn't mark my company as one who had sent it in. I called immediately but could not get anyone on the phone to address the issue."
---

"This morning I had a message stating that Balboa Capital will not be accepting ANY broker business. I am working to try to get a hold of someone to find out what happens to the deals we had in for funding on Friday since I had one I wasn't able to confirm if the final step of the verbal had been completed. Unfortunately it looks like the lights are on but no one is home."
--

"It is hard to bring a deal in now with all the craziness going on in the economy so I wanted to e-mail you and let you know. Although I am sure you have received this information already I was wondering if anyone knew if Balboa would be honoring the fundings from Friday?"
Other who said they had been working with Balboa, but stopped, and wrote why:
"I had one deal approved and that I funded through this program and they started calling my customer with in 5 business days and I had not sent any business sense then, they should have never been in the broker business. Also the deals they did approved they made brokers sign their life away and take on all the risk. It was the worst program I had ever used."
---
"I'd like to go off the record on this one. We received the email on Friday in regards to Balboa discounting the program. Additionally, I have personally had customers of mine who I had submitted to Balboa Capital; we're declined by their credit department, and then they would receive a call at their business and even home a few days later from Balboa direct sales team inquiring about financing. There's a very real possibility that it was "trigger lead" however I find that to be one heck of a coincidence. As a precautionary note, I'm calling any of my customer's who I have submitted there recently and been declined to ensure that they don't jump ship if Balboa's direct sales reps come knocking with a better deal."
---
"We stopped doing business with Balboa when we caught them going through their direct side to our vendors and lessee's. "
---
"The final straw that broke the camels back was when their direct side invaded a deal in process. The broker side representative simply said, "Sorry, we cannot control what they do." It was a large transaction we spent many months developing. We presented a good rate and they came in and beat the rate (against their own broker rate). The question was, how did they know about an obscure transaction in Norfolk, Virginia? "
Many readers common reaction were:
"Is anyone really surprised?"
--
"Is this a surprise? Come on now we all know how Balboa works."
---
"Doesn't surprise anyone."
---
"Curt Lynse's hire was a bright spot, but once burnt shame on them, twice and shame on us. I'm not surprised that a person of Curt's calibre could not survive amongst the vipers."
---
"I have a friend who works there and she told me they cancelled the Christmas party and the annual sales meeting…not very good signs of a viable organization."
---
"You know the old saying, "what goes around comes around!". I have no pity on them. But I know they will steal all those customers and vendors they got from brokers deals. They have no shame."
Again, Leasing News has sought a comment or statement or interview with an officer of Balboa Capital and welcomes any communication from them on the latest news of the closing of the indirect business
operation.
Bulletin Board Complaints Against Balboa Capital:
http://www.leasingnews.org/archives/September%202008/09-10-08.htm#bbc
http://www.leasingnews.org/archives/August%202008/08-25-08.htm#bbc
http://www.leasingnews.org/archives/August%202008/08-13-08.htm#balb
http://www.leasingnews.org/archives/January%202007/01-29-07.htm#bbc
http://www.leasingnews.org/Conscious-Top%20Stories/BBC_Balboa.htm
Balboa Capital is a member of the Equipment Leasing and
Financial Association, National Association of Equipment
Leasing Brokers and United Association of Equipment Leasing
((now The National Equipment Finance Association (NEFA))

--------------------------------------------------------------

Cartoon---Balboa Management Meeting
--------------------------------------------------------------

Bank Beat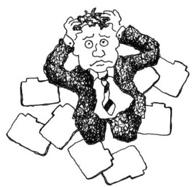 The Fed's direct loans to commercial banks fell to $91.7 billion as of Nov. 26, from $92.6 billion a week before. The loans are made at the discount rate, which is currently 1.25 percent.
At the same time, the U.S. commercial paper outstanding rose for a fifth straight week, by $26.1 billion, or 1.6 percent, during the week ended Nov. 26, to a seasonally adjusted $1.64 trillion. It should also be noted the balance sheet has more than doubled in the same time period to $2.11 trillion to manage this.
Current list of failed banks:
http://www.fdic.gov/bank/individual/failed/banklist.html
The FDIC processed a total of 37 orders in October. These included fourteen cease and desist orders; five removal and prohibition orders; eleven civil money penalties; one Order Dismissing Certain Charges; five orders to terminate orders to cease-and-desist; and one order terminating temporary order to cease and desist.
http://www.fdic.gov/bank/individual/enforcement/neworders.html
--------------------------------------------------------------

--------------------------------------------------------------

Banks and Leasing
by Shawn Halladay
Are banks getting out of leasing? Although not good news, back in the day, this question would not have raised too many eyebrows – it was almost expected. There seemed to be a cycle to when and how banks participated in leasing and you could count on them to consistently be inconsistent in their approach to the market. The banks would get into leasing for higher returns, residual profits, or diversification, usually stirring the pricing pot in the process. Then, when the residual losses came home to roost, they would back out again.
We have not seen this cycle for many years, however, as banks have been in leasing for real, core business purposes, as seen by their participation in the marketplace and numbers in the Equipment Leasing and Finance Association. This participation has come in the form of direct and indirect originations (vendor and broker programs) and lending into the industry. Now we see them shutting down broker divisions, securitization facilities, lines of credit, vendor programs, and backing away from direct origination. What's up with that?
The easy answer, of course, is to blame it on the subprime meltdown, and it has played its role. The real answer, though, gets down to one basic reason – capital conservation. This push to hoard and squirrel away capital, however, has many subsets. The primary reason, and the one that is easiest to see and understand, is the banks' need to serve their core customers and business lines.
While many banks have leasing subsidiaries and activities, it is unusual for those activities to take anything but a subordinate role to traditional bank lending and fee businesses. As a result, when push comes to shove, scarce capital is going to get allocated to serving those core customers and traditional business lines. Beyond this, there are several other factors putting pressure on bank capital, one of which is the regulatory environment. Let's face it, in the current economy, there is heightened regulatory scrutiny of risk, capital, and management. Banks are afraid to do anything that potentially might put them at risk in this regard.
The new rules on fair value accounting also are playing a role, particularly when combined with the current economic environment. These rules tend to result in larger write-offs, which require more capital and affects covenants and other regulatory measures. Some banks are fearful of impending Basel II requirements that will put additional pressure on their regulatory capital. One example of a potential impact is the liquidity risk posed by unused customer lines of credit and, although not yet a rule, the requirement to back those lines with regulatory capital.
Additionally, banks are tightening credit criteria and requiring wider spreads, more collateral, and/or equity (think securitizations) as a technique to conserve capital. Consolidations also decrease the amount of available capital – consolidations are rarely additive in terms of the capital accessible to customers. All these factors make less money available for leasing activities.
So, are banks pulling out of leasing? In the short run, the answer would be yes. This is not because of the nature of leasing, however, but, instead, is a cautionary (read fearful) reaction to the need to conserve precious capital in uncertain times. This is small comfort to all those brokers and others that have seen funding sources disappear overnight. It does, however, emphasize the importance of having a diversified funding strategy.
Shawn D. Halladay
Managing Principal
124 South 400 East Suite 310
Salt Lake City, UT 84111-2135
Phone: (801) 322-4499
Fax: (801) 322-5454
E-mail: shalladay@thealtagroup.com
Biography
http://www.thealtagroup.com/bios-halladay.php
Previous articles by Shawn Halladay:
http://www.leasingnews.org/Conscious-Top%20Stories/Shawn_Halladay/Index.htm
--------------------------------------------------------------

(NAELB takes position on "Trigger Leads")
COMMENTARY OF THE BOARD OF DIRECTORS OF THE NATIONAL ASSOCIATION OF EQUIMENT LEASING BROKERS REGARDING THE USAGE OF TRIGGER LEADS IN THE EQUIPMENT LEASING BROKERAGE INDUSTRY

From its inception, the National Association of Equipment Leasing Brokers ("NAELB") has been the leading advocate in the equipment leasing industry for brokers. From its inception, the NAELB has been the only leasing association formed "For Brokers, By Brokers." The NAELB By-Laws provide that one of the objectives of the NAELB is "To take other actions which are in the best interests of equipment leasing brokers or the equipment leasing industry as a whole." Also, the first paragraph of the NAELB Code of Ethics states:
"We will demonstrate honesty, professionalism and integrity in all our relationships and business dealings with customers, fellow members, the public, equipment vendors, all licensed professionals, other brokers and funding sources, employees and subcontractors and members of other professional leasing associations. We will at all times adhere to two golden rules: First, treat other business professionals as we would like them to deal with us and second, to always conduct our business dealings so as to reflect a positive image upon our profession and the Association."
In recent times, controversy has developed over the use of so-called "trigger leads" as a marketing tactic in the equipment leasing industry, especially as it pertains to equipment leasing brokers. Therefore, the NAELB Board of Directors is issuing this commentary pertaining to the use of trigger leads in the industry.
When a credit report is pulled, a SIC Code is assigned to the entity that pulled the report which specifies the type of industry of the entity obtaining the report. In our case, the credit bureaus assign a SIC Code to the equipment leasing industry. The various credit bureaus then assemble the data that indicates whose credit report was pulled by companies in the equipment leasing industry, and they sell that data to third parties. Therefore, a third party can request the equipment leasing SIC Code and obtain the names and contact information of customers who had their credit reports pulled by companies in the equipment leasing industry. Of course, the only information provided is the contact information, certainly not a full credit report. It is this lead information that is sold and has created a "lead" for third parties to contact end user customers, with the advance knowledge that the customer is seeking an equipment lease. Trigger Leads are not only used in the equipment leasing industry, but in any other industry where credit reports are pulled, such as consumer mortgages and consumer auto loans. As of this point in time, the use of Trigger Leads has been determined as legal with review by the Federal Trade Commission (FTC).
The use or the purchase of the Trigger Leads isn't in question. However, utilization of misleading and questionable sales tactics in this industry to steal a customer would be construed as doing business in an unethical manner. These inadequately trained and unfortunate souls utilizing misleading methods to gain business would reflect poorly upon this industry in its entirety. Additionally, in today's difficult economy, trust by the general public in financial institutions and their personnel are quickly dissipating. We, as an organization of our members, cannot stress enough the need to remain ethical, principled, responsible members of the financial community. Any unethical means of gaining business at the expense of our competition only reflects poorly upon us all. Short term gains never outweigh the long term gains of competing honestly, ethically and in a professional manner. We take very seriously our ethics policy and reserve the right to remove any member found to be in violation of our ethics with their business practices
www.naelb.org ( upper right corner)
*****Announcement**************************************
--------------------------------------------------------------

(Leasing News provides this ad "gratis" as a means
to help support the growth of Lease Police)
Top Stories---November 24-November 28
Here are the top six stories opened by readers, including two "extra" editions and the Thanksgiving message. The six stories were the ones most read by readers.
(1) Bank Beat (includes Citibank Rescue plans)
by Christopher Menkin
http://www.leasingnews.org/archives/November%202008/11-24-08.htm#bank
(2) Leasing 102 by Mr. Terry Winders, CLP
"Over Use—Return of Equipment"
http://www.leasingnews.org/archives/November%202008/11-24-08.htm#102
(3) FDIC to guarantee as much as $1.4 trillion in bank debt
http://www.usatoday.com/money/industries/banking/2008-11-21-fdic-bank-guarantees
_N.htm?loc=interstitialskip
(4) While stocks up Friday, Leasing stocks down again
http://www.leasingnews.org/archives/November%202008/11-24-08.htm#stocks
(5) China Financial Leasing Industry Report 2007
http://www.live-pr.com/en/china-financial-leasing-industry-report-r1048231401.htm
(6) Top Stories---November 17---November 21
http://www.leasingnews.org/archives/November%202008/11-24-08.htm#top10
Extra editions not counted in Top Ten Survey due to technical reasons:
November 24, 2008 -- Leasing News Extra
Balboa Capital Exits Broker Business?
http://www.leasingnews.org/archives/November%202008/11-24-08a.htm
November 25, 2008---Leasing News Extra
Latest Victim of Malaise: Equipment Leasing
http://www.cfo.com/article.cfm/12673904/c_12674034?f=archives&origin=archive
Happy Thanksgiving---
http://www.leasingnews.org/archives/November%202008/11-26-08.htm
--------------------------------------------------------------

Leasing Industry Help Wanted
Burbank , California
Credit Analyst
Strong understanding of small ticket leasing; Minimum 2 years experience. Compensation plan $45-$75K salary, full benefits & 401K .
Funding Manager
Small ticket minimum 2 years experience, brokering and discounting leasing transactions. Compensation plan $45-$75K salary, full benefits & 401K .
Contact :Jason Downs: jdowns@capnetusa.com 877.980.0558 EXT. 125
Sales


VENDOR SALES SPECIALISTS
LEASING SALES PROFESSIONALS
Like selling vendor programs and large transactions?
Enjoy international financing programs?
Prefer the advantages of a commission only environment with the security of health and welfare benefits?
CLICK HERE to find out how to have fun again.
Please see our Job Wanted section for possible new employees.
-------------------------------------------------------------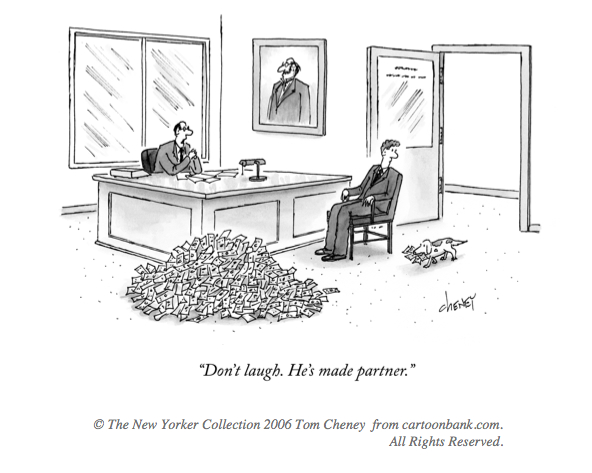 --------------------------------------------------------------

Leasing 102
by Mr. Terry Winders, CLP
"Holding Leases"
In an effort to maximize income or to get a better buy rate many Lessor's have a line of credit at a local bank where they draw down the money required to fund a lease and take it off the street. Then when the opportunity presents itself they sell it off to a funding Lessor. This can also allow a Lessor time to bundle a series of transactions that create a larger dollar sale and lower funding rates. The question becomes how the legal and tax consequences are impacted by the purchase and sale of the goods.
When you fund a True Lease and pay the vendor for the equipment you become its owner for both, Federal, and State income tax purposes and its legal owner for Uniform Commercial Code purposes. If you fund "a lease intended as a security" such as a "money over money" transaction or a "conditional sales lease" or any lease with a bargain purchase option then it is said that you are only holding the ownership in "trust" until the lease has been paid in full therefore what your are selling off is the right to collect the rents and a security interest in the equipment which requires you to assign the UCC-1 that you filed. In addition there is the State sales tax and other assed taxes that you become responsible for until you pass title or the security to the funding institution.
Regardless of the type of lease when you fund the transaction you must have a sales tax permit from each state each piece of equipment resides in. Then the sales tax must be collected and remitted to the proper jurisdiction for any standard payments you receive. Then you must send the additional prepayments such as the last payment plus the sales tax to the funder. When you initially pay for the equipment it also requires you to provide a resale certificate number to avoid sales tax on the purchase price. You must send a resale certificate to each vendor of the equipment under lease. Then forms must be completed for sales tax receipts and sent to the State, in the beginning usually monthly and then later on in a quarterly time frame.
When you proceed to sell off a bargain option transaction the difference between your outstanding balance and the purchase price will be your profit but it must be clearly recorded as to equipment cost and mark up. When selling a true lease the time you have held it determines its book value to you. If you have passed a quarterly Federal Income Tax reporting period then having taken the first part of the MACRS depreciation the purchase price will be effected by the tax consequences. Your sale may be the difference between the undepreciated value and the discounted rent price presenting you with both recovery of ordinary corporate income tax and a capital gains tax. In addition you will have to deal with your States income tax.
You must always remember that to pass title or ownership for UCC purposes the new owner/lessor must obtain a "bill of sale" and take "possession". Usually possession is handled in the original lease by making the Lessee the Lessor's agent to accept the equipment from the vendor. When the new Lessor takes ownership the Lessee's acknowledgement of the assignment should carry a statement that they are also acting as the new Lessor's agent for possession purposes.
Holding leases is a tricky business with a lot of costs and proper bookkeeping. Be sure you have separated each type of lease and know the consequences at the time of funding so you handle all the sales and income tax issues properly. Also if the funding occurs over the end of the year then property tax can also be a problem.
Mr. Terry Winders, CLP, has been a teacher, consultant, expert witness for the leasing industry for thirty years and can be reached at leaseconsulting@msn.com or 502-327-8666.
He invites your questions and queries.
Previous #102 Columns:
http://www.leasingnews.org/Conscious-Top%20Stories/Leasing_102/Index.htm
--------------------------------------------------------------

ELFA October Report with Charts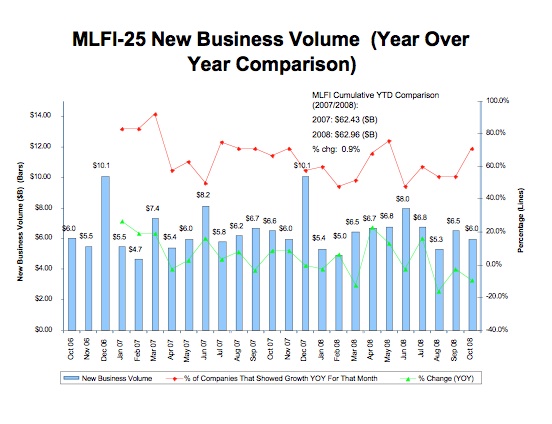 Tuesday Leasing News Readers on our mailing list received the CFO.com story that the "equipment leasing is another victim of the economic tailspin, with overall new leasing business volume for October falling 9.1 percent year-to-year.
"The report of the Monthly Leasing and Finance Index (MLFI-25) from the Equipment Leasing and Finance Association (ELFA) also showed a 7.7-percent decline in October compared to September. Cumulative year-to-date new business volume, on the other hand, still shows an increase of 0.9-percent over 2007, according to the Index, a measure of volume of commercial equipment financed in the U.S."
"According to the report, credit approvals of new transactions declined to the lowest level in two years (72.5 percent), with nearly half of participant companies reporting that fewer transactions were being submitted for approval and underwriting standards tightening. This development does not portend well for the overall economy."
Please note the decline in percentages of credit approvals: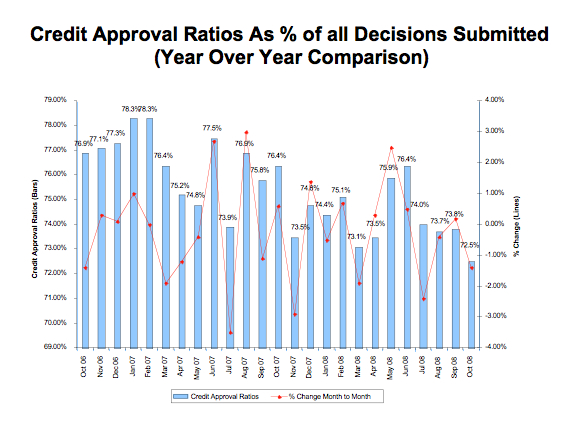 Please note the rise in charges off in the chart below: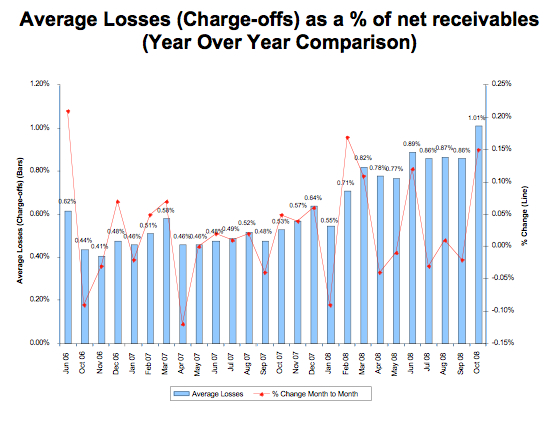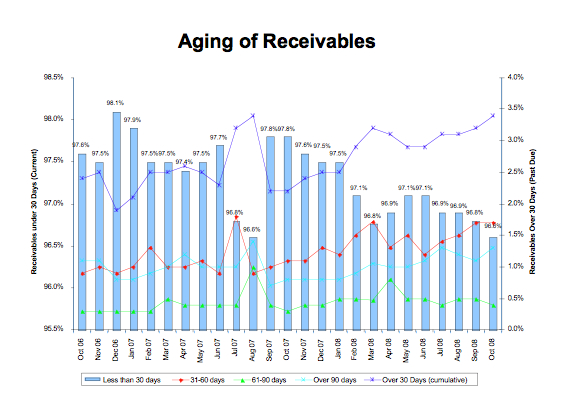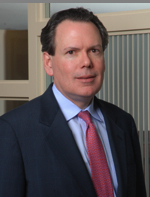 ELFA President Kenneth E. Bentsen, Jr.
"Members are reporting that a combination of enhanced underwriting standards, declining demand and increased cost of funds are resulting in fewer transactions being funded," said ELFA president Kenneth E. Bentsen Jr.
The only chart that appears not to reflect what is happening in the employment chart. It does not match the decline of the ZRG employ index or the many stories in leasing news of companies exiting leasing, nationwide leasing, broker and vendor plans being discontinued, with people let go. It may be the mix of captive lessors and large institutions, although several on the list have had major layoffs.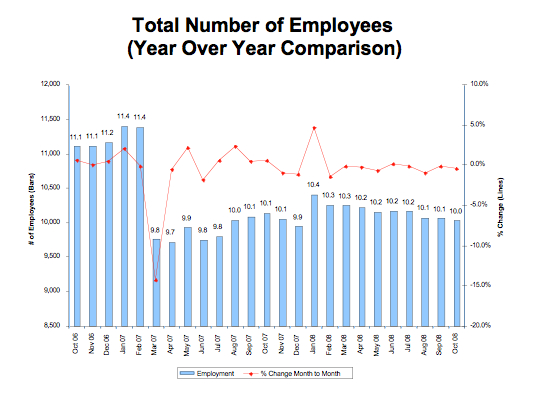 ELFA MLFI-25 Participants
ADP Credit Corporation
Bank of America
Bank of the West
Canon Financial Services
Caterpillar Financial Services Corporation
CIT
Citicapital
De Lage Landen Financial Services
Fifth Third Bank
First American Equipment Finance
GreatAmerica
Hitachi Credit America
HP Financial Services
Irwin Financial
John Deere Credit Corporation
Key Equipment Finance
Marlin Leasing Corporation
National City Commercial Corp.
RBS Asset Finance
Regions Equipment Finance
Siemens Financial Services
US Bancorp
US Express Leasing
Verizon Capital Corp
Volvo Financial Services
Wells Fargo Equipment Finance
ZRG Leasing Employment Index falls to 223
http://www.leasingnews.org/archives/October%202008/10-29-08.htm#zrg1
Previous ELFA MFLI-25 Monthly Reports:
http://www.leasingnews.org/Conscious-Top%20Stories/ELFA-Survey.htm
### Press Release ###########################

Midwest Leasing/Target Equipment Leasing Merge
Farmington Hills, MI and Livonia, MI: — Midwest Leasing Group (MLG), a 15-year-old equipment leasing company, in Livonia, MI, and its president, Curt MacRae, have agreed to join all company resources with Target Equipment Leasing, a 24 year old equipment leasing company in Oak Park Mi (formerly of Farmington Hills, MI) and its president, Linda Jolicoeur.
MacRae and his Midwest Leasing Group sales staff join the Target Equipment Leasing team, to strengthen both companies, by reducing expense, expanding funding capabilities, and enhancing business processes. Midwest Leasing Group has closed its Livonia, MI location.
Jolicoeur and MacRae began negotiations in August, and completed the changeover with a move to new corporate facilities on November 23.
Operations will began on November 24, at the new location. Target Equipment Leasing's new corporate home is at 13631 W Ten Mile Road, Oak Park, MI 48237. Target's phone number remains 248-553-0444. All business going forward will be written and managed under the Target Equipment Leasing name.
Target will offer the One-World Leasing co-op capabilities to the new members of the team, and Midwest will bring over funding relationships and vendor and customer alliances that will help to grow Target's footprint in the marketplace.
The combined resources will allow Target's volumes to significantly increase, while providing a separation of management duties for the principals. Jolicoeur will continue as the sole owner of Target Equipment leasing, and will continue in the role of its president. MacRae will assume the duties of managing sales and marketing functions for the combined staffs.
Target will continue normal business practices, under the new agreement, and a common philosophy of management and customer service will smooth the transition. Jolicoeur and MacRae have been business friends and business competitors for years, and both saw this transition as an opportunity to cut costs, improve profits and enhance business.
Midwest Leasing Group and Target Equipment Leasing are both MASTER members of the National Association of Equipment Lease brokers (NAELB), and the combined staffs will represent more than 100 years of equipment leasing experience.
### Press Release ###########################
--------------------------------------------------------------

News Briefs----

Maricle accused of starting new Florida leasing Company
(He told Leasing News he was only a "consultant.")
http://suncoastpinellas.tbo.com/content/2008/nov/26/state-extends-fraud-investigation
-landmark-leasing/news/
Popular Portfolio for sale, Van Etten says why
http://www.sbnonline.com/National/Article/15944/0/Even_keel.aspx?Category=182
Bailouts: $7 trillion and rising (full list at end)
http://money.cnn.com/2008/11/26/news/economy/where_bailout_stands/?postversion=2008112615
Facebook Aims to Extend Its Reach Across the Web
http://www.nytimes.com/2008/12/01/technology/internet/01facebook.html?_r=1&ref=business
---------------------------------------------------------------


You May have Missed---
Six Myths Detroit Vehicles
http://www.dallasnews.com/sharedcontent/dws/classifieds/news/automotive/latestnews/
stories/DN-detroitmyths_30bus.ART.State.Edition1.4a551b7.html
----------------------------------------------------------------


"Gimme that Wine"
Unusual Napa Valley tasting room wines featured
http://www.sthelenastar.com/articles/2008/11/25/business/local/doc4924f27d8
6263089472390.txt
Wine buyers are sobered by Wall Street meltdown
http://www.latimes.com/features/food/la-fi-wine22-2008nov22,0,5266992.story
Buy wine without fear: New book eases selection process
http://www.mlive.com/kzgazette/features/index.ssf/2008/11/
buy_wine_without_fear_new_book.html
Wine Prices by vintage
http://www.winezap.com
http://www.wine-searcher.com/
US/International Wine Events
http://www.localwineevents.com/
Winery Atlas
http://www.carterhouse.com/atlas
Leasing News Wine & Spirits Page
http://two.leasingnews.org/Recommendations/wnensprts.htm
The London International Vintners Exchange (Liv-ex) is an electronic exchange for fine wine.
http://www.liv-ex.com/
----------------------------------------------------------------

Today's Top Event in History
1909-The first payment to a Christmas savings club at a bank was made this day. It was started by the Carlisle Trust Company, Carlisle, PA. The idea originated with Merkel Landis, the bank's treasurer. When I was younger all kids had such a "savings account." Today most money is spent to make monthly payments to credit cards and kids are not encouraged to save. Do you have a Christmas savings account, or even a vacation savings account?
[headlines]
----------------------------------------------------------------

This Day in American History
1824-In the 1824 presidential election no candidate received an electoral majority. John Quincy Adams of Massachusetts received 84 votes: Andrew Jackson of Tennessee, 99: Secretary of State William H. Crawford, who had suffered a stroke and was effectively out of the running, 41: Henry Clay, 37: John C. Calhoun of South Carolina was elected vice president. On February 9, 1825, John Quincy Adams was chosen as president by the House of Representatives.
1831 - The coldest December of record in the northeastern U.S. commenced. Temperatures in New York City averaged 22 degrees, with just four days above freezing, and at Burlington VT the temperature never did get above freezing. The Erie Canal was closed the first day of December, and remained closed the entire month.
1842-Midshipman Philip Spencer, son of the Secretary of War, was hanged from the yardarm of the U.S.S. Somers, a brig of war, while at sea in West Indian waters. Boatswain Samuel Cromwell and Seaman Elisha Small were hanged at the same time. They were convicted, at a court-martial held on shipboard, of inspiring to organize a mutiny, murder the officers, and turn the ship into a pirate cruiser. The commander of the Somers was Alexander Slidell Mackenzie, who was exonerated by a court of inquiry. It was quite a "scandal" upon their return. There were questions as to whether a mutiny even actually occurred or if this was just paranoia on the part of the captain, Commander Alexander Slidell MacKenzie, who over the course of the 6-month training cruise is purported to have ordered 2,265 lashings. This incident inspired Herman Melville to write "Billy Budd," and is commonly held to be the major factor that precipitated the establishment of the Naval Academy. Somers was in the Gulf of Mexico off Vera Cruz at the opening of the Mexican War in the spring of 1846; and, but for runs to Pensacola for logistics, she remained in that area on blockade duty until winter. On the evening of 26 November, the brig, commanded by Rahael Semmes [later commanding officer of CSS Alabama], was blockading Vera Cruz when Mexican schooner Criolla slipped into that port. Somers launched a boat party which boarded and captured the schooner. However, a calm prevented the Americans from getting their prize out to sea so they set fire to the vessel and returned through gunfire from the shore to Somers, bringing back seven prisoners. Unfortunately, Criolla proved to be an American spy ship operating for Commodore Conner. On December 8, 1846, while chasing a blockade-runner, Somers capsized in a squall and sank with the loss of 32 of her 76 crew. In 1986, her remains were found in 110 feet of water about a mile off Isla Verde.
http://www.history.navy.mil/photos/sh-usn/usnsh-s/somers2.htm
http://www.history.navy.mil/danfs/s/somers.htm
1847-Birthday of Julia Moore, known as the "Sweet Singer of Michigan," was born in a log cabin at Plainfield, MI. A writer of homely verse and ballads, Moore enjoyed remarkable popularity and gave many public readings before realizing that her public appearances were occasions for laughter and ridicule. Her poems were said to be "so bad, her subjects so morbid and her naiveté so genuine" that they were actually gems of humorous genius. At her final public appearance she told her audience: "You people paid 50 cents to see a fool, but I got $50 to look at a house full of fools." Moore died June 17, 1920, near Manton, MI.
http://www.flint.lib.mi.us/about/programs/jmoore/bio.html
http://www.wmich.edu/english/txt/Moore/
1878- Birthday of Arthur Spingarn, an American Jew, one of the original founders of NAACP, chairman in 1914, and the prestigious NACCP Springarn medal is named after him." The purpose of this medal is twofold — first to call the attention of the American people to the existence of distinguished merit and achievement among American Negroes, and secondly, to serve as a reward for such achievement, and as a stimulus to the ambition of colored youth. This prestigious award is in the form of a gold medal that is valued at one hundred dollars. To make certain that this award is continued on an indefinite basis, Joel E. Spingarn bequeathed in his will twenty thousand dollars to the NAACP "to perpetuate the lifelong interest of my brother, Arthur B. Spingarn, of my wife, Amy E. Spingarn, and of myself in the achievements of the American Negro." If this organization fails to continue, the Spingarn Medal is to be managed by the president of Howard or Fisk University."
http://www.thurgoodmarshall.com/gallery/tm19.htm
http://www.aaregistry.com/african_american_history/1349/
MoorlandSpingarn_Collection_a_great_experience
http://lcweb2.loc.gov/cgi-bin/query/r?faid/faid:@field(TITLE+@band
(spingarn+arthur+b+++))
1891-Basketball created: James Naismith was a teacher of physical education at the International YMCA Training School at Springfield, MA. To create an indoor sport that could be played during the winter months, he nailed up peach baskets at opposite ends of the gym and gave students soccer balls to toss into them. Thus was born the game of basketball.
http://www.hoophall.com/halloffamers/Naismith.htm
http://collections.ic.gc.ca/naismith/
1892-Birthday of African-American painter Minnie Evans, born Long Creek, North Carolina, considered one of America's great unique visionary folk artists.
http://www.outsider-folk-art.org/education/Minnie_Evans.asp
http://www.lyonsdenbooks.com/html/dreams.htm
http://www.artcyclopedia.com/artists/evans_minnie.html
1894-Canada, Yukon Order of the Pioneers: The Yukon Order of Pioneers held its founding meeting on this date at Forty mile, Yukon. It began as a vigilante police force to deter claim jumping and later inaugurated Discovery Day (Aug 17), a statutory Yukon holiday commemorating the discovery of gold on Bonanza Creek in 1896.
1896-Frank Broaker of New York City became the first "Certified Public Accountant, receiving Certificate Number One from the New York State Board of Certified Public Accountant Examiners. Broaker became the first secretary of the New York Board of CPA Examiners. He organized a school to prepare individuals to sit for the CPA examination. Broaker was criticized for publishing a book in 1897 entitled The American Accountants Manual, which contained questions and answers from the first CPA exam. He kept the proceeds from the sale of the book. He also was charged with forming a society of accountants with himself as president. It was alleged that Broaker had led prospective members of the society to believe that the Board of Regents might be willing to waive the CPA exam for those who were members. The Board of Regents responded to these complaints by appointing James T. Anyon to replace Broaker.
http://www.nysscpa.org/cpajournal/1996/1096/newsviews/CPAcen.htm
1909-The first payment to a Christmas savings club at a bank was made this day. It was started by the Carlisle Trust Company, Carlisle, PA. The idea originated with Merkel Landis, the bank's treasurer. When I was younger all kids had such a "savings account." Today most money is spent to make monthly payments to credit cards and kids are not encouraged to save. Do you have a Christmas savings account, or even a vacation savings account?
1911-Birthday of Walter Alston, baseball player and baseball Hall of Fame manager, born at Venice, OH. Alston struck out in his only major league at-bat, but he became one of the game's most successful managers. Working under a series of one-year contracts with the Brooklyn and Los Angeles Dodgers from 1954 through 1976, Alston won seven National League pennants and four World Series. Inducted into the Hall of Fame in 1983. Died at Oxford, OH, October 1, 1984.
1912-Harry Arthur "Cookie" Lavagetto, baseball player and manager born at Oakland, CA. Lavagetto was the first manager of the Minnesota Twins, but he is best remembered for breaking up Floyd Bevan's bid for a no hitter in Game 4 of the 1947 World Series. Lavagetto doubled with two out in the bottom of the ninth inning, spoiling Bevan's effort and wining the game for the Brooklyn Dodgers. Died at Orinda, CA, August 10,1990.
1914 - Following the outbreak of World War I, the nation's markets temporarily shut down to safeguard against a debilitating bear run. But, this day, traders were back at it again, at least on the West Coast, where the San Francisco Stock & Bond Exchange became the first U.S. exchange to re-open its doors for business.
1913-The first drive-in gas station was opened by Gulf Refining Company at the intersection of Baum Boulevard and St. Clair Street, Pittsburgh, PA. The station remained open all night and provided free crankcase service. Thirty gallons of gasoline were sold the first day. Frank McLaughlin was the first manager.
1913 - a 6 day Front Range snowstorm began, ultimately producing 45.7 inches of snow at Denver, CO, the biggest single snowstorm on record for that city.
1921-The first airship filled with helium gas was the semi rigid cigar-shaped Navy dirigible C-7. It contained 181,000 cubic feet of gas and was powered by two motors. It was tested at Hampton Roads Base, Hampton Roads, VA, and on December 4 made a round trip from Hampton Roads to Washington, DC. Lieutenant Commander R.F. Wood was the pilot.
1929 –Bingo invented and manufactured by Edwin S. Lowe. Bingo has grown into a five-billion-dollar-a-year charitable fund-raiser. He got the idea from "Beano" played at carnivals for
several centuries. Here is the story:
http://www.starlightonlinebingo.com/history.html
1933-Birthday of alto sax player Jimmy Lyons, Jersey City, NJ
http://www.artistdirect.com/music/artist/bio/0,,461272,00.html?artist=Jimmy+Lyons
1934-First "Let's Dance" broadcast on NBC with Benny Goodman Band.
1934-- Bob Shane of the Kingston Trio was born in Hilo, Hawaii. The trio was credited with starting the folk craze of the late 1950's and early '60s with their hit recording of "Tom Dooley" in 1958. The Kingston Trio had a clean-cut collegiate image which helped them win acceptance among the trendy college crowd. The trio broke up in 1968.
1934 - Singer Billy Paul is born in Philadelphia. His biggest hit is the million-selling No. 1 song "Me and Mrs. Jones."
1935—Woody Allen ( Allen Stewart Konisberg) born Brooklyn, NY.: actor, writer, producer (Oscar for Annie Hall; Sleeper, Manhattan, Bullets over Broadway.)
http://torp.priv.no/woody/
1935-Birthday of blues singer/actor Lou Rawls ("A Natural Man," "You've Made Me So Very Happy"), born Chicago, IL.
http://us.imdb.com/name/nm0712675/
http://www.lourawls.com/
http://www.barberusa.com/adult/rawls_lou.html
1937---- Don Everly of the Everly Brothers was born in Brownie, Kentucky. The brothers were one of the most important acts of early rock 'n' roll. Their music, a mixture of close country harmonies over a rocking beat, resulted in two dozen chart entries, including such number-one records as "Wake Up Little Susie," "All I Have to Do Is Dream" and "Cathy's Clown." The brothers broke up in 1973, reunited in 1983 and again in 1985. They had a big return touring with Simon and Garfunkle, who said
they were trying to imitate the Everly Brother when they began singing.
1938-Birthday of drummer Sandy Nelson, born Santa Monica, CA. He was the drummer in my dance band along with Frank Cook, played rock'n'roll, had a hit record later called "Teen Beat" in 1959, but in 1963 a motorcycle accident cost him a leg. I introduced him to Jan and Dean as well as Bruce Johnson who were at University High School. I think I met Nelson there in my first year, and at the time, he wanted to be a disc jockey as my other high school friend is today, Chuck Southcott, who later drove me back and forth to school in his 1956 Chevy. Nelson learned the sound from going to many burlesque shows, where he told us he watched the drummer and listened to the rhythm as it was very unique. We also took him to see Ben Pollock, as I remember, who was the first "boom-chick-a-boom drummer."
http://www.drummerworld.com/drummers/Sandy_Nelson.html
http://www.tsimon.com/snelson.htm
http://www.spaceagepop.com/nelson.htm
http://gemm.com/q.cgi?rb=SPACEAGEPOP&wild=Sandy+Nelson
http://www.cdlagoon.com/8911207.html
1939-Birthday of Lee Buck Trevino, golfer, born Dallas, TX.
http://www.asiangolfmonthly.com/highlights/greatest/14.htm
http://www.golfdigest.com/features/index.ssf?/features/gd200205myshot.html
1939--Birthday ofjazz pianist Joe Sample, co-founder of the Crusaders.
1940-Birthday of Richard Pryor, actor, comedian (Blue Collar, Stir Crazy, "The Richard Pryor Show"), born Peoria, IL.
http://www.kennedy-center.org/programs/specialevents/marktwain/pryor_bio.html
http://www.museum.tv/archives/etv/P/htmlP/pryorrichar/pryorrichar.htm
1941-Formation of the Civil Air Patrol: The Director of Civilian Defense, former New York Mayor Fiorello H. LaGuardia, signed a formal order creating the Civil Air Patrol, a US Air Force Auxiliary. The CAP has a three-part mission: to provide an aerospace education program, a CAP cadet program and an emergency services program.
http://cap.gov/about/history.html
1944-Duke Ellington records "I'm Beginning to See the light," ( Victor 20-1618)
1945- - Bette Midler is born in Paterson, N.J. She is named after actress Bette Davis. She wins a best new artist Grammy in 1974. Her biggest hits are the million-sellers "Wind Beneath My Wings" and "From a Distance." She is nominated for an Oscar in 1979 for "The Rose" and appears in such films as "Outrageous Fortune," "Down and Out in Beverly Hills" and "Beaches."
http://delveintothedivine.cjb.net/
http://www.betteontheboards.com/boards/index.html
1945 - The New York premier of Paramount's The Lost Weekend, starring Ray Milland in a brilliant performance, was on this date. The film earned Oscars and Golden Globe awards for Best Picture, Best Actor for Milland, and Best Director for Billy Wilde. Milland and the film were also honored at the Cannes Film Festival.
http://www.amazon.com/exec/obidos/ASIN/B0000549B1/lksmsubsite-sub-dv-asin-20
/104-3191958-8595946
http://www.flickfilosopher.com/oscars/bestpix/lostweekend.shtml
http://www.dvdmg.com/lostweekend.shtml
1945-Lionel Hampton cuts, "Hey-Ba-Ba-Re-Bop," (Decca 18754)
http://www.amazon.com/exec/obidos/ASIN/B00000IB1N/steinede-20/
104-3191958-8595946
1949-- RCA Victor introduced the 45 rpm record. It was designed as a rival to Columbia's 33 1/3 rpm long-playing disc, introduced the previous year. The two systems directly competed with each other to replace 78 rpm records, bewildering consumers and causing a drop in record sales. By the end of 1949, all the major companies, except RCA, had committed themselves to the LP record, seemingly putting an end to the 45. Even RCA itself announced it would issue its classical library on 33 1/3 rpm discs. But RCA was not ready to admit the demise of the 45 rpm record. The company spent $5-million publicizing 45 rpm as the preferred speed for popular music. The campaign worked. Buyers of non-classical records turned increasingly to the 45 rpm record, so that by 1954, more than 200-million of them had been sold. And all the major companies now were producing both 33 1/3 and 45 rpm records.
1950 - Eighth Army and X Corps began withdrawing in the face of the massive Chinese offensive. The U.S. 2nd Infantry Division, the British 27th Brigade and the Turkish Brigade, began to fight their way south from the Kunu-ri area through the bloody Gauntlet, under continuous fire from Chinese forces occupying the terrain commanding the route to safety. The 2nd Infantry Division was virtually destroyed during the Battle of Kunu-ri where over 4,000 men were lost. The division's overall combat capability was rated equivalent to a single regimental combat team by the end of the action. The ROK Capitol Division withdrew under heavy pressure to Pukchong.
1950 - Task Force MacLean/Faith, composed of elements of the U.S. 7th Infantry Division's 31st and 32nd Infantry Regiments, was annihilated east of the Chosin/Changjin Reservoir. Only 385 soldiers of its 3,200-man force were able-bodied following their withdrawal.
1950 *WINDRICH, WILLIAM G. Medal of Honor
Rank and organization: Staff Sergeant, U.S. Marine Corps, Company I, 3d Battalion, 5th Marines, 1st Marine Division (Rein.). Place and date: Vicinity of Yudam-ni, Korea, 1 December 1950. Entered service at: Hammond, Ind. Born: 14 May 1921, Chicago, Ill. Citation: For conspicuous gallantry and intrepidity at the risk of his life above and beyond the call of duty as a platoon sergeant of Company I, in action against enemy aggressor forces the night of 1 December 1950. Promptly organizing a squad of men when the enemy launched a sudden, vicious counterattack against the forward elements of his company's position, rendering it untenable, S/Sgt. Windrich, armed with a carbine, spearheaded the assault to the top of the knoll immediately confronting the overwhelming forces and, under shattering hostile automatic-weapons, mortar, and grenade fire, directed effective fire to hold back the attackers and cover the withdrawal of our troops to commanding ground. With 7 of his men struck down during the furious action and himself wounded in the head by a bursting grenade, he made his way to his company's position and, organizing a small group of volunteers, returned with them to evacuate the wounded and dying from the frozen hillside, staunchly refusing medical attention himself. Immediately redeploying the remainder of his troops, S/Sgt. Windrich placed them on the left flank of the defensive sector before the enemy again attacked in force. Wounded in the leg during the bitter fight that followed, he bravely fought on with his men, shouting words of encouragement and directing their fire until the attack was repelled. Refusing evacuation although unable to stand, he still continued to direct his platoon in setting up defensive positions until weakened by the bitter cold, excessive loss of blood, and severe pain, he lapsed into unconsciousness and died. His valiant leadership, fortitude, and courageous fighting spirit against tremendous odds served to inspire others to heroic endeavor in holding the objective and reflect the highest credit upon S/Sgt. Windrich and the U.S. Naval Service. He gallantly gave his life for his country.
1954-Senator Joe McCarthy silenced by the US Senate: Joseph McCarthy, a relatively obscure senator from Wisconsin , announced during a speech in Wheeling, WV, that he had a list of Communists in the State Department. Over the next two years, he mad increasingly sensational charges and in 1953 McCarthyism reached its height as he held Senate hearings in which he bullied defendants. In 1954 McCarthy's tyranny was exposed in televised hearings during which he took on the Army ( at twelve years old I remember watching them and not understanding how they could take him serious as he looked like he was drunk,) during which he took on the Army and on December 1,1954, the Senate voted to silence him. McCarthy died May 2, 1957.
http://mccarthy.cjb.net/
http://www.webcorp.com/mccarthy/wcmmlv2b.gif
1954—Top Hits
Mr. Sandman - The Chordettes
Teach Me Tonight - The De Castro Sisters
The Naughty Lady of Shady Lane - The Ames Brothers
More and More - Webb Pierce
1955- African-American seamstress Rosa Parks is arrested for refusing to give up her bus seat to a white person as required by law; the action triggers a bus boycott in Montgomery, Alabama, led by Martin Luther King Jr., changes history in the United States. Her arrest triggered a yearlong boycott of the city bus system and led to legal actions which ended racial segregation on municipal buses throughout the southern US. The event has been called the birth of the modern civil rights movement. Historians consider this the first longest and largest mass boycott by civil rights protestors. It lasted from 1955 to 1956, 381 days. The protest was led by a young minister, the Reverend Dr. Martin Luther King, Jr. Eventually the city agreed to treat all riders equally and to hire African-Americans as bus drivers. Interstate buses and other transportation still had restrictions on where African-Americans sat. Rosa McCauley Parks was born at Tuskegee, AL, Feb 4, 1913.
http://memory.loc.gov/ammem/today/dec01.html
http://www.grandtimes.com/rosa.html
http://www.time.com/time/time100/heroes/profile/parks01.html
http://www.tsum.edu/museum/
1957- Ed Sullivan presents three rock and roll acts, each making its national television debut, on his Sunday evening show: Buddy Holly & the Crickets, playing "That'll Be the Day," Sam Cooke, singing "You Send Me" and the Rays perform their hit "Silhouettes."
1958--he Phil Spector written "To Know Him Is To Love Him" was the number one song in the US for The Teddy Bears. The trio consisted of Spector, along with two friends, Marshall Leib and Annette Kleinbard.
1960-Bobby Darin took time out from his busy recording schedule to marry actress Sandra Dee. Bobby had put four songs on the singles chart that year, including "Beyond the Sea", "Clementine", "Won't You Come Home Bill Bailey" and "Artificial Flowers". The couple would divorce in early 1967.
1960-A San Diego, California quintet called Rosie And The Originals reached #5 on the Billboard Hot 100 with a crudely recorded ballad called "Angel Baby". Written by the group's 14 year old singer, Rosie Hamlin, the song held the position for six weeks and stayed on the chart for three months.
1960 - Teen idol Bobby Darin marries actress Sandra Dee.
1966-California folk-pop vocal group, the Mamas and the Papas earn their fourth gold record for their album, "Cass, John, Michelle & Denny."
1967-Birthday of Reggie Sanders, baseball player, born Florence, SC.
http://sports.espn.go.com/mlb/players/profile?statsId=4737
1962—Top Hits
Big Girls Don't Cry - The 4 Seasons
Return to Sender - Elvis Presley
Bobby's Girl - Marcie Blane
Mama Sang a Song - Bill Anderson
1969-The first US Air Force chief master sergeant who was African-America was Thomas N. Barnes of Chester, PA, who entered the Air Force in April, 1949. He became a master sergeant this day and chief master sergeant of the Air Force on October 1, 1973, for a two year terms. He retired July 31, 1977. He died 17, 2003.
http://www.chiefsgroup.org/barnes.htm
http://www.af.mil/bios/bio_4609.shtml
1968 - Janis Joplin makes a final appearance with Big Brother & the Holding Company.
1970—Top Hits
I Think I Love You - The Partridge Family
The Tears of a Clown - Smokey Robinson & The Miracles
Montego Bay - Bobby Bloom
Endlessly - Sonny James
1971-Alan Bartlett Shepard, Jr. of the US Navy became the first astronaut to become an admiral. He also was the first American astronaut to be launched into space. During his Apollo 14 walk on the Moon in 1971, Shepard took two golf balls that he had smuggled in his spacesuit and used an implement from the tool cart to execute what he called a "sand-trap shot," the only golf shot ever made on the Moon. He died at the age of 74, July 22, 1998, after a long battle with leukemia.
http://www.cnn.com/US/9808/01/shepard.memorial/
1972-Carly Simon's "You're So Vain" is released in the US where it will reach #1. The tune causes much speculation about who Carly was singing about, with popular guesses that included Mick Jagger (who sang uncredited backing vocals on the song), Cat Stevens, Warren Beatty, Kris Kristofferson (with whom she had had brief relationships), her unfaithful fiancé William Donaldson, and her ex-husband, James Taylor.
1977-Billy Joel's fifth album, "The Stranger," becomes his vehicle to stardom, making it to #2 and containing the hits "Just the Way You Are," "She's Always a Woman," "Movin' Out" and "Only the Good Die Young."
1978—Top Hits
MacArthur Park - Donna Summer
How Much I Feel - Ambrosia
You Don't Bring Me Flowers - Barbra Streisand & Neil Diamond
Sweet Desire - The Kendalls
1980 - IBM delivered its 1st prototype PC to Microsoft. IBM selected Microsoft to create MS-DOS, the operating system for its first PC. Steve Ballmer arrived from Proctor & Gamble as an assistant to Gates. Paul Allen bought the QDOS operating system (Quick and Dirty Operating System) from a rival company for $50,000. It was renamed MS-DOS and licensed to IBM. The IBM 5150 PC standardized the marketplace.
1982 - Epic Records releases "Thriller," Michael Jackson's first solo album in three years. It will yield four smash singles "This Girl is Mine" (a duet with Paul McCartney), "Wanna Be Startin' Somethin'," "Billy Jean" and "Beat It." It is the best-selling album of all time, with worldwide sales of more than 40 million copies.
1982-Michael Jackson's milestone album "Thriller" is released. For a time, it becomes the best selling album in Rock history.
1986—Top Hits
You Give Love a Bad Name - Bon Jovi
The Next Time I Fall - Peter Cetera with Amy Grant
Hip to Be Square - Huey Lewis & The News
Touch Me When We're Dancing – Alabama
1988 - Squalls in the Great Lakes Region produced up to a foot of snow in Ashtabula County OH, up to ten inches in Erie County PA, and up to a foot of snow in western New York State.
1989-Zamboini Medical Alert!!! The Center for Disease Control revealed in the "Journal of the American Medical Association" that the fumes from a Zamboini ice machine could make fans at a hockey game sick if the rink is not properly ventilated.
1989--a Spokane, Washington, funeral director revealed that jazz saxophonist and pianist Billy Tipton, who had lived his life as a man, was a woman. Tipton played for years in the US northwest after a career with several big bands. He appeared to have a wife and adopted three sons.
1991 -- Miami quarterback Dan Marino sets an NFL record when he goes over 3,000 yards passing for the eighth time in his career in Miami's 33-14 win over Tampa Bay.
1993-Jack Nicklaus won the Disney World Open to become the first golfer to earn more than $2 million in career winnings.
1994-US Congress passed the GATT Treaty: Fallowing the lead of the House of Representatives, the US Senate voted 76-24 to approve the Uruguay Round provisions of the General Agreement on Tariffs and Trade (GATT). The worldwide trade pack is intended to reduce tariffs by a third, eliminate trade quotas and protect intellectual property. The GATT agreement is expend to add $300-500 billion to the global economy through the year 2005. In January, 1995, the World Trade Organization (WTO) became the successor to GATT.
1997-Kenny G, whose real name is Kenny Gorelick, set a world record when he held a note on his saxophone for 45 minutes and 47 seconds. That record has since been broken by Geovanny Escalante, who held a sax note for 1 hour, 30 minutes and 45 seconds, using a technique that allows him to blow and breathe at the same time.
1997-Sprewell Chokes Coach: Basketball player Latrell Sprewell of the Golden State Warriors, provoked, he said, "by a lot of verbal abuse," choked his coach, P.J. Carlesimo at practice and threatened to kill him. The Warriors suspended Sprewell for 10 games, and the terminated the remaining three years of Sprewell's $32 million, 4-year contract, and then the NBA suspended him for a year. The NBA Players Association filed a grievance on Sprewell's behalf, and on March 4, 1998, arbitrator John Feerick reinstated the contract and reduced the suspension to five months. Two weeks before the season, the New York Knicks acquired Latrell Sprewell from Golden State for John Starks, Chris Mills and Terry Cummings. In 2004, he joined the Minnesota Timberwolves.
http://www.nba.com/playerfile/latrell_sprewell/index.html?nav=page
2005-- The Red Sox have petitioned a judge to keep the ball used to record the last out of 2004 World Series making the team World Champs for the first time in 86 years. Former first baseman Doug Mientkiewicz, who caught the ball after being thrown by Keith Foulke, loaned it to Boston but continues to claim ownership of the sensational sphere.
--------------------------------------------------------------

SuDoku
The object is to insert the numbers in the boxes to satisfy only one condition: each row, column and 3x3 box must contain the digits 1 through 9 exactly once. What could be simpler?
http://leasingnews.org/Soduku/soduko-main.htm
--------------------------------------------------------------

Daily Puzzle
How to play:
http://www.setgame.com/set/puzzle_frame.htm
Refresh for current date:
http://www.setgame.com/set/puzzle_frame.htm
--------------------------------