Monday, December 22, 2008

Actor Hector Elizondo born 22 December 1936, West Harlem, New York City, New York. He has appeared in over 80 movies and too many TV shows to count, the latest "Monk," as Dr. Phillip Watters in "Chicago Hope ((141 episodes, 1994-2000). He also stars in "Tortilla Soup," one of my favorite movies that I have watched several times, I like it so much. He is terrific in it.
Headlines---
Announcement—Podium Financial in Business!
Kit's Salvation Army Kettle
Classified Ads---Senior Management
The Independent Broker in 2008
Cartoon---Investment Christmas Card
Computer Tips
Exotic Mortgage Instruments
Letters—We get eMail
It's a Wonderful Life/Christmas Story/Miracle on
34th Street/Nat.Lampoon's Xmas Vacation/Bad Santa
Special Xmas DVD Reviews by Fernando Croce
Top Stories---December 15-December 19
Classified Ads---Help Wanted
Leasing 102 by Mr. Terry Winders, CLP
"Disclaimer of Warranties"
Classified ads—Leasing Attorneys
Greenspan: Banks Need More Capital
News Briefs---
You May have Missed---
Top Stories---
California Nuts Brief---
"Gimme that Wine"
Today's Top Event in History
This Day in American History
SuDoku
Daily Puzzle
GasBuddy
Weather, USA or specific area
Traffic Live----
######## surrounding the article denotes it is a "press release"
-----------------------------------------------------------------

Announcement—Podium Financial in Business!
While the telephone says "disconnected," web site is down, emails to Alster McNeil come back, Podium Financial Group is still in business.
"…couldn't be further from the truth. In this economy, as an asset based lessor,
we are busier than ever."
"We are actually in the middle of a move to a new facility and phone numbers had been changed many months ago. Coincidently, and unfortunately we are having a major issue with ownership of our domain name which has caused our internet problems this week.
"We will be up and running again hopefully today without paying the "blackmailed" fee requested by a 3rd party!!
"In the meantime our temp e-mail address is podiumfinancial@gmail.com
"We can still be reached at direct number 949-515-1513 "
Regards, Alister
--------------------------------------------------------------

Kit's Salvation Army Kettle
Last Call---If you have donated at home, or to Kit's Kettle, thank you very much.
Our next edition will be our Christmas message.
Please click on the Kettle to see who has donated, or if you would like to join our effort.
Kit Menkin
--------------------------------------------------------------

Classified Ads---Senior Management
Atlanta, GA
Strong sales and leadership skills; demonstrated with sales training and sales performance. Lead team in both regional and national operations and developed marking programs.
Email: mll1946@comcast.net

Europe
25+ yrs exper. management roles Chase, AT&T Capital, Heller Financial, SFS. Develop biz from "scratch to success". Looking for challenging & pioneering job.
Email: frans@alliedproperty.net
Philadelphia, PA
27 yrs. exp. sales, ops., credit, strategy, P&L mngmet. Most recently created & executed the biz plans for 2 highly successful Bank-owned small ticket leasing subsidiaries.
email: mccarthy2020@comcast.net
Salt Lake City, UT
Exp. in financial documentation, contract negotiations, residual analysis, marketing, credit/collections, contract drafting, and asset remarketing. Position held VP of Remarketing.
dlynn71@gmail.com
Seattle,WA--Pacific Northwest
Results oriented CLP with 27 year background in all phases of Portfolio Management and underwriting. Contact for resume and references.
dcjohnr@comcast.net
For a full listing of all "job wanted" ads, please go to:
http://www.leasingnews.org/Classified/Jwanted/Jwanted.htm
To place a free "job wanted" Leasing News ad:
http://www.leasingnews.org/Classified/Jwanted/Jwanted-post.htm
ELFA Career Center: Job Seekers (free):
http://careers.elfaonline.org/search.cfm
--------------------------------------------------------------

The Independent Broker in 2008

by Mike Coon
Mike Coon is the Executive Vice President of Enterprise Funding, a commercial equipment finance company located in Grand Rapids, MI. During his twenty year career, he has worked in most areas of the business including credit, collections, marketing and funding. Mike is a graduate of Central Michigan University and is an active member of the National Association of Equipment Leasing Brokers and the National Equipment Finance Association (f.k.a. UAEL and EAEL).
In the future, as I recall the year of 2008, I will remember it as the Year of the Split Personality. The first half of the year was one of strong growth, record origination volume and profitability, and strong portfolio performance. The second half of the year will not be remembered as fondly.
During the first half of the year, money was generally viewed as a limitless commodity. It was available in some form to all involved in the equipment financing industry: brokers, lessors, banks, equipment vendors, and borrowers/lessees. Virtually no transaction was without merit or the funding to make it a reality. But, as midyear approached, liquidity, the lifeblood of our industry, stopped flowing and the equipment finance business went into cardiac arrest.
Banks were choked with bad loans, and wrote them off. Because they were struggling with reduced capital and had little ability to raise additional capital, they were forced to reduce lending to all borrowers, not just the weaker credits. Other funding sources were impacted immediately, as their credit facilities were modified, re-priced or terminated without warning; the collateralized bond market disappeared, and those funding sources which had become addicted to it suddenly had no alternative financing methods. The result was an overnight modification of policies and programs, tightened credit and rate increases. The weak economy quickly became apparent in lessors portfolios in the form of dramatic increases in delinquencies, defaults and bankruptcies. Some funding sources were forced to retreat from the market completely, others shut down origination platforms such as brokers.
What does this mean to the independent broker? The industry has clearly changed, as brokers attempt to place their deals in a less than welcoming environment. For a broker to find success in the future, he or she must have a viable and proven flow of business that is attractive to its funding sources. The broker will need to demonstrate highly efficient performance metrics: approval to application ratios, booking to approval ratios, clean documentation packages and quality portfolio performance. As funding sources weed out poorer performers and close their doors to new broker relationships, only established and highly regarded brokerage firms will find the funding they require to service their customers and vendors. As they say, this "will separate the men from the boys".
Enterprise Funding is a small ticket funding source that focuses almost entirely on indirectly-originated business (brokers/lessors/intermediaries). We are no exception to the challenges at hand, as our funding has been limited and modifications have been made to our funding facilities. Fortunately, we are aligned with a high quality group of originators, we have a seasoned relationship with our lead bank and our portfolio is performing above average. The new paradigm has changed the way we do business, however. Enterprise was well known for superior service, and we were particularly proud of our reputation for funding transactions faster than most in the business. But because our funding is constrained, we are much slower to fund transactions, a key element of our commitment to our brokers. We have re-evaluated our credit policies to reflect the requirements of our funding providers and market conditions, and we have modified or discontinued popular program offerings. Finally, until the liquidity markets begin signs of normalization, we will refrain from adding new brokers, rather focusing on our existing high performers. Enterprise will, however, continue its commitment to the equipment finance industry and its customers, even during these difficult times.
Lastly, I encourage all brokers and lessors to carefully evaluate their business models and accept the changes demanded by the times. Understand the reality of the new marketplace and learn the best ways to manage these changes. Make an effort to strengthen relationships with your funding sources. As the Chairman of the 2009 National Association of Equipment Leasing Brokers Annual Conference in Las Vegas, NV (April 30-May2), I encourage members and non-members to attend; numerous informative workshops have already been designed to help you through these challenges. This one is a "can't miss"!
Mike Coon
Executive Vice President
Enterprise Funding Group
4308 Three Mile Road
Grand Rapids, MI 49534-1297
Work: (866) 774 5050
Fax: (616) 774-8740
Mobile: (616) 813-3889
mcoon@enterprisefundinggroup.com
(This ad is a "trade" for the writing of this column. Opinions
contained in the column are those of Mr. Scott Wheeler)
--------------------------------------------------------------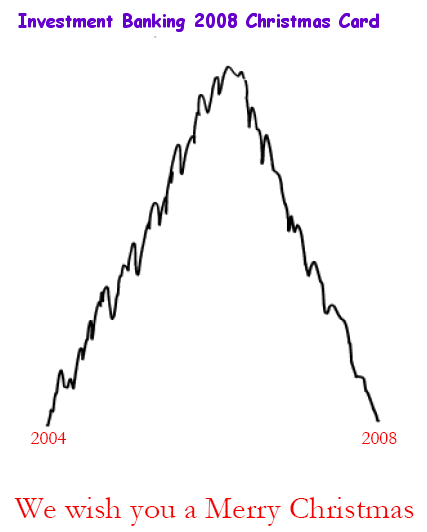 --------------------------------------------------------------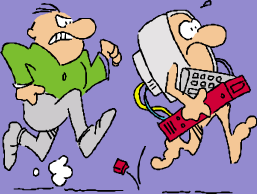 Computer Tips
Goggle 411---Free
New Google Feature—Good, Bad, and the...
How to create your own private/public blog
Free Lease-vs-Buy Calculator
Google Tool Bar
IE History—Improve Performance
How to Check your eMail from a Public Computer
Look out for Hotel computers!
Printing an "on line" Article
Screen Resolutions affect what you see
--------------------------------------------------------------

Exotic Mortgage Instruments - ALT A, and Option ARM
by Al Schuler, US Department of Agriculture Analyst, Timber
Over the past two years, most of the default/foreclosure problems came from the "sup prime' category. For comparison, sub prime totals about $1 trillion, Alt A about $1 trillion, and Option Arms about $600 billion.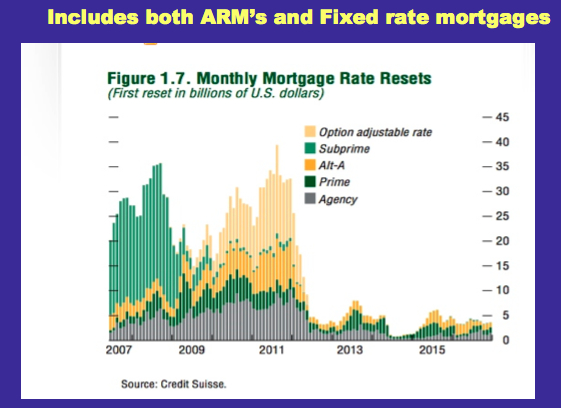 #2 includes adjustable rate mortgages (Arm's) and fixed rate mortgages while #3 includes only ARM's. Not to depress you too much, but, although the sub - prime crisis has run most of its course, there are two other "exotic/toxic" mortgage products that could do more harm than the subprime category - the "Alt A category", and the "Option/Adjustable ARM category".
Sub - prime mortgages are those mortgages issued to people with poor credit history/FICA scores, typically scores below 600. Although the ALT A and Adjustable ARMS were made to people with good FICA scores/credit history, there are some interesting twists. ALT A refers to loans given to people who were not required to show or prove income or ability to pay off the loan. Adjustable/Option ARMS refers to home loans where the consumer gets a rate on the loan that starts out low and he/she can also choose how much they want to pay each month. Over time, these loans "reset", and this is where the problems begin.
These two categories are sometimes called "NINJA loans" - no income, no job, and no assets. So - housing problems could continue well into 2012 if something is not done to deal with upcoming foreclosures stemming from resets to the ALT A and ARMs - and there are still some "sub prime" mortgages out there - slide #3 suggests a fair amount of sub prime loans will reset over the next 3 years.
The potential default rate on these types of loans is significant if history is any indication.
--------------------------------------------------------------

Letters—We get eMail
---
"Slam dunk job on this issue, really enjoyed it, even though much of it was doom and gloom for the leasing brokers.
"Merry Christmas to you in spite of the economy.
"BTW Kit I always wanted to get back to thank you for the introduction to First Federal Leasing. I have developed a great working relationship with them over the years and it is due entirely to you.
"Thanks Again,"
Bob
CAPITAL AGREEMENTS CORPORATION
Visit us at www.capitalagreements.com
TELE: 888-583-0400
FAX: 888-583-0401
Nationwide Commercial Equipment Financing & Leasing since the last Millennium Specializing in the financing and leasing of new and used construction equipment and related titled equipment.
---
"I always appreciate your creative take on the news. Thank you."
Beth D'Addono
beth@worldleasingnews.com
--
"I always appreciate your notification of dishonest people in the leasing industry. As a recruiter it's important to know who they are, so when they resurface (and they always do!) years later I know not to work on their behalf.
"Thanks!!
"Hoping you and your family have a safe, happy and healthy New Year!!"
Helene
Helene G. Kugit, Managing Director
Executive Solutions for Leasing and Finance, Inc.
10 Timberdale Drive Holmdel, NJ 07733
732.332.1524 Fax: 732.626.6161
helenekugit@exsolutions.com http://www.exsolutions.com
----
"Aloha Kit,
"I wanted to express my appreciation for your great service and a Mele Kalikimaka to you and your family. Still looking for that "workout postion" on the mainland and with the bad credits circulating – hopefully won't be much longer."
Regards,
Daniel Monberg
(Multi- talented individual looking to relocate back to mainland. Over 20 years of experience in Asset Management, Venture Leasing, Operations and Senior Management Positions.
RESUME | Email: dan@ggpglobal.com
http://www.leasingnews.org/Classified/Resumes/DanMonbergResum.doc )
-------
"Icon had a gala holiday party in SF this week then we found the doors locked and office permanently closed when we tried to get in the next morning. No mention or prior warning. Creepy! Christmas,
too. I had to tell you. Please don't use my name."
(Name with held)
-----
"Even though I am no longer directly in the leasing industry, I still enjoy staying connected, and I particularly enjoy reading Terry Winders articles.
"Today's article was of particular interest because prior to 1990 when I finally donned a marketing cap, most of my focus was in credit and collections. I think the steps you outlined were very creative, and obviously and more importantly, effective in significantly reducing your delinquency. While I am not in favor of eliminating the grace period entirely, as you mentions some companies are doing, the question I do have is where is it written that a grace period must be ten days. What's wrong with three. That should allow time for last minute mail, for anyone who is still mailing in their payments, and get the point across that you expect payments to be made timely.

"Just an old thought."
Hal
Hal T. Horowitz
Financial Pro Solutions
22845 Ventura Blvd., Suite 124
Woodland Hills, CA 91364
Phone: 818-347-FINA (347-3462)
Cell: 818-730-0645
Email: halh@finapros.com
Website: www.finapros.com
(Don't look for anything great here yet; we're still under construction.)
----
"I don't know if you would have the time to respond to this or not, but I'm ready to start up my own shop and was wondering if you have any advice for locations? I was thinking Vermont because it's cheap and I love it up there, but I remember a few Leasing companies will not work in Vermont at all, do you know why? Do you have anywhere that you recommend? Any help would be much appreciated. Currently I am in California and looking to move anywhere in the continental US."
(name with held)
(I would recommend going to work in Southern California, joining a company on a commission basis to learn about leasing, which will take about nine months to a year.)

(I don't think any location makes a difference if you are going to use telemarketing.
Some states require licensing.
http://www.leasingnews.org/archives/June%202008/06-25-08.htm#lic)

(I would recommend joining NAELB.org and using the educational material that they have,
and participating.)

(Here are some articles to read:
http://www.leasingnews.org/Legacy/index.html)

(Here are some more:
http://www.leasingnews.org/Conscious-Top%20Stories/Leasing_102/Index.htm)

(Here are some books you should read:
http://two.leasingnews.org/Books.htm)

(Commitment Letters:
http://www.leasingnews.org/Conscious-Top%20Stories/Engagement_letters.htm)
--------------------------------------------------------------

It's a Wonderful Life/ A Christmas Story/ Miracle on 34th Street/
National Lampoon's Christmas Vacation/ Bad Santa
Special Christmas Edition
By Fernando F. Croce
For cinema lovers who don't want to wait until Christmas morning to unwrap their presents, here's a batch of Yuletide gifts to go with your cup of eggnog.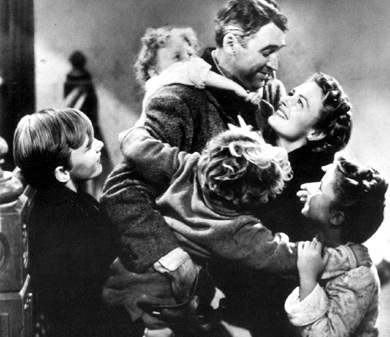 It's a Wonderful Life (Frank Capra, 1946): The story of the joys and travails of George Bailey (James Stewart) has long achieved a reverential spot in American pop culture. Who can forget Lionel Barrymore as a modern-day Scrooge, Henry Travers as Clarence the angel, and George's joy as he finds his daughter Zuzu's flower in his pocket? Still, there is a darker side to the movie that many viewers miss even today, a very thin line that separates the American Dream from a nightmare and combines hope and despair. It's this balance, along with Stewart's deeply felt performance, that gives this classic its enduring power, charm and grace.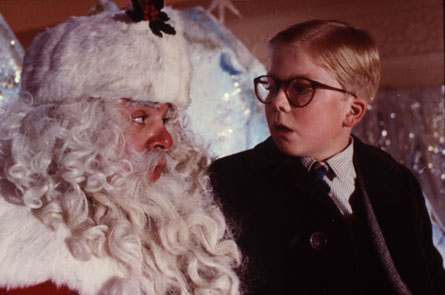 A Christmas Story (Bob Clark, 1983): Another iconic Yuletide movie, Bob Clark's charmer is known to play on TV for days on end during Christmas season marathons. It's easy to see why. Depicting the holiday through the eyes of a precocious nine-year-old boy, it glows with nostalgia and bubbles with irresistible humor. All young Ralphie (Peter Billingsley) wants is to survive childhood and get a BB gun from Santa, but things rarely go as planned when your parents (Melinda Dillon and Darren McGavin, both wonderful) think pink bunny suits make good gifts. In a movie filled with classic scenes, none is more memorable (or funnier) than Ralphie's visit to a very cranky department-store St. Nick.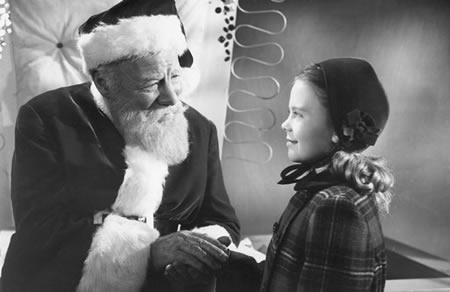 Miracle on 34th Street (George Seaton, 1947): Often a supporting player in Christmas movies, Santa Claus gets his own starring role in this warm and witty family favorite. Kris Kringle (Edmund Gwenn in a delightful, Oscar-winning performance) visits New York City and takes a job at a department store run by Doris (Maureen O'Hara), whose little daughter Susie (Natalie Wood) doesn't believe in Santa Claus. When he tries to prove that he's not just playing Santa but is Santa, he has to prove his own sanity to the judicial system and, more importantly, to the children of the world. Wise, affectionate, and with a pretty sharp message about letting the season's craven commercialism getting in the way of its true meaning.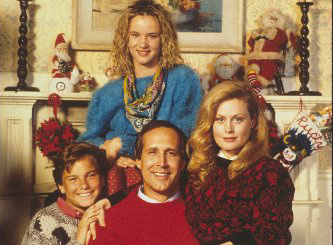 National Lampoon's Christmas Vacation (Jeremiah S. Chechik, 1989): The Griswolds, possibly the country's most bumbling family, bundle up for mistletoe and reindeers in this very funny and surprisingly poignant holiday farce. Clark (Chevy Chase) is planning a solid Christmas with his wife Ellen (Beverly D'Angelo) and kids, but instead finds a series of disasters, from the Christmas lights that refuse to work to the relatives who can't stop fighting. Re-teaming many of the characters from the earlier films (including Randy Quaid in a scene-stealing role as Clark's hick cousin) but introducing a more family-friendly tone, it shows how even the most absurd mishaps ultimately only bring the Griswolds closer together.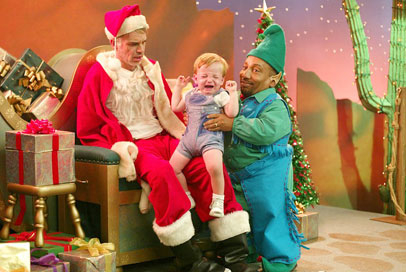 Bad Santa (Terry Zwigoff, 2003): Billy Bob Thornton is at his comic best in this rollicking dark comedy, which goes out of its way to turn every Yuletide tradition on its ear. Thornton stars as Willie, a man brimming with foul habits (including smoking, drinking, and chasing women) who is hired to play St. Nick as part of a plan to break into the store's safe. Directed by Terry Zwigoff ("Ghost World"), it's a kind of anti-"Miracle on 34th Street" that keeps coming up with hilarious new ways to be crude. It may not be the best choice for a family-friendly audience, though anybody looking for a drop of vinegar in their eggnog will gulp it down to the last drop.
--------------------------------------------------------------

Top Stories---December 15-December 19
Here are the top ten stories opened by readers:

(1) Pentech Financial, Campbell, CA
http://www.leasingnews.org/archives/December%202008/12-19-08.htm#pentech
(2) Prime Rate Lowering Means Little for Leasing
http://www.leasingnews.org/archives/December%202008/12-17-08.htm#prime
(3) Classified Ads---LEAF/Santa Barbara Employees
http://www.leasingnews.org/archives/December%202008/12-19-08.htm#ads
(4) New List—2008 (Dec, 07-to Date)
http://www.leasingnews.org/archives/December%202008/12-15-08.htm#list
(5) Corrections---The List (Dec.07 to Date)
http://www.leasingnews.org/archives/December%202008/12-17-08.htm#list
(6) Madoff: The 17th Floor, Where Wealth Went to Vanish
http://www.nytimes.com/2008/12/15/business/15madoff.html?_r=1&ref=business
(7) Marlin Stock at $2.51
http://www.leasingnews.org/archives/December%202008/12-19-08.htm#marlin
(8) Silicon Valley Millionaires Burned in Tech Bust
http://www.nypost.com/seven/12142008/business/millionaires_burned
_in_tech_bust_144067.htm
(9) (Tie)
Federal Reserve may cut interest rates to 0% soon
http://www.usatoday.com/money/economy/2008-12-14-federal-reserve-interest
-rates_N.htm?loc=interstitialskip
(9) (Tie)
Operation Lease Fleece
http://www.leasingnews.org/archives/December%202008/12-19-08.htm#olf
(10) (Tie)
Leasing 102 by Mr. Terry Winders, CLP
"Lease Language"
http://www.leasingnews.org/archives/December%202008/12-15-08.htm#102
(10) (Tie)
Sales Make it Happen --- by Scott Wheeler
"How to Become a Better Leasing Advisor"
http://www.leasingnews.org/archives/December%202008/12-17-08.htm#sales
Not Rated due to technical reasons: Extra: Fed Prime Rate
http://www.nytimes.com/2008/12/17/business/economy/17fed.html?_r=1&hp=&adxnnl
=1&adxnnlx=1229457767-idWdMoteMhp1x9Td17kHHQ
--------------------------------------------------------------

Leasing Industry Help Wanted
sales
Regional Sales Manager
Are you a sales professional with proven track record in the small ticket market?


VENDOR SALES SPECIALISTS
LEASING SALES PROFESSIONALS
Like selling vendor programs and large transactions?
Enjoy international financing programs?
Prefer the advantages of a commission only environment with the security of health and welfare benefits?
CLICK HERE to find out how to have fun again.
Settlement Specialist

Settlement Specialist
Brea, CA
Small ticket leasing company looking for someone to negotiate end lease settlements (renewals, FMV, etc.) and run the department. Report directly to the Director of Operations. Require 2+ yrs. experience minimum. Attractive Compensation $65k to $90k 1 st yr. + benefits.
Please email resume to:
employment@providencecapitalfunding.com or
Fax: 714-985-6255
Please see our Job Wanted section for possible new employees.
-------------------------------------------------------------

Leasing 102
by Mr. Terry Winders, CLP
"Disclaimer of Warranties"
To begin with, please remember that UCC Article 2A splits leases into two categories, two party (vendor leasing) and three party (finance leases). This is important because in a two party lease the Lessor is also the equipment supplier and since the Lessor is the purveyor of goods and the Lessee is a company leasing the use of the equipment for a limited period of time, the use of the equipment and, just as in Article 2 of the UCC in the case of sales, they are entitled to certain basic protections regarding the quality of the leased asset. In the absence of a disclaimer of warrantees the Lessor may be subject to implied warranties of fitness and merchantability. This means that the Lessee has a right to expect the equipment to perform correctly without failure or significant down time. When there is a breach of the implied warranty of merchantability, the lessee may not only recover lease payments previously made, but may also recover consequential damages.
There are generally two warranties that may be implicit in any sale of "goods." First, the Warranty of Fitness for a Particular Purpose is implied if it can be shown that the seller at the time of purchase has reason to know a particular purpose for which the goods are required. The buyer must rely on the seller's judgment or skill when making the purchase. Basically, the seller warrants that the goods sold shall be fit for that particular purpose.
The second warranty is the Implied Warranty of Merchantability. This is a warranty that the goods are fit for the ordinary purposes for which they are used. The purpose is to hold the seller responsible when inferior goods, not of a merchantable standard, are passed on to the unsuspecting buyer.
However, a merchant may disclaim these warranties. There are generally two rules when doing so. First, use the word "merchantability" in the disclaimer and make the language conspicuous. For example, the disclaimer should be in bold or capital letters and in a larger type face. Next, one may use expressions such as "AS IS" or "with all faults" to disclaim implied warranties. Again, these should be easy for the buyer to see.
In net leases that are finance leases (three party Lease) Article 2A exempts the Lessor from implied warranties and again like Article 2, provides for a method to waive these warranties. You must include a disclaimer of Warranties (supply contract) in bold print (conspicuous) plus you must pass on to the Lessee any and all warrantees provided by the vendor and state same in your lease agreement and most important require this pass through in your vendor purchase order. Example Purchase Order Language:
Title to the equipment shall pass from you directly to us and shall be free of all liens and encumbrances. You warrant that the equipment will comply with all warranties, agreements and representations made by you to lessee, and you agree that all warranties agreements and representations made by you (supply contract) to lessee or to us shall be fully enforceable by us and/or by lessee in its own name.
In addition a net lease finance Lessor requires the "Lessee" as part of the disclaimer to inspect and accept the equipment (acceptance certificate). If it meets with the lessee's approval and they sign and acceptance certificate with the correct language you have taken another step in protecting yourself from equipment claims. Here is some example acceptance language:
The following Items of Equipment have been (a) delivered to Lessee under the Lease (as evidenced by a signed Delivery Certificate), (b) fully and completely installed (if and to the extent any installation is required), (c) tested by Lessee to the extent Lessee deems appropriate in order to make this Certificate), (d) found to be suitable to Lessee for purposes of accepting those Items under the Lease and making them subject to the Schedule and the Lease (without waiving any rights or claims against the Vendor), (e) put into use on or as of the Commencement Date, and (f) accepted by Lessee, and Lessee hereby waives any right to revoke its acceptance with respect thereto:
With both the disclaimers of warrantees and the acceptance certificate, a net Lessor under a three party finance lease is protected legally from equipment failure. This does not rule out that the Lessee will be upset and try not making payments if the equipment fails to live up to the promises of the vendor. Once again it is important to have a check list for the salesperson, or your cover letter, to verbalize your net lease status and the fact that you have passed on the warrantees so that the Lessee can take any equipment failures directly to the vendor plus the fact you have a "hell and high water" provision that requires them to make payments regardless of equipment failure.
These provisions are very important if you are to be free of responsibility for equipment performance. Remember to have your legal counsel review your lease documents at least every two years to stay on top of the changes brought on by new legal cases.
Mr. Terry Winders, CLP, has been a teacher, consultant, expert witness for the leasing industry for thirty years and can be reached at leaseconsulting@msn.com or 502-327-8666.
He invites your questions and queries.
Previous #102 Columns:
http://www.leasingnews.org/Conscious-Top%20Stories/Leasing_102/Index.htm
(This ad is a "trade" for the writing of this column. Opinions
contained in the column are those of Mr. Terry Winders, CLP)
--------------------------------------------------------------

Classified ads—Leasing Attorneys
Birmingham, Alabama
The lawyers of Marks & Weinberg, P.C. have over 30 years experience in dealing with virtually every type of equipment financing and are recognized throughout the industry for prompt, practical solutions and exemplary service. They offer cost-conscious, effective lease enforcement and good counsel.
Email: Barry@leaselawyer.com
Website: www.leaselawyers.com
California, National: city: Riverside
Ellen Stern - get results, reasonable pricing; numerous industry contacts, nearly 30 yrs exp.in SoCal, 20 yrs equip.: CFL license specialist, documentation, work-outs, litigated collections, recoveries; deal-maker.
Email: leaselaw@msn.com


Kenneth C. Greene
California & Nevada
Hamrick & Evans, LLP, Universal City , LA; San Francisco Bay
Area, No.Calif. & Nevada. Call for free consultation (828)763-5292 or (415) 806-2254,
kgreene@hamricklaw.com

Connecticut, Southern New England:
EVANS, FELDMAN & BOYER, LLC Collections, litigation, documentation, portfolio sales and financing, bankruptcy. We represent many of the national and local leasing companies doing business in this state. Past chairman EAEL legal committee. Competitive rates.
email: rcfeldman@snet.net
Los Angeles, Southern CA
Seasoned attorney representing secured creditors in auto finance and truck/equipment lease industry. Bankruptcy and State Court litigation. Vincent V. Frounjian (818) 990-0605 or email: vvf@pacbell.net.

Encino, California: Statewide "ELFA"
Hemar, Rousso & Heald, LLP 30 yr excellent reputation Lessor representation commercial litigation, debt collection, and bankruptcy.
Call Stephen E. Jenkins Esq (818) 501-3800

Los Angeles, Statewide: CA. "ELFA" Aggressive creditors rights law firm specializing in equipment leasing handling collection matters on a contingency, fixed fee or hourly cbasis. email:RGarwacki@prodigy.net


Los Angeles -statewide: CA "ELFA"
Practice limited to collections, bankruptcy and problem accounts resolution. Decades of experience. 10-lawyer firm dedicated to serving you. Call Ronald Cohn, Esq. (818)591-2121 or email. Email: rrcohn@aol.com

Long Beach, CA
Wagner & Zielinski, successfully representing lessees/ lessors. Not a member of any leasing organization, therefore not beholden to special interests. Richard Wagner
(562) 216-2952 www.wzlawyers.com

Long Beach CA.
Paul Bent -- 30 years experience in all forms of equipment leasing, secured lending, and asset based transactions, from analysis and deal structuring to contract negotiations to closing to private dispute resolution. (562) 426-1000
www.paulbent.com

Law Firm - Service, Dallas, TX. "ELFA"
Mayer regularly practices in leasing, secured financing, project development and finance and corporate finance.
email: dmayer@pattonboggs.com
Website: www.pattonboggs.com

National: Coston & Rademacher: Business attorneys serving the lease-finance industry since 1980. Transactional, documentation, corporate/finance, workouts, litigation, bankruptcy, portfolio management. Chicago-based national practice. Jim Coston, CLP (Members: ELFA, NEFA).
email: Jcoston@costonlaw.com
Website:www.costonlaw.com

St. Louis County , MO. - statewide:
Schultz & Associates LLP., collections, negotiation, and litigation. Also register and pursue recovery on foreign judgments. Contingency and reasonable hourly rates.
Ronald J. Eisenberg, Esq. (636) 537-4645 x108
reisenberg@sl-lawyers.com
www.sl-lawyers.com
Westport, CT: We represent finance companies, banks, lessors, etc., in replevins/seizures, collections and bankruptcy matters in Connecticut and New York. Flat fee, contingency and hourly rates.
Email: rchinitz@replevinlawyer.com
Post a free attorney classified ad here:
http://www.leasingnews.org/Classified/Attorney/Attorney-post.htm
--------------------------------------------------------------

(Leasing News provides this ad "gratis" as a means
to help support the growth of Lease Police)
News Briefs----
Greenspan: Banks Need More Capital
http://www.cfo.com/article.cfm/12834073/c_12834707?f=home_todayinfinance
---------------------------------------------------------------


You May have Missed---
Tom Coughlin torches Tiki Barber in refusing interview with his former player
http://www.nydailynews.com/sports/football/giants/2008/12/20/2008-12-20_
tom_coughlin_torches_tiki_barber_in_refu.html
----------------------------------------------------------------

Top Stories
These are the ten top stories chosen by readers as being the most read:
http://www.leasingnews.org/archives/December%202008/12-15-08.htm#top10
Top Stories Collection:
http://www.leasingnews.org/Conscious-Top%20Stories/Ten_top_stories.htm
----------------------------------------------------------------


California Nuts Briefs---
Schwarzenegger: I Would Like To Be President!
http://www.latimes.com/news/local/la-me-arnold22-2008dec22,0,4603515.story
----------------------------------------------------------------


"Gimme that Wine"
Sale of pioneering Sebastiani Vineyards caps legacy rooted in family differences
http://www.pressdemocrat.com/article/20081221/NEWS/812210449/1036/NEWS07?
Title=Vintage_winery_s_closure
Wine Prices by vintage
http://www.winezap.com
http://www.wine-searcher.com/
US/International Wine Events
http://www.localwineevents.com/
Winery Atlas
http://www.carterhouse.com/atlas
Leasing News Wine & Spirits Page
http://two.leasingnews.org/Recommendations/wnensprts.htm
The London International Vintners Exchange (Liv-ex) is an electronic exchange for fine wine.
http://www.liv-ex.com/
----------------------------------------------------------------

Today's Top Event in History
1973 - Barbra Streisand's hit record, The Way We Were, from the movie of the same title that she starred in with Robert Redford, debuted on Billboard's pop record charts on this date. The song was on the charts for 17 weeks total, and for 3 weeks was Number 1. It was later certified gold, and it won the Academy Awards for Best Song and for Best Original Dramatic Score. The music was written by Marvin Hamlisch, and the lyrics by Alan and Marilyn Bergman.
[headlines]
----------------------------------------------------------------

This Day in American History
1696-Birthday of William Oglethorpe, English general, author and colonizer of Georgia. Founder of the city of Savannah. Oglethorpe was born at London. He died June 30, 1785, at Cranham Hall, Essex, England.
http://www.ourgeorgiahistory.com/people/oglethorpe.html
http://www.cviog.uga.edu/Projects/gainfo/hogarth3.htm
1727-Birthday of William Ellery, Signer of the Declaration of Independence, born at Newport, RI, and died there Feb 15, 1820. During the British occupation of Rhode Island, Mr. Ellery's house was burned and much of his other property "injured."
http://www.williamellery.com/
http://www.colonialhall.com/ellery/ellery.asp
1770 -Birth of Father Demetrius Gallitzin, a Dutch Catholic priest. Arriving in America in 1792, he spent his remaining years as a frontier missionary, building up the Catholic church in parts of PA, MD, VA and WV. Gallitzin became known as the "Apostle to the Alleghenies."
http://www.slider.com/enc/21000/Gallitzin_Demetrius_Augustine.htm
http://www.gsd1.org/business/GlendaleBoatSales/history.htm
http://www.catholicism.org/PAGES/gallitzin.htm
1775-Esek Hopkins of Rhode Island became the first Commander-8in-chief of the Continental Navy and severed until January 2, 1778. He also got into trouble with Congress for interpreting his orders rather broadly in diverting his fleet from its announced destination of Charleston to the Bahamas, where he made a successful raid on military stores. Congress sacked him anyway. Some say his real crimes were a hot temper and an unguarded tongue. Others say he had secret orders. Among his officers was First Lieutenant John Paul Jones, who helped take New Providence. This was the first American naval victory. Commodore Hopkins flew on this first and on other voyages the Gadsden flag, designed by a man from Charleston, Carolina, with a coiled rattlesnake and the motto ``Don't Tread on Me.''
http://www.worldsfinestnavy.com/EsekHopkins.html
http://www.famousamericans.net/esekhopkins/
http://www.sat.quarterman.org/who/essexhopkins.html
http://www.sat.quarterman.org/gif/gadsden1.gif
1807 -- Congress passes the Embargo Act, which halts all trading completely. It is hoped that the act will keep the United States out the European Wars.
1815-Birthday of Henry Highland Garnet, early Black abolitionist leader, leader of both emigration to Liberia and freedom in the United States.. Later in life, Garnet turned to religion and lost a lot of his influence on the issue of slavery, but he continued to fight for the cause and helped to improve the lives of former slaves. In 1881 he was appointed to a position in Liberia, but died only two months after he arrived in 1882.
http://www.pbs.org/wgbh/aia/part4/4h2949.html
http://www.africawithin.com/bios/henry_garnet.htm
http://www.ugrworkshop.com/hgarnet.htm
http://raider.muc.edu/~horninme/G7%20henry_highland_garnet.htm
1829 - The Baltimore & Ohio Railroad opens the first passenger railway line.
1833- Mercer University was chartered in Penfield, Georgia under Baptist support. In 1871 the college moved its campus to Macon, Georgia.
http://www2.mercer.edu/About_Mercer/default.htm
1839 - The second of triple December storms hit the northeastern U.S. The storm produced 25 inches of snow at Gettysburg, PA, and gales in New England, but only produced light snow along the coast.
1862-Birthday of Connie Mack,, Baseball Hall of Fame manager and executive born Cornelius Alexander McGillicuddy at East Broofield, MA. Mack was a mjajor league catcher who became the original manager and co-owner of the Philadelphia Athletics in 1901. He managed the team, always wearing street clothes and signaling to his players with a scorecard, through the 1950 season and retired after the 1953 season The Mackmen often finished as also rans, but his te4ams did win nine pennants and five world Series. Inducted into the Hall of Fame in 1937. Died at Germantown, PA, PA. Feb 8,1956.
http://memory.loc.gov/ammem/today/dec22.html
http://www.baseballhalloffame.org/hofers_and_honorees/hofer_bios/mack_connie.htm http://www.baseballlibrary.com/baseballlibrary/ballplayers/M/Mack_Connie.stm
1864 - Union General William T. Sherman Lincoln. Sherman captured Georgia's largest city after his famous "March to the Sea" from Atlanta. Savannah had been one of the last major ports that remained open to the Confederates. Along the way, his troops destroyed nearly everything that lay in their path. Sherman's intent was to wreck the morale of the South and bring the war to a swift end. For nearly six weeks, nothing was heard from Sherman's army. Finally, just before Christmas, word arrived that Sherman's army was outside Savannah. A Union officer reached the coast and found a Union warship that carried him to Washington to personally deliver news of the success. Sherman wired Lincoln with the message, "I beg to present you, as a Christmas gift, the city of Savannah, with 150 heavy guns and plenty of ammunition, and also about 25,000 bales of cotton."
1869-Birthday of Edward Arlington Robinson, three-time Pulitzer Prize winner best known for his short dramatic poems, including "Richard Cory" and "Miniver Cheevy." Born at Head Tide, ME, and died at Los Angeles, CA, Apr 6, 1935.
http://robinson.bokardo.com/biography.phtml
1882 - 1st string of Christmas tree lights was created by Thomas Edison.
1883-Birthday of Arthur Wergs Mitchell, leading "New Deal" Black politician, from Illinois. Died May 9, 1968
http://www.system.missouri.edu/upress/spring1997/nordin.htm
http://bioguide.congress.gov/scripts/biodisplay.pl?index=M000805
http://www.aaregistry.com/african_american_history/493/Arthur_W_Mitchell_political_pioneer
1886-The first accounting society (national) was the American Association of Public Accountants, formed in New York City. The first president was James Yalden.
1888-Birthday of Dr Chancellor Williams, historian and author of "Destruction of Black Civilization."
http://saxakali.com/Saxakali-Publications/runoko8.htm
http://www.raceandhistory.com/Historians/chancellor.htm
http://aalbc.com/reviews/chancell.htm
http://www.walmart.com/catalog/search-ng.gsp?search_constraint=3920&
search_query=Williams%2c%20Chancellor
1894-The United Sates Golf Association, the governing body for golf in the US, was founded at a meeting of representatives from five golf clubs.
1904-Birthday of Kenneth Rexroth, Beatnik Poet. Well-known San Francisco personaltiy,died June 6, 1982 in Montecito, California.
http://www.charm.net/~brooklyn/People/KennethRexroth.html
http://www.english.uiuc.edu/maps/poets/m_r/rexroth/rexroth_lif
http://www.rooknet.com/beatpage/writers/rexroth.html e.htm
http://www.amazon.com/exec/obidos/tg/detail/-/1556591713/
102-8569588-7388914?v=glance
1910-Birthday of trumpet player Reunald Jones (Count Base Band) born Indianapolis, In. Died, 1989. One of the "Jones Boys."
http://www.centrohd.com/biogra/j2/reunald_jones_b.htm
http://www.52ndstreet.com/reviews/mainstream/vajonesboys.html
1913-Pianist Dudley Alonzo Brooks(Elvis Presley band) born Los Angeles, Ca.
1914-The mood to ban alcohol as a means of ending alcoholism and its abuse
in the United States had it first test in the first alcohol prohibition vote taken in Congress that showed the House of Representatives with a dry majority. The representatives voted 197-189 in favor of a resolution to provide a constitutional amendment banning the manufacture and sale of intoxicating beverages. The resolution, offered by Representative Richmond Pearson Hobson of Alabama, failed to win the necessary two-thirds majority, but the mood and politics regarding prohibition was certainly changing. Hobson became known as the anti-alcohol crusader. Richmond Pearson Hobson was one of the great heroes of the Spanish-American War, following only Theodore Roosevelt and George Dewey. Hobson's fame and popularity was the result of leading an unsuccessful attempt to block the harbor of Santiago de Cuba by sinking the collier MERRIMAC in the entrance. Despite the fact that the effort was a failure, and Hobson and his crew were captured by the Spanish, he became a hero anyway. As a result of his status as a war hero, he was later elected to Congress, and became a prominent crusader for alcohol prohibition. He introduced the first national alcohol prohibition bill in 1911.
http://bioguide.congress.gov/scripts/biodisplay.pl?index=H000667
http://www.samford.edu/groups/amhf/id35.htm
http://www.druglibrary.org/schaffer/people/hobson/
1919-Singer Lil Green ( Lillian Johnson) born Clarksdale, MS "Why Don't You Do Rights" was her big hit, later to be the theme song of Peggy Lee.
http://www.oafb.net/once29.html
http://www.geocities.com/theblueslady.geo/LilGreen.html
http://www.artistdirect.com/music/artist/bio/0,,551235,00.html?artist=
Lillian+%22Lil%22+Green
1921- The first U.S. commercial radio license assigned to a religious broadcaster was awarded to the National Presbyterian Church of Washington, D.C. Within five years, there were over 60 other licensed religious broadcasters, including KJS_Biola (L.A.), KFUO_Concordia Seminary (St. Louis), and WMBI_Moody Bible Institute (Chicago).
1921- Country singer Hawkshaw Hawkins was born Huntington, West Virginia. A recording contract in the late 1940's with the King label yielded such hits as "I Wasted a Nickel," "Slow Poke" and "Sunny Side of the Mountain." Hawkins had little success in the 1950's, but on March 3rd, 1963, his "Lonesome 7-7203" entered the charts on its way to number one. Two days later, Hawkins was dead, a victim of the same plane crash in Kansas that killed Patsy Cline and Cowboy Copas.
1937- Lincoln Tunnel (New York NY) opens to traffic
http://www.nycroads.com/crossings/lincoln/
1938-Birthday of Mateo "Matty" Alou, former baseball player, born Haina, Dominican Republic.
http://www.baseballlibrary.com/baseballlibrary/ballplayers/A/Alou_Matty.stm
http://www.yankeeinfo.com/master.asp?id=alouma01
http://www.angelfire.com/va3/steelerchief/images/Matyalou.jpg
1939- drummer Nick Ceroli born Warren OH Died August 11,1985 He began his professional career with the Ray Anthony band in the late '50s, and progressed through the bands of Lionel Hampton, Terry Gibbs, and Stan Kenton. Never a fan of rock or "pop" music, but rather a mainstream jazz and big band player, Nick nonetheless joined Herb Alpert's Tijuana Brass in 1965. He spent five years with that incredibly successful group, lending his talent to an act once described as having "single-handedly returned instrumental music to the American popular consciousness."
http://www.centrohd.com/biogra/c3/nick_ceroli_b.htm
http://members.aol.com/jnetsites/ceroli2.html
1941 - On Decca Records, Jimmie Lunceford and his orchestra recorded "Blues in the Night", which became one of Lunceford's biggest hits. From 1934 to 1946 Jimmy Lunceford racked up 22 hits more hits.
http://www.pbs.org/jazz/biography/artist_id_lunceford_jimmie.htm
1942 - Sue Dauser takes oath of office as Superintendant of Navy Nurse Corps, becoming first woman with the relative rank of captain in U.S. Navy. She was promoted to the rank of captain on 26 February 1944.
1943-WEB Du Bois elected First black member, National Institute of Arts and Letters
http://www.csustan.edu/english/reuben/pal/chap9/dubois.html
http://www.americaslibrary.gov/cgi-bin/page.cgi/aa/dubois
1944 - During the Battle of the Bulge, General Anthony McAuliffe responds to a German surrender request with a one word answer: "Nuts!"
1944--DALESSONDRO, PETER J.
Rank and organization: Technical Sergeant, U.S. Army, Company E, 39th Infantry, 9th Infantry Division. Place and date: Near Kalterherberg, Germany, 22 December 1944. Entered service at: Watervliet, N.Y. Born: 19 May 1918, Watervliet, N.Y. G.O. No.: 73, 30 August, 1945. Citation: He was with the 1st Platoon holding an important road junction on high ground near Kalterherberg, Germany, on 22 December 1944. In the early morning hours, the enemy after laying down an intense artillery and mortar barrage, followed through with an all-out attack that threatened to overwhelm the position. T/Sgt. Dalessondro, seeing that his men were becoming disorganized, braved the intense fire to move among them with words of encouragement. Advancing to a fully exposed observation post, he adjusted mortar fire upon the attackers, meanwhile firing upon them with his rifle and encouraging his men in halting and repulsing the attack. Later in the day the enemy launched a second determined attack. Once again, T/Sgt. Dalessondro, in the face of imminent death, rushed to his forward position and immediately called for mortar fire. After exhausting his rifle ammunition, he crawled 30 yards over exposed ground to secure a light machinegun, returned to his position, and fired upon the enemy at almost pointblank range until the gun jammed. He managed to get the gun to fire 1 more burst, which used up his last round, but with these bullets he killed 4 German soldiers who were on the verge of murdering an aid man and 2 wounded soldiers in a nearby foxhole. When the enemy had almost surrounded him, he remained alone, steadfastly facing almost certain death or capture, hurling grenades and calling for mortar fire closer and closer to his outpost as he covered the withdrawal of his platoon to a second line of defense. As the German hordes swarmed about him, he was last heard calling for a barrage, saying, "OK, mortars, let me have it--right in this position!" The gallantry and intrepidity shown by T/Sgt. Dalessondro against an overwhelming enemy attack saved his company from complete rout.
1944-Birthday of Steven Norman "Steve" Carlton, baseball Hall of Fame pitcher, born Miami,Fl.
http://www.baseballhalloffame.org/hofers_and_honorees/hofer_bios/carlton_steve.htm
1946-Birthday of Diane Sawyer, journalist ("60 Minutes," "Prime Time Live"), born Glasgow, KY.
http://abcnews.go.com/sections/GMA/GoodMorningAmerica/GMA_diane_sawyer_bio.html
1946 -- Otto Graham leads the Cleveland Browns to a 14-9 victory over the New York Yankees at Cleveland Stadium in the first All-America Football Conference championship game
1947-Drummer Art Blakey's Jazz Messengers cut first record, Blue Note Label.
http://www.audiogalaxy.com/bands/artblakeysjazzmessengers/
http://www.playjazz.com/DR005.html
http://home.ica.net/~blooms/Art1.html
http://800-buy-movies.com/GeneralDVD/gr107322D1.htm
1948-Birthday of Steve Garvey, former baseball player, born Tampa, Florida.
http://www.thebaseballpage.com/past/pp/garveysteve/
http://www.baseball-reference.com/g/garvest01.shtml
1949--Robin and Maurice Gibb of the Bee Gees were born on the Isle of Man. The Gibb family moved to Australia in 1958, and the twins, along with brother Barry, began performing together. The family returned to England in 1966, where the Gibb brothers were signed by producer Robert Stigwood. A hit single, "New York Mining Disaster 1941," and a hit album followed within a year. The teenaged stars were unprepared for their sudden success, and the Bee Gees fell apart in the early 1970s. But in 1977, they contributed several songs to the soundtrack of "Saturday Night Fever." "How Deep is Your Love," "Stayin' Alive" and "Night Fever" all became number-one hits. And the "Saturday Night Fever" album was the biggest-selling L-P of all time, until Michael Jackson's "Thriller" came along.
1951---Top Hits
Rudolph, the Red-Nosed Reindeer - Gene Autry
White Christmas - Bing Crosby
Slowpoke - Pee Wee King
Let Old Mother Nature Have Her Way - Carl Smith
1952—"Ding Dong School" Premieres on TV. Named by a three-year-old after watching a test broadcast of the opening sequence (a hand ringing a bell), "Ding Dong School" was one of the first children's educational series. Miss Frances (Dr. Frances Horwich, head of Roosevelt College's education department at Chicago) was the host of this weekday show.
http://www.richsamuels.com/nbcmm/dds.html
http://www.missfrances.com/memorabilia_cartoons.htm
http://www.skypoint.com/members/schutz19/dingdon1.htm
1952-The Modern Jazz Quartet cuts first recording,Prestige label.
http://www.holeintheweb.com/drp/bhd/MJQ.htm
http://www.jazclass.aust.com/lewis.htm
1956-Elvis Presley had the most charting records this year with 17. Billboard reports Pat Boone was next with five, followed by Fats Domino, Little Richard and the Platters with three each.
1957 - No. 1 Billboard Pop Hit: "April Love," Pat Boone.
1958- "Chipmunk Song" reaches #1
http://www.poplyrics.net/waiguo/compilations/xmascarols/012.htm
http://www.psci.net/~aa9ai/chip.ra
1959---Top Hits
Heartaches by the Number - Guy Mitchell
Why - Frankie Avalon
The Big Hurt - Miss Toni Fisher
El Paso - Marty Robbins
1962-The Rebels' instrumental "Wild Weekend" is released on Swan Records. It makes it to #8 on the pop chart.
1962-The Tornadoes' "Telstar" becomes the first record by a British group to top the American pop chart. The song was inspired by the launching of the Telstar commu-satellite in July.
1963- Oakland Raider Tom Flores passes for 6 touchdowns vs. Houston (52-49)
http://www.hickoksports.com/biograph/florestom.shtml
http://www.frameposters.com/Posters_Tom_Flores.html
http://www.geocities.com/madnessmike/tom_flores.htm
1963 -Official 30-day mourning period for President John F Kennedy ends.
1965 - No. 1 Billboard Pop Hit: "Over and Over," Dave Clark Five. The song is the group's only No. 1 hit.
1967---Top Hits
Daydream Believer - The Monkees
Woman, Woman - The Union Gap
Boogaloo Down Broadway - The Fantastic Johnny C
It's the Little Things - Sonny James
1968-President-elect Richard Nixon's younger daughter, Julie, was married in New York City to Dwight David Eisenhower II, grandson of the former president.
http://www.jag.org/jn_eisenhower.htm
1969 -In San Francisco, Radio Free Alcatraz broadcast for first time on Berkeley radio station KPFA.
1972-- Joni Mitchell's For the Roses album is certified gold
1972 - Folk singer Joni Mitchell was awarded a gold record for her album, "For the Roses"; which included the song, "You Turn Me on, I'm a Radio".
http://www.jonimitchell.com/
1973 - Barbra Streisand's hit record, The Way We Were, from the movie of the same title that she starred in with Robert Redford, debuted on Billboard's pop record charts on this date. The song was on the charts for 17 weeks total, and for 3 weeks was Number 1. It was later certified gold, and it won the Academy Awards for Best Song and for Best Original Dramatic Score. The music was written by Marvin Hamlisch, and the lyrics by Alan and Marilyn Bergman.
1974-Center Phil Esposito of the Boston Bruins scored the 500th goal of his career in a 5-4 win over the Detroit Red Wings. Esposito played from 1963-64 through 1980-81 and finished with 717 regular season goals.
1975 - On CBS-TV's "All In the Family," Mike and Gloria Stivic, played by Rob Reiner and Sally Struthers, had a baby.
1975---Top Hits
That's the Way (I Like It) - KC & The Sunshine Band
Let's Do It Again - The Staple Singers
Saturday Night - Bay City Rollers
Convoy - C.W. McCall
1976 - Production of "Let's Make A Deal" came to an end. During the games show's 3,200 episodes, Monty Hall gave away an estimated $35 million in prizes and over 20,000 kisses. The show's announcer was Jay Stewart, and Carol Merrill was the spokesmodel.
1976-Bob Seger begins his breakthrough to stardom as his album, "Live Bullet," goes gold. The album features in-concert versions of "Ramblin' Gamblin' Man," "Beautiful Loser," "Get Out of Denver," "Travelin' Man" and "Katmandu."
1976-- Bob Seger and the Silver Bullet Band's Live Bullet album is certified gold
1977-Not everyone who jumped from the top of the Empire State building committed suicide, as 26-year-old Thomas Helms, who jumped from the observation deck oon the 86th floor landed on a narrow ledge on the85th floor, about 20 feet lower down. He was knocked unconscious for half an hour, but was not seriously injured.
http://www.hockey-fans.com/players/esposito.php
1978-Faces drummer Kenney Jones becomes the Who's drummer, replacing the late Keith Moon who died two months earlier.
1979-Linda Ronstadt, the Eagles and Chicago played a political benefit for California Governor Jerry Brown in Las Vegas. That show, and one the night before in San Diego, raised 150-thousand dollars.
1979--Rupert Holmes' "Escape (The Pina Colada Song)" hits #1
1983---Top Hits
Say Say Say - Paul McCartney & Michael Jackson
Say It Isn't So - Daryl Hall-John Oates
Union of the Snake - Duran Duran
Black Sheep - John Anderson
1984 - No. 1 Billboard Pop Hit: "Like a Virgin," Madonna. Billboard ranks the song as the top single of 1984.
1984 - CBS Records it would release Mick Jagger, of the Rolling Stones, first solo album, set for release in February, 1985. After a 20-year career with the self- proclaimed "greatest rock 'n' roll band in the world," Jagger went solo with the album: "She's the Boss".
http://www.amazon.com/exec/obidos/tg/detail/-/B000002IXG/
102-8569588-7388914?v=glance
http://www.sweetstar.com/song/b000002ixg
1986 - "Sports Illustrated" magazine named Joe Paterno Sportsman of the Year; whose naming marked the second time a coach won the honor. The first coach to do so was UCLA basketball legend, John Wooden. For this issue, the magazine chose to change its logo to a two-line design.
http://sportsillustrated.cnn.com/features/2002/sportsman/master_list/
http://www.gopsusports.com/football/people/paterno/paternobiobody.cfm
http://www.hoophall.com/halloffamers/Wooden.htm
1989- 137 cities set record lows for this date. 35 of those cities established new lows for December. New all-time records were set -4ºF in Oklahoma City OK, -6ºF in Tulsa OK, -12ºF in Pittsburgh PA, -18ºF in Denver CO, -23ºF in Kansas City MO, -42ºF in Scottsbluff NE, -47ºF in Hardin MT & -60ºF in Black Hills SD.
1991---Top Hits
Black or White - Michael Jackson
It's So Hard to Say Goodbye to Yesterday - Boyz II Men
All 4 Love - Color Me Badd
My Next Broken Heart - Brooks & Dunn
1991-Gregg Allman makes his acting debut as a drug kingpin in the flick, "Rush." Eric Clapton did the excellent music score.
1993-lake effect snows buried Turin, NY under 45 inches of snow with 5 inches falling in just 20 minutes. Boonville, NY had 31 inches in two days.
1996-Right wing Brett Hull of the St. Louis Blues became the 24th player in NHL history to score 500 regular-season goals. He tallied goals Nos.498,499 and 500 in a 7-4 victory over the Los Angeles Kings. Another goal, originally thought to be No. 500 was later credited to teammate Sepahne Matteau. Hull and his father Bobby thus became the first father-and-son duo in NHL history to score 500 goals each.
http://www.hockey-fans.com/players/brett-hull.php
1998 -- U.S. Woman Combat Pilot Sees Action -- December 22, 1998 -- ABOARD THE USS ENTERPRISE (AP) -- The first American woman fighter pilot to see combat action took part in the air strikes on Iraq. Navy Lt. Kendra Williams, 26, flew her FA-18 fighter-bomber as part of the attack force launched from the aircraft carrier USS Enterprise in the Gulf. Williams, who was raised in Anchorage, Alaska, was among the first group of women allowed to train for fighter duty, military officials said Tuesday. She graduated from jet training at the Naval Air Station in Kingsville, Texas, in 1997.
http://www.ctie.monash.edu/hargrave/williams_k.html
2005--The internet search engine Google announced that Janet Jackson was the most-searched name during the last twelve months, with people looking for pictures from her so-called "wardrobe malfunction" at Super Bowl 38 when she exposed her right breast.
--------------------------------------------------------------

SuDoku
The object is to insert the numbers in the boxes to satisfy only one condition: each row, column and 3x3 box must contain the digits 1 through 9 exactly once. What could be simpler?
http://leasingnews.org/Soduku/soduko-main.htm
--------------------------------------------------------------

Daily Puzzle
How to play:
http://www.setgame.com/set/puzzle_frame.htm
Refresh for current date:
http://www.setgame.com/set/puzzle_frame.htm
--------------------------------------------------------------


http://www.gasbuddy.com/
http://www.gasbuddy.com/GB_Map_Gas_Prices.aspx
http://www.gasbuddy.com/GB_Mobile_Instructions.aspx
--------------------------------------------------------------

Weather
See USA map, click to specific area, no commercials
--------------------------------------------------------------

Traffic Live---
Real Time Traffic Information
You can save up to 20 different routes and check them out
with one click, or type in a new route to learn the traffic live.
--------------------------------