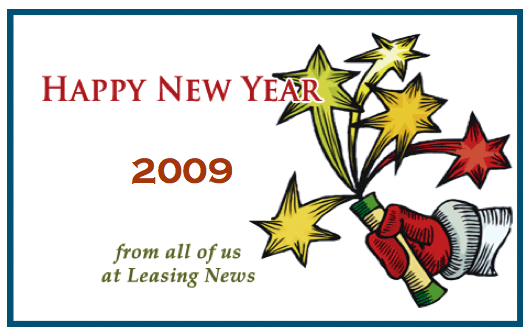 From Kit Menkin, Editor/Publisher, Leasing News:
In putting "The List" together for next week's edition, I did not realize there were so many companies added or up-dated in one year. If you thought 2001 was bad, wait until you see the 2008 results.
I don't know if the Alta Group is going to top their historic report "The Perfect Storm." In the army, we had a good description for 2008, FUBAR: "Fouled up beyond any recognition."
In trying to close off the chronological list, ran into two that most likely will be added, although they are in the process of what is called a "developing news story:
"BankofAmerica Leasing, Charlotte, NC (12/08)
Doug Bowers, former President of Banc of America Leasing and Capital LLC is no longer with the bank. He joined BofA on May 27, 2004: "Doug Bowers, managing director of the Bank of America Leasing & Capital Group, has been chosen to replace Ron Chamides as head of the Bank of America Leasing unit. Chamides recently announced that he is retiring from the company for personal and family reasons."
It seems this move is more forward as allegedly Bowers and 20-25 other executives at his level were let go in what appears to have been a cost cutting measure. Reportedly Rick Fleischer, Mr. Bower's right hand man, is now running the leasing unit from Charlotte, NC."
So you have GE Capital and now the largest Bank leasing company seriously affected by the economy.
"Puget Leasing, Bellevue, WA (12/08) Original owner no longer on bank board, questions being asked. (09/07) Sold to First Sound Bank. Bank president Don Hirtzel says Puget Sound Leasing generates roughly $8 million a month in new leases and has an average delinquency rate of less than 1 percent, it is reported."
It appears "The List" will continue to grow in 2009.
The fear of not "spending" to the consumer has rolled off into the commercial sector. Or is there a basic paradigm that we don't realize. Three associations (two merged together) have added or placed "Finance" in their name.
I have asked our dean of leasing, Shawn Halladay, noted author and lecturer, our soccer intellectual, to tackle a theme on the changing of leasing since Bank of America started it over forty years ago (they were the first.) Will that affect the industry in 2009? Of all the people in the industry who I can think of, Leasing News Advisor Halladay is the most knowledgeable on the subject, also the best writer on our volunteer staff---he may have some insight into the future when leasing fits in growth.
Are there changes ahead? There are always changes. When you step into the flowing river, the water is never the same.
Perhaps most affected in our industry is the leasing employment recruiter. He or she may be like the Maytag repair man, not getting many calls at all. The service industry including software and other support will see less sales and up-grades, even worse, less customers as they go out of business or are acquired. Even attorneys will be hunting for more business.
Will the leasing conferences in 2009 be affected? Of course they will, as will membership. Some fear the National Association of Equipment Leasing Brokers will be cut in half. Equipment Finance Association (NEFA) will be lucky to get 300 members. Other think ELFA will be down to 600 members. No matter what, NEFA is holding three major meetings in 2009, the Spring in Orlando, Florida, and two fall conference, one in Monterey, California, and the other in Newark, New Jersey, ELFA October, San Diego, California. *
(AGLF and NVLA not known at press time, as well as the two NAELB East and West Coast meetings.)
On the positive side: Our first edition in the new year, January 5, 2009, the Leasing Person of the Year for 2008 will be announced. Readers may be quite surprised, but hopefully in agreement. The Leasing News Advisory Board made the nominations and this year the three previous award winners participated: Leasing News Person for the year 2005, Paul J. Menzel, CLP; Leasing News Person for the year 2006, Paul A. Larkins; Leasing Person of the Year for 2007
Randall H. Brook.
Hope to see you back on Monday, January 5th. You'll get the straight talk here, the "inside" news, and it all comes from readers---You are the ones who make us successful. Remember, we are all in this together. No B.S.
Happy New Year!!!
Kit Menkin and staff
Top Conferences for 2009:
April 4-7
National Equipment Finance Association
2009 Spring Education Conference
Hilton Inn
Orlando, Florida
April 16-17
Equipment Leasing and Finance Association
National Funding Exhibition
Fairmont Hotel, Chicago, Illinois
April 30-May 2
NAELB Annual Conference
Red Rock Casino, Resort and Spa
Las Vegas, NV
September 24-27, 2009
National Equipment Finance Association
2009 Fall Conference and Exposition
Monterey, California
October 18th-20th
Equipment Leasing and Finance
Association
48th Annual Convention
Manchester Grand Hyatt
San Diego, CA
November 9, 2009
National Association of Equipment Finance
2009 Super Regional Conference
Newark, New Jersey
--------------------------------