Monday, December 14, 2009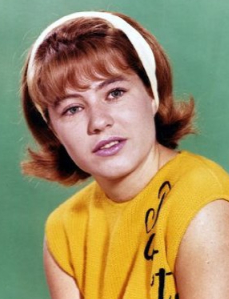 Actress Anna Marie "Patty" Duke born December 14, 1946 Elmhurst, Queens, New York, who in 1962 won Academy Award for Best Supporting Actress for "Miracle Worker. Her television show "The Patty Duke Show" (1963-1966-104 episodes) was a favorite and she has appeared on many TV shows and series since then. Perhaps her best efforts have been regarding her "bipolar disorder" and the attention she has tried to bring to this disease.
http://www.imdb.com/name/nm0001157/bio http://bipolar.about.com/cs/celebs/a/pattyduke.htm
Headlines---
Benchmark Financial Groups, Aliso Viejo, CA
Bulletin Board Complaint
Classified Ads---Senior Management
Bank Beat---Going to get Worse
by Christopher Menkin
Top Stories-December 7-11
Classified Ads---Help Wanted
Letter from Brican America Attorney Lichtman
Kit Menkin Response to Brican America Letter
from Attorney Charles H. Lichtman
Leasing 102 by Mr. Terry Winders, CLP
Customer Communication (Lessee's View)
Invictus/Everybody's Fine
Fernando Croce recommends on DVD:
Inglourious Basterds/For laughs:The Hangover
"It's So Slow…" contest---last Call!
BrixR.com Xmas Gifts
La Jolla, California – Adopt a Pet
Classified ads—Attorneys
IFA Urges passage Small Biz Credit Proposals
News Briefs---
White House economists jobs growth by spring
Putnam Investments, GE Healthcare local layoffs
New housing crisis
Mortgage rates way down, but few can refinance
Boeing Must Prove Itself with Dreamliner
You May have Missed---
Califorinia Nuts
Sports Briefs
"Gimme that Wine"
Today's Top Event in History
This Day in American History
Football Poem
SuDoku
Daily Puzzle
GasBuddy
Weather, USA or specific area
Traffic Live----
######## surrounding the article denotes it is a "press release"
--------------------------------------------------------------

[headlines]
--------------------------------------------------------------

[headlines]
--------------------------------------------------------------
--------------------------------------------------------------

[headlines]
--------------------------------------------------------------

--------------------------------------------------------------

[headlines]
--------------------------------------------------------------
[headlines]
--------------------------------------------------------------

[headlines]
--------------------------------------------------------------

Leasing News: Fernando's View
By Fernando F. Croce
Theater releases find two screen legends (Clint Eastwood in "Invictus" and Robert De Niro in "Everybody's Fine") in good form, while new DVDs include two of the year's best movies ("Inglourious Basterds," "The Headless Woman"), and one of its funniest ("The Hangover").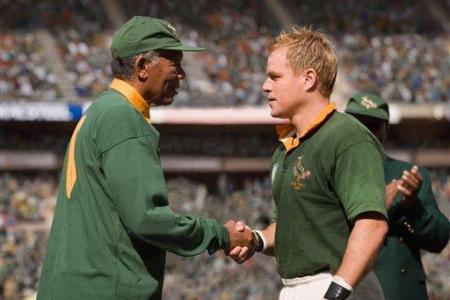 Invictus (Warner Bros. Pictures): After proving (and investigating) the durability of his screen persona in "Gran Torino," Clint Eastwood proves once again why he's one of America's most respected directors with this inspiring, true-story tale set during South Africa's most trying times. Nelson Mandela (Morgan Freeman) has just been elected president, yet the country remains torn in the shadow of apartheid's racially divisive policies. In order to bring the people together, Mandela turns to the universal appeal of sports, and tries to get the country's rugby team into the 1995 World Cup. Though the movie hardly lacks the excitement and crowd-pleasing drama (including the travails of the team's captain, played by Matt Damon) of conventional underdog sagas, it is also filled with keen cultural observations about a country's past and humanity's need to stick together during hard times.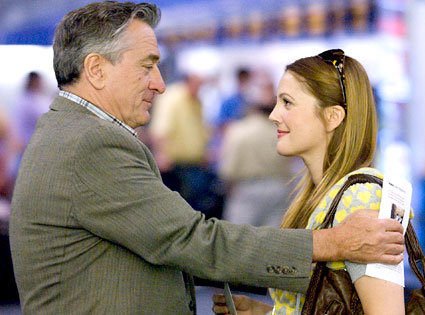 Everybody's Fine (Miramax Films): More often remembered for his brilliant portrayals of brutal, volatile men ("Taxi Driver," "Raging Bull"), Robert De Niro gives a beautifully understated performance in this sensitive Christmas family drama. He plays Frank Goode, a recent widower who, upon learning that none of his kids will be able to make it home for the holidays, packs his bags and decides to visit them himself. His son (Sam Rockwell) is a Denver musician, while one daughter (Kate Beckinsale) is a Chicago executive and the other (Drew Barrymore) is a Las Vegas dancer. Will the discoveries he makes about each of them put a strain on the family, or will they bring them closer together? Warmly acted and keenly observed, this is a terrific choice for audiences looking for enjoyable Christmas entertainment.
Netflix tip: After watching a remake, take advantage of Netflix's vast supply of films to check out the original. This week, for instance, find out about the original "Everybody's Fine," a 1990 Italian movie starring the legendary Marcello Mastroianni.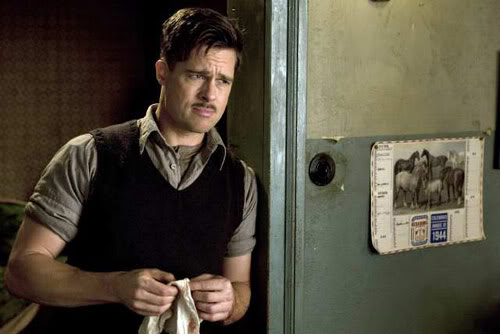 Inglourious Basterds (The Weinstein Company-Universal): Quentin Tarantino ("Pulp Fiction") shows once again why he's one of modern cinema's most singular voices with his highly anticipated, smashingly satisfying World War II epic. Set in France during the Nazi occupation, the plot follows several characters as they come together in a plan to overthrow Hitler. There are the "basterds" of the title, a group of guerilla soldiers (led by a hilariously gruff Brad Pitt) who specialize in terrorizing the enemy, but there's also a young Jewish girl (Melanie Laurent) who's planning revenge for the murder of her family at the hands of an SS officer (Christoph Waltz). Beautifully combining dialogue and action, humor and suspense, this is the kind of genre-mixing opus that only a passionate movie lover like Tarantino could deliver.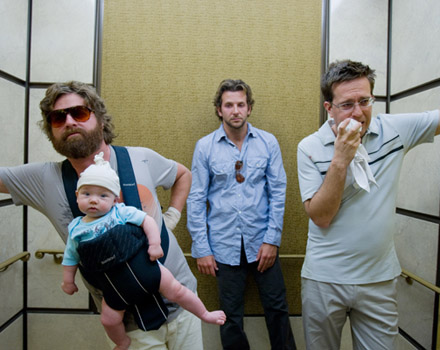 The Hangover (Warner Bros.): Director Todd Philips ("Road Trip," "Old School") has for years been a specialist in rambunctious frat-house hijinks. Set in Las Vegas, his latest comedy will not disappoint his fans. With two days left before his wedding, Doug (Justin Bartha) and his groomsmen (Bradley Cooper, Ed Helms, and Zach Galifianakis) go on a bachelor-party blowout. The only problem is that, when the morning comes, the men notice that the groom is missing. With the clock ticking away, his friends have to trace back their actions and locate Doug, a wacky adventure that gets them in trouble with casino bosses, a mysterious baby, and a certain former world heavyweight champion. The movie won't win any awards for good taste, but it has plenty of hearty laughs.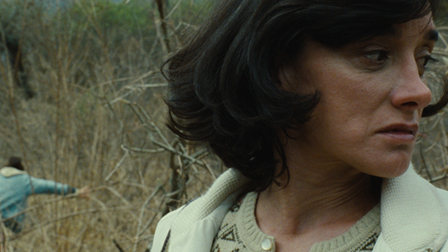 The Headless Woman (Focus): The title suggests a horror movie, but this is actually a stylish, tantalizingly enigmatic drama from the Argentine director Lucrecia Martel, one of today's most interesting filmmakers. Veronica (Maria Onetto), a wealthy dentist, is driving home from a picnic one day when, distracted by her cell phone, she runs over something. Is it a dog, or could it be a boy? Too dazed to check, Veronica forges ahead with her normal life, but the world around her seems odd since the accident. People she should know become virtual strangers, and everywhere she looks she seems something that reminds her of what she may have done. Martel's unique visuals and refusal to give easy answers may make her an acquired taste, but it's not adventurous audiences should consider. With subtitles.
--------------------------------------------------------------

[headlines]
--------------------------------------------------------------

[headlines]
--------------------------------------------------------------

[headlines]
--------------------------------------------------------------

[headlines]
--------------------------------------------------------------

[headlines]
--------------------------------------------------------------
[headlines]
--------------------------------------------------------------
News Briefs----
---------------------------------------------------------------




You May have Missed---


[headlines]

----------------------------------------------------------------

[headlines]
----------------------------------------------------------------


[headlines]
----------------------------------------------------------------


"Gimme that Wine"
Wine Prices by vintage
http://www.winezap.com
US/International Wine Events
http://www.localwineevents.com/
http://www.wine-searcher.com/
Winery Atlas
http://www.carterhouse.com/atlas/
Leasing News Wine & Spirits Page
http://two.leasingnews.org/Recommendations/wnensprts.htm
The London International Vintners Exchange (Liv-ex) is an electronic exchange for fine wine.
http://www.liv-ex.com/
----------------------------------------------------------------

Today's Top Event in History
[headlines]
----------------------------------------------------------------

This Day in American History
1763 – Fifty-Seven whites enter Conestoga Indian settlement, and in violation of a treaty made between the tribe and William Penn — to last "as long as the sun should shine, or the waters run in the rivers" — shot, stabbed, and hatcheted the three men, two women and one young boy they found there (more on 27 December).
1774—After Paul Revere warns Portsmith of possible attack, Massachusetts militiamen successfully attacked arsenal of Fort William and Mary and confiscate all arms and gun powder. Actually, here was the first shot of the RevolutionaryWar, and not in Boston common as history books today report. . (Revere did not finish his ride, nor did he communicate about the lantern signals, but he did warns several towns and woke up many farmers to warn other farmers about the possible attack, plus made it to the town of Portsmith.)
http://www.nhssar.org/essays/FortConstitution.htm
http://www.seacoastnh.com/history/rev/willmary.html
http://www.seacoastnh.com/arts/please052299.html
1782 --Charleston SC evacuated by British. There were more battles in South Carolina as the British fought to conquer this land more than others in the colonies at the time, and this was a major event in the American Revolutionary war. May 12, 1780 the British had captured Charleston.
http://web.ftc-i.net/~gcsummers/revolution.htm
http://www.patriotsofcharleston.com/
1793- Kentucky was the first state to authorized a road. They authorized Daniel Weisiger, Bennett Pemberton, and Nathaniel Sanders as " commissioners to receive subscriptions in money, labor or property, to raise a fund for clearing a wagon road from Frankfort, Kentucky, to Cincinnati, Ohio.
1798 - David Wilkinson of Rhode Island patented both the nut and bolt machine, and the screw.
1819- Alabama became the 22 nd state. Deep in the "Heart of Dixie,"(one of the state's nicknames), Alabama was first inhabited by the Creek Indians (Alabama means 'tribal town'), then explored by the Spanish, settled by the French, and then controlled by the British. The region was ceded to the U.S. following the American Revolution. The Confederacy was founded in Alabama; the state flag still bears a resemblance to the Confederate Battle Flag. Alabama's motto, "Audemus jura nostra defendere – We Dare Defend Our Rights" - has been taken very seriously throughout the state's history, especially in the 1950s and 1960s , as it was the site of landmark civil rights actions. The state tree, pinus palustris or Southern longleaf pine; and the camellia, the state flower, are plentiful throughout the state, as is the state bird, the yellowhammer, which is also the state's other nickname.
1863 - President Lincoln announces a grant of amnesty for Mrs. Emilie Todd Helm, Mary Lincoln's half sister and the widow of a Confederate general. The pardon was one of the first under Lincoln's Proclamation of Amnesty and Reconstruction, which he had announced less than a week before. The plan was the president's blueprint for the reintegration of the South into the Union. Part of the plan allowed for former Confederates to be granted amnesty if they took an oath to the United States
1885-Birthday of Ethel Browne Harvey - U.S. cell biologist, embryologist, most noted for her findings about cell division. Her studies brought her international fame. Using sea urchins, she was able to excite cell division without maternal or paternal nucleus. Harvey speculated that her parthenogenetic meogones might mean that fundamental characteristics. of living matter (such as cell division) were cytoplasmic, while genes controlled later, more specialized characteristics (like eye color). Today sea urchins are very much in demand by connoisseurs, not only for their taste but supposed aphrodisiac ability, attributed to Dr. Harvey's work.
1896- birthday of James Doolittle, American aviator and World War II hero General James Doolittle was born at Alameda, CA. A Lieutenant General in the US Army Air Force, he was the first person to fly across North America in less than a day. On Apr 18, 1942, Doolittle led a squadron of 16 B-25 bombers, launched from aircraft carriers, on the firs US aerial raid on Japan of WWll. He was awarded the Congressional Medal of Honor for this accomplishment. Doolittle also headed the Eighth Air Force during the Normandy invasion. He died Sept 27, 1993, at Pebble Beach, CA.
1897- Birthday of Margaret Chase Smith, American politician Margaret Madeline Chase Smith was born at Skowhegan, ME. As the first woman to elected to both houses of Congress (1941 to the House and 1949 to the Senate). She was also one of seven Republican senators to issue a "declaration of conscience" to denounce Senator Joseph R. McCarthy's communist witch-hunt. She died May 29, 1995, at Skowhegan, ME
1902 - The ship, "Silverton", set sail from the Bay Area to lay the first telephone cable between San Francisco, California and Honolulu, Hawaii. The project was finished by January 1, 1903.
1903 -Wright Brothers make 1st flight at Kittyhawk
http://www.wam.umd.edu/~stwright/WrBr/wrights/1903.html
1910- tenor sax player Bud Johnson born Dallas, Texas.
1911- The elusive object of many expeditions dating from the 7 th century, the South Pole was located and visited by Roald Amundsen with four companions and 52 sled dogs. All five men and 12 of the dogs returned to base camp safely. Next to visit the South Pole, January 17, 1912, was a party of five led by Captain Robert Scott, all of whom perished during the return trip. A search party found their frozen bodies 1l months later.
1920---Trumpet Player Clark Terry birthday
http://hardbop.tripod.com/terry.html
1924 - The temperature at Helena, MT, plunged 79 degrees in 24 hours, and 88 degrees in 34 hours. The mercury plummeted from 63 above to 25 below zero. At Fairfield MT the temperature plunged 84 degrees in just 12 hours, from 63 at Noon to 21 below zero at midnight
1934-The first streamlined steam locomotive was introduced by the New York Central Lines between Albany and Kamer, NY. Built in West Albany, NY, it was named the "Commodore Vandebilt" after the founder of the New York Central Lines. It developed 4,075 horsepower.
1939-- Jimmy Lunceford Band records " Uptown Blues," New York City.
1939 - League of Nations, the international peacekeeping organization formed at the end of World War I, expels the Union of Soviet Socialist Republics in response to the Soviets' invasion of Finland on October 30. President Roosevelt, although an "ally" of the USSR, condemned the invasion, causing the Soviets to withdraw from the New York World's Fair. And finally, the League of Nations, drawing almost its last breath, expelled it.
1944--NEPPEL, RALPH G. Medal of Honor
Rank and organization: Sergeant, U.S. Army, Company M, 329th Infantry, 83d Infantry Division. Place and date: Birgel, Germany, 14 December 1944. Entered service at: Glidden, lowa. Birth: Willey, lowa. G.O. No.: 77, 10 September 1945. Citation: He was leader of a machinegun squad defending an approach to the village of Birgel, Germany, on 14 December 1944, when an enemy tank, supported by 20 infantrymen, counterattacked. He held his fire until the Germans were within 100 yards and then raked the foot soldiers beside the tank killing several of them. The enemy armor continued to press forward and, at the pointblank range of 30 yards, fired a high-velocity shell into the American emplacement, wounding the entire squad. Sgt. Neppel, blown 10 yards from his gun, had 1 leg severed below the knee and suffered other wounds. Despite his injuries and the danger from the onrushing tank and infantry, he dragged himself back to his position on his elbows, remounted his gun and killed the remaining enemy riflemen. Stripped of its infantry protection, the tank was forced to withdraw. By his superb courage and indomitable fighting spirit, Sgt. Neppel inflicted heavy casualties on the enemy and broke a determined counterattack.
1944--THOMAS, CHARLES L. Medal of Honor
Citation: For extraordinary heroism in action on 14 December 1944, near Climbach, France. While riding in the lead vehicles of a task force organized to storm and capture the village of Climbach, France, then First Lieutenant Thomas's armored scout car was subjected to intense enemy artillery, self-propelled gun, and small arms fire. Although wounded by the initial burst of hostile fire, Lieutenant Thomas signaled the remainder of the column to halt and, despite the severity of his wounds, assisted the crew of the wrecked car in dismounting. Upon leaving the scant protection which the vehicle afforded, Lieutenant Thomas was again subjected to a hail of enemy fire which inflicted multiple gunshot wounds in his chest, legs, and left arm. Despite the intense pain caused by these wounds, Lieutenant Thomas ordered and directed the dispersion and emplacement of two antitank guns which in a few moments were promptly and effectively returning the enemy fire. Realizing that he could no longer remain in command of the platoon, he signaled to the platoon commander to join him. Lieutenant Thomas then thoroughly oriented him on enemy gun dispositions and the general situation. Only after he was certain that his junior officer was in full control of the situation did he permit himself to be evacuated. First Lieutenant Thomas' outstanding heroism was an inspiration to his men and exemplifies the highest traditions of the Armed Forces.
1947-- part-time auto racer and full-time promoter Bill France, Sr., tried to bring some order to the chaotic world of stock car racing by opening a 3-day meeting at the Streamline Hotel in Daytona Beach, Florida, between several warring factions. The result of the meeting was the creation of NASCAR, the National Association of Stock Car Automobile Racing, the body that has governed the sport ever since.
1951---Top Hits
Sin (It's No) - Eddy Howard
Slowpoke - Pee Wee King
Rudolph, the Red-Nosed Reindeer - Gene Autry
Let Old Mother Nature Have Her Way - Carl Smith
1953 - 19-year old Sandy Koufax signed with the Brooklyn Dodgers. In his life, Koufax reportedly had played no more than 20 games of baseball. During the next 12 seasons, he posted 167 wins, 87 losses and 2,396 strikeouts, to become a baseball legend.
1953--"I Want a Hippopotamus for Christmas", recorded earlier in the year by 10 year old Gayla Peevey, inspired an Oklahoma City fund-raising effort to buy a hippopotamus for the Oklahoma City Zoo. Oklahomans raised $4,000 for the cause, with much of the money coming from children. The zoo bought a 3-year-old hippo named Matilda who had eight offspring and died in 1998.
1954-- birthday of Alan Kulwicki, auto racer born at Greenfield, WI. Kulwicki was NASCAR's rookie of the year in 1987 and Winston Cup champion in 1992. He won 24 NASCAR races in 207 starts. He died in a plane crash, April 1,1993. Maybe Johnny Madden is right to travel by bus. Kulwicki was safer on the race track than in the air.
1959-Guy Mitchell achieves his second Billboard number one hit with "Heartaches By The Number".
1959---Top Hits
Heartaches by the Number - Guy Mitchell
Mr. Blue - The Fleetwoods
In the Mood - Ernie Field's Orch.
The Same Old Me - Ray Price
1961 - In a public exchange of letters with South Vietnamese President Ngo Dinh Diem, President John F. Kennedy formally announces that the United States will increase aid to South Vietnam, which would include the expansion of the U.S. troop commitment. Shortly after President Kennedy was assassinated, there were more than 16,000 U.S. advisers in South Vietnam. Kennedy's successor, Lyndon B. Johnson, rapidly escalated the war, which resulted in the commitment of U.S. ground forces and eventually more than 500,000 American troops in Vietnam.
1963-The Beatles' "I Want To Hold Your Hand" begins a five week stretch at number one on the UK record charts, replacing their own "She Loves You".
1967---Top Hits
Daydream Believer - The Monkees
The Rain, the Park and Other Things - The Cowsills
I Say a Little Prayer - Dionne Warwick
It's the Little Things - Sonny James
1968-Tommy James and the Shondells' "Crimson and Clover" is released.
1968-Iron Butterfly's epic "In-A-Gadda-Da-Vida" goes gold.
1969 — San Diego wide receiver Lance Alworth sets a professional record with a pass reception in his 96th straight game.
1970 - While golfing great Lee Trevino won only two tournaments during the year; he still became the top, golf money-winner with his yearly earnings averaging $157,037.
1970-The National Press Club finally voted to admit women members.
1974-David Crosby and Graham Nash perform together in San Francisco at a benefit concert for the United Farm Workers and Project Jonah, a whale protection media project.
1975---Top Hits
Fly, Robin, Fly - Silver Convention
Let's Do It Again - The Staple Singers
Saturday Night - Bay City Rollers
Love Put a Song in My Heart - Johnny Rodriguez
1977--"Saturday Night Fever" premieres in New York City. It not only makes a star out of John Travolta, but spreads the disco craze throughout the country. The soundtrack is full of recent and soon-to-be dance hits by the Bee Gees, the Trammps, Kool and the Gang, MFSB, K.C. and the Sunshine Band and Yvonne Elliman. It will be one of the biggest-selling albums of all time.
1980-At Yoko Ono's request, at 2 p.m. Eastern Standard Time, John Lennon fans around the world mourn him with ten minutes of silent prayer. In New York over 100,000 people converge in Central Park in tribute and in Liverpool, a crowd of 30,000 gatherers outside of St. George's Hall on Lime Street.
1982-Marcel Dionne of the Los Angeles Kings scored the 500 th goal of his career in a 7-2 loss to the Washington Capitals. Dionne played from 1971-72 through 1988-89 and finished his career with 731 goals.
1983---Top Hits
Say Say Say - Paul McCartney and Michael Jackson
Say It Isn't So - Daryl Hall-John Oates
Union of the Snake - Duran Duran
Tell Me a Lie - Janie Fricke
1985—UCLA defeated American University, 1-0, with a goal in the eight overtime period to win the NCAAA soccer championship in the longest game in US college soccer history.
1985 - Wilma Mankiller became the first woman to lead a major American Indian tribe, taking office as the principal chief of the Cherokee Nation of Oklahoma.
1985 - The United States' high school football coach with the most wins called it quits. After 43 years, Gordon Wood, 71, of Brownwood High School in Central Texas, retired. Wood had a career record of 405 wins, 88 losses and 12 ties. The football stadium at Brownwood High was rebuilt and named after him.
1985 -- Wilma Mankiller takes the oath of office as the principal chief of the Cherokee Nation of Oklahoma, the first time a woman has headed a major American native Indian tribe ERRATA: Several people have written regarding Wilma Mankiller to say that her title was the first time since the European annexation of Amerindian lands and rights that a woman was recognized by the white people as a tribal chief. Evidently women "were" tribal leaders before the coming of the Europe
1986 -- San Diego wide receiver Lance Alworth sets a professional record with a pass reception in his 96th straight game.
http://images.nfl.com/history/images/1214.jpg
1986-Elton John records a live version of "Candle in the Wind" in Australia with the Melbourne Symphony Orchestra. The song is released as a single and hits #6 on the chart.
1986-- the experimental aircraft Voyager, piloted by Dick Rutan and Jeana Yeager, took off from Edwards Air Force Base in California on the first non-stop, non-refueled flight around the world. On December 14, 1986, Yeager and Rutan began their history-making flight in the Voyager, flying the maximum circumference of the globe in nine days, three minutes and forty-four seconds.
1987 - A powerful storm spread heavy snow from the Southern High Plains to the Middle Mississippi Valley, and produced severe thunderstorms in the Lower Mississippi Valley. During the evening a tornado hit West Memphis TN killing six persons and injuring two hundred others. The tornado left 1500 persons homeless, and left all of the residents of Crittendon County without electricity. Kansas City MO was blanketed with 10.8 inches of snow, a 24 hour record for December, and snowfall totals in the Oklahoma panhandle ranged up to 14 inches. Strong winds, gusting to 63 mph at Austin TX, ushered arctic cold into the Great Plains, and caused considerable blowing and drifting of snow.
1988-The Miami Heat defeated the Los Angeles Clippers in Los Angeles to earn the first victory in the franchise's history. The Heat, in their first season, had gone 17 games without a wine, an NBA record for most consecutive defeats at the start of a season.
1989 - High winds and heavy snow prevailed from Montana to Colorado. Snowfall totals in Wyoming ranged up to 20 inches at Burgess Junction, leaving up to 48 inches on the ground in the northeast sections of the state. Wind gusts in Colorado reached 87 mph south of the town of Rollinsville. Strong northwesterly winds continued to produce heavy snow squalls in the Great Lakes Region. Totals in northeastern Lower Michigan ranged up to 29 inches at Hubbard Lake, with 28 inches reported at Posen. Two day totals in northeastern Wisconsin ranged up to thirty inches.
1991---Top Hits
Black or White - Michael Jackson
It's So Hard to Say Goodbye to Yesterday - Boyz II Men
All 4 Love - Color Me Badd
For My Broken Heart - Reba McEntire
1997-- Phoenix Coyote Mike Gartner is 5th NHLer to score 700 goals
http://www.neutralzonehockey.com/gartner.htm
1997-Elton John's tribute to Princess Diana, "Candle in the Wind 1997", was at its ninth week at number 1 on the Billboard chart. The record would eventually pass Bing Crosby's "White Christmas" to become the largest selling single of all time.
1999---Top Hits
Smooth- Santana Featuring Rob Thomas
Back At One- Brian McKnight
I Wanna Love You Forever- Jessica Simpson
I Knew I Loved You- Savage Garden
2002 - A powerful Pacific storm system plowed into the western United States during the 13th-16th, producing high winds, heavy rains, significant mountain snowfall and causing 9 deaths (Associated Press). Rainfall amounts exceeding 10 inches occurred in parts of California, and wind gusts over 45 mph produced up to 1.9 million power outages during the period
--------------------------------------------------------------

Football Poem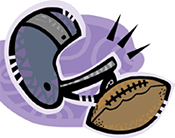 American Football Poem
I am the Master of my Fate
Often read before a football game:
Willian Ernest Henley (1875) .
Out of the night that covers me,
Black as a Pit from pole to pole,
I thank whatever gods may be
For my unconquerable soul.
In the fell clutch of circumstance
I have not winced nor cried aloud,
Under the bludgeoning of chance
My head is bloody, but unbowed.
Beyond this place of wrath and tears
Looms but the horror of the shade,
And yet the menace of the years
Finds, and shall find me, unafraid.
It matters not how straight the gate,
How charged with punishments the scroll,
I am the master of my fate:
I am the Captain of my soul.
--------------------------------------------------------------

SuDoku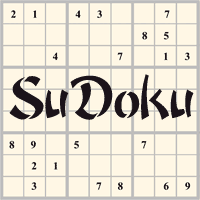 The object is to insert the numbers in the boxes to satisfy only one condition: each row, column and 3x3 box must contain the digits 1 through 9 exactly once. What could be simpler?
http://leasingnews.org/Soduku/soduko-main.htm
--------------------------------------------------------------

Daily Puzzle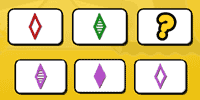 How to play:
http://www.setgame.com/set/puzzle_frame.htm
Refresh for current date:
http://www.setgame.com/set/puzzle_frame.htm
--------------------------------------------------------------


http://www.gasbuddy.com/
http://www.gasbuddy.com/GB_Map_Gas_Prices.aspx
http://www.gasbuddy.com/GB_Mobile_Instructions.aspx
--------------------------------------------------------------

Weather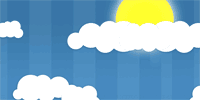 See USA map, click to specific area, no commercials
--------------------------------------------------------------

Traffic Live---
Real Time Traffic Information
You can save up to 20 different routes and check them out with one click,
or type in a new route to learn the traffic live
--------------------------------