Top commission (75%) plus health and retirement benefits. Full back office, large book funding sources meeting all your clients requirements. Robert Piot: 714-573-9804 or e-mail rpiot@socalleasing.com


Friday, February 23, 2007
Headlines---
Classified Ads—Asset Management
Financial and Sales Training
ELFA Web Seminars Big Hit
Last 5 days to register Free March 21st, Atlanta
Cartoon—sensitivity training
Classified Ads—Help Wanted
Story Credit Lessors
Most Requested Vehicles to Lease
Jennifer and Nathan Rodich join SFBI
Fitch: Debt Expands Fastest Pace in 5 Years
Free Location-Based Lookup Service and more
NetSol Delivers LeasePak 6.0
IDS Online Registration is Open
TFS/Securus Capital Announce Strategic Alliance
Andrew Corsi SVP, Sterling Bank Leasing
30-year mortgages rates drop
SunTrust remains the market leader here
News Briefs---
You May have Missed---
California Nuts Brief---
Sports Briefs---
"Gimme that Wine"
Calendar Events
Snapple Real Facts
Today's Top Event in History
This Day in American History
Winter Poem
SuDoku
Daily Puzzle
######## surrounding the article denotes it is a "press release"
-----------------------------------------------------------------

Classified Ads—Asset Management
Bloomfield Township, MI
15+ yrs experience asset management and credit analyst. Leadership and training skills. Audited returns, max residual, lease end and resale negotiator.
E-mail: cmcozzolino@msn.com
Boston, MA
10yrs exp structuring/modeling sophisticated lease/ loan products. Expert programmer: customized portfolio mgmt, securitization, economic capital & pricing applications. Available for contract work.
E-mail: lease_structuring@yahoo.com
Chicago, IL
MBA, 15+ years exp. Long history of success in maximizing residual position through outstanding negotiation skills & lease contract management. Third party re-marketing, forecasting etc...
email: jgambla@aol.com
Chicago, IL
2+ Years Exp. Asset Remarketing Transportation/ Medical/Cosmetic Equipment; Superior End Of Lease Negotiation Skills; Comprehensive Buyer Contacts; Available Immediately For Assignment
Email: Lonnie0168@comcast.net
Princeton, NJ
Asset management/credit/collection
20+ years experience in equipment financing. Last five years in Asset Management including remarketing, end of lease negotiations, equipment and market evaluations
E-mail: bgaffrey@earthlink.net
Sausalito, CA
Sr. Corp. officer, presently serving as consultant, fins. service background, M&A, fund raising, great workout expertise, references
Email: nywb@aol.com
Sonoma, CA
20+ years managing/ maximizing residual values, exp. computers/ hi-tech mfg. Excellent negotiation skills. Outstanding 3rd party contacts/buyers. Created deal winning structures-established residual values.
Email: dfeltman@yahoo.com
Wilton, CT
18 years exp. in IT and High Tech leasing industry. Residual forecasting, workouts, off-lease sales, mid-term restructures, auctions, all aspects of remarketing and equipment management.
Email: charrer@hotmail.com
These job-wanted ads are free. We also recommend to both those seeking a position and those searching for a new hire to also go to other e-mail posting sites:
http://64.125.68.91/AL/LeasingNews/Classified.htm
In addition, those seeking employment should go to the human resource departments on company web sites for funders, captive lessors, and perhaps "broker-lessors."
To place a free "job wanted" ad here, please go to:
http://64.125.68.91/AL/LeasingNews/PostingForm.asp
For a full listing of all "job wanted" ads, please go to:
http://64.125.68.91/AL/LeasingNews/JobPostings.htm
--------------------------------------------------------------

Financial and Sales Training
Name
City, State
Contact
Website
Leasing Association

YCS
YELB
(see above for meaning)

Geographic Area

Specialty

1990
35

"We specialize in the marketing and sales areas of leasing although we also offer training across the full spectrum of leasing skills. Clients have included lessors, lease brokers, funders and associations."

1996
18

Motivating, Educating and empowering leasing sales reps to top performance. Practical ideas for success using the telephone and internet.

Teichman Financial Training


Sausalito, California

Bob Teichman, CLP

BoTei@aol.com

415.331.6445

NAELB, UAEL

1998
43

"We specialize in the technical side of leasing, offering comprehensive training in packaging, credit, pricing, structuring, financial analysis and operations. Our clients include lessors, lessees, lenders, associations, and government agencies."

Winders Consulting Co., Inc.


Louisville, KY

Terry Winders, CLP

Leaseconsulting@msn.com

502.327.8666

EAEL, ELFA, NAELB & UAEL

1991
35

Lease seminars and training on rules & regulations pricing, documentation, sales. Also procedure audits, and help to establish a leasing activity or company for brokers, bankers, and captives.. Expert witness on legal & tax.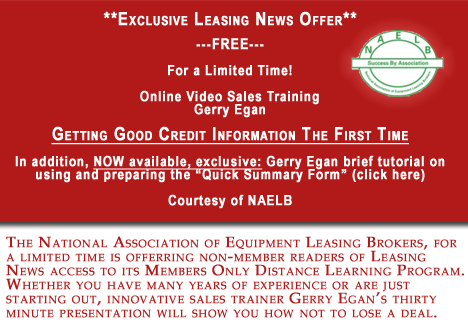 --------------------------------------------------------------

ELFA Web Seminars Big Hit
ELFA Daily News
Equipment Leasing and Finance Association's (ELFA) "Municipal Leasing--The Basics web seminar, held on Thursday, February 15th, was an overwhelming success. With sixty-four sites registered and an average of three attendees per site, nearly 230 people participated in the seminar.
At just $175 per member site-license, web seminars are a cost-effective and efficient way to keep employees up to speed with current issues that impact job and company performance, standards and practice, policy formation, or on basic business fundamentals your staff needs to know.
Consider: a single registration fee entitles you to unlimited employee attendance, right in your own office (no hotel or travel costs, minimum lost work time!) And ELFA's web seminars are structured so that your people can interact and ask questions of the experts.
Check out all ELFA's scheduled Web seminars, along with our full range of business development and educational events at
http://www.elaonline.com/events/calendar/ataglance.cfm
--------------------------------------------------------------

Last Five Days to register Free March 21st, Atlanta
Free Exhibitor registration five day deadline today for the National Lease Funding Showcase to be held March 21st from the Ritz-Carlton, Buckhead hotel in Atlanta, Georgia.
1) Attendee Registration (Two for One) @ $750
2) Exhibitor Registration | Free (Deadline 5 Days)
3) Golf Registration - Sold Out

John O. Semon
Founder & CEO
Lessors.com, Inc.
"Click the 'Exhibitor Registration | Free' and you are delivered to
http://www.lessors.com/Events-2007/Spring/register.html"
John Semon says. "From here you can select "Exhibitor Registration | Broker/Originator" or "Exhibitor Registration | Funding Source" (Both are free)
"If you just want to attend as a spectator, you have to pay for an "Attendee Registration," he explained.
"If you are approved to deliver a ten minute PowerPoint presentation to our General Session, we comp your full Exhibitor/"Attendee registration for the whole event.
"If you are approved to deliver a ten minute PowerPoint presentation to our General Session, we comp your full Exhibitor/"Attendee registration for the whole event."
Go here to register:
http://www.lessors.com/Events-2007/Spring/register.html"
This is a chance to meet in a friendly networking manner, with presentations for everyone, but also service providers, such as Linda Kester.
Meet Linda Kester, one of the many to be in attendance.
"Linda Kester is nationally recognized as an outstanding equipment leasing sales trainer and professional speaker. Linda has twenty years of experience in leasing sales and marketing management. She has had a tremendous positive impact on sales for all types of companies - from start-up firms to corporate giants. Linda's work has been published in The Philadelphia Inquirer, The Monitor, Leasing News and Selling Power Magazine. She has also produced several training CD's.
"Her clients include: Verizon, Hewlett Packard, GECC, Marlin Leasing, CIT and many other top corporations.
"She is a member of the National Speakers Association and has presented over 279 times to more than 57,000 attendees.
Her book 366 Marketing Tips for Equipment Leasing is anticipated to be a top seller for Leasing Power Tools Press Linda's CD program Prospecting Tips for Equipment Leasing Sales Professionals is a staple training tool for many leasing companies.
General Session Exhibitor Presentations
~ No Exhibition Halls ~ No Appointments ~ No Problems General Session Exhibitor Presentations enable Attendees to sit comfortably and evaluate alternating ten (10) minute presentations by Broker/Originators, Funding Sources and Service Providers. Attendees love it as they can easily identify and evaluate strategic resources.
Funding Source Exhibitors | "Buyers" deliver PowerPoint presentations describing their companies investment strategies for 2007.
Broker/Originators | "Sellers" (Equipment Vendors, Captive & Independent Lessors & Brokers) describe their lease origination activities and funding requirements to an audience of funding/investor representatives seeking to expand their origination channels.
Free Exhibitor Registration
Broker/Originators are encouraged to pitch transactions & portfolios available for immediate funding during their presentations and distribute Term Sheets in the Networking Suite later to qualified
funding sources.
Service Provider Exhibitors deliver PowerPoint presentations introducing technology products and administrative services enhancing the equipment leasing enterprise.
Have a Question?
Call John Semon
Direct - 770 642 1453
--------------------------------------------------------------

--------------------------------------------------------------

Leasing Industry Help Wanted
Credit Analyst

Credit Analyst
Irvine, California
Southern California candidates only--Minimum two years experience with leasing credits, $40-$45K base depending on experience.
Call or e-mail: Pamela Stuber 800-234-0136 ext. 243 pstuber@nationwidefunding.com

About Us: As a leader in equipment financing we have created funding partnerships with a wide variety of financial institutions and specialized credit facilities. This diversity allows us to be a complete funding partner for your business.


Sales Regional Office

Financial Funding Services, LLC

Sales/Regional Office
Generous Compensation with above average industry commission splits/unlimited income potential, six figures plus and nationwide financing for A – D credit.
Click here for more info.


Small Ticket Specialists

Three Small Ticket Specialists

Ft. Lauderdale, FL, Nashville, TN, and
Richmond, VA.
Click here for more information.


--------------------------------------------------------------

Story Credit Lessors
These companies specialize in "C" and "D" credits, often news businesses, or businesses where the principal(s) have Beacon score around 600 or previous difficulties; meaning to become comfortable with the credit and financial situation you need to learn the "story" to make a positive decision, often requiring further security, shorter term, or additional guarantors. Many of these companies may also be a "B," but appear otherwise without the "story" to understand the full financial picture.
(To qualify for this list, the company must be a funder and not a "Broker/Lessor" or "Super Broker/Lessor", along with an acceptable Better Business Bureau Rating and no history of complaints at Leasing News. We reserve the right to not list a company who does not meet these qualifications.)
We encourage companies who are listed to contact us for any change or addition they would like to make. Adding further information as an "attachment" or clarification of what they have to offer would be helpful to readers is very much encouraged.
Alphabetical list - click on company name to view more details

ABCO Leasing, Inc.
Boston Financial & Equity Corp.
Mesa Leasing, Inc.
Advantage Funding
Cobra Capital LLC
Pawnee Leasing Corporation
Agility Solutions
Calfund, LLC
Radiance Capital, LLC
Allegiant Partners Incorporated
Dakota Financial
Summit Leasing, Inc.
American Leasefund, Inc.
Dolsen Leasing Company
TEAM Equipment Leasing, Inc.
Bankers Capital
Financial Pacific Leasing
TechLease, L.L.C.
Barrett Capital Corporation
Forum Financial Services, Inc.
Black Rock Capital
Gonor Funding
Blackstone Capital Partners, L.P.
IFC Credit Corporation
--------------------------------------------------------------

LeaseCompare.com Names Most Requested Vehicles to Lease; Honda & BMW Dominate
CINCINNATI----Automobile Consumer Services, Inc. (ACS), the leader in online direct-to-consumer auto leasing, released a list of the top 10 most requested vehicles from its popular auto leasing website www.LeaseCompare.com. Information was collected during the second half of 2006 from more than one million lease quote requests.
The Top 10 Most Requested Models
The Top 10 Most Requested Models

New Car Rankings

2nd Half
1st Half
2006
2006
Make & Model
1
2
Chevrolet Corvette
2
6
Toyota Camry
3
nl(a)
Audi A4
4
nl(a)
Honda Accord
5
5
Honda Civic
6
7
Infiniti G35
7
1
BMW 325
8
10
Honda Odyssey
9
nl(a)
Honda Pilot
10
8
Land Rover Range Rover Sport

Used Car Rankings
2nd Half
1st Half
2006
2006
Make & Model
1
3
Porsche 911
2
nl(a)
BMW M3
3
2
Chevrolet Corvette
4
5
BMW 325
5
10
Audi A4
6
7
BMW 745
7
nl(a)
Mercedes SL500
8
8
Infiniti G35
9
1
BMW 330
10
6
Mercedes E55
nl(a) = not previously listed
A complete list of how every vehicle ranks can be found at
http://www.LeaseCompare.com.

Japanese models continue to dominate the new cars listings and German models head up the used car rankings. "Volume brands, like Honda and Toyota, are becoming more popular for leasing," says Tarry Shebesta, President of ACS and a certified lease consultant. "While high-end used European models, like BMW and Mercedes, make excellent used car leases because of their slower depreciation and perceived long term reliability."
LeaseCompare.com is the alternative to dealer leasing and, as the name suggests, provides an interactive tool to instantly evaluate leasing options from a number of sources. Customers can lock in the lease quote they like and apply for credit online. ACS facilitates leases that customers choose from LeaseCompare.com.
About Automobile Consumer Services, Inc. (www.acscorp.com)
Based in Cincinnati, Automobile Consumer Services, Inc. (ACS) is a leading provider of direct-to-consumer auto leasing through its popular website LeaseCompare.com. Founded in 1989, ACS's mission is to provide services that enhance the experience of buying or leasing a car. ACS achieves this by leading the industry with innovative proprietary technology, superior customer service, and years of industry experience.
-Tarry E. Shebesta, OCLC (Ohio Certified Lease Consultant)
President, Automobile Consumer Services, Inc. (www.ACScorp.com)
Vice President, National Vehicle Leasing Association (NVLA)
tes@acscorp.com / 800.223.4882
---------------------------------------------------------------
### Press Release ###########################

Jennifer and Nathan Rodich join SFBI
Atlanta, GA. ---, Fred St. Laurent, CEO and president of SFBI Professional Recruiting announces that Jennifer and Nathan Rodich, have been named as Senior Account Manager and Managing Directors of Financial Services recruiting for the United States.
Located in Atlanta, Georgia Jennifer who studied at Oglethorpe University in Atlanta entered the staffing industry in 2001 and has a solid background in staffing that will be essential in our efforts to support our equipment leasing clients.
Jennifer's husband Nathan attended Austin Peay University in Clarksville TN on a full Tennis Scholarship and graduated with a BBA in Marketing, Management and Finance.
"We were fortunate to find Jennifer and Nathan at a time when our plans for growth are moving forward. They are a dynamic team and will certainly play a major role in our future as we develop our presence as an Equipment Leasing Talent Acquisition Firm." Said CEO and President Fred St Laurent.
SFBI Professional Recruiting is a member of ELFA, EAEL, NAELB and UAEL and supports the leasing industry by providing recruiting services to its members. SFBI also recruits in several other spaces, including Banking, Wealth Management and Medical. For more information please visit their web site:
### Press Release ###########################

Fitch: While U.S. Defaults Shrink in 2006, Debt Expands At the Fastest Pace in Five Years
Fitch Ratings-New York-: Fitch Ratings has published a new study titled 'The Shrinking Default Rate and the Credit Cycle - New Twists, New Risks' examining the relationship between default rates, corporate profits and debt, new issuance quality, and credit availability.
The U.S. high yield default rate ended 2006 at 0.8%, down from 3.1% in 2005 and substantially lower than the long-term average annual default rate of roughly 5%.
While the default rate is expected to remain below average for the fourth consecutive year, Fitch believes that the very low default rate experienced in 2006 is not sustainable and that the risk of a spike in the default rate is substantially higher in 2007 than it has been in the past several years. Profit growth is expected to slow in 2007, debt balances are rising, and investors are likely to become more discriminating going forward, focusing more intently on risk/reward attributes in a maturing credit cycle.
Recent trends are already beginning to point in this direction. Fitch's most recent survey of the financial performance of a sample group of 260 U.S. high yield companies rated 'BB' or 'B' revealed that through the third quarter of 2006, debt had expanded at the highest annual rate in five years (up 12% year-over- year) as new issuance continued to shift away from refinancing as a use of proceeds and toward debt- financed, shareholder-oriented activities, such as leveraged buyouts (LBOs) and mergers and acquisitions. Debt also rose to support capital spending which for this sample group of companies grew 26% year-over-year.
'The double digit expansion in debt in 2006 was a substantial departure from either 2005 or 2004 results when debt moved either slightly up or was down year-over-year' said Mariarosa Verde, Managing Director of Credit Market Research.
In addition, the most recent Federal Reserve's Senior Loan Officer Survey showed lending standards among bankers shifting to neutral in the latter part of 2006, a retreat from an earlier bias toward looser lending practices. This suggests that the days of easy money may have peaked.
Beyond macroeconomic concerns, a wildcard weighing on the outlook for 2007 and 2008 is uncertainty surrounding the behavior of the new class of nontraditional U.S. fixed income investors, including hedge funds and foreign investors. At issue is whether these investors, hedge funds in particular, will be tempted to move money out of fixed income strategies in order to pursue higher returns in the rebounding global equity markets. In the opposite way that liquidity magnified the positive economic effect in 2006 and kept defaults in check, any meaningful funding disruption could quickly push up the default rate, especially for the lowest rated issuers.
The study discusses the following key considerations for the default outlook:
--Corporate credit quality is expected to modestly deteriorate going forward as profit growth slows and debt rises.
--The days of easy money may have peaked.
--Aggressive new issuance and high concentration of low-rated issues continue to put upward pressure on default risk - a spike in the default rate is a possibility.
--The sustainability of foreign and hedge fund demand for U.S. fixed income securities is a wildcard.
--Recovery rates have soared as prospects for future recoveries may have weakened.
Fitch's new study 'The Shrinking Default Rate and the Credit Cycle - New Twists, New Risks' is available on Fitch's web site under the Credit Market Research link.
Free Report:
http://www.fitchratings.com/corporate/reports/report_frame.cfm?rpt_id=314628
### Press Release ###########################

Free Location-Based Lookup Service and more
RANCHO SANTA MARGARITA, Calif. – Melissa Data ( www.MelissaData.com ), a provider of data quality software and services, announces registered users of its free lookup service has hit 500,000 – with over 900 new registered users daily, demonstrating that value-added Internet search tools are still one of the most popular uses of the Net.
The search tools work by allowing input of variations of street names, area codes, partial or whole telephone numbers, or ZIP® codes. The data returned by Melissa Data enables users to verify mailing addresses, update phone numbers, and access the latest demographic data on states, cities and counties.
The search service also allows users to find contributors to federal elections, locate non-profit organizations, and learn about U.S. place names. One unique search is the phone number lookup. With this feature, a user can easily trace the origin of a phone call from a caller ID service.
Melissa Data also offers a Private Label Lookup Program for companies looking for their own high-caliber lookups page. Visitors to a company's Web site are directly linked to Melissa Data's Free Lookups page but they will only see the company's logo, no other ads or corporate identities will appear on the page. It's a private label lookups page that will keep visitors coming back time after time to a company's Web site.
Melissa Data has spent hundreds of hours of programming time to build an efficient suite of tools and services to make this data easily accessible from a single location. Moreover, Melissa Data is continually certified by the U.S. Postal Service® to use and distribute address data, a guarantee of accuracy and reliability. The benefits of accurate data can be measured in lower operating costs and better deliverability of important business communications.
Additional Uses of the Free LookUps Engine
Melissa Data's search databases can also be used to: 1) locate post offices, 2) display area codes or ZIP codes within a radius, 3) calculate the distance between any two ZIP codes, 4) find Canadian address and phone data, 5) get location information on worldwide place names, 6) find the time zone of a phone number, 7) find out average home values, 7) access U.S. tax statistics, and 8) order mailing lists.
About Melissa Data
Since 1985 Melissa Data has been providing data quality and mailing solutions, with an emphasis on address and phone verification, postal encoding, and data enhancements. MAILERS+4®, the top-selling postal automation software is SERP and CASS Certified™, and is part of a powerful line of software, components, databases and services that empower customers to achieve quality U.S., Canadian and international contact information for their point-of-entry or batch applications. Free trial software and more information are available by visiting www.MelissaData.com or by calling
1-800-800-6245.
Melissa Data is a non-exclusive licensee of the United States Postal Service.
ZIP, U.S. Postal Service and CASS are trademarks of the USPS.
### Press Release ###########################

NetSol Delivers LeasePak 6.0 -- Latest Version of Its Flagship
Equipment Leasing Accounting and Portfolio Management System
Release Marks First Offshore Software Engineering Collaboration Between the Company's North American and Pakistan Divisions
CALABASAS, CA -- -- NetSol Technologies, Inc. ("NetSol") (NASDAQ: NTWK), a multinational provider of enterprise software and services for the commercial finance industry, has delivered LeasePak 6.0 Enterprise Edition, the newest version of its flagship equipment lease accounting and portfolio management system, to the North American LeasePak user community. This release marks the first offshore software engineering collaboration between the North American and Pakistan divisions of the Company.
LeasePak is an end-to-end, asset finance accounting and portfolio management system that offers lessors the flexibility they need to streamline their operations across the full lease lifecycle. The product accurately tracks leases, loans and equipment from origination through end-of-term and disposition. LeasePak is used by banks, leasing companies and financial institutions. The latest version, LeasePak 6.0 Enterprise Edition, offers significantly improved usability and modernization of the user interface and state-of-the-art tools to streamline contract originations and collections.

Najeeb Ghauri, Chairman/CEO
"The development of LeasePak 6.0 was a true team effort, with our North American and Pakistan engineering teams working closely together to deliver the largest and most comprehensive release of the product to date, "Najeeb Ghauri, chairman and CEO, commented. "We were certain that our offshore IT team's track record of success in developing the LeaseSoft equipment finance portfolio management system for the captive finance industry in the Asia-Pacific and European regions could be replicated in the North American market.
"We believe this collaboration demonstrates that NetSol is effectively leveraging the Lahore facility's technology expertise across all divisions of the company."

John McCue, President No. Am. Netsol
"As a leading technology provider to the US financial services industry, particularly for the equipment lease financing sector, NetSol (North America) is, and always has been, committed to developing innovative products that meet the complex demands and needs of its customer base," John McCue, President of the North American region of NetSol Technologies, Inc., added.
"This latest release of LeasePak marks our first offshore software engineering collaboration with the Pakistan development team," continued Mr. McCue. "My team's efforts were enhanced by the knowledge and expertise of the CMMi Level 5 development team in Lahore. We believe the LeasePak user community will immediately recognize and appreciate the benefits of our collaborative effort, particularly in the streamlined user experience."
Mr. McCue concluded, "Initial feedback from the LeasePak user community is very positive, and we believe that as more North American users evaluate LeasePak 6.0, NetSol will capture new and recurring revenues. Furthermore, we have the opportunity to generate incremental revenues because this latest version offers new optional, add-on modules. We anticipate strong demand for these add-on products in the medium term, especially for customers who require additional loan processing capabilities or who want to expand their ability to track financed assets across multiple portfolios or lines of business."
About McCue Systems
With over 30 years of experience in developing business solutions for the equipment and vehicle leasing industry, McCue Systems Inc. is the leading provider of lease/loan portfolio management software for banks, leasing companies and manufacturers. Its flagship product, LeasePak, simplifies lease/loan administration and asset management by accurately tracking leases, loans and equipment from origination through end-of-term and disposition.
McCue Systems leads the leasing technology industry in the development of Web-enabled and Web-based tools to deliver superior customer service, reduce operating costs, streamline the lease management lifecycle, and support collaboration with origination channel and asset partners. Alone in the industry, McCue Systems offers a Web-based front-end system that integrates fully with the system's back-office database architecture.
By harnessing the most advanced technologies, McCue Systems can offer the right operating platform for almost any enterprise. LeasePak can be configured to run on HP-UX, SUN/Solaris or Linux, as well as for Oracle and Sybase users. And for unmatched scalability, McCue Systems offers the LeasePak Bronze, Silver and Gold Editions for systems and portfolios of virtually all sizes and complexities. McCue Systems' solutions set the industry standard for reliability, providing the equipment and vehicle leasing infrastructure at leading Fortune 500 banks and manufacturers, as well as for the industry's leading independent lessors, including Cisco, Hyundai, JP Morgan/Chase, ORIX, and Volkswagen Credit.
The leasing experts at McCue Systems work closely with lessors to put the company's leasing expertise to work to streamline lease operations and enhance customer retention at every stage of the lease lifecycle.
For more information, visit www.mccue.com .
About NetSol Technologies, Inc.
NetSol Technologies is an end-to-end solution provider for the lease and finance industry. Headquartered in Calabasas, CA, NetSol Technologies, Inc. operates on a global basis with locations in the U.S. , Europe, East Asia and Asia Pacific. NetSol helps its clients identify, evaluate and implement technology solutions to meet their most critical business challenges and maximize their bottom line. By utilizing its worldwide resources, NetSol delivers high-quality, cost-effective IT services ranging from consulting and application development to systems integration and outsourcing. NetSol's commitment to quality is demonstrated by its achievement of both ISO 9001 and SEI (Software Engineering Institute) CMM (Capability Maturity Model) Level 4 assessment.
For more information, visit NetSol Technologies' web site at www.netsoltek.com.
### Press Release ###########################

Online Registration is Open, Classes Set for International Decision Systems®
ConnectionPoint '07 User Conference in June
MINNEAPOLIS, Minn. – By logging on to www.idsgrp.com/cp07, equipment finance industry professionals can view a full class schedule and register to attend ConnectionPoint '07, International Decision Systems' annual user conference. The much-anticipated training and networking event will be held Sunday, June 10th, through Wednesday, June 13th, 2007, at the Portofino Bay Hotel in Orlando, Florida.
"We are experiencing very high demand for information about our software products, and we know our customers are enthusiastic about getting together for productive discussions about our dynamic industry," said Todd Davis, CEO of International Decision Systems.
International Decision Systems' staff has planned a content-rich conference that will allow each participant to attend up to 12 distinct sessions. In addition to its traditional appeal for IT personnel and "power users" of InfoLeaseâ, Rapportâ, ProFinia™ and the company's other market-leading software products, this year's conference will feature:
- A wide range of sessions designed to benefit Credit, Sales, Collections, and other personnel across the entire finance organization.
- Expanded participation from International Decision Systems' partners and customers in sessions focused on industry dynamics and emerging best practices.
- Extensive hands-on training opportunities focused on enhancing users' software expertise for efficiency gains, including an entire learning track for new InfoLease users and those in need of "refresher" training.
- A full learning track devoted to LeaseEnterpriseâ, the simple, economical lease and asset management tool.
- Sessions highlighting new features and capabilities of all the company's current-generation products, including Rapport, InfoLease, ProFinia, and InfoAnalysisâ.
- Training on two new InfoLease modules – Automated Settlements and Multi-Meter Read.
Current users of International Decision Systems products, as well as representatives of finance organizations considering new solutions, are encouraged to reserve June 10th-13th for this popular industry event. Additional information and complete registration procedures are available at www.idsgrp.com/cp07.
About International Decision Systems, Inc.
International Decision Systems is the global leader in developing equipment finance portfolio management software and services. Headquartered in Minneapolis, Minnesota, International Decision Systems also has offices in London, Sydney, Singapore and Bangalore. International Decision Systems offers the largest and most experienced global consulting, implementation, and technical support teams in the equipment financing industry. For additional information about International Decision Systems, visit www.idsgrp.com or call 1-866-465-9393 to reach global headquarters.
### Press Release ###########################

TFS and Securus Capital Announce Strategic Alliance
Great Falls, VA, — Technology Finance Specialists, Inc. (TFS) and Securus Capital LLC announced today the formation of a strategic alliance to help federal agencies acquire mission-critical information technology products while helping vendors increase sales.
As part of their teaming arrangement, Securus and TFS will offer agencies multi-year installment payment solutions — ranging from $500,000 to $50 million — so agencies can pay for technology products over multiple fiscal years.
Members of the team have over 30 years of collective experience helping vendors recognize more than $1 billion of revenue. They were responsible for the obtaining the first GSA schedule for leasing in 1996.
"Securus Capital has created and copyrighted the most streamlined agreements in the industry," said Doug Jackson, President of TFS. "There are a lot of financial institutions in the market today, but none understands the federal arena as well as Securus. Securus Capital has a competitive advantage with its knowledge of the market and its ability to structure and document transactions that meet the requirements of both vendors and agencies. This is crucial to getting business done with the Federal Government."
Maeve Rigler, CEO of Securus Capital, said "Technology Finance Specialists, Inc. brings to us years of both sales and finance expertise, and the ability to work with IT vendors and federal agencies. We have known and worked with the principals of TFS for years and their reputation for integrity and creativity is second to none. They have been on the cutting edge of developing financial solutions to help agencies and vendors meet their goals and objectives."
Agencies are faced with increased budget constraints and the desire to move to new frameworks such as utility and grid computing, creating the need to structure payment streams to meet real time procurement and project requirements. Vendors are challenged to offer these products and services in real time, while remaining focused on increasing recognizable revenue. Creating the optimum deal structure is essential to winning the competitive bid.
About Technology Finance Specialists, Inc.
Technology Finance Specialists, Inc. is a consulting organization that designs, builds and manages Customer Finance Programs. TFS creates competitive advantages for their clients by delivering customized financial solutions. These solutions make it easier for client's customers to acquire their products and services with a substantially improved return on investment. Technology Finance Specialists, Inc. is a privately held company based in Great Falls, VA. For more information, visit www.tfsinc.com.
About Securus Capital
Securus Capital LLC is a private investment bank providing financial solutions to the technology industry and federal agencies. Headquartered in Alexandria, Virginia, Securus has a team of finance experts with over 30 years of experience helping vendors recognize more than $1 billion of revenue while helping agencies acquire mission-critical technology. Committed to customer service, Securus has one of the highest Customer Satisfaction Ratings (98 out of 100), according to Dun & Bradstreet's Open Ratings Survey. For more information, visit www.securuscapital.com.
### Press Release ###########################

Sterling National Bank Appoints Andrew Corsi SVP, Sterling Bank Leasing
NEW YORK, N.Y., – Sterling National Bank, a subsidiary of Sterling Bancorp (NYSE: STL), announced the appointment of Andrew R. Corsi to Senior Vice President and Department Manager for Sterling Bank Leasing.
"Andrew's vast financial leasing and lending experience make him a great addition to the Sterling team," said Howard M. Applebaum, Executive Vice President of Sterling National Bank. "Andrew has long standing relationships with financial brokers in which he will continue to provide customized quality service for them. Those relationships embody Sterling's 'customer for life' philosophy."
Mr. Corsi will primarily be responsible for extending Sterling's strong growth in equipment leasing. Sterling offers a full suite of services that include: commercial lending, asset based lending, factoring, letters of credit, commercial and residential mortgages, and trust and estate administration.
Prior to joining Sterling, Mr. Corsi was the Chief Credit Officer at ICB (Independence Community Bank) Leasing Corp. He was also employed at Wasco Funding Corp. a subsidiary of EAB.
Mr. Corsi is a member of Equipment Leasing and Finance Association, United Association of Equipment Leasing and Eastern Association of Equipment Lessors.
Sterling Bank Leasing conducts business in the New York metropolitan area and across the United States through direct leasing, indirect financial brokers and third party Lessor programs. It is also a purchaser of bulk portfolios. Sterling specializes in small and medium-sized leasing transactions.
About Sterling Bancorp
Sterling Bancorp (NYSE: STL) is a financial holding company with assets of $1.9 billion, offering a broad array of banking and financial services products. Its principal banking subsidiary is Sterling National Bank, founded in 1929. Sterling provides a wide range of products and services, including business and consumer loans, commercial and residential mortgage lending and brokerage, asset-based financing, factoring and accounts receivable management, trade financing, equipment leasing, corporate and consumer deposit services, trust and estate administration, and investment management services. The Company has operations in New York, New Jersey, Virginia and North Carolina and conducts business throughout the U.S.
### Press Release ###########################
--------------------------------------------------------------

News Briefs----
Rates on 30-year mortgages drop to lowest level in six weeks
http://www.signonsandiego.com/news/business/20070222-1348-mortgagerates.html
SunTrust remains the market leader here
http://www.ajc.com/business/content/business/stories/2007/02/21/0222bizbanks.html
NovaStar sinks 41%, leads subprime lender stocks down
http://www.usatoday.com/money/economy/housing/2007-02-21-subprime-lenders_x.htm
H&R Block swings to 3rd-quarter loss because of mortgage lending arm
http://www.signonsandiego.com/news/business/20070222-1400-earns-h&rblock.html
The National Association of Realtors has projected that sales of new houses will decline until the fourth quarter as an oversupply saps demand.
http://www.usatoday.com/money/companies/earnings/2007-02-22-toll-bros_x.htm
Slowing Economy Isn't Cooling Prices
http://www.washingtonpost.com/wp-dyn/content/article/2007/02/21/
AR2007022100345.html
Oil prices jump to settle near $61 a barrel
http://www.usatoday.com/money/industries/energy/2007-02-22-oil-prices-rise_x.htm
For Clinton, New Wealth In Speeches
http://www.washingtonpost.com/wp-dyn/content/article/2007/02/22/
AR2007022202189.html
American Idol: Paul, Amy, Nicole, Rudy out
http://www.myajc.com/post/idolblog/222_paul_amy_nicole_rudy_out.html
---------------------------------------------------------------


You May have Missed---
Pension gap divides public and private workers
http://www.usatoday.com/money/perfi/retirement/2007-02-20-pensions-cover_x.htm
---------------------------------------------------------------

Sports Briefs----
Raiders cut ties with Brooks
http://www.contracostatimes.com/mld/cctimes/16762076.htm
----------------------------------------------------------------


California Nuts Briefs---
Spanking ban abandoned
http://www.sacbee.com/111/story/127398.html
----------------------------------------------------------------


"Gimme that Wine"
2007 American Wine Blog Awards Winners Announced
http://home.businesswire.com/portal/site/google/index.jsp?ndmViewId=news_view&
newsId=20070221005640&newsLang=en
Landmarks at Spottswoode
http://www.naparegister.com/articles/2007/02/22/features/food_and_wine/
doc45dda52b3cc2e834940889.txt
Wine Prices by vintage
http://www.winezap.com
http://www.wine-searcher.com/

US/International Wine Events
http://www.localwineevents.com/

Winery Atlas
http://www.carterhouse.com/atlas

Leasing News Wine & Spirits Page
http://two.leasingnews.org/Recommendations/wnensprts.htm

The London International Vintners Exchange (Liv-ex) is an electronic exchange for fine wine.
http://www.liv-ex.com/
----------------------------------------------------------------

Calendar Events This Day
Banana Break Day
http://homeschooling.about.com/library/blfeb23a.htm
Brunei Darussalam: National Day
National holiday observed in Brunei Darussalam, located on the Island of Borneo. Commemorates independence from Britain, Feb. 23, 1984.
Curling is Cool Day
Offer up a worldwide embrace for an Olympic sport the entire family can play!
www.wellcat.com
Iwo Jima Day
Anniversary of the day that the US flag was raised on the Pacific Island of Iwo Jima by US Marines. Almost 20,000 Americans soldiers lost their lives before the island was finally taken from the Japanese on March 16, 1945.
National Dog Biscuit Day
http://homeschooling.about.com/library/blfeb23c.htm
Russia: Army and Navy Day
Also known as Defender of the Fatherland Day. Wreaths are laid at the Tomb of the Unknown Solider. Commemorates a 1918 clash with Germany troops that went down in history as the birthday of the Red Army.
Saint Feast Days
· Saint Polycarp
· St. Peter Damian
· St. Cerneuf
· St. Alexander Akimetes
· St. Boswell
· St. Zebinus
· St. Willigis
· St. Serenus the Gardener
· St. Dositheus
· St. Felix of Brescia
· St. Florentius
· St. Jurmin
· St. Lazarus Zographos
· St. Romana
· St. Martha
· St. Ordonius
· St. Medrald
· St. Milburga
· St. Polycarp of Smyrna
http://www.catholic.org/saints/f_day/feb.php
----------------------------------------------------------------

There are 2,598,960 five-card hands possible in a 52-card deck of cards.
http://answers.yahoo.com/question/index?qid=20060920140208AAVI8xR
----------------------------------------------------------------

Today's Top Event in History
1836 - Gen. Antonio Lopez de Santa Anna, leading several thousand Mexican troops, began besieging the Alamo mission settlement held by a force of 145 Texans led by Colonel Travis, Jim Bowie and Davy Crockett. The siege ended on March 6 with all the Texans killed.
1847-United States General Zachary Taylor was victorious over Mexican General Antonio Lopez de Santa Anna in the Battle of Buena Vista. The victory would catapult him to become president of the United States in 1848. Scott too went on to run for president but was defeated in 1852 by another veteran of the Mexican American War, Franklin Pierce.
http://memory.loc.gov/ammem/today/feb23.html
[headlines]
----------------------------------------------------------------

This Day in American History
1784-Sarah Thompson, became the first American to become a countess when her father Benjamin Thompson, an American physicist born in North Woburn, Ma, was knighted as Count Rumford by King George III of England. He was a Royalist during the revolutionary war, and had command of the Queen's Horse Dragoons against the colonists. He was also created a count of the Holy Roman Empire in 1791 by Charles Philip Frederick Duke of Bavaria. The Countess of Rumford had the privilege of residing in any country she chose and receiving half of her father's pension of 2,000 florins. American History shows him as a much despised man due to his politics and allegedly abandoned his wife and family when he fled to England. He discovered the use of heat and friction. He made numerous practical innovations, including central heating, the smokeless chimney, the kitchen oven, thermal underwear, the pressure cooker, and numerous others. In later life, he married (and then became estranged from) Lavoisier's widow Marie-Anne. Rumford was overbearingly arrogant and had no friends, as well as having a life filled with repeated cycles of rapid rises to prominence followed by equally rapid falls to penury. His abrasive personality and style are perhaps why his many innovations were not widely chronicled by historians.
http://www.yeoldewoburn.com/rumford2.JPG
http://www.yeoldewoburn.com/rumford1.JPG
http://scienceworld.wolfram.com/biography/Rumford.html
http://www.rumford.com/Rumford2.html
1836 - Gen. Antonio Lopez de Santa Anna, leading several thousand Mexican troops, began besieging the Alamo mission settlement held by a force of 145 Texans led by Colonel Travis, Jim Bowie and Davy Crockett. The siege ended on March 6 with all the Texans killed.
1847-United States General Zachary Taylor was victorious over Mexican General Antonio Lopez de Santa Anna in the Battle of Buena Vista. The victory would catapult him to become president of the United States in 1848. Scott too went on to run for president but was defeated in 1852 by another veteran of the Mexican American War, Franklin Pierce.
http://memory.loc.gov/ammem/today/feb23.html
1868- William Edward Burghardt Dubois birthday, American educator and leader of the movement for black equality. Born at Great Barrington, MA, he died at Accra, Ghana, Aug 27,1963. "The cost of liberty,' he wrote in 1909, "is less than the price of repression."
http://www.duboislc.org/html/DuBoisBio.html
http://www.galegroup.com/free_resources/bhm/bio/dubois_w.htm
http://www.millikin.edu/aci/crow/chronology/duboisbio.html
1896- Tootsie Roll introduced by Leo Hirshfield, named after his five year old daughter.
http://www.tootsie.com/history.html
http://www.cmi.k12.il.us/Urbana/yr/tootsie.html
Feb 23
1903- US signs agreement acquiring a naval station at Guantanamo Bay Cuba
http://www.historyofcuba.com/cuba.htm
http://www.nsgtmo.navy.mil/gazette/History_98-64/hischp3.htm
1905-The first Rotary Club meeting took place in Chicago, IL. the group's founder was a lawyer, Paul Percy Harris, who invited three friends, a coal dealer, a tailor, and a mining engineer. Meetings were held in each member's place of business in rotation, so that they each could obtain some knowledge of the others' businesses. A convention of 16 Rotary clubs met in Chicago in August 1910 to form a national association. An international association was formed in August, 1912, in Duluth, MN, to provide charters to Winnipeg, Canada and London, England. The constitution was revised in June 1922, when Rotary International was adopted as the group's new name.
1917-Birthday of composer-pianist John Benson Brooks, born Houton,Me.
http://ubl.artistdirect.com/music/artist/bio/0,,408452,00.html?artist=John+Benson+Brooks
http://wwwp.musicmatch.com/artist/artist.cgi?ARTISTID=867568
1922-Birthday of composer-trumpeter Johnny Carisi born Hasbrouck Heights, NJ.
Died October 3, 1992.
http://store.artistdirect.com/music/artist/bio/0,,411975,00.html?artist=Johnny+Carisi
http://www.centrohd.com/biogra/c3/johnny_carisi_b.htm
http://trumpetjazz.netfirms.com/Artists/Johnny_Carisi.html
1927 - U.S. President Calvin Coolidge signed a bill into law that created the Federal Radio Commission, "to bring order out of this terrible chaos." The president was speaking, of course, of the nation's then unregulated radio stations. The commission assigned frequencies, hours of operation and power allocations for radio broadcasters across the U.S. The name was changed to the Federal Communications Commission (FCC) on July 1, 1934.
1928-Birthday of Canadian singer and actress Monique Leyrac, born in Montreal. She won two prizes at the 1965 International Song Festival in Poland, and the Grand Prix at another festival in Belgium. Leyrac toured the Soviet Union in 1966 and the following year performed at Expo 67 and before Princess Margaret in London. She has been proclaimed best singer twice and woman of the year twice in annual polls conducted by the Canadian Press. Monique Leyrac was named an Officer of the Order of Canada in 1968.
1930-Birthday of sax player Pete DeLuke, Schenectady, NY.
1936 - a severe blizzard in the Sierra Nevada mountains closed Donner Pass, stranding 750 motorists and claiming 7 lives.
1939 - Walt Disney won an Oscar for the film, "Snow White and the Seven Dwarfs" at the Academy Award ceremonies that were held at the Biltmore Hotel in Los Angeles, California. Mr. Disney actually received one Oscar statuette and seven miniature ones for his work " ... which has charmed millions and pioneered a great new entertainment field," according to press accounts. The 11th Academy Awards were celebrated at the Biltmore Hotel in Los Angeles Oscars were doled out for "You Can't Take It with You" for Best Picture and Best Director (Frank Capra). Capra, who took home his third Best-Director prize, had won for 1934's "It Happened One Night" and 1936's "Mr. Deeds Goes to Town". The Best Actor award was claimed for the second year in a row ("Captains Courageous") by Spencer Tracy for "Boys Town". Best Actress and Best Supporting Actress awards were presented to Bette Davis and Fay Bainter, respectively, for their performances in "Jezebel"; while Walter Brennan took home the prized statuette for Best Supporting Actor in "Kentucky". These were Davis' and Brennan's second Academy Awards; the first for Davis was awarded three years earlier for "Dangerous", and Brennan received his first Oscar two years before for "Come and Get It". Walt Disney won an honorary Oscar for the film, "Snow White and the Seven Dwarfs".
http://www.infoplease.com/ipa/A0148089.html
1940 - Walt Disney's animated feature Pinocchio, based on the story by Collodi (real name: Carlo Lorenzini), was released to the general public. Using a new multiplane camera, this innovative film was able to capture never-before-seen dimension in an animated movie. Critics were enchanted with Disney's treatment of the story, although the nephew of the fable's author asked the Italian Ministry of Popular Culture to sue Disney for libel in portraying Pinocchio "so he easily could be mistaken for an American," when the puppet was Italian. Nothing came of Paolo Lorensini's objections. The film did well at the box office. Disney had the movie dubbed in seven languages at an additional cost of $65,000. However, when Pinocchio was released, World War II was underway and the European market was inaccessible; as a result, Disney lost a major source of revenue. Jiminy Cricket's song, "When You Wish Upon a Star," later won an Oscar for Best Song.
1942- About 9pm, PST, while President Franklin Delano Roosevelt was delivery his weekly "fireside chat" by radio to the American public, the Japanese submarine I-17, under command of Captain Kozo Nishino fired 12 to 15 shots during the space of 20 minutes at the Barnsdall Oil Refinery in Ellwood, CA, about 12 miles west of Santa Barbara. The submarine was about half a mile offshore. One shell made a direct hit on the rigging and pumping equipment on an oil well, causing damage of about $500. Other shells made crater holes, one of which was about five feet deep. No one was injured. John Belushi was in a movie about the incident, but at the time, it caused great hysteria in California where Pearl Harbor was devastated and people on the West Coast thought it could happen here. The railroad going from San Jose to Santa Cruz had its tracks torn up and tunnels dynamited as it was feared the Japanese could attack the city by using the train for transportation. The fear against the Japanese invasion of Pearl Harbor over ruled all logic of the day. There was no television let alone internet and all news was censored as to what was happening and people feared the worst that could
happen to them, another Pearl Harbor in San Francisco or Los Angeles.
1943-While the Japanese submarine was making a devastating attack primarily psychological in nature, to get the US afraid to fight, the first naval counterattack by American forces against the Japanese in World War II was taking place in a surface engagement known as the Battle of Balikpapan, or the Battle of the Makassar Straight, which took place from this day through February 25. The U.S. destroyers John D. Ford, Parrott, Pope, and Paul Jones, under the command of Lieutenant Commander Paul H. Talbot, came in at night at high speed and sand a patrol craft and the transports Taksukami Maru (7,084), Tsurga Maru (6,988 tons, Kuretake Maru (5,170 tons) and Somanouri Maru (3,519 tons.)
On April 18, 16 B-25 airplanes of the 17th bombardment Group, 8th Air force, under the command of Colonel James Harold Doolittle, took off from the U.S. Hornet. Traveling low over the water they dropped bombs on the cities of Tokyo, Kobe, and Nagoya, then continued straight on until they ran out of fuel and crash-landed in the Chinese countryside. The raid took the Japanese military establishment by surprise and demonstrated for the first time the vulnerability of the Japanese home islands. In collaboration with the Germans who were after oil in Asia, the axis thought the US was weak, actually calling the country a "paper tiger."
1943-Frederick S. "Fred" Biletnikoff, Pro Football Hall of Fame wide receiver for the Oakland Raiders, born Erie, PA.
1944-White blues guitarist Johnny Winter was born in Leland, Mississippi. A write-up in Rolling Stone magazine brought Winter to the attention of New York club owner Steve Paul, who became his manager. Winter's self-titled debut album on Columbia was an immediate success in 1969. His blues- based hard rock remained popular throughout the 1970's.
http://www.yee.ch/~jwinter/winter_bio.html
http://www.geocities.com/SunsetStrip/Stage/1918/winter.htm
1945 - The Japanese island of Iwo Jima fell to the Americans after severe fighting and the flag was raised on Mount Suribachi. Four days of bitter battle had taken its toll on the 28th Regiment of the Fifth Division of the U.S. Marines. Although losses were heavy, the Marine platoon succeeded in its mission to neutralize the defenses and scale the heavily fortified Mount Surabachi. The volcanic peak, at the southern tip of the Japanese island of Iwo Jima, was one of the first objectives of the Marines' invasion of this small, strategic island, 750 miles south of Tokyo. Victory was triumphant -- as the famous photograph (by Joe Rosenthal) of these Marines raising the American flag portrayed. Navy Secretary Forrestal was standing on the beachhead below. When he saw Old Glory waving in the breeze, he told Lt. General Holland M. Smith, "The raising of that flag on Surabachi means a Marine Corps for the next 500 years."
1950—Top Hits
Dear Hearts and Gentle People - Bing Crosby
There's No Tomorrow - Tony Martin
The Old Master Painter - Snooky Lanson
Chattanooga Shoe Shine Boy - Red Foley
1958—Top Hits
Don't/I Beg of You - Elvis Presley
Sail Along Silvery Moon/Raunchy - Billy Vaughn
Short Shorts - The Royal Teens
Ballad of a Teenage Queen - Johnny Cash
1959-Three weeks after their death, Buddy Holly's "It Don't Matter Anymore" enters the Hot 100 at #82 and the Big Bopper's LP "Chantilly Lace" is released on Mercury Records.
1959 - No. 1 Billboard Pop Hit: ``Stagger Lee,'' Lloyd Price. The song is based on an old folk song, ``Stack-O-Lee,'' about the tragic fate of two gamblers.
1960 - Wrecking crews began demolishing Ebbets Field in New York City, home of the Brooklyn Dodgers.
1963 - The Chiffons released "He's So Fine", which on March 30, 1963, hit #1 on the charts for four weeks. Later the song became the center of one of music's most publicized lawsuits, when the estate of songwriter Ronnie Marks won a suit against former Beatle, George Harrison, saying the song, "My Sweet Lord", was a copy of "He's So Fine". The Chiffons also had hits with "One Fine Day", "Sweet Talkin' Guy".
1963-Motown singer Mary Wells' "Laughing Boy" becomes her sixth Hot 100 entry. The tune peaks at #15 in its nine weeks on the chart.
1964- the Beatles made their third appearance on "The Ed Sullivan Show." Their performance had been pre-recorded the afternoon of February 9th - just hours before the group made their live American TV debut on Sullivan's program.
1966—Top Hits
Lightnin' Strikes - Lou Christie
These Boots are Made for Walkin' - Nancy Sinatra
My World is Empty Without You - The Supremes
Waitin' in Your Welfare Line - Buck Owens
1967- US troops begin largest offensive of Vietnam War . Over 400,000 US troops were in Southeast Asia. At this point, more than 17,000 Americans had died in Vietnam, 2000 more in the first ten months of 1967 than in the period 1961-1966.
http://members.aol.com/veterans/warlib6v.htm
1968 -Wilt Chamberlain becomes 1st NBAer to score 25,000 points.
1969 - No. 1 Billboard Pop Hit: ``Everyday People,'' Sly & the Family Stone.
1970-The Doors' album "Morrison Hotel" goes gold becoming the group's fifth gold album in a row.
1971 - James Franciscus starred in made for television movie, "Longstreet", which became a regular series in the fall of 1971.
1974 - After already receiving $2 million dollars, the Symbionese Liberation Army demanded $4 million more to release Patty Hearst, daughter of publisher Randolph Hearst, who had been abducted on February 4th. Randolph said he would also consider this request.
1974—Top Hits
The Way We Were - Barbra Streisand
Seasons in the Sun - Terry Jacks
Until You Come Back to Me (That's What I'm Gonna Do) - Aretha Franklin
Another Lonely Song - Tammy Wynette
1974-Columbia Records releases Billy Joel's "Piano Man."
1978-Some of the winners of the 20th annual Grammy awards for 1977 include: the Eagles (who boycotted the ceremony) winning Best Record of the Year for "Hotel California" and Best Arrangement for Voices for "New Kid in Town." Fleetwood Mac win Album of the Year for "Rumors." Song of the Year was tie between "Love Theme from A Star is Born" by Paul Williams and Barbra Streisand and Joe Brooks' "You Light Up My Life.
1979-The first Marine general who was African-American was Brigadier General Frank E. Petersen, Jr. of Topeka, KS, nominated by President Jimmy Carter. He was the 30th African-American to achieve the rank of general or admiral.
http://www2.sis.pitt.edu/resources/diversity/naa/military4.html
http://www.sinoam.com/general%20pic/last%20missing%20pic/
Lt.Gen.Frank%20Petersen.jpg
http://www.allstar.fiu.edu/prime-tech/BIA/pic-125.gif
1980-US speed skater Eric Heiden won the 10,000 meters race to capture his fifth gold medal at the Lake Placid Winter Olympics. Heider also won at 500 meters, 1,000 meters, and 5,000 meters.
1980 - Queen's Crazy Little Thing Called Love jumped to the Number 1 spot on Billboard's hit record charts, remaining there for 4 weeks.
1982—Top Hits
Centerfold - The J. Geils Band
Open Arms - Journey
Shake It Up - The Cars
Only One You - T.G. Sheppard
1983 - At the 25th annual ceremonies held in Los Angeles, California, rock group, Toto, won Grammy Awards for their single, "Rosanna", and their album, "Toto IV". They also received four other awards, tying the 1965 record of six Grammies held by Roger Miller.
1983- Rudolf Diesel received a patent in Germany for the engine that bears his name. The diesel engine burns fuel oil rather than gasoline and is used in trucks and heavy industrial machinery. Many German automobiles also converted to diesel due to its lower price than gasoline.
1985-Then Indiana University basketball coach Bobby Knight was ejected from a game against Purdue for throwing a chair onto the court. Knight received his first technical foul for protesting two fouls called by the officials against his team. As Purdue shot the technical, Knight hurled a chair from the bench area onto the court, earning his second technical and automatic ejection. Purdue won, 72-63.
1985 - Breaking with tradition, television show, "Gimme a Break", was broadcast live before a studio audience, making it the first sitcom seen live since the 1950s.
1985- "Rockin' At Midnight" by the Honeydrippers peaks at #25 on the pop chart. The group consisted of Robert Plant, Jimmy Page and Jeff Beck.
1987 - Surface "bombogensis" took place on the mid-Atlantic coast as a low pressure went from 1004 to 981 millibars in just 12 hours, resulting in a heavy, wet snow blitz. Snowfall rates reached 5 inches per hour. Coatesville, Pennsylvania was buried under 23.5 inches, Clarksville, Maryland recorded 18.2 inches, and Wilmington, Delaware had 14.4 inches. Much tree damage occurred and power outages were widespread the heaviest snowfall in many years commenced in northern and central Arizona as a massive winter storm began to affect the western us. this storm continued until the 26th and when it was all over Flagstaff had 31.2 inches and Williams was buried under 35 inches. At one time, Prescott had 22 inches of snow on the ground.
1988- Michael Jackson kicked off his first solo US tour in Kansas City, Missouri. He opened with the same song with which he started the 1984 Victory Tour with his brothers - "Wanna Be Starting Something." Kansas City's Kemper Arena was outfitted with four video screens suspended from the ceiling, 72 speakers and nearly three-thousand lighting and special effects units.
1988-- Fearing the loss of the 1990 All-Star game and possible post-season games, a committee of Chicago Aldermen vote, 7-2, to allow the Cubs to play 18 night games at Wrigley Field.
1990—Top Hits
Opposites Attract - Paula Abdul with The Wild Pair
Two to Make It Right - Seduction
Escapade - Janet Jackson
On Second Thought - Eddie Rabbitt
1991-Thet ground war against Iraq began. After an air campaign lasting slightly more than a month, Allied forces launched the ground offensive against Iraqi forces. The relentless air attacks had devastated troops and targets in both Iraq and Kuwait. A world that had watched and anticipated 'The Mother of All Battles was surprised at the swiftness and ease with which Allied forces were able to subdue Iraqi forces in 100 hours.
1997-"Schindler's List, Steven Spielberg's 1993 film abut the Holocaust, became the first movie shown on a television network without interruption by commercials. It was broadcast by the NBC Network on Sunday, February 23, 1997. The sponsor Ford Motor Company presented one commercial before the film and one afterward, but none during the telecast. This was also the first broadcast rated TV-M ( for "mature" audiences) under the television ratings system implemented by broadcasters in late 1996.
1997 - The first cloning of an adult animal, a lamb named Dolly, was announced by researchers in Scotland. Dolly had a genetic makeup identical to that of her mother.
2000-The Grammy's for 1999 are announced and Santana ties Michael Jackson's record of eight Grammy's in one night including ones for Album of the Year for Supernatural and Record of the Year. The album's single "Smooth" wins Song of the Year giving the album a total of nine awards. Sting wins Best Pop Album for Brand New Day, Phil Collins wins Best Soundtrack for Tarzan and Jimi Hendrix wins his first Grammy for Best Long Form Music Video for "Band of Gypsys - Live at Fillmore East." Elton John is honored with the Living Legend Award.
2003 - Norah Jones is the big winner at the 45 annual Grammy Awards ceremony in New York, taking home all five awards for which she is nominated. Jones wins the coveted best new artist award, as well as the awards for album of the year and best pop vocal album of the year for her debut "Come Away With Me." Jones also wins record of the year and female pop vocal performance awards for the song "Don't Know Why."
--------------------------------------------------------------

Winter Poem
President George Washington
14 September 1789
Boston Gazette
An Acrostic--
GREAT Hero! whose illustrious actions claim
Eternal blessings and an endless fame--
Of every virtue and each gift possess
Religion reigns triumphant in his breast.
Grant him, almighty God! thy aid and health
Ever to rule these states and guard their wealth.
What power of Language can enough extoll
A Son of Liberty and friend to all--
Saviour and patron of Columbia!
Her sons revere thee and exult this day--
In thee, their Favourite and firm support--
Nations applaud thee and thy friendship court.
Generous deliverer of thy Country's right!
Thou hast prov'd victor over lawless might.
Of all the Conquerors in the historic page,
None have surpass'd this Phœnix of the age.
--------------------------------------------------------------

SuDoku
The object is to insert the numbers in the boxes to satisfy only one condition: each row, column and 3x3 box must contain the digits 1 through 9 exactly once. What could be simpler?
http://leasingnews.org/Soduku/soduko-main.htm
--------------------------------------------------------------

Daily Puzzle
How to play:
http://www.setgame.com/set/puzzle_frame.htms
--------------------------------