Wednesday, February 28, 2007
Headlines---
Classified Ads---Credit
Former Rockford Exec. sells baseball card $2.35 MM
Agility Solutions lease program for Wireless ISPs (WISPs)
Domain Name Leasing by Christopher Menkin
Classified Ads---Help Wanted
Last Day to register Free for "non-traditional event"
Cartoon---Bringing an attorney along
Sales makes it Happen---by Linda P. Kester
"Leave a Message"
Outside Sales Commissions--Broker + Vendor
HEC Leasing names David Westerfield president
ePlus Announces Noncompliance Notice from NASDAQ
Sysix to Acquire Helix Solutions
ORIX Finance Adds Two to Healthcare Finance Team
Joseph F. Nemia President-CIT Commercial & Industrial
Wednesday SE Asia stocks-Markets fall
China shares stabilize after Tuesday's rout
NYSE 416 points down on Tuesday
News Briefs---
You May have Missed---
California Nuts Brief---
Sports Briefs---
"Gimme that Wine"
Calendar Events
Snapple Real Facts
Today's Top Event in History
This Day in American History
Winter Poem
SuDoku
Daily Puzzle
Friday---"To tell the Truth..."
New Column series by Leasing News Advisory Board's Ken Greene, well-known jazz piano player and attorney.
######## surrounding the article denotes it is a "press release"
-------------------------------------------------------------------
-------------------------------------------------------------------

Classified Ads---Credit
Atlanta, GA
10 yrs experience in credit/collections/recovery/documentation in the leasing industry. P&L responsibility, team builder & strong portfolio mgnt. skills.
email: mortimerga@adelphia.net
Corona, CA
VP credit Consumer Credit prime/sub prime Auto lending/leasing/mortgages. 20+yrs exp. If you are looking for someone to affect the bottom line I am that person. Will relocate.
Email: amosca2000@yahoo.com
Fort Lee, NJ
3 Years Experience credit/documentation. Looking in NJ/NY.
Email: angitravis@mail.com
Irvine, CA
I have over 16 years of Credit/Collection experience in the finance industry. Prompt results, extremely effective and knowledgeable, professional, excellent manager and team player.
Email: newportresources@sbcglobal.net
Los Angeles, CA
Over 15 years experience in Credit/Operations with Small Ticket and transactions up to $500,000.00. CLP, with excellent relationships with most major lenders.
Email: jonbh123@earthlink.net
New Jersey, NJ
Credit Analyst with 10+ years experience in small-ticket lending up to $500,000. Experience with both vendor-direct and with brokers.
Email: b.leavy@worldnet.att.net
New York, NY
V.P. Credit & Collections w/23 years exp. looking for a situation where I can utilize my varied & extensive knowledge of credit/collections/risk-management & leasing.
Email: rcouzzi@yahoo.com
Sausalito, CA
Sr. Corp. officer, presently serving as consultant, fin. service background, M&A, fund raising, great workout expertise, references
Email: nywb@aol.com
Orange, CA
Credit/Operations-15 years exper., looking for a new home. Have handled both middle/ large ticket transaction, plus muni & international finance.
email: equiplender@aol.com
These job-wanted ads are free. We also recommend to both those seeking a position and those searching for a new hire to also go to other e-mail posting sites:
http://64.125.68.91/AL/LeasingNews/Classified.htm
In addition, those seeking employment should go to the human resource departments on company web sites for funders, captive lessors, and perhaps "broker-lessors."
To place a free "job wanted" ad here, please go to:
http://64.125.68.91/AL/LeasingNews/PostingForm.asp
For a full listing of all "job wanted" ads, please go to:
http://64.125.68.91/AL/LeasingNews/JobPostings.htm
--------------------------------------------------------------

Former Rockford Leasing Exec. sells baseball card $2.35 Million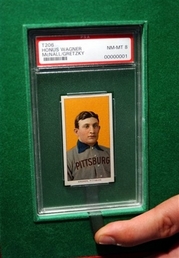 Brian Seigel, one of the founders of Rockford Industries (later sold to American Express) in 2000 paid a then-record $1,265,000, for the "Holy Grail of baseball cards," the famous 1909 Honus Wagner tobacco card once owned by hockey great Wayne Gretzky. Monday he sold the card for a record-setting $2.35 million to a Southern California collector.
There are about 60 of the tobacco cards in existence featuring the Pittsburgh Pirates shortstop, one of the first five players to be inducted in Baseball's Hall of Fame.
This particular one was preserved in spectacular condition," said Joe Orlando, president of Professional Sports Authenticator of Newport Beach -- the company that certified the authenticity of the card. "It's the Holy Grail of baseball cards." Still, the Wagner cards are so rare that even tattered ones will sell for hundreds of thousands of dollars, Seigel said.
The others "you could stick in middle of the street and let cars drive over it through the day, take it in your hand and crumple it up, and it still would be a $100,000 card," said Seigel, CEO of Emerald Capital LLC, an asset management company, who lives in Las Vegas.
Gretzky and Bruce McNall, former owner of the Los Angeles Kings, bought the card for $451,000
in 1991.
During his ownership of the card, Seigel displayed it at several sports collectible shows, showed it at the Ronald Reagan Presidential Library and Museum and at brought it to opening bell ceremonies for the NASDAQ stock exchange in New York.
"The Wagner card gave me a tremendous amount of pride, excitement and pleasure," he said. "I hope the new owner will have the same satisfaction I enjoyed over the years."
The tobacco cards used to be included in packs of cigarettes. Collectors believe Wagner's cards are rare because he stopped allowing the American Tobacco Co. to use his image, fearing it would encourage children to smoke.
Nicknamed the "Flying Dutchman," Wagner was the National League batting champion in eight of his 21 seasons and finished his career with a lifetime .329 average. He retired in 1917 with more hits, runs, RBIs, doubles, triples steals than any National League player.
--------------------------------------------------------------

Agility Solutions lease program for Wireless ISPs (WISPs)
Brokers Welcome
"There are over 3,000 of these WISPs in the U.S. now; almost every community has one," said Hal Hayden, CLP, CEO of Agility Solutions Corp. and Managing Partner of the Agility Lease Fund I, LLC.."If you introduce your local WISP to us and we approve them, we will pay you a referral fee."

Hal Hayden (long time leasing expert,
specializing in software leasing)
please see "bio" at end
WISP is an acronym which stands for Wireless Internet Service Provider were one time primarily in rural environments where cable and digital subscribers found too expensive to operate. This has changed dramatically with special districts, cities, and other political subdivisions getting into the act, just as in the early days of cable. Some are free, some charge. They often they offer additional services, like location based content, Virtual Private Networking and Voice over IP.
Headquartered in Prescott, Arizona, Agility makes equipment and the funding to pay for it available to WISPs through its unique leasing and financing offerings. Agility's key differentiator in the market is that it manages a fund specifically created for the WISP market rather than depending on traditional banks and institutional sources. This allows the company to be flexible and creative in approving and funding transactions for the network operating equipment and customer premises equipment (CPE) for wireless operators who would otherwise no be approved by traditional means.

"We started the private fund for leasing to WISPs in early 2005 and it has proven to be very successful," said Hal Hayden, CLP. "We have now fully committed the first fund to $10 million and are developing a second WISP fund to be $30 - $40 million due to the rapidly increasing growth in this market. Through this second fund, we will continue to provide master lease facilities and will also begin offering venture debt for the financing of mergers and acquisitions.

"Through this facility, we can arrange a master lease of up to $1 million for any of their equipment, including the customer premise equipment that goes out to the subscriber locations. We currently have about 30 of them in this portfolio and would like to add many more.
"As you can imagine, these are very difficult credits for traditional lessors and banks because they are generally undercapitalized startups that need funding for wireless data equipment which is deployed over a large area. Once approved for our master lease, they can draw against it as often as they need for growth and some soft costs, such as installation may be included."
Hal says the person brokers should talk to is Bill McNamara, who has started and run 2 of these WISPs and is our "domain expert"
Bill McNamara
"Bill was instrumental in the setup and design of both Broadband wireless systems, and is intimately familiar with line-of-sight wireless services delivery, "Hayden said. "He is experienced with the complete ramp-up of wireless in a new city, which can include everything from bandwidth sourcing, partnership relations, sales, hub and relay site acquisition and negotiations, media and field technical management, back office application outsourcing and direct marketing."
To reach Bill McNamara, please call (928) 541-0771
or e-mail:
billmac@agilitysolutions.net
Hal Hayden:
Hal Hayden received a Bachelor of Science in Business Administration from the University of Arizona in 1979 and obtained a Certified Lease Professional designation in 1992.
From 1980 until 1985 he was a Regional Account Manager for IBM's General Systems Division. He subsequently founded Priority Leasing Corp., a small-ticket specialty leasing company, where he served as the company's President until its sale to private investors in 1995. In 1996 Mr. Hayden founded Heritage Software Finance, a division of Heritage Leasing, and developed one of the first leasing programs for enterprise software licenses. Upon the acquisition of the company by First Sierra Financial in 1987 he became the Vice President of its Software Finance Division. He then became active as a broker."
Contact:
Hal Hayden
(928) 541-0771
halh@agilitysolutions.net
September 27, 2001, Leasing News profiled Hal:
http://www.leasingnews.org/whateverhappenedto/Hal%20Hayden.htm
--------------------------------------------------------------

Domain Name Leasing
by Christopher Menkin
Yes, one of the fastest growing niches is leasing of domain names. With "pay per hit" making Google and others very profitable, new sites and their names are now "personal property." They are going for very high prices with companies willing to pay high implied interest rates to acquire their use (remember, it is not who owns it that makes a profit, but who uses it.)
Domain Capital, Fort Lee, NJ (http://www.domaincapital.com) is one of the financial services company to offer financing to businesses "...based on the inherent and recognized value of premium domain names." There are many small leasing companies with dot.com investors who are working this growing niche marketplace, providing financing to such companies. One of them is reportedly Marchex Inc., the public company that permanently changed the face of the domain industry with their $164 million purchase of the Ultimate Search portfolio, spent much of 2006 adding value to their properties, such as Beijing.com, Remodeling.com, NewYorkDining.com and LasVegasVacations.com.
The major event of the domain name companies is T.R.A.F.F.I.C. West 2007 to be held next week, March 5-8, at the Venetian Hotel in Las Vegas, Nevada.
Moniker.com has released the complete list of domains that will be up for sale during their live and silent auctions at next week's T.R.A.F.F.I.C. West Conference in Las Vegas. The list includes over 4,000 domains, most of which will go to the silent online auction that runs March 6-14.
About 250 of the best domains from the lot will go into the one-day live auction at T.R.A.F.F.I.C. Wednesday, March 7.
Here is a list of domain names to be auction for cash, finance, or lease:
http://leasingnews.org/PDF/Master_Auction_Domain_List.pdf
For more information, please see DN Journal, the Domain Industry News Magazine
http://www.dnjournal.com/cover/2007/january.htm
--------------------------------------------------------------

Leasing Industry Help Wanted
Credit Analyst

Credit Analyst
Irvine, California
Southern California candidates only--Minimum two years experience with leasing credits, $40-$45K base depending on experience.
Call or e-mail: Pamela Stuber 800-234-0136 ext. 243 pstuber@nationwidefunding.com

About Us: As a leader in equipment financing we have created funding partnerships with a wide variety of financial institutions and specialized credit facilities. This diversity allows us to be a complete funding partner for your business.


Sales Regional Office

Financial Funding Services, LLC

Sales/Regional Office
Generous Compensation with above average industry commission splits/unlimited income potential, six figures plus and nationwide financing for A – D credit.
Click here for more info.


Small Ticket Specialists

Three Small Ticket Specialists

Ft. Lauderdale, FL, Nashville, TN, and
Richmond, VA.
Click here for more information.


--------------------------------------------------------------

Last Day to register Free for "non-traditional event"
National Lease Funding Showcase
March 21, 2007 | Ritz-Carlton, Buckhead | Atlanta, GA
"Thanks to our member sponsors, we are providing brokers/originators and funding sources free exhibitor registration," said Lessors.com
CEO John Semon. "We are attracting those firms not generally showcased at traditional industry events. We felt there were a lot of these resources sitting on the sidelines, unable to afford exhibitor registration and it looks as though we were right."

John O. Semon
Founder & CEO
Lessors.com, Inc.
"Our attendee registration sponsor, Malvern Hill Associates has about six seats remaining at $450, " Semon explained." We have another dozen seats available at the two for one offer of $750.
"The reason we have sold out in the past is due to our limiting the size of our events to create a professionally intimate environment where deals are easily found. Unlike the associations, we are not interested in maximizing attendee registration. Our focus is on finding business and it just seems to be easier if you put a smaller number of pre-screened participants in the room."
Registration:
http://www.lessors.com/Events-2007/Spring/register.html
Testimonial: Shawn Halladay, www.leasingnotes.com,
Managing Partner, the Alta Group
"I was fortunate to be able to spend several days last week at the Lessor Network's Fall Showcase at the Ritz-Carlton in Atlanta. My primary role there was as a speaker, although I also was an interested observer. My session, which I conducted with Crit DeMent, the CEO of LEAF Financial, dealt with building a vendor program that will last. We stressed properly identifying all issues up front and addressing them in the program agreement, rather than glossing over them at inception and then having them hit you on the head later on. I thought the session went well, as we were able to pass on many practical and helpful tips on how to prosper 'after the honeymoon,' including dealing with poor credits, remarketing, revenue recognition, personnel migration, and UNL pools.
"While I always enjoy speaking and sharing experiences with the audience, my role as an observer was even better. John Semon, who puts together the showcase, touts the event as allowing an intimate group of senior industry executives to meet in an upscale, professional business environment, and I have to agree with him on this. His description is more than hype – it fits. I found the whole program to be of a high standard, from administration all the way through to the presentations. The attention to detail was evident throughout the event right down to the constant availability of Diet Coke, both morning and afternoon. (For those of you who know me and my preference for a healthy lifestyle, you realize the importance I place on the electrolytes that can be found in consuming copious amounts of Diet Coke.) A small thing, admittedly, but it is the sum of the small things that create a memorable event.
"Not that the details were everything. It also was great to meet many old friends and create new contacts, in addition to listening to some very good presentations on current topics. I also saw plenty of people tucked away in corners doing deals, which always is a hallmark of a successful gathering. All in all, it was a very enjoyable and beneficial experience, both from a business and personal perspective. Kudos, John, and keep up the good work."
Leasing Notes - Shawn Halladay
Phone: (801) 322-4499
Fax: (801) 322-5454
E-mail: shalladay@thealtagroup.com
Over view of National Funding Showcase
http://www.lessors.com/Events-2007/Spring/overview.html
John Semon, CEO
The Lessors Network
Semon@Lessors.com
http://www.lessors.com
--------------------------------------------------------------

--------------------------------------------------------------

Sales Make it Happen
by Linda P. Kester
"Leave a Message"
This is from Linda P. Kester's book that she tells us is going to the printer next week. She hopes it will be out in April.
The book has changed from a spiral notebook that was her working model to a soft cover book. It will be printed by www.leasingpress.com
The subjects are numbed, as well as titled. It is designed to be "handy." It has tips learned when Linda was in sales, sales management, and in providing sales training for both small and large leasing companies.
Kit Menkin, editor
51
"Leave a Message"
Many experts claim that you should not leave a voice mail message when calling a prospect for the first time. The argument is that the prospect may return your call while you are still prospecting. One of two things happens:
You pick up the phone, have no idea who is on the other line, and the prospect feels stupid for returning your call.
The prospect gets thrown into your voice mail (because you are on the phone), and you start a frustrating game of telephone tag.
You should leave a message every time you call.
Why? I was training sales people at a leasing company the day one of their competitors stopped accepting originations. All of a sudden a whole group of loyal vendors needed a new funding source.
Guess who got the calls?! The reps that had been leaving well thought-out voice mail messages. The salesperson may have never even talked directly with the vendor, but had nonetheless built up goodwill by leaving messages.
Leave a value-added message every time you call a prospect. You want them to know how hard you are working to earn their business.
Linda Kester helps leasing companies increase volume. For more information visit www.lindakester.com. Questions, contact: Linda@lindakester.com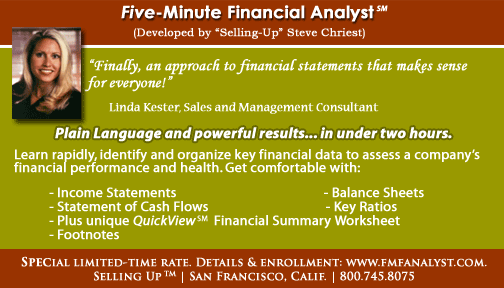 --------------------------------------------------------------

Outside Sales Commissions--Broker + Vendor
Please use this form to submit any other companies and/or points to our list.
--------------------------------------------------------------

HEC Leasing names president to lead expanded truck-leasing efforts
HEC Leasing, Nashville, TN, has named a president to head up its growing presence in the tractor and trailer leasing market.
HEC Leasing, which specializes in trucking tractors and trailers, will be led by David Westerfield. Westerfield is a Nashville native with more than 25 years of experience in truck leasing and sales. Before signing on with HEC he was co-owner in two heavy duty Nashville truck dealerships.
Westerfield will be based primarily in the company's Nashville office at 317 Arlington Ave. HEC also operates a Shelbyville office.
HEC began operations about three years ago as an in-house leasing service for its sister company, Titan Transfer Inc., a multi-service trucking company headquartered in Shelbyville. Over time the company has increased its equipment line, its client list and its services.
---------------------------------------------------------------
### Press Release ###########################

ePlus Announces Noncompliance Notice from NASDAQ
HERNDON, Va.----ePlus inc. (Nasdaq NGM: PLUS), announced that it received a staff determination letter from the staff of the Nasdaq Stock Market on February 20, 2007 because it did not file its Quarterly Report on Form 10-Q for the quarter ended December 31, 2006 as required by Marketplace Rule 4310(c)(14). The staff determination letter indicated that this matter serves as additional basis for delisting the Company's securities from the Nasdaq Stock Market. The Company's delay in filing its Form 10-Q is the only listing deficiency cited in the February 20th staff determination letter.

As previously reported, the Company's securities will continue to be listed on the Nasdaq Global Market during the review of the Nasdaq Listing and Hearings Review Council ("Listing Council"). The Listing Council issued a stay of delisting on January 11, 2007 pending review by the Listing Council of the Nasdaq Listing and Qualification Panel's decision to delist and suspend trading of the Company's securities on the Nasdaq Global Market.
The Company has been diligently working to resolve the issues related to accounting for stock options granted since its initial public offering in 1996, which is the sole reason underlying its delay in filing its annual and quarterly reports. In this regard, the Company has been reviewing accounting guidance regarding stock option grants recently published by the accounting staff of the SEC and has not yet determined the amount of such charges or the resulting tax and accounting impact.
ePlus has previously issued several press releases and filed several reports with the SEC including reports on Form 8-K, and investors are encouraged to read these in their entirety for discussion of the delay in its financial statements filings.
About ePlus:
ePlus is a leading provider of Enterprise Cost Management solutions to information technology, finance, procurement, operations, and supply chain professionals who want to reduce the costs of finding, purchasing, managing, and financing information technology goods and services. Our Enterprise Cost Management solutions provide sourcing, procurement, spend analytics, supplier management, document collaboration, asset management, professional services, and leasing to ePlus' 2,000+ customers. The Company was founded in 1990 and is headquartered in Herndon, VA with more than 30 locations in the U.S. For more information, visit www.eplus.com, call 888-482-1122 or email info@eplus.com.
ePlus® and ePlus Enterprise Cost Management®, and/or other ePlus products referenced herein are either registered trademarks or trademarks of ePlus inc. in the United States and/or other countries.
### Press Release ###########################

Sysix to Acquire Helix Solutions
Consumer demand and industry trends for remarketed equipment result in Sysix Solutions announcing the acquisition of Helix, a wholesale computer equipment company
CHICAGO--Sysix Solutions a leading international provider of IT business solutions spanning computer hardware and software, consulting and financial services, is pleased to announce that its leasing subsidiary, Sysix Financial has acquired 100% ownership of Helix Solutions, Inc. Helix is an eight-year-old US-based company that focuses on selling solutions around used, remarketed and brokered technology equipment.

As Sysix Financial leasing business has grown, it recognizes the need to add used equipment management capabilities to expand its business as well as allow Sysix Financial to more adequately manage technology assets as they come off of lease. With Helix used-market knowledge combined with all of the technology services available from the Sysix subsidiaries, Sysix as a whole can now effectively market new and used equipment based on client needs and budgets.
Helix, which will continue business operations under its own name, is expected to boost Sysix Financial's revenue by USD $6 million for 2007 and to become a major contributing factor to the growth of Sysix Solutions through its ability to offer additional alternative IT solutions.
About Sysix Solutions, Inc.:
Sysix provides mission-critical business technology solutions including hardware and software, consulting and financial services. Sysix Solutions, Inc. is a partner of IBM (NYSE:IBM - News); HP (NYSE:HPQ - News); Sun Microsystems (NASDAQ:SUNW - News), EMC2 (NYSE:EMC - News); Cisco (NASDAQ:CSCO - News); Oracle (NASDAQ:ORCL - News); F5 Networks (NASDAQ:FFIV - News); Hitachi Data Systems and others. Headquartered in Chicago, Sysix Solutions also has offices in Atlanta, Boston, Dallas, Los Angeles, Philadelphia, New York, Milwaukee, Phoenix and San Francisco. Sysix International GmbH is the international subsidiary and is headquartered in Frankfurt/Main, Germany.
For more information, visit the Sysix website: www.sysix.com.
About Helix Solutions, Inc.:
Founded in 1999, Helix Solutions specializes in delivering business and Web-enabled solutions to our clients. Helix is a provider of comprehensive Information Technology (IT) solutions that include pre-owned, used, and remarketed computer hardware combined with new software applications, and consulting services.
For more information, visit the Helix website: www.helixsolutions.biz
### Press Release ###########################

ORIX Finance Adds Industry Expertise With Hire of Healthcare Finance Team
DALLAS----ORIX Finance today announced that C. David Yates and Theodore Thorp have joined the firm to develop the Healthcare Finance practice. David Yates, a managing director, and Ted Thorp, a director, will continue to expand the middle-market health care lending vertical within ORIX Finance. These hires underscore the firm's commitment to strategically building its industry-focused financing expertise through organic growth and acquisitions. In the coming year, ORIX Finance will continue to add geographic coverage through the establishment of new offices and the introduction of new credit products and financing capabilities.
Commenting on the hires, Chris Smith, managing director of ORIX Finance, said, "Our industry-focused expansion offers a strategic complement to our business development capabilities with our investment banking partner Houlihan Lokey. The creation of a health care financing practice is another exciting and important step for us as we grow the ORIX Finance platform. David and Ted are proven experts in this space and we are confident in their ability to contribute to our effort."
Mr. Yates added, "Ted and I are very excited to expand the health care specialty of ORIX's highly successful U.S. lending platform. We were attracted to ORIX's professionalism and strong client focus, as well as its recent affiliation with Houlihan Lokey, a well-respected name in health care investment banking. We look forward to working closely with Houlihan Lokey to deliver innovative financing solutions to middle-market health care companies and to the private equity community."
Mr. Yates was the head of Healthcare Finance for Goldman Sachs Specialty Lending Group ("GSSLG"), a hybrid credit investment firm established to finance middle-market companies and financial sponsors on a national basis across a wide variety of industries. Prior to joining Goldman Sachs, Mr. Yates was managing director and head of Healthcare for BNP Paribas. He received a Bachelor of Arts from Brigham Young University and an MBA from Southern Methodist University.
With over fifteen years of experience in the health care finance sector, Mr. Thorp most recently was a director with Goldman Sachs Specialty Lending Group. Prior to that, he was a Vice President in the Healthcare Finance Group of BNP Paribas. Mr. Thorp attended the University of Houston, where he received a Bachelor of Business Administration with concentrations in Finance and Accounting. Additionally, he obtained CPA designation from the State of Texas.
About ORIX Healthcare Finance
ORIX Healthcare Finance provides financing to the middle-market and specializes in senior, subordinated debt and equity solutions for leveraged and management buyouts, recapitalizations, expansions, turnarounds, restructurings and exit financings. With the strength and resources of ORIX Finance and the industry expertise of our health care presence at Houlihan Lokey, ORIX Healthcare Finance covers the entire health care spectrum, with a primary focus on home health, hospice, nursing homes, behavioral health, medical products and dialysis.
About ORIX Finance
The ORIX Finance Group of ORIX USA Corporation provides equity co-investments and senior-secured, junior-secured, unsecured, mezzanine, and structured finance credit products to middle-market and closely held businesses in a wide range of sectors and industries. Our powerful combination of lending proficiency and industry expertise allows us to create flexible structures tailored to your unique business needs. The ORIX Finance Group serves clients across six distinct business units: Capital Markets, Leveraged Finance, Commercial Finance, Structured Products, Venture Finance and Healthcare Finance.
### Press Release ###########################

CIT appoints Joseph F. Nemia President of CIT Commercial & Industrial
NEW YORK – – CIT Group Inc. (NYSE: CIT) a leading global provider of commercial and consumer finance solutions, announced the appointment of Joseph F. Nemia (47) as President of CIT Commercial & Industrial, a unit of CIT Corporate Finance. This business unit will provide financing products and services directly to U.S. middle market companies in the retail, food, agriculture, business services and manufacturing sectors among others. CIT Commercial & Industrial will also work closely with leading private equity firms, investment banks, hedge funds and advisory firms in meeting the financing needs of companies in these sectors.
Walter J. Owens, President of CIT Corporate Finance, said, "Joe's experience and success as Chief Sales Officer of CIT Commercial Finance has prepared him well for this new role. The creation of CIT Commercial & Industrial is another important step in executing our 'client centric, market focused' strategy that delivers deep industry knowledge and financial products expertise to our most valued customer relationships."
Prior to his appointment, Nemia served as Executive Vice President and Chief Sales Officer of CIT Commercial Finance. Before joining CIT in March 2006, he was a Senior Managing Director of GE Commercial Finance. Prior to GE, he held numerous leadership positions at The Bank of New York. He currently serves as Chairman of the Commercial Finance Association (CFA), an industry leading organization of banks, finance companies and other financial institutions. He is also a Trustee of National Jewish Hospital in Denver, CO.
About CIT
CIT Group Inc. (NYSE: CIT), a leading commercial and consumer finance company, provides clients with financing and leasing products and advisory services. Founded in 1908, CIT has more than $74 billion in managed assets and possesses the financial resources, industry expertise and product knowledge to serve the needs of clients across approximately 30 industries worldwide. CIT, a Fortune 500 company and a member of the S&P 500 Index, holds leading positions in vendor financing, factoring, equipment and transportation financing, Small Business Administration loans, and asset-based lending. With its global headquarters in New York City, CIT has more than 7,300 employees in locations throughout North America, Europe, Latin America, and Asia Pacific. www.CIT.com.
### Press Release ###########################
--------------------------------------------------------------

News Briefs----
SE Asia stocks-Markets stage biggest falls since 1997 crisis
http://yahoo.reuters.com/misc/PrinterFriendlyPopup.aspx?type=comktNews&storyID=
urn:newsml:reuters.com:20070228:MTFH01862_2007-02-28_04-10-59_SIN237543
China shares stabilize after Tuesday's rout
http://yahoo.reuters.com/misc/PrinterFriendlyPopup.aspx?type=comktNews&storyID=
urn:newsml:reuters.com:20070228:MTFH02008_2007-02-28_04-25-04_SHA267398
NYSE 416 points down on Tuesday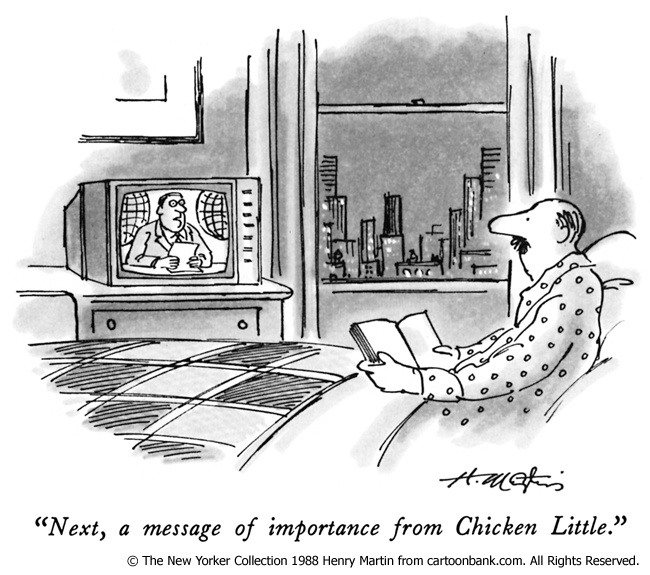 At one point the Dow was down 546.02 points, or 4.3%, to 12,086.06 before recovering some ground in the last hour of trading to close down 416.02, or 3.3%, at 12,216.24, leaving it in negative territory for the year.
Because the worst of the plunge took place after 2:30 p.m., the New York Stock Exchange's trading limits, designed to halt such precipitous moves, were not activated. A glitch in going to the back-up computers also brought forth the trades in progress to immediately current.
Asian Markets Decline on Worries About U.S. Economy
http://www.nytimes.com/2007/02/28/business/01stoxcnd.html?_r=1&hp&oref=slogin
Computer glitch causes Dow Jones industrial average to fall faster than normal
http://www.usatoday.com/money/markets/2007-02-27-computer-glitch-dow_x.htm
Wall Street still listens to Greenspan
http://www.usatoday.com/money/markets/2007-02-27-greenspan-effect_x.htm
http://www.boston.com/business/globe/articles/2007/02/27/
greenspan_sees_possible_recession/
TV News:
hit lower right button to enlarge to full screen:
http://www.youtube.com/watch?v=_-rke3JXqb4&eurl=http%3A
A Recession That Arrived on Cats' Paws
http://www.nytimes.com/2007/02/28/business/28leonhardt.html?ref=business
http://www.chicagotribune.com/business/chi-070227curable,0,4107977.
story?coll=chi-business-hed
Freddie Mac Tightens Home-Lending Rules
http://www.washingtonpost.com/wp-dyn/content/article/2007/02/27/
AR2007022700593.html
Daley cruises to 6th term
http://www.chicagotribune.com/news/politics/chi-070227daley-wins,1,
7355133.story?coll=chi-news-hed
Business Wire founder gives Stanford $33 million stem cell grant
http://www.siliconvalley.com/mld/siliconvalley/16796119.htm
American Idol: Sanjaya and Nick predicted to go
http://www.myajc.com/post/idolblog/227_can_the_guys_bring_it_week_two.html
---------------------------------------------------------------


You May have Missed---
Microsoft Vista Windows sales unit undergoes reorganization
http://seattletimes.nwsource.com/html/businesstechnology/2003592815_microsoft28.html
---------------------------------------------------------------

Sports Briefs----
Rich Hofmann | some words to the whys of A.J. over Jeff
http://www.philly.com/mld/philly/sports/16785307.htm
Raider's 31 year old Coach finding his way
http://www1.pressdemocrat.com/apps/pbcs.dll/article?AID=/20070227/NEWS/
702270347/1010/SPORT01
----------------------------------------------------------------


California Nuts Briefs---
Schwarzenegger calls for bipartisanship/
x National Press Club in Washington
http://dwb.sacbee.com/24hour/politics/story/3562583p-12798082c.html
----------------------------------------------------------------


"Gimme that Wine"
Micro-Oxygenation and The New Wine for the 21st Century
http://wine.appellationamerica.com/wine-review/MicroOxygenation-of-Wine.html
Washington State Uncovered Treasures: Wineries That Struck Gold
http://www.washingtonceo.com/index.php?id=90&tx_ttnews%5Btt_news%5D=547&
tx_ttnews%5BbackPid%5D=49&cHash=1292baa49d
Matt Kramer's New Book Makes Italian Wine Easy
http://www.bloomberg.com/apps/news?pid=20601088&sid=acZ774URmw78&refer=muse
Wine Prices by vintage
http://www.winezap.com
http://www.wine-searcher.com/
US/International Wine Events
http://www.localwineevents.com/
Winery Atlas
http://www.carterhouse.com/atlas
Leasing News Wine & Spirits Page
http://two.leasingnews.org/Recommendations/wnensprts.htm
The London International Vintners Exchange (Liv-ex) is an electronic exchange for fine wine.
http://www.liv-ex.com/
----------------------------------------------------------------

Calendar Events This Day
Floral Design Day
A day to commemorate floral designing as an art form. www.floralschool.com
Inconvenience Yourself Day
A day to think about others and look for ways to inconvenience yourself while making the lives of others better/easier. www.inconvenienceyourself.com
National Tooth Fairy Day
www.toothfairyday.com
Saint Oswald of Worcester Feast Day
Bishop of Worcester, England, from 961 and Archbishop of York from 972. Oswald died February 29, 992, but Feb. 28 is generally celebrated as his feast day. (Not to be confused with Oswald of Northumbria, King of Northumbria in the 7th century.)
http://www.catholic-forum.com/saints/sainto12.htm
http://www.newadvent.org/cathen/11348b.htm
http://www.westbury-on-trym.freeserve.co.uk/history.htm#WoT1
http://www.livinggloucester.co.uk/histories/monasteries/st_oswalds_priory/
Saint Feast Days
· Bl. Villana
· St. Caerealis
· St. Hedwig, Blessed
· St. Hilary, Pope
· St. Macarius
· St. Romanus of Condat
· St. Ruellinus
http://www.catholic.org/saints/f_day/feb.php
In 2008, there will be 29 days in February: a leap year.
----------------------------------------------------------------

The only bird who can see the color blue is the owl.
This makes number seven that are not "accurate."
("Many owls only see black and white.")
http://estabrook.lexingtonma.org/NewBirds/OwlEyesight.html
("most Owls see in limited colour or in monochrome.")
http://www.owlpages.com/articles.php?section=Owl+Physiology&title=Vision
http://www.wonderquest.com/owl-hearing.htm
----------------------------------------------------------------

Today's Top Event in History
1968--General Earle Wheeler, Chairman of the Joint Chiefs of Staff, returns from his recent round of talks with General William Westmoreland in Saigon and immediately delivers a written report to President Lyndon B. Johnson. Wheeler stated that despite the heavy casualties incurred during the Tet Offensive, North Vietnam and Viet Cong forces had the initiative and were "operating with relative freedom in the countryside."
[headlines]
----------------------------------------------------------------

This Day in American History
1646-- Roger Scott was tried in Massachusetts for sleeping in church.
1778 ---The Rhode Island General Assembly authorized the enlistment of slaves during the American Revolution. About 200 blacks soon joined the 1st Rhode Island Regiment, the only all-black regiment of the war. In August 1778, they defended Newport during the Battle of Rhode Island. In 1750, more than 10 percent of Rhode Island's population was black -- the highest concentration of blacks in New England. Rhode Island was the first colony/state to establish a public school for blacks (1773), to outlaw the importation of slaves (1774), and to declare free the children born of slave mothers (1784). Segregation in Rhode Island's public schools was outlawed in 1866, and a law forbidding interracial marriage was repealed in 1881.
1793-The Senate election of Abraham Alfonse Albert Gallatin of Pennsylvania presented his credentials this day, but his election was declared void. . He was born in Switzerland, and immigrated to the United States in 1780. On December 2, a petition was presented alleging that he had not been a citizen of the United Sates for the nine years required by the Constitution. The trial began on February 28, 1794, after he had served a year, and on February 28 the Senate declared his election void. Gallatin was later elected to the House of Representatives, where he served from March 4,1795 to March 3,1801. A motion passed on the first day of the trial required that the Senate chamber " be provided with gallery, which shall be permitted to be open every morning so long as the Senate shall be engaged in their legislative capacity, unless in such case as may in the opinion of the Senate require secrecy." Born in Geneva, Switzerland, January 29, 1761. Democrat. Delegate to Pennsylvania state constitutional convention, 1790; member of Pennsylvania state house of representatives, 1790-92; U.S. Senator from Pennsylvania, 1793-94; U.S. Representative from Pennsylvania 11th District, 1795-1801; U.S. Secretary of the Treasury, 1801-14; U.S. Minister to France, 1815-23; U.S. Minister to Great Britain, 1826-27. His portrait appeared on the $500 U.S. Note in the 1860s. Died in Astoria, Queens, Queens County, N.Y., August 12, 1849. Entombed at Trinity Churchyard, New York, N.Y. Gallatin counties in Ill., Ky. and Mont. are named for him. See also: congressional biography. Books about Albert Gallatin: John Austin Stevens, Albert Gallatin: An American Statesman; L. B. Kuppenheimer, Albert Gallatin's Vision of Democratic Stability.
http://currencygallery.org/vignettes/gallatin.htm
http://gallatinky.tripod.com/Gallatin.html
1797- Mary Lyon, born near Buckland, MA, became a pioneer in the field of higher education for women. She founded Mount Holyoke Seminary (forerunner of Mount Holyoke College) in South Hadley, MA, in 1837 at a time when American women were educated primarily by ministers in classes held in their homes. Mount Holyoke was one of the first permanent women's colleges. She died Mar 5, 1849, at South Hadley.
1827- The Baltimore & Ohio Railroad became the first commercial railroad for passengers and freight.
http://memory.loc.gov/ammem/today/feb28.html
1844 -- During an official inspection tour of the U.S.S. Princeton, a 10-inch gun (the Navy's largest at the time) blew up, killing Secretary of State Abel P. Upshur, Secretary of the Navy Thomas W. Kilmer, and 10 others. President John Tyler, who at the time of the explosion was in a cabin below with Miss Julia Gardiner (the daughter of one of those killed) was unharmed. They subsequently married. Tyler was the first of the three presidents to be married while in office. Between his two wives, he fathered 14 children- seven by each woman.
http://www.exploredc.org/index.php?id=82
http://www.bcpl.net/~etowner/rodman.html
1849-During the California Gold Rush, the first shipload of prospectors arrive in San Francisco Bay from the East Coast via South America's Cape Horn. The prospectors join the thousands of gold-seekers who had already traveled to California by land to reap the rewards of California's newly found riches. Over a year earlier, near Coloma, California, gold was discovered on the property of Johann A. Sutter by James W. Marshall. After the find was assayed in Sacramento, modest prospecting in the area showed favorable results, and in the summer of 1848, eastern newspapers published the first reports of the newly discovered gold fields. As there had been false claims of gold in California before, the majority of the US public treated Sutter's claims with skepticism.
However, in December of the same year, President James K. Polk corroborated "the accounts of the abundance of gold" found in the recently acquired territory, and the California Gold Rush began. By the spring of 1849, tens of thousands of prospectors had set out for El Dorado, often abandoning their farms, their jobs, and their families. By the end of 1849, some 55'000 people had arrived by land and another 25'000 had made their way by sea. In 1850, California's rapidly increasing population encouraged Congress to grant statehood to the territory. Although many of California's original "Forty-Niners" returned to their home states empty-handed, tens of thousands made a living in California, and by 1852, the population at the time of Marshall's discovery — 14'000 non-Indians — had grown to 250'000 Californians.
1861- The Confederate government bond was authorized today " to raise money for the support of the government and to provide for the defense of the Confederate States of America." The bond issue limit was $15 million.
1861 -Congress creates Colorado Territory. In July 1858, a band of prospectors working streambeds near modern-day Denver found tiny flecks of gold in their pans. Since the gold-bearing streams were located in the foothills not far from the massive mountain named for the explorer Zebulon Pike, the subsequent influx of hopeful miners was termed the Pike's Peak gold rush. By the spring of 1859, an estimated 50,000 gold seekers had reached this latest of a long series of American El Dorados. The Congressional designation of new western states and territories had been bogged down for several years as southern and northern politicians fought over whether slavery would be permitted in the new western regions. By 1861, the South had seceded, clearing the way for the northern politicians to begin creating free-labor states. On this day in 1861, Congress combined pieces of Nebraska, Wyoming, Utah, and New Mexico to make a large rectangle of land it designated Colorado Territory.
1876-American composer John Alden Carpenter, born Park Ridge, IL, Died 1951
http://www.pbs.org/wnet/ihas/composer/carpenter.html
http://www.teachervision.com/ce6/people/A0810557.html
http://www.press.uillinois.edu/f01/pollack.html
http://www.amazon.com/exec/obidos/ASIN/1560984007/inktomi-bkasin-20/
102-1682336-8966565
1882-Birthday of Geraldine Farrar, born Melrose, MA American-born opera singer who studied in Europe and became the toast of the continent before being offered a contract at the Metropolitan Opera in 1906. She overworked her voice which broke in a performance in 1913. She returned after a rest and amassed a record of 493 performances of 29 roles including 95 as Butterfly. She and Arturo Toscanini were reportedly lovers for seven years and before that she and Crown Prince Frederick Wilhelm of Germany had been lovers. For her verve and modern life-style she drew a legend of "Gerry-flappers" women fans. , Died March 11, 1967
http://search.eb.com/women/articles/Farrar_Geraldine.html
http://www.cantabile-subito.de/Sopranos/FarrarBio/farrarbio.htm
http://www.silentsmajority.com/PhotoGallery3/farrar.htm
1884- The newly built "war steamer," USS Princeton, cruising on the Potomac River with top government officials as its passengers, fired one of its guns (known, ironically, as the "Peacemaker') to demonstrate the latest in naval armament. The gun exploded, killing Abel P. Upshur, Secretary of State; along with the secretary of the navy and several others. Many were injured. The president of the US, John Tyler, was on board and narrowly escaped death.
1894- Ben Hecht birthday.. His newspaper column, "1001 Afternoons in Chicago," popularized human interest sketches. His play The Front Page, written with Charles MacArthur, was a hit on Broadway (1928) and on film (1931). He was a successful reporter and his first novel Eric Dorn, resulted partly from his time reporting from Berlin after World War I. Hecht wrote or co-wrote a number of successful movie scripts, including Notorious and Wuthering Heights. Born at New York City, he died there Apr 18, 1964.
1900 - A massive storm spread record snows from Kansas to New York State. Snowfall totals ranged up to 17.5 inches at Springfield IL and 43 inches at Rochester NY, with up to 60 inches in the Adirondack Mountains of New York State.
1903-Ford hires the Dodges: Henry Ford hired John F. and Horace E. Dodge to supply the chassis and running gear for his 650 Ford automobiles. They were originally bicycle manufacturers. In providing car bodies for Henry Ford and Ransom Olds, they became largest parts-manufacturing firm in the U.S. by 1910. In 1914, the brothers founded the Dodge Brothers Motor Car Company and began work on their first automobiles. Dodge vehicles were known for their quality and sturdiness. Soon they were among the richest men in America. The influenza epidemic that swept the country in 1920 claimed their lives. Their company was sold to a New York bank, before eventually being purchased by Chrysler in 1928.
1932-The last Ford Model A was produced, ending an era for the Ford Motor Company. The successor to the Model T, the Model A was an attempt to escape the image of bare bones transportation that had driven both the Model T's success and its ultimate failure in the market. The vastly improved Model A boasted elegant Lincoln-like styling, a peppy 40 horsepower four-cylinder engine, and, of course, a self-starting mechanism. The Model A was as affordable as its predecessor, however, and with a base price at $460, five million Model A's would roll onto US highways between 1927 and 1932.
1934-Percussionist Willie Bobo ( William Correa) born New York City, NY
http://www.spaceagepop.com/bobo.htm
1936- Louis Prima records his composition "Sing, Sing, Sin" for Brunswick.
1939-Guitarist John Fahey born Takoma Park, MD Died Feb. 22,2001
http://www.furious.com/perfect/johnfahey.html
http://www.johnfahey.com/
http://www.musicfringe.com/store/fahey-john/index.htm
http://www.countryjoe.com/fahey.htm
http://www.guitarvideos.com/interviews/fahey/core.htm
http://www.netmagic.net/~snake/fahey/voyager1.htm
1939-Tenor Sax player Charles Gayle born Buffalo, NY
http://www.creativemusicarchive.com/artistList_query.asp?artID=
168&artName=Charles%20Gayle
http://www.theiceberg.com/artist.html?artist_id=30947
http://www.jazzpages.com/scheiner/gayle.htm
http://www.furious.com/perfect/charlesgayle.html
1939-singer/song writer/arranger General Crook born Mt. Byou, MS
http://www.soulwalking.co.uk/General%20Crook.html
1941 -- Happy birthday Alice Brock.
http://www.answers.com/topic/arlo-guthrie
http://www.guthriecenter.org/main.shtml
http://www.wgbh.org/cainan/article?item_id=1081316
1942—Guitarist and creator of rock styles Brian Jones birthday, best known as an early guitarist with the Rolling Stones, was born in Cheltenham, England. Jones began playing with Alexis Korner's Blues Incorporated in the early 1960's, and it was here that he met Mick Jagger and Keith Richards. The three began to play on their own and by 1962 were calling themselves the Rolling Stones, after a Muddy Waters song. With the addition of bassist Bill Wyman and drummer Charlie Watts in 1963, the Rolling Stones were complete. By their third single, "It's All Over Now," the band was a sensation in Britain. And in late 1964, they had their first top ten hit in North America, "Time Is on My Side."
During the British invasion of 1964, the Stones were promoted as rock 'n' roll's bad boys, an image that has remained with them for more than 30 years. By the late '60s, the Stones were billing themselves as the "World's Greatest Rock 'n' Roll Band." In June 1969, Brian Jones announced he was leaving the group because of musical differences ( he was getting heavier into drugs.) He said he was going to form his own band, but less than a month later was found dead in the swimming pool at his home. The coroner's verdict - death by misadventure; July 3, 1969.
http://home.earthlink.net/~hobhead/
http://www.angelfire.com/rock2/faithlessjones/
http://www.classicrockpage.com/rrheaven/jones.htm
1945- the First Charlie Parker-Dizzy Gillespie record date on Guild. "Groovin' High," "All the Things You Are," " Dizzy Atmosphere." Clyde Hart on piano, Slam Stewart on Bass, Cozy Cole
on Drums, Remo Palmieri on guitar.
http://www.citypaper.net/articles/052297/article014.shtml
http://www.rhino.com/features/tracks/72260trx.lasso
1947—Top Hits
For Sentimental Reasons - Nat King Cole
The Anniversary Song - Dinah Shore
Oh, But I Do - Margaret Whiting
So Round, So Firm, So Fully Packed - Merle Travis
1951- The US Senate committee headed by Estes Kefauver, D-Tenn., issued a preliminary report saying at least two major crime syndicates were operating in the US.
1955—Top
Sincerely - McGuire Sisters
Melody of Love - Billy Vaughn
The Crazy Otto (Medley) - Johnny Maddox
In the Jailhouse Now - Webb Pierce
1960- Richard Petty won the first grand National (later Winston Cup) stock car race of his career in Charlotte, NC. The victory earned him $800 and set him on the road toward 200 wins on the NASCAR circuit, including seven triumphs in the Daytona 500 and seven NASCAR driving titles.
1960- the US hockey team defeated Czecholosovkia, 9-4, to win the gold medal at the VIIth Winter Olympic Games at Squaw Valley, CA.
1963—Top Hits
Hey Paula - Paul & Paula
Ruby Baby - Dion
From a Jack to a King - Ned Miller
The Ballad of Jed Clampett - Flatt & Scruggs
1967 - No. 1 Billboard Pop Hit: ``Ruby Tuesday,'' The Rolling Stones. The song is released as the B side to the single ``Let's Spend the Night Together.'' Most American radio stations play ``Ruby Tuesday'' because the other song is so blatantly sexual.
1968--General Earle Wheeler, Chairman of the Joint Chiefs of Staff, returns from his recent round of talks with General William Westmoreland in Saigon and immediately delivers a written report to President Lyndon B. Johnson. Wheeler stated that despite the heavy casualties incurred during the Tet Offensive, North Vietnam and Viet Cong forces had the initiative and were "operating with relative freedom in the countryside."
1970 - Simon and Garfunkle's Bridge Over Troubled Water zoomed to the Number 1 spot on Billboard's record charts on this date, and remained there for 6 weeks. The album and the single went on to win six Grammy awards.
1970 -- Bicycles permitted to cross Golden Gate Bridge in San Francisco.
http://www.inetours.com/Pages/SFNbrhds/Golden_Gate_Bridge.html
http://www.blazingsaddles.com/about.html
http://www.infohub.com/TRAVEL/SIT/sit_pages/3900.html
1971—Top Hits
One Bad Apple - The Osmonds
Mama's Pearl - The Jackson 5
Sweet Mary - Wadsworth Mansion
Help Me Make It Through the Night - Sammi Smith
1971 - For the second time, Jack Nicklaus, 'The Golden Bear', won the Professional Golfers Association Championship after completing the cycle of winning golf's four major titles twice. The Big Four in golf are: The United States Open, the Masters, the PGA Championship and the British Open.
1972 -- Radical Angela Davis trial starts, San Jose, California. Davis worked to free the Soledad (Prison) Brothers, African-American prisoners held in California during the late 1960s. She befriended George Jackson, one of the prisoners. On August 7, 1970, during an abortive escape and kidnap attempt from Marin County's Hall of Justice, the trial judge and three people were killed, including Jackson's brother Jonathan. Although not at the crime scene, Davis was implicated when police claimed that the guns used had been registered in her name, plus she had visited the prisoners as an attorney with her briefcase never being searched. Davis fled underground. She was captured in New York City in August 1970, but was freed eighteen months later and cleared of all charges in 1972 by an all white jury. She teaches today at UC Santa Cruz.
http://voices.cla.umn.edu/authors/AngelaDavis.html
http://www.disinfo.com/pages/dossier/id91/pg1/
1974 - No. 1 Billboard Pop Hit: ``Seasons in the Sun,'' Terry Jacks.
1977- Orca was born in captivity, a six-foot, 125 pound calf, at Marineland, Los Angeles, CA. She was the off-spring of Cork, a 16-year—old, 11-ton orca. Orcas are also known as killer whales.
1979—Top Hits
Da Ya Think I'm Sexy? - Rod Stewart
Fire - Pointer Sisters
I Will Survive - Gloria Gaynor
Every Which Way But Loose - Eddie Rabbitt
1982-the J. Paul Getty Museum receives a $1.2 billion bequest left to it by the late J. Paul Getty. The American oil billionaire died in 1976, but legal wrangling over his fortune by his children and ex- wives kept his will in probate until 1982. During those six years, what was a originally a $700 million bequest to the museum nearly doubled. By 2000, the endowment was worth $5 billion--even after the trust spent nearly $1 billion in the 1990s on the construction of a massive museum and arts education complex in Los Angeles.
1983-(Feb 29) "M*A*S*H: The Final Episode: concluding a run of 255 episodes, this 2 1/2-hour finale, "Goodbye, Farewell and episode, Amen" was the most-watched television show at that time-77 percent of the viewing public was tuned in, topping the "Who Shot JR.?" revelation on "Dallas." The show premiered in 1972. The series was based on the 1970 Robert Altman movie and a book by Richard Hooker. Set during the Korean War, the show aired for 11 years (lasting longer than the war). It followed the lives of doctors and nurses on the war front with both humor and pathos. The cast included: Alan Alda as Captain Benjamin Franklin "Hawkeye" Pierce, Wayne Rogers as Captain John "Trapper John" Mcintyre, McLean Stevenson as Colonel Henry Blake, Loretta Swit as Major Margaret "Hot Lips" Houlihan, Larry Linville as Major Frank Burns, Gary Burghoff as Corporal Walter "Radar" O'Reilly, William Christopher as Father Francis Mulcahy, Jamie Farr as Corporal Max Klinger, Harry Morgan as Colonel ShermanPotter and Mike Farrell as Captain B.J. Hunnicut.
http://timstvshowcase.com/mash2.jpg
http://www.geocities.com/rickstvshows/mash.html
1984- Singer Michael Jackson won a record eight Grammy Awards at the presentation ceremony in Los Angeles. But he lost the best song award to "Every Breath You Take," written by Sting for the Police. Jackson's Pepsi commercial - the one in which he was injured when his hair caught fire - premiered that day on MTV.. He broke the previous record of six awards set by Roger Miller in 1965. The reason: the biggest selling album of all time, "Thriller", which sold more than 35-million copies around the world soon after its release in 1983.
1987—Top Hits
Livin' on a Prayer - Bon Jovi
Jacob's Ladder - Huey Lewis & The News
You Got It All - The Jets
I Can't Win for Losin' You - Earl Thomas Conley
1987 - A powerful storm produced severe thunderstorms in Louisiana and Mississippi early in the day. About mid morning a monstrous tornado touched down near Moselle MS and grew to a width of two miles as it passed near Laurel MS. The tornado traveled a distance of 40 miles killing six persons, injuring 350 others, and causing 28.5 million dollars damage. The tornado swept homes right off their foundations, and tossed eighteen wheel trucks about like toys. Strong straight line winds associated with the powerful storm system gusted to 70 mph at Jonesboro AR and Carbondale, IL.
1991-IBM announced it would cut up to 10'000 workers from its payroll. IBM struggled to keep up with small, fast-moving technology firms, but its tremendous size and inertia weighed it down. In another effort to turn the company around, IBM hired former chairman of R. J. R. Nabisco, Lou Gerstner, as CEO in 1993. Gerstner was IBM's first leader brought in from outside the company.
1991 - The Record Plant in Hollywood closes. Among the albums recorded at the recording studio and rock hangout were the Eagles' ``Hotel California,'' Fleetwood Mac's ``Rumours'' and Stevie Wonder's ``Songs in the Key of Life.''
1992-The Star Trek television series exhibit opened at the National Air and Space Museum in Washington, D.C., opens an exhibit honoring the original Star Trek television series.
1993 - United States Federal agents battled it out with members of an armed religious cult in Waco, Texas. Four agents from the Bureau of Alcohol, Tobacco and Firearms and two cult members were killed and 12 agents were wounded during the shoot out. The agents planned to arrest Branch Davidian cult leader, David Koresh, on federal firearms charges, but were taken by surprise when cult members began firing on them with heavy weapons.
1994- Hewlett-Packard announces a new line of ink-jet printers. The resolution of the printers doubled from 300 to 600dpi and the cost went down, instead of up. A economic color ink-jet printer was in the works.
1994- Canadian singer Celine Dion made her New York debut at Town Hall. Reviews were mixed. New York Newsday reviewer Elisabeth Vincentelli described Dion as "a classy, upscale alternative for people who think of Mariah Carey as a shopping mall superstar." The New York Times' Stephen Holden was less kind, dismissing Dion's songs as "the kind of generic pop anthems that win international song competitions and that Olympic athletes use to accompany their routines."
1996- Canadian singer Alanis Morissette won four major Grammy Awards, including album of the year and rock album of the year for "Jagged Little Pill." She also picked up trophies for best rock song and best female rock vocal performance, both for her single "You Oughta Know." Canadians picked up a total of 11 Grammys, including two by Joni Mitchell for her album "Turbulent Indigo." Faith Hill won the best country album Grammy for "The Woman In Me." Hootie and the Blowfish are named Best New Artist
1997- The Food and Drug Administration implemented restrictions on retailers that required them to check the ages of all customers younger than 27 to prevent persons under 18 years of age from buying tobacco. Store owners caught selling cigarettes and other tobacco products to minors faced federal fines of $250 per violation. All states already had laws banning the sale of tobacco to persons under 18, but enforcement was erratic.
1997-Netscape announced it had created alliances with VeriFone and CyberCash, a developer of Internet-payment software, to foster secure online purchases. 1994 Hewlett-Packard announces a new line of ink-jet printers Hewlett-Packard said it would introduce a new line of ink-jet printers this week in 1994. The company planned to double the resolution of existing ink-jet models, from 300 to 600 dpi. The company also planned to introduce a color ink-jet printer that would improve the accuracy of color printouts.
1998 - My Heart Will Go On, Celine Dion's runaway hit single from the film Titanic, went to Number 1 on the pop charts, and was in the top spot for 2 weeks.
--------------------------------------------------------------

Winter Poem
Songs of Myself
by Walt Whitman
first two paragraphs of "3"
I have heard what the talkers were talking,
the talk of the beginning and the end,
but I do not talk of the beginning or the end.
There was never any more inception than there is now,
Nor any more youth or age than there is now,
And will never be any more perfection than there is now,
Nor any more heaven or hell than there is now.
--------------------------------------------------------------

SuDoku
The object is to insert the numbers in the boxes to satisfy only one condition: each row, column and 3x3 box must contain the digits 1 through 9 exactly once. What could be simpler?
http://leasingnews.org/Soduku/soduko-main.htm
--------------------------------------------------------------

Daily Puzzle
How to play:
http://www.setgame.com/set/puzzle_frame.htm
Refresh for current date:
http://www.setgame.com/set/puzzle_frame.htm
--------------------------------