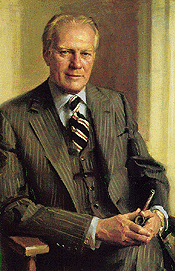 Gerald R. Ford
1913-2006
"Others."
Wednesday, January 3, 2007
Headlines---
Paul A. Larkins---2006
Leasing News Person of the Year
Classified Ads---Sales
Oh, No. Mr. Bill! Another NorVergence?
Credit Mgrs's Index Lowest Since 2003
Cartoon---White Cat
New Feature---Ask Steve Chriest
Sales makes it Happen---Linda P. Kester
"The Past Does Not Equal The Future"
Top Stories----December 27-29
Captive vs. Non-Captive Default Remedies
CIT/Barclays UK- German Vendor Fin.Biz
Gocken/Casey De Lage Landen Financial
P&L Capital Expands Technology Financing
News Briefs---
You May have Missed---
Sports Briefs---
"Gimme that Wine"
Calendar Events
Snapple Real Facts
Today's Top Event in History
This Day in American History
Poem in memory of Gerald R. Ford
######## surrounding the article denotes it is a "press release"
-------------------------------------------------------------------------------

Leasing News Person
for the year 2006
Paul A. Larkins
Leasing News salutes Paul A. Larkins as the person who has done the most for the entire equipment leasing industry in 2006.
Paul has demonstrated leadership in the entire equipment leasing industry, not only in the continental United States, but aboard. His contributions start at home in Superior, Colorado, where he not only invites financial leaders from around the world to visit, but he personally, and through his company, contributes money and time to his local community.
One of his greatest contributions is toward continuing education, where he not only supports an active intern program, but was the leader in completing a 2,247 square-foot training center for his employees. The "Leasing University" is available "on line" as well as offering one to two classes per week for every employee.
One of Key Equipment Finance examples of promoting education is the combined $25,000 to the University of Colorado Leeds School's Office of Diversity Affairs that assists historically underrepresented students in their pursuit in the multinational business arena.
Larkins has been a leading proponent and fund-raiser for LeasePAC and a long time supporter of the Equipment Leasing and Finance Foundation, serving on the Foundation's National Development Committee.
He and his entire staff get involved in both the local community, the United States, plus now North America, Europe and Asia Pacific.
During this period he also was instrumental in the development of Key National Finance group for Keycorp National Banking, a Cleveland-based KeyCorp is one of the nation's largest bank-based financial services companies, with assets of approximately $95 billion.
While accomplishing his personal and business goals, in 2006, he served as Chairman of the Equipment Leasing and Finance Association (formerly the Equipment Leasing Association.) The organization saw the retirement of their 27 year president Michael J. Fleming, CAE, the engagement of former Congressman Kenneth E. Bentsen, Jr. (Leasing News Chairman Bob Teichman labeled "... a brilliant choice. Bentsen is personable, professional and passionate, and is well-known on Capitol Hill," the changing of the association's name to include "finance" and its inherent direction, the incoming of the association's first female chairman, Valerie Hayes Jester, while trying to bring some semblance in ethics to a changing equipment leasing/finance world filled with fraud, FASB accounting rules, and the need for a more active voice in Washington and the 50 state legislatures.
Leasing News salutes Paul A. Larkins as the person who has done the most for the entire equipment leasing industry in 2006.
----
Paul A. Larkins
President and Chief Executive Officer
Key Equipment Finance
Superior, Colorado
Larkins joined Key in 1993 as senior vice president responsible for all business development, marketing and asset management functions. Prior to joining Key, Larkins gained experience in the leasing industry working for USL Capital and IBM in regional and national marketing functions.
He received his Bachelor of Science degree in Economics and Business Administration from St. Mary's College of California. Additionally, Larkins is a graduate of the Phillip Crosby Quality Education System, Institute of Leasing Management at Columbia University and the Stonier Graduate School of Banking at the University of Delaware.
Larkins was a founding board member and served as the corporate secretary for the Leasing Exchange, Inc. He is immediate past-chairman of the Equipment Leasing and Finance Association (ELFA) board of directors, and as past-chairman of the ELFA Government Affairs council.
Additionally, Larkins previously served on the board of directors for the Research Foundation at the State University of New York (SUNY). He is currently active on the University of Colorado's Leed's School of Business Advisory Council. He is also a member of the Alumni Association President's Council at St. Mary's College of California.
Combined, Key National Finance represents four business units with more than $28 billion in managed assets and nearly 1,400 employees. Key Equipment Finance is the nation's third-largest bank-held equipment leasing company. Key Recreation Lending is one of the leading marine and recreational vehicle lenders in the U.S., and Key Educational Resources is a nationwide education funding provider. Key Business Services provides payroll processing solutions for companies across the U.S.Key Equipment Finance is an affiliate of KeyCorp (NYSE: KEY)
---------------------------------------------------------------
Classified Ads---Sales

Gerald R. Ford, Jr. poses with his father and half-brothers Tom, Dick, and Jim Ford on the front steps of 649 Union Street, SE, Grand Rapids, MI. October, 1927.*
Sales: Bakersfield, CA
I have an extensive sales and management background in equipment leasing. My work history exhibits my major strength in small ticket equipment leasing.
Email: pangress@msn.com

Sales: Boston, MA
Middle market originator, construction/Trucks /
Trailers w/ 8 years in territory, looking for company / bank with competitive products
Email: mrichlease@comcast.net
Sales: Compenhagen, Denmark
10 years of experience as VP Europe, Middle East and Africa for a US based Equipment Leasing Company. $500,000 plus w/ excellent connections European shipping lines/ maritime financing. Click here .

Sales: Dallas, TX
17 years of experience in vendor sales. Solid book of business. Can hit the sales ground running in Dallas/Ft. Worth. Can Start ASAP
E-mail: whomadewho12@yahoo.com
Sales: Denver CO
Experienced Equipment Leasing Broker looking for a in house leasing company. Can bring a book of business with me or develop new territory where needed.
Email: Steven@eagle2.net
Sales: Detroit MI
Motivated self-starter w/5 yrs sales exp. IT leasing. Excellent communicator w/strong negotiation/biz dev. skills. Six-sigma certified w/ Fortune 50 company/book of business.
Email: playmakers1@sbcglobal.net
Sales: East Central FL
20+ years experience in all areas of leasing; sales, credit, operations, syndication. Currently independent seeking position with direct middle market lender in regional capacity
email: southernleasing@bellsouth.net
Sales: Fresno CA
Account Exec/Manager. 7+ years Leasing Sales: underwriting/contract, complex transactions, hi-tech, government, direct & vendor leasing. Captive & syndicator environments. Expert deal closer. Will send resume.
Email: dsp559@pacbell.net
Resume
Sales: Greensboro, NC
Seeking direct & broker sales w/major finance companies in NC or southeast market. Small to mid-ticket range. Stable &family oriented. Will have series 6,63,65 license shortly.
Email: kc1492@aol.com

Sales: Henderson, NV
Formally trained in Credit, Collections, & Sales with regional bank. Seeking sales or sales management.
Over ten years

in SM, vendor and end user.
Email: mjrprime@yahoo.com
Sales: Kansas City, MO
20 years Senior Sales/Management experience in small ticket/government leasing. Program Management experience, managing 12
Reps. Credit Auth to $50K. Success in soliciting and maintaining accounts.
Email: dhundley1@kc.rr.com
Sales: Los Angeles CA
5 years experience structuring off-balance sheet finance solutions on computer and medical equipment. Perform detailed competitive analysis and market research. I uncover leads and sell.
email: barretthawk@hotmail.com
Sales: Midsouth, TX
Lease Veteran-25+ years, heavy Vendor experience looking for new opportunity in MidSouth/SE. Experience in leasing to major accounts in high- tech/computers/Golf/transportation.
Email: LeaseVeteran@sbcglobal.net
Sales: Mission Viejo, CA
Account Sales Executive with 10 years of leasing experience looking for company to bring existing customer base.
Email: makelly21@hotmail.com
Sales: Montgomery, AL
Individual with 10 years advertising sales exp. & 7 years insurance sales exp. Wants independent contractor situation in Alabama.
Work with leasing company or broker.334-281-5200
E-mail: billmcneal2003@yahoo.com
Sales: Nashua, NH
10+ years sales experience small & mid-ticket hi-tech & telecom in a captive and vendor environment. Seeking new sales opportunity in New England.
E-mail: RPepa@aol.com
Sales: Newport Beach, CA
Direct sales rep. in the middle market w/22 years experience various types of equipment. Leasing/ financing from medical equip. to
mfg. equip.. Strong closer.
E-mail: pauldriscoll1@lycos.com

Sales: North Carolina, Central
7 yrs.equip leasing &finance; specialist in heavy construction equip for 2-top-5-specialty finance/lease companies, NC &VA territories. $10-15MM annual funding. Downsized in 2002, now independent broker with varied customer base.
Email: sunriseleasing@aol.com
Sales: Philadelphia , PA
Seeking an open opportunity to advance in the automotive, commercial leasing & finance industry.........
Email: alexe362002@yahoo.com
Sales: Philadelphia, PA
25 years in Healthcare and seeking an opportunity to represent a lender for dental/medical funding in the Northeast to Mid-Atlantic states.
email: mitutz@msn.com
Sales: Portland, OR.
"Exp. In direct sales and sales mgmt.
I love Portland, but decent here jobs are few. Willing to be re-located, would like to work for you.
Email: pthygeson@netscape.net
Sales: Prairie Village, KS
Have substantial deal flow and database of broker referral sources. Generated and closed over $22M LY. Seeking exclusive relationship w/direct founder.
Email: fiergl@aol.com

Sales:
Currently employed Vendor Program "Hunter", with complex program development experience. Also skilled at program management. Technology to yellow iron assets. Extensive national rolodex.
Email: VdrPgmBizDev@aol.com

Sales: San Francisco Bay Area, CA
15+ yrs--mid mkt. $500M to $10.0MM. Seeking role w/ captive or global leasing firm. large book to bring with me! Debt, tax, 1st amendment, etc.
Email: lac4002@yahoo.com
Sales: San Francisco Bay Area, CA
20 plus years experience in small ticket and middle market, mostly vendor driven business; specialist in manufacturing, hi-tech & medical. Excellent analytical and marketing skills.
Email: deals_2_do@yahoo.com
South Central US
TX, OK, KS & AR Territory.
Equipment finance and leasing professional, 20 years experience. Top producer in middle to upper middle markets. Extensive customer base.
Email: usleasingrep@yahoo.com
For a full listing of all "job wanted" ads, please go to:
http://64.125.68.91/AL/LeasingNews/JobPostings.htm
* http://hoover.archives.gov/exhibits/cottages/middleclass/ford.html
Photographs from the Ford Library Museum
http://www.fordlibrarymuseum.gov/avproj/hseries/1913.htm
At birth, the 38th U.S. president was christened Leslie King by parents struggling with their marriage. After the Kings' divorce, his mother was remarried in Grand Rapids, Michigan, to Gerald R. Ford who adopted and renamed her infant. In the dark about his early years, a 16-year-old Jerry Ford was shocked when a stranger approached him to say, "Leslie, I'm your father."
Ford starred in college football, studied law at Yale, and joined the Navy during World War II. Elected to Congress in 1948, he moved to Washington with his new bride, Elizabeth Bloomer. For the next 25 years, Congressman and Betty Ford raised their growing family in Alexandria, Virginia.
Gerald Ford was selected as Vice President by Richard Nixon in 1973. A year later the besieged president resigned from office, and it was up to President Ford to restore the public's confidence in government. After the presidency, the Fords retired in 1977 to a new home near Palm Springs, California.
---------------------------------------------------------------

Oh, No. Mr. Bill! Another NorVergence?
by Christopher Menkin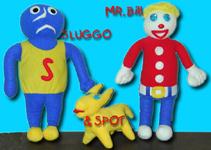 Bankruptcy Trustee Joseph M. Hill in Houston, Texas in December informed all creditors of the Estate of Today's Destiny in December that he was seeking remedy from finance and leasing companies
in as much as $50 million or more.
He was originally seeking $13 million in "recovery of fund and refunds" from a convoluted group who allegedly bilked leasing companies and their clients as much as $7 million a year under various entities controlled by them between 1998 and present. Named are Michael Day, Max Day, Jared Day, Pamela Day, Medicus Marketing, Inc., IBD Marketing, Inc. Teamwork Investments, LLC, who are also intermixed with TNG Systems, and Dental Affiliates, among others, all reportedly in bankruptcy.
In the latest, the Trustee is naming:
AEL Financial
American Enterprise Leasing, Inc.
Amerivestors, Inc.
Bankers Healthcare Group, Inc.
DFC Investments, Inc.
Eastern Funding, LLC
Greater Bay Capital, Inc.
HPSC, Inc.
Irwin Commercial Finance
Patriot Susquehanna Leasing Company
Sterling National Bank
Studebaker-Worthington Leasing Corp.
When the story broke on Leasing News April 7, 2006, several of the funders both e-mailed and called to learn if the story was one of our April Fool's Day jokes. One, a major bank, could not believe it as they were to fund three deals that same day, and were in contact with the Day's. In reading the bankruptcy records, the Days had
evidently started other entities while this was happening, moving assets, activities, and even with the Texas Attorney General involved, were still conducting business with leasing and finance companies who were unaware of the Chapter 7 of one of their company "fronts."
In fact, during the next month, Leasing News continued to receive inquiries.
Joseph M. Hill wrote a letter in early December to "All Creditors of the Estate of Today's Destiny."
In his capacity as Trustee against Michael Day, Max Day, other Day relatives and related entities, he stated. "…Upon further investigation I have decided to amend the pleadings in the Adversary Proceeding to also assert claims against many of the finance and lease companies who were involved in Today's Destiny's sale of marketing software and equipment…"
The actual number of those who responded is not public knowledge
at this time. Here is an instance of a "Motion to Intervene" regarding
"Shelton Chiropractic Corporation and Timothy J. Shelton
et. al.
1. "…The scheme was funded by inducing Interveners into executing "leases" of worthless equipment, which are actually disguised loans, and related guaranties. These "leases" were then flipped to a partner finance companies for collection.
2. Interveners wish to assert claims against the present defendants for fraud and deceptive trade practices. Interveners also wish to assert claims against the lease finance companies as additional defendants for fraud, violations of the Texas Deceptive Trace Practices-Consumer
Protection ACT (the "DTPA"), usury, and declaratory judgment. These claims are to be asserted by Interveners together with the Chapter Seven Trustee. Interveners are seeking recession and to recover, together with the Chapter Seven trustee…"
Letter to all Creditors from Joseph M. Hill, Trustee:
http://www.leasingnews.org/PDF/Status%20letter%20with%20Case%20Mgt%
20Order%20and%20data%20form.pdf
Intervener filing:
http://www.leasingnews.org/PDF/show_case_doc_44,262782,,,,1.pdf
--------------------------------------------------------------
### Press Release ###########################

Credit Manager's Index at Lowest Level since April 2003
The seasonally adjusted Credit Manager's Index (CMI) fell for the fifth consecutive month in December, and now stands at its lowest level since April 2003. "The Index fell 0.5% as seven of the 10 components declined," said Dan North, Chief Economist with credit insurer Euler Hermes ACI. "Four of the components are now under the 50 level signaling contraction, the most since March of 2002."
The CMI data strongly suggests a slowing economy, and remains consistent with data from the rest of the macroeconomy indicating a slowdown: weak GDP growth for two consecutive quarters, durable goods orders (ex-transportation) falling for two second consecutive months, modest holiday sales and signs of weakness in the labor markets.
The service sector fell for the third consecutive month, dropping 2.5% as eight of the 10 components fell. "It is worthwhile noting that five of the 10 components are now below the 50 level, indicating a contraction in activity," he said. There have not been this many components below 50 since March of 2002, and the total services index has not been this low since March of 2003.
The manufacturing sector has shown an increase in the past two months, primarily on sales, boding well for the future months. But comments from survey participants and a closer look at the data still show signs of weakness. "Five of the 10 components fell, but they were offset by relatively large increases in just three components: sales, new credit applications and filings for bankruptcies," said North. "Without these three, the manufacturing index would have fallen 0.3%." Indeed, one participant describes an increase in "customers who 'cannot pay'" while another labels the residential housing sector as "almost at a standstill."
On a year-over-year basis, the total CMI Index has fallen 3.6 from 58.3 to 54.7 as nine of the 10 components fell. "The fall was driven mostly by deterioration in the services sector which fell 7.5, again as nine of 10 components fell," said North. In the manufacturing sector, five components fell but the index did manage to seek out a 0.4% gain. "Overall, the year-over-year data continues to suggest an economy slowly weakening under the strain of tightened monetary policy and a decimated housing market," he added.
The CMI, a monthly survey of the business economy from the standpoint of commercial credit and collections, was launched in January 2003 to provide financial analysts with another strong economic indicator.
The CMI survey asks credit managers to rate favorable and unfavorable factors in their monthly business cycle. Favorable factors include sales, new credit applications, dollar collections and amount of credit extended. Unfavorable factors include rejections of credit applications, accounts placed for collections, dollar amounts of receivables beyond terms and filings for bankruptcies. A complete index including results from the manufacturing and service sectors, along with the methodology, is attached. A complete view of the index can be viewed online at http://www.nacm.org/resource/press_release/CMI_current.shtml .

The National Association of Credit Management (NACM), headquartered in Columbia, Maryland supports more than 25,000 business credit and financial professionals worldwide with premier industry services, tools and information. NACM and its network of Affiliated Associations are the leading resource for credit and financial management information and education, delivering products and services which improve the management of business credit and accounts receivable. NACM's collective voice has influenced legislative results concerning commercial business and trade credit to our nation's policy makers for more than 100 years, and continues to play an active part in legislative issues pertaining to business credit and corporate bankruptcy. www.nacm.org
### Press Release ###########################
--------------------------------------------------------------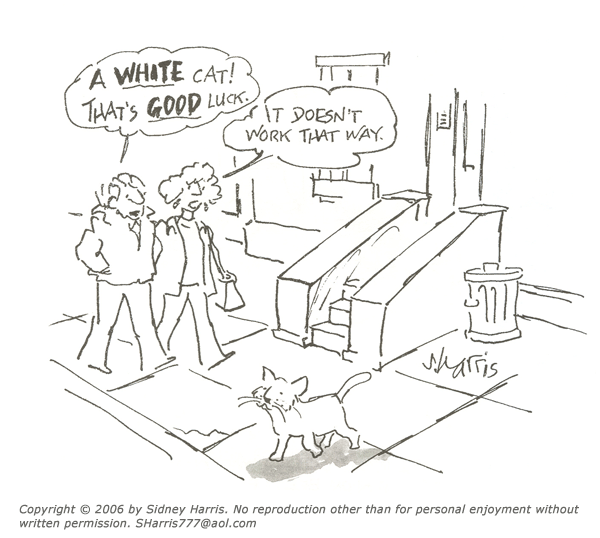 ---------------------------------------------------------------

New Feature---Ask Steve Chriest
Steve actually started the "Sales makes it Happen" series, then went on to the series of "Selling Up." Due to his time commitments, and other projects, even his time on the airplane between engagements was becoming less. He wants to stay in contact with his many friends in the equipment leasing business, and in this regard, is starting a new feature.
Readers are encouraged to ask anything about sales and sales management. Replies will be published in each Friday's issue.
---------------------------------------------------------------

Sales Make it Happen
by Linda P. Kester
"The Past Does Not Equal The Future"
This is from Linda Kester book to be published soon. It is meant to both be read, and utilized as a "reference book." The advance copy received by Leasing News was the size of a "pocket book" and spiral bound, with the articles numbered, as reproduced below.
179
How do you define success?
Who defines what 'failure' and 'success' are?
You do.
Either you create the definition yourself or you accept someone else's definition.
When deciding what success means to you, create a definition that makes it harder to feel like a failure and easier to feel like a success. That way you will attach less fear to what you want in life, and become fearless.
Imagine what you could achieve if you were fearless. What would you attempt to do if you knew you could not fail?
By the way, I know a secret that guarantees you will never fail again. Want to know what it is? It's simply this: think of every 'failure' as success.
Every time you 'fail' at something, realize it is actually a success because you have learned what does not work. Therefore, you are closer to succeeding the next time you try.
Remember that the past does not equal the future. Just because you may have failed last week, yesterday or five minutes ago doesn't mean you are going to fail again. Simply learn from what you did wrong and change your approach.
Linda Kester helps leasing companies increase volume. For more information visit www.lindakester.com . Questions, contact: Linda@lindakester.com

---------------------------------------------------------------

Top Stories----December 27-29
Here are the top ten stories most "opened" by readers last week.
(1) New Year's Bomb for IFC Credit?
http://www.leasingnews.org/archives/December%202006/12-27-06.htm#ifc
(2) Steve Gabriel, Youngest Advisory Board Member
http://www.leasingnews.org/archives/December%202006/12-29-06.htm#board
(3) Robert Teichman, CLP---Chairman of the Board
http://www.leasingnews.org/archives/December%202006/12-27-06.htm#board
(4) Sales makes it Happen—by Linda P. Kester
"Prospecting is like Football"
http://www.leasingnews.org/archives/December%202006/12-27-06.htm#sales
(5) Cartoon---Marlin COO George Pelose office
http://www.leasingnews.org/archives/December%202006/12-27-06.htm#toon
(6) Pacifica Capital moves
http://www.leasingnews.org/archives/December%202006/12-29-06.htm#pac
(7) Broker-Lessor List up-dated
http://www.leasingnews.org/archives/December%202006/12-29-06.htm#bllist
(8) Sherwin/Noriega form Magellan Capital Partners
http://www.leasingnews.org/archives/December%202006/12-29-06.htm#mcp
(9) As Power Shifts in Congress,
Financial Services Industry Can Expect Change
http://www.leasingnews.org/archives/December%202006/12-29-06.htm#power
(10) Cartoon---Fountain of Funding
http://www.leasingnews.org/archives/December%202006/12-29-06.htm#toon
---------------------------------------------------------------

Captive vs. Non-Captive; How Their Default Remedies Differ?
Price: $75.00 - Donors Save $75.00!
This study looks at the suggestion that default response may be an important differentiating factor between Captive and Non-captive lessors. A better understanding of how lessors respond to default could help increase efficiency in the equipment finance market. Not only would market participants know better how to react to default themselves by knowing how other institutions behave under similar situations; knowledge of a leasing company's specialization in core assets and its accompanying default remedies could help other lessors target their market niche(s). The Foundation expresses appreciation to Paynet for providing the data to make this study possible. (http://www.leasefoundation.org/SDLT/ )
Price: $75.00 - Donors Save $75.00!
http://www.leasefoundation.org/store/index.cfm?fuseaction=product.display&product_id=388
--------------------------------------------------------------
### Press Release ###########################

CIT Complete Acquisition of Barclays UK and German Vendor Finance Business
NEW YORK, NY and LONDON, UK– CIT Group Inc. (NYSE: CIT), a leading global provider of commercial and consumer finance solutions, announced today that it has completed the acquisition of the UK and German vendor finance businesses of Barclays Bank PLC. The gross assets of the acquired vendor finance businesses totaled approximately $2 billion (£1.1 billion).
"This acquisition represents a significant step for CIT in its strategic effort to increase its presence in key European markets," said Thomas B. Hallman, CIT Vice Chairman, Specialty Finance. "In addition, this acquisition significantly leverages CIT's existing expertise in managing vendor relationships across Europe."
The acquired businesses provide asset finance to customers of industrial equipment and technology manufacturers and suppliers throughout the UK and Germany. Approximately 60% of the acquired assets of the businesses originate in the UK with the balance in Germany.
About CIT Vendor Finance
CIT Vendor Finance is a global leader in financing solutions that drive incremental revenues for manufacturers, distributors, and other intermediaries. It provides customized financing solutions to customers in more than 30 countries, supporting a wide variety of industries, including health care, industrial equipment, and technology.

About CIT
CIT Group Inc. (NYSE: CIT), a leading commercial and consumer finance company, provides clients with financing and leasing products and advisory services. Founded in 1908, CIT has more than $70 billion in managed assets and possesses the financial resources, industry expertise and product knowledge to serve the needs of clients across approximately 30 industries worldwide. CIT, a Fortune 500 company and a member of the S&P 500 Index, holds leading positions in cash flow lending, vendor financing, factoring, equipment and transportation financing, Small Business Administration loans, and asset-based lending. With its global headquarters in New York City, CIT has more than 7,200 employees in locations throughout North America, Europe, Latin America, and Asia Pacific. www.CIT.com.
About Barclays
Barclays PLC is a major global financial services provider engaged in retail and commercial banking, credit cards, investment banking, wealth management and investment management services. It is one of the largest financial services companies in the world by market capitalisation. With over 300 years of history and expertise in banking, Barclays operates in over 60 countries and employs around 120,000 people, it moves, lends, invests and protects money for over 25 million customers and clients worldwide. www.barclays.com
### Press Release ###########################

Jeffrey Gocken Joins De Lage Landen Financial Services as VP, Program Management
Thomas Casey has joined the organization as Vice President, Program and Sales Management, for the company's Materials Handling and Construction business unit
WAYNE, Pa., De Lage Landen Financial Services, a leading international provider of high-quality asset finance and vendor finance programs to manufacturers and distributors of capital goods, today announced that Jeffrey Gocken has been hired as Vice President, Program Management in the company's Materials Handling & Construction business unit. In this position, Gocken will be responsible for De Lage Landen's global relationship with The Manitowoc Company, Inc., a key global vendor program. He will be based in Chicago, Ill.
Gocken has more than 25 years of business experience in the legal, accounting, sales, marketing, and finance areas. Prior to joining De Lage Landen, Gocken was National Sales Manager for Key Equipment Finance's Construction and Industrial Business Unit, where he managed 11 outside sales representatives. Gocken has also held regional sales, program management, and credit management positions with Deutsche Financial Services, AT&T Capital Corporation, and JCB Inc. From 2002 to 2005, Gocken was Regional Sales Director, North Central U.S., for the Materials Handling group in De Lage Landen Financial Services.
Gocken earned a bachelor of arts degree in communications from the University of Wisconsin—Madison, and a J.D. from the University of Maryland Law School.
Thomas Casey has joined the organization as Vice President, Program and Sales Management, for the company's Materials Handling and Construction business unit. In this position, Casey will be responsible for the oversight of the company's Program Managers and Program Sales team dedicated to key global vendors. He will be based in Connecticut.
Casey has more than 20 years' experience in credit risk management, commercial account management and commercial lending. Prior to joining De Lage Landen, Casey was a National Account Manager with GE Commercial Finance, where he led a multi-functional business team that included new business development, relationship management, sales and operational professionals. Casey also held credit risk management, and commercial lending positions with companies including DaimlerChrysler Capital Services and Shawmut National Bank. From 2001 to 2002, Casey held the position of Vice President, Risk Management and Vice President, National Account Management for De Lage Landen's Materials Handling & Construction business unit.
Casey earned a bachelor of science degree in business administration with a minor in marketing from Quinnipiac University, Hamden, CT.
About De Lage Landen International B.V.
De Lage Landen is a Netherlands-based international provider of high-quality asset finance and vendor finance programs. The global offering also includes an array of commercial finance solutions. With a presence in more than 25 countries throughout Europe, the Americas and Asia Pacific, the company focuses on the following industries: Food & Agriculture, Healthcare, Office Equipment, Information Technology, Telecommunications, Financial Institutions, Trucks & Trailers, Public Finance and Materials Handling & Construction Equipment. In its domestic market, the company offers Equipment Leasing, Car & Commercial Vehicle Leasing, ICT Leasing, Consumer Finance and Trade Finance through local Rabobanks but also directly to the market.
Since 2006, Athlon Carlease has been part of De Lage Landen Group. Athlon Carlease is an international provider of operational car leasing, active in six European countries.
De Lage Landen is a wholly owned subsidiary of the Dutch Rabobank Group, which is Triple-A rated by Moody's and Standard & Poor's. In 2005 De Lage Landen grew its net profit to € 178 million ($222 million) and its lease portfolio to € 15.3 billion ($18 billion).
In the first six months of 2006, De Lage Landen sustained its steady performance and posted healthy net profit and lease portfolio growth. Although margins continued to be under pressure, net profits were €86 million ($106 million) in the first six months of 2006, which is a 5% increase over the net profit posted during the comparable period in 2005. In the Dutch home market where De Lage Landen primarily serves clients of local Rabobanks, strong sales volumes continued to make a significant contribution to the positive results.
For more information, please visit our website: www.delagelanden.com
Sites of Reference:
http://www.delagelanden.com
### Press Release ###########################

P&L Capital Expands Technology Financing with New Division
P&L Capital has chosen to expand their lease financing solutions to include a new broker division on a national level.
The 11-year-old computer lessor, founded in Omaha, Nebraska has taken note of the continual advancement of technology in their industry throughout the years. P&L's new division has been designed to give brokers and lessors an opportunity to add more value by creating a niche for themselves in the computer leasing industry. Companies interested in maintaining a progressive position in their markets refresh their desktop technology every two-to-three years. This "Technology Rotation Lease" allows a broker to compete with the national captives and provide the service mid-sized companies are looking for because P&L also specializes in residual risk on desktops, servers, and laptops.
"This type of lease will fill a market gap for the brokers/lessors," said president Phil Lieber, "and provide a product many companies are looking for."
As a leader in lease financing solutions in the area, P&L has provided analysis, recommendation and leasing for customers such as The University of Nebraska Medical Center and The Gallup Organization.
About P&L Capital
Established in 1995, P&L Capital is a forward-thinking financial services company specializing in leasing technology and consulting solutions for mid to large-sized businesses. The Omaha, Nebraska company provides financing for business solutions including hardware, software, and peripherals, locally, regionally and through its broker network on a national level.
P&L Capital is a member of the National Association of Equipment Leasing Brokers and the Equipment Leasing and Finance Association.
Contact P&L at 800.698.1686 or on the web at www.plcapital.com.
Jennifer Knihal
P&L Capital Corp., Inc.
4131 S 143rd Cir
Omaha, NE 68137
p) 800-698-1686
402-330-9580 ext 224
f) 402-758-1259
jennifer@plcapital.com
www.plcapital.com
"Transforming the way businesses finance techno
### Press Release ###########################
--------------------------------------------------------------

News Briefs----
States Swift to Warn Mortgage Lenders
http://www.washingtonpost.com/wp-dyn/content/article/2007/01/01/AR2007010100669.html
Another subprime lender down for the count
http://www.snl.com/interactivex/article.aspx?CdId=A-5158299-10846
Home builder posts first loss in decade
http://www.boston.com/business/globe/articles/2007/01/03/
home_builder_posts_first_loss_in_decade/
Weather rains on holiday sales performance
http://seattletimes.nwsource.com/html/businesstechnology/2003506930_retail03.html
Philadelphia Inquirer begins layoffs
http://www.signonsandiego.com/news/business/20070102-1333-phila
delphianewspapers.html
---------------------------------------------------------------


You May have Missed---
CEO of Eastlake Co. stands out for community involvement, vision
http://www.signonsandiego.com/news/business/20070102-9999-1b2ostrem.html
---------------------------------------------------------------

Sports Briefs----
Colts Have Edge on Chiefs in Playoffs
http://www.nytimes.com/aponline/sports/AP-FBN-Inexperienced-Chiefs.
html?_r=1&oref=slogin
49ers cool to SF proposal for Hunters Point stadium site
http://www.mercurynews.com/mld/mercurynews/16370311.htm
Saban to sleep on decision overnight
http://msn.foxsports.com/nfl/story/6329560
Shell tries to find some positives
http://www1.pressdemocrat.com/apps/pbcs.dll/article?AID=/20070102/NEWS
/701020343/1010/SPORT01
----------------------------------------------------------------


"Gimme that Wine"
Number of US Wineries Tops 5,600
http://www.winebusiness.com/news/dailynewsarticle.cfm?dataId=45971
Wine Enthusiasts Top 100 Buys
http://www.winemag.com/ME2/dirmod.asp?sid=&nm=&type=Publishing&mod=
Publications%3A%3AArticle&mid=8F3A7027421841978F18BE895F87F791&tier
=4&id=5B4B13302A0148B5ABDF832134948E13
Pioneering grape grower Eugene Cuneo dead at 94
http://www1.pressdemocrat.com/apps/pbcs.dll/article?AID=/20070102/
NEWS/70102010/1033/NEWS01
Buzz on nonalcoholic wine: It's gotten better
http://www.charlotte.com/mld/charlotte/living/food/16369255.htm
Oregon Wineries Try Sparkling Wines
http://www.koin.com/Global/story.asp?S=5880162
Taittinger family return to champagne
http://www.decanter.com/news/104589.html
Wine Prices by vintage
http://www.winezap.com
http://www.wine-searcher.com/
US/International Wine Events
http://www.localwineevents.com/
Winery Atlas
http://www.carterhouse.com/atlas/\
Leasing News Wine & Spirits Page
http://two.leasingnews.org/Recommendations/wnensprts.htm
The London International Vintners Exchange (Liv-ex) is an electronic exchange for fine wine.
http://www.liv-ex.com/
----------------------------------------------------------------

Calendar Events This Day
Congress Meets
The Constitution provides that "the Congress shall assemble at least once in every year. . . ." and the 20th Amendment specifies "and such meeting shall begin at noon on the 3rd day of January, unless they shall by law appoint a different day.
National Write to Congress Day
On this day when Congress convenes for a new session in Washington, American citizens have a unique opportunity to tell our elected representatives and senators how they can best represent us for the coming year. What issues do we care about? What do we hope they will accomplish in this session? One easy way to identify your members of Congress and contact them is free at web site :www.congress.org
More information is available at www.capitoladvantage.com or
contact Lara Wysta, Capitol Advantage: camarketing@capitoladvange.com
Earth at Perihelion
At approximately 3pm, EST, planet Earth will reach Perihelion, that point in the orbit when t is closest to the sun (about 91,400,000 miles). the Earth's mean distance from the sun ( mean radius of its orbit( is reached early in the months of April and October. Note that Earth is closest the sun during Northern Hemisphere winter.
Festival of Sleep
Sleep questionnaire:
http://www.abcpap.com/sleepquestionnaire/default.lasso
----------------------------------------------------------------

The statute of liberty has seven points to its crown for each continent
Number of spikes in the crown: Seven rays of the diadem
(7 oceans of the World)
http://www.endex.com/gf/buildings/liberty/libertyfacts.htm
"Back in America, fund raising for the pedestal was going particularly slowly, so Joseph Pulitzer (noted for the Pulitzer Prize) opened up the editorial pages of his newspaper, "The World" to support the fund raising effort. Pulitzer used his newspaper to criticize both the rich who had failed to finance the pedestal construction and the middle class who were content to rely upon the wealthy to provide the funds. Pulitzer's campaign of harsh criticism was successful in motivating the people of America to donate."
http://www.nps.gov/archive/stli/prod02.htm
----------------------------------------------------------------

Today's Top Event in History
1970-The Beatles record what will be their last song together, "I Me mine." A decade later it becomes the title of George Harrison's auto-biography.
[headlines]
----------------------------------------------------------------

This Day in American History
1624-William Tucker, first Black child born in America, baptized in Jamestown. VA.
1777 –An overnight freeze enabled George Washington to flank the British at Trenton, NJ, cross their lines at Princeton, and seek security in the hills of northern New Jersey. He is then able to defeat the British led by British General Lord Charles Cornwallis, at Princeton, New Jersey in a surprise battle.
1785--- The famed Methodist "Christmas Conference" concluded in Baltimore, MD. Having opened on Christmas Eve, 1784, this body brought into being the Methodist Episcopal Church (in America), and elected Francis Asbury and Thomas Coke the first two American "general superintendents."
1793- Political and social reformer Lucretia Coffin Mott in Nantucket, Massachusetts
http://memory.loc.gov/cgi-bin/query/D?amtoday:1:./temp/~ammem_BeWu::
1847-- California town of Yerba Buena renamed San Francisco.
1852 ---1st Chinese arrive in Hawaii.
1861 -- Delaware rejects a proposal that it join the South in seceding from the Union.
1867---Joshua Norton I, "Dei Gratia" Emperor of the United States and Protector of Mexico, abolishes Congress and calls out the Army to clear out the riff-raff and crooks.
1870 ---Brooklyn Bridge construction begins; completed May 24, 1883
1876- Hill Institute opened in Florence, MA. Originally called the Florence Kindergarten, because it was in the home of its founder, Samuel Lapham Hill, it become known as the Hill House, and then later to the name known today as the first free Kindergarten.
1888-- Marvin Stone of Washington, D.C. filed a patent for a drinking straw made out of paraffin-covered paper, replacing natural rye straws. It revolutionized drinking soda pop, not only a drug store fountains, but baseball games, beach, and all outdoor events.
1897-- Marion Davies, born at Brooklyn, NY, Marion Cecilia Douras became Marion Davies and made her first appearance on film in 1917. Her romantic and professional involvement with newspaper magnate William Randolph Hearst ensured the type of publicity that would launch her to stardom. Her films included When Knighthood Was in Flower, The Patsy and Show People. She had a mansion on Santa Monica Beach and as kids we would visit. When she was in a good mood, she was friendly and gave us soda. When her house was vacant, it became a place for us to meet as we knew how to enter, plus guards remember us as her friends. Davies died at Hollywood, Sept 23, 1961.
1903-- President Theodore Roosevelt signed a bill establishing South Dakota's Wind Cave, a national park and preserve. It was the first national park established for the preservation of a cave.
1904 --Eddie Lang Birthday
http://www.redhotjazz.com/lang.html
1909---Comedian and pianist Victor Borge ( Borge Rosenblaum) birthday
1917-- Leon McAuliffe, one of the first country musicians to use an electric steel guitar, was born in Houston. He joined the Light Crust Doughboys at the age of 16, and two years later began his long association with Bob Wills, the King of Western Swing. After the Second World War, McAuliffe formed his own band, the Cimarron Boys, and had hits with "Blacksmith Blues" and "Cozy Inn." He also was the composer of "Steel Guitar Rag," made famous by Wills's Texas Playboys. McAuliffe died on August 20th, 1988.
1920—It is announced this day that Boston Red Sox owner and theatrical producer Harry Frazee sold pitcher-outfielder Babe Ruth on December 26 to the New York Yankees for $125,000 (twice the amount ever paid previously for a player) and a $300,000 loan. Frazee used the loan several years later to produce " No, No, Nanette, a hit musical. Thus starts the curse of the Red Sox and the rivalry with the New York Yankees.
1921-- The University of Wisconsin, Madison, WI on station 9XM made the first weather broadcast. Other radio stations copied this popular news.
1929--The first diesel engine car trip was made by Clessie Lyle Cummins of the Cummins Engine Company, Columbus, IN, with a stock model engine weighing 1,200 pounds, delivering 50 horsepower at 1,000 revolutions per minute with four cylinders of 4.5 b 6 inch bore, installed in a seven-passenger Packard sedan. He left Indianapolis, IN, this day and arrived in New York City on January 6, covering 792 miles at a total fuel cost of $1.38.
1926--record producer George Martin was born in London. He joined EMI Records in 1950, producing hits by pop singers Matt Munro and Shirley Bassey. Martin signed the Beatles in 1962, and produced all of their records until 1969. The group's first recording session at Abbey Road, the EMI studios in St. John's Wood, London, took place from September 4th to 11th, 1962. Among the songs recorded were "Love Me Do" and "Please, Please Me," which became the Beatles' first two hits in Britain. The Beatles chose not to use George Martin for their "Let It Be" album, but he was asked to produce the last Beatles' album, "Abbey Road." The two albums were released in reverse order of recording.
1938 - The March of Dimes was established -- by President Franklin Delano Roosevelt -- to fight poliomyelitis (Roosevelt himself was afflicted with polio). The organization was originally called the National Foundation for Infantile Paralysis (as the disease was commonly known). The March of Dimes accomplished its mission within 20 years. Research led by Dr. Jonas Salk and supported by funds (those marching little dimes) raised annually by thousands of volunteers, resulted in the announcement in April 1955 that the Salk polio vaccine was "safe, potent and effective." The foundation also supported the research that led to the Sabin oral vaccine; another safe, effective polio preventative discovered by Dr. Albert B. Sabin.
1939-- Hockey Hall of Fame Left Wing Bobby Hull birthday
1939-- Gene Cox, 13, served on the House floor as aide to her father, Representative Eugene Cox (D-GA), on opening day of the 76th Congress. She was paid $4 for three hours of work and there were no objections to her one-day service. More than 30 years later, however, there was much debate when Senator Jacob Javits (R-NY) nominated a female to be a real Senate page.
1940-- Charlie Barnet and His Orchestra record "The Southland Shuffle"
1945--Birthday of singer Stephen Stills of Crosby, Stills and Nash; and rock singer Philip Goodhand Tait.
1949-- Metronome All-Stars (Parker, Gillespie, Ventura, etc.) cut "Victory Ball, Overtime, and many more, New York City.
1949 - Warren, AR was hit by an F4 tornado. 55 people were killed and 435 were injured. Total damage was $1.3 million.
1955---Top Hits
Mr. Sandman - The Chordettes
Let Me Go, Lover - Joan Weber
The Naughty Lady of Shady Lane - The Ames Brothers
More and More - Webb Pierce
1956 ---The Colored Methodist Episcopal Church, established in 1870, officially changed its name to the Christian Methodist Episcopal Church. The denomination is headquartered today in Memphis, TN, and comprises a membership of nearly 500,000.
1956-- Elvis plays a show at the Von Theater in Booneville, MS, where he is advertised as "The Folk Music Fireball."
1957-- Hamilton Watch Company, Lancaster, PA introduced to the public the first electric watch. the movement was powered by a small energy cell guaranteed to operate the watch for a year. It had no mainspring and had 35 percent fewer parts than an automatic or self-winding watch.
1957-- Fats Domino records "I'm Walkin'"
1959-- Alaska, which had been purchased from Russia in 1867, became the 49th state. The area of Alaska is nearly one-fifth the size of the rest of the United States.
1965--- three brothers from one family to serve in the Senate were the three sons of Joseph Patrick Kennedy and Rose Kennedy of Boston, MA. John Fitzgerald Kennedy, senator form Massachusetts, who was sworn in on January 3, 1953; Edward Moore Kennedy, also from Massachusetts, who was sworn in on January 9, 1963; and Robert Francis Kennedy, senator form New York, who was sworn in on January 3, 1965.
1958 ---Edmund Hillary reaches South Pole overland
1959 -- Fidel Castro takes command of the Cuban army.
1960-- Bobby Darin and Connie Francis perform as a duo on CBS' Ed Sullivan Show.
1961 -- The United States breaks diplomatic relations with Cuba.
1963---Top Hits
Telstar - The Tornadoes
Bobby's Girl - Marcie Blane
Go Away Little Girl - Steve Lawrence
Don't Let Me Cross Over - Carl Butler & Pearl (Dee Jones)
1964-- American TV viewers got their first look at the Beatles as Jack Paar aired a BBC performance film of the group. The Beatles would make their live US TV debut a month later on "The Ed Sullivan Show."
1966-- The Beatles appear on NBC's Hullabaloo! in a taped performance of "Day Tripper" and "We Can Work It Out."
1967-- Declaring himself a conscientious objector, the Beach Boys' Carl Wilson refuses to be sworn in after receiving an induction notice from the US Army.
1970-The Beatles record what will be their last song together, "I Me mine." A decade later it becomes the title of George Harrison's auto-biography.
1970 - Raindrops Keep Falling on My Head, recorded by B.J. Thomas, hit Number 1 on Billboard's record chart on this date and stayed there for 4 weeks. Thomas had been ordered the day before recording the Butch Cassidy and the Sundance Kid soundtrack not to sing for 2 weeks due to laryngitis. After pleading with the doctor, he received throat medication, and did the recording.
1971---Top Hits
My Sweet Lord/Isn't It a Pity - George Harrison
Knock Three Times - Dawn
Black Magic Woman - Santana
Rose Garden - Lynn Anderson
1972 - Don McLean received a gold record for his 8-minute-plus (8:32) hit, "American Pie".
1973-- A group headed by shipping executive George M. Steinbrenner, III, bought the New York Yankees from CBS for $10 million.
1974-Jim Croce's "Time in a Bottle" goes gold, the second of three posthumous hits for the late singer/songwriter.
1976-- Martha Elizabeth Keys, Democrat of Kansas and Andrew Jacobs, Jr., Democrat of Indiana, were married at Topeka, KS, to become the first congressional representatives to marry each other.
1977 ---Apple Computer incorporated.
1979---Top Hits
Le Freak - Chic
Too Much Heaven - Bee Gees
My Life - Billy Joel
The Gambler - Kenny Rogers
1983 --Tony Dorsett sets NFL record with 99-yard rush, Dallas vs. Minnesota.
1985 - Soprano Leontyne Price bid adieu to the Metropolitan Opera in New York. She sang the title role of "Aida". Price had been part of the Met since 1961.
1986 - Capital Cities acquired ABC-TV for $3.5 billion. (In 1991, Capital Cities/ABC Inc. was purchased by Disney for a then-record $19 billion).
1987-- Cleveland quarterback Bernie Kosar passed for 487 yards, an NFL playoff record to date, to lead the Browns to a double-overtime 23-20 victory over the New York Jets in an AFC divisional playoff game. The following week, Cleveland lost the AFC championship game, also in overtime, to the Denver Broncos by the identical score.
1987--Aretha Franklin becomes the first woman inducted into the Rock and Roll Hall of Fame. Other inductees this year include The Coasters, Eddie Cochran, Bo Diddley, Marvin Gaye, Bill Haley, Clyde McPhatter, Ricky Nelson, Roy Orbison, Carl Perkins, Smokey Robinson, and Jackie Wilson.
1987 - A 3 inch snowfall broke the record for this date at Little Rock, AR. The previous record was 2.5 inches in 1942. This snowfall is deeper than the amount of snow received during the entire year for 1986. The 1986 snowfall total was 2.7 inches.
1987---Top Hits
Walk like an Egyptian - Bangles
Everybody Have Fun Tonight - Wang Chung
Notorious - Duran Duran
Mind Your Own Business - Hank Williams, Jr.
1988 - After a day of rest, ":Old Man Winter": came back as a triple threat, hitting both coasts with winter storms, and blasting the central U.S. with cold arctic air. Snow and ice in the eastern U.S. caused 4.5 million dollars damage to homes and vehicles in North Carolina, the storm in the western U.S. produced two feet of snow in the Lake Tahoe area of Nevada, and temperatures in North Dakota plunged to 30 degrees below zero, with wind chill readings as cold as 95 degrees below zero.
1989-- " The Aresnio Hall Show" premiered on TV. Arsenio Hall became the first African-American to host a successful syndicated late-night talk show. The show attracted a younger audience than that of Johnny Carson's "The Tonight Show" and effectively limited the impact of CBS's 1989 late-night entry, "The Pat Sajak Show." Hall was successful in booking soul and rap music acts that had rarely been seen on other shows. His was also the show on which presidential candidate Bill Clinton appeared, playing the saxophone in dark glasses. Hall was named by TV Guide (June 1990) as its first "TV Person of the Year."
1991-- Los Angeles King Wayne Gretzky scores his 700th goal against New York Islanders.
1993 -- Buffalo rallies from a 32-point third-quarter deficit to beat Houston 41-38 in overtime in an AFC Wild Card Playoff, the greatest comeback in NFL history. Bills quarterback Frank Reich throws four touchdown passes and kicker Steve Christie boots the game-winning 32-yard field goal.
1993--- Junk bond king Michael Milkin is released from jail after 22 months.
1994-- "Gray's Anatomy" closes at Beaumont Theater New York City NY after 13 performances. It later becomes a hit movie.
http://imdb.com/title/tt0116447/
1996 - The first in the series of snowstorms to strike the eastern U.S. over the next ten days was in progress over New England, New York, and Pennsylvania. Rochester, NY was buried under 23 inches of snow in 24 hours for the city's greatest 24 hour snowfall on record. 21 inches was recorded at Oswego, NY and 18 inches fell at Batavia. Other snowfall totals included 16 inches at Milton, MA, 14 inches at Montpelier, VT, 13.3 inches at Montrose, PA and 13.1 inches at Boston, MA.
1997--- The artist formerly known as Prince performed a medley in an on-air tribute to Bryant Gumbel in his final appearance as co-host of NBC's "Today" show. The singer dressed up as Gumbel in a conservative dark suit, white shirt and tie. Gumbel today is a NFL television announcer. Matt Lauer replaced him.
1999 - Chicagoans dug out from their biggest snowstorm in more than 30 years. Diggers measured 22 inches at O'Hare International Airport when the last of the flakes had settled.
2005-- Hoping to make the team appeal to a broader marketplace, the Angels announce the franchise will now be known as the Los Angeles Angels of Anaheim. Officials from Anaheim likely will file a lawsuit to block the change believing the new name violates the terms of the team's 33-year lease with the city.
--------------------------------------------------------------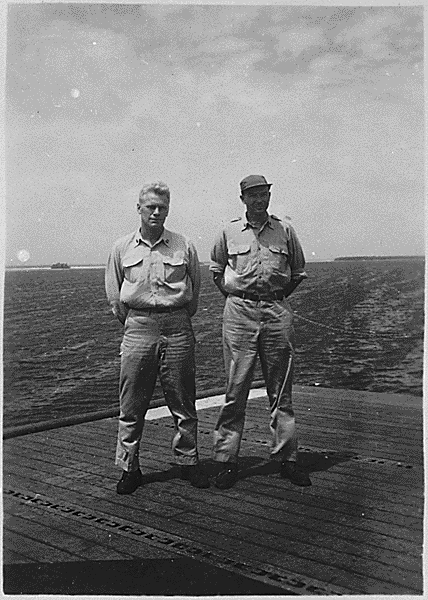 Gerald R. Ford, Jr. and Truman Walling on the flight deck of the USS MONTEREY. April 12, 1944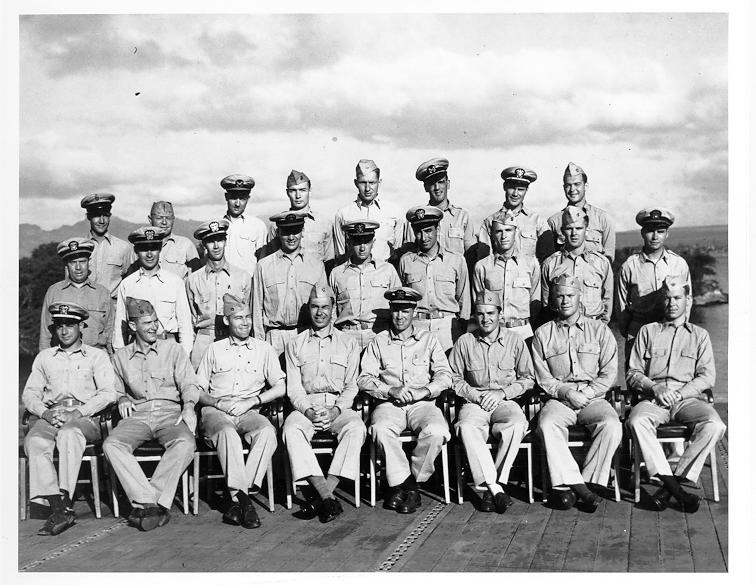 Gunnery Officers on board the USS MONTEREY, October 24, 1943. Gerald R. Ford is the second person from the right in the front row
Poem-In Memory of Gerald R. Ford
I must go down to the sea again, to the lonely sea and the sky,
And all I ask is a tall ship and a star to steer her by;
And the wheel's kick and the wind's song and the white sail's shaking,
And a grey mist on the sea's face, and a grey dawn breaking.
I must go down to the seas again, for the call of the running tide
Is a wild call and a clear call that may not be denied;
All I ask is a windy day with the white clouds flying,
And the flung spray and the blown spume, and the seagulls crying.
I must go down to the seas again, to the vagrant gypsy life,
To the gull's way and the whale's way, where the wind's like a whetted knife;
And all I ask is a merry yarn from a laughing fellow-rover,
And a quiet sleep and a sweet dream when the long trip's over
Sea Fever
by John Masefield
(1878-1967).
--------------------------------------------------------------

SuDoku
The object is to insert the numbers in the boxes to satisfy only one condition: each row, column and 3x3 box must contain the digits 1 through 9 exactly once. What could be simpler?
http://leasingnews.org/Soduku/soduko-main.htm

--------------------------------------------------