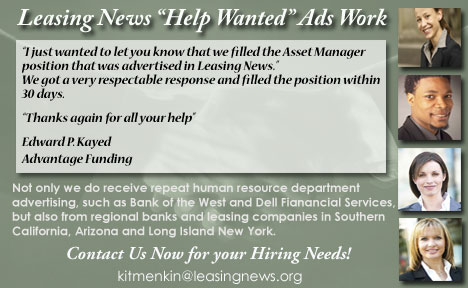 Monday, January 8, 2007
Headlines---
Theresa "Tree" Kabot, CLP, and Crosby
Classified Ads---Senior Management
GE/Heller head now Prez CIT Corp. Fin
Funder List---updated: P&L Capital
Leasing Vets gather in Kirkland, WA
ELFA schedule Equip. Mngmt. Conference
Leasing #102--Mr. Terry Winders, CLP
"Terms of Use in Sales"
Top Stories----January 3-5
Adobe: Users should upgrade Reader
Taycor expands to Boston, Ma/Orange Cty
News Briefs---
California Nuts Brief---
Sports Briefs---
"Gimme that Wine"
Calendar Events
Snapple Real Facts
Today's Top Event in History
This Day in American History
American Football Poem
######## surrounding the article denotes it is a "press release"
-------------------------------------------------------------------------------

Theresa "Tree" Kabot, CLP, and Crosby
The picture above served as her Christmas card. Theresa and Crosby at the Elliot Bay Marina in Seattle, Washington.
Theresa Kabot joined the Leasing News Advisory Board on February 5, 2004. She always provides feedback, encouragement, humor, and sends gifts of wine or delicacies to go with wine. Always
on the go, often with her best pal, Crosby, who she takes almost everywhere, including Carmel-by-the Sea, California (a very dog friendly town.)
Her friends, and perhaps best clients, call her "tree," being both short for Theresa, and also her height: six feet tall.
Often in her e-mails, she will send pictures to prove that she is not working all the time. These were "cropped" to fit the Leasing News format.
"..the one with me and Crosby in the snow is from last month, we went skiing for Thanksgiving; the Northwest has been getting plenty of snow! and we love snow!"
Theresa with her Dad in the boat:

"...every summer we go fishing for King Salmon (Tyee) in that picture I am running the boat, with my Dad and my brother (not pictured), at Rivers Inlet in Alaska, one of the most beautiful places on earth, we had whales coming up to the boat and bald eagles flying over head, the sun barely sets, which leaves plenty of time for fishing and cruising, and the fishing was great!"
"...the one with me hiking around on rocks is a wine trip/tour to Monterey, California (near Carmel-by-the Sea) earlier this year, with some hiking and kayaking, in additional to tasting, I love tasting and learning about wine, it is one of my "fave" features in Leasing News!"
"This is at Bison Valley Ranch in Colorado, where I spend summers, and have opened a second leasing office… if we are transporting llamas, we have the stock racks on, that's Crosby on the gate with the antlers, which I happened to have in my back pack at the time
"That's our Dad, tasting our killer green chili........... …. My sisters (4) and I participate in a chili cook off every September, it is a non-profit benefit for the Colorado mountain area volunteer firefighters, (although we have yet to WIN, next year will be our 5th year, and we have high hopes!)"
"The llama, her name is Spill the Wine, affectionately referred to as "Spilly," my favorite. She is two years old."
Theresa M. Kabot
Kabot Commercial Leasing
K2 Funding Group
Mailing Address:
K2 Funding Group
PO Box 70666
Seattle WA 98127
800.987.9257 phone
206.301.9886 fax
303.484.4558 fax
tkabot@lease-it.com
http://www.lease-it.com/
--with offices in Colorado and Washington
and financing equipment in all 50 States
Theresa M. Kabot, CLP, (Certified Lease Professional) brings over 15 years of experience in the equipment finance industry to the Leasing News Advisory Board. After graduating from Colorado State University, Theresa joined Colonial Pacific Leasing, and worked the funding side of the equipment leasing industry from credit and documentation to sales and marketing.
She then went on to serve as Director of Marketing for a finance and leasing brokerage before founding her own leasing company in 1995 in Seattle, Washington named: Kabot Commercial Leasing.
Kabot Commercial Leasing has office in Washington and Colorado and has been a member of United Association of Equipment Leasing since 1995. She has served on numerous committees, as well as chairing the membership committee, then becoming a member of the board of directors.
2005, she launched K2 Funding Group, a division to address the growing needs of KCL's client base. As she explains, "After ten years my clients wanted more than just equipment leasing options...to keep it simple and accurate.

In 1996, Theresa applied to sit for the CLP exam as she explains it was an example of her personal commitment to further education, plus upholding the standards of the equipment leasing and financing industry. She says she has always valued the benefits of involvement, whether in her community, the environment or industry.
As you may see in the photographs above, in her spare time, she enjoys hiking, fishing, hanging out with Crosby, plus llama wrangling at her ranch in Colorado.
---------------------------------------------------------------

Classified Ads---Senior Management
Send us a photograph of your dog and we will share with readers.
kitmenkin@leasingnews.org

Creative Canine Photography book cover
Larry Allan
http://www.amazon.com/Creative-Canine-Photography-Larry-Allan/dp/
158115321X/ref=si3_rdr_bb_product/103-8622489-3944601
Senior Management
Senior Management: Atlanta, GA
Experienced leasing exec looking for next challenge. Various asset types, deal sizes and channels. Turn-around or expansion opportunity.
Email: akimicata@mindspring.com
Senior Management: Atlanta, GA
Commercial Finance and Leasing expert with proven success in the transportation finance industry. Working directly with company Presidents to develop national transportation programs.
Email: mll1946@comcast.net

Senior Management: Baltimore, MD
25 year veteran of commercial and equipment leasing seeking a senior management position with leasing or asset based financing company in the southeast (Florida preferred)
Email: kellogg_md@yahoo.com
Senior Management: Denver, CO
Fortune 500 GM/SVP wants to team up with aggressive lender looking for Western expansion mid-market equip. finance/leasing. 20+ years experience within Rocky Mountain/Southwest and Ca markets.
Email: legal@csotn.com
Senior management: Hope, NJ
25 years in optimizing call center operations, collections, billing, and back end revenue generation. Experienced in $7 + billion dollar portfolios. Verifiable achievements.
E-mail: cmate@nac.net
Senior Management: Irvine, CA
Credit executive, portfolio manager and syndication facilitator. Extensive business building experience in small and mid-ticket operations. Highly innovative. Fortune 100 audit and technology skills. Bottom-line manager.
Email: lenhubbard@bigfoot.com

Senior Management: Lawton, OK.
Twenty years, I have been the President of Cash Financial Services .
I sold my loan portfolio.
Resume .
email: bobmooreok@email.com


Senior Management: Long Island, NY
Degree Banking/Finance. 13 years leasing exp. Now prez young leasing company where promises were not met. Interested in joining established firm with future.
Email: bob33483@yahoo.com

Senior Management: New York, NY, NJ, Ct Tri-State
Top Exec. middle and big ticket, top skills treasury,funding, ops,transaction detail, syndication, ready to max profit, help build quality operation. right now!
E-Mail: leasefinance@optonline.net

Senior Management: Philadelphia, PA
27 yrs. exp. sales, ops., credit, strategy, P&L mngmet. Most recently created & executed the biz plans for 2 highly successful Bank-owned small ticket leasing subsidiaries.
email: mccarthy2020@comcast.net
Senior Management: Salt Lake City, UT
GM in Sales, Marketing & Operations for Several technology captives. Seeking new adventure in Western States. Consultant of full time.
Email: stevegbdh@hotmail.com
Senior Management: San Francisco, CA, 25 years experience w/global leasing company, sales,marketing,business dev., P&L responsibility, asset mgmt, brokering and re-marketing. Interested in joining an est. firm with a future.
Email: rcsteyer@yahoo.com
Senior Management: Sausalito, CA
Sr. Corp. officer, presently serving as consultant, fin. service background, M&A, fund raising, great workout expertise, references
Email: nywb@aol.com
Senior Management: Syracuse, NY
Int. equip. leasing exec. 25 yrs global P&L sr. mngt., including corporate turnarounds, strategic planning, new biz dev., structure finance, contract neg., vendor leasing specialist.
Email: jimh356094@aol.com
Senior Management: Tampa FL.
20+ years small to middle ticket finance, operations/sales management experience. Outstanding record revenue enhancement, operational improvement/ team development. Email: rlindcpa@earthlink.net
Senior Management: Tampa FL.
20+ yrs small/middle ticket finance, operations/ sales management exper. Outstanding record of revenue enhancement, operational improvement and team development.
Email: rlindcpa@earthlink.net
Senior Management: Wilmington, DE
Over 15 years experience managing Credit, Risk Management and Fraud operations for large Financial Institution. Proven Results. Anywhere between NYC and DC for right opportunity.
Email: cklous@comcast.net
For a full listing of all "job wanted" ads, please go to:
http://64.125.68.91/AL/LeasingNews/JobPostings.htm
### Press Release ###########################

(Leader of the GE Corporate Finance Services unit of Heller
integration named President of CIT Corporate Finance)
CIT names Walter J. Owens President of CIT Corporate Finance
NEW YORK – – CIT Group Inc. (NYSE: CIT) a leading global provider of commercial and consumer finance solutions, named Walter J. Owens (46) President of CIT Corporate Finance.

Walter J. Owens
In this newly created position he will work closely with CIT's Corporate Finance business unit leaders to assess their current go-to-market models; develop an integrated distribution platform to serve a broad range of product offerings and customer segments, and improve operational efficiencies. He will report directly to Rick Wolfert, CIT Vice Chairman, Commercial Finance, and will continue to serve as a member of the Office of the Chair.

Jeffrey M. Peek, CIT Chairman/CEO
Jeffrey M. Peek, CIT Chairman and CEO said, "This announcement serves as a natural progression for Walter who successfully drove the build-out of our sales force over the past 18 months. His success in developing a strong sales culture and his background in the commercial finance industry make him ideally suited to take on this new responsibility. In this new role Walter will work to ensure the continued growth and productivity of our Corporate Finance business units which are fundamental to CIT's overall growth strategy."
Over the past 18 months Owens served as Executive Vice President and Chief Sales and Marketing Officer of CIT. Under his stewardship, he oversaw the expansion of the Company's sales force by nearly 30%, established a sales technology infrastructure, embedded Chief Sales Officers (CSOs) in each business unit and built a proactive sales culture. As a result of these efforts, CIT's expanded and strengthened sales force grew organic originations by more than 50% in 2006.
Going forward, the stewardship of the Company's sales efforts will be embedded into CIT's Commercial Finance and Specialty Finance operating segments.
Prior to joining CIT, Owens served as Chief Marketing Officer for GE Commercial Finance where he was responsible for executing growth strategies for existing and new products and markets. Other key positions held at GE included Managing Director and General Manager of GE Small Enterprise Services and Managing Director of Global Securitization for GE Capital Market Services. Owens also led the Heller integration into the GE Corporate Finance Services unit.
Before GE, Owens served as Vice President at Citibank's Corporate Policy & Advisory Group from 1990 to 1992. He began his career in 1982 where he held a number of positions at Deloitte, Haskins and Sells in the Accounting and Auditing Services Division.
Owens is a Certified Public Accountant. He received his BS from Villanova University and his MBA from New York University
About CIT Corporate Finance
With more than $20 billion in managed assets, 54,000 client relationships and approximately 850 employees, CIT Corporate Finance offers a wide array of financial solutions for middle-market clients. It is one of CIT's high-growth segments and includes its Business Capital, Capital Markets, Commercial Real Estate, Communications, Media & Entertainment, Construction, Energy, Equipment Finance, European Leveraged Finance, Healthcare, Mergers and Acquisitions, Sponsor Finance and Syndicated Loan Group business units.

About CIT
CIT Group Inc. (NYSE: CIT), a leading commercial and consumer finance company, provides clients with financing and leasing products and advisory services. Founded in 1908, CIT has $70 billion in managed assets and possesses the financial resources, industry expertise and product knowledge to serve the needs of clients across approximately 30 industries worldwide. CIT, a Fortune 500 company and a member of the S&P 500 Index, holds leading positions in vendor financing, factoring, equipment and transportation financing, Small Business Administration loans, and asset-based lending. With its global headquarters in New York City, CIT has more than 7,000 employees in locations throughout North America, Europe, Latin America, and Asia Pacific. www.CIT.com
### Press Release ###########################
--------------------------------------------------------------

Funder List-updated: P&L Capital
A -Accepts Broker Business | B -Requires Broker be Licensed | C -Sub-Broker Program
| D -"Private label Program" | E - Also "in house" salesmen
Name
In Business Since
Contact
Website
Leasing Association
----------------------------------------------------------------

Leasing Vets gather in Kirkland, WA
"Pictured at our 2nd Annual Christmas Luncheon held in Kirkland, Washington is (left to right) Tom Bartlett - Provident Capital Group, Bellevue; Dick Mosier - Interlease Capital Corporation, Issaquah, WA; John Hamilton - Alpine Leasing, Inc., Edmonds, WA; Rob Gunther - Provident Capital Group, Bellevue, WA and George Shipman - Lease Associates, Bellevue, WA.

"This started with a phone call last year that we should have an Industry Leaders Luncheon (self proclaimed "leaders" in the industry of course), so we did, and repeated this year with the addition of John Hamilton - Alpine Leasing. George Shipman - Lease Associates has been at it probably the longest and is one of our most respected industry gentleman - by far. George Shipman and John Hamilton have been responsible for organizing the Puget Sound Lessor's Association golf tournament each year - with wide participation from everyone in and around the local industry (yes, even bankers and lawyers are welcome!!).

"It occurred to me that almost all of us pictured here got our start in Equipment Leasing with Regional or National Leasing companies (Simlog Leasing, MetLife Capital, Security Pacific Leasing, Industrial Leasing Corporation, EF Hutton Credit Corp to name a few), and then were spun or jumped off into our own specialty niche areas with ability to prosper and grow while watching some industry giants come and go! (Actually it was the "going" of some of these giants that left most of us "trained and experienced" in vendor and lessee relationships that have served us well on our own for years.)

"The luncheon is a time to reflect on the past year in our businesses, share some ups and downs and toast the success of each one of us for another successful year in what has become a much larger industry then when we all began. All of us are grateful to Leasing News for giving us an overview of just how far reaching this industry has become with room for us "leasing legends" as Rob Gunther likes to call this luncheon group, and plenty of new comers.

" We all look forward to another year of challenges and achievements - so that we can gather again this coming Christmas and toast another year! "

Dick Mosier
Interlease Financial
P.O. Box 1099, Issaquah, WA 98027
24311 SE 43rd Pl., Issaquah, WA 98029
(888)462-9349 or (425)392-1550
Fax (425)657-0236

dick@interleasecapital.com

"Serving Business since 1989"
----------------------------------------------------------------

ELFA Releases Program Schedule For 2007 Equipment Management Conference
February event in Tucson will feature hands-on equipment inspections, facilities tours and residual value forecasts.
ELTnews
ARLINGTON, VA,—The Equipment Leasing and Finance Association (ELFA) has released the program schedule for the 2007 Equipment Management Conference & Exhibition, February 11-13 at the JW Marriott Starr Pass Resort & Spa, Tucson, AZ. The annual conference, the premiere gathering of equipment leasing and finance asset managers and industry service providers, will again feature four off-site equipment tours focused on corporate aircraft, commercial aircraft, printing, and trucks and trailers.
"We introduced the tours at the 2006 Conference, and they were very popular," said Ralph Petta, ELFA vice president of industry services. "This year, I believe we have a good variety of tours for attendees to choose from." These include: a new truck dealership; a commercial aircraft storage and service facility; a printing plant; and a corporate aircraft maintenance facility.

Ralph Petta, ELFA V-P Industry Services
The program will also feature a live equipment inspection of up to nine specialty vehicles, led by certified service providers. According to Petta, "These hands-on inspections have always been popular with attendees. It's a chance to really get to understand a piece of equipment, its key specifications, maintenance issues, areas of risk, and return provisions and residual value."
In addition, ELFA's Equipment Management Conference will feature the annual "What's Hot, What's Not" survey of equipment leasing, breakout sessions offering in-depth updates on values and issues in various equipment types, special sessions for new asset management personnel, and dozens of service provider exhibiters. "Overall," said Petta, "this is the best Equipment Management Conference program we've ever had. Attendees will definitely find it extremely valuable.
For information on the ELFA 2007 Equipment Management Conference & Exhibition, please go to ELFA's website at: http://www.elaonline.com/events/2007/emc/index.cfm
Organized in 1961, the Equipment Leasing and Finance Association (ELFA) is the premier non-profit association representing companies involved in the dynamic equipment leasing and finance industry to the business community, government and media. As the voice of the leasing industry, ELFA promotes the forecasted $234 billion industry as a major source of funds for capital investment in the United States and abroad. For more information on ELFA, please visit www.ELFAOnline.com.
----------------------------------------------------------------

Leasing 102
Term of Use in Sales
by Mr. Terry Winders, CLP
Selling an equipment lease requires a good knowledge of the leasing product and its implications for, or effect on, the lessee. This includes all the income tax, legal, and accounting requirements, not to mention the differences from State to State on assessed taxes and legal differences.
For many reasons a lease is not a loan, however, the ignorance of the customer base, and the eagerness of leasing companies to offer what the customer asks for, has created a leasing market that covers many types of non-leases as well as true leases. So on many occasions the lessee is not offered a lease that fits the circumstances better but, just what the Lessee is familiar with, and has requested. Selling the correct type of lease takes a professional salesperson and not just an order taker.
Many of our leases are truly disguised conditional sales contracts (installment loans). Due to the complexity of leasing and the lack of knowledge by the average agent for the Internal Revenue Service, and the average bankruptcy Judge, so many unqualified leases slip through that we are lulled into a thought process that these type leases are acceptable. The time is drawing to a close when leasing firms can rely on these type leases and they will find themselves out in the cold. The rule makers and the qualifications for leasing are under siege and we need to view how leasing is different from loans and begin presenting the differences and the effect of a real lease instead of just comparing the similarities such as: rate, term, and purchase options.
A correct lease is one that accomplishes placing the equipments "use" and the expense for that use into the proper period of "time." One of the benefits of the computer age and the type of software offered today is that business can analyze their needs much sharper than before. Studies of equipment use and expenses such as insurance, labor for maintenance, spare parts, and down time have suggested shorter terms of equipment use. The old thought process of using it until it drops has given way to using it until it becomes a heavy maintenance problem or is technically outdated and then moving on to new equipment. Leasing became popular for many reasons but lost in the list was the most important reason, to match the "expense" to the term of "use".
Installment commercial loans and sales contracts are done on a 36, 48, or 60-month basis. Straight line depreciation of the equipment cost for accounting purposes depends on the equipment's average useful life, possibly five years, six years, or longer and Federal Income Tax depreciation is according to The Modified Accelerated Recovery System. None of these terms are in tandem. If equipment is traded early, the tax and accounting effects are not good, and, in addition, the cash required to make the loan payments usually exceeds the expense for interest and depreciation. Most financial managers and business owners want to coordinate these expense terms to improve business management. Leasing on the other hand does bring all of these expenses and terms into tandem "if" the term of lease matches the anticipated term of equipment "use".
We also need to explain how a lease can protect profits by placing the expense next to revenue in months of high revenue and avoiding payments in periods of low revenue. Irregular payments are acceptable for all of the rules if they match the use and revenue generation of the equipment.
If you discuss the lessee's needs and present more than one option and sell the one that matches the use and explain the differences between leasing and lending then you may be on the path of becoming a professional lease salesperson.
Mr. Terry Winders has been a teacher, consultant, expert witness for the leasing industry for thirty years and can be reached at leaseconsulting@msn.com or 502-327-8666.
He invites your questions and queries.
----------------------------------------------------------------

Top Stories----January 3-5
Here are the top ten stories most "opened" by readers last week.
(1) Oh, No. Mr. Bill! Another NorVergence?
http://www.leasingnews.org/archives/January%202007/01-03-07.htm#ohno
(2) IFC Credit Hits the Mat Again
http://www.leasingnews.org/archives/January%202007/01-05-07.htm#ifc
(3) Paul A. Larkins---2006
Leasing News Person of the Year
http://www.leasingnews.org/archives/January%202007/01-03-07.htm#year
(4) GE Capital latest acquisition
http://www.leasingnews.org/archives/January%202007/01-05-07.htm#gec
(5) Apology
http://www.leasingnews.org/archives/January%202007/01-05-07.htm#sorry
(6) Cartoon—Older dog to younger dog
http://www.leasingnews.org/archives/January%202007/01-05-07.htm#toon
(7) Leasing Business could be better
http://www.leasingnews.org/archives/January%202007/01-05-07.htm#nbv
(8) Funding List: Cashmere Valley Bank
http://www.leasingnews.org/archives/January%202007/01-05-07.htm#fund
(9) Paul A. Larkins---"Others"
http://www.leasingnews.org/archives/January%202007/01-05-07.htm#other
(10) Five Point names Holden VP I.T
http://www.leasingnews.org/archives/January%202007/01-05-07.htm#5pt
----------------------------------------------------------------

Adobe: Users should upgrade Reader, Acrobat to mitigate vulnerability
Installing Version 8 of the programs addresses the issue 'immediately,' Adobe says
by Jaikumar Vijayan
(Computerworld) -- Adobe Systems Inc. is urging users to update to the latest versions of Adobe Reader and Acrobat to avoid being affected by a recently discovered cross-site scripting flaw in its software that allows attackers to run malicious JavaScript on a user's PC.
The discovery of the flaw has caused considerable industry concern because of the ease with which it can be exploited and because any Web site hosting PDF files could be used to conduct an attack.
In an e-mailed comment, an Adobe spokesman said yesterday that the company is aware of a flaw in 7.0.8 and earlier versions of Adobe Reader and Acrobat that allows "remote attackers to inject arbitrary JavaScript into a browser session. This is not a vulnerability in PDF. Specifically, this issue could occur when a user clicks on a malicious link to a PDF on the Web." (free up-grades to 7 are necessary for earlier versions to go to version 8. editor.)
The vulnerability, rated as "important'' by Adobe, cannot be exploited to "execute native code or erase hard drives" on a victim's PC, said Pam Deziel, director of the company's platform business unit. "There are some straightforward ways to mitigate this risk."
Upgrading to Adobe Reader 8 and Acrobat 8 "addresses the issue immediately" she said. "For Acrobat and Reader customers who wish to stay with their current version, they can use their browser preferences to disable the Reader plug-in from opening within the browser."
Adobe will soon publish additional details on the vulnerability, together with specifics on the affected browsers and mitigation measures, the spokesman said without offering details. The information will be available at www.adobe.com/support/security. The company will also release patches next week for fixing the flaws in the affected versions of Adobe Reader and Acrobat, the spokesman said.
Adobe's moves come amid considerable industry concern over the seriousness of a vulnerability in an Adobe Reader feature called Open Parameters, which allows for additional commands to be sent to the program when opening a PDF file. The feature allows users "to open a PDF file using a URL or a command that specifies both the file to be opened, plus actions to be performed once the file is opened," according to an Adobe description.
But Adobe's apparent failure to properly validate the kind of actions that can be performed once the file is opened gives attackers a way to run malicious JavaScript on a user's browser, according to security analysts.
One example is that of an attacker creating a hostile Web site with a link to PDF file on a bank's Web site, said Ken Dunham, director of VeriSign Inc.'s iDefense rapid response team in Reston, Va. The link could contain malicious commands that are executed when it is clicked and the PDF file is opened in a browser, he said.
"Instead of clicking on a link to get a PDF file, you get more than you bargained for -- execution of hidden JavaScript statements" in a user's browser, Dunham said. The malicious JavaScript could be used to steal cookies, session keys and Web browsing data, he said.
Since the scripts would appear to be running in the context of the Web sites from which the PDFs are loaded, victims are unlikely to suspect or detect suspicious activity, said Billy Hoffman, lead research engineer at SPI Dynamics in Atlanta.
Usually, such cross-site scripting is the result of server-side security failures, Hoffman said. With the Adobe flaw, however, any company that hosts a PDF file on its Web site could find itself being co-opted in an attack, regardless of how secure their sites may otherwise be, he said.
---------------------------------------------------------------

Taycor Financial Expands to Boston, MA and Orange County, Ca
Taycor Financial has expanded its office in Boston, MA, naming Drew Olynick as vice-president. He has been with the company for four years. He will be in charge of all day to day operations, training for new account executives and growth in New England. He formerly was sales manager.
Taycor Founder Bob Skibinski said, "We have been located in the area for seven years and thought a downtown location would give the company "...a whole new candidate pool to recruit from.There are over 50 prominent Colleges and Universities within 20 miles who have ambitious graduates looking to get their foot in the door at a successful finance company."
In addition, Taycor has expanded their Culver City, California operation to open an office in Orange County.
"In early 2005 we purchased a building in the Los Angeles area to allow for our expansion, " Syibinski said." A year and a half later, we are filled with highly trained Equipment Finance Specialists and now setting our sights on continuing the same success in the Orange County region.
"Gaining a foothold in Orange County is essential to continue the success we have experienced for the past decade. In early 2005 we purchased a building in the Los Angeles area to allow for our expansion. A year and a half later, we are filled with highly trained Equipment Finance Specialists and now setting our sights on continuing the same success in the Orange County region."
"2007 marks Taycor Financial's 10 year anniversary and their lease portfolio ranges from Fortune 1000 companies, Foreign Embassies to small and medium sized privately held businesses from all industries, all over the country. Recognized by Inc Magazine as one of the 500 fastest growing companies in the US and named among the 25 fastest growing companies in Los Angeles by the L.A. Business Journal, Taycor Financial has what it takes to become the premier leasing company in the nation which specializes in transactions fewer than one million dollars.
"Taycor's success emerges from an extreme concentration on growing strong relationships and an extraordinary emphasis on customer service, both for our customers and for the equipment vendors which supply them. Taycor has established key relationships with numerous financial resources, has up to date product information and top of the line industry knowledge to serve the needs of customers in all industries throughout the Unites States."
http://www.taycorfinancial.com/partners.php
--------------------------------------------------------------

News Briefs----
Euro bank breaks rank, buys gold
http://www.smh.com.au/news/business/euro-bank-breaks-rank-buys-gold/
2007/01/03/1167777153474.htm
Free wireless in San Francisco
http://www.signonsandiego.com/news/business/20070105-1609-ca-s
anfranciscowi-fi.html
Forecast : Electronics sales to top $155 billion
http://www.chicagotribune.com/technology/chi-070107ces-diary1-story,0,
3020605.story?coll=chi-business-hed
---------------------------------------------------------------

Sports Briefs----
Boston.com: Patriots win thinking man's game
http://www.boston.com/sports/football/patriots/articles/2007/01/07/
patriots_win_thinking_mans_game/
Giants Put Up Fight, but End Up Losing in Familiar Fashion
http://www.nytimes.com/2007/01/08/sports/football/08giants.html?_r=
1&ref=sports&oref=slogin
Dallas Morning News: Bitter end spoils Romo's dream season
http://www.cowboysplus.com/columnists/mmosley/stories/010807cpmosley.19ba6ac2.html
----------------------------------------------------------------


California Nuts Briefs---
Governor drops freeway fees to accelerate fiber-optic lines
http://www.sacbee.com/111/story/104109.html
----------------------------------------------------------------


"Gimme that Wine"
Silver Oak buys Roshambo Winery
http://www.sfgate.com/cgi-bin/article.cgi?f=/c/a/2006/12/22/WIGV2N44GF1.DTL
GE behind takeover bid for Evans & Tate in Australia
http://www.smh.com.au/news/business/ge-behind-takeover-bid-for-evans-amp-tate
/2007/01/05/1167777277237.html
Ship Direct to Hawaiian Consumers
http://winesandvines.com/head_jan07_HI.html
Lodi revival
A new generation of grape growers is going into business for themselves
http://www.sfgate.com/cgi-bin/article.cgi?f=/c/a/2007/01/05/WIGVONACN41.DTL
Roche Winery sold out of bankruptcy
http://www.sfgate.com/cgi-bin/article.cgi?f=/c/a/2006/12/22/WIGNTN2H3R1.DTL
Wine Prices by vintage
http://www.winezap.com
http://www.wine-searcher.com/

US/International Wine Events
http://www.localwineevents.com/

Winery Atlas
http://www.carterhouse.com/atlas/\

Leasing News Wine & Spirits Page
http://two.leasingnews.org/Recommendations/wnensprts.htm

The London International Vintners Exchange (Liv-ex) is an electronic exchange for fine wine.
http://www.liv-ex.com/
----------------------------------------------------------------

Calendar Events This Day
Bubble Bath Day
England: Plough Monday
Always the Monday after Twelfth Day. Work on the farm is resumed after the festivities of the 12 days of Christmas. On the preceding Sunday ploughs may beblssed in chraches. Delebrated with dances and plays.
Japan: Coming-of-Age-Day
National holiday for youth of the country who reached adulthood during the preceding year. Annually, the second Monday in January
National Clean-Off-Your Desk Day
To provide one day early each year for eery desk worker to see the top of the desk and prepary for the following year's paperwork.
National Thank God it's Monday! Day
Besides holidays, such as President's Day, being celebrated on Mondays, people everywhere start new jobs, have birthdays, celebrate promotions and begin vacatoins on Mondays.
Organize Your Home Day
Organize the clutter at home. Start today by organzing your kitchen, kid's room, closets or family room. Devote an entire day to your New Year's resolutions of "getting it together..
www.organizedtimes.com
Saint Gudula; Feast Day
Virgin, patron saint of the city of Brussels. Died January 8, probably in the year 712. Her relices were transferred to the church of St. Michael in Brussels.
http://www.catholic-forum.com/saints/saintg36.htm
http://en.allexperts.com/e/g/gu/gudula.htm
http://www.answers.com/topic/gudula
According to www.catholic.org, January8th is also these Saint Feat Days. The one most celebrated this day is St. Gudula in Brussels.
St. Thorfinn
St. Apollinaris
St. Albert of Cashel
St. Athelm
St. Atticus
St. Wulsin
St. Theophilus & Helladius
St. Severinus
St. Severinus
St. Carterius
St. Ergnad
St. Erhard
St. Eugenian
St. Frodobert
St. Garibaldus
St. Gudula
St. Frodobert
St. Lucian
St. Maximus
http://www.catholic.org/saints/f_day/jan.php
----------------------------------------------------------------

"Disco" means "I learn" in Latin.
----------------------------------------------------------------

Today's Top Event in History
1973-National Security Advisor Henry Kissinger and Hanoi's Le Duc Tho resume peace negotiations in Paris. After the South Vietnamese had blunted the massive North Vietnamese invasion launched in the spring of 1972, Kissinger and the North Vietnamese had finally made some progress on reaching a negotiated end to the war. However, a recalcitrant South Vietnamese President Nguyen Van Thieu had inserted several demands into to the negotiations that caused the North Vietnamese negotiators to walk out of the talks on December 13. President Richard Nixon issued an ultimatum to Hanoi to send its representatives back to the conference table within 72 hours "or else." The North Vietnamese rejected Nixon's demand and the president ordered Operation Linebacker II, a full-scale air campaign against the Hanoi area. On December 28, after 11 days of round-the-clock bombing (with the exception of a 36-hour break for Christmas), North Vietnamese officials agreed to return to the peace negotiations in Paris. When the negotiators returned on January 8, the peace talks moved along quickly. On January 23, 1973, the United States, North Vietnam, the Republic of Vietnam, and the Viet Cong signed a cease-fire agreement that took effect five days later.
[headlines]
----------------------------------------------------------------

This Day in American History
1675 - In the United States, the first corporation was charted: the New York Fishing Company."
1786- Birthday of Nicholas Biddle, American lawyer, diplomat, statesman and financier who served as president of the Second Bank of the United States. Born at Philadelphia, PA, he died there Feb 27,1844.
http://www.infoplease.com/ce6/people/A0807491.html
1798 - The 11th Amendment of the United States Constitution, modifying the power of the Supreme Court, was ratified.
1806- Lewis & Clark find skeleton of 105' blue whale in Oregon
http://lewisandclarktrail.com/section4/oregon.htm
http://www.lcbo.net/sites-region5.html
1815-The greatest battle of the War of 1812 and its finest American victory came on Jan. 8, 1815, two weeks after the war had been ended officially by the Treaty of Client. The Battle of New Orleans was fought on the British side by 7500 veterans under the command of Gen. Sir Edward Pakenham. The U.S. force, under the command of Gen. Andrew Jackson, comprised about 4500 troops, many of them expert marksmen from Ken­tucky and Tennessee armed with exceedingly accurate long rifles. The U.S. troops were strongly entrenched when on the morning of Jan. 8 the British, in close ranks, made two assaults on their lines. In half an hour the Brit­ish were driven back, Pakenham was killed, and 2036 of his men were killed or wounded. U.S. forces suffered 8 killed and 13 wounded. Although the battle had no bearing on the outcome of the war, it was a stimulus to U.S. pride, which had suffered from several embarrass­ing defeats during the conflict. The battle made a mili­tary hero of Gen. Jackson, whose political career was advanced.
http://memory.loc.gov/ammem/today/jan08.html
http://memory.loc.gov/cgi-bin/query/D?amtoday:1:./temp/~ammem_RaUW::
1821-Birthday of Confederate General James Longstreet, born near Edgefield, South Carolina. Longstreet became one of the most successful generals in the Confederate Army, but after the war was a target of some of his comrades, who were searching for a scapegoat. Longstreet grew up in Georgia and attended West Point, graduating 54th in a class of 62 in 1842. He was a close friend of Ulysses S. Grant, and served as best man in Grant's 1848 wedding to Julia Dent, Longstreet's fourth cousin. Longstreet fought in the Mexican War and was wounded at the Battle of Chapultepec. He served in the army until he resigned at the beginning of the Civil War, when he was named brigadier general in the Confederate Army. Longstreet fought at the First Battle of Bull Run and within a year was commander of corps in the Army of Northern Virginia under General Robert E. Lee. Upon the death of General Thomas J. "Stonewall" Jackson at the Battle of Chancellorsville in May 1863, Longstreet was considered the most effective corps commander in Lee's army. He served with Lee for the rest of the war--except for the fall of 1863, when he took his force to aid the Confederate effort in Tennessee. Longstreet was severely wounded at the Battle of the Wilderness in May 1864, and he did not return to service for six months. He resumed service and fought with Lee until the surrender at Appomattox in April 1865. After the war, Longstreet engaged in a number of businesses and held several governmental posts, most notably U.S. Minister to Turkey. Although successful, he made two moves that greatly tarnished his reputation among his fellow southerners. He joined the despised Republican Party and publicly questioned Lee's strategy at the pivotal Battle of Gettysburg. His fellow officers considered these sins to be unforgivable, and former comrades such as Generals Jubal Early and John Gordon attacked Longstreet as a traitor. They asserted that, in fact, Longstreet was responsible for the errors that lost Gettysburg. There is a controversy regarding JEB Stuart and other actions, attributed to both the confusion of the battle, communication problems, and "battle decisions" rather than plans. Longstreet outlived most of his comrades and detractors but died on January 2, 1904. His second wife, Helen Dortch, lived until 1962.
1838- a telegraphic system in which dotes and dashes represented letters was invented by Alfred Vail of Morristown, NJ. On this date in 1938, he transmitted its first message: " A patient waiter is no loser." On January 24, in a public demonstration given at New York University, NYC, the message 'Attention the Universe, By Kingdom's Right Wheel." was transmitted through a circuit of 10 miles.
1856 - Dr. John Veatch discovered Borax, hydrated sodium borate, in Tuscan Springs, California. It would become a multiuse product popularized during the time of television's "Death Valley Days".
1859 - This is the only day New York City's temperature stayed below zero the entire day.
1867-- Election law granting African-American men the right to vote was the congressional act of January 8, 1867, amending voting practices in Washington, DC. Every male citizen of the city who was 21 years of age or over was given the right to vote, except paupers, those under guardianship, men con­victed of infamous crimes, and men who gave voluntary comfort to the rebels during the Civil War. The bill was vetoed by President Andrew Johnson on January 5, 1867.
He had been chosen president after the election was decided by the electoral congress committee by promising Southern Democrats to vote against any reformation measures. His veto was overridden in the Senate by a vote of 29 to 10 and in the House by a vote of 112 to 28.
1877-Outnumbered, low on ammunition, and forced to use outdated weapons to defend themselves, Crazy Horse and his warriors fight their final losing battle against the U.S. Cavalry in Montana. Six months earlier, Crazy Horse (Tashunca-uitco) and his ally, Sitting Bull (Tatanka Iyotake), led their combined forces of Sioux and Cheyenne to a stunning victory over Lieutenant Colonel George Custer and his men near the Little Bighorn River of Montana. Outraged by the killing of the flamboyant Custer and more than 200 soldiers, the American people demanded speedy revenge. The U.S. Army responded by commanding General Nelson Miles to mount a winter campaign in 1876-77 against the remaining hostile Indians on the Northern Plains. Combining military force with diplomatic overtures, Nelson succeeded in convincing many Indians to surrender and return to their reservations. Much to Nelson's frustration, though, Sitting Bull refused to give in and fled across the border to Canada, where he and his people remained for four years before finally returning to the U.S. to surrender in 1881. Meanwhile, Crazy Horse and his band also refused to surrender, though they were suffering badly from sickness and starvation. His followers later reported that Crazy Horse, who had always been slightly odd, began to grow even stranger during this difficult time, disappearing for days into the wilderness by himself and walking about the camp with his eyes to the ground. On January 8, 1877, General Miles found Crazy Horse's camp along Montana's Tongue River. The soldiers opened fire with their big wagon-mounted guns, driving the Indians from their warm tents out into a raging blizzard. Crazy Horse and his warriors managed to regroup on a ridge and return fire, but most of their ammunition was gone, and they were reduced to fighting with bows and arrows. They managed to hold off the soldiers long enough for the women and children to escape under cover of the blinding blizzard before they turned to follow them. Though he had escaped decisive defeat, Crazy Horse realized that Miles and his well-equipped cavalry troops would eventually hunt down and destroy his cold and hungry people. On May 6, 1877, Crazy Horse led 1,100 Indians to the Red Cloud reservation near Fort Robinson. The mighty warrior surrendered in the face of insurmountable obstacles. Five months later, after he tried to escape, two guards led him back to the guardhouse, and he did not want to go. One of the of guards put a bayonet in his stomach and Crazy Horse died.
1889 - Dr. Herman Hollerith patented the tabulating machine. The machine tallied numbers fed to it on punch cards. The system was first used extensively to compile statistics for the eleventh federal census in 1890. In 1896, Hollerith organized the Tabulating Machine Company, which later grew into the International Business Machines Corporation (IBM).
1901 - In Chicago, Illinois, the first bowling tournament sanctioned by the American Bowling Congress was held.
1904-Birthday of songwriter/guitarist Tampa Red
http://www.toad.net/~harpe/blues/tampa.html
http://yazoobluesmailorder.com/yaz1039.htm
1918 - United States President Woodrow Wilson presented his Fourteen Points to Congress, a peace plan aimed at a new world order after World War I.
1918-- Mississippi ratified the Prohibition Amendment and on January 16, 1919, Nebraska became the 36th state, making the three-fourth of the state requirement for the prohibition of alcohol which went into effect on January 16, 1920. In 1933, it became the first constitut8ional amendment to be repealed.
1918-- In a speech before a hastily convened joint session of Congress, President Woodrow Wilson presented Fourteen Points for a just peace. The proposal called for reduction of armaments to the lowest point consistent with domestic safety, "open covenants openly arrived at," self-determination of governments and the creation of a League of Nations to preserve peace. Wilson was unable to obtain Allied agreement to his proposals.
1923-Birthday of pianist Bobby Tucker, Morriston, NY http://www.partymusicfactory.com/bobby_tucker.htm
1923 - the all-time January record high temperature reading was reached at Los Angeles when the mercury climbed to 90 degrees.
1926-Birthday of one of my favorite comedians, Soupy Sales, born Morton Supman,
Wake Forest, NC.
http://www.amdest.com/stars/ssales.html
http://www.amazon.com/exec/obidos/ASIN/6301783522/avsearch-df1-14-20/
104-3547695-1517507
1931-Birthday of music producer/promoter Bill Graham ( Wolfgang Grajonca,) Berlin, Germany
http://www.billgrahammenorah.com/ ( see biography of Graham)
http://www.sttart.com/sttartpc/bgpcdx1.html
http://search.ebay.com/search/search.dll?query=bill+graham&newu=1
1932-Birthday of Mel Tillis, the Country Music Association Entertainer of the Year in 1976, born in Tampa, Florida. Equally talented as a singer and as a songwriter, Tillis began his hit-making career in 1958 with "The Violet and the Rose." His top-ten singles have included "Who's Julie," "The Arms of a Fool" and "Memory Maker." Tillis has a speech impediment, but has made his stuttering a part of his act.
http://www.meltillis.com/
1935-- birthday of Elvis Aaron Presley, American rock singer, born at Tupelo, MS. Although his middle name was spelled incorrectly as "Aron" on his birth certificate, Elvis had it legally changed to "Aaron," which is how it is spelled on his gravestone. Died at Memphis, TN, Aug 16,1977. His motto was "TCB", taking care of business.
http://www.vh1.com/artists/az/presley_elvis/bio.jhtml
http://www.elvis.com/
http://www.elvispresleyonline.com/html/elvis_presley_online.html
http://www.ibiblio.org/elvis/elvishom.html
http://www.presleyspride.com/news.html
http://www.elvis.com.au/
http://elvis.com/epmemphis/
http://www.hotshotdigital.com/tribute/ElvisPresley.html
1937 -50ºF (-45.6ºC), San Jacinto , Nevada (state record) Elko
1937--Birthday of singer Shirley Bassey.
1940-- birthday of rocker Little Anthony, born Anthony Gourdine, New York City. Signed by producer Richard Barrett, the group had a million-seller in 1958 with "Tears on My Pillow." Their other top-10 hits included "Goin' Out of My Head" and "Hurt So Bad."
http://www.tsimon.com/anthony.htm
http://www.delafont.com/music_acts/Little-Anthony.htm
1941-American mogul William Randolph Hearst, owner of the Hearst newspaper chain, forbids any of his newspapers from accepting ads for Orson Welles' Citizen Kane, slated for release later in the year. The film was generally interpreted as a psychological study of Hearst, portrayed as the fictional Charles Foster Kane. In March 1941, Welles threatened to sue Hearst for trying to suppress the film, and RKO if it failed to release the film. The film premiered May 1, 1941, at the RKO Palace in New York and became one of the most highly regarded films of all time.
1941-- Harry James records " Music Makers" ( Columbia 25932)
1942-Birthday of drummer Bill Goodwin, Los Angeles
http://website.philwoods.com:8080/goodwin.htm
http://ubl.artistdirect.com/music/artist/bio/0,,437013,00.html?artist=Bill+Goodwin
1944---Top Hits
My Heart Tells Me - The Glen Gray Orchestra (vocal: Eugenie Baird)
Paper Doll - The Mills Brothers
People Will Say We're in Love - Bing Crosby
Pistol Packin' Mama - Bing Crosby & The Andrews Sisters.
1947—Singer/Actor David Bowie born.
1952 - Marie Wilson debuted on television as "My Friend Irma". The show spent years on radio, and was highly popular, but only lasted two seasons on television.
http://www.timstvshowcase.com/irma.html
http://us.imdb.com/Title?0041673
1952---Top Hits
Slowpoke - Pee Wee King
Sin (It's No) - Eddy Howard
Undecided - The Ames Brothers
Let Old Mother Nature Have Her Way - Carl Smith
1953 - A severe icestorm in the northeastern U.S. produced up to four inches of ice in Pennsylvania, and two to three inches in southeastern New York State. In southern New England the ice coated a layer of snow up to 20 inches deep. The storm resulted in 31 deaths and 2.5 million dollars damage.
1956- Elvis Presley's "Don't Be Cruel/Hound Dog" single goes to #1 & stays #1 for a record 11 weeks (for a single.)
1957 - Elvis Presley passed his Army pre-induction exam in Memphis, Tennessee.
http://www.33darmor.com/elvis/elvis_in_army.htm
http://www.bomp.com/BompbooksElvisArmy.html
1957-- birthday of former 49er "The Catch" Dwight Edward Clark, Kinston, NC, now general manager of the Cleveland Brown, considered a "traitor" for the way he left the 49ers along with Carmen Policy, who many fans like better than
Al Davis, today.
1958 - At age 14, Bobby Fisher won his first United States Chess Championship for the first time.
1960---Top Hits
Why - Frankie Avalon
Running Bear - Johnny Preston
Way Down Yonder in New Orleans - Freddie Cannon
El Paso - Marty Robbins
1960 - The NCAA met in New York to vote against resurrecting the unlimited substitution rule in college football.
1961 - Robert Goulet made his national television debut in the United States on CBS's "The Ed Sullivan Show".
1964-- President Lyndon Johnson declared a War on Poverty in his State of the Union address. He stressed improved education as one of the cornerstones of the program. The following Aug 20. he signed a $947.5 million anti-poverty bill designed to assist more than 30 million citizens. His fear of not being considered an anti-communist and too liberal kept us in the Viet Nam war as his diary and letters now reveal. His lack of foreign policy leadership overshadowed his domestic accomplishments.
1965-- Loma Elizabeth Lockwood of Douglas, AZ, was elected chief justice of the Arizona Supreme Court, the first woman to become a state supreme court justice.
She served from 1965 to 1975. She had been elected an associate justice of the
court in 1961.
1965 - On NBC, the television dance show "Hullabaloo" debuted. The show took a weekly trip into rock and roll with a group of girls in mini-skirts. ABC tried to compete with "Shindig".
1966 - The Beatles LP, "Rubber Soul", began its 6-week run at the top of the album chart. Since February, 1964, it was the seventh Beatles LP to hit #1 on the album charts. "Rubber Soul" lasted another 56 weeks on the charts. The other Beatles #1 albums to that date were: "Meet the Beatles", "The Beatles Second Album", "A Hard Day's Night", "Beatles '65", "Beatles VI" and "Help!". 1969, photographer Iain Macmillan took six pictures of the Beatles crossing the street outside their Abbey Road studio in London. A police officer held up traffic while the band walked back and forth several times. Paul McCartney chose one of the pictures for the cover of the "Abbey Road" album.
1968---Top Hits
Hello Goodbye - The Beatles
Daydream Believer - The Monkees
Judy in Disguise (With Glasses) - John Fred & His Playboy Band
For Loving You - Bill Anderson & Jan Howard
1969 -At San Fernando State in California 1,000 anti-Vietnam War students attempt to occupy administration building.
1969--In San Jose, California, teachers join strike with students opposed to the Vietnam War.
1970- Janis Joplin bought a tombstone for blues singer Bessie Smith's unmarked grave in a Philadelphia cemetery. Less than two months later, Joplin herself was dead of a drug overdose. Smith had died following an auto accident in 1942 at the age of 37.
1971-- Jason Gilbert Giambi, born West Covina, CA, former Oakland Athletics now New York Yankee baseball player. Arizona beat the Yankees last year.
1972--the NCAA announced that freshman would be eligible to play varsity football and basketball starting in the fall of 1972.
1973 - Carly Simon was awarded a gold record for her single, "You're So Vain".
1973-National Security Advisor Henry Kissinger and Hanoi's Le Duc Tho resume peace negotiations in Paris. After the South Vietnamese had blunted the massive North Vietnamese invasion launched in the spring of 1972, Kissinger and the North Vietnamese had finally made some progress on reaching a negotiated end to the war. However, a recalcitrant South Vietnamese President Nguyen Van Thieu had inserted several demands into to the negotiations that caused the North Vietnamese negotiators to walk out of the talks on December 13. President Richard Nixon issued an ultimatum to Hanoi to send its representatives back to the conference table within 72 hours "or else." The North Vietnamese rejected Nixon's demand and the president ordered Operation Linebacker II, a full-scale air campaign against the Hanoi area. On December 28, after 11 days of round-the-clock bombing (with the exception of a 36-hour break for Christmas), North Vietnamese officials agreed to return to the peace negotiations in Paris. When the negotiators returned on January 8, the peace talks moved along quickly. On January 23, 1973, the United States, North Vietnam, the Republic of Vietnam, and the Viet Cong signed a cease-fire agreement that took effect five days later.
1973 - A severe ice storm stuck Atlanta, GA. The storm paralyzed the city. Damage from the storm was estimated at $25 million. One to four inches of ice coated northern Georgia, leaving 300,000 people without electricity for up to a week.
1974 -Gold hits record $126.50 an ounce in London .
1979-- The United States advises the Shah to leave Iran.
1975 - Ella Grasso became the first woman to become a governor of a state without her husband preceding her, when she was elected as governor of Connecticut.
1976---Top Hits
Saturday Night - Bay City Rollers
I Write the Songs - Barry Manilow
Theme from Mahogany (Do You Know Where You're Going To) - Diana Ross
Convoy - C.W. McCall
1977 - Barbra Streisand's recording of Evergreen debuted on Billboard's popular record charts on this date, staying on the charts for 18 weeks, and was in the Number 1 spot for 3 weeks. The song, love theme from the movie A Star is Born, was later certified gold.
1982 -Johnny Cash Parkway opens in Hendersonville Tennessee
1982-- in the most significant antitrust suit since the breakup of Standard Oil American Telephone and Telegraph agreed to give up its 22 local Bell System companies ("Baby Bells"). These companies represented 80 percent of AT&T's assets. This ended the corporation's virtual monopoly on US telephone service. Many critics believe deregulation lead to higher prices and "baby bell" monopolies, plus others believe AT&T is stronger than ever.
1984-- The Seattle Seahawks reached the AFC title game for the first time in their history but were defeated by the Los Angeles Raiders, 30-14
1984---Top Hits
Say Say Say - Paul McCartney & Michael Jackson
Owner of a Lonely Heart - Yes
Twist of Fate - Olivia Newton-John
You Look So Good in Love - George Strait
1987-- The Dow-Jones Index of 30 major industrial stocks topped the 2,000 mark for the first time.
1988 - A winter storm spread heavy snow across the northeastern U.S., with up to ten inches reported in southern New Jersey.
1989--- "42nd Street," the second longest-running musical in Broadway history, closed after eight years and 3,486 performances seen by 10-million people. The show is second only to "A Chorus Line" in Broadway longevity. "42nd Street" was based on the 1933 movie starring Ruby Keeler, Dick Powell and Ginger Rogers. It told the tale of a chorus girl replacing an aging star who breaks her ankle just before opening night.
1989 - Strong northwesterly winds and bitterly cold temperatures prevailed in the north central U.S. Winds in the Great Lakes Region gusted to 58 mph at Chicago IL, and reached 63 mph at Niagara Falls NY. Squalls in western New York State produced 20 inches of snow at Barnes Corners and Lowville. Snow squalls in Upper Michigan produced 26 inches around Keweenaw.
1990 - High winds plagued the northwestern U.S., with the state of Oregon hardest hit. Two persons were killed in Oregon, and nine others were injured, and the high winds downed fifty-five million board feet of timber, valued at more than twenty million dollars. Winds gusted to 90 mph near Pinehurst ID, and wind gusts reached 96 mph at Stevenson WA.
1993-- Michael Jordan scored 35 points to lead the Chicago Bulls to a 120-95 win over the Milwaukee Bucks. the points gave Jordan exactly 20,000 in the 620th game of his career and made him the second fastest NBA player to reach that mark behind Wilt Chamberlain, who did it in 499 games. January 4, 2002, Jordan back after retirement, hit the 30,000 score mark.
1997--Texaco took action against David Keough, one of the executives surreptitiously caught on tape making racist jokes and admitting to destroying potentially incriminating documents. An assistant treasurer at Texaco's finance insurance subsidiary, Keough was fired after officials for the oil giant received the findings of independent counsel Michael Armstrong's investigation into the tape scandal. Keough's firing was just the latest chapter in Texaco's tape saga: earlier in 1996, the discovery of the tape had helped a group of 1,400 employees win a $175 million settlement in a racial discrimination suit brought against the company. That same year Richard Lundwall and Robert Ulrich, two of the other executives captured on the tape, stood trial on charges of conspiracy and obstruction of justice; Ludwall and Ulrich were acquitted of those charges in 1998.
2000 -- Trailing 16-15 with 16 seconds remaining, the Tennessee Titans stun the Buffalo Bills with a lateral pass on a kickoff return that turns into a 75-yard Kevin Dyson touchdown and a 22-16 Wild-Card victory that is called "The Music City Miracle.
--------------------------------------------------------------

American Football Poem
The Coach
by Poet deVine
The crowd is gone, the cheers have stopped,
and the equipment is stored away.
The team is standing on the field
because the coach is leaving today.
He led them through the hardest times,
and was proud the times they won.
But now the season's over and
his time as coach is done.
The team will go on without him,
will perform at the usual pace.
But though another coach comes in,
there'll be a void in this place.
Today when the field is emptied
and the team has met the test,
The coach can feel certain that
he will be remembered as simply the best.
--------------------------------------------------------------

SuDoku
The object is to insert the numbers in the boxes to satisfy only one condition: each row, column and 3x3 box must contain the digits 1 through 9 exactly once. What could be simpler?
http://leasingnews.org/Soduku/soduko-main.htm

--------------------------------------------------