Wednesday, July 26, 2009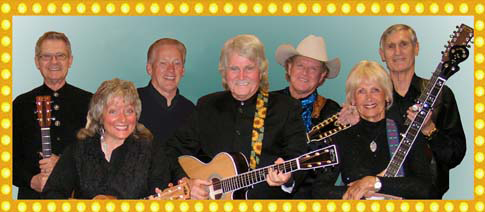 Singer, guitarist, folk musician Randy Sparks (center of photograph) born 29 July 1933 Leavenworth, Kansas, founder of the New Christy Minstrels, an American folk music group that came to prominence in the 1960s. This Land Is Your Land", "Green, Green", "Today" and "Ramblin'" They are still performing today.
http://www.imdb.com/name/nm0817029/
Headlines---
Classified Ads---Marketing
IFC Credit $150 Million Bankruptcy
by Christopher Menkin
Leasing News July "only" chronological list
Classified Ads---Help Wanted
Public Leasing Company Stock
MFLI-25 reports June business up compared to May
Sales make it Happen-by Steve Chriest
Building Customer Loyalty
Record Foreclosures
News Briefs----
Home sales rise as housing market tries a comeback
GE Expects Finance Arm Provisions to Peak by Mid-2010
BofA to shrink total number of branches by 10 pct
Verizon to cut 8,000 jobs
Advanta Says Defaults More Than Doubled
Consumer Confidence Slides For 2nd Consecutive Month
Paccar stock drops 7.3% as profit plunges 91.5%
Cruises slide in US as total rises in '08
You May have Missed---
Sports Brief---
California Nuts Brief---
"Gimme that Wine"
Today's Top Event in History
This Day in American History
Baseball Poem
SuDoku
Daily Puzzle
GasBuddy
Weather, USA or specific area
Traffic Live----
######## surrounding the article denotes it is a "press release"
--------------------------------------------------------------

Classified Ads---Marketing
Philadelphia/Wilmington, DE
Experienced new business development/marketing professional with expertise in document imaging leasing; Major Account and independent dealer channel activation a strength. Will travel/relocate.
susan0618@aol.com
Resume
For a full listing of all "job wanted" ads, please go to:
http://www.leasingnews.org/Classified/Jwanted/Jwanted.htm
To place a free "job wanted" Leasing News ad:
http://www.leasingnews.org/Classified/Jwanted/Jwanted-post.htm
--------------------------------------------------------------

IFC Credit $150 Million Bankruptcy
by Christopher Menkin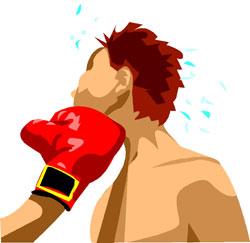 It is estimated there are over $150 million in claims involved in the IFC Credit, Morton Grove, Illinois voluntary Chapter 7 bankruptcy filed in Cook County, Northern District Judicial Court, Illinois on July 27, 2009. Banks to date are in it for $92 million listed, as well as unpaid NorVergence lessees from the FTC settlement for $1.95 million, and even Marcus Davin, Benchmark Financial Group, for the sale of Blue Dot, owed about $150,000, Askounis & Darcy, PC, $167,588 for NorVergence lease work (defenses case reduced by $8,081) and American Lease Insurance $13,103.78 in 31-60 days and $16,482 in 30 days (there goes the insurance on the leases!) Listed also are LSM Security Deposits totaling $724,013 due in the next five years payable to lessees, and many others as well as 193 vendors owed a total of $3.3 million.
Certainly there are other creditors to file and more to the story, especially since Coactive Capital claims fraud was committed by the two previous officers Rudy Trebels, CLP, and Marc Langs, CFO, as individuals. Perhaps others will make similar claims as the case unravels in bankruptcy court.
At one point, the net worth of IFC Credit was reported to be $9 million, but it was not disclosed here. Today it appears quite up-side down. The company was basically a middle-market broker company, which its founder Rudy Trebels, CLP, started out as, and is reportedly back at it today.
It also appears Len Ludwig, former CEO of First Portland Corporation dba First Corp. was seeking to take over, as he and his partner Arthur Levinson were partially secured, although his own company VenCore in Portland, Oregon, no longer seems to be active, so the staff would have to come from somewhere as most were gone the end of June (calls to VenCore for several days only found a voice message recorder). Leasing News was also told by a reliable source the great majority of employees were let go some time ago as the venture leasing market dried up.
As of July 27, all employees are going at IFC, including Pioneer Capital Corporation President John Boettigheimer. It appears that while it is assumed Pioneer was a separate corporation, it is part of this bankruptcy, but its corporation has not filed bankruptcy. Salary and other costs of administration checks were written out of Morton Grove. Pioneer was primarily treated as a marketing operation that did mail out commissions and vendor payments, but first received from Morton Grove. Leasing News is aware since last December its president fought to get out notices that leases were not being funded by Pioneer several times, but had to wait for clearance from Morton Grove, Illinois. He also would return brokers advance rentals and signed contracts knowing they would not be funded.
William Purcell signed the IFC Credit bankruptcy as president. It is not known if he is the same William Purcell who was President and Chief Executive Officer of U.S. Bancorp Equipment Finance, then became Chief Operating Officer at Aequitas Capital Management. He appears to have gotten involved with IFC at the request of Len Ludwig when Rudy Trebels, CLP, was fired along with Marc Langs.
IFC Bank Line Report:
West Suburban Bank, Lombard, Il. $15 million
Ben Franklin Bank of Illinois, Arlington Heights, IL $1 million
PPF Bank and Trust (no amount)
First National Bank McHenry, Richmond, IL $1 million
DZ Bank, New York, NY $75 million
Northside Community Bank, Niles, Il $2 million
First Chicago Bank and Trust, Chicago, IL $10 million
George Washington Savings Bank, Oakland Park (residual loans)
Albany Bank, Chicago, Il (no amount)
American Bank & Trust, Davenport, IA (no amount)
Lakeside Bank, Chicago, IL (no amount)
Parkway Bank, Harwood Heights, IL (no amount)
Signature Bank, Chicago $500,000
total: $92 million
Discount Sources: Portfolio
Coactive Capital Partners, Horsham, PA
Court Square/ Manufactures and Traders Trust
Lakeland Bank
USBC, Marshall, MN
Susequenna/Patriot, Pottsdown, PA
Commercial National Bank, Fullerton, Calif.
LEAF Financial, Philadelphia, PA
These companies are noted elsewhere in the filings on money owed, payments made such as Susquehanna where wire transfers were made of $55,000 a month and IFC stopped paying in June. There are court cases lost where payments were being paid, such as S.O.S. in Texas, remember $11,000 was owed and this is where the John Escot, CLP, holdback came up and IFC appealed it. Not counting the attorney fees, Leasing News estimated the cost to be over $125,000, perhaps $140,000 with attorney fees and court costs. The BK filing here proves this was a correct observation. IFC paid one payment $10,000 and S.O.S. was owed $100,000 payable at $15,000 a month, then $16,000 and final of $16,500 (not paid).
IFC Credit Bankruptcy Meeting of Creditors with 341(a) to be held on 09/02/2009 at 12:30 PM at 219 South Dearborn, Office of the U.S. Trustee, 8th Floor, Room 800, Chicago, Illinois 60604.
Copy of Filing (72 pages/2.2mb download)
http://leasingnews.org/PDF/IFC%20BK%20filing.pdf
U.S. Bankruptcy Court
Northern District of Illinois (Chicago)
Bankruptcy Petition #: 09-27094
Assigned to: Jacqueline P. Cox
Chapter 7
Voluntary
No asset
Date filed: 07/27/2009
U.S.Trustee
David P Leibowitz, ESQ
Leibowitz Law Center
420 Clayton Street
Waukegan, IL 60085-4232
847-249-9100
U.S. Trustee
William T Neary
Office of the U.S. Trustee, Region 11
219 S Dearborn St
Room 873
Chicago, IL 60604
312-886-5785
IFC represented by: Cindy Johnson Johnson & Newby, LLC 39 S. LaSalle Street Suite 820 Chicago, IL 60603 312 345-1306 Ext. 101 Email: cjohnson@jnlegal.net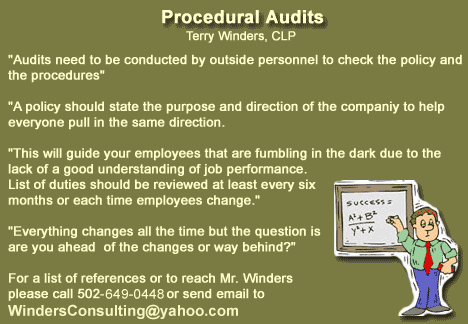 (This ad is a "trade" for the writing of this column. Opinions
contained in the column are those of Mr. Terry Winders, CLP)
--------------------------------------------------------------

Leasing News July "only" chronological list
--- Mergers, Acquisitions & Changes "The Good, the Bad and the Ugly"-
The full history of the company is available in both the "Alphabetical" and "Chronological" list located on the Leasing News Web Site: http://www.leasingnews.org/list.htm
Commercial Money Center, Southern California (06/09) Two principals plead guilty to tax invasion: http://leasingnews.org/Pages/70_bank_fraud.htm
IFC Credit, Morton Grove, Morton Grove, Illinois (06/09) Major suit surfaces from Len Ludwig, CEO of Vencore, regarding stock lien held from sale of First Portland Corporation dba First Corp.; appears payments stopped in January; looks like IFC closing down.
Balboa Capital, Irvine, California (06/09) another Bulletin Board Complaint about residual: http://www.leasingnews.org/archives/June%202009/06-15-09.htm#bulletin
Heritage Pacific Leasing, Fresno, CA. (06/09) FBI seize Otto jet, Aston Martin, other material from Palm Desert and Fresno, California offices (06/09) Ben Millerbis, CEO, Pentech, says error of selling back leases was to Heritage Pacific, not HL Leasing (06/09) Letter to HL Leasing investors by Otto very catches him in many lies.
Country Leasing, Bloomington, Illinois. Country Leasing, part of COUNTRY Financial, will discontinue new public leasing sales on Aug. 1, 2009. Six sales employees will be displaced
Vision Capital, Southern California (06/09) Larry Turner announces he and his partners Manny Montanez and Gil Evans closing down shop, he is going to work for Pacific Capital.
"The List" is available by alphabet, to look up a company:
http://www.leasingnews.org/list_alpha_new.htm

"The List" is also available in chronological order by month,
going back to 1998.
http://www.leasingnews.org/list_chron_new.htm
--------------------------------------------------------------

Classified Ads---Help Wanted
Regional Sales Managers:
Southern California, Texas, Illinois, Florida, Georgia.
2+ years outside leasing/finance sales exp. closing deals. Estab. customer base/ or vendors a plus. Top commission.
Relationship Manager/Sales Associate:
Lake Success, New York
Process daily sales activities. Excellent written/verbal skills required. Previous industry experience not required although a plus

Please submit your resume for confidential review to: ekaye@advantagefunding.us or fax to 718 392 5427.
Advantage Funding, a leading national commercial vehicle and transportation equipment leasing and finance company seeks an . Our financing products are offered to new and existing relationships in the commercial coach, limousine, school bus, paratransit, funeral car, minibus and transportation industries.
--------------------------------------------------------------

Public Leasing Company Stock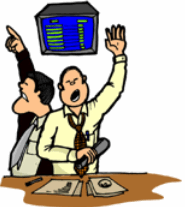 These are major leasing companies on the stock exchange. There are some others owned by banks overseas that are public, but not included here, as well as banks in the larger ticket marketplace, such as Bank of America.
These companies are basically in the small to middle-market (Microfinancial is "micro-market" as they go down to $500.) American Capital is the holding company of Financial Pacific and their performance does not appear to affect the leasing entity and LEAF is part of Resource America, more in the real estate management and related businesses.)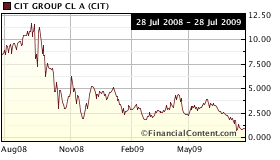 CIT
Last Trade: 0.80
Open: 0.81
Day's Range: 0.76 - 0.85
52wk Range: 0.31 - 13.00
Volume: 41,666,421
Avg Vol (3m): 51,535,100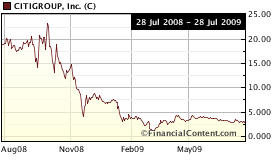 Citigroup
Last Trade: 2.97
Open: 2.72
Day's Range: 2.67 - 3.05
52wk Range: 0.97 - 23.50
Volume: 1,036,216,741
Avg Vol (3m): 278,199,000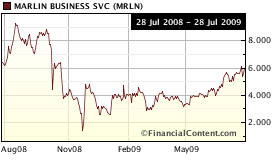 Marlin
Last Trade: 5.98
Open: 5.99
Bid: 5.48 x 100
Day's Range: 5.98 - 6.01
52wk Range: 1.19 - 9.33
Volume: 13,777
Avg Vol (3m): 12,167.2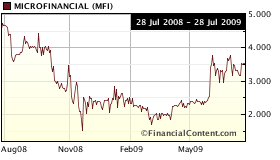 Microfinancial
Last Trade: 3.45
Open: 3.49
Day's Range: 3.45 - 3.49
52wk Range: 1.50 - 4.93
Volume: 302
Avg Vol (3m): 6,643.75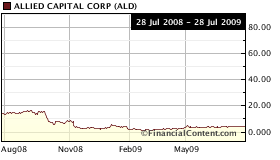 Allied Capital
(holding company: Financial Pacific)
Last Trade: 3.80
Open: 3.77
Day's Range: 3.71 - 3.96
52wk Range: 0.58 - 16.22
Volume: 1,106,602
Avg Vol (3m): 2,502,690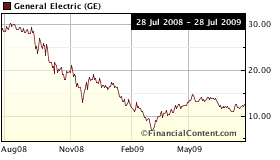 GE
Last Trade: 12.52
Open: 12.25
Day's Range: 12.18 - 12.70
52wk Range: 5.87 - 30.39
Volume: 105,460,181
Avg Vol (3m): 91,606,500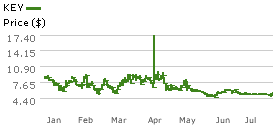 Key
Last Trade: 5.25
Prev Close: 5.55
Open: 5.49
Day's Range: 5.20 - 5.58
52wk Range: 4.40 - 17.30
Volume: 36,084,588
Avg Vol (3m): 29,262,500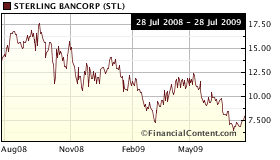 Sterling Bank (Sterling Leasing)
Last Trade: 7.99
Prev Close: 7.85
Open: 7.85
Day's Range: 7.85 - 8.25
52wk Range: 6.27 - 18.64
Volume: 135,198
Avg Vol (3m): 128,328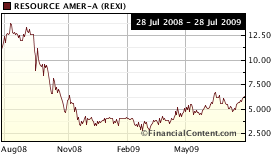 Resource America (LEAF)
Last Trade: 6.20
Prev Close: 6.18
Open: 6.18
Bid: 5.12 x 400
Day's Range: 5.95 - 6.21
52wk Range: 2.40 - 13.68
Volume: 10,916
Avg Vol (3m): 33,462.5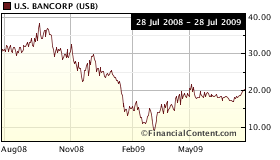 US Bank (Manifest
Last Trade: 19.95
Prev Close: 20.07
Open: 19.78
Day's Range: 19.51 - 20.25
52wk Range: 8.06 - 42.23
Volume: 15,980,286
Avg Vol (3m): 28,413,800
Market Cap: 38.14B
--------------------------------------------------------------

ELFA MFLI-25 reports June business up compared to May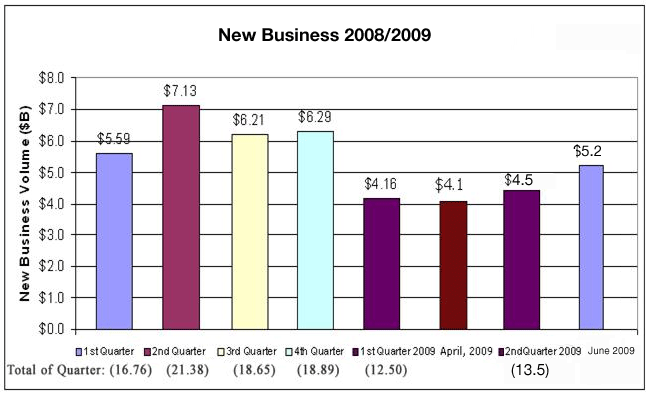 (Leasing News chart)
In a quarterly basis, there was not as noticeable an up-turn as noted from Month-to-month new business volume where it increased 24 percent from May to June, from $4.2 billion to $5.2 billion, according to the Equipment Leasing and Finance Association's (ELFA) Monthly Leasing and Finance Index (MLFI-25).

(Click for larger version) (ELFA chart)
Comparing June, 2009 to to June, 2008, there was a 37 percent decline.

(Click for larger version) (ELFA chart)
Credit approvals decreased to 65.4 percent from 66.3 percent in May, and from 74.0 percent in June 2008.
According to ELFA, "Fifty-five percent of participant companies reported that fewer transactions were submitted for approval during the month, due to tightening underwriting standards and lower demand.

(Click for larger version) (ELFA Chart)
Charge-offs increased to 2.44 percent from 1.74 percent in the prior month, and more than doubled from June 2008.

(Click for larger version) (ELFA Chart)
The MLFI-25 reported receivables over 30 days decreased to 4.1 percent as compared to 4.7 percent in May. However, June delinquencies increased 100 basis points from the year-earlier reporting period.
The MLFI-25 report also stated: "Total headcount for equipment finance companies was virtually flat in the May-June period."
ELFA MLFI-25 Participants
ADP Credit Corporation
Bank of America
Bank of the West
Canon Financial Services
Caterpillar Financial Services Corporation
CIT
De Lage Landen Financial Services
Dell Financial Services
Fifth Third Bank
First American Equipment Finance
GreatAmerica
Hitachi Credit America
HP Financial Services
John Deere Credit Corporation
Key Equipment Finance
Marlin Leasing Corporation
National City Commercial Corp.
RBS Asset Finance
Regions Equipment Finance
Siemens Financial Services
Susquehanna Commercial Finance, Inc.
US Bancorp
Tygris Vendor Finance
Verizon Capital Corp
Volvo Financial Services
Wells Fargo Equipment Finance
(Note: Many of these companies above reported losses or much lower sales, earnings, high write-offs in the Secord quarter, according to their public reports. CIT also has gone from 7,500 to 4,800 employees, the latest count by CIT spokesperson Curt Ritter. Marlin, Key, US Bancorp, and others on the list also reported not only a drop in commercial leases, but in employment. Editor)
--------------------------------------------------------------

Sales Make it Happen
by Steve Chriest
Building Customer Loyalty
Building and promoting customer loyalty in highly competitive industries, like equipment financing, is no walk in the park. What worked yesterday, from advertising to the strength of personal relationships, is no longer sufficient in gaining customer loyalty.
First, we need get real about the current perception of loyalty in business. Employees no longer expect or want to remain employed by one company for their entire careers, and employers manage their enterprises expecting an ever increasing annual churn in their personnel.
So, maybe working for a company for three or four years, or retaining employees for a like period of time, is, for many employees and companies, "success" in today's world. Someone recently said, "I'd rather have a star performer for three or four years than an underperformer for a career!" Maybe we should view customers through the same lens. Few would disagree that it would be better to have a short-term, profitable customer than a long-term, unprofitable one.
Even though customer loyalty may last only a few short years, the same components drive loyalty today as they did in the past. Consistency, predictability, and reliability all contribute to customer loyalty. When your customers can predict with confidence that they can rely on you for consistent delivery of excellent service, they are less likely to jump onto the ship of another supplier or provider. Unless another supplier provides dramatically lower costs or pricing, why would loyal customers abandon certainty for uncertainty?
While consistency, predictability and reliability are contributors to customer loyalty, there is something else you can do to sustain loyalty for as long as possible. You can become a "knowledge broker." Do you have specialized knowledge, perhaps a unique perspective you can share with your customers? Could this knowledge or perspective make your customers smarter? Could they leverage this knowledge to satisfy business or personal wants or needs?
No one wants to lose directions to the location of a valuable oracle. Once you are perceived as a knowledge broker by your customers, instead of a salesperson who simply runs with the herd, your customers are not likely to abandon you without some compelling reason. Customer loyalty may not be as long-lived today as in the past, but it is still a worthwhile pursuit for the professional salesperson.
About the author: Steve Chriest is the founder of Selling UpTM (www.selling-up.com), a sales consulting firm specializing in sales improvement for organizations of all types and sizes in a variety of industries. He is also the author of Selling The E-Suite, The Proven System For Reaching and Selling Senior Executives and Five Minute Financial Analyst, Basic CREDIT & Analysis Tools for Non-Accountants. You can reach Steve at schriest@selling-up.com.
Sales Makes it Happen articles:
http://www.leasingnews.org/Legacy/index.html

--------------------------------------------------------------

Record Foreclosures
By Jennifer Harmon
ABSNet
IRVINE, CA-In spite of the industry wide moratorium earlier this year, along with local, state and national legislative action and increased levels of loan modification activity, foreclosure activity continues to increase to record levels.
A total of 1.9 million foreclosure filings were reported on more than 1.5 million U.S. properties in the first six months of 2009, a 9% increase from the previous six months and a nearly 15% increase from the first six months of 2008, according to RealtyTrac's Midyear 2009 U.S. Foreclosure Market Report.
Foreclosures that are related to unemployment account for much of this increased activity, said James Saccacio, the company's chief executive officer here.
"The high number of borrowers who find themselves owing more on their mortgages than their homes are now worth represent a potentially significant future risk," said Mr. Saccacio.
"Stemming the tide of foreclosures is a critical component to stabilizing the housing market, so it is imperative that the lending industry and the government work in tandem to find new approaches to address this issue."
In June, filings were reported on 336,173 properties, the fourth straight monthly total exceeding 300,000. For the second quarter, 889,829 properties saw filings, an increase of nearly 11% from the previous quarter and a 20% increase from the second quarter of 2008.
Nevada posted the country's highest foreclosure rate with a total of 68,708 properties receiving a filing from January to June, an increase of 23% from the previous six months and up 61% from the first half of 2008.
Arizona registered the nation's second highest state foreclosure rate in the first half of 2009, with 3.37% of its housing units (one in 30) receiving at least one filing, and Florida registered the nation's third highest rate, with 3.08% of its housing units (one in 33) receiving at least one filing.
Other states with foreclosure rates ranking among the nation's 10 highest were California (2.94%), Utah (1.46%), Georgia (1.42%), Michigan (1.34%), Illinois (1.31%), Idaho (1.26%) and Colorado (1.25%).
A total of 391,611 California properties received a filing in the first half of 2009, the nation's highest foreclosure total. The state's foreclosure activity in the first half increased nearly 14% from the previous six months and increased nearly 15% from the first half of 2008.
With 268,064 properties receiving a filing in the first six months of 2009, Florida documented the second highest state total. Florida foreclosure activity in the first half increased 7% from the previous six months and was up nearly 42% from a year ago.
Arizona's 89,799 properties receiving a foreclosure filing in the first six months of 2009 was the third highest state total. Activity in Arizona in the first half increased 13% from the previous six months and was up nearly 55% from the first half of 2008.
Other states with totals among the 10 highest in the country were Illinois (68,932), Michigan (60,786), Ohio (58,937), Georgia (56,391), Texas (49,144) and Virginia (28,368).
A service of YellowBrix, Inc.
-------------------------------------------------------------

News Briefs----
Home sales rise as housing market tries a comeback
http://www.mercurynews.com/business/ci_12924681?nclick_check=1
GE Expects Finance Arm Provisions to Peak by Mid-2010
http://online.wsj.com/article/BT-CO-20090728-712044.html
BofA to shrink total number of branches by 10 pct
http://www.chicagotribune.com/business/chi-biz-bank-of-america-branches-july28,0,1968755.story
Verizon to cut 8,000 jobs
http://www.upi.com/Business_News/2009/07/28/Verizon-to-cut-8000-jobs/UPI-29331248806335
Advanta Says Defaults More Than Doubled
http://www.creditcollectionsworld.com/article.html?id=200907289QC1D322&from=creditandcollectionnews
Consumer Confidence Slides For Second Consecutive Month
http://www.creditcollectionsworld.com/article.html?id=20090728IYZKB1DX&from=creditandcollectionnews
Paccar stock drops 7.3% as profit plunges 91.5%
http://seattletimes.nwsource.com/html/businesstechnology/2009553125_webpaccar28.html
Cruises slide in US as total rises in '08
http://www3.signonsandiego.com/stories/2009/jul/28/us-cruises-slowed-growth-072809/?business&zIndex=139980
---------------------------------------------------------------

You May have Missed---
Credit card debt rises faster for those 65 and older
http://www.usatoday.com/money/perfi/credit/2009-07-27-credit-card-debt-seniors_N.htm
----------------------------------------------------------------

Sports Briefs----
Chicago White Sox starter retires 45 straight before Minnesota Twins get to him
http://www.chicagotribune.com/sports/baseball/whitesox/chi-29-white-sox-twins-chicago-jul29,0,987876.story
Brett Favre tells Vikings he's staying retired
http://www.usatoday.com/sports/football/nfl/2009-07-28-favre-retirement_N.htm
In Michael Vick sweepstakes, no NFL teams emerge as buyers yet
http://www.usatoday.com/sports/football/nfl/2009-07-28-vick-sweepstakes_N.htm
Dallas Cowboy pre-training video conference
http://www.dallasnews.com/video/dallasnews/hp/index.html?nvid=384295
49ers have promises to keep
http://www.contracostatimes.com/news/ci_12933914?nclick_check=1
----------------------------------------------------------------


California Nuts Briefs---
Governor signs $84.5 billion spending plan
http://www.sfgate.com/cgi-bin/article.cgi?f=/c/a/2009/07/28/MN3N190BSI.DTL
----------------------------------------------------------------


"Gimme that Wine"
"Brutal" describes wine business in California-Eric Asimov
http://www.nytimes.com/2009/07/29/dining/29pour.html?ref=dining
California winemakers fall for Mourvedre
http://www.sfgate.com/cgi-bin/article.cgi?f=/c/a/2009/07/24/FD9018S6OI.DTL&type=wine
Boxed wines may be worth a look (Oh, boy!)
http://abclocal.go.com/wls/story?section=news/consumer&id=6935099
Wine Prices by vintage
http://www.winezap.com
http://www.wine-searcher.com/
US/International Wine Events
http://www.localwineevents.com/
Winery Atlas
http://www.carterhouse.com/atlas/\
Leasing News Wine & Spirits Page
http://two.leasingnews.org/Recommendations/wnensprts.htm
The London International Vintners Exchange (Liv-ex) is an electronic exchange for fine wine.
http://www.liv-ex.com/
----------------------------------------------------------------

Today's Top Event in History
1957 - Jack Paar began a successful five-year run as host of the "Tonight" show on NBC-TV, changing its name to "The Jack Paar Show". Jack Paar came to NBC from CBS where he had been a game and talk-show host. Paar's forte was interviewing. He would get so involved with his guests and their stories that he would not only laugh with them, but would sometimes, even cry. Paar's emotional outbursts, whether they involved an interviewee, a personal crusade or a feud with the likes of Ed Sullivan or Dorothy Kilgallen, became the major attraction of the show. Jose Melis and his orchestra stayed with Paar through the years as did his sidekick and announcer, Hugh Downs. The very first show had as guests Alexander King, singer Robert Merrill, and funnyman Buddy Hackett. King and Hackett became regulars over the years just as Jack Paar became a regular in our bedrooms every weekday night until March 30, 1962.
[headlines]
----------------------------------------------------------------

This Day in American History
1603 - Bartholomew Gilbert was killed in the colony of Virginia by Indians, during a search for the missing Roanoke colonists.
1776 - Silvestre de Escalante and Francisco Dominguez, two Spanish Franciscan priests, leave Santa Fe for an epic journey through the Southwest. Escalante and Dominguez hoped to blaze a trail from New Mexico to Monterey, California, but their main goal was to visit with the native inhabitants and convert as many as possible to the Catholic faith. Traveling through high mountain passes, Escalante and Dominguez began to encounter fierce snowstorms. Accustomed to desert living, the priests were unequipped to deal with snow and bitter cold, and they soon ran short of provisions. They abandoned the goal of reaching California and headed back for Santa Fe. During the long journey home, they very nearly starved to death. The men ate their horses first. When the horseflesh was gone, they ate only prickly pear cactus. On January 2, 1777, the exhausted men staggered into Santa Fe. They had traveled nearly 1,700 miles in just 159 days through some of the roughest country in the southwest, yet all nine members of the party made it home safely. Escalante's written account of the expedition became an essential guide to future explorers.
1810-The third U.S. Census recorded a population of 7,239,881, an increase of 1,931,398 over 1800. Black population rose by 481,361 to 1,378,110. Of this total, 186,746 were "free citizens," a group omitted in the 1800 census. The center of population moved to a point 40 mils northwest of Washington , D.C.
1846 - Sailors and Marines from U.S. sloop Cyane capture San Diego, CA.
1848-Harris Treaty with Japan , opening commerce while the Japanese
objected and wanted to remain "isolationist."
( lower half of: http://memory.loc.gov/ammem/today/jul29.html )
1849-Mass meeting at Rose's Bar on the Yuba River about Col. Thomas Jefferson Green's slaves working in the gold fields. A resolution was passed that said "that no slave or negro should own claims or even work in the mines." The meeting demanded that the slaves be gone by the next morning.
1864-Both the Democratic and Republican Convention were looming ahead. The presidential election while the Civil War was being fought posed special problems. in the North, there was considerable dissatisfaction with the progress being made in defeating the Confederacy, so President Abraham Lincoln did not think his chances of reelection were good. The Democrats were split between those who supported the war and those who wanted peace at almost any price. The Democratic nominee was General George B. McClellan, commander of the Union Army, who had let several opportunities for victory slip away. The Democratic platform called for peace through reunification of the states, but did not say how this was to be done. Fortunately for Lincoln and the Republicans, several important military victories perhaps influenced the outcome, such as the Battle of Mobile Bay in August, Sherman taking Atlanta , GA in September, and General
Sheridans significant victory in October (famous at the time become the poem," Sheridan 's Ride" by Thomas Buchanan, which dramatized the general's return to the field. Lincoln beat McClellan with 212 electoral votes to his 21, popular vote 2,216,067 to McClellan, 18,808, 725, as key states all went to Lincoln . General Sherman in November marched to the sea with 62,000 men, destroying everything useful to the Confederates and raving the countryside. The South was cut in two. In less than six months, General Lee would surrender to General Grant and the ware was virtually ended. Five days later President Lincoln was assassinated. Andrew Johnson became president.
1870- Road pavement of sheet asphalt was laid on William Street , Newark , NJ by Professor Edward Joseph De Smedt of the American Asphalt Pavement Company, New York City . It was known as French asphalt pavement.
1887-Birthday of Timothy James (Tim) Mara, Po Football Hall of Fame executive born at New York , NY . Marra was a successful bookmaker who bought the New York franchise in NFL in 1925 for $500. His team, the Giants became one of the most successful in the league, withstanding challenges from early American Football Leagues; the All-America Football Conference of the late 1940's and the New York Jets of the AFL of the 1960s. Inducted into the Pro Football Hall of Fame as a charter member in 1963. Died at New York , Feb. 16, 1959.
1895-First National Convention of Black Women held in Boston , MA.
1898 - The temperature at Prineville , OR , soared to 119 degrees to establish a state record, which was tied on the 10th of August at Pendleton.
1900-Birthday of arranger/band leader Don Redman, Piedmont , West Virginia .
http://www.redhotjazz.com/redman.html
1909-Birthday of Bernard Mackey ( Ink Spots ), Indianapolis , IN
http://www.inkspots.ca/
http://inkspots.ca/ispress2.htm
1907-Birthday of the "King of Torts," a friend of mine when
I lived in San Francisco -he would always let you buy him a drink,
Melvin Belli, born Sonora Calif. Died, July 9,1996 , San Francisco http://www.bellilaw.com/company.htm
http://us.imdb.com/Name?Belli,+Melvin
http://www.bwg-law.com/belli.html
http://www.mistersf.com/farewell/fwbelli.htm
http://www.amazon.com/exec/obidos/search-handle-url/index=books&field-author=Belli%2C%20Melvin%20M./103-2358920-6763062 http://smart90.com/melvinbelli#movies
http://www.law.harvard.edu/studorgs/forum/Belli.html
1915- US marines land in Haiti , stay until 1924 http://www.gliah.uh.edu/database/article_display.cfm?HHID=193
1916-July 29, Charlie Christian Birthday
http://www.duke.edu/~asr2/charlie.html
http://www.gould68.freeserve.co.uk/charliec.html
1920 -First transcontinental airmail flight from New York .
1926—Birthday of great bowler Don Carter, St. Louis , MO.
http://memory.loc.gov/ammem/today/jul29.html
1928-Walt Disney's "Steamboat Willie" is released
1930 -115ø F (46ø C), Holly Springs , Mississippi (state record)
1932-Birthday of Nancy Landon Kassenbaum, U. S. Senator from Kansas 1979-1996 and daughter of Alf Landon, the 1936 Republican nominee for president. Although a much-admired fiscal conservative, when she became chair of the Senate Labor and Education Committee in 1994, she admitted paying only $5,075 in taxes on an income of $92,000 and refused to show her tax return. She did not seek reelection. Soon after she left office she married a Republican former cabinet member under the Nixon administration Baker. She was appointed head of a committee to study the training of women following the sexual harassment scandals and recommended separate training facilities rather than insisting on men behaving. Predictably she came down on the side of separate training for men and women, a proposal that was ignored.
1932 - The Great Depression sent poverty-stricken Americans scrambling for any available source of income. Veterans of World War I certainly felt pinched, and cast about for ways to haul in cash, but, unlike Americans who hadn't fought in the war, the veterans seemingly had a solution: in the wake of the war, the government had promised to hand out handsome cash bonuses to all servicemen. The catch was the bonuses were to be paid out in 1945. In dire need of money, veterans called on legislators during the spring and summer of 1932 to speed up payment of the bonuses. President Herbert Hoover ordered the ousting of the vets who had decamped in government quarters. When the eviction proceedings turned ugly, and two veterans were killed, Hoover called on the army to disperse the remaining Bonus protesters. General Douglas MacArthur, and his young assistant Dwight Eisenhower, marshaled troops, tanks and tear gas in their war to send the stragglers home. Duly persuaded by this gross show of force, the remaining members of the Bonus Army headed home on July 29, 1932.
1936-Birthday of Elizabeth Hanford "Liddy" Dole, now a US Senator from
her home state. She married the chairman of the Republican party, U.S. Senator Bob Dole in 1975. She was appointed to head President Reagan's public liaison office, then was appointed U.S. Secretary of Transportation 1983-87, admittedly to answer the gender-gap problem Reagan faced for not appointing women to important positions in his administration. She was moved to head the Department of Labor 1989-90 by President Bush. In 1991 Bush appointed her the president of the American Red Cross. She ran for the presidential nomination but withdrew before the convention.
1944--WHITTINGTON, HULON B. Medal of Honor Rank and organization: Sergeant, U.S. Army, 41st Armored Infantry 2d Armored Division. Place and date: Near Grimesnil, France, 29 July 1944. Entered service at: Bastrop, La. Born: 9 July 1921, Bogalusa, La. G.O. No.: 32, 23 April 1945. Citation: For conspicuous gallantry and intrepidity at the risk of life above and beyond the call of duty. On the night of 29 July 1944, near Grimesnil, France, during an enemy armored attack, Sgt. Whittington, a squad leader, assumed command of his platoon when the platoon leader and platoon sergeant became missing in action. He reorganized the defense and, under fire, courageously crawled between gun positions to check the actions of his men. When the advancing enemy attempted to penetrate a roadblock, Sgt. Whittington, completely disregarding intense enemy action, mounted a tank and by shouting through the turret, directed it into position to fire pointblank at the leading Mark V German tank. The destruction of this vehicle blocked all movement of the remaining enemy column consisting of over 100 vehicles of a Panzer unit. The blocked vehicles were then destroyed by handgrenades, bazooka, tank, and artillery fire and large numbers of enemy personnel were wiped out by a bold and resolute bayonet charge inspired by Sgt. Whittington. When the medical aid man had become a casualty, Sgt. Whittington personally administered first aid to his wounded men. The dynamic leadership, the inspiring example, and the dauntless courage of Sgt. Whittington, above and beyond the call of duty, are in keeping with the highest traditions of the military service.
1945 - Japanese warships sink the American cruiser Indianapolis, killing 883 seamen in the worst loss in the history of the U.S. navy. As a prelude to a proposed invasion of the Japanese mainland, scheduled for November 1, U.S. forces bombed the Japanese home islands from sea and air, as well as blowing Japanese warships out of the water. The end was near for Imperial Japan, but it was determined to go down fighting. Just before midnight of the 29th, the Indianapolis, an American cruiser that was the flagship of the Fifth Fleet, was on its way, unescorted, to Guam, then Okinawa. It never made it. It was torpedoed by a Japanese submarine. Interestingly, the sub was commanded by a lieutenant who had also participated in the Pearl Harbor invasion. There were 1,196 crewmen onboard the Indianapolis; over 350 died upon impact of the torpedo or went down with the ship. More than 800 fell into the Pacific. Of those, approximately 50 died that first night in the water from injuries suffered in the torpedo explosion; the remaining seamen were left to flounder in the Pacific, fend off sharks, drink sea water (which drove some insane), and wait to be rescued. Because there was no time for a distress signal before the Indianapolis went down, it was 84 hours before help arrived. This was despite the fact that American naval headquarters had intercepted a message on July 30 from the Japanese sub commander responsible for sinking the Indianapolis, describing the type of ship sunk and its location. (The Americans assumed it was an exaggerated boast and didn't bother to follow up.) Only 318 survived; the rest were eaten by sharks or drowned. The Indianapolis's commander, Captain Charles McVay, was the only officer ever to be court-martialed for the loss of a ship during wartime in the history of the U.S. Navy. Had the attack happened only three days earlier, the Indianapolis would have been sunk carrying special cargo-the atom bomb, which it delivered to Tinian Island, northeast of Guam, for scientists to assemble.
1946-MAYFIELD, MELVIN Medal of Honor Rank and organization: Corporal, U.S. Army, Company D, 20th Infantry, 6th Infantry Division. Place and date: Cordillera Mountains, Luzon, Philippine Islands, 29 July 1945. Entered service at: Nashport, Ohio. Birth: Salem, W. Va. G.O. No.: 49, 31 May 1946. Citation: He displayed conspicuous gallantry and intrepidity above and beyond the call of duty while fighting in the Cordillera Mountains of Luzon, Philippine Islands. When 2 Filipino companies were pinned down under a torrent of enemy fire that converged on them from a circular ridge commanding their position, Cpl. Mayfield, in a gallant single-handed effort to aid them, rushed from shell hole to shell hole until he reached 4 enemy caves atop the barren fire-swept hill. With grenades and his carbine, he assaulted each of the caves while enemy fire pounded about him. However, before he annihilated the last hostile redoubt, a machinegun bullet destroyed his weapon and slashed his left hand. Disregarding his wound, he secured more grenades and dauntlessly charged again into the face of pointblank fire to help destroy a hostile observation post. By his gallant determination and heroic leadership, Cpl. Mayfield inspired the men to eliminate all remaining pockets of resistance in the area and to press the advance against the enemy
1945-birthday of guitarist Joe Beck, Philadelphia , PA. http://www.joebeckmusic.com/meetjb.htm
1945- After delivering the atomic bomb to Tinian Island , the American cruiser " Indianapolis " was headed for Okinawa to train for the pending invasion of Japan when it was torpedoed by a Japanese submarine. The war was going hot and heavy and there were no indications that Japan would surrender and fight until the end for their Emperor. Of the 1,196 crew members of the Indianapolis , more than 350 were immediately killed in the explosion or went down with the ship. There were no rescue ships nearby, and most of those fortunate enough to survive endured the next 84 hours in ocean waters. By the time they were spotted by air on August 2 nd , only 318 sailors remained alive, 528 sailors either drowned or were eaten by the sharks. 878 sailors lost their lives, the US Navy's worst loss at sea.
1946---Top Hits
They Say It's Wonderful - Frank Sinatra
The Gypsy - The Ink Spots
Surrender - Perry Como
New Spanish Two Step - Bob Wills
1954-Birthday of 1954, Flo Hyman - U.S. athlete who through her sparkling play single-handedly volleyball from obscurity to international competition. An Afro-American who stood six feet, five inches tall, FH passed on years of her college eligibility to play with the U.S. national team and won the silver runner-up medal in the 1984 Olympics. She turned pro to play in Japan and collapsed and died during a game in 1986, the victim of undiagnosed Marfan's syndrome - a genetic heart disorder that was little understood at the time. Her death advanced the interest in the disease, and early diagnosis and treatment is almost certain today.
1954---Top Hits
Sh-Boom - The Crew Cuts
If You Love Me (Really Love Me) - Kay Starr
The Little Shoemaker - The Gaylords
Even Tho - Webb Pierce
1956-- Bruce Springsteen's wife, E Street Band guitarist and vocalist Patty Scialia celebrates a birthday
1957 - Jack Paar began a successful five-year run as host of the "Tonight" show on NBC-TV, changing its name to "The Jack Paar Show". Jack Paar came to NBC from CBS where he had been a game and talk-show host. Paar's forte was interviewing. He would get so involved with his guests and their stories that he would not only laugh with them, but would sometimes, even cry. Paar's emotional outbursts, whether they involved an interviewee, a personal crusade or a feud with the likes of Ed Sullivan or Dorothy Kilgallen, became the major attraction of the show. Jose Melis and his orchestra stayed with Paar through the years as did his sidekick and announcer, Hugh Downs. The very first show had as guests Alexander King, singer Robert Merrill, and funnyman Buddy Hackett. King and Hackett became regulars over the years just as Jack Paar became a regular in our bedrooms every weekday night until March 30, 1962.
1958- President Eisenhower signed a bill creating the National Aeronautics and Space Administration to direct US space policy.
1963-Peter, Paul and Mary's version of Bob Dylan's "Blowin' In The Wind" is released. It will enter the Hot 100 two weeks later on its way to #2.
1967-An edited version of The Doors' "Light My Fire" reaches number one in the US. Eventually, many radio stations would start playing the full six minute and fifty second album cut, which features a longer instrumental break.
1973-Birthday of Wanya Morris of BoyzIIMen, Philadlephia , PA.
1959-The first "Jetway" was installed at San Francisco International airport. http://www.geocities.com/boyziimenforever/index.html
It was a self-powered telescopic corridor that extended from 44 to 107 feet and swung into place to connect the terminal with aircraft, to protect passengers from wind and weather as they boarded or disembarked. the jetway could be extended from the terminal building to the aircraft door in less than 60 seconds. Work was also going on to expand the airport, which is still going on today.
1962---Top Hits
Roses are Red - Bobby Vinton
The Wah Watusi - The Orlons
Sealed with a Kiss - Brian Hyland
Wolverton Mountain - Claude King
1967- The Temptations' "You're My Everything" is released.
1970-Six days of race rioting in Hartford , Ct.
http://www.hartford-hwp.com/HBHP/exhibit/04/2.html
1970---Top Hits
(They Long to Be) Close to You - Carpenters
Band of Gold - Freda Payne
Make It with You - Bread
Wonder Could I Live There Anymore - Charley Pride
1972-Gilbert O'Sullivan started a 5 week run at #1 on the US singles chart with "Alone Again (Naturally)". The follow-up, "Clair" would reach #2 the following November.
1974-Second impeachment vote against Nixon by the House Judiciary Committee
1974- St Louis Card Lou Brock steals his 700th base
1974 - Jim Hartz was named to join Barbara Walters as co-host of the "Today" show on NBC. Hartz had been the original host of the popular morning TV show. Others who have hosted the show which has aired since 1952 include Dave Garroway, John Chancellor, Hugh Downs, Frank McGee, Tom Brokaw, Bryant Gumbel, Katie Couric and Matt Lauer.
1978- The first football game in which referees were allowed to check television instant replays was the Hall of Fame game played this day in 1978 at Canton , OH , when the Philadelphia Eagles defeated the Miami Dolphins 17-3. The game was telecast on Channel 7.
1978- Earth, Wind & Fire enter the soul chart with their version of the Beatles "Got to Get You into My Life," from the "Sgt. Pepper" soundtrack. It makes it to number one for a week in September.
1978- Kenny Loggins "Whenever I Call You Friend" is released
1978---Top Hits
Shadow Dancing - Andy Gibb
Baker Street - Gerry Rafferty
Miss You - The Rolling Stones
Only One Love in My Life - Ronnie Milsap
1981 - Millions of people around the world watched on television as England 's Prince Charles and Lady Diana Spencer took center stage amidst the pomp and splendor of their royal wedding at St. Paul 's Cathedral in London . The ceremony took place in the wee small hours of the morning in America , but was still a ratings success, with coverage on all networks. 2,500 guests were in actual attendance. 1985 - Spring Hill , Tennessee was selected as the new home of the Saturn automobile assembly plant. General Motors announced that it expected to produce up to 500,000 Saturns a year beginning in 1989. Some 14,000 jobs were created to operate the new auto plant.
1981 - Fifty cattle, each weighing 800 pounds, were killed by lightning near Vance , AL . The lightning struck a tree and then spread along the ground killing the cattle
1983- Due to a dislocated thumb caused by a collision at home plate trying to score in the first game of a doubleheader against the Braves, Padre first baseman Steve Garvey's consecutive game streak ends in the nightcap at 1,207.
1986-the United States Football League won its antitrust suit again
1986---Top Hits
Sledgehammer - Peter Gabriel
Danger Zone - Kenny Loggins
Glory of Love - Peter Cetera
1986-- Sparky Anderson, the first skipper to win the World Series in each league, also becomes the first manager to win 600 games in both the National and American Leagues when the Tigers beat the Brewers, 9-5.
1988- Last United States Playboy Club ( Lansing Mich ) closes, end of era.
http://www.playboy.com/worldofplayboy/faq/clubs.html
1988-- The Orioles trade pitcher Mike Boddicker to the Red Sox in return for Brady Anderson and Curt Schilling. Boddicker will have two successful years with Boston while Anderson will become a productive lead off man for Baltimore and Schilling will became one of baseball's most dominant pitchers of his era
1989-Javier Sotomayor of Cuba became the first man to high jump eight feet. he set the new world record at Caribbean Championship meet in San Juan , Puerto Rico . Sotomayor held the previous record, seven feet 1 ½ inches set in 1988 in Spain .
1990- Boston Red Sox set major league record with 12 double1988 - Afternoon and evening thunderstorms produced severe weather in Minnesota and Wisconsin . Hail three inches in diameter was reported south of Saint Cloud , MN . Hot weather prevailed in the western U.S. Fresno, CA reported a record thirteen straight days of 100 degree heat.
1994—Top Hits
I Swear- All-4-One
Stay (I Missed You) (From "Reality Bites")- Lisa Loeb
Fantastic Voyage- Coolio
Any Time, Any Place/And On And On- Janet Jackson
1996 - Carl Lewis won his ninth Olympic gold medal by winning the long jump competition at the 1996 games. Lewis tied swimmer Mark Spitz for most "golds" by an American athlete. Lewis also was only the second athlete (the other was discus thrower Al Oerter) to win the same track event in four straight Olympics
1999—Top Hits
Genie In A Bottle- Christina Aguilera
Wild Wild West- Will Smith Featuring Dru Hill
Bills, Bills, Bills- Destiny s Child
Last Kiss- Pearl Jam
2002 -The text of the letter signed 40 Hall of Famers and sent to baseball commissioner Bud Selig and union head Donald Fehr urges all sides 'to protect the game we all love and have given so much to, we suggest you agree to a qualified mediator that will allow you to find the common ground necessary to avoid a work stoppage'' is released. The former outstanding players, which includes Reggie Jackson, Willie Mays and Warren Spahn, believe another work stoppage in baseball would be a terrible mistake.
2003---Top Hits
Crazy In Love- Beyonce Featuring Jay-Z
Rock Wit U (Awww Baby)- Ashanti
Right Thurr- Chingy
Magic Stick- Lil' Kim Featuring 50 Cent
--------------------------------------------------------------

Baseball Poem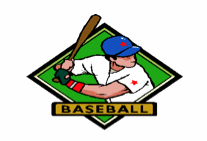 A Baseball Game (Free verse)
The ump showed up early.
Sharply dressed
His pants, meticulously creased.
His gold watch glinting in the 4 o'clock
End of March southern California sun.
He held a sour look
It was his first line of defense.
The manager of the Astros
Was what you might call
An easy going type.
A long-time bachelor, and a slob to boot.
He always had a quick sly grin
Popped his gum unceasingly.
His face like an old first-baseman's glove;
Tanned brown with wear,
The stitching undone,
Staggeringly wrinkled from so much daily use.
He strolled over to home,
Tugging at the bottom of his extra-large shirt
Which barely covered the expanse of his girth,
Slapped the ump on the back
and announced that the teams
were a little behind getting the field ready
and could we start the game at a quarter past?
The ump looked at his watch without saying a word
Held up his right hand for a moment,
Then brought it down like an ax,
"Play Ball!" he shouted
2 inches from the Astros manager's leathery face.
Author unknown
--------------------------------------------------------------

SuDoku
The object is to insert the numbers in the boxes to satisfy only one condition: each row, column and 3x3 box must contain the digits 1 through 9 exactly once. What could be simpler?
http://leasingnews.org/Soduku/soduko-main.htm
--------------------------------------------------------------

Daily Puzzle
How to play:
http://www.setgame.com/set/puzzle_frame.htm
Refresh for current date:
http://www.setgame.com/set/puzzle_frame.htm
--------------------------------------------------------------


http://www.gasbuddy.com/
http://www.gasbuddy.com/GB_Map_Gas_Prices.aspx
http://www.gasbuddy.com/GB_Mobile_Instructions.aspx
--------------------------------------------------------------

Weather
See USA map, click to specific area, no commercials
--------------------------------------------------------------

Traffic Live---
Real Time Traffic Information
You can save up to 20 different routes and check them out with one click,
or type in a new route to learn the traffic live
--------------------------------