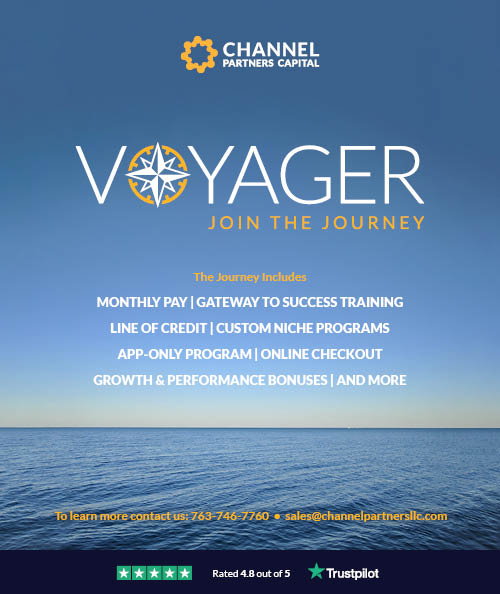 Friday, June 12, 2020


Today's Leasing News Headlines

NY Based Finance Companies Deceived Small Businesses,
with Merchant Cash Advance, one at 4,000 percent Interest
Merchant Cash Advance APR Calculator
www.nav.com
New Hires/Promotions in the Leasing Business
and Related Industries
Back to Business Not Yet
www.growbixmedia.com
Starbucks to Close 400 Stores
"Never to be the Same"
Report: 85 Percent of Independent Restaurants
Could Close Without Direct Aid
California Department of Business Oversights
COVID-19 Updates
The (Not So) World Wide Web
Estimated Number Internet Users per 100 people 2019
ELFA Equality Movement Pledges to Fight
Racial Injustice and Intolerance
NEFA Releases Statement
on Diversity and Racial Injustice
LendIt Fintech Moves to All Virtual Events for 2020
USA, Europe and LatAm will be held as virtual events in 2020
Do the Right Thing/The Glass Shield/Fruitvale State
Selma/I am Not Your Negro---Fernando Croce choices:
Films Directed by African-Americans
Mutt
Phoenix, Arizona Adopt a Dog
The World Leaders with the Most Followers on Twitter
Number of Twitter followers of world leaders (in millions)
News Briefs---
The Dow crashes more than 1,800 points out of nowhere
— here's one reason why
Hawaii, Canada to extend visitor restrictions
Quarantines and other restrictions stymie summer travel plans
Amazon unveils small business credit line with Goldman
in latest tie-up between tech and Wall Street
Lawmakers Push to Invest Billions
in Semiconductor Industry to Counter China
Coronavirus: Navy, CDC study on infected aircraft carrier
provides glimmer of hope for immunity
E-bikes are having their moment
They deserve it

You May have Missed---
Richest Town
in Every State
Broker/Funder/Industry Lists | Features (wrilter's columns)
Top Ten Stories Chosen by Readers | Top Stories last six months
www.leasingcomplaints.com (Be Careful of Doing Business)
www.evergreenleasingnews.org
Leasing News Icon for Android Mobile Device
Sports Brief----
California Nuts Brief---
"Gimme that Wine"
This Day in History
SuDoku
Daily Puzzle
GasBuddy
Weather, USA or specific area
Traffic Live----
######## surrounding the article denotes it is a "press release," it was not written by Leasing News nor has the information been verified. The source noted. When an article is signed by the writer, it is considered a "byline." It reflects the opinion and research of the writer.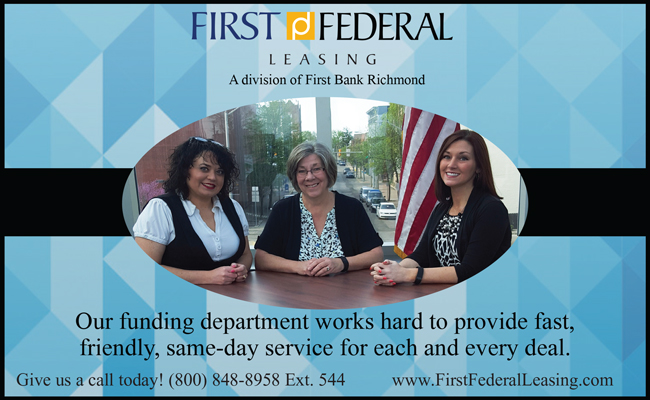 [headlines]
--------------------------------------------------------------
NY Based Finance Companies Deceived Small Businesses,
with Merchant Cash Advance, one at 4,000 percent Interest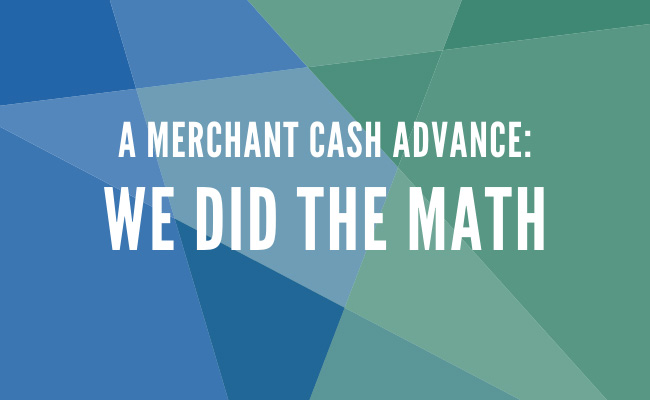 Company also went after business owners with threats of violence
The Federal Trade Commission is taking action against two New York-based companies engaged in small-business financing, along with several of their owners and officers, for allegedly using deception and threats to seize personal and business assets from small businesses, non-profits, religious organizations, and medical offices.
Along with Federal Trade Commission action, New York Attorney General Letitia James reports her office "filed a lawsuit seeking to stop three New York City-based companies and the owners and managers of those companies from continuing to cheat small businesses in New York and across the country out of millions of dollars each year by selling these small business owners 'merchant cash advances,' or fraudulent, sky-high interest loans.
"In fact, in one instance — alleged in the lawsuit — the Richmond companies loaned $10,000 to a merchant and required this small business and its owner to pay back $19,900 through only 10 daily payments of $1,999. As a result of the large daily payments and the short, 10-day repayment term, the annual interest rate for the merchant cash advance, including fees, came close to 4,000 percent — almost 250 times the legal interest rate.
"Additionally, an affirmation filed with the lawsuit highlights the companies' fraudulent and illegal conduct, including ways in which the respondents have harassed and threatened merchants that have been unable to afford these hefty daily payments. Braun has called business owners and has insulted, sworn at, and bullied them, demanding payment and making threats such as, "You have no idea what I'm going to do," and "I will take your daughters from you." Braun also threatened that he would come to one merchant's synagogue in Brooklyn and physically beat him and "publicly embarrass him," stating, "I am going to make you bleed." He threatened another, "Be thankful you're not in New York, because your family would find you floating in the Hudson."

"Many of the affidavits the Richmond companies have filed in court are false, as the suit alleges. The affidavits have misrepresented the nature of the merchant cash advances — passing them off as transactions with varying, contingent repayment amounts, instead of illegal loans with fixed daily payments — and have falsified the amounts paid by merchants and the amounts still due. Having relied on these false affidavits, New York courts have repeatedly issued judgments against the small businesses and in favor of the Richmond companies.
"The lawsuit goes on to allege that the Richmond companies have destroyed small businesses and harmed their owners through their abusive practices. Merchants have been forced to take desperate measures to cope with debt from the Richmond companies' merchant cash advances, including taking out new cash advances to pay off their existing debts. This cycle of debt has ruined businesses, including a plumbing business in Virginia that took out a cash advance from Richmond, paid off the debt by taking out additional cash advances, and eventually was forced to close its doors after being in business for 30 years.
"In papers filed in New York County State Supreme Court, Attorney General James charges the three companies — Richmond Capital Group, Ram Capital Funding, and Viceroy Capital Funding (the Richmond companies) — with illegally loaning money to small business owners at astronomically-high interest rates, fraudulently charging undisclosed fees, debiting excess amounts from merchants' bank accounts, and obtaining judgments against merchants by filing false affidavits in New York State courts. Additionally, Richmond Capital and Ram Capital are being charged with harassing and threatening merchants with violence and legal action, in an attempt to force them to pay off the loans. The lawsuit — filed after an 18-month-long investigation — alleges that the companies have, since 2015, collected over $75 million on more than 1,900 fraudulent, illegal loans.
The FTC's complaint names as defendants RCG Advances, LLC (formerly known as Richmond Capital Group, LLC and also doing business as Viceroy Capital Funding and Ram Capital Funding); Ram Capital Funding LLC; Robert L. Giardina; Jonathan Braun; and Tzvi Reich.
"The FTC would like to thank the New York Attorney General's office for their assistance with this investigation.
The Commission vote authorizing the staff to file the complaint was 5-0. The complaint was filed in the U.S. District Court for the Southern District of New York."
[headlines]
--------------------------------------------------------------
Merchant Cash Advance APR Calculator
www.nav.com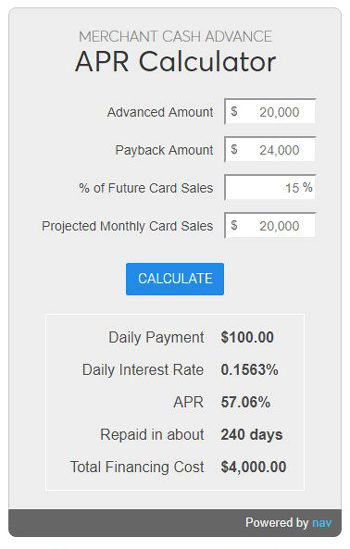 As the California Department of Business Oversight determines how it will require rates on Merchant Cash Advance, the State of New Jersey appears to adopt a similar requirement. The fact is today actual interest rates can be obtained online.
NAV.com has the ability with "its mobile app give free access to easy-to-read personal and business credit reports and monitoring all in one spot. It also provides tools to build business credit and a marketplace that matches users to lending options based on their approval odds. This all makes it much easier for business owners to get affordable funding, lower their costs and save time."
Their website states: "A merchant cash advance (MCA) is a type of financing in which a business sells a percentage of their future credit/debit sales for an upfront amount. The MCA lender gets paid by directly debiting the card receipts from the merchant's account daily, before the business itself can access any money from sales...
"An MCA is advantageous for businesses with unsteady cash flow or seasonal business cycles, as it's not a fixed amount of money demanded each day, but a percentage of your sales. This can also make it hard to calculate the total cost of a merchant cash advance term sheet. Use the APR calculator below to find out what you will be paying on a merchant cash advance."
Working Calculator
From the website, you can also "Add the Merchant Cash Advance APR Calculator to your website, copy & paste the code below"
In addition, the site has several Business Loan Calculators
Invoice Financing APR Calculator
Kabbage APR Calculator
OnDeck APR Calculator
Merchant Cash Advance APR Calculator
Term Loan APR Calculator
https://www.nav.com/business-loan-calculators/invoice-financing-apr-calculator/
(See Anatomy of Merchant Processing Account Fees what credit card companies really charge merchants: https://www.credittoday.net/public/Anatomy-of-Merchant-Processing-Account-Fees.cfm)


[headlines]
--------------------------------------------------------------
New Hires/Promotions in the Leasing Business
and Related Industries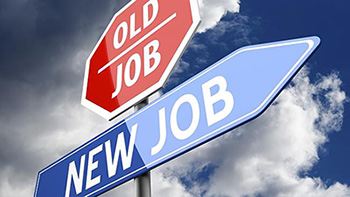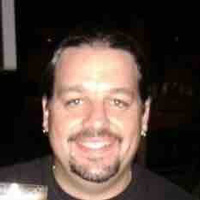 David da Costa was promoted to Team Lead, Structured Finance at CLE Capital, a subsidiary of the Hitachi Capital Group, Oakville, Ontario, Canada. He joined the firm January, 2019, as Bilingual Documentation Specialist. Previously, he was at RBC, starting June, 2008, Bilingual Quality Verification Officer; promoted March, 2016, Bilingual Lease Transaction Manager. Prior he was Bilingual Funding Specialist, Wells Fargo Auto Finance (December, 2004 - June, 2008); Bilingual Customer Service Representative/Bilingual Customer Response Analyst, EDULINX Canada Corporation (July, 2002 - December, 2004). Education: Dawson College. Professional Photography (1994 - 1996). Laurier MacDonald High School (1993 - 1994). https://www.linkedin.com/in/david-da-costa-542308b8/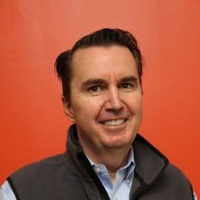 Keith Haas, CPA, was hired as Chief Financial Officer, LeaseAccelerator, Reston, Virginia. Previously, he was Chief Finance Officer, BridgeStreet (May, 2018 - May, 2020); Chief Financial Officer, Snagajob (June, 2013 - January, 2018); Vice President, Finance, DigitalGlobe (Acquired GeoEye) (December, 2011 - March, 2013). He started at K12 July, 2003; promoted November, 2008, SVP Finance and Investor Relations. Vice President, Finance, HydraWEB Technologies (August, 1999 - May, 2001); Principal, SCA Consulting (1998 - 1999); Director, KPMG (January, 1996 - August, 1998); Associate, Stern Stewart & Co. (November, 1992 - December, 1995). Licenses: Certified Public Accountant, VBOA Virginia Board of Accountancy. Education: UNC Kenan-Flagler Business School. MBA, Finance (1990 - 1992). University of Virginia, BSEE, Electrical Engineering (1982 - 1986). https://www.linkedin.com/in/khaas/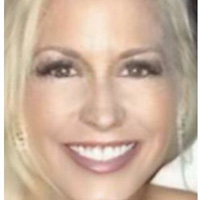 Jamie Hudson was hired as Lease Administrator, CoreTech Leasing, Inc., Newport Beach, California. Previously, she was Support Transaction Specialist Nexseer Capital (February, 2017 - June, 2020); Funding Coordinator, TopMark Funding, LLC (April, 2016 - November, 2016); Vendor Services Relations Manager, Balboa Capital (February, 2015 - April, 2016); Equipment Leasing Funder, Envision Capital Group (2013 - 2015). Licenses: Advanced Open Water Diver, PADI, Issued December, 2018. Salesforce Mountaineer 45 Trailblazer Badges, Salesforce. Education: North Dakota State College of Science. Associate of Arts and Sciences AAS, Liberal Arts and Sciences/Liberal Studies (1996 - 1997). https://www.linkedin.com/in/jaime-thompson-13899083/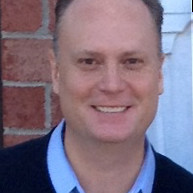 Ray Schilling was hired as Northeast Vice President, People's Capital and Leasing Corp (PCLC), Bridgeport, Connecticut. He is located in Marlton, New Jersey. "He will be responsible for the growth of PCLC's equipment finance business, focused on Transportation and the growth of other markets." Previously, he was Vice President Equipment Finance, TriState Capital Bank (June, 2019 - June, 2020); Vice President (October 2013 - June, 2018); Vice President, Marlin Leasing (November 2007 - June, 2013); Sales Management, Advanta (1991 - 1997). Education: Delaware Valley University. Bachelors, business Administration.
https://www.linkedin.com/in/raymondshilling/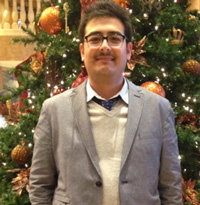 Arvin Sedighi was promoted to Director of Talent Acquisition, New American Funding, Tustin California. He joined the firm May, 2014, as Recruiter; promoted September, 2014, Talent Acquisition Manager; promoted August, 2016, Senior Talent Acquisition Manager. Previously, he was at Randstad, starting June, 2012, as Recruiter; prooted September, 2013, Staffing Consultant. Office Manager. He began his career at TrueGreen March, 2006, Sales Representative; promoted August, 2006, Scheduler/Dispatcher; promoted May, 2010, Office Manager. Education: UC Riverside. Bachelor of Arts, Economics and Business Administration w/Marketing and Advertising Emphasis (2004 - 2009). https://www.linkedin.com/in/arvin-sedighi-65327846/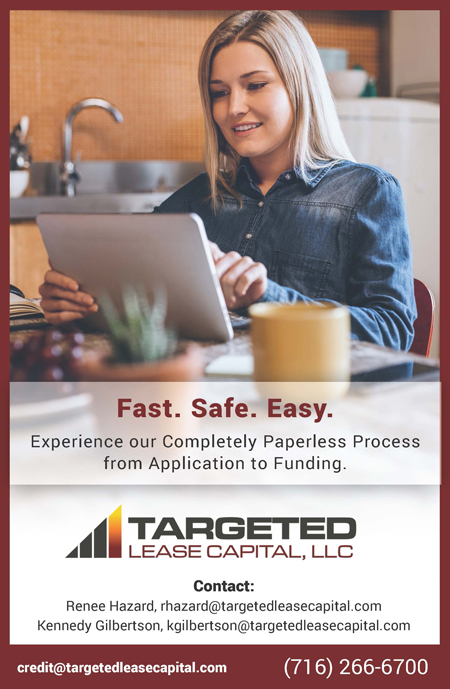 [headlines]
--------------------------------------------------------------
Back to Business Not Yet
www.growbixmedia.com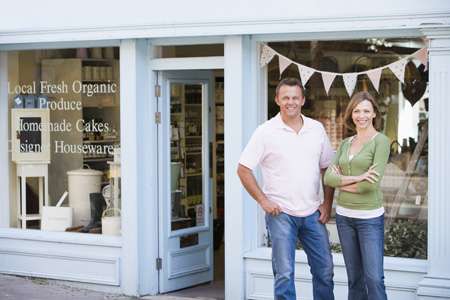 The retail landscape has changed quite a bit: several major retailers have filed for bankruptcy and retail sales are down 21.6% (year-over-year) in April per the U.S. Census Bureau and down 8.7% (year-over-year) according to the NRF.
In April, every category of retail (except online and other non-store sales, which rose 21.2% year-over-year) was down on a monthly basis.
Specifics include (all stats reflect year-over year sales):
Health and personal care stores—down 10.8%
Sporting goods stores—down 48.7%
Electronics and appliance stores—down 64.8%
Furniture and home furnishings stores—down 66.3%
Clothing and clothing accessory stores—down 89.3%
So far, in states that have already opened for business, consumers aren't exactly rushing in the door. But Eaton-Cardone says the lockdown has created opportunities as well. She notes, "Food-by-subscription service has seen demand so far exceed supply that prospective new subscribers are placed on a waiting list. In some cities, restaurants have pivoted not to takeout, but to foodstuffs and supplies sales, becoming, in effect, contactless grocery stores."
In her industry managing risk management and fraud prevention, Monica Eaton-Cardone notes consumer behaviors have changed as well. "New risks are coming into existence," she says. For instance, she notes credit-card chargebacks based on service complaints, typically made by consumers new to e-commerce and impatient with coronavirus-crisis-related delivery delays, are outnumbering fraudulent chargebacks, which normally account for some 80% of all chargeback volume.
There was one bright spot—building materials and garden supply stores were up 1.2% year-over-year. So if you have a green thumb, now could be a good time to start a gardening or landscaping business. Coined "pandemic gardens," Americans have been buying seeds in record numbers for coronavirus-related reasons such as food shortages and spending more time in their own outside spaces. Data analytics show online sales of home and garden products grew 63% from mid-March to mid-May. Consumers and will need help creating their gardens.

[headlines]
--------------------------------------------------------------
Starbucks to Close 400 Stores
"Never to be the Same"
By Douglas McIntyre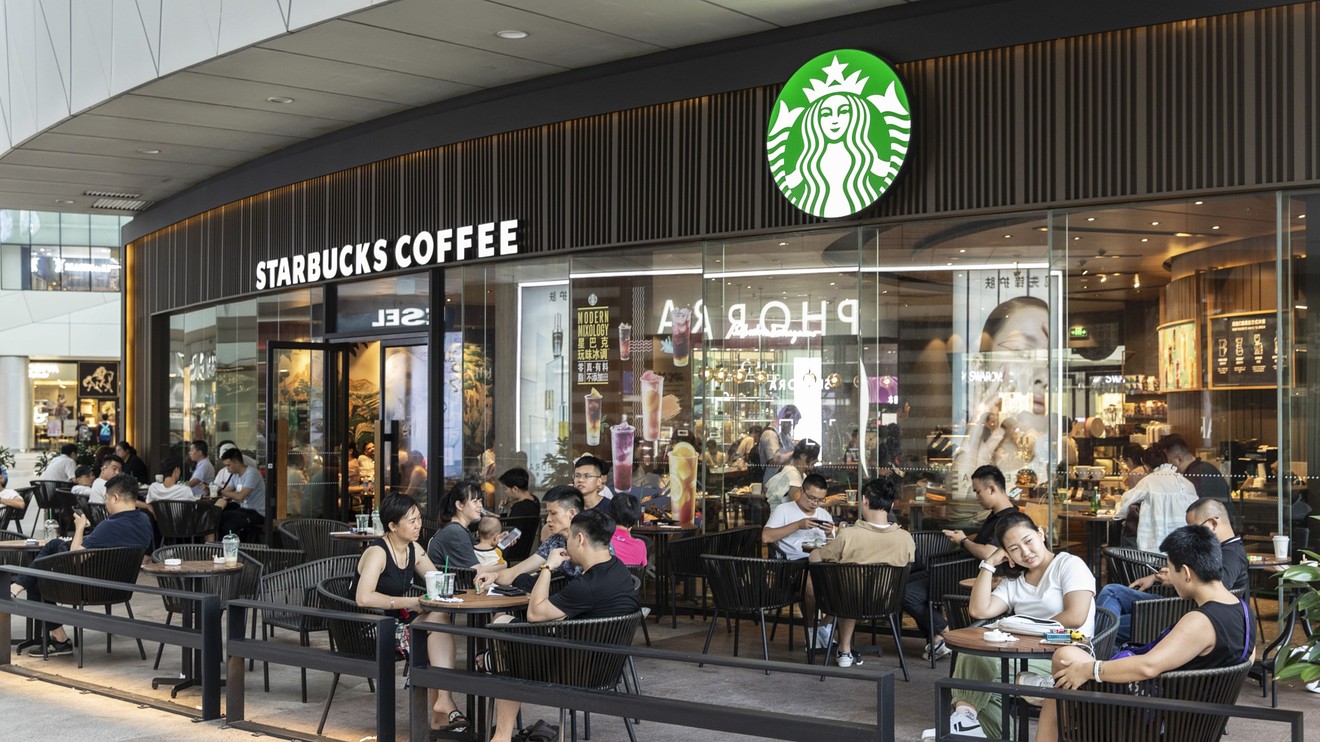 A Starbucks Corp. (NASDAQ: SBUX) statement filed with the Securities and Exchange Commission showed that it would have a third-quarter decline in revenue of between $3.0 billion and $3.2 billion. The company attributed the decline to the spread of COVID-19 and said it will close 400 stores. That means the Starbucks location many people visit now may be gone and those customers will need to find another one or stop going to Starbucks. It is too early to say if that will affect traffic.
The specific language in the Starbucks filing is that it will "blend store formats and strategically optimize our portfolio."
The decision is appropriately justified by the performance of its locations as the COVID-19 spread. Stores that were open the last week of May suffered a 28% drop in sales from the same week a year ago. These were company-operated stores and not franchises.
One thing Starbucks learned as it was extremely battered over the course of the past three months is that people are willing to pick up orders they have made ahead of time. This model was accelerated to keep its customers and workers safe from COVID-19. It will stay in place in some locations because enough customers liked it.
The relaxed atmosphere of Starbucks and its use as a meeting place to see family and friends will go away in the 400 stores. One of the hallmarks of Starbucks will completely disappear for thousands, if not tens of thousands, of people. Or, they can find a store near the ones they visit and revert to habits they have established over a period of years or decades.
Starbucks has 18,271 locations in the Americas, as of the last count. This includes some stores outside the United States, and probably franchise locations. Starbucks could make the case that 400 locations are a tiny part of the count. It is, in fact, 2.1% of the entire store count.
What the numbers do not say is those customers who have a habit of walking into the same store, year after year, even if the never linger, may be loyal because it is "their Starbucks." For many, their Starbucks will be gone.
https://247wallst.com/services/2020/06/11/how-will-you-find-your-starbucks/



[headlines]
--------------------------------------------------------------
Report: 85 Percent of Independent Restaurants
Could Close Without Direct Aid
By Ben Coley, FSRMagazine.com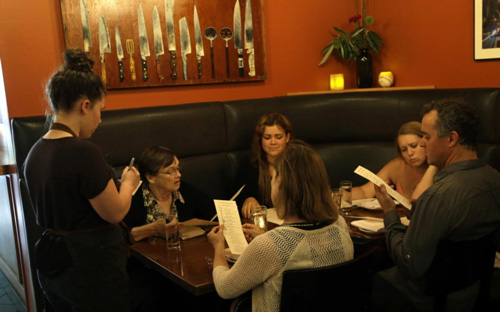 Independent restaurants are more at risk of permanently going out of business due to the pandemic because consumer spending at these establishments has been disproportionately affected and they lack the same access to capital markets, the Coalition said.
"With millions of jobs at stake, the collapse of independent restaurants would ignite a downward economic spiral with ripple effects in other already hard-hit industries in the travel, hospitality and leisure sector that would be felt for years," the report reads. "Mass failure may also destabilize the commercial real estate market if these restaurants cannot pay rent, which could also incite a spillover effect in the larger economy."
Independent restaurant revenues dropped more than 70 percent in the final two weeks of March and are still 60 percent lower compared to last year. At least 4.5 million of the roughly six million jobs that have been lost in the food and drink industry have come from independent brands.
Dan Wu, an immigrant chef and owner of Atomic Ramen in Lexington, Kentucky, operated his restaurant for two and a half years before COVID hit. He commented, "What I'm afraid of is that the people that are least likely to survive are going to be these small single locations—immigrant-run, women-run, people-of-color-run operations. … We're the ones that don't have the infrastructure like the chain restaurants to survive this,"
Related: Restaurant bookings have fully recovered in Germany in a sign that activity rebounds quickly as lockdowns ease



[headlines]
--------------------------------------------------------------
California Department of Business Oversights
COVID-19 Updates

On June 4, the Department of Business Oversight (DBO) issued guidance for Broker-Dealers and Investment Advisers on the Paycheck Protection Program established through the Coronavirus Aid, Relief, and Economic Security or CARES Act.
Previously issued COVID-19 guidance for other DBO licensees, as well as other pandemic-related news, may be found at the DBO website here: https://dbo.ca.gov/2020/03/25/covid19/. Additional information about the state's pandemic response may be found on the Governor's COVID-19 webpage: https://covid19.ca.gov/
Internally, the DBO has implemented expanded telework in its offices to comply with statewide stay-at-home orders. More than 90 percent of the DBO staff has been able to work remotely from home with the remainder largely performing essential onsite duties. Throughout this transition, the DBO has continued all regular functions, from application processing to licensing, examinations, enforcement, rulemaking, and consumer services.


[headlines]
--------------------------------------------------------------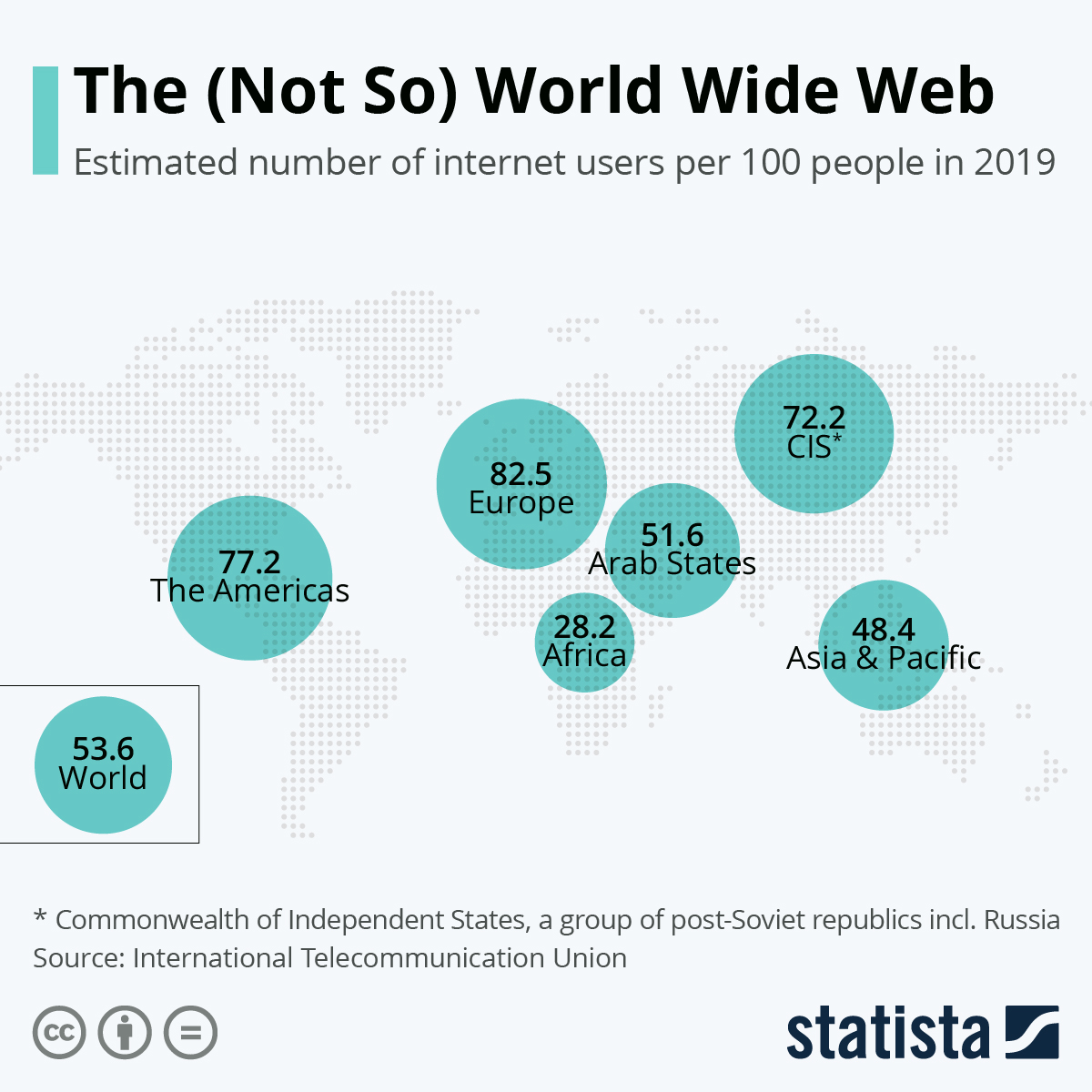 Despite its name and apparent ubiquity, however, 30 years after its birth hour, the World Wide Web is not nearly as universally available as its name suggests. According to the latest estimates by the International Telecommunication Union, a UN agency specializing in information and communication technologies, only 54 out of 100 world citizens used the internet in 2019. While internet access in regions such as North America and Europe has become a commodity not unlike electricity and running water, people in less developed regions often still lack access to what has arguably become the most important source of information of our times. This is reflected in the fact that internet penetration ranges from 86.6 percent across developed countries to 53.6 percent in developing countries and less than 20 percent in the least developed countries in the world.
By Felix Richter, Statista


[headlines]
--------------------------------------------------------------
##### Press Release ############################
ELFA Equality Movement Pledges to Fight
Racial Injustice and Intolerance


Washington, D.C. – The Equipment Leasing and Finance Association (ELFA) today released the following statement:
"The Equipment Leasing and Finance Association (ELFA) in 2019 established ELFA Equality, a movement led by the ELFA Board, member organizations and association professional staff promoting and advancing diversity and inclusion across the association and the equipment finance industry.
"ELFA Equality believes that our role goes well beyond being an advocate for our industry. Therefore, we are taking a firm stand in calling for inclusion not only in our industry, but also for the whole of society.
"We are saddened by the events unfolding in the United States centered on racial injustice and intolerance. On the heels of these events, we have had many conversations with ELFA members. We have sought to feel the pain, anguish and disappointment of those who have experienced racial discrimination. Tragically, the issues of prejudice and injustice are rooted in our history, and the time has come to rid our society of these unjust and intolerable behaviors once and for all.
"While ELFA has been striving for inclusion and diversity, we pledge to do more by having difficult conversations that lead to actions, results and, ultimately, change.
"Please join us by working with ELFA Equality on conversations and actions that will make a difference for our industry and society."
About ELFA
The Equipment Leasing and Finance Association (ELFA) is the trade association that represents companies in the nearly $1 trillion equipment finance sector, which includes financial services companies and manufacturers engaged in financing capital goods. ELFA members are the driving force behind the growth in the commercial equipment finance market and contribute to capital formation in the U.S. and abroad. Its 580 members include independent and captive leasing and finance companies, banks, financial services corporations, broker/packagers and investment banks, as well as manufacturers and service providers. For more information, please visit www.elfaonline.org.
### Press Release ############################
[headlines]
--------------------------------------------------------------
### Press Release ############################

NEFA Releases Statement
on Diversity and Racial Injustice

The National Equipment Finance Association mourns the loss of life, and we extend our sincere condolences to Mr. Floyd's family and to all Americans who are reeling with the pain of this tragedy.
Racism and intolerance are widespread in America's history and our culture, and the time is now for us all to work together toward abolishing these injustices. We urge all NEFA members to pledge to do everything in our individual and collective power to end systemic racism and strive to achieve equality for all.
We all have a crucial responsibility to engage in the long-term work to acknowledge these barriers and actively work to counteract them. Therefore, it is imperative that we keep this conversation active and work together to create a society where all people are equal and racial injustices are no longer tolerated.
#### Press Release ##############################
[headlines]
--------------------------------------------------------------
#### Press Release ##############################
LendIt Fintech Moves to All Virtual Events for 2020
USA, Europe and LatAm will be held as virtual events in 2020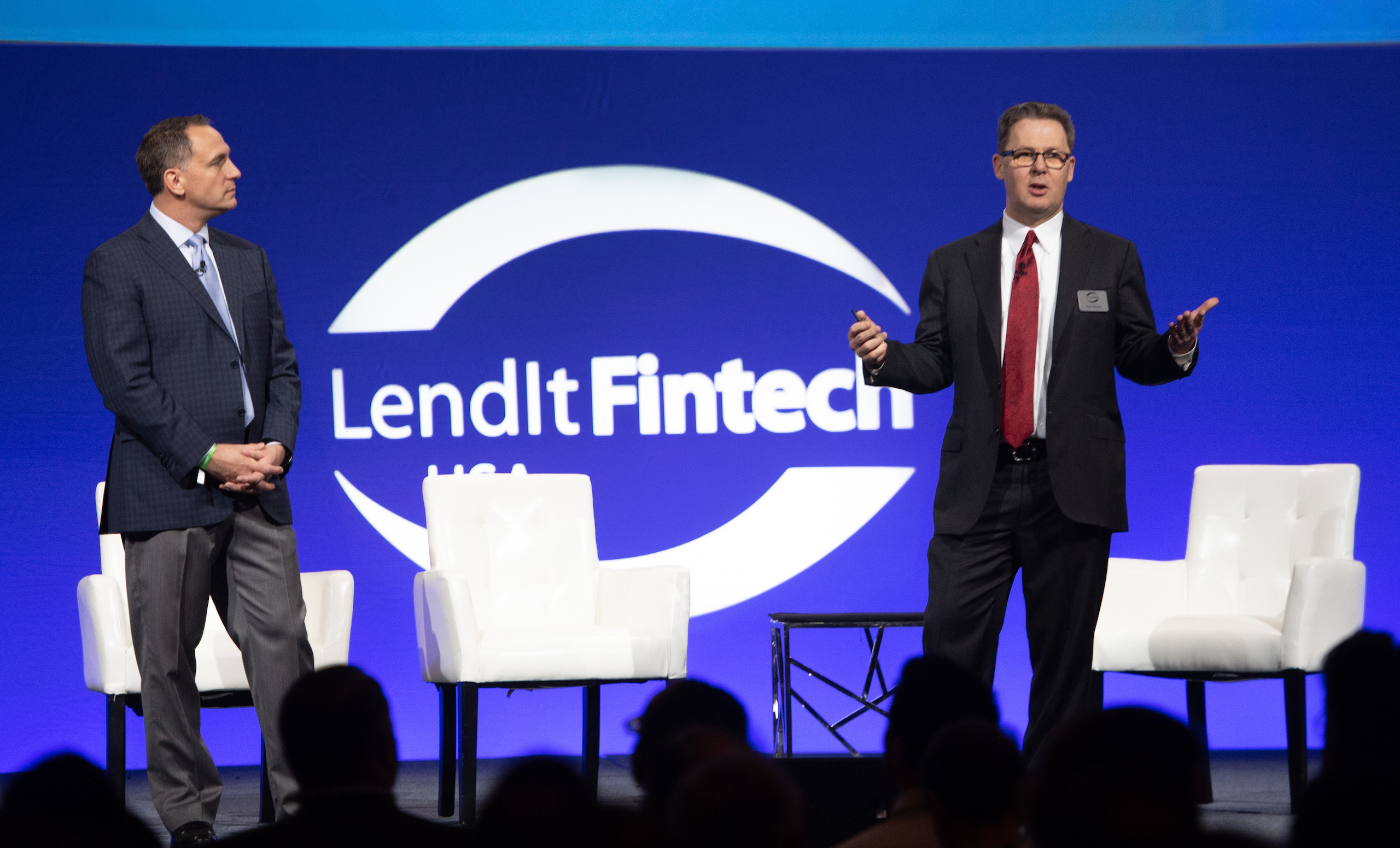 After much deliberation over the past several weeks, the leadership team at LendIt Fintech have made the decision to move all of our major events in 2020 to an all-virtual format.
While many cities throughout this country and the world continue to open, we are still a long way from being able to host business events in convention centers with thousands of people. The reality is that we don't know when exactly it will be safe to have live events like LendIt Fintech USA.
We all want certainty as we start to plan the second half of the year. And there is only one way we at LendIt Fintech can provide certainty for our USA, Europe and LatAm events in 2020, and that is to move to an all-virtual format.
The reason events like LendIt Fintech are so popular is that we can learn the very latest trends from the experts, meet with the people who matter most to us, and create new connections. At our live events, these three goals are met very efficiently in a compressed time period with thousands of likeminded people.
However, with this apparently slow and uncertain reopening of commerce that we are now experiencing, it is not clear that we can successfully host a LendIt-quality event in 2020.
Now, with more than seven years of history as a leader in content production, networking innovation and journalism, and after receiving glowing reviews about LendIt Fintech Digital, we are confident that our virtual events will provide excellent value for our audience. You see, we aren't trying to digitally replicate a live event, we are reimagining the best components of our live events within a virtual world. We will provide an experience that is as good or even better than what we can offer at our live events, all without the expense of travel.
We will have:
*The highest quality speaker roster in the industry.
*Interactive breakout rooms.
*1-on-1 networking with Brella
*All sessions available on demand
*A huge and diverse audience
We will be launching our virtual events next week with some really special deals. We will also be cooking up some surprises for all of you that we will share at a later date.
If you have already bought a ticket or sponsorship for LendIt Fintech USA you should have received an email earlier today telling you about the benefits you will receive for your early support of us. If you are a confirmed speaker we will be reaching out to you over the next week or so.
We look forward to returning to live events in 2021
#### Press Release #############################
[headlines]
--------------------------------------------------------------
Watch at Home
By Fernando F. Croce
With the recent wave of protests bringing the urgent need for racial justice back to the national conversation, we're offering a list of worthwhile films that address the struggles faced daily by African-Americans.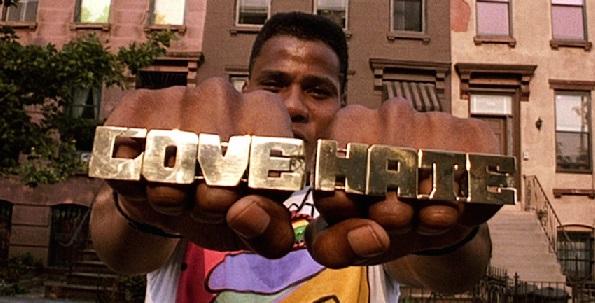 Do the Right Thing (Spike Lee, 1989): Spike Lee scored his most confrontational hit with this incendiary, brilliantly stylized comedy-drama, which unfolds over the course of one very hot day in a Brooklyn neighborhood. Lee also plays Mookie, a young local who works at the Italian pizzeria run by Sal (Danny Aiello). Among the other personalities are a soused sage known as Da Mayor (Ossie Davis), tough-guy, boombox-toting Radio Raheem (Bill Nunn), and combative Buggin' Out (Giancarlo Esposito). Already brimming with tensions, the place is set to a boil after an argument between Sal and Buggin' Out threatens to turn the neighborhood into a war zone. Boldly exploring racial anxieties and inherent violence, Lee's angry and vibrant film explodes with passion, humor and visual impact. The cast also includes John Turturro and Samuel L. Jackson.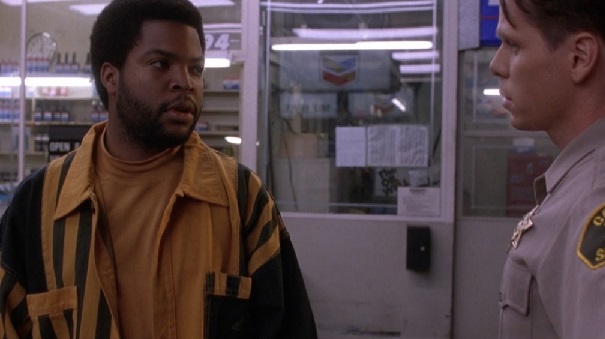 The Glass Shield (Charles Burnett, 1994): One of the most underrated of American directors, Charles Burnett brings a keenly humanistic approach to this absorbing moral drama, set in the Los Angeles police department. J.J. Johnson (Michael Boatman) is the first black deputy in the division, an earnest young man determined to fit in with his white colleagues. The more racist behavior he witnesses during his patrols of inner-city areas, however, the more quickly he notices how deep corruption runs in the law enforcement system. When a local man named Teddy (Ice Cube) is framed, J.J. must escalate the matter to higher levels, finding his integrity tested in the process. Tempering anger with sympathetic understanding, Burnett takes a cutting look at the prejudicesand injusticesat the root of urban problems.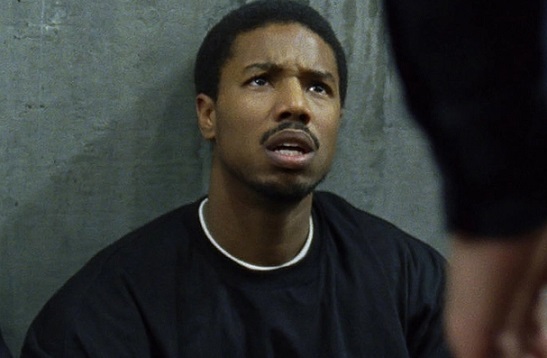 Fruitvale Station (Ryan Coogler, 2013): Before graduating to blockbusters like "Creed" and "Black Panther," director Ryan Coogler made his feature debut with this affecting account of the real-life tragedy of Oscar Grant, who was shot dead by the Oakland Police on New Year's Eve 2009. Played by Michael B. Jordan with early intimations of the earnest charisma that would make him a star, Grant is portrayed in his last day going through quotidian routines. We see his loving relationship with his daughter and his fraught one with his girlfriend, running errands for the birthday of his mother (Octavia Spencer) and trying to keep his desperation under control. Challenging the "thug" stereotype with a humanistic touch, Coogler's film is a tense, restrained portrait that builds to a shattering conclusion.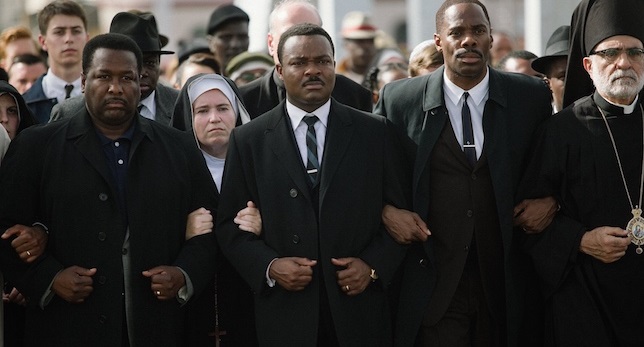 Selma (Ava Duvernay, 2014): History comes stirringly alive in director Ava DuVernay's moving chronicle of the Civil Rights struggle. Set in 1965, the film follows Martin Luther King Jr. (superbly played by David Oyelowo) as he embarks on a bold campaign for voting equality in racially segregated territory. Organizing a massive march of protest from Selma to Montgomery, Alabama, Dr. King faces often violent opposition but bravely forges ahead, inspired by the help of countless supporters hoping to make a difference. A specialist in emotional details, DuVernay brings an intimate tone to this epic scope, presenting historical figures like Annie Lee Cooper (Oprah Winfrey), Lyndon Johnson (Tom Wilkinson) and George Wallace (Tim Roth) as complex, flesh and blood presences. The result is a very good portrait of a truly great man.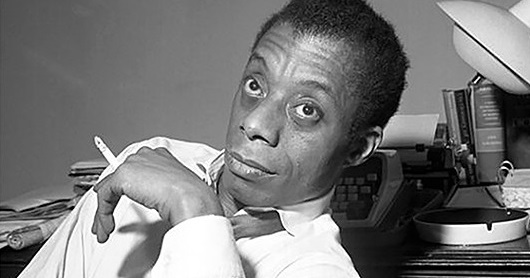 I Am Not Your Negro (Raoul Peck, 2016): One of his generation's sharpest social critics, the late James Baldwin was an essential, poetically fiery voice during America's racial struggles in the 1960s, and this Oscar-nominated documentary from Haitian director Raoul Peck ("Lumumba") superbly illuminates his intelligence and activism. Narrated by Samuel L. Jackson, the film combines newsreel footage with public appearances by Baldwin, showcasing his brilliant oratory skills whether at protest rallies or on TV shows. Positing a different but no less resonant view of the Civil Rights movement from Dr. Martin Luther King or Malcolm X, Baldwin is depicted as a man urging for humanistic change in the midst of incendiary times. Crafted with at times confrontational but always compassionate urgency, Peck's snapshot of the past speaks fiercely to the present.
[headlines]
--------------------------------------------------------------
Mutt
Phoenix, Arizona Adopt a Dog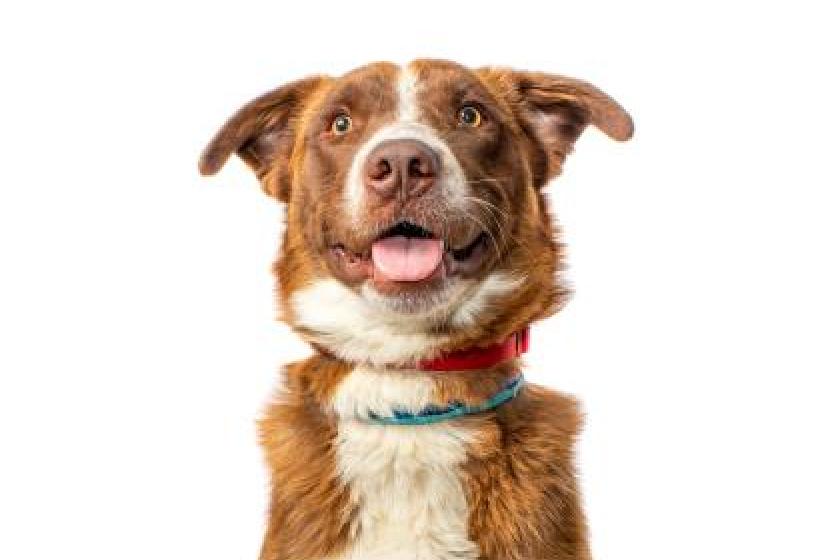 Apollo

ID #44312512
Male
Two Years Old
Size: Medium
Location: Bldg. 7
Adoption fee: $285.00
"Hey there! I'm Apollo! I am a shy pup looking for a family to help me build my confidence. I will need a calm and quiet home with older family members who know how to go slow and give me time to become comfortable. I can be selective with some doggies so if you have one, please bring them to the shelter to ensure we're a great match! I also think I'd do home with older children. I enjoying being pet and getting treats as we bond. I am still young and will need some training to become the best dog I can be!
All visits to the shelter and adoptions are by appointment.
https://aawl.org/content/appointment-based-adoptions
"Make an appointment to meet me at AAWL's main shelter!"
https://aawl.org/content/appointment-based-adoptions
Arizona animal Welfare League & SPCA
Arizona's Oldest and Largest No Kill Shelter
25 North 40th street
Phoenix, Arizona
Phone: 603-272-6852
Shelter Hours of Operations:
Monday: Closed
Tuesday: 11:30am to 6:00pm
Wednesday 11:30am to 6:00pm
Thursday 11:30am to 6:00pm
Friday 11:30am to 6:00pm
Saturday 10:30am to 6:00pm
Sunday 11:30am to 6:00pm
[headlines]
--------------------------------------------------------------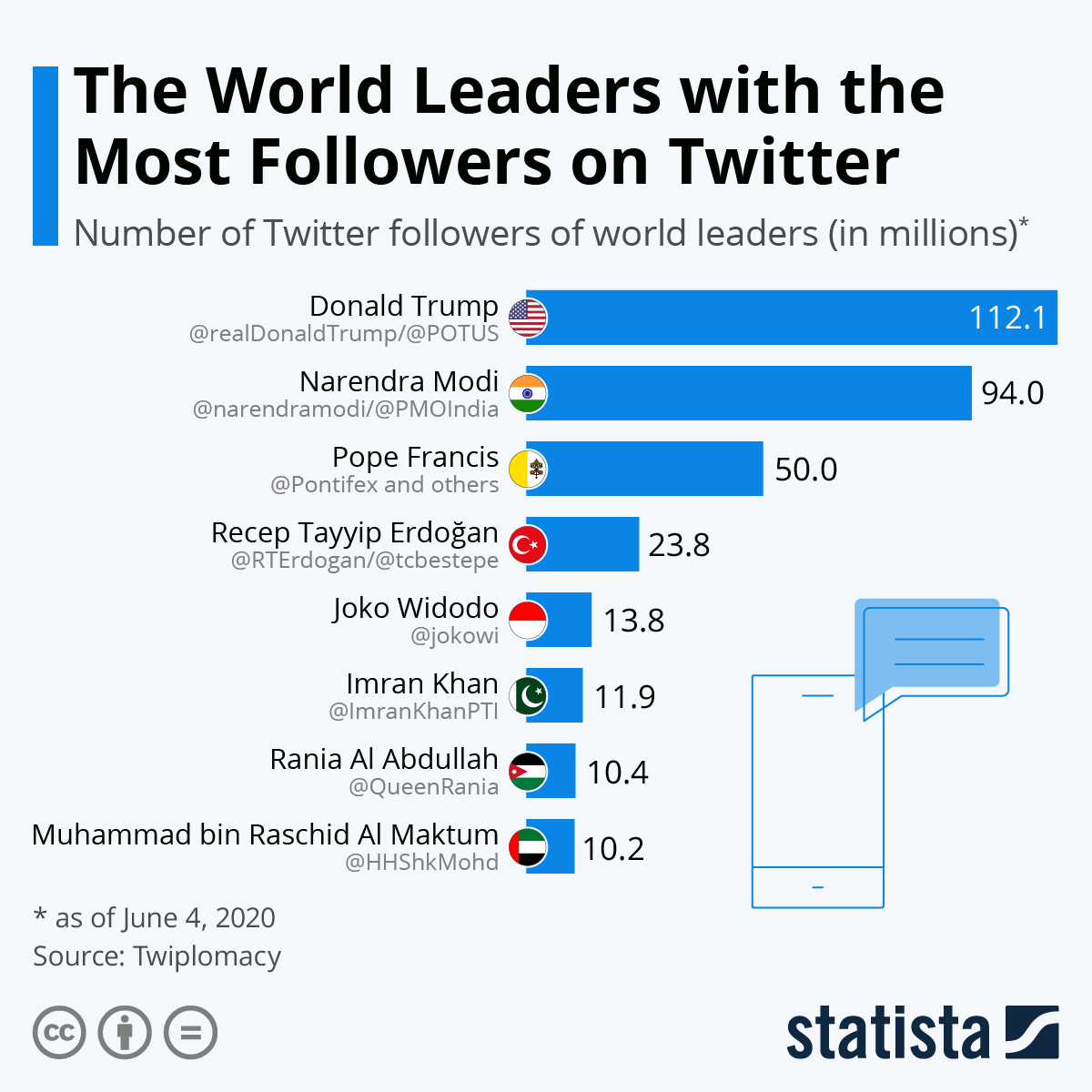 Politics is no longer confined to parliaments. Social media services like Twitter play an increasingly important role for many world leaders. But some manage to attract significantly more followers than others.
Many heads of state as well as their governments use the social network to promote themselves and their policies. As our chart shows, U.S. President Trump has the most followers, split between his two accounts @realdonaldtrump and @POTUS. While the first is the president's private Twitter account, @POTUS is passed along from president to president.
Only Indian Prime Minister Narendra Modi (94.0 million followers) comes close to Trump's Twitter prowess. Similar to Trump, he uses two accounts to further up his Twitter game. The Pope, who comes in third, actually has 50.0 million followers between nine different language accounts, the biggest being English (18.7m), Spanish (18.2m) and Latin (4.9m). The remainder of the top 8 consists of Muslim leaders.
There are also heads of state, however, to whom the use of Twitter seems less important. German chancellor Angela Merkel, for instance, tweets seldomly and only has around 63,000 followers. She leaves tweeting to government spokesperson Steffen Seibert (@RegSprecher), who after all has around 960,000 followers.


Katharina Buchholz, Statista
[headlines]
--------------------------------------------------------------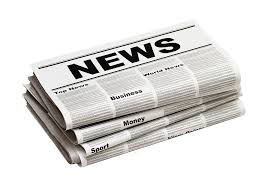 News Briefs----
The Dow crashes more than 1,800 points out of nowhere
— here's one reason why
https://finance.yahoo.com/news/the-dow-crashes-more-than-1700-points-out-of-nowhere-heres-one-reason-why-193300504.html
Hawaii, Canada to extend visitor restrictions
Quarantines and other restrictions stymie summer travel plans
https://www.sfgate.com/travel/article/Hawaii-Canada-visitors-15333573.php
Amazon unveils small business credit line with Goldman
in latest tie-up between tech and Wall Street
https://www.cnbc.com/2020/06/10/amazon-and-goldman-sachs-unveils-small-business-credit-lines-up-to-1-million.html
Lawmakers Push to Invest Billions
in Semiconductor Industry to Counter China
https://www.nytimes.com/2020/06/11/business/economy/semiconductors-chips-congress-china.html
Coronavirus: Navy, CDC study on infected aircraft carrier
provides glimmer of hope for immunity
https://www.sfchronicle.com/bayarea/article/Coronavirus-Navy-CDC-study-on-infected-aircraft-15327619.php
E-bikes are having their moment
They deserve it
https://www.seattletimes.com/business/technology/e-bikes-are-having-their-moment-they-deserve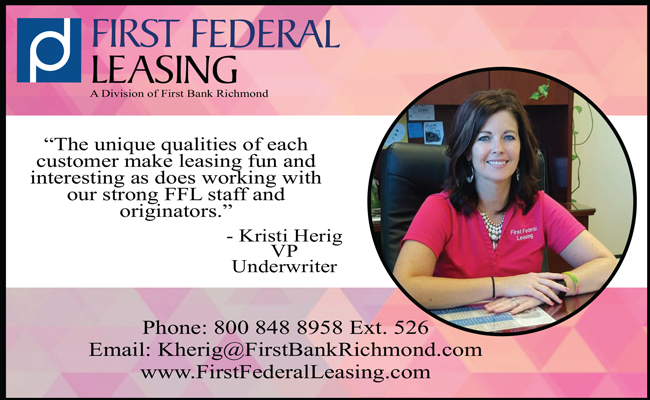 [headlines]
--------------------------------------------------------------


You May Have Missed---

Richest Town
in Every State
https://247wallst.com/special-report/2020/06/10/richest-town-in-every-state-3

[headlines]
--------------------------------------------------------------

Sports Briefs---
NFL extends virtual period through June 26 in place of minicamps
http://www.theredzone.org/Blog-Description/EntryId/82094/NFL-extends-virtual-period-through-June-26-in-place-of-minicamps
Malcolm Jenkins: NFL won't be on 'right side of history'
until it apologizes to Colin Kaepernick
https://www.usatoday.com/story/sports/nfl/2020/06/09/malcolm-jenkins-colin-kaepernick-apologize-nfl-quarterback/5328544002/
Patrick Mahomes explains why he joined player-led video
campaign in support of Black Lives Matter blob
https://www.sfgate.com/e71e7108-72e8-4036-b450-7d4914ace7d2
Giants' surprise first pick in the 2020 MLB draft:
college catcher Patrick Bailey
https://www.sfchronicle.com/giants/article/Giants-surprise-first-pick-in-the-2020-MLB-15331501.php
Future of women's sports uncertain
after the coronavirus halted momentum
https://www.sfchronicle.com/sports/annkillion/article/Future-of-women-s-sports-uncertain-after-the-15268199.php
What we learned from the Warriors' league-worst season
https://www.sfchronicle.com/warriors/article/What-we-learned-from-the-Warriors-league-worst-15325915.php
PGA boss 'fully prepared' to play PGA Championship
without fans in SF
https://www.sfchronicle.com/sports/golf/article/PGA-boss-fully-prepared-to-play-PGA-15200702.php


[headlines]
--------------------------------------------------------------


California Nuts Briefs---

Coronavirus: California unemployment claims
rise for second straight week
Three months of shutdowns:
5.2 million workers file jobless claims in California
https://www.mercurynews.com/2020/06/11/coronavirus-california-unemployment-claims-job-jobless-layoff-economy-tech-retail-restaurant-hotel-edd-ui/
Jobs in California are coming back after coronavirus lockdown.
But not for everyone
https://www.sacbee.com/news/california/article243428836.html#storylink=mainstage_lead
Oakland police on protests: 137 arson fires,
more than 200 businesses looted, vandalized
https://www.sfchronicle.com/bayarea/article/OPD-on-protests-137-arson-fires-more-than-200-15332043.php
National Guard deployment during George Floyd protests
cost California nearly $25 million
https://www.sacbee.com/news/politics-government/capitol-alert/article243473356.html?ac_cid=DM214903&ac_bid=1113916497

[headlines]
--------------------------------------------------------------



"Gimme that Wine"

http://www.youtube.com/watch?v=EJnQoi8DSE8
Napa Valley's wine industry cautiously embarks
upon reopening process
https://napavalleyregister.com/news/local/napa-valleys-wine-industry-cautiously-embarks-upon-reopening-process/article_d9d41bb4-5e65-5a5e-a692-e24837b89147.html
New Study Explores Motivations and Behaviors of U.S. Wine
Consumers Before and During COVID-19 Lockdown
https://www.winebusiness.com/news/?go=getArticle&dataId=232120
Sonoma County Health Officer Confirms Tasting Rooms Can Reopen Without Previously Mandated Food Service Requirement,
as of June 12
https://covid19.ca.gov/pdf/guidance-restaurants-bars.pdf
Essential wine and drinks stories by writers of color
https://www.sfchronicle.com/wine/article/Essential-wine-and-drinks-stories-by-writers-of-15331065.php
Santa Barbara County Cannabis Tax Revenues
Will Exceed Sales Taxes
https://www.independent.com/2020/06/10/santa-barbara-county-cannabis-tax-revenues-will-exceed-sales-taxes/
Wine.com Plans Virtual Wine Tastings with Francis Ford
Coppola, Chuck Wagner, Michael Mondavi and more
https://www.globenewswire.com/news-release/2020/06/11/2046899/0/en/Wine-com-Plans-Virtual-Wine-Tastings-with-Francis-Ford-Coppola-Chuck-Wagner-Michael-Mondavi-and-more.html
How California Wine Country vintners, restaurants are using
data to navigate the coronavirus business world
https://www.northbaybusinessjournal.com/industrynews/wineindustry/11003887-181/digital-marketing-tools-for-winery-restaurant-reopening
California table grape harvest kicks off
https://www.farmprogress.com/grapes/california-table-grape-harvest-kicks
Free Wine App
https://www.nataliemaclean.com/mobileapp/

Wine Prices by vintage
http://www.winezap.com
http://www.wine-searcher.com/
US/International Wine Events
http://www.localwineevents.com/
Leasing News Wine & Spirits Page
http://two.leasingnews.org/Recommendations/wnensprts.htm
[headlines]
----------------------------------------------------------------
This Day in History
1665 - New Amsterdam legally became British and was renamed New York after English Duke of York. England installed a municipal government in the former Dutch settlement.
1771 - Patrick Gass (d. 1870) was born in Falling Springs, PA. He was a Sergeant of the Lewis & Clark Expedition who wrote a famous book of the exhibition, "Corps of Discovery" that is still available.
http://www.amazon.com/exec/obidos/ASIN/0878423516/
greatdividetours/102-3693736-6012943
1775 - The first U.S. Naval battle in the Revolutionary War took place when Captain James Moore of the British schooner Margaretta arrived in the harbor of Machias, Maine and ordered the inhabitants to take down a liberty pole they had erected. The townspeople, led by Jeremiah and John O'Brien, set out in a confiscated sloop, the Unity, and in a hand-to-hand encounter captured the Margaretta and confiscated her cannons. The captured crew was marched overland to Cambridge, MA where they were turned over to General George Washington. The American loss was four killed and eight wounded.
1775 – British Gen. Gage declared martial law in Massachusetts. The British offered a pardon to all colonists who lay down their arms. There would be only two exceptions to the amnesty: Samuel Adams and John Hancock, who if captured, were to be hanged.
1776 - Virginia's colonial legislature became the first to adopt a Bill of Rights. The Virginia Declaration of Rights granted every individual the right to the enjoyment of life and liberty and to acquire and possess property. The Virginia document was written by George Mason and was a precursor to the Declaration of Independence. Mason refused to endorse the Declaration of Independence because it did not include a Bill of Rights.
1787 - Law passed providing a US Senator must be at least 30 years old
1806 – The designer of the Brooklyn Bridge, John A. Roebling (d. 1869), was born in Prussia. He also designed 10 other bridges across eastern and Midwestern rivers.
1813 - The Revenue cutter Surveyor, at anchor in the York River, Virginia, was surprised by a three-barge attack force launched from the British frigate HMS Narcissus. Outnumbered 50 to 15, the cuttermen wounded seven and killed three of the enemy before the cutter was captured. The British commanding officer of Narcissus was so impressed by "the determined way in which her deck was disputed, inch by inch," in hand-to-hand combat, he returned to Revenue Captain William Travis, the commanding officer of Surveyor, "the sword you had so nobly used."
1838 - The Iowa Territory was organized.
1849 – The gas mask was patented by Lewis Haslett, Louisville, KY.
1859 – The Comstock Lode (silver) was discovered in Nevada.
1861 - Missouri Governor Claiborne Jackson called for 50,000 volunteers to stop Federal troops from taking over his state. When Union troops in St. Louis jailed the local militia, fighting broke out and Jackson declared Missouri to be a free republic. In November 1861, the Confederacy recognized Missouri as its twelfth state, but the Union was increasingly dominant, and Jackson and his colleagues fled to Arkansas, pending a new invasion. Before this could happen, Jackson died of stomach cancer at Little Rock.
1864 - After suffering a devastating defeat on June 3, Union General Ulysses S. Grant pulls his troops from their positions at Cold Harbor, Virginia, and moves south. Back in Washington, Lincoln fears he may lose the coming election due to the events of the Civil War and unrest of recruiting drives in the North. The North had more men and supplies (especially since they paid bonuses for recruits and allowed citizens to use substitutes. As many immigrants entered the United States, they were both given a bonus to join, plus clothes, food, housing, and pay). This day in one of his flamboyant moves, Confederate J.E.B "Beauty" Stuart led a force of cavalry and artillery to reconnoiter Federal positions on the Peninsula. Considered the South's first hero, Stuart and his men completely encircled McLennan's forces, disrupting communications and supply lines and leading the Union forces to believe they were threatened by a much larger force. The large boost to Confederate morale was strengthened when Stonewall Jackson's forces were reinforced under orders by Robert E. Lee. Four days later, Stuart had circled the entire Yankee force, 105,000 strong, and provided Lee with crucial information. Lee dispatched Stuart, his dashing cavalry leader, and 1,200 troopers to investigate the position of McClellan's right flank. Stuart soon discovered that McClellan's right flank did not have any natural topographic features to protect it, so he continued to ride around the rest of the army in a bold display that exceeded Lee's orders. His troopers took prisoners and harassed Federal supply lines. They rode 100 miles, pursued by Union cavalry that was commanded, coincidentally, by Stuart's father-in-law, Philip St. George Cooke. The Confederate cavalry was far superior to their Yankee counterparts, and the expedition became legendary when Stuart arrived back to Richmond on June 15. The information provided to Lee helped the Confederates begin an attack that eventually drove McClellan from Richmond's doorstep. Two years later, facing a better coordinated and overwhelming Union Army, General Stuart tried this same strategy, but was fatally wounded and his unit was basically split up into other Confederate forces due to the lack of his leadership. It was said that if Stuart had arrived in Gettysburg on the first day, the outcome may have been different. The battle here was dumb luck into running into one of General Lee's contingents on the way to join him in the plan to raid Washington, D.C. Stuart was said to be the "eyes and ears" of any General Lee campaign, also considered one of the most brilliant war strategist and commander of troops.
http://www.civilwarhome.com/stuartbi.htm
http://www.jebstuart.org/
http://www.civilwarhome.com/stuartatgettysburg.htm
http://www.walmart.com/catalog/product.gsp?product_id=484237
&sourceid=0100000010991440602498
http://www.swcivilwar.com/stuart.html
http://www.spartacus.schoolnet.co.uk/USACWstuart.htm
http://www.jebstuart.net/
http://www.csa-dixie.com/deathofstuart.htm
1868 - Birthday of Solomon (Sol) White (d. 1955) at Bellaire, OH. Baseball player, manager and sportswriter. White played five seasons in white organized baseball and the balance of his career as a player and manager in black baseball. He wrote "The History of Colored Baseball" in 1907. http://www.pubdim.net/baseballlibrary/ballplayers/W/White_Sol.stm
1880 - John Lee Richmond pitched the first perfect game in Major League history: Worcester 1, Cleveland's Forest City 0.
1899 – In the country's eighth deadliest tornado, the New Richmond Tornado killed 117 people and injured around 200.
1915 – David Rockefeller (d. 2017), former CEO of Chase Manhattan Bank, was born in NYC. Rockefeller was the youngest child of John D. Rockefeller and Abby Aldrich Rockefeller, and a grandson of John D. Rockefeller and Laura Spellman Rockefeller. His fortune was estimated at $3.3 billion at the time of his death.
1916 - Tennis legend Bill Tilden (d. 1953) made his first appearance at US tennis championship
1924 - Birthday of George Herbert Walker Bush (d. 2018), 41st US President, amateur golfer and former college baseball player, in Milton, MA. http://www.americanpresidents.org/presidents/president.
asp?PresidentNumber=40
1928 - Birthday of singer Vic Damone born Vito Farinola (d. 2018), New York, New York.
http://www.artistdirect.com/music/artist/bio/0,,420154,00.
html?artist=Vic+Damone
http://deseretnews.com/dn/view/0,1249,150015989,00.html
http://www.sonymusic.com/cgibin/gx.cgi/AppLogic+smo.custom2.
Page?disc=tid_204471&tour=tid_204471&t=legacy%2fartist
1929 - Anne Frank (d. 1945) was born at Frankfurt, Germany. Her family moved to Amsterdam to escape the Nazis but after Holland was invaded by Germany, they had to go into hiding. In 1942, Anne began to keep a diary given to her on her birthday. She died at Bergen-Belsen concentration camp in 1945. After the war, her father published her diary, on which a stage play and movie were later based. She is remembered today.
1930 - Barbara Harris' (d. 2020) birthday in Philadelphia. She was the first woman bishop of the Episcopalian Church. Black and lesbian, her ordination as Bishop Suffragan of Massachusetts in 1989 is still being opposed by many in the religious community. http://www.gale.com/free_resources/whm/bio/harris_b.htm
1930 – Jim Nabors (d. 2017), "Gomer Pyle" was born in Sylacauga, AL.
1934 – The Black-McKeller Bill passed, forcing Bill Boeing's empire to break up into Boeing United Aircraft [Technologies] and United Air Lines
1935 – 17 year-old Ella Fitzgerald, with the Chick Webb Band, makes her record debut with "Love and Kisses" (Decca 494).
1935 - Senator Huey Long of Louisiana made the longest speech on Senate record. The speech took 15 1/2 hours and was filled by 150,000 words.
1938 - Count Basie and Benny Goodman bands play Madison Square Garden.
1939 - The National Baseball Hall of Fame and Museum was dedicated at Cooperstown, NY. The first players chosen, in 1936, for membership were Ty Cobb, Honus Wagner, Babe Ruth, Christy Mathewson and Walter Johnson. Relics and memorabilia from the history of baseball are housed at this shrine of America's national sport. http://www.baseballhalloffame.org
1941 - Chick Corea's birthday, born Armando Anthony "Chick" Corea in Chelsea, MA. He established himself as a major jazz figure with his work on Miles Davis's landmark jazz-rock albums "In a Silent Way" and "Bitches Brew" in 1969. Corea continued his rock fusion experiments by forming the group Return to Forever in 1972, making extensive use of synthesizers. The group was popular on the rock circuit before disbanding in 1976. Since then, Corea has played mostly acoustic piano. http://www.chickcorea.com/
1941 – Sportscaster Marv Albert was born Marvin Philip Aufrichtig in Brooklyn. Honored for his work as a member of the Naismith Basketball Hall of Fame, he is commonly referred to as "the voice of basketball." From 1967-2004, he was also "the voice of the New York Knickerbockers." Albert currently works for Turner Sports, serving as lead announcer for NBA games on TNT. He also he has experience announcing football, ice hockey, horse racing, boxing, and tennis. Albert has called eight Super Bowls, NBA Finals, seven Stanley Cup Finals, Wimbledon Tennis Championships, and two World Series.
1942 – Len Barry, lead singer of The Dovells, was born Leonard Borisoff in Philadelphia. "Bristol Stomp" (went to #2), sold over one million copies, and was awarded a gold disc and the group followed with "You Can't Sit Down" (#3), and "Hully Gully Baby." He went solo in 1965 and landed with "1-2-3" (#2), and "Like a Baby."
1944 - In the last years of World War II, the Japanese military turned to increasingly desperate (and suicidal) attack methods. One such method was the kaiten: a kamikaze-like torpedo piloted by a crew member grateful for the honor. The sacrificial warriors would climb into 48-foot metal tubes, seat themselves in canvas chairs before a steering wheel and guidance instruments - a compass, Swiss clock, and radio - and wait to hear the fatal word: Fire! Released from the metal bands clamping it to the submarine, the kaiten began rocketing towards eternity. With a top speed of twenty knots and a range of 27 miles, it was quite a sight, although it regularly missed its target as the pilot struggled to keep the speeding missile on course. When he was successful - the kaiten was tipped with a magnetic warhead designed to explode within 25 feet of any metal hull - the pilot was vaporized upon impact, often in mid-prayer. It was impossible for a submerged "mother" sub to retrieve a kaiten, and if the pilot missed his target, he eventually ran out of fuel, and, gliding to the ocean bottom, was fatally crushed by the immense pressure. ("In Harm's Way")
http://www.history.navy.mil/photos/sh-fornv/japan/japtp-ss/kaiten.htm
http://www.history.navy.mil/photos/sh-fornv/japan/japtp-ss/kaiten-2.htm
http://www.maritime.org/hnsa-kaiten.htm
1944 - A third wave of Allied forces has landed. There are now 326,000 troops, 104,000 tons of supplies and 54,000 vehicles deployed in Normandy, France. Elements of US 7th Corps and 101st Airborne Division advance across the Carentan Peninsula and southwest. Also, the 4th Division is engaged at Montebourg, Crisbecq and near Azeville to the northward drive on Cherbourg. The 5th Corps assists 7th Corps and advances toward St Lo. Caumont is captured and Foret de Cerisy and the Bayeux road are reached.
1948 - Stan Kenton Band ends tour with concert at Hollywood Bowl.
1948 - Eddie Arcaro rode Citation to victory in the Belmont Stakes, making the colt the eighth horse to win the Triple Crown and the last until 1973.
1948 - Ben Hogan won the US open at Riviera Country Club with a record score of 276, five strokes better than any previous Open score. For Hogan, it was the first of four Open Championships, the others coming in 1950, 1951, and 1953.
1952 - Maurice Olley, Chevrolet's Chief Engineer, completed his chassis, code-named "Opel," which would eventually become the chassis for the 1953 Corvette. In February of 1956, Arkus-Duntov drove a modified Corvette V-8 to a two-way stock car record of 150 miles per hour at the Daytona Raceway. While the Corvette would not surpass the T-Bird in sales during the 1950s, it would fulfill GM's initial expectation in becoming the first American sports car.
http://vettes.com/RReport/RReport98/RRFall98/Articles/History/51_54vettes.htm
http://www.millikenresearch.com/olley.html
1955 - Top Hits
"Cherry Pink and Apple Blossom White: - Perez Prado
"Rock Around the Clock" - Bill Haley & His Comets
"Learnin' the Blues" - Frank Sinatra
"In the Jailhouse Now" - Webb Pierce
1957 - Jerry Lee Lewis' "Whole Lotta Shakin' Goin' On" entered the Billboard country and western chart. The next week, the record made its debut on the Billboard pop chart as well. The song first sold 100,000 copies in the US South. After Lewis appeared on Steve Allen's TV show, "Whole Lotta Shakin' Goin' On" sold more than six-million copies. It would eventually top both the country and R'n'B charts and rise to number three on the Hot 100 survey. http://www.jerryleelewis.com/
1959 - Chess Records released two LPs in US - "Chuck Berry on Top" and "Go Bo Diddley."
1959 - Sam Cooke insisted on racially integrated seating for his dual-headlining show with Jackie Wilson in Norfolk, VA.
1961 - President John F. Kennedy signed a Presidential Proclamation calling for the American flag to be flown at the Marine Corps War Memorial in Arlington, Virginia, "at all times during the day and night." Discussions between the Attorney General's office and Marine Corps officials earlier in 1961 on improving the visibility and appearance of the monument led to the proposal to fly the Flag continuously, which by law could only be done by Congressional legislation or by Presidential proclamation.
1961 – In one of the first rock tours to play on the continent, Frankie Avalon began a 12-day tour of South America.
1963 - Medgar Evers, civil rights activist and martyr, was assassinated in front of his home in Jackson, MS by KKK member Byron DeLa Beckwith. http://blackhistory.eb.com/micro/199/92.html
1963 - Elizabeth Taylor starred in the $40,000,000 film epic, "Cleopatra." The movie certainly gave ticket buyers their money's worth. It lasted for four hours, three minutes. "Cleopatra" opened at the Rivoli Theatre in New York City on this day. Richard Burton starred as Marc Antony, Rex Harrison played Julius Caesar, Hume Cronyn played Sosigines, Carroll O'Connor was Casa and Roddy McDowell appeared as Octavian.
1963 - Top Hits
"It's My Party" - Lesley Gore
"Sukiyaki" - Kyu Sakamoto
"Da Doo Ron Ron" - The Crystals
"Lonesome 7-7203" - Hawkshaw Hawkins
1964 - Nelson Mandela (1918-2013), South African president and political activist, was sentenced to life imprisonment after conviction for "sabotaging" the South African government. Many American were incensed, both political and business boycotts began.
1965 - Sonny and Cher made their US television debut, singing "Just You" on ABC-TV's American Bandstand.
1965 - Six weeks after it entered the Billboard Hot 100, "Back in My Arms Again" becomes The Supremes' fifth consecutive number one hit. They were the first American group to accomplish that feat.
1965 - The Queen of England announced that The Beatles would receive the coveted MBE Award. The Order of the British Empire recognition had previously been bestowed only upon British military heroes, many of whom were so infuriated by the news, they returned their medals to the Queen. In fact, John Lennon wasn't terribly impressed with receiving the honor. He returned it for other reasons.
1966 - The Dave Clark Five broke a record by becoming the first rock band to make 12 appearances on CBS-TV's Ed Sullivan Show.
1967 - The US Supreme Court decision in "Loving v Virginia" swept away all 16 remaining state laws prohibiting interracial marriages. http://www.hinton.k12.ia.us/Hinton/Gov/Loving.htm
http://caselaw.lp.findlaw.com/scripts/getcase.pl?court=US&vol=388&invol=1
1971 - Top Hits
"Want Ads" - The Honey Cone
"Rainy Days and Mondays" - Carpenters
"It's Too Late/I Feel the Earth Move" - Carole King
"You're My Man" - Lynn Anderson
1972 – The best chicken on the planet! Popeye's was founded in Arabi, LA.
1972 - Ronnie Spector finally escaped the infamous Alhambra, CA mansion of Phil Spector, barefoot and assisted by her mother, after being held there since their marriage in 1968. Ronnie, formerly lead singer of the Ronettes, reportedly escaped by crashing through the glass door at the back of the "castle," leading to deep cuts on her feet.
1973 - Grand Funk record "We're An American Band," which will become their first US number one single by the following September.
1973 - Emily Howell is hired by Frontier Airlines, the first woman pilot for a scheduled passenger airline in the United States. She had trained male commercial pilots for years. About six months later, Bonnie Tiburzi flew out of New York as the first woman pilot of a nationwide airline, American Airlines.
http://www.cogreatwomen.org/warner.htm
http://www.nasm.edu/nasm/aero/women_aviators/
emily_howell_warner.htm
1974 – Hideki Matsui was born in Ishikawa, Japan. After playing the first ten seasons of his career in Japan, he played the next seven seasons, from 2003–2009, for the New York Yankees. He was the 2009 World Series MVP which the Yankees won, their 28th World Championship. Combining his Japanese and Major League careers, he hit 507 HRs and knocked over 1600 runs.
1978 – "Son of Sam", David Berkowitz was sentenced to 365 years in prison for six killings in NYC.
1979 - Top Hits
"Love You Inside Out" - Bee Gees
"We are Family" - Sister Sledge
"Just When I Needed You Most" - Randy Vanwarmer
"She Believes in Me" - Kenny Rogers
1981 - Major League baseball players began a 49-day strike over free-agent compensation.
1983 - The state of Utah was besieged by floods and mudslides. Streets in downtown Salt Lake City were sandbagged and turned into rivers of relief. The town of Thistle was completely inundated as a mudslide made a natural dam.
1983 – The uniforms of Charlie Gehringer, #2, and Hank Greenberg, #5, were retired by the Detroit Tigers, a late honor to two Hall of Famers. They joined Al Kaline's #6 which was retired in 1980.
1987 - President Ronald Reagan delivered a now-famous speech at the Brandenburg Gate in West Berlin, "General Secretary Gorbachev, if you seek peace, if you seek prosperity for the Soviet Union and Eastern Europe, if you seek liberalization: Come here to this gate, Mr. Gorbachev, open this gate! Mr. Gorbachev, tear down this wall!" Destruction began November 9, 1989 on the Berlin Wall that had divided the city for some 28 years.
1987 - Top Hits
"You Keep Me Hangin' On" - Kim Wilde
"Always" - Atlantic Starr
"Head to Toe" - Lisa Lisa & Cult Jam
"I Will Be There" - Dan Seals
1988 - A dozen of Canada's top songwriters were honored in Vancouver for writing songs that had been played on Canadian radio at least 100,000 times since 1965. Gene MacLellan won three of the awards from the Performing Rights Organization of Canada, including one for writing the Anne Murray hit, "Snowbird." The others were for "Put Your Hand in the Hand" and "The Call." Burton Cummings also won three awards for "Stand Tall," "Break It to Them Gently" and "These Eyes."
1990 - Oakland A's Rickey Henderson becomes 2nd to steal 900 bases.
1990 – Cal Ripken, Jr played in his 1,308th consecutive game, moving into second place on the all-time list ahead of former Yankees and red Sox SS Everett Scott (1918-25). Ripken passed Lou Gehrig in 1995 when he played in his 2131st consecutive game as the all-time leader and retired with the still-record 2,632 in 1998.
1991 - Particle Physics Laboratory in Geneva held a seminar about the World Wide Web, a new hypertext system designed by British computer scientist Tim Berners-Lee during a fellowship at CERN. In May, Berners-Lee had presented the architecture for the World Wide Web to a CERN committee and released a version of the Web on CERN's computers. Berners-Lee had been developing the system, which allowed Internet documents to "link" to each other easily, since 1989. By 1990, he had created the basic parameters of the World Wide Web, which were posted on the Internet in the summer of 1991. Berners-Lee continued to develop the Web through 1993, working with feedback from Internet users. By late 1991 and early 1992, the Web was widely discussed, and in early 1993, when Marc Andreessen and other graduate students at the University of Illinois released the Mosaic browser (Netscape's precursor), the Web rapidly became a popular communications medium.
1991 - The Chicago Bulls won their first NBA championship. The Bulls beat the Los Angeles Lakers four games to one. One of the NBA's greatest dynasties, they won six NBA championships between 1991 and 1998 with two three-peats. The years between the three-peats were those in which Michael Jordan retired following his father's murder, to play minor league baseball. All six championship teams were led by Hall of Famers Jordan, Scottie Pippen and coach Phil Jackson. The Bulls are the only NBA franchise to win multiple championships and never lose an NBA Finals in their history.
1992 - In a letter to the U.S. Senate, Russian Boris Yeltsin stated that in the early 1950's the Soviet Union had shot down nine U.S. planes and held 12 American survivors.
1994 - The gruesomely-murdered bodies of Nicole Brown Simpson and Ron Goldman were discovered outside Nicole's Brentwood, California condominium. Within days, actor/football legend O.J. Simpson was charged by police. He was acquitted in criminal court [1995] but was found liable for the deaths in a civil suit [1997]. The murderer(s) have not been caught as of this date (or was he and let go by a "glove that did not fit?")
1994 – The Boeing 777 made its first flight.
1996 - In Philadelphia, a panel of federal judges blocked a law against indecency on the internet. The panel said that the 1996 Communications Decency Act would infringe upon the free speech rights of adults.
1997 - Interleague play began in Major League Baseball, ending a 126-year tradition of separating the major leagues until the World Series.
1998 - Compaq Computer paid $9 billion for Digital Equipment Corp. in largest high-tech acquisition. In 2002, Compaq was acquired by Hewlett-Packard for $24.2 billion.
2002 - The Los Angeles Lakers make it three NBA Championships in
a row.
http://sportsillustrated.cnn.com/basketball/nba/2002/playoffs/news
/2002/06/12/lakers_nets_ap/
2003 - Van Morrison, Queen, Little Richard and Phil Collins were inducted into the Songwriters Hall of Fame in a New York City ceremony.
2009 - In the US, the switch from analog TV transmission to digital was completed.
2012 – Alex Rodriguez tied Lou Gehrig's record by hitting his 23rd career grand slam. The 8th-inning blast allows the Yankees to tie the score, and Nick Swisher hit a two-run shot later that inning for a 6 - 4 win.

NBA Champions:
1984 - Boston Celtics
1991 - Chicago Bulls
2002 - Los Angeles Lakers
-------------------------------------------------------------

SuDoku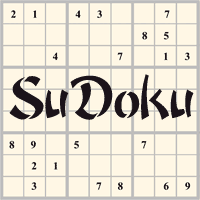 The object is to insert the numbers in the boxes to satisfy only one condition: each row, column and 3x3 box must contain the digits 1 through 9 exactly once. What could be simpler?
http://leasingnews.org/Soduku/soduko-main.htm
--------------------------------------------------------------

Daily Puzzle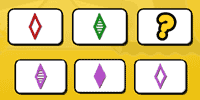 How to play:
http://www.setgame.com/set/puzzle_frame.htm
Refresh for current date:
http://www.setgame.com/set/puzzle_frame.htm
--------------------------------------------------------------


http://www.gasbuddy.com/
http://www.gasbuddy.com/GB_Map_Gas_Prices.aspx
http://www.gasbuddy.com/GB_Mobile_Instructions.aspx
--------------------------------------------------------------

Weather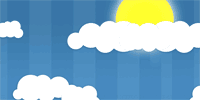 See USA map, click to specific area, no commercials
--------------------------------------------------------------

Traffic Live---
Real Time Traffic Information
You can save up to 20 different routes and check them out with one click,
or type in a new route to learn the traffic live
--------------------------------