Friday, June 26, 2009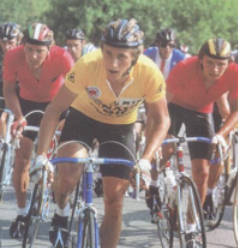 Bicyclist Gregory James "Greg" LeMond born June 26, 1961 Lakewood, California; three-time winner of the Tour de France, first American cyclist to win the race in 1986.
http://www.greglemond.com/
Headlines---
Classified Ads---Asset Management
IFC Credit Closing Down?
by Christopher Menkin, Publisher
Truck Repossessions Continuing at High Level
Top 25 Most Influential Leasing People-Closed
Letters---We get eMail
Classified Ads---Help Wanted
Cartoon---Who Forgets?
The Hurt Locker/Song of Sparrows
Two Lovers/Do the Right Thing/Tokyo!
Fernando's View By Fernando F. Croce
Computer Tips
Brokers! These companies want you!!!-Up-Date
News Briefs---
Train Delayed Upgrades Due To SILO Tax-Shelter
Credit Card Charge-Off Rate Jumps 10%
From riches to rags: Stanford in orange jumpsuit
You May have Missed---
Millionaires club shrunk 15%
California Nuts Brief---
Today's Top Event in History
This Day in American History
Baseball Poem
SuDoku
Daily Puzzle
GasBuddy
Weather, USA or specific area
Traffic Live----
######## surrounding the article denotes it is a "press release"
--------------------------------------------------------------

Classified Ads---Asset Management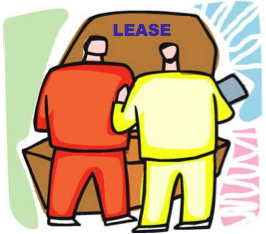 Massachusetts, MA
Started in credit and collections 30 years ago with a private agency. My skills are negotiating with Attorney's, Insurance Companies & Large & small companies.
cityofpa@earthlink.net | Resume
Minneapolis, MN
16 years leasing experience from micro to large ticket market, variety of equipment. Most recently calling on vendor telecom dealers in Upper Midwest.
golfadm@yahoo.com
United States
Multi- talented individual looking to relocate back to mainland. Over 20 years of experience in Asset Management, Venture Leasing, Operations and Senior Management Positions.
RESUME | Email: dan@ggpglobal.com
United States
Portfolio Management/Collections/Workouts. 12 yrs + management $1B lease portfolio, administration, EOT negotiations, buyouts, extensions, workouts, collections, bankruptcy, property valuation/ litigation, results orientated:
portfoliomgt007@yahoo.com
For a full listing of all "job wanted" ads, please go to:
http://www.leasingnews.org/Classified/Jwanted/Jwanted.htm
To place a free "job wanted" Leasing News ad:
http://www.leasingnews.org/Classified/Jwanted/Jwanted-post.htm
ELFA Career Center: Job Seekers (free):
http://careers.elfaonline.org/search.cfm
--------------------------------------------------------------

IFC Credit Closing Down?
by Christopher Menkin, Publisher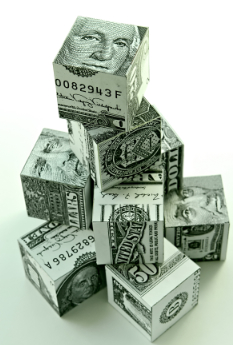 Leasing News has removed IFC Credit Corporation, Morton Grove, Illinois, from its "Funder List." The company was removed from the "Story Credit" list due to the many Bulletin Board Complaints.
Throughout the last two years, and more recently since the end of last year, Leasing News has been printing complaints from vendors not being paid, brokers not being paid, and the NorVergence leasing cases lost or position of IFC Credit. Alerts have been posted. A threat of a lawsuit from Askounis & Borst, the breakup of their law firm, did not deter the reporting. It should be noted Leasing News had heard that the new firm Askounis & Darcy were not paid for legal representation in NorVergence lease cases, being told by defendants they were so notified. A telephone call to Tom Askounis regarding this to confirm or deny brought several "no comment"s to questions asked.
Recently the San Diego, California law firm of Troutman-Sanders with cc: Michael A. Leichtling, Esq. of the East Coast office threatened a lawsuit (ironically Leichtling has appeared on the Equipment Leasing and Finance Association panel on Leasing Ethics!). Leasing News believes it was its journalistic responsibility to report the complaints and information. IFC Credit was given every opportunity to respond, make a comment or statement, but did not. Threatening with letters from company attorney (senior litigation attorney) and then outside law firms may work with small lessees who can't afford the legal fees, but not with Leasing News (thank you Ken Greene, for your "pro bono" work on these IFC attorney "threats.")
Last month it was reported the company was down to 25 employees from a year ago 106 employees. This week, according to insiders (not John Boettigheimer, president of Pioneer nor Bernie Boettigheimer, CLP, of Lease Police, who have kept more than an arm's distance on this since the reporting of Pioneer funding difficulties), the company is down to four managers, one customer service representative, and that both Rudy Trebels and Mark Lang were ordered to stay out of the office for two weeks as the creditors do an audit.
Leasing News was told the various banks, and at this time we are not going to name them, have taken over the servicing of the accounts, and this has been going on since Leasing News has been reporting about vendors and others not being paid.
Reportedly Rudy Trebels has been operating from a separate office not located at IFC, and is planning to move permanently to Florida (not confirmed nor denied.)
At this point, it appears that IFC Credit and its affiliates are facing a Chapter 11 bankruptcy, which often becomes a Chapter 7.
Pioneer Capital "No Money" Letter sent as Extra Wednesday:
http://www.leasingnews.org/archives/June%202009/06-24-09a.htm
-------------------------------------------------------------

Truck Repossessions Continuing at High Level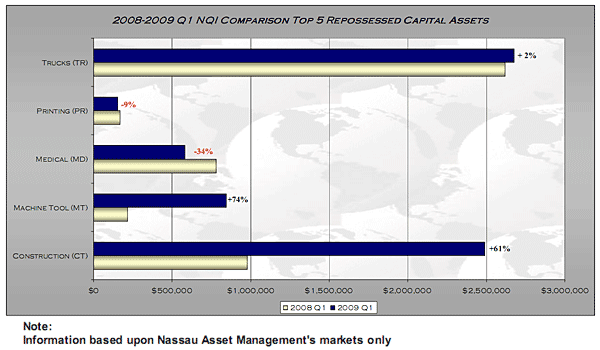 The Nassau Asset Management's NasTrac Quarterly Index (NQI) shows truck repossessions remaining high. In the most dramatic news, compared with the first quarter of 2008, construction equipment nearly tripled in the first quarter of 2009, as did machine tool repossessions.
"What the automotive industry is to machine tools, the homebuilding sector is to construction equipment," observes Ed Castagna, president of Nassau Asset Management Castagna. "The housing decline first deeply affected the truck sector and it is now reaching into the construction equipment category.
"We have stated in the past that the funding of new projects by moneys in the stimulus package would take some time to have an effect."
Many economists do not expect any change in the downward trend of business until the fourth quarter of this year or early next year. Many leasing companies have already experienced large write-offs with trucks, with firms such as SunBridge and others actually exiting the industry in bankruptcy as banks and other financial institutions cut of truck financing (Bank of the West only considers truck financing for bank customers, for instance.)
--------------------------------------------------------------

Top 25 Most Influential Leasing People-Closed
Monday, Leasing News will announce the last nominations to the Top 25 Most Influential Leasing People. Nominations were noted as being wound down and are now closed.
It was interesting to learn how many of those added to the list were not aware of their nomination. Of course, a good number are now retired or in another business and not involved in leasing or finance.
"Funny, I did not think about asking anyone but someone I talked to said I should communicate with the nominee first. Bruce Kropschot, Jim Adler, Walter Rabin were honored to be included (as I am) but to not get any feedback from Walter is strange," a person who made three nominations reported.
And then he contacted the last one he nominated:
"I finally spoke to Walter. While he does not "follow that publication" and the nomination had "little or no meaning to him", he still wants his name left on the ballot. If he appreciated being a nominee it was not evident although he has had a few people mention they saw his name on the list. I suspect that made him fell good. He had many things he was juggling so he had to cut the conversation short…it maybe lasted 30 seconds. Jim Adler and Bruce Kropschot were much more appreciative."
In obtaining the Equipment Leasing and Finance Foundation Monthly Confidence Index, Executive Director Lisa A. Levine, CAE, was told she had been nominated:
"I did see my name on the list...I am not worthy!" she responded.
John Kruse, now a senior account manager at Varolii Corporation, Greater Seattle area, was told on LinkedIn about his nomination:
"Hello Kit,
"I hope this finds you well. What an honor to be placed in a list of industry professionals like this.
"Cheers,"
John Kruse
None of those who were nominated were notified of their nomination.
The reaction above is basically what has been received to date, including this one:
"Not sure if you have kept up on Harvey's other Career"
Nominees mentioned above:
Jim Adler-Jim created a lease document that was the most widely used in the industry while at Colonial Pacific Leasing Corporation. All lenders accepted it and many lessors made it their standard document. Jim being available to explain the document and how to use it to my advantage in marketing and enforcement. Though this is a marketing driven industry without an ironclad document; none of us would be successful.
Bruce Kropschot-created the channel by which leasing company's could sell to each other. Influential, yes, his focus on the leasing marketplace allowed him to obtain specialized knowledge on how to evaluate a leasing company, which continues today
John Kruse, System 1/Capital Stream, instrumental in the first low cost software for brokers and small lessors to keep track of leases, contact management, as well as automatically type contracts of many leasing companies, unheard of in its day and quite inexpensive. Developed private label programs for the one person office to compete with much larger operations. The program grew for use with medium sized lessors and new owners wanted it to reach a more lucrative client usage. He is also known for introducing the automated front end system to the small brokerage industry but he copies the AOL model and gave the program away thinking people would come back to him for more.
Lisa A, Levine, CAE--Executive Director of the Equipment Leasing & Finance Foundation, who has continually attracted an active board of trustees, as well as conducting and commissioning " credible, unbiased future-focused research about the equipment lease financing industry. To date, the Foundation has funded more than $1.6 million in research grants." The Journal of Equipment Lease Financing, published three times a year.
http://www.leasefoundation.org/About/
Walter Rabin-created a platform that went from zero fundings to over $1.4B in the last 10 years. All Points Capital is a dominate funding source for the broker community, especially in the Northeast.


(This ad is a "trade" for the writing of this column. Opinions
contained in the column are those of Mr. Terry Winders, CLP)
--------------------------------------------------------------

Letters---We get eMail
(Basically chronological)

"This economy is miserable and it is absolutely devastating to leasing companies who were on a strong growth curve immediately prior to the economic slowdown. Sad to hear another company is going away."

Greg McIntosh
GMcIntosh@SniderLeasing.com ---

"Just wanted to thank you for the notice of my returning to the leasing world. Got some nice calls today welcoming me back and some possible business opportunities for Kingswood. Take care."

Larry Hegeman
Senior Account Executive
Kingswood Leasing Inc.
16 Lehner St., PO Box 729
Wolfeboro Falls, NH 03896
Tel: 603-569-8980
Fax: 603-569-8952
larry@kingswoodleasing.com

---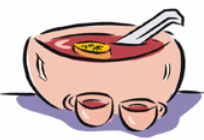 "I am enjoying the history lesson from the many nominations' for leasing individuals. In particular today's Paul Gass and Colton, very interested how strong companies can go bust so easily. Also Kit, a great job on all the research on HL Leasing and John Otto - But what a bad reflection on all of us. Churchill - unbelievable fraud, they should be taken out and shot!! I am so grateful every day we are in medical and did not imbibed in all that kool-aid."
Gary Saulter, President
Chase Industries
gsaulter@chaseindustries.com

---



(supposedly has shaved off his mustache)

"I nominate Rudy Trebels for the fine way he almost single handedly destroyed the small ticket leasing world. Because of people like him no wonder the bankers do not want to do business with the broker world. The bad boys of leasing McQuitty, Raider and bunch of other jamoks basically caused the bankers to say no more. The only redemption is if business continues to run slow. The banks will have to pare overhead. That is the only way I see the broker world to re start again."

(name with held)

---


"That Bank of America Practice Solutions article was 100% factual. The same management group (leopards) that did this as Mid Am Credit, Sky Financial, MBNA and now Bank of America has not changed (their spots). They have told people how to incorporate/create companies. They used to love second marriages so they could pay the spouse that had a different name then the dental or veterinary supply representatives."

(Name, company, position withheld)

---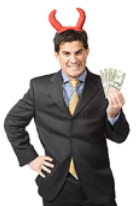 "I am a long time reader and enjoy your publication. However, I wanted to write regarding your comments condoning broker referral fees paid by Bank of America to various vendors. If BofA is paying vendors and their sales reps fees or commissions that are not disclosed on the Lessee's lease documents as origination fees, then this is an improper and illegal third party payment pursuant to banking laws and regulations. I have been employed with various bank leasing companies including Manufacturers Hanover, Citicorp Industrial Credit, CIT and GE Capital. None of my prior leasing company employers would allow or permit origination fees to be paid to 3rd parties without full disclosure on the loan/lease documents."

WILLIAM G. PLUMER
512 W. Wesley Road
Atlanta, GA 30305
404-355-1793
cell: 404-307-4353
fax: 815-642-8765
email: bplumer@aol.com
www.plumercapital.com

(Many leasing companies publish their fees to salesmen and vendors, and paying vendors either direct or to salesmen or through sales managers is quite common. Captive Lessors sign formal agreements getting commissions or referrals or fees, but they are all the same, no matter the working. Balboa, Direct Capital, and the list is very long on who pay vendors and are public about it.

(It is my understanding some funders frown upon it, but they are in the minority.

(I understand there is a "due process" issue, but it is primarily ignored as about half those doing business in California are not licensed by the state, either. editor)

Broker/Vendor fees (2008)
http://www.leasingnews.org/archives/October%202006/10-18-06.htm#points

---


"I just wanted to thank you once again for everything. It was a pleasure talking to you yesterday and I hope to be able to render more good news for you to publish soon. Please keep visiting the site and if ever you feel that we should know about something or make changes in one way or another please don't hesitate to contact me. Your knowledge and experience is greatly valued.

"Warm regards,"

Dan Courville
President/Founder
eLease-Me Services Inc.
188 Montcalm Suite 300
Gatineau QC. J8Y 3B5
819-360-4588
www.elease-me.com
www.pickyourlease.com

---


"Comment on PickYourLease/eLease-Me Services, Inc.

"I don't understand how this is different from the other programs out there, such as leads2results or QuoteUs.com.

"It seems like a company applies, tells them what they THINK their credit is like, and then they sell the info to leasing companies.

"Usually you get 8-10 companies pulling your credit and driving the score down. Not to mention the lowball tactics applied by companies just buying leads in bulk and keeping deposit checks....

"Most of the time the customer ends up hating the entire process because they get flooded with unwanted solicitations."

Regards,

Mike

Vendor Finance Division
Mike McNeil
Dir: 714.922.7111
Fax: 714.704.1448
www.alliancefunds.com

---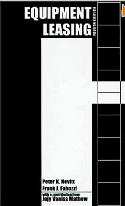 "I would like to nominate Peter Nevitt. Peter was the former Chairman of the old BankAmerliease Group (late 70's through mid 80's) now known as Banc of America Leasing. After which he left to start and develop Mitsui/Nevitt Leasing. Peter was a tax attorney by education and at one time ran GATX Leasing. While an imposing yet unpretentious figure, he understood all the intricacies of leasing and authored many books on the various types of leases such as direct/vender/leveraged/utility etc utilized by business schools like Stanford and University of Chicago. I had the pleasure of working with Peter and on several occasions went on calls with him. To see Peter discussing leasing ands finance with CEO's and CFO's was like watching Picasso paint. A true master who captivated his audience with his knowledge and wonderful sense of humor. He was and remains highly regarded by many people throughout world, in particular the US of course and Japan. "

Sincerely,
Mike Grace
Grace Capital Co.

(He died in 2002, otherwise he definitely would make the list, as would Jeff Wong and a number of our good people who have passed away. But as stated, "The list is for those still living, as noted, although they need not be active in leasing any longer. The late Jeff Wong would have made the list, as many others would, too. Editor)

About Peter Nevitt
http://www.sfgate.com/cgi-bin/article/article?f=/c/a/2002/11/24/BA193309.DTL

---


" Hope all is well. I am real happy to see others expressing their appreciation as you had mentioned thank you mail was not the norm. Tough times with a reliable source of information provided.

"If you get out to the trade shows let me know. It would be an honor to meet you! Graph Expo is a given for my Co."

Adam Abramowitz
Equipment Finance Specialist
845-238-5742 Office
203-667-1891 cell
845-913-9241 Direct fax
Mailing Address:
31 Aldo Ct
Monroe, NY 10950

HQ's:
329 Jefferson Street
Algonquin, Il 60102

---


"Thanks for these brief articles and your concise tag/tease lines that help me quickly target broader news. There used to be time to watch it all. Now there isn't. You provide a valuable information service."

Rob Brower
rbrower@integrityis.biz

---


Founder of http://hlfresno.blogspot.com

"Neither my spouse nor I ever 'invested' in HL Leasing, but I am very close to somebody who was, and I'd love to see some kind of recovery.

"The funny thing is that I found this pretty quickly and posted a link to the assignment document, but I think my mistake was not posting the entire complaint and the supporting documents also. This made it hard for people who know leasing (which I don't) to figure out the significance of the document. Once I sent you the complaint and supporting documents, you immediately figured out what was going on, the connection to American Express, etc. So it is a very good argument in favor of information sharing. I will continue to send you information as I get it."

(name with held)





--------------------------------------------------------------


Classified Ads---Help Wanted

Asset Remarketing Managers
Proven Truck, Construction, Machine tool, Material Handling expertise.
Manage, evaluate, value, remarket portfolio assets. Unlimited compensation. CLICK HERE for full description.
Maria Lopez (203) 354-6090 or mlopez@eqfsdirect.com
Equilease is a long established full-service leasing company that finances industrial and commercial equipment for vendors, manufacturers and end-users. www.eqfsdirect.com


VENDOR SALES SPECIALISTS
LEASING SALES PROFESSIONALS
Like selling vendor programs and large transactions?
Enjoy international financing programs?
Prefer the advantages of a commission only environment with the security of health and welfare benefits?
CLICK HERE to find out how to have fun again.
--------------------------------------------------------------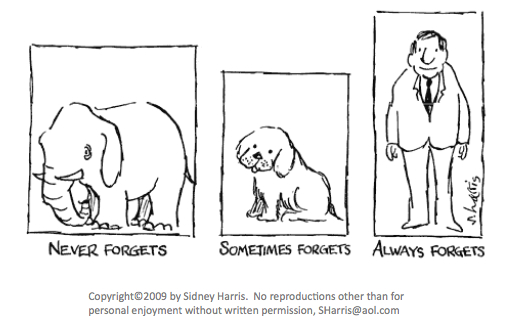 -------------------------------------------------------------

Fernando's View
By Fernando F. Croce
"The Hurt Locker" and "Song of Sparrows" offer contrasting glimpses of the Middle East, while "Two Lovers" and "Do the Right Thing" are sure to give DVD viewers an alternately romantic and confrontational rush.
In Theaters: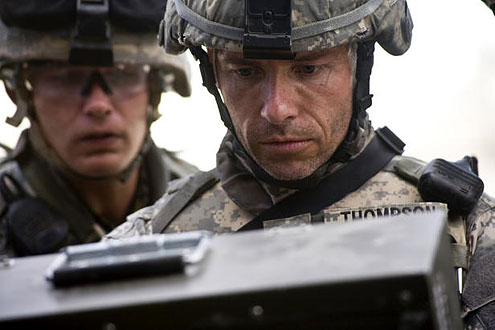 The Hurt Locker (Summit Entertainment): After a series of misfires, renowned action director Kathryn Bigelow is back in top form with this intense and beautifully crafted chronicle of a group of bomb-defusing specialists in war-torn Baghdad. Creating an intimate and suspenseful atmosphere, it follows cocky Staff Sergeant James (a breakout performance by Jeremy Renner), by-the-book Sergeant Sanborn (Anthony Mackie) and impressionable Specialist Eldridge (Brian Geraghty) as they make their way through a hostile terrain filled with bombs, snipers, and mercenaries. Stuck in a land where they're always one step away from an explosion, can they stay in one piece until they can go home? Focusing more on character and action than on political ideology, Bigelow offers a taut, kinetic portrait of men at war and grace under pressure.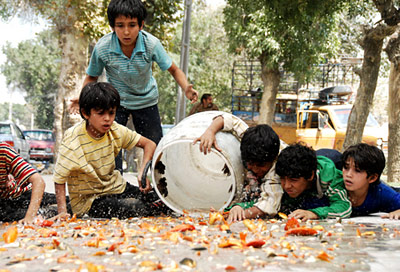 Song of Sparrows (Regent Releasing): Iranian director Majid Majidi ("Children of Heaven") returns to his favorite subjects of plucky children and bucolic life in this gentle comedy-drama. The story takes place in a poor household near Tehran, as a double crisis hits the family. Karim (Reza Najie) is fired from the ostrich farm where he works, and his daughter loses her hearing aid down a well. In need of cash, he becomes a bogus taxi driver, giving rides to city people and making good money at it, too. It's not long, however, before Karim picks up some questionable habits from his customers. If not on the same level as other Iranian artists like Abbas Kiarostami, Majidi's movie maintains a sweet and often poetic tone that's just as universal. With subtitles.
New on DVD: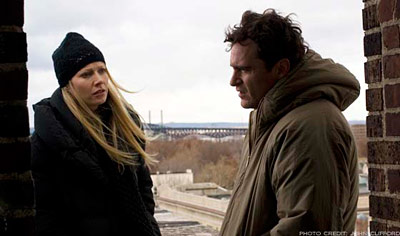 Two Lovers (Magnolia Pictures): Something of a specialist in gangster sagas ("The Yards," "We Own the Night"), director James Gray surprises viewers with this affecting, intimate romantic drama graced by strong atmosphere and performances. Leonard (Joaquin Phoenix) is an aspiring photographer whose unsteady mind following a troubled relationship lands him back at his parents' house in New York. His family wants him to meet a nice, sympathetic local girl (Vinessa Shaw), but Leonard is more interested in Michelle (Gwyneth Paltrow), a party girl who gives him a taste of Manhattan glamour but, as he soon finds out, has deep problems of her own. Trading underworld guns for raw emotions, Gray and his actors beautifully depict both the exhilaration and the desperation that love can cause.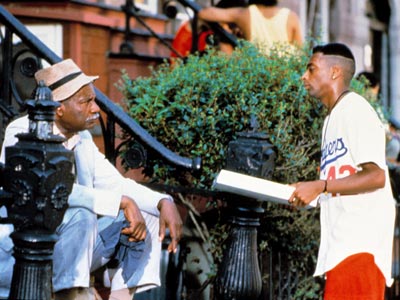 Do the Right Thing (Universal): Movies don't come much more incendiary than this risky 1989 comedy from Spike Lee. Set in a Brooklyn neighborhood during the hottest day of summer, it brings together a gallery of vivid characters and watches as their inner furies, passions and prejudices boil over. The plot centers on a pizzeria run by Sal (Danny Aiello), who proudly keeps a wall full of Italian-American celebrity portraits. When accusations start flying about racism in this multiracial place, it's a matter of time before tensions boil over toward an explosive climax. Lee has had his share of overcooked projects, but here he pitches the story at just the right tone of confrontation, drama and humor. The remarkable cast includes Ossie Davis, Giancarlo Esposito, Bill Nunn, John Turturro, and Samuel L. Jackson.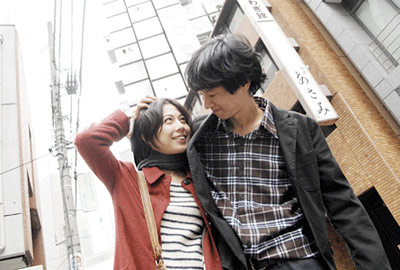 Tokyo! (Liberation Entertainment): Three different directors contribute unique visions of Japan's bustling capital in this colorful, delightfully offbeat comedy-fantasy. Michel Gondry, best known for "Eternal Sunshine of the Spotless Mind," offers a satirical look at Tokyo's architecture, focusing on how the city's urban landscape affects a young couple. Bong Joon-ho ("The Host") directs a bittersweet and surprisingly delicate romance about a recluse's gradual awakening to the city around him. Best of all is the segment by the much missed French filmmaker Leos Carax ("The Lovers on the Bridge"), a rollicking bit of science-fiction satire that sets a mysterious man (a madly inventive performance by Denis Lavant) loose in the streets of Tokyo. Though their success varies, all three episodes have energy and imagination to burn. With subtitles.
Computer Tips
Sending files on the Internet
Microsoft Explorer 8-Redux
eMail Signature vs. eMail Stationary
Improve Your Internet Surfing Speed
Google 411---Free
New Google Feature—Good, Bad, and the...
How to create your own private/public blog
Free Lease-vs-Buy Calculator
Google Tool Bar
IE History—Improve Performance
How to Check your eMail from a Public Computer
Look out for Hotel computers!
Printing an "on line" Article
Screen Resolutions affect what you see
-------------------------------------------------------------

Brokers! These companies want you!!!-Up-Date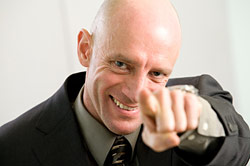 Funder/Superbroker Looking for New Broker Business & Story Credit Lessors
Send company name, contact/email or telephone number as well as a URL to attach or description to
kitmenkin@leasingnews.org
Story Credit Policy: (To qualify for this list, the company must be a funder and not a "Broker/Lessor" or "Super Broker/Lessor", along with an acceptable Better Business Bureau Rating and no history of complaints at Leasing News. We reserve the right to not list a company who does not meet these qualifications.)
http://www.leasingnews.org/Story_Credit/Story_Credit.htm
There is no advertising fee or charge for a listing. They are "free."Leasing News makes no endorsement of any of the companies listed, except they have qualified to be on this specific list.
Leasing News reserves the right to not list a company who does not meet these qualifications.
We encourage companies who are listed to contact us for any change or addition they would like to make. Adding further information as an "attachment" or clarification of what they have to offer would be helpful to readers are very much encouraged.
Alphabetical list - click on company name to view more details
ABCO Leasing, Inc.
Advantage Funding
Affiliated Investment Group, Inc.
Agility Solutions
Allegiant Partners Incorporated
American Leasefund, Inc.
Bank of the West
Bankers Capital
Barrett Capital Corporation
Black Rock Capital
Blackstone Capital Partners, L.P.
Boston Financial & Equity Corp.

BSB Leasing, Inc.
Calfund, LLC
Cobra Capital LLC
Dakota Financial
Dolsen Leasing Company
Dumac Leasing
Financial Pacific Leasing
Forum Financial Services, Inc.
Gonor Funding
Leasing Solutions, LLC
LPI Healthcare Financial Services, Inc.

National Machine Tool Financial Corporation
Standard Professional Services, LLC
Summit Leasing, Inc.
Pawnee Leasing Corporation Quail Capital Corp
TEAM Funding Solutions
TechLease, L.L.C.

Name
In Business Since
Contact
Website
Leasing Association

6

Most States

$50,000 - $450,000

20

Nationwide

Vehicles Only

$10,000 - $1,000,000

6

Nationwide

$25,000 min., $250,000 max.

"Ap only" program $25,000 - $75,000

N

Y

Y

9

Nationwide, including Alaska & Hawaii

*up to $500,000

5

U.S.

$50,000 - $1,000,000
(Master Lease)

Does Subprime Leases

American Leasefund, Inc.

1999

Tom Davis

tom@alclease.com

800.644.1182 - PH

503.244.0845 - FX

www.alclease.com

NEFA

6

Idaho, Montana, Oregon, Washington

$3,500 - $50,000

Does Subprime Leases

Bank of the West, Indirect Leasing Group
1972
Jerry Newell, Exe. VP
John Evan, SVP, Vendor Fin. Srvs
Cameron Pittman, VP, Indirect Leasing
Michael Przekop, SVP Indirect Leasing
Adolph Chang, SVP, Credit Services
Steve Crane, CLP, Vice President & Marketing Manager
scrane@bankofthewest.com
888.244.0551 ext. 3899
800.473.9878 - Fax
www.bankofthewest.com
ELFA, NAELB, NEFA
(P)

Y


Y

6

Nationwide - 50 States

$25,000 +

Barrett Capital Corporation
1975
Barry Korn
914-632-4200
Cell: 914.954.1900
Barrett@BarrettCapital.com
www.BarrettCapital.com
NVLA
(click here for further description)

4

United States

Vehicles Only

$10,000 minimum

8

Nationwide
(except LA, AR and AK)

$50,000 to $2,000,000

Does Subprime Leases

7

US Canada (F)

$50,000 to $3MM

$250,000 average transaction

12

National

15

National

Application only up to $100,000

N

N

Y

Y

7


Nationwide

$50,000 to $1.0 million. Our average size transaction is $250,000.
Preferred Range
$100,000 to $500,000

Does Subprime Leases


$15K
Minimum

Does Subprime Leases

6

Nationwide

$50,000 to $1MM

$250,000 average transaction

Nationwide & Canada (except in Quebec)

$10,000 - $250,000

Does Subprime Leases

10

11 Western State

$10,000.00 - $250,000.00

Dumac Leasing
(a division of Exchange Bank)
N/R
Archie Julian
JulianA@ExchangeBank.com
(800) 546-7822
(707) 521-5027
www.exchangebank.com
NAELB
(click here for further description)

Financial Pacific Leasing
1975
Terey Jennings CLP,
800-447-7107, tjennings@finpac.com
www.finpac.com
EAEL, ELFA, NAELB, NEFA
(click here for further description)

115

Nationwide

$5,000-$50,000

7


Nationwide

$50,000 to $1.0 million. Our average size transaction is $250,000.
Preferred Range
$100,000 to $500,000

Does Subprime Leases


3

USA

$10,000 to $100,000 with an average of $25,000 - $35,000

Does Subprime Leases

4

Nationwide

$5,000 +

*

*

*

*

7

National

$15,000.00 up to $2,000,000.00

N

Y

N

N

20

Nationwide

$15,000

77

Nationwide

$1,000 - $30,000

Does Subprime Leases

15

Nationwide

$10,000 to $10 million, App only $100K

N

Y

N

*

Nationwide & some offshore

$10,000 - 250,000

($25,000 - $150,000 desired)

12

CA, ID, MT, OR, WA

$20,000 - $400,000

7

All 50 States

$5000-$70,000

Does Subprime Leases

4

Nationwide

$20,000, average transaction size is $200,000
Affiliated Investment Group, Inc. is the proud continuation of over 20 years of serving the broker community. We are a balance sheet, cash flow, credit lender. The primary question on every transaction is "what is the likelihood of being paid back". Our motto is "any equipment, for any Lessee, anywhere in the country". Also known as "The Flexible Funding Source" as we look at a deal with the philosophy of "what's right" about it "how can we make it work". We have significant sources of funds from A to B credits.
Broker Qualify - Yes
ABCO Leasing, Inc. in Seattle area has been operating since 1974 serving the broker community. We required full financial disclosure on every transaction. We do story transactions, but do not like to refer to them as "C" credits. We think of them as "A" type credits that have not been discovered yet. Broker Qualify contact: Brad Christensen, Broker Relations Manager,971/204-0236 bradc@abcoleasing.net
* Allegiant Partners
has expanded their maximum transaction size from $250,000 to $500,000 for the 5 western states of California, Oregon, Washington, Nevada and Arizona.
In addition to increasing the transaction size Allegiant is offering more competitve rates for these A- and B+ transactions. Broker Qualify - For Broker qualification please
click here.

Allegiant.pdf
Bankers Capital " We will do ANY Type of Equipment, in ANY industry, in ANY state. We especially like 6-figure transactions with full financial packages no matter how good or bad they look. We look to structure the story C&D credits with any kind of additional collateral that makes sense. It could be with 2nd or 3rd mortgages on residential or commercial Real Estate, additional equipment, cash value life insurance, security deposits, vendor agreements. We look for any way to make the deal work instead of looking for any way to decline the deal." Broker Qualify - Please contact Larry LaChance
Barrett Capital Corporation: Broker Qualify - Please Call
Black Rock Capital (Ireland) Limited and Black Rock Capital (UK) Limited provide the same services for small to middle market corporations in the European Economic Community and the United Kingdom.
Boston Financial & Equity Corporation, most of our leases are venture capital backed startups and turnarounds. We require full financial disclosures, CPA and internal statements, no tax returns. We do not required additional collateral, no PG's or RE needed. Do not send deals with large tax liens, especially if they are payroll taxes. Broker Qualify - A deal in hand and a full package
BSB Leasing, Inc has been providing syndication services for brokers nationwide since 1982 and have been funding business directly since 2002 through BSB Direct Finance, LLC. We offer Brokers a complete internet solution for credit submission and tracking and document preparation.
BSB will fund up to $75,000 App Only on our direct line under BSB Direct Finance, LLC and we now offer App Only up to $100,000 through BSB Syndication (our house syndication group. Broker Qualify - Please Call or see application on-line at bsbleasing.com
Calfund, LLC finances 18 wheelers and some trailers for owner operators with substandard credit.
Cobra Capital, LLC. Comments: Our registered trademark "Making impossible possible" is our central marketing tagline for both strong and weak credits. I have developed a 10 year history, (from Cobra and my prior company GALCO), with specialty, non-conforming transactions (story credits) and have a solid reputation for candidly responding to our originators and lessees and working diligently to mitigate deal risk rather than making excuses to turn deals down. Our originators prefer our underwriting approach to non-conforming transactions since unlike most non-conforming funders, we prefer to mitigate risk versus jacking our return. Both Originators and Lessee's prefer our candid approach as we are also frequently asked to advise lessee's and lessors on the best way to structure their bank loans and raise capital due to our 25+ year banking and accounting backgrounds as my partner and I are both former bankers and CPA's.
Dolsen Leasing has served the 11 Western States since 1958 and specializes in B & C Credits for established and new companies. We require a full financial package and offer both leases and financing for new and used equipment in the range of $10,000.00 to $250,000.00. Specialties include titled vehicles for both existing and new owner operators. Story credits are considered as long as credit has been reestablished and trends are positive. Credit decisions are based on old fashioned common sense, not credit scores, allowing us a very quick turnaround-often the same day. We accept broker business and also have in house salesmen. Broker Qualify - Please call or visit www.dolsenleasing.com
Dumac Leasing--Our prime prospect, has integrity, the ability to submit one to five leases for consideration per month, good financial analysis skills, good packaging abilities and can appreciate a funding source that looks at one deal at a time. Poor rating at BBB is a major hurdle. We are an A Credit lender and cash flow is critical. We use tax returns for info to compute cash flow.
Financial Pacific Leasing supports a nationwide network of Brokers and Lessors. We specialize in "B" and "C" credits for established companies as well as companies under two years in business. Broker Qualify - Please Call or see "Prospective Broker" section on website
Forum Financial Services, Inc., prefer venture capital backed start-ups and middle market to large corporate turnaround companies including companies in bankruptcy and post bankruptcy. Our absolute minimum sales for an established business with financial problems are $10.0 million. (this does not include venture capital backed start-ups). Broker Qualify - Please visit our website at www.forumleasing.com or call 972-690-9444 ext. 225
Gonor Funding specializes in hard to fund leases with D credit. Collateral based with good rates and commission program. Broker Qualify - Please Call
LPI-HC specializes in working Capital Loans / Equipment Financing for new and established medical professionals with our target market being dentists, medical doctors, veterinarians and physical therapists. We also offer any type of Medical Practice Refinancing for established medical professionals that want to consolidate all their practice debts and improve their cash flow position. "We have the financial solutions to help start and grow a practice with repayment programs designed for medical professionals to manage their money."
Broker Qualify - Please Call
Kurt Hess
770-579-2900 ext. 1100
Address:
2260 Rushmore Dr .
Suite B-3
Marietta , GA 30062
National Machine Tools---Specializing in Machine Tools only for transactions up to $750k. National has been in the Machine Tool Finance business since 1986 and has a leasing proficient staff to accommodate the most challenging transaction. F ull financial disclosure required. We can provide structured financing for the story marginal credits. May require personal guarantees and/or down payments depending on the credit. Any size business accepted. For more information please contact Chris Chiappetta or Robert Lang at 800-669-7527.
Pawnee Leasing Corporation
; Some times we go higher than $30,000, but our marketplace is from $1,000 to $30,000. Broker Qualify
- One year time in business
Quail Capital offers App Only program up to $100K- nationwide. We also have a special California Only "A" credit program with very competitive rate under "California Express Program".
On the commercial side, Quail Capital specializes in mid market to large structured and complex transactions. Mohammed Ahsan began his days at Westinghouse Credit (then Atlantic Financial, Mitsubishi Bank, Bank of California and First Sierra) as a funder. He has been in the leasing industry for 29 years. His partner Jeff Rudin has over 29 years leasing experience.
In addition to the equipment leasing, Quail Capital is also involved in Asset Based Lending, Franchise Financing, Acquisition Finance, Sale- Lease Back- Working Capital and facilitate the SBA program.
Broker Qualifying- please call.
Standard Professional Services. LLC is a non-cookie cutter funder who does not credit score.
Summit Leasing consider ourselves to be primarily "B" credit lenders, working almost exclusively through brokers. Broker Qualify - Contact us
TEAM Funding Solutions is a structured lender for brand new businesses or for older companies with previous credit problems. We do not credit score. The secret to producing an approval for C-Credits starts with interviewing your customer." Broker Qualify -
TechLease - due to previous experiences, TechLease is vertically focused on three primary sectors: Semiconductor, Media and Aerospace. We fund all deals and hold paper an all equipment under $250,000. Deals over $150,000 we typically want to meet the Lessee face-to-face. We prefer business in California, however we will fund nationwide. Broker Qualify - Please Call
Business Reports: Companies listed may make any netiquette comment about their company or reports or other information in the footnote section of their listing. Leasing News recommends readers also view the footnote as well as the section itself or searching reports on the business.
It also should be noted that if a BBB report listing is found by a reader, as there may not have been one when this was last up-dated, please send the link to maria@leasingnews.org so Leasing News may up-date this section.
Leasing Associations: All non-profit leasing associations are abbreviated. To see the full name and learn more about the association, please click here.
BBB - Better Business Report | CBB - Leasing News Complaint Bulletin Board
| CNI - Current News Information
A -Accepts Broker Business | B -Requires Broker be Licensed | C -Sub-Broker Program
| D -"Private label Program" | E - Also "in house" salesmen

N/R (not reported)
* (no response---these listing do not come from the company directly, but from our research from many sources. It is our policy not to put anything in this section without confirmation.)

-------------------------------------------------------------

News Briefs----
DC Metro Delayed Upgrades Due To SILO Tax-Shelter
http://www.nasdaq.com/aspx/stock-market-news-story.aspx?storyid=200906251647dowjonesdjonline000941&title=update-dc-metro-delayed-upgrades-due-to-tax-shelter-deal
Credit Card Charge-Off Rate Jumps 10%, Moodys
http://www.creditcollectionsworld.com/article.html?id=2009062538T5WJR4&from=creditandcollectionnews
From riches to rags: Stanford in orange jumpsuit
http://www.nypost.com/seven/06252009/business/from_riches_to_rags__stanford_dons_cuffs_176074.htm
---------------------------------------------------------------

You May have Missed---
Millionaires club shrunk 15%
http://www.nypost.com/seven/06252009/business/millionaire_misery_175987.htm
----------------------------------------------------------------


California Nuts Briefs---
Sweat and tears but no budget plan
http://www.sfgate.com/cgi-bin/article.cgi?f=/c/a/2009/06/25/MNRD18DS8B.DTL&tsp=1
California cities vow to sue if state siphons gas tax funds
http://www.sacbee.com/1089/story/1977103.html
California forecast sees 200,000 more lost jobs
http://www.sacbee.com/business/story/1974909.html
----------------------------------------------------------------

Today's Top Event in History
1934- President Franklin Delano Roosevelt signed into law the Federal Credit Union Act, thus enabling the formation of credit unions anywhere in the US.

[headlines]
----------------------------------------------------------------

This Day in American History
1604 - French explorer Samuel de Champlain, Pierre Dugua and 77 others landed on the island of St. Croix and made friends with the native Passamaquoddy Indians. It later became part of Maine on the US-Canadian border.
1819- birthday of Abner Doubleday, who served in the US Army during the Mexican War and the Seminole War in Florida prior to his service in the American Civil War. He was stationed at Charleston, SC, where he manned the first of Fort Sumter's guns to fire back at the Confederates. His service found him at the battle of Second Bull Run, Antietam, Fredericksburg and as a major general commanding a division at Gettysburg. A commission set up to investigate the origins of baseball by sporting goods manufacturer Albert Spaulding credited Doubleday with inventing the game in the year 1839. Subsequent research has debunked the commission's finding. In researching the letter from a person who later was committed to an insane asylum, Doubleday would have been 18 years old and the writer five years old at the time the writer claimed he witnessed Doubleday "invent" baseball. Alexander Joy Cartwright, an umpire and member of the New York Knickerbockers team set up the first formal rules, laid out the diamond-shaped field and established its nine playing positions. Early versions of baseball, based on the English games of rounders and crickett, were played in the English Colonies of American as far back as the early 1700's. It can be considered America's oldest sport. The History Channel has a documentary on Spaulding, who was quite a promoter and businessman.
1862--Battle of Beaver Dam Creek-Union repulse Confederacy in Virginia
http://www.saverichmondbattlefields.org/battles/beaver_dam_creek.htm
http://www2.cr.nps.gov/abpp/battles/va016.htm
http://216.247.222.222/vpp/or/18620710.htm
1862- Day two of the Seven Days-Battle of Mechanicsville
http://www.geocities.com/larone1/war-facts.htm
see second one:
http://www.civil-war.net/Discussion%20Archives/Mechanicsville%20Archive.htm
1870-The Atlantic City, NJ, Boardwalk was dedicated. To finance it, $5,000 was obtained by the sale, at a 10 percent discount, of scrip which could be used to pay taxes. The boardwalk was eight feet wide a mile long. It was built in eight-foot-collapsible sections, which for 18 years were removed in September and stored for the winter. The idea for the boardwalk was conceived by a hotel man, Jacob Keim of the Chester County House, and Alexander Boardman, a railroad conductor on the Camden and Atlantic Railroad.
http://memory.loc.gov/ammem/today/jun26.html
1892-Birthday of Pearl S. Buck was one of the first writers to try to explain the Far East to Western readers. She won the Nobel Prize for literature in 1938 for her many novels of Chinese life, especially among the peasantry. She had won the 1932 Pulitzer Prize for her classic novel The Good Earth which was made into a terrible movie. . She adopted nine children and established the Pearl S. Buck Foundation to support or find homes for "Amerasian" children who are abandoned by their American fathers throughout Asia and for abandoned children worldwide. Family pressures had forced her to turn to writing when she was almost 40 and in all, she published more than 100 books, innumerable articles and delivered hundreds of speeches.
1893-Illinois Governor John Peter Altgeld pardoned Samuel Fielden, Michael Schwab and Oscar Neebe, three of the anarchists who had been convicted in the violence connected with the Haymarket Riot on May 4, 1886. At a protest meeting at Haymarket Square an unknown individual three a bomb which caused the death of several policemen. Eight anarchists were tried and convicted of the bombing. Of those one committed suicide the day before he was to be hanged, three were hanged,; and Fielden, Schwab and Neebe were imprisoned. In 1893 the newly elected Altgeld, at the urging of Clarence Darrow, reviewed the transcripts of the trial of these men and concluded that they had been railroaded. The pardon was widely criticized. It was an act of political suicide for Altgeld.
1898-Birthday of singer/guitarist Big Bill Broonzy Birthday
http://home.swipnet.se/bigtony/blues/Artist/Broonzy_BigBill.htm
http://www.broonzy.demon.co.uk/index.html
1909-birthday of Tom "Colonel" Parker, Breda, Holland, known mostly for his management of Elvis Presley as a musician.
1911-Birthday of Babe Didrikson Zaharias, named the world's greatest woman athlete for the first half of the 20th century. The Babe was named top woman athlete in the U.S. for 1931, 1945-47, and 1950, and 1954. She won two gold medals at the 1932 Olympics in track and field and set the world records in the javelin throw and in the 80-meter hurdles. Babe won a total of 114 golf tournaments, 83 amateur golf tournaments, 31 on the P.G.A. tour, with a string of seventeen consecutive major women's tournaments. She won an AAU championship in 1932, was on the amateur all-American basketball team from 1930-32, and even pitched exhibition for the St. Louis Cardinals. The 1911 birth date is according to her sister and baptismal records.
1913-birthday of Willard Jessie Brown, baseball player born at Shreveport, LA. Brown played with the Kansas City Monarchs in the Negro National League and with the St. Louis Browns in 1947 when he was 34. He was the first African-American to hit a home run in the American League. Died at Houston, TX, Aug., 1996.
http://www.baseball-almanac.com/players/player.php?p=brownwi02
1914- Born Mildred Ella Didrikson at Port Arthur, TX, the great athlete was nicknamed "Babe" after legendary baseball player Babe Ruth. She was named to the women's All-America basketball team when she was 16. At the 1932 Olympic Games, she won two gold medals and also set world records in the javelin throw and the 80-meter high hurdles; only a technicality prevented her from obtaining the gold in the high jump. Didrikson married professional wrestler George Zaharias in 1938, six years after she began playing golf casually. In 1946 Babe won the US Women's Amateur tournament, and in 1947 she won 17 straight golf championships and became the first American winner of the British Ladies' Amateur Tournament. Turning professional in 1948, she won the US Women's Open in 1950 and 1954, the same year she won the All-American Open. Babe also excelled in softball, baseball, swimming, figure skating, billiards—even football. In a 1950 Associated Press poll she was named the woman athlete of the first half of the 20th century. She died of cancer, Sept 27, 1956, at Galveston, TX. 1916-When the Cleveland Indians walked onto the field for their game for their game against the Chicago White Sox, their home uniforms were adorned for the first time with numbers on the left sleeve. This innovation was abandoned after a short while, and uniform numbers did not appear again until the New York Yankees adoo9pted them in 1929, not on the sleeves but on the backs of their jerseys.
1926-US Troops pulled out of the Dominican Republic, which had received earlier, 1844, independence from Spain. After years of discussing it, Congress decided not to annex the Dominican Republic, or Haiti, and to allow the countries to become sovereign republics.
( lower half of: http://memory.loc.gov/ammem/today/jun26.html )
1934- President Franklin Delano Roosevelt signed into law the Federal Credit Union Act, thus enabling the formation of credit unions anywhere in the US.
1944-the only time the Brooklyn Dodgers, New York Yankees and New York Giants played together, at a special exhibition game at the Polo Grounds before 50,000 fans. In the six-inning contest, each team played successive innings against the other two and then sat out a frame. The combined final score was Dodgers 5, Yankees 1, Giants O). The proceeds of the game went to purchase war bonds.
1944--MURANAGA, KIYOSHI K. Medal of Honor Private First Class Kiyoshi K. Muranaga distinguished himself by extraordinary heroism in action on 26 June 1944, near Suvereto, Italy. Private First Class Muranaga's company encountered a strong enemy force in commanding positions and with superior firepower. An enemy 88mm self-propelled gun opened direct fire on the company, causing the men to disperse and seek cover. Private First Class Muranaga's mortar squad was ordered to action, but the terrain made it impossible to set up their weapons. The squad leader, realizing the vulnerability of the mortar position, moved his men away from the gun to positions of relative safety. Because of the heavy casualties being inflicted on his company, Private First Class Muranaga, who served as a gunner, attempted to neutralize the 88mm weapon alone. Voluntarily remaining at his gun position, Private First Class Muranaga manned the mortar himself and opened fire on the enemy gun at a range of approximately 400 yards. With his third round, he was able to correct his fire so that the shell landed directly in front of the enemy gun. Meanwhile, the enemy crew, immediately aware of the source of mortar fire, turned their 88mm weapon directly on Private First Class Muranaga's position. Before Private First Class Muranaga could fire a fourth round, an 88mm shell scored a direct hit on his position, killing him instantly. Because of the accuracy of Private First Class Muranaga's previous fire, the enemy soldiers decided not to risk further exposure and immediately abandoned their position. Private First Class Muranaga's extraordinary heroism and devotion to duty are in keeping with the highest traditions of military service and reflect great credit on him, his unit, and the United States Army.
1945-The United Nations Charter was signed at San Francisco by representatives of 50 nations.
1945---Top Hits
Sentimental Journey - The Les Brown Orchestra (vocal: Doris Day)
Dream - The Pied Pipers
Laura - The Woody Herman Orchestra
At Mail Call Today - Gene Autry
1947-the first transatlantic mobile telephone between two cards was made by U.S. Ambassador James Clement Dunn from Milan, Italy, to Vincent R. Impellitteri, president of the New York City Council, on the occasion of Marconi Day at the Milan Fair.
1947 - No. 1 Billboard Pop Hit: "Chi-Baba, Chi-Baba," Perry Como.
1950- Garry Moore hosted many programs which aired at various times: his first was this date , and it became the longest lasting. Moore was the host, with his sidekick Durward Kirby, of a show blending singing, joking and talking with guests and regulars. Regulars included Ken Carson and Denise Lor. Guest performers included Don Adams, George Gobel, Don Knotts, Jonathan Winters, Leslie Uggams and Carol Burnett. Animals also appeared on the show. This was before Ophray and others.
1953---Top Hits
Song from Moulin Rouge - The Percy Faith Orchestra
April in Portugal - The Les Baxter Orchestra
Ruby - Richard Hayman
Take These Chains from My Heart - Hank Williams
1955--Decca Records announces that Bill Haley and His Comets have sold more than 3 million records in thirteen months. Both "Rock Around The Clock" and "Shake Rattle and Roll" sold a million copies, while "Dim, Dim the Lights" and "Mambo Rock" sold about 500,000.
1956--In an article in LOOK Magazine entitled, The Great Rock 'n' Roll Controversy, swing band leader Benny Goodman makes this comment about Rock 'n' Roll; "I guess its okay, man. At least it has a beat
1957-Hurricane Audrey strikes Louisiana claiming 500 lives
1959- President Dwight D. Eisenhower and Queen Elizabeth II jointly dedicated the St. Lawrence Seaway in formal ceremonies held at St. Lambert, Quebec, Canada. A project undertaken jointly by Canada and the US, the waterway ( which provides access between the Atlantic Ocean and this Great Lakes) had been opened to traffic April 25, 1959.
1959-Ingemar Johannson of Sweden knocked out Floyd Patterson in the third round of a fight at Yankee Stadium to win the heavyweight championship. Patterson and Johannson fought twice more with Patterson regaining the title in June, 1960 and defending it successfully in March, 1961. 1964 - "A Hard Day's Night" was released by United Artists Records. The album featured all original material by The Beatles and became the top album in the country by July 25, 1964.
1961---Top Hits
Quarter to Three - U.S. Bonds
Raindrops - Dee Clark
Tossin' and Turnin' - Bobby Lewis
Hello Walls - Faron Young
1961-- The Yankees beat the Angels, 8-6, and Yogi Berra collects his 2000th career hit, all as a Bronx Bomber. To celebrate the achievement a huge cake is rolled out in Wrigley Field in Los Angeles.
1961-Gary U.S. Bonds had his only US number 1 hit, "Quarter to Three". Bonds and Gene Barge (Daddy G.) added lyrics to an instrumental called, "A Night With Daddy G". Although he released several more singles in the US including "Dear Lady Twist", Bonds found more success in England than his homeland. After years of touring the oldies circuit, Bonds would have another Top 40 hit in the early 1980s with "This Little Girl is Mine".
1963- singer George Michael, one of the biggest rock stars of the late 1980's, was born in London. Michael and Andrew Ridgeley formed the pop duo Wham!, which hit the British chart in 1982 with "Young Guns (Go For It)." North American success followed in 1984, with three straight number-ones - "Wake Me Up Before You Go- Go," "Careless Whisper" and "Everything She Wants." Michael was clearly the mastermind behind the duo. When they broke up in 1986, he began a highly successful solo career. He duetted with Aretha Franklin on "I Knew You Were Waiting (For Me)," which went to number one. Then came the multi-million selling "Faith" album, which yielded such charttoppers as the title song, "Father Figure" and "One More Try." The album also contained "I Want Your Sex," which some radio stations refused to play despite Michael's claim it endorsed monogamy. In 1990, Michael released "Listen Without Prejudice, Volume One." Although it made the top 10, the album did not match the sales figures of his solo debut
1964- the first Beatles album on which they wrote all the songs, "A Hard Day's Night," was released in North America.
1964- "It's All Over Now" by the Rolling Stones was released. The song, written by American soul singer Bobby Womack, was the first Stones' record to reach number one in Britain.
1965 - "Mr. Tambourine Man", by The Byrds, reached the number one spot on the pop music charts. The song was considered by many to be the first folk-rock hit. The tune was written by Bob Dylan, as were two other hits for the group: "All I Really Want to Do" and "My Back Pages". The group of James Roger McGinn, David Crosby, Gene Clark, Chris Hillman and Mike Clarke charted seven hits. The Byrds were inducted into the Rock and Roll Hall of Fame in 1991.
1966- Sopwith Camel opened for the Rolling Stones in performance at the Daly City Cow Palace. Jefferson Airplane also performed.
1966 --Sutro Baths, The famous San Francisco oceanside landmark burns down
1966 -- Lenny Bruce & the Mothers of Invention appear in concert at the San Francisco Fillmore Auditorium. KFRC Beach Boys' Summer Spectacular at the Cow Palace.
1966 -- Sopwith Camel opens for the Rolling Stones in performance at the San Francisco Cow Palace. Jefferson Airplane also performs
1966 -Sutro Baths, The famous San Francisco oceanside landmark burns down.
1967 - No. 1 Billboard Pop Hit: "Windy," The Association.
1969---Top Hits
Get Back - The Beatles
Love Theme from Romeo & Juliet - Henry Mancini
Bad Moon Rising - Creedence Clearwater Revival
Running Bear - Sonny James
1970-A committee formed by US grocers and food manufacturers recommended in 1973 a Universal Product Code (i.e., a bar code) for supermarket items that would allow electronic scanning of prices. On this day in 1974 a pack of Wrigley's gum was swiped across the first checkout scanner at a supermarket in Troy, OH. Today bar codes are used to keep track of everything from freight cars to cattle.
1971- promoter Bill Graham announced the closing of his Fillmore East and West concert halls in New York and San Francisco. The Fillmore East had operated for three years, and its last concert the following night included performances by the Beach Boys and the Allman Brothers Band. Graham had begun producing rock concerts at the Fillmore West in 1965. The San Francisco club was a prime venue for such psychedelic superstars.
1975-The rules of football were amended: the divisional winners with the highest won-loss percentage were made the home team for the divisional playoffs, and the surviving winners with the highest percentage made home teams for the championship games. 1976 - The CN Tower opened in Toronto, Ontario, Canada. At 1,815 feet, 5 inches high, the tower is the world's tallest building and the tallest freestanding structure.
http://www.cntower.ca/
1977---Top Hits
Got to Give It Up (Pt. I) - Marvin Gaye
Gonna Fly Now (Theme from "Rocky") - Bill Conti
Undercover Angel - Alan O'Day
Luckenbach, Texas (Back to the Basics of Love) - Waylon Jennings
1977- Elvis Presley gave his last performance - at the Market Square Arena in Indianapolis. His final song - "Can't Help Falling in Love." Less than two months later, Presley was found dead in his bathroom at Graceland. The cause of death was at first given as congestive heart failure, but later investigation revealed that drug abuse may have played a part.
1985---Top Hits
Heaven - Bryan Adams
Sussudio - Phil Collins
Raspberry Beret - Prince & The Revolution
Little Things - The Oak Ridge Boys
1986 -Hurricane Bonnie made landfall on the upper Texas coast. A wind gust to 98 mph occurred at Sea Rim State Park. The town of Ace recorded 13 inches of rain.
1987 - Hot weather prevailed in the Pacific Northwest. Afternoon highs of 88 degrees at Seattle, WA, 103 degrees at Medford, OR, and 111 degrees at Redding, CA, were records for the date. Cloudy and cool weather prevailed in the northeastern U.S. The high at Boston, MA, was just 60 degrees.
1988 - Thirteen cities in the southeastern U.S. reported record high temperatures for the date. In Montana, the record high of 102 degrees at Billings, MT, was their fifteenth of the month, and the high of 108 degrees at Glasgow MT equalled their record for June. Thunderstorms in the Atlantic Coast Region produced wind gusts to 102 mph at Tall Timbers MD
1988 - No. 1 Billboard Pop Hit: "Dirty Diana," Michael Jackson.
1989 - Thunderstorms produced severe weather from the Central Plains to the Middle Mississippi Valley. There were 129 reports of severe weather during the day and night. Thunderstorms in Kansas produced wind gusts to 90 mph at Liberal, and hail four inches in diameter at Quinter. Thunderstorms in Wisconsin spawned a tornado at Lake Delton injuring four persons. Lightning struck and killed a woman at Junction City, KS, who had gotten out of her car to photograph the lightning
2003-Record temperatures hit the Bay Area with 97 in SF and 102 in San Jose. This year while 45 miles away in San Jose and inland reach 103 degrees, the city stays at 65 high due to the fog rolling in.
2003-- Edgar Martinez, who already holds the Mariners all-time records for games played, at-bats, hits, doubles, total bases, extra-base hits, walks and runs scored, passes Ken Griffey Jr.'s mark for team career RBIs. His two-run homer in the Mariners 10-6 victory over the Angels gives the All-Star designated hitter 1,153 RBIs -- one more than Junior.
--------------------------------------------------------------

Baseball Poem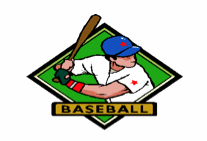 A Baseball Game (Free verse)



"In the family pictures,
my brother stands at the plate
forever waiting on a pitch,
my dad squats by the dugout fence,
his chin resting on his hands;
somewhere beyond the eye or the camera,
I hold a huge scarlet plum behind my back,
left leg kicked high in a pitching motion,
as near to the spirit or the game
as I'd ever be."

(with permission of the author from his book:
"Touching All the Bases"
Poems from Baseball
available from Amazon
or direct from the publisher at: www.mcfarlandpub.com

Tim Peeler celebrates with candor and wit both the overlooked and the standout as he merges the topics of personal and baseball rediscovery. The poet reconsiders events and people from his adolescence, offering the reader new takes on old memories, gracefully relating the foibles of family and friends, and cataloging the heroic feats and tragic flaws of players he watched, read about - or merely imagined.

English lecturer, journal editor, essayist and poet, TlM PEELER lives in Hickory, North Carolina. He is a winner of the Jim Harrison Award for his contributions to baseball poetry.

--------------------------------------------------------------


SuDoku

The object is to insert the numbers in the boxes to satisfy only one condition: each row, column and 3x3 box must contain the digits 1 through 9 exactly once. What could be simpler?

http://leasingnews.org/Soduku/soduko-main.htm

--------------------------------------------------------------


Daily Puzzle

How to play:
http://www.setgame.com/set/puzzle_frame.htm

Refresh for current date:
http://www.setgame.com/set/puzzle_frame.htm

--------------------------------------------------------------


http://www.gasbuddy.com/
http://www.gasbuddy.com/GB_Map_Gas_Prices.aspx
http://www.gasbuddy.com/GB_Mobile_Instructions.aspx
--------------------------------------------------------------

Weather
See USA map, click to specific area, no commercials
--------------------------------------------------------------

Traffic Live---
Real Time Traffic Information
You can save up to 20 different routes and check them out with one click,
or type in a new route to learn the traffic live
--------------------------------